EB1133 - 2018 Harley Davidson XG500
Author: Ellaspede Date Posted:7 January 2022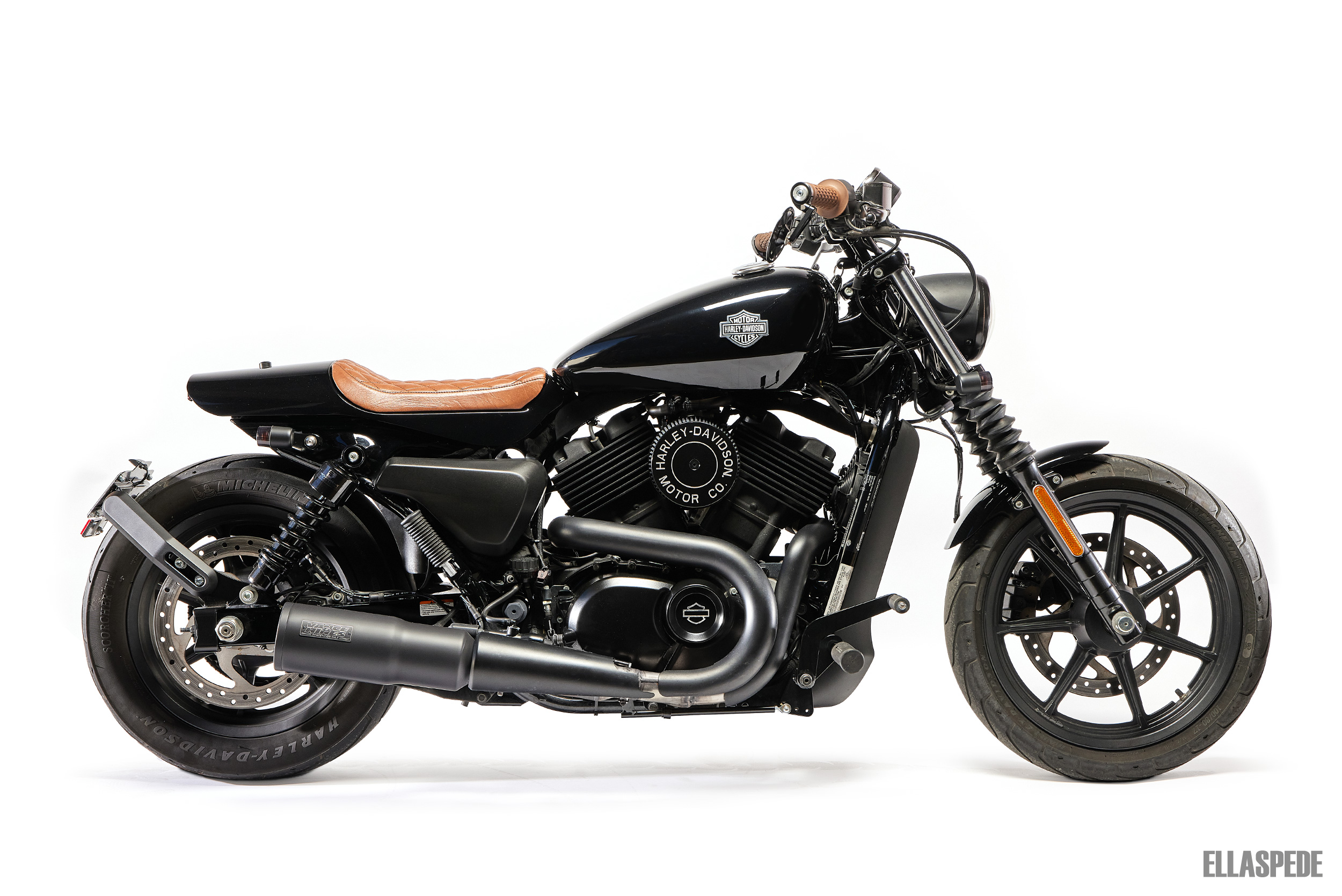 Paul was in the market for a LAMS (Learner Approved Motorcycle Scheme) cruiser and given he had a Harley poster on his wall as a kid in the 90's the Harley Davidson Street 500 was the only option, literally!
He picked up the stock bike as a reward to himself after working away, but admitted that the stock XG500 "…isn't the most visually appealing thing Harley has ever produced" and we'd have to agree. But they're a great donor bike and as Paul's build has shown it doesn't take much to transform the portly 500 into something more muscular.
Paul already had a idea in his head about what he wanted and given the LAMS scheme in Australia severely limits the kind of Harley one can buy (to one model), he set about finding one with low KM's, ABS and in factory black.
Paul continues… "I had a poster of a HD Fat Boy on my wall when I was a kid in the 90s and I've always loved that style of big wide tank, forward controls and the lower bars. When it came time to actually decide on what I wanted, I settled on taking those 80s design cues but mixing them with modern style and lines, cutting the visual weight common to that era."
"I spent a lot of time researching who was doing what kind of work on the XG500 and what was possible. There were a few local places; however they all seemed to be doing 95 percent builds – there was always some detail that left the bike looking incomplete and cheapened the look. Things like the bolt between seat and tank being left exposed or the shortened frame poking out awkwardly and ruining the lines."

"By comparison, Ellaspede's builds always looked 100% complete. It was clear that the extra effort was being put in to make it look almost like the bike rolled out of the manufacturers factory like that and gave it the completed look."
So with the bike in the shop we got to work. Paul liked the rear end treatment we had applied to some of our previous XG500 builds (EB897 and EB789), so we set about shortening the rear frame and custom fabricating the seat and rear cowl to suite. The stock XG500's have a huge rear cowl with really nothing underneath them apart from a spindly frame hoop to hold it all up, so getting rid of all that isn't a big deal.
The Ellaspede XG500 Number Plate mount kit on the swing arm allows us to run a short rear cowl setup while keeping the licence plate in a legal position for use in Australia, plus it shows off way more of the rear tyre which is always a bonus. Black on black Progressive 12" rear shocks drop an inch off the stock height and help the rear ride a little better too.
Evening out the lines on the bike we added a custom tank raising kit to the front of the stock XG500 tin. Paul likes the look of a wide tank, but the stock XG units sit a little low, so we're happy with the new angles and how it matches the top triple tree and flows down into the custom seat as well.
The headlight is factory with the stock surround removed, while a genuine Harley tail light now tucks up under the new rear cowl. Black Posh indicators with tinted lenses went on front and rear, with a Koso Blade number plate light keeping things legal out back.
At the front LSL clubman bars sit in the stock clamps with custom 2" risers underneath. Motogadget mirrors hang off the bar ends with brown Biltwell grips adding a pop of colour that will be carried later. The Vance and Hines mufflers and genuine Harley Davidson air filter ensure the bikes breathing and sounding better now too.
Ellaspede XG500 Forward Controls bolt on to get Paul sitting in the right position and gives him a little more leg room on the long rides. John from ERGO Motorcycle seats made up a custom comfort seat, sewing it up with a brown diamond stitch design cover to break up the black livery.
Paul mentioned… "The brown seat and grips were inspired by some of the older café racers and bobbers, as well as wanting something that was visually different and shows off the lines of the bike as well as the quality of the seat and stitching. A black seat and grips felt like they would just get swallowed up in the all black look."
The bike was always going to be black, but when the rear cowl had to be painted we got in Paul's ear to spice things up a little… he said "I was originally going to go with a standard gloss black but after several sporadic calls with Ellaspede one afternoon and a quick dash to a carpark to find a metallic black car, I went with Ellaspede's suggestion of the black metallic flake and I'm glad I did." The new black metallic flake paint across the tank, cowl and front guard still gives it a factory look, but now when it's out in the sun or under lights it's got an extra special depth of colour, still in keeping with the original intention.
Paul get's it! He told us… "As Jay Z said – 'the black car picks up what the grey car wants' – and the same thing goes for bikes!"
After a few rides, what was Paul's favourite parts? He said… "I love the lines of it when viewed from the back end, the colour in the sun, the shape and style of the new rear."

"Probably the biggest thing for me is the amount of effort that went in to getting the tank, bars and mirrors all raised or adjusted as close together as humanly possible to achieve the image in my head. It's the little details like that which show the insane attention to detail that went into the build."

"I also like that my arse doesn't go numb when I ride for a few hours straight like it did on the stock seat in the stock riding position!"
We're pretty partial to agree with Paul's points too! But overall, we just like how easily these Harley's can be transformed into a slick mid sized custom bike. Paul didn't have to make any major changes, but now has a Harley with some of his 80's memory inspiration included.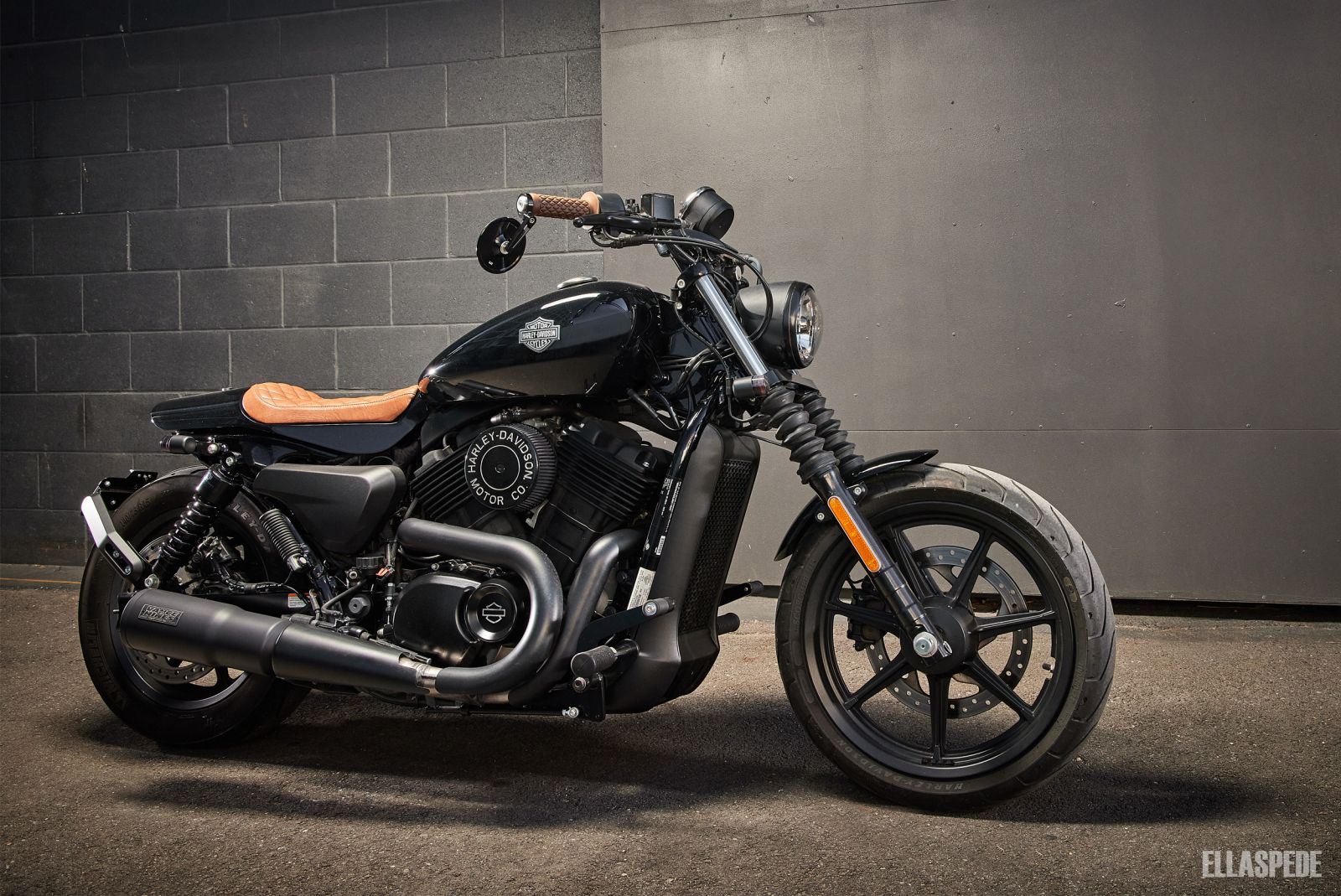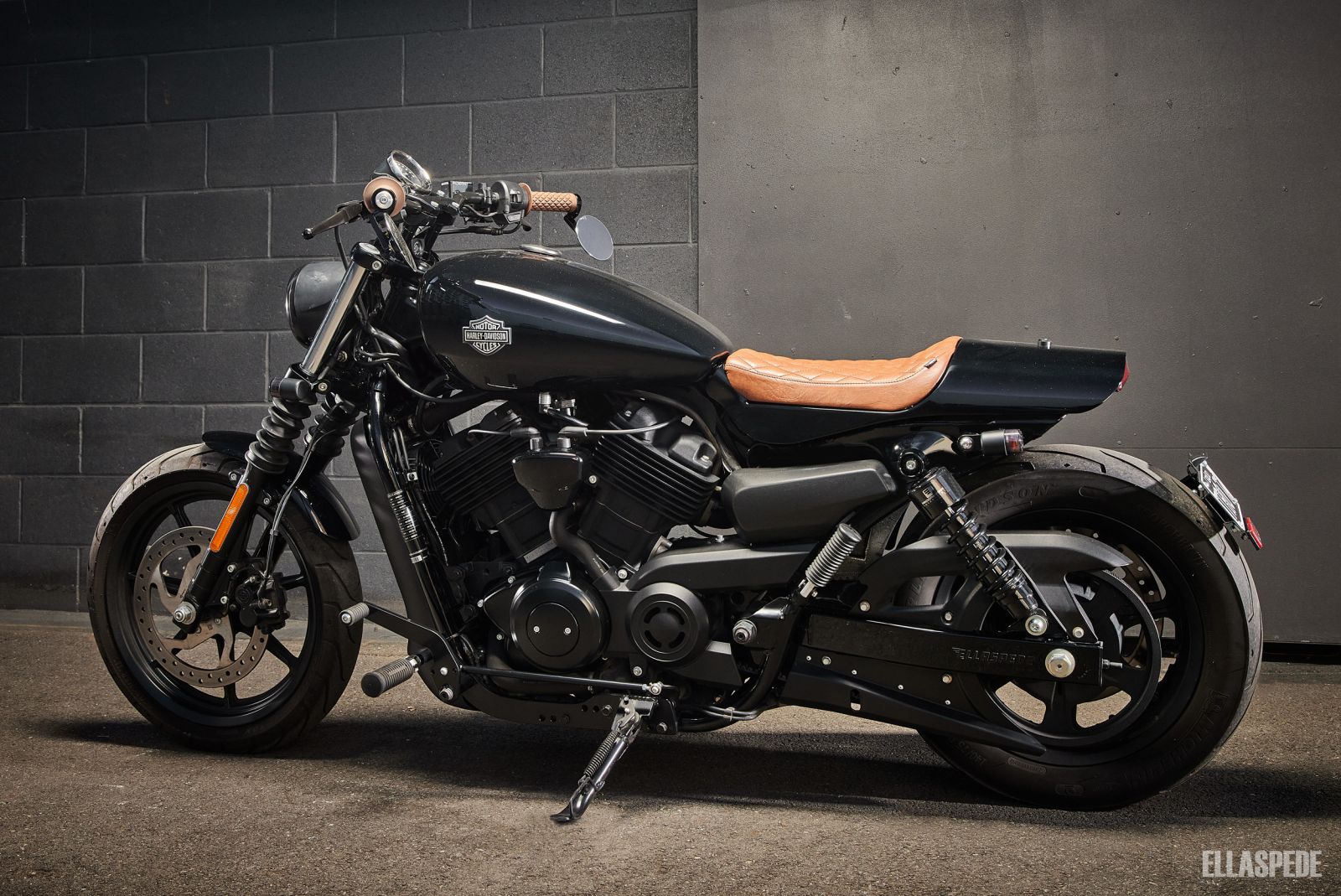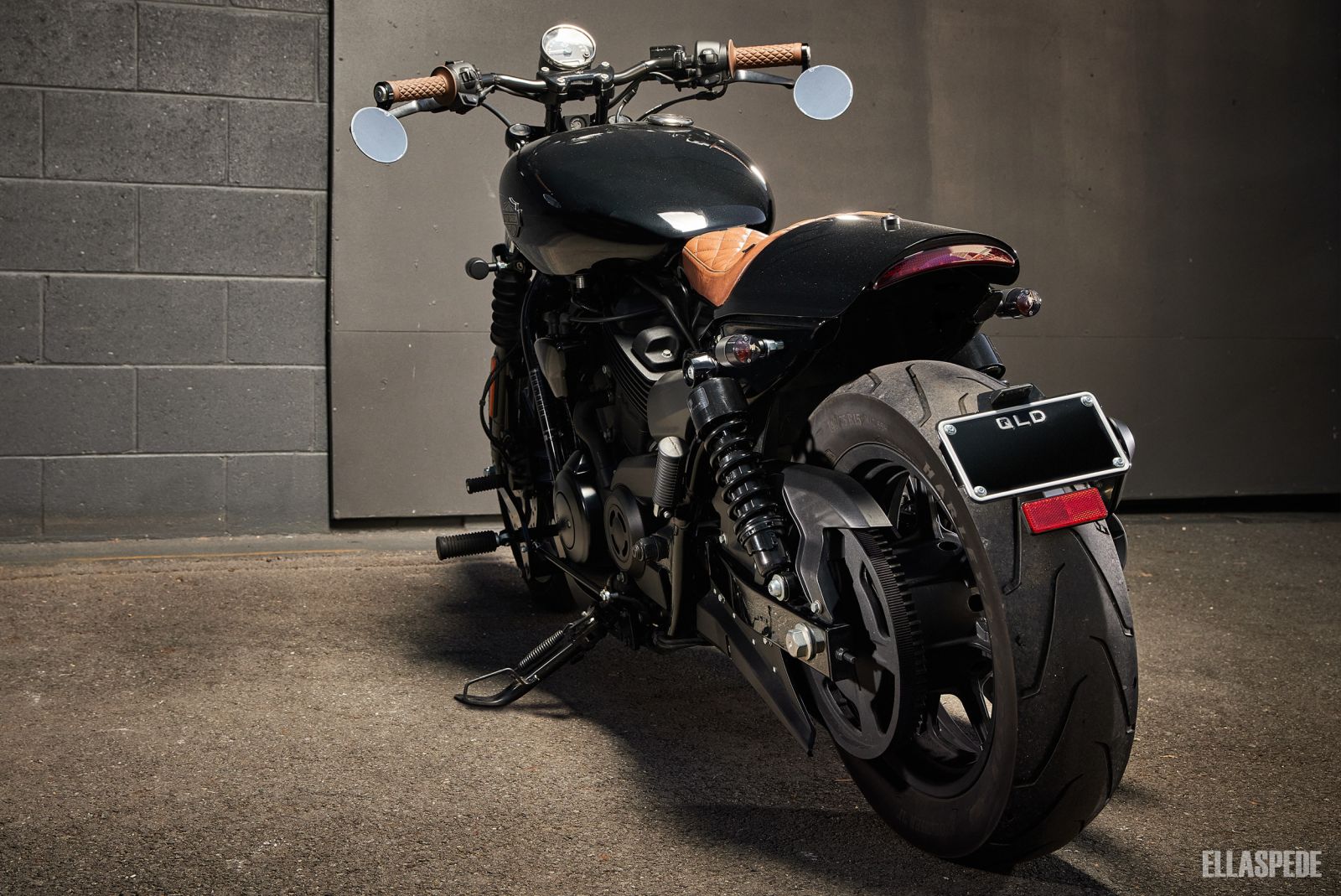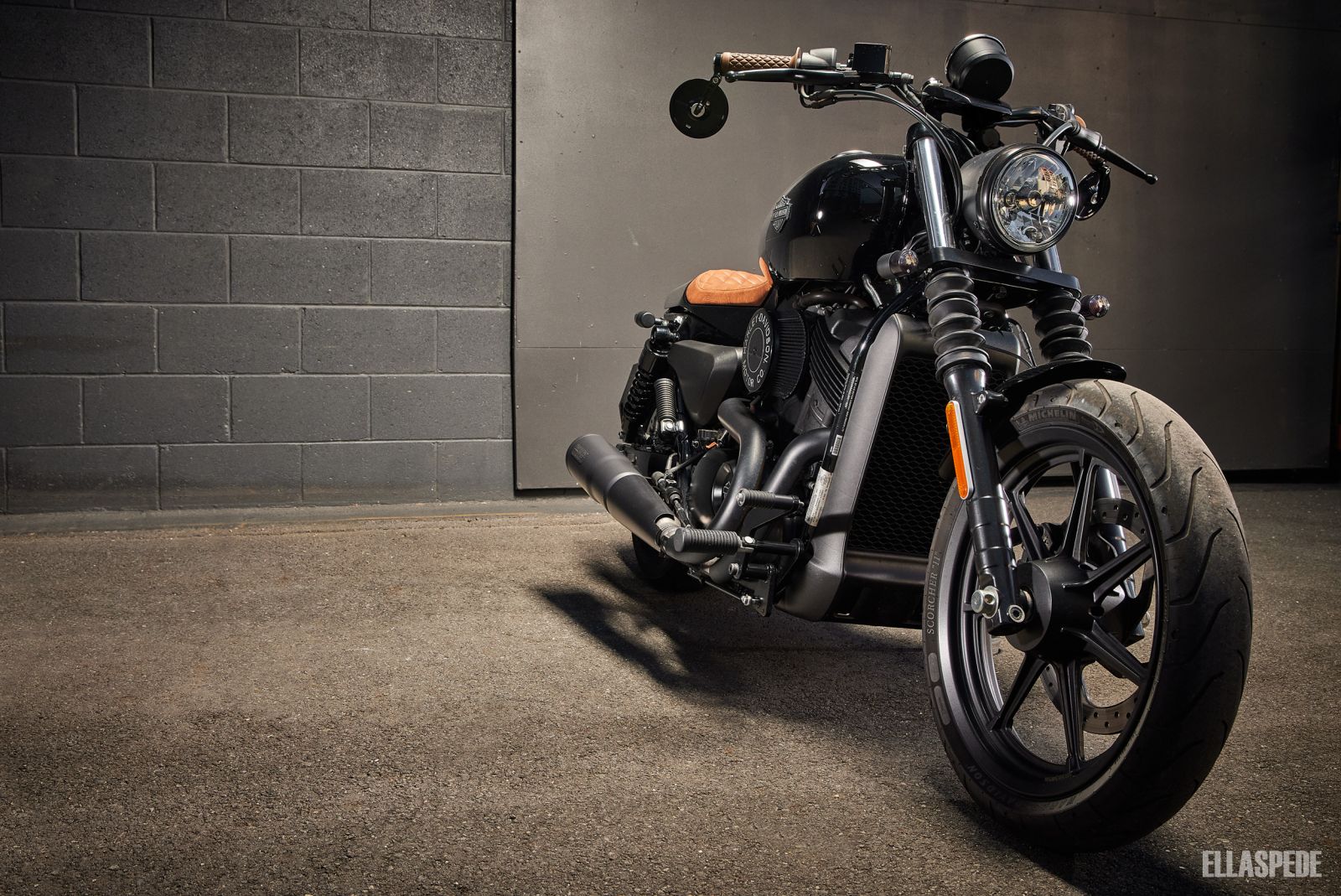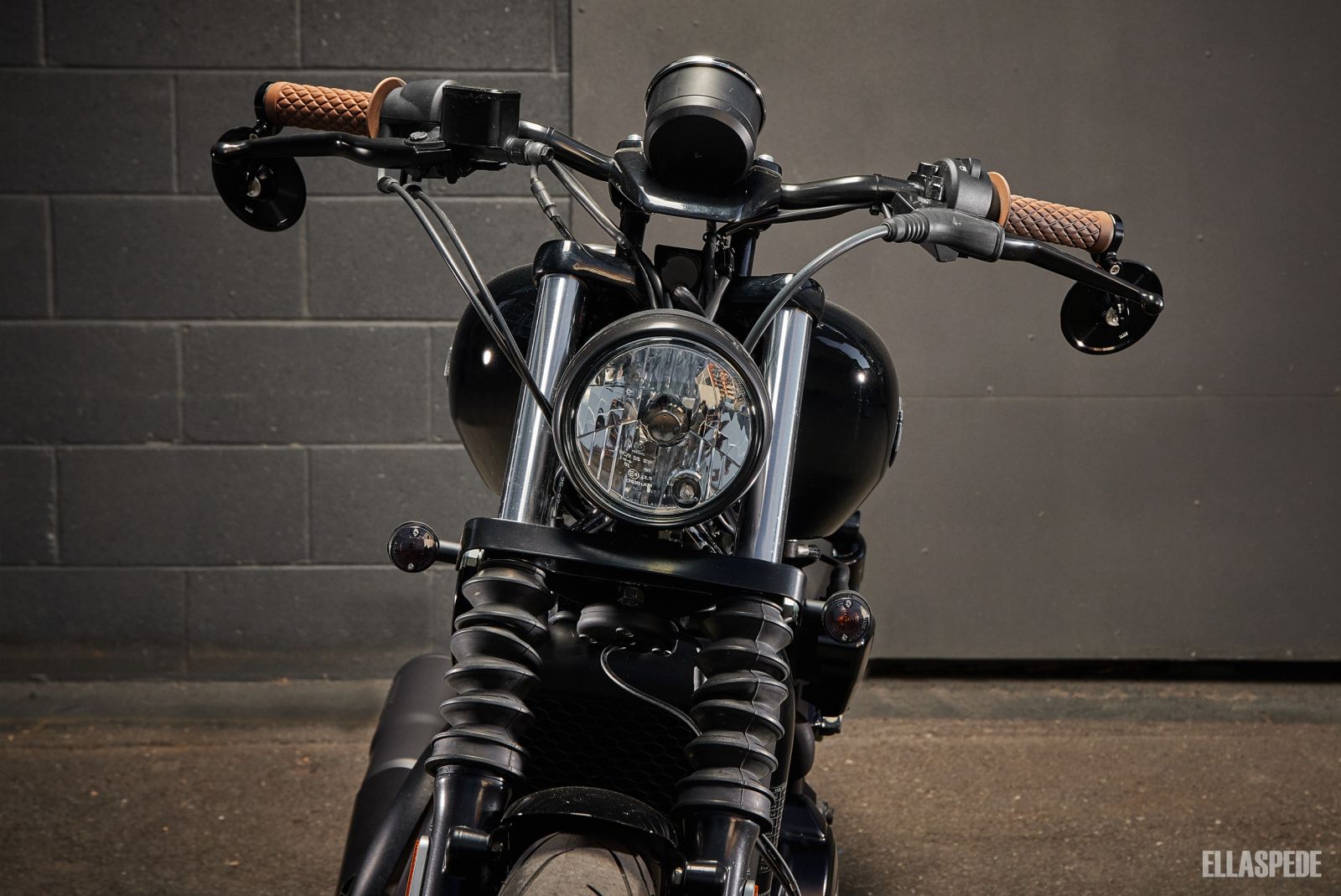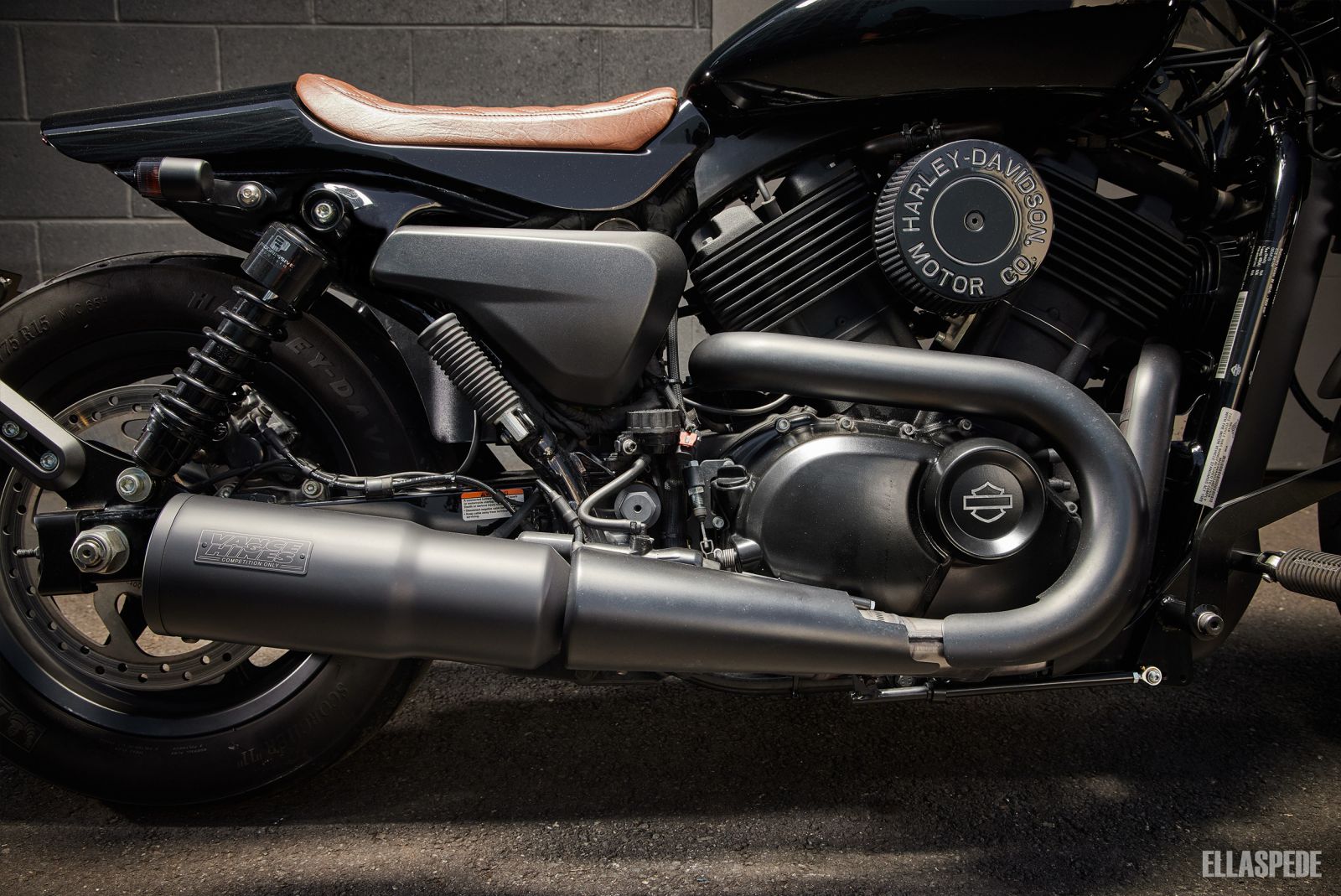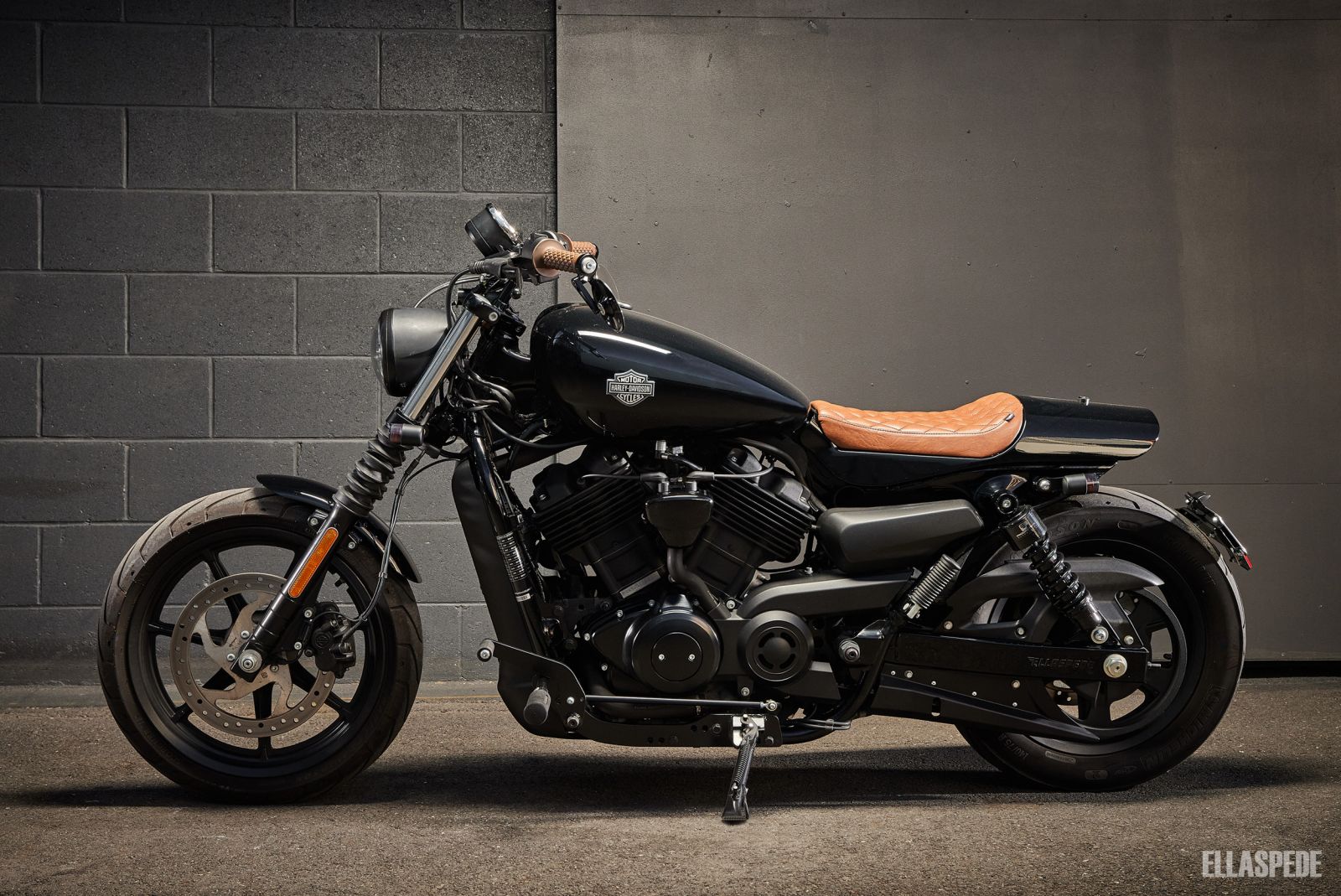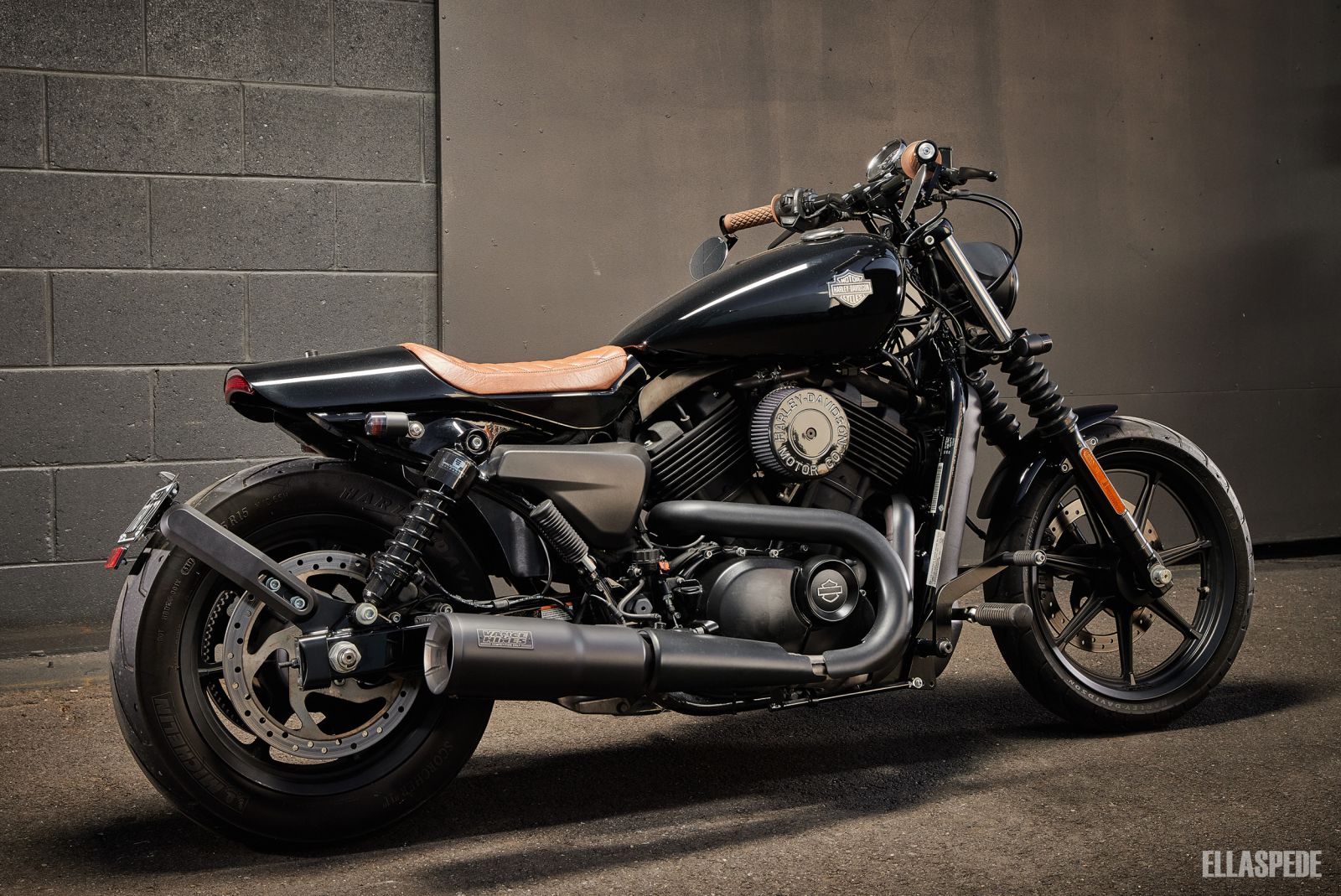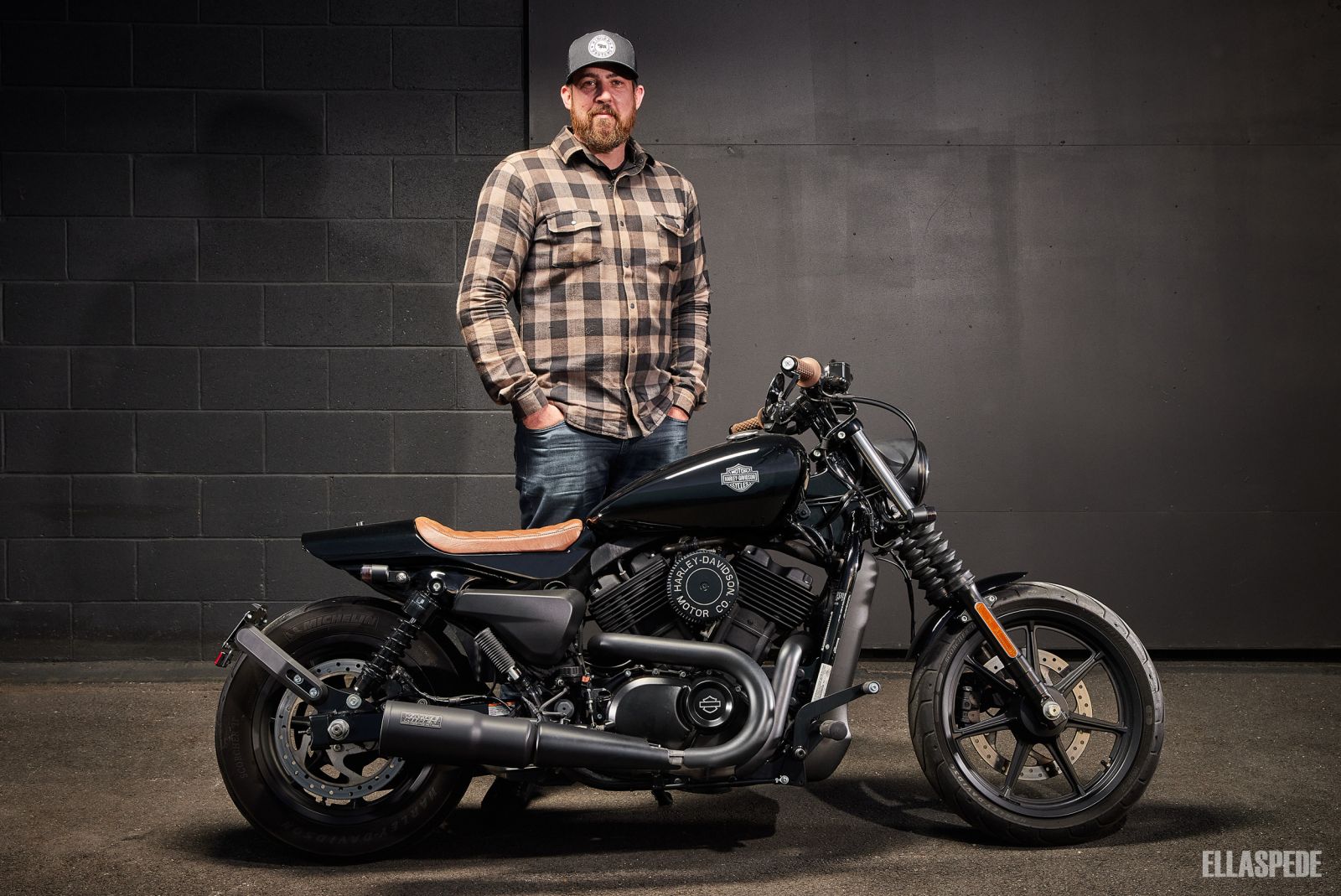 ---
Albums we listened to during the build of this bike:
---
Photos:
---
Build Pricing & Enquiries:
For build and pricing details or to discuss commissioning a custom motorcycle build of your own please email contact@ellaspede.com
---
---
Comments (13)
Seat

By:

Jaydee Galon

on 7 May 2023

Hi team, Just wanted to get an idea of the cost to have the same seat modification





Ellaspede Response
Hi mate, no worries, we just sent you an email. Cheers
---
Part price

By:

Filipe Dores

on 15 April 2023

I have a street rod 750, and I wonder if the part also fits for my bike and would like to know about the price to have the part shipped to Macau Thanks





Ellaspede Response
We sent you an email mate! Most of these parts wont fit a Street ROD 750 as the frames are slightly different, and we would need your bike in our shop to make and fit this seat as it required frame modifications to fit as well.
---
Build Info - Harley Davidson Street 500

By:

Kean Lim

on 4 April 2023

I am interested in custom a Harley Street 500 - Can you email me an indicative price and also do you have to cut the subframe to shorten the rear frame and fit the custom fabricated seat and rear cowl?





Ellaspede Response
Hi Kean, Yes mate you have to cut the subframe to fit this style seat. We'll send you an email with some pricing and info. Cheers!
---
Seat/tail piece for XG750a

By:

Ronnie

on 6 March 2023

Hey, I love what you guys do with the street platform for Harley's and I was just curious if the seat + tail section you've done for this model would fit the XG750a? In addition, would there be any cutting involved?





Ellaspede Response
Hey Ronnie! We're glad you like our builds mate. You could make this seat and tail section to suite an XG750A Street Rod yes, but it would require some frame cutting and custom mods to get it to fit like you see here on the XG500. So we would need your bike in our shop to do that kind of job. Cheers!
---
Interested

By:

Darryl

on 27 February 2023

I would interested in knowing more on price on this build





Ellaspede Response
No worries Darryl, we'll shoot you an email with some more info mate. Cheers
---
Tail Light

By:

Tim

on 25 January 2023

Do you have any more pics of the modded tail section on that? Im in the states and want to get mine done in a similar fashion. Also do you sell the tank lift kit for the build? It looks killer and I'd love to support the shop.





Ellaspede Response
Hey Tim, thanks mate, we're glad you like our build. We'll send you an email with some options mate! Cheers
---
Build kit price

By:

Sara Thorpe

on 13 January 2023

Hi, love this build, could you send me a price on a kit to recreate / labour? Cheers, Sara





Ellaspede Response
Hi Sara, sure thing mate, we'll send you an email. Cheers!
---
BUILD QUOTE

By:

ROY LEAVER

on 22 October 2022

Interested in the build price for a repeat of this build, a Harley family shopping for a Lams bike for our 18 year old son....would we buy the donor or you ??





Ellaspede Response
Hey Roy, Sounds like your son is very lucky! Would be a cool first bike. We'll email you some details mate. Cheers
---
Build Price

By:

David Nguyen

on 30 August 2022

I just got a 2018 Harley Street 500. I love the build. How much does the kit and labour cost am i looking at? Thanks





Ellaspede Response
Hi David, we'll send you an email with some more info and pricing mate! Cheers
---
How much does this bike cost?

By:

shane zavahir

on 29 June 2022

To Whom it may concern Can you please advise how much this bike would cost- EB1133 - 2018 Harley Davidson XG500, similar to what is on this web page. Many thanks





Ellaspede Response
Hey Shane, no worries mate, we'll shoot you an email with some more info. Cheers
---
Price Inquiry

By:

Hamood Ur Rehman

on 18 March 2022

I am planning to buy a XG 500 soon and was wondering how much this build would cost. I see you have made it into a one seater, is it possible to have a second seat too? Other than that I want everything to be somewhat similar. I live in Sydney so please let me know if you have a partner shop here too. Looking forward to hearing from you soon Regards





Ellaspede Response
Hi Hamood, We're glad you like our XG500 custom build. We'll send you an email with some info, options and pricing mate. Cheers
---
Air filter

By:

Jordan

on 1 March 2022

What air filter and filter cover did you use and where do you buy them from to fit the street 500?





Ellaspede Response
Hey Jordan, It's a Vance & Hines VO2 intake for an XG500 with the Harley Davidson Motor Co Collection air cleaner trim (PN: HD61301005) bolted to the front. The trim cover isn't meant for an XG500 but it fits this air cleaner pretty well. Cheers!
---
Build price

By:

Johnny

on 24 January 2022

I'm on the process of buying a 2016 model in dark blue. I'd like to have similar build. How much would the kit be. Thanks





Ellaspede Response
We're glad you like the build mate! We'll send you an email with some options. Cheers
---
Leave a comment