EB789 - 2017 Harley Davidson Street 500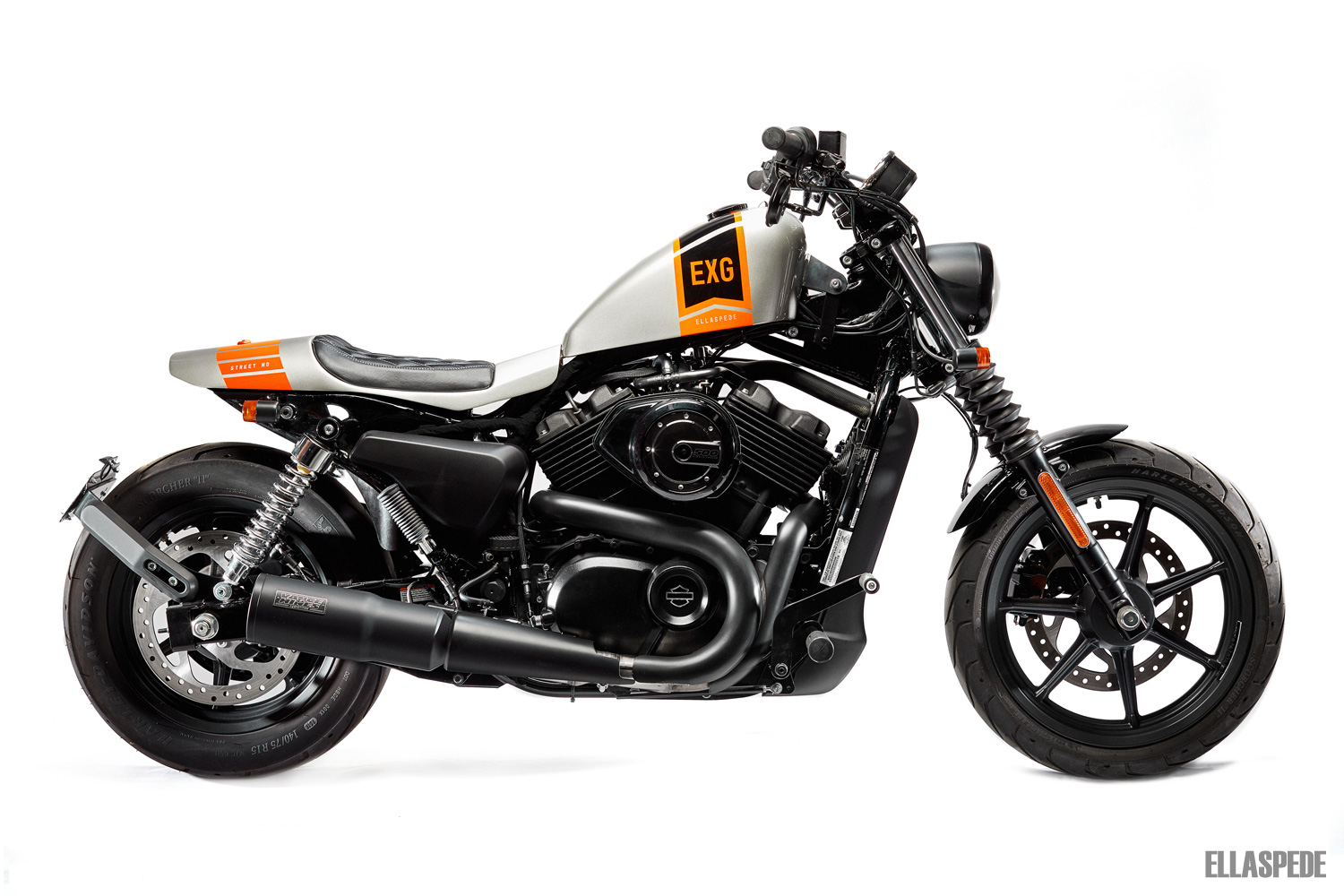 The Street 500 is Harley Davidson's only LAMS (Learner Approved Motorcycle Scheme) offering and although they don't look too bad out of the box, we couldn't help but draw some custom inspiration from the family lineage.
The 'Harley Family' has some incredibly iconic looking motorcycles, many of which attract owners to the marque just by looks. But we felt like the tank and tail didn't represent the HD heritage we had in mind for a fun 500. Enter Gasoline Alley Harley Davidson (GAHD).
We'd worked with GAHD before, sourcing parts for Harley builds and sliding around at our annual Dust Hustle events. We liked the way they worked and their interest in expanding on Harley offerings outside of what was available in the factory catalogue was refreshing. So when they approached us to collaborate on a Street 500, we were keen to kick this build into gear.
Part of the plan was building a custom bike that was easily repeatable, should orders start flying off the floor down at GAHD where this bike is now parked. So hardtail conversions and custom made tanks were out of the question. Plus, even though the Street 500 is a ripper ride you'd be happy to hoon around with on an open licence, we didn't want to 'over capitalise' on a LAMS bike. Mainly to ensure those entering the custom scene can get a rad looking HD to ride without breaking the bank.
Two of our all time favourite HD's are the Sportster Seventy-Two and the new FXDR, so naturally we looked to them for some design inspiration. They're vastly different looking bikes, but the intent was to draw on their design cues to develop a custom 500 that would look right at home rolling with one of the bigger siblings.
The centre point for this Street 500 is now the Sportster Seventy-Two tank, mounted with a bolt on Ellaspede Seventy-Two tank kit. Removing the 'flat and wide' stock tank in favour of this one certainly transformed the look of the bike, and once we knew it was possible the design direction was decided on.
The stock seat and rear section on the Street 500's is big for the size of the bike, so trimming that visual weight out was a key concern. We liked the look of the FXDR rear with it's short finish seat cowl, but knew it would be far too big for this frame and didn't quite match the lines of the Seventy- Two tank already in place. Using it as inspiration, a custom made aluminium cowl was created that fit the frame size and flowed on from the back of the tank.
The long seat support on the factory frame was trimmed back and braced before an aftermarket tail light subtly slide in underneath the new seat cowl. New rear indicators now tuck in on Ellaspede Street 500 Rear Indicator Brackets just behind the factory rear shock mounts.
A short rear required a resolution for the number plate mount, which presented an opportunity to design and develop the Ellaspede Street 500 Number Plate mount kit. It fits to the stock swing arm, positioning the plate in a legal position without compromising the shorter custom seat design.
Once the rear was looking trimmed and tidy, attention turned to the factory muffler which now looked even bigger than before. GAHD sourced a sweet Vance and Hines slip on that not only looks the part but gives the 500 mill a more meaningful Harley sound.
With the bike now sounding more like a Harley we wanted to get it riding more like Harley. The factory mid control foot pegs are in a useable position, but we just had to fit forwards for a more genuine HD experience. The available options seemed expensive and didn't match the look of the bike, so we developed our own and the fully adjustable Ellaspede Street 500 Forward Controls are now fitted to this bike.
The stock bars are comfortable and fit the look of this application, but the factory mirrors were replaced with under slung adjustable items to keep the visual line looking low. Removing the headlight cowl and associated brackets also revealed a tidy headlight unit that sits snug and low in the stock position, well done HD! New indicators on an Ellaspede Street 500 Front Indicator Bracket complete the front end tidy up and trim down.
Rounding out the changes was some electrical work to wire in the new components, while the radiator fill neck was modified to fit with the Seventy-Two tank changeover.
When it came to paint the traditional Harley orange was hard to go past, but we wanted to spice it up with some sparkle. Sometimes black doesn't highlight shapes the way you want, so a smooth silver was laid down to compliment the enhanced factory orange.
The final result? We've combined some current Harley aesthetics in a mid size 'sportster style' package. The Harley Davidson Street 500 already does a lot of things right, but now that it looks and rides a little more like the bigger bikes we think it'll continue to kick goals in the mid sized market.
Thanks to Gasoline Alley Harley Davidson for engaging us on the build. Now when you drop into their dealership there's another option for riders looking for a fun 500!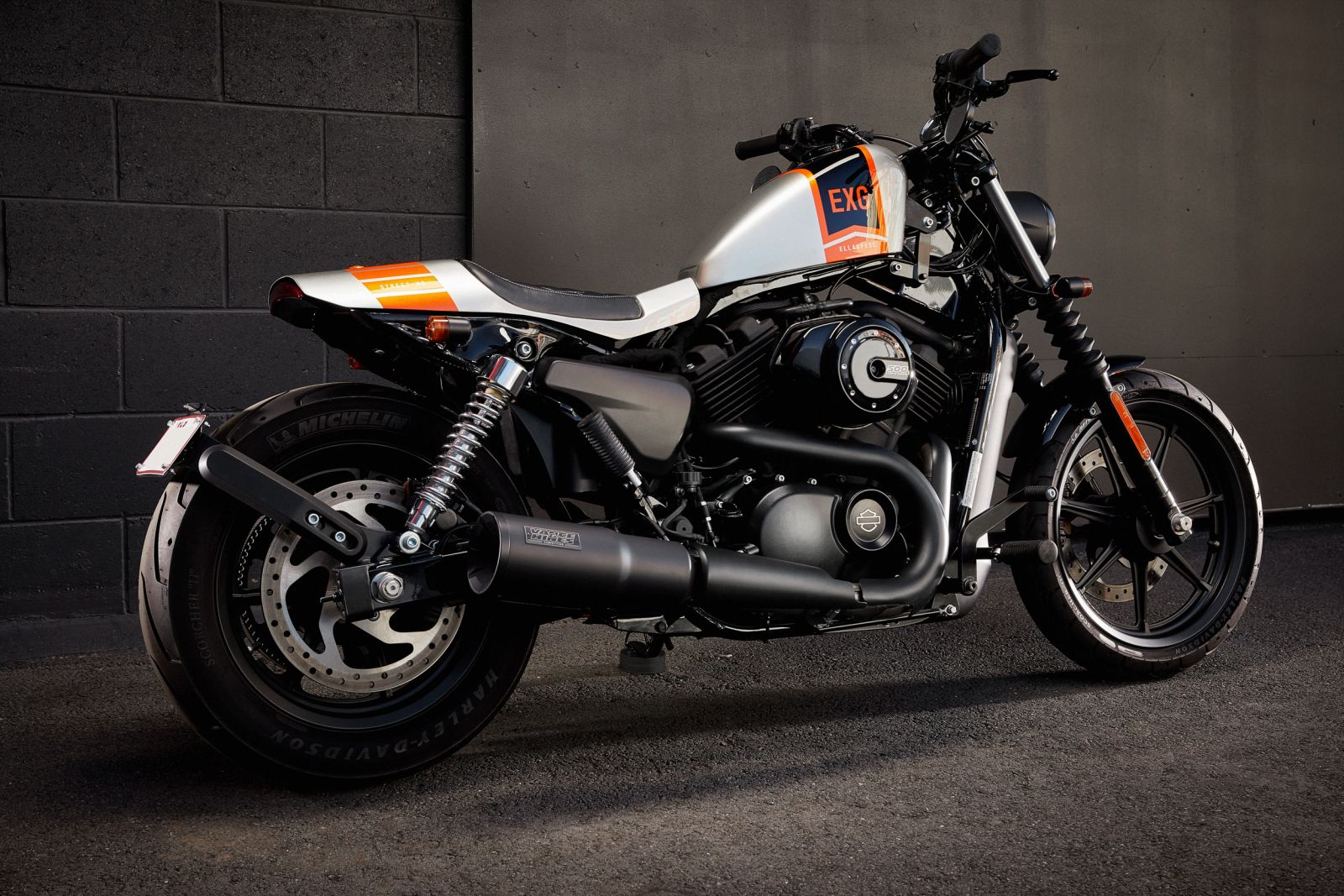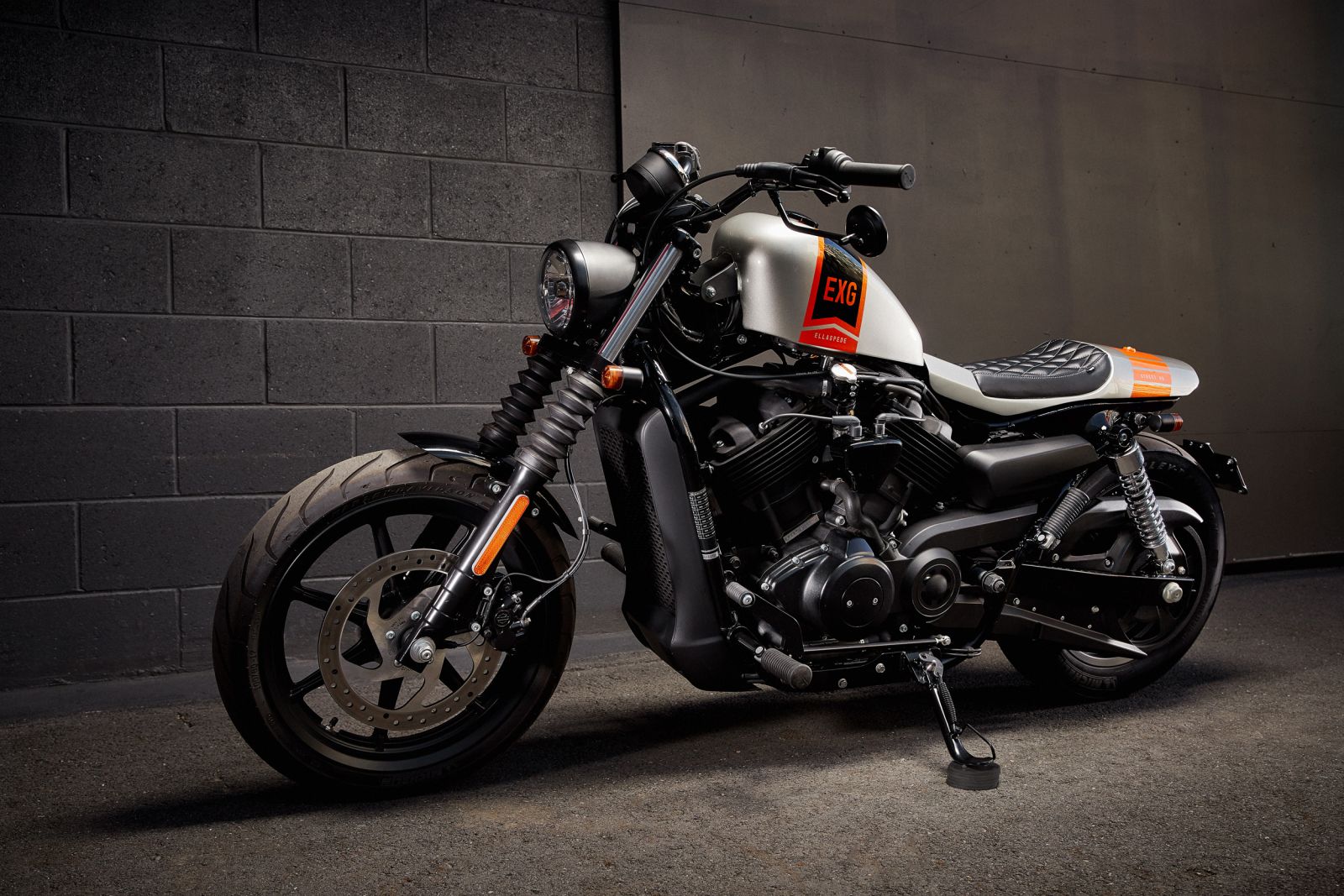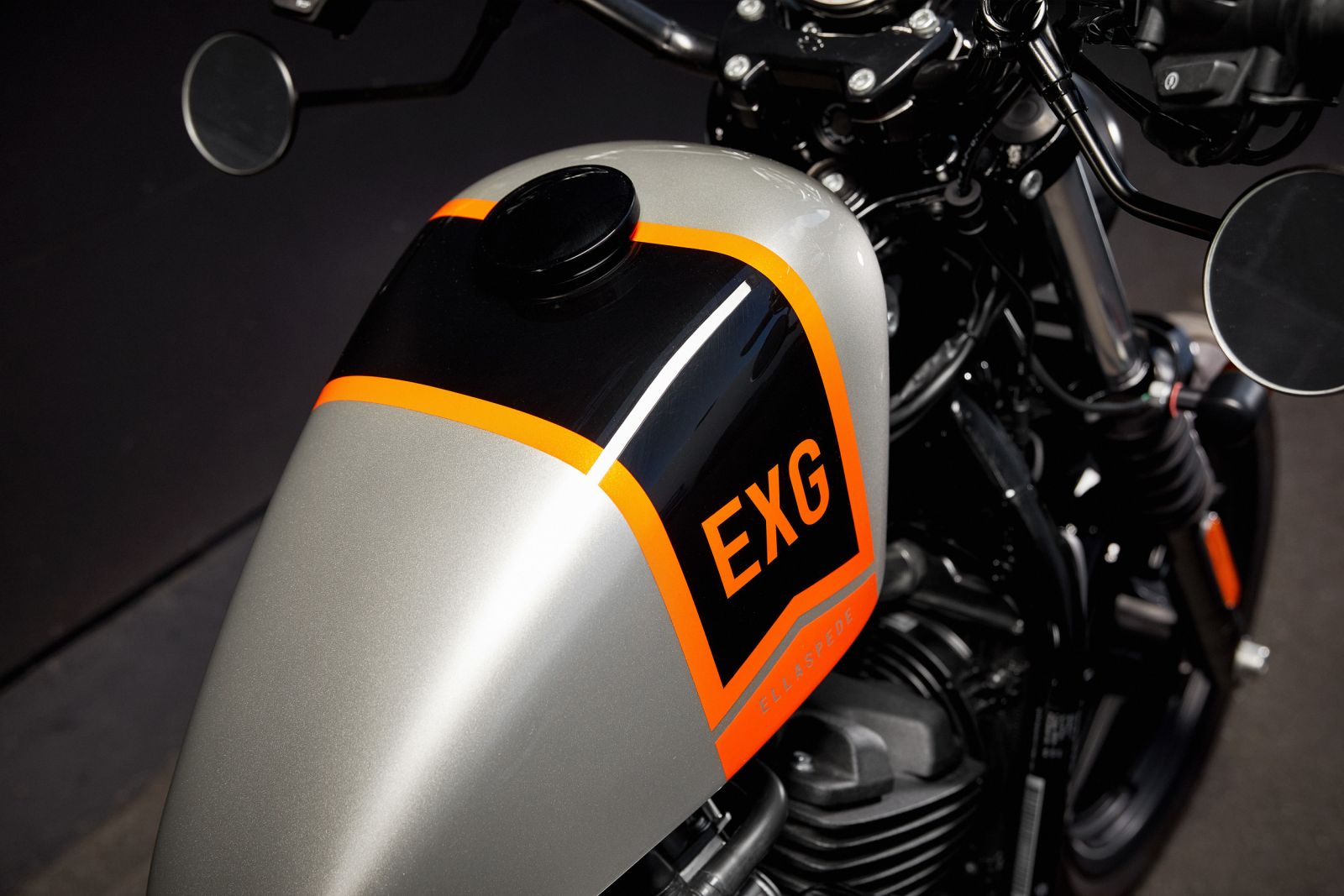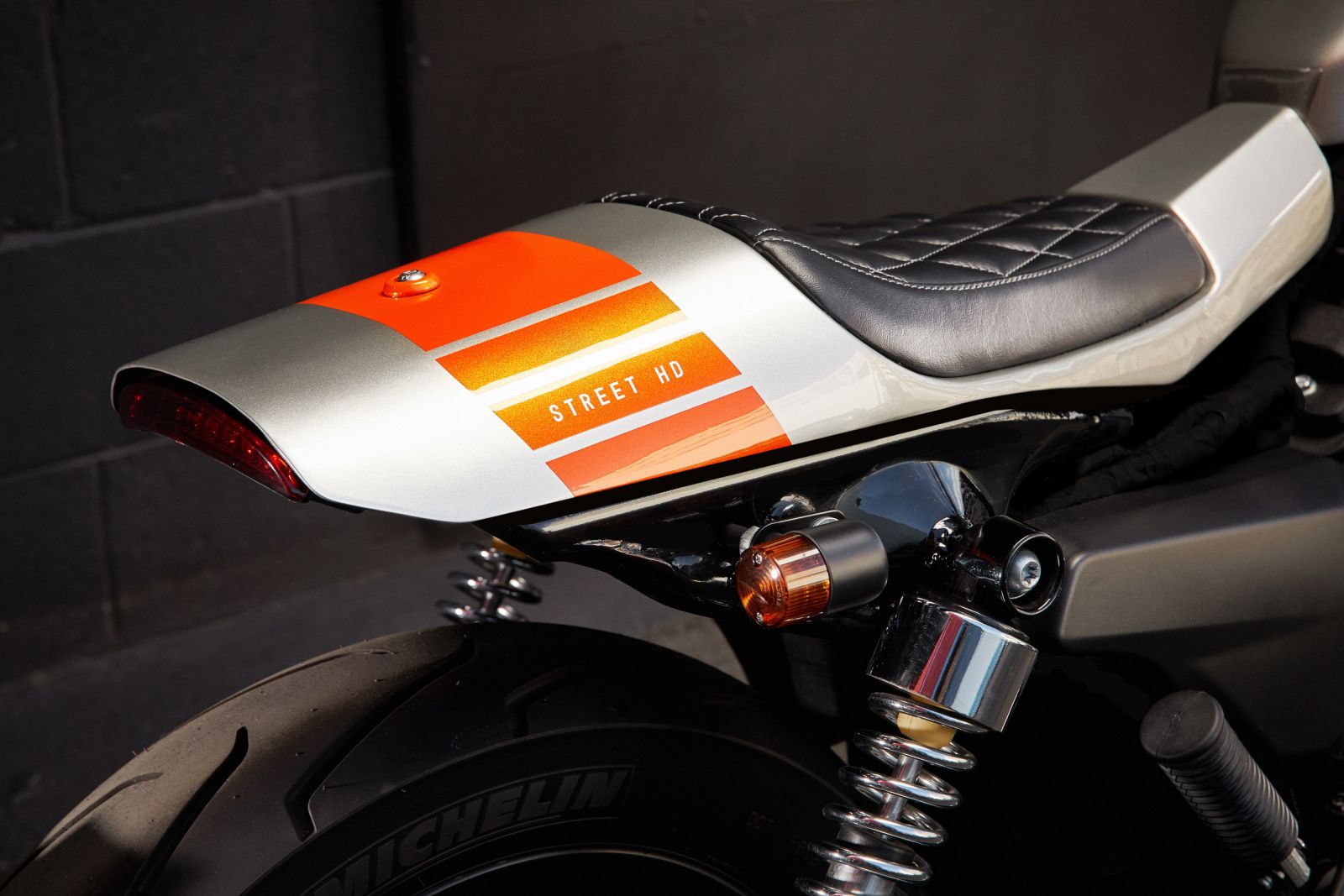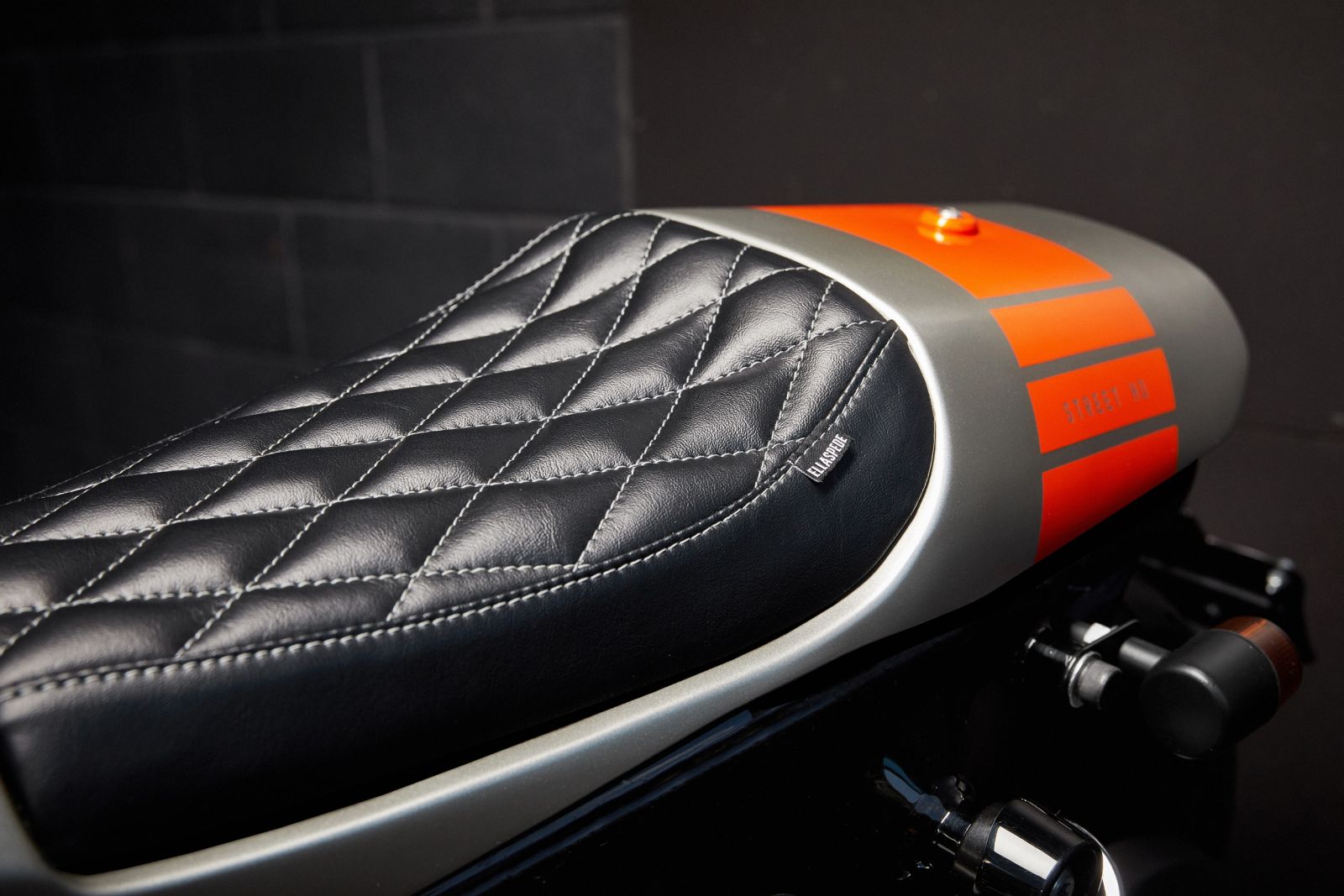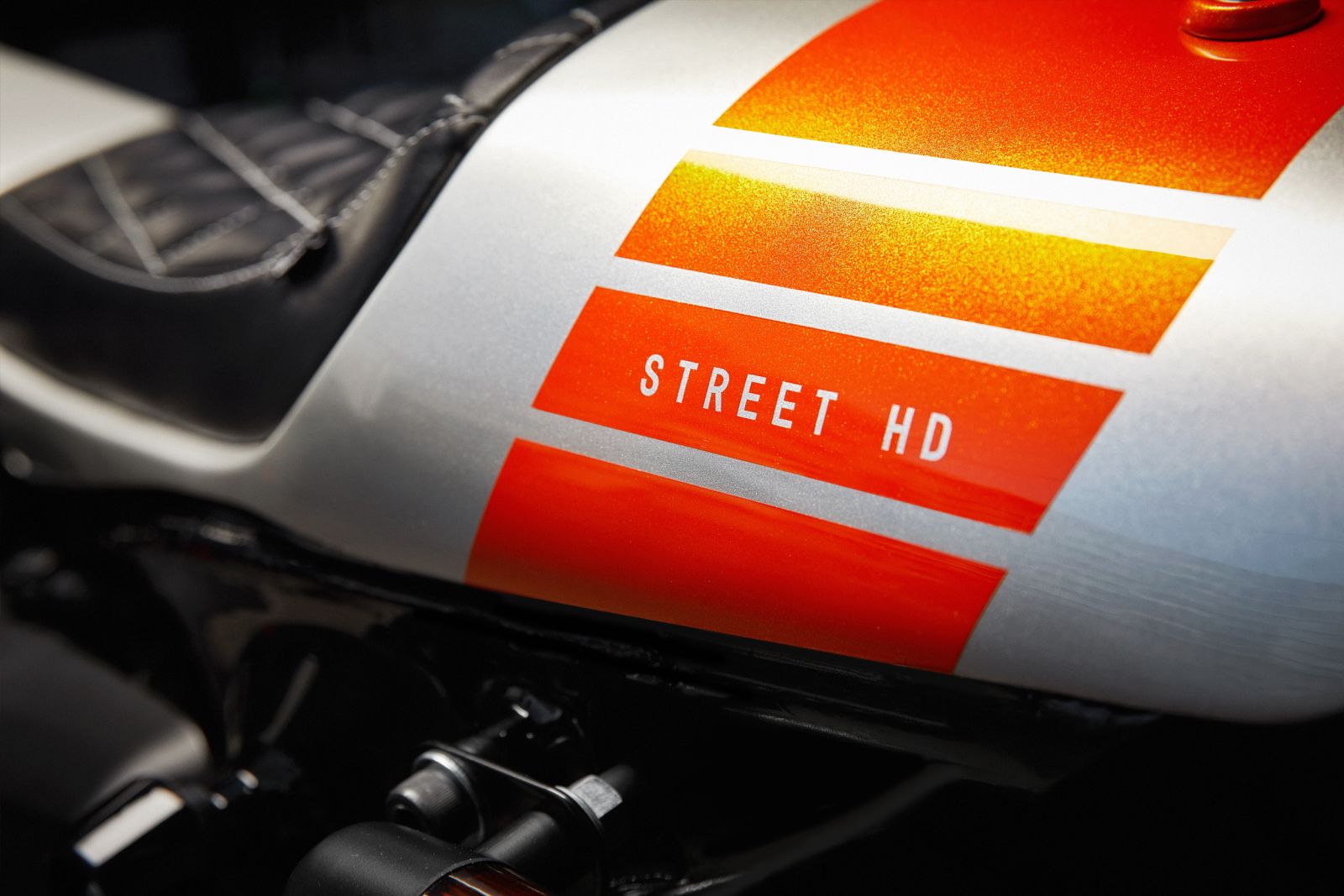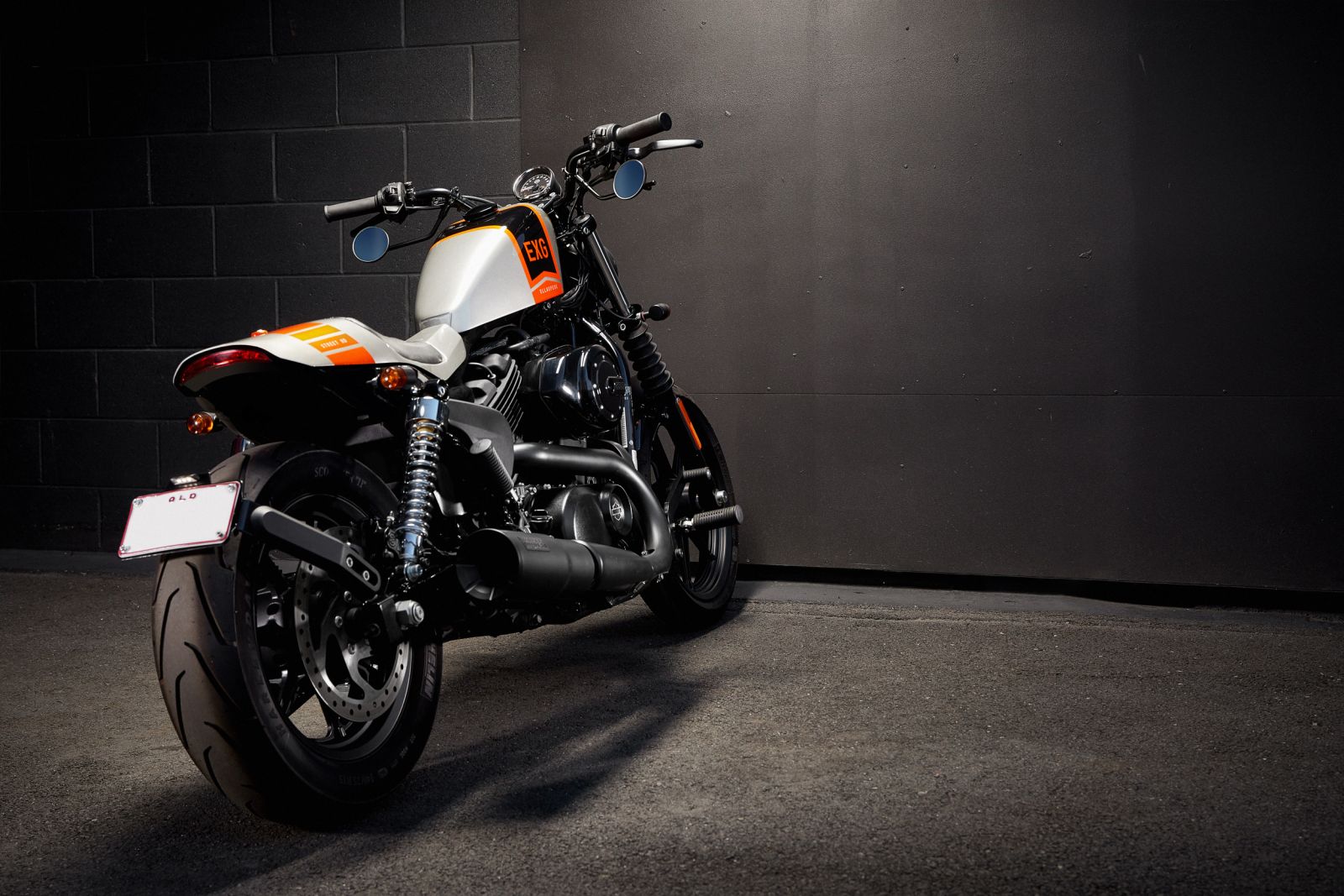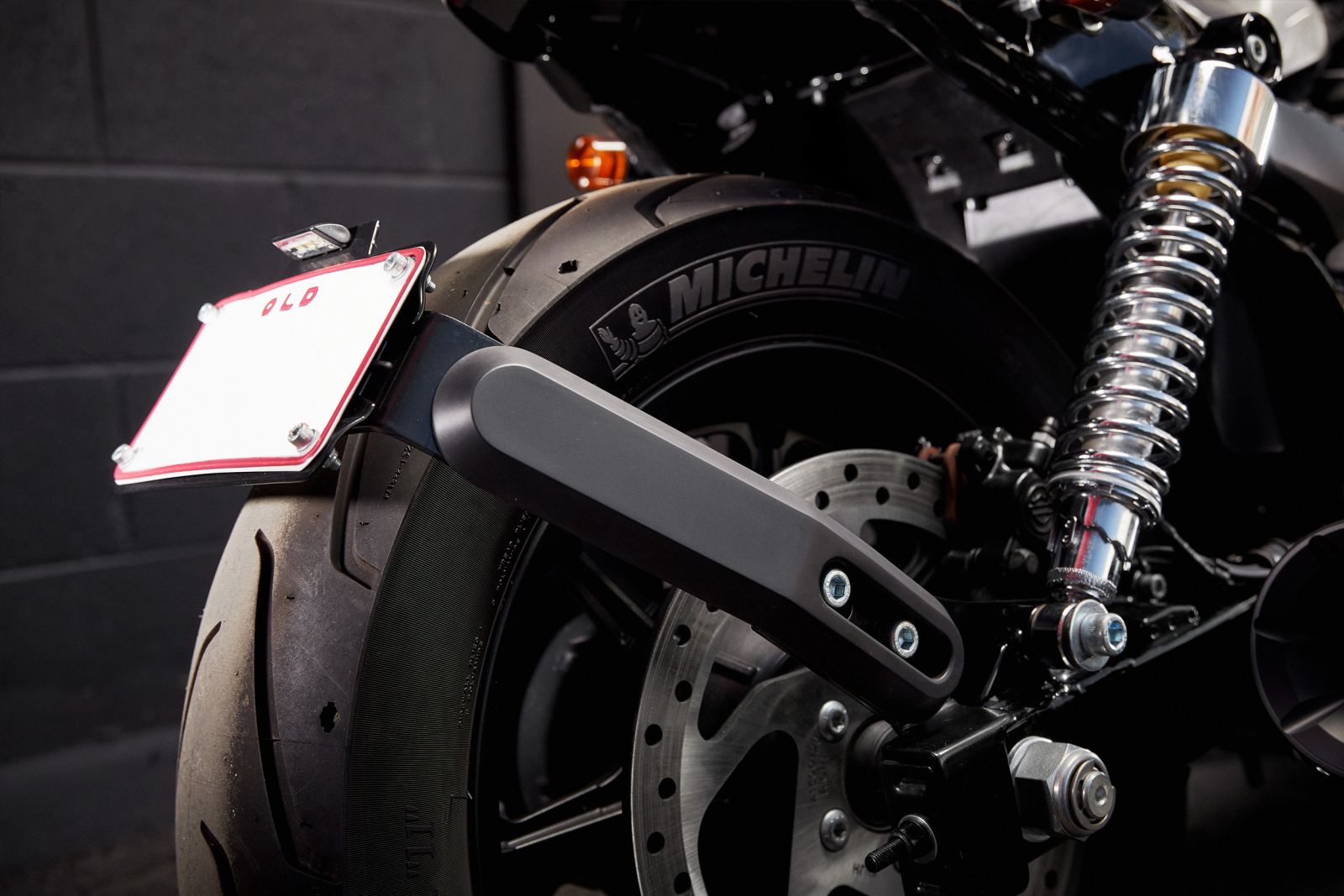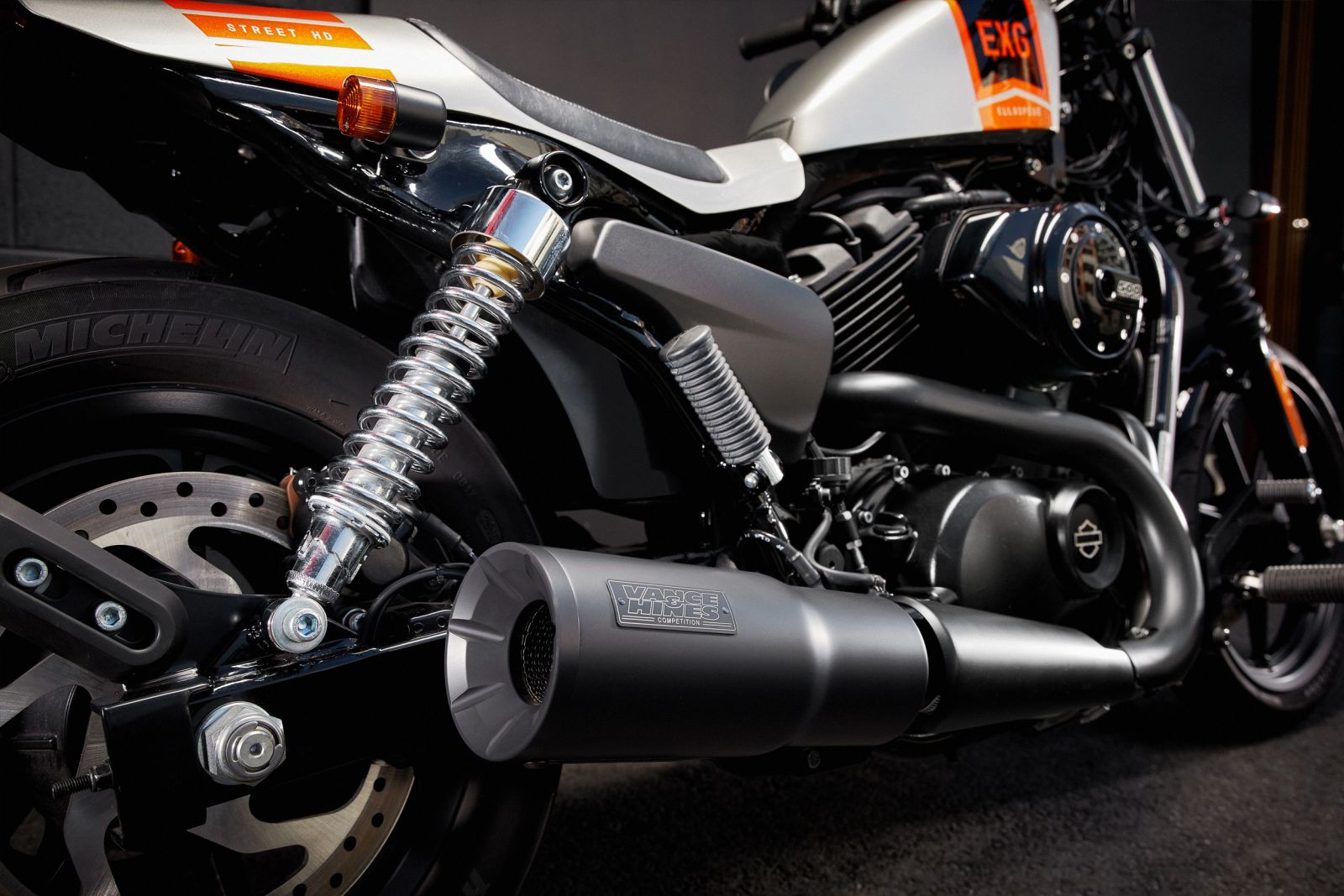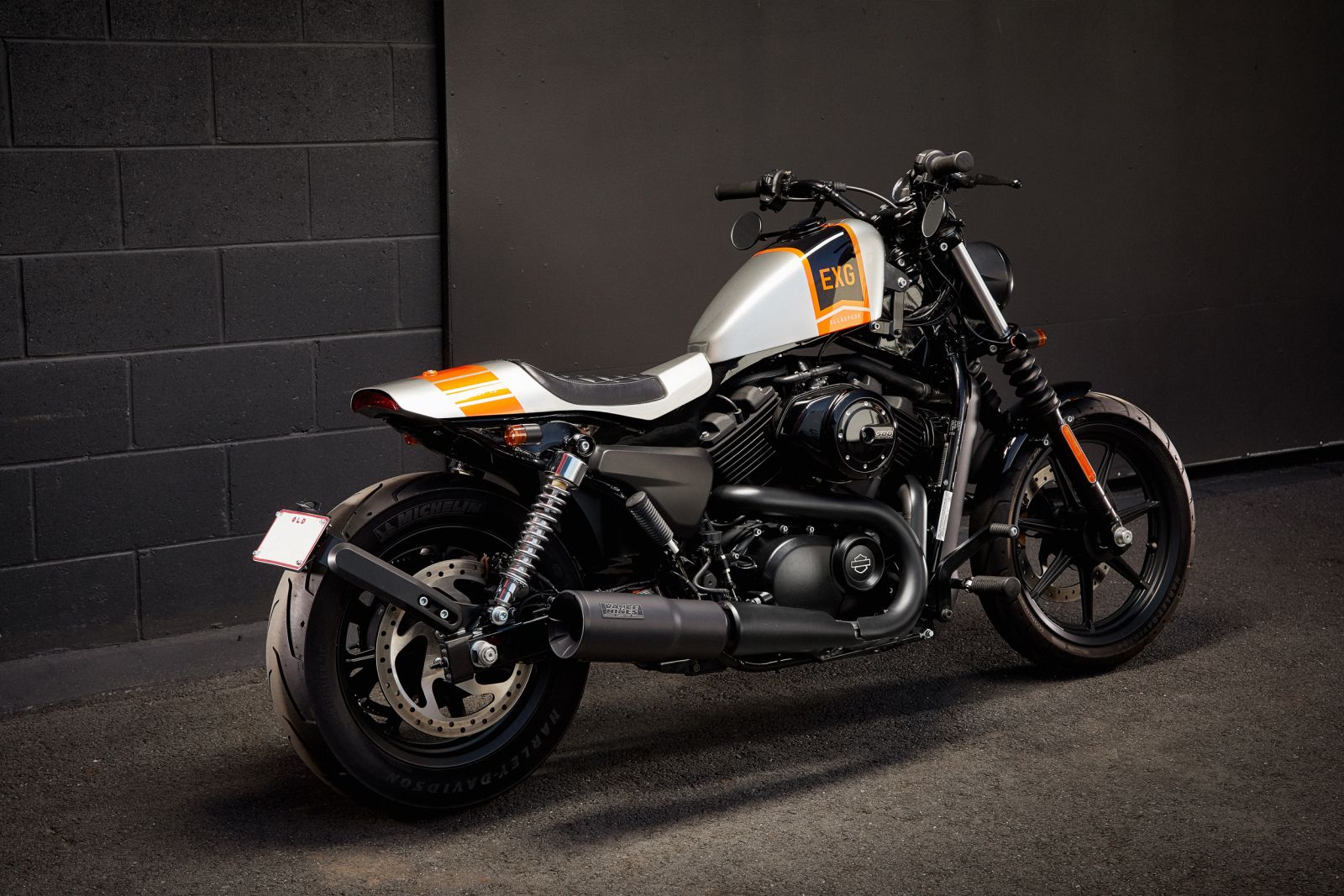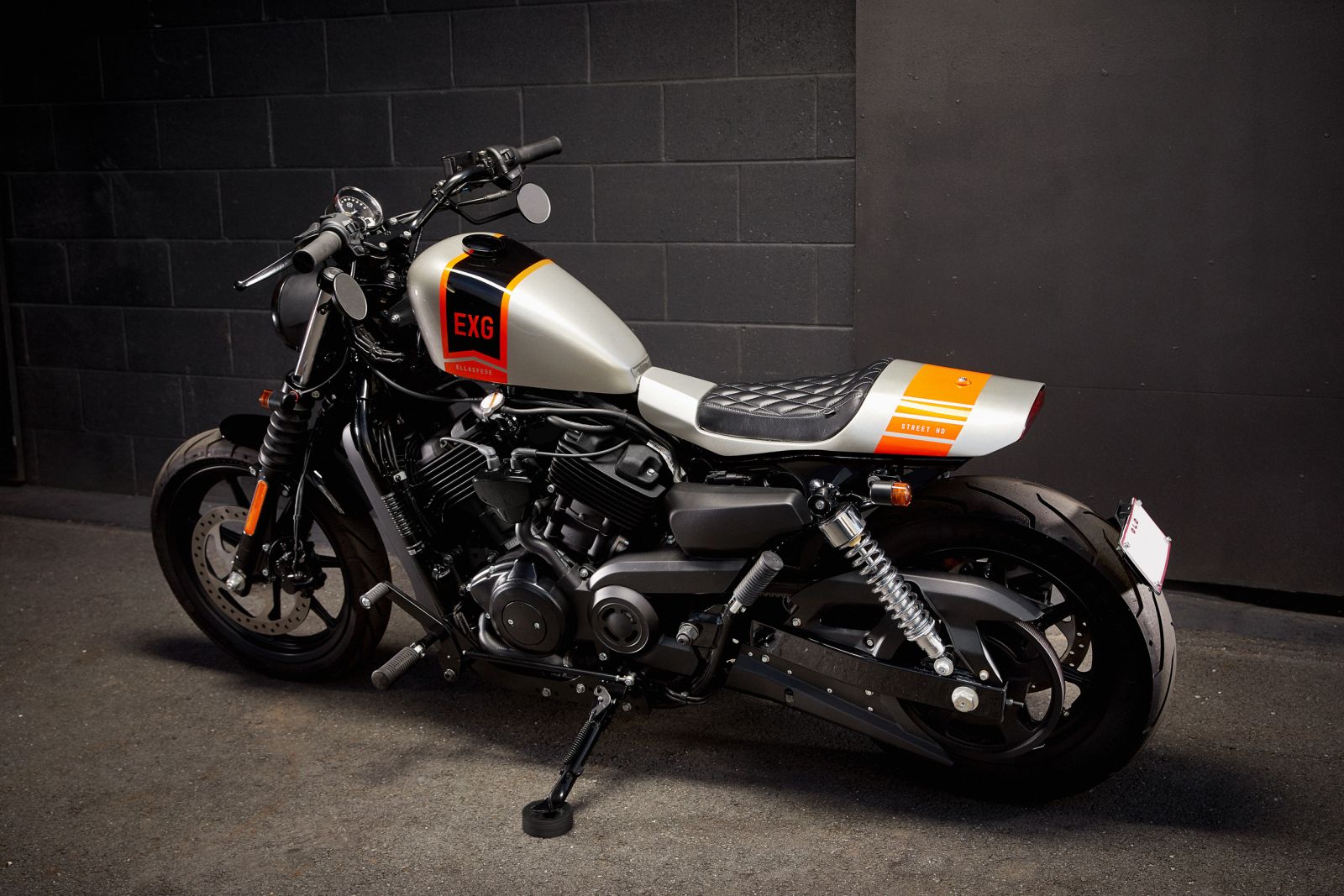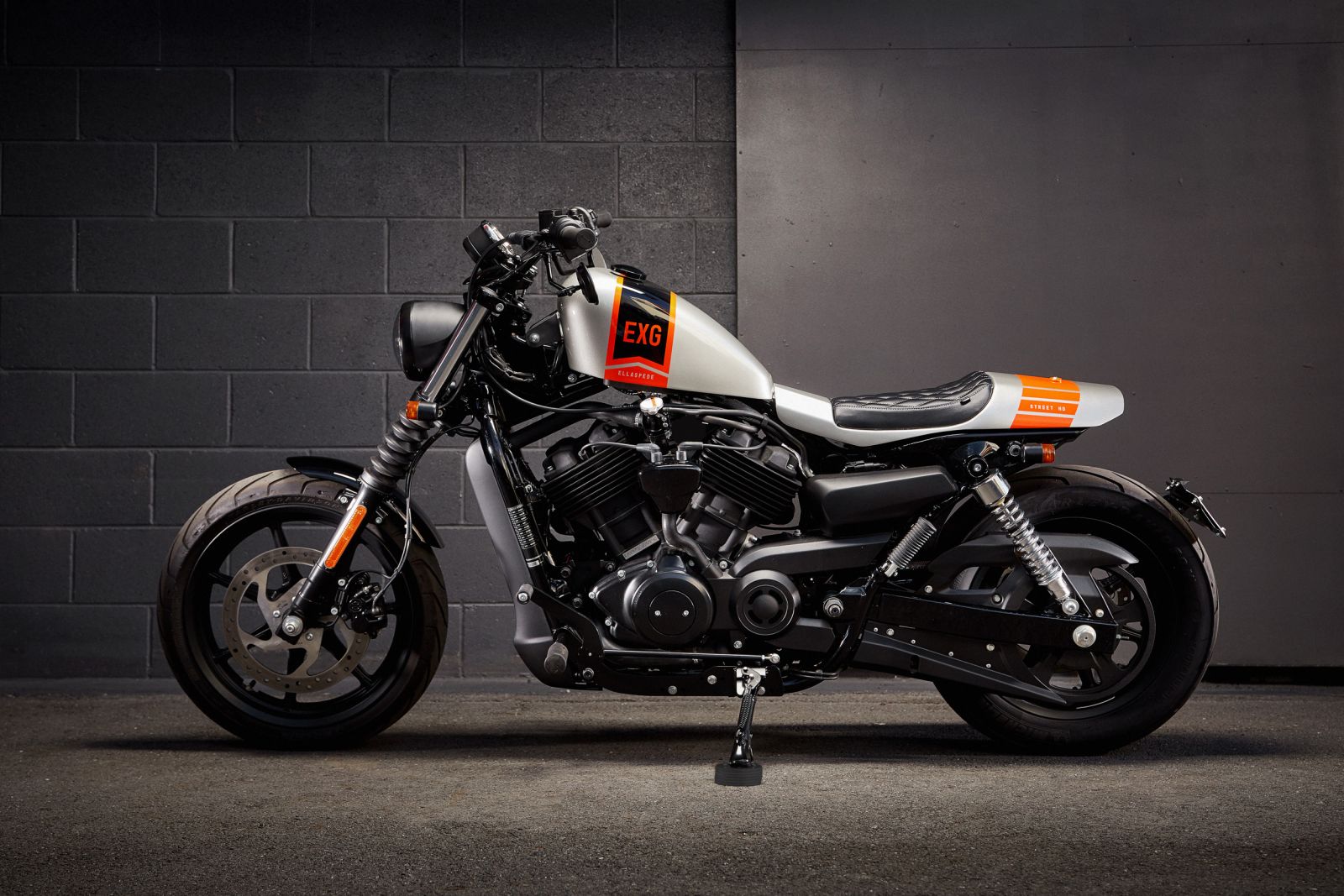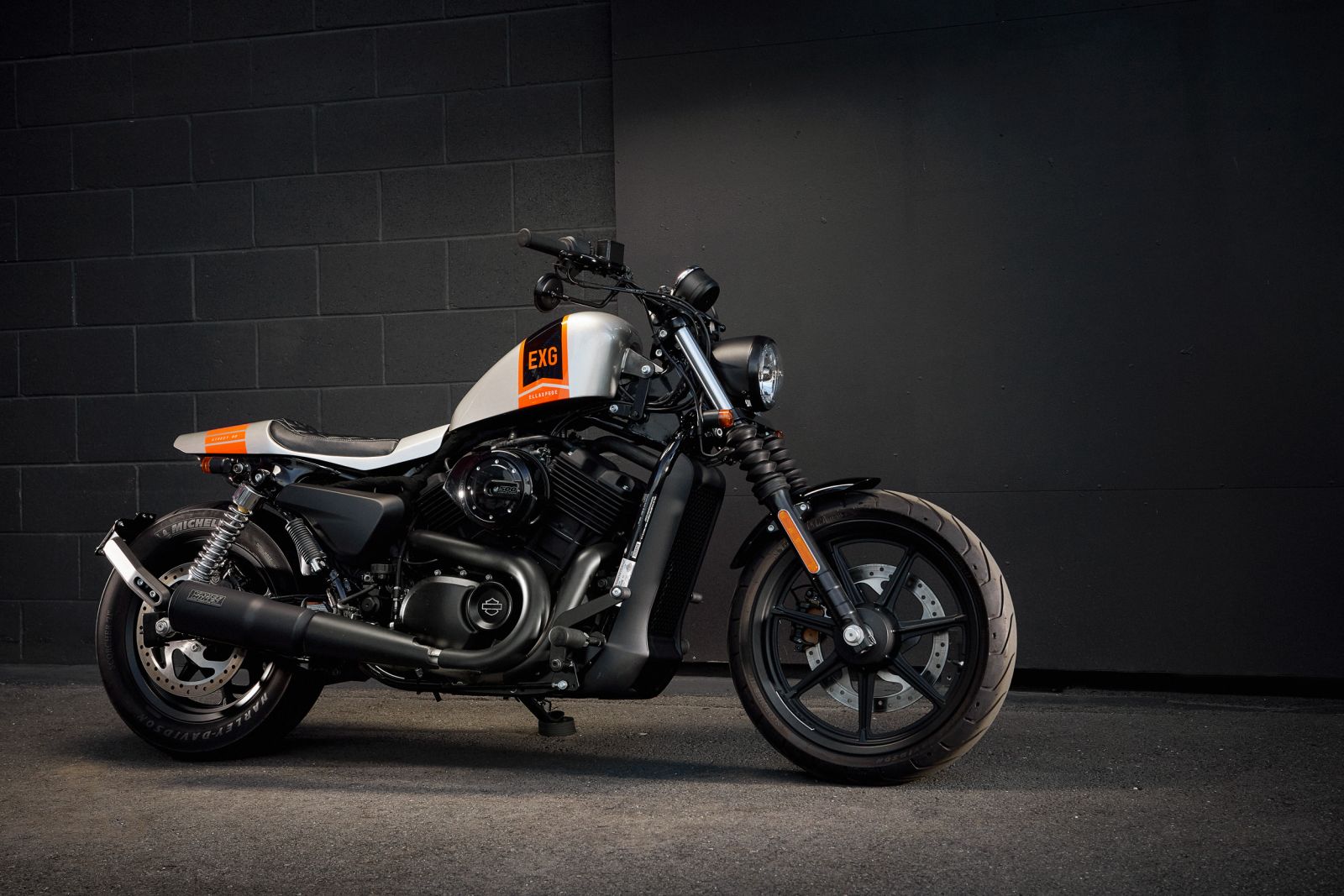 ---
Albums we listened to during the build of this bike:
---
Photos and Features:
---
---
Comments (18)
Tank adapter kit?

By:

Ashley

on 17 January 2023

hey there! how might one get ahold of one of these Seventy-Two tank kits? thanks!





Ellaspede Response
Hey mate, we'll shoot you an email with some details! Cheers
---
Beautiful License plate holder

By:

Maurizio Scaduto

on 15 September 2021

Buona sera Team, is there any chance to have the same license plate holder or similar for my Harley Davidson Fat Bob 2021? It has already from stock the license plate placed in the middle if the rear tire but all the rest ist clumpy and ugly! I would be greatfull for your feedback Greetings from Germany Cologne





Ellaspede Response
Hi Maurizio! We haven't made one as a bolt on product for the Harley Fat Bob sorry. If you were local to our shop we could custom make one for you, but Germany is a bit far away. Thanks for following mate!
---
Beautiful mirrors

Hi team! Just wondering seeing what the pricing on these mirrors, sent to New Zealand would be? Is it a comfy ride, no hands hitting mirrors?





Ellaspede Response
Hey Kai, We no longer sell these exact mirrors, but you can get chrome versions on our website. Just look for the classic chrome enduro mirror. The website will have an auto shipping calculator if you put in your postcode too! Cheers mate
---
Harley Street 750

By:

SAM m.

on 12 May 2021

Hi just wondering if you can do this to harley street 750. If yes I Would like to know pricing plz. I'm from Sydney so do you have a branch here or the bike needs to be built in Queensland and shipped to sydney? Cheers





Ellaspede Response
Hi Sam, We can definitely do a similar style build on a Street Rod 750. We'll send you an email with some details mate. Cheers!
---
Total cost (parts) estimate

By:

Angus Cho

on 14 April 2021

Hi, how much would the total cost be for parts and can any body works mechanics do the work as I'm in Melbourne? Thank you so much.





Ellaspede Response
Hi Angus, it's about $10K for the parts and custom work labour to transform a stock XG500 into this build. Unfortunately it's not all a straight fit so we would require your bike in our shop to do the conversion, so let us know if you want to ship it up and we can make it happen! Cheers
---
Looks awesome. Makes the 500 look like a proper Ha

By:

Damon

on 3 April 2021

Hi team can you send me some prices to do this work? Cheers





Ellaspede Response
Yes mate, we've sent you an email! Cheers
---
total Cost

By:

Milan

on 14 February 2021

Hi, It looks awesome. AS I can only ride LAMS bike and being Harley lover I was not sure if I should get street 500 but this one looks absolutely awesome. What would be the total price? I am really interested.





Ellaspede Response
Hey Milan! We're glad you like the bike mate. Agreed it turned out pretty cool for a LAMS bike. We'll shoot you an email with some prices mate, Cheers
---
Similar project

By:

mackenzie newton-jones

on 11 January 2021

HI, just wondering total hours and costs it took to get from the original bike to this, very interesting concept - looks incredible!





Ellaspede Response
Hi Mackenzie, We're glad you like our custom build mate, we'll email you some prices for the XG500 custom work and parts! Cheers
---
Tank kits

By:

Ritesh Ramesh

on 22 October 2020

Do you guys sell the tank kits and if so how much does it cost. Can you do it in Vivid black.





Ellaspede Response
Hi Ritesh, We sell some of the mounts to get the tank on there but not the tanks themselves. Shoot us an email and we can give you some more details and pricing for the parts. contact@ellaspede.com Cheers!
---
Tank kit

By:

Josh

on 25 September 2020

Hi guys I'm in nsw. Just wanting to know price for tank and the kit to bolt on if possible?





Ellaspede Response
Hey Josh! Yea no worries mate, shoot us an email and we can give you some pricing for the parts mate. contact@ellaspede.com Cheers!
---
Total cost bike

By:

Mandeep

on 25 August 2020

How much total cost including bike or without bike





Ellaspede Response
Hi Mandeep! We just emailed you some info about this type of custom build mate. Let us know. Cheers
---
I want!

By:

Mar

on 13 January 2020

Can i please get a price?





Ellaspede Response
Hey Mar, We built this one for a local Harley dealer who had it for sale at just under $20K ride away from memory. That was with all the work done to a brand new bike too. If you had a near new second hand one it would be even cheaper. Hit us up if you're interested in getting one built and we can give you some more options mate. Cheers!
---
Great looking 500

By:

Bradley Hutchings

on 27 December 2019

You guys do any kits on the upgrades you did, would love the seat and tail option





Ellaspede Response
Hey Bradley, We have to do a little bit of frame work on the rear to get the seat and tail cowl fitting like you so, so unfortunately they're not a product we can send out to fit yourself. If you're in Aus you can definitely send/bring your bike in to have it done though! Hit us up for some more info if you're keen mate. Cheers
---
Quote -EB789 - 2017 Harley Davidson Street 500

Hi a friend of mine showed me the customs street 500 on your page. Just wondering how much would it cost to have my street 500 like that ? Thank you





Ellaspede Response
Hey Hank! We're glad you like the bike. We'll shoot you an email with some options for yours. Cheers!
---
Unreal

Bought a street 500 from GAHD but never saw this beauty, love the sporty tank look. What would be the cost to convert a stock bike to something similar to this?
---
Build price

By:

Christopher Nickson

on 25 April 2019

What build price for 2018 model





Ellaspede Response
Give us a call or shoot us an email and we can give you some prices Chris! Cheers
---
Stunning

By:

Thomas Kouzinas

on 4 April 2019

Beautiful bike. How much to build ? Can it be done in black with gold graphics? Do you ship to WA?





Ellaspede Response
Hey Thomas, We can definitely build you one and ship it to WA! Shoot us an email and we can discuss some build and price options. contact@ellaspede.com Cheers mate!
---
Thumbs Up

By:

Frank Peoples

on 8 March 2019

You guys did a REAL bang up on this hog....the details are evident...waaaay KOOL!





Ellaspede Response
Cheers Frank! Glad you like it mate
---
Leave a comment