EB897 - 2018 Harley Davidson Street 500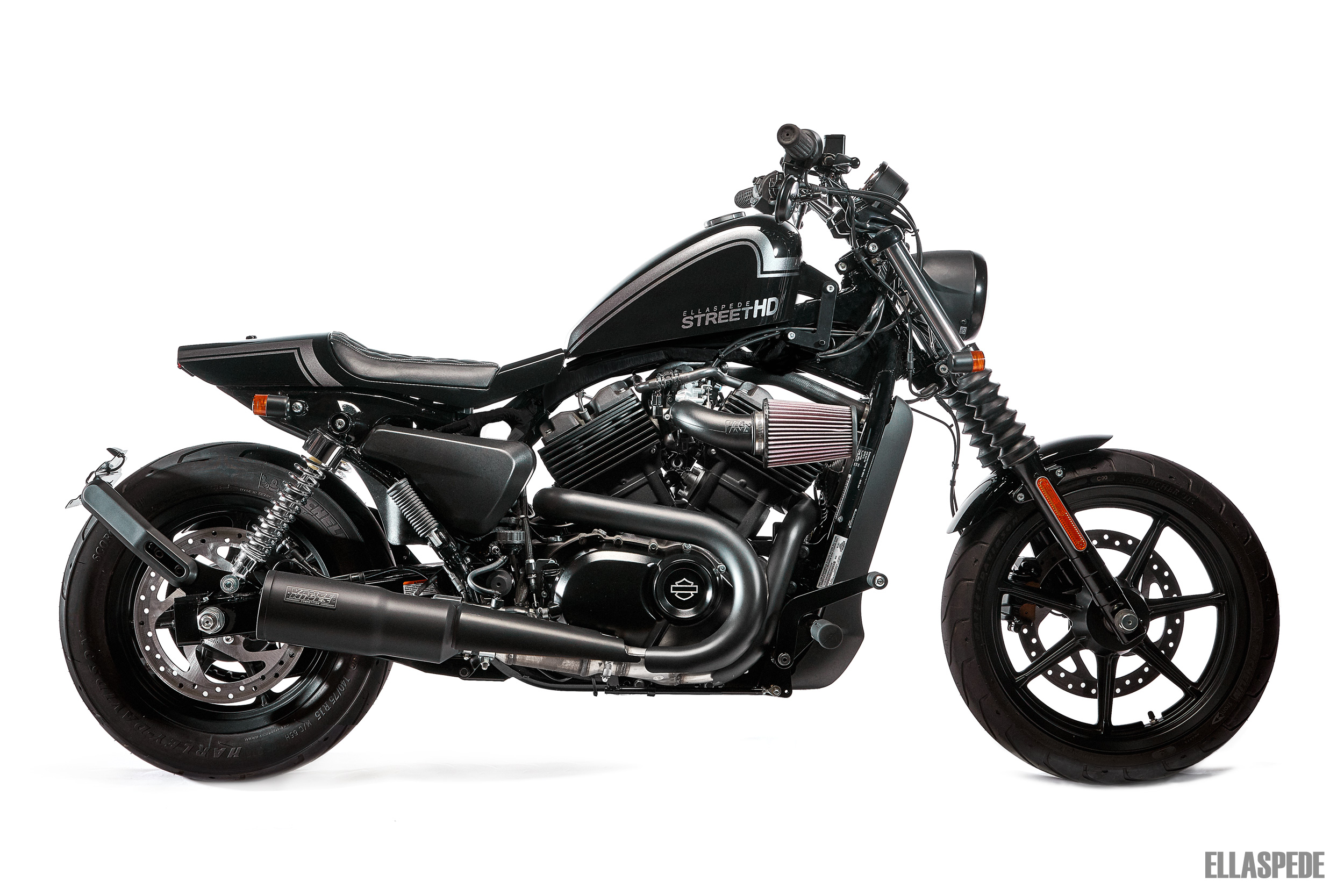 This is our second Harley Davidson Street 500 custom of this style for Gasoline Alley Harley Davidson (GAHD). So if you haven't peeped the previous build, head on over and check out the EB789 2017 Harley Davidson Street 500 custom now.
The wrap up of the EB789 build was that Gasoline Alley wanted to expand on their Harley offerings outside of what was available in the factory catalogue. We're big fans of those legends, so naturally we were happy to collaborate on a few builds with them!
Once the first build hit the showroom floor at GAHD the response was huge, so they quickly commissioned us to build another as it wasn't long before the orange and silver EB789 Street 500 was snapped up and ridden out the door.
Part of the plan with the first build was to make a custom that was easily repeatable and didn't over capitalise on a LAMS (Learner Approved Motorcycle Scheme) bike. Plus we wanted to draw on some of the Harley family for inspiration, namely two of our favourite models, the Sportster Seventy-Two and the new FXDR.
With a lot of the design and testing done for the first build, this bike breezed through the planning stage and we got to twirling spanners and spitting sparks. Again GAHD sourced some of the required parts like the Vance and Hines slip on and Sportster Seventy-Two tank, while we got to work shortening the rear frame and installing all our own parts.
The Ellaspede XG500 parts development catalogue is growing, so this build copped a bolt on Ellaspede Seventy-Two tank mount kit, Street 500 Front and Rear Indicator Brackets, Street 500 Number Plate mount kit and fully adjustable Ellaspede Street 500 Forward Controls.
With the tank mounted and frame shortened the aluminium seat cowl was made up to match, with a snug tail light hiding in underneath for a super clean rear end. Underslung mirrors, Vans grips and Posh classic winkers help round out the add ons.
We know black is popular with the Harley crowd (and honestly we love it on a lot of our other bikes too) so we wanted to do a black based livery for this build that would still show off the shapes of the tank and seat. Looking back through some Harley flat track inspiration images revealed a stripe style that we used as inspiration, replacing the traditional black over orange with a subtle sparkle grey over a gloss black base.
Paint done, parts on and after a test ride this rig was sitting pretty on the Gasoline Alley Harley Davidson showroom floor. But if you're reading this then you're too late as the cash and keys for this bike have already been exchanged and we've been informed it's out the door already!
Luckily now though, these builds are another option for riders looking for a fun 500 and you're only a conversation with Gasoline Alley Harley Davidson or us at Ellaspede away from making the next one that rolls out all yours!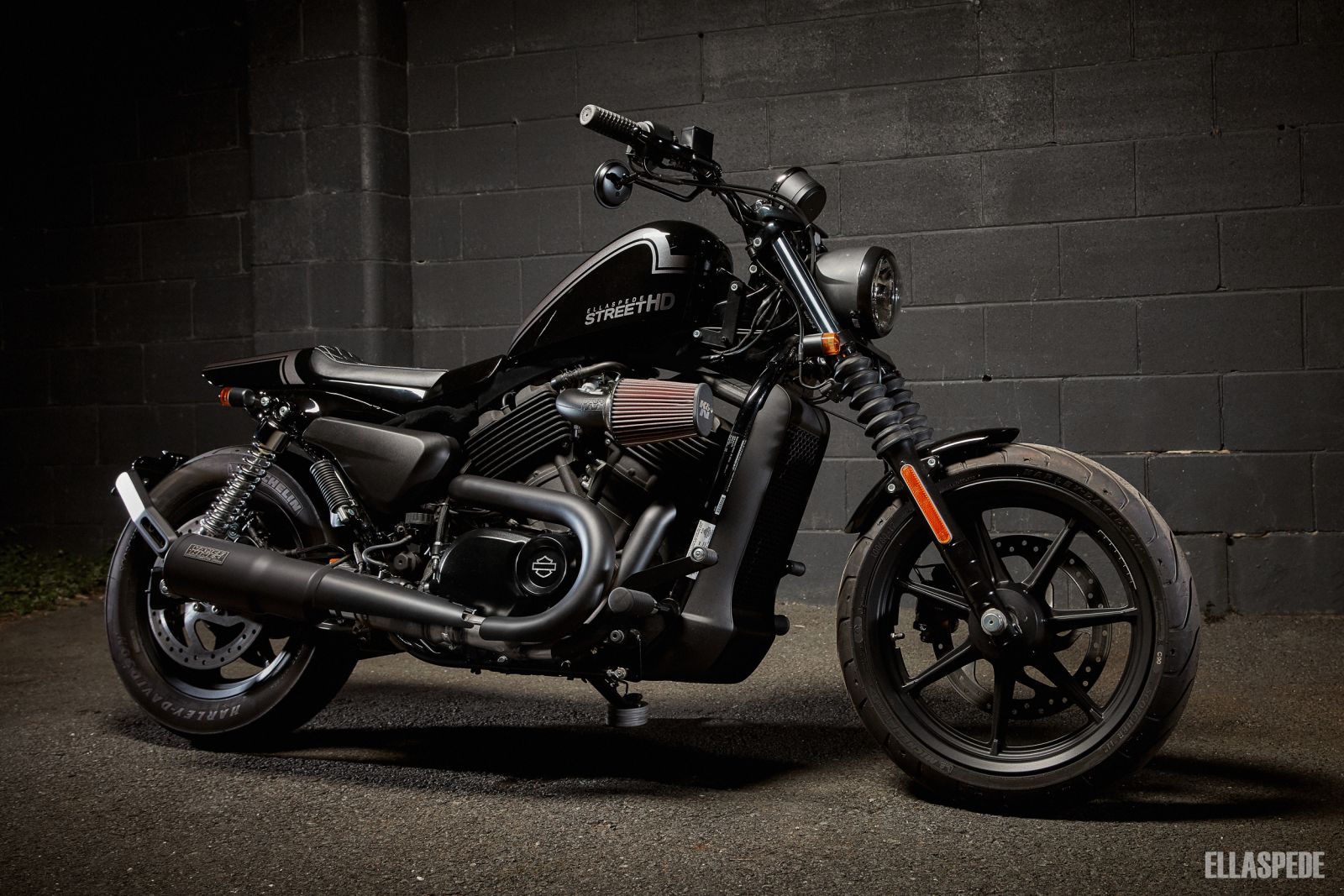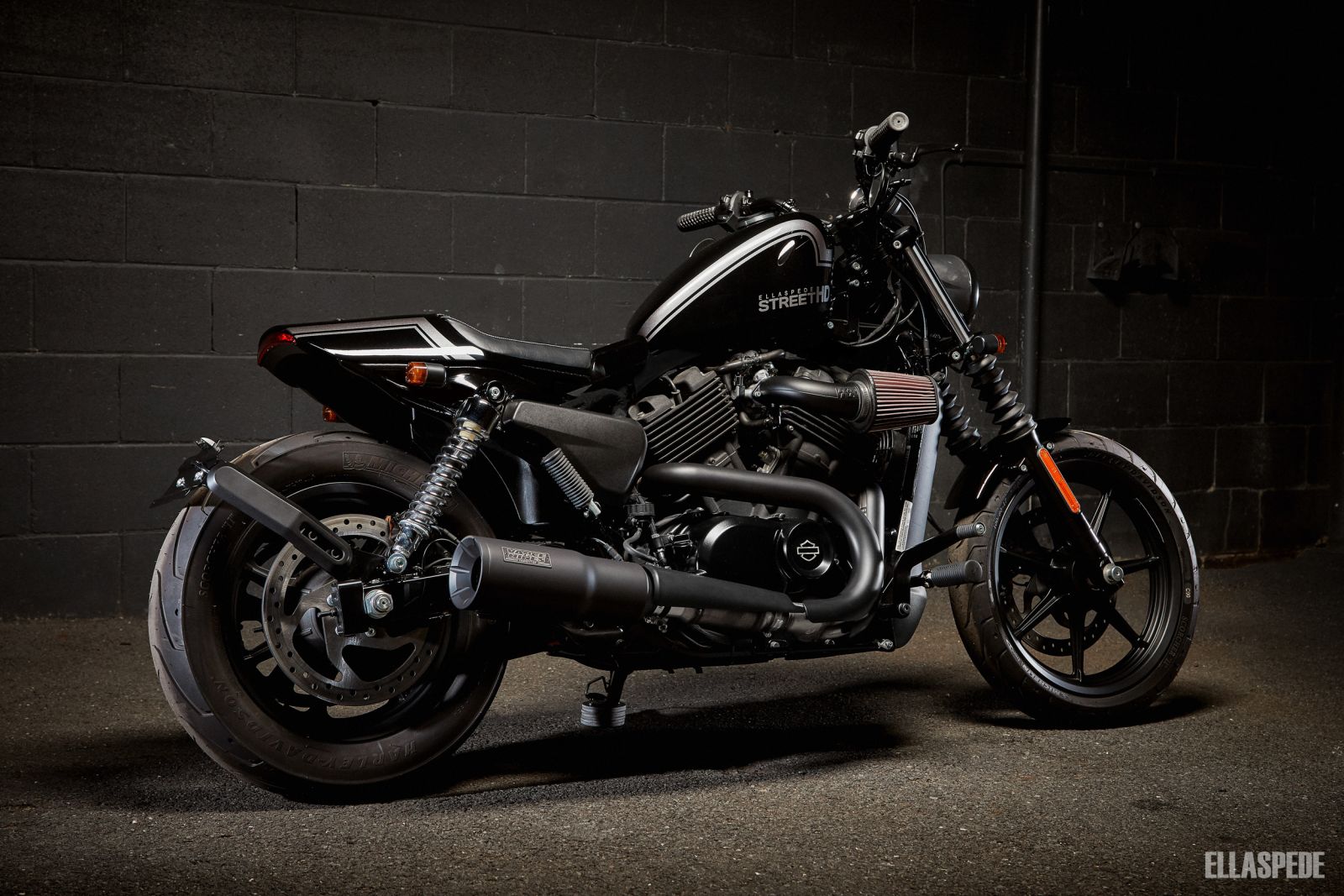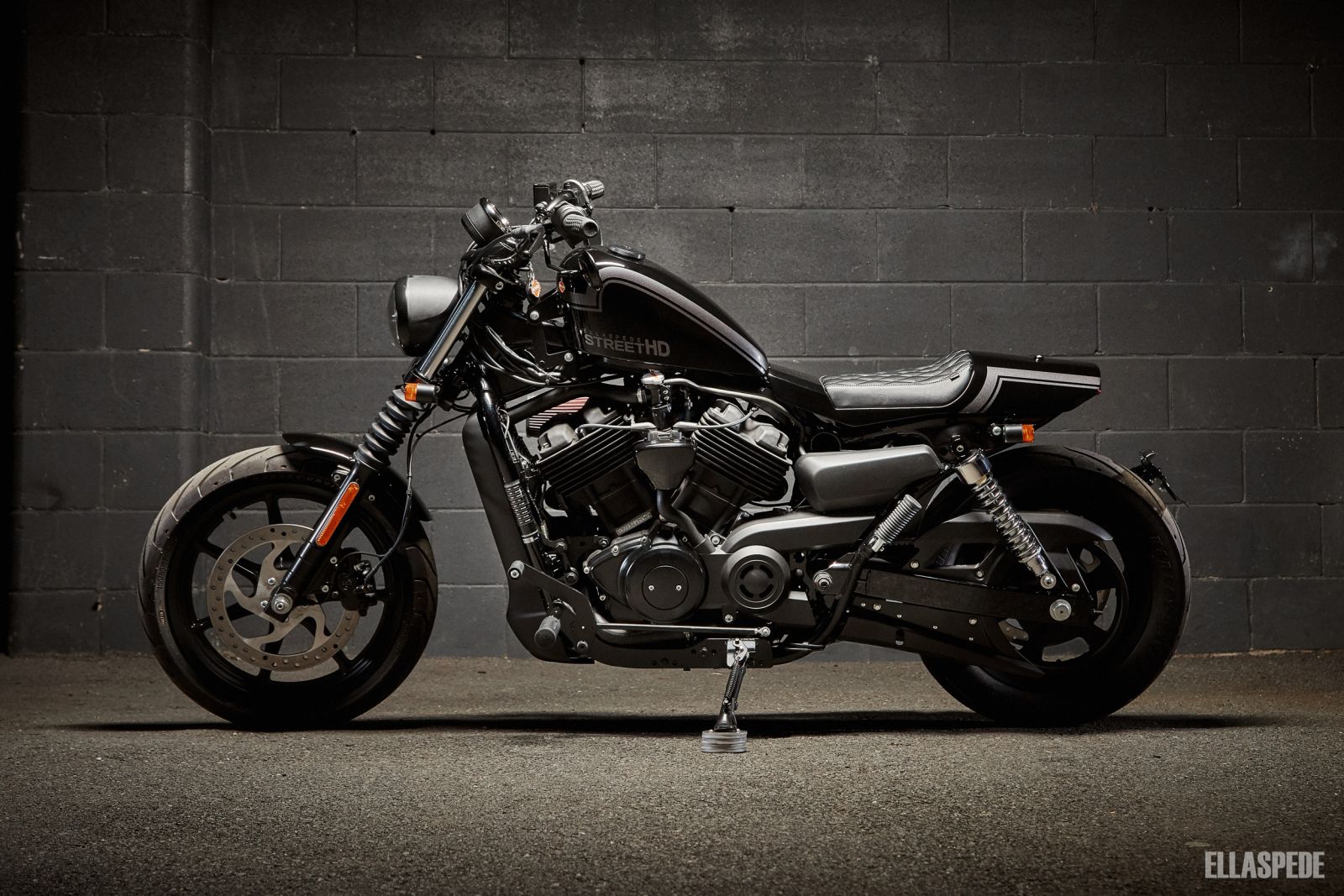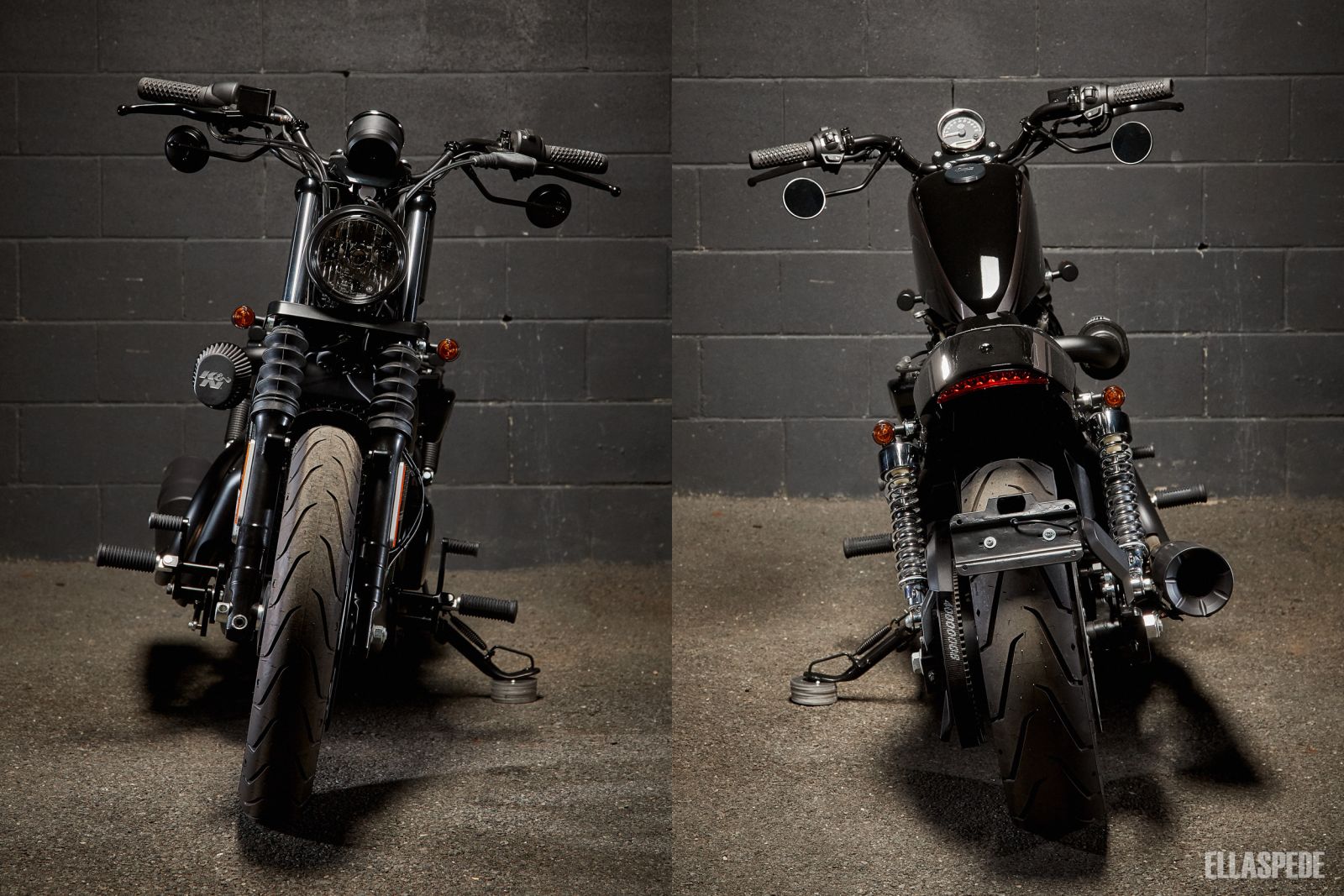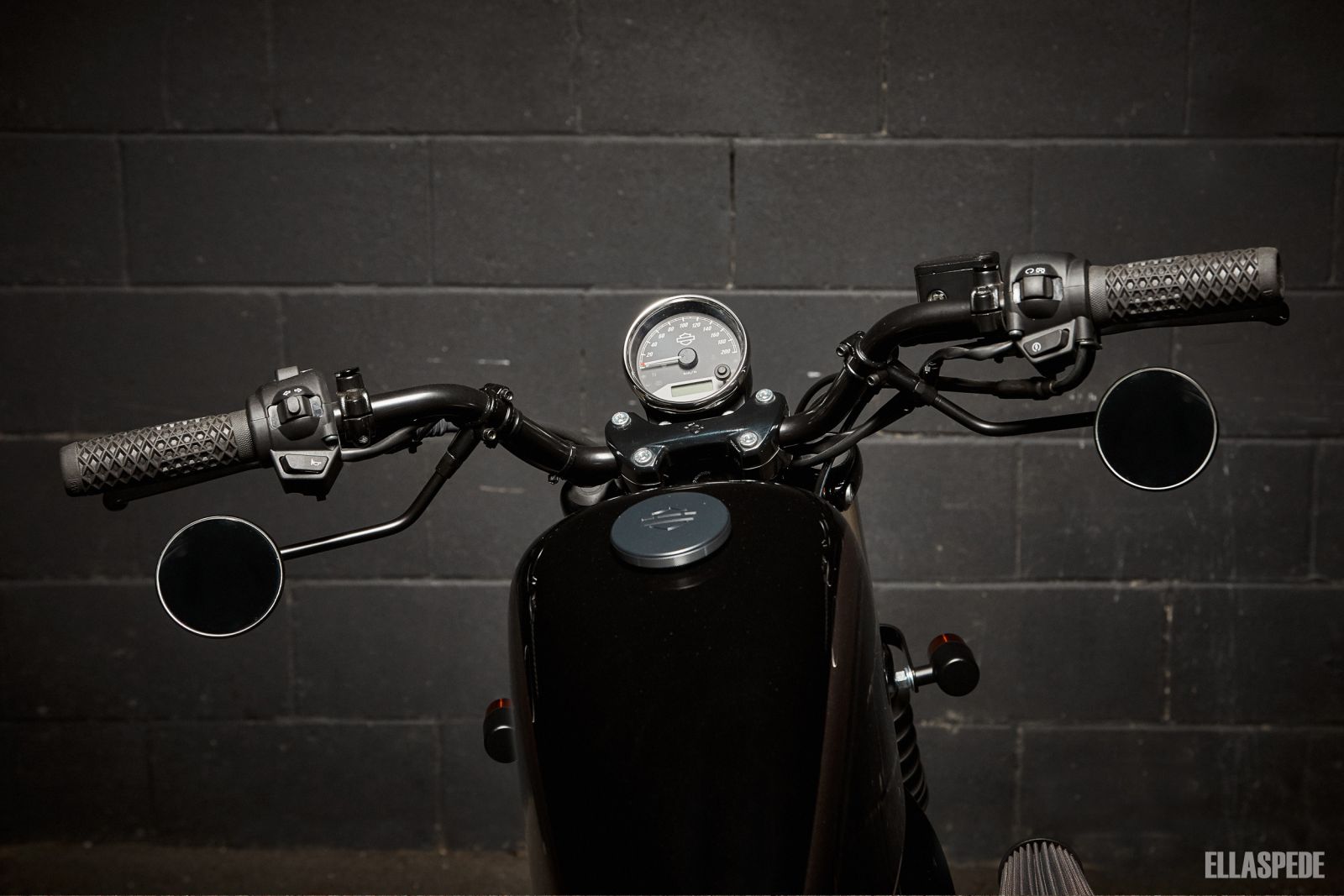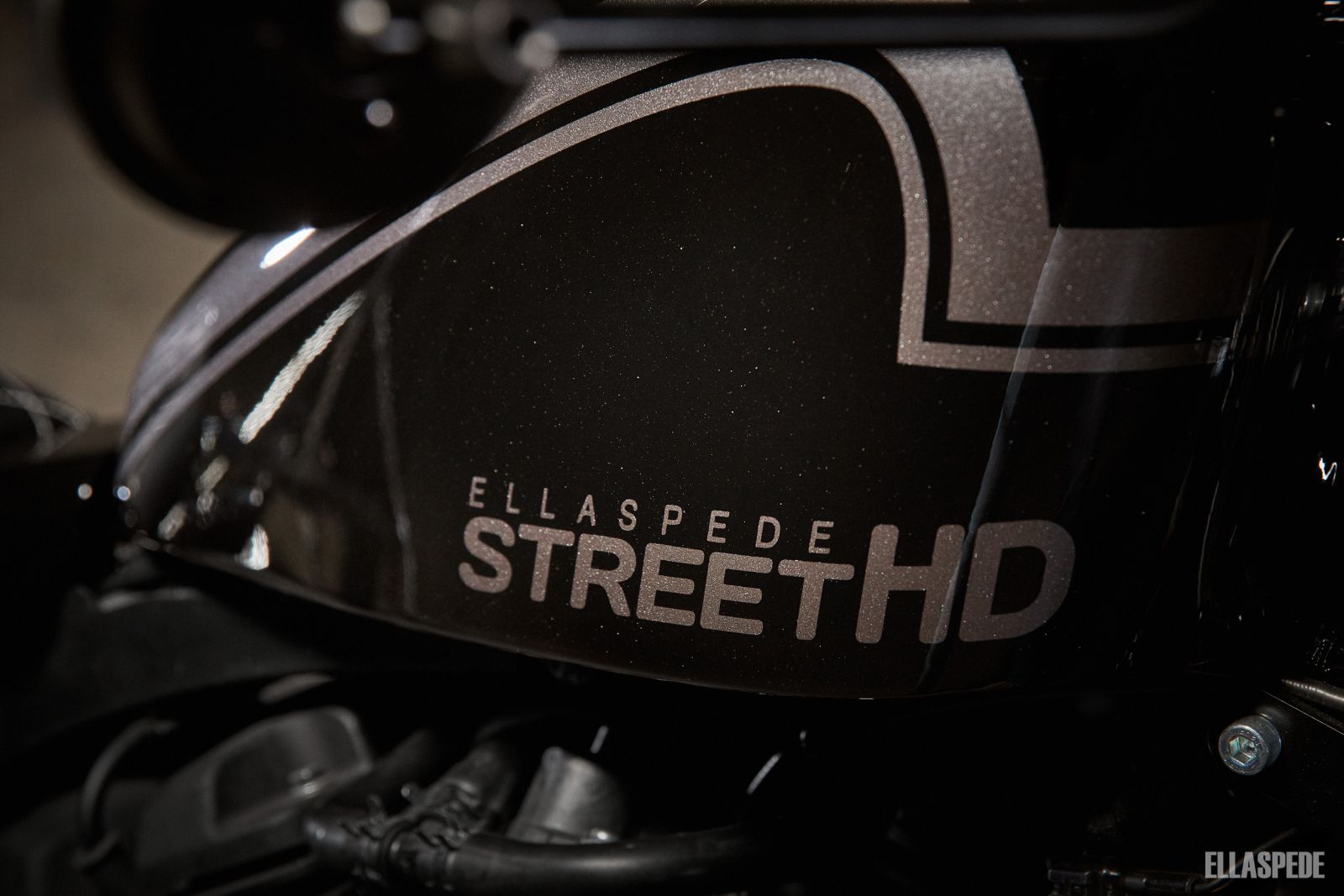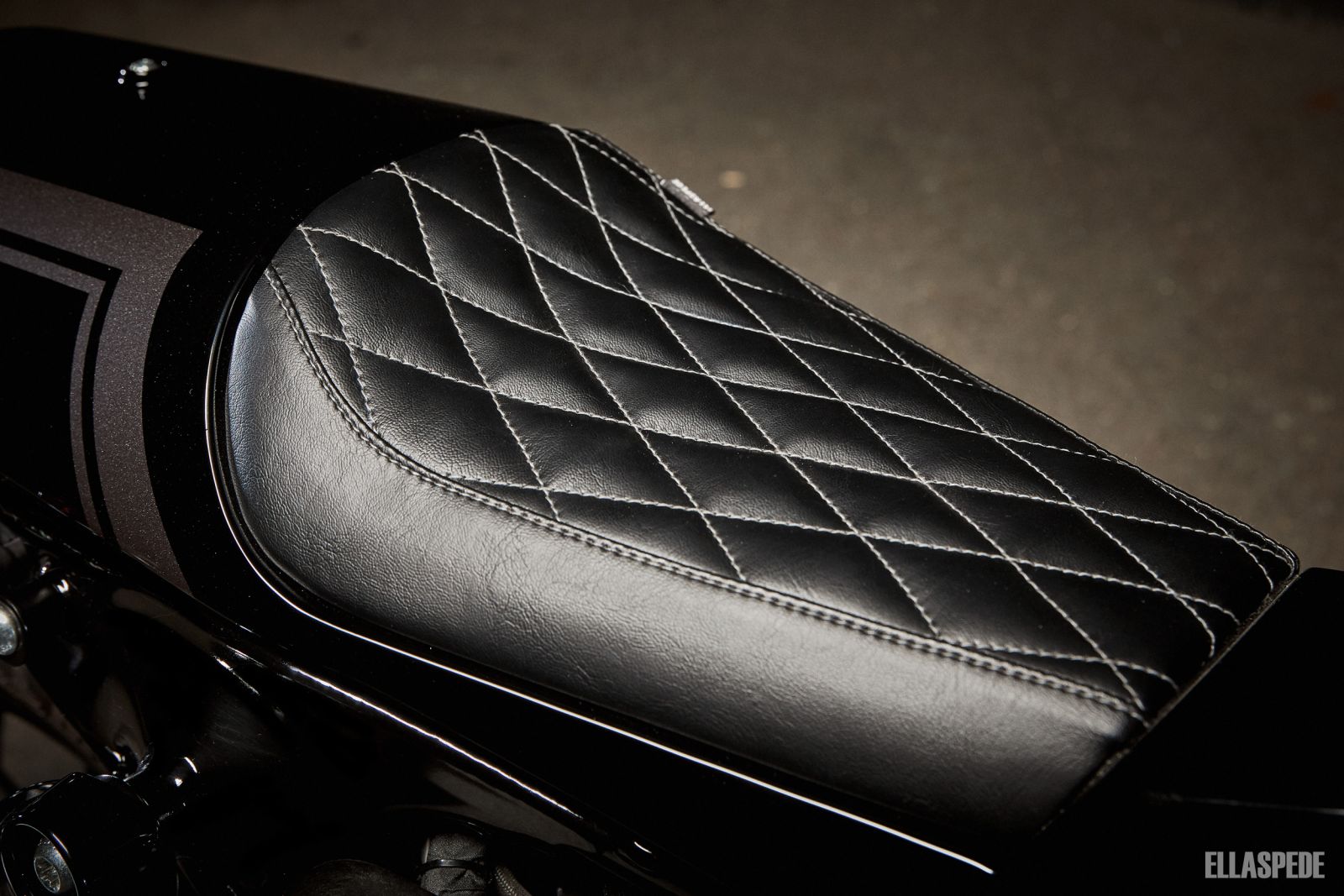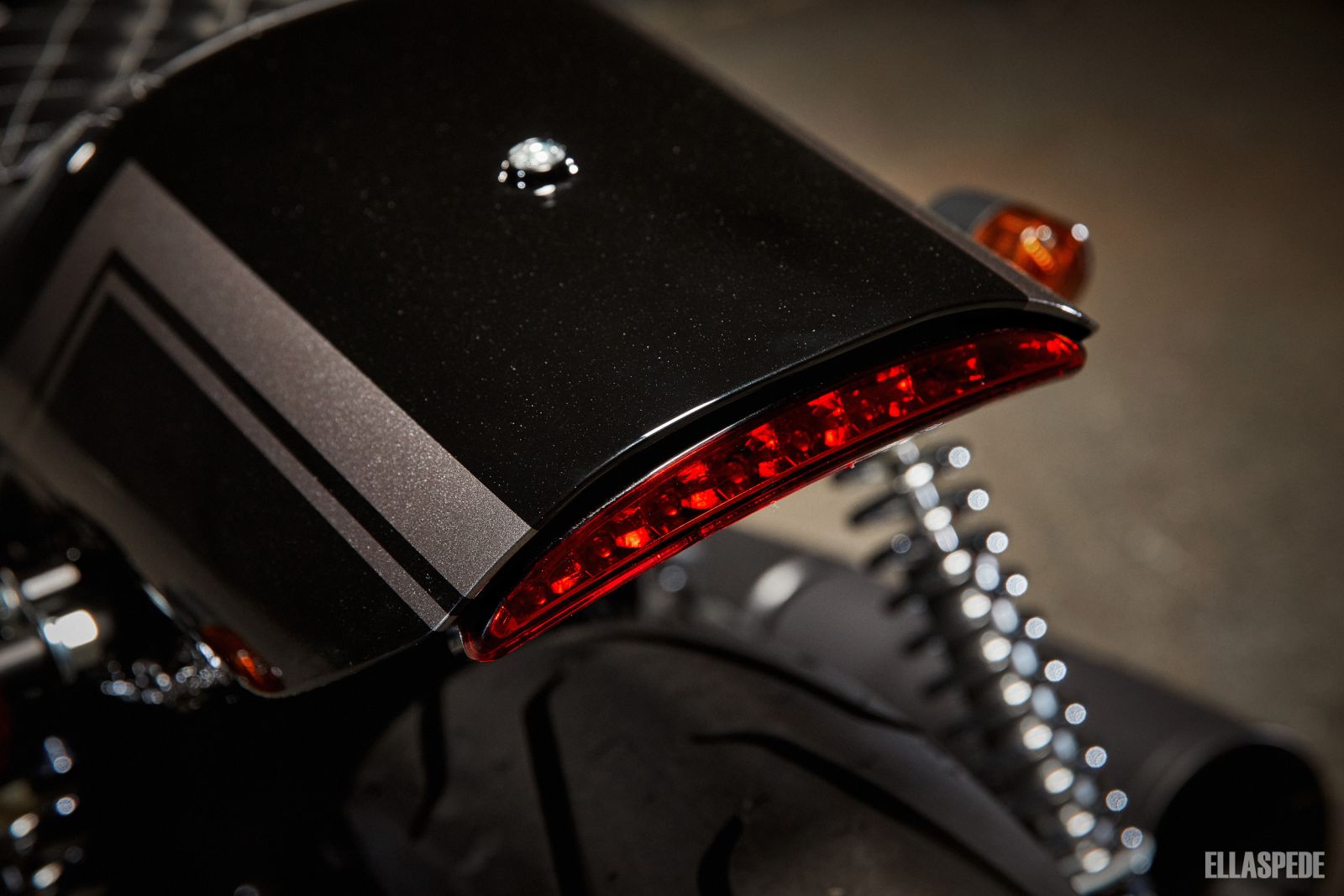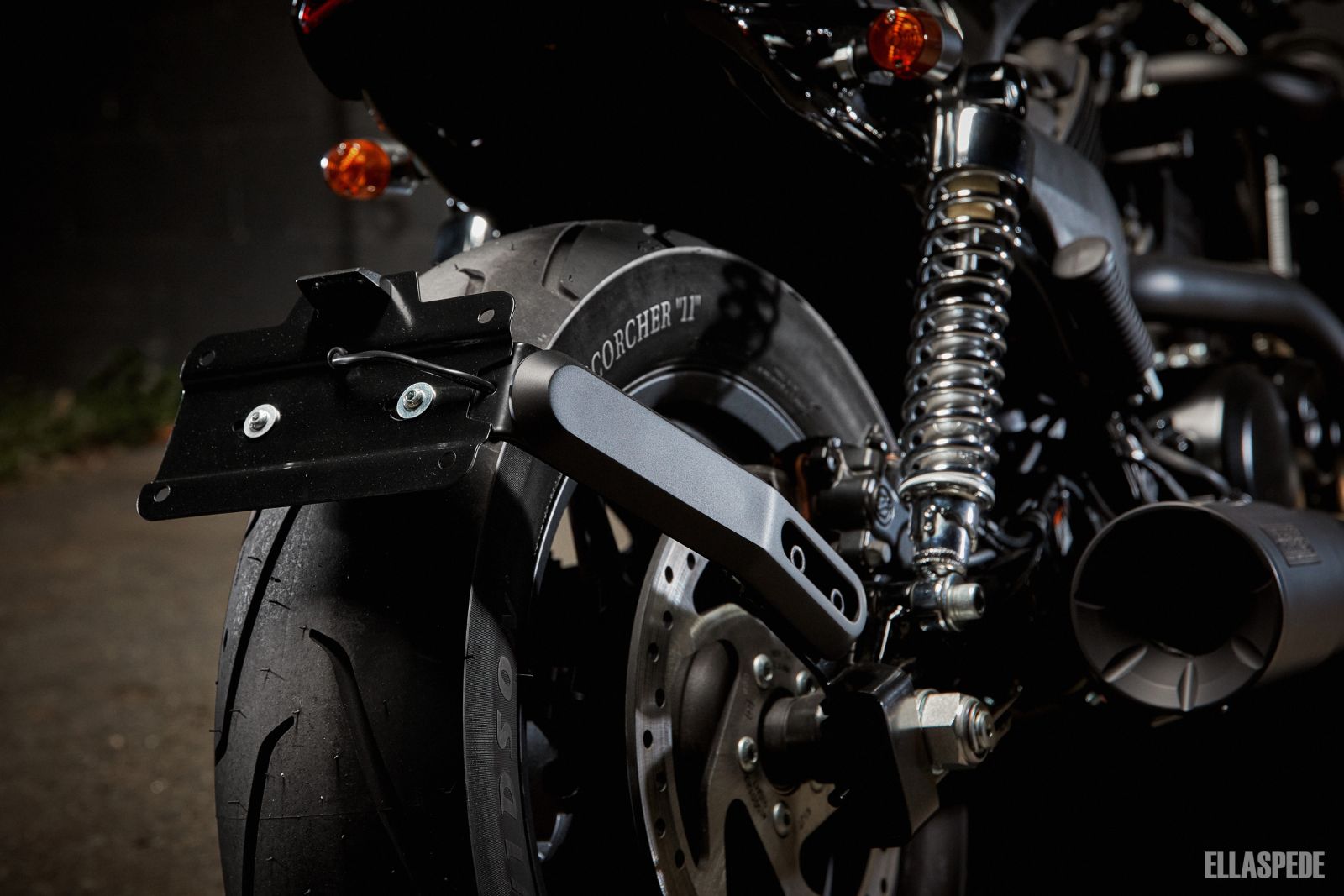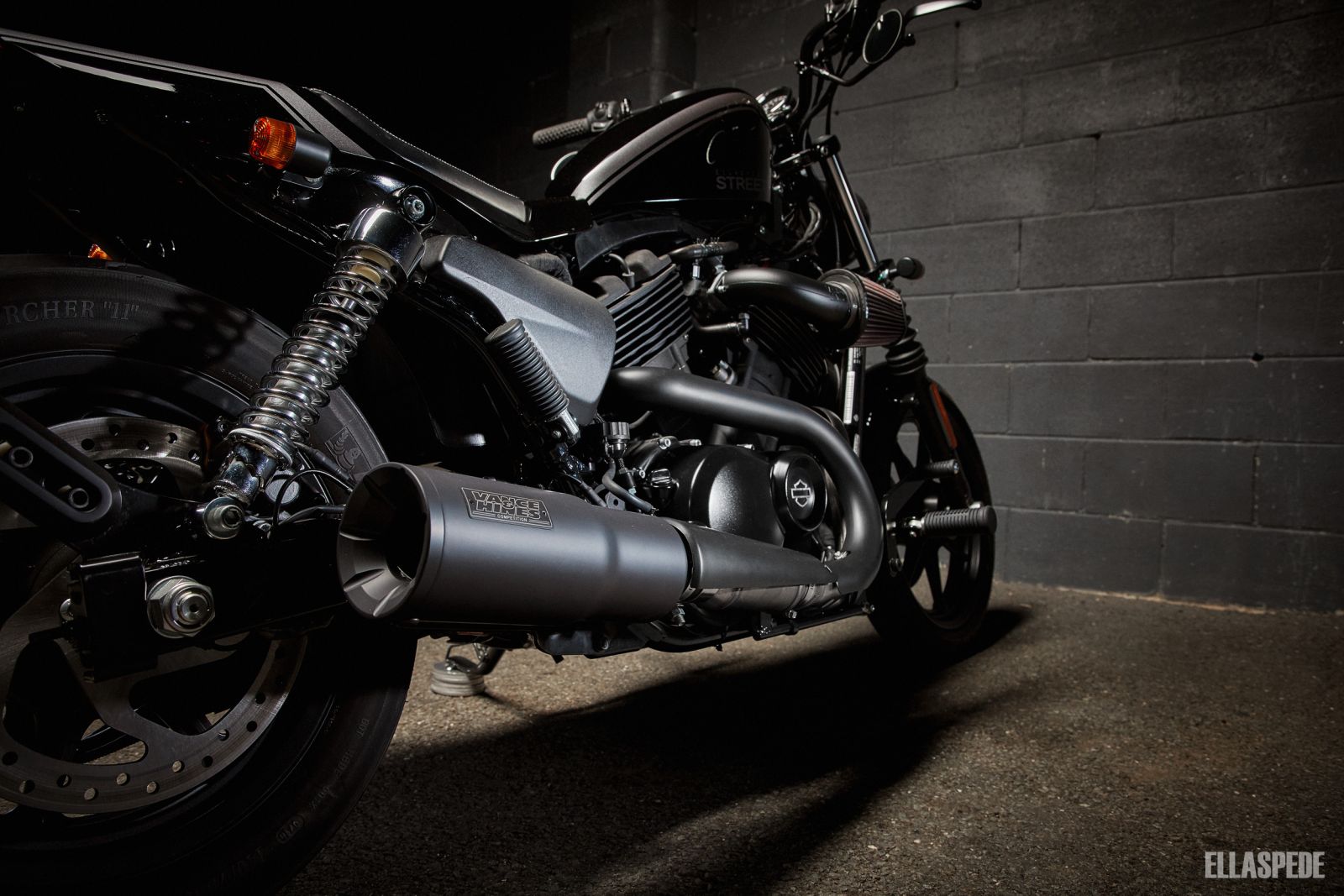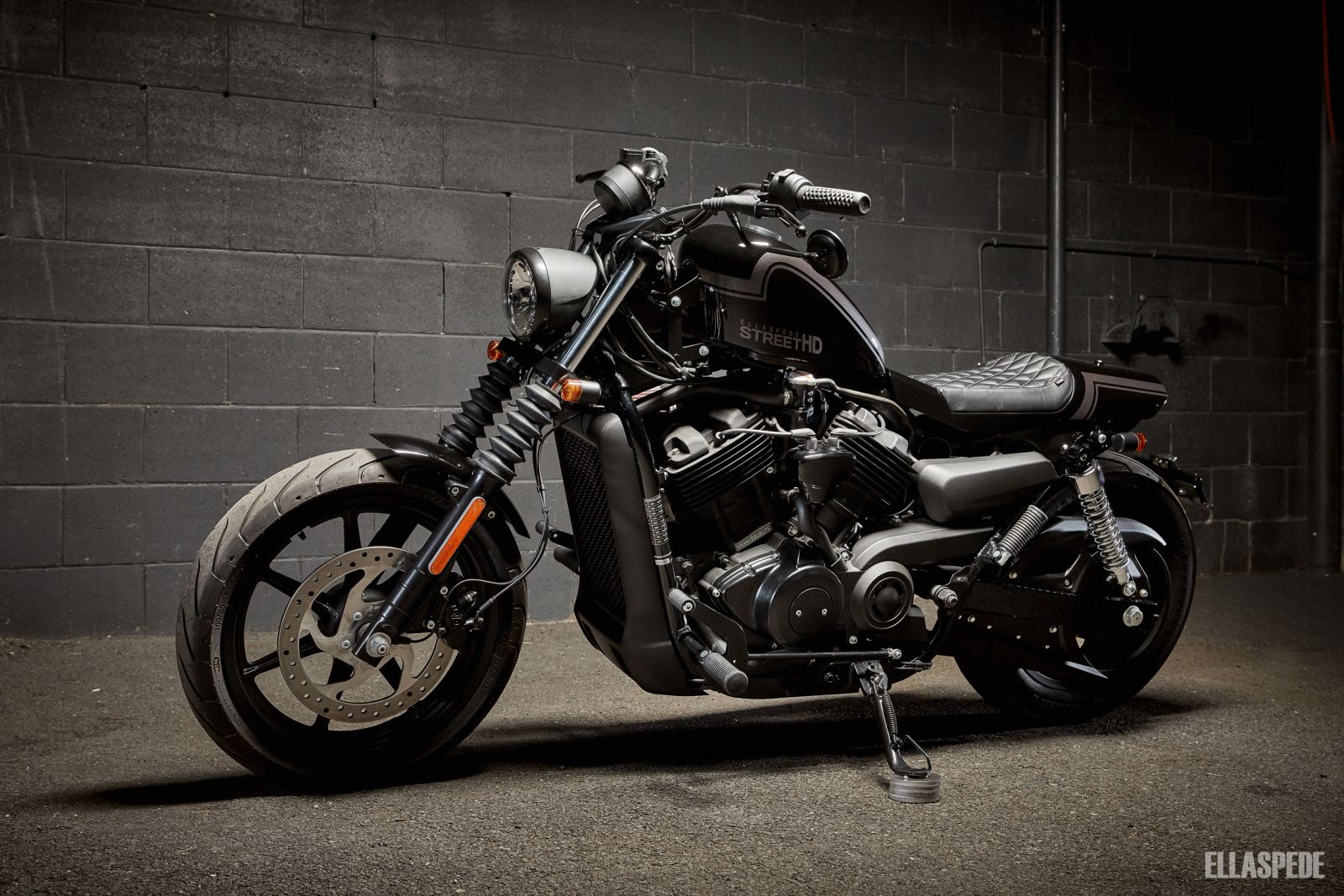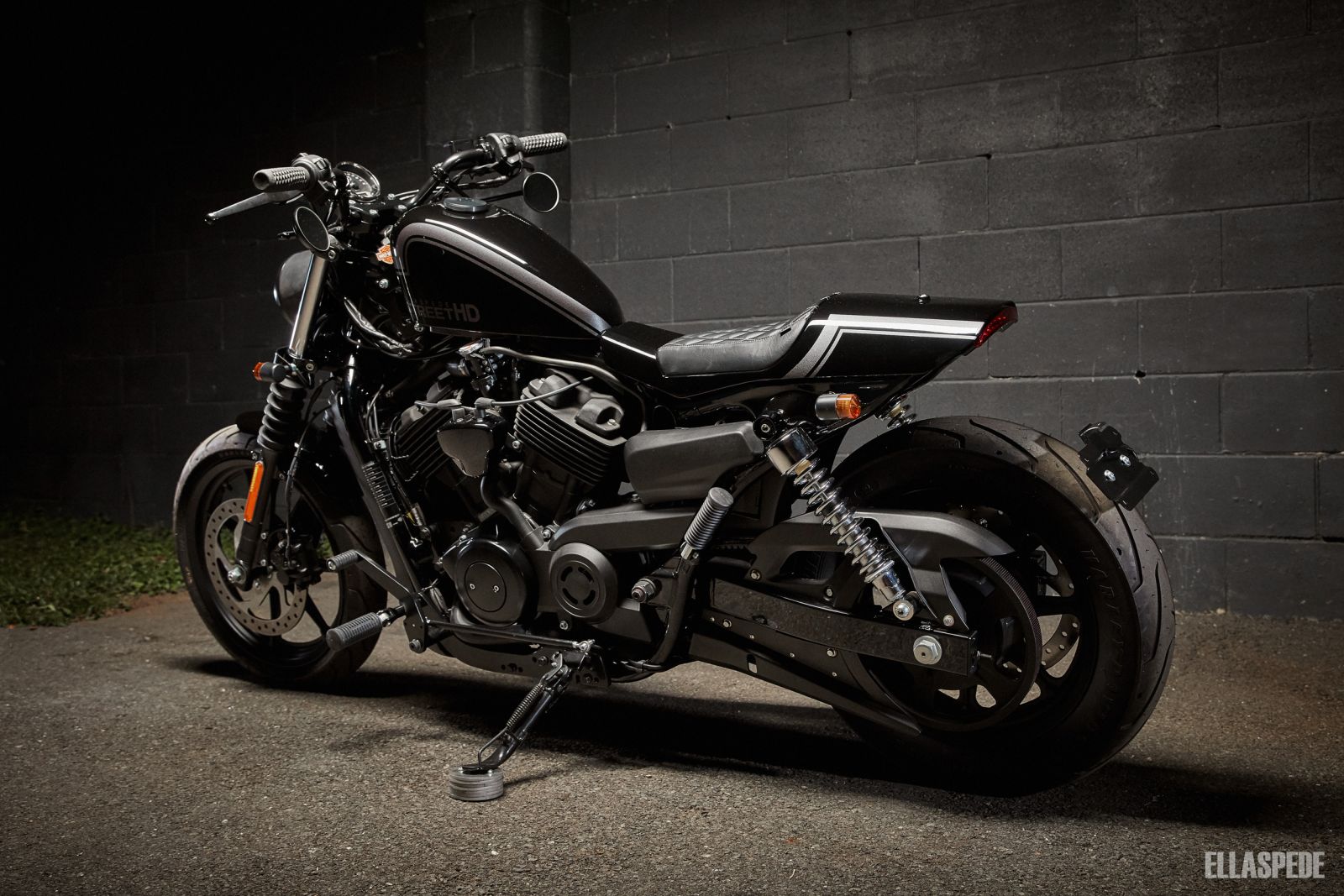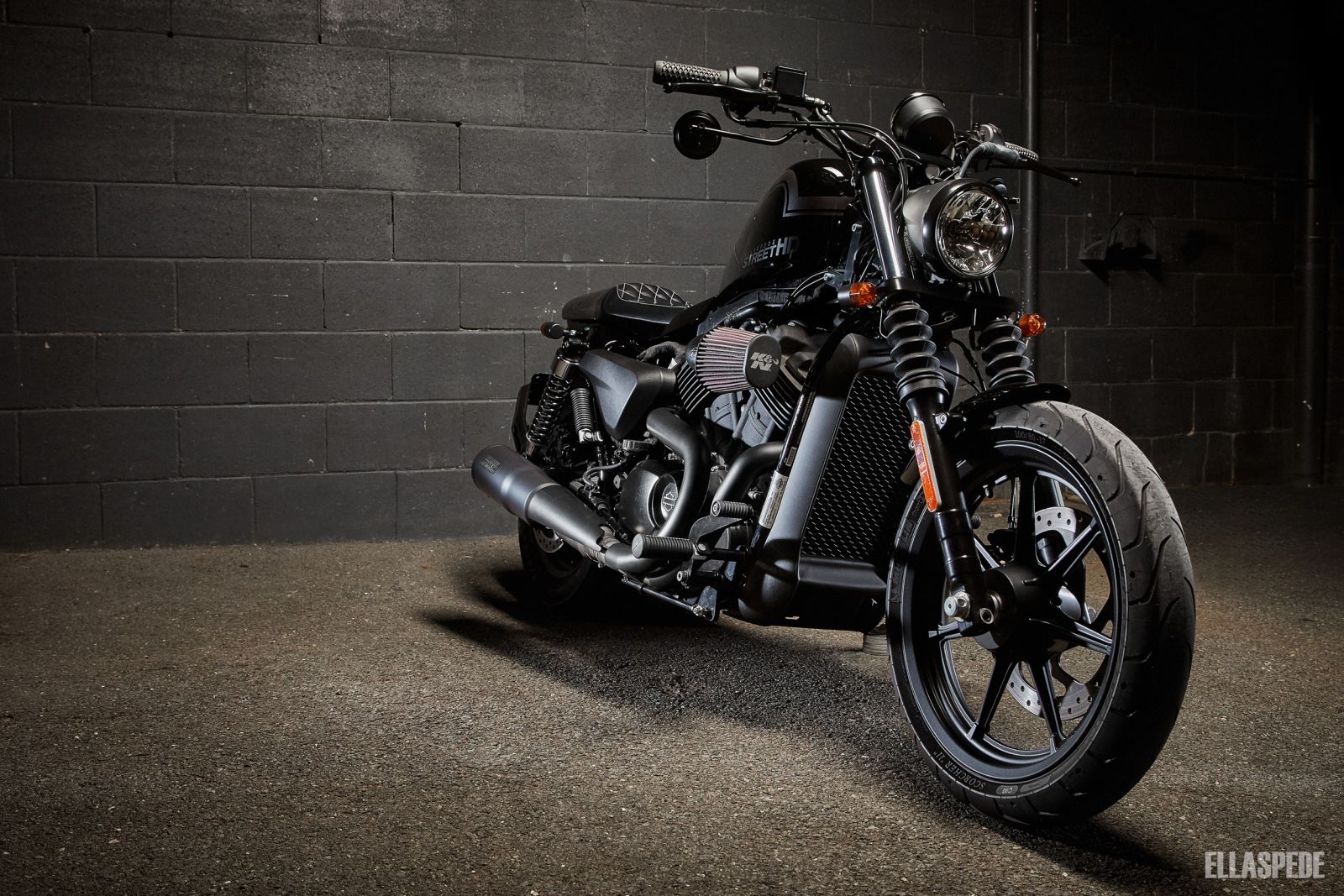 ---
Albums we listened to during the build of this bike:
---
Photos and Features:
---
---
Comments (6)
Very keen on tail piece

By:

Kosta moutoulis

on 24 June 2020

Hey guys , love the bike! Just got my self a new street500 and very keen to get on to customising. Would you be able to send me a quote for the tail piece , seat and number plate mount ? (Based in Queensland, Australia) Also would it come with instructions for cutting the frame ,installing the kit? Thanks in advance





Ellaspede Response
Hey Kosta, Thanks for the enquiry, we're glad you like the bike! We'll shoot you an email with some details mate. Cheers
---
Rear fender

By:

Liam Thompson

on 18 June 2020

Hey guys im keen on a quote for this rear fender kit. Looks great





Ellaspede Response
Hey Liam, The rear end of this bike is all custom. We can definitely make one for your bike, but will require your bike in our shop for us to do the work. Let us know if you're keen to book in or get some more info. Cheers
---
Fender

Tail looks amazing! Can you please send me a quote for same fender conversion for my 2019 Street 500. Thank you





Ellaspede Response
Hey Pip, Stoked you like it. Sure thing, we'll get in touch!! Cheers
---
Custom Work

Can I please get a quote on the tail piece, seat and tank (with mounting brackets). I'd like it all bare no paint





Ellaspede Response
Hey Harry! No worries mate, we'll shoot you an email with some more info. Cheers!
---
Approximate cost

By:

Steve

on 7 April 2020

I have a 2016 street 500, could you give me a cost to upgrade / customize the bike to the XG500





Ellaspede Response
Hi Steve, No worries mate, we'll shoot you an email with some price around a custom build. Cheers mate
---
Leave a comment