EB1100 - 2017 Triumph Street Scrambler
Author: Ellaspede Date Posted:19 May 2022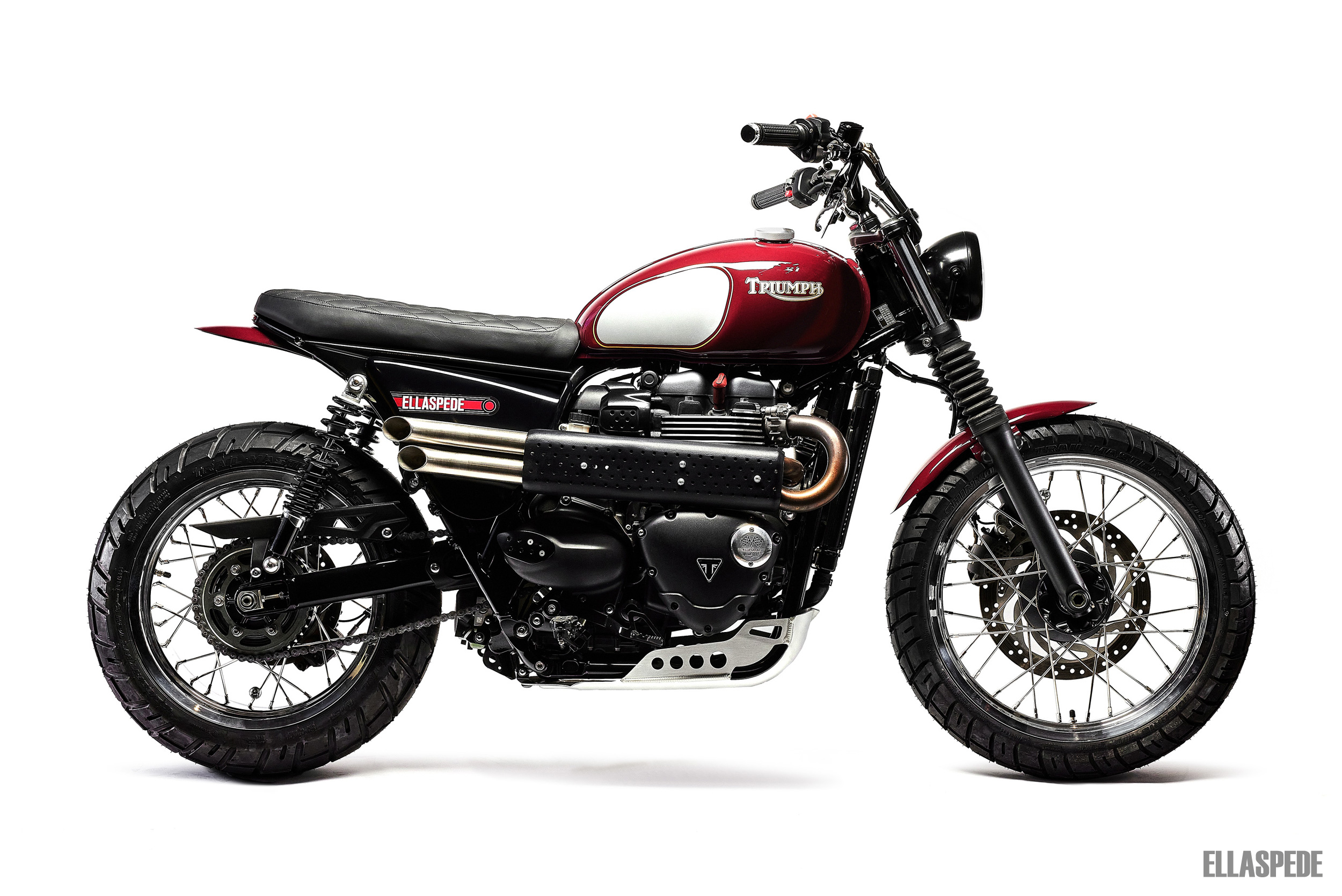 Having sold his previous EB433 Triumph Scrambler custom build it was only natural progression for Jonathan to undertake a build on the new Street Scrambler platform, especially when kicking off 'Covid projects' was all the rage in 2021.
Jonathan purchased the bike in March 2021 right when there was a Brisbane lockdown happening. It actually prevented him from seeing the bike, but he promptly got it delivered directly to Ellaspede to begin the tear down anyway. Jonathan said "My rule of thumb is to always get a clean, low kilometre doner bike as it is way less trouble" Something we definitely agree with!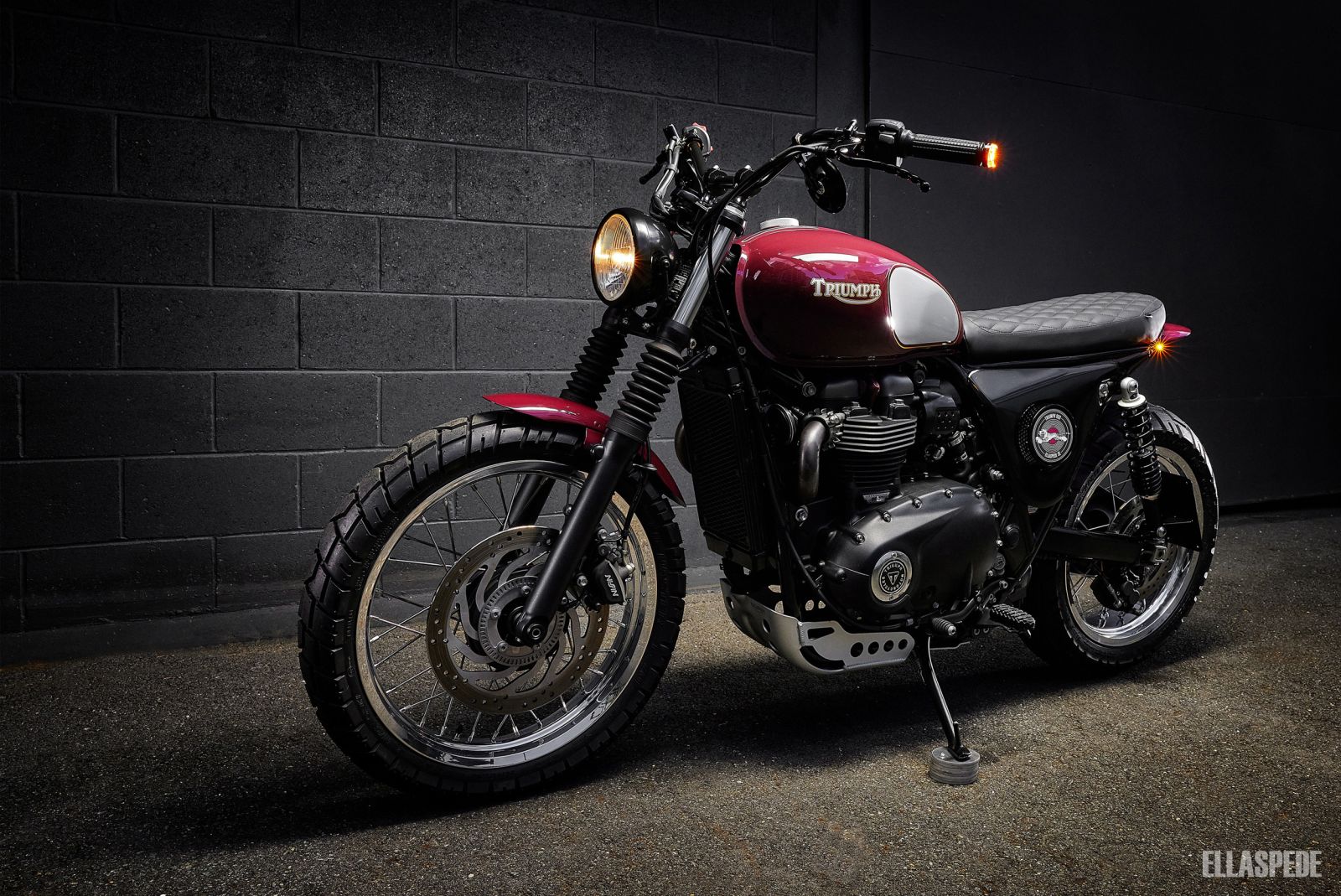 So what was the driving force behind another custom build? Jonathan explains… "If I was to imagine riding my dream bike in my head, this new build is exactly what I'd be riding, so kudos to Ellaspede for helping get the bike from my head into physical reality. I could have done this later on in life, but after some recent health surprises, I've realised that if you're not enjoying life to the maximum here and now, then you're wasting precious time. An old fella once said to me "this ain't no rehearsal". The message that I got from that was to live your life exactly how you want, don't hold back for a later date or when you think you have enough to finally enjoy life, just do it now."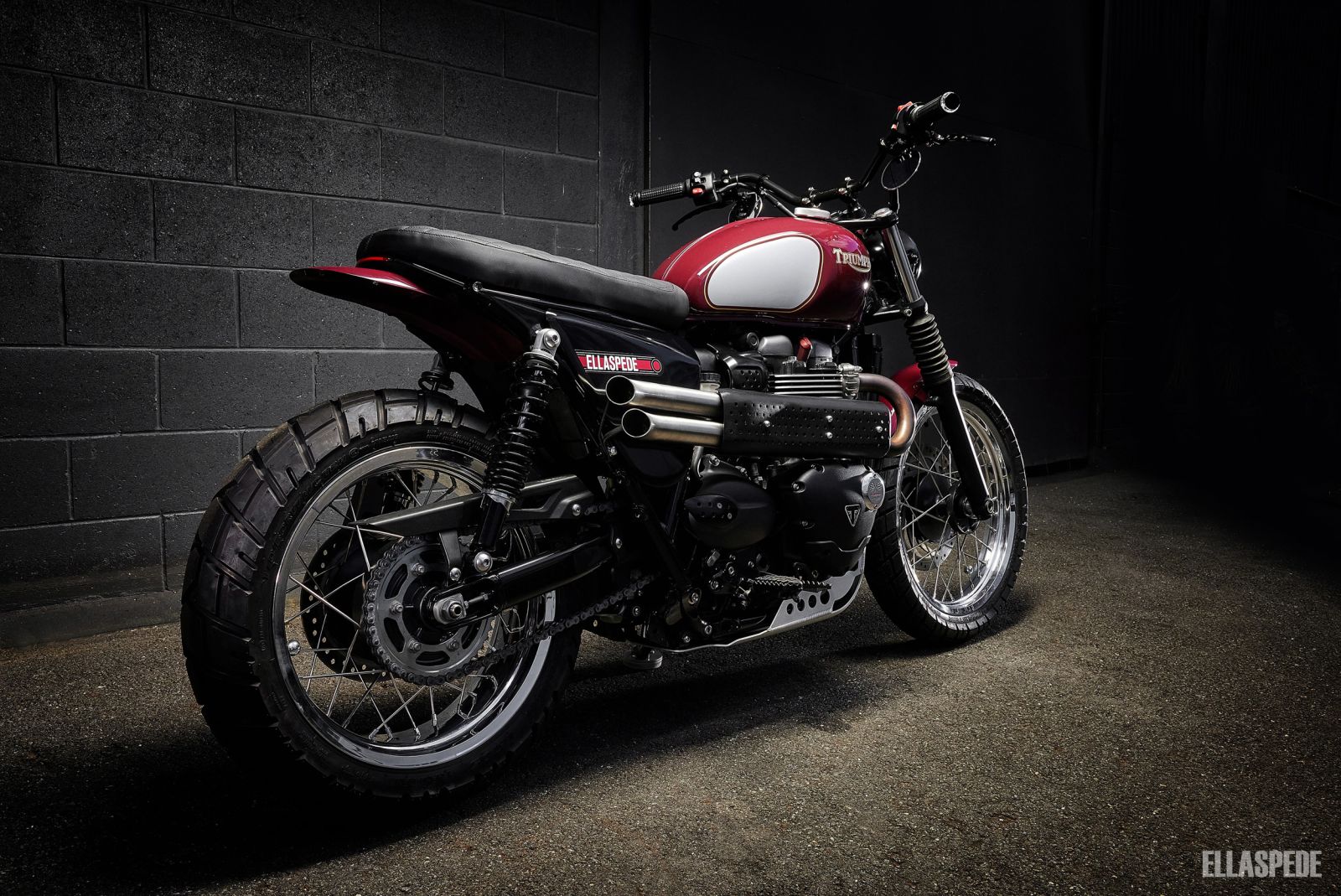 With the bike in the shop it was time to make a start while we finalised the finer details of the build. The new Street Scramblers are another step in the right direction for Triumph and it's evident how much learning they've had from the previous iterations of the Bonneville/Scrambler models to make these new bikes even better. They're not setting records in any single department, rather they're just a well built and well refined all rounder that looks pretty good right out of the box and can be customised in a variety of different styles.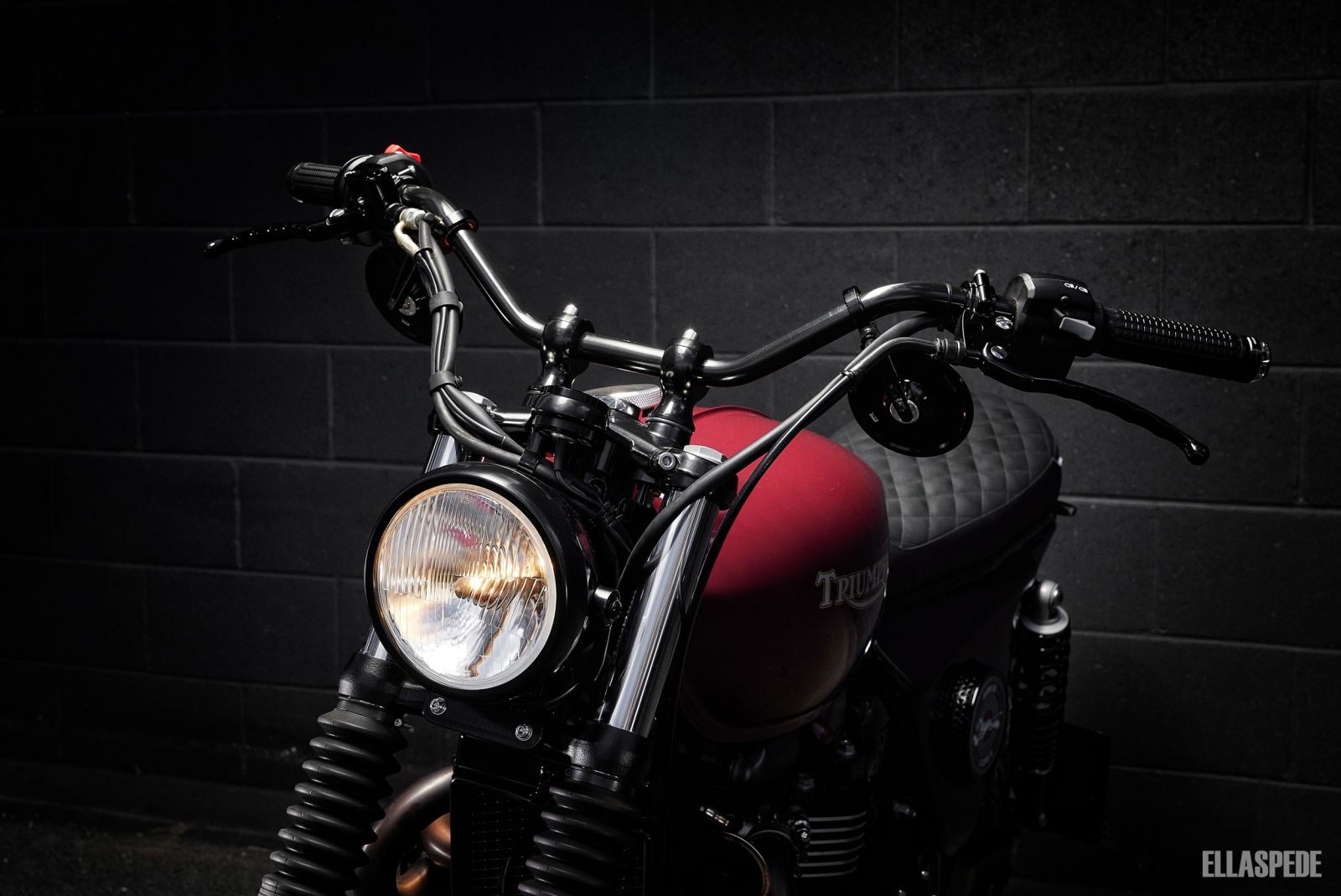 First thing was to strip the bike down and start with the fabricated elements, especially the rear frame. It was shortened and a hoop added, then cross drilled and tapped for the rear indicators. A new mount for the rear/inner guard sits underneath as does a quick release seat latch. A section for the LED tail light was also 'frenched' in.
With the stock seat removed there is a visible 'dip' on the frame rails of these bikes. So to raise the visual level of the seat to better match the bottom of the tank we added another frame rail above the stock one to get it all looking streamline again.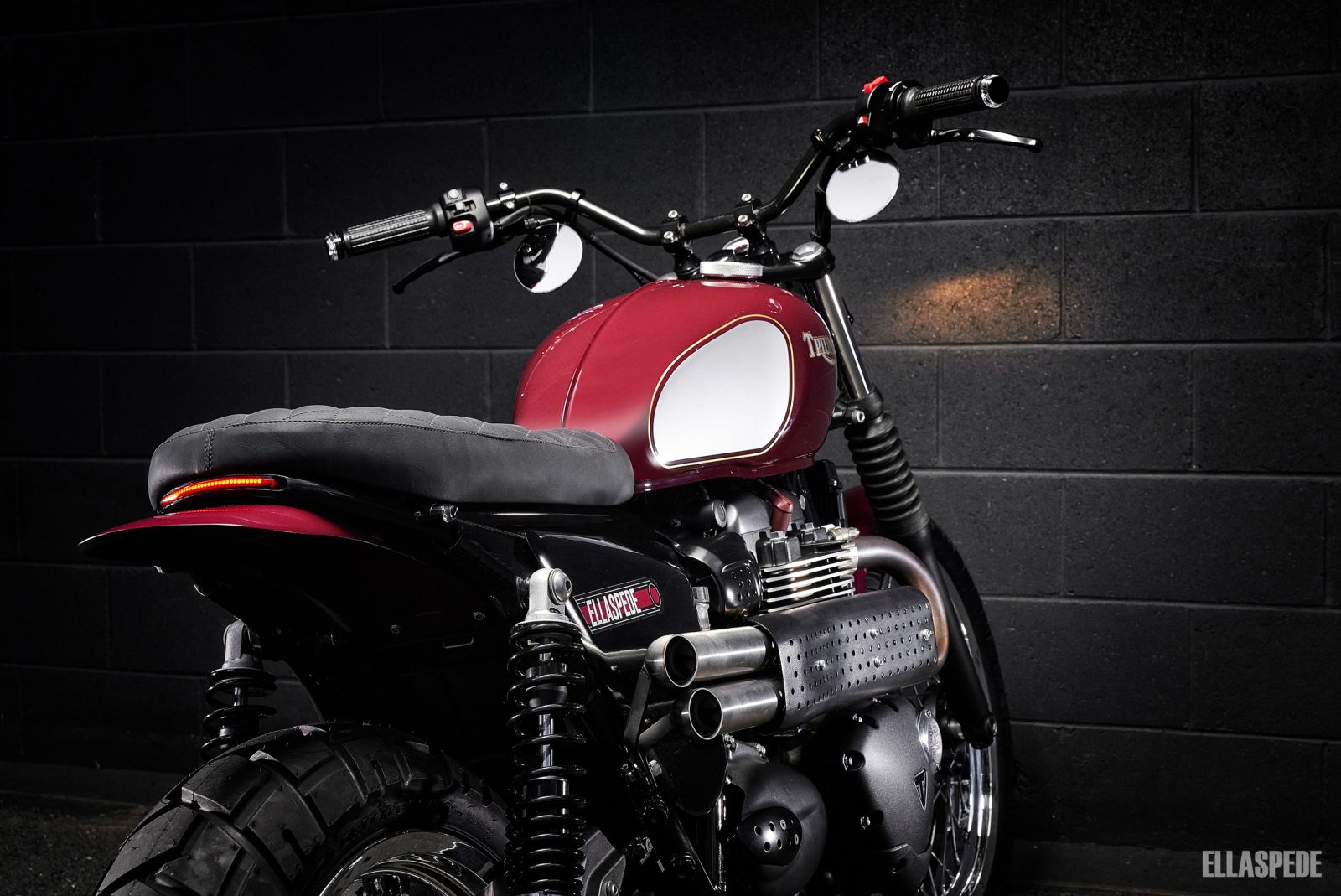 New side covers were fabricated and these now cover the old 'lower' frame rails and match up to the new ones to make it look pretty seamless… unless you knew what the 'dippy' frame rails looked like before they could be mistaken as factory. The right hand side cover now slides in snuggly behind the custom exhaust whilst the left hand side features a dummy air filter element inspired by the original Triumph Tigers of old.
One thing we usually don't like about high pipes is how far they stick out. We've tucked the custom 2-into-2 pipes in nice and close aft of the still-intact factory cat. The small factory exhaust heat shield was appealing, so we mimicked the style with a laser cut piece of stainless, bent, welded, shaped and finished it in ceramic coat to extend along the new pipes to prevent any leg burns in traffic.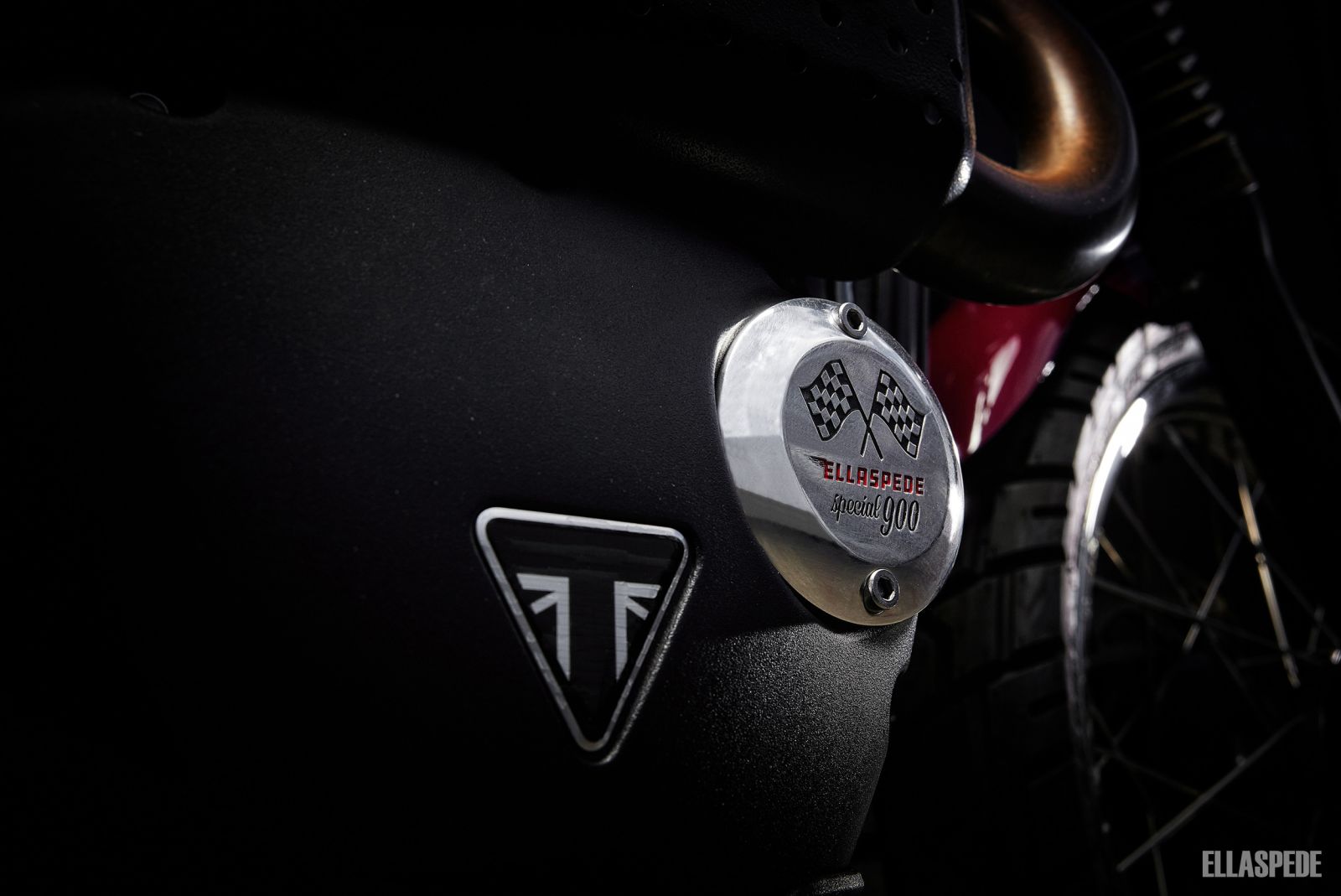 Custom steel front guard, rear guard and the seat pan were also fabbed up once the frame mods and side covers were complete. The seat was made slightly longer in keeping with the inspiration style and also for ergonomic reasons.
The wheels were dropped off next and rolled out for some new rims, spokes and tyres. We opted for the classic chrome look in a wide 17x5.0 on the rear and a 19x2.5 on the front. Laced up with chrome spokes, they're wrapped in Shinko 705 Series tyres measuring 110/80-19 front and 170/60-17 rear.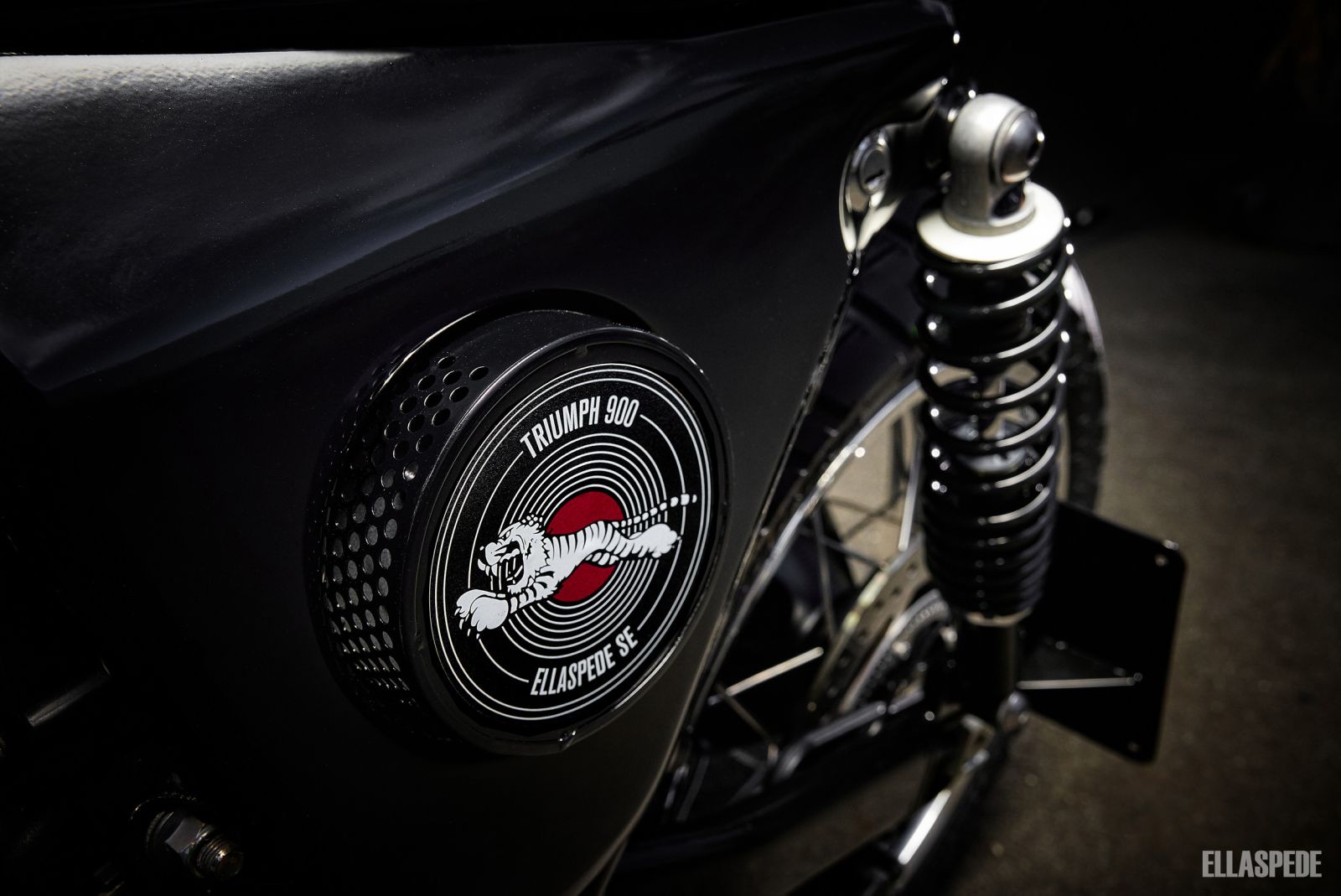 Speaking of such, Ikon rear shocks with black body / black spring option provide a little more height for the chunky rear end, improve comfort and also sharpen up the handling.
The tank is a great shape, so we just removed the knee pads and welded a 'ridge' seam down the backbone as a small nod to the vintage triumph styling Jonathan was taking cues from. A spun satin aluminium fuel cap now carries on the vintage style.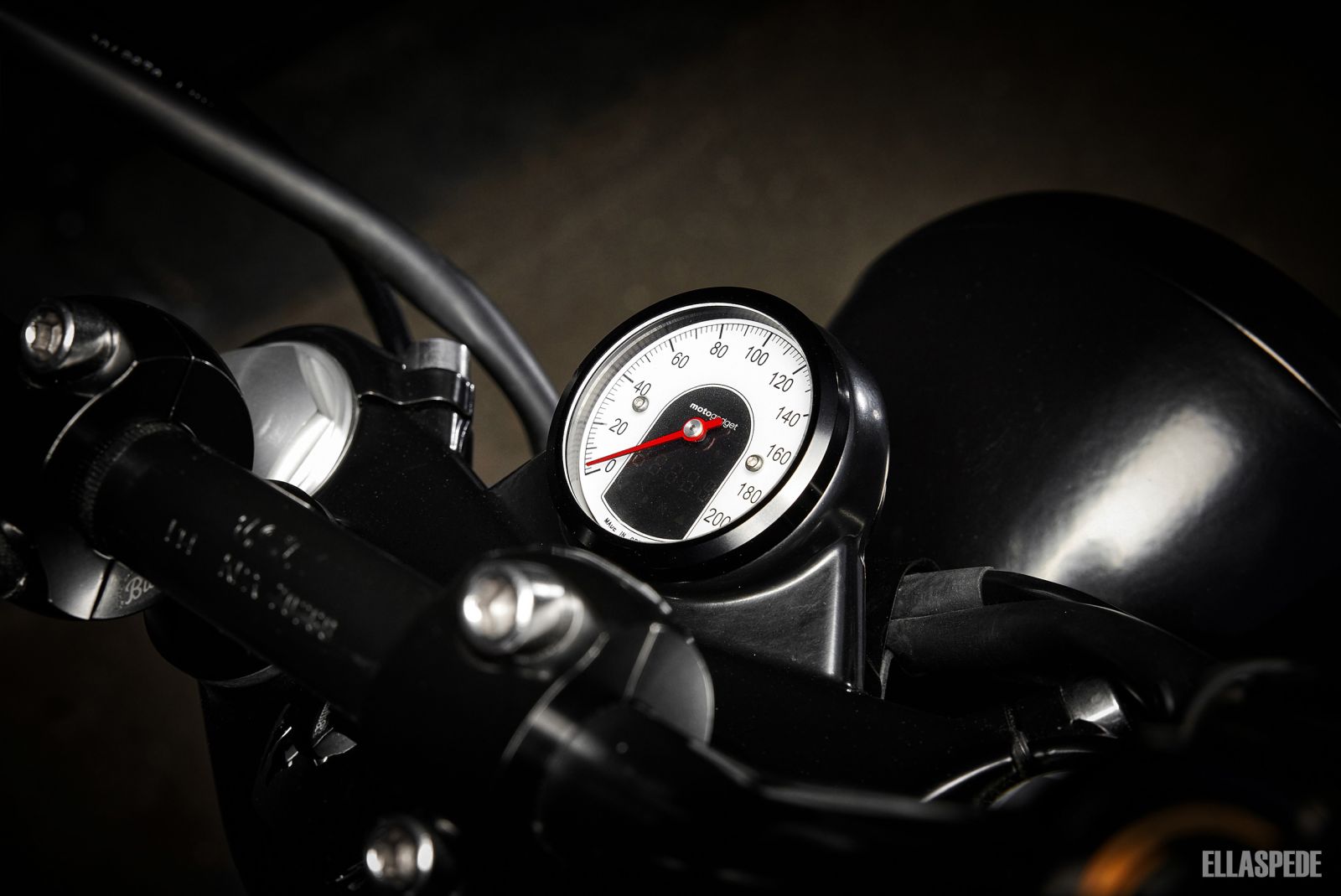 Moving further forward, the factory top triple tree was machined out to house the new Motogadget Motoscope Tiny gauge, with Biltwell risers and LSL Flat Track Lenker bars dropping in over the top. Kustomtech 'seventies' brake and clutch levers slide on with Motogadget M-Grip soft grips to provide premium touch points for the rider. A Domino Ride-by-wire throttle removes the need for the chunky stock throttle switch block as well.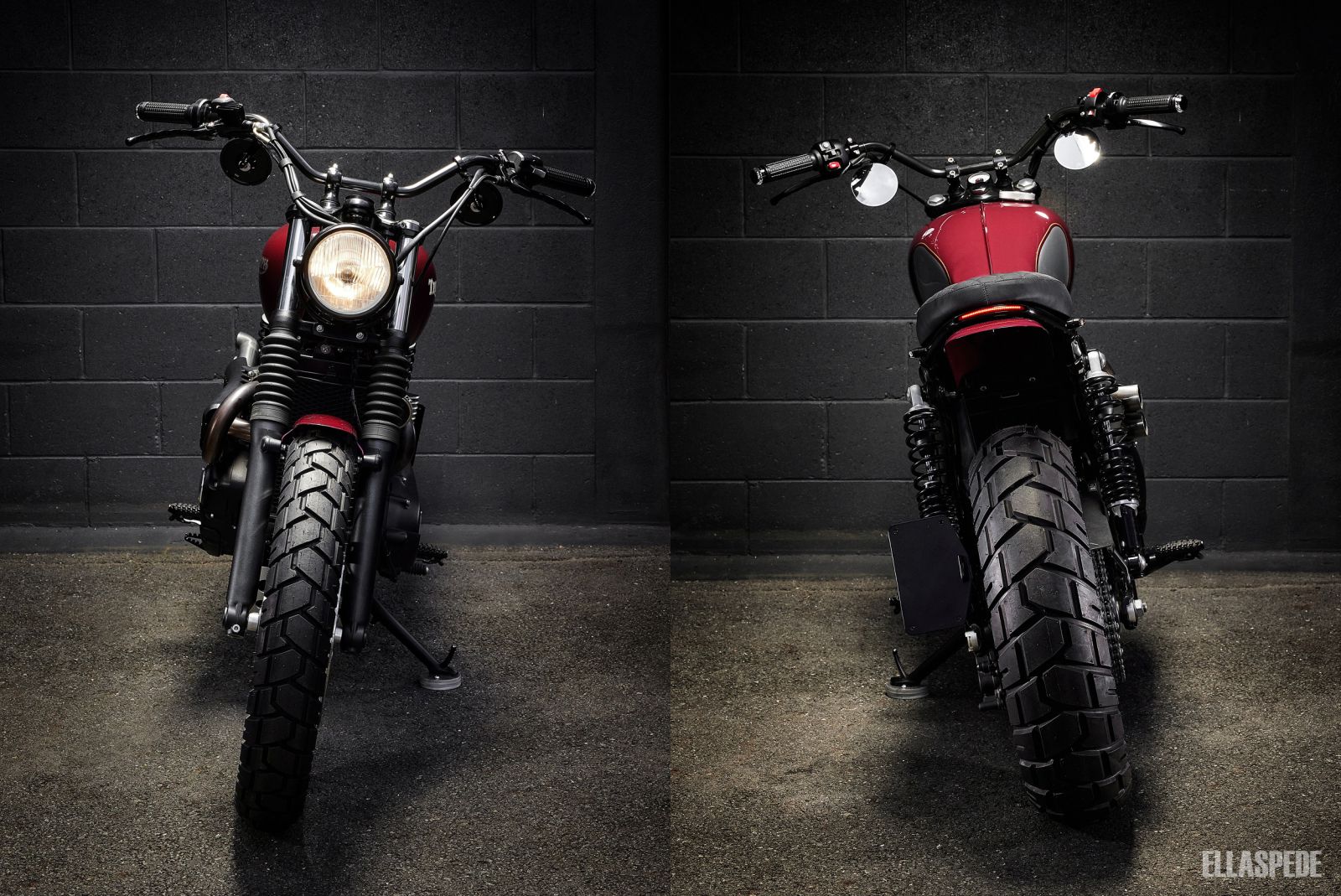 The Motogadget catalogue was further consulted for the underslung 'inboard' Mo.View Street mirrors, Mo.Blaze disc indicators and Mo.Blaze pin indicators showing direction change front and rear.
A classic looking tube mount now carries a 6" side mount headlight nice and snug off the bottom triple tree. At the back a Flexible LED brake light fits into the previously 'frenched' frame, while a Koso blade light illuminates the number plate on a custom side axle-mounted plate holder. An Ellaspede Ninja Star plate holder also has bolt mounts under the rear guard when Jonathan wants to keep things a little more legal out back.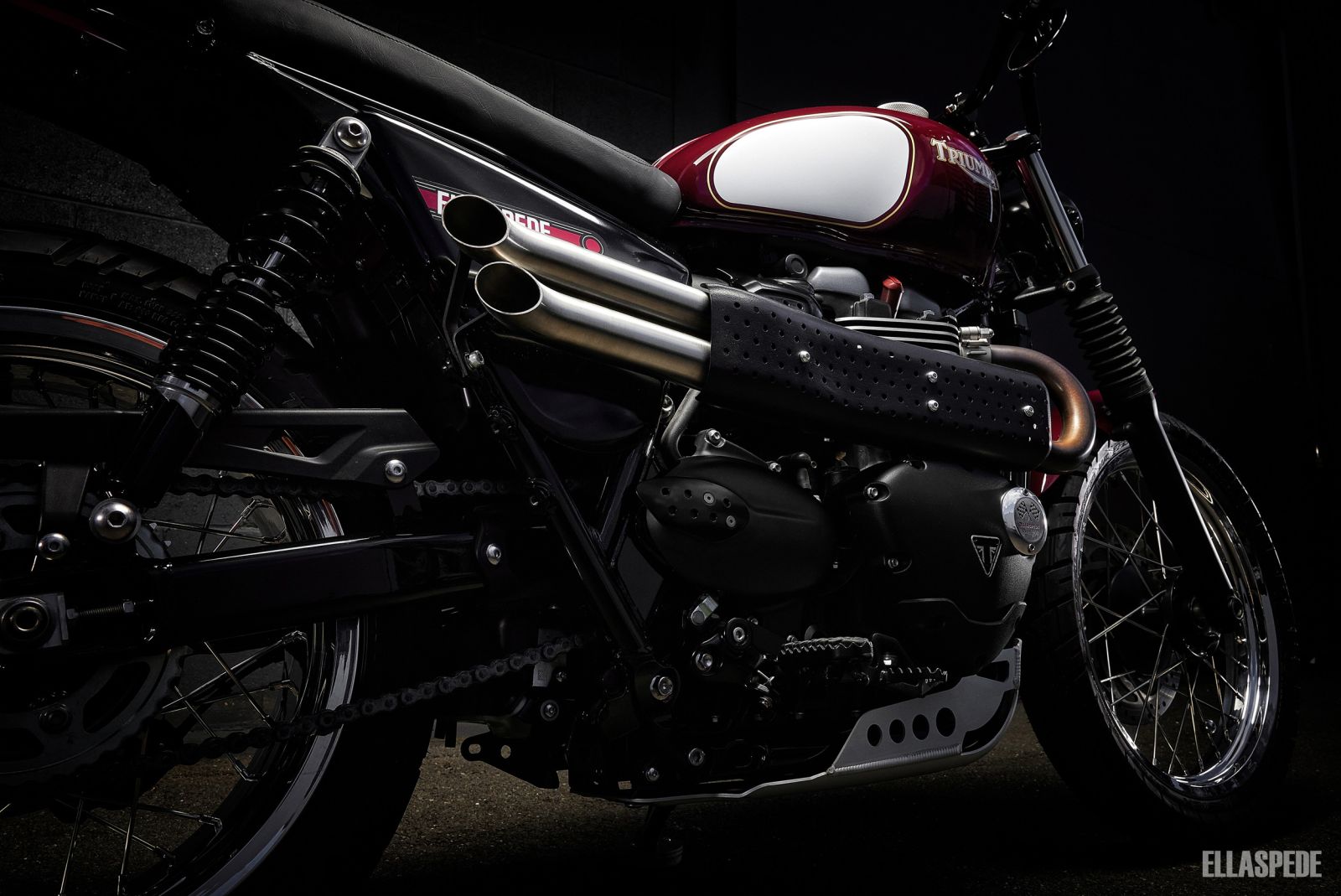 Time for paint and upholstery once it all started coming together. The seat was shaped up with high density comfort foam and a black on black diamond stitch cover brings a vintage look in a subtle way.
Jonathan knew the tank colour he was after… "The colour of the bike was to be a 'tip of the cap' to the original 1970's Tiger and the overall ethos was to create something that was modern, but had elements from the past. I hope that these elements come across when people see it in the flesh".
The classic inspired maroon hue was also laid across the front and rear guards. While the side covers copped satin black and custom Ellaspede and 'Tiger' decals on opposite sides.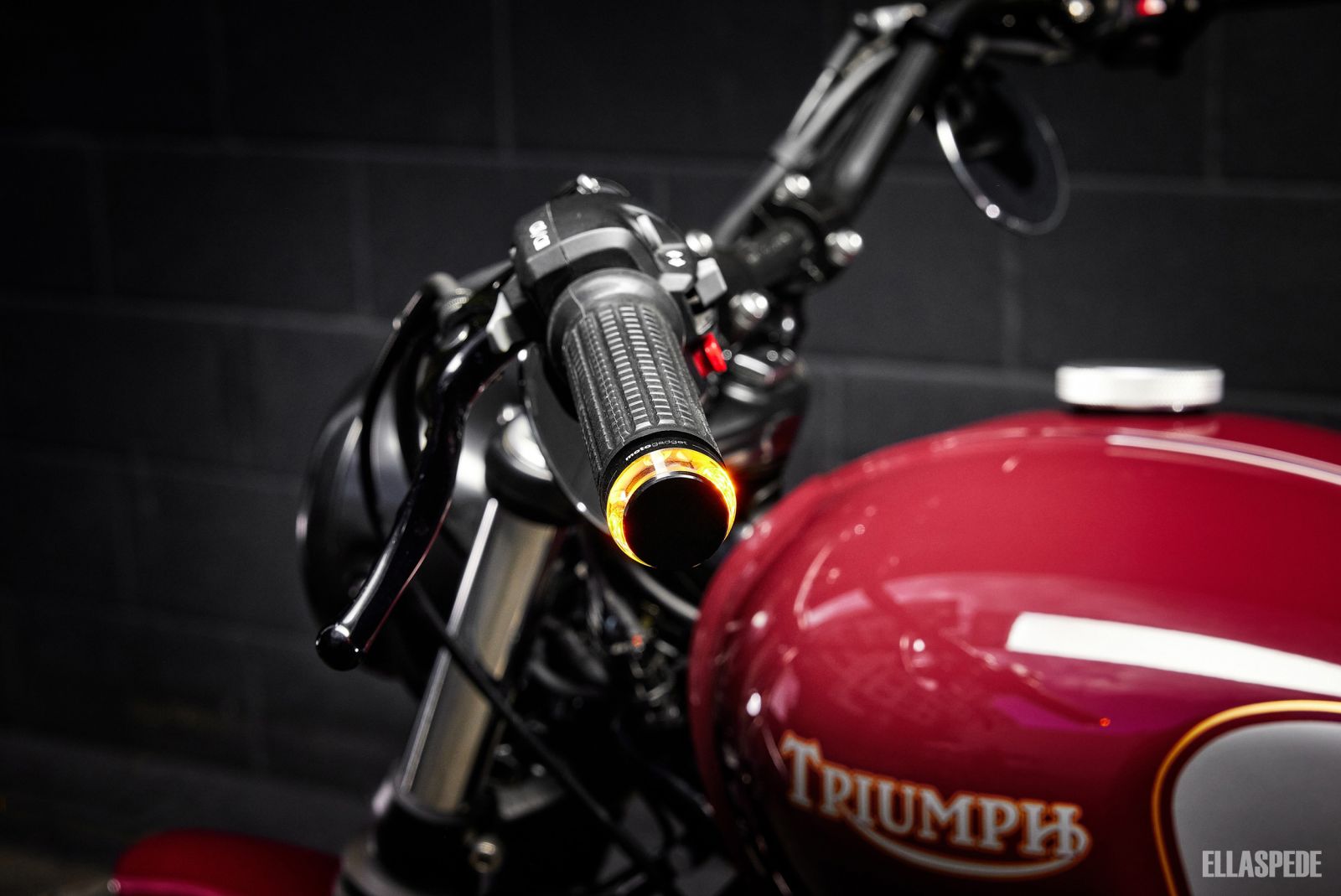 As per usual a host of other parts, pieces and brackets were painted, powder or ceramic coated to keep things looking fresh or blacked out where appropriate.
We're really happy with how this build has turned out, it combines a classic look with some subtle factory style mods to achieve a clean modern custom. But we guess what really matters is what Jonathan thinks…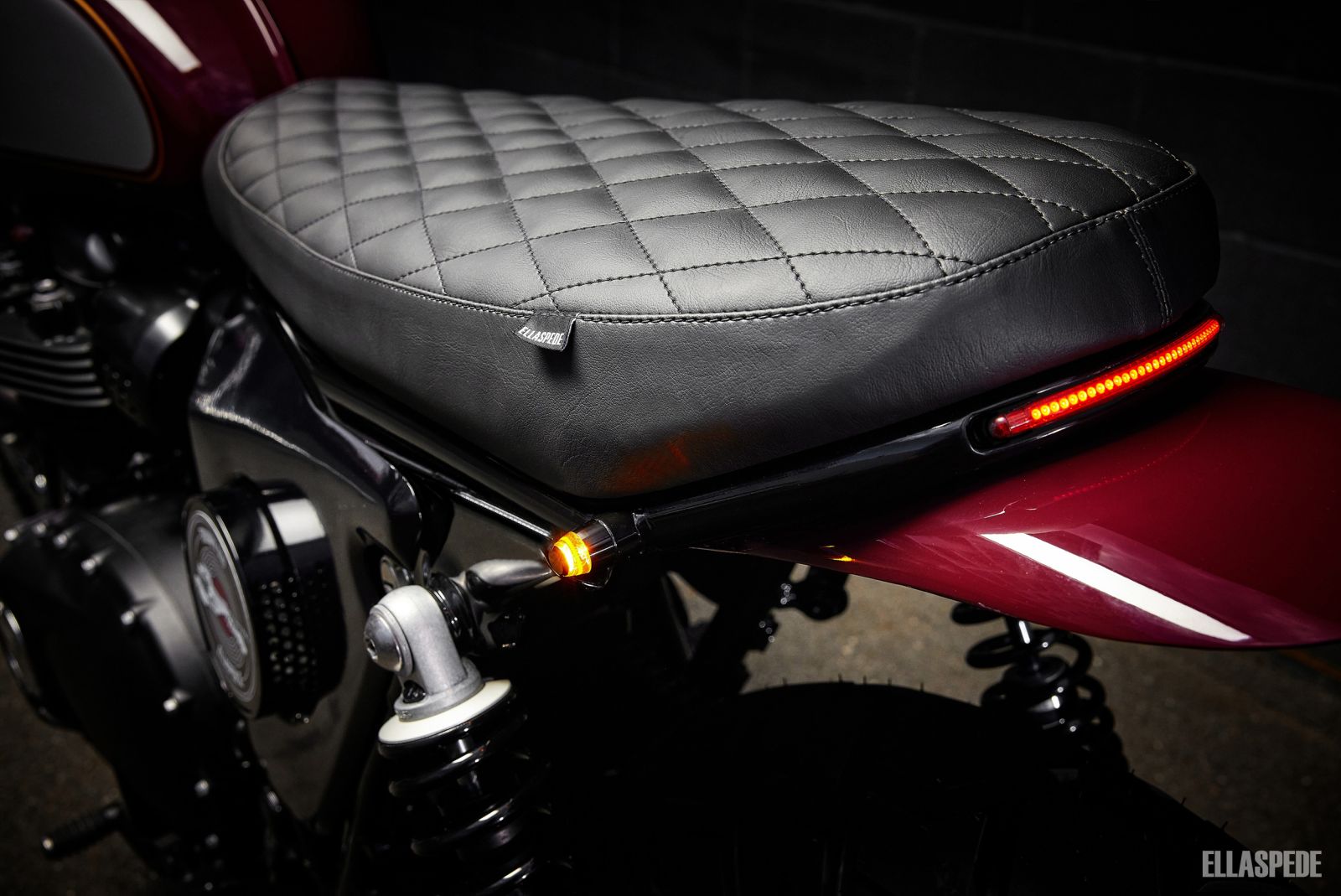 "This is my second build with Ellaspede, so the trust was immediately there and the guys are really good a putting up with my annoying descriptions of what I can see in my head and then creating the physical changes to the bike."
"I love the wheel choice, but my favourite part would have to be the exhaust, as it was a bit tedious for the guys to build, but it was exactly what I had in mind. Plus the exhaust makes up a big part of the Scrambler style, and when you open up the throttle out of a bend, you get that 'slappy' British sound which brings a smile to your face."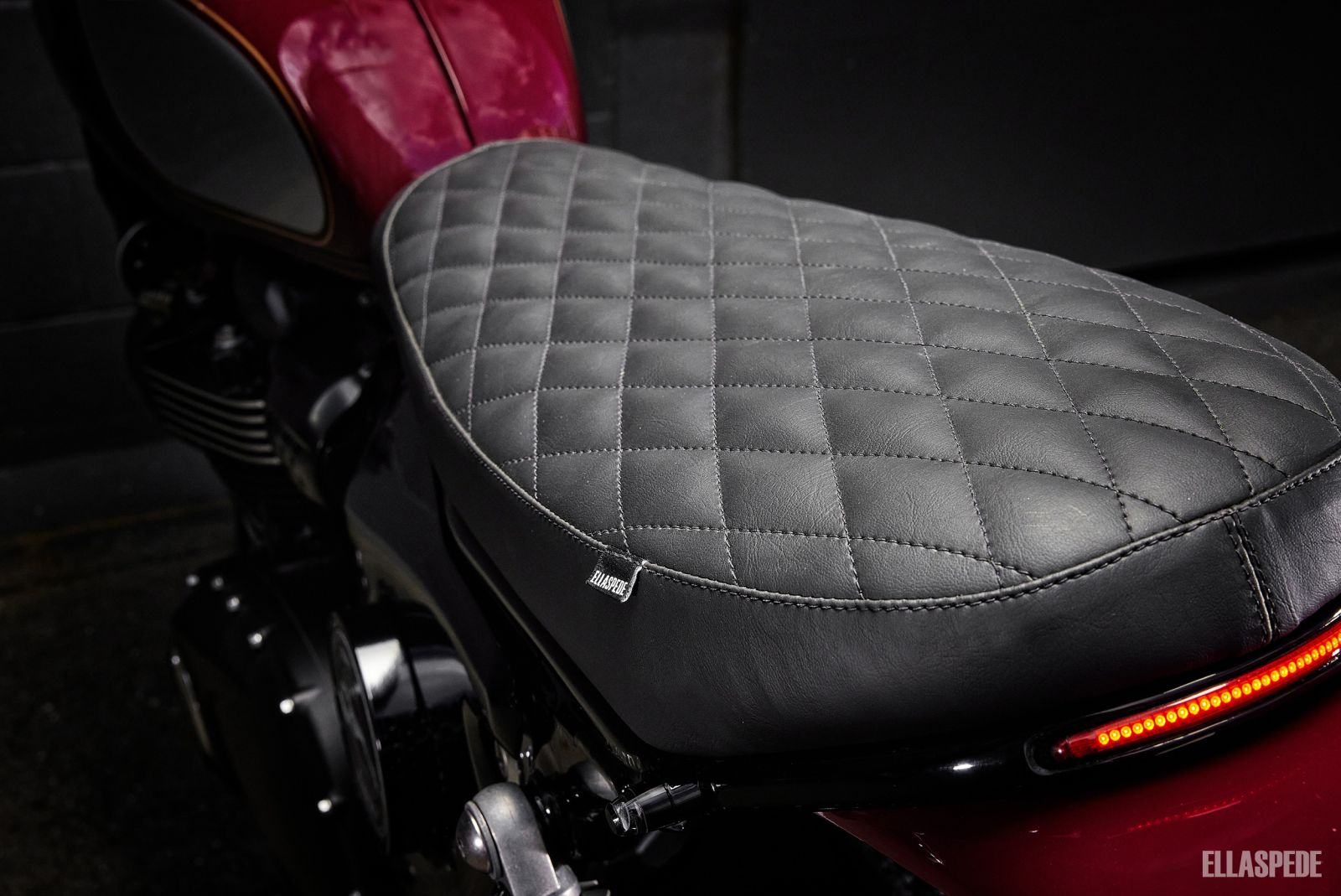 So what does Jonathan have in store for it now? "To be honest, this bike was a treat for myself, so I won't be over indulging in lots of riding. I enjoy cruising from my place up to Noosa Heads for a Sunday beer with the lads and soaking in the balmy coastal air and the sunset on the return."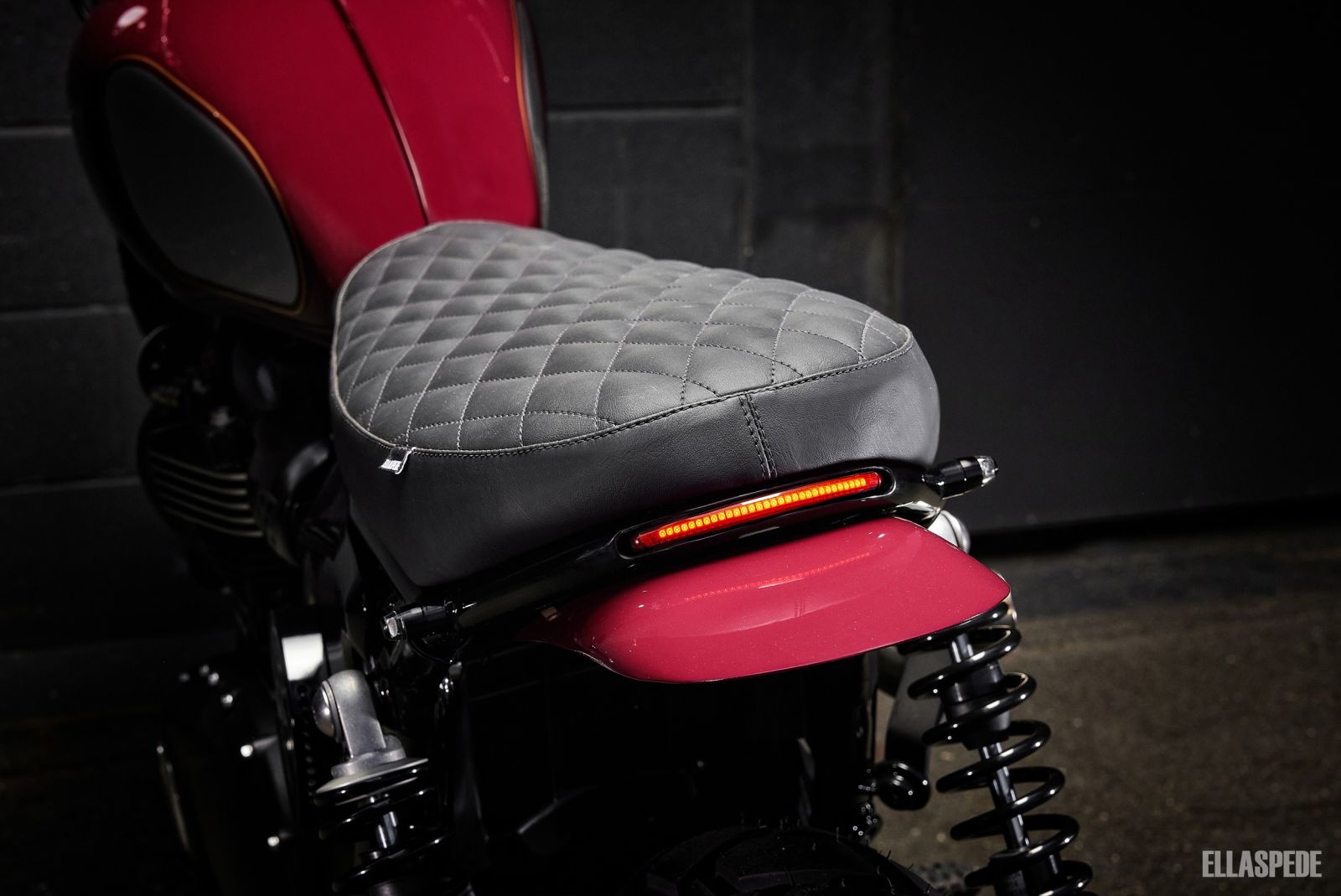 Like any good project, once it's 'complete' the enjoyment of riding it does round out what can be a long process. Sometimes though, the process brings just as much enjoyment as the end result and with a creative brain like Jonathan, we're sure this won't be the last project bike in his garage!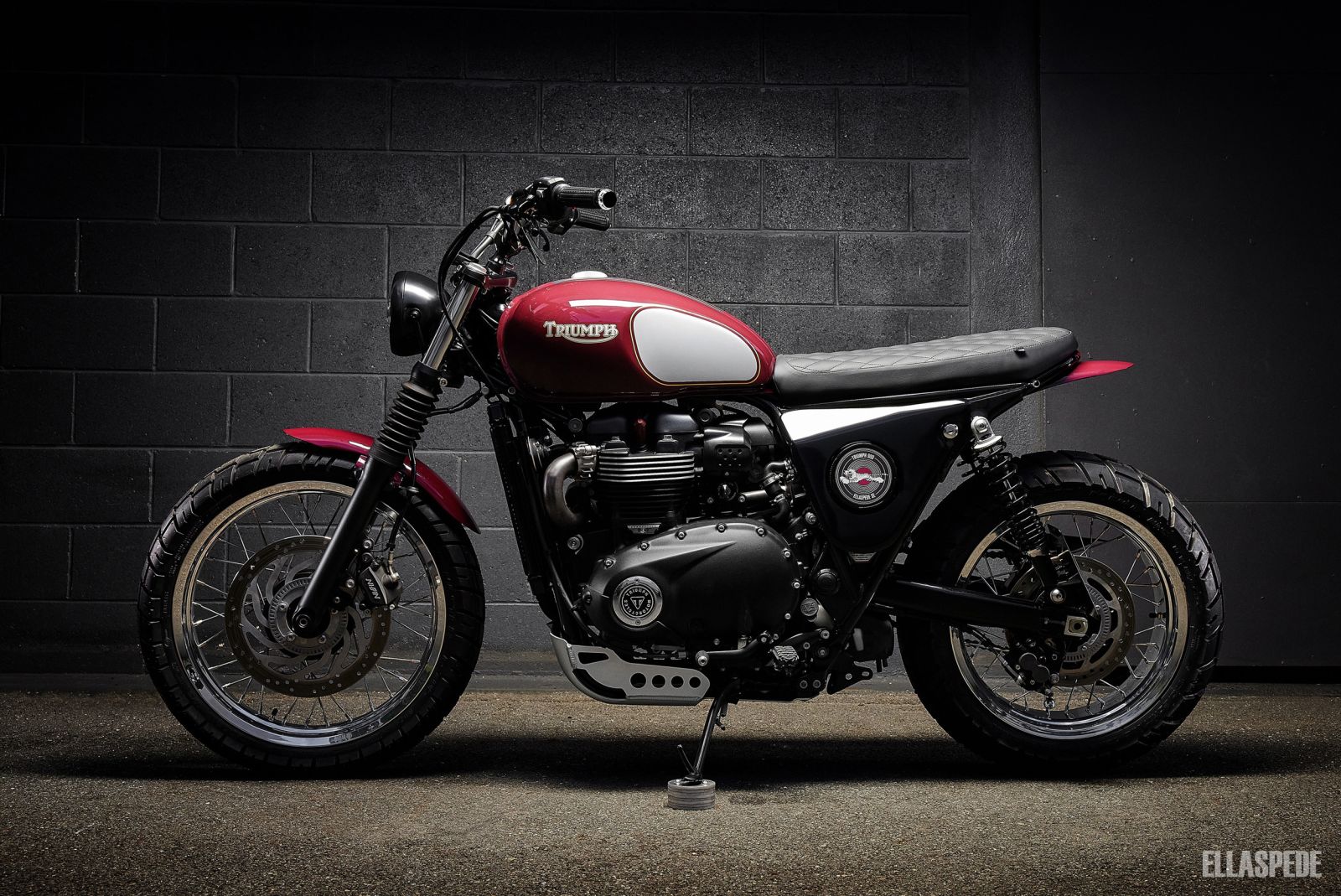 "When I was younger I was keen on building a bike myself, but working in real estate, I have little time to tinker in the garage and my semi OCD tendencies wont allow the mess that comes with pulling a bike apart in the garage. Ellaspede offer a service perfectly targeted to someone like me, I've got the idea, whereas they have the tools and knowhow to bring it all together (with plenty of design flare that I'd never think of). I suspect this wont be my last build with Ellaspede either, so if you're interested in this bike please get in touch so I can start the next project!"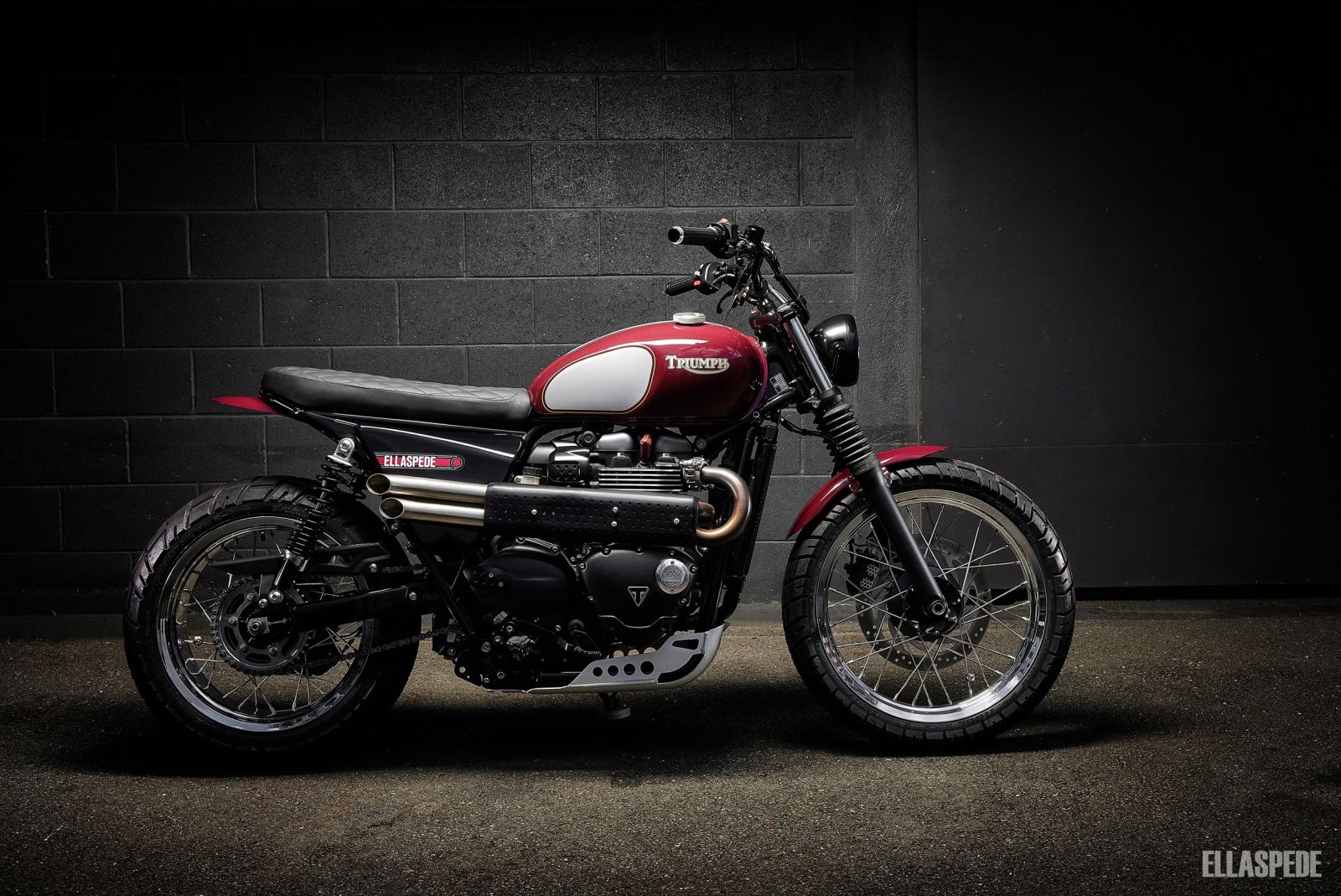 ---
Albums we listened to during the build of this bike:
---
Photos:
---
Build Pricing & Enquiries:
For build and pricing details or to discuss commissioning a custom motorcycle build of your own please email contact@ellaspede.com
---
---
Leave a comment