EB433 – 2013 Triumph Scrambler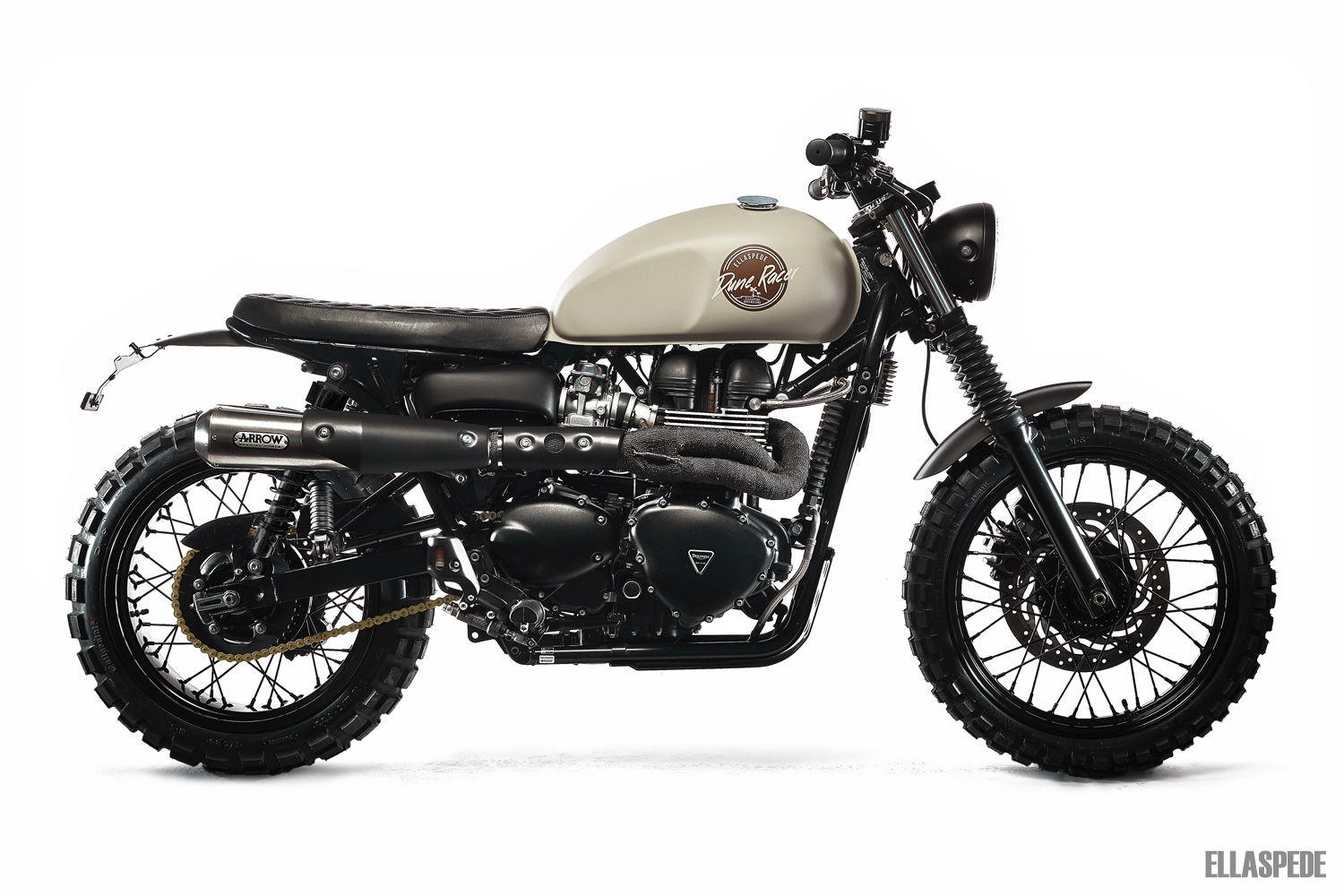 If you're a massive fan of Steve McQueen's desert sleds but the only sand near you is that of Australia's iconic surf spot Noosa, what do you do? Combine that inspiration for a custom motorcycle build of course!
Jonathan was always a big fan of the "king of cool's" British bikes but didn't want to copy the look when the time came to create his own. His version was to draw more inspiration from his home on Queensland's Sunshine Coast, with a tough but clean influence.
So, in Jonathan's mind the Dune Racer was born as his own version of the original desert sleds, just with more of a beach theme.
Given the inspiration it was only ever going to be a Triumph donor bike, so when the tidy 2013 Scrambler rolled into Ellaspede it was wheels in motion for Jonathan's Dune Racer.
After being largely disassembled, the rear of the frame was shortened and an angled rear hoop added as per the Ellaspede design. To keep the lines clean a taillight housing was frenched into the rear frame, before a custom rear guard was bent to the ideal angle and cut to size.
With a short rear guard, a common problem is mounting the licence plate at a legal angle. An Ellaspede Ninja Star Licence Plate Holder Kit takes care of plate location and legalities, with its rubber mounts minimising any cracks caused by the big British twin.
The oversize stock seat was benched in favour of a custom steel seat pan that matches the profile of the shortened frame. The seat foam was shaped to match the lines of the tank and frame, but keeps enough padding for any off road adventures. Wrapping things up, a classic diamond stitch pattern covers the seat in a robust black UV vinyl.
At the other end, the factory front guard was shortened and reshaped. A 7inch aftermarket headlight sits on an Ellaspede Triumph Headlight and Indicator Relocation bracket, lowering the light for a more aggressive front-end look. Daytona D-light indicators fit to the new mount at the front and Ellaspede Rear Indicator Mounting Brackets off the top shock mounts at the back.
Rounding out the electrical upgrades is a Motogadget Tri-Unit under the tank, Motogadget gauge unit on a custom low mount and a Flexible LED Brake Light slotting into the rear of the frame.
Some quick improvements come care of the Ellaspede Triumph hard parts catalogue, with an Ignition Relocation Bracket and Rectifier/Horn Relocation Bracket both moving the stock components to more visually appealing locations.
The original top fork triple clamp was modified to remove the stock gauge mounts before being smoothed off. LSL handlebars and RHK risers now control the front end and continue the clean theme.
The factory option Arrow exhaust is a neat bit of kit that sounds incredible, but the look and length just wasn't right for this build. The mid section was shortened, rear mount modified and the heat shield adjusted to suit the ideal aesthetic. Pipe wrap and blacked out covers ensure visually it's not too loud and fit with the theme.
Part of the build brief from Jonathan was fat chunky tyres, so the Ellaspede team wasted no time measuring up the available room at the rear to get a bigger rim on the bike. Aiming for a more classic 19/18inch diameter wheel combo and with room to move, the rear 17inch rim was swiftly swapped for an 18inch item measuring a more impressive 5.5inches wide. With the rear rim built, both were sent for powder coat before fresh bearings were slipped in.
Making the most of the new rear rim size is the ever-popular Continental TKC80. A 150/70/18 stretches over the rear, with a TKC80 110/80/19 taking care of turning duties at the front.
Adding a little 'race' to support the name is a DID X-Ring chain in go-fast gold, with Ikon 76 series rear shocks helping to push the power into the sand.
Like many vintage desert sleds, Jonathan wanted the tank to be a feature piece of the bike. A 'Noosa sand' inspired colour was chosen to fit the theme and laid on in a matte finish with a matte clear over the top. Providing a little pop on the otherwise sandy tank is the Ellaspede Dune Racer emblem.
Apart from the tank an understated approach was taken to the remaining paint, powder and ceramic coat. The physical stance, exhaust sound and single pop of colour now do 'most of the talking'.
Something we like most about custom bikes is what they can tell you about the owner without having to talk to them. This bike takes classic desert sled cues with some local beach-burner inspiration and wraps it up in a modern motorcycle package that reflects Jonathan's interests, location and lifestyle.
With the Triumph Scrambler being a popular choice for custom builds, Jonathans bike is a prime example of what's possible with some clear inspiration, design influence and well thought out modifications.
Keep an eye out for this one if you're out and about near Noosa on Australia's Sunshine Coast. Most likely you'll hear it arrive, but with the sand spray from that big back wheel you'll be lucky to see it leave!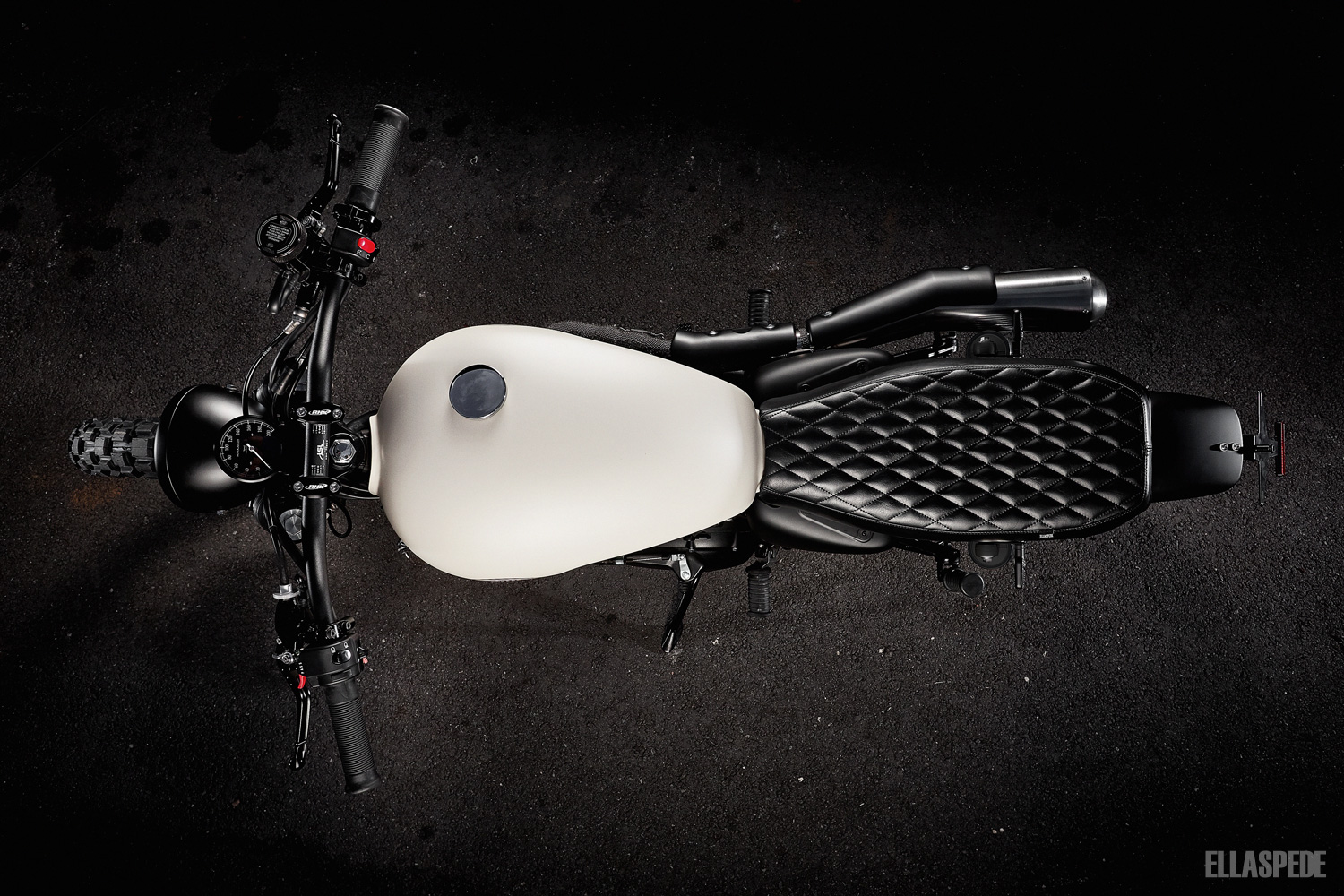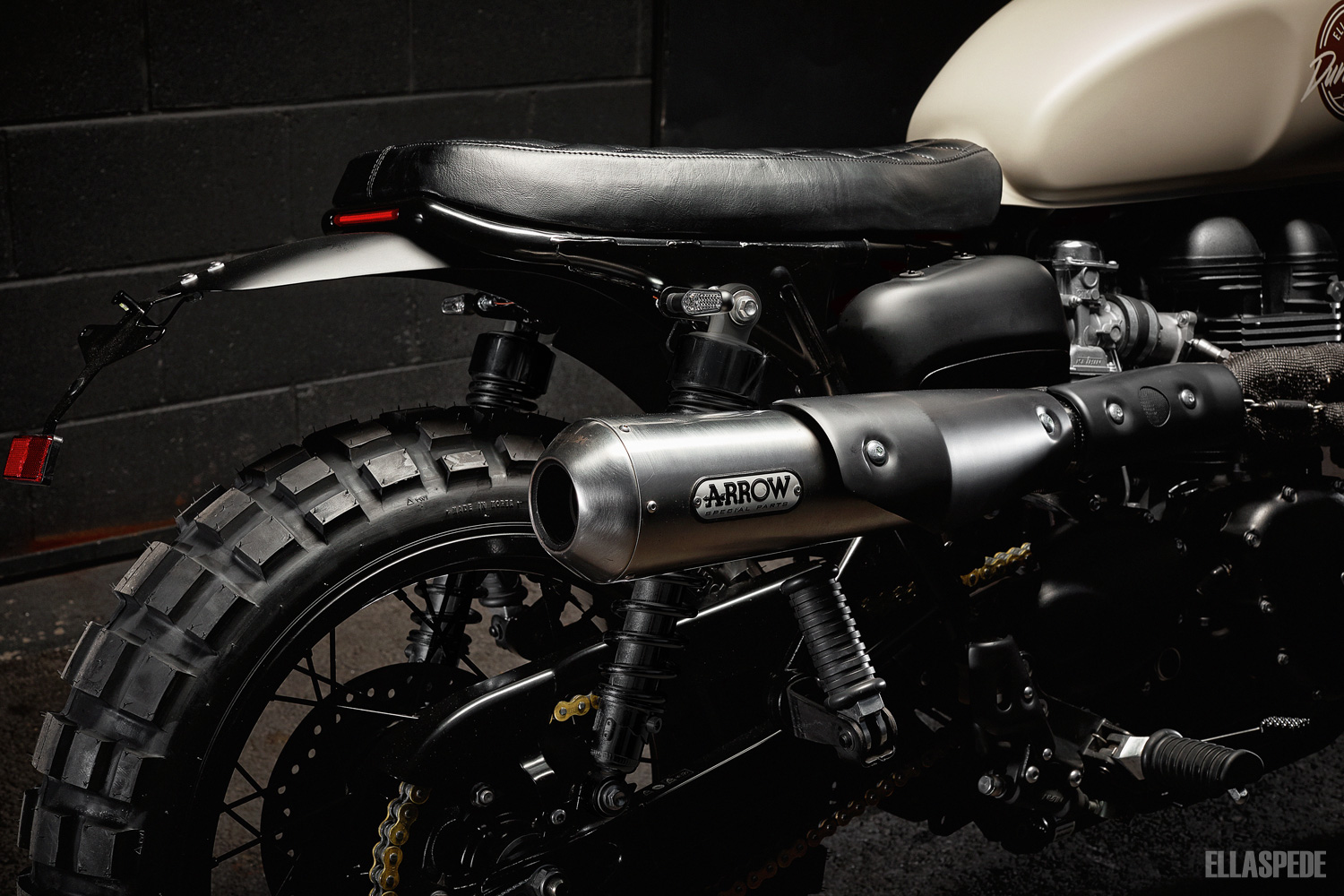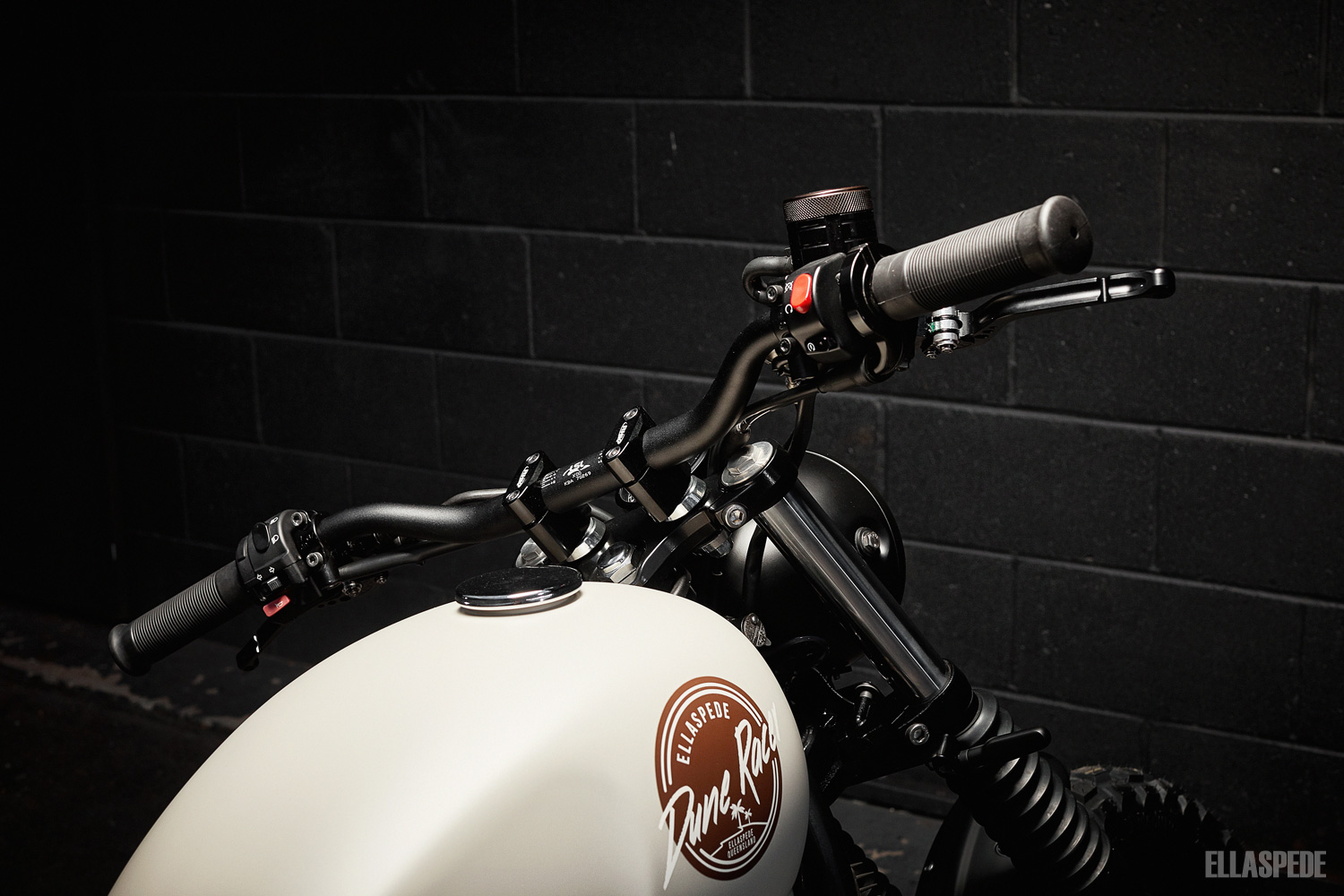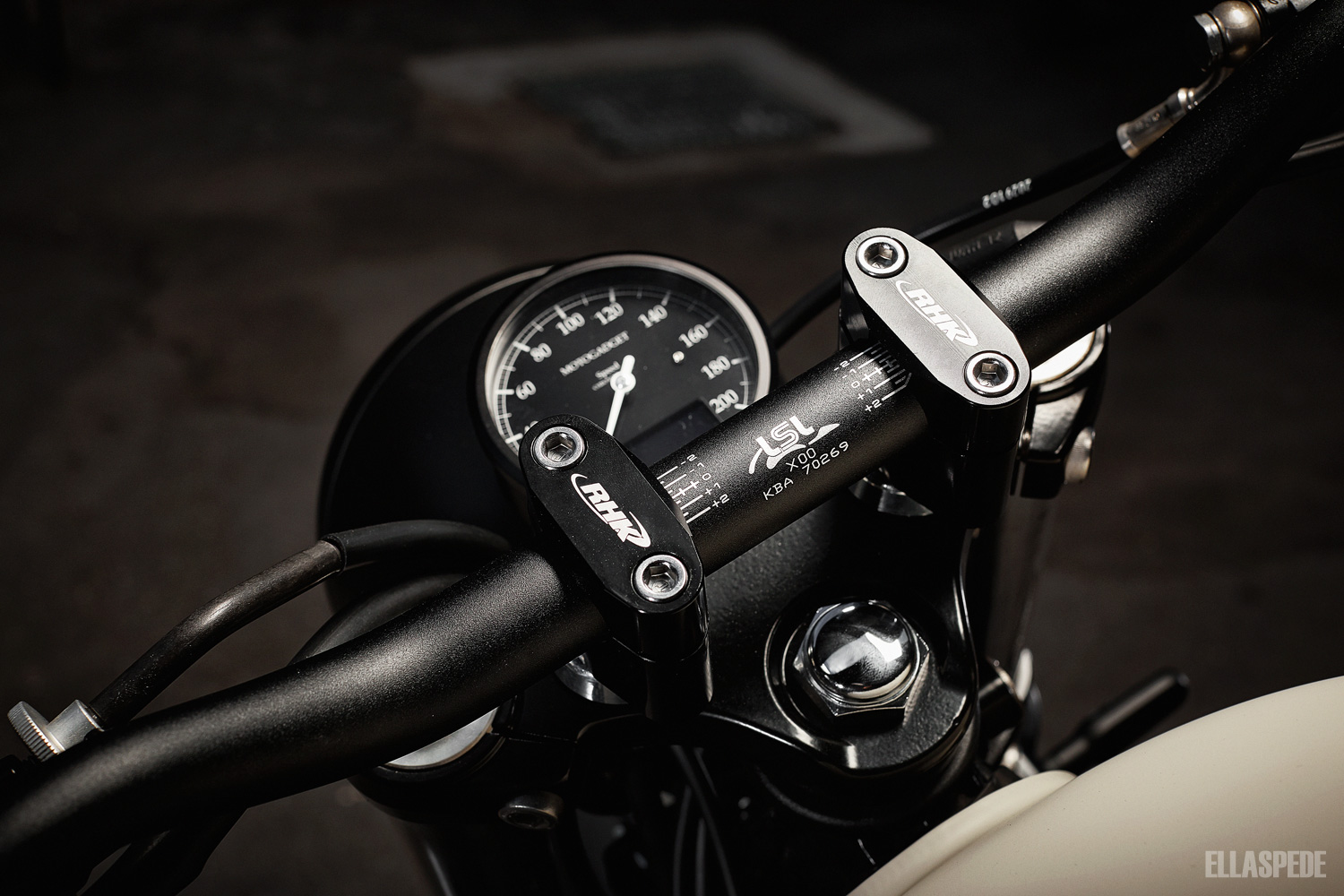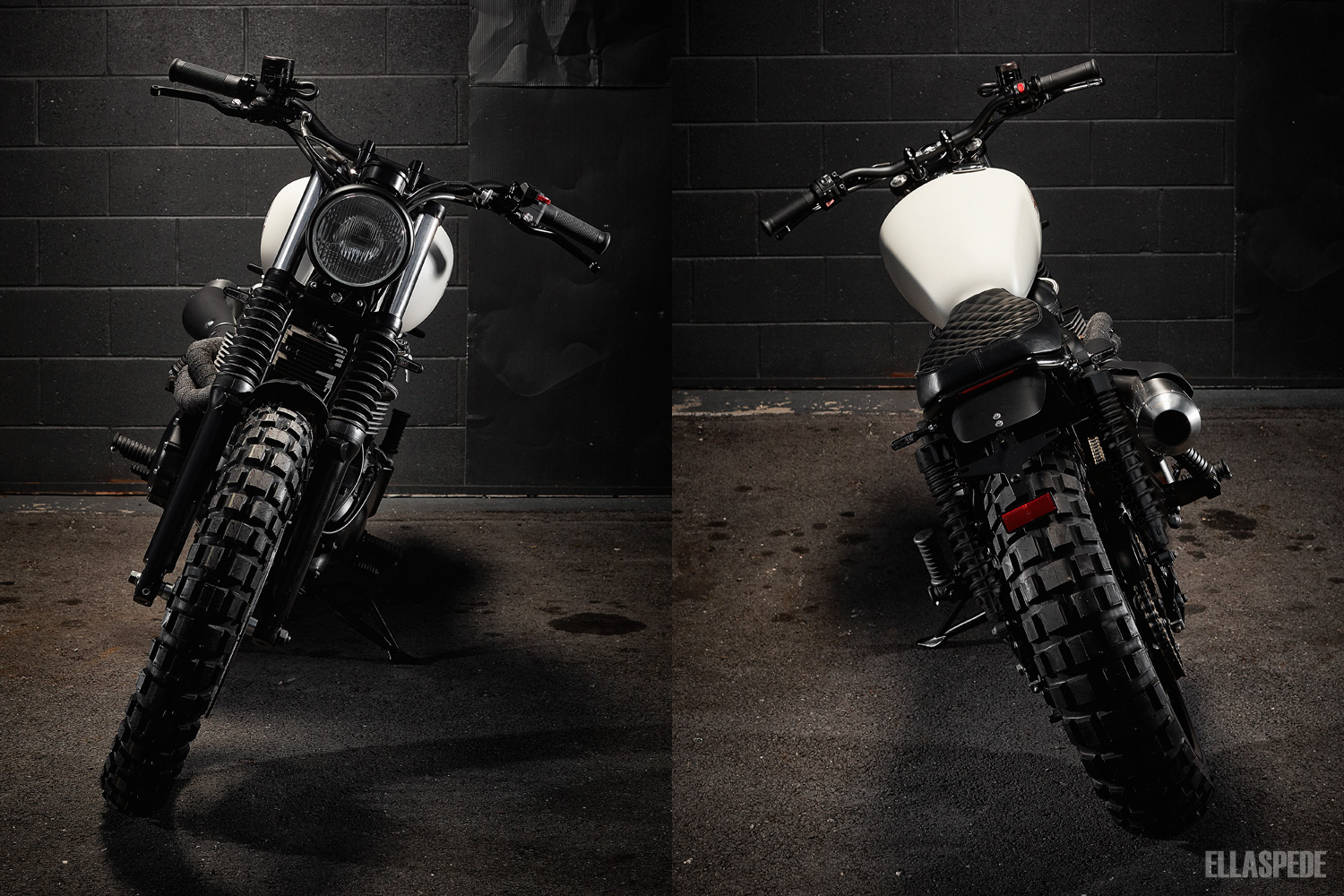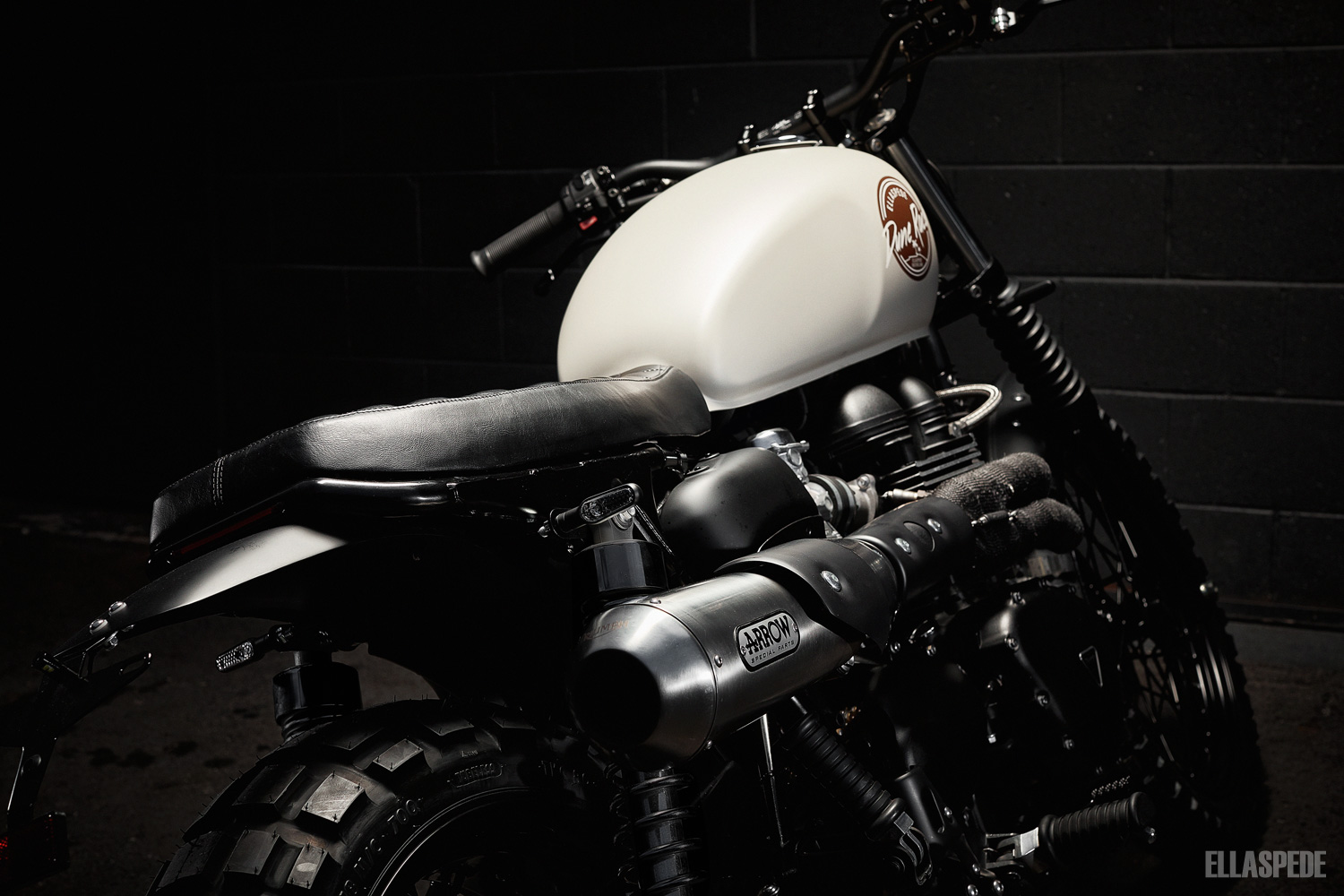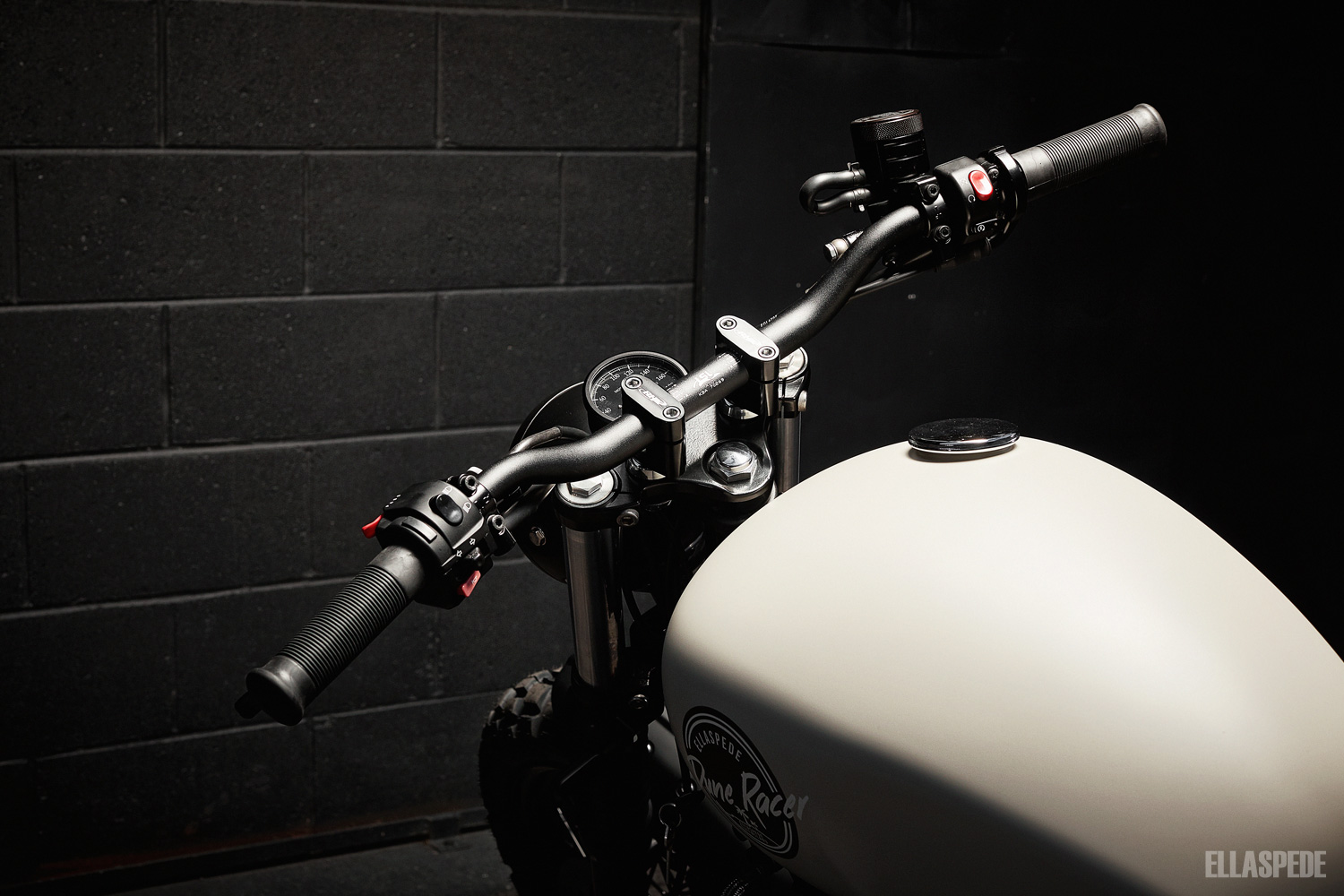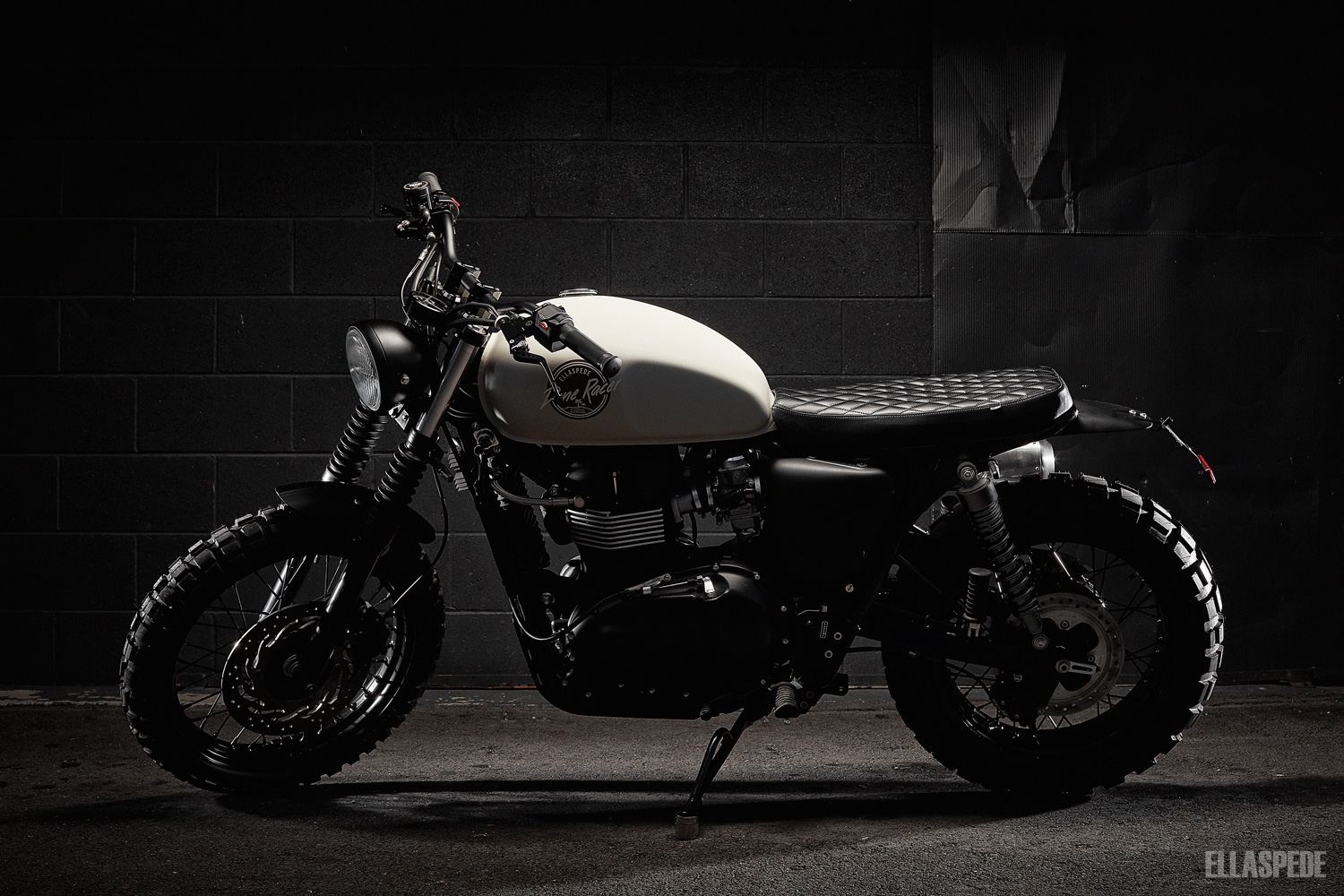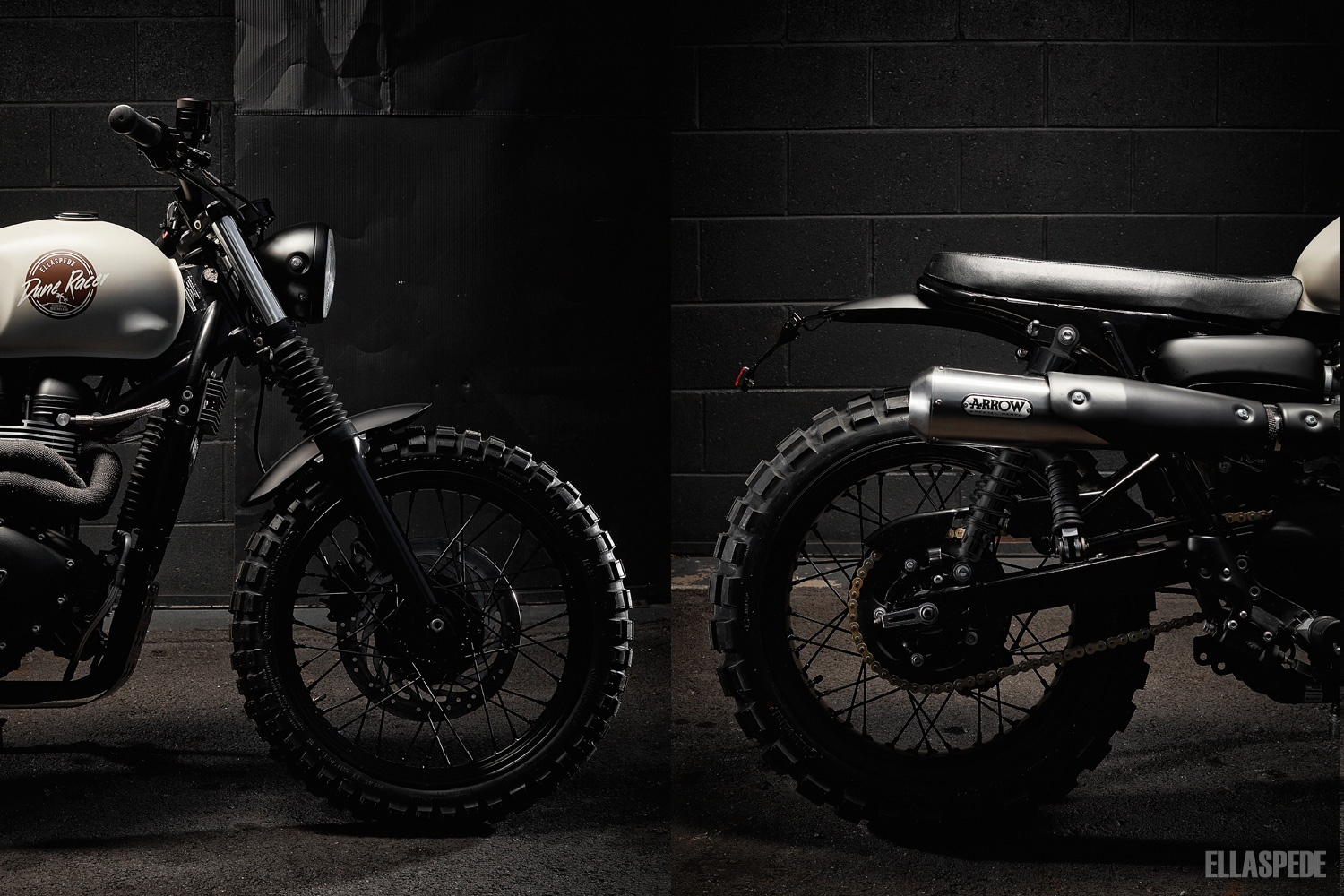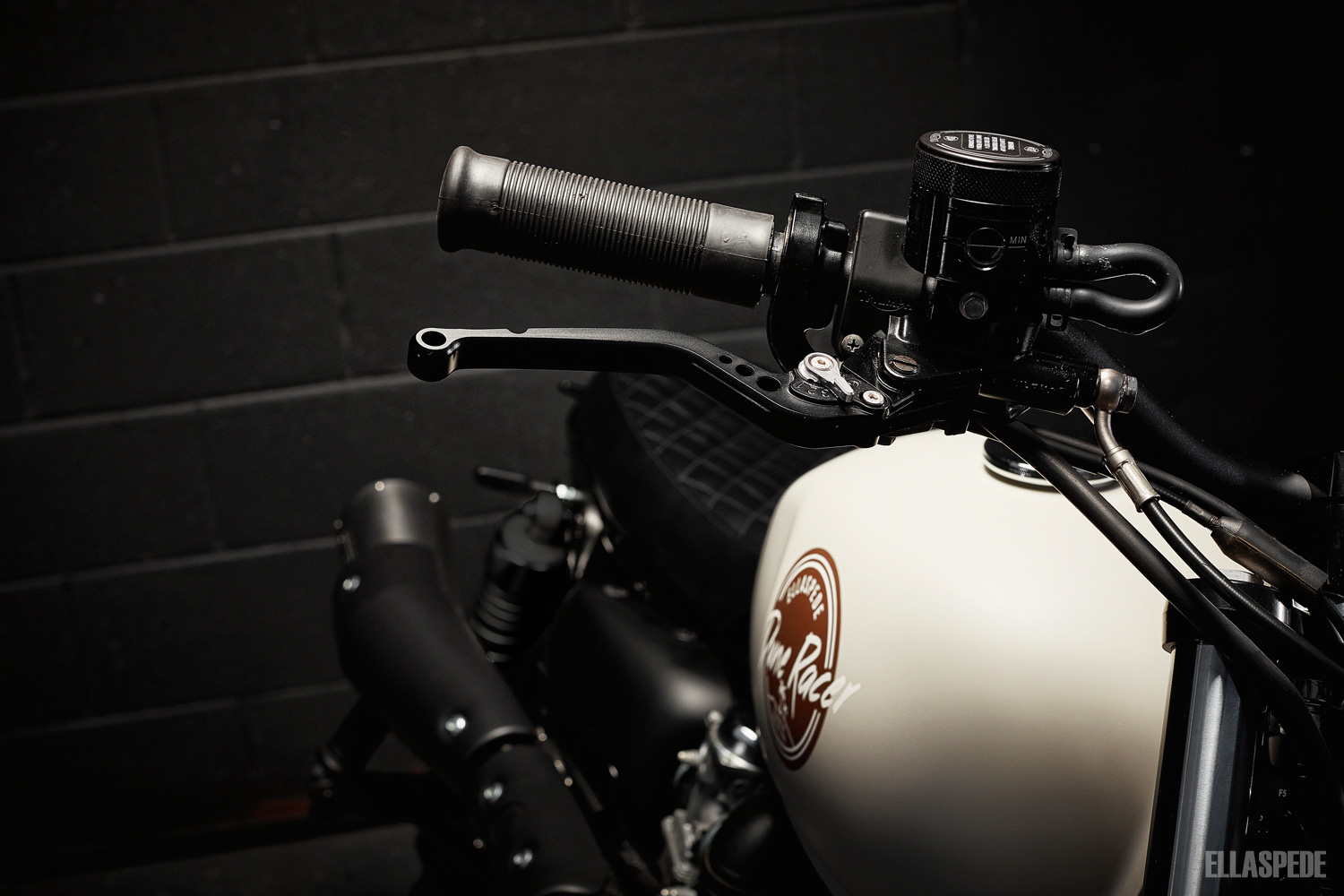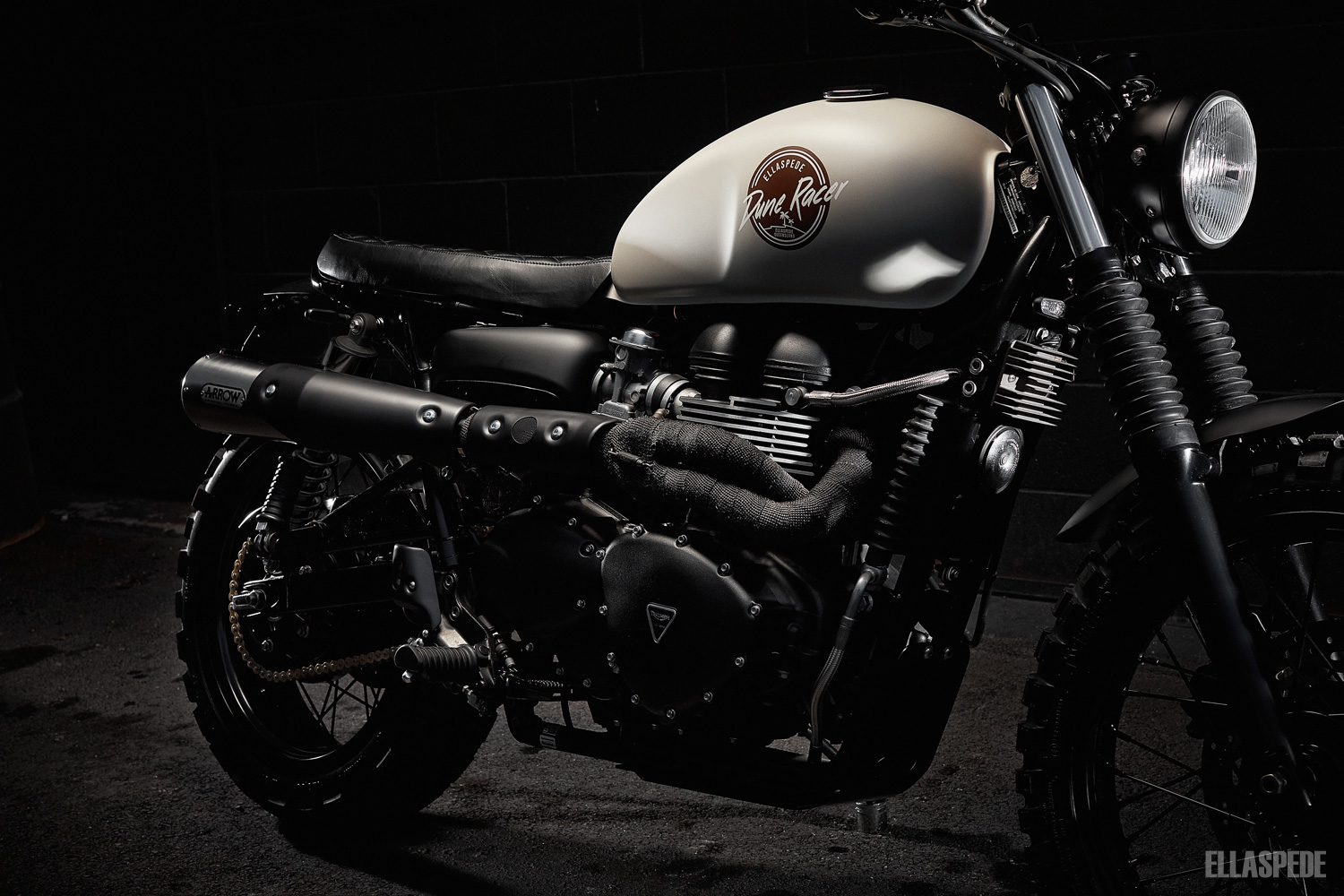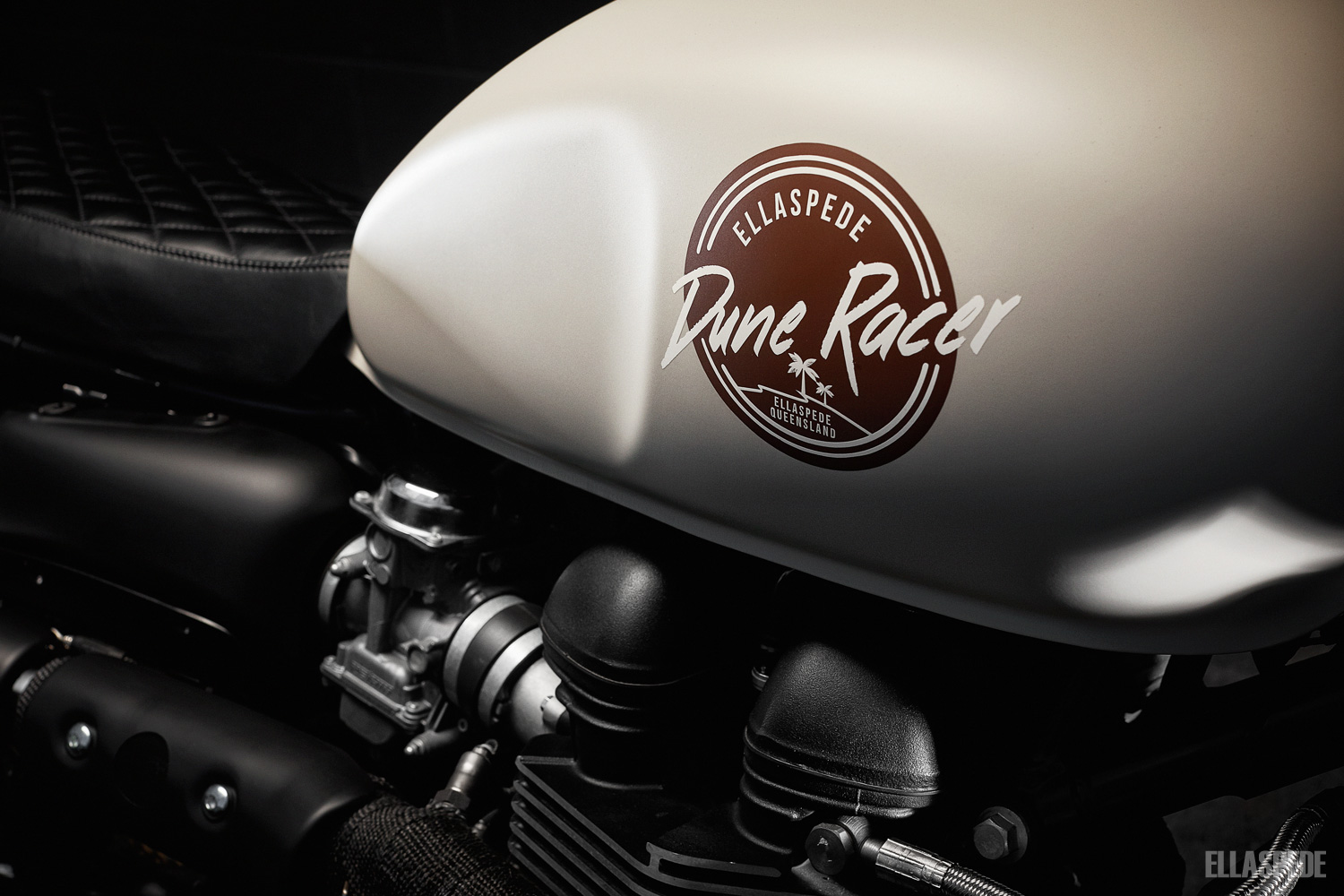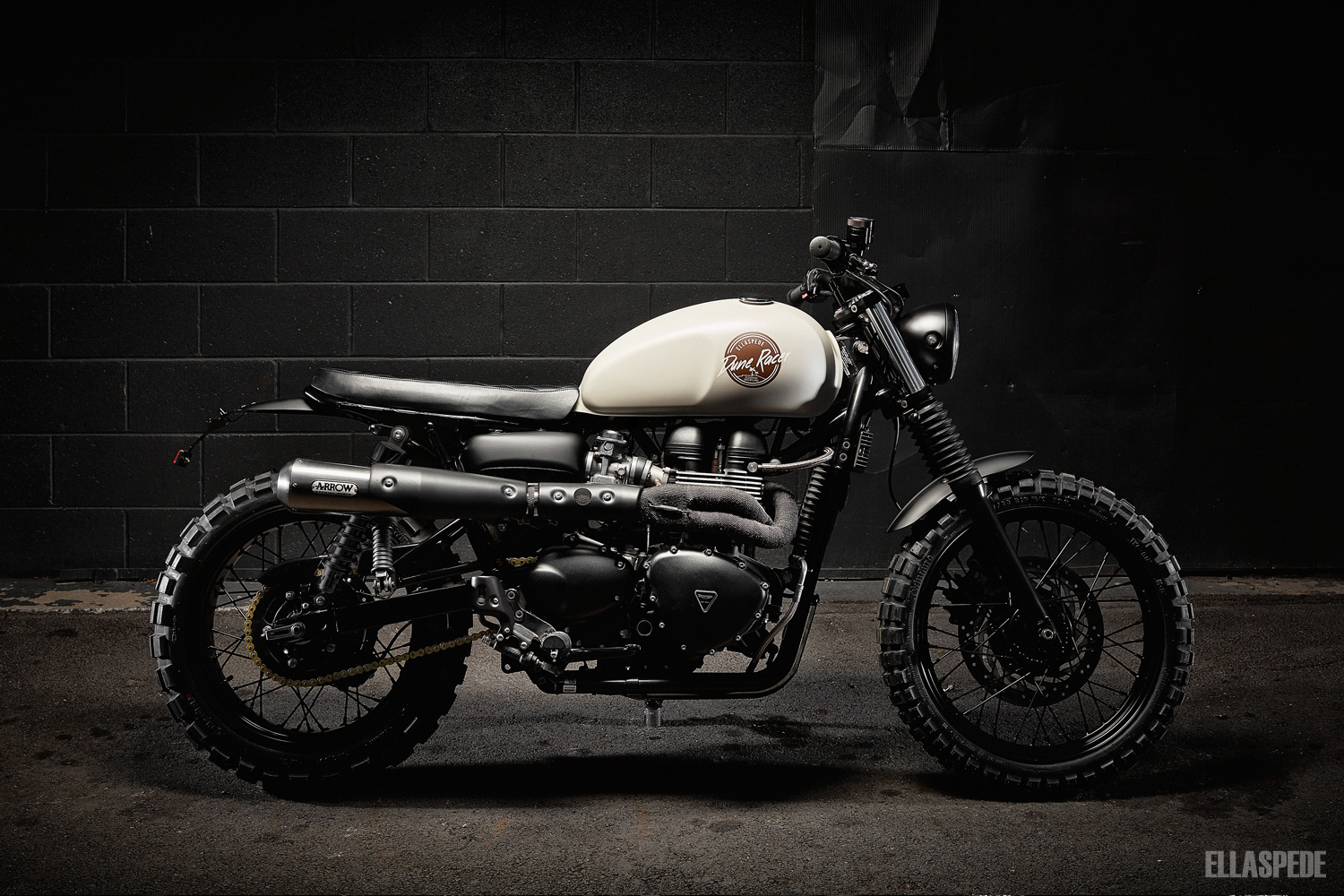 ---
Albums we listened to during the build of this bike:
---
Photos and Features:
---
---
Comments (7)
Build

By:

Marc Robinson

on 23 September 2021

Hi, great job. Have picked up a Ducati Scrambler Sixty2 and wondered if you could give me cost estimate for a similar type of build. Cheers





Ellaspede Response
Hi Mark, Nice pickup mate! If you send us an email to contact@ellaspede.com we can give you some more info on a build. Cheers!
---
Similar

By:

Matt

on 23 March 2021

Price guide please mate





Ellaspede Response
Email sent mate!
---
Similar bike

By:

Matthew

on 21 November 2020

G'day guys that bike looks amazing! Could I have a rough price for that build? I only got my RE the other day so is there something similar you could build that's LAMS along with a really rough ballpark of what I should aim to save to get something built. I really love scramblers! I just have no idea what it costs to build something that's all cheers!





Ellaspede Response
Hey Matthew, Stoked you like this build mate! We'll shoot you an email with some pricing for this type of build. Cheers
---
Similar Bike

By:

Ryland Jordan

on 16 August 2020

Hey guys could you please contact me via email for a rough price on a build like this? Cheers





Ellaspede Response
Hey Ryland, We just sent you an email with some details mate! Let us know how we can help. Cheers!
---
Similar bike

By:

Marco

on 24 July 2020

Hey guys, could you email me a rough price for a similar bike?





Ellaspede Response
Email sent mate!!!
---
Built

By:

Vittorio

on 21 June 2020

Hi guys great bike, was wondering how much would it cost me to get built one just like this one, thanks





Ellaspede Response
Hi Vittorio! Glad you like it! We'll shoot you an email with some approx prices mate. Cheers
---
Is this bike for sale still?

For sale?





Ellaspede Response
Hey Guy, All of our bikes are built on commission for the owners, so this isn't for sale. But we can definitely build you something similar! We'll get in touch. Cheers mate
---
Leave a comment