EB1221 - 2006 Honda Zoomer
Author: Ellaspede Date Posted:7 August 2023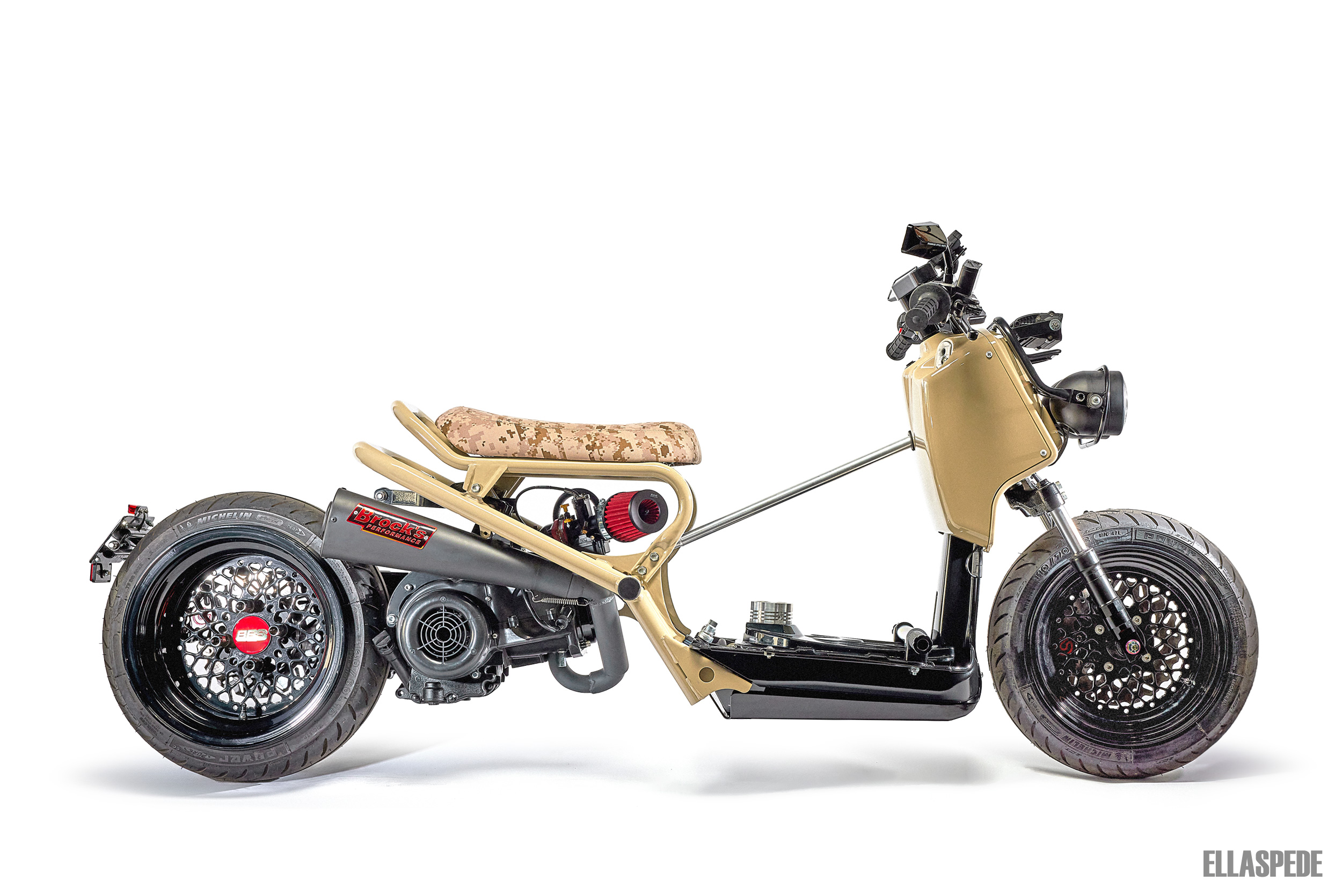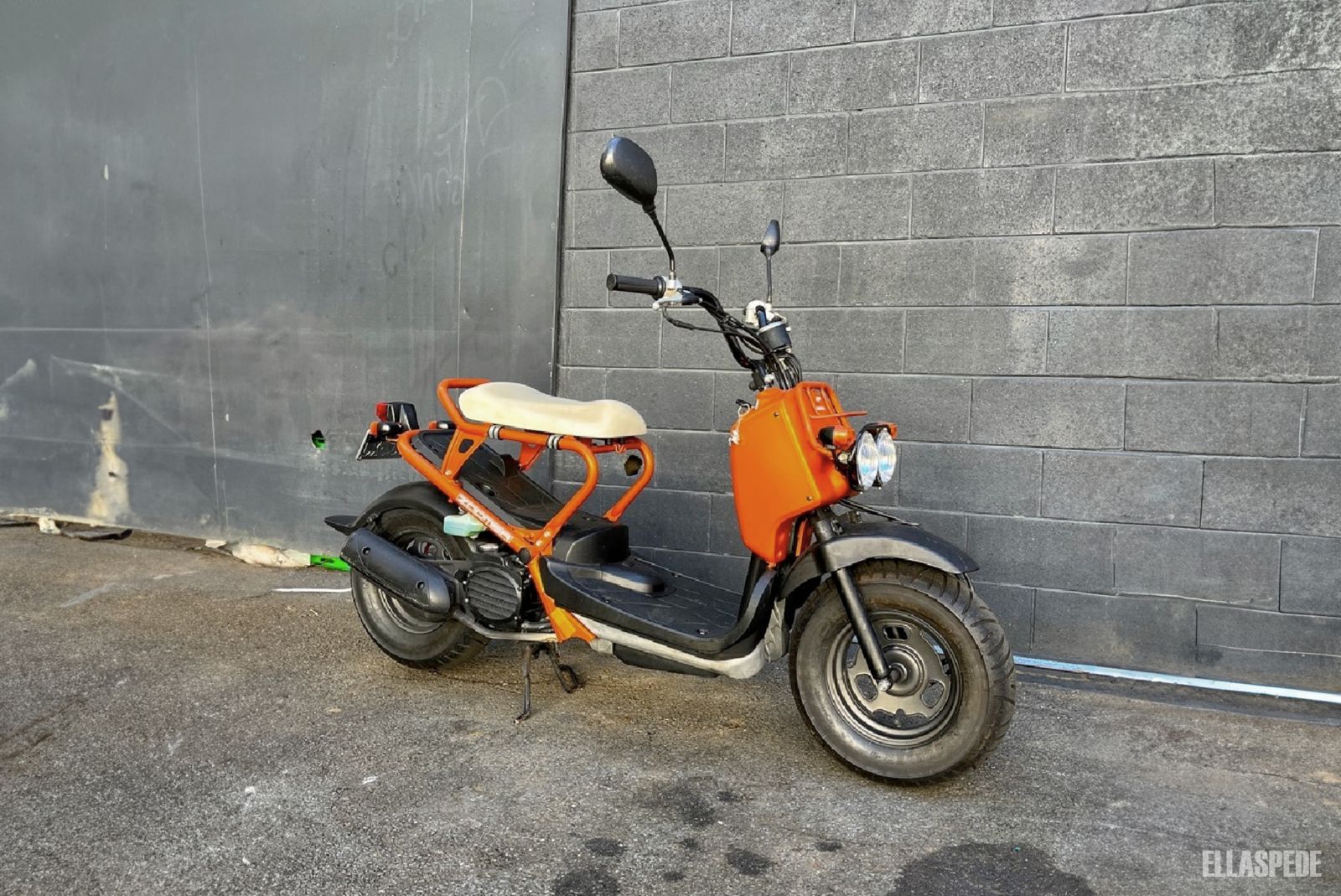 Two is always more fun than one! When you're mates with the owner of our previous Ruckus build, it was only natural for owner Jono to get in on the Zoomer action!
In 2003, the Honda Zoomer, also known as the Ruckus, made its grand entrance in Japan and the United States, offering a fresh and practical alternative to conventional scooters. With its stripped-down design, twin headlights, and beefy tires, it quickly distinguished itself from the competition.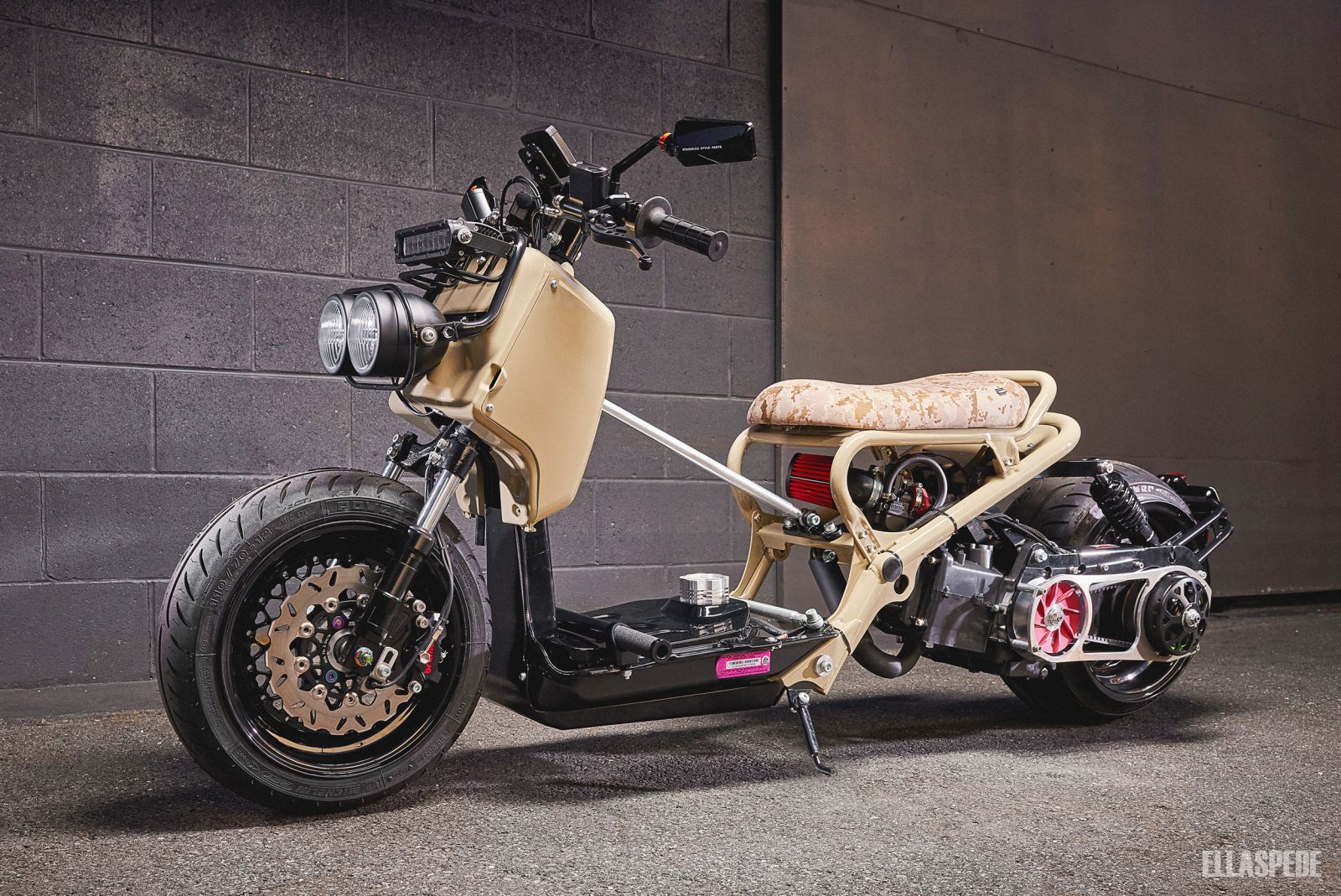 Underneath its compact exterior lies a modest 49cc four-stroke engine, carbureted and ready to go. It churns out a meagre 4.3 horsepower and reaches a top speed of about 60 km/h on a gentle downhill slope with a favourable breeze.
A diminutive 4hp scooter isn't the usual canvas for a custom build, but with the Zoomer's inherent character and a bunch of mates with them we can definitely see the appeal. While most scooters hide their inner workings beneath layers of plastic, the Zoomer proudly flaunts its mechanical elements, inviting customisation and modification.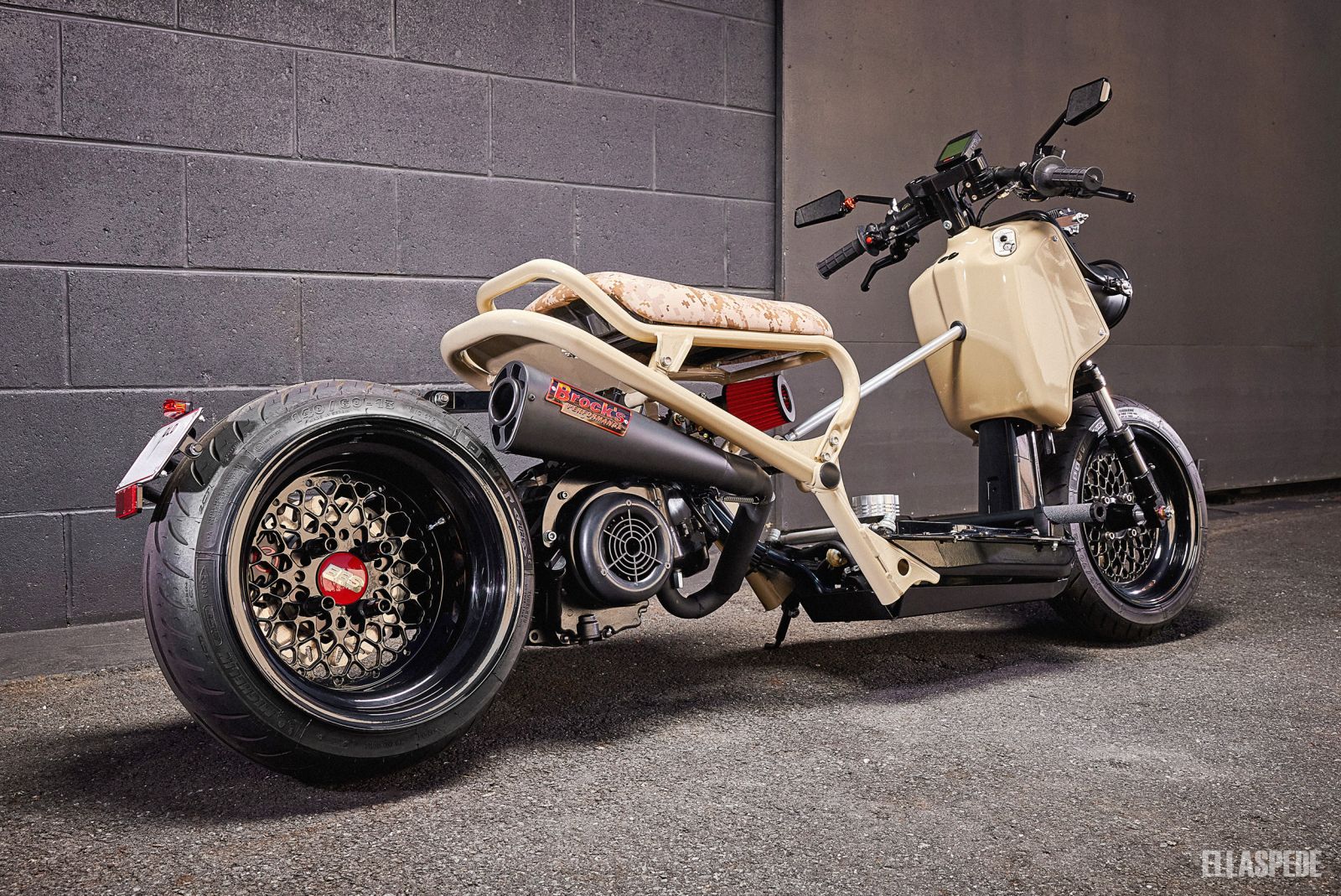 "Tai (owner of EB1175 build) is the reason I contacted Ellaspede. I loved how his build was coming along, plus these guys had a good rep with some rad builds" … Jono remarked.
The trend of customising these "Rucks" initially took root in the JDM and VIP car style scenes but has since spread to a broader community of enthusiasts. The extraordinary subculture surrounding the Honda Zoomer will open your eyes to a whole new level of creativity based on these little machines.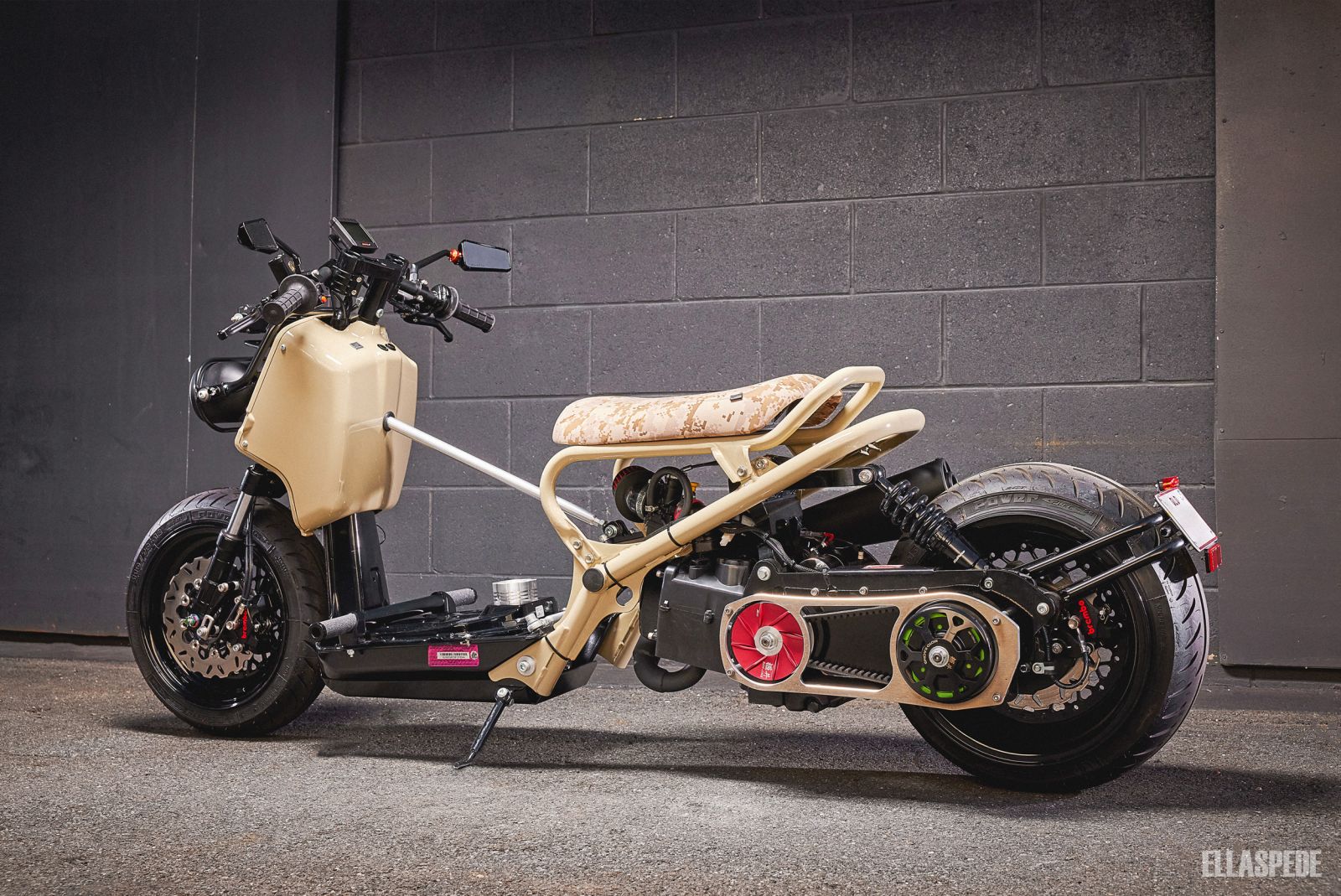 Jono said… "My mates inspired me to go through with it. I have a handful of mates with full custom Ruckus with everything from airbags, to complete 'bosozoku' style, to JDM spec. So I decided to switch it up and go full desert spec, something that hadn't really been done before in our group."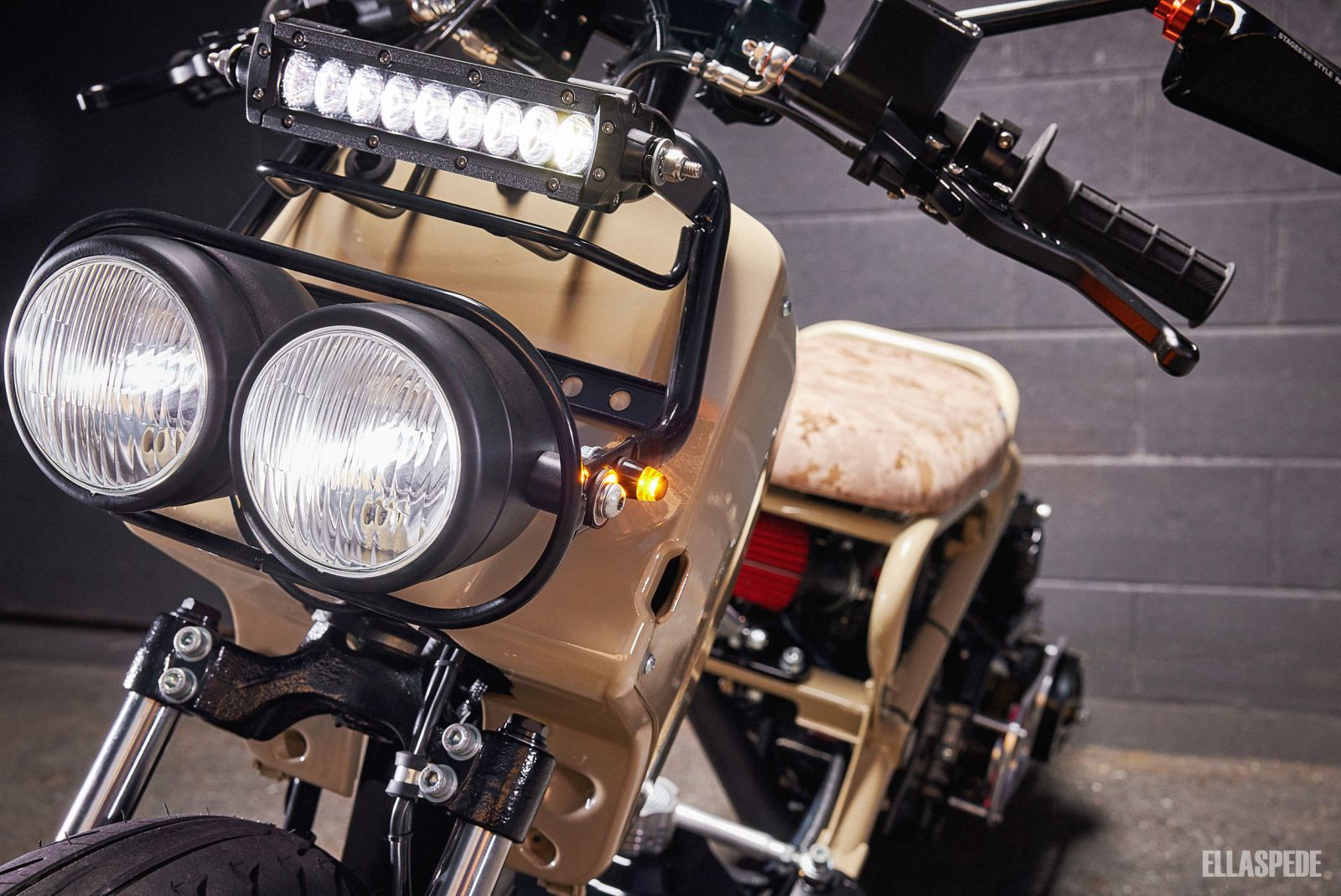 Armed with a simple recipe - enhancing performance, upgrading braking capabilities, creating a striking appearance, and tapping into the wealth of inspiration and parts available online - we embarked on Jono's custom build.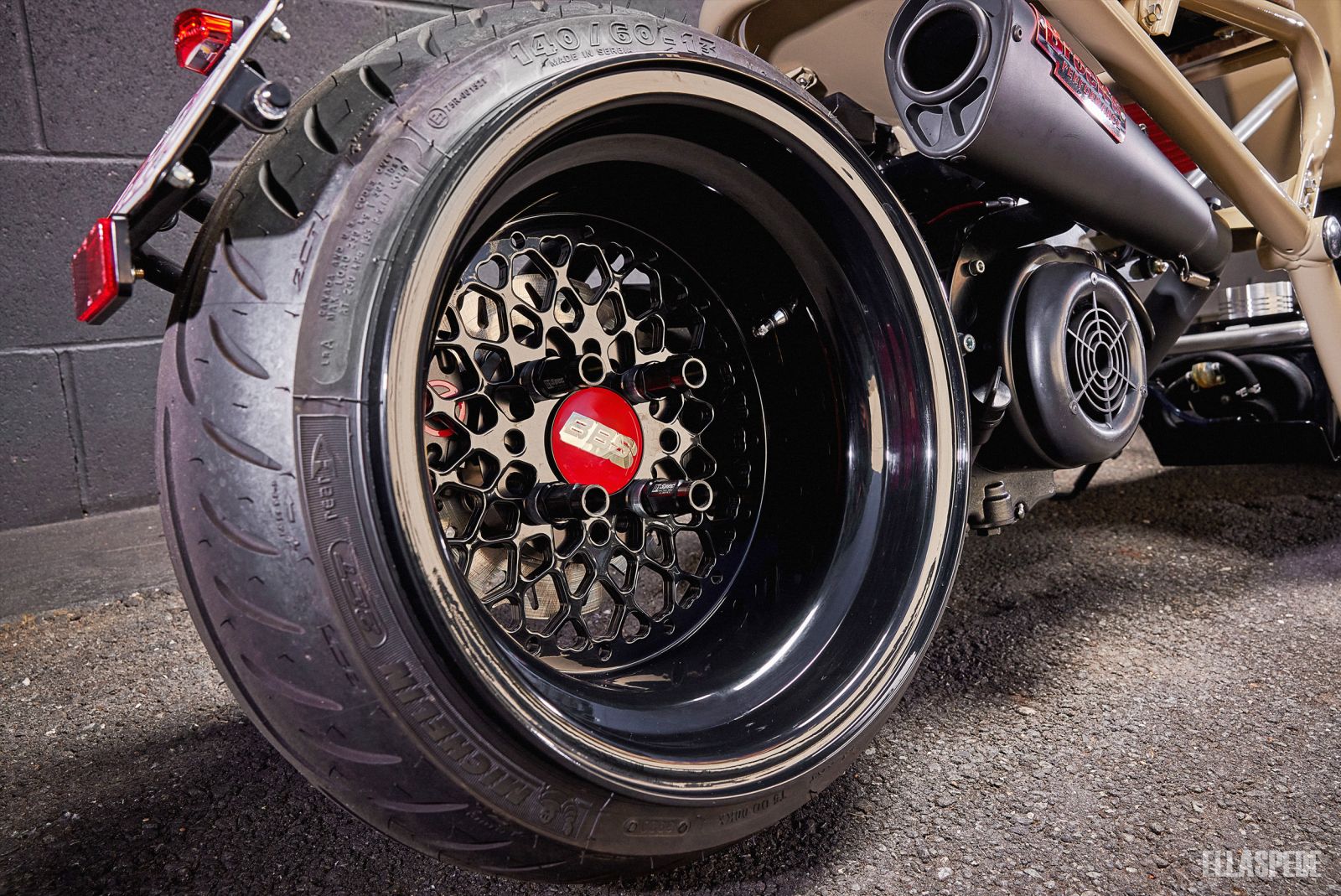 With the exception of the main frame and seat frame, both of which underwent extensive modifications too, almost everything else on this bike was removed or replaced. The fuel tank, front fairing, and a few support brackets underneath were also spared from the customisation frenzy.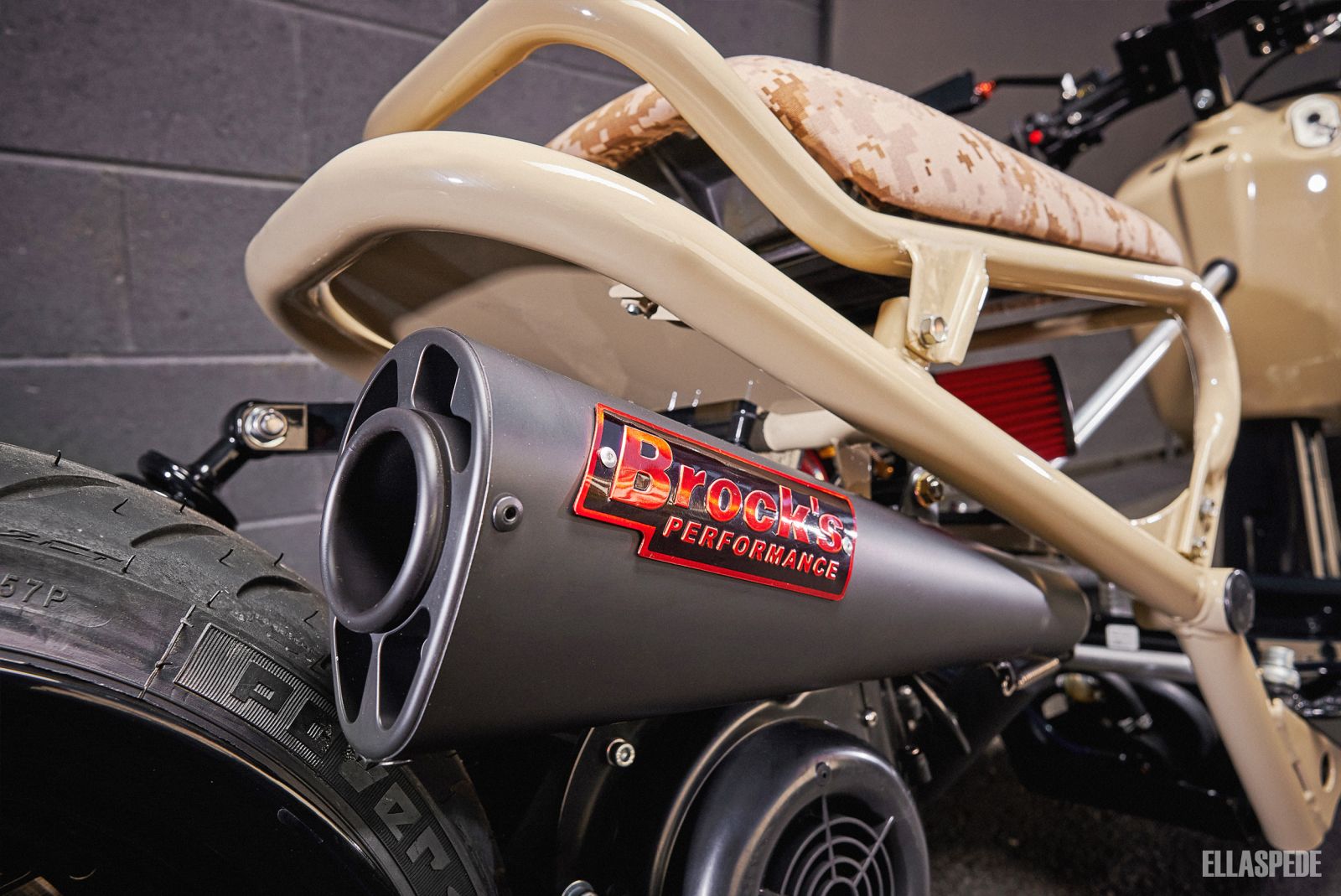 Thanks to the vast aftermarket options in Japan and the US, you can really get a shopping list going for parts sourced from every corner of the internet. But as we learnt with our previous build of EB1175 Honda Ruckus, the internet doesn't tell the whole story about bolting these little bikes together and sometimes it requires a little more work.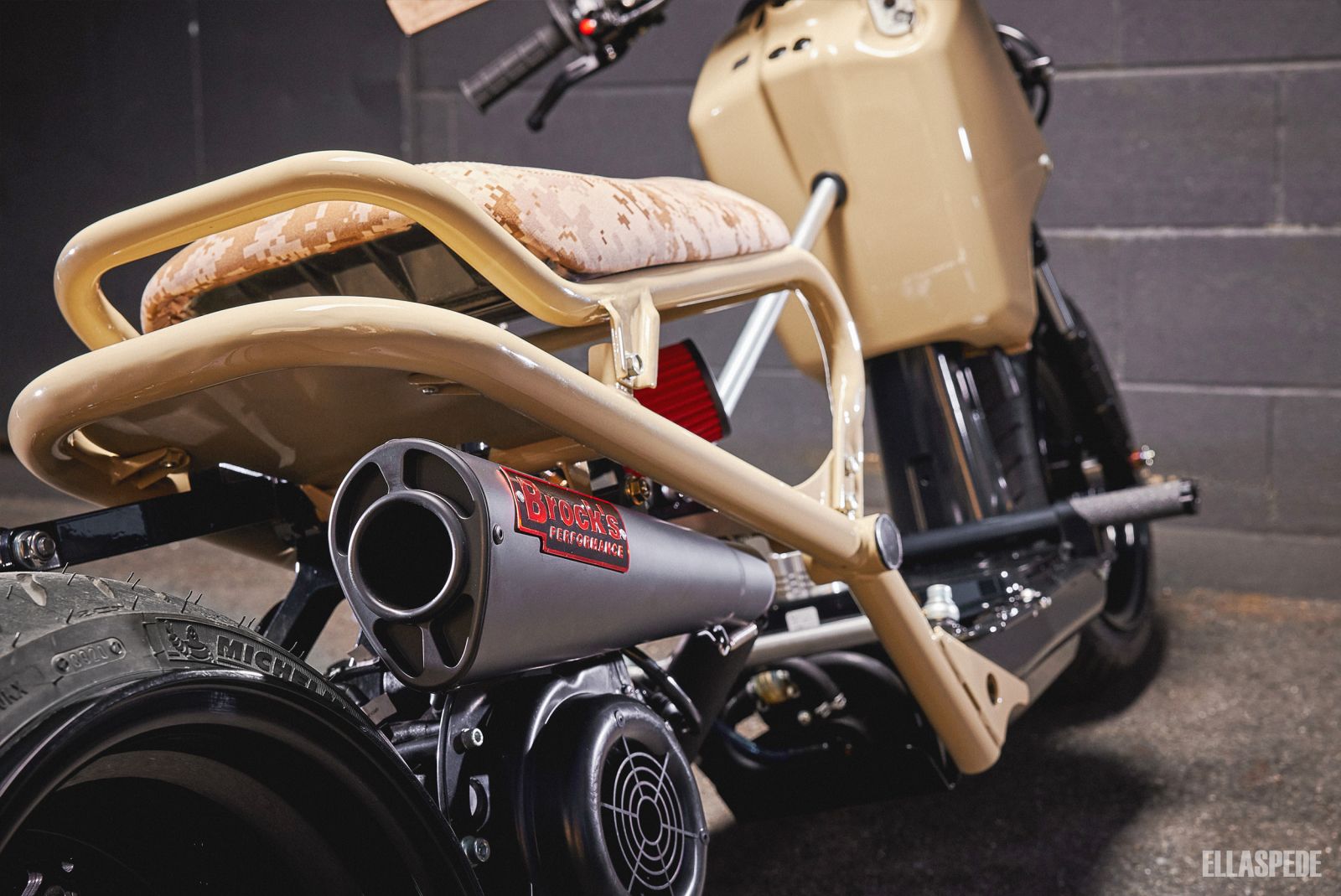 An abundance of parts arrived from various online sources, with key components sourced from renowned suppliers such as DorbyWorks and RuckHouse in the US. The pièce de résistance was undoubtedly the GY6 engine conversion, bored out to a remarkable 171cc, promising a substantial performance boost and a potential top speed of around 100 km/h.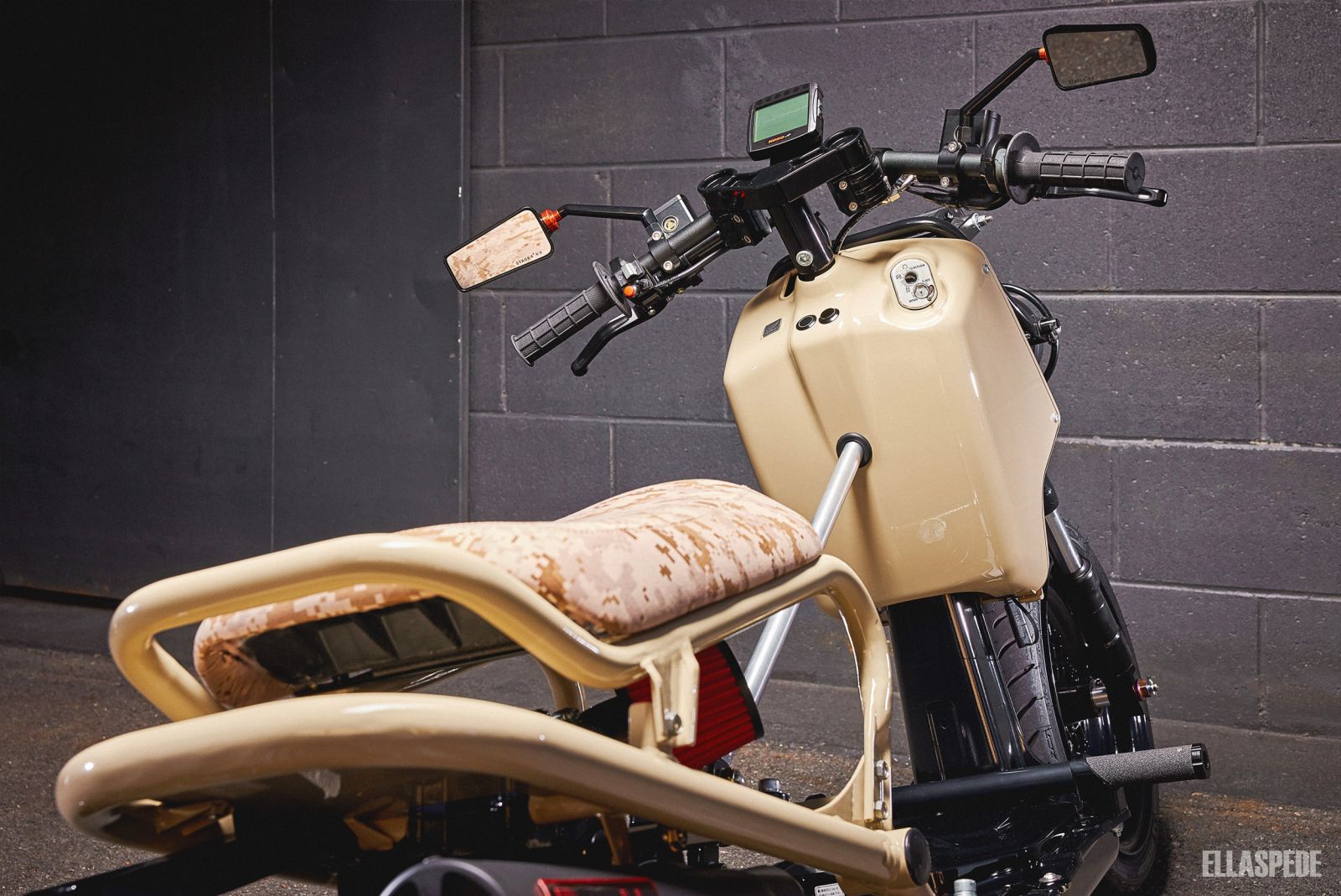 12-inch billet engine mounts now accommodate the new powerhouse, also elongating the scooter's stance. The short rear shock and billet shock mount ensured that the suspension still operates within familiar parameters, albeit much lower than factory.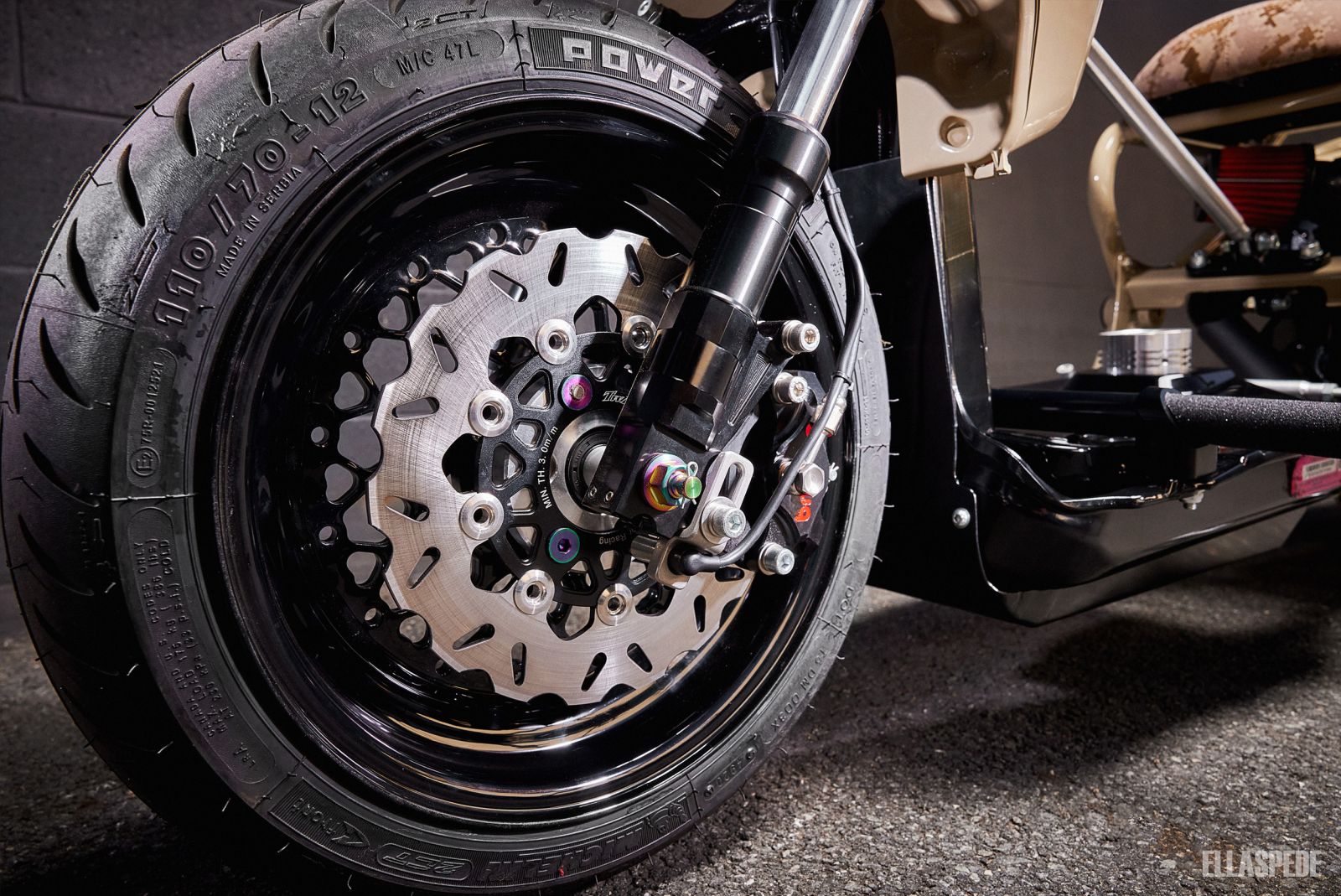 At the front, we opted for aftermarket lowering forks paired with billet clip-on handlebars. The addition of new CNC brake masters and levers, coupled with Teflon-coated brake lines, resulted in improved braking performance, with Brembo brakes gripping 220mm wave rotors at both the front and rear. These upgrades provided a much-needed enhancement over the minuscule stock drums, especially considering the additional horsepower.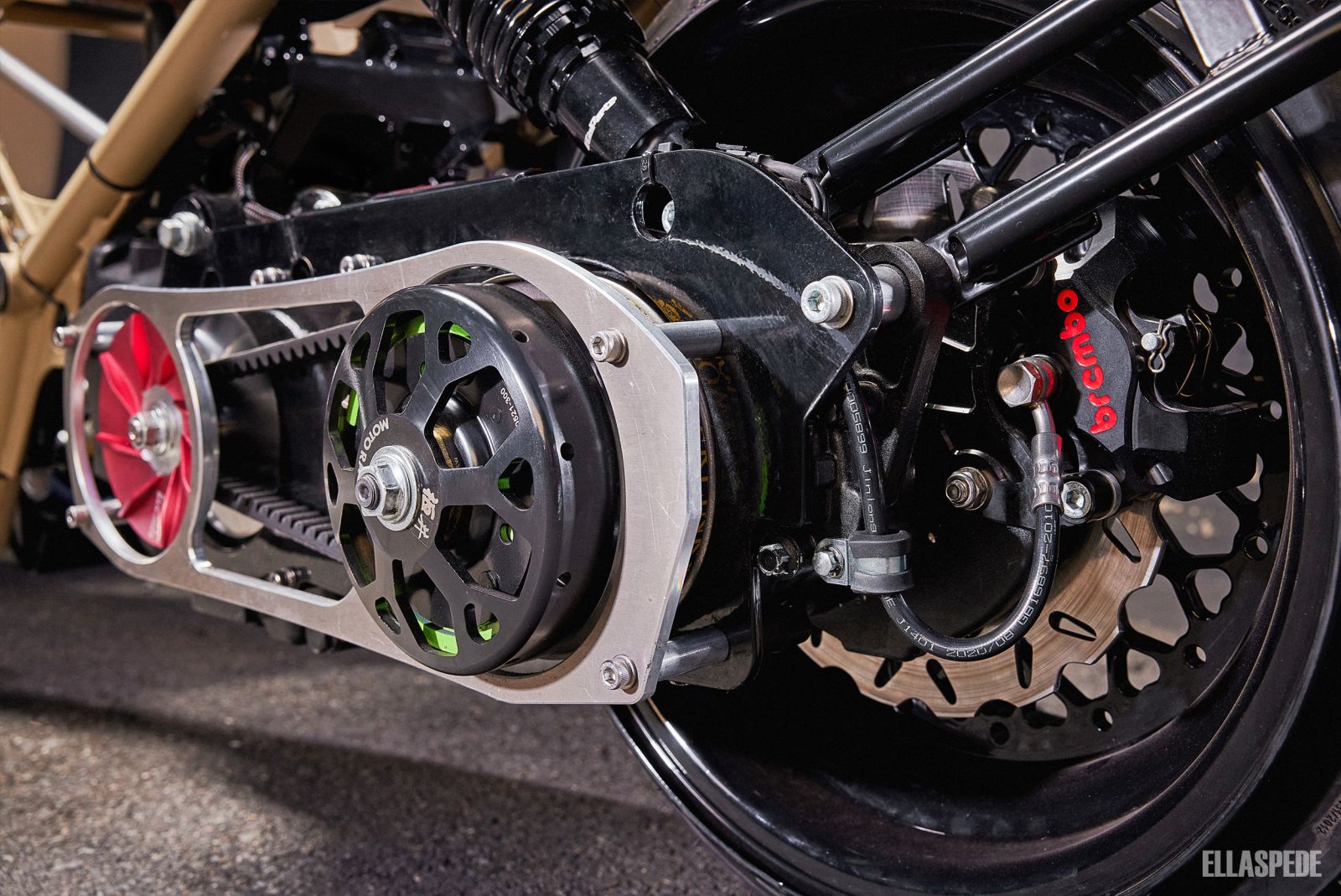 To achieve the desired aesthetic, Jono chose the "Super Mesh BBS style" wheels, featuring staggered sizes of 12x4" at the front and 13x7" at the rear. Fully blacked out in gloss black with a set of Michelin City Grip tires. Jono said… "My favourite part of the bike would have to be that back wheel, thats some mini Diavel or Vrod spec squished onto a scooter!"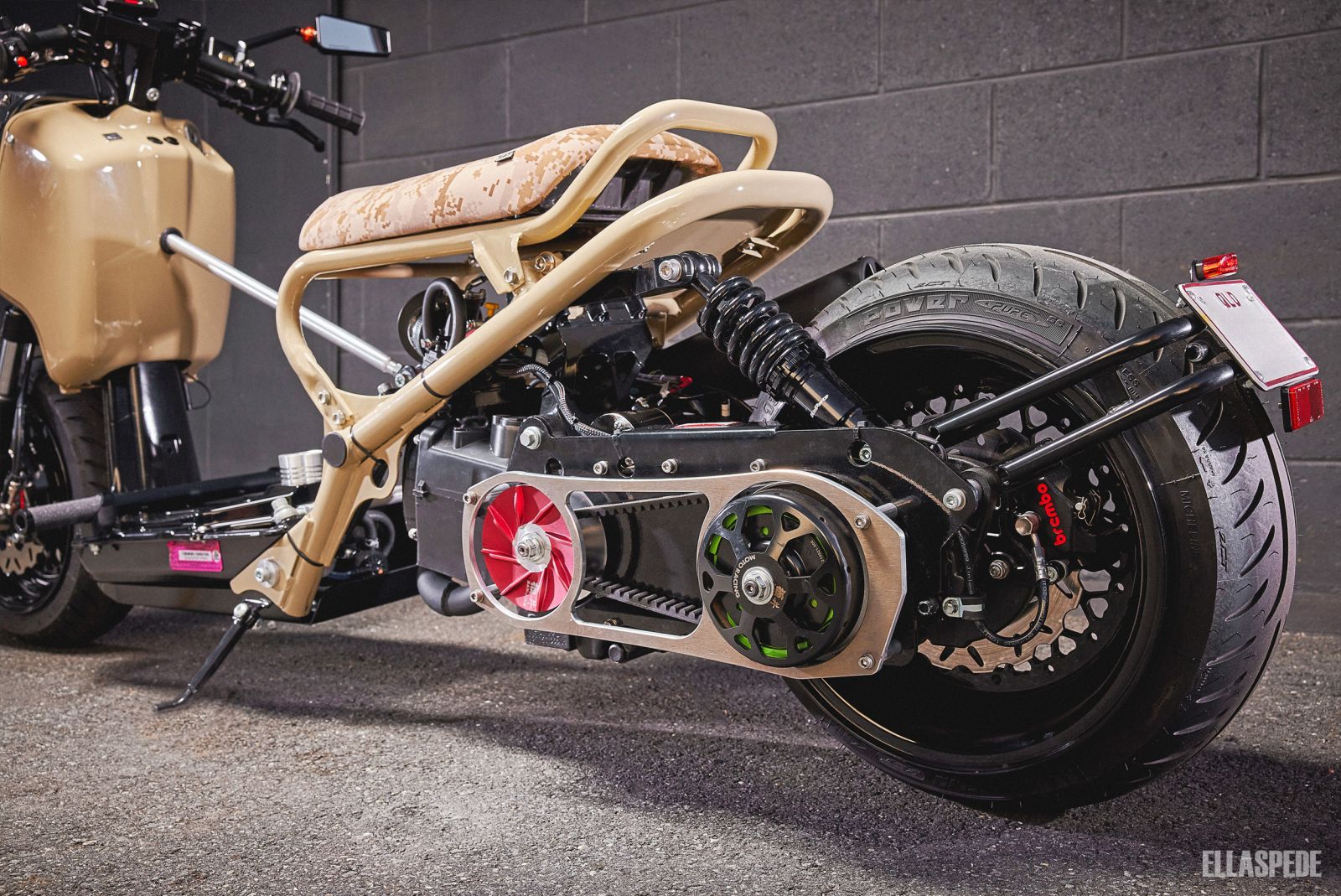 In order to reinforce the original frame, we crafted a pair of adjustable brace bars in the distinctive Zoomer style, similar to what we had done on EB1175. Jono opted for the blacked out Brocks exhaust which is a trick shape and features a rad red Brocks brand plate too.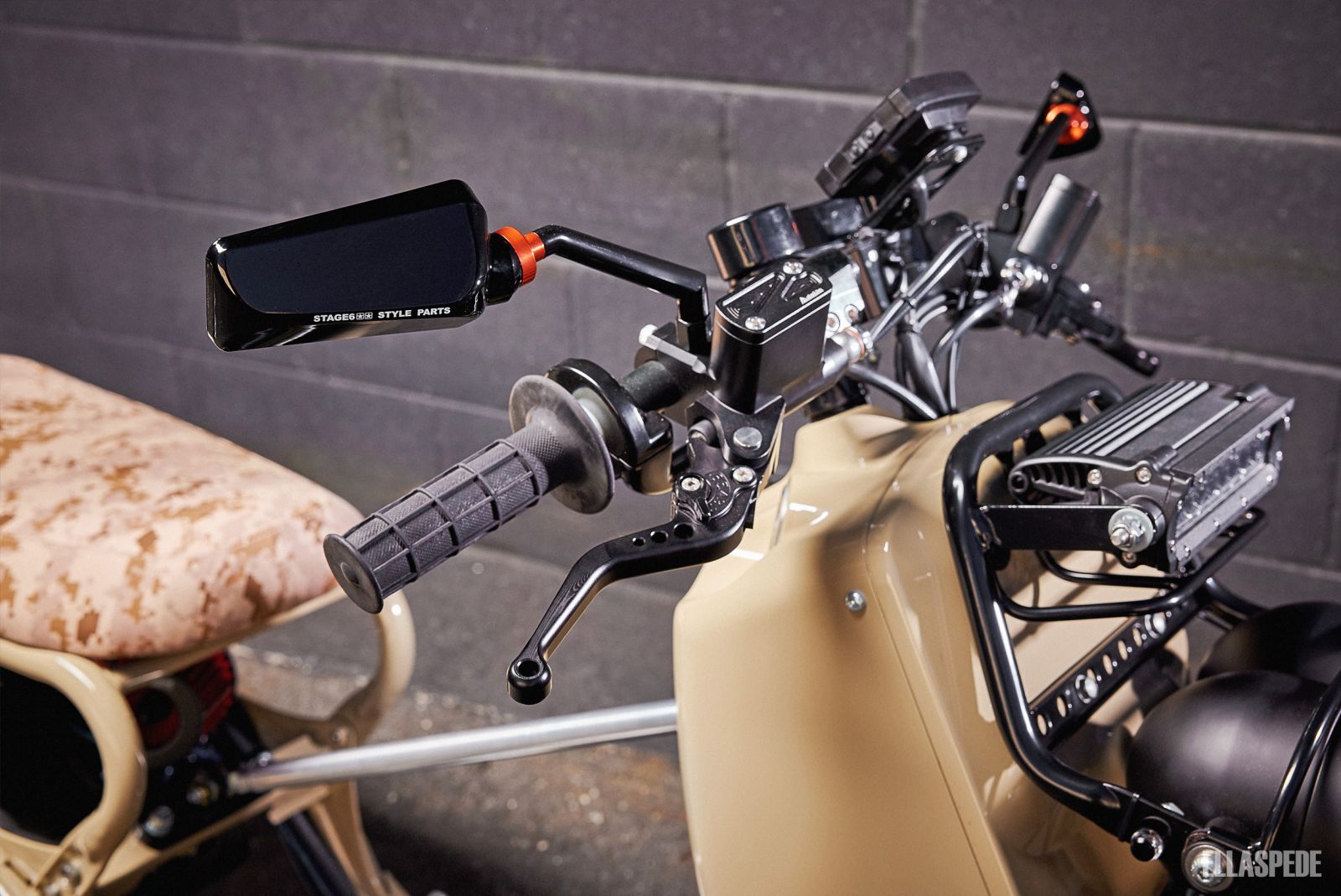 To spark it all up we acquired a complete aftermarket wiring loom, which was further modified to suit the setup. The revamped wiring system powered upgraded lighting elements throughout the scooter, including a Koso gauge mounted on a billet mount at the front. Motogadget indicators and a Koso Hawkeye tail light up the rear, while twin aftermarket LED headlights replicated the iconic Zoomer look at the front, mounted to the refurbished front rack. An LED light bar also sits snugly atop the front rack for Jono's late night adventures.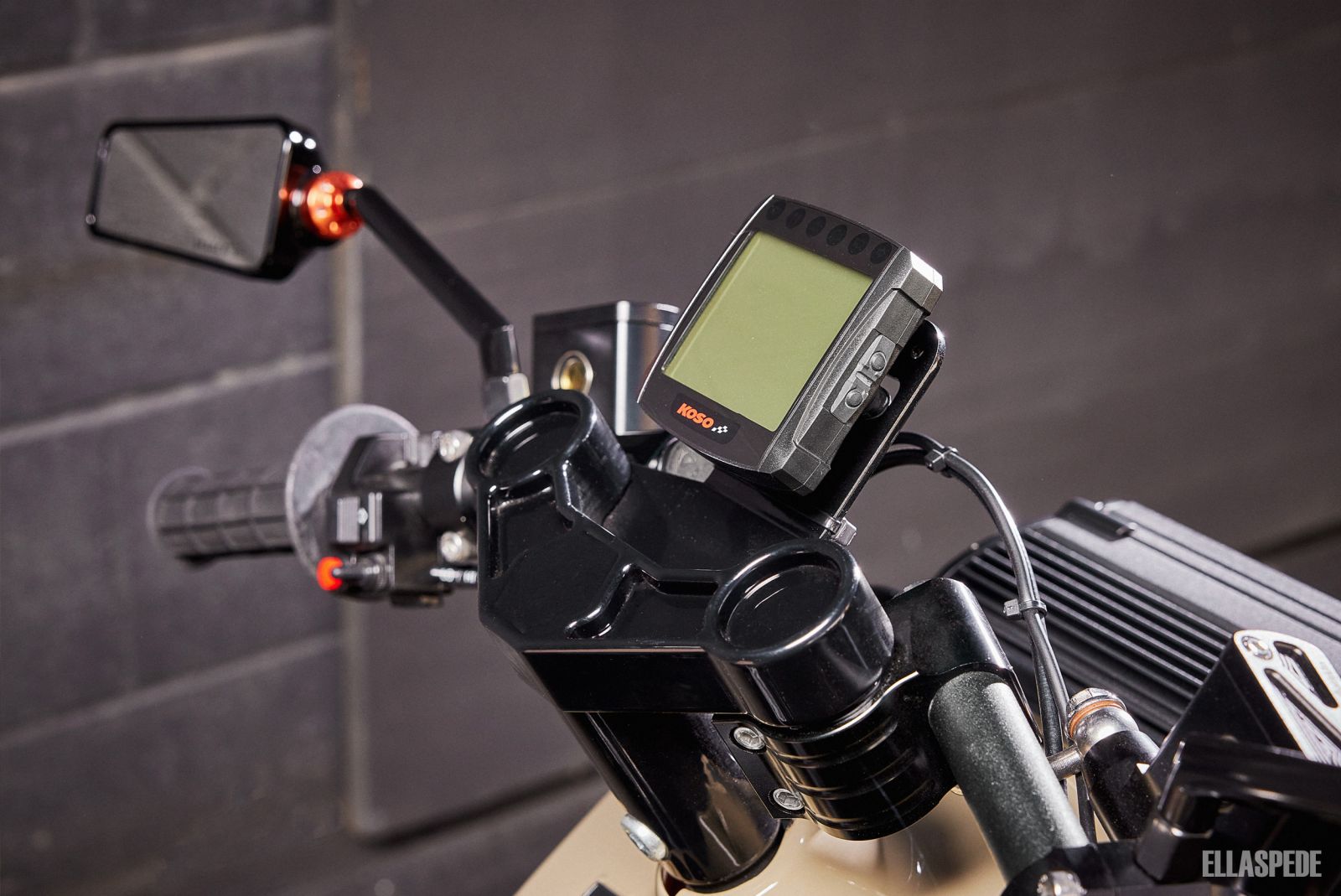 To comply with legal requirements regarding license plates, we devised a custom rear mount to accommodate the number plate, tail light, indicators and rear reflector.
In addition to these enhancements, we incorporated several aftermarket components, including mirrors, a CNC gas cap, a fuel tank cover, CNC forward footrests and some other selected pieces.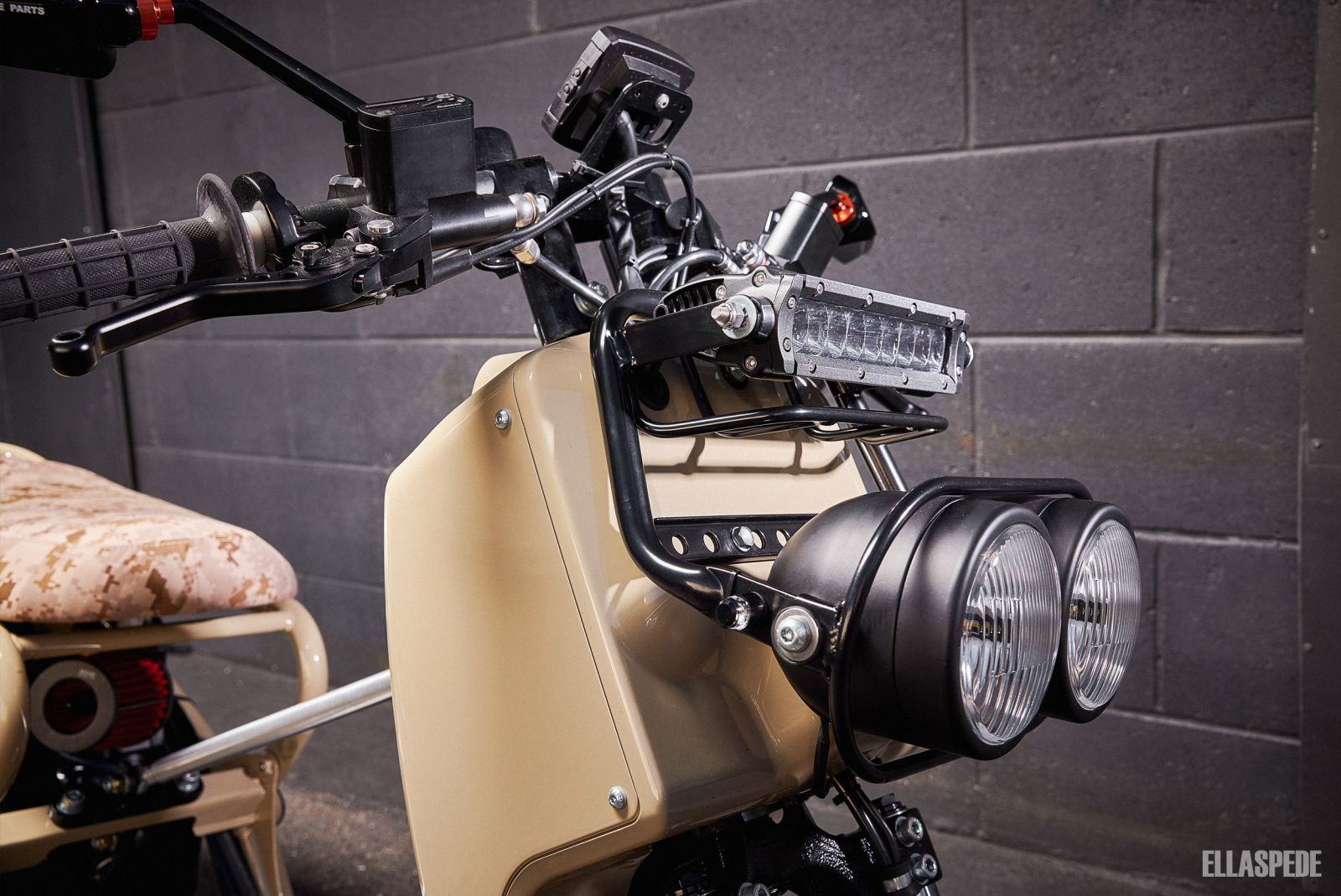 Staying true to the Zoomer custom style, we lowered the seat subframe while retaining the factory mounting points. The resulting seat configuration was padded with high density comfort foam to compensate for the limited suspension travel. Providing some texture and pattern is the seat upholstery which as wrapped in Ripstop Cordura Nylon in the desert digital camouflage colour.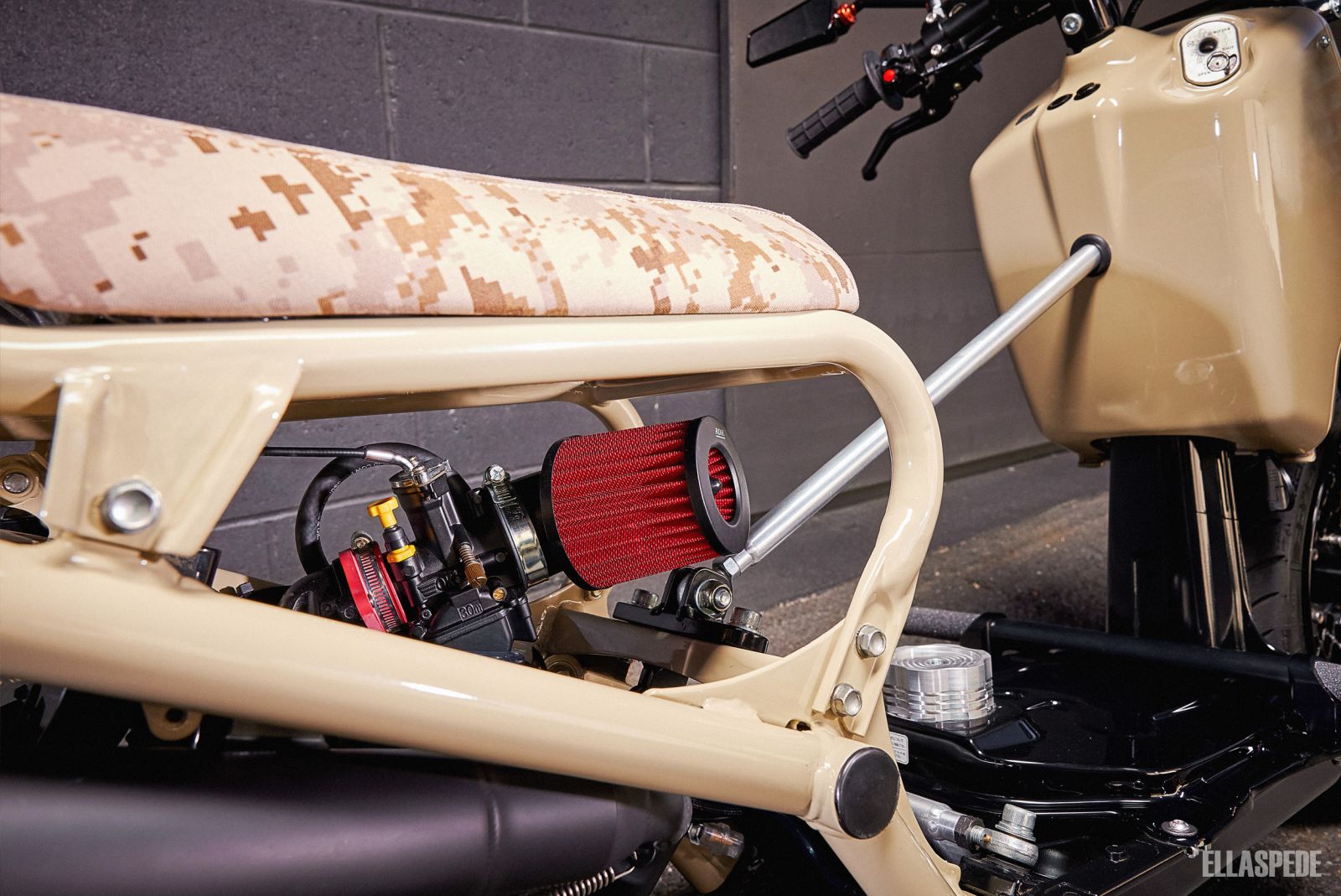 As the build progressed, various powder coat finishes and paint finishes were applied on certain components to achieve the desired aesthetic. The crowning touch came in the form of a custom paint color—a mix of 'country tan' and Toyota's Sandy Taupe paint. Jono mentioned… "I love that sand Toyota 79 series brown, hands down one of the best colours in my opinion."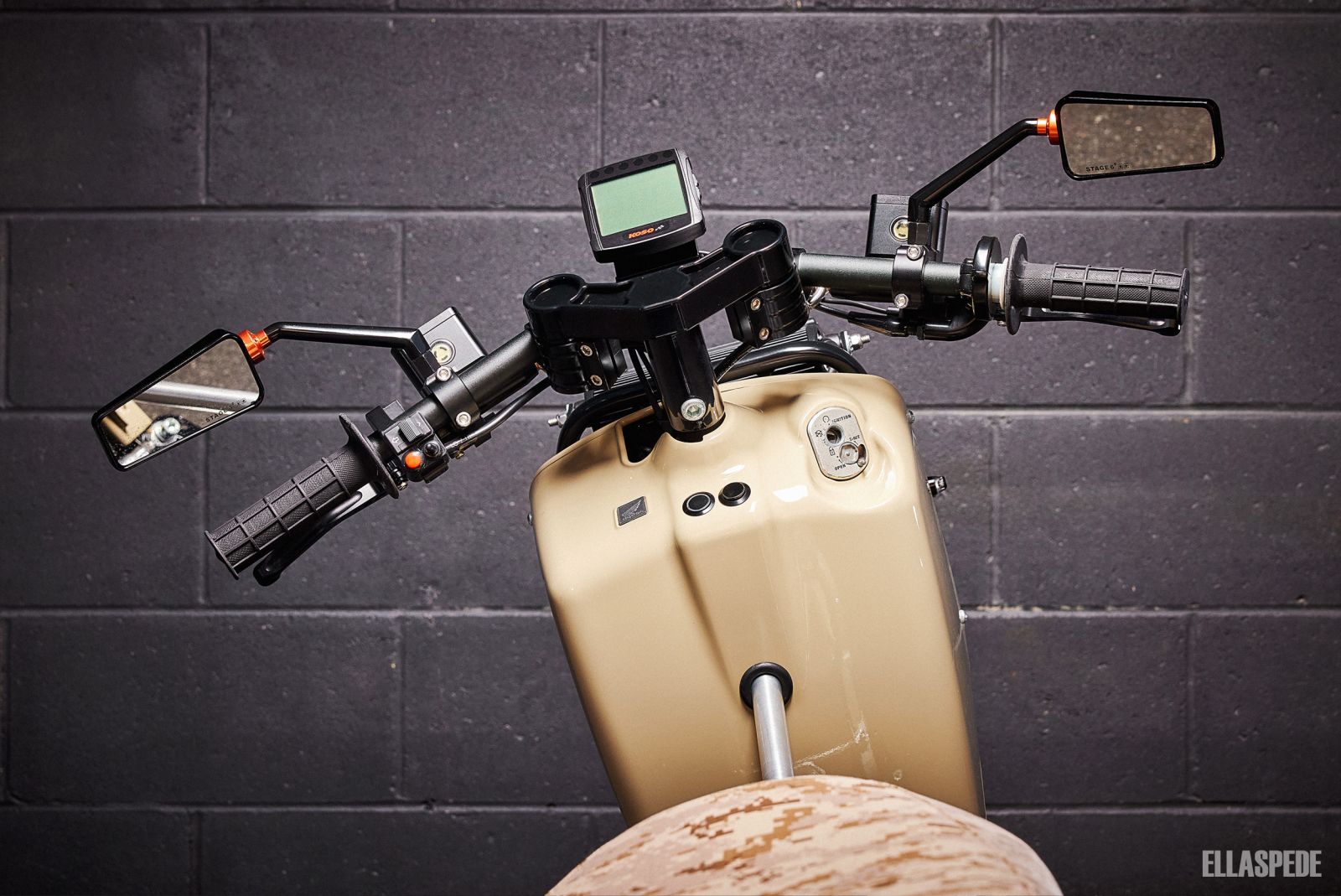 After some fine-tuning and addressing any remaining imperfections, this compact Honda undoubtedly lives up to the Zoomer name now, especially with the GY6 power plant pushing it along. The stance, colour and collective parts certainly draw some attention sitting still, so we've got no doubt it will be turning heads wherever Jono goes for a hoon on it.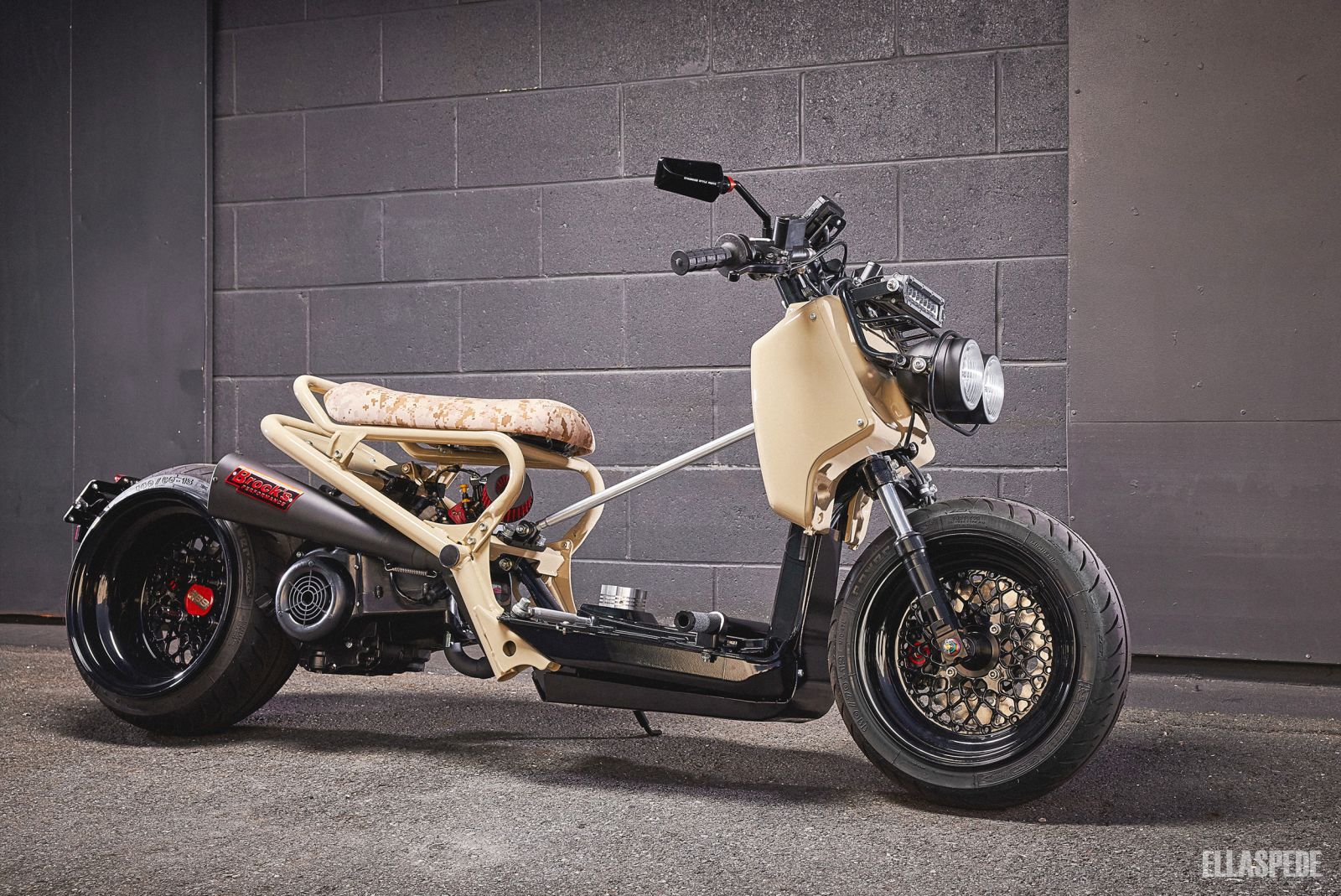 Jono sounds like he has the future plans absolutely nailed too, he said… "I'll be cruising that thing into my barber shop weekly, parking it right out the front. Also doing some dope group rides on the weekends, blasting some old school NYC rap beats through the bluetooth headset, enjoying the Queensland summer weather!"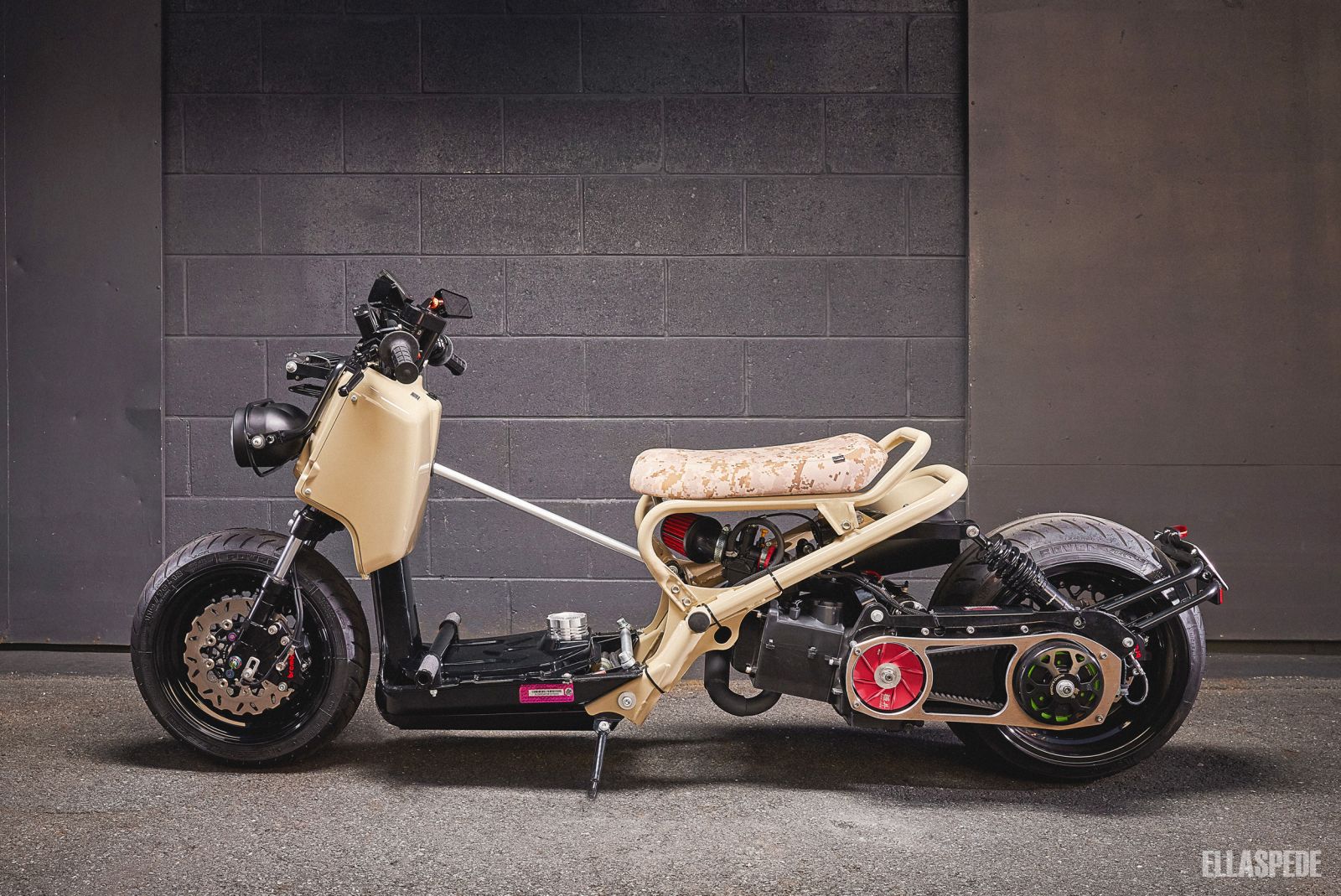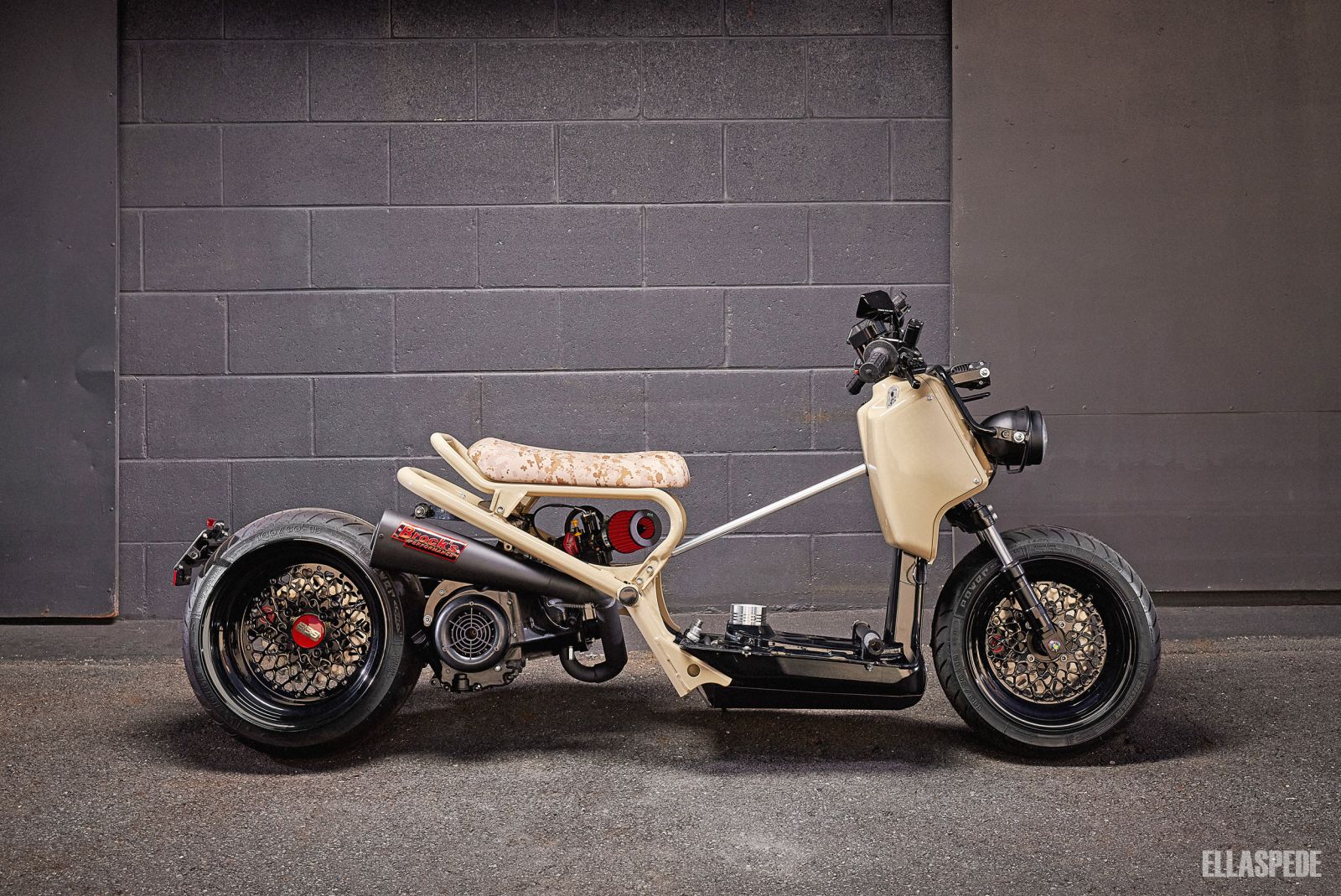 ---
Albums we listened to during the build of this bike:
---
Photos & Features:
---
Build Pricing & Enquiries:
For build and pricing details or to discuss commissioning a custom motorcycle build of your own please email contact@ellaspede.com
---
---
Comments (2)
Price?

By:

Lucas

on 13 August 2023

I love it and would love to purchase one!





Ellaspede Response
Cheers mate! We'll send you an email with some details.
---
Price

By:

Steve St. Michael

on 9 August 2023

Hi, Do you have prices on these beauties?





Ellaspede Response
Hey Steve, we're glad you like the build. We'll send you an email with some details. Cheers
---
Leave a comment