EB1175 - 2009 Honda Ruckus
Author: Ellaspede Date Posted:20 February 2023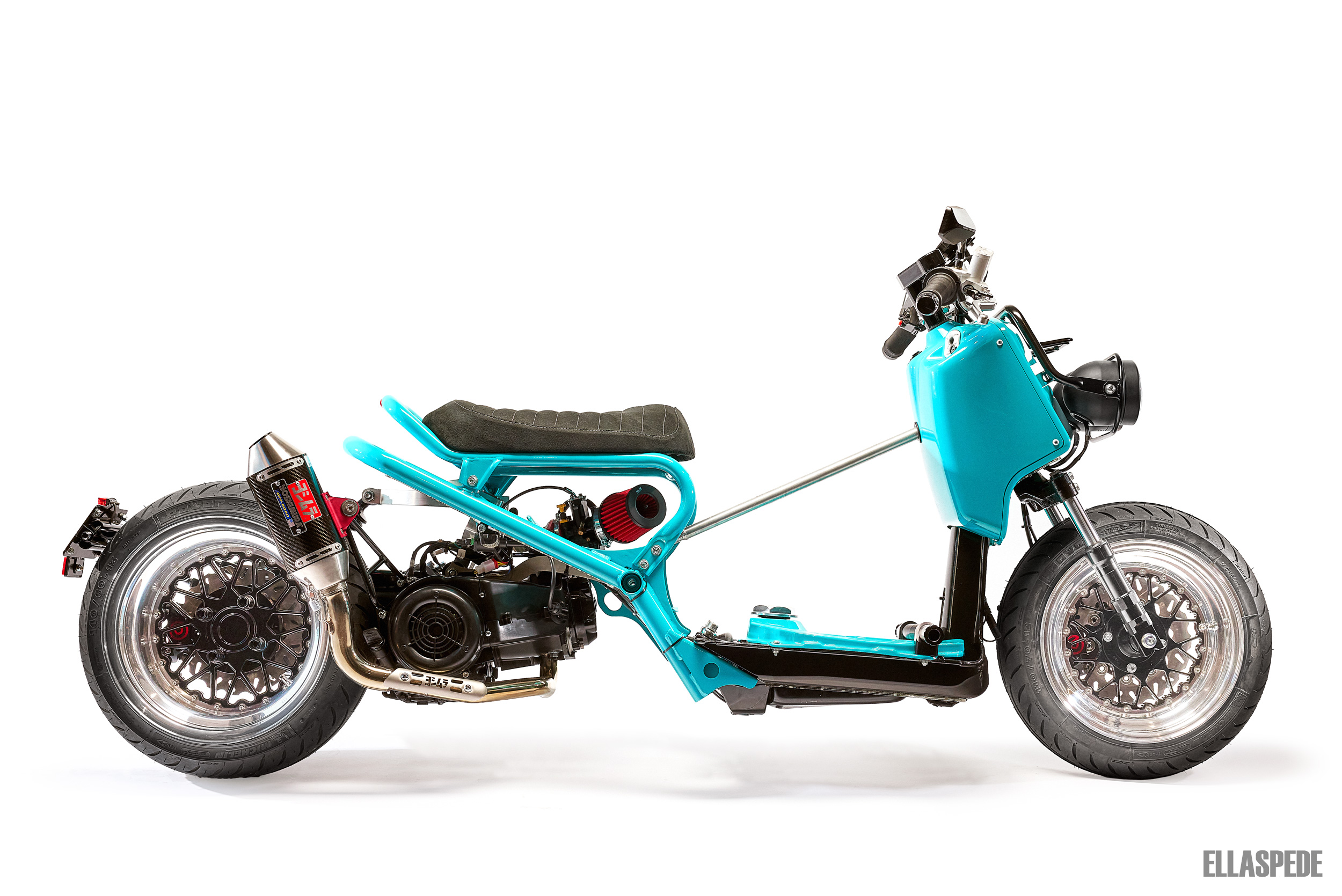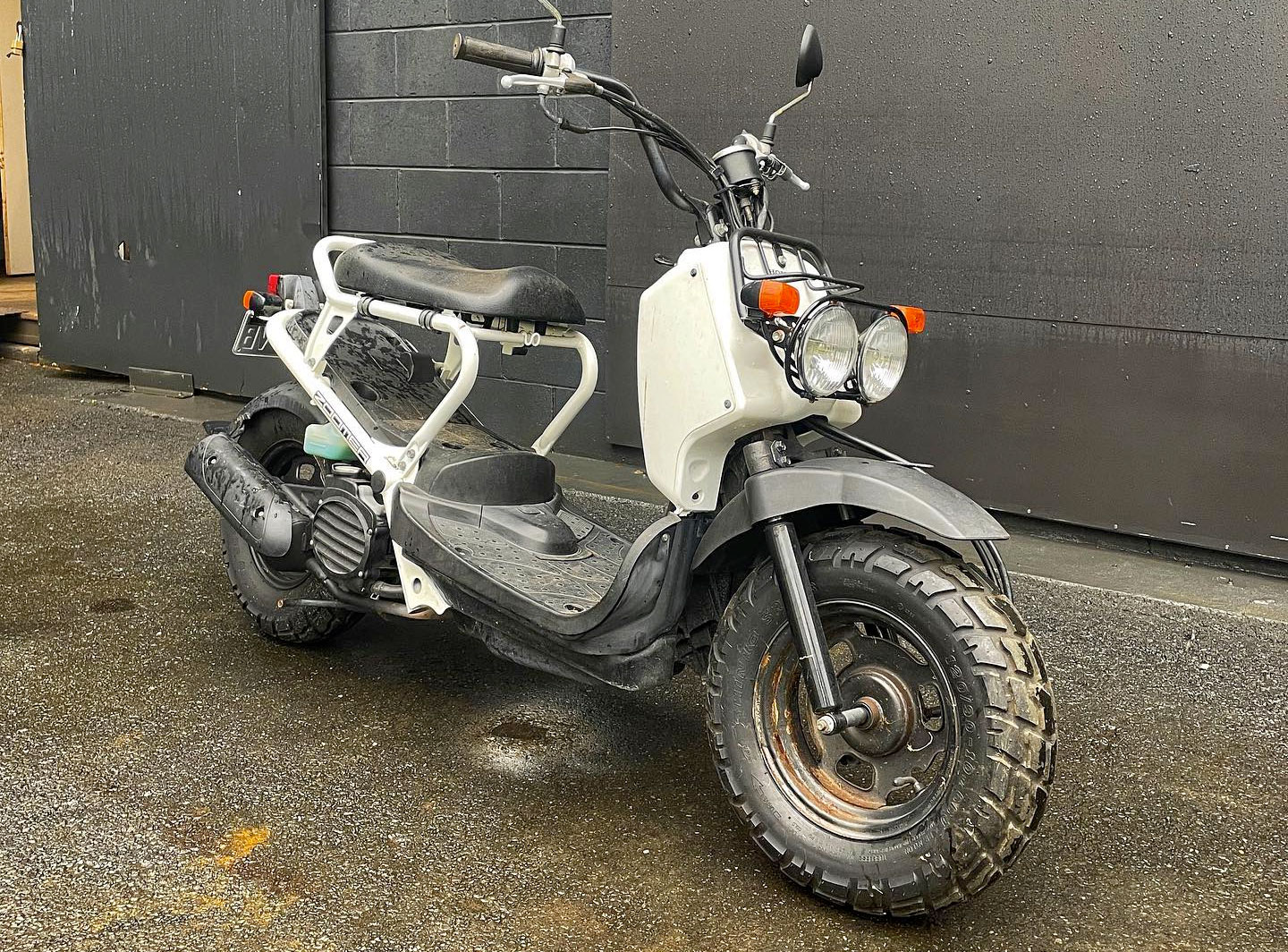 Blasting around on little bikes can be fun, but it's even more fun when your group of mates all have one so you can do it together. Thus begins the story of Tai's 2009 Honda Ruckus build.
Why did he want a ridiculous rig like this? "Because a few of the boys had them so we thought we'll all get one and get a little squad together to go cruising." Plus "I just think they look sick" he said, which is reason enough for us to jump into a rad little project like this!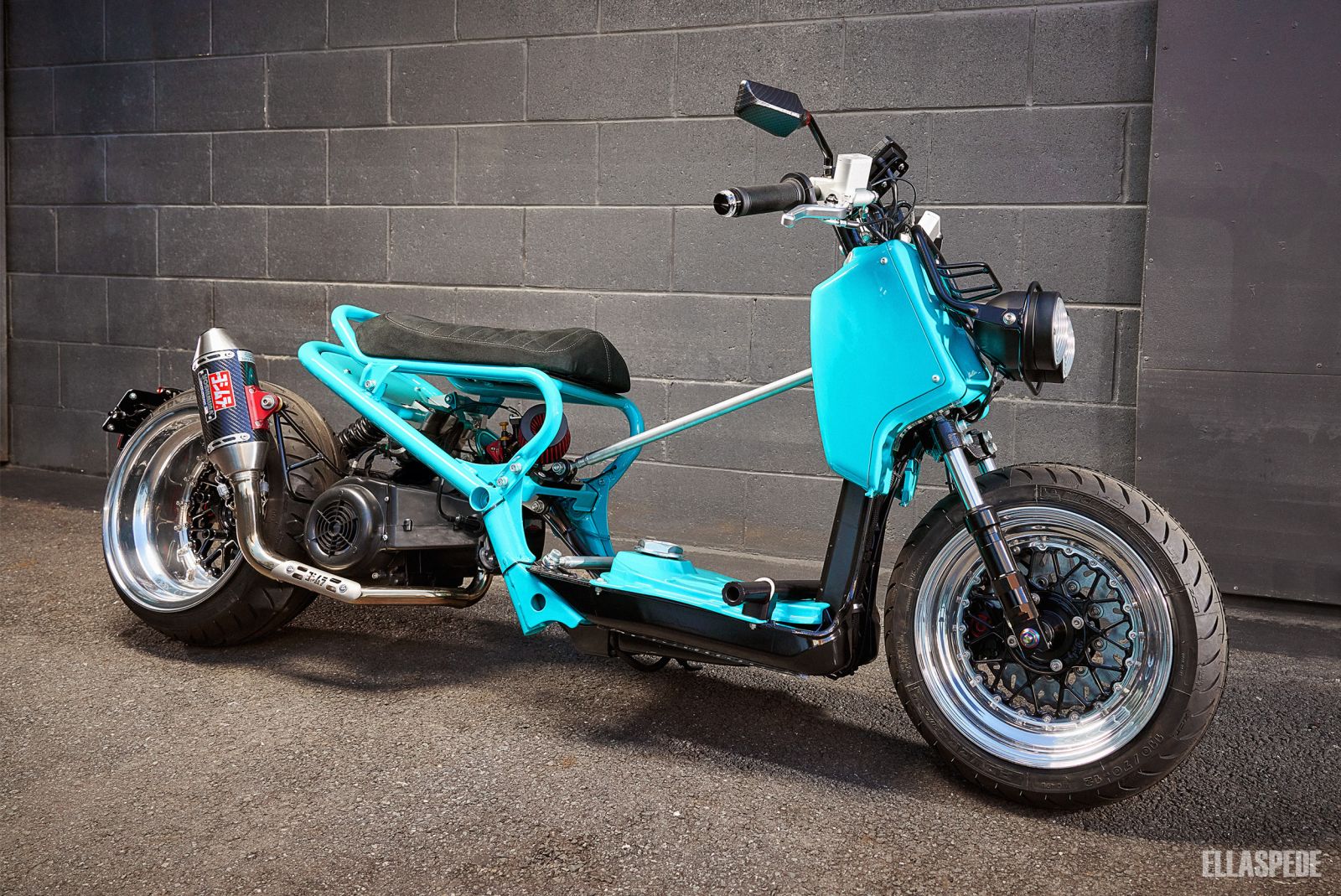 In 2003 when the Honda Ruckus/Zoomer hit Japan and the United States, it instantly provided a more utilitarian alternative to other scooters with its bare bones frame, twin headlights and thick tires.
Let's be honest, in stock form it doesn't create any kind of Ruckus and they don't really Zoom(er) anywhere either, which is maybe a little tongue in cheek from the Honda marketing department in 2002.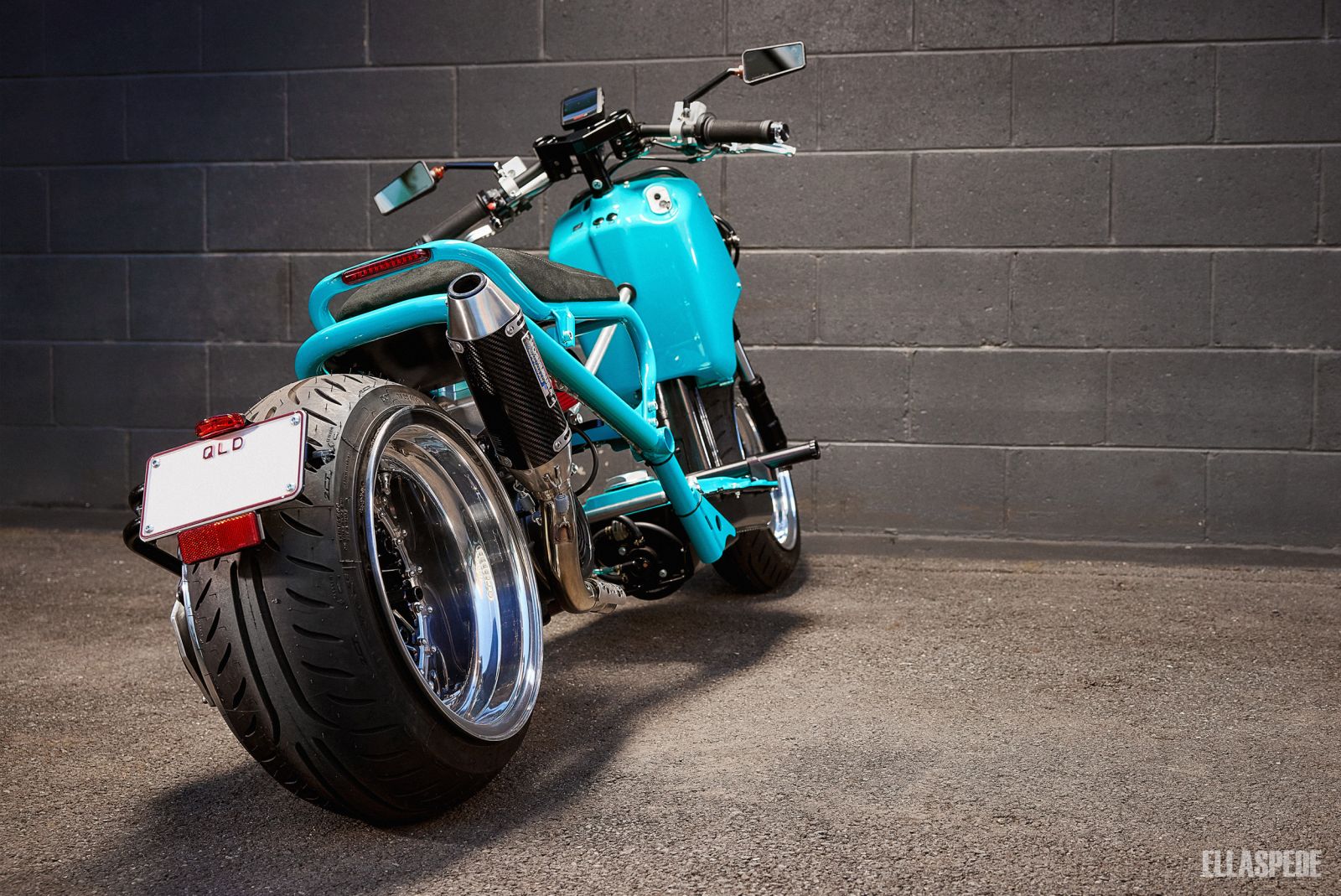 At the heart of this mini machine in stock form is a carbureted 49cc four-stroke engine which makes a whopping 4.3 horsepower and tops out at around 60km/h on a slight downhill and with a breeze behind you. With the original engine, anything less than full throttle everywhere and you may as well be walking.
So the motors aren't very fast, which is good when you consider the standard brakes are cable operated drums that seem about the same size as a bottle lid. But at the speed it goes simply putting your feet down would be just as effective anyway.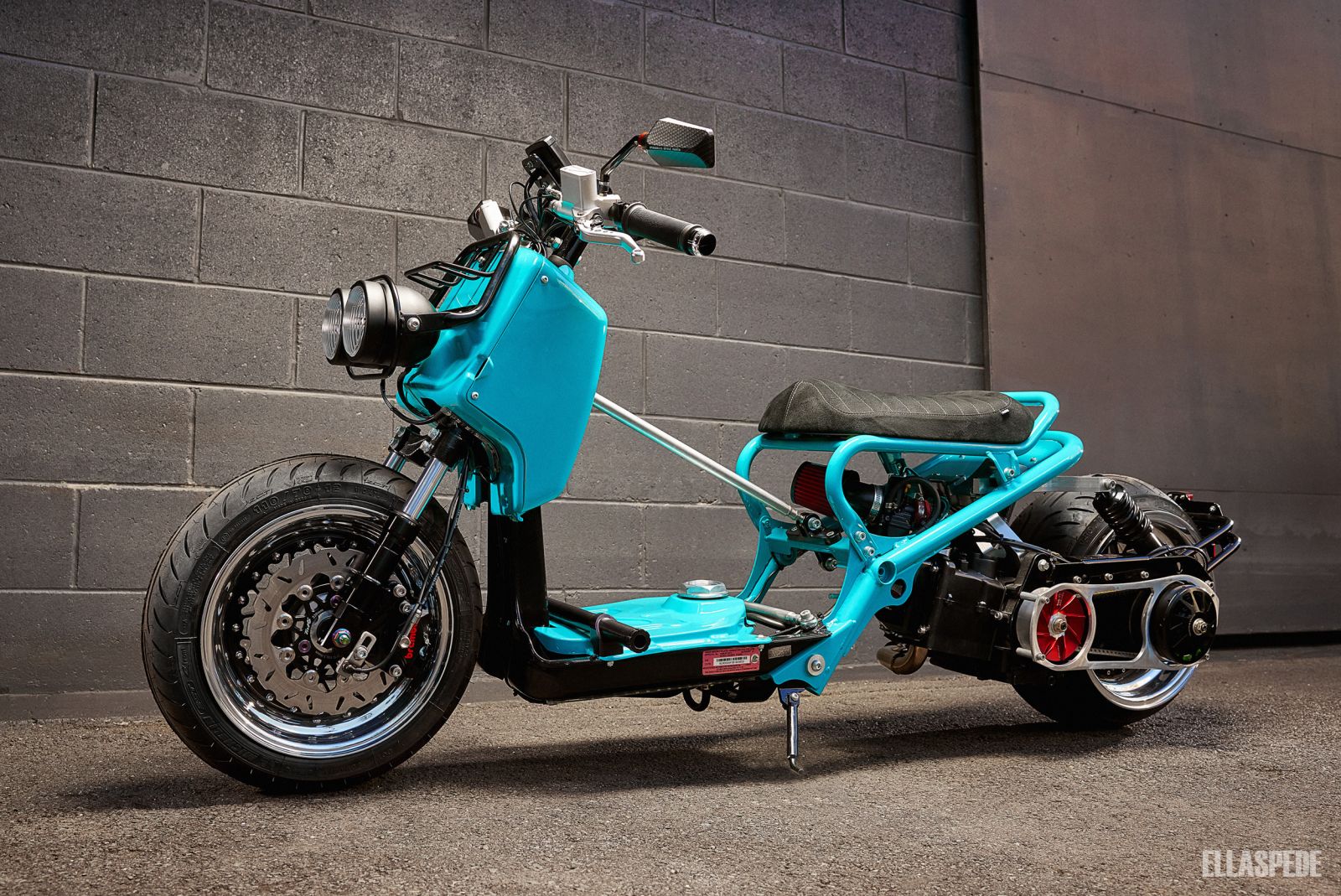 So why would you start with a diminutive 4hp fat tired scoot for a custom build? Because the look and layout of a Ruckus just asks for it. Most other scooters are covered up in plastic, which can be daunting to strip away and see what's underneath. But the Ruckus isn't hiding much and that's just begging for some custom mods.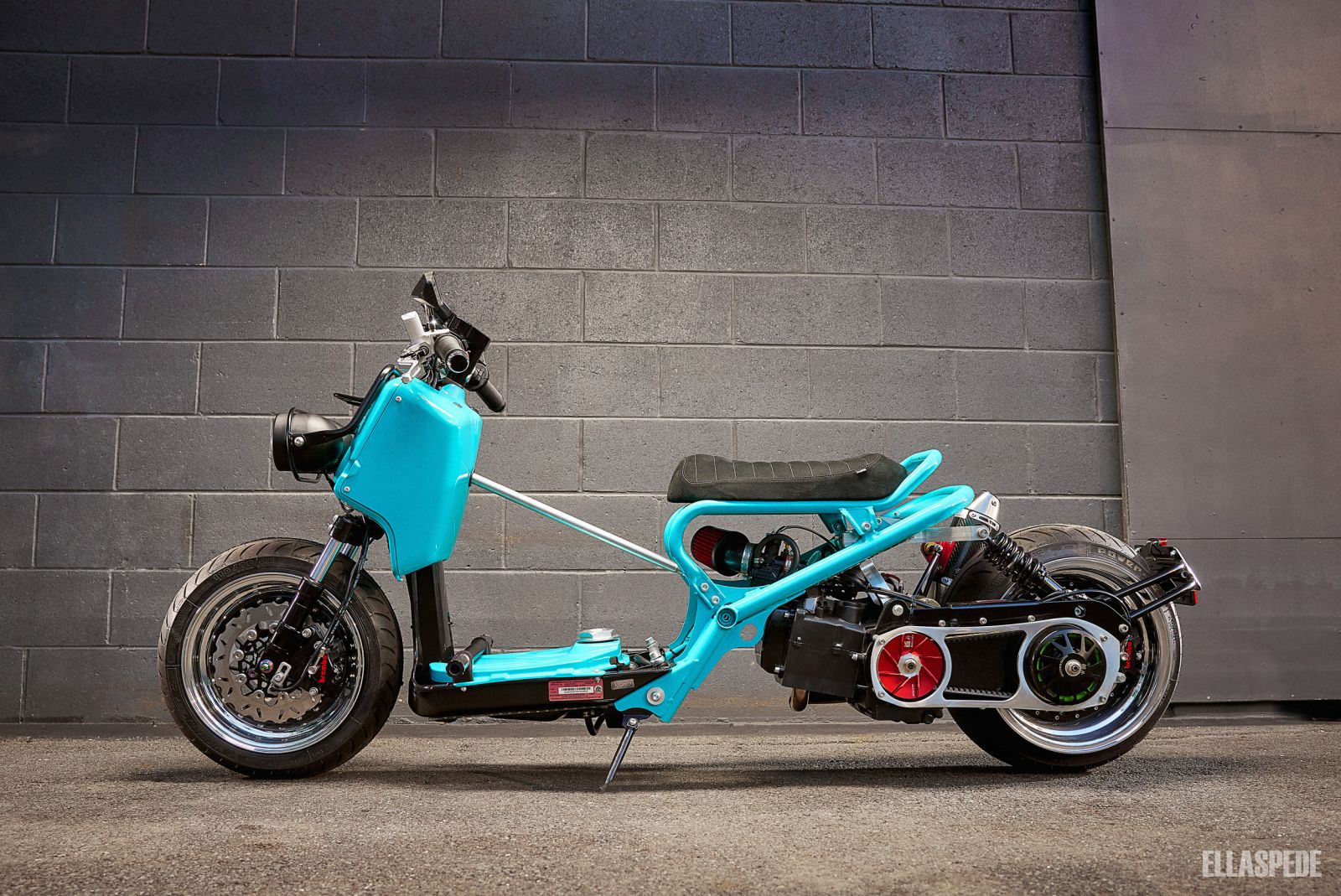 The early adopters of custom 'Rucks' stem from the JDM and VIP scene, but more and more are getting in on the trend. We used to think that old Honda CB's were the most heavily customised Hondas, until we dug into the extraordinary subculture that has grown up around the Honda Ruckus.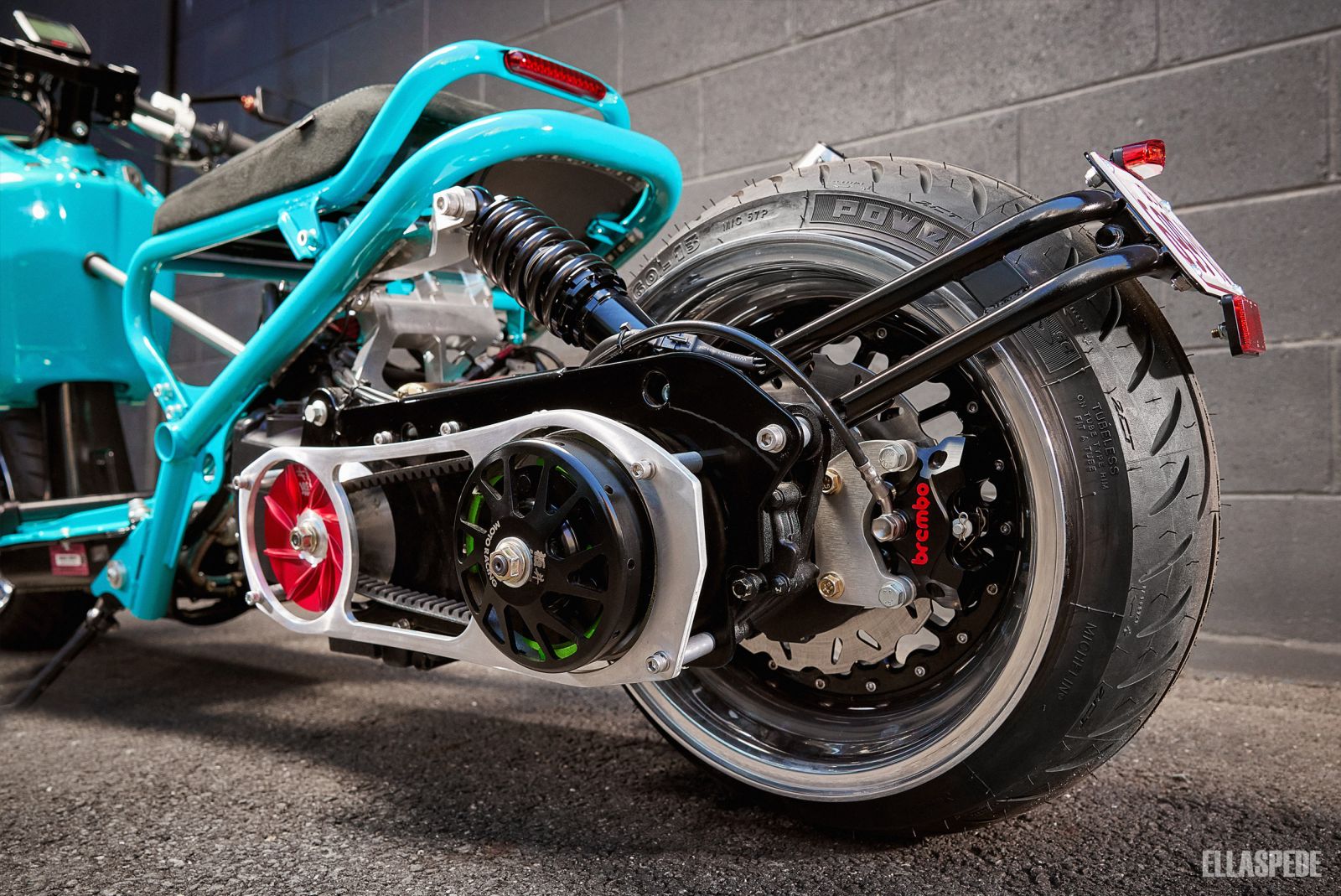 Carbon panels, stretched swingarms, aftermarket exhausts—it's hard to know if owners are into high performance or just mocking it? Possibly both! But it's the attitudes around modifying them and having fun that definitely permeates the Ruckus culture, which we really like.
With a simple recipe of making it go better, stop better, "look sick" and a whole internet of inspiration and parts we set about tearing into Tai's build.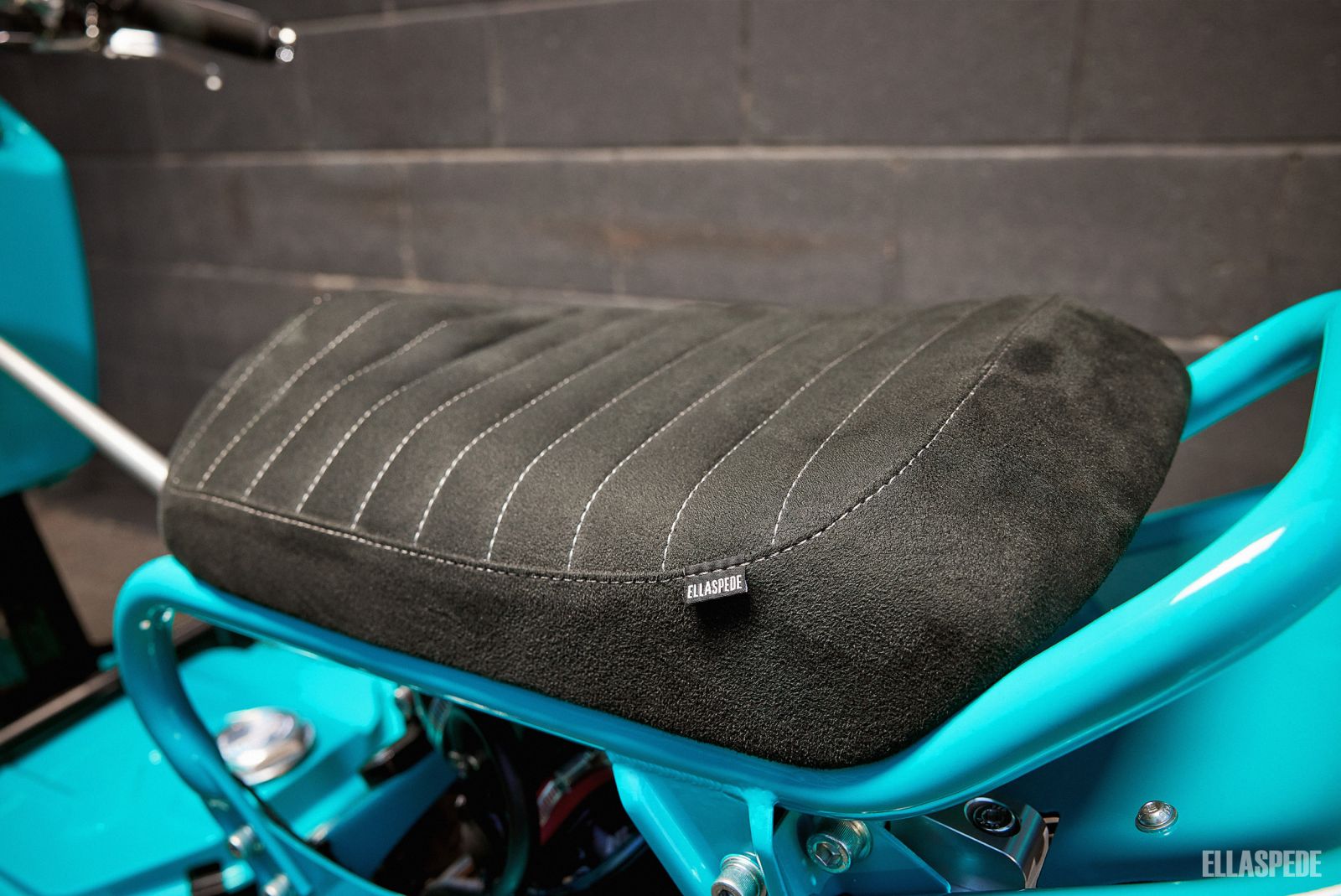 The only parts remaining from the stock bike are the main frame and seat frame (which have both been modified), plus the fuel tank, front fairing and a few support brackets underneath.
With the huge aftermarket available for these scooters in Japan and the US, building one initially feels like piecing together a big lego bike out of parts sourced from all over the web. Generally speaking that's how it's usually portrayed online and in forums as well.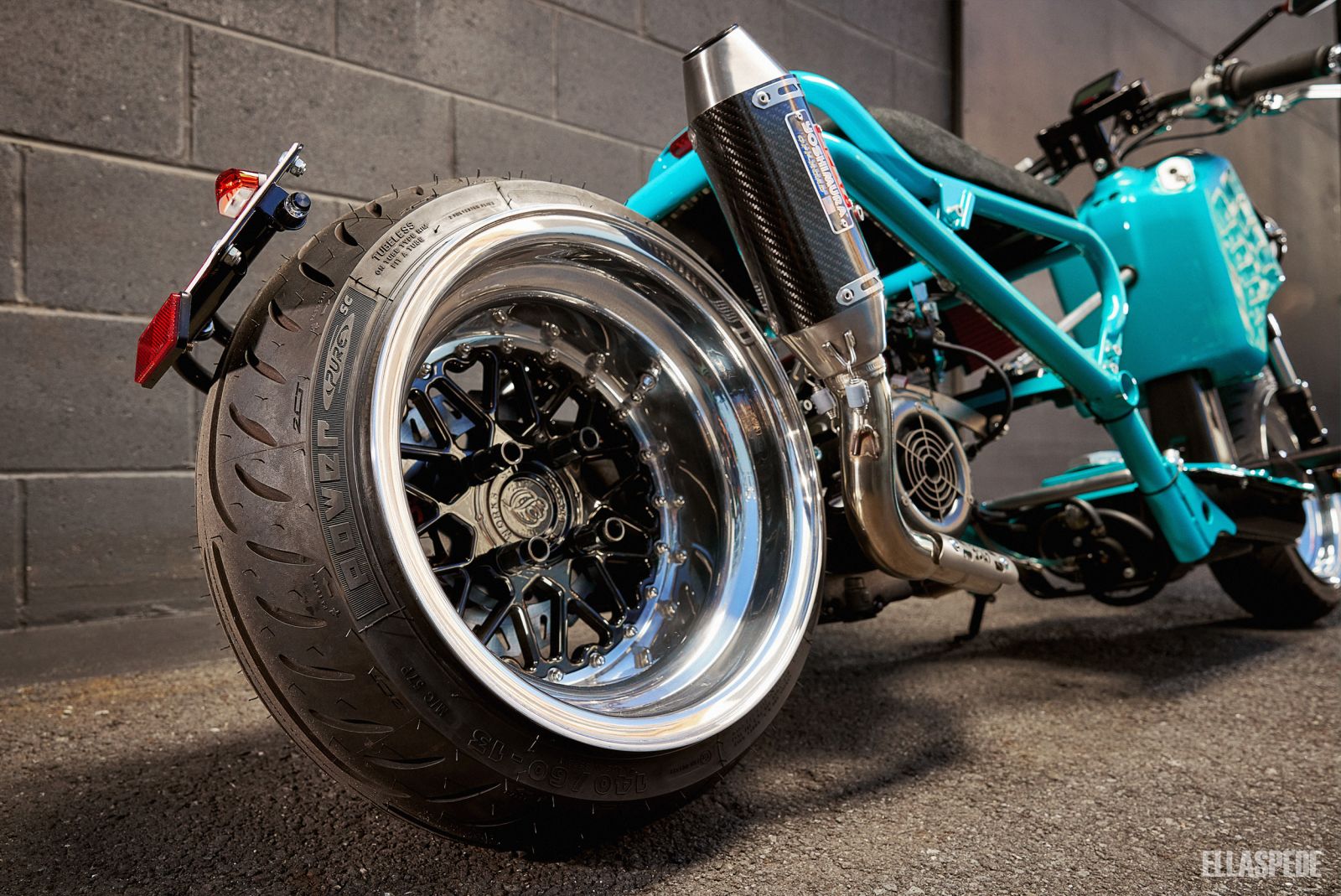 But when the sea of parts boxes arrive and the assembly began we realised it wasn't as straight forward as an old Lego Technic build from back in our childhood. Numerous 'bolt on parts' required replacement, extra machining or some added custom fabrication for use in the way they were intended and / or to meet the fit and finish of an Ellaspede bike.
We still proceeded with excitement as this type of build was a little different to our usual fare and the team were pumped to see it through to completion.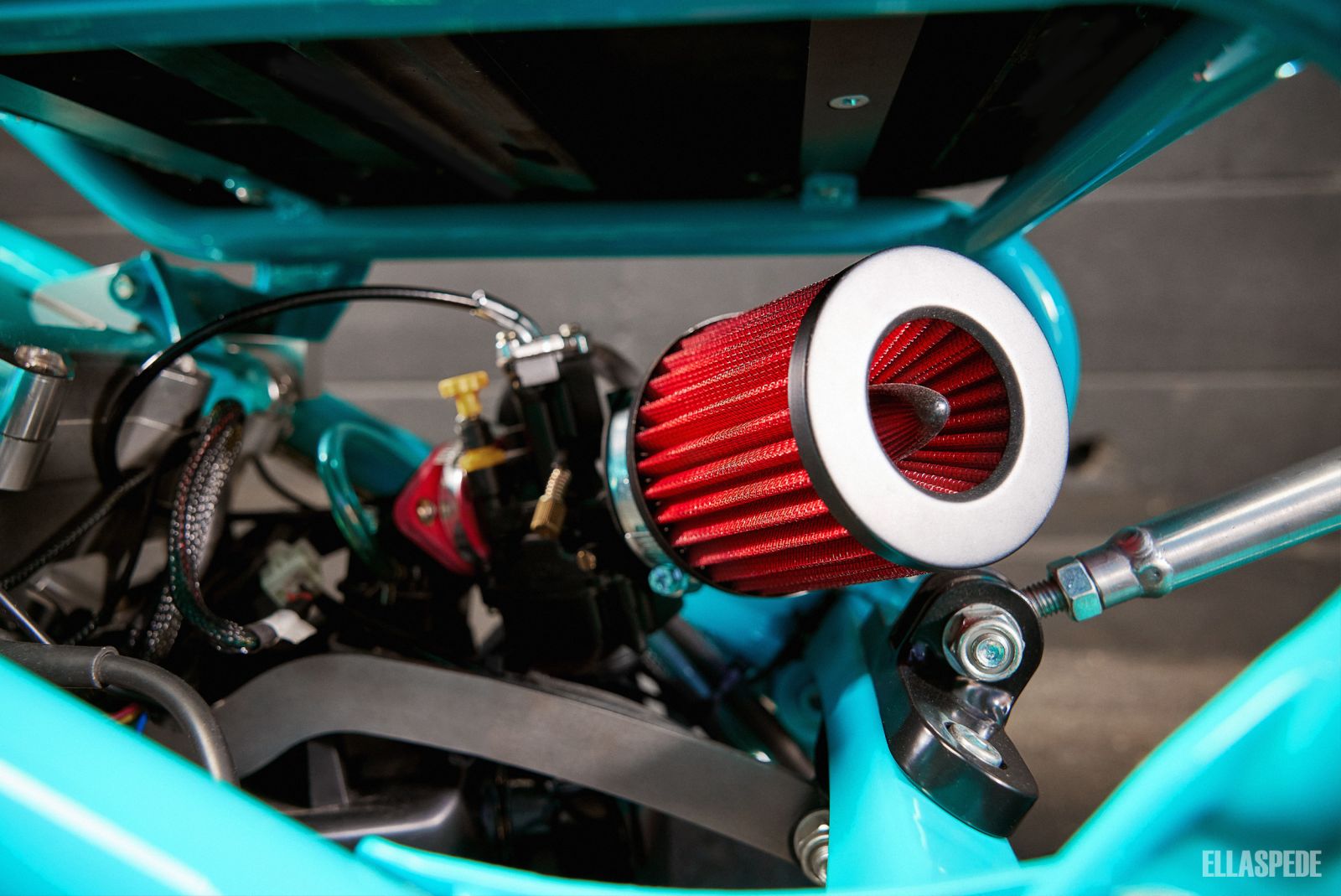 A long list of parts turned up from all over the web, with a bunch of the key components coming from DorbyWorks and RuckHouse in the US. The key component being the GY6 engine conversion which is now stroked out to a 171cc that should be good for 100km/h!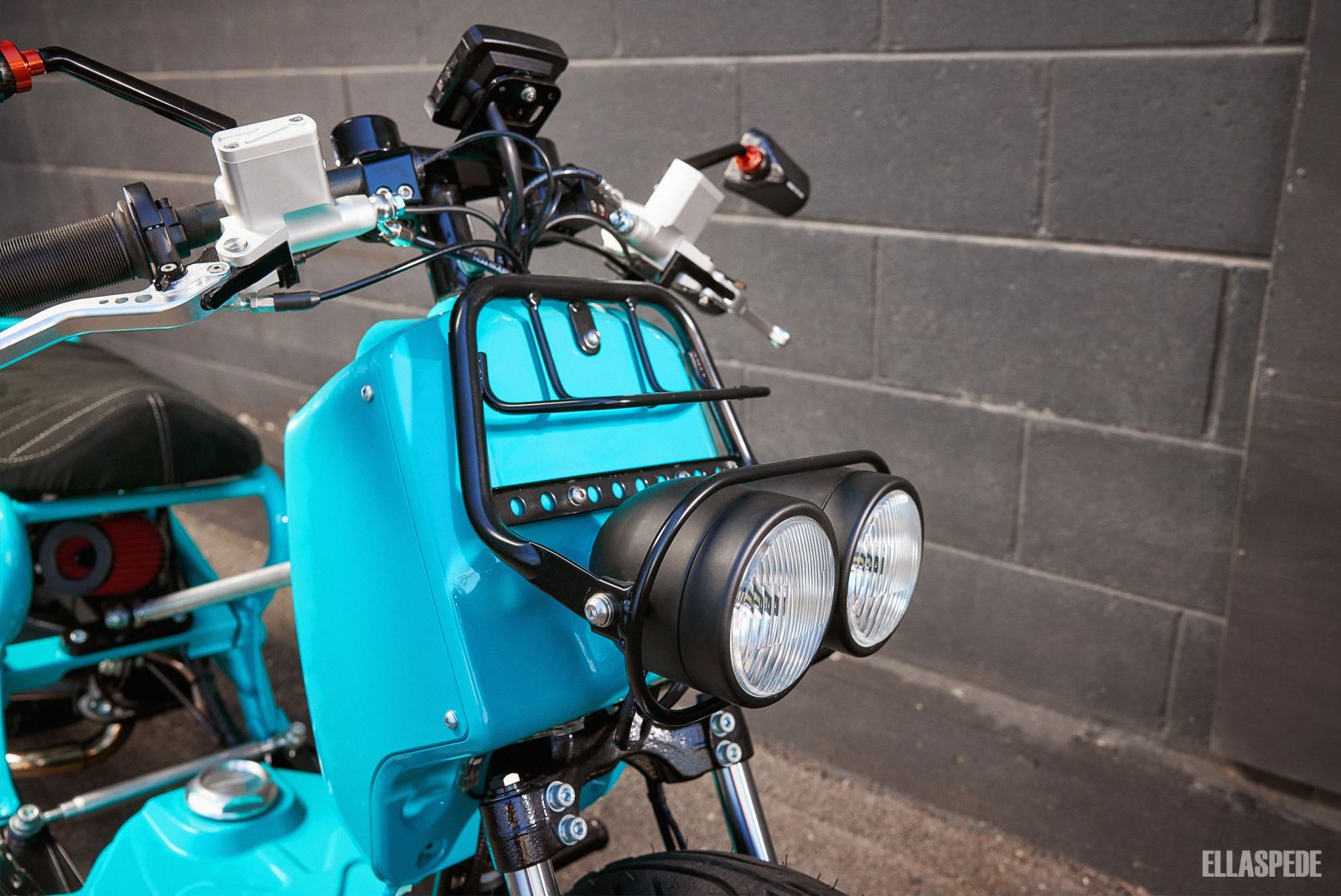 12 inch billet engine mounts hang the new 'ruckus-worthy' donk in a stretched position, with the short rear shock and billet shock mount ensuring it still operates in the usual style.
At the front are aftermarket lowering forks with billet clip on handlebars. New CNC brake masters and levers squeeze through teflon coated brake lines to clamp the Brembo brakes onto 220mm wave rotors front and rear. The new brakes being a much needed improvement over the tiny stock drums, especially with the extra HP pushing it along.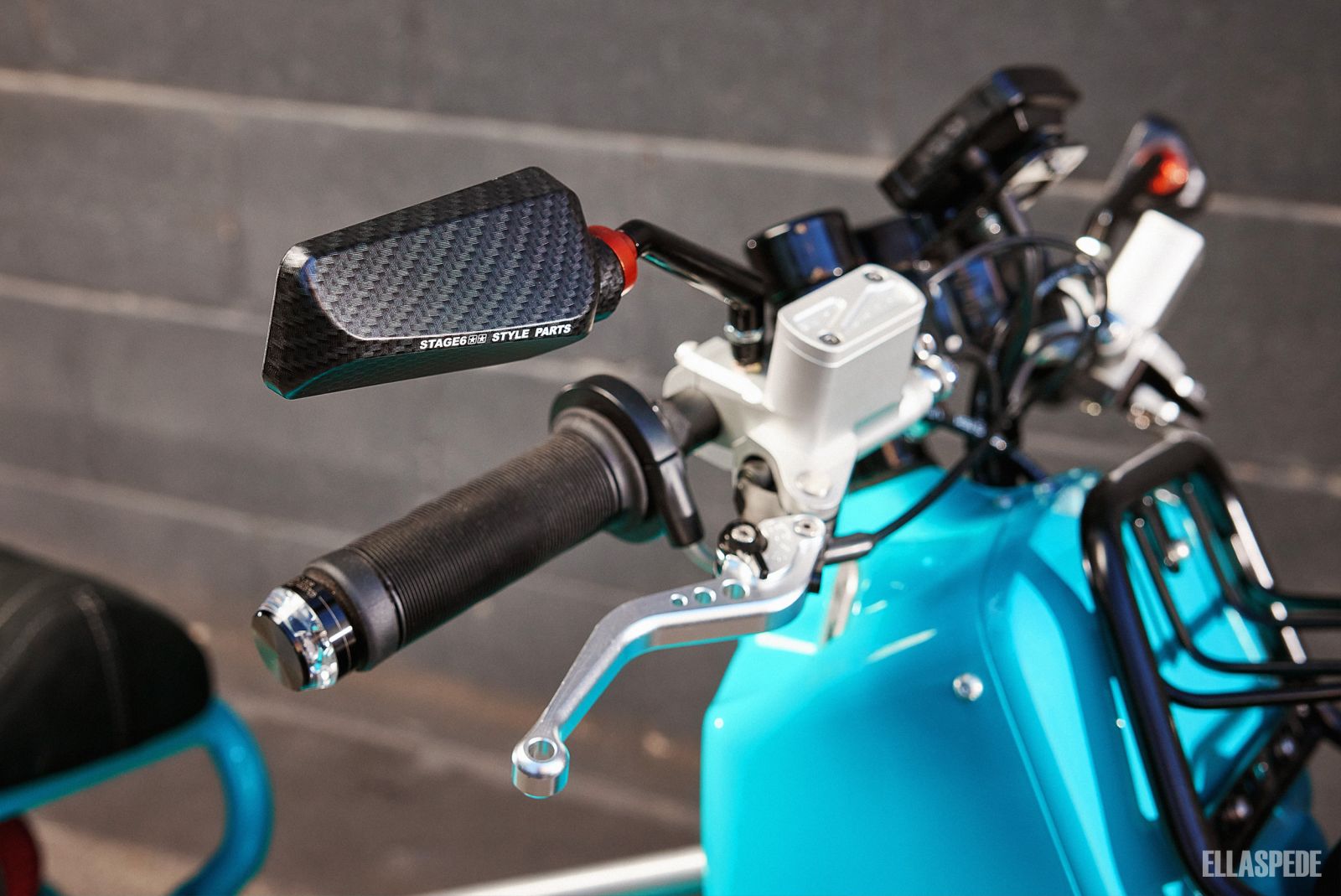 Wheels are 'Mesh Love' in staggered 12x4" front and 13x7" rear with gloss black centres and polished barrels. Completing the 'stanced' look is a pair of Michelin tyres, the rear being super stretched over the wide rim.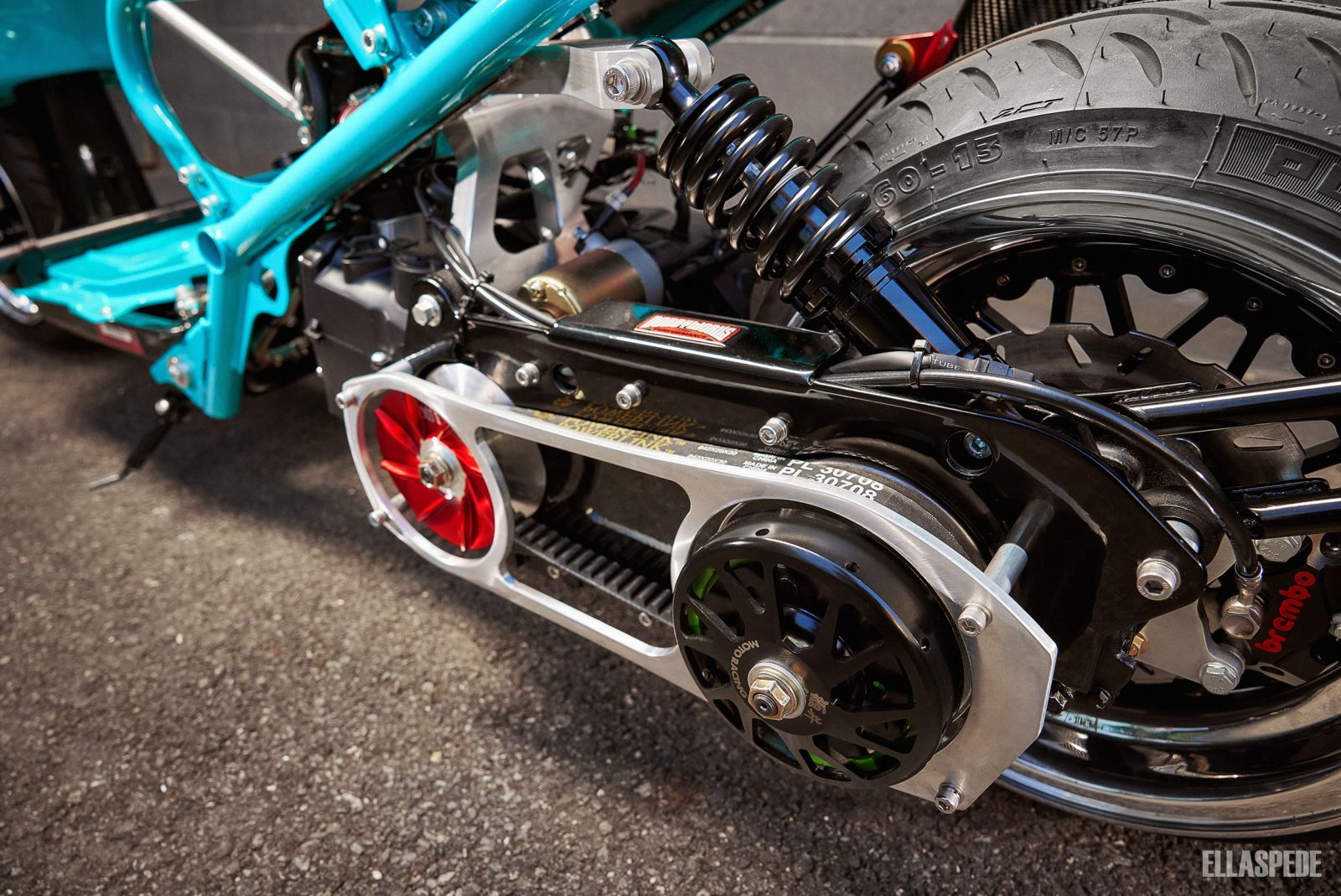 Strengthening up the original frame is a pair of adjustable brace bars that we made in the usual custom Ruckus style as the available aftermarket parts were out of stock. More custom fabrication was required to modify and mount the 'rain catcher' Yoshimura exhaust tight up against the fat rear rim too.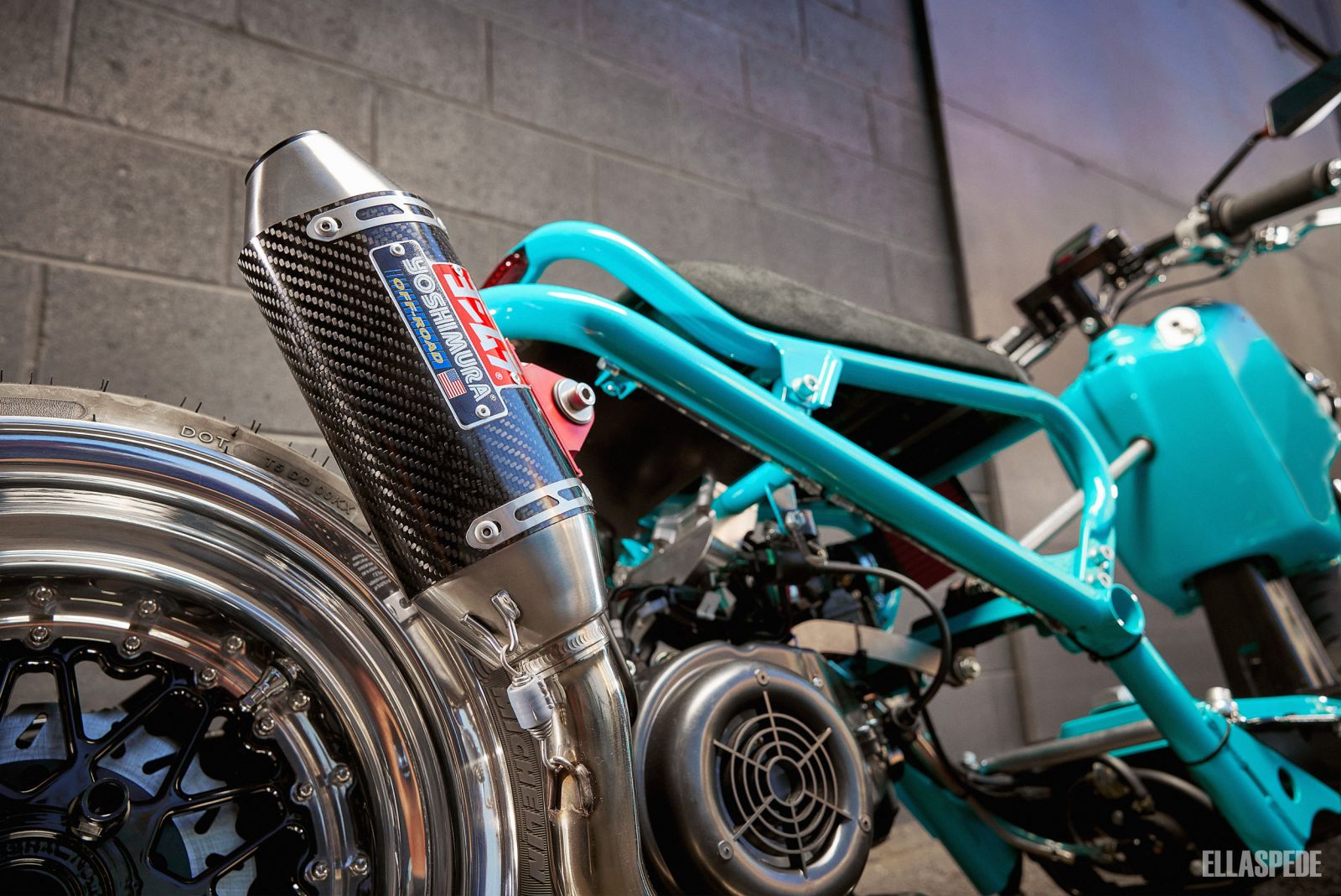 A full aftermarket wiring loom was purchased and modified to plug and play with this setup, powering new lights all round and a Koso gauge on a billet mount up the front. Motogadget take care of the indicators with a Koso Hawkeye tail light at the back. Twin aftermarket LED headlights mimic the iconic Ruckus look and are custom mounted to the refurbed Ruckus front rack.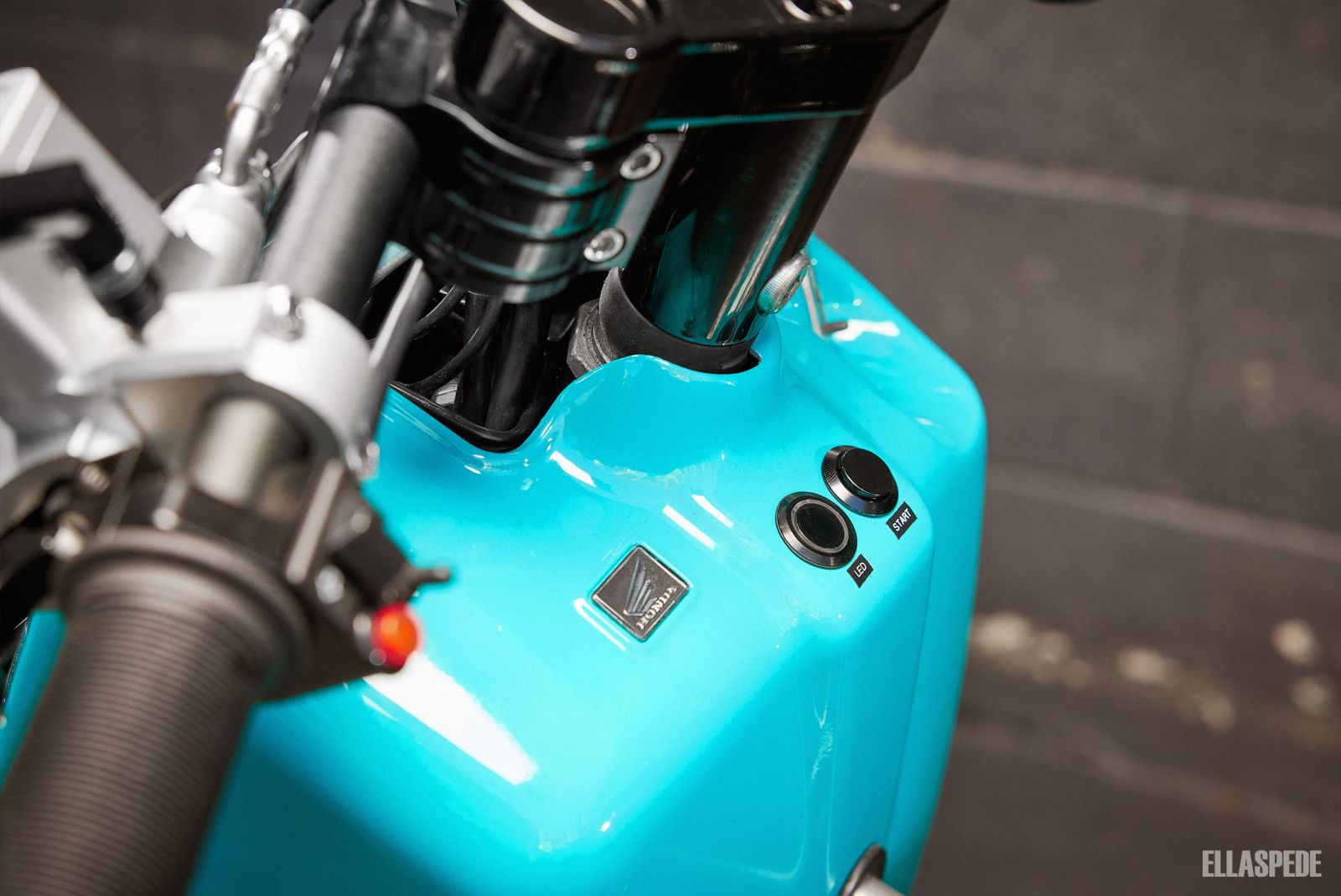 The rear numberplate and lights hang off a custom made rear hugger to keep things legal in the licence plate department.
Aftermarket mirrors, CNC gas cap, fuel tank cover, CNC forward foot rest, rear inner guard and a few other bits and pieces round out the installed parts list.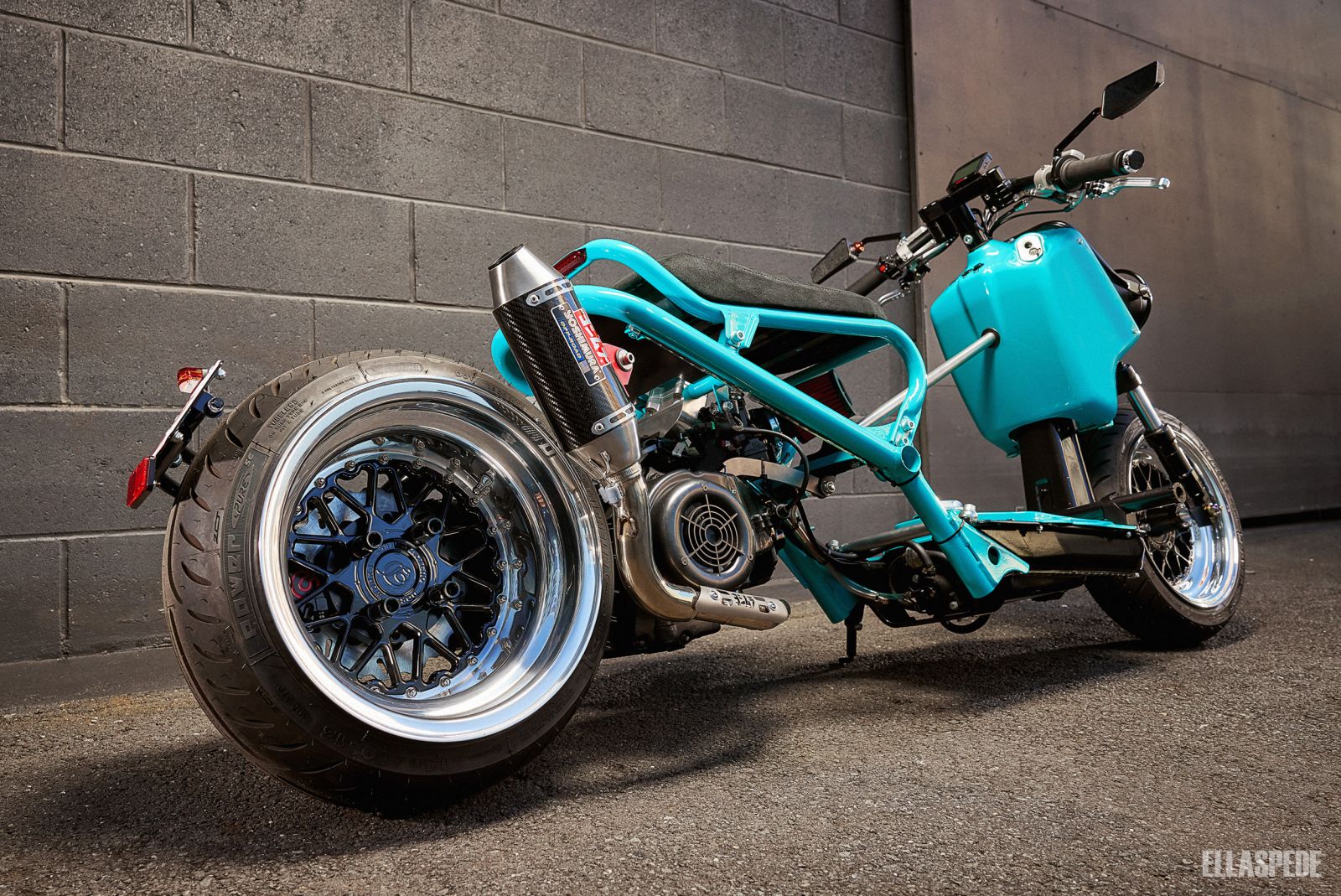 True to style, the seat subframe was cut down to 'sit' lower, still retaining the factory position frame mounting points. Sitting on top is a full comfort foam custom seat (to offset the short travel suspension!) wrapped in alcantara style microsuede with a horizontal silver graphite stitch.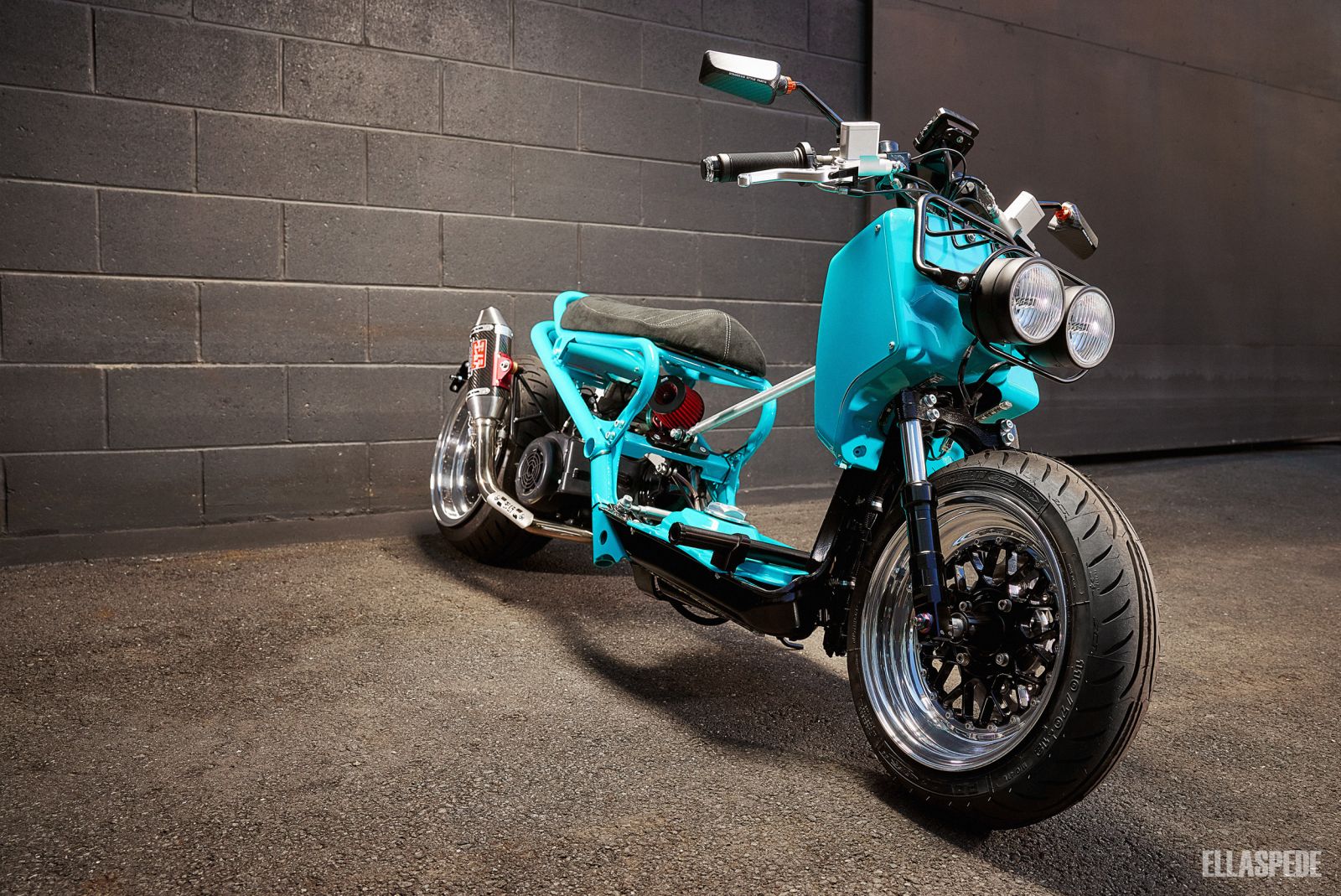 Lots of powder coat and some polish was to follow as the build approached it's final assembly form. The finishing touch being the paint colour, with a popular teal hue getting the nod in a specific mix of 'vintage formula 1 car teal' and the classic Tiffany blue.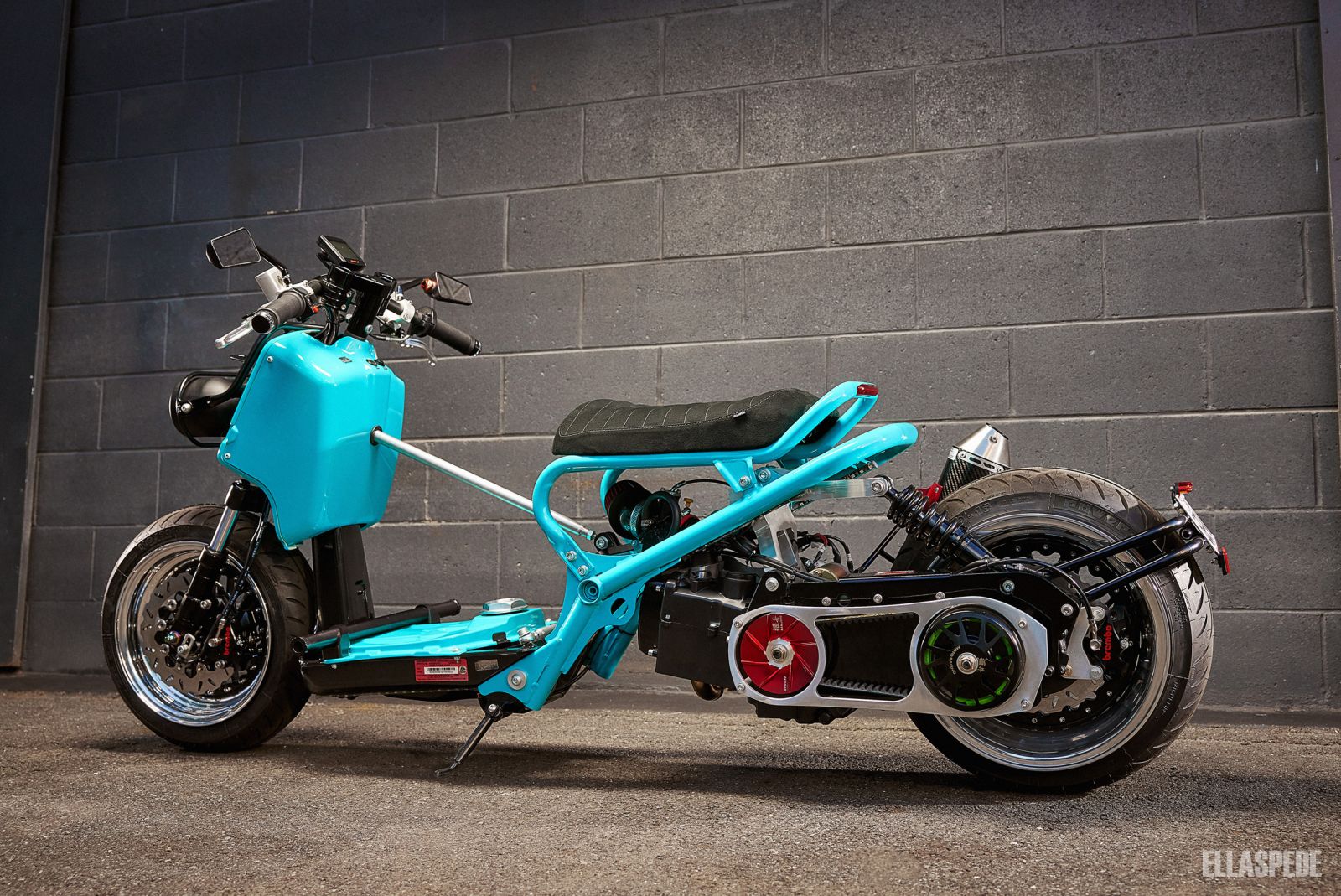 A little fine tuning later and with some kinks ironed out, this little Honda is definitely fulfilling the Ruckus and Zoomer namesakes with it's updated specs and looks.
Now that it's finished, Tai is looking forward to "Weekend cruises with the boys"… A swarm of Ruckii doesn't sound like a bad way to spend an afternoon to us!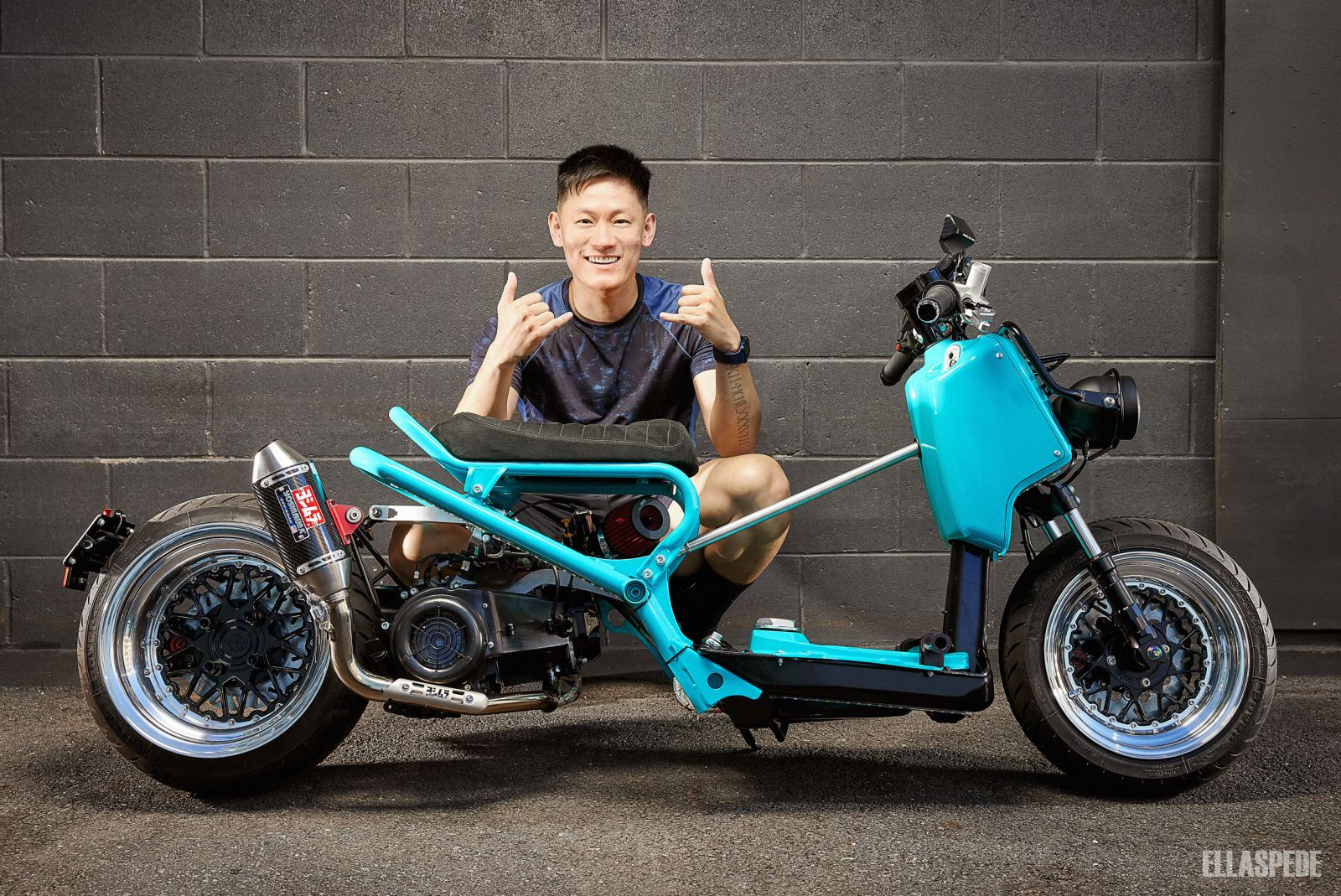 ---
Albums we listened to during the build of this bike:
---
Photos:
---
Build Pricing & Enquiries:
For build and pricing details or to discuss commissioning a custom motorcycle build of your own please email contact@ellaspede.com
---
---
Leave a comment