EB1228 - 2011 Honda CT110
Author: Ellaspede Date Posted:11 October 2023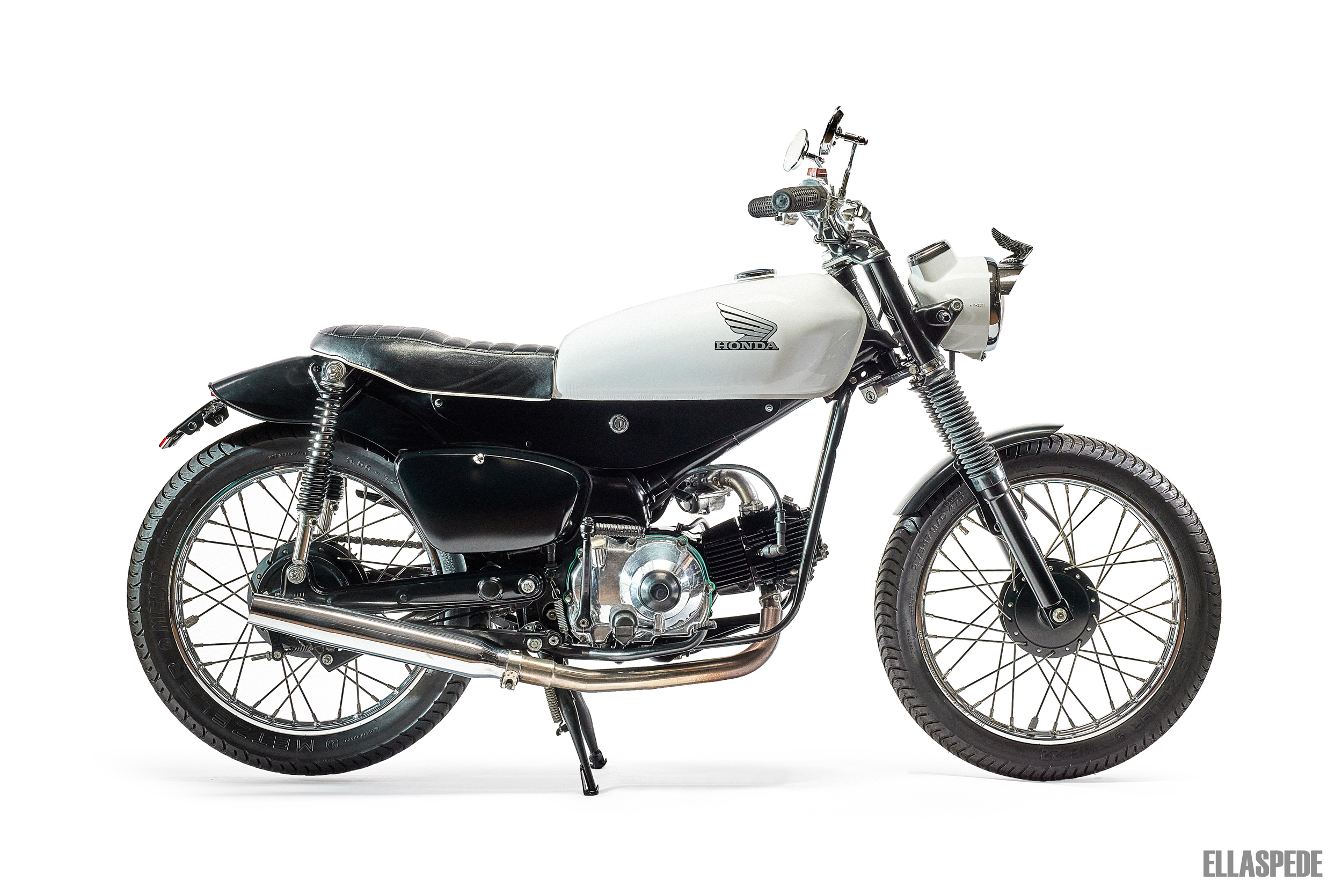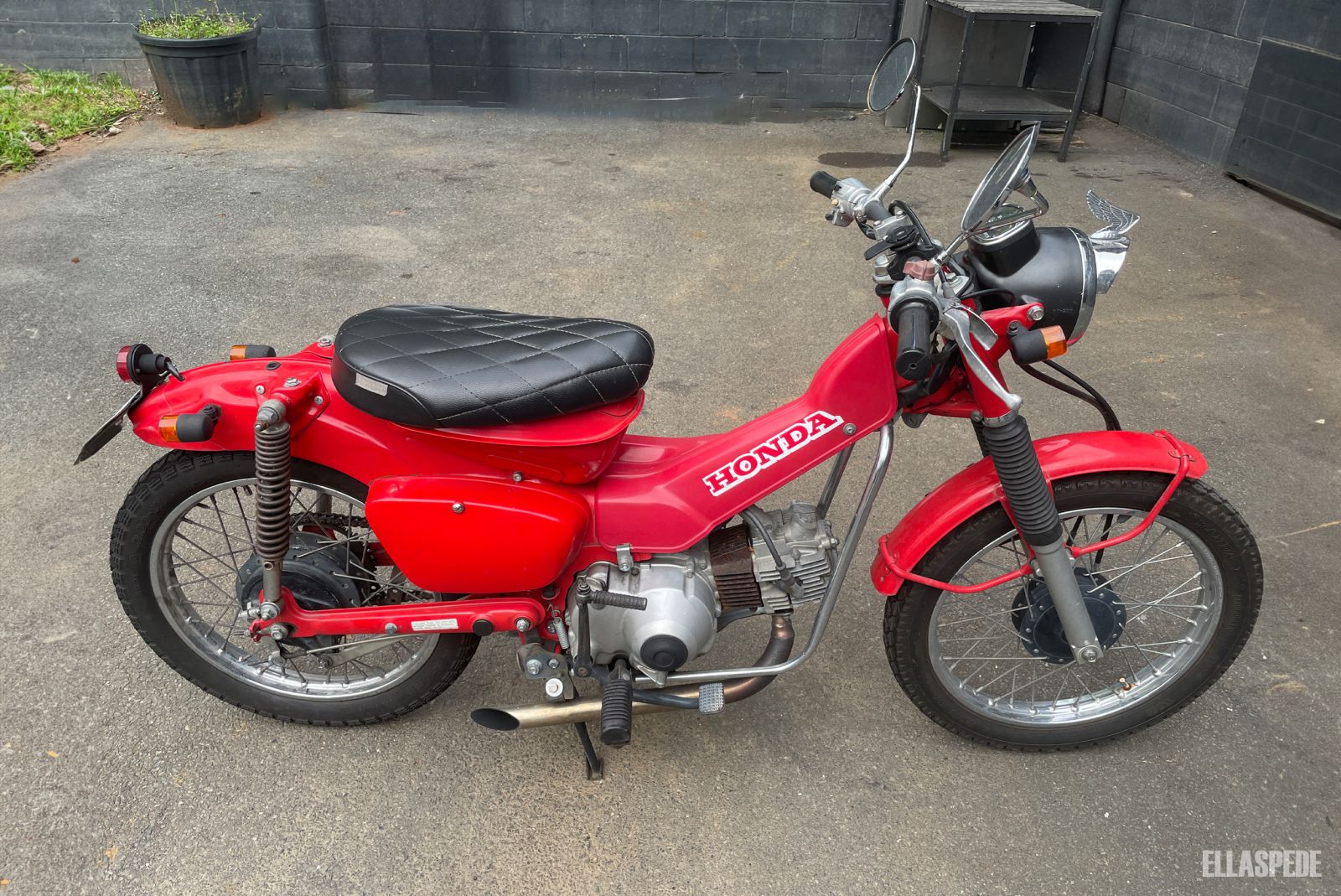 The Honda CT110 is a dependable and rugged motorcycle that excels in its simplicity and utilitarian design. Fresh out of its retirement from Australia Post, owner Guy picked up this 2011 example eight years ago as the perfect Aussie urban commuter.
In stock form the 'Postie' bike is lacking some of the modern amenities found in newer or larger bikes, but their straightforward mechanics and low maintenance make them a cost-effective choice for those seeking a practical and reliable two-wheeled companion. In Guy's case, he said… "I have always loved postie bikes growing up on the Tweed Coast. I've wanted one for as long as I can remember."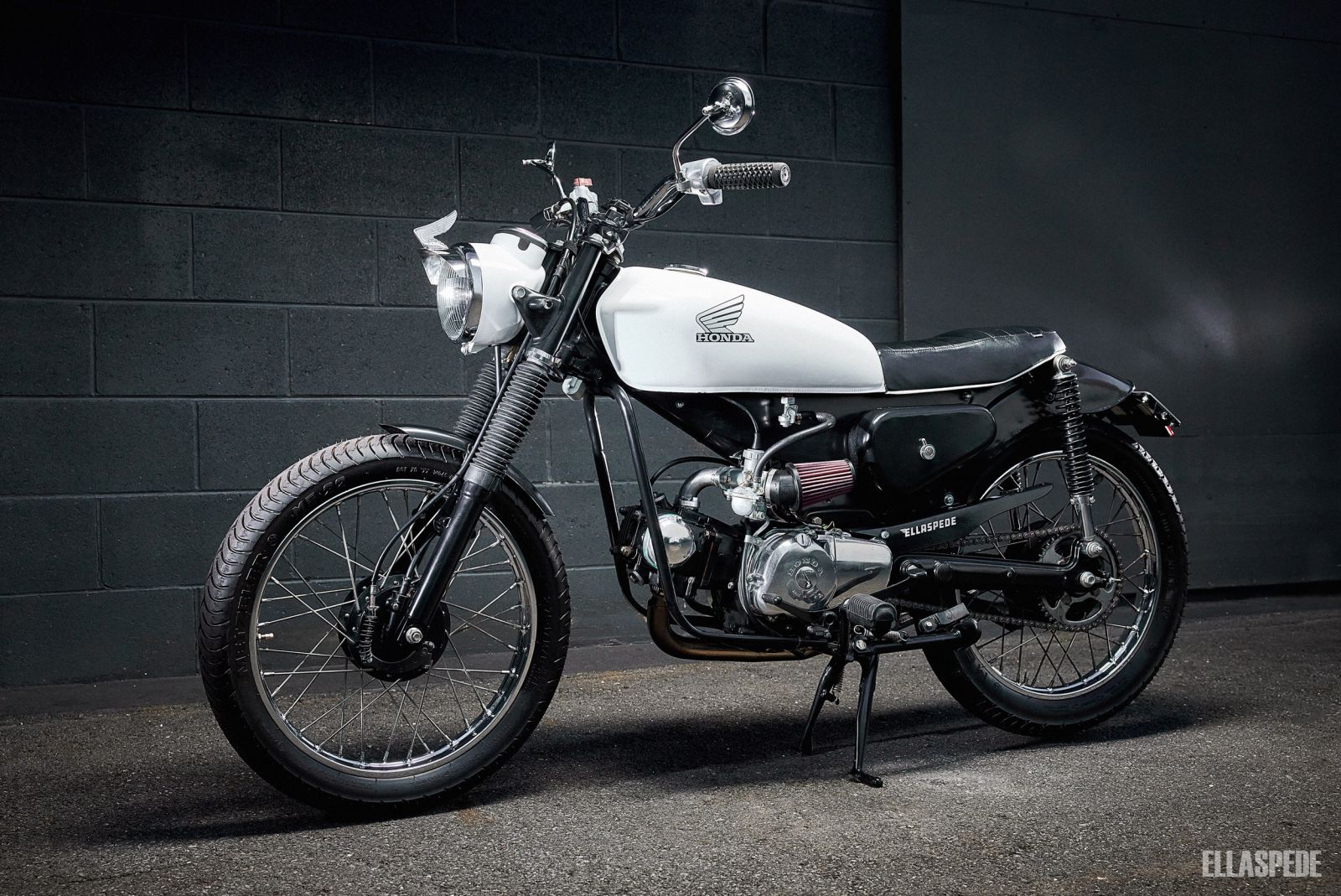 But after a few years of enjoying the little Honda workhorse in its original trim the interest in custom bikes began to grow and Guy knew the little CT110 would be the perfect platform to kick off a custom project.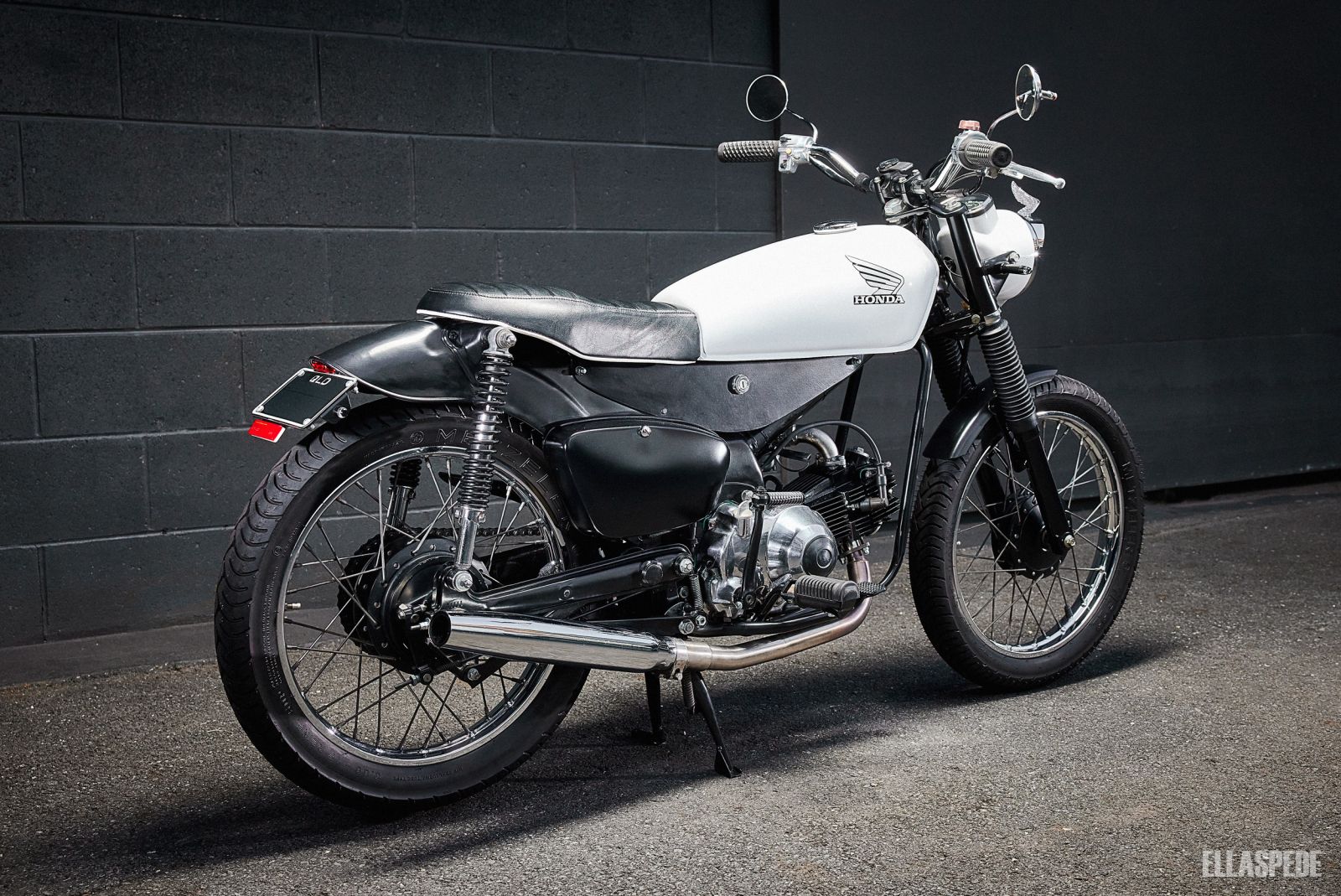 As Guy puts it… "I've always been fascinated with motorcycle modifications and began the process myself with my CT110. Steve's EB008 showed how the humble CT110 could be converted into a small scale road bike - I wanted one! Seeing that and the past Ellaspede builds, I knew working with Steve and the team was the right move."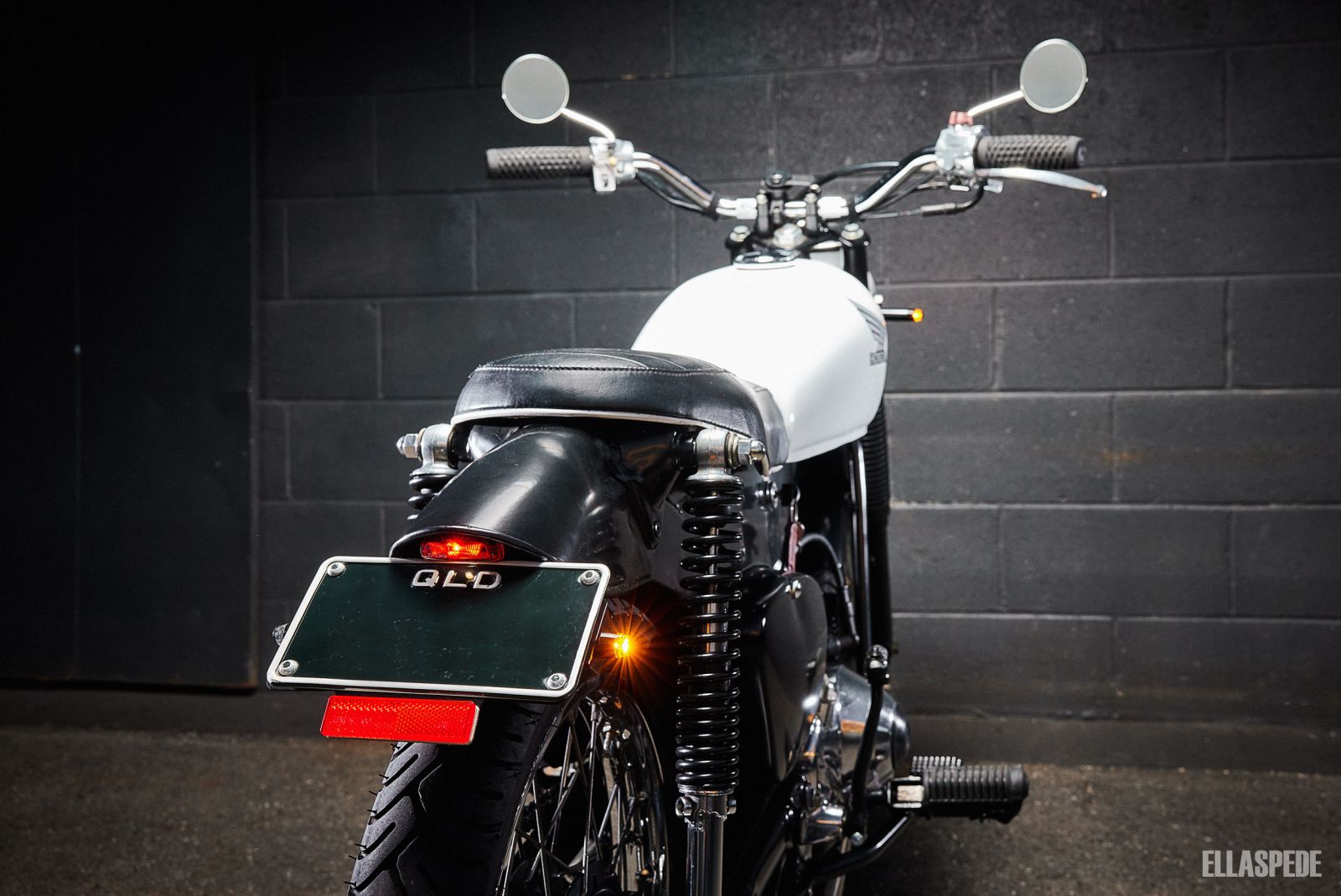 The crux of this customisation is definitely in the tank and the seat. In stock form the CT110 has a 'step through' style and a fuel tank hidden under the saddle shape seat. For this build we've folded up a frame section to bridge the 'step through' gap between the steering stem and the factory seat, before mounting up a Honda CG125 fuel tank and making a custom seat to match the tank and new lines of the bike.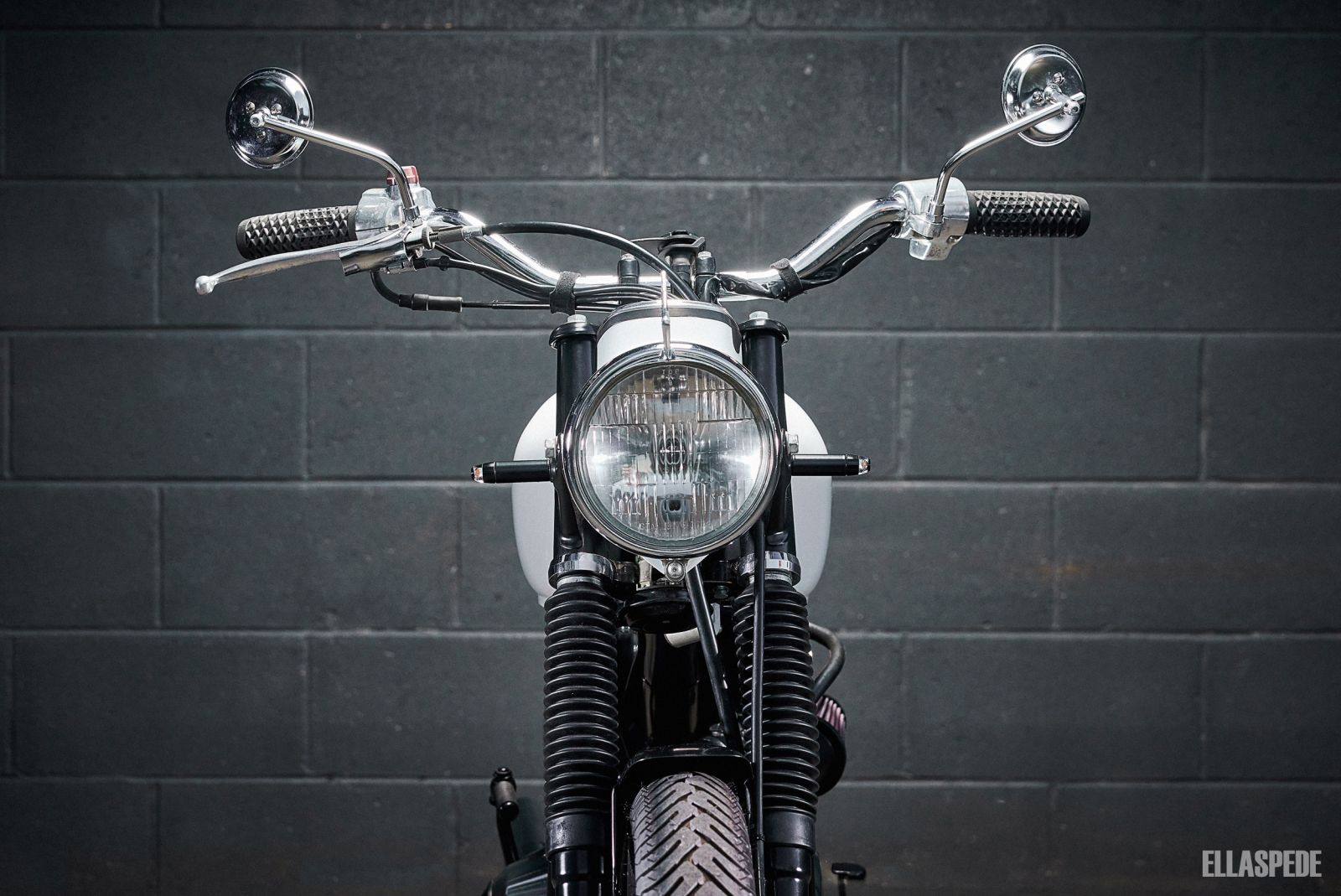 A couple more minor frame mods were made, plus shortening the front guard and fabrication of a few other brackets and mounts.Then the whole lot was pulled down for paint, polish, rebuilding and powder coat.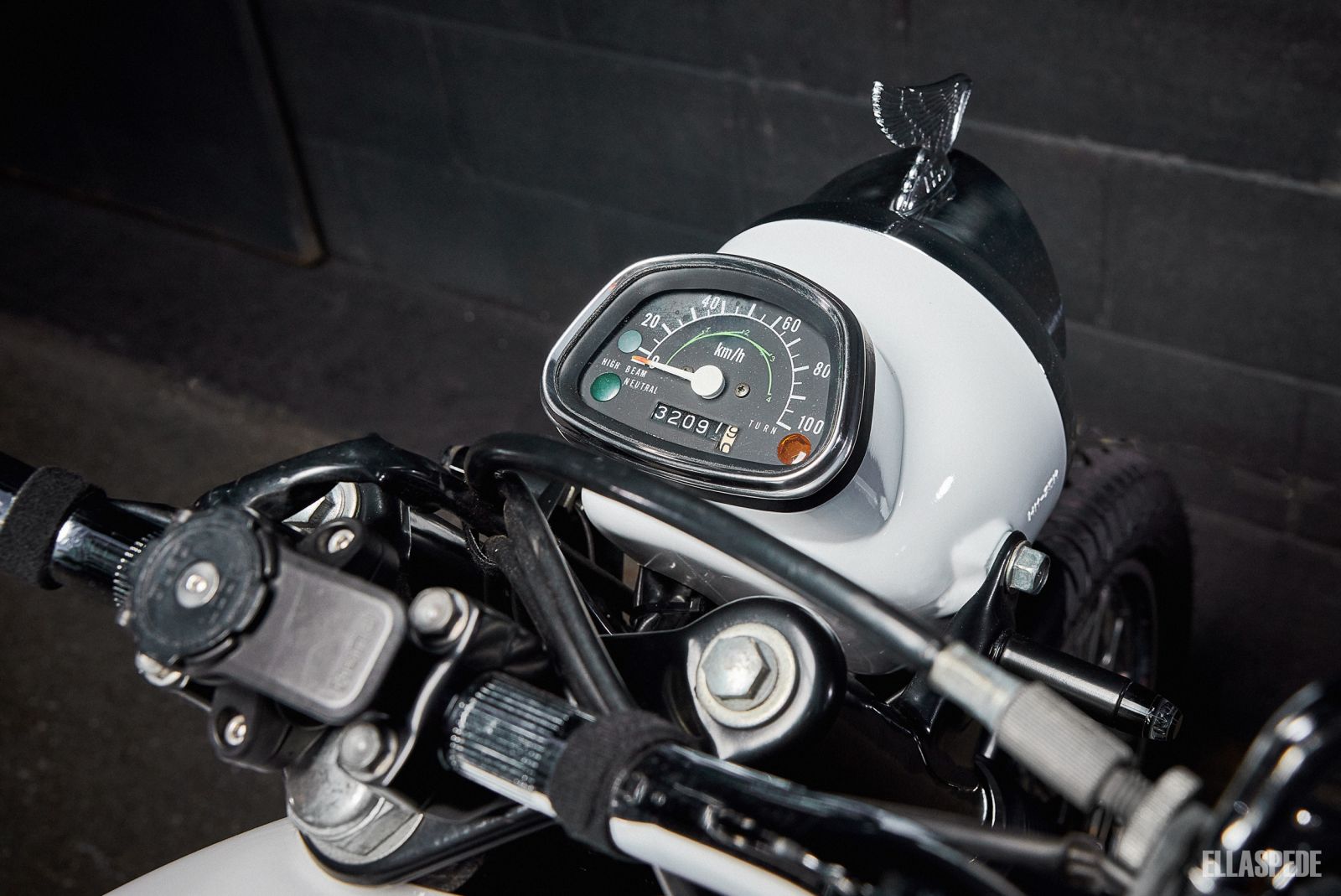 The tank is now a feature and didn't need anything fancy, just a classic coat of gloss white with the silver and black Honda wing emblems. The classic Honda headlight is coated in matching white, while the seat wears black UV rated motorcycle vinyl with white piping around the bottom to carry the theme and continue a nice line song from the bottom of the tank.
Guy said… "I've got a thing for monochromatic styles. The white tank with black and chrome details felt classic, almost a simplified elegance."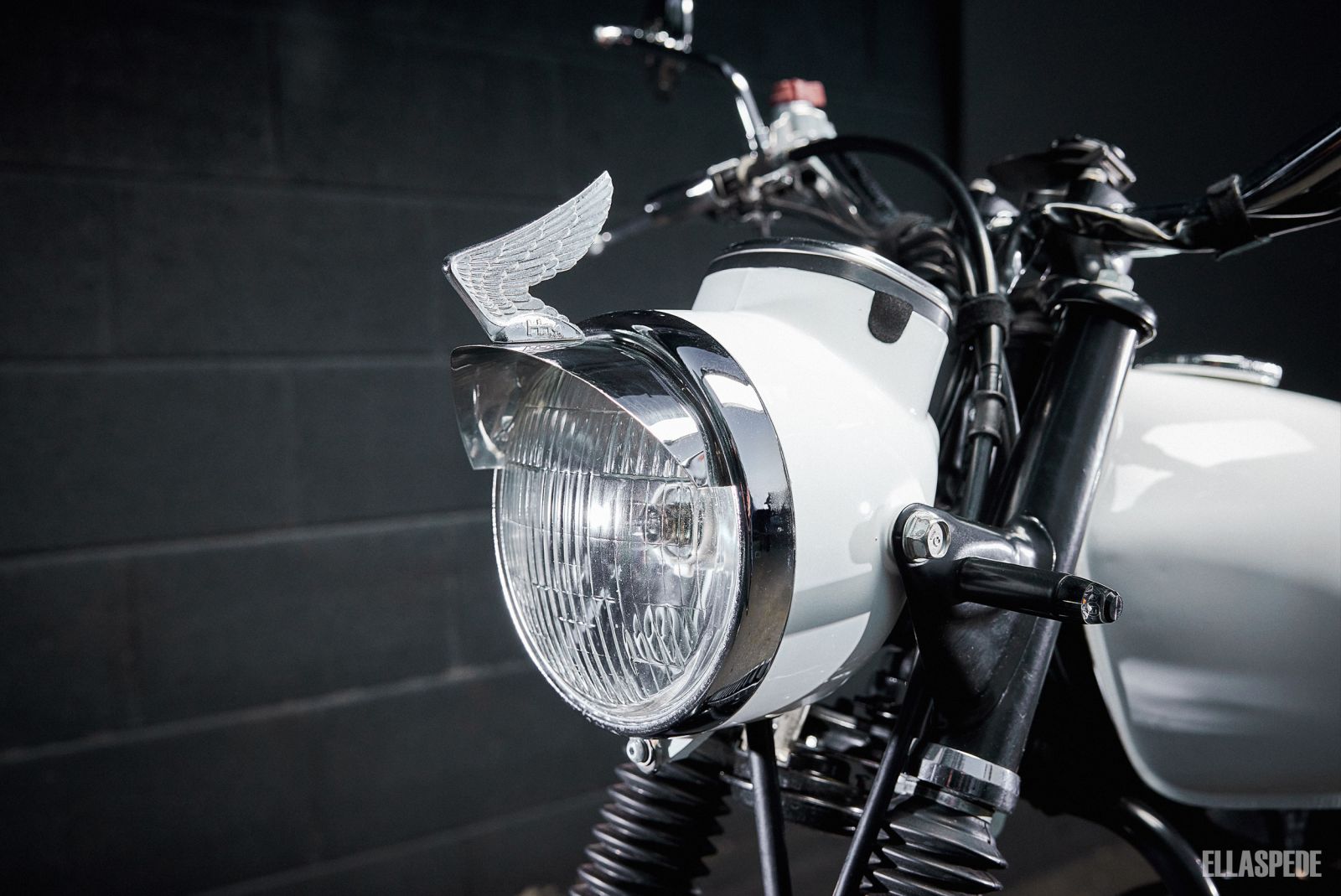 Aftermarket parts started to make their way on to the bike, including chrome flat track bars, Ninja Star licence plate holder kit, Koso LED tail light, Motogadget Pin indicators, classic chrome enduro mirrors, Vans X Cult grips and a host of other OEM Honda replacement parts.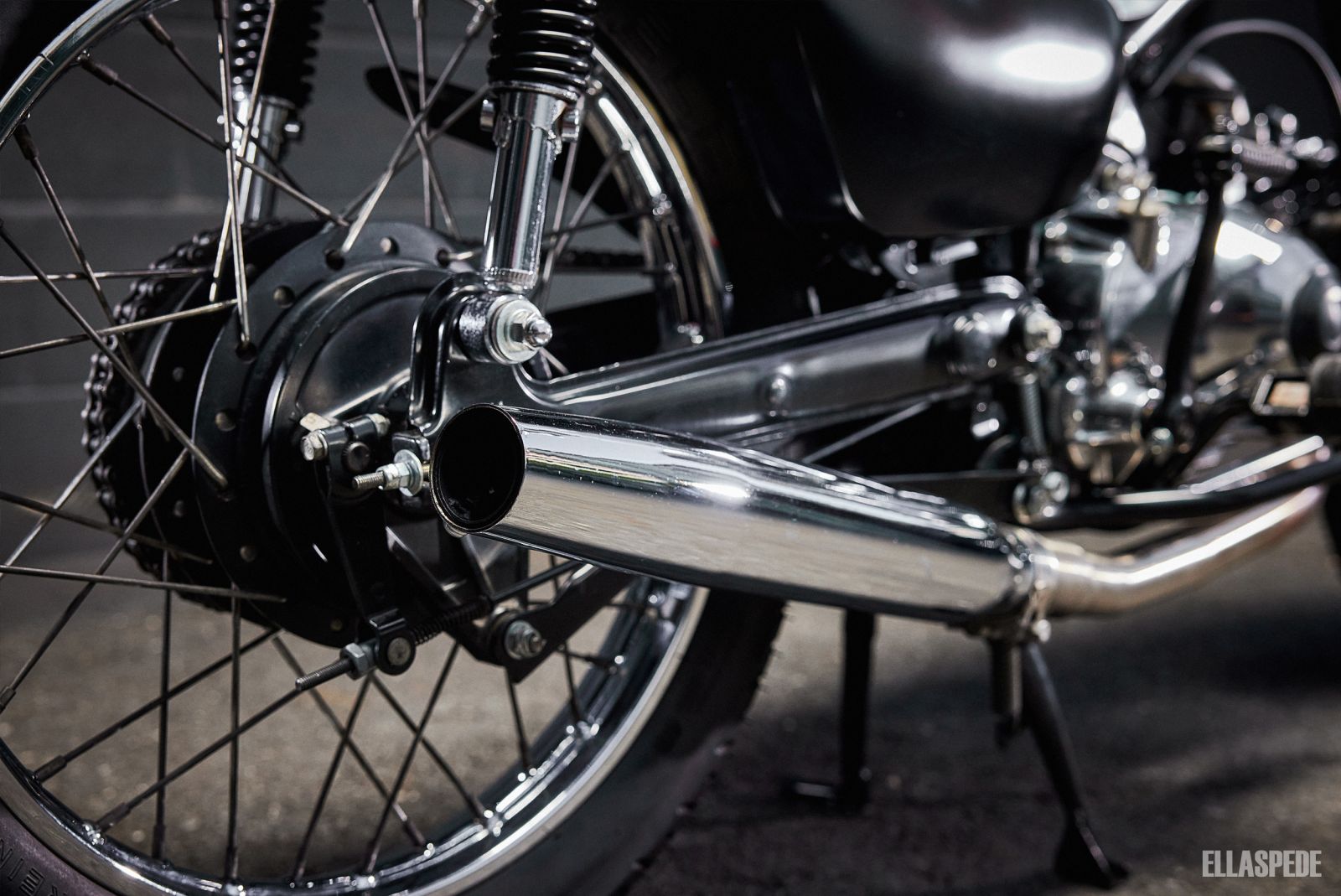 Putting the bike back together and it was certainly looking like one of the smartest CT110's around, although it was not long into Guys test riding before the cogs of time decided to break off a tooth in the gearbox, requiring a full rebuild.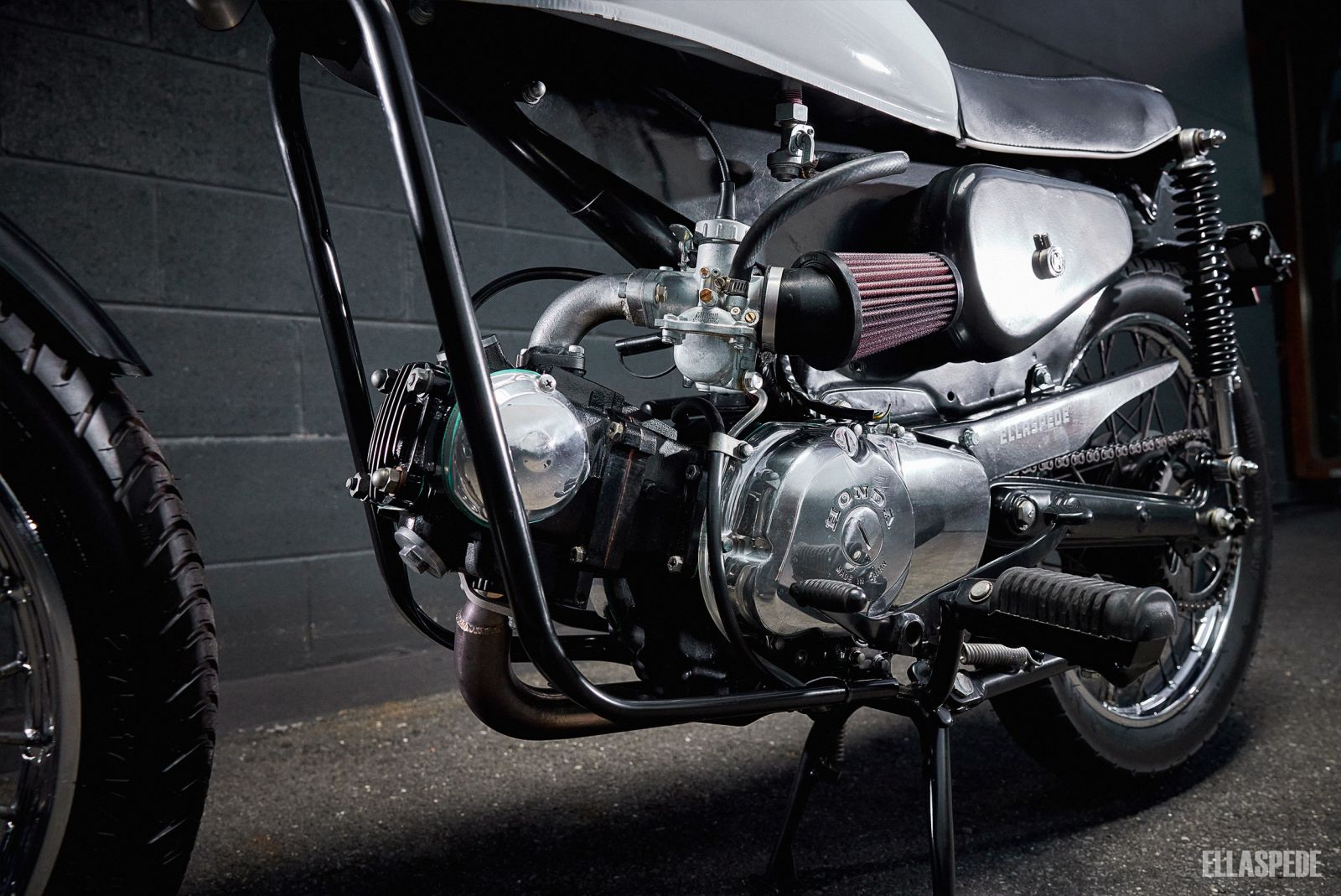 Looking at a new opportunity to improve and ensure years of future trouble free motoring, Guy opted to go the whole way, rebuilding the gearbox and clutch, before adding in a 125cc kit for the top end as well. With another bag of Honda genuine parts, the bike now shifts as smooth as when it rolled off the factory line and has got some improved horsepower to boot as well.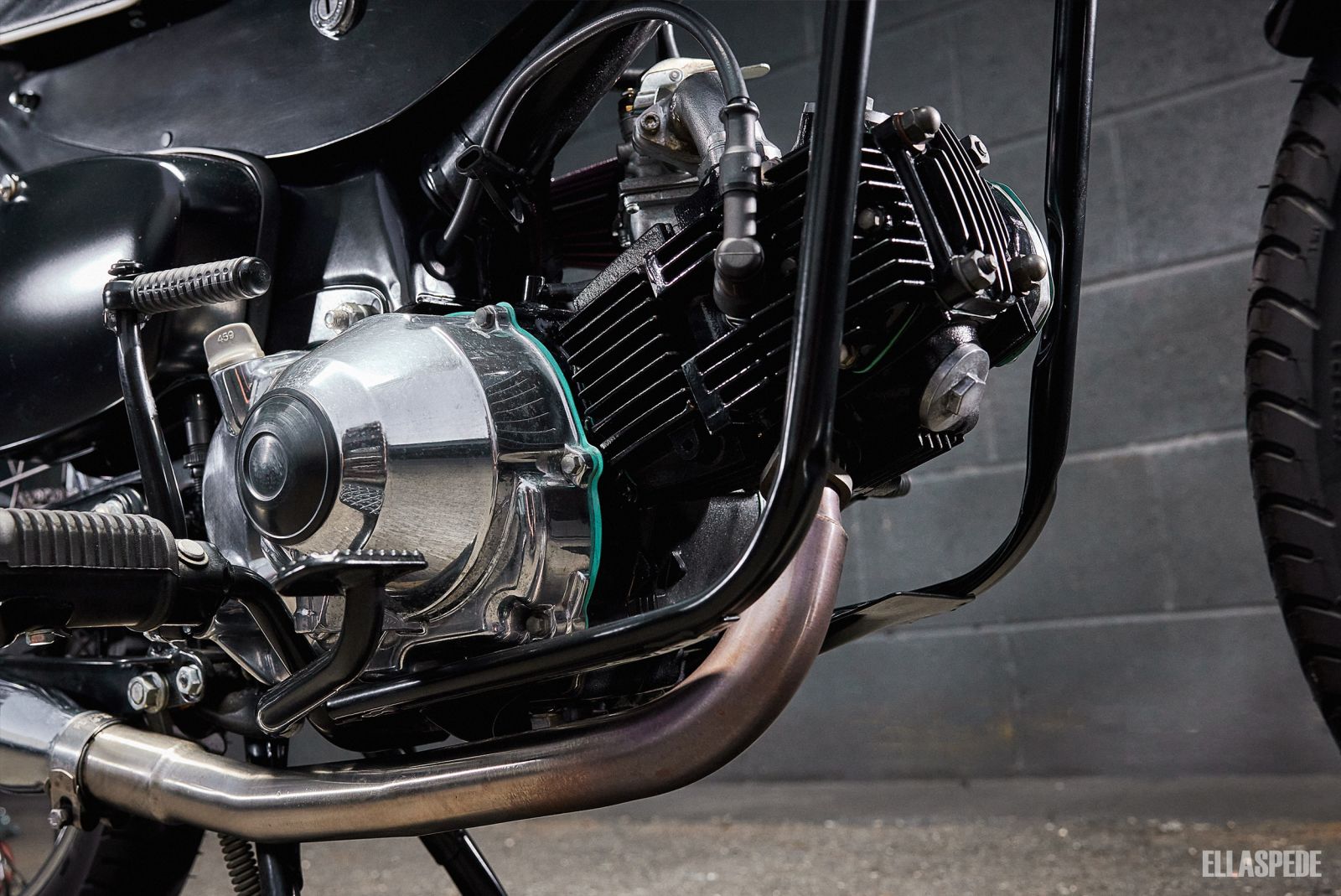 Guy opted for a blacked out engine with contrast features like the polished gearbox and engine covers. New hardware accentuates and improves the look as well. The bigger engine capacity is sucking through a new Mikuni carburettor, with exhaust gasses exiting through a stainless down pipe and into a classic chrome muffler.
A new chain and sprockets is putting the power to the back wheel, with a special Ellaspede laser cut 40-tooth sprocket ensuring it get's up to speeds not many Posties generally obtain.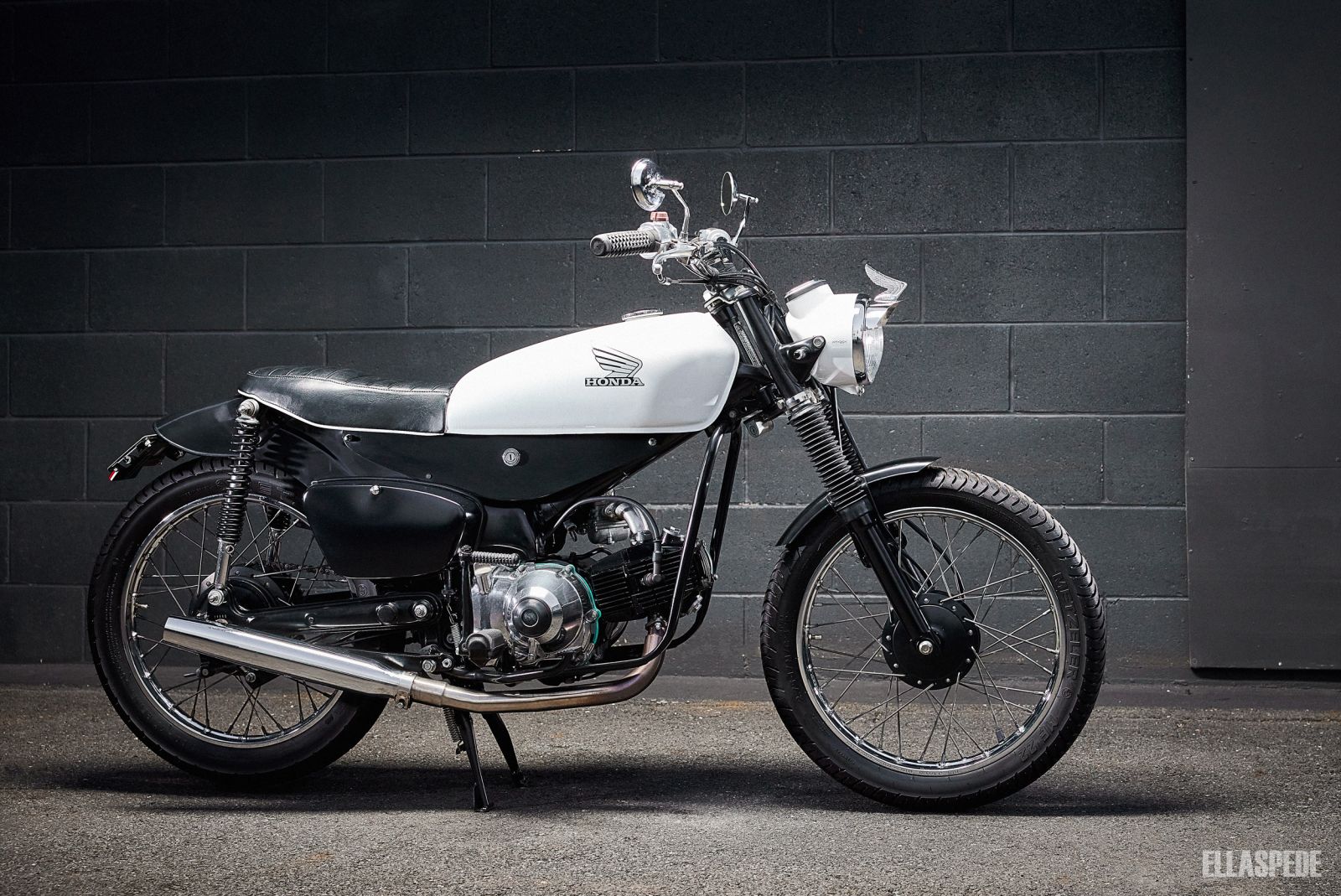 With it all completed once more, Guy's Honda CT110 now goes as good as it looks. Whether navigating city streets or exploring some unpaved paths, this 2011 Honda CT110 delivers a no-frills riding experience that can again stand the test of time.
Guy mentions… "There's so much I enjoy about the build, however it's all the deliberate choices around levels, alignments and selections that speak together as a whole."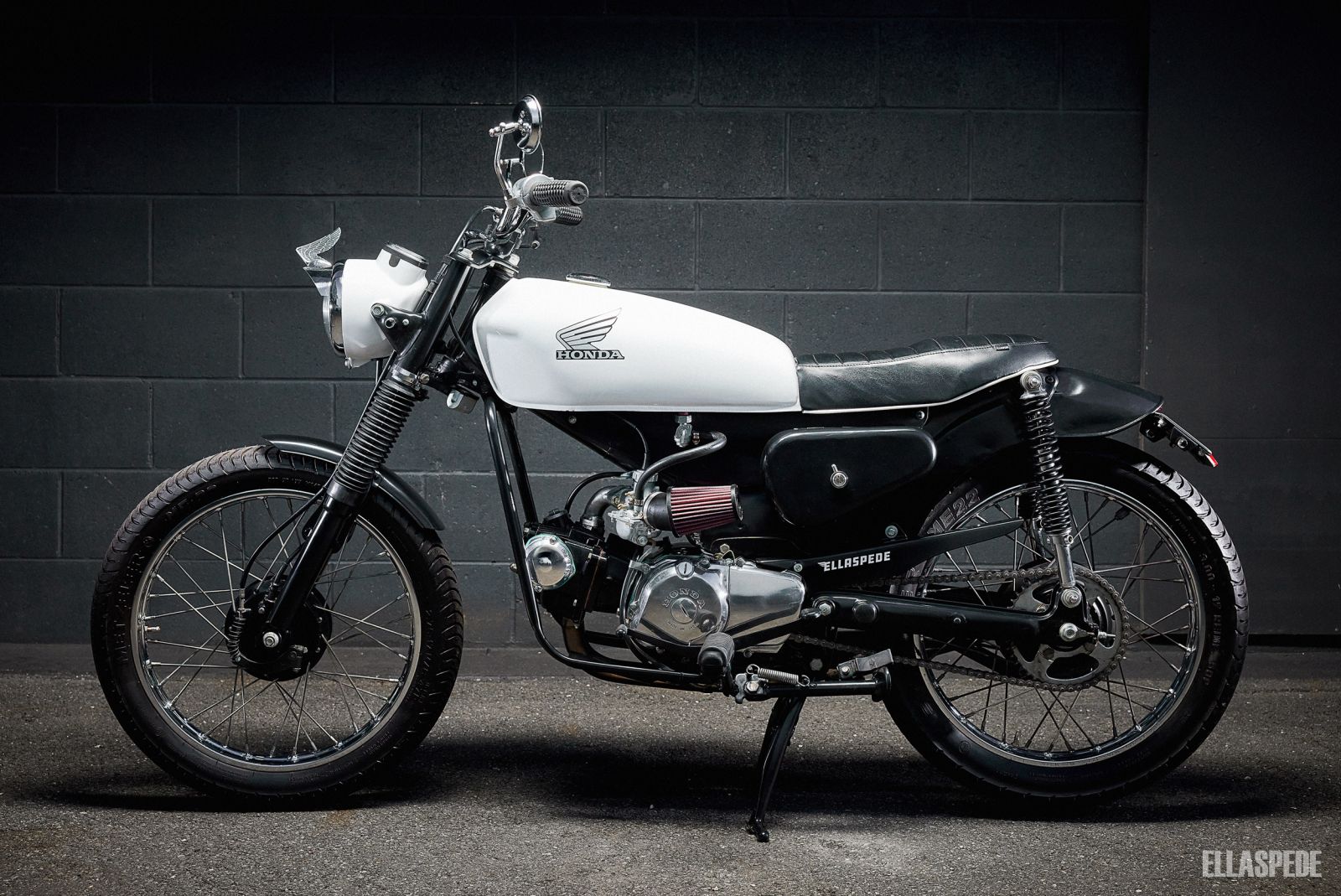 When we asked what he's going to do with it now, Guy said… "This is my everyday ride – I will look for reasons to be on the road." The only thing we like more than building custom bikes is seeing them ridden on the daily, so props to Guy for continuing to enjoy this little ripper every chance he gets!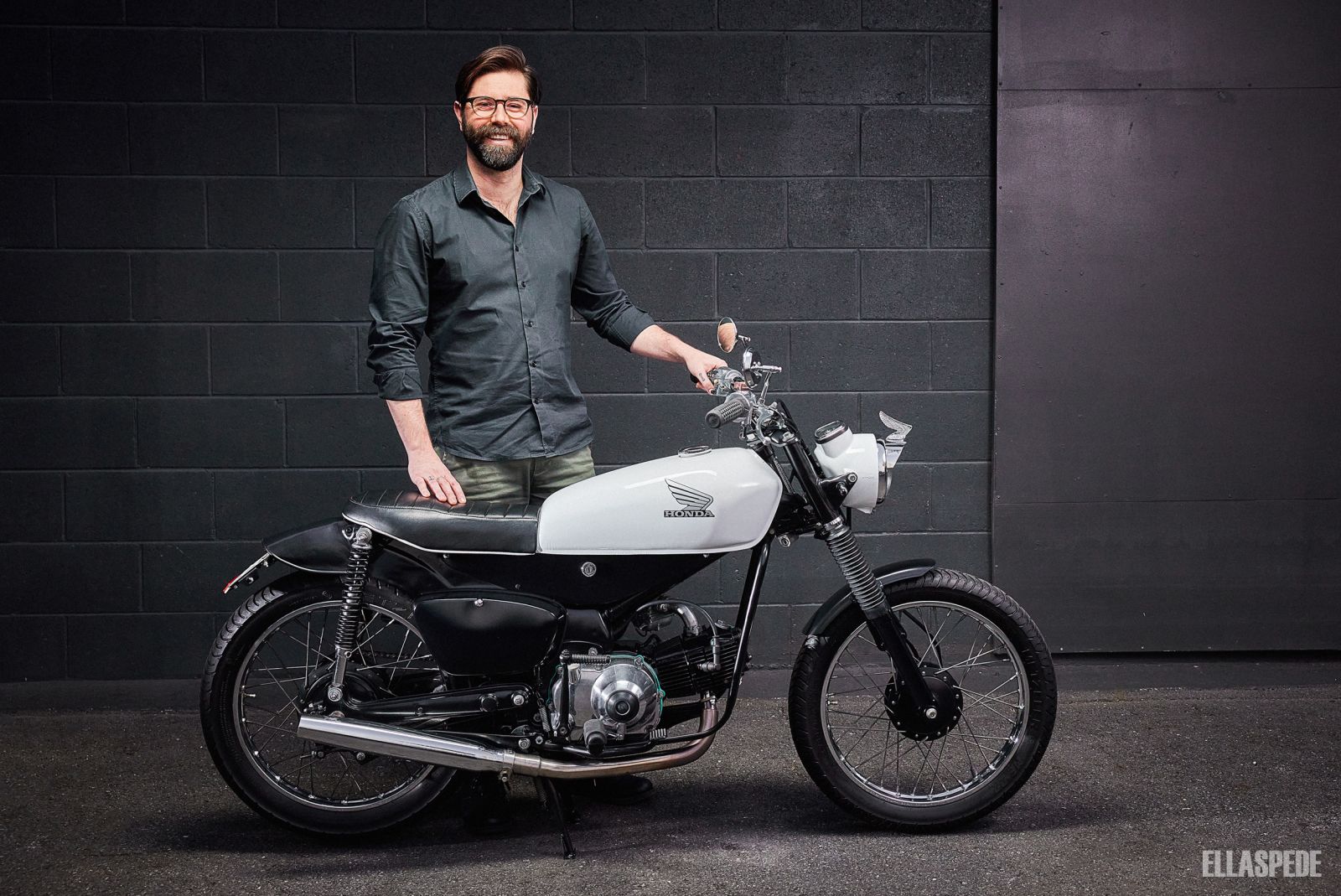 ---
Albums we listened to during the build of this bike:
---
Photos & Features:
---
Build Pricing & Enquiries:
For build and pricing details or to discuss commissioning a custom motorcycle build of your own please email contact@ellaspede.com
---
---
Leave a comment