EB008 - 1996 Honda CT110
Author: Ellaspede Date Posted:14 September 2012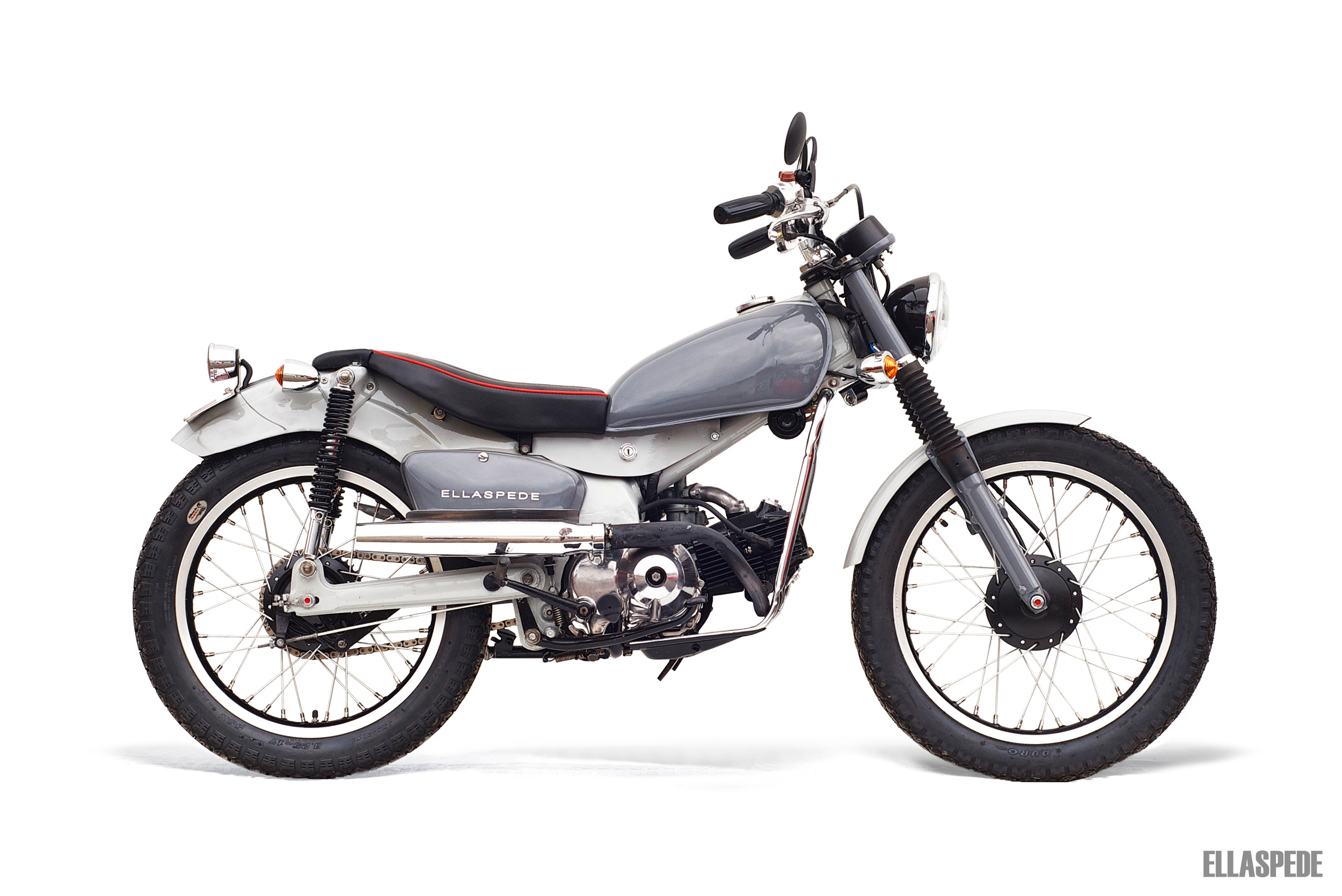 From farm goer to city runner. For those of you who don't know the Honda CT110 began production in 1980 and was designed to replace the CT90. It boasts a 105cc 4-stroke air cooled single cylinder engine with a four speed transmission and an automatic clutch.
Honda in conjunction with Australia and New Zealand Post adopted the motorcycle and models sold to those countries feature a centrifugal clutch. This was done to free up the left hand from clutch levering and therefore deliver mail more effectively. In both countries the bikes are affectionally known as 'Posties'.
Like many Posties, ours was gathering dust in a shed having served (after its Australia Post stint) as a farm bike / kids bike and had plenty of mud to prove it. Whilst a few things were broken and missing it was basically all there.
After exploring a few aesthetic possibilities the bike was stripped, cleaned and sanded down. The great thing about the CT is their simplicity so any work done is an easier exercise than on most bikes.
The rear guard (which is an extension of the pressed frame) was cut shorter.
A new tank / seat mount was fabricated and bolted into the "V" formed by the frame neck and rear section. This also adds strength to what is their weakest point. (Having said that they are near on indestructable and very reliable). This new mount also houses the repositioned key.
A standard Postie has an under-seat mounted fuel tank. Along with the original lounge chair tractor seat, this was removed and a unit from a CT125 Ag bike was used after some dent fixing and lining. The tank position was moved to a more traditional neck mount.
The new seat was made and upholstered in vinyl with red piping as a reference back to its Aust Post heritage (They are all painted red). The small extension seat allows grown adults to ride it... they're small bikes!
The handle bars are from a girls town bicycle. The original switch blocks were polished to match. Grips are Posh items.
A bottom mount bates style headlight was mounted to the lower tree and the original speedo was cleaned and mounted lower.
Posh tail light and (unknown) indicators are used. A toolbox from a CB350 fills the space where the original airbox use to be.
Rims are aluminium 18 x 1.6" F and 17 x 2.15" R relaced onto the original drum braked hubs. (The originals are 17 x 1.4 Steel F and R) Sourcing tyres proved quite difficult for the rear as there is limited space under the guard but we wanted a beefier look than the skinny 2.75" original application. That rear guard was stretched to allow the 3.25" tyre to fit. A 3.00" one adorns the front rim.
The colour is undercoat grey and medium grey with a clear overcoat. Some red hints match the seat piping.
The motor had a basic rebuild and was painted / polished. The carb is now fed by a uni-filter and has been re-jetted. The exhaust is custom from an XR600 header pipe and a semi-baffled muffler expels the gas. It's loud, way too loud to be coming from a small bike like this and quite anti-social... this may be attended to in the near future.
I love our Postie. it's great for getting around town as it keeps up with traffic and gets about 600 miles per gallon... I'm kidding, but it ain't bad.
They have such a cult following; many are modified, raced and / or abused. Ours always attracts comments and attention. "What is it? I can see the Honda motor but what have you put it in?"
The little Postie will never break any land speed records but she's the sort of bike you can really love.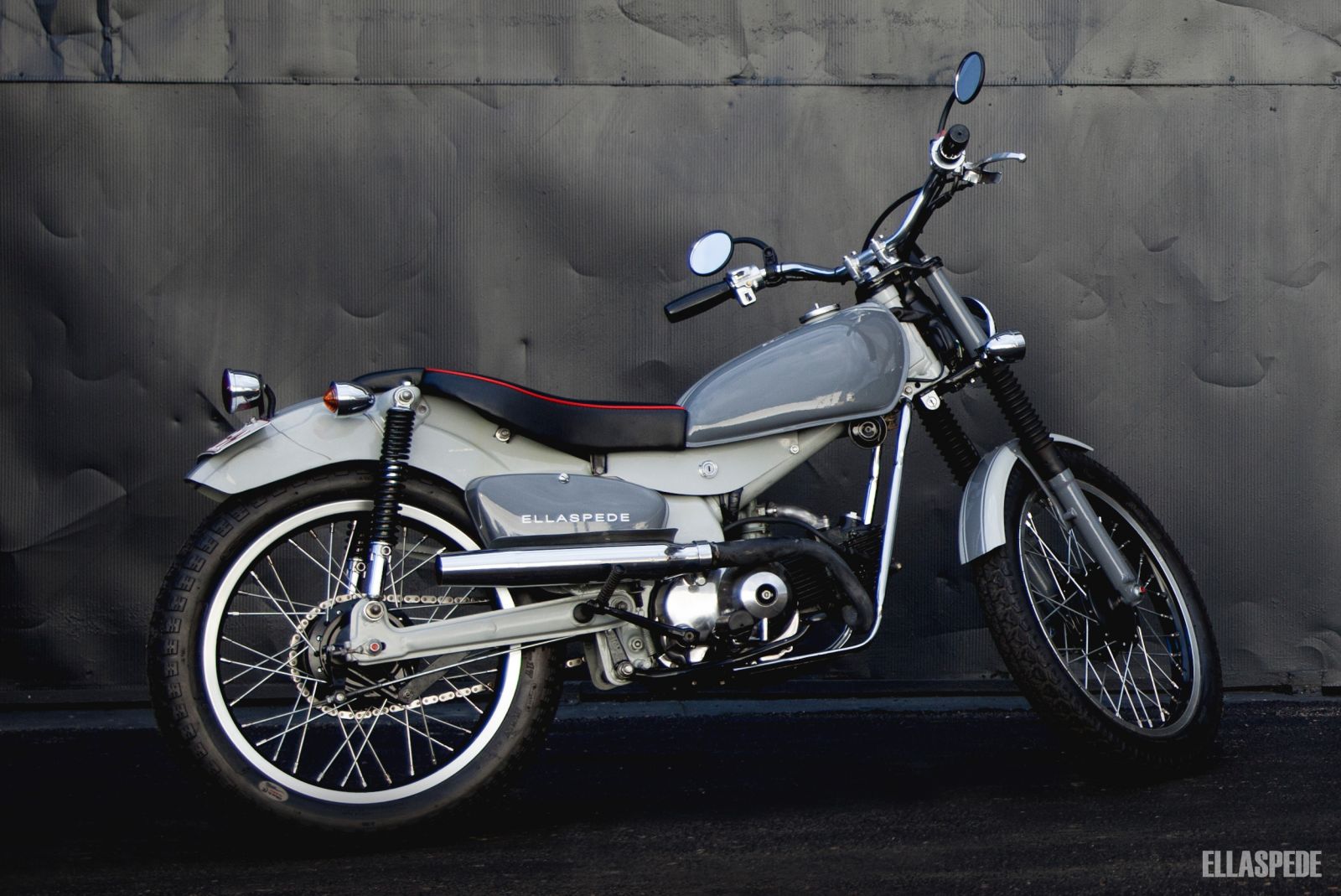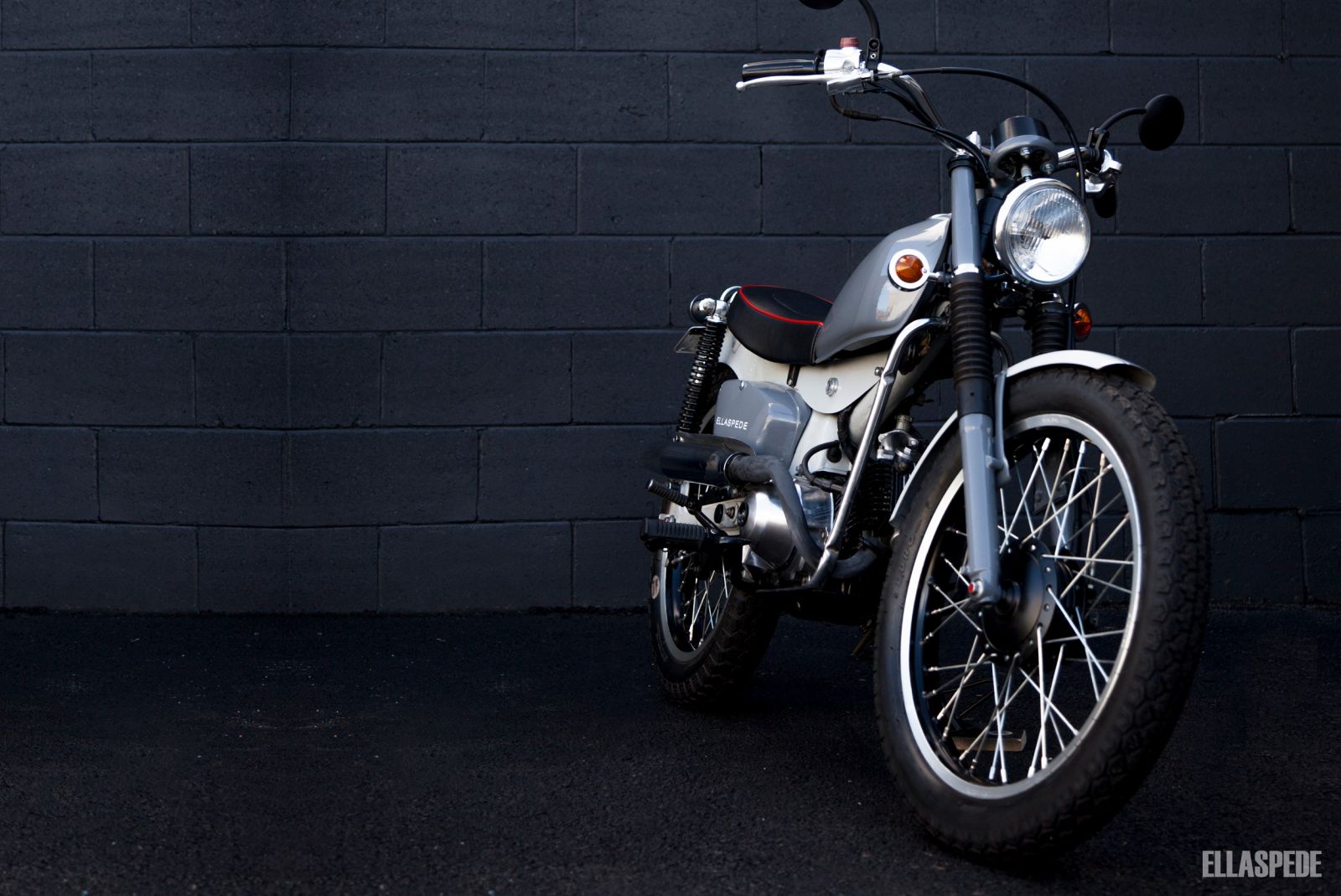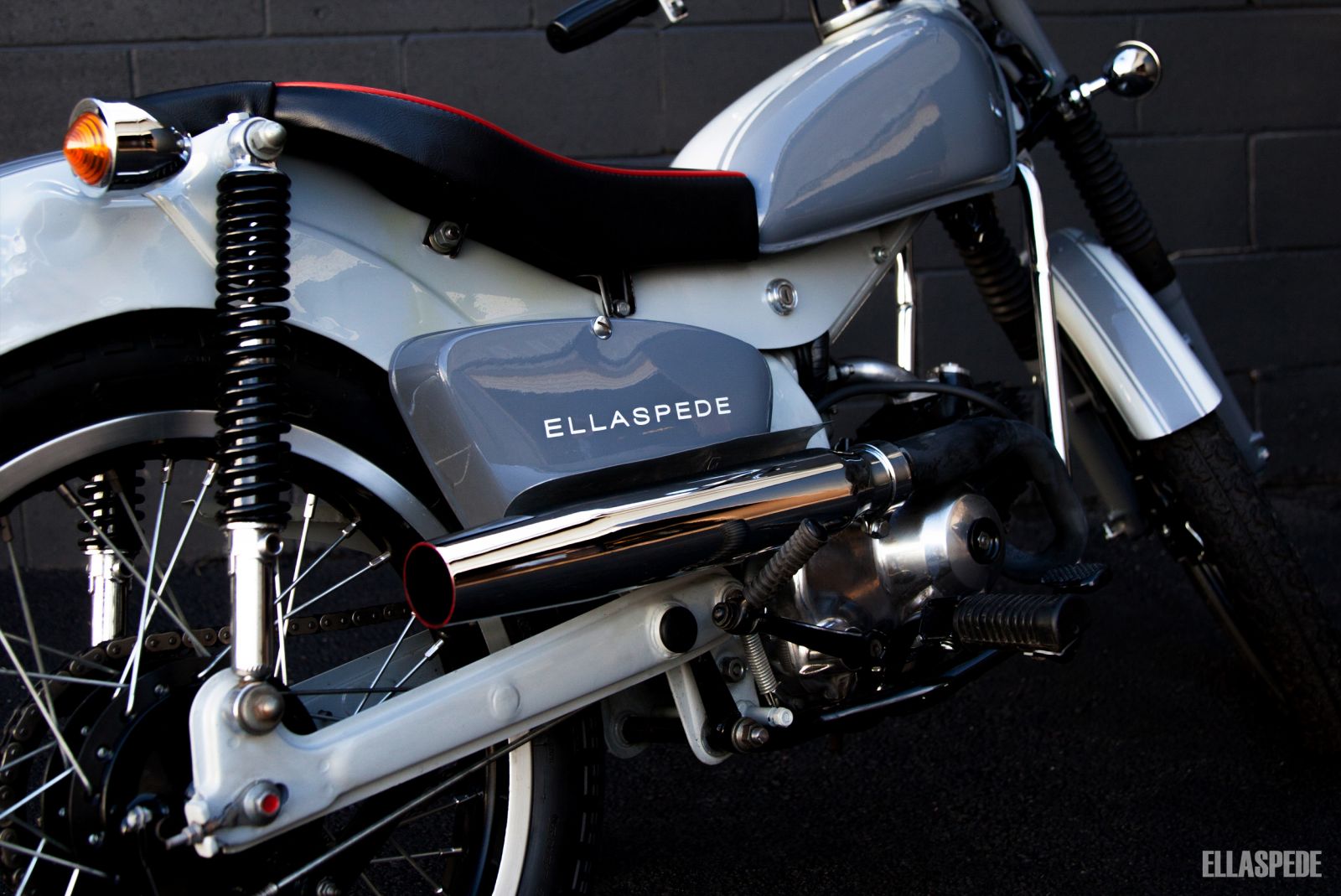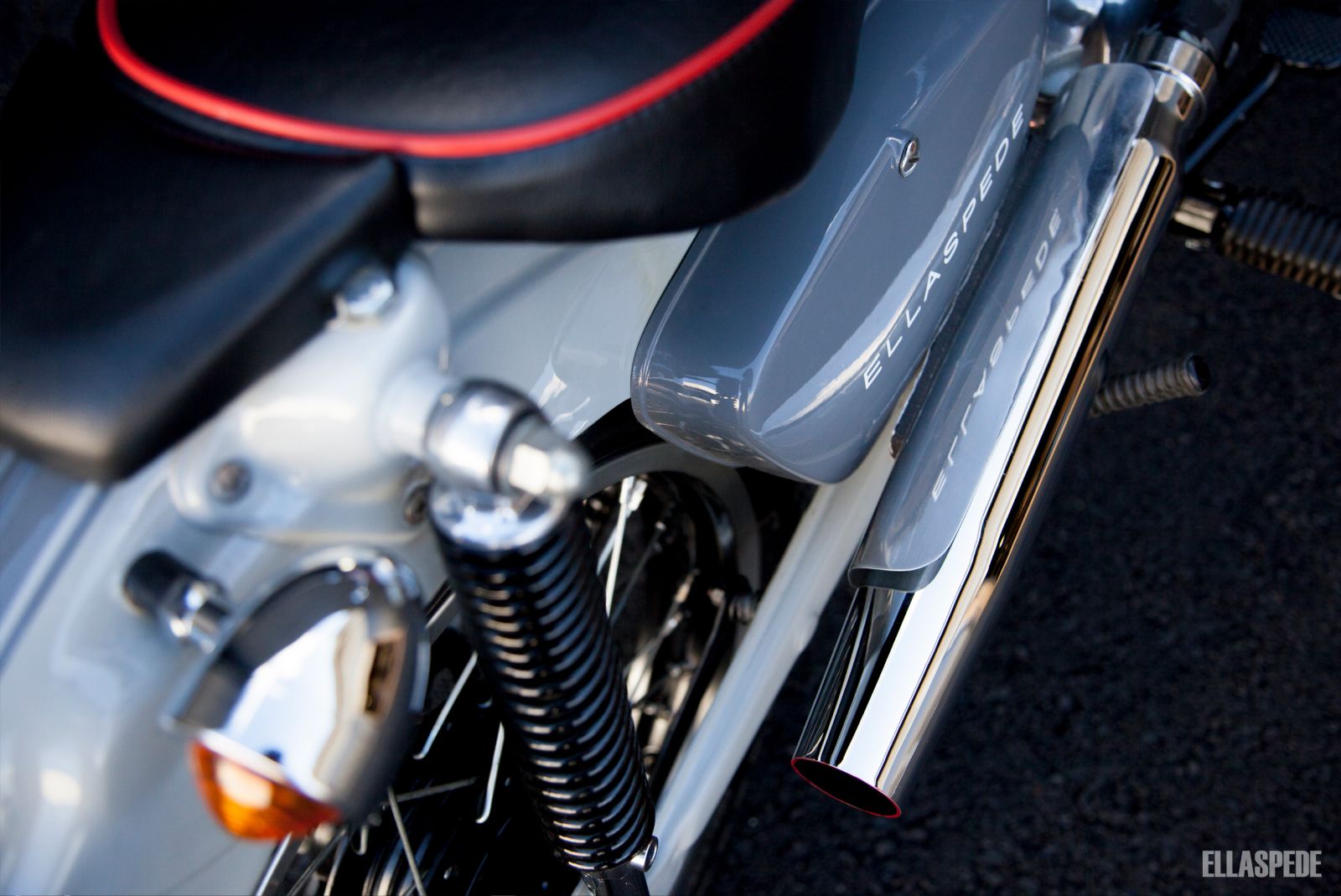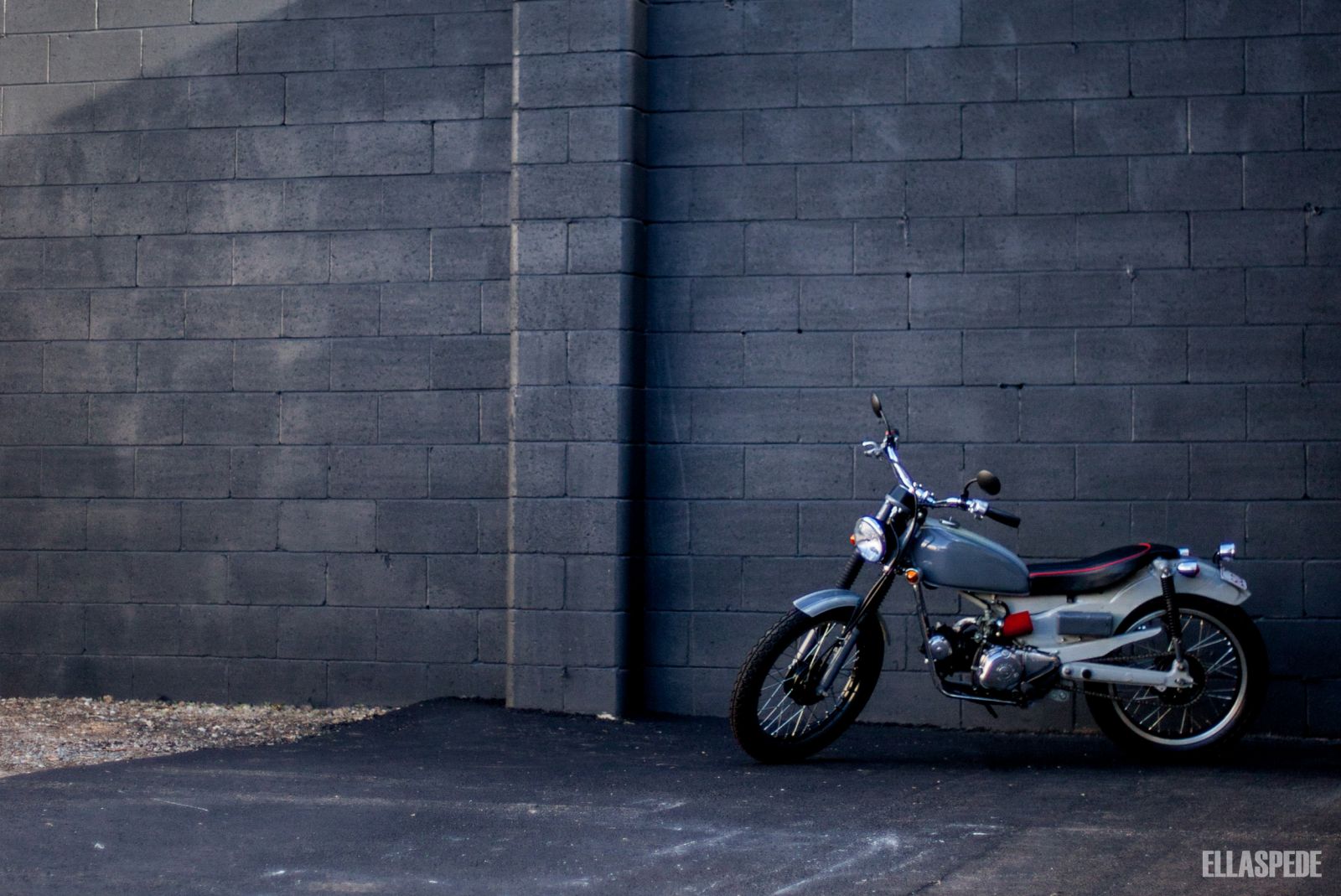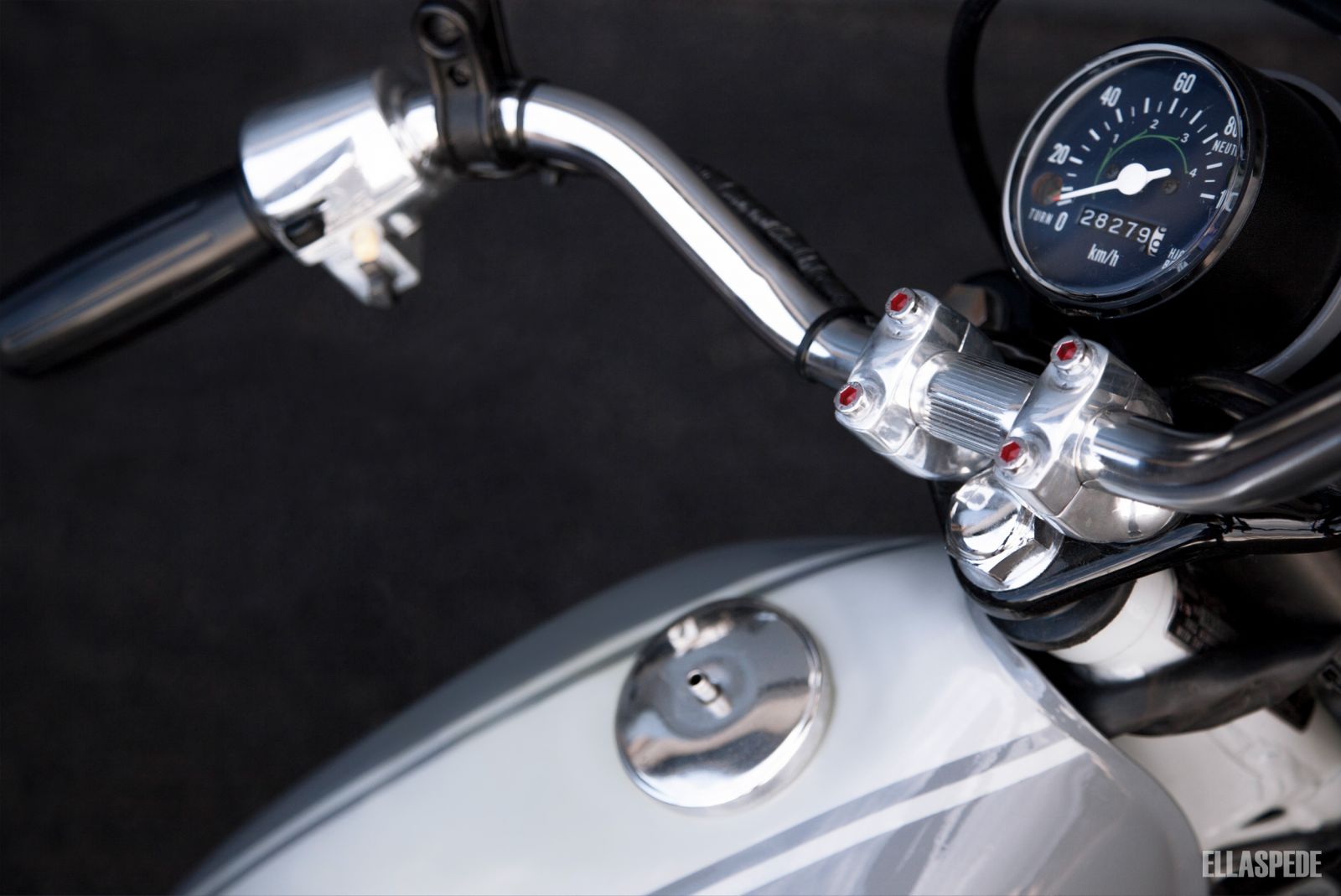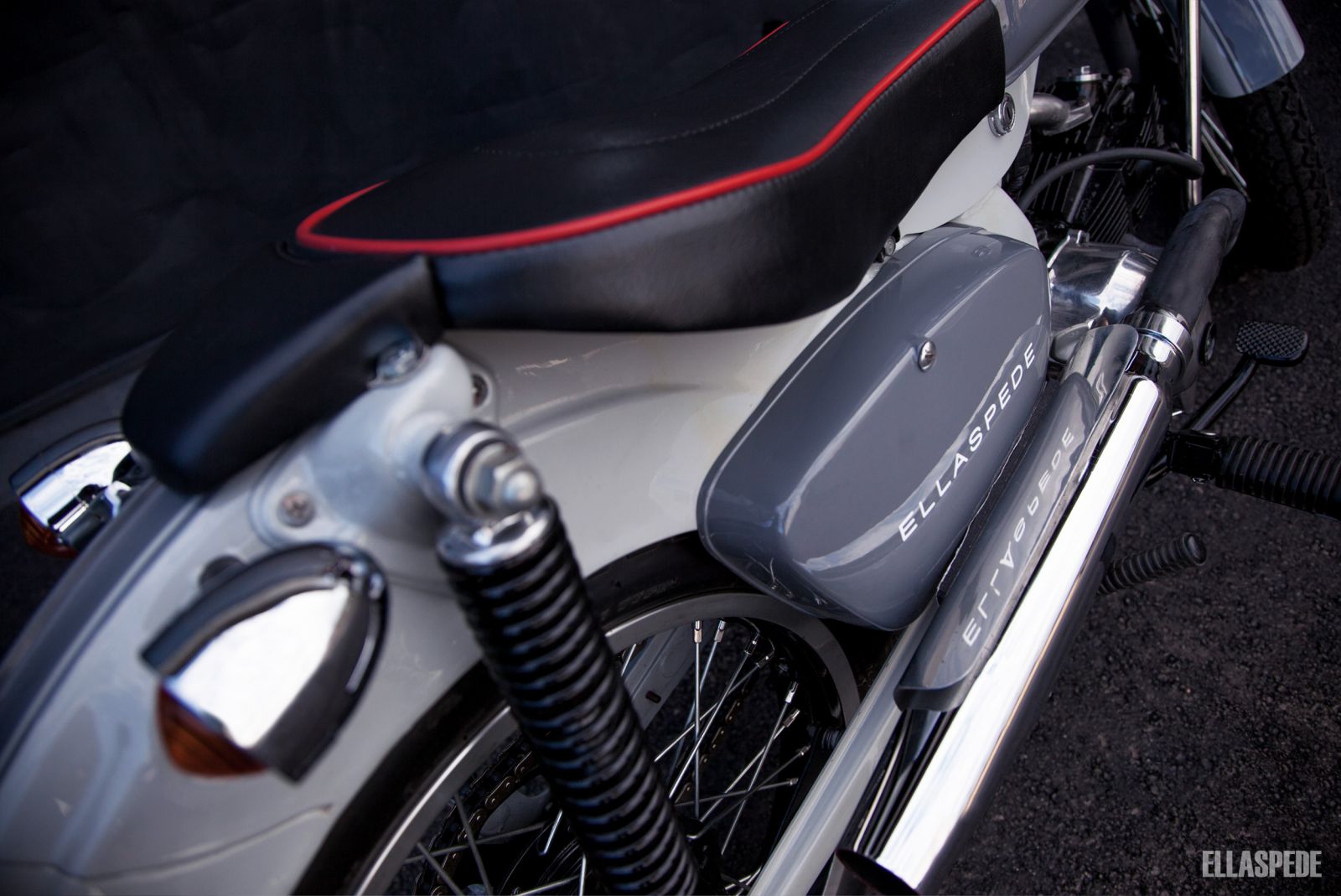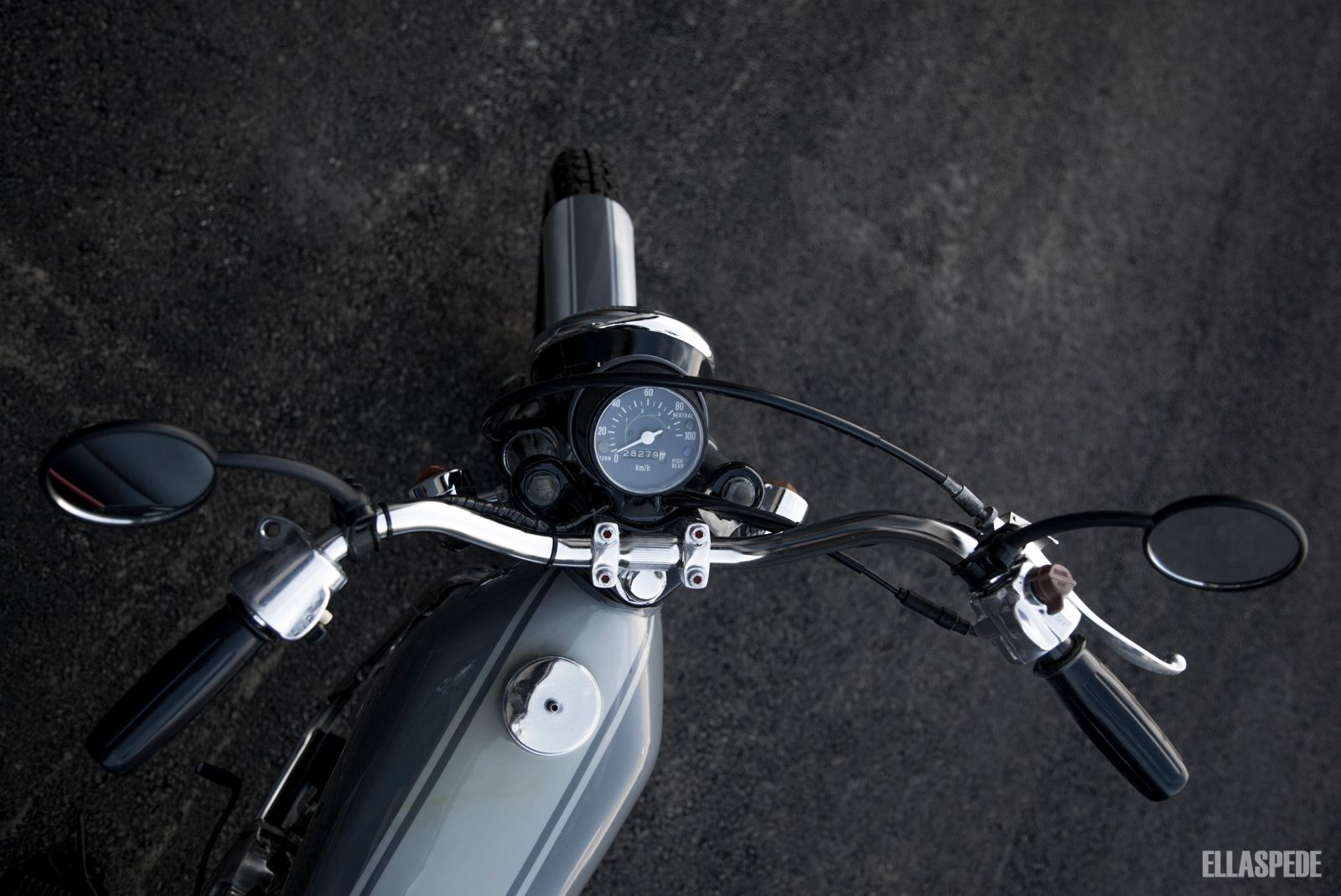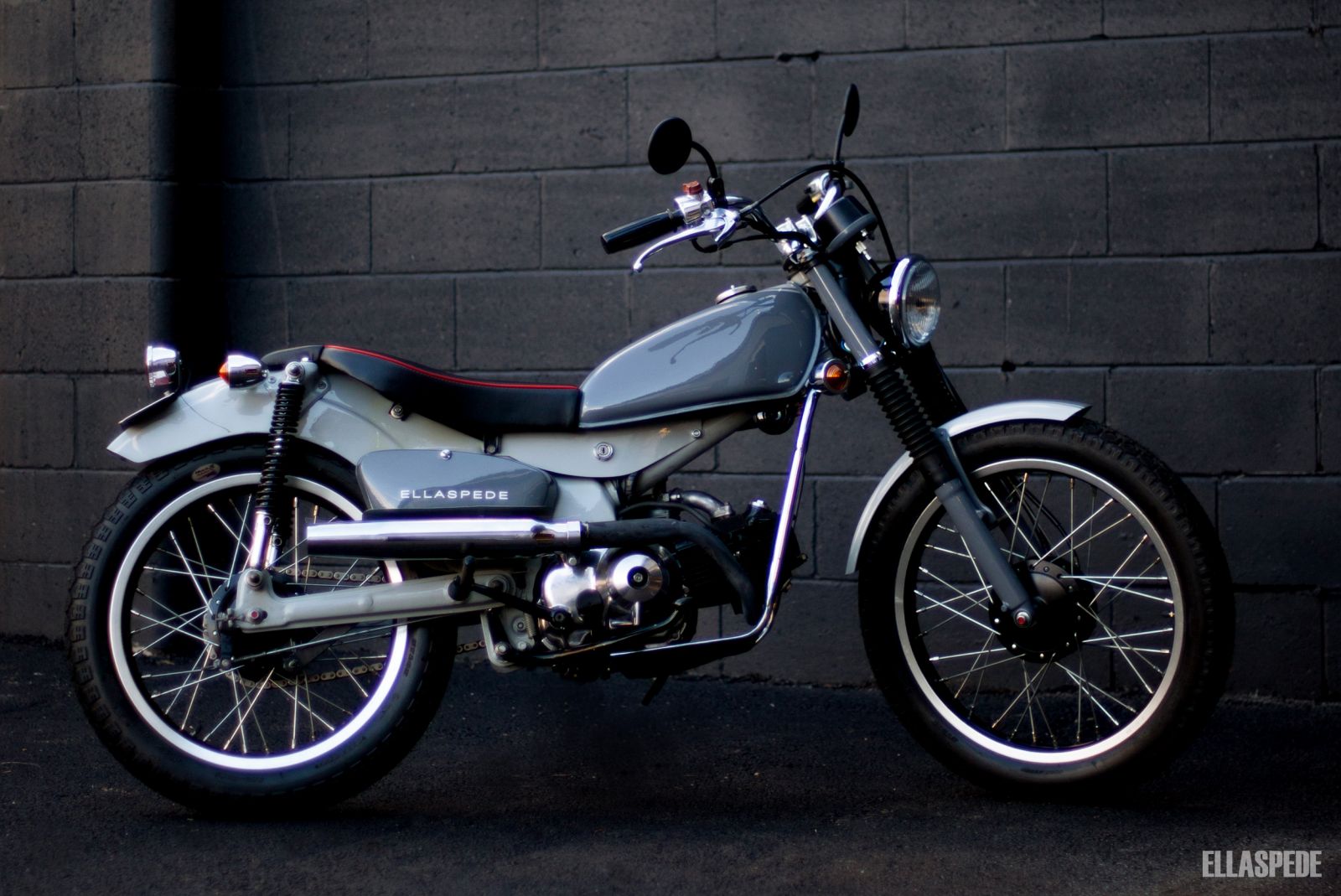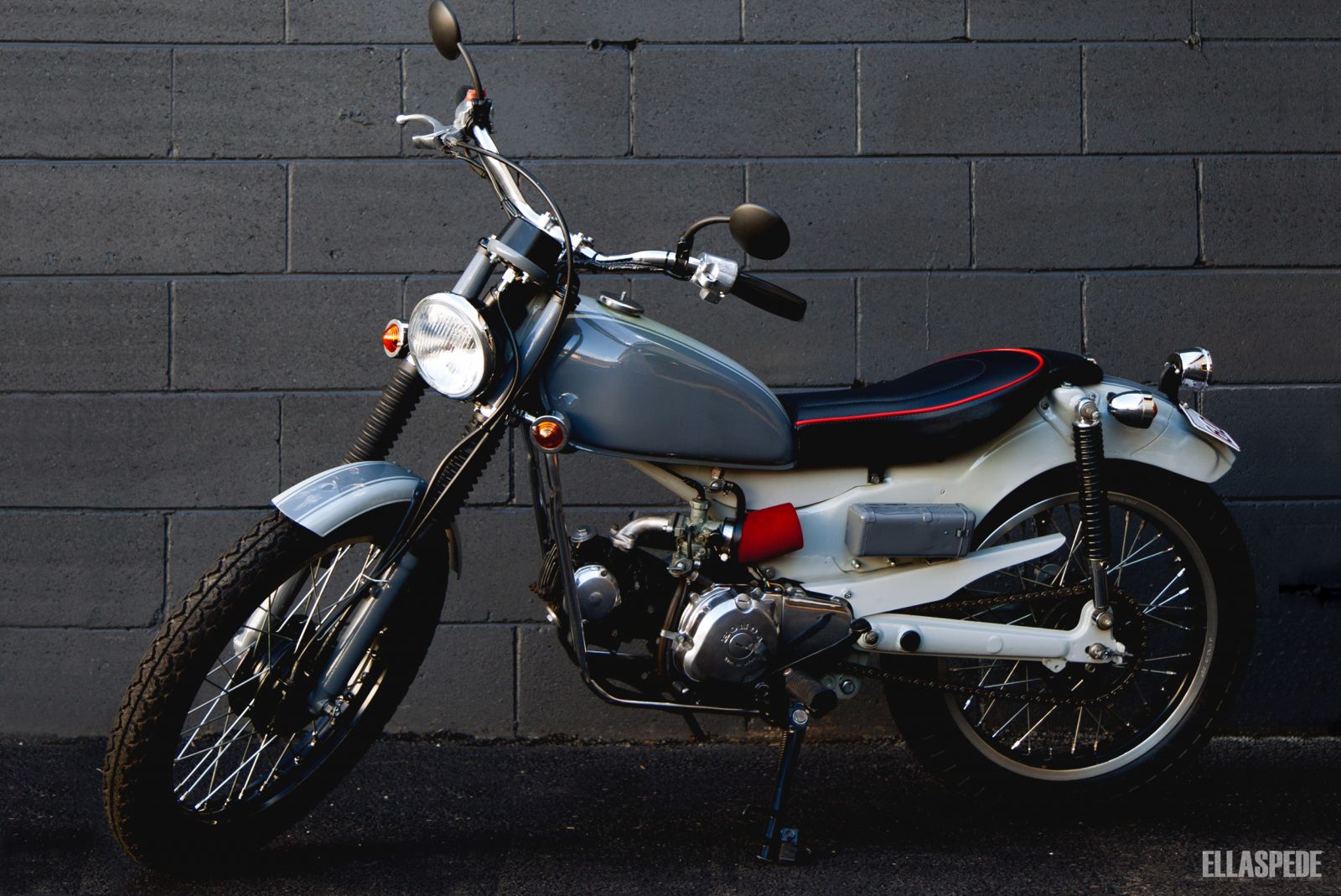 ---
Albums we listened to during the build of this bike:
---
Photos and Features:
| | |
| --- | --- |
| Photos by Tammy Law | As Featured on Pipeburn |
---
---
Comments (1)
Price?

By:

Chris

on 26 July 2022

Hi guys, love this one. Curious to know a ballpark dollar amount for this bike. And how much would it cost to take a decent quality stock postie to something similar to this bike Thanks in advance





Ellaspede Response
Hey Chris, thanks mate, we're glad you like our postie build! We'll shoot you an email with some details on the build. Cheers
---
Leave a comment