EB849 - 2017 KTM 390 Duke
Author: Ellaspede Date Posted:22 October 2019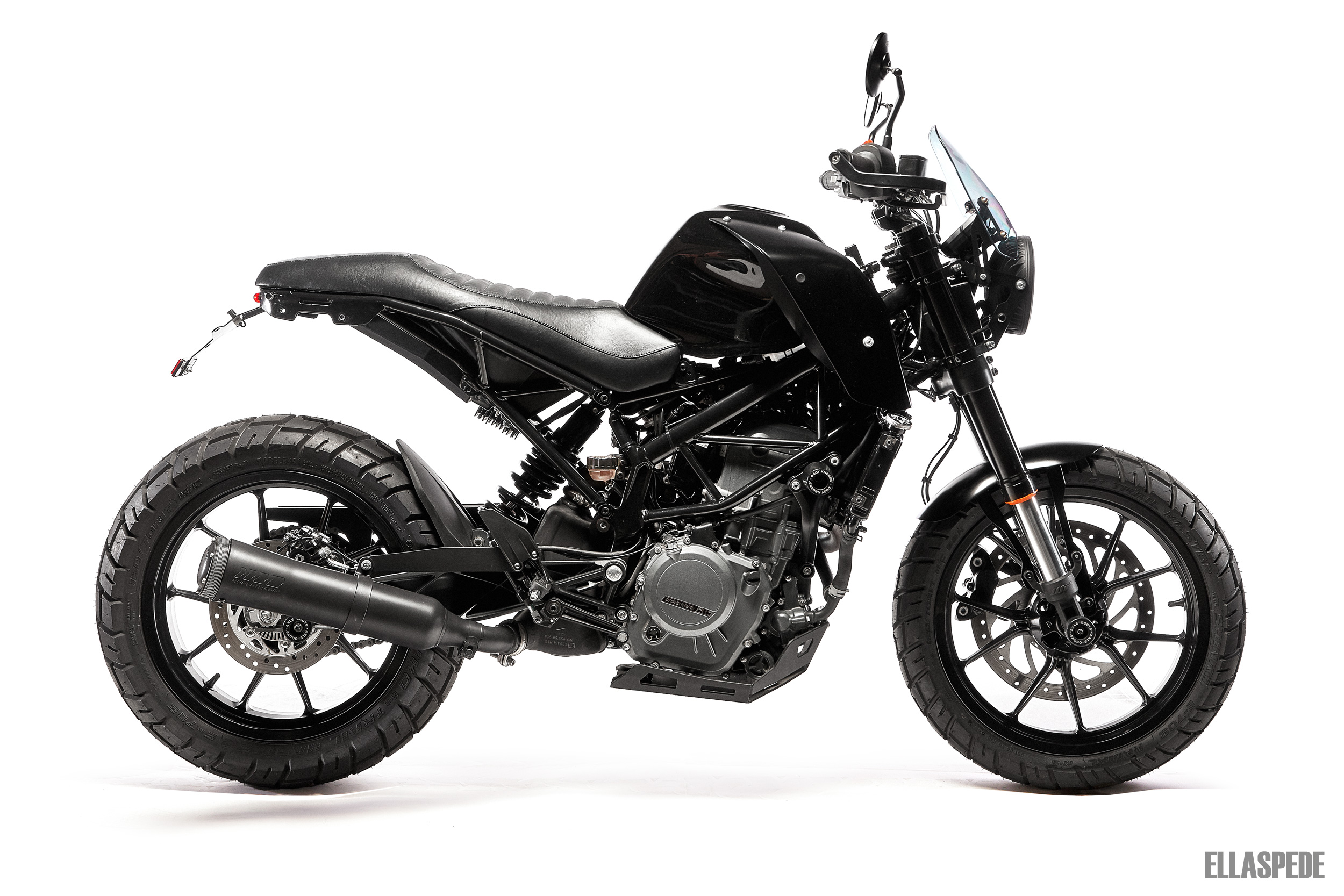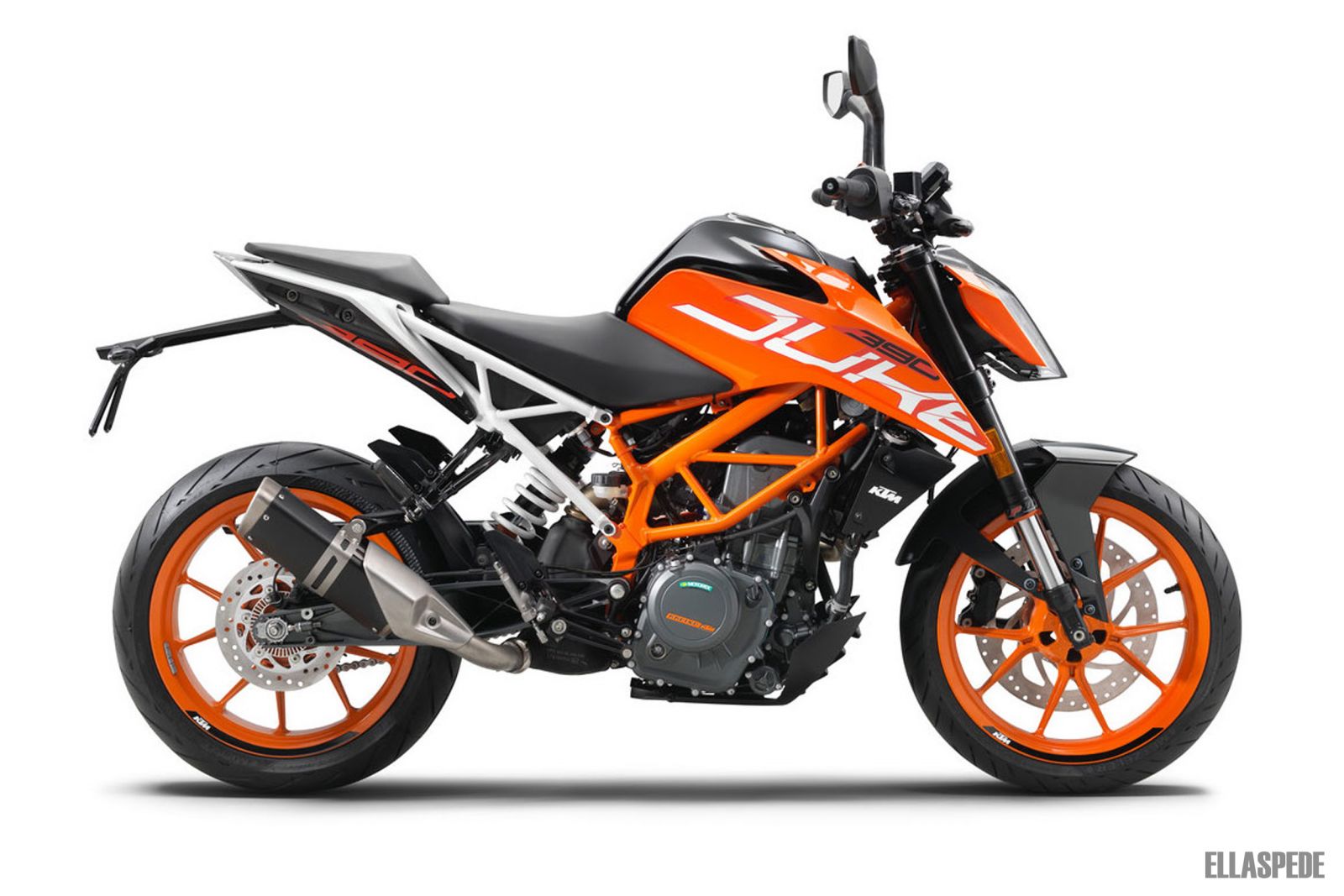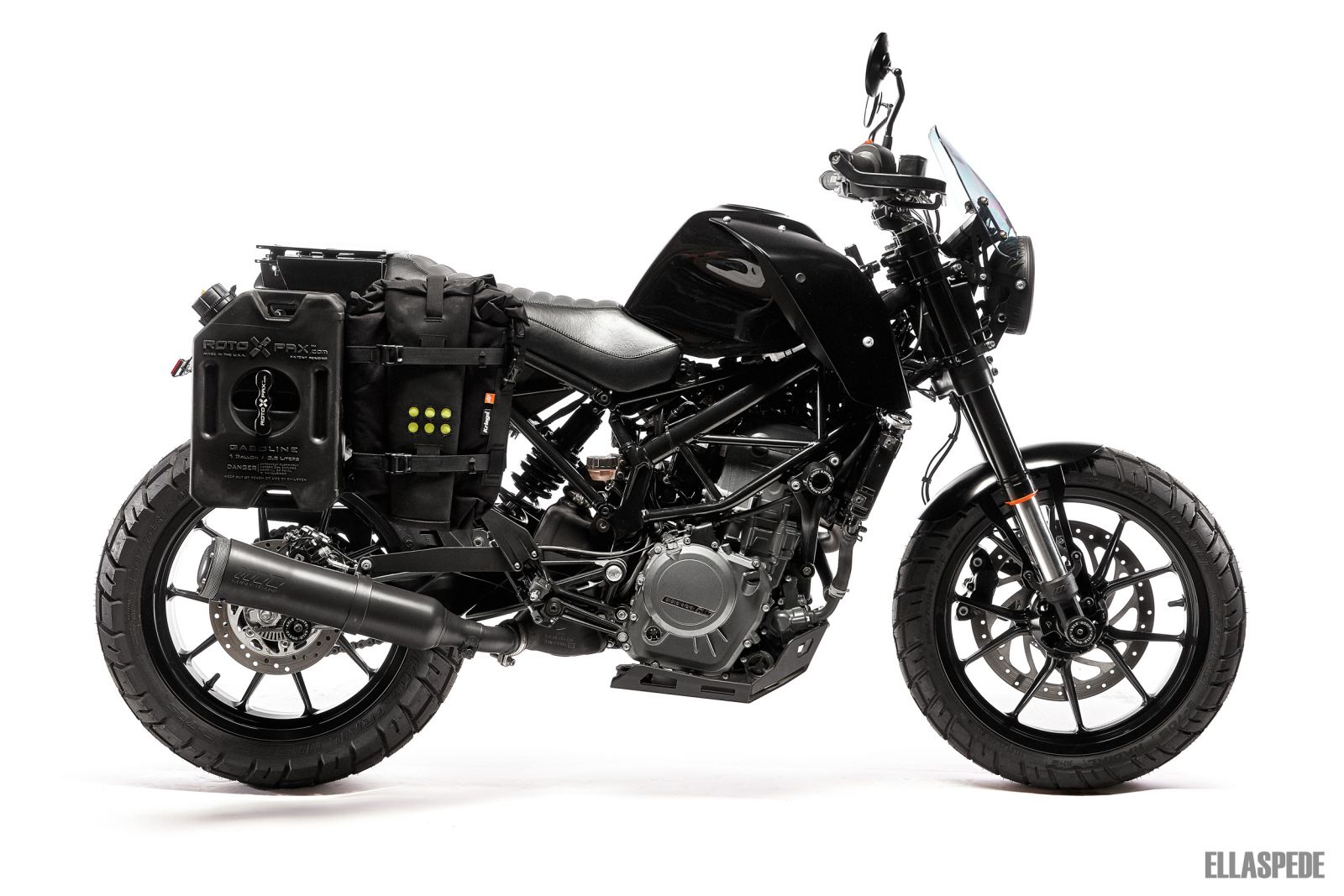 The KTM 390 Duke isn't usually one of the first choices for a custom build, but it should be. We've loved riding these bikes since they came out in 2013 and now with the updates to the 2017 model they're even more fun to ride and have some cool features to match.
Granted, we don't love the new headlight and the factory styling can prove tricky to get the aesthetics right for a custom build, but they're definitely worth the time and effort for such a capable LAMS approved donor bike.
Although it doesn't really suit the larger rider due to it's compact design, the oversquare bore, high compression ratio, six speed gearbox, slipper clutch and 44hp in a 149kg (dry weight, stock) package means it's a ton of fun for pretty much anyone. Actually, any small to mid size rider that's come from riding dirt bikes would love this thing due to the single cylinder power delivery and the riding position too.
This is our second build with owner Sal, who's been terrorising the streets of Brisbane on his EB378 Honda CT110 custom for the past few years. Don't worry, he's keeping the Postie (The right number of bikes to own is always N+1 remember!) but after 3 years on the Honda he wanted "something 'new' with a bit more power, but still compact".
Sal mentioned "Being an Architect, I like bespoke things and customising another bike was always on the cards". So after about 6 months of sifting through the new and near new bike sales and bouncing a few ideas off us here at Ellaspede, this 2017 KTM 390 Duke popped up in Maryborough with an owner who'd had it for 6 months from new. Perfect.
Around the same time, the Husqvarna Svartpilen 401 Street Scrambler had broken cover and was gaining huge attention. Given it's based off the 390 with many of the same components Sal was keen to build his own with a few personal design tweaks. He knows one bike can't do everything, but he wanted a capable city bike that could be loaded with a little gear and blasted down some backroads for a weekend camping trip.
The design intent was to make the stock 390 Duke look a little less futuristic, reduce some of the 'forward' angles and create a bike that still looks like it could have been a factory KTM concept. Why all black? Well Sal already has an orange bike (EB378, although it's a Honda!) and he said "Black (and shades of black) is rad, and a fully blacked-out look works on a naked bike like this."
Sal has an incredible eye for design, which is probably why we get along with him so well! As such, there's so many small details on this bike that we went that little bit further on to ensure they were just the way we all wanted.
The detail of work in combination with reducing the 'angled nature' of the bike meant that things like the subframe had 16 hours of fab time alone before it satisfied the design eyes. The 2017 390 Duke got bigger tank shrouds in the factory redesign, but it was the previous models smaller shrouds which we ended up sourcing, modifying and custom mounting to align with the build intent for this bike.
There was a stack of work done all over this bike, but one of our favourite areas is around the headlight and front end. The front guard is a simple custom steel job, above which the 'futuristic' headlight made way for a 'future retro' style KOSO unit and a Dart mini fairing. The TFT display dash on these things is a nice unit, so it was just remounted lower to tuck in.
When the aforementioned subframe was complete, a modified electrical box was made to sit under the new custom seat. Everything else out the back was trimmed off apart from the new pannier rack mounts, LED tail light, Motogadget M-Blaze Pin indicators and Ninja Star Licence plate holder.
Speaking of the rear rack mounts, one of Sal's requirements was a removable pannier system that not only looked the part but would allow sufficient storage for future 'back road' weekender camping trips. So a series of laser cut plates were designed, CADed and welded up to hold the RotoPax fuel and water with a soft Kriega pannier on each side. A spare rack can also be bolted over the top of the pillion seat should he require anything else.
The Shinko 705 tyres, bigger bash plate and Bark Busters hint at adventure but don't compromise on round town ride-ability either.
Before a roll on the dyno a power commander unit was wired in to take care of the new air filter and airbox mods, plus the custom Supertrapp exhaust which wakes up the package a little more. It was impressive before, but who doesn't like more power and sound right?!
Once everything was sitting and working as the design intended, it was fully stripped to apply the 'shades of black' as Sal mentioned. A reasonably big job considering the main frame was KTM orange, but well worth while to achieve the tough street scrambler look we were after.
If you own a 2017 onwards 390 Duke then you'll probably notice all of the other little changes and details on this bike. If you don't, then you probably won't and that's kind of the intent when you're going for a 'factory concept' style build.
With the bike back on the road Sal is looking forward to "just doing more riding and some backroad camping trips". Now he's got the best of both worlds with a little vintage custom Honda and a cool custom modern to take him further afield.
We set a solid brief with Sal, stuck to a plan and saw it through to an awesome end result. This KTM 390 Duke is now a great all rounder that's an absolute hoot to ride and looks the business in a compact package.
Safe to say we're pretty jealous of Sal's bike combo! Maybe he'll let us borrow the KTM the next time the Postie gets a look in, although we might be waiting a while if he extends any of those weekend camping trips.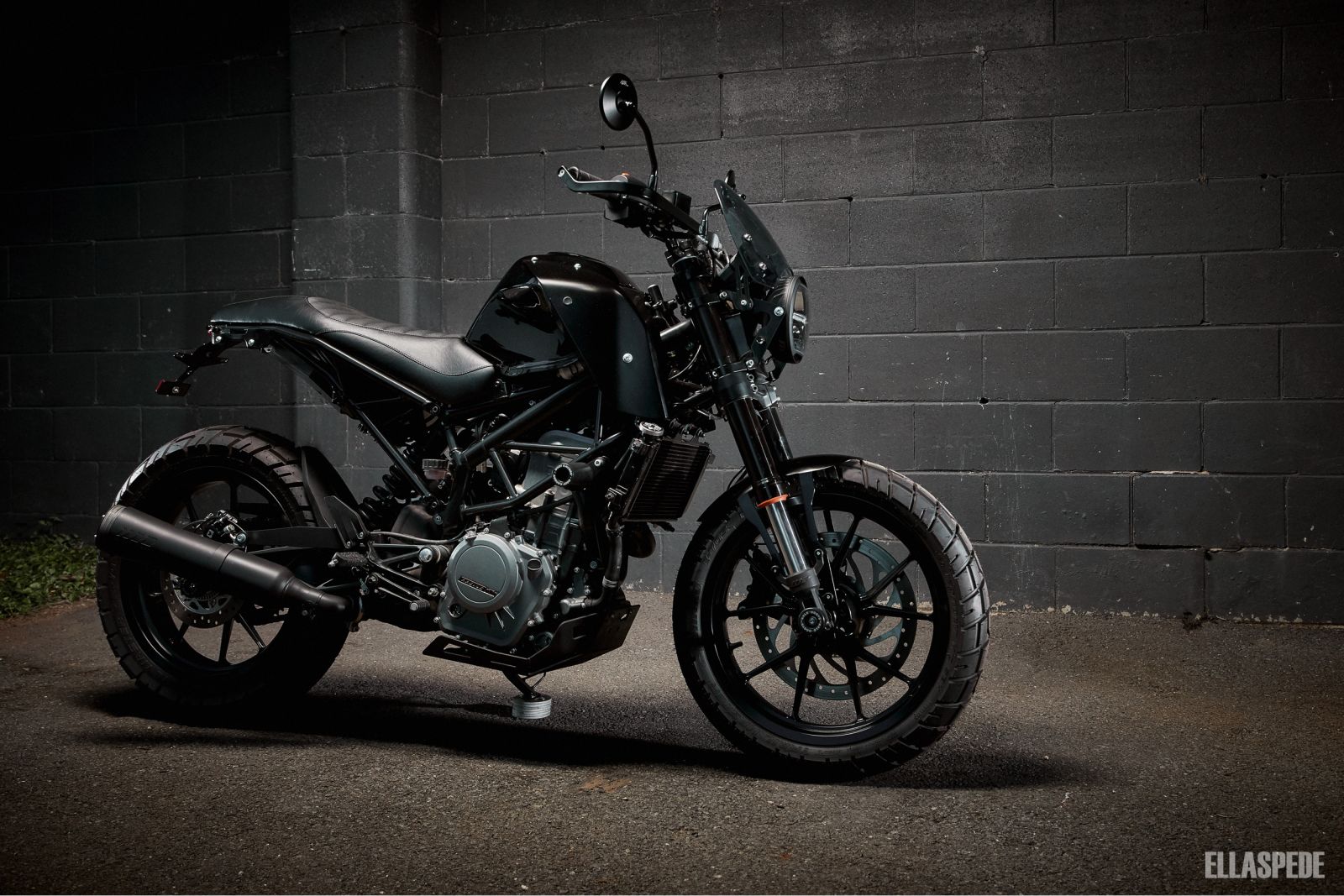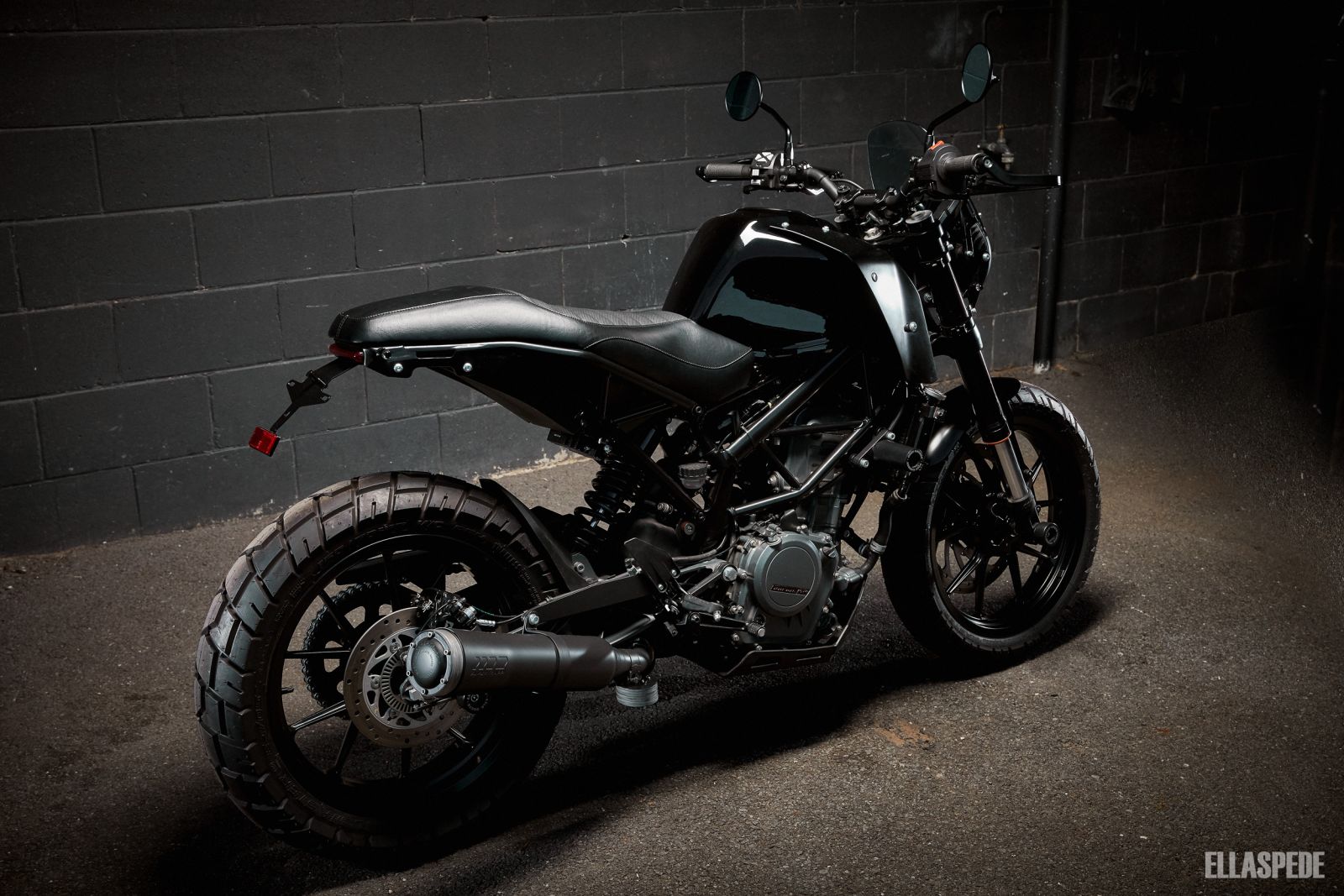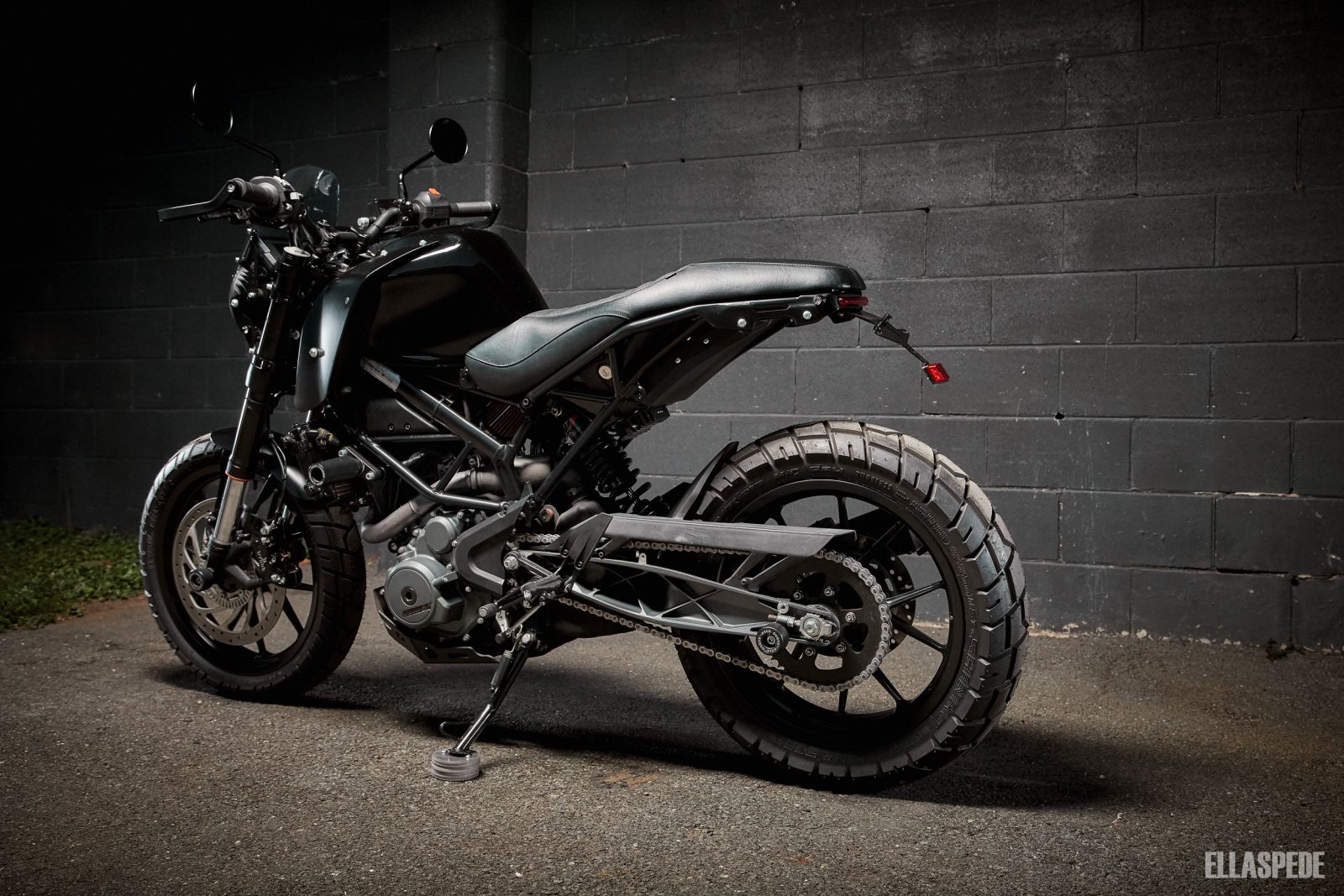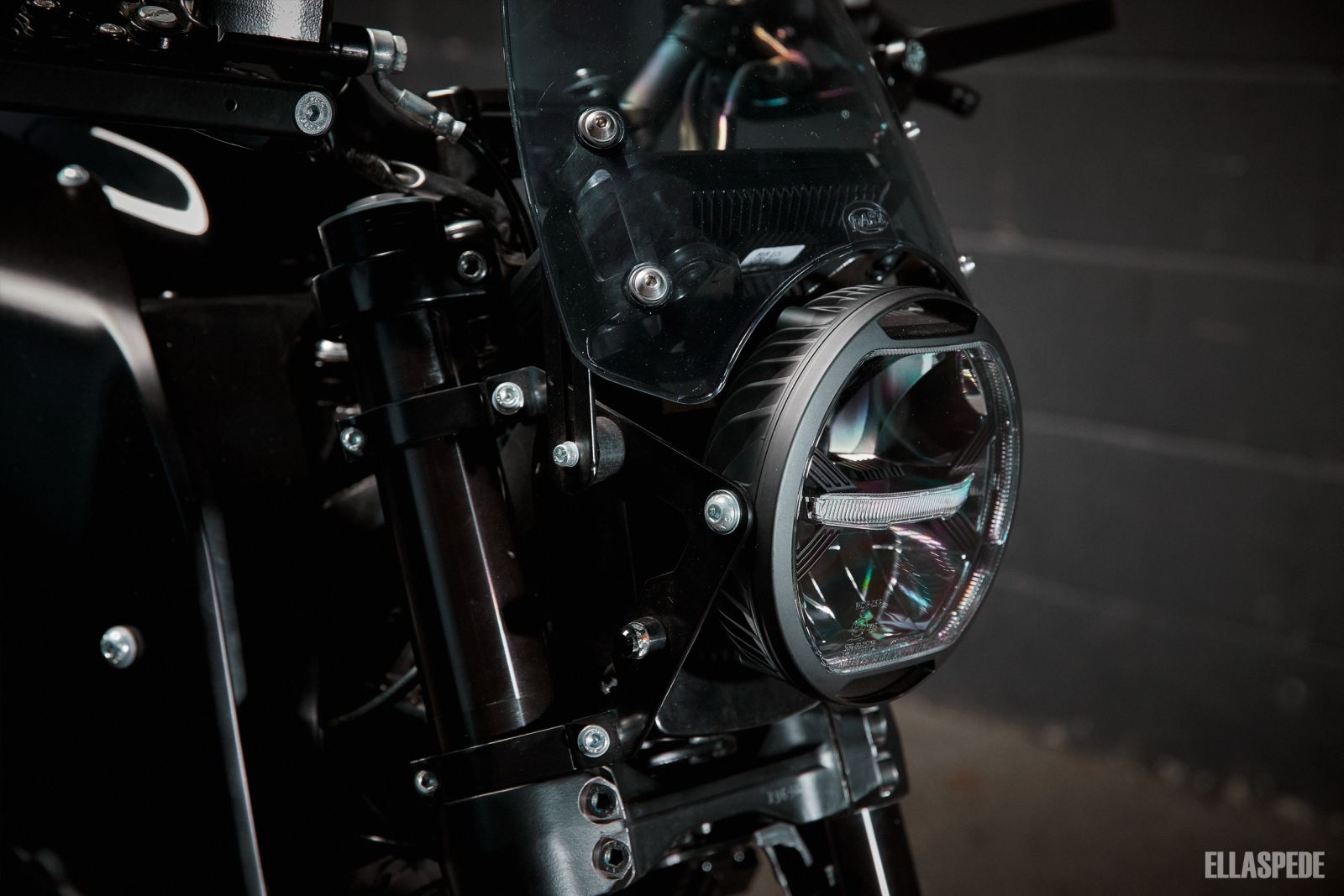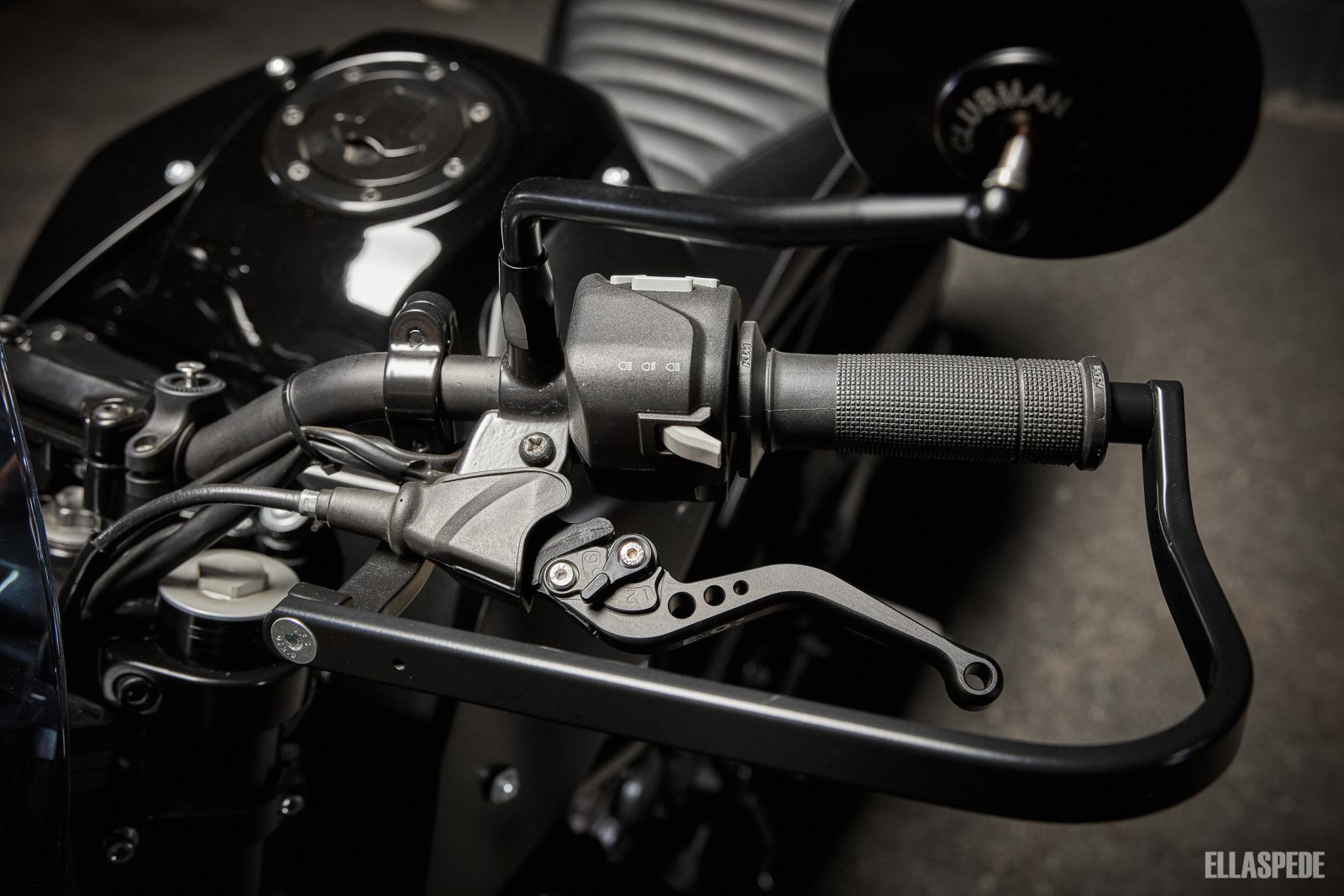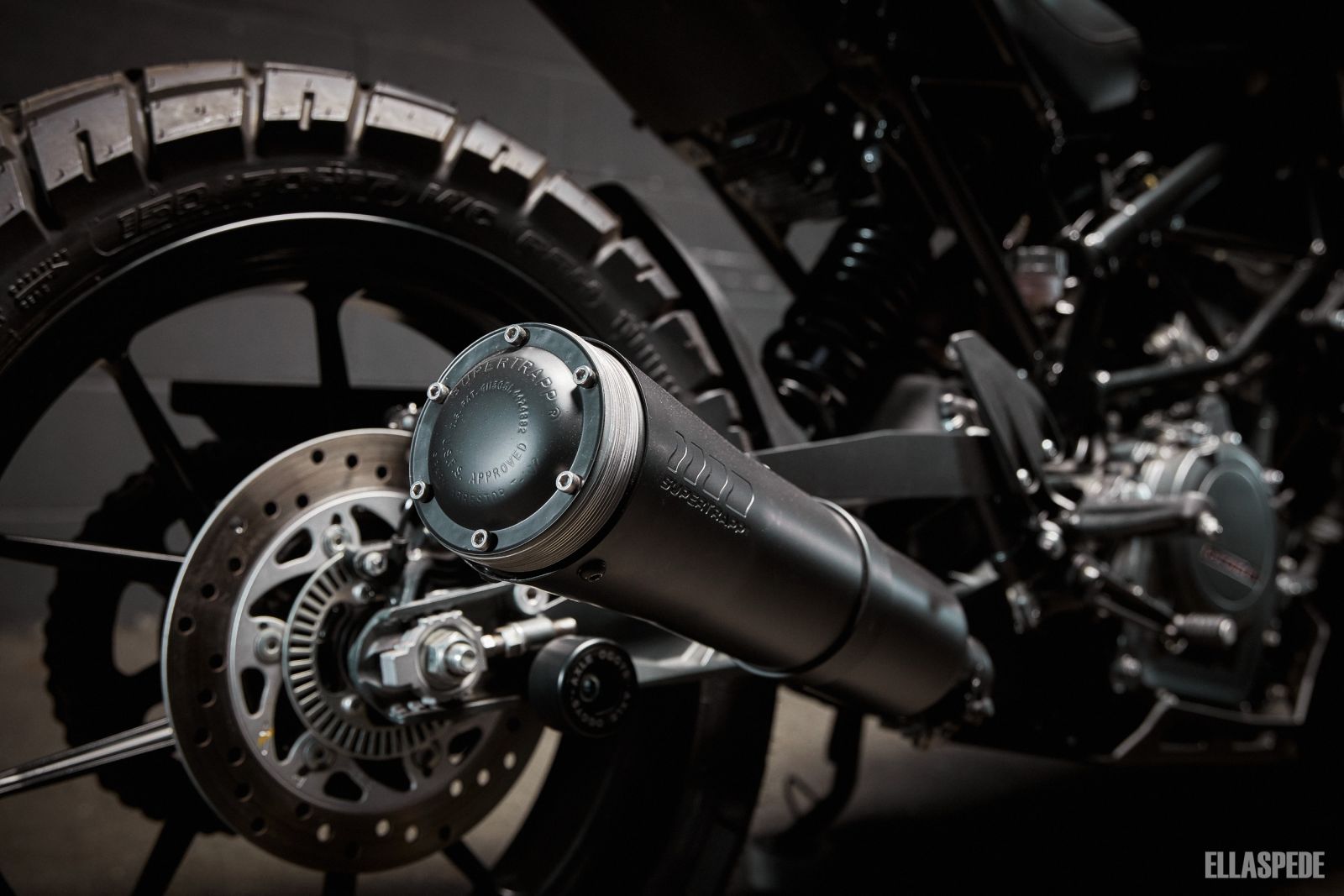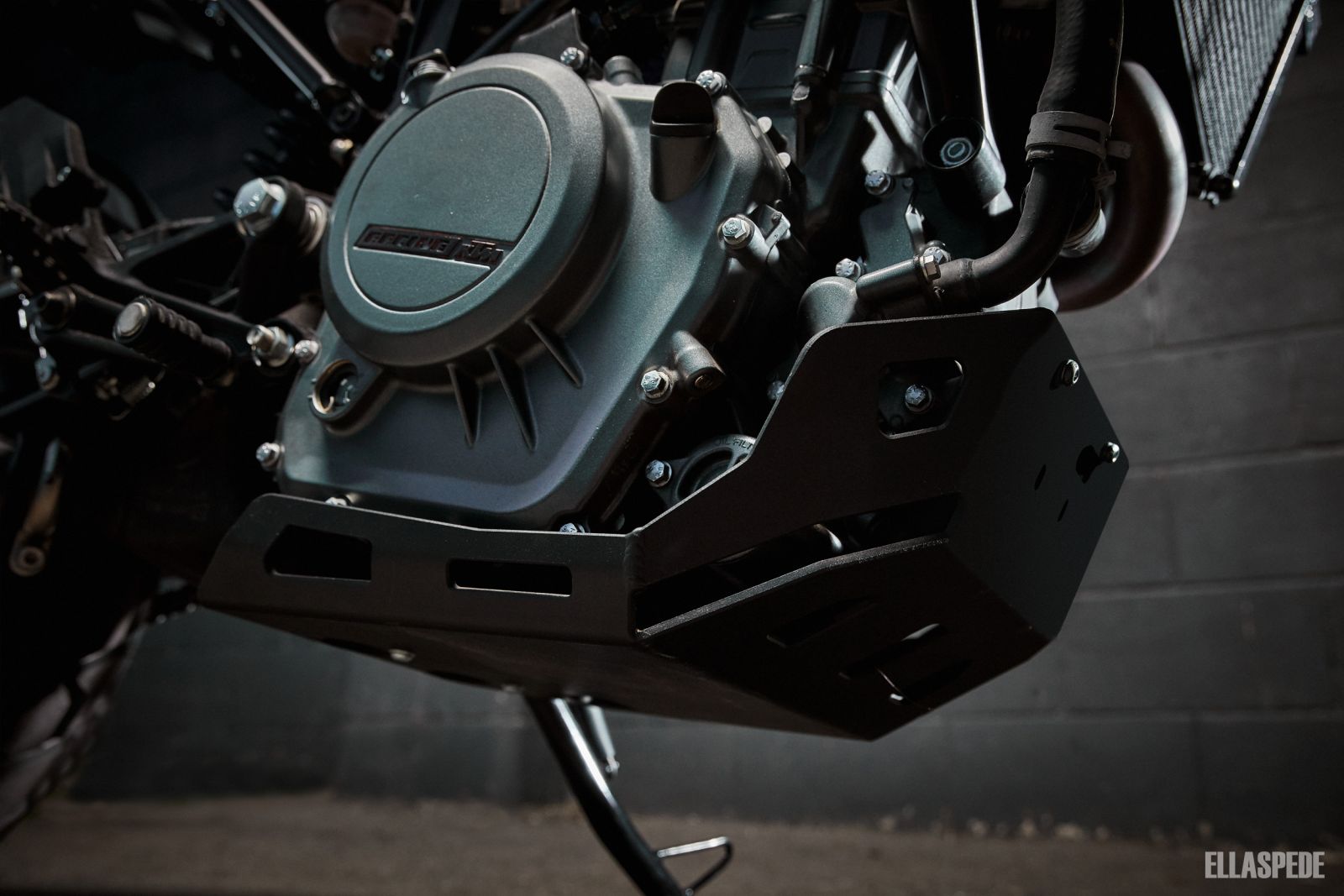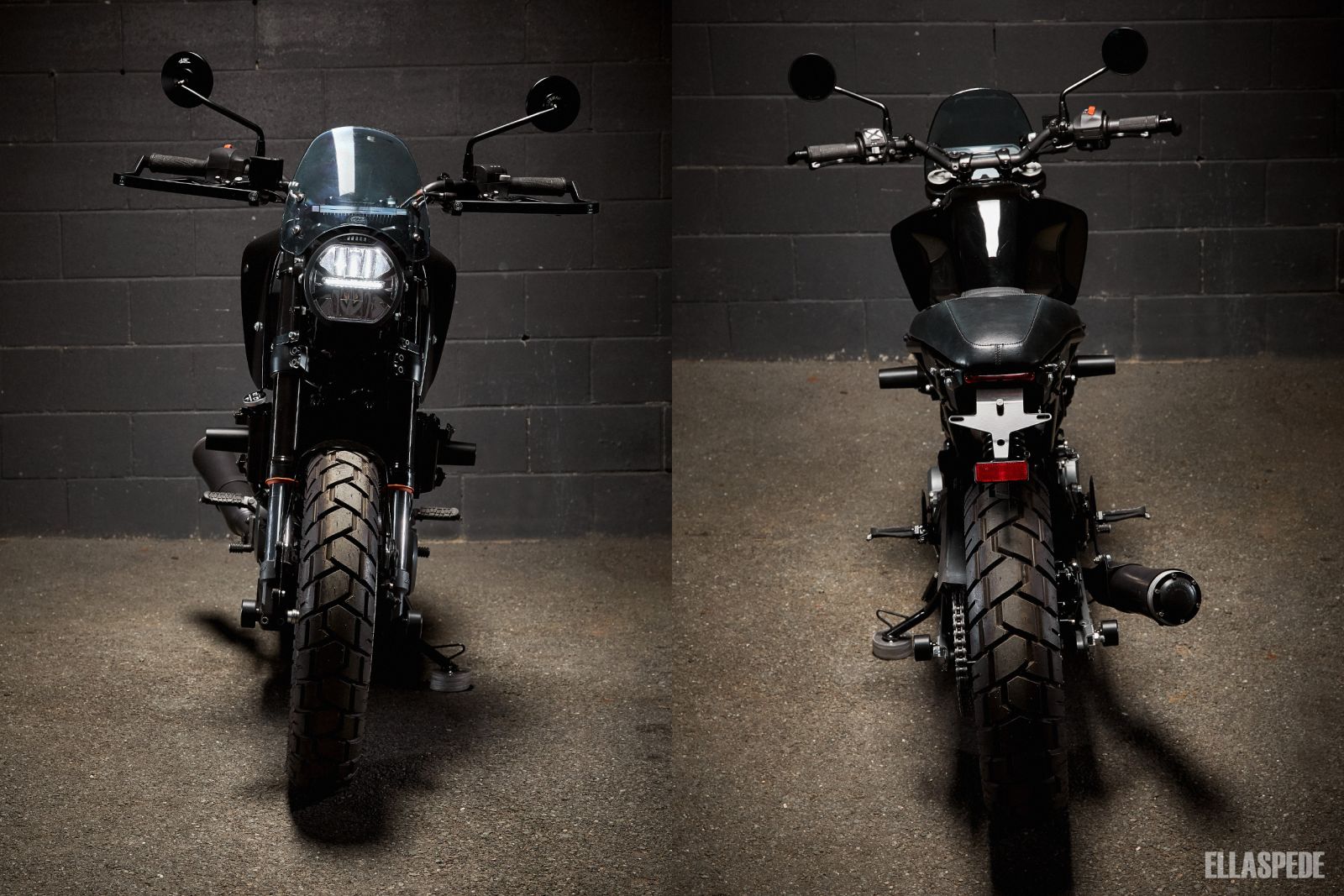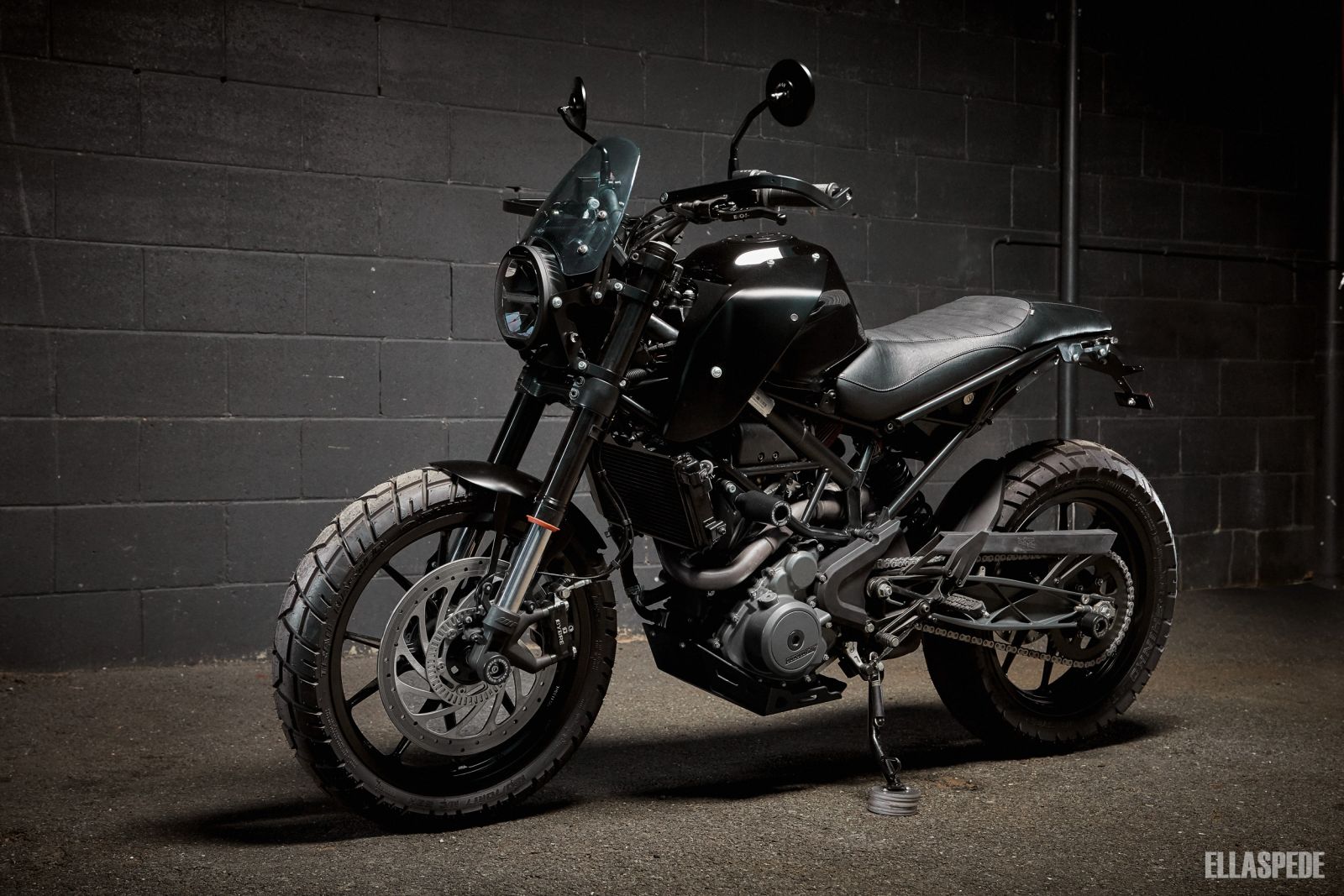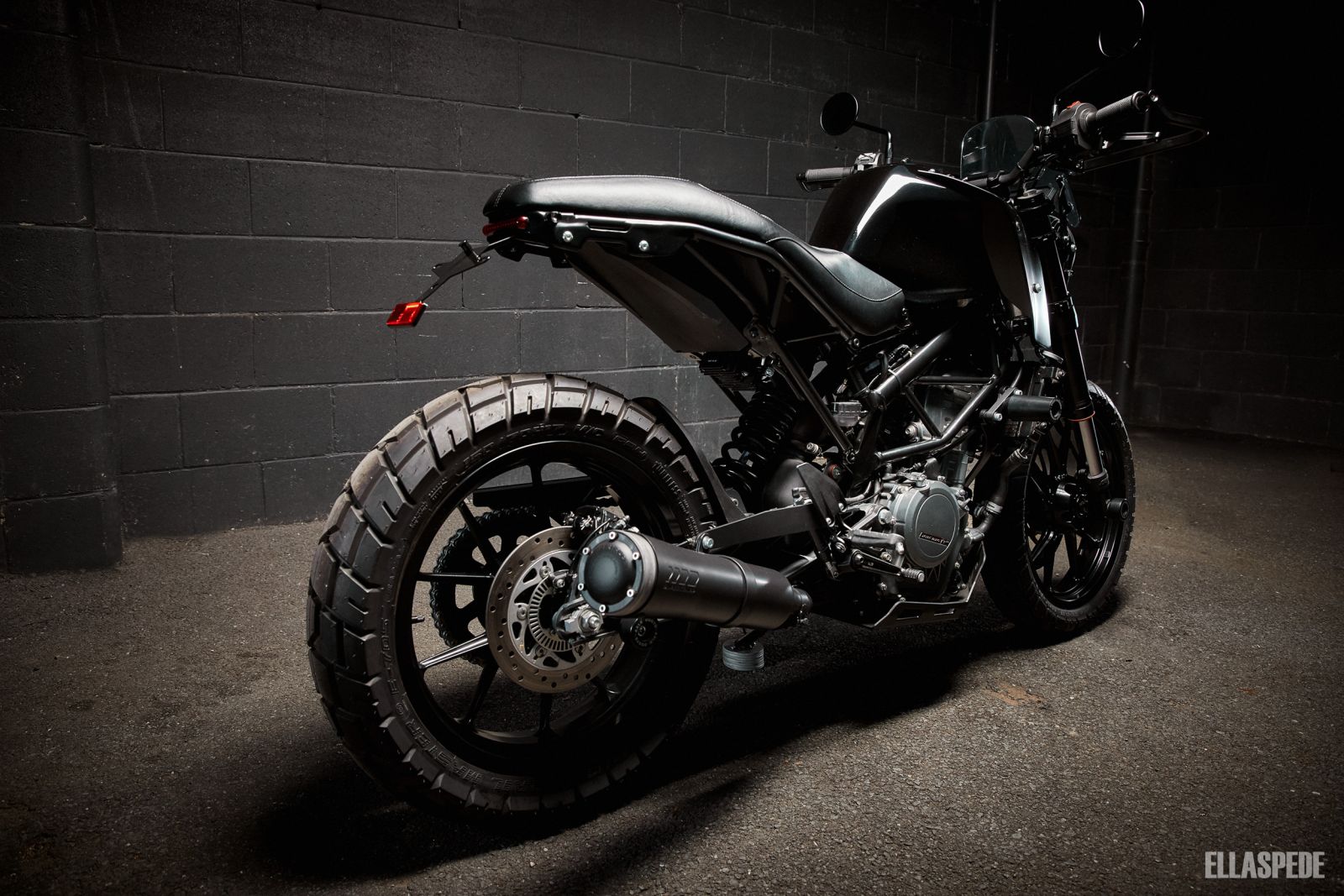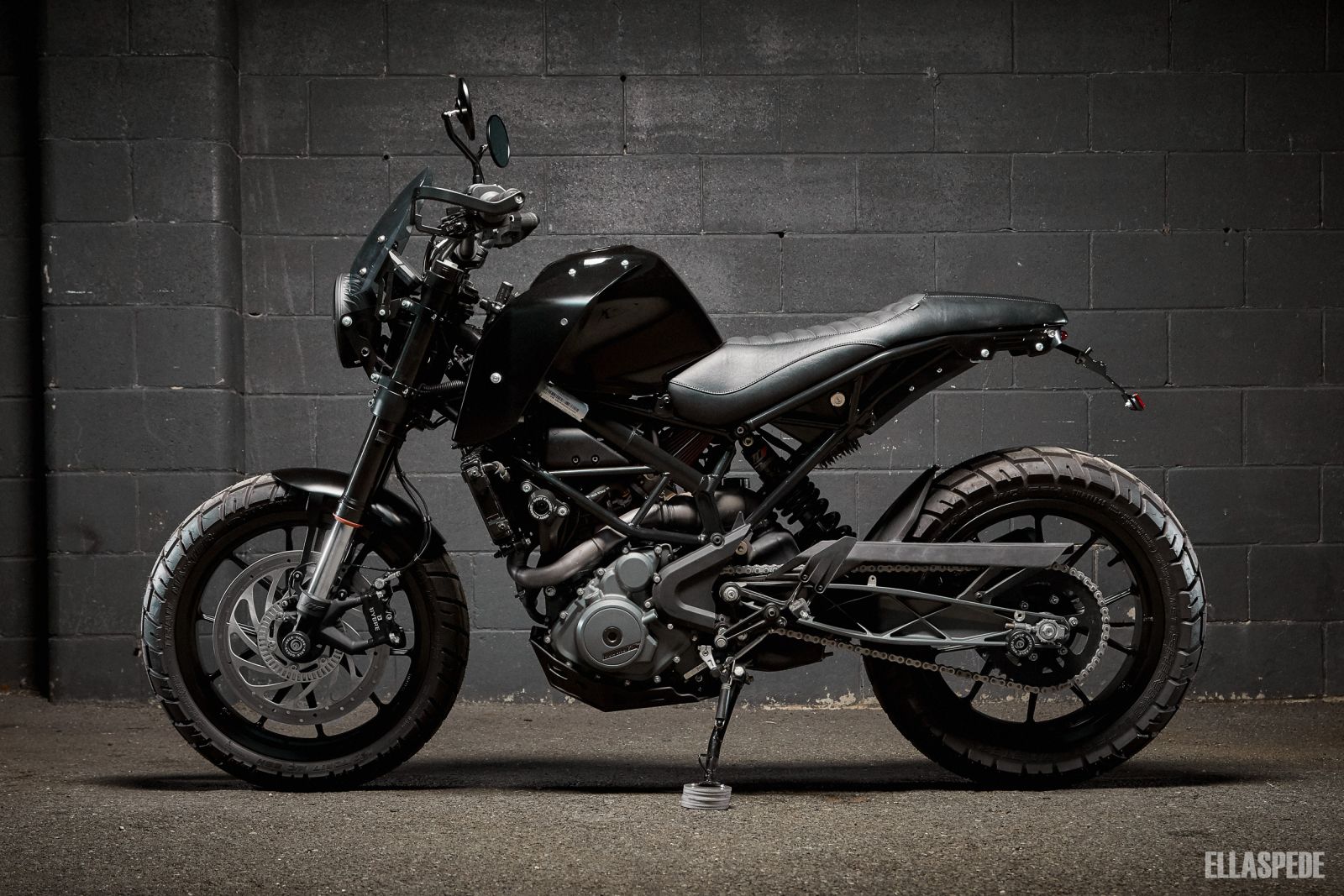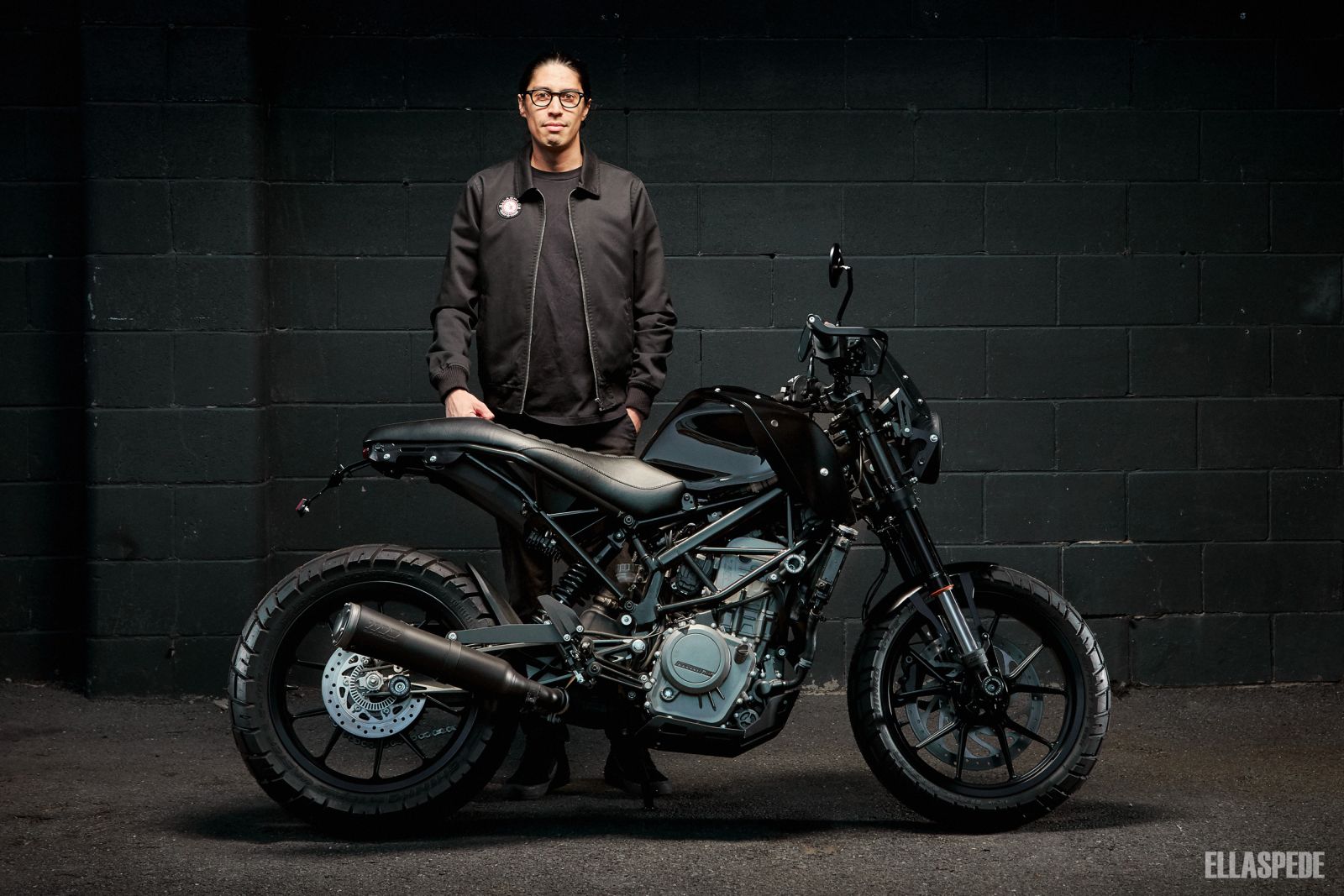 ---
Albums we listened to during the build of this bike:
---
Features and Photos:
---
---
Comments (4)
Could you sell the headlight and mounting hardware

By:

Peter Schwartz

on 22 July 2023

Could you sell the headlight and mounting hardware? Thanks





Ellaspede Response
Hi Peter, you will be able to find the Koso headlight available for sale online through other retailers. We don't sell the mounting brackets as they were just custom made for this bike, but you local fabrication shop should be able to make some up for you. Cheers!
---
Seat

By:

Scott C Lizama

on 22 September 2020

Where can I get that seat? Does it sit on the stock frame or was the frame cut and rewelded? Gorgeous bike.





Ellaspede Response
Hey Scott! We're glad you like the build mate. That seat was fully custom made and does require a fair amount of rear frame mods to get it fitting as you see in the photos. If you're interested in a custom seat for your bike just let us know. Cheers!
---
Quote for this project

By:

Thomas

on 4 September 2020

What was the cost for Sal for this project? I'm interested in getting the 390 duke but the looks is the only thing holding me back a little. This design looks absolutely amazing.





Ellaspede Response
Hi Thomas! Thanks mate, we're glad you like our build. Shoot us an email and we can give you some more info about custom build pricing. contact@ellaspede.com Cheers
---
Headlight

Was wondering what headlight set up you did? I have a 2016 Duke 390 and want to convert to a circular headlight.





Ellaspede Response
Hey Kory, We used the Koso Thunderbolt headlight (which we sell on our website) and made some custom mounts to get it sitting where we wanted and a Dart mini screen. Definitely check them out for your bike they're a really nice headlight. Cheers!
---
Leave a comment