POTM: Acewell 2853 Speedo Tacho
Author: Ellaspede Date Posted:3 December 2019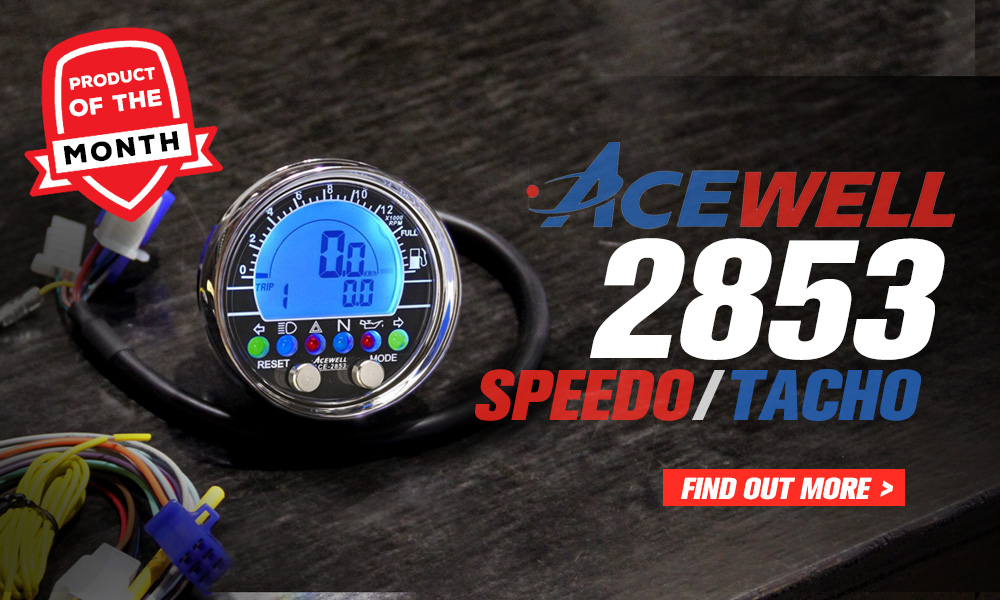 Product Of The Month: Acewell 2853 Speedo Tacho
For this Product Of The Month we're checking out the versatile Acewell 2853 Speedo Tacho.
The discreet minimalism of Acewell's 2853 all-in-one speedo/tacho make it an appealing choice for those seeking to maintain a clean, uncluttered control area. Plus it's ADR approved for use in Australia and New Zealand on both motorcycle and passenger vehicles, so you're staying legit and legal.
What do we like about it the most? It's a great size at only 70mm diameter and 40mm deep, has all the functions and warning lights you'll need all-in-one, is a quality unit that will stand the test of time and is easy to mount, wire in and calibrate.
On top of that, Acewell have a range of speedo cables that match the factory connection on your bike and plug right into this gauge. So install becomes super easy and negates the need to use the (also supplied) reed sensor for speed pickup which can somtimes be a pain to mount if you're going to a clean custom build.
We've used this gauge on a number of custom builds when we want to remove the stock speedometer and tachometer in favour of a small single gauge. The supplied bracket is pretty handy, but sometimes we'll modify it to get the gauge mounted really nice and snug against the top triple tree as you can see in the photos below.
Enough dribble from us, here's the specs you want:
Specs:
100% Waterproof
Easy to read backlit LCD screen
Digital tachometer up to 19,900rpm
Hour meter and odometer readings stored in internal memory
Includes RPM sensing wire, reed speed sensor, fitting kits and wiring harness.
E-Marked
Diameter 70mm, Depth 40mm
Power Input: DC 12V
Tachometer input: CDI or Ignition Coil Signal
Speed Sensor: Reed sensor with magnetic bolts
Features:
Digital tachometer 100-19,900rpm
Bar graphic tachometer 500-12,000rpm
Built-in RPM shift warning
Speedometer 2.4-399km/h
Max speed 2.4-399km/h
Average speed 2.4-399km/h
Trip meter (1 & 2) 0-999km
Odometer 0-999,999km
Clock 12 or 24 hour option
Hour meter 1 & 2 0-99hrs
Total hours 0-9999hours
Bar fuel meter 0-7 bars
Kit Includes:
Speedometer head unit
Loom extention
Speed senor kit with two magnetic bolts
Wiring diagram
Installation:
The speedo can be flush mounted to a variety of surfaces or brackets. The Acewell speed pickup uses a reed switch and magnet. Both are included in the kit. For bikes, simple replace a bolt in your front disc rotor with the included magnetic bolt, and align the reed switch with the magnet. Then program the tyre circumference into the Acewell. That will calculate speed, trip, and odometer readings. For cars, simply ensure the magnet passes the sensor for every turn of the tyre. This can be done using the wheels, drive shaft or other rotating parts.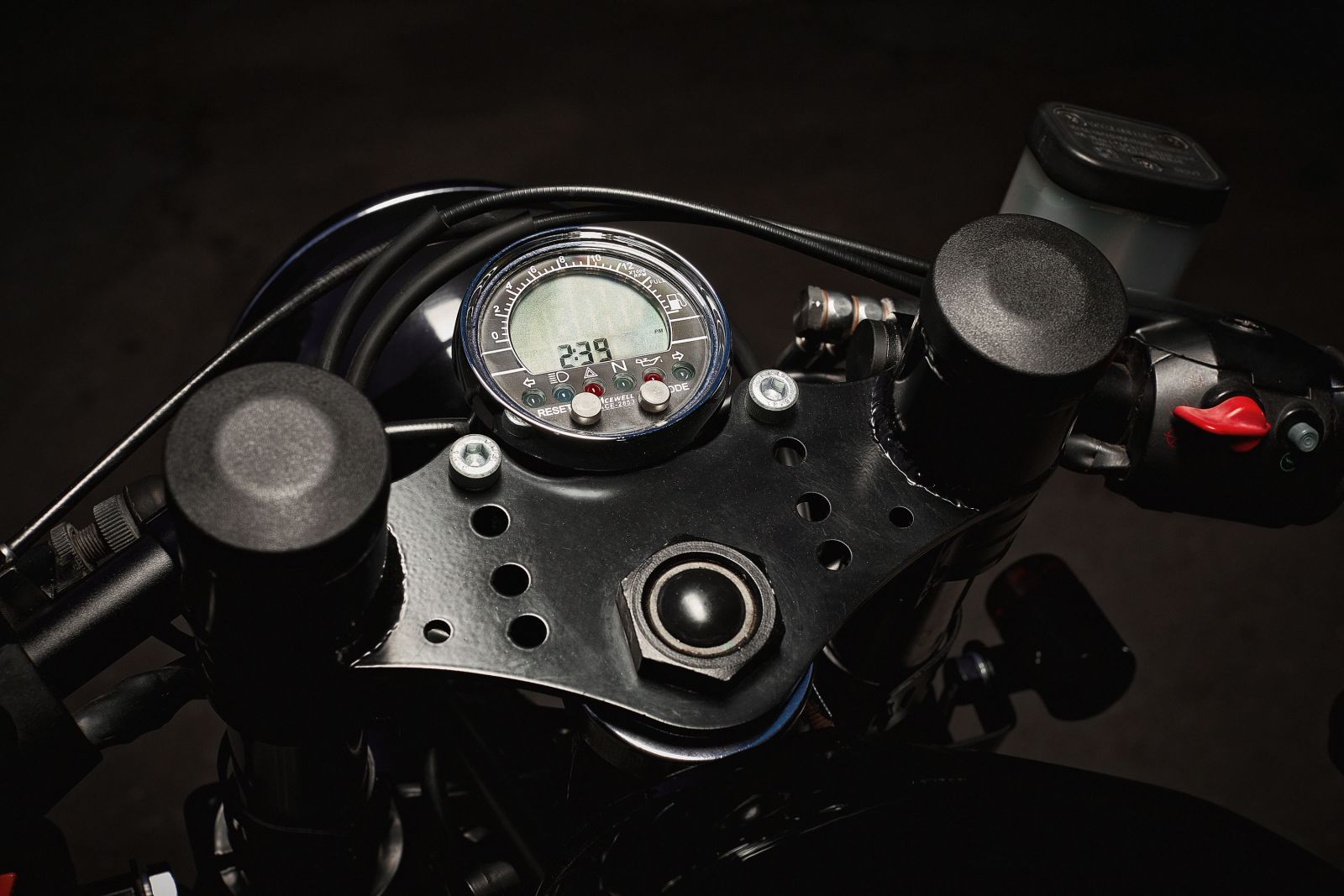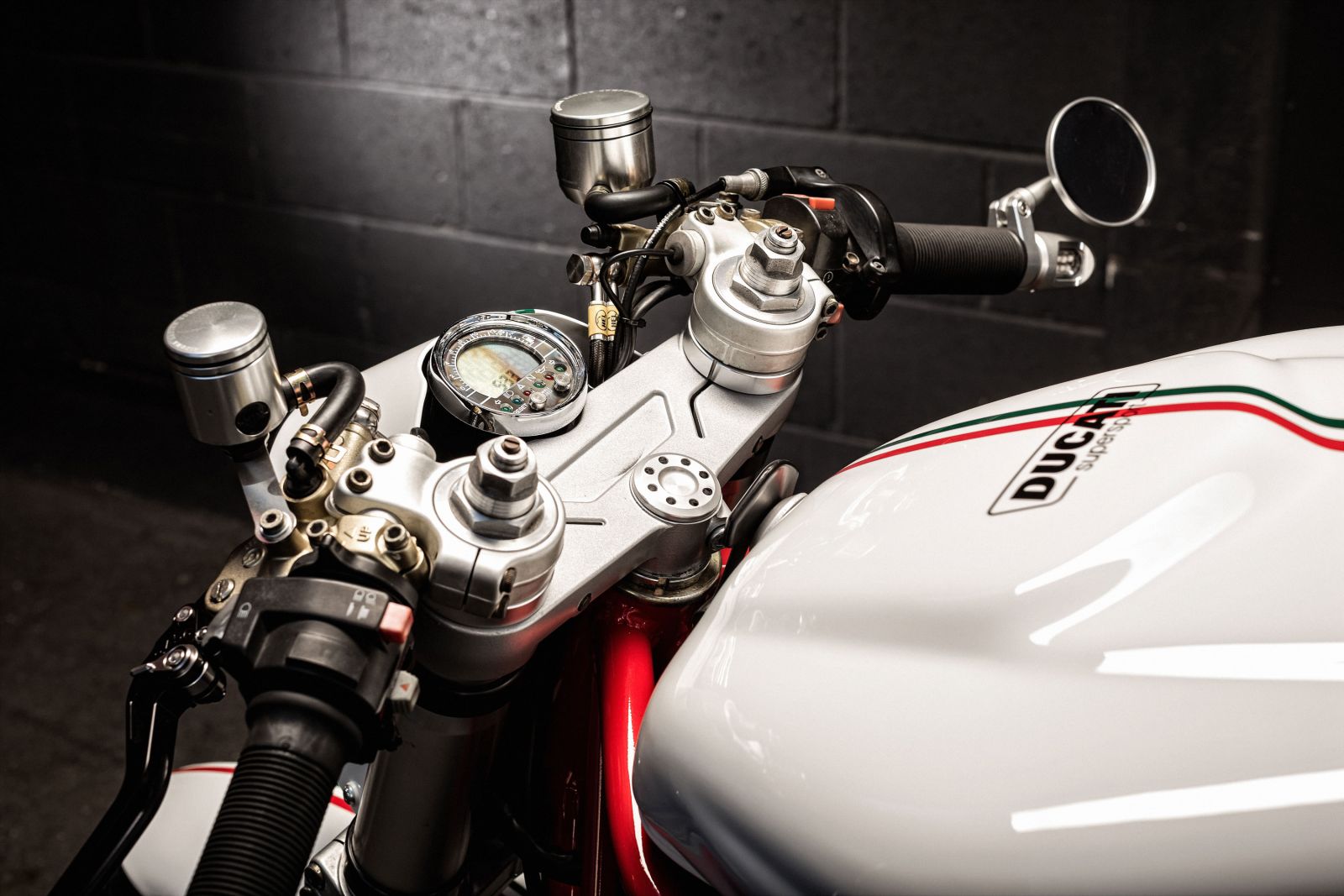 ---
Leave a comment