Upholstery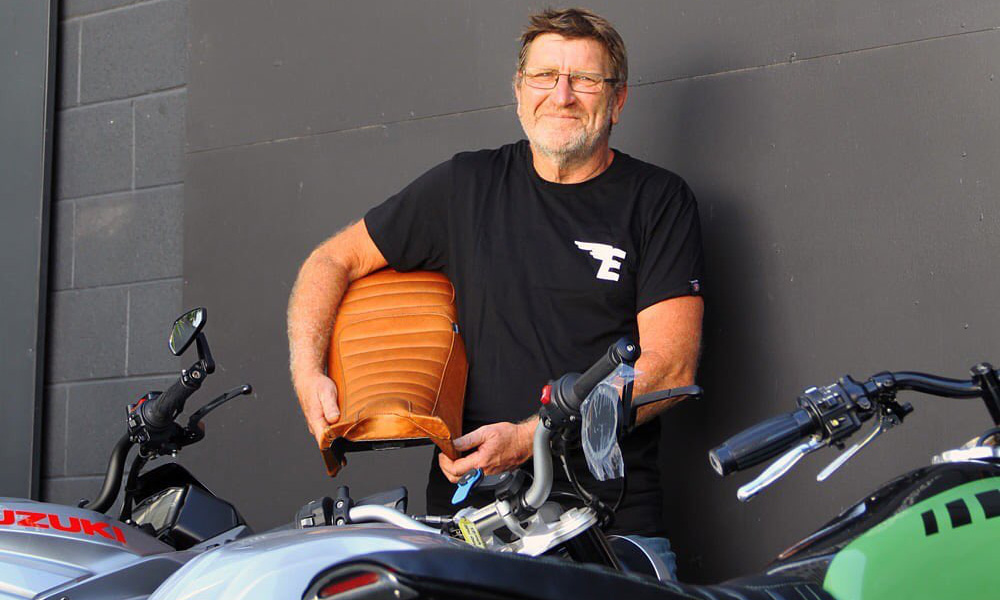 Ergo Motorcycle Seats at Ellaspede
With around 40 years in the motorcycle trimming industry John Moorhouse is the "go-to" man for motorcycle seats. John can recover, reshape, or customise your motorcycle seat to your requirements.
"I'm now doing seats out of the workshop at Ellaspede, West End. I've been doing seats for Ellaspede for nearly 10 years and when they offered to bring me in-house and help me with all of the enquiries, quotes and paperwork I was happy to move in. Now I can focus on what I'm best at, making, upholstering and shaping seats."
"I will still be the only person working on your seat, so you can trust that with my experience and the help from Ellaspede that I'll be able to get your seat done even quicker. You can get in touch about getting a seat done by emailing contact@ellaspede.com or calling 0738446676."
"Thanks to all my past and current customers, looking forward to still working with you all. Cheers."
- John Moorhouse
Seat Repair - John can restore your worn or damaged seat to its orignal condition.
The Ergo Seat - Motorcycle seats are more than just a place to sit on a bike. They must support and offer comfort to the rider over many kilometres of road. They come from the factory with a "one size fits all" approach. John will work with you to create a seat which not only compliments the bike but more importantly fits the rider.
Choice of Covering - John can match the original vinyl or you can choose from a range of colours and custom materials including leather.
Custom Seats - You can trust John to bring your custom seat to life. Working with either the factory base or a custom base supplied by the customer he will carve your ideas out of foam and cover them with your choice of fabric.
Location
John is now working with the team at Ellaspede out of their workshop at:
Ellaspede, 8 Greet Street, West End, Brisbane QLD 4101
Contact Us
Phone: 0738446676
Email: contact@ellaspede.com
See more photos of John's work on his Facebook Page - John Moorhouse Ergo Seats.