EB1051 - 1981 BMW R65
Author: Ellaspede Date Posted:27 October 2023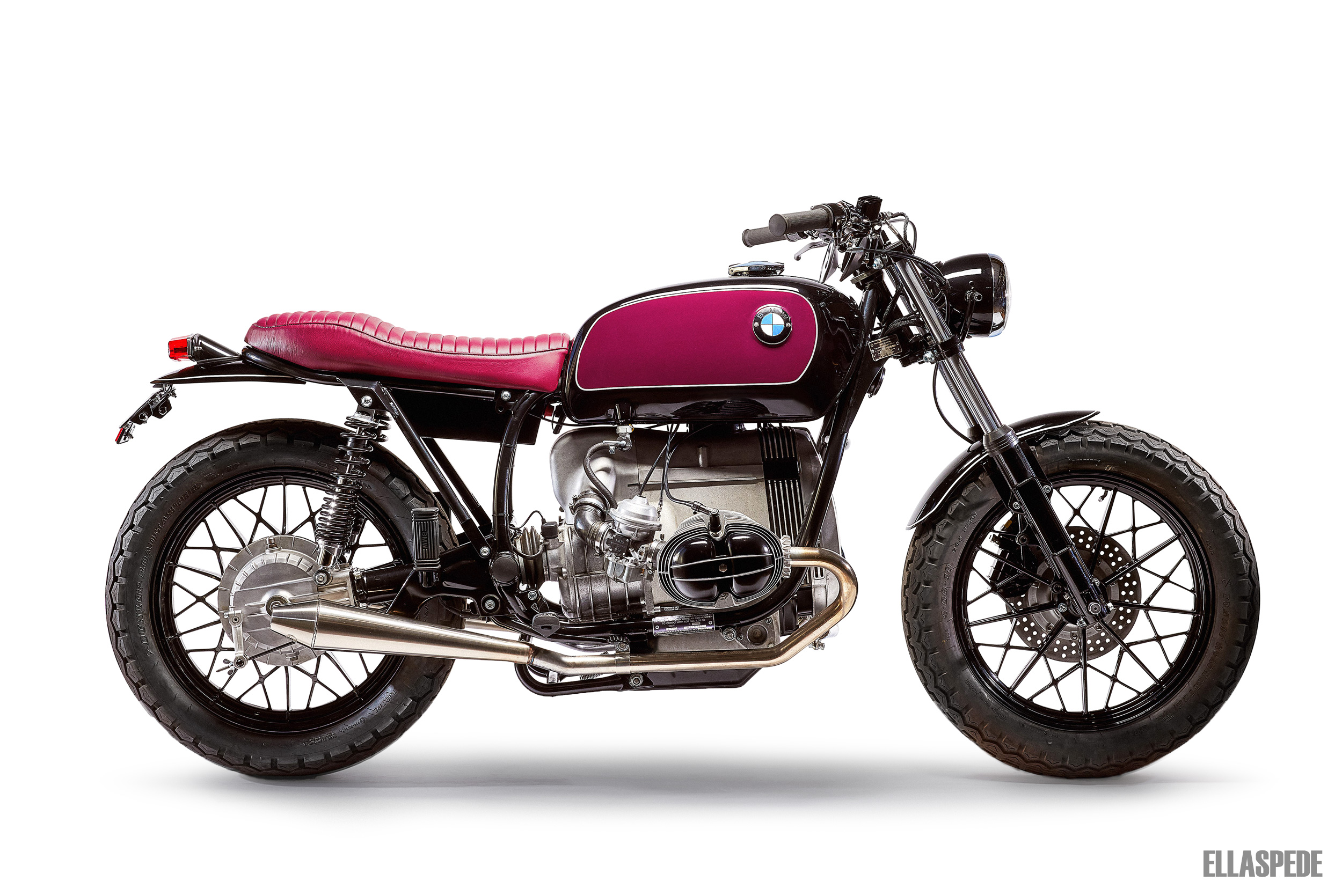 We recently had the privilege of going on a journey with Douglas and his 1981 BMW R65, transforming it into a custom creation that pays homage to German engineering and our combined design inspiration.
The genesis of pretty much every custom motorcycle project is marked by the acquisition of a donor bike, and for Douglas, that happened three years ago when he obtained this 1981 BMW R65. As Douglas recounts, "I acquired the donor bike about 3 years ago from Tasmania. This particular BMW had a unique history, having been owned by a gentleman who dabbled in trading vintage treasures found in old sheds. The bike bore the scars of a well-lived life, evident in its weathered paint and a damaged front wheel. However, beneath the surface, it possessed the mechanical resilience that made it an ideal candidate for a transformation."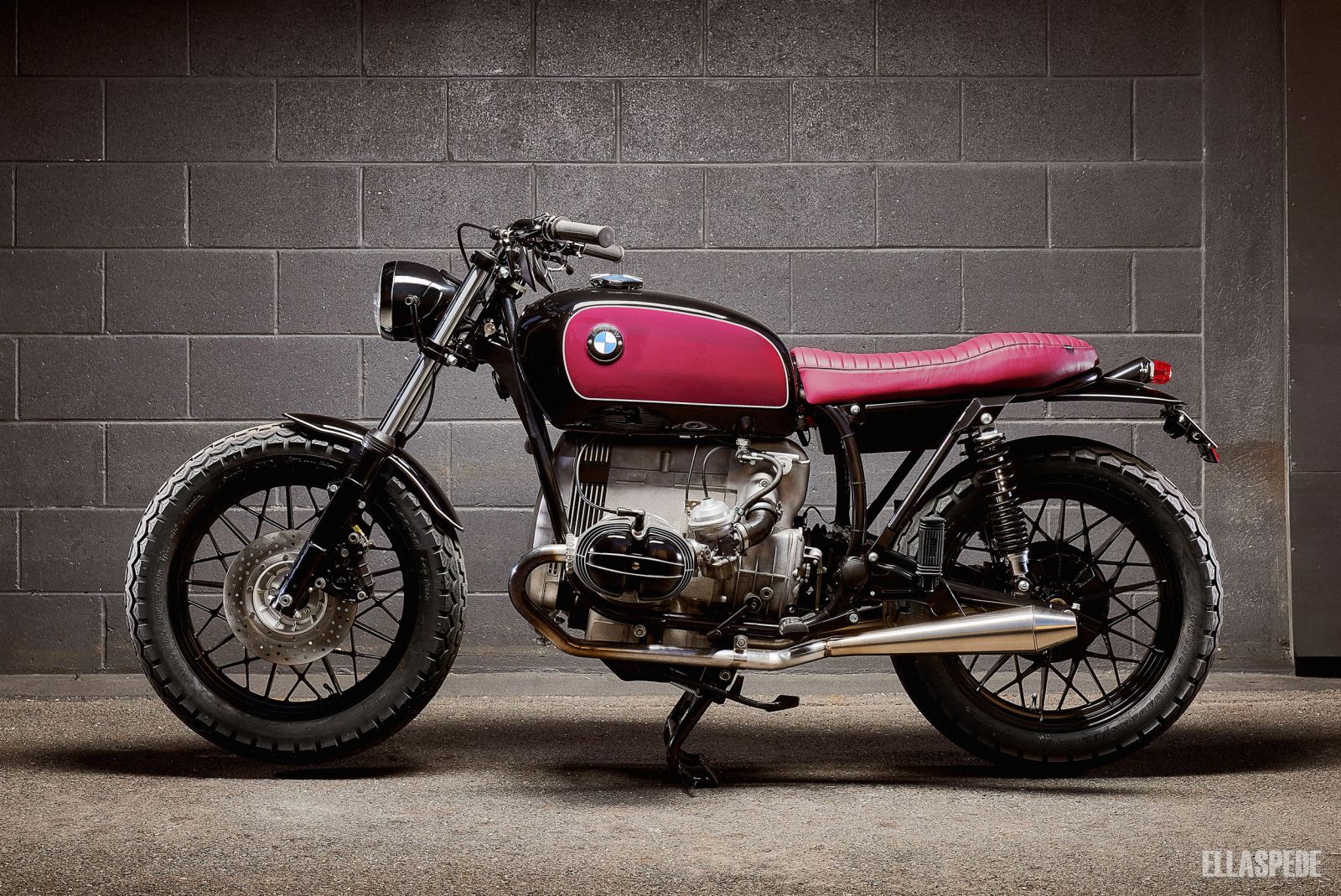 Douglas's decision to select the 1981 BMW R65 as the donor for his custom build was deeply rooted in his admiration for the design and craftsmanship of German airhead engineering. He fondly reminisces, "I love the design of the airhead engineers and the German quality. As per the first bike Ellaspede helped me with (EB915 1984 BMW R65), I aspired from a young age to own an airhead after seeing one passing through the small town I grew up in back in South Africa. One of those, 'one day when I'm big, I will...' dreams."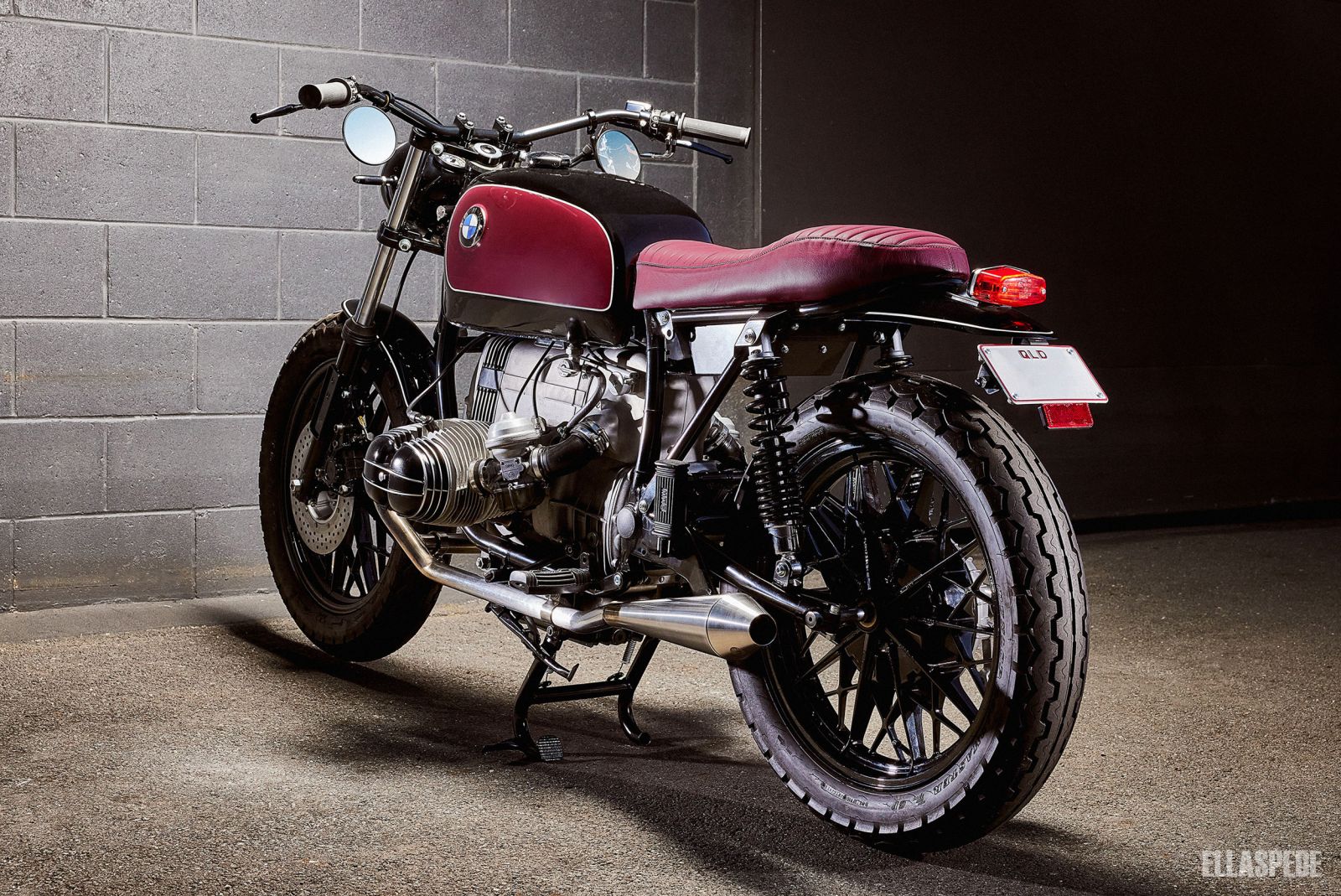 Inspiration Unveiled
With the donor bike in his possession, Douglas was inspired to embark on this custom build for several compelling reasons. Firstly, he desired to create heirlooms for his two sons, Josh and Luke. As Douglas playfully puts it, "A bike built by Ellaspede can be heirlooms if it is loved and well maintained. I could not expect Josh or Luke to share the first bike, so now they each have one to inherit. Well, that's my excuse, and I'm sticking to it."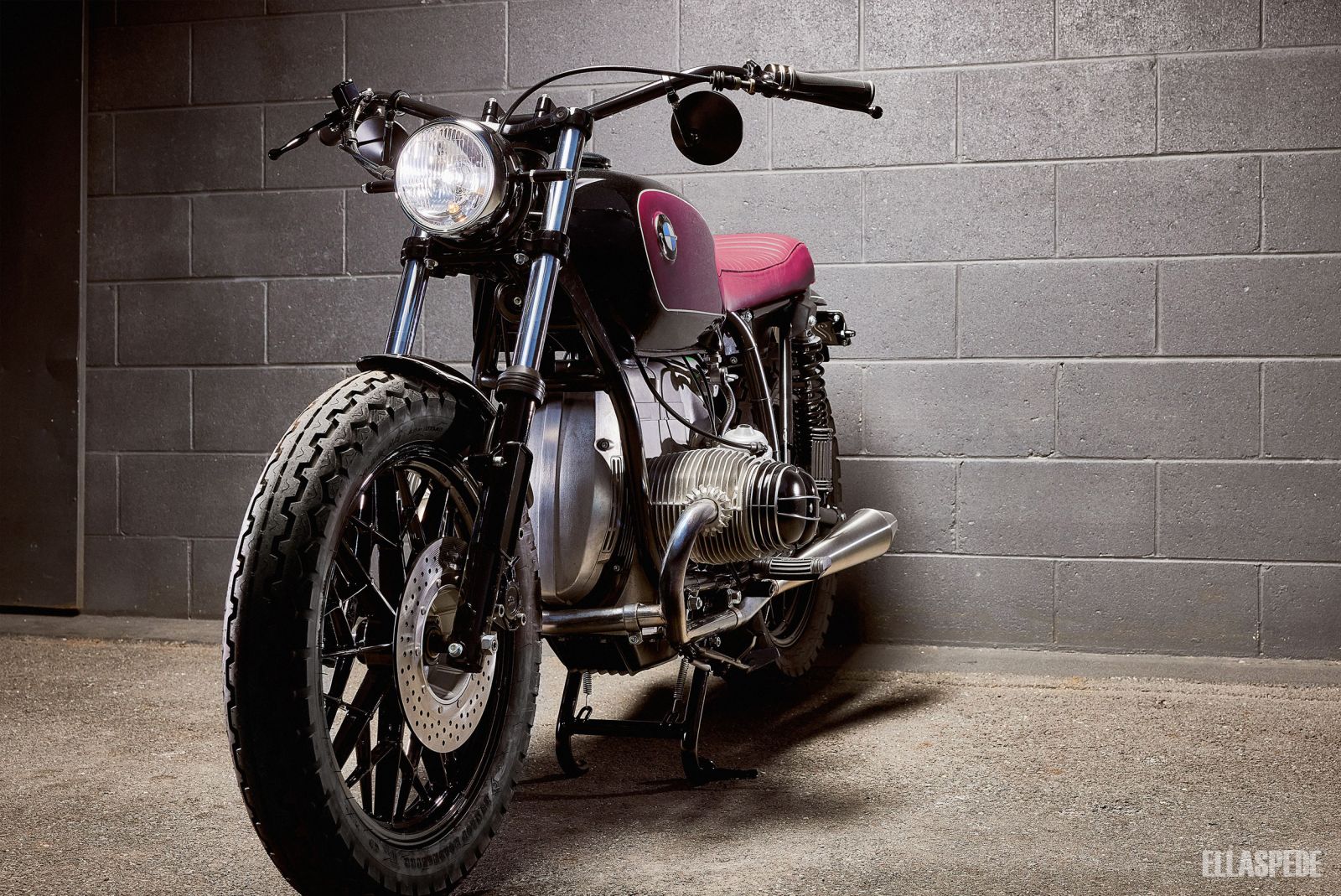 Additionally, the first build experience with Ellaspede was a driving force behind starting this project. The entire process, from the inception of the design to the final touches, had been such an enjoyable experience that Douglas couldn't resist the opportunity to embark on this journey once more.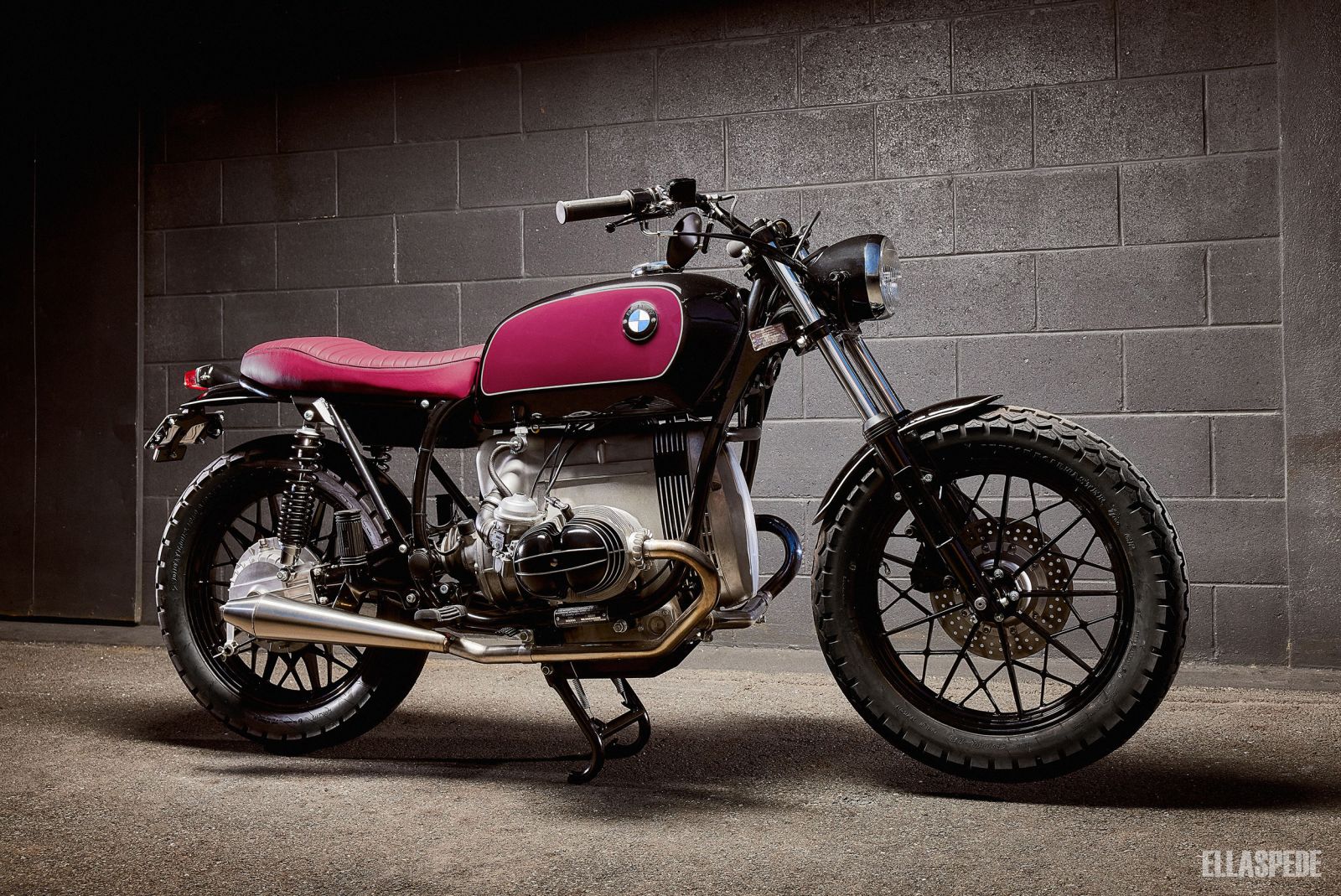 The Ellaspede Connection
Ellaspede understands the significance of a collaborative team when it comes to translating custom motorcycle thoughts and visions. For Douglas, our workshop was the natural choice. He explains his rationale, saying, "A repeat experience after the first build. I found a team of people with great skills and good values, who are passionate about their trade and quality of work."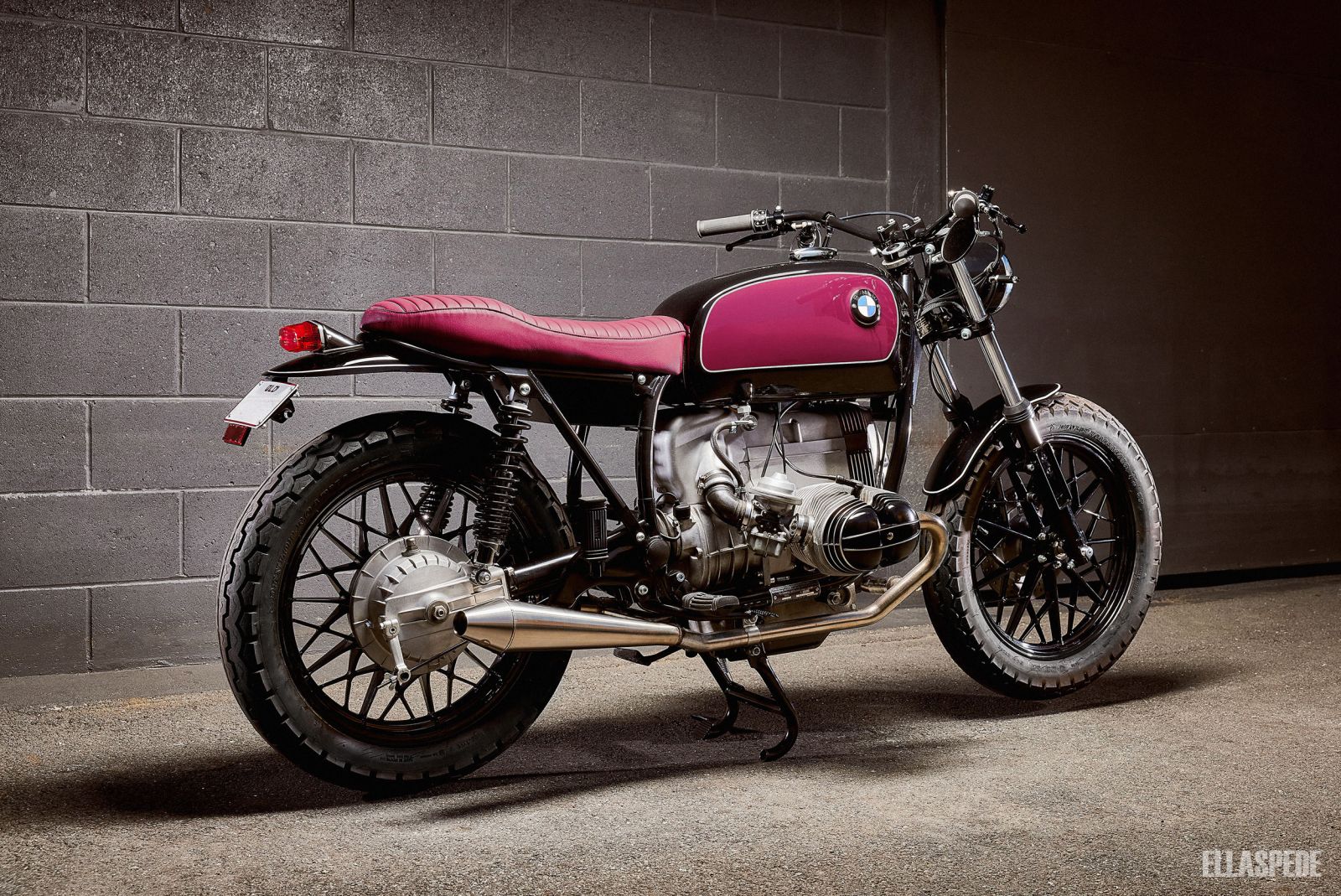 Bridging Imagination and Reality: The Custom Work
The project commenced by stripping the bike back to a rolling chassis, then setting it up on a bench to facilitate the fabrication work. This included modifying the aftermarket tank to better fit with the frame, rectifying damage to the fuel tap areas, and refining the inner tunnel. A sub-frame was designed and fabricated with a bolt-on and bolt-off feature for ease of maintenance. Enhancing both the bike's stability and aesthetics, a longer swing arm was also fitted.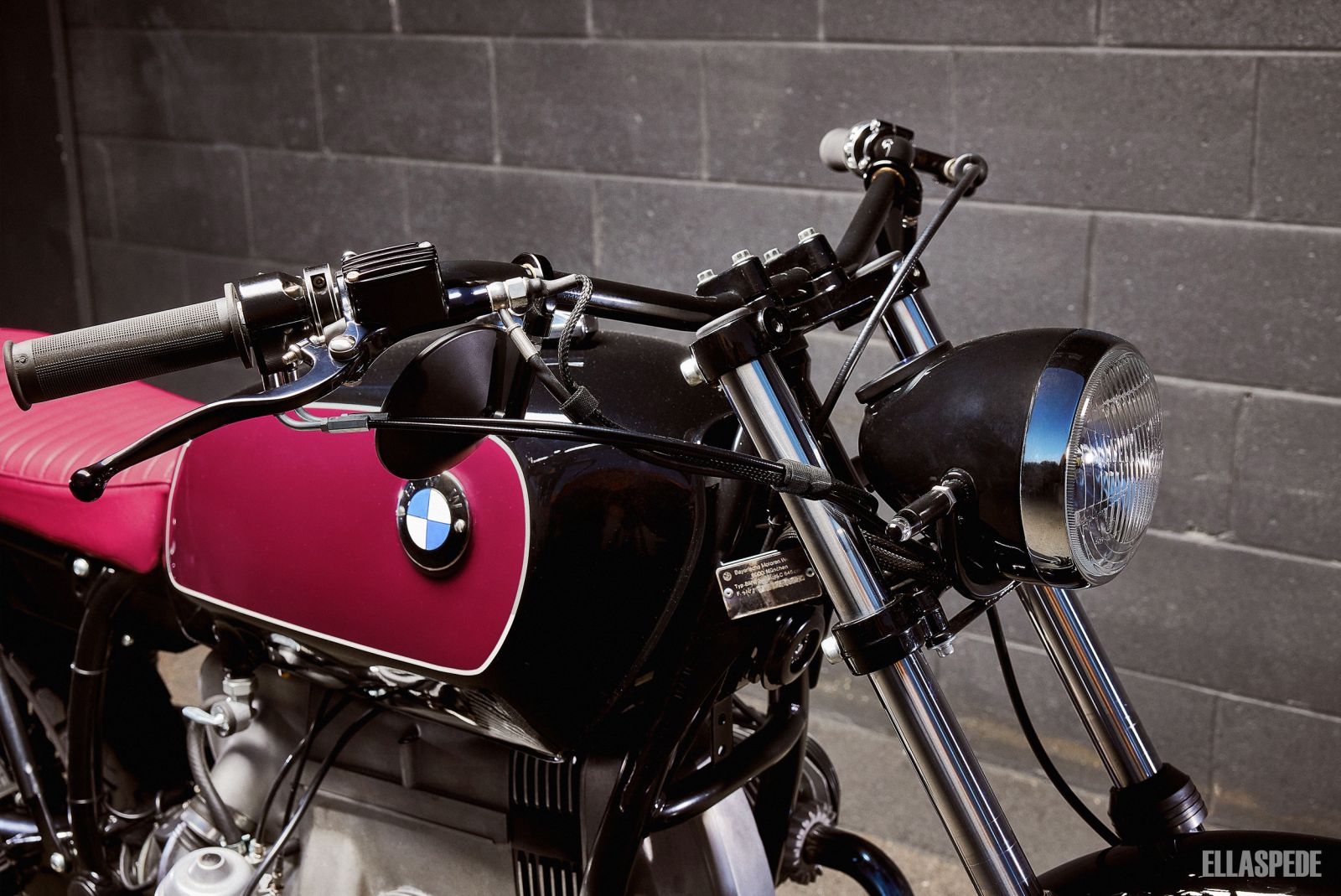 The electrical components underwent a transformation with the incorporation of a Motogadget M-unit and mo.button. The Motogadget pin indicators brought a touch of modernity, while the Ninja Star number plate mount and Lucas style tail light added a distinctive flair to the rear. The headlight was upgraded to a 5 3/4″ bottom mount design, while a Daytona Velona 60mm gauge ensures precision and style for the vital signs.
The rider's touch points are elevated with the inclusion of Grimeca clutch and brake levers, while Tommaselli-style grips provided a comfortable and stylish touch. A twin-pull throttle unit and wide sweep classic bend bars ensure precise control.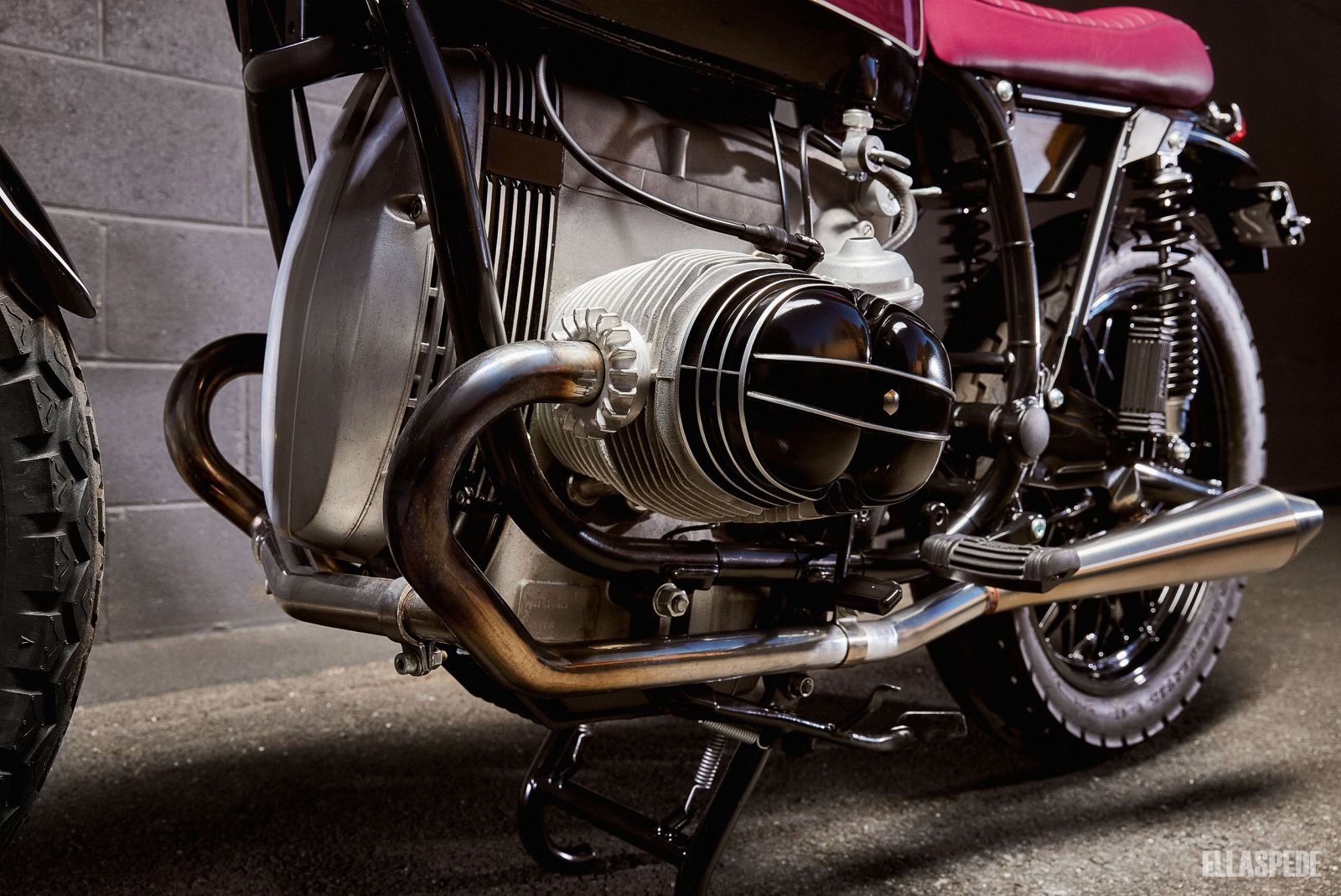 As with many bikes of this age, the heart of the machine required some meticulous work. The engine received special attention from MMM Boxerworks with a complete rebuild, including the installation of an OEM 850cc kit to really bump up performance and future longevity. Whilst there a Wedgetail ignition system was also fitted ensuring easier start up and smoother performance throughout the rev range. A full carb rebuild now ensures the bigger bores are adequately fuelled for future adventures.
An R75/5 style cast air box and top engine cover were incorporated, promoting optimal airflow and giving the engine a distinctly classic BMW look. Various springs, boots, rubbers, and seals were also required to enhance the bike's reliability and performance.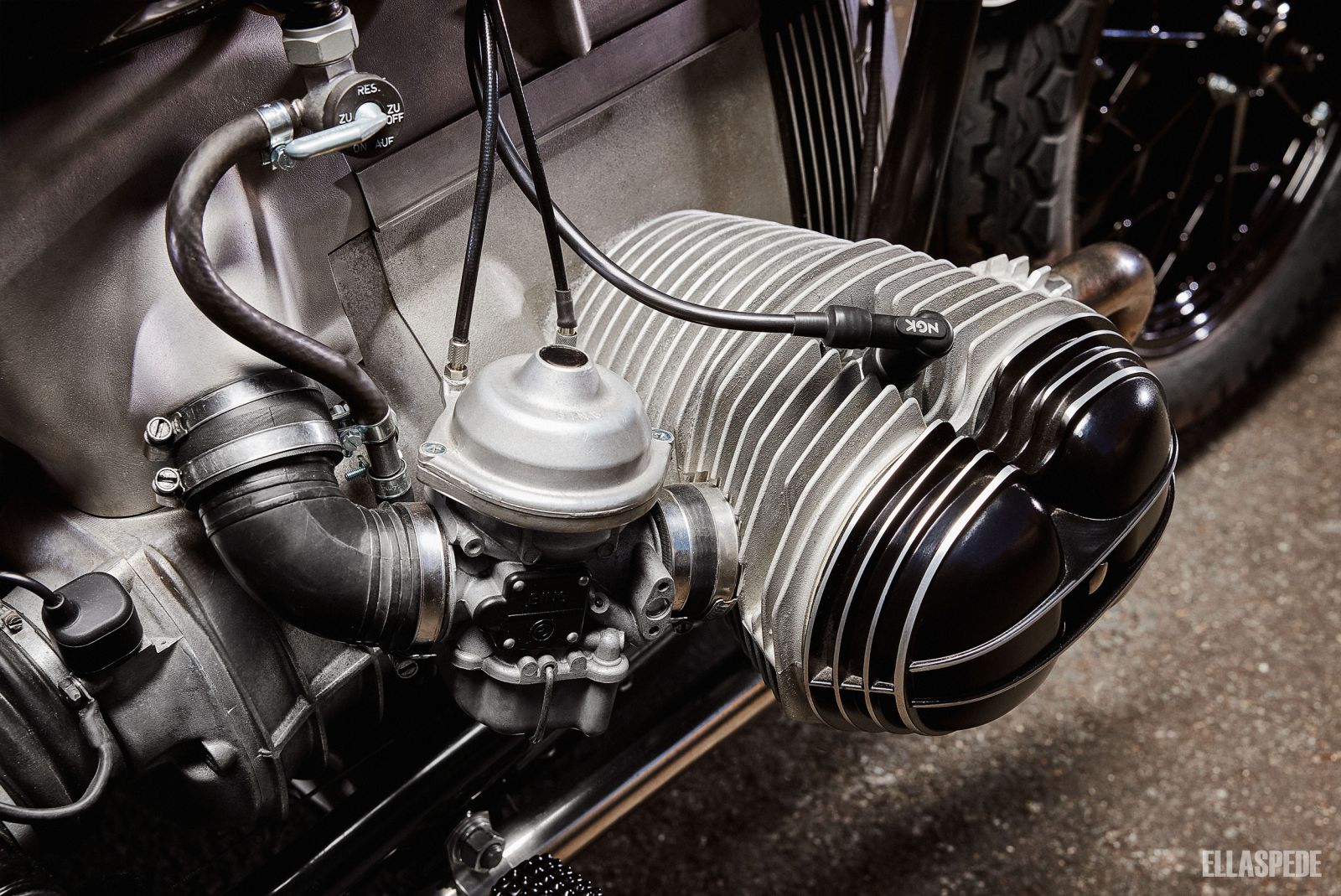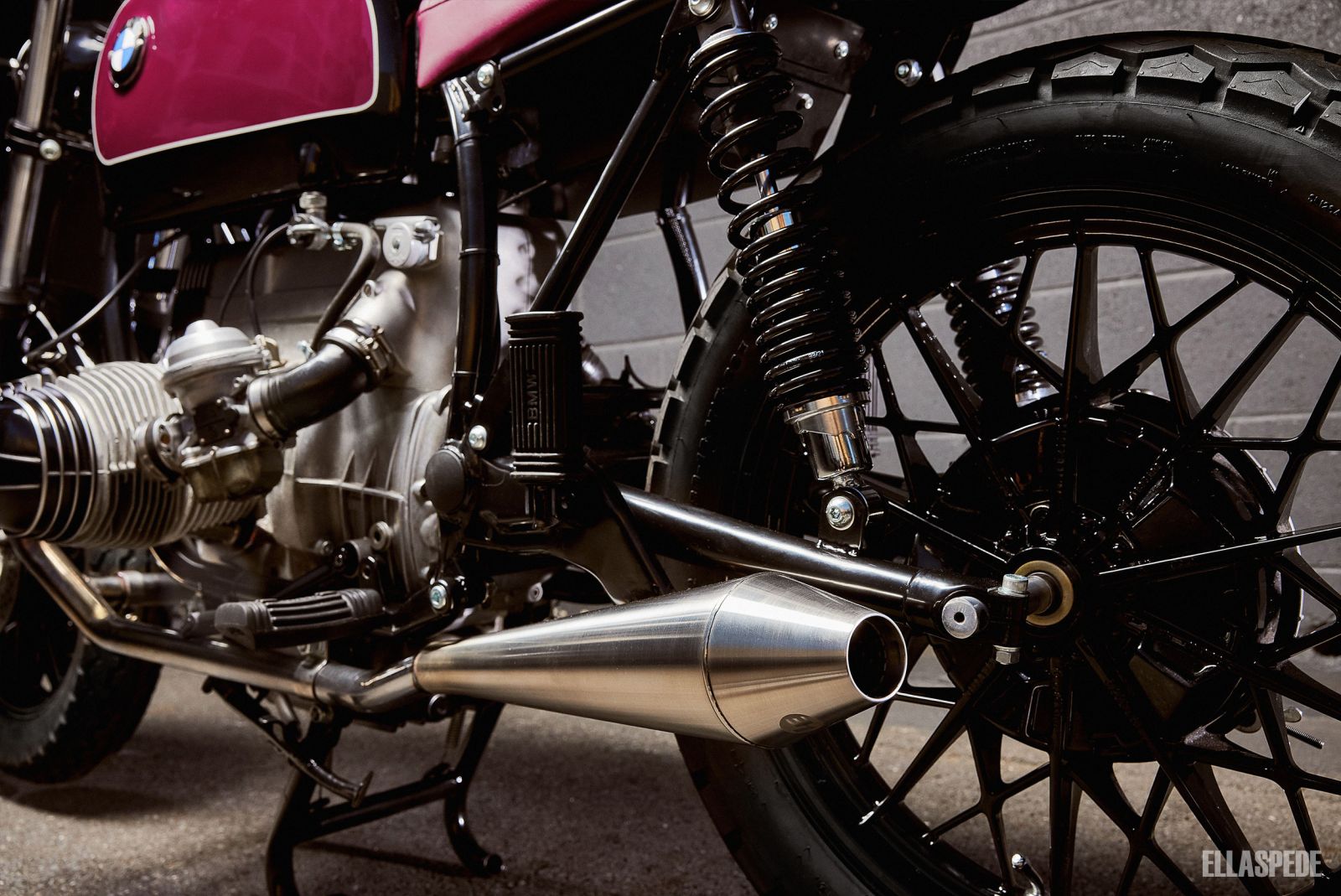 The bike's exhaust was modified with the addition of Niche Cycle reverse cone mufflers, not only enhancing the sound but also contributing to the bike's unique appearance. Some stainless pipework now connects the factory headers to the new mufflers.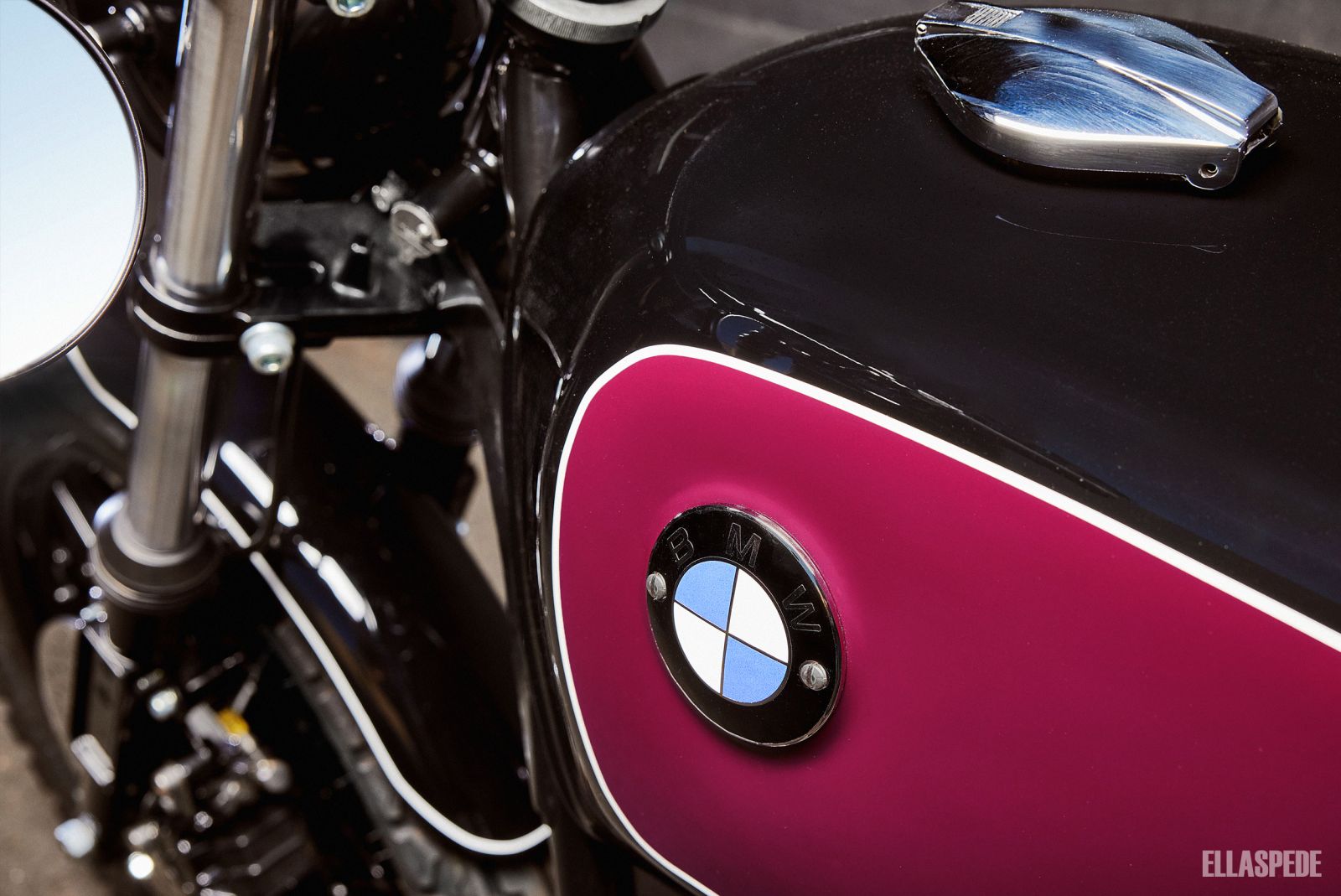 The frame and associated mounts were coated in a durable satin black powder coat, for a clean aesthetic as it all went back together.
Performance, safety and classic looks were important considerations when it came to tyre selection, evidenced by the continually popular choice of Dunlop TT100 tyres which offer reliable grip on the road in a period looking tread pattern.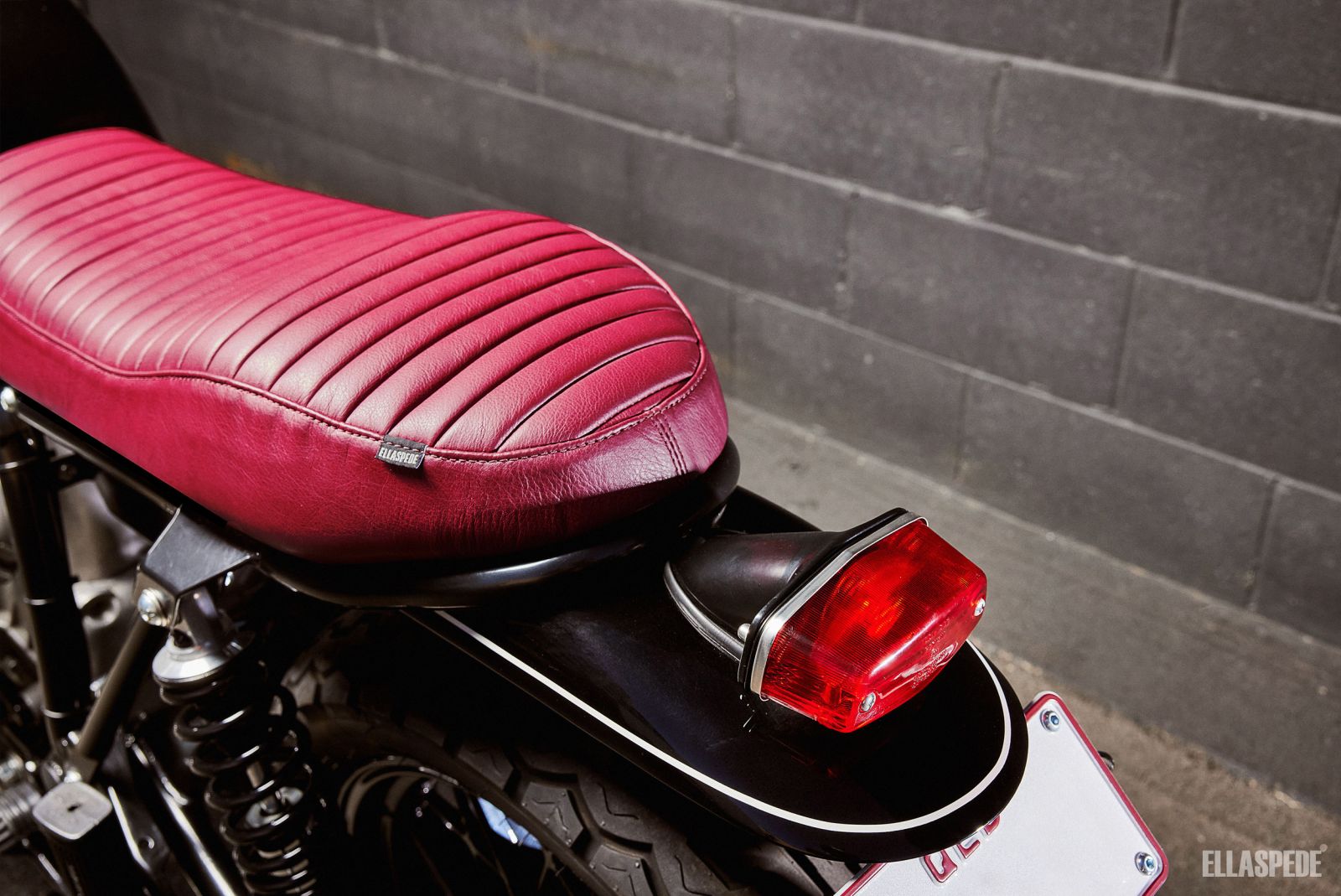 Wrapping up the visual appeal is a classic BMW inspired paint scheme, combining black and burgundy with a white pinstripe. While the front and rear guards received the iconic BMW black with white pinstripe look.
The final touches really wrapped up the build, including the addition of 'screw on' BMW tank badges, which added another classic touch. The bike's seat was foamed up in high density comfort foam before John Moorhouse Ergo Seats adorned it with oxblood leather upholstery with a horizontal stitch.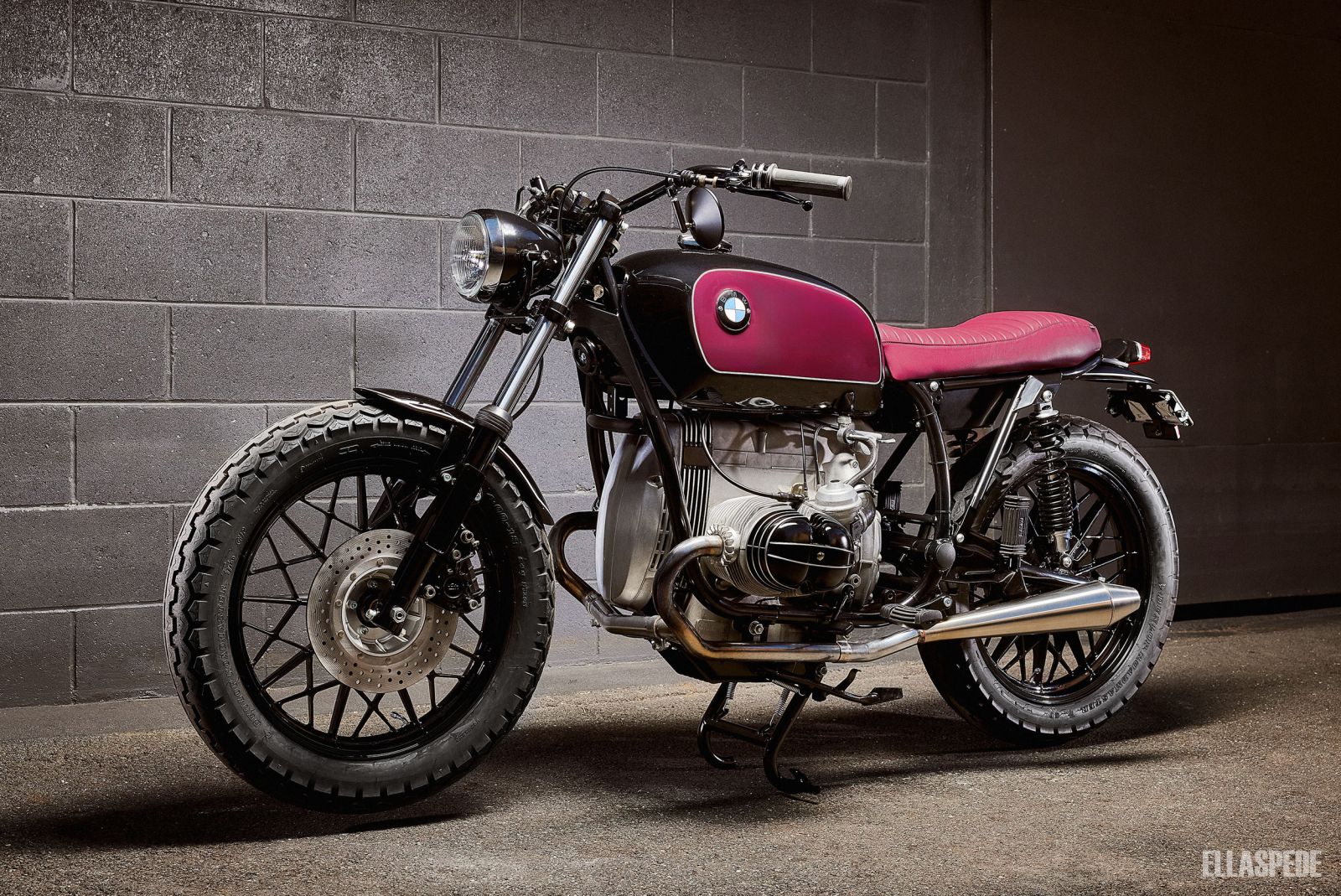 Conclusion: A Timeless Transformation
Douglas's journey with his 1981 BMW R65 is testament to the enduring allure of classic inspired custom motorcycle builds. With its rich history and German lineage, we like to think this project has emerged as a modern work of art, paying homage to the airhead engineers of the past and post mid-20th century motorcycle styling.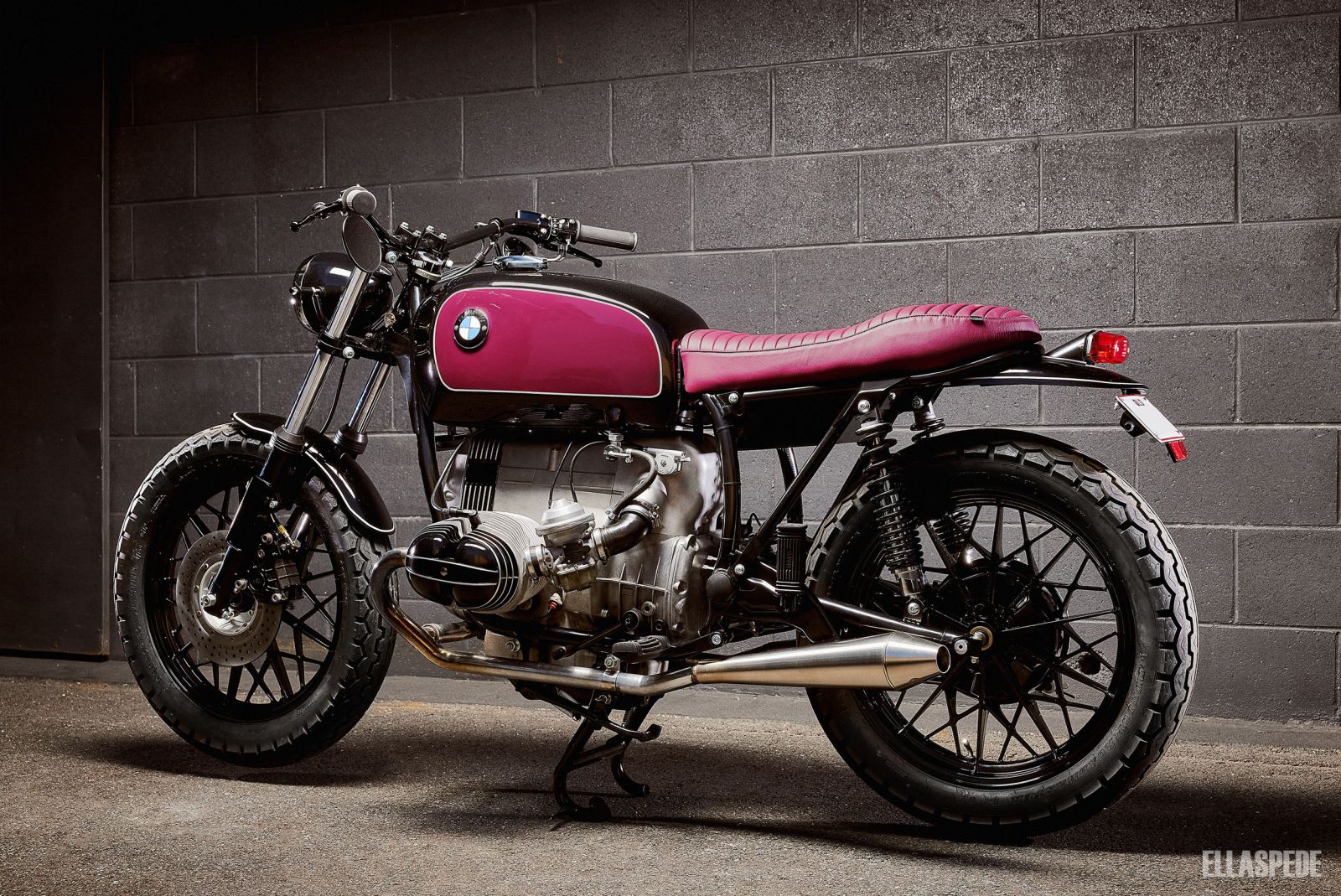 The joint effort between Douglas and our team has renewed a motorcycle that we think captures the classic BMW look while embodying the vision of its owner. As Douglas and his sons embark on rides with this bike, they inherit a piece of their own motorcycle history that will endure for generations to come.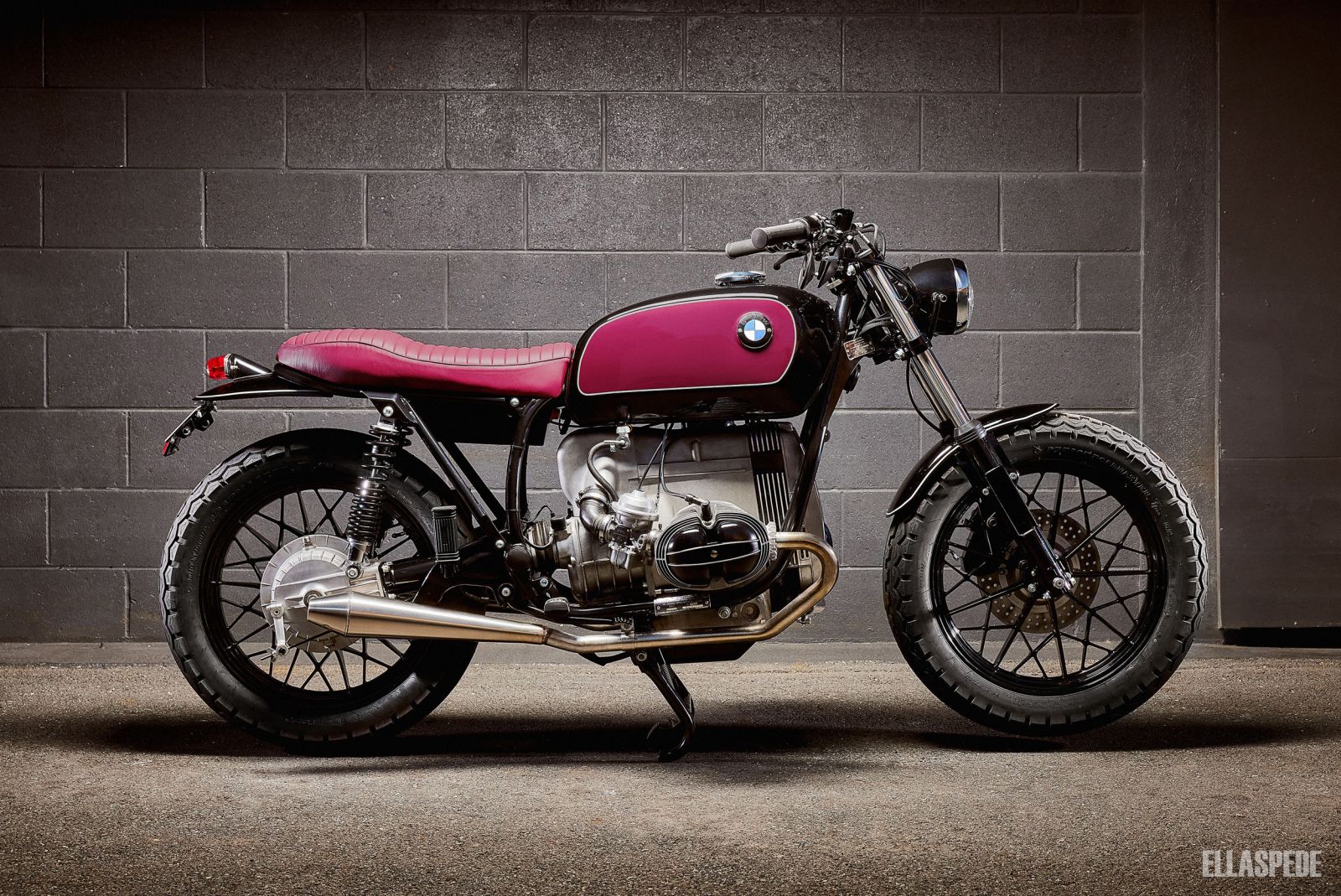 ---
Albums we listened to during the build of this bike:
---
Photos & Features:
---
Build Pricing & Enquiries:
For build and pricing details or to discuss commissioning a custom motorcycle build of your own please email contact@ellaspede.com
---
---
Leave a comment