EB915 - 1984 BMW R65
Author: Ellaspede Date Posted:9 July 2020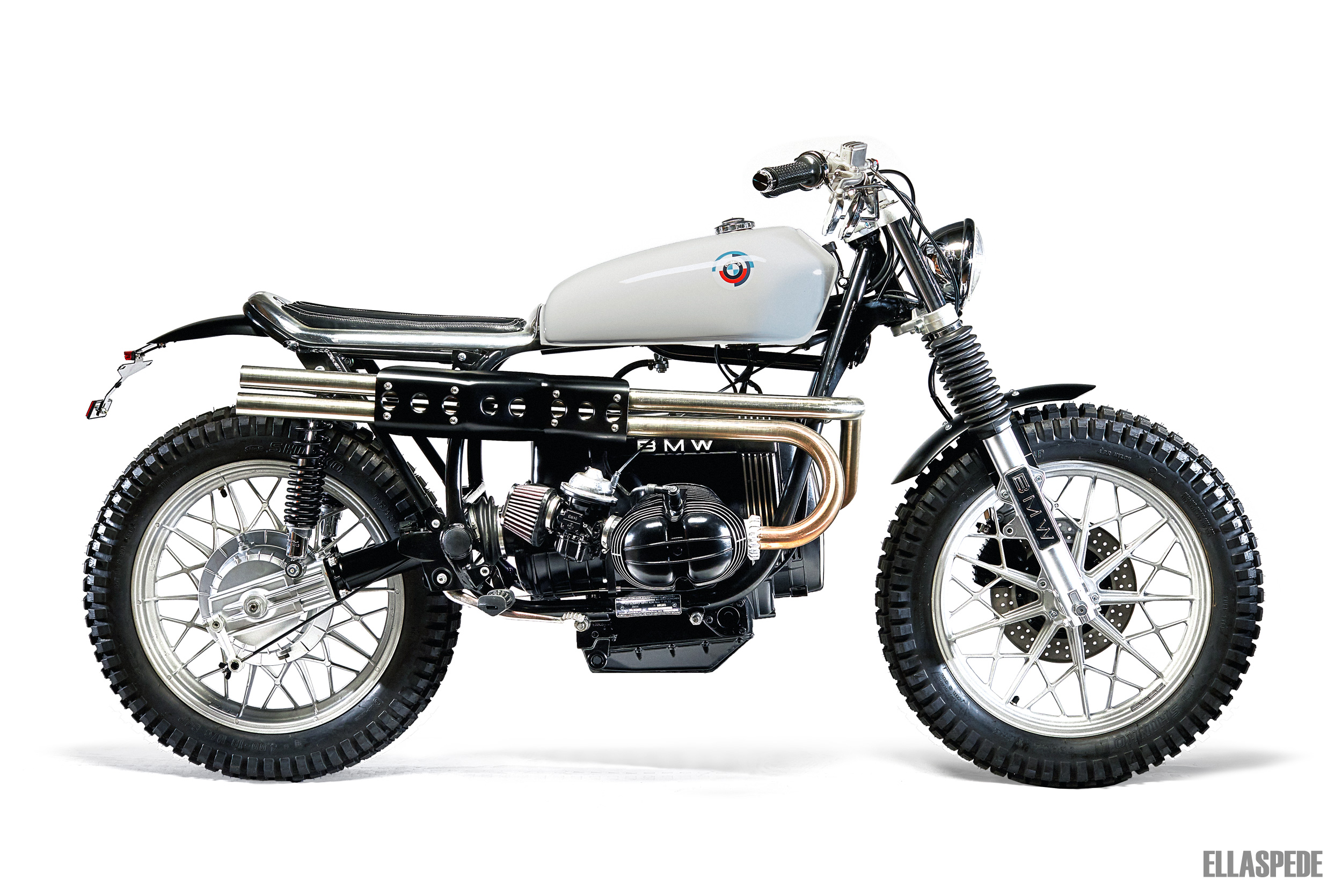 Buying a finished custom bike can sometimes be a recipe for saving time and money, but as owner Douglas found out with this 1984 BMW R65, old bikes can present new challenges.
Douglas starts the story… "I have wanted to do a bike build/project for a few years now. I started riding motorcycles at 16 in South Africa and loved the simplicity of the airhead engines. They were different from a mechanical perspective and looked great, so I believe I had the idea seeded in my thoughts from 16 that one day, if I could afford it, I would love to rebuild one."
So it was always a dream to use an airhead BMW as a donor and now Douglas just needed someone to help make it happen… "I did some research via the internet and word of mouth, this narrowed the field down to a few options. It was simple after that - the first face to face discussion closed it for me. Most bike shops can build a decent motorcycle, I was looking for a business to partner with on the project. In my first meeting with Ellaspede they showed their integrity. I am time poor, so I needed to know I was able to trust them to keep me informed, but that they would get on with the project aligned to the brief."
A donor appears! Originally customised in Sydney, this 1984 BMW R65 was looking pretty good when Douglas spotted some nice photos of it online. Then when he saw the bike was for sale, plans were in motion.
"I spent some time looking online and found a bike which was partly done. This worked for me, as I wanted to put my ideas into a design. The previous owner had spent time on a rather nice base design, so the 'bones' of the bike's design were good. Sadly, not the mechanical 'bones'."
"I bought online as I couldn't travel south to inspect personally. I arranged an inspection service offered by a qualified mechanic to inspect bikes for future owners, but unfortunately it didn't uncover some of the issues…"
When the bike arrived at Ellaspede, the initial plan was to get it roadworthy for Qld rego and to make a few small aesthetic changes to complete Douglas' plan for the bike. But sometimes with old bikes 'the more you look, the more you find' and the extent of the extra work required started to become visible the further we delved into the bike.
After some test riding and a partial tear down it was evident that the heads, gearbox, driveshaft and diff were all in need of a rebuild. Having the engine out also meant it was the perfect opportunity to apply some paint and polish to achieve the 'black motor, linished fins' look. Both carbs also copped a refresh, now sucking cleanly through K&N filters.
Like many airhead BMW's of this era, the stock (this one already modified) subframe's are a little under built and this one was skewed from years of use, so it was removed in favour of a custom chromoly unit that we fabricated in house.
A freshly powder coated subframe wouldn't look right next to an 'original finish' mainframe, so both items were sent for a factory look black satin powder coat before the reassembly began.
Once the subframe was complete it was onto the suspension to get the bike sitting and riding right. The rear shocks were replaced with longer Ikon 7610 items to level it out, sharpen up the front rake and provide some extra clearance for off road activities. The front forks required a total rebuild and received new springs, dampening components, seals, oil and repainted lowers to bring them back to their prime.
Douglas loved what the previous owner had done with the tank (and so did we!) so that remained as a key piece of the build. Mating up to this now is the custom designed and fully CNC machined seat base plate with padded inlays, buried tail light and recessed BMW badge.
Douglas said… "The previous owner painted the fuel tank and it was one of the items which attracted me to the bike so I retained this. The seat design was an idea I had for a while. The two kidney shapes as seen on the BMW car grill. The simplicity of white, black and silver, I must admit was steered by the Ellaspede team - they have an eye for beauty in simplicity. I was happy to take their direction - this is why I engaged professionals - to help me get a great outcome."
The whole seat unit was a great opportunity for us to utilise our design background a little further and we're pleased Douglas trusted us with his vision and was happy with the end result!
The gorgeous 2-into-2 exhaust was also another key piece of the bike that Douglas liked. It looked the part but was a little warm on the leg for daily duties, so we just replicated and extended the custom heat shield to prevent any hot encounters on the commute.
The custom fabrication continued for the new rear guard, while the front guard was just trimmed down and remounted. Tank mounts were adjusted to get it fitting securely and new indicator mounts were fabbed up front and rear. A new mounting system was made to hide the battery under the Ellaspede CNC machined rear engine cover, which also included a custom coil mount to make it all fit.
Douglas knew that the previous owner hadn't yet finished all of the wiring so it was inspected and the majority of it replaced with a custom Ellaspede aircraft grade loom and some new electrical components. New Motogadget M-blaze disc indicators in the bar ends and Motogadget M-pin indicators at the rear are now hooked up. A pair of Koso Hawkeye taillights were chosen for the dual tail light setup, one buried into the back of the seat with a clear CNC cover while the other keeps things legal on the tail tidy.
Being an all-in-one unit, the rear drum brake was rebuilt as part of the diff rebuild. At the front a new disc was required and the caliper was rebuilt, repainted and received new pads to match. Other new bearings and seals also made their way into the bike throughout as required.
Most of the other small items on the bike were either powder coated or vapour blasted to ensure a fresh finish extended all the way across the bike.
With it all screwed back together now it's time for Douglas to ride and enjoy! As with any old bike there's always a few issues to resolve when building a custom bike and now this R65 can motor on trouble free for years to come.
What's Douglas favourite part about the bike? He said… "Riding it! From a looks perspective: the airhead engine has always caught my eye. And, the seat design. Ellaspede took my ideas for the seat to pay homage to the BMW 'kidney grill' and designed something special."
Sometimes buying an already built bike might not be the seamless solution to getting a custom, especially when older bikes are concerned. But by looking into this BMW R65 a little further Douglas has found a custom bike that's turned out far better than he initially imagined.
Thanks Douglas, enjoy the ride!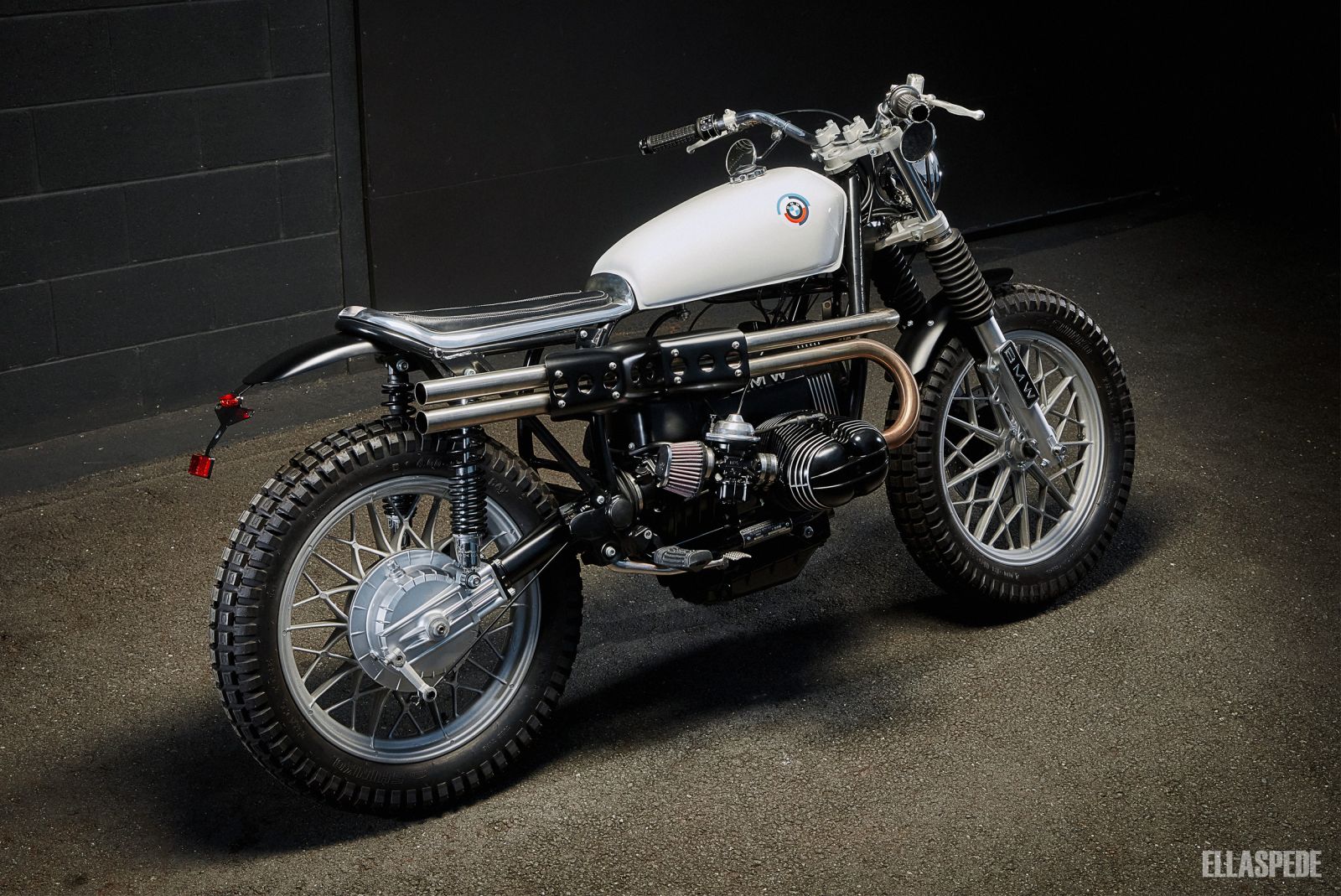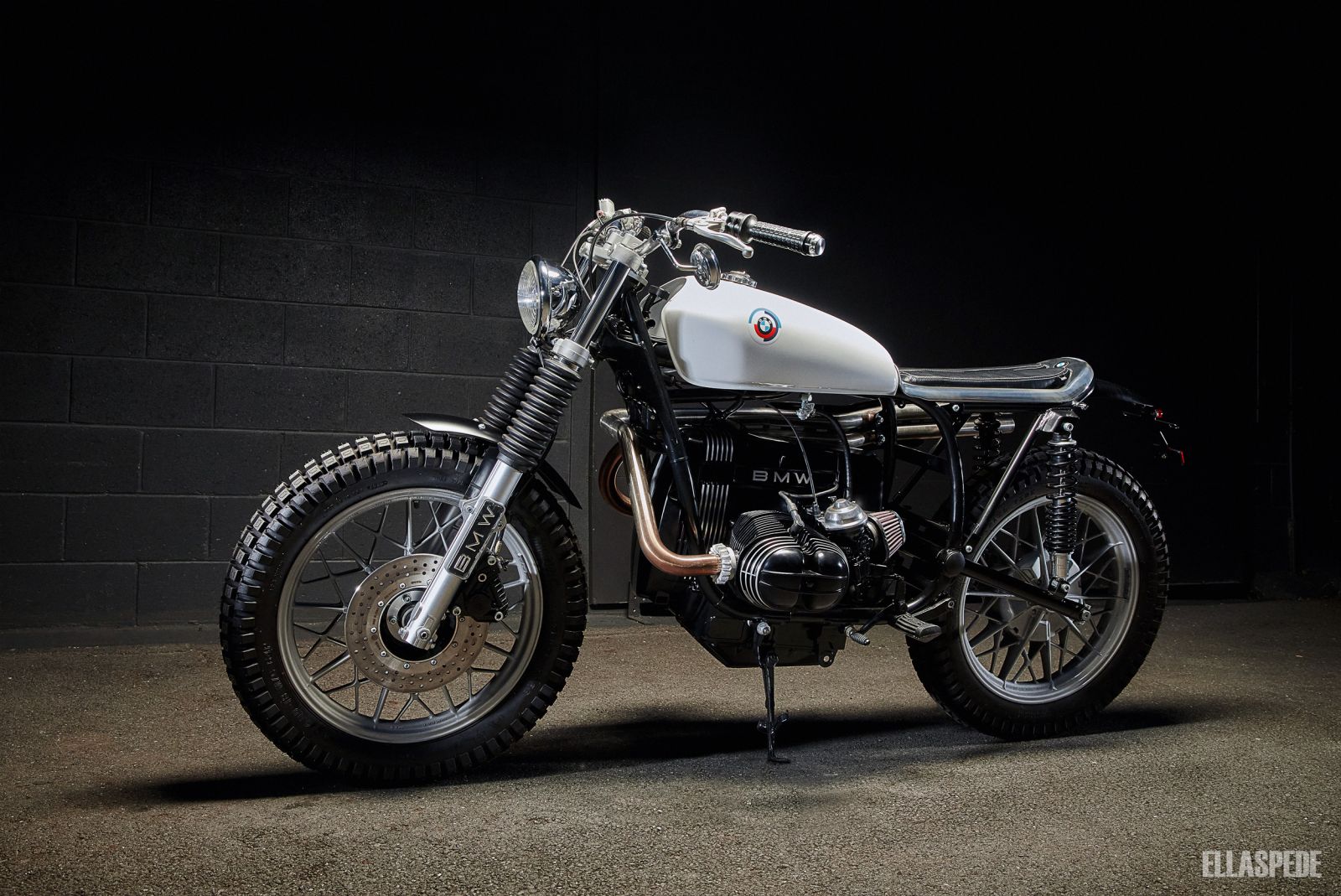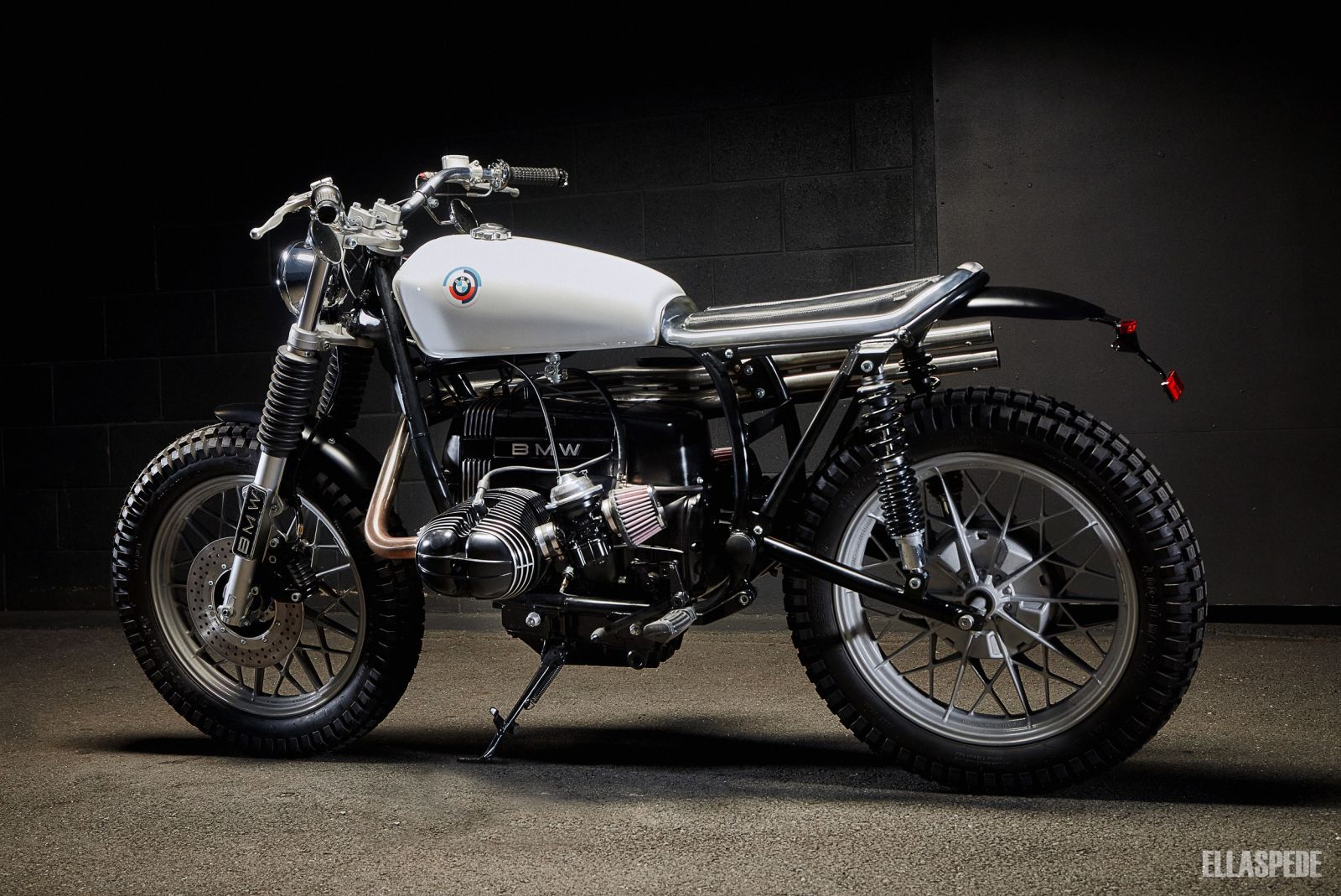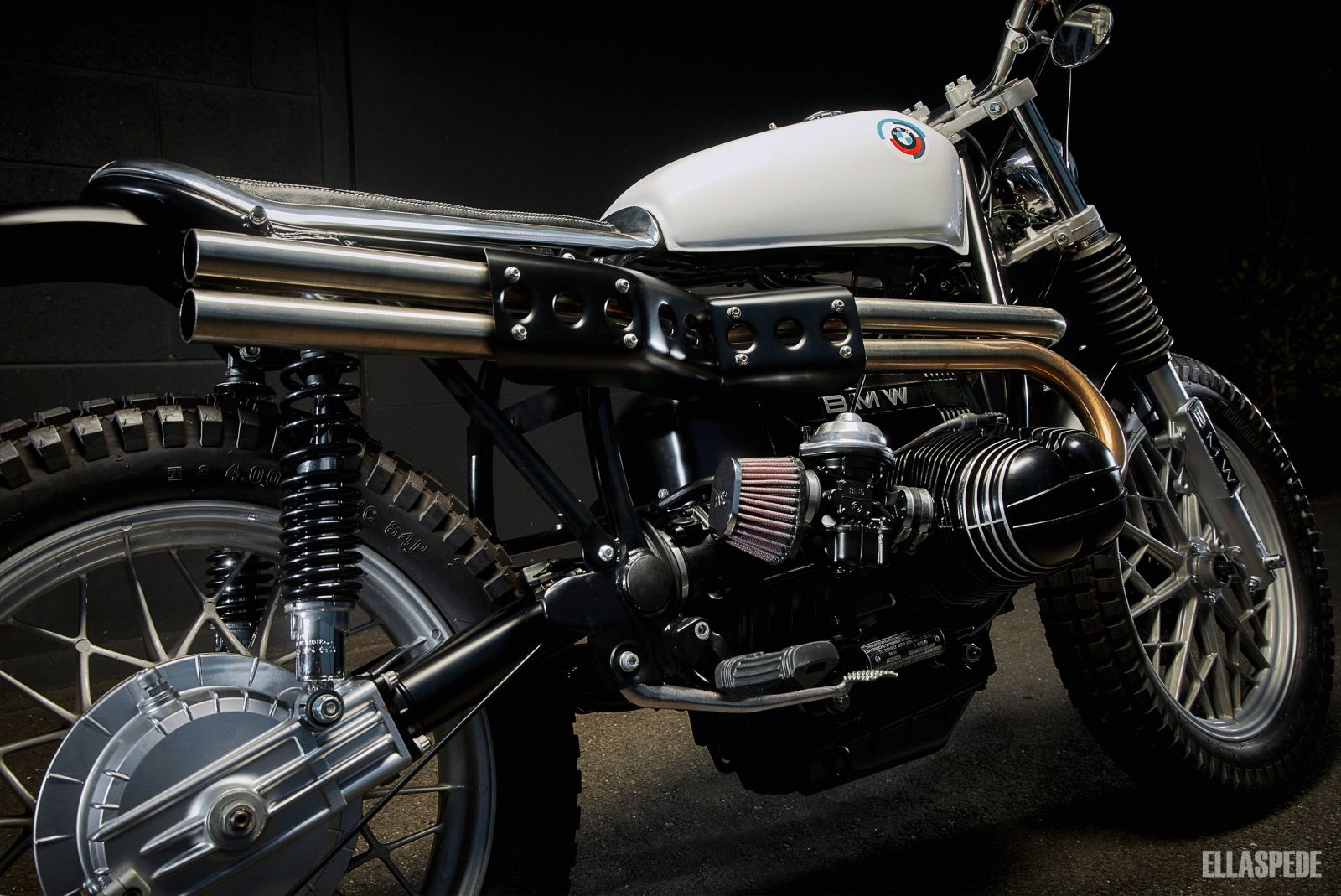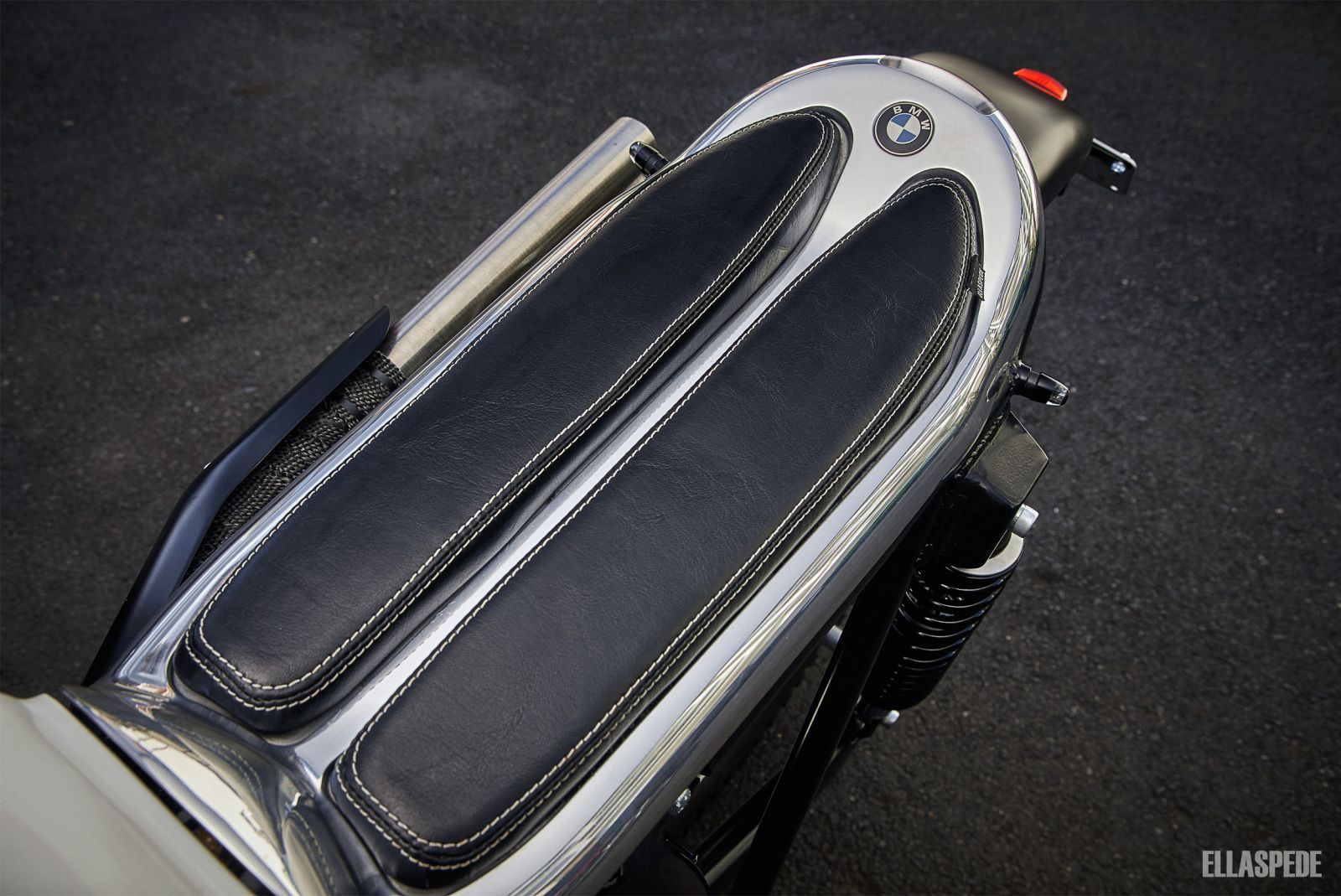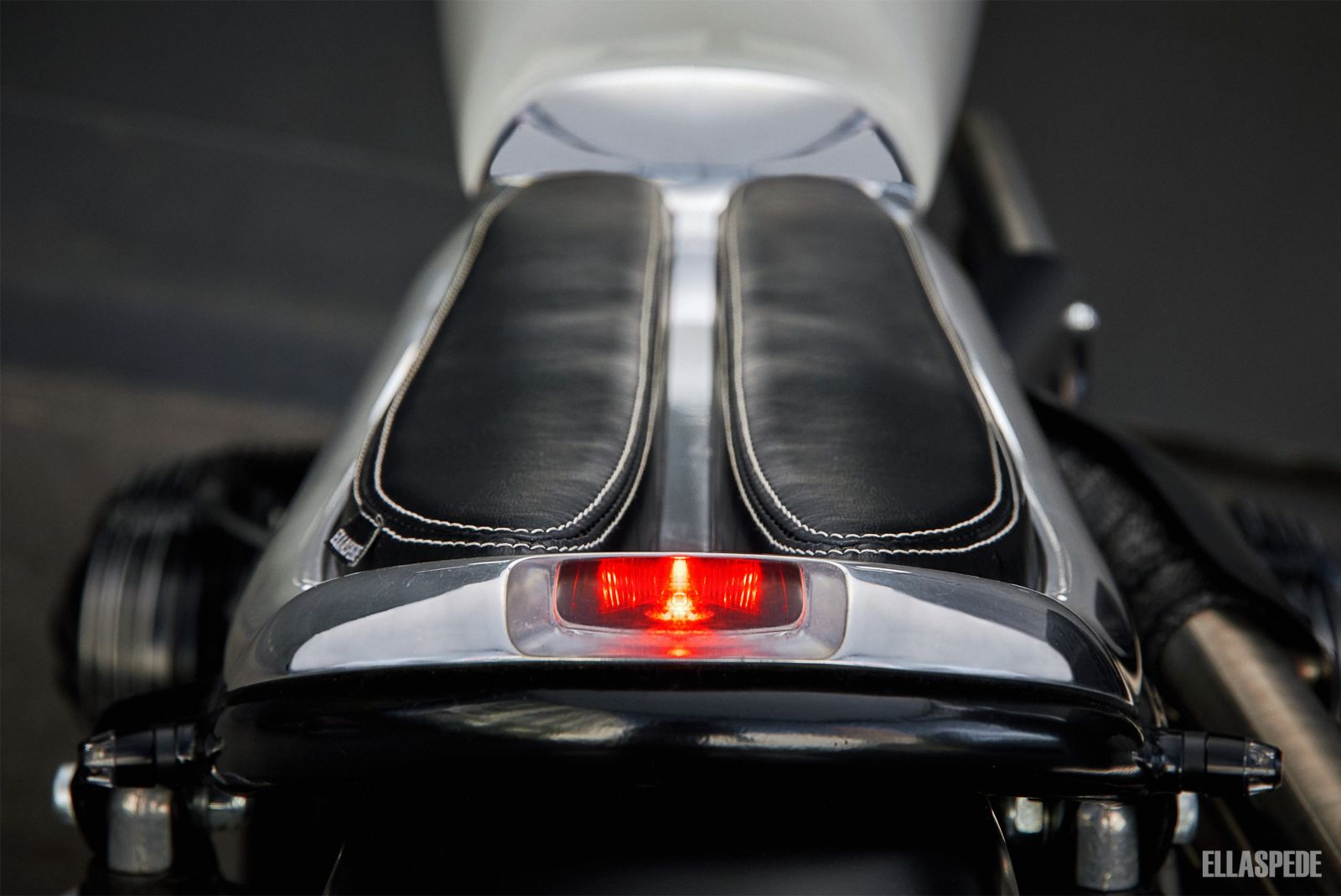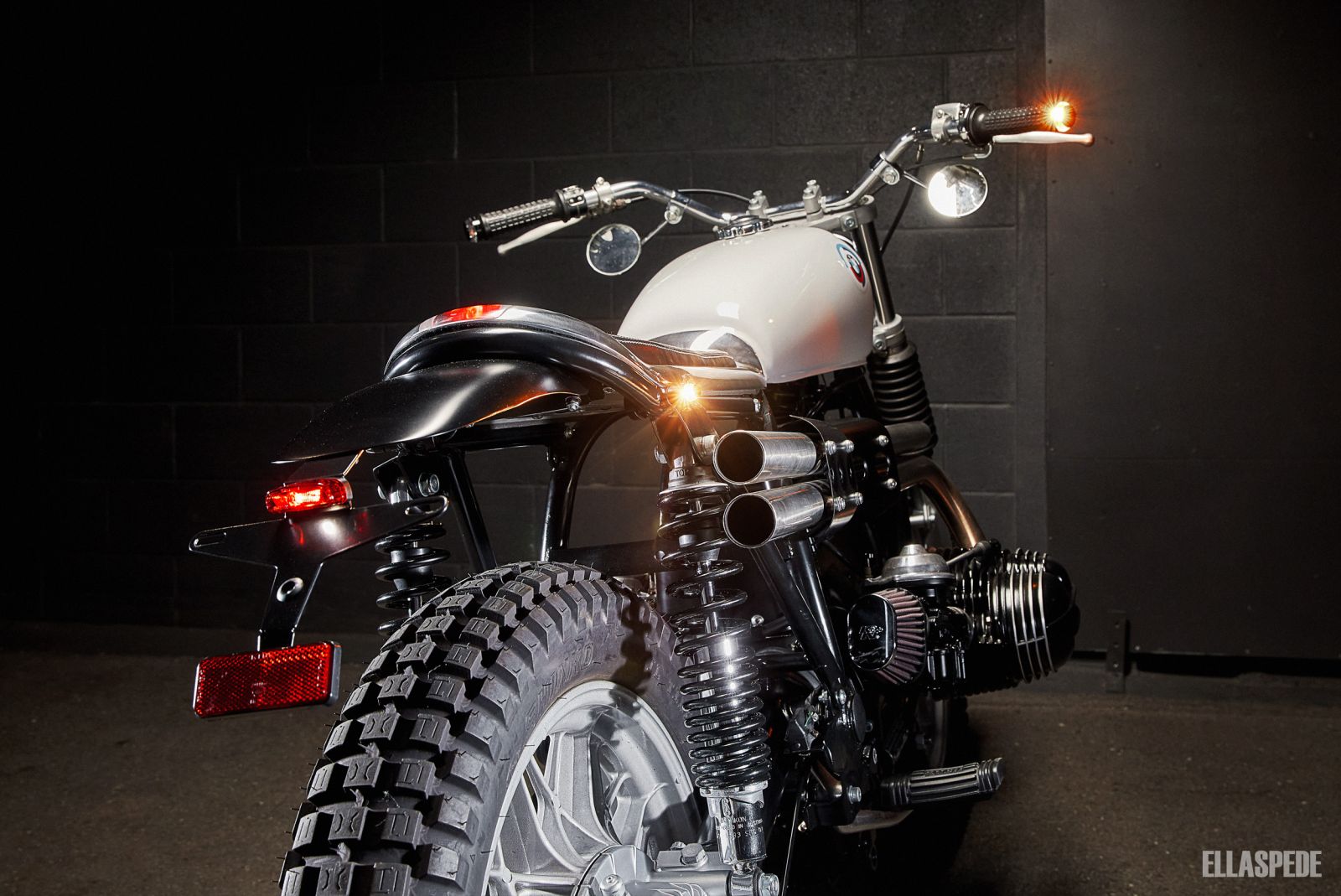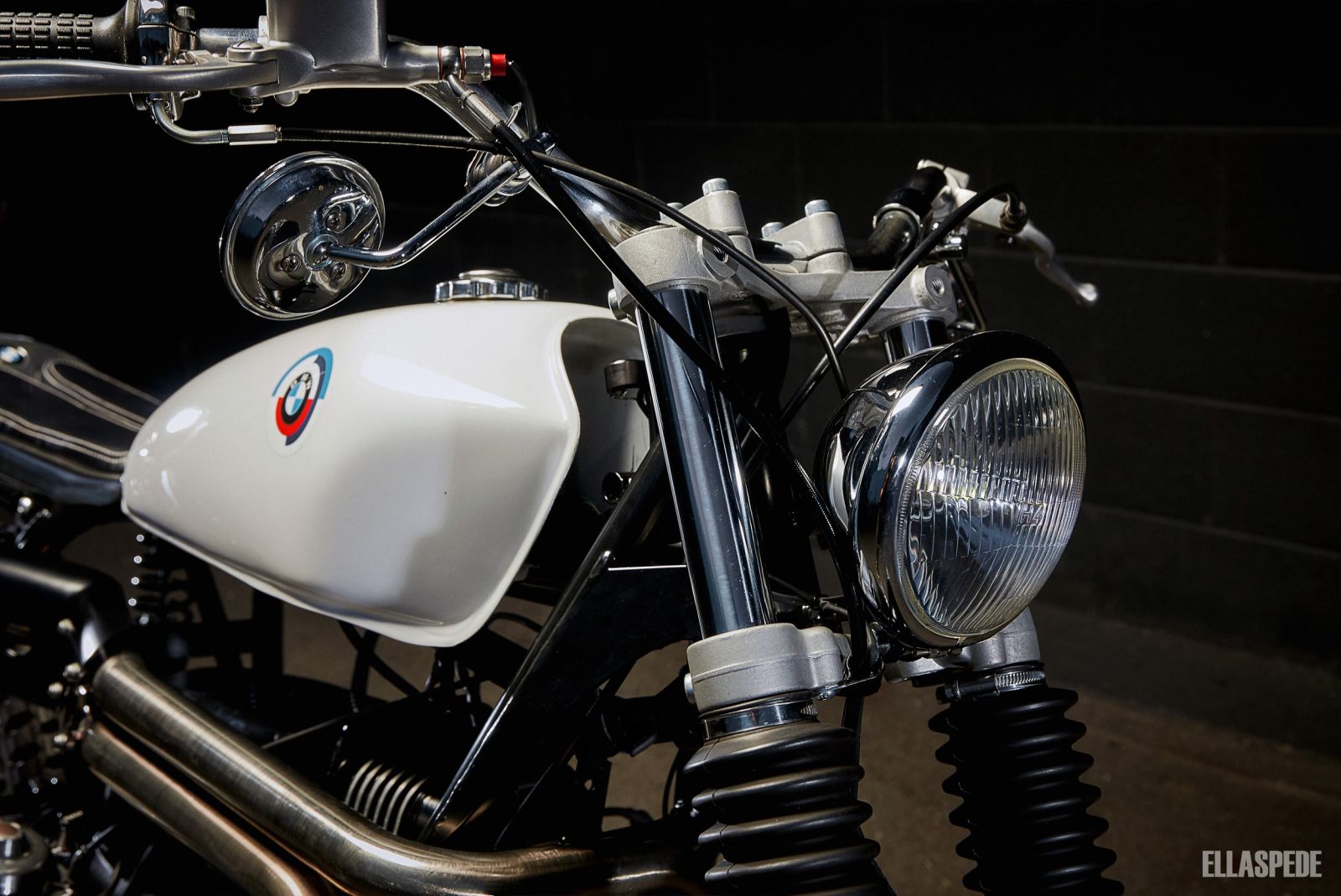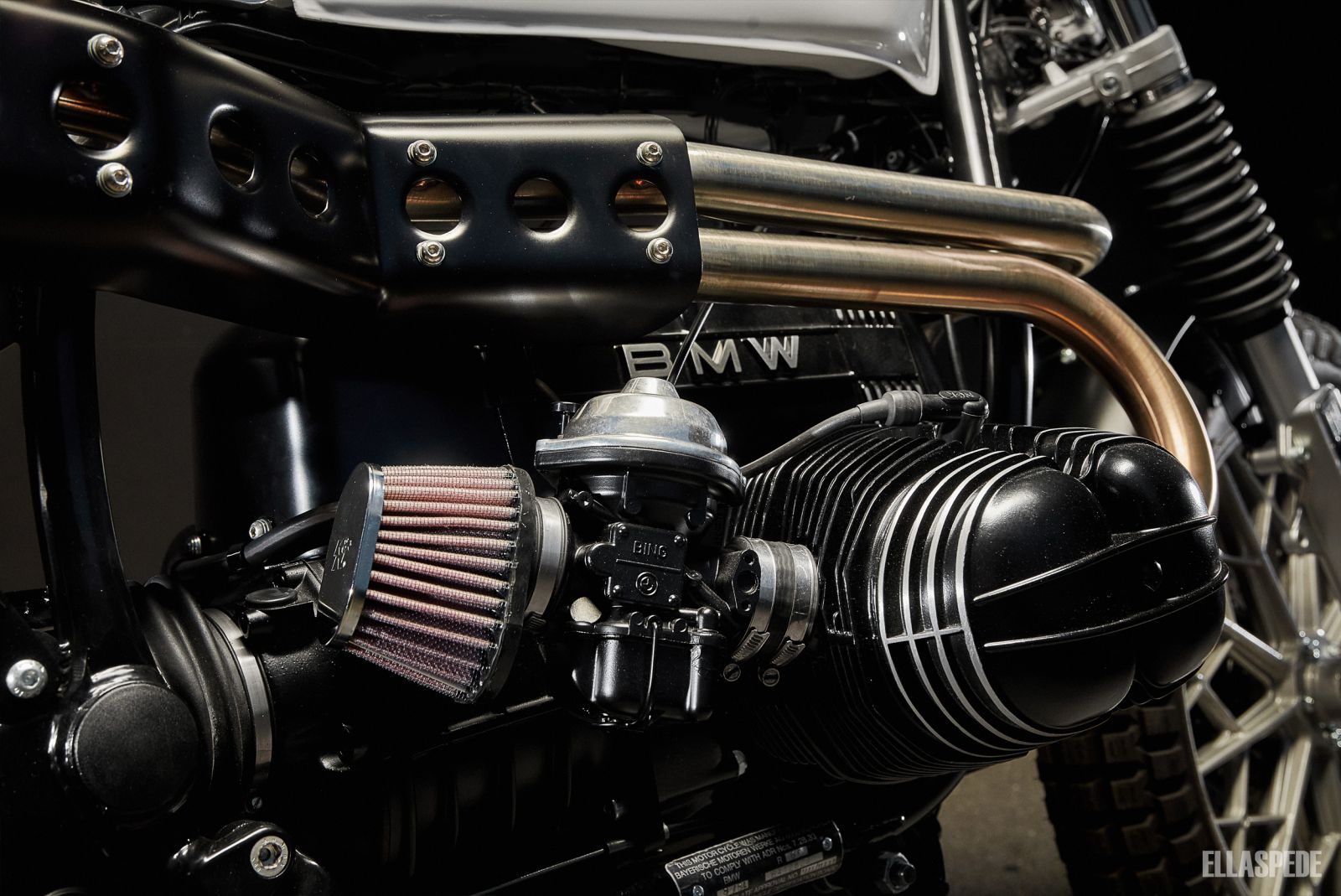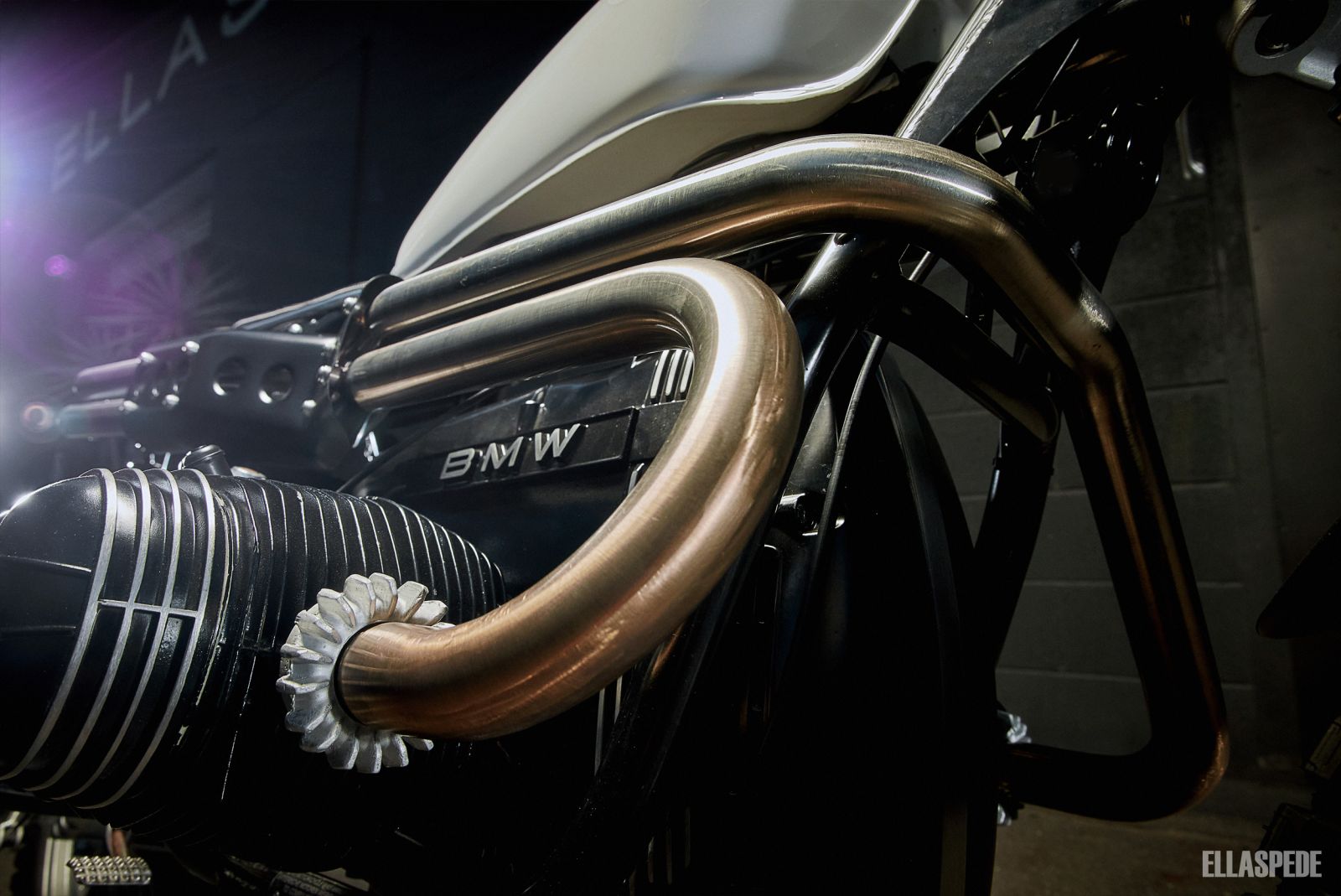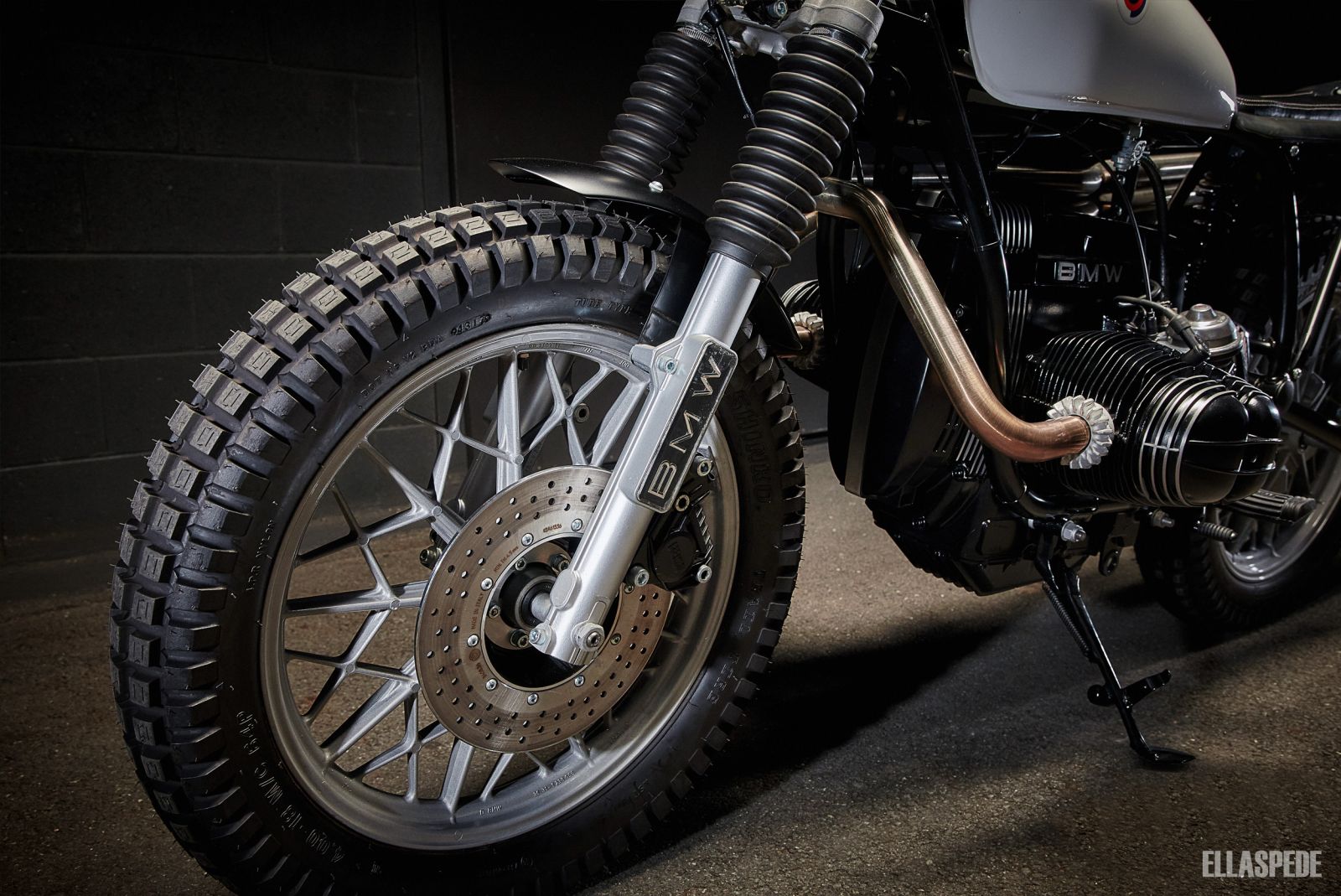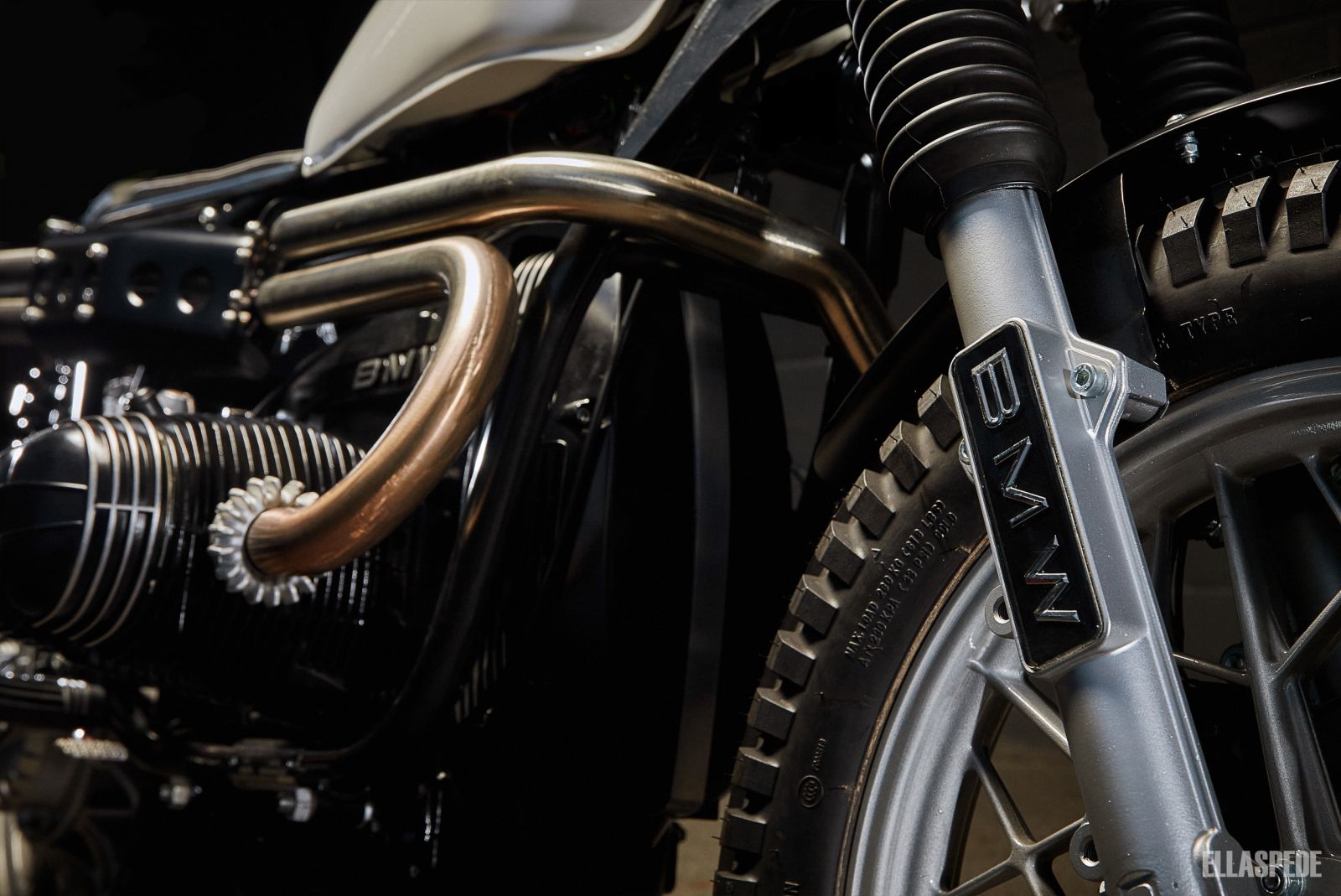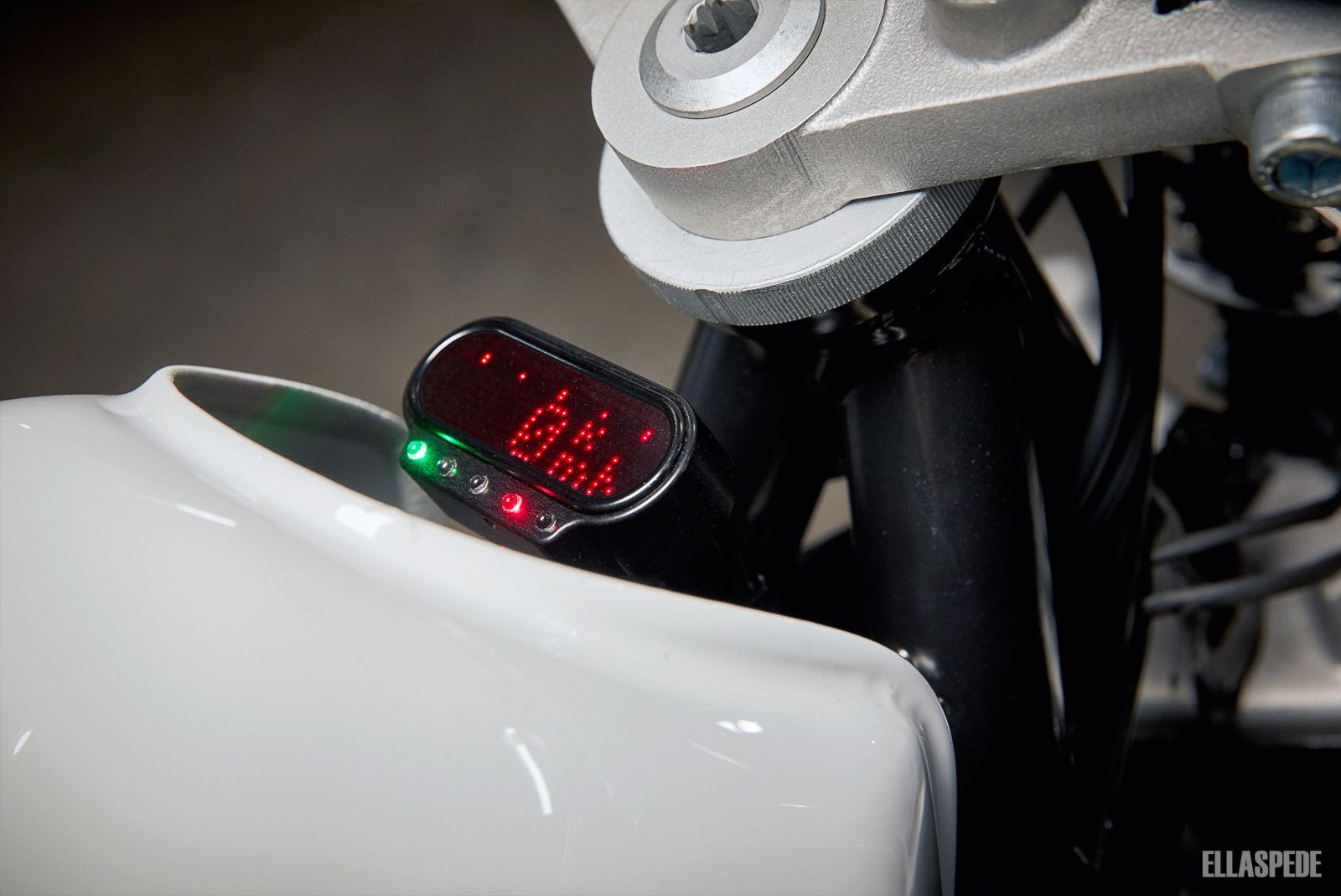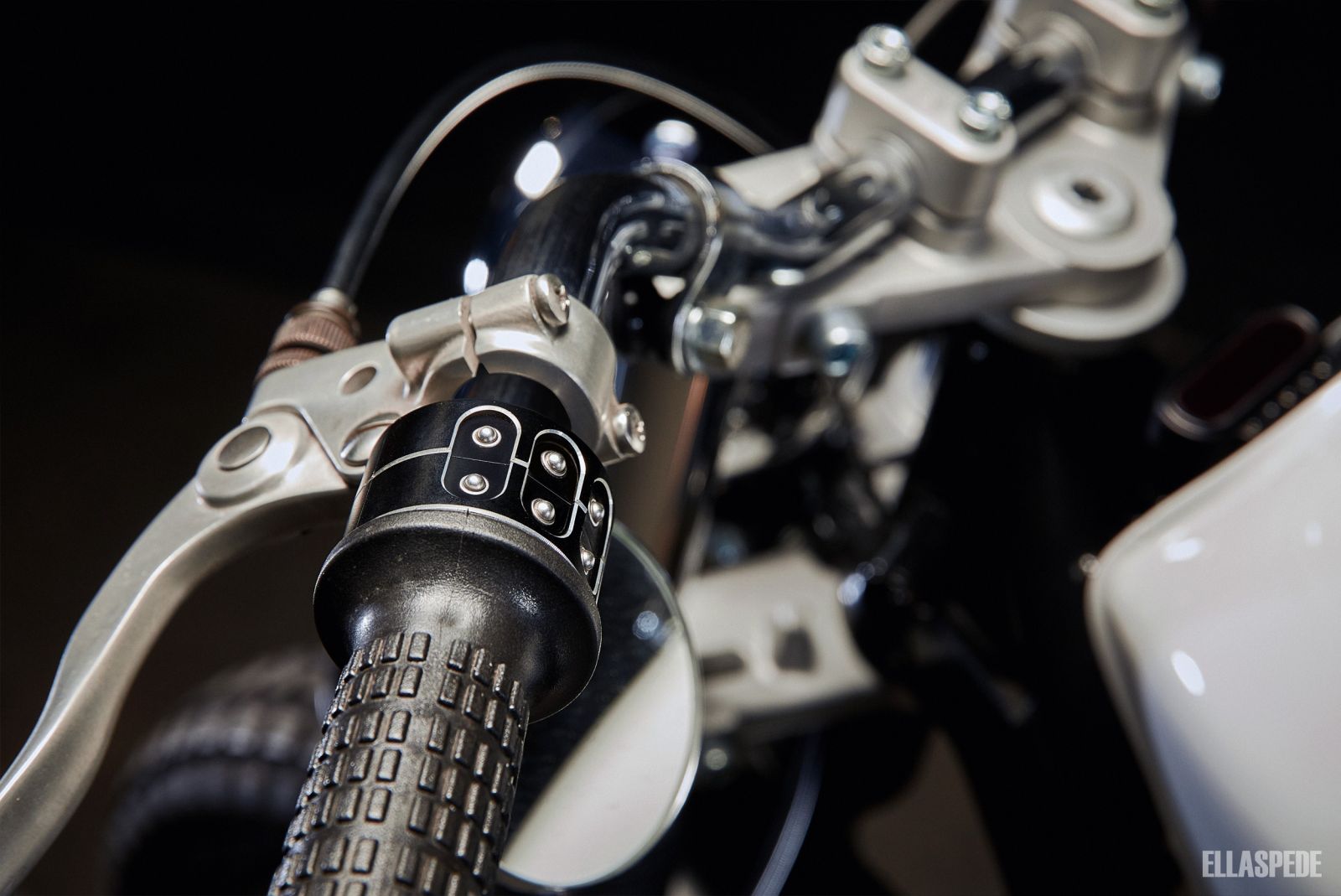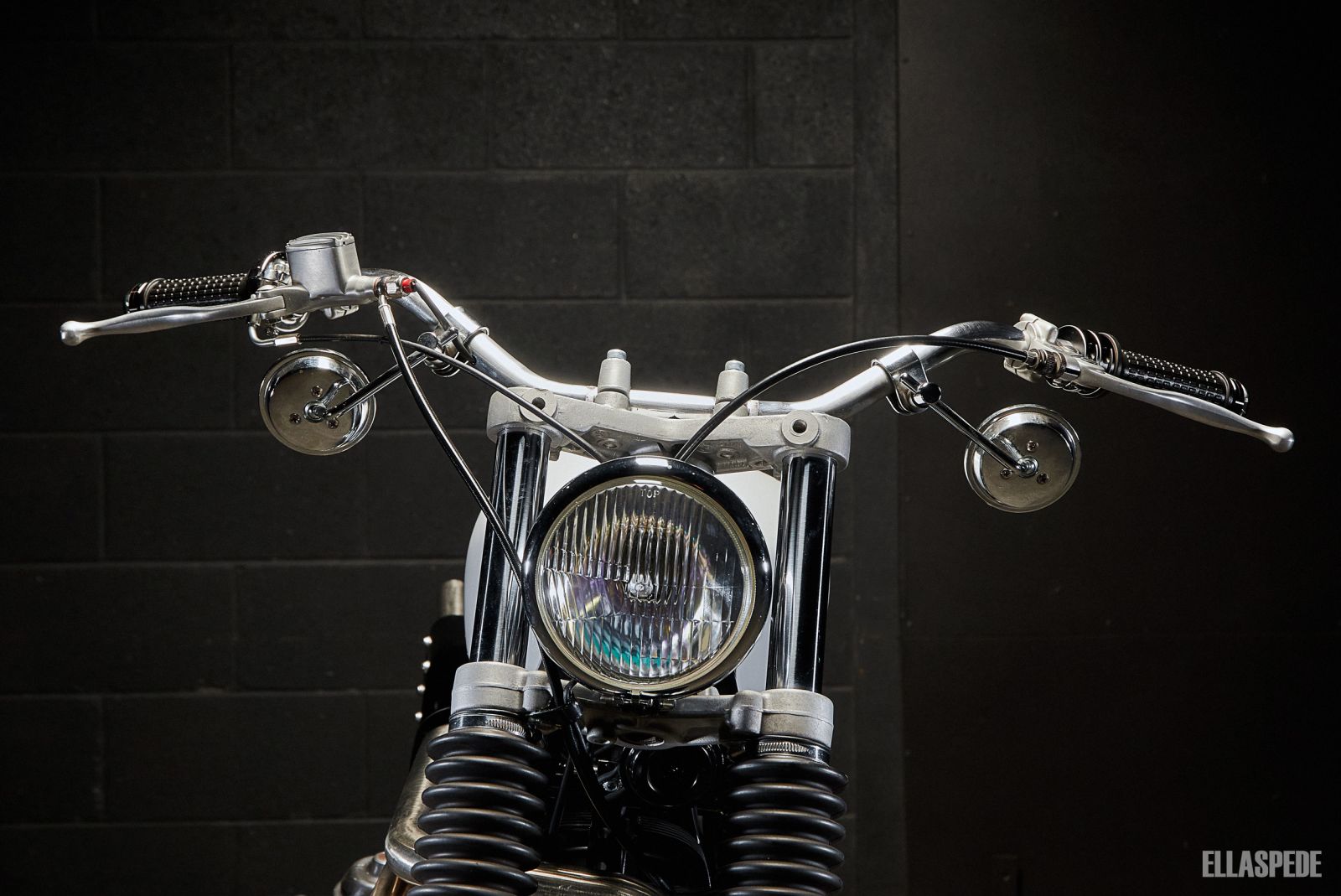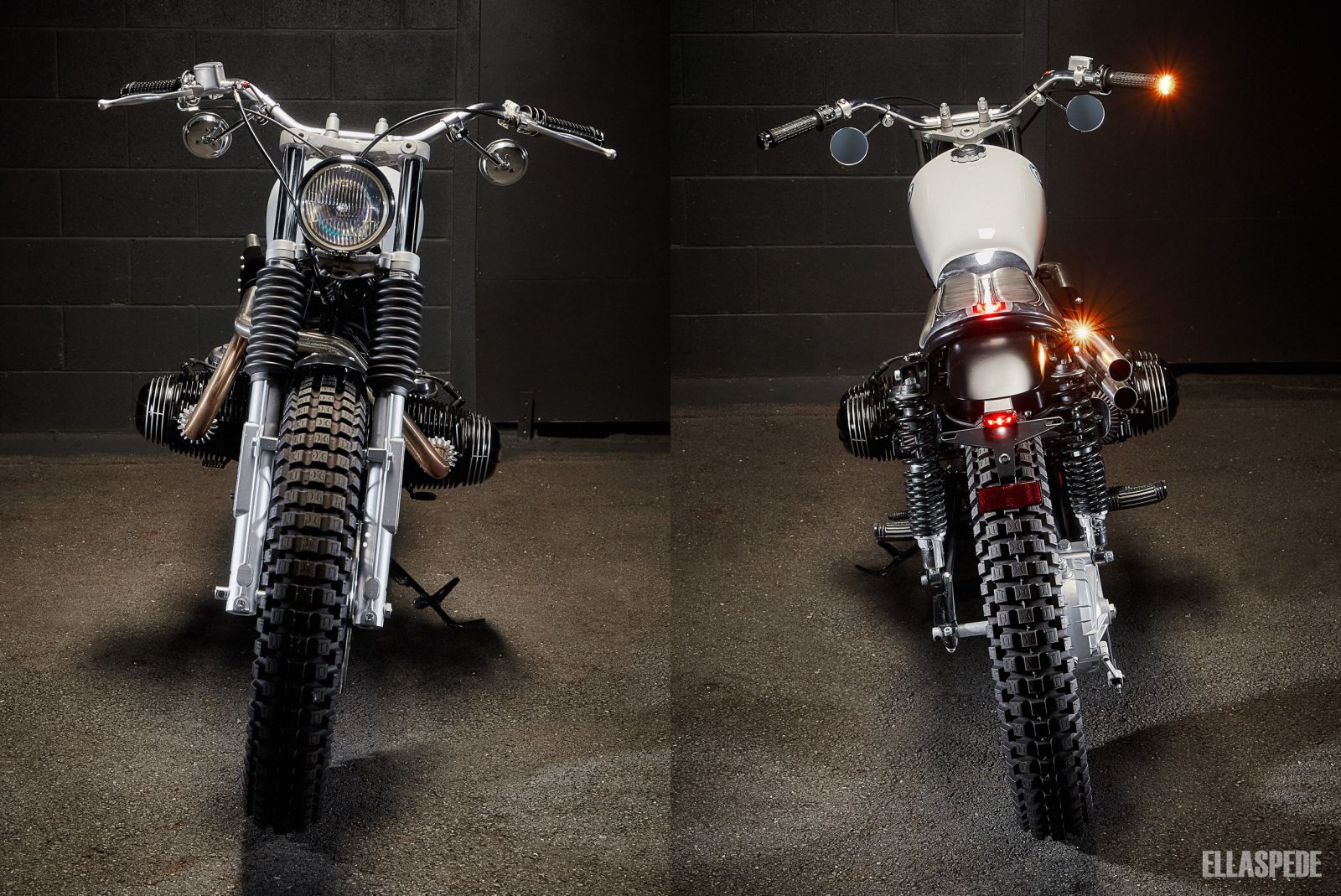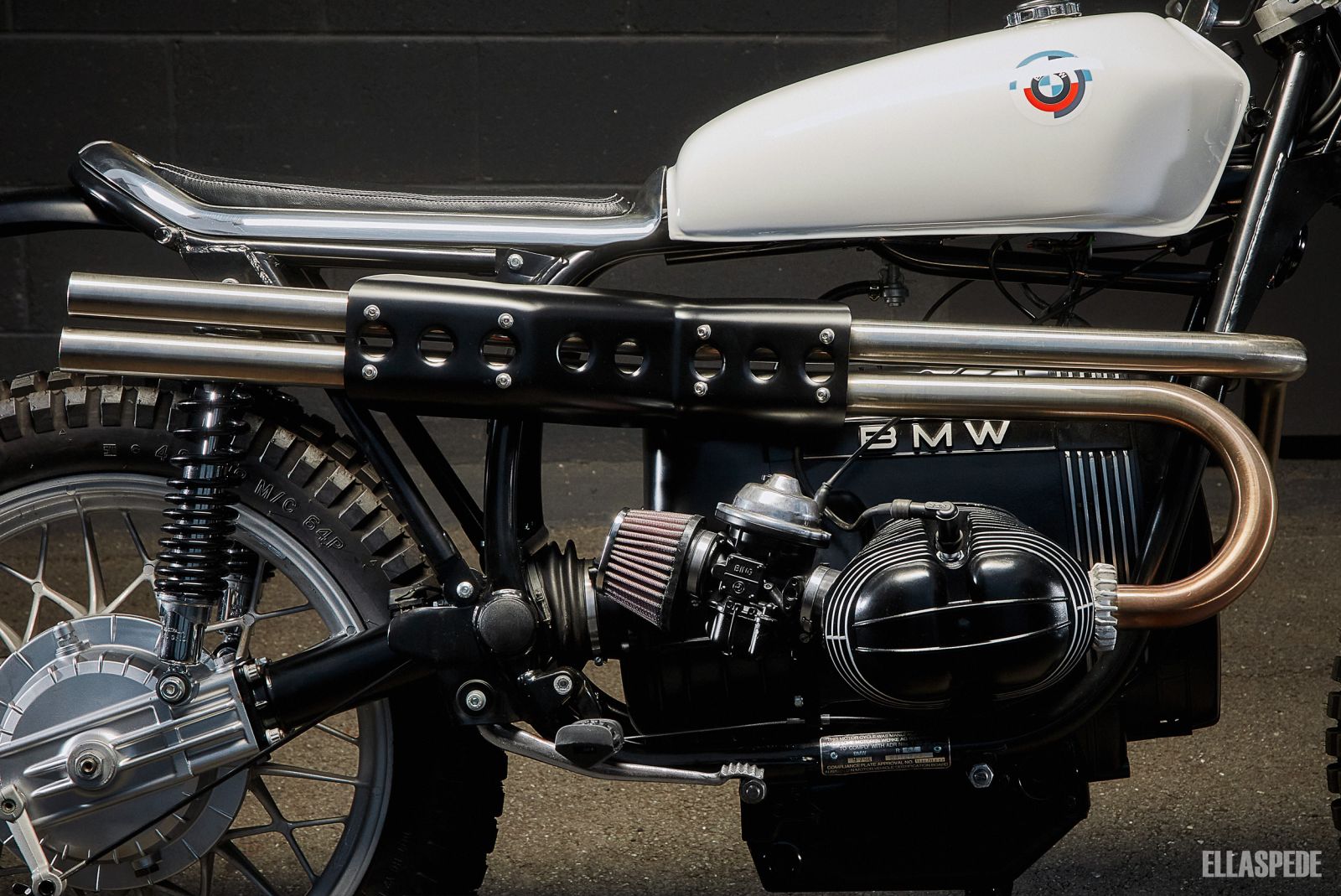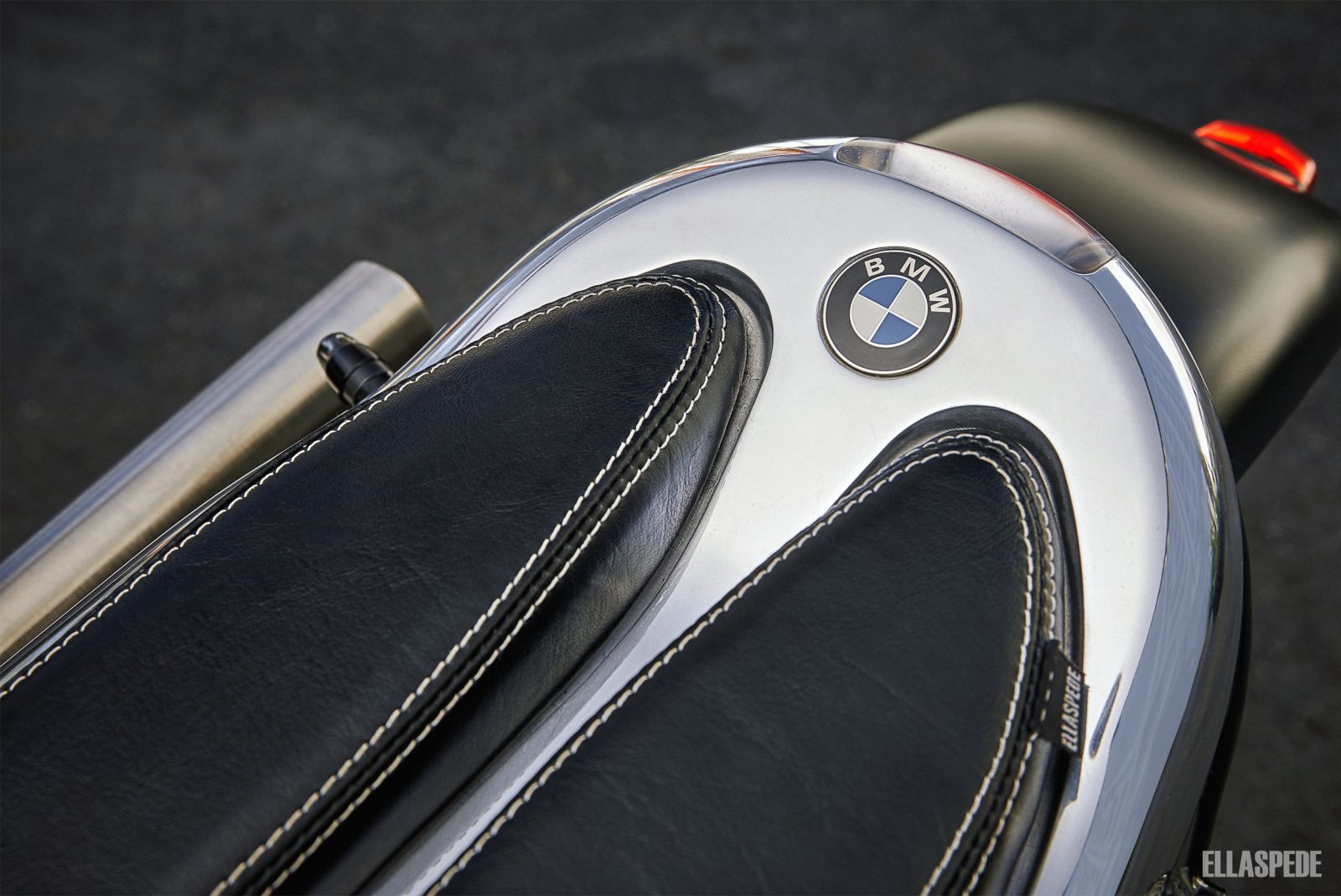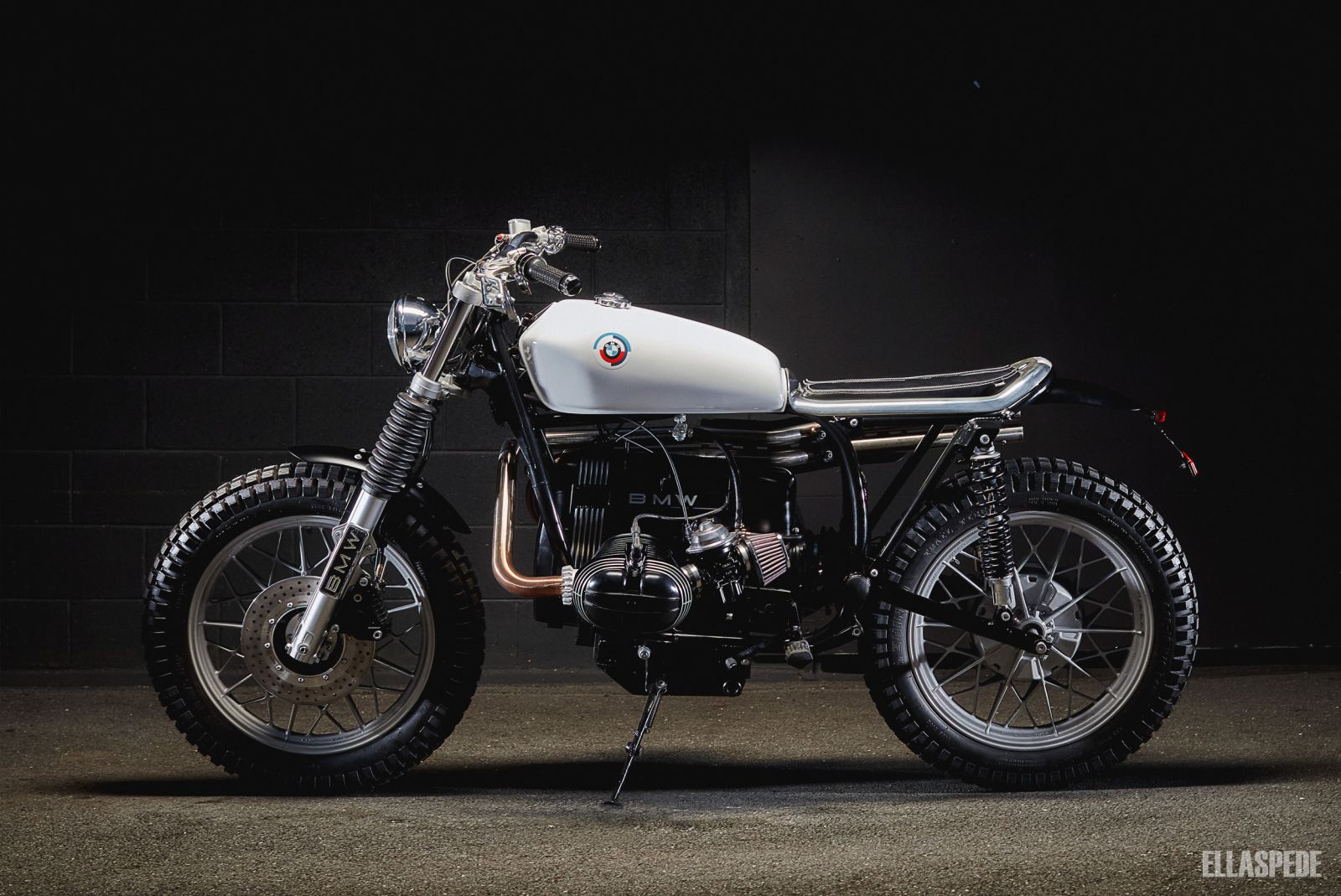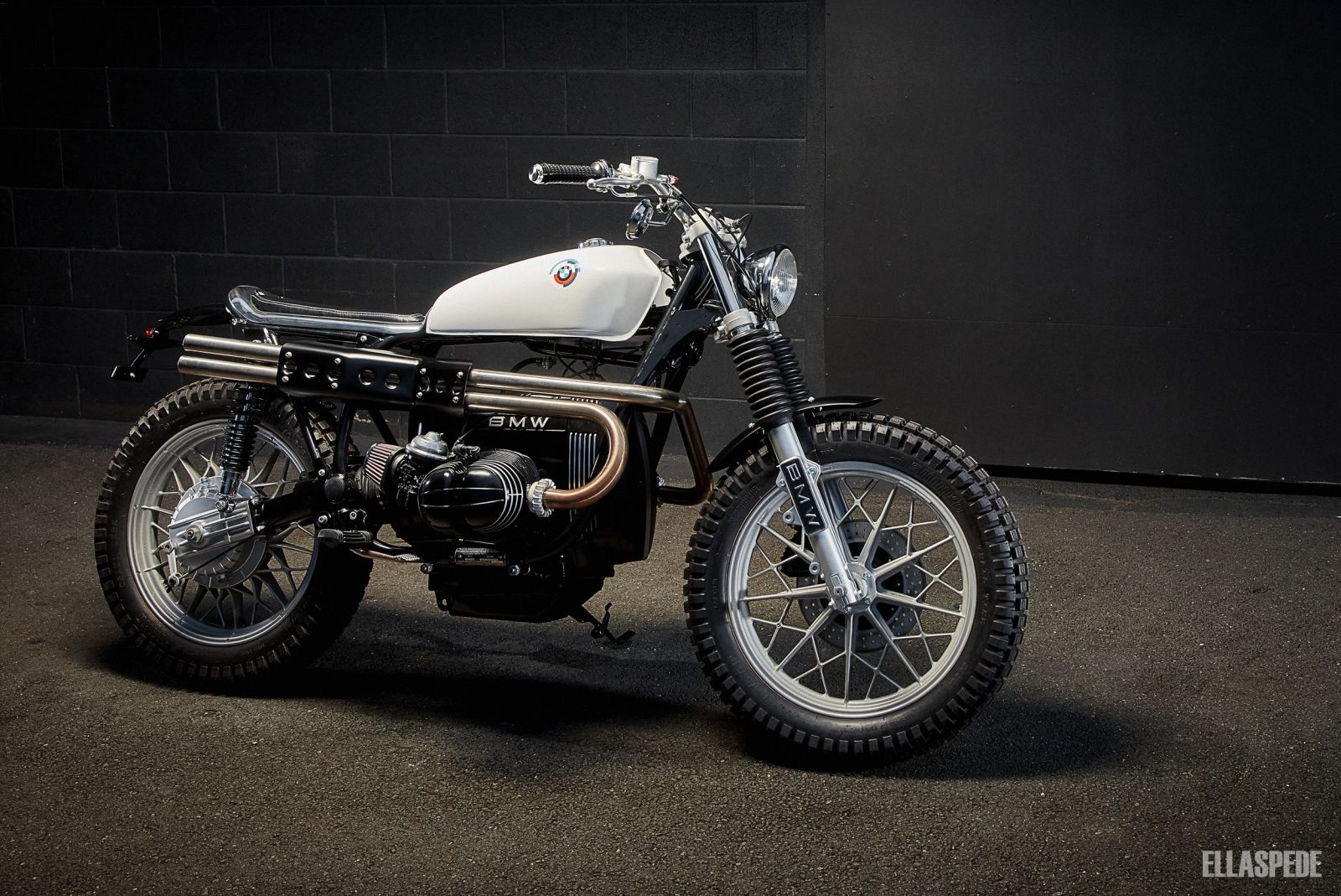 ---
Albums we listened to during the build of this bike:
---
Photos:
---
---
Comments (5)
Intelligent and beautiful design

By:

Frank

on 2 February 2021

Superb work. 'Minimalist' is the correct description. Detail after detail, it all integrates seamlessly, nothing 'bolt-on' or overdone about this build. Looking at your builds over the years it's so obvious that you have a gift, a real eye for how a finished product should look. The hardest part is to convert from paper to reality, which this build captures magnificently. I know beauty is in the eye of the beholder, but from a personal perspective and scouring various websites, I've seen far too many bikes 'weighed down' with excessive bling, and design briefs that have lost their way (the Frankenstein effect). Incidentally I hope to never see wrapped exhaust ever again. This BMW shines a light on 'how to' projects. Congratulations to Ellaspede on another superb build!





Ellaspede Response
Thanks Frank! You're spot on about it being difficult to transfer a build concept from paper to reality and how sometimes the design brief can get lost along the way. It can be a struggle but we're really happy with how this bike turned out and are happy to hear you like it as well. Cheers mate
---
Just wow!

By:

UJM Rider

on 30 December 2020

This is one of the coolest I have ever seen. It just has that certain something. Great work, I wish it was mine!
---
Sniff, sniff

By:

Jean-Paul

on 24 December 2020

i am speechless
---
just perfect!

probably the best i've seen - minimalist exquisite -just perfect ---- 12 out of 10 gents.





Ellaspede Response
Cheers Bob! Glad you like it mate
---
TKO

By:

Stewy

on 11 July 2020

Nice job . A boxer engine A knock out custom build Awesome workmanship & credit to all involved in the build





Ellaspede Response
Thanks Stewy! We're really happy with how it came together :)
---
Leave a comment