EB1054 - 2016 Triumph Thruxton R
Author: Ellaspede Date Posted:26 November 2021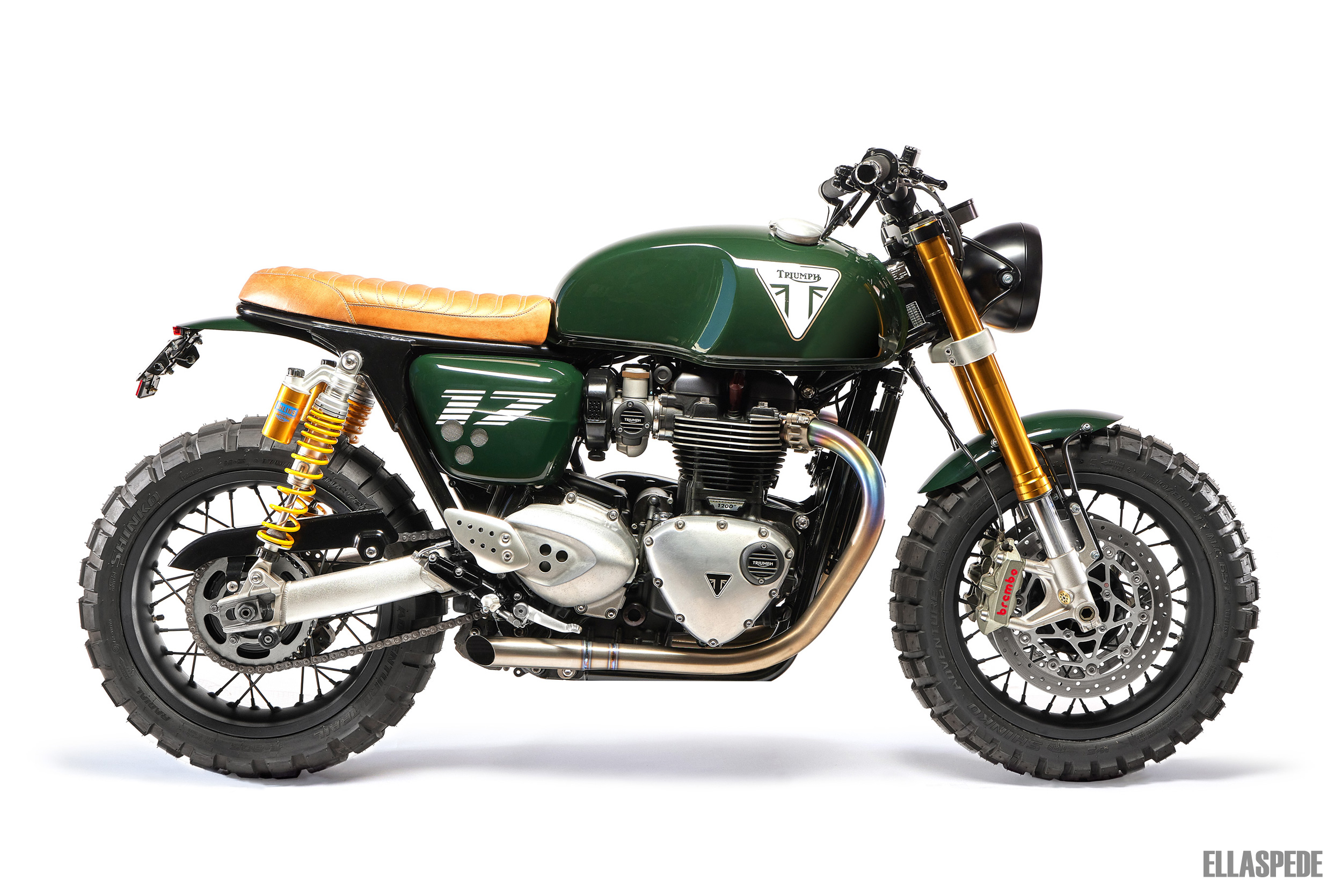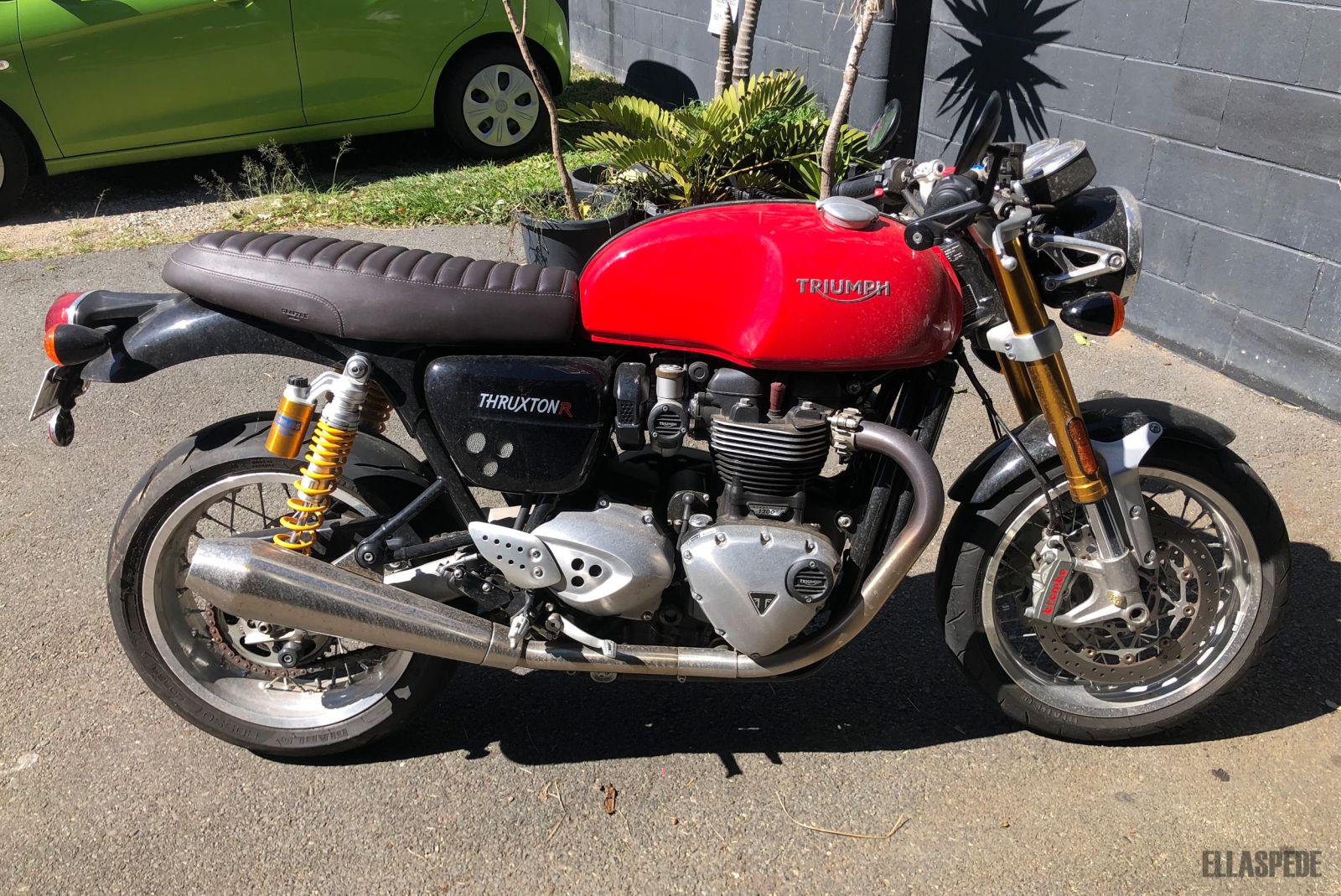 We often tell clients to "get the best 'base' bike you can" when they're seeking out a donor for their next custom build, and that's exactly what Davin did with his 2016 Triumph Thruxton R.
But Davin beat us to the punchline on this one, as his history building custom cars taught him the same thing. If a factory car or bike already has the performance, handling and brakes sorted, then it's usually easier (and cheaper in the long run) to spend a bit more to start with, instead of getting a cheaper donor and trying to add those expensive parts later on.
Davin always knew he was going to build what we would call a 'Street Scrambler', and although Triumph sell a 900cc Street Scrambler model, he knew something a little more muscular with some fancy factory extras was going to be the ideal starting point for his build.
So after some searching he showed up with a one-owner 2016 Triumph Thruxton R in Diablo Red. Sure it's a factory 'cafe racer', but the big ticket items like the 'High Power' 1200cc engine, big Showa forks, Ohlins external res rear shocks and twin front Brembo 4 piston calipers are all big boxes to tick for a cool and capable custom build.
Davin said it best… "It was a great base for conversion, namely top shelf Ohlins, big Brembos and enough power so I don't need to tinker with the engine. I've been modding cars for years, so I learned the importance of starting with a good base."
Although the Thruxton R comes with clip on bars and rear sets, stock positioning is definitely more relaxed 'sports touring' then a full blown sports bike. So after seeing the same model given some scrambler treatment in the UK, Davin knew he was onto the right donor bike.
When the bike rolled in it was the usual strip down of all the unnecessary parts. This bike had a factory option 'flat' seat fitted, which combined with the stock rear guard made the rear end look super long, almost as if the swing arm was too short for the bike! So as you can imagine we were keen to shorten the rear frame up and correct some proportions moving forward.
Stock pipes, lights, indicators, gauges, front guard and a bunch of other brackets and misc parts all went into a box destined for the back of Davin's garage.
With the rear frame shortened, tidied up and a hoop added it was time for a custom steel seat pan with quick release latch and the custom steel rear guard to be shaped up. Mounting nuts and wiring tabs were welded to the underside of the guard for the tail light and number plate holder setup.
At the front a custom shaped steel front guard now hangs off custom tube mounts. Up top the stock top triple tree was removed along with the clip on bars for an LSL Thruxton 'Superbike Kit' triple tree with matching LSL aluminium 'craft' bars. The new bar setup isn't that much higher then the 'high' factory clip ons, but they fit the new look and provide just enough rise for Davin's desired riding position.
The new bar setup now holds all new controls and switchgear too, with the chunky stock items making way for KustomTech levers, Motogadget switches, Domino ride by wire throttle, Motogadget 'street' bar end mirrors and Motogadget Mblaze bar end indicators.
The Motogadget catalogue was also raided for their Motoscope classic speedo and M-unit Blue which was setup with their M-lock RFID ignition. A Peak Mod Vis system helps the whole lot come to life.
Lighting the way is a new LSL Clubman headlight on custom tube mounts to match the front guard. Rear facing illumination is care of a Koso Hawkeye LED tail light tucked up under the guard on an Ellaspede Ninja Star licence plate holder which also carries a pair of Motogadget Pin indicators on Ellaspede plate mounted indicator mounts.
The seat was shaped up with high density comfort foam and covered in a tan leather with a 'reflected' tuck and roll design from the centre out towards the front and back.
A few exhaust options were discussed and titanium was being tossed around as the material of choice, so when Davin happened onto the current 2-into-2 setup on eBay Asia from a Thruxton project that wasn't going ahead he jumped on them for a criminal $300 AUD! The arrived with no visible brand markings, so we can only assume they were custom made and possibly moved on due to how loud they were straight out of the box. Not suitable for Davin's daily rider duties we added some mechanical baffles in the end of the pipes to ensure his neighbours don't hate him on every startup.
Aiming to black out some of the polished silverware, Davin wanted the wheels stripped and powder coated in matte black before being shod with chunky Shinko E805's front and rear.
With the bike now really starting to come together it was time for paint. Although it looks a lot like the classic 'British Racing Green', Davin had his own spin on it… "I'm a Porsche fanatic, hence the paint is actually Porsche Brewster green, which goes well with the contrasting gold shocks and tanned seat."
The classic Triumph 'T' logo adorns the tank with a subtle tan outline tying in the seat colour. The front guard, rear guard and both side covers were covered in the same Porsche green, with the side covers also sporting Davin's old lucky basketball number '17' on both sides.
Painted parts on and this thing was ready to test ride, and believe us it was an absolute hoot! A slightly more upright riding position mated with an unbelievable bark from the titanium pipes would be sure to put a smile on anyones dial from day-to-day.
Davin's favourite part about the bike? He said "The exhaust and the controls. These pipes pop and bang with the over run, so sweet! I also appreciate the simplicity of the controls. Ellaspede did a great job of simplifying the busy speedo cluster and associated electrics. This was the biggest challenge but the results are amazing. Nothing beats the simplicity of good design."
So what's he getting up to with the bike now? "Believe it or not this will be my daily. I work just over a mile from home, so I prefer to ride to work every day, as compared to slogging it out with the school rat run." We wouldn't mind having to ride this thing down the road everyday, but something tells us that Davin will also be stretching it's legs on slightly longer rides when the weekend rolls around. If only to hear a little more from those 'motorcycle church' pipe organs!
Now when we stand back and look at the bike we're really pleased at how it's come together as a whole. The green paint is a nod to the traditional British colour but reflects Davin's own interests outside of bikes. It looks muscular, but trim in areas where the factory bike needed a nip and tuck... plus we didn't have to 'reinvent the wheel' to get it there.
The donor bike started as an excellent sum of it's parts and now resembles a clean custom that Davin can enjoy day-to-day. No doubt he'll be happy to do so and we can guarantee the sight and sound of this thing will be something to see rolling around Brisbane.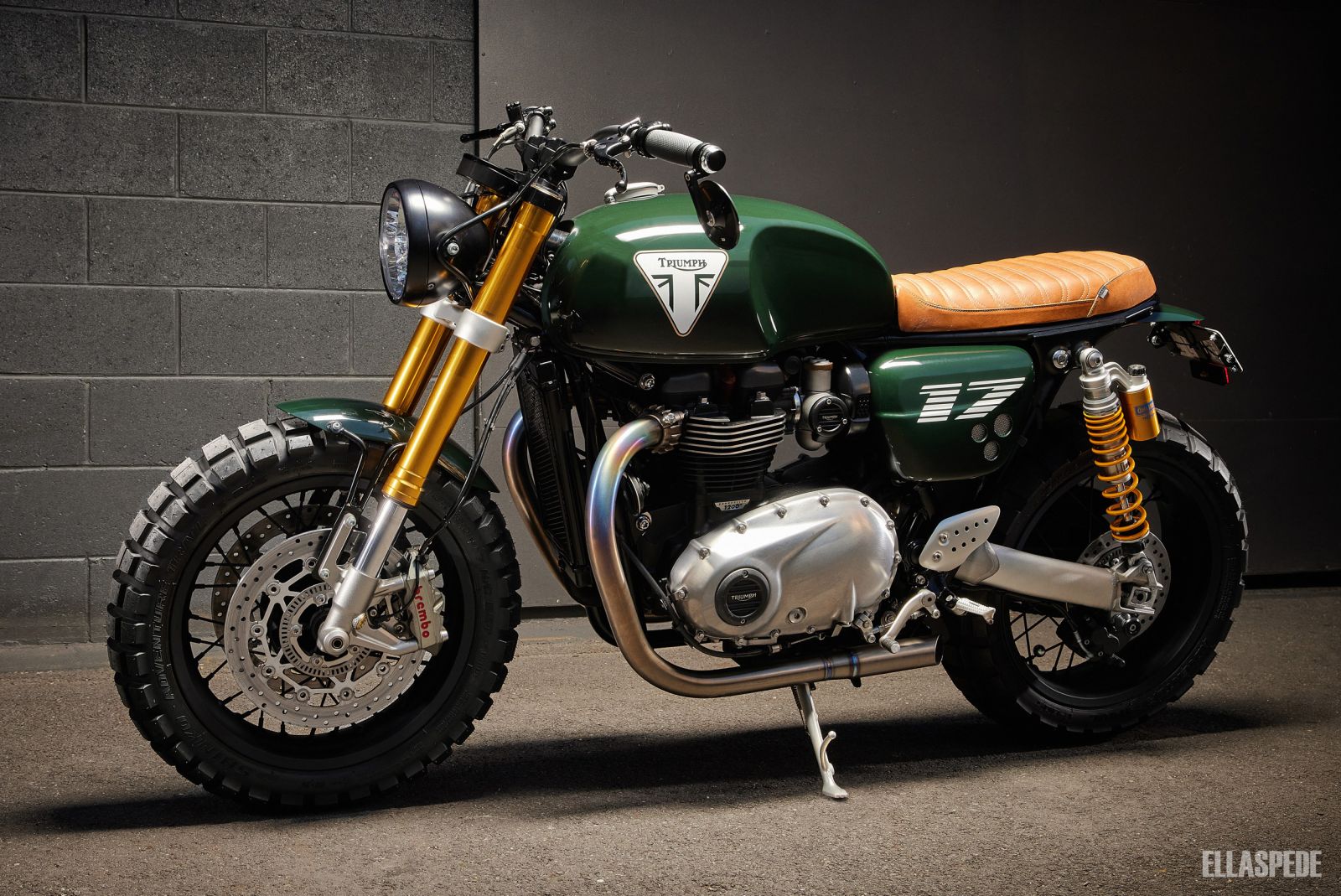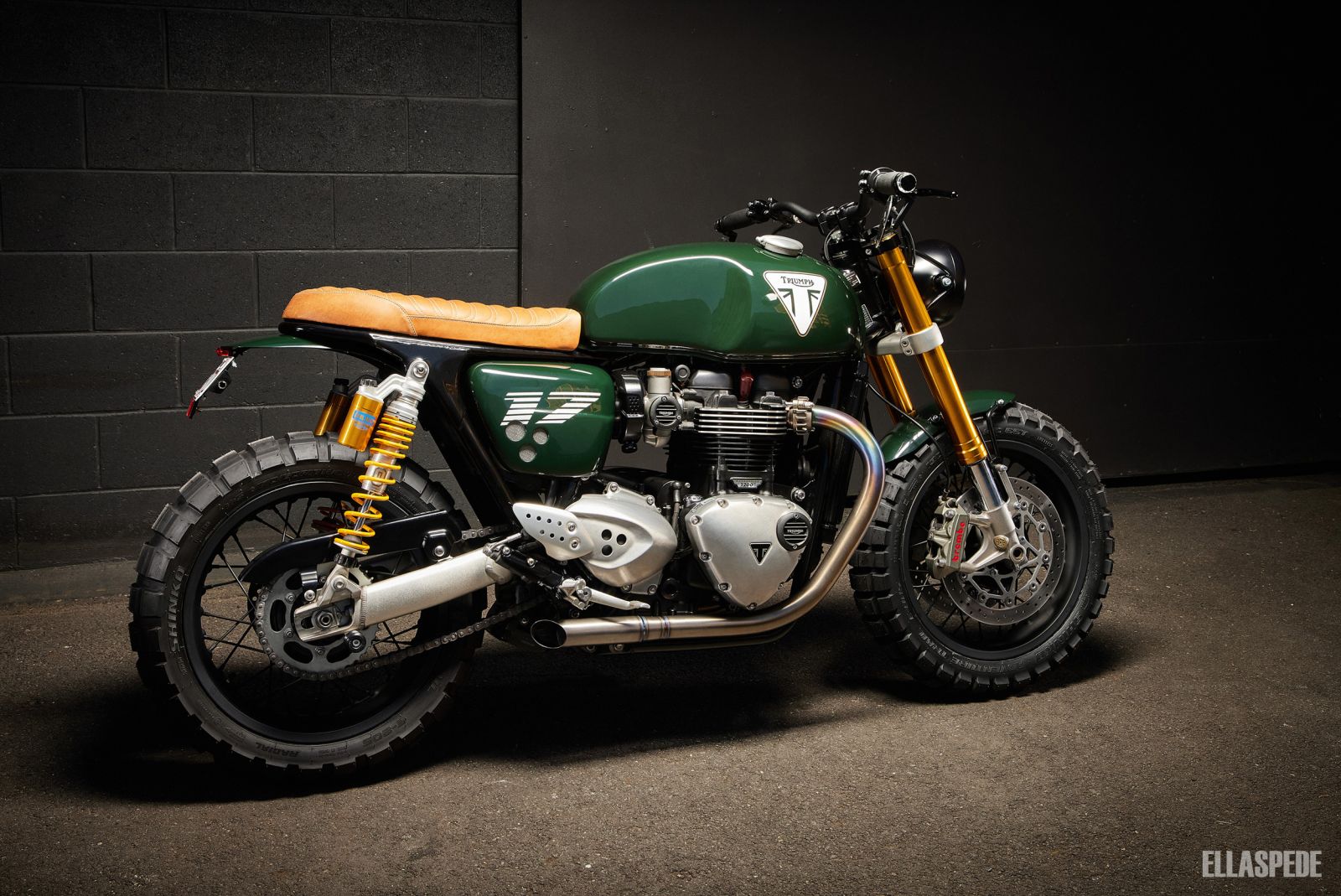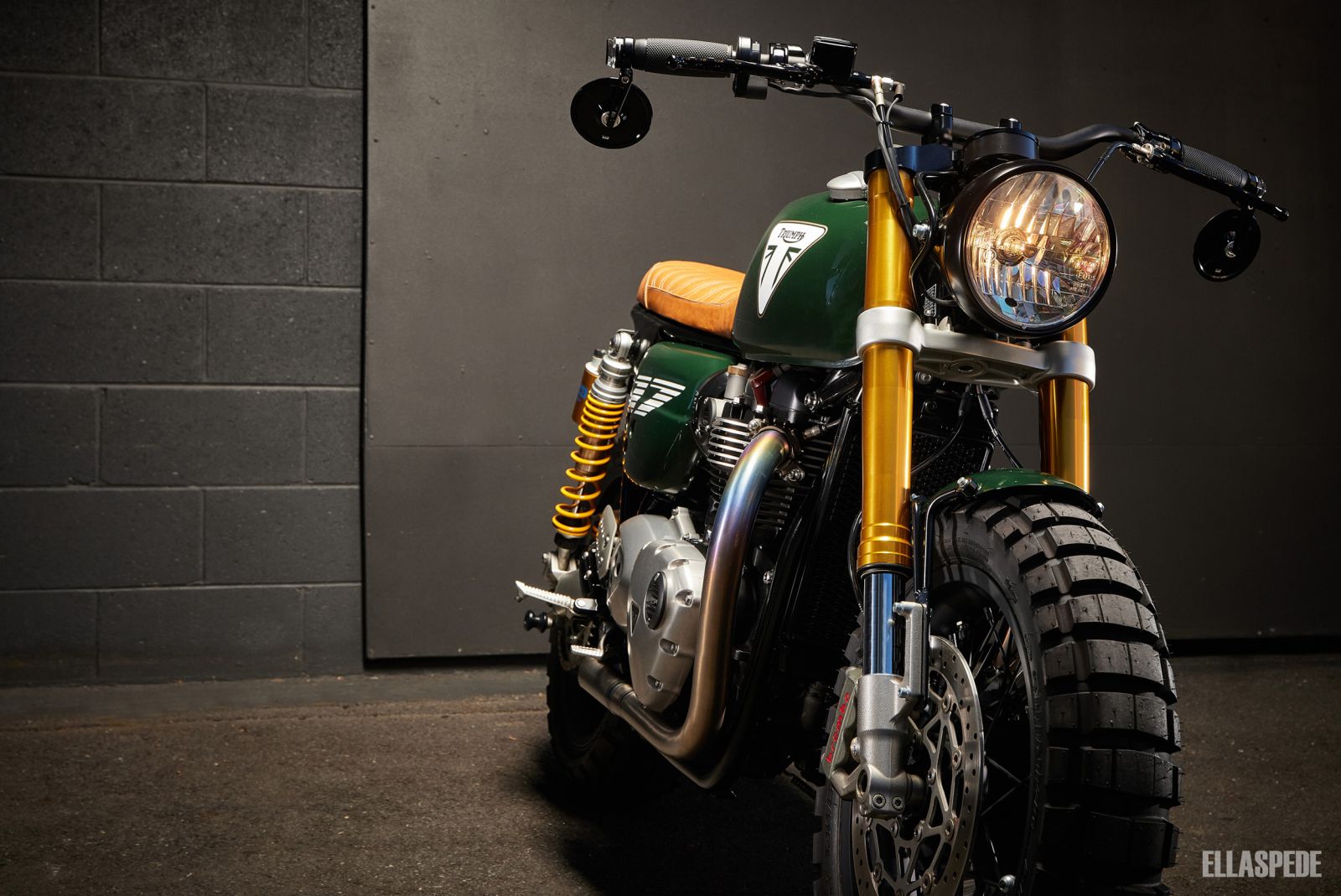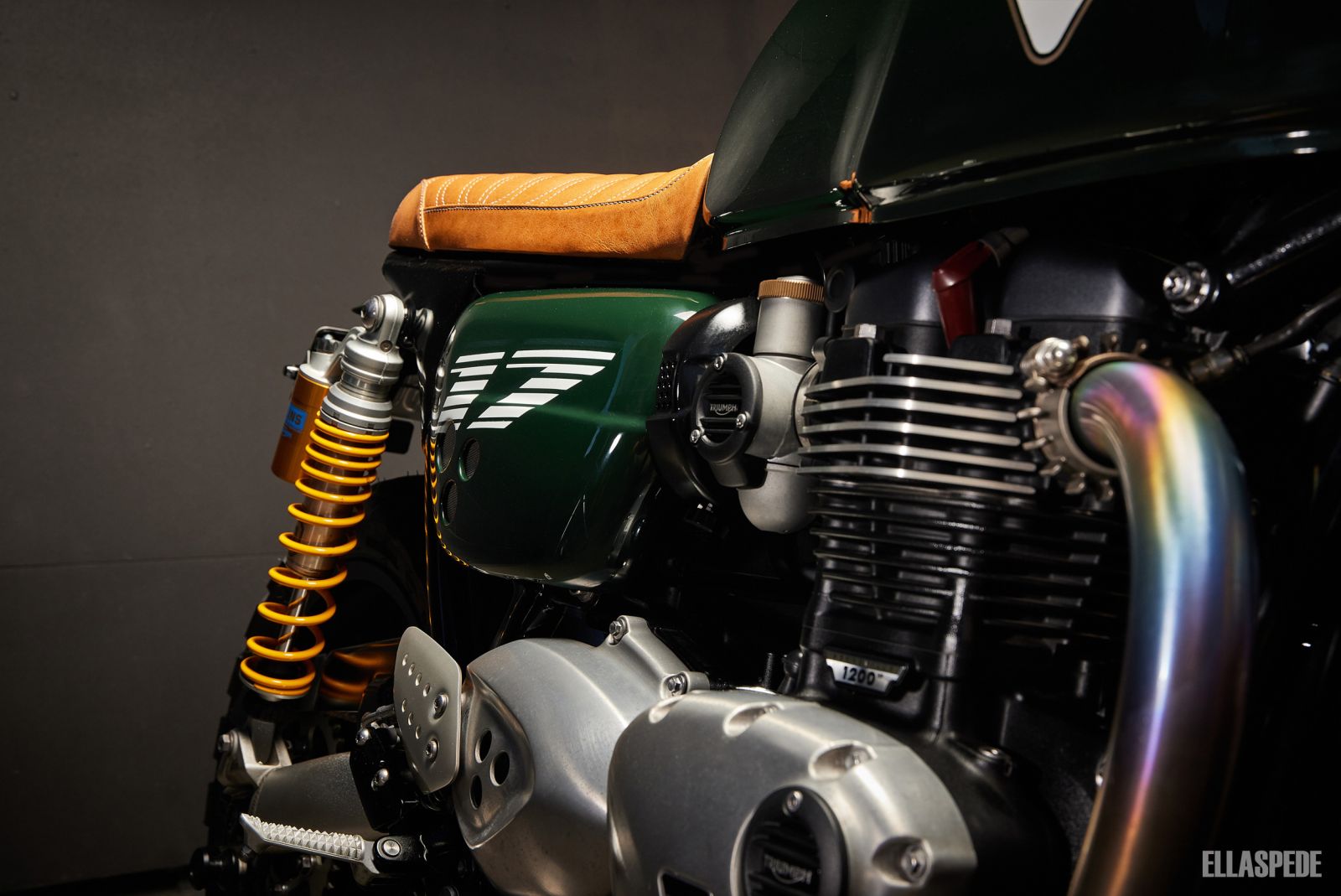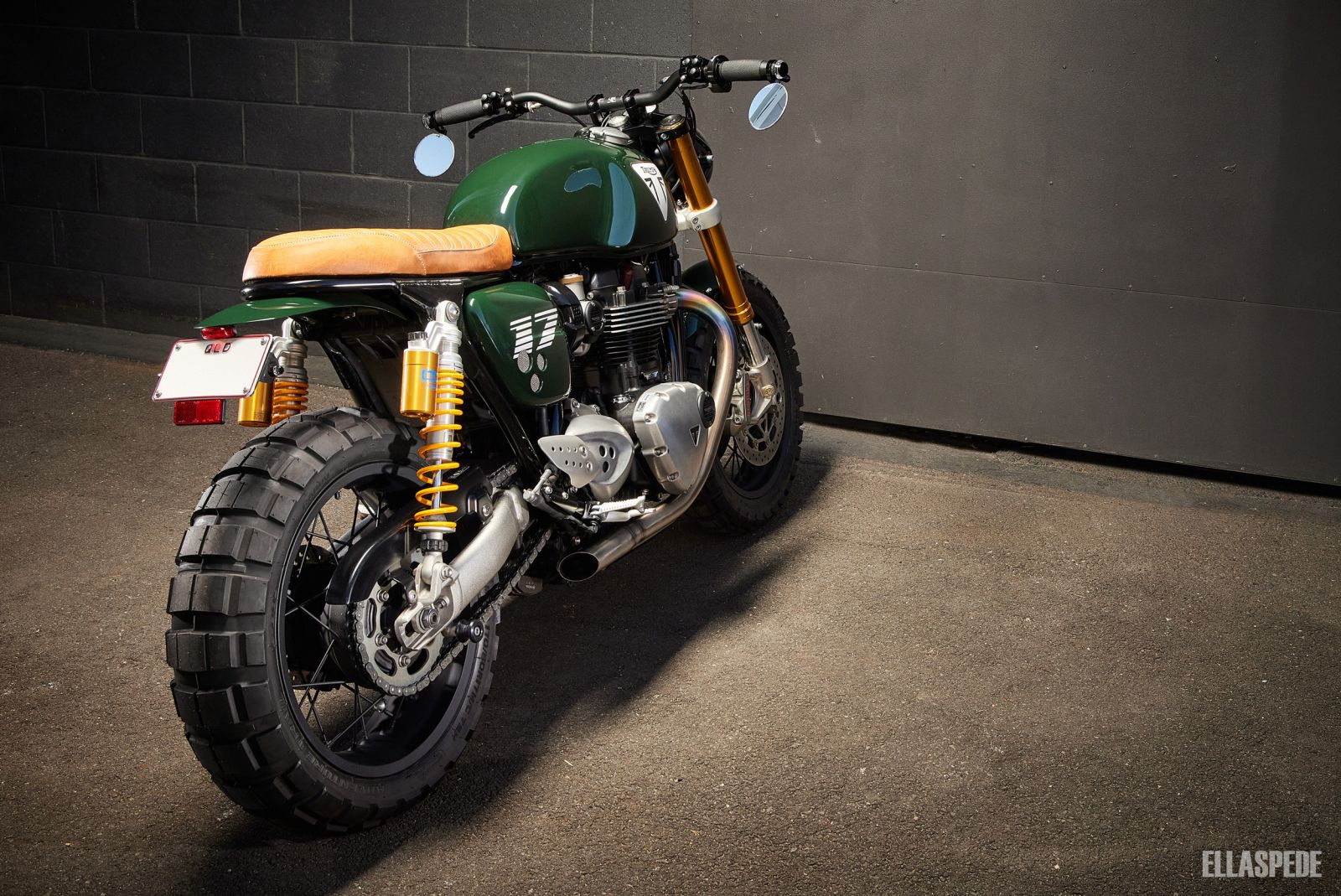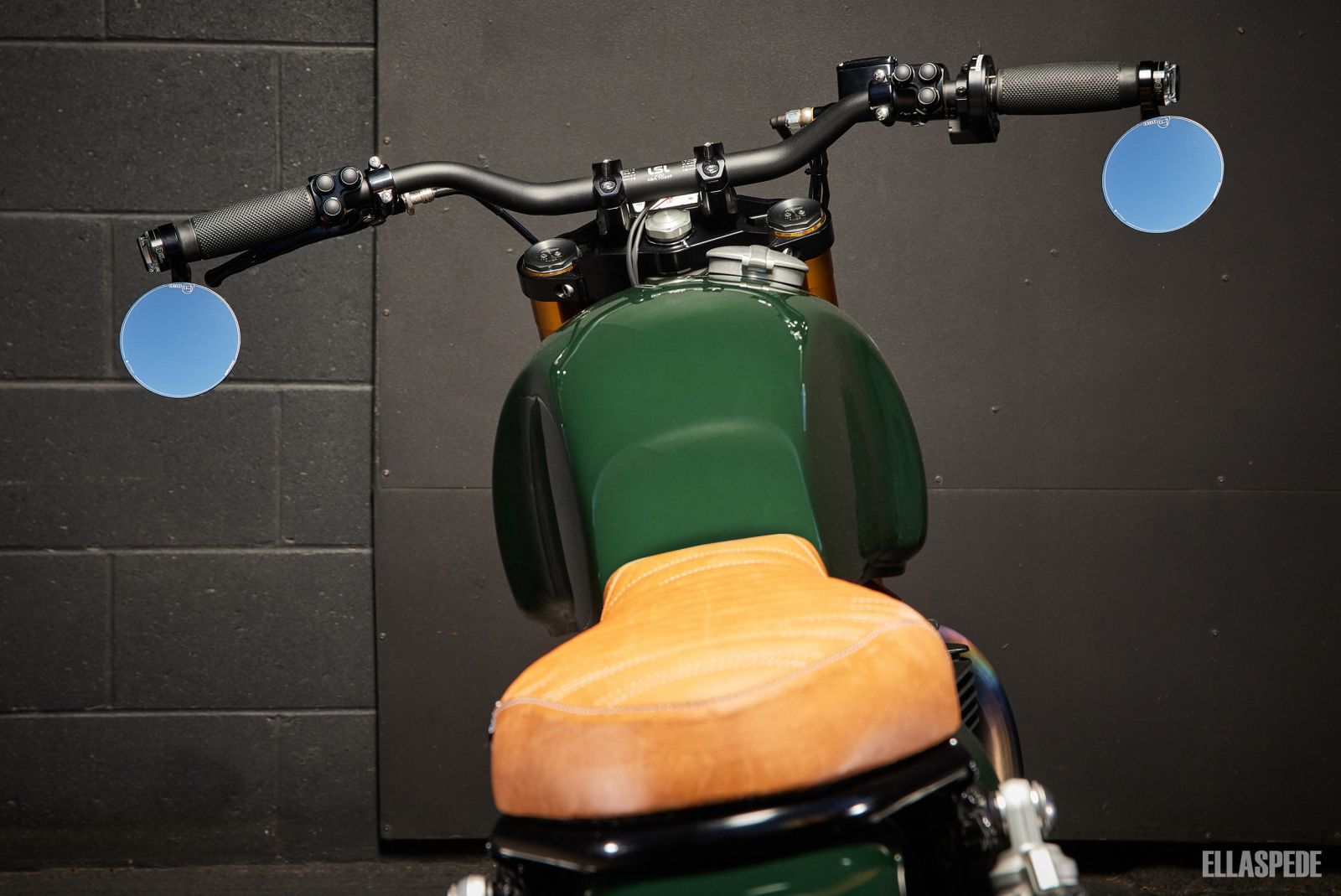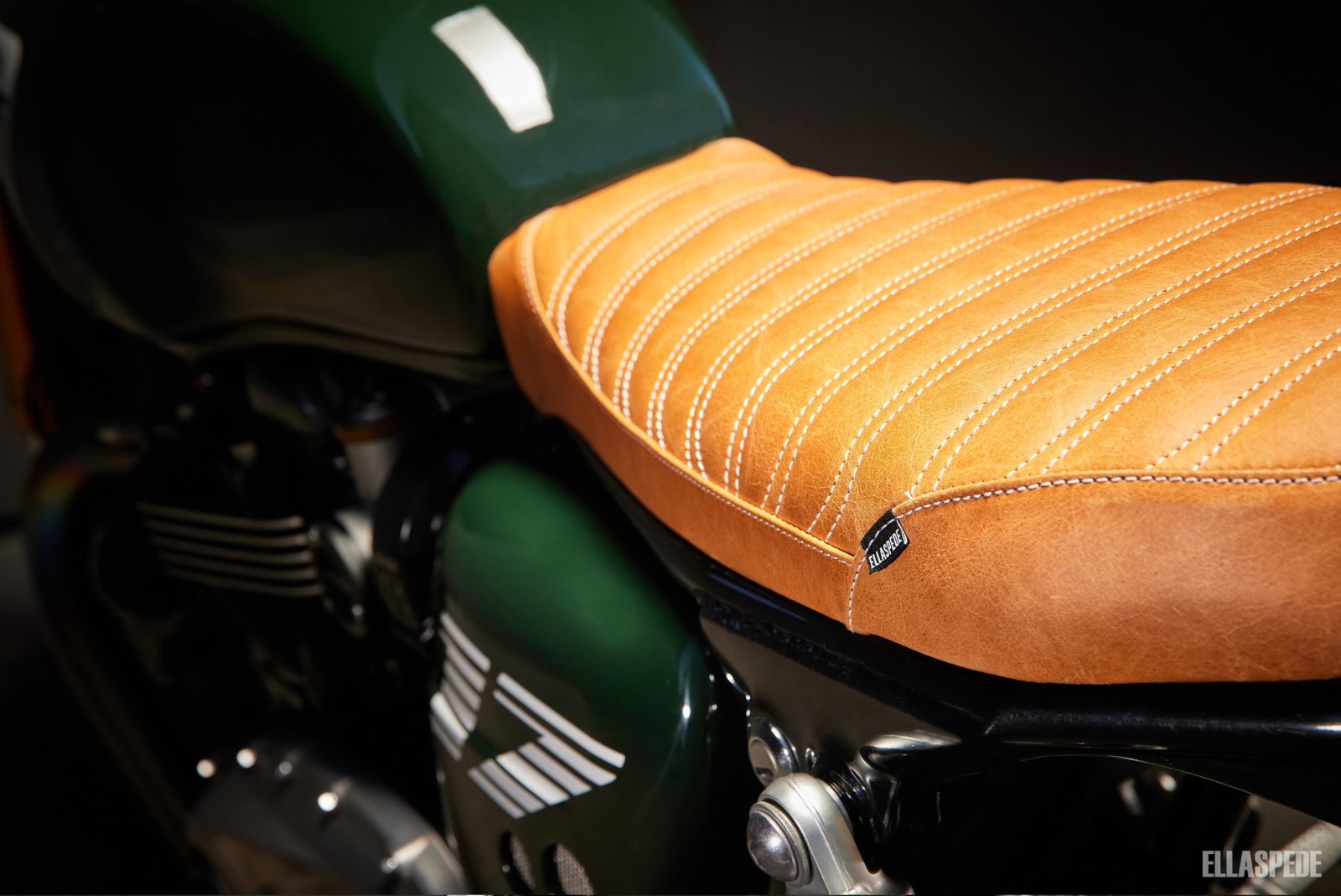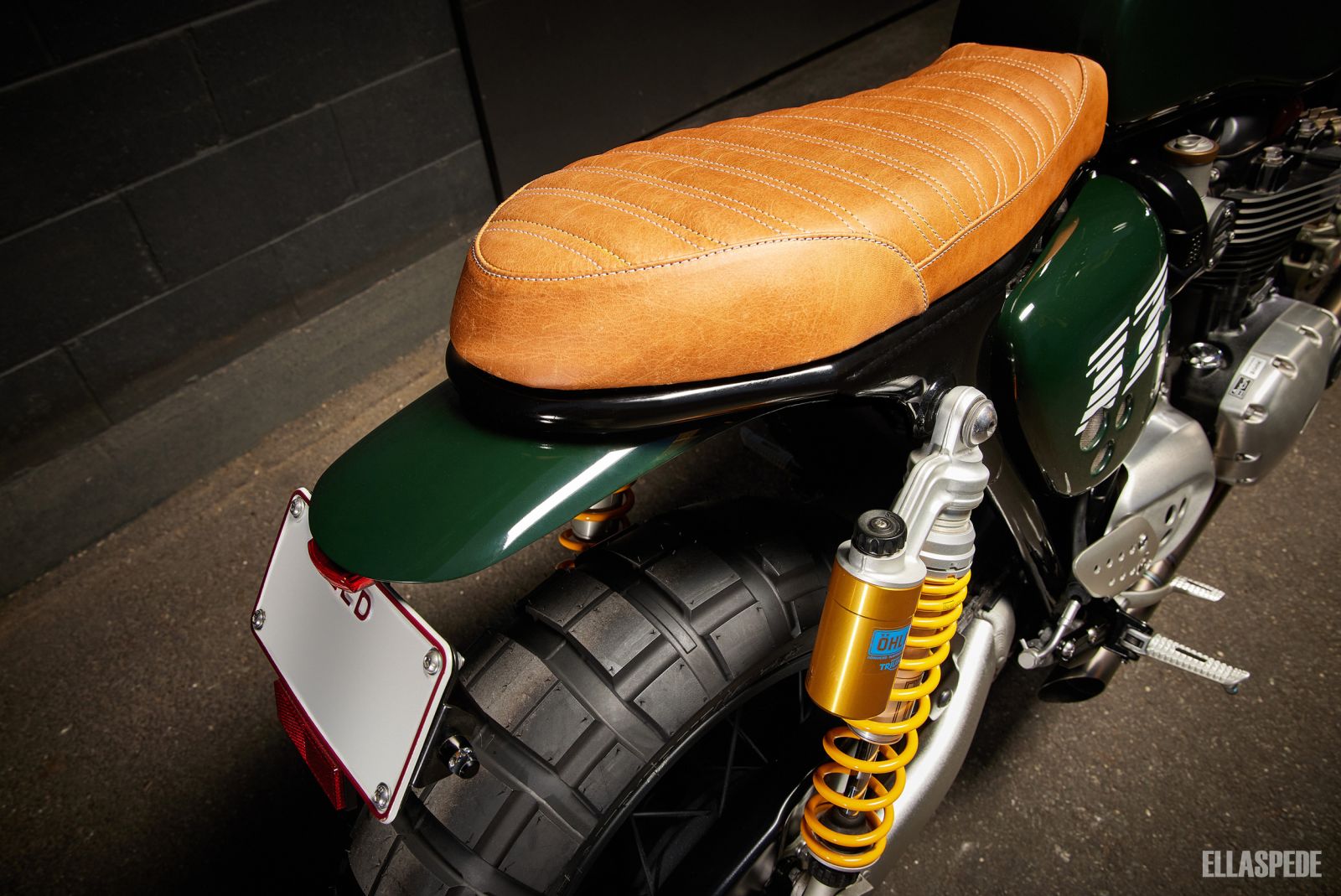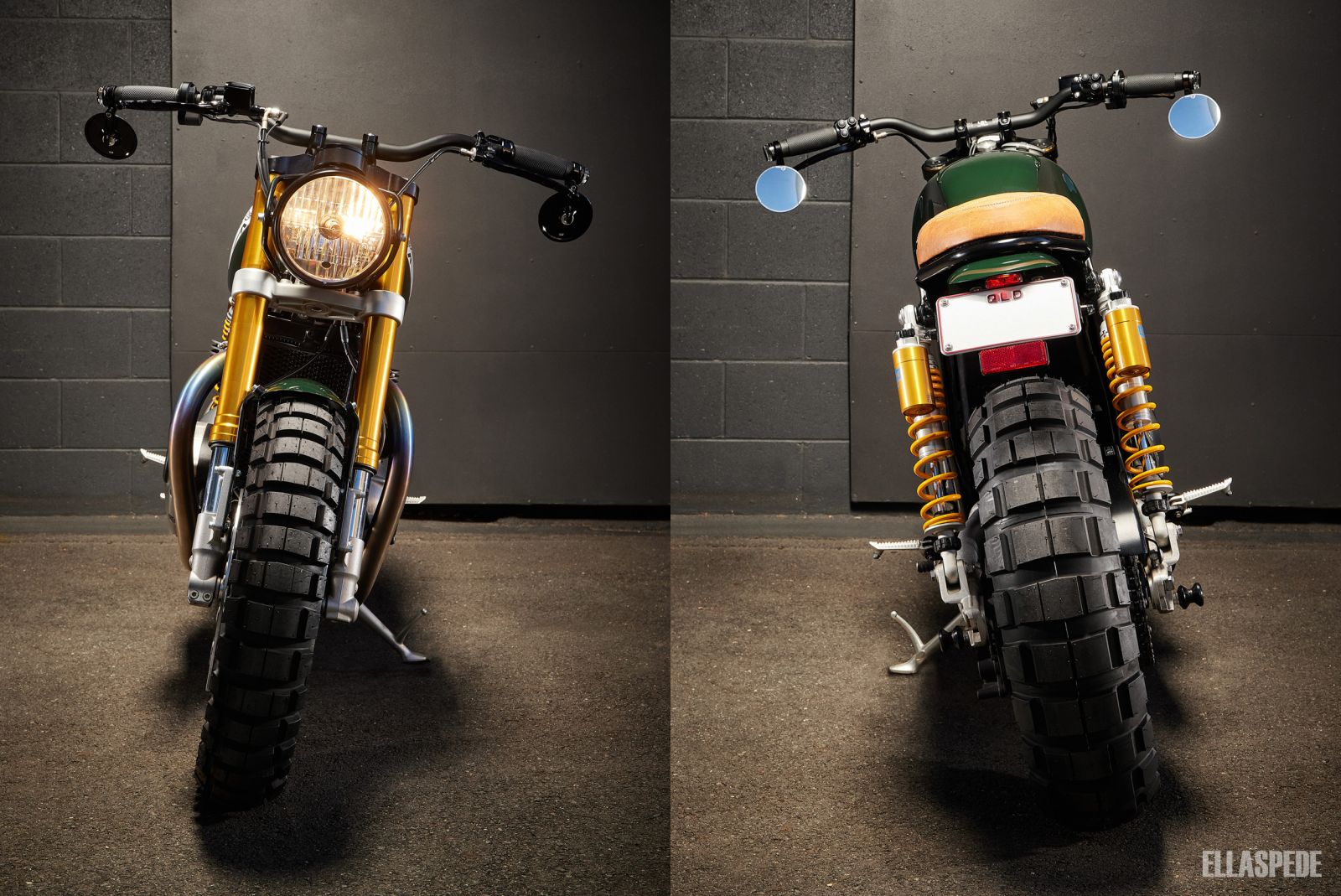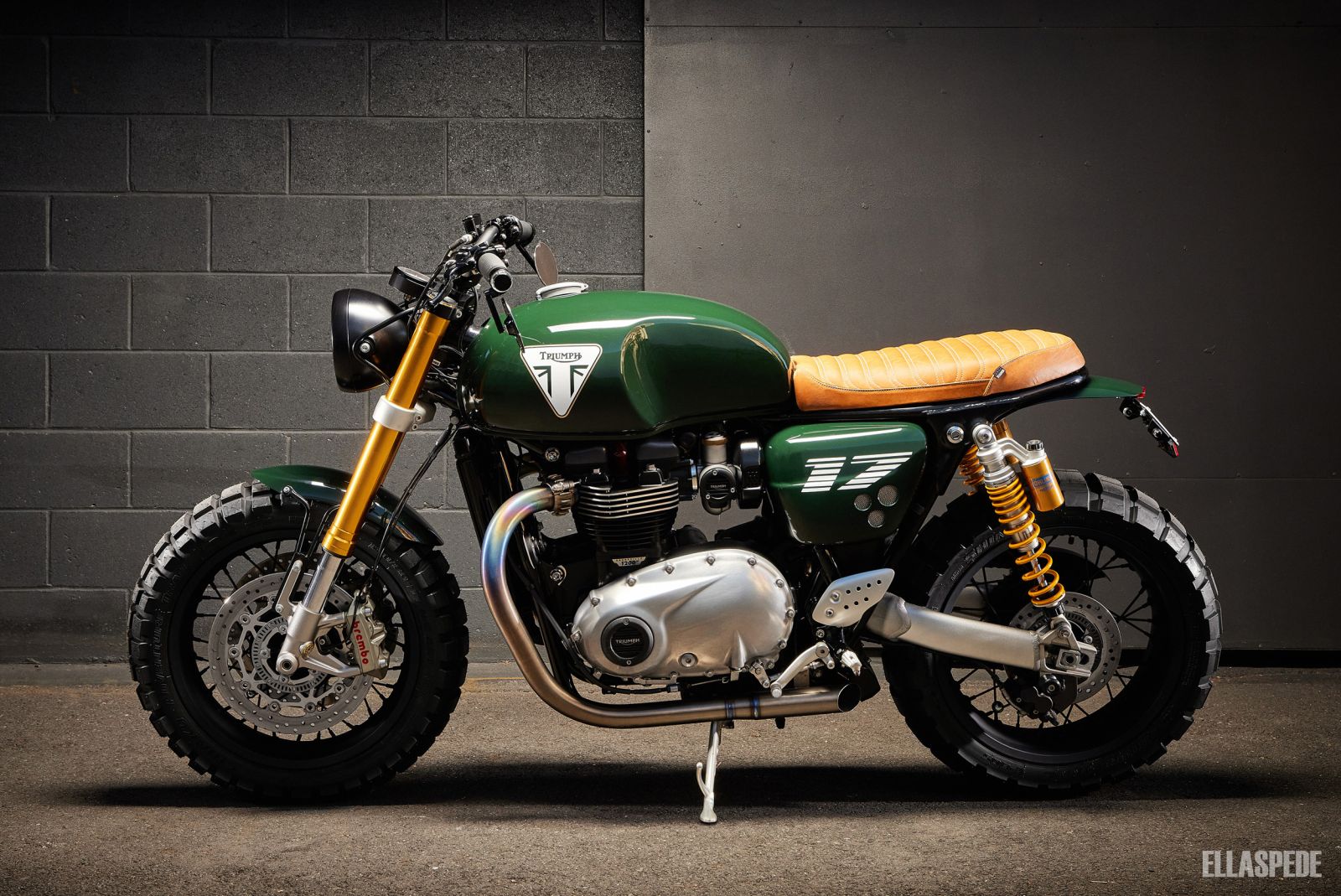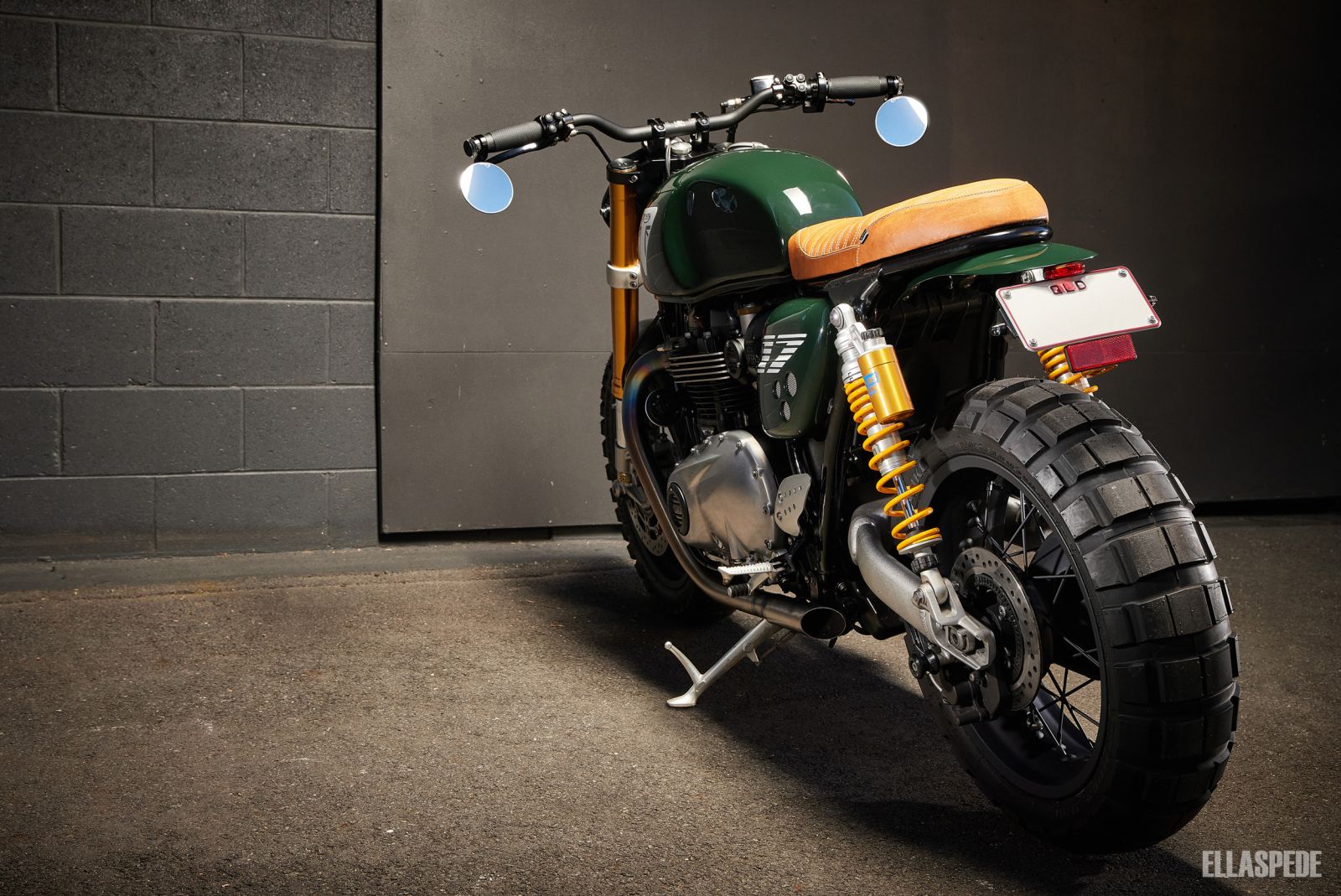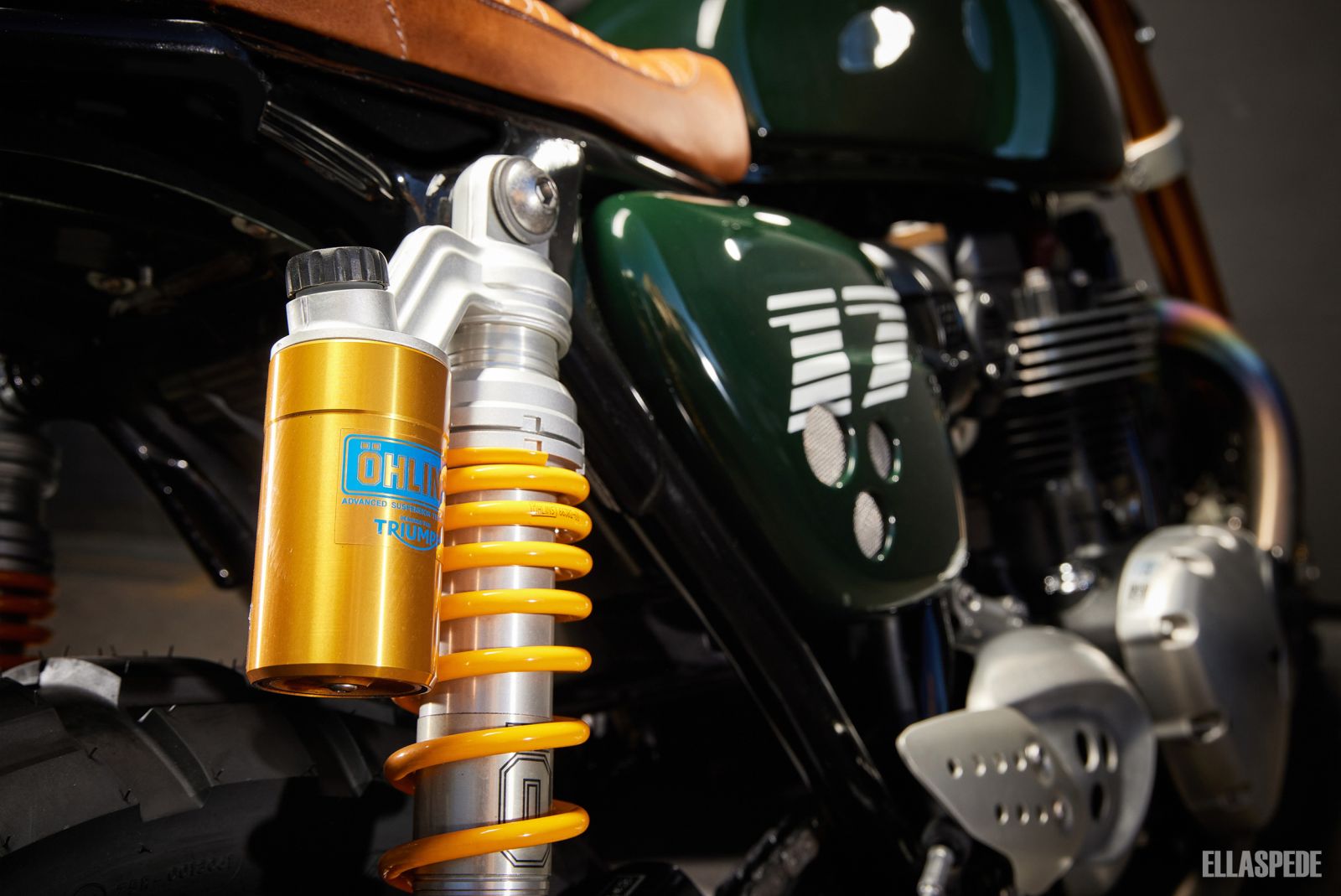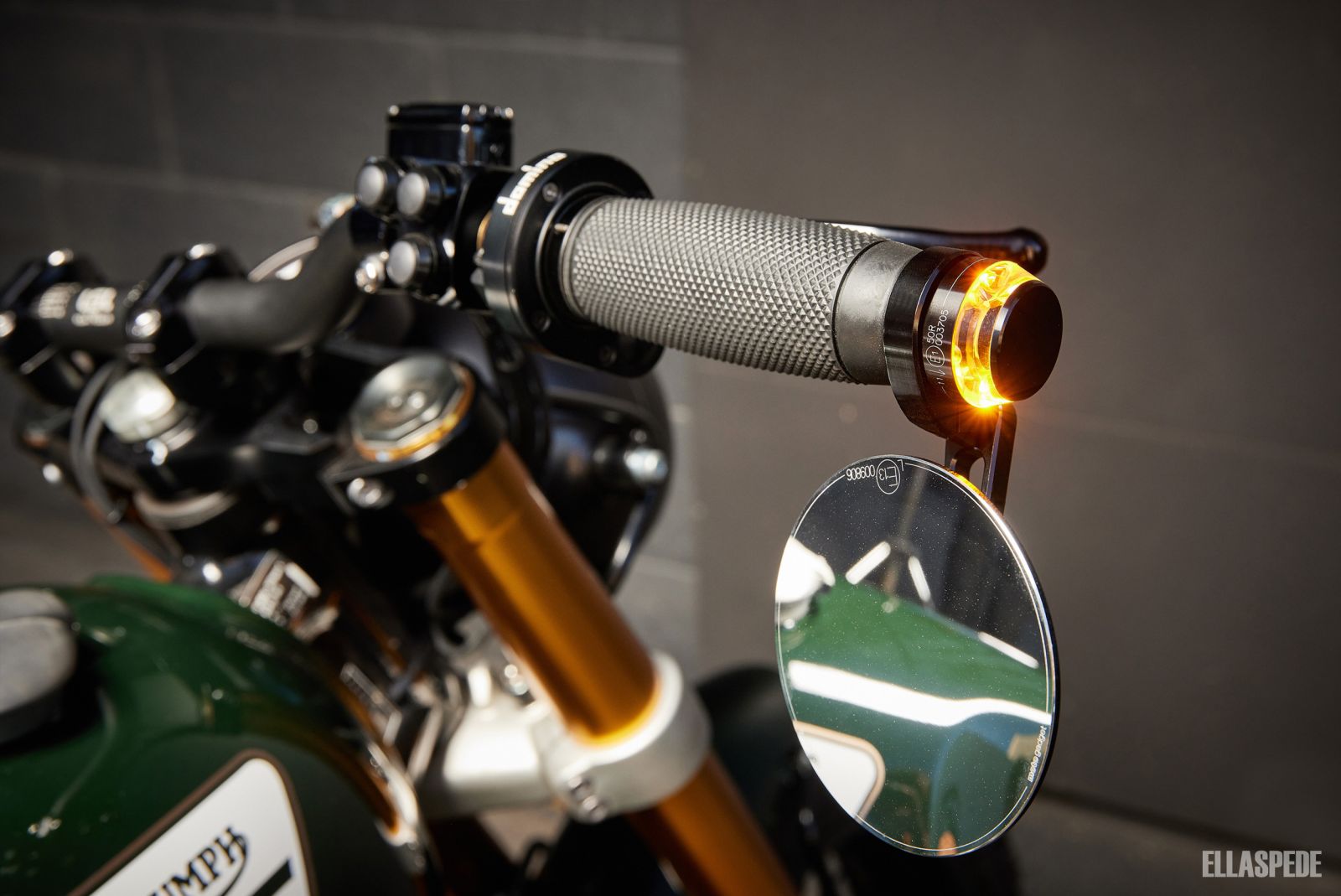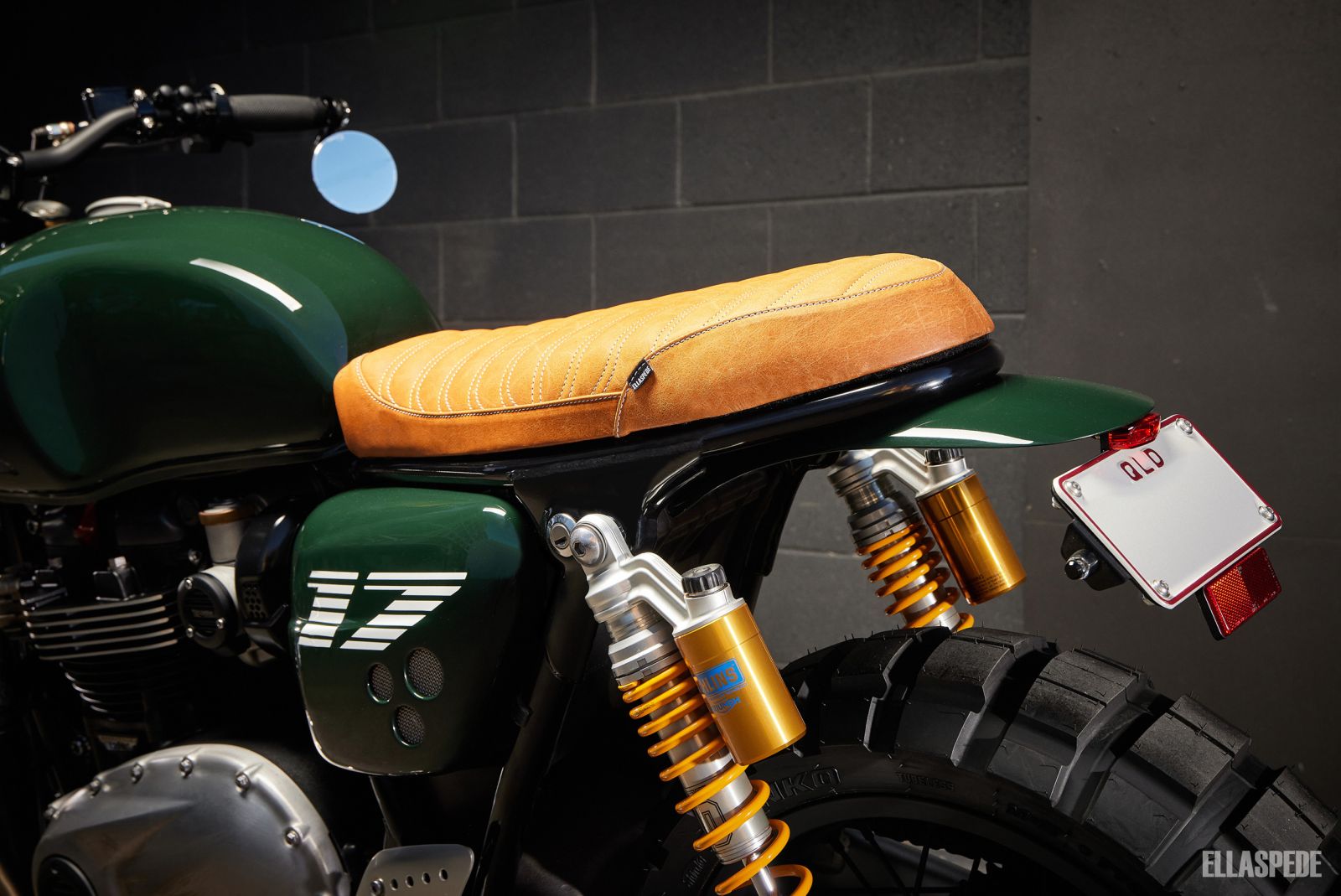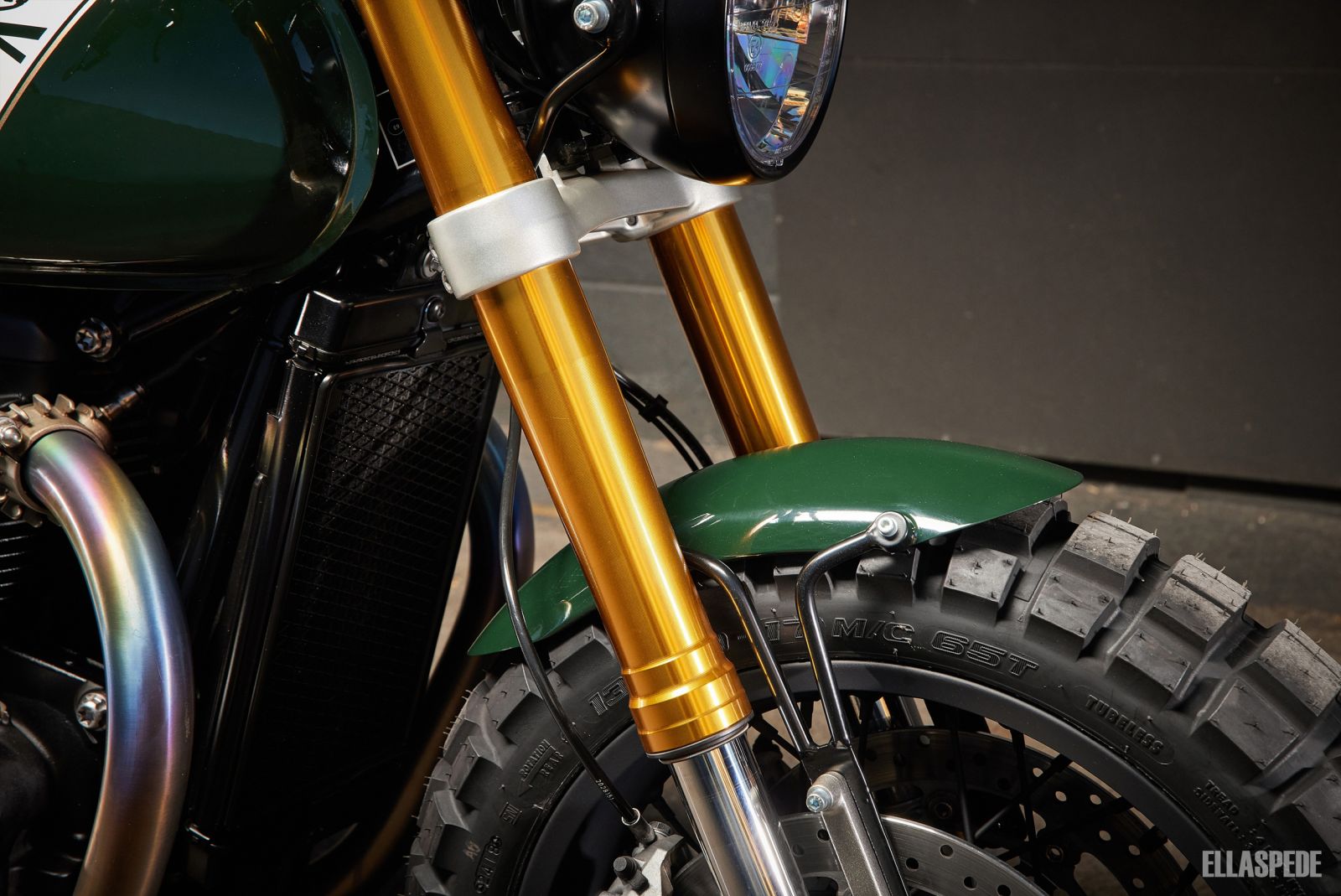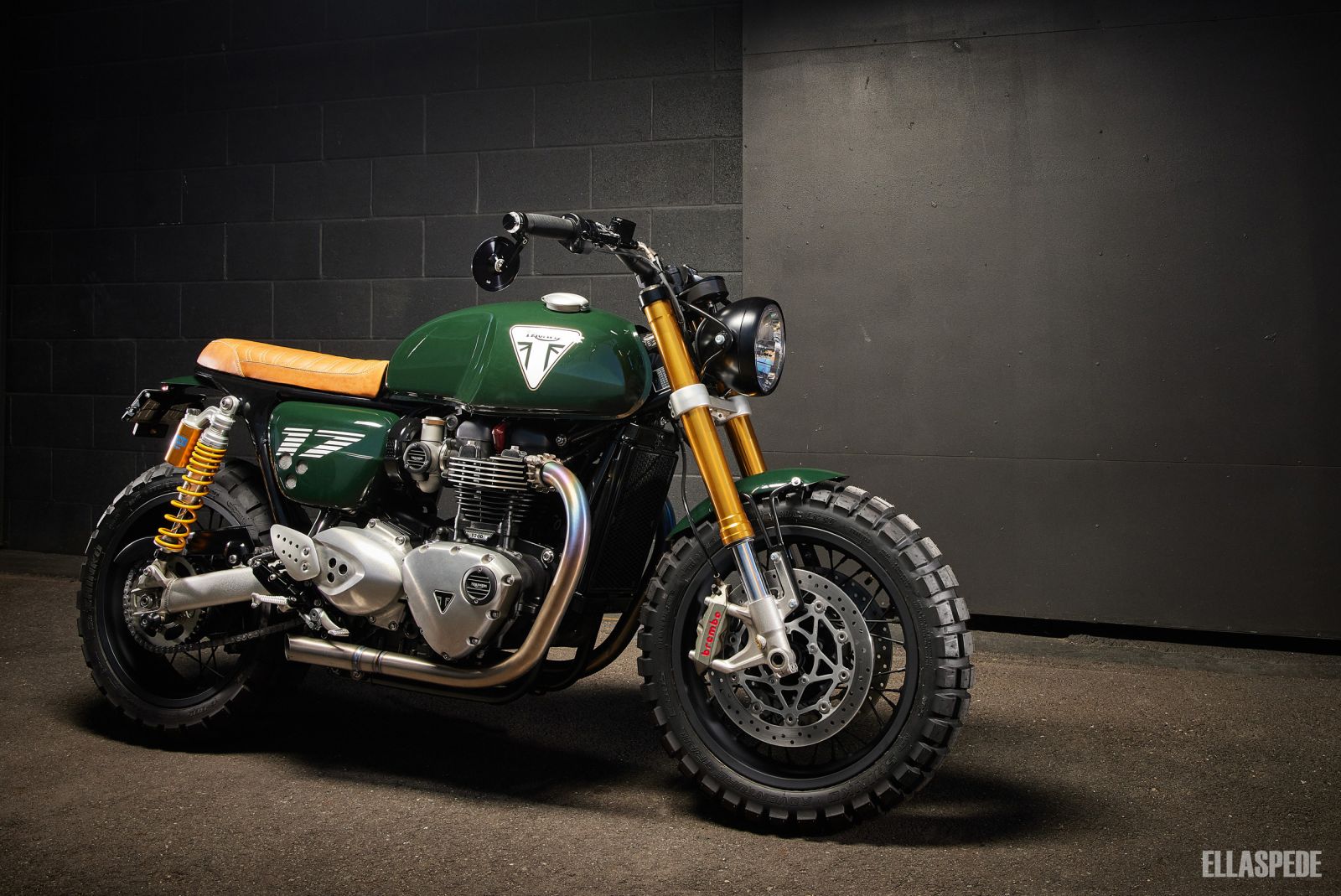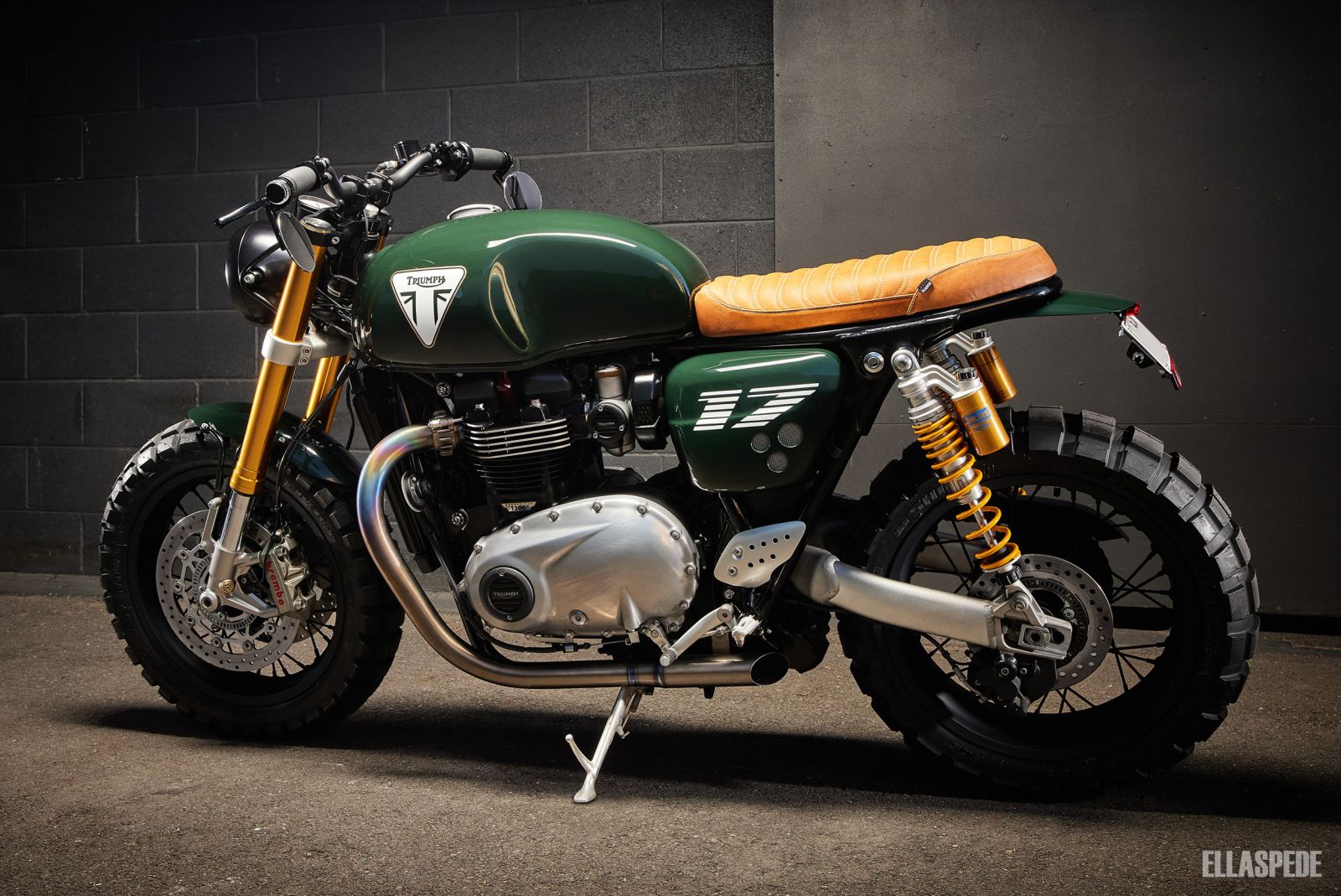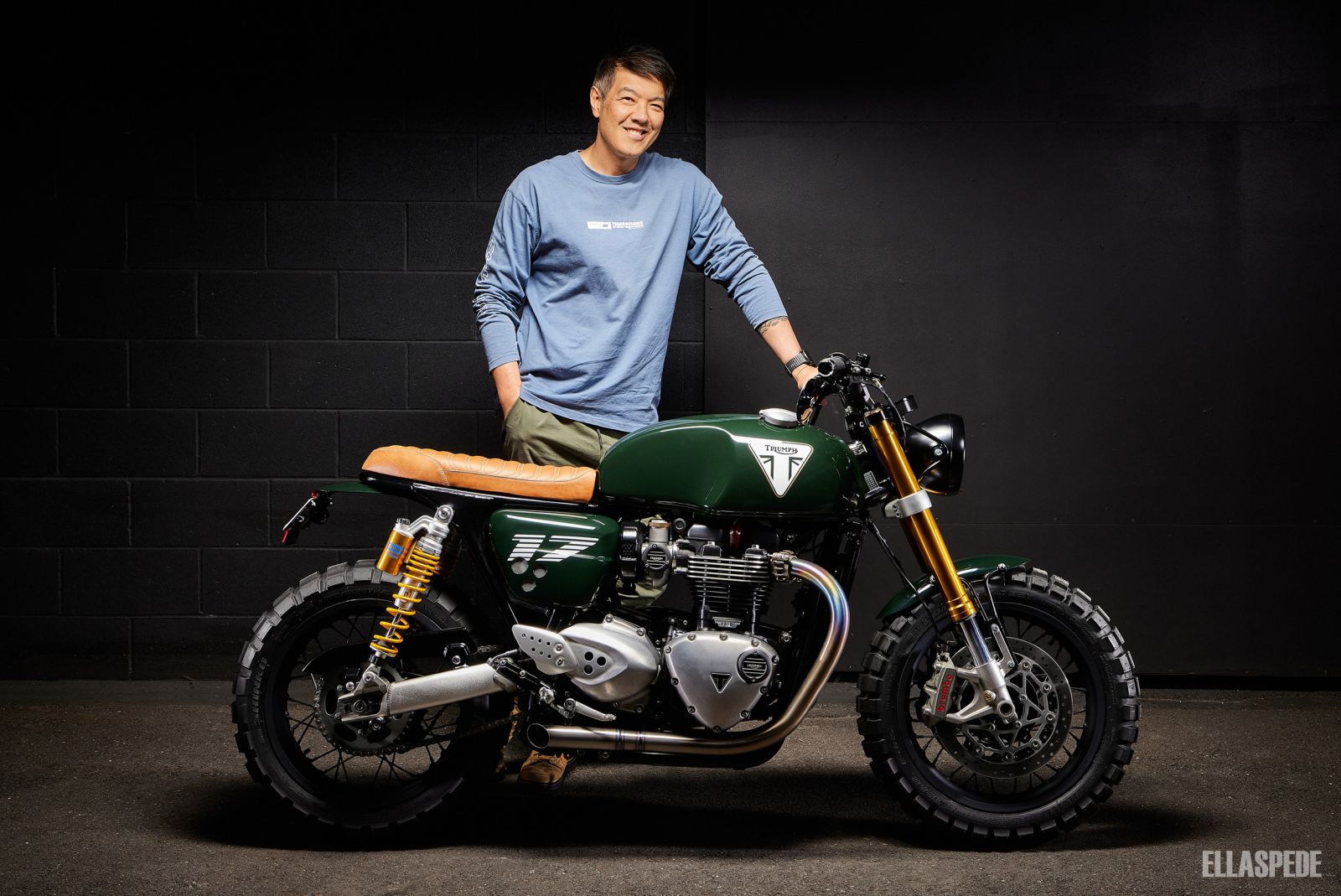 ---
Albums we listened to during the build of this bike:
---
Photos:
---
Build Pricing & Enquiries:
For build and pricing details or to discuss commissioning a custom motorcycle build of your own please email contact@ellaspede.com
---
---
Comments (1)
Great looking bike

By:

Mark L Charlton

on 8 November 2022

I want one!! Just black tank and yellow seat, i will look for a donor Thruxton r,





Ellaspede Response
Thanks Mark! Let us know how you go finding a donor bike and if you need a hand with the build. Cheers
---
Leave a comment