EB1014 - 2016 Triumph Bonneville T120
Author: Ellaspede Date Posted:20 January 2021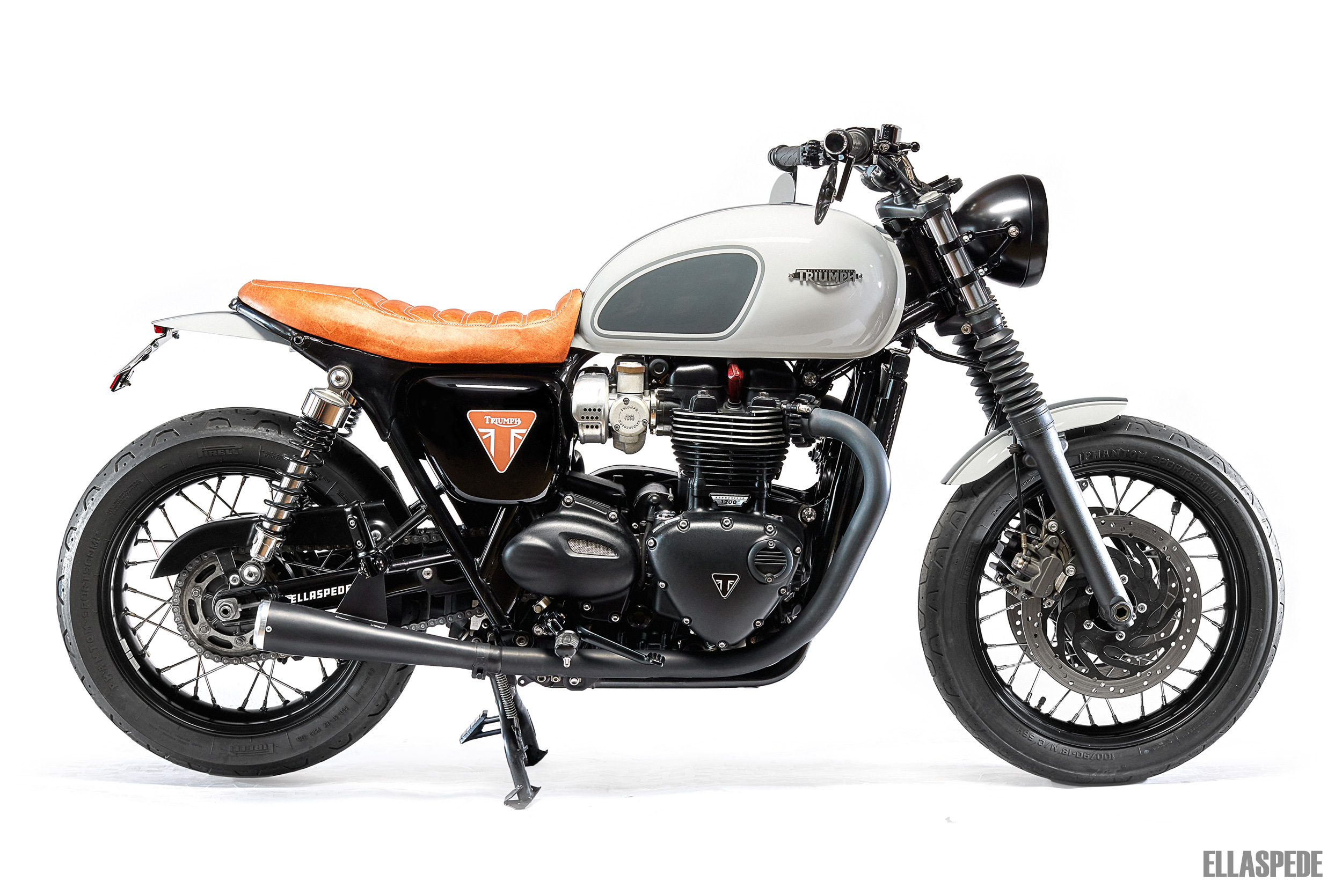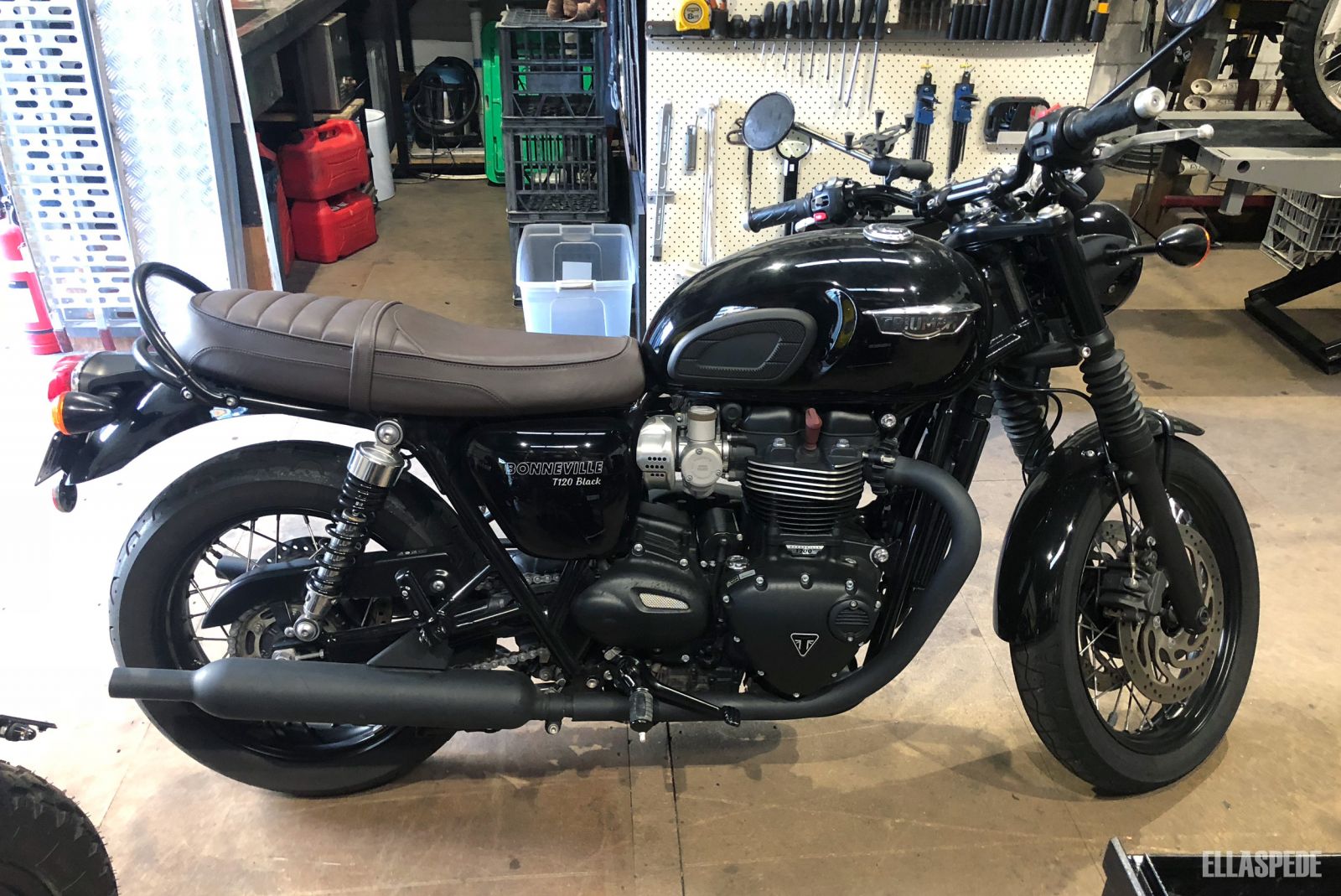 The updated Triumph Bonneville models dropped in 2016 with the new 1200cc motors and a whole host of other changes making a much improved base for a custom project.
With Euro 4 emission standards looming, Triumph went further than redeveloping the donk to meet the new rules and sharpened up almost all areas of the bike for a worthy development update that will see these new Bonnevilles be as popular and long lasting as their predecessors.
Owner Leon came to Ellaspede prior to owning this bike, which sometimes is a welcome change as we were able to discuss his project ideas and advise of the most suitable donors to get him the best end result. After suggesting a few potential models to suit his dream build it wasn't long before Leon found this near new example and rolled it back down to begin the build.
It's hard to go past a modern classic Triumph when you're doing a build of this style and Leon heeded our advice by sourcing one of the water cooled 1200cc models with low KM's. He'd seen examples online of what was being done, so with some inspiration from us his goal of having something "a bit different and not the run of the mill" was taking shape.
Like most stock bikes, visually the T120 Bonneville suffers from a big long seat suitable for the biggest range of riders/pillions and large guards, mufflers, lights and instruments in place to meet all the worldwide rules and regulations in one package. So as per usual a diet was in order for this bike, pairing back the unnecessary items to focus on the key elements of a Triumph motorcycle, all while keeping it locally legit.
The benefit of the Triumph T120 is that so much is in the right place already. Flat frame lines, nice tank shape, great motor, spoked wheels and decent brakes. So with the benefit of a newer bike removing the need to rebuild motors and replace whole wiring looms it was straight to stripping and cutting when Leon's bike rolled in.
The stock rear frame is quite long (to hold the massive stock seat) so cutting that back was the first port of call. A custom rear hoop was added, indicator mounts welded on and the neat little Triumph badge from the front guard was frenched in before it was all file finished smooth.
Getting the rear frame sorted is a must before starting on the custom seat and hand shaped steel rear guard. The seat is a steel pan using the original quick release latch, foamed up to flow from the tank and follow the frame lines to the rear. A slight rise at the back provides enough subtle support for the rider and stops it looking like a flat bread loaf that some brown seats turn out like. Under the rear guard you'll notice a little 'box' shape too, which holds the Motogadget M-unit, but more on that later.
Out front the stock steel front guard is a nice shape, so it was cut down to a more suitable length and the support stays removed before being remounted. The factory cockpit is a chunky affair, so the bars, switchgear, mirrors, gauges and headlight ears were all removed for some aftermarket alternatives.
The new gauge and switchgear making the biggest improvement in this area, both requiring some machining for a perfect fit and a host of electrical work to wire in. Usually integrated with the right switchgear, a custom Ellaspede CNC throttle housing was made for the fly-by-wire throttle unit. Between that and the extra electrical mods to get these switches and gauge working on a modern Triumph is quite an undertaking, which also required an extra module to link the new gauge to the bikes electrical system… but the result is well worth it and Leon mentioned it's his favourite part about the bike!
Fabrication work continued, removing the chunky offset fuel cap and replacing it with a centrally located flush mounted item. Initially it's not something you notice straight away now, which was the goal! Plus it better suited the upcoming paint job.
KustomTech levers, Motogadget bar end mirrors and indicators, a Motogadget Motoscope gauge, an LSL headlight and LSL light mounts complete the cockpit refurb.
The rear signals are also provided care of Motogadget, with their Pin indicators fitting into the new frame mounts. A Koso Hawkeye tail light tucks under the rear guard on an Ellaspede Ninja Star licence plate holder to keep the rear end looking super subtle and clean.
The bike has also had a key delete, which required some secret trickery for the modern Triumph security system. It's now secured and started via the Motogadget system with a hidden key tab or mini tube key that's stitched into Leon's glove.
Mufflers are a key part of any bike build and the direction for this bike perfectly suited a set of Ellaspede's own tuneable mufflers made in house with polished aluminium tips. The stock headers are a decent shape, so only minor mods were required to get the Ellaspede mufflers fitted the way we wanted.
Starting with a Black version of the T120 Bonneville definitely helped the cause when we were painting and polishing, as many of the parts you 'don't want to highlight' were already in a factory black hue. But that didn't stop us sending a bunch more parts, including the brake rotors, mufflers and custom brackets off for a fresh coat.
Leon was set on a classic white, grey and tan combo once he spotted it on one of our previous builds, so we updated the design, tweaked the hues and sourced the perfect textured tan leather to wrap it up. The seat adds a few little tweaks to the classic 'tuck and roll' design, with a white stitch highlighting the shape and matching the new paint.
Grey stripes now run the length of the bike, over the front guard, tank and rear guard. While the stock tank knee pads made way for painted versions that match the livery and slim down the bike feel between the legs. Side covers are sprayed in smooth black with a brown and white Triumph logo tying the livery together.
And for the finishing touch? We wanted to do something a little special for the tank badges and designed up some CNC aluminium items to make use of the tank side mounts. They were painted black then linished back to reveal the alloy lettering. An Ellaspede special, we think so!
Many late model bikes look good straight off the showroom floor, but this bike is proof that with a few extra tweaks you can really expose an awesome bike underneath it all.
Leon liked the classic Triumph look and by choosing the right donor he's ended up with a real modern classic custom. The details are there, the finish is factory and he didn't have to reinvent the wheel or rebuild the whole bike to achieve an amazing result.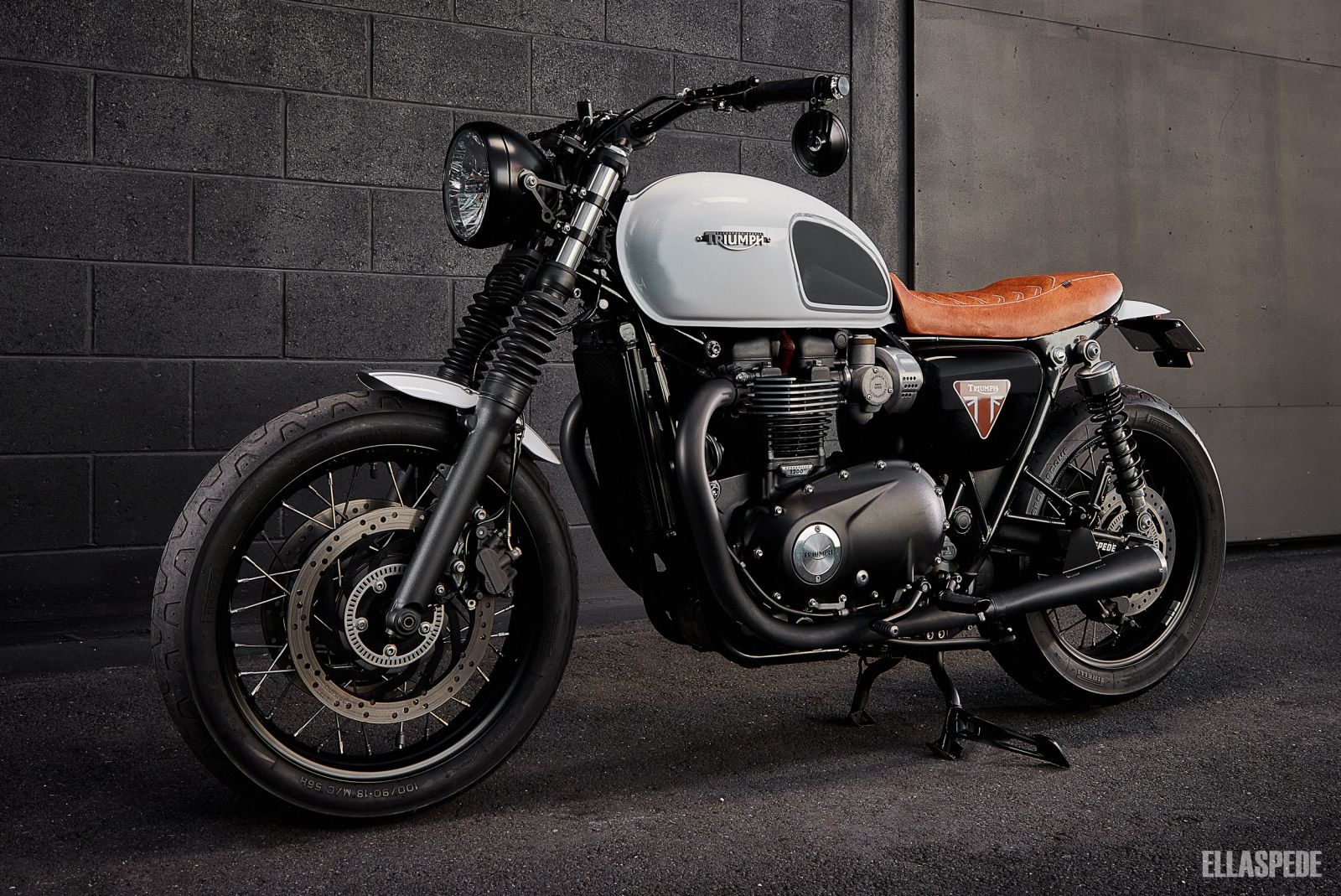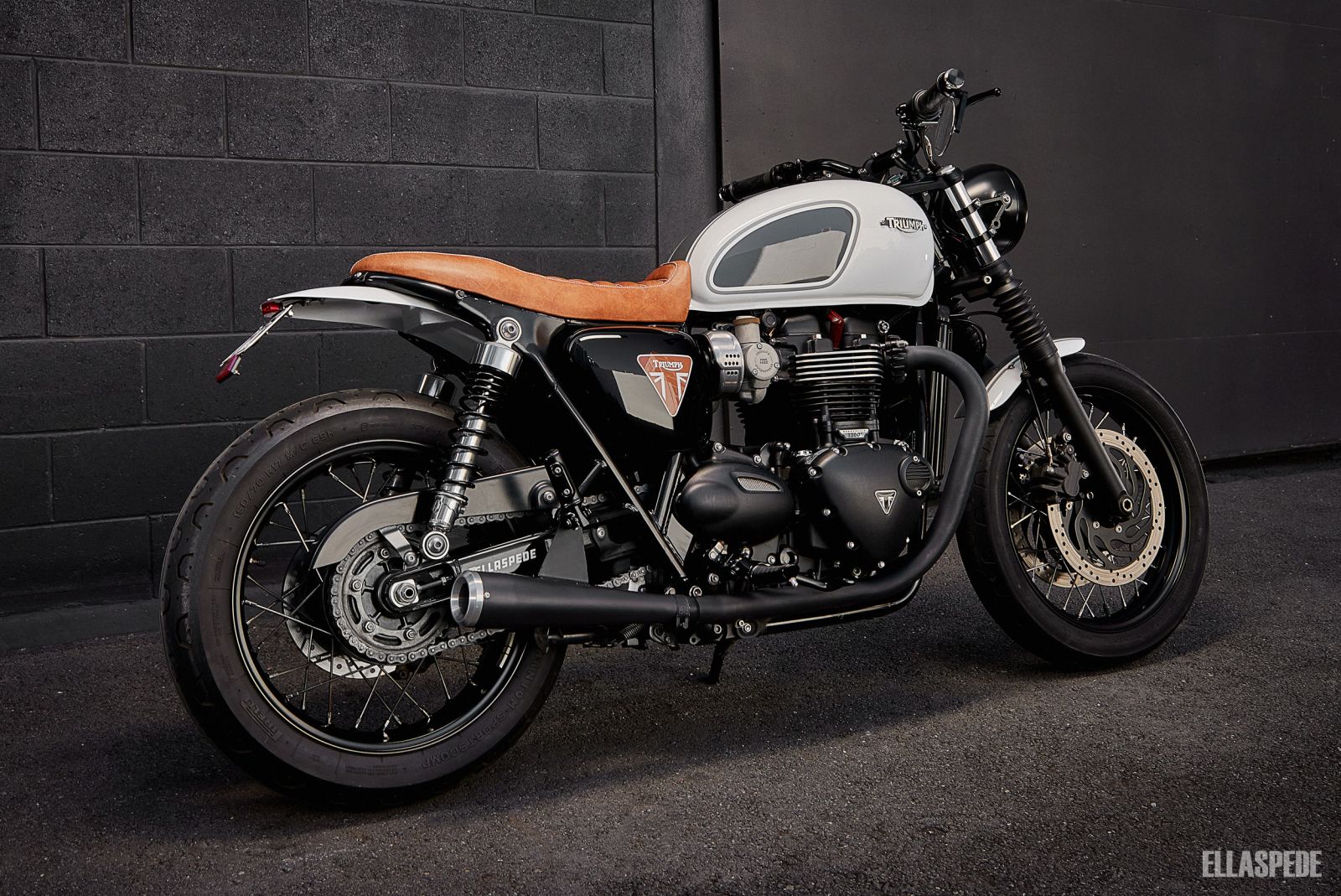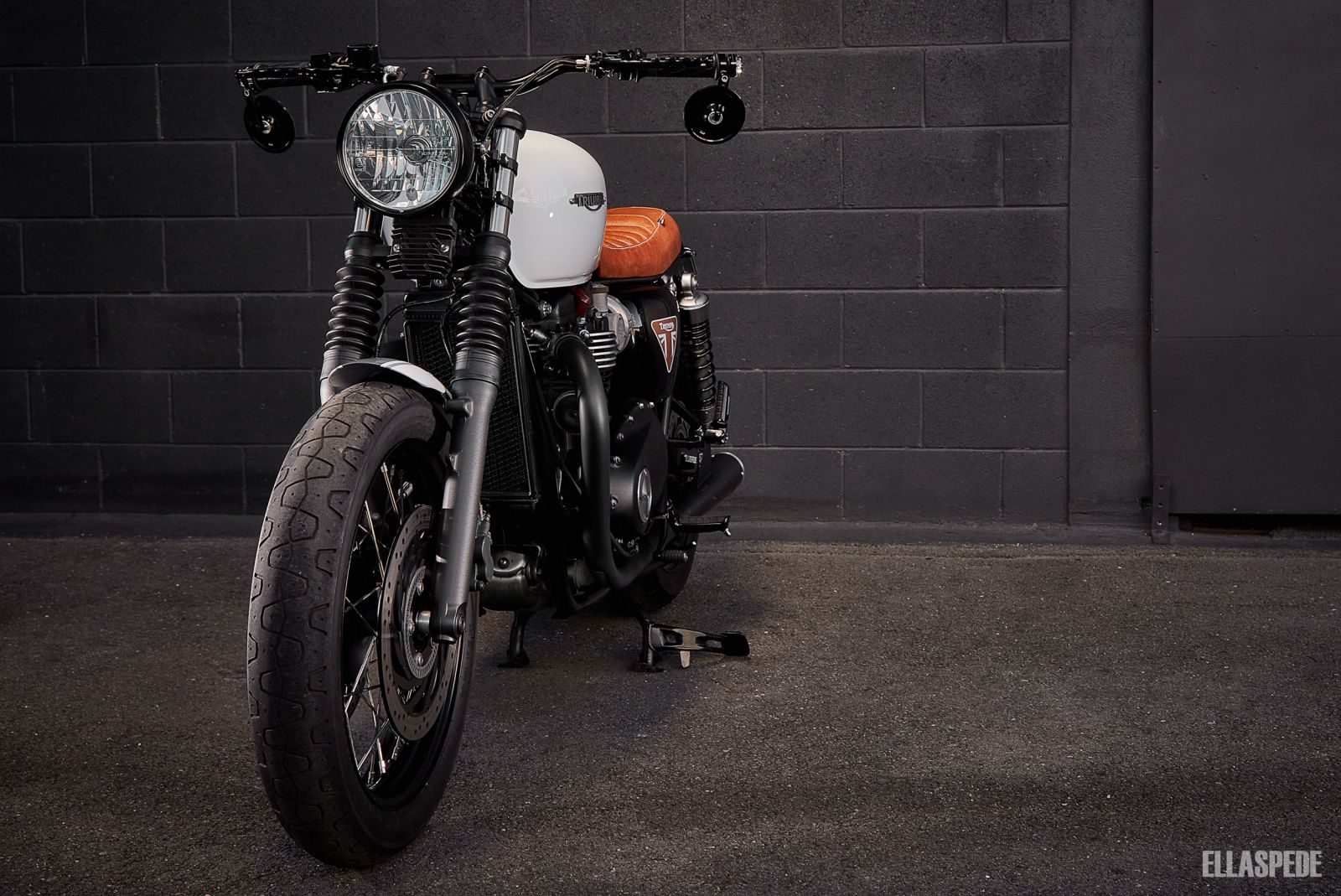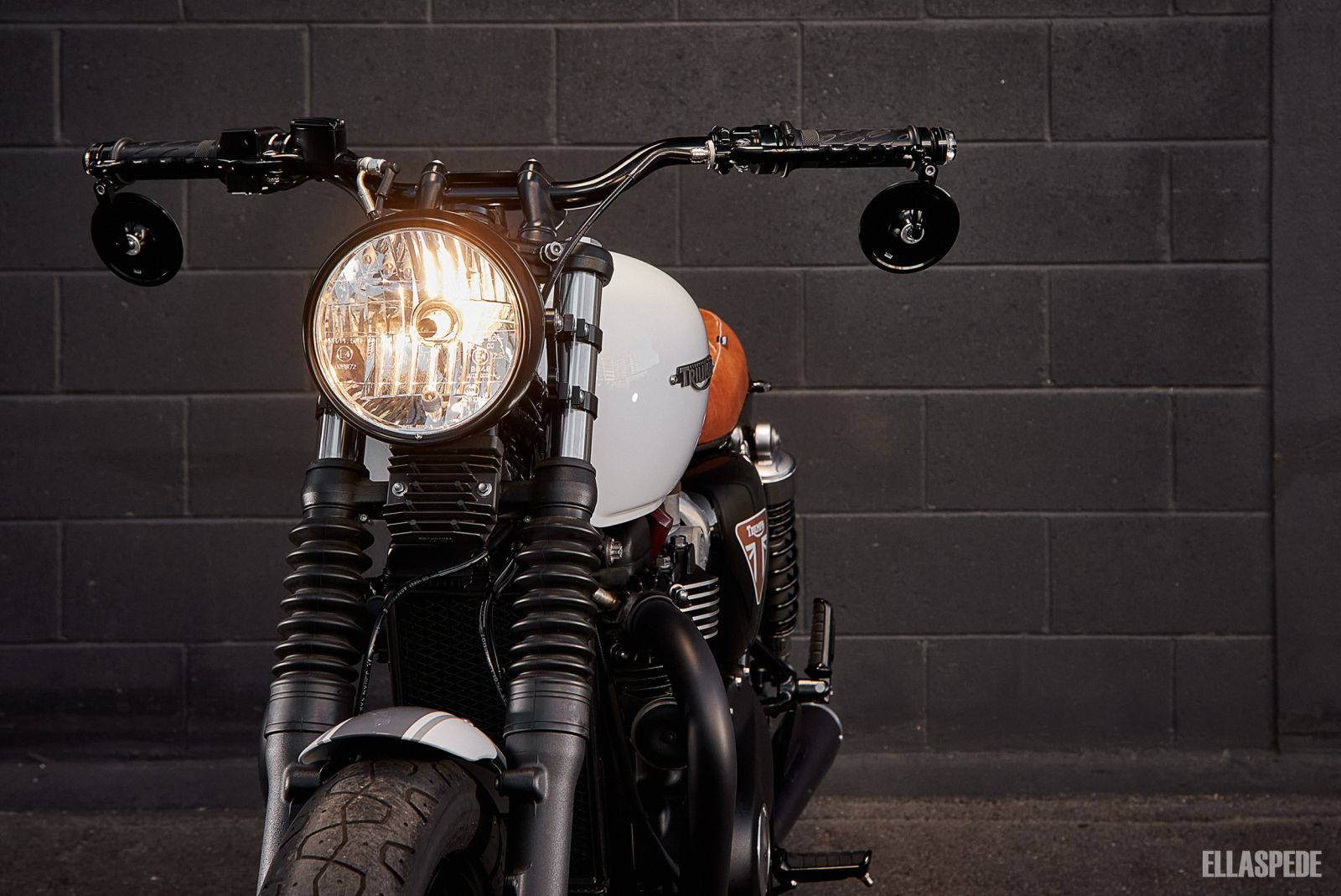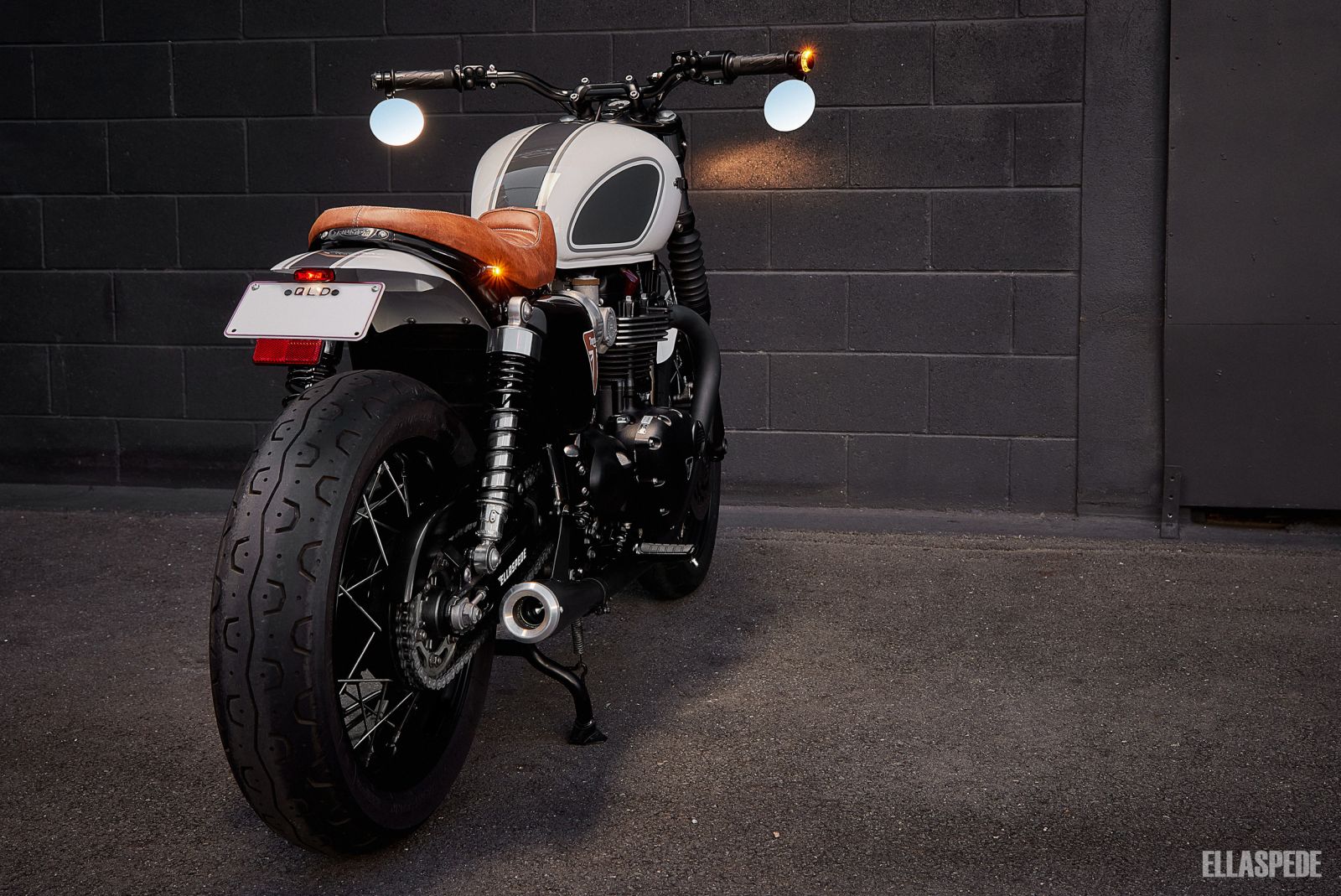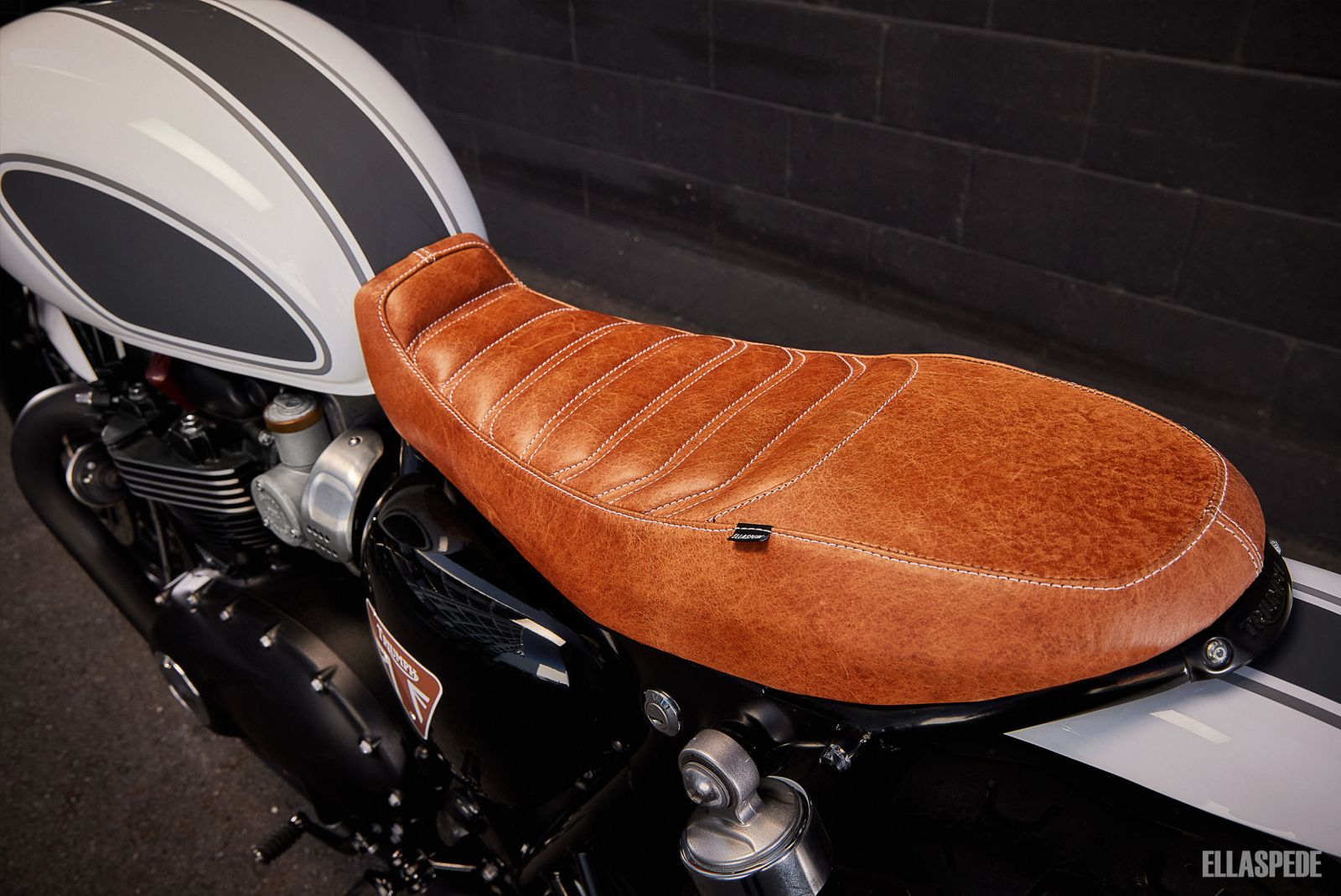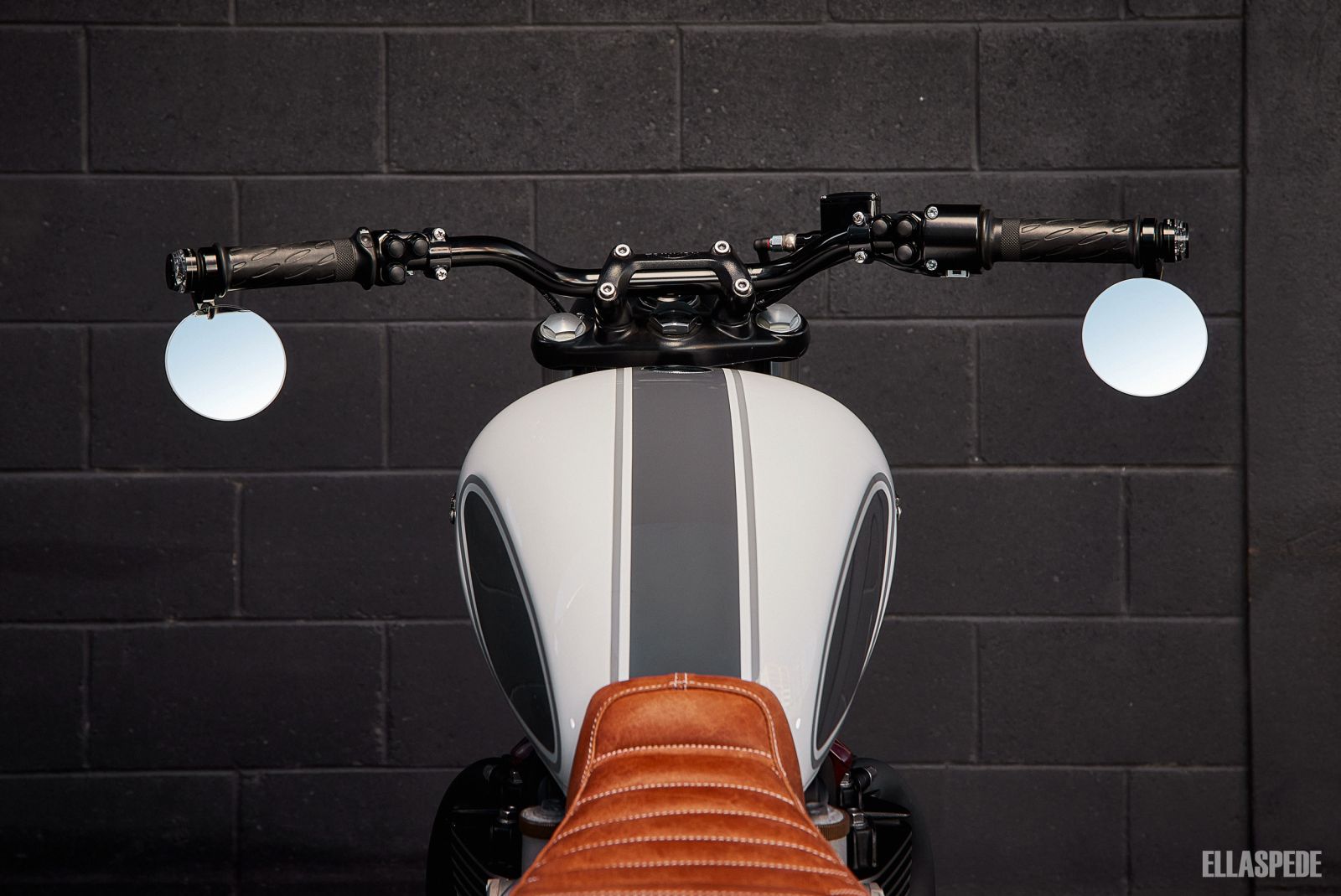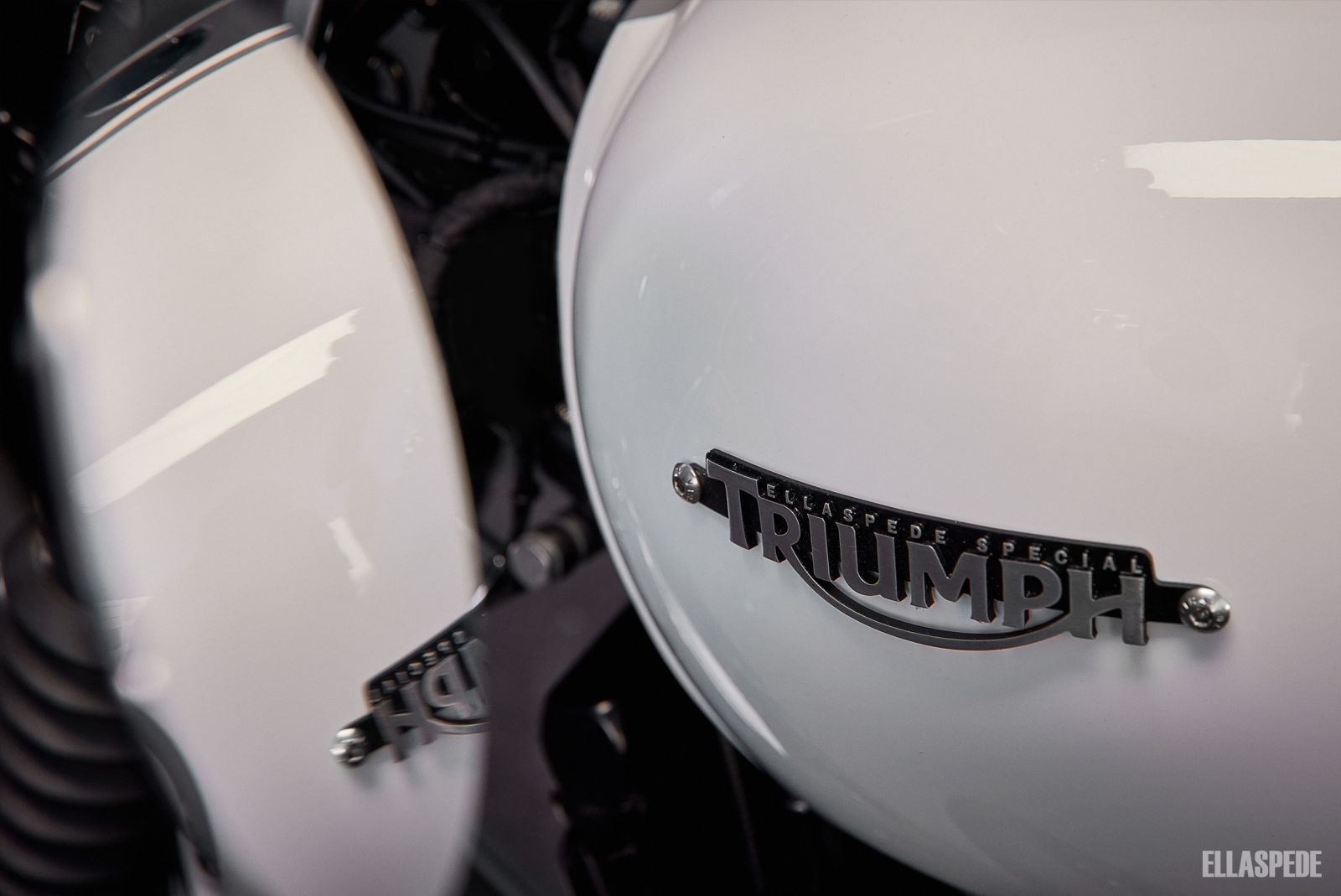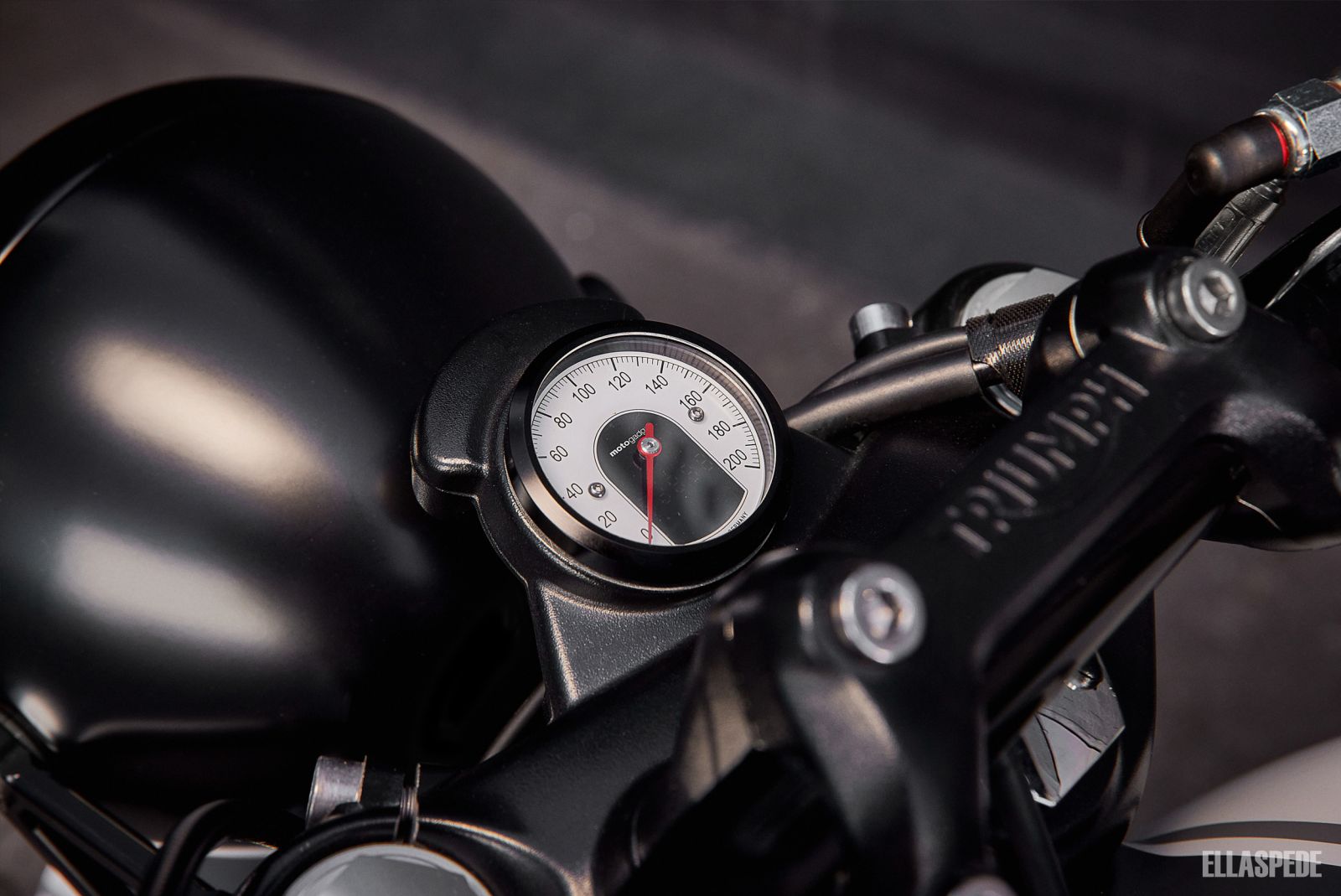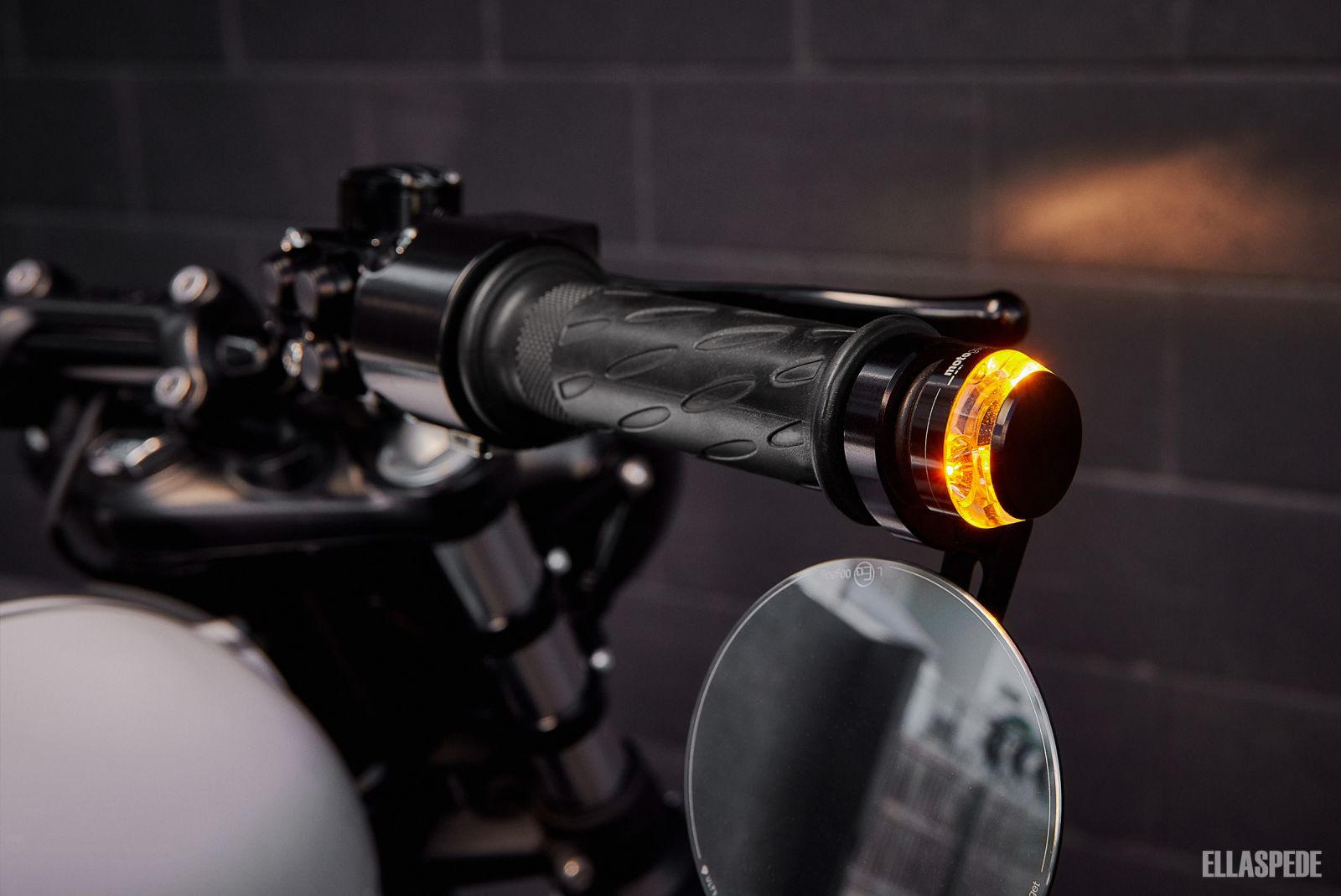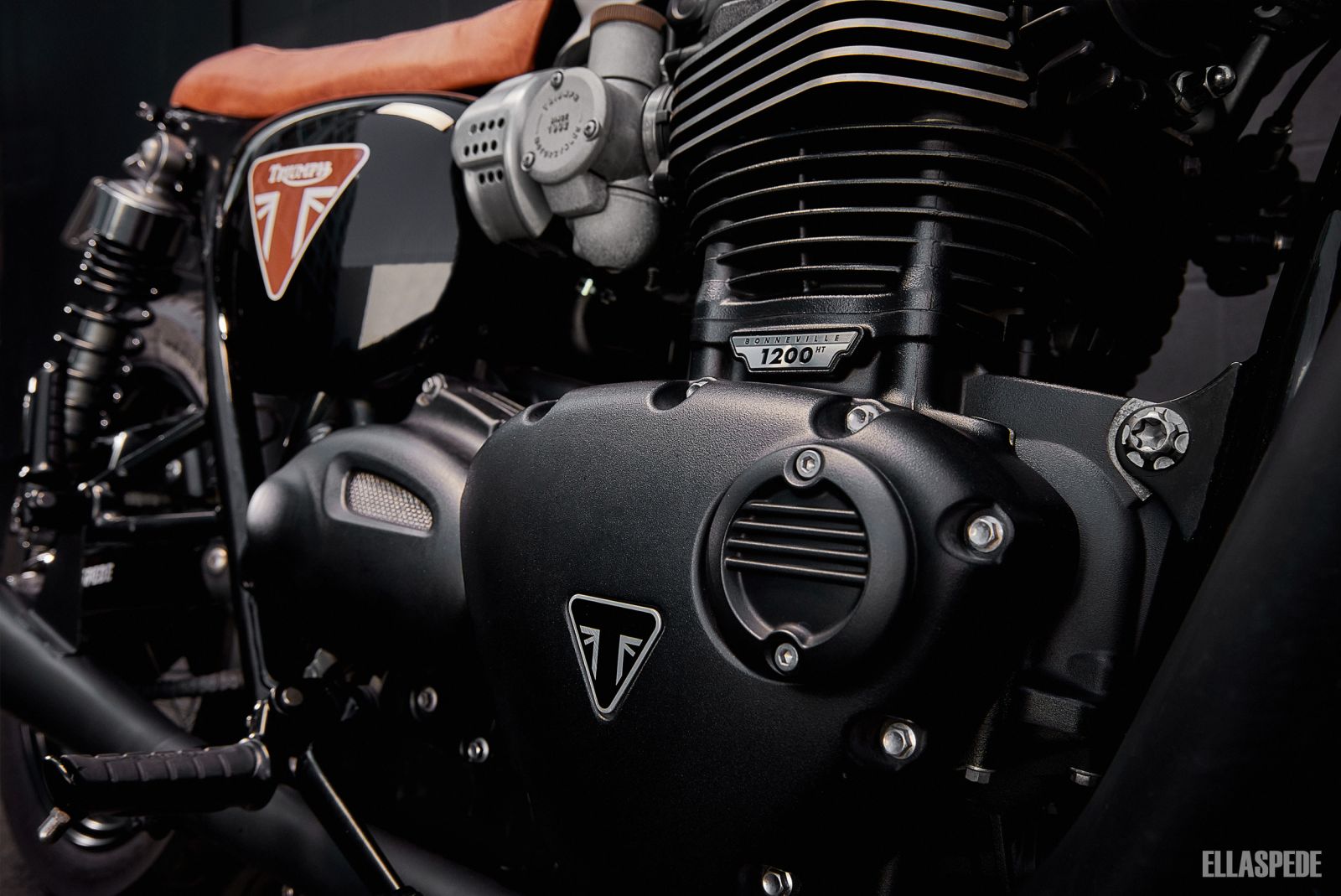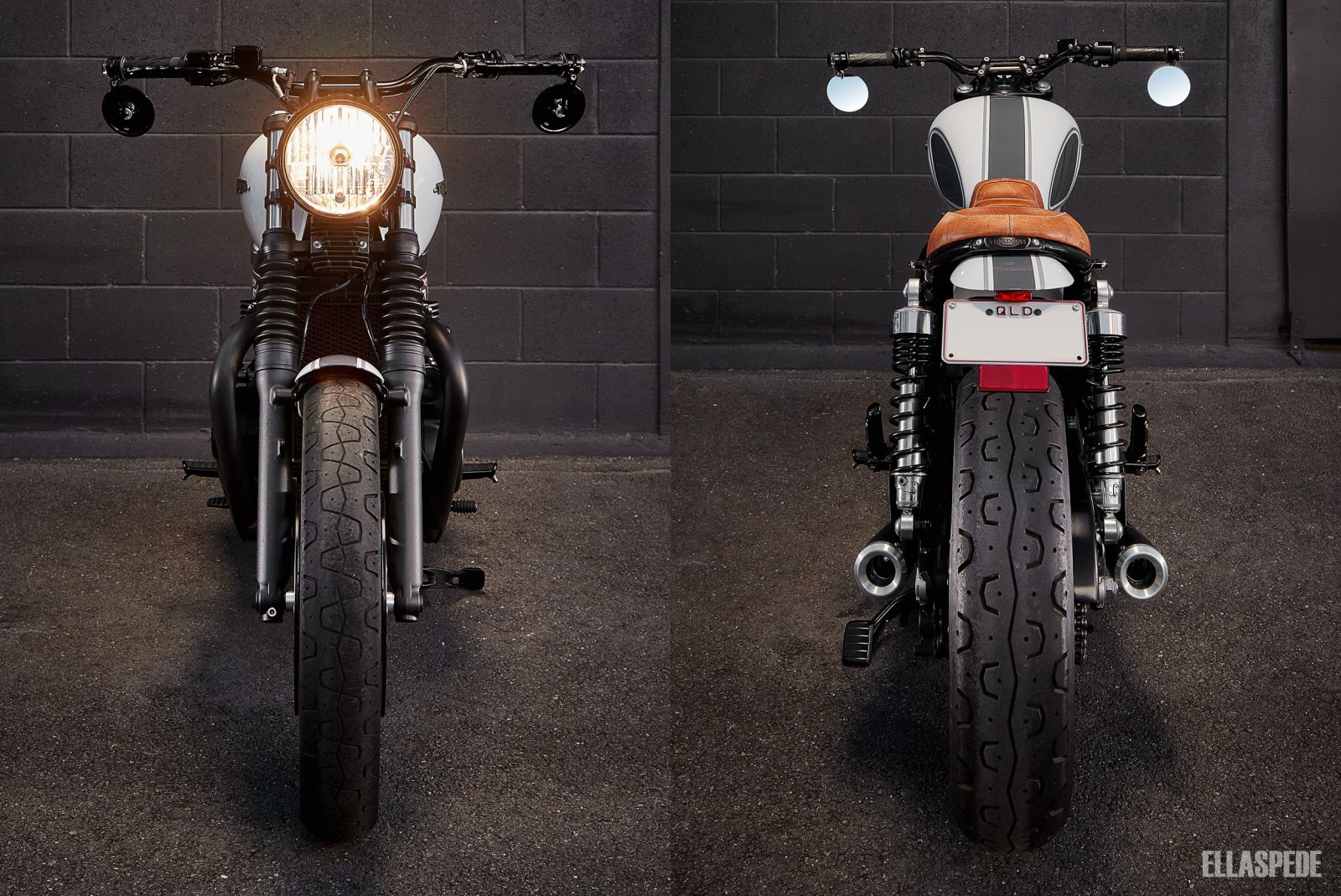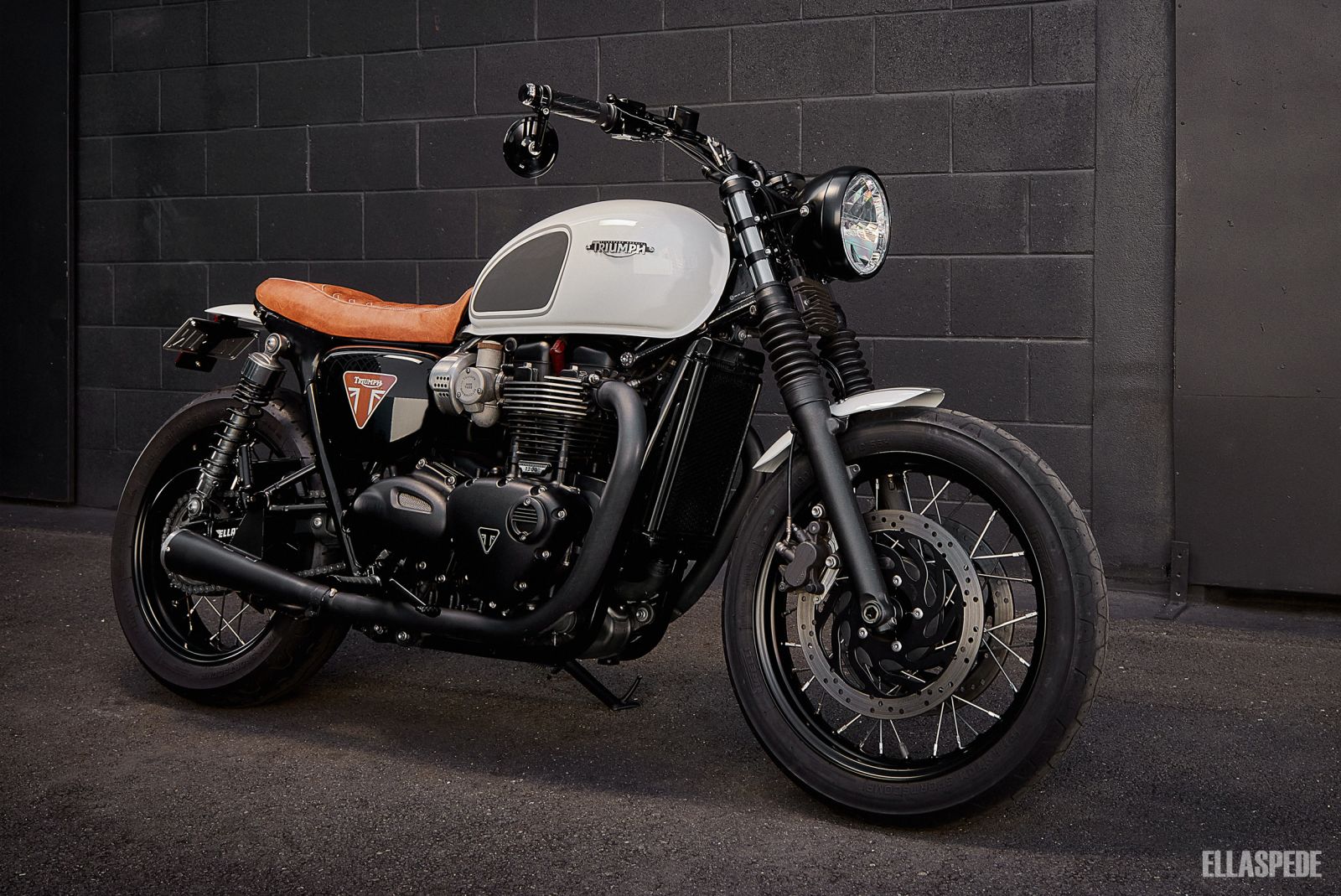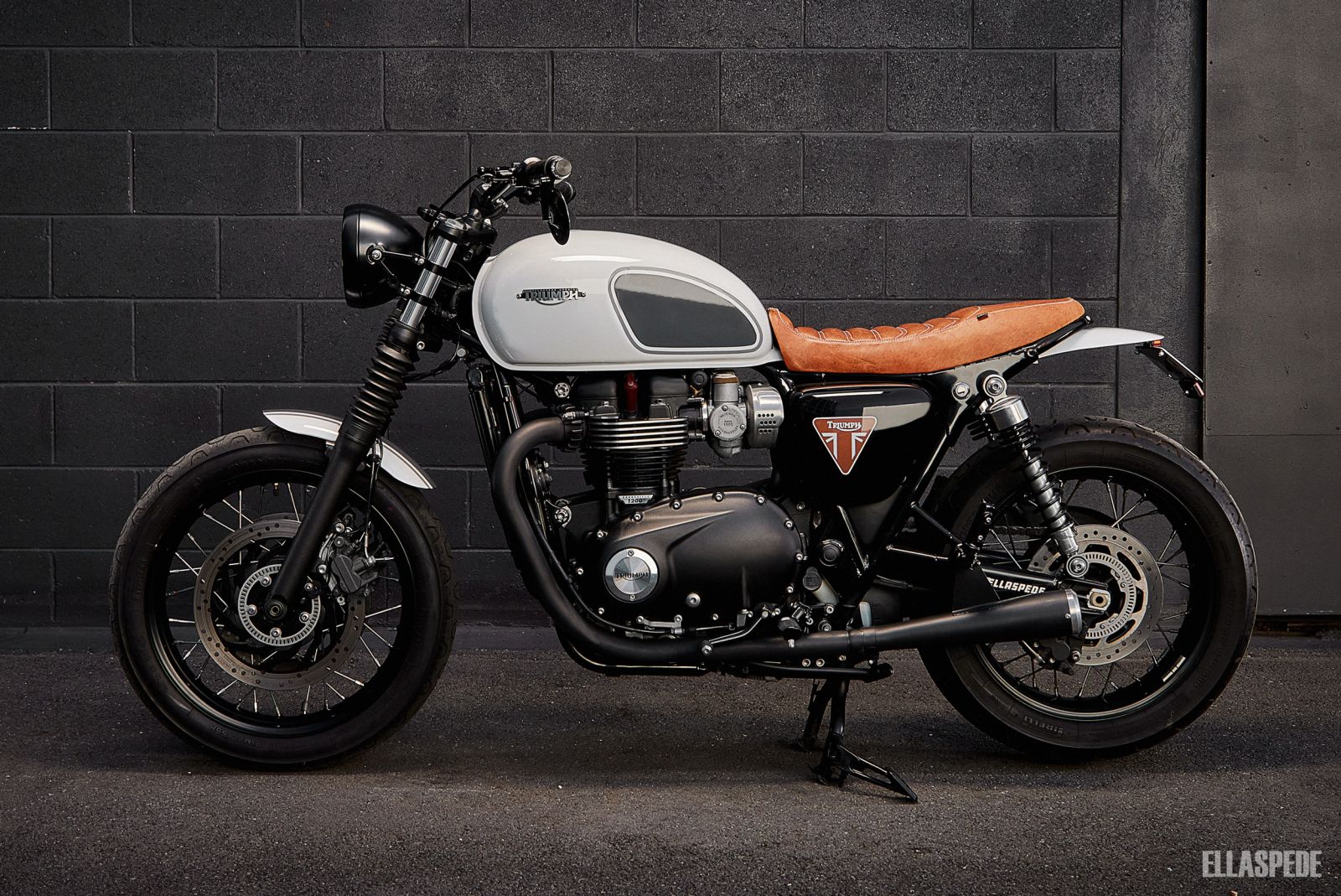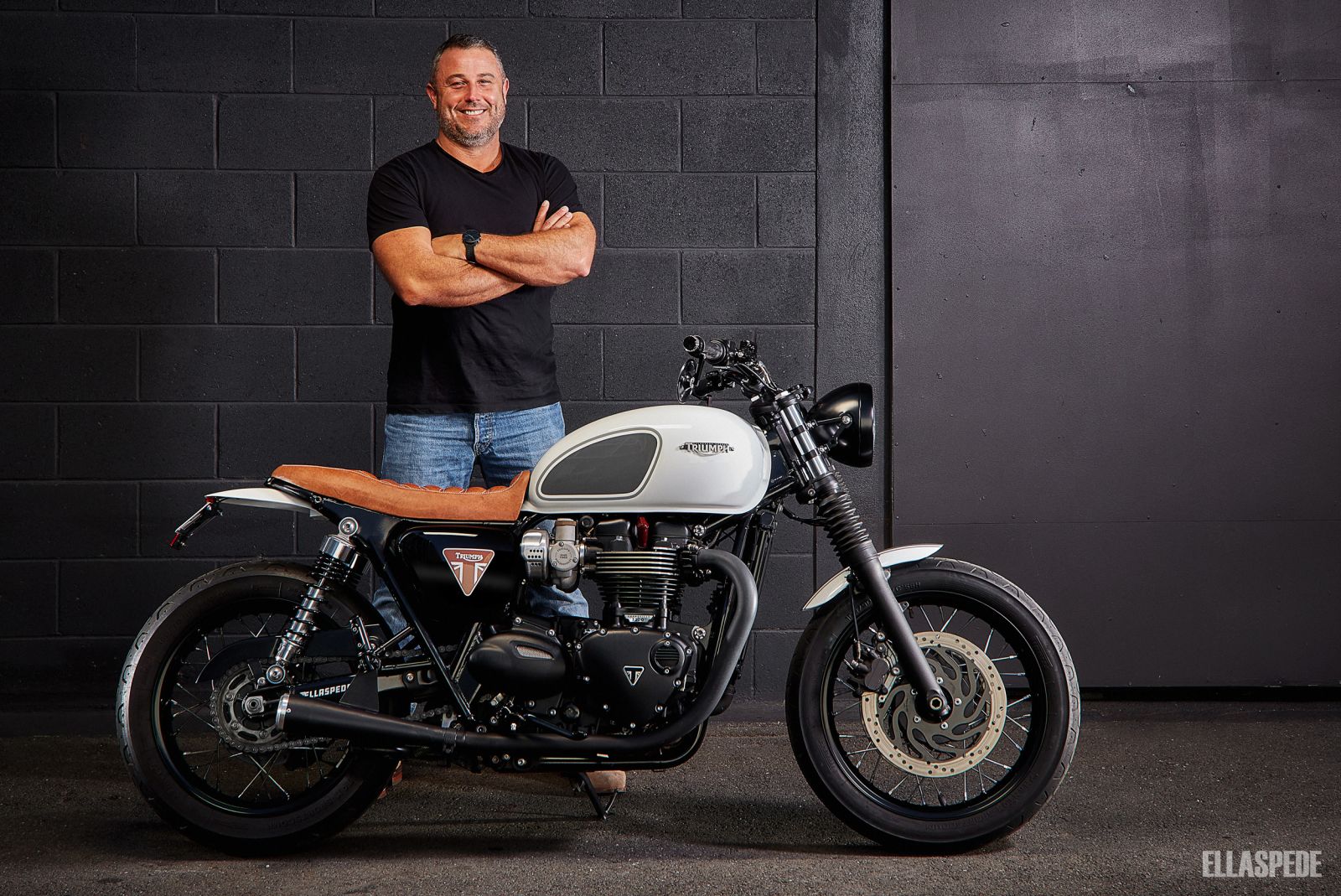 ---
Albums we listened to during the build of this bike:
---
Photos:
---
---
Comments (5)
Pricing

By:

Nehme

on 22 January 2023

Pls send me pricing info and timeframe for delivery.





Ellaspede Response
Hi mate! This bike isn't for sale, but we'll send you an email to discuss doing a similar build for you. Cheers!
---
mike

By:

mike

on 29 November 2022

love to know what a build like this costs? kind regards





Ellaspede Response
No worries Mike, we'll shoot you an email with some info mate. Cheers
---
How much did this custom work set him back?

By:

Ryan Costa

on 31 May 2022

Keen to know the cost breakdown as I love the build but would want to make a few additional changes to mine.





Ellaspede Response
Hey Ryan, we're glad you like the build! We'll shoot you an email with some approx pricing for a build like this. Cheers
---
Bloody lovely

How much will this beast set someone back?





Ellaspede Response
Hey Dan, we sent you an email mate! Cheers
---
beautiful1

By:

Stephen Barbara

on 26 June 2021

beautiful!
---
Leave a comment