EB1080 - 2017 Suzuki S40
Author: Ellaspede Date Posted:6 February 2023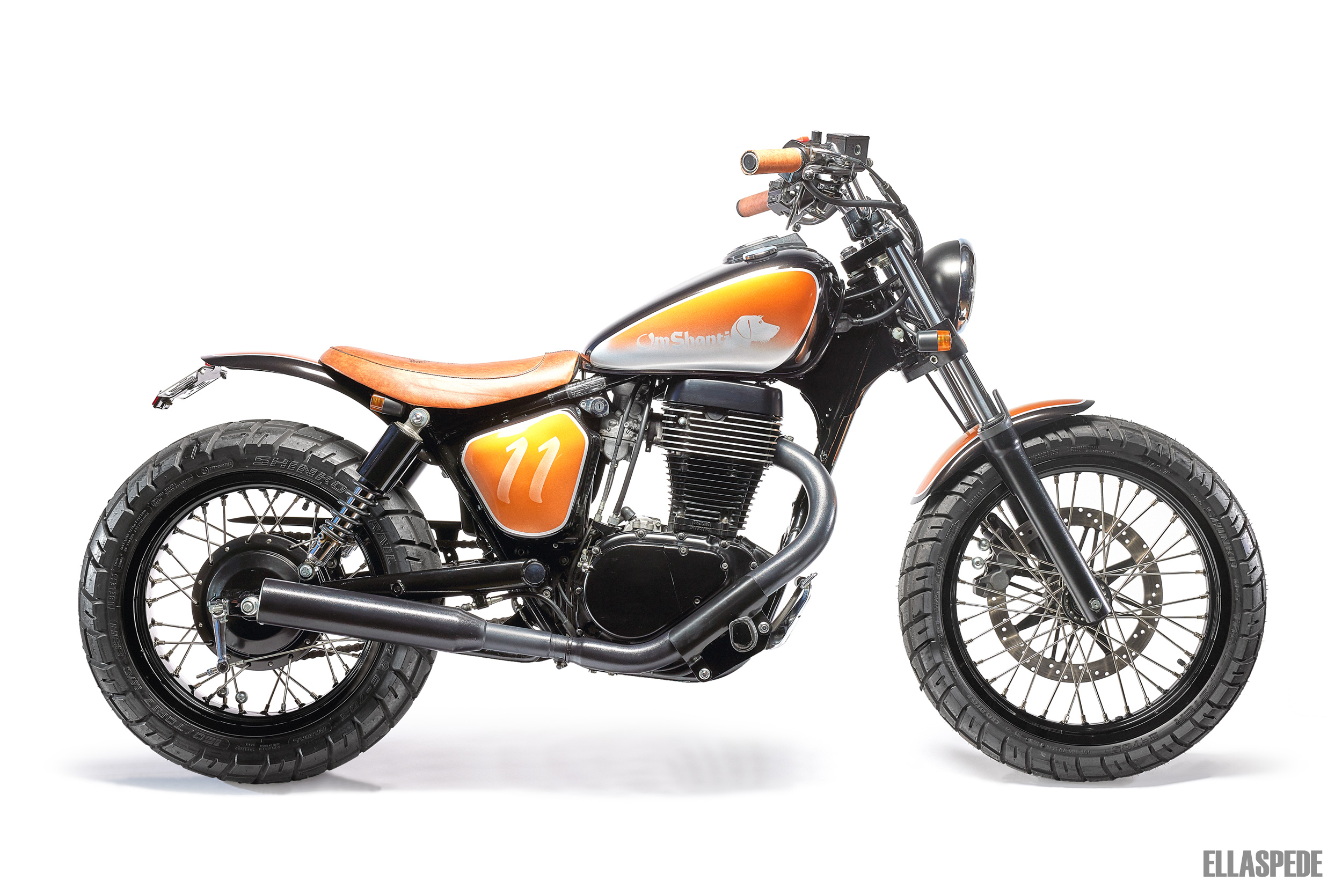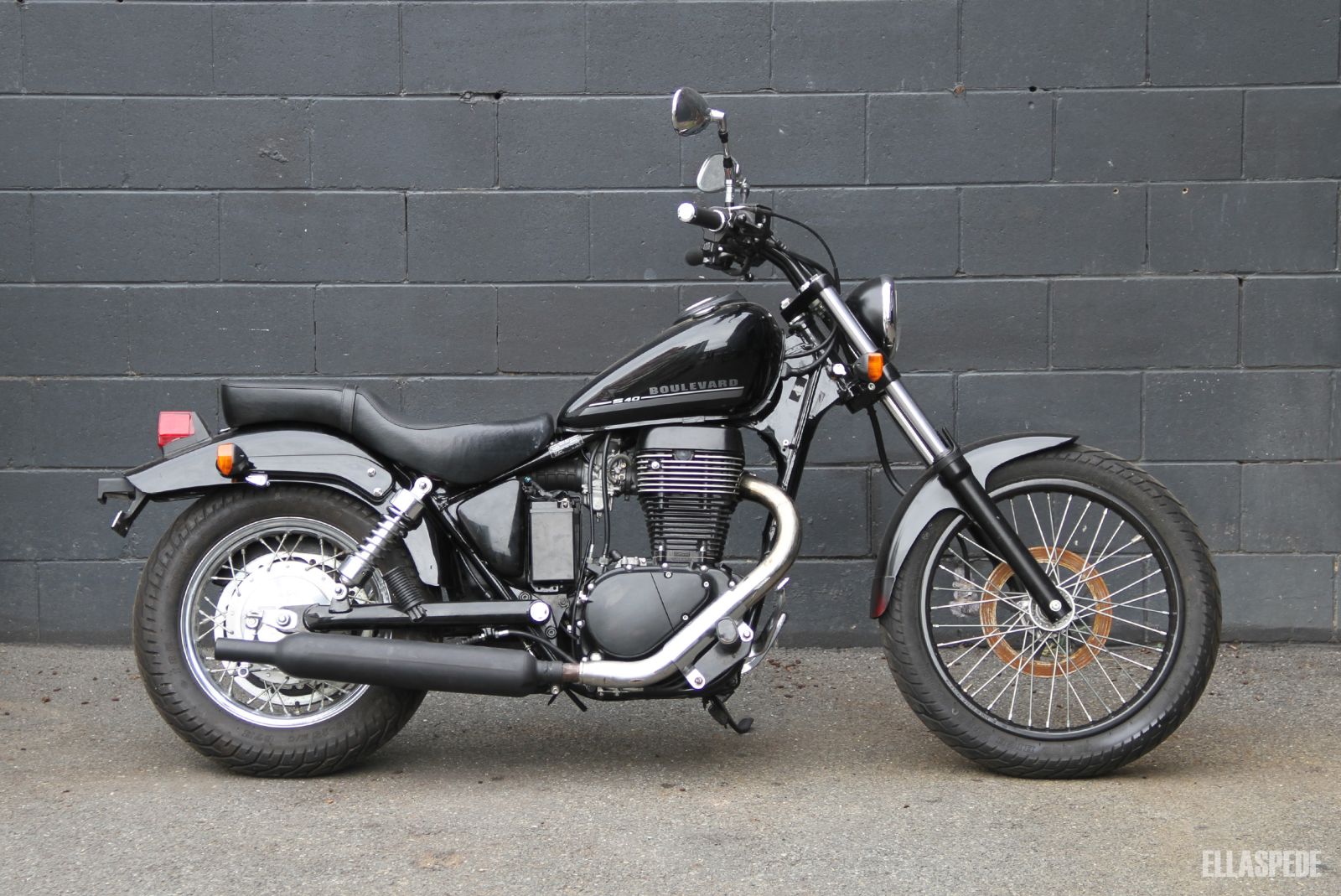 When choosing a bike to customise what do you look for? Is your decision a practical one based on need, usage, suitability, age, rider ability and cost or is it simply because "My uncle had an '82 dunger in the back of the shed, so lets build a custom bike" .
Hopefully your decision favours the former here but (whilst the message is slowly getting out there), all too often the bikes we see are from the latter category.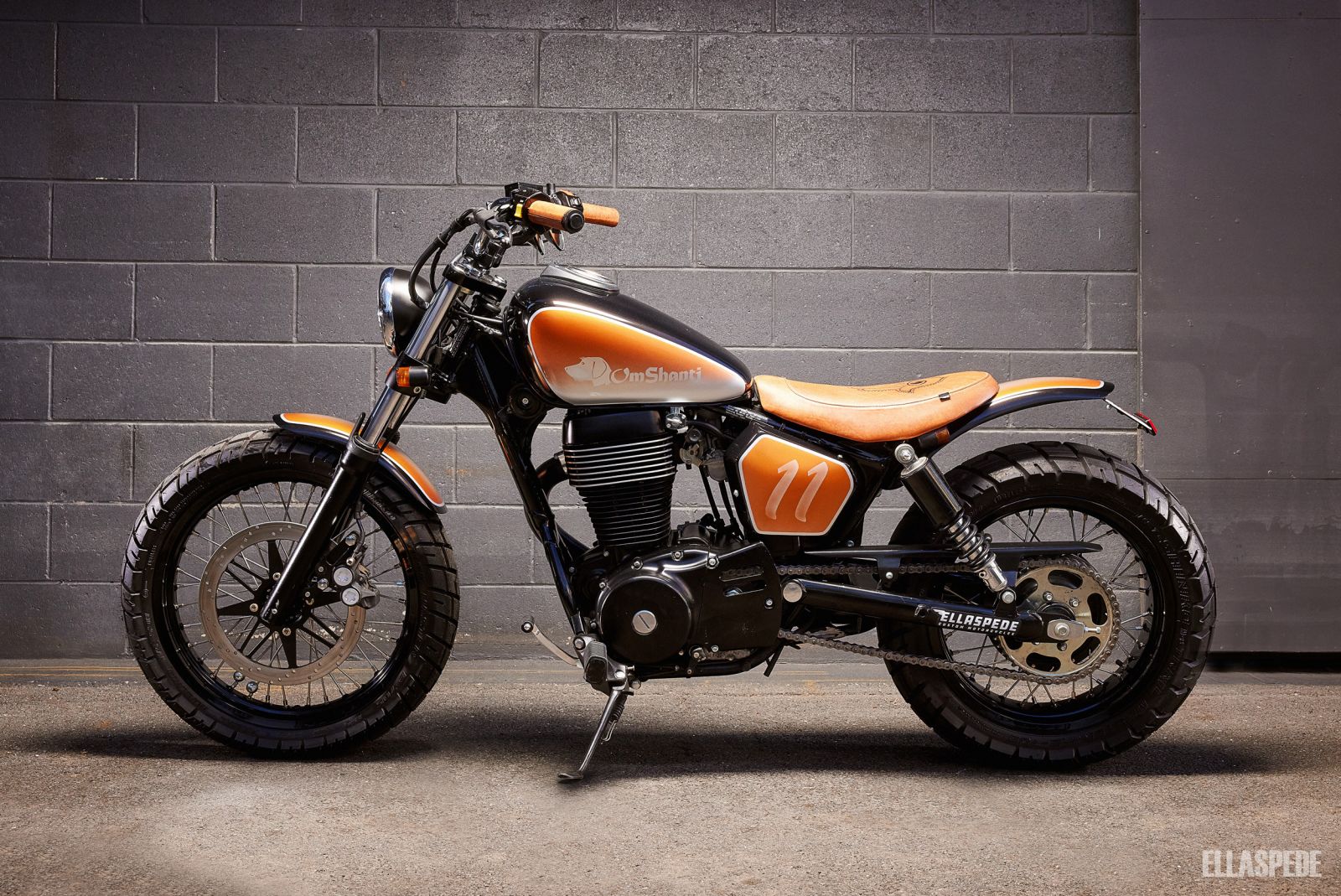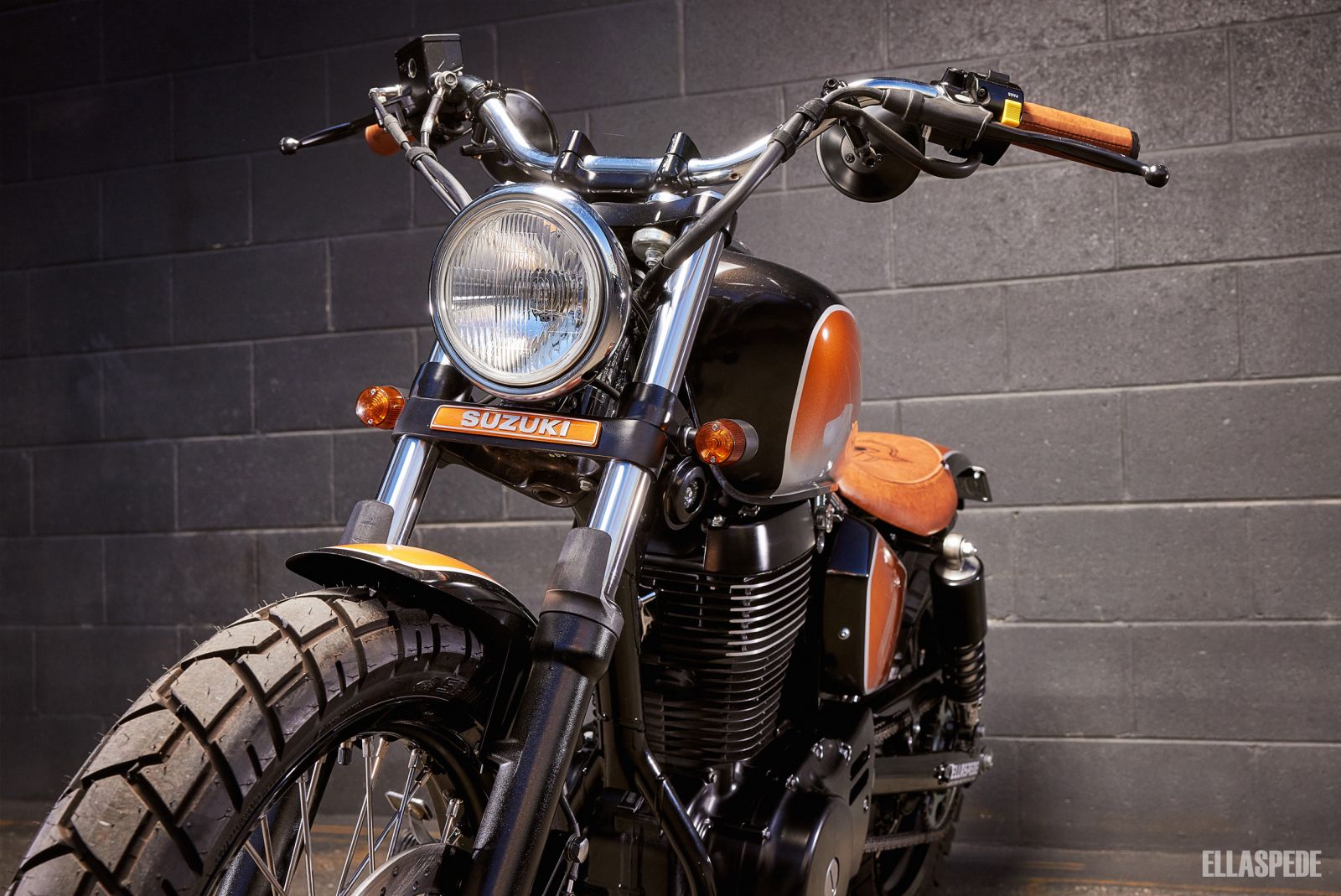 My partner had a 2012 Triumph Bonneville in lovely (pretty much) standard condition. It was a great bike and she really liked it however, it was / they are heavy. At 225kg wet they're not a light-weight… at 55kgs wet and with tippy toe grip, my partner battled with it every time she stopped. So you could say this was an unsuitable bike for her, despite how she felt about it. After another layover whilst pushing it around the garage it was decided 'Trixie the Triumph' had to go.
Of course I was chaffing at the bit to come up with an alternative that I could customise for her so the search began. The brief was: Within the budget, has the right retro look (or could be easily made to have the right look), have a low seat height, is not heavy and has decent power. Through many questions and with the help of a bike build simulator I also got an reasonable idea of what my partner wanted her bike to look like.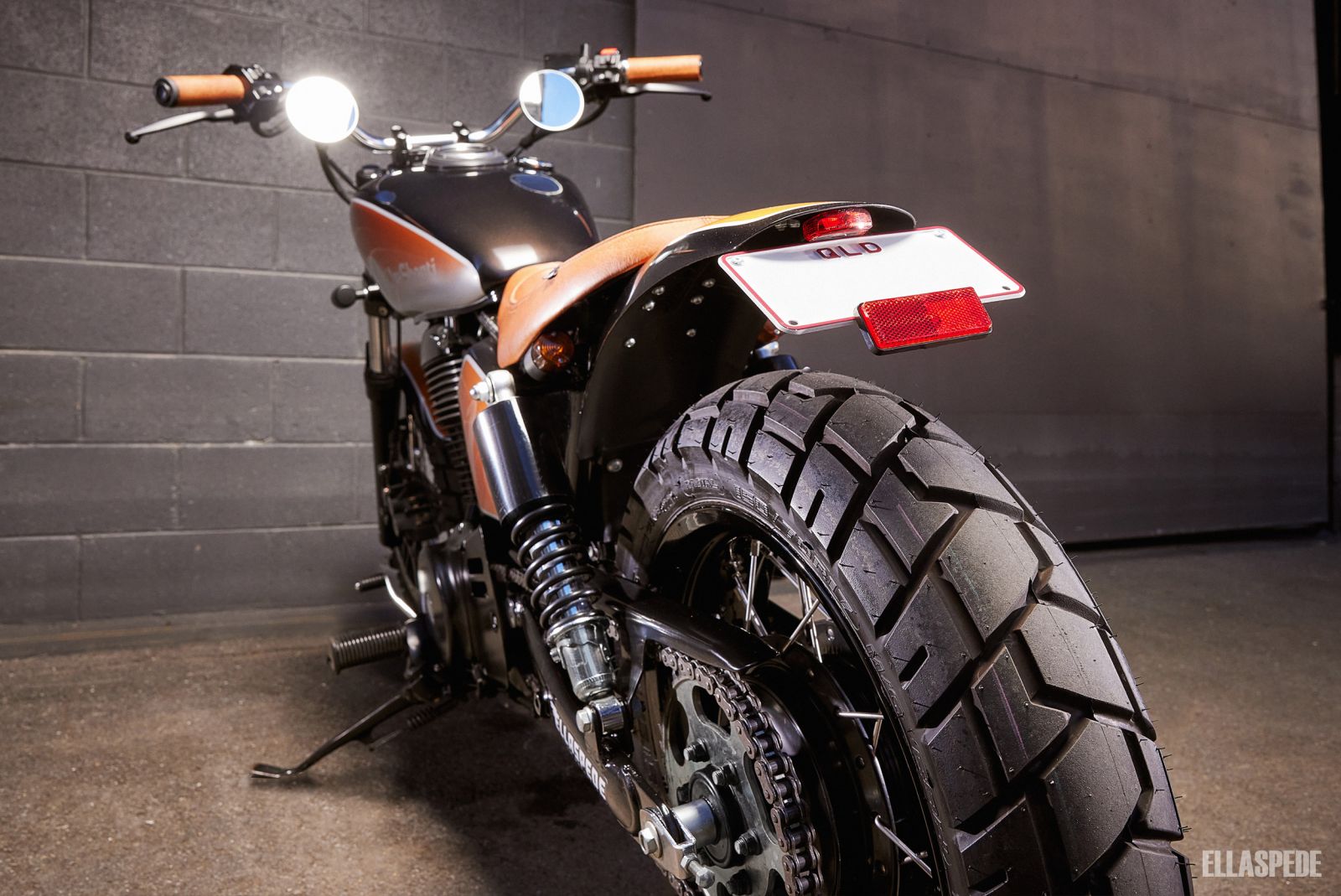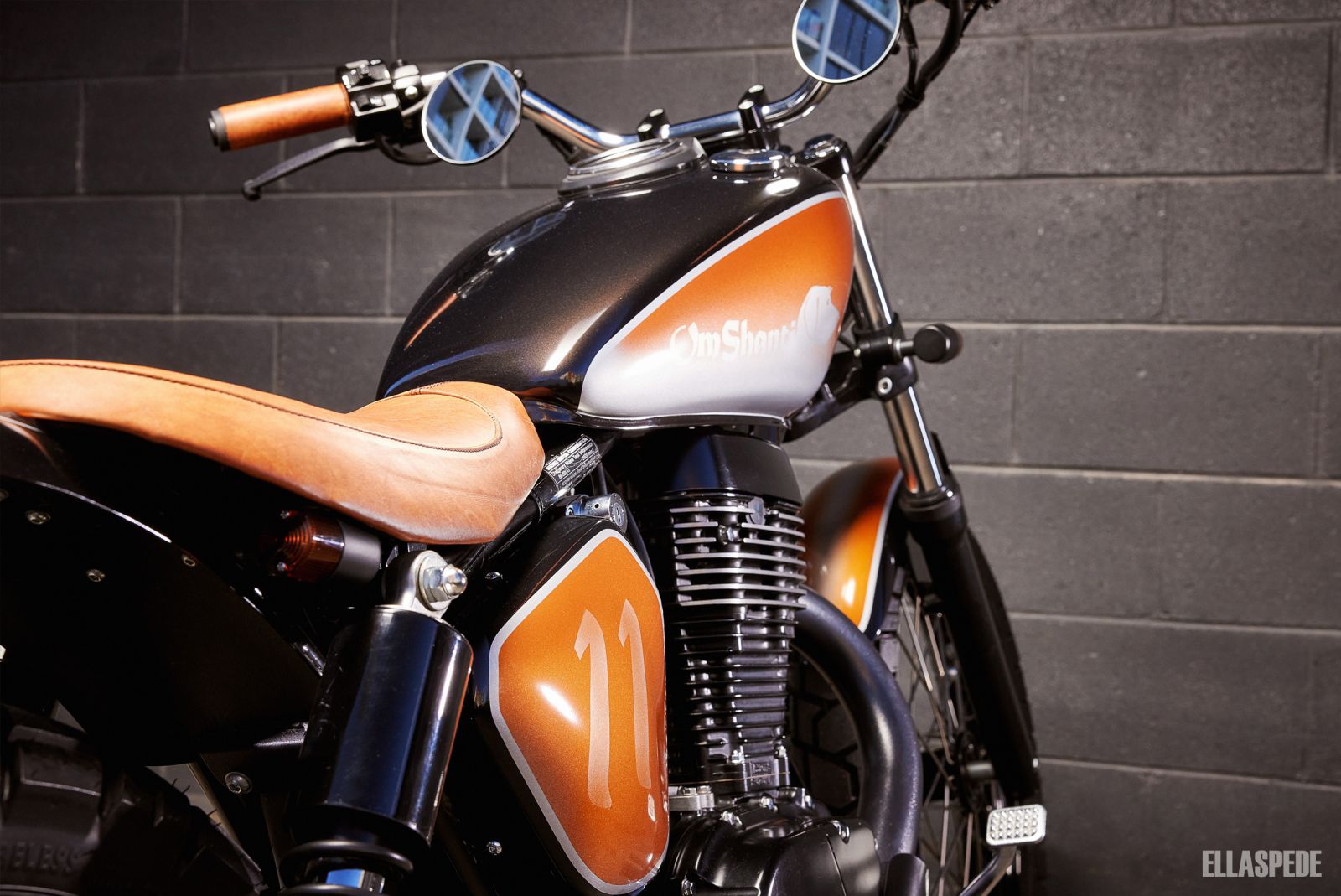 This all took quite a while and was quite a bit more difficult than first hoped. These parameters narrowed the field somewhat and the eventual winner was not initially the most likely candidate but one of the few that met the criteria.
Hey what do you think of this one honey?
That looks like a cruiser… I don't want a cruiser!
Yeah but we can modify it so it doesn't look like a cruiser… trust me
Hmmm??
Enter a 2017 Suzuki S40 Boulevard. Otherwise known as an LS650 or Savage, the S40 Boulevard is an old design dual seat small-cruiser with single cylinder 653cc engine, high riser drag-bars, long forks, belt drive, 19" front and 15" rear spoked wheels… a pretty simple design that hadn't changed much in its 30-odd year production run.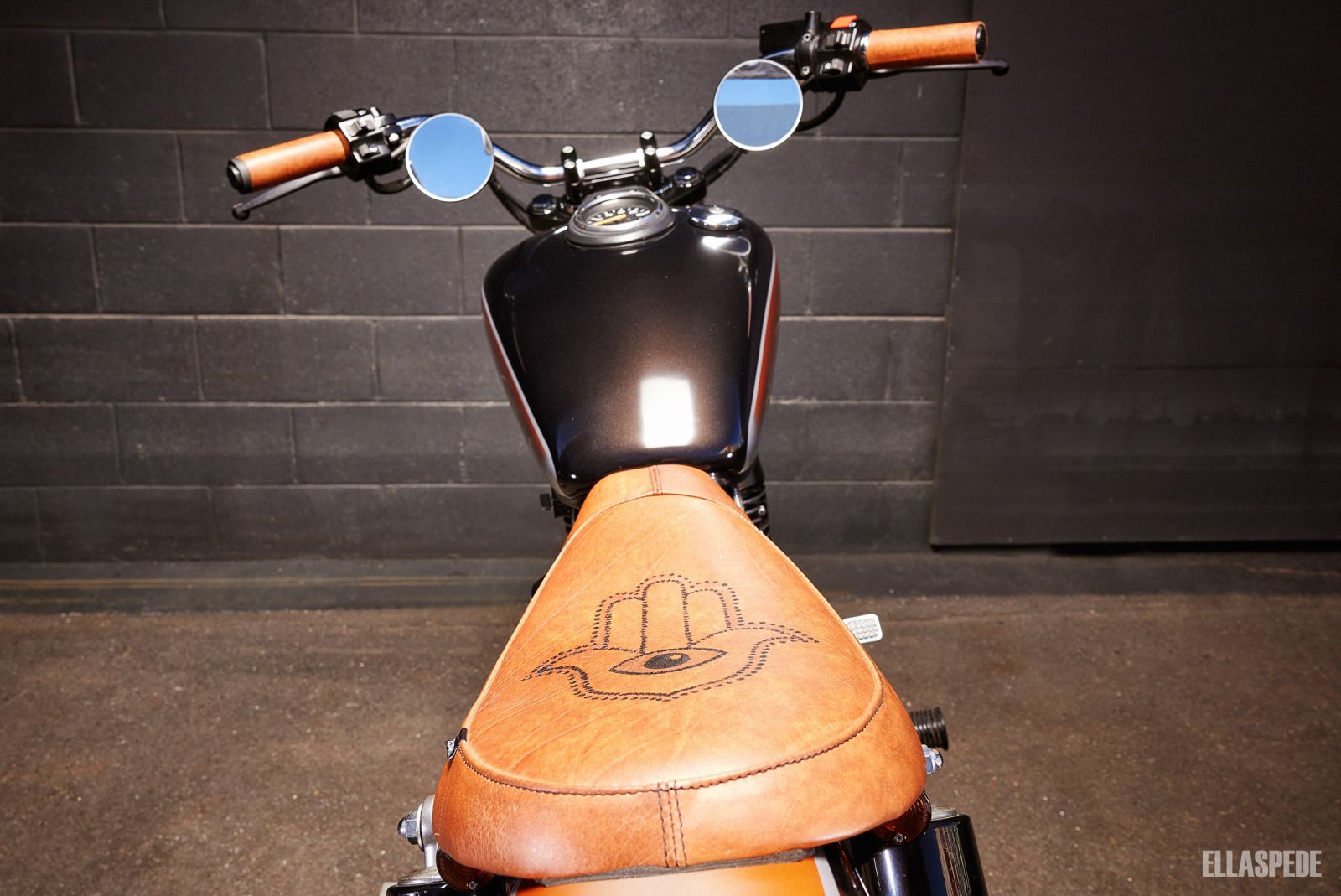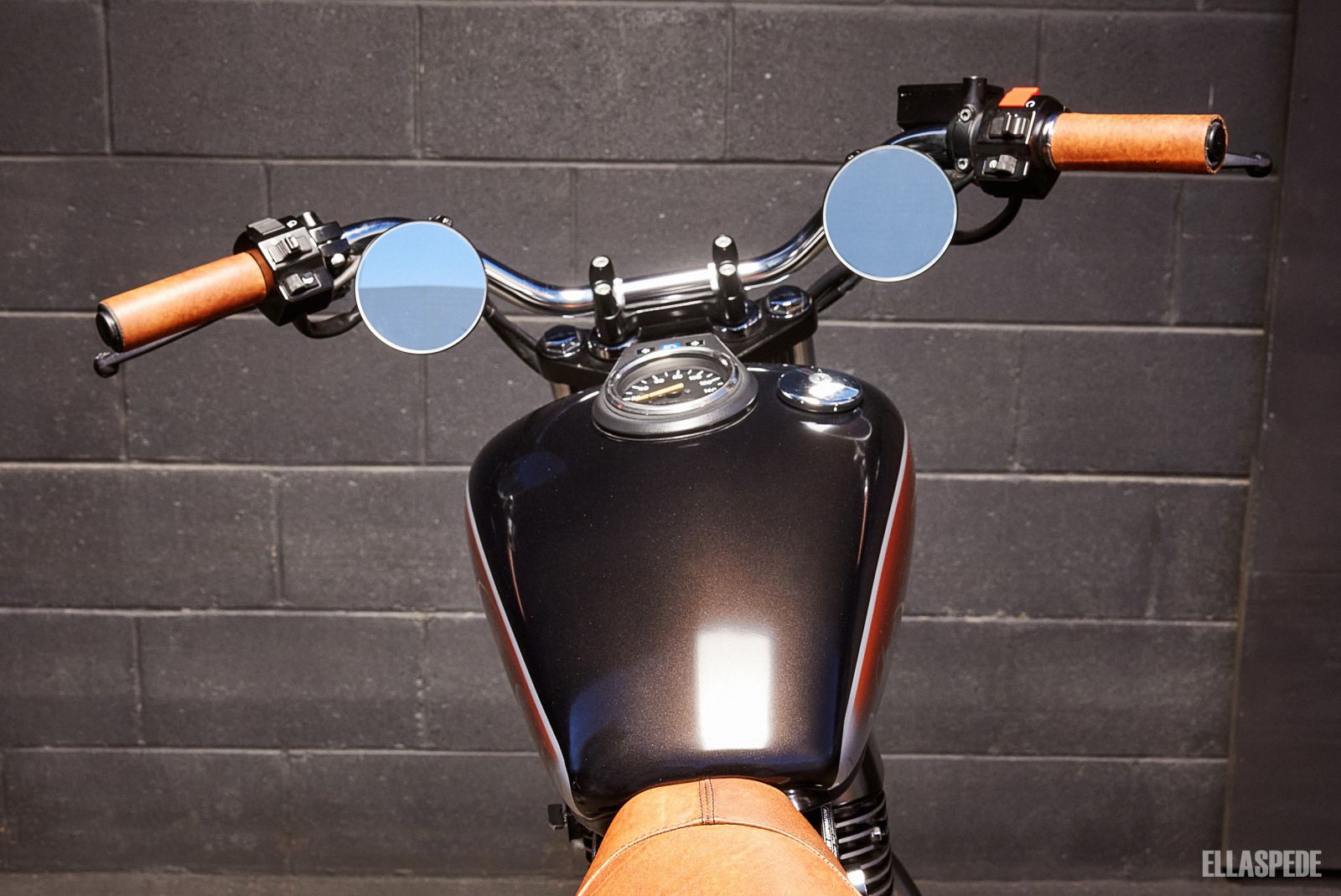 Of course with such a long time in production the punters have well and truly explored the possibilities with it and there are numerous custom examples of bobber, cafe and scrambler versions, mainly in the US where it has a healthy, almost cult following among a small group.
The company Ryca did much to boost the bike's popularity as a custom base with their handy Cafe and later Scrambler kits.
The other good thing about a long production run is that all sorts of bug-ironing and performance enhancements have also been explored.
After locating the bike I tidied it a little in standard form and gave it to my partner for Christmas. "Thanks, I guess". She was actually quite thankful despite the standard form of the bike I knew she didn't really like. This present also came with the promise that next years Christmas present was going to be the bike she wanted… yay!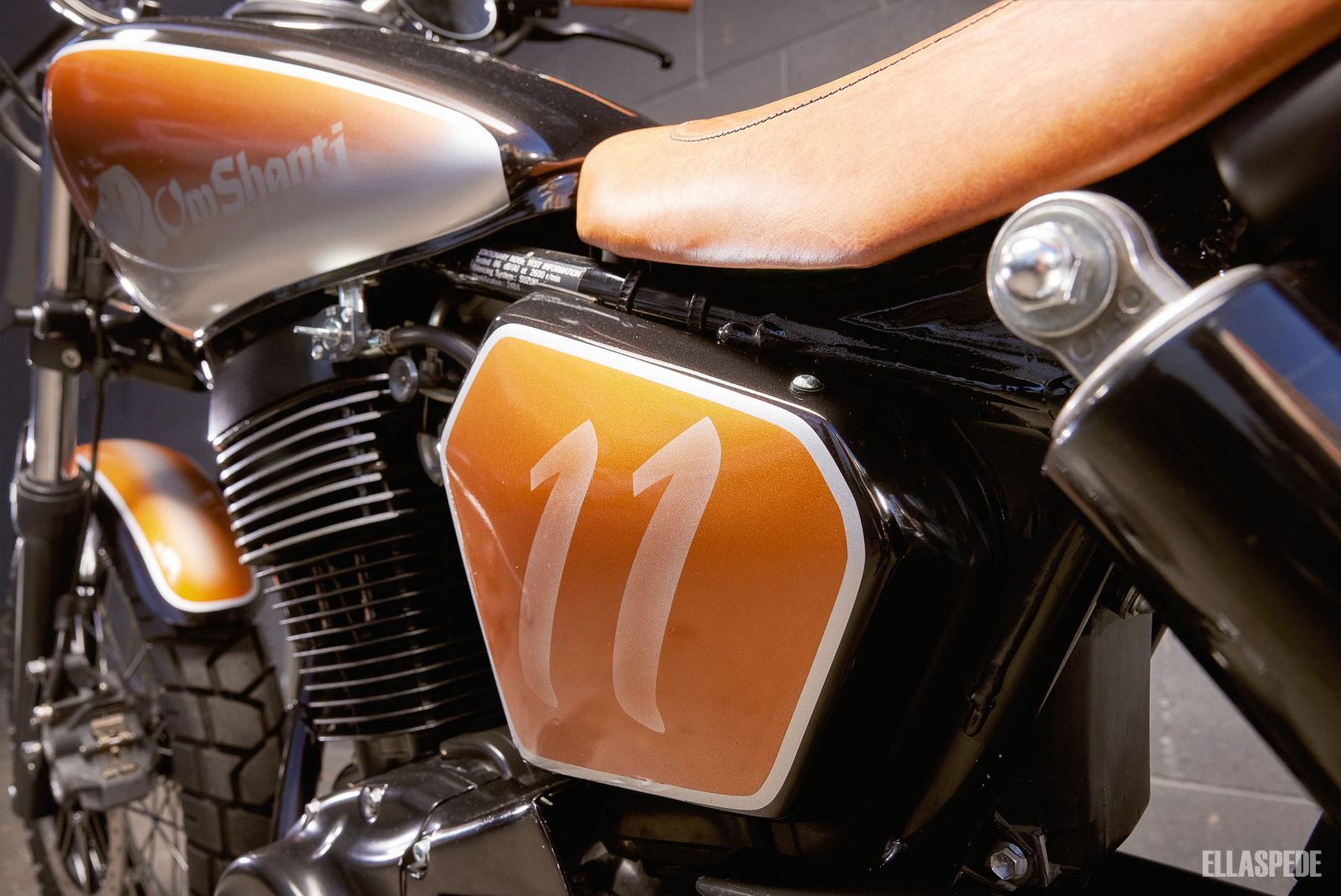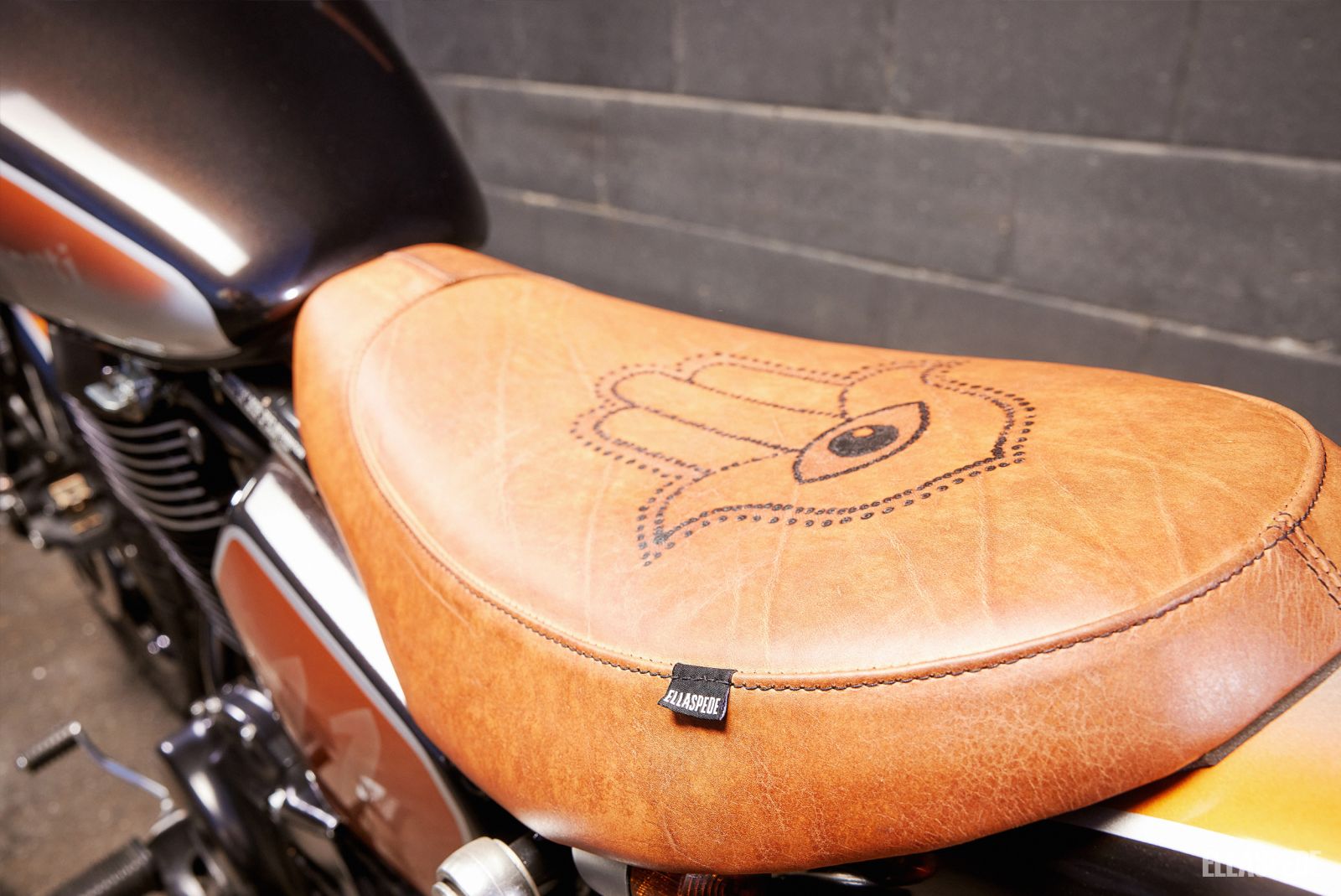 Putting things in perspective, this was a side project that was going to be completed by staying back a few nights a week and over several weekends, around my other work, as time permitted… 10 months later, other than small risers and new handlebars the bike still pretty much resembled last year's Christmas offering. Ok, time to get serious (and realistic)… a December 25th completion wasn't going to happen so a card was given instead with the new promised deadline of my partner's mid-year Birthday!
With new-found enthusiasm I got into it and things really started happening. Custom wheels were made in the new sizes of 19 inch front and 17 inch rear. Yes it already had a 19 front but the standard rims are steel and part of this goal was to provide the lightest bike reasonably possible, so new powder coated black Excel rims in 2.5 inch front and 4.25 inch rear were laced on. These were then shod in Shinko 705s measuring 100/90 front and 150/70 rear (I would have preferred a 140 / 80 but that would have been too tall for the swing arm).
Along with new longer rear shocks and internally lowered forks, this gave me the stance the rest of the mods would follow. The sizeable belt-drive system was always going to be replaced as it's just plain ugly (sorry to folks who dig them). This was achieved via GS Suzuki spec sprockets and chain. That said there's a very limited envelope here due to the long swing arm the S40 has, so a bit of trialling was required to make things work without fowling the chain along with some small mods to the swing arm and a custom chain guide.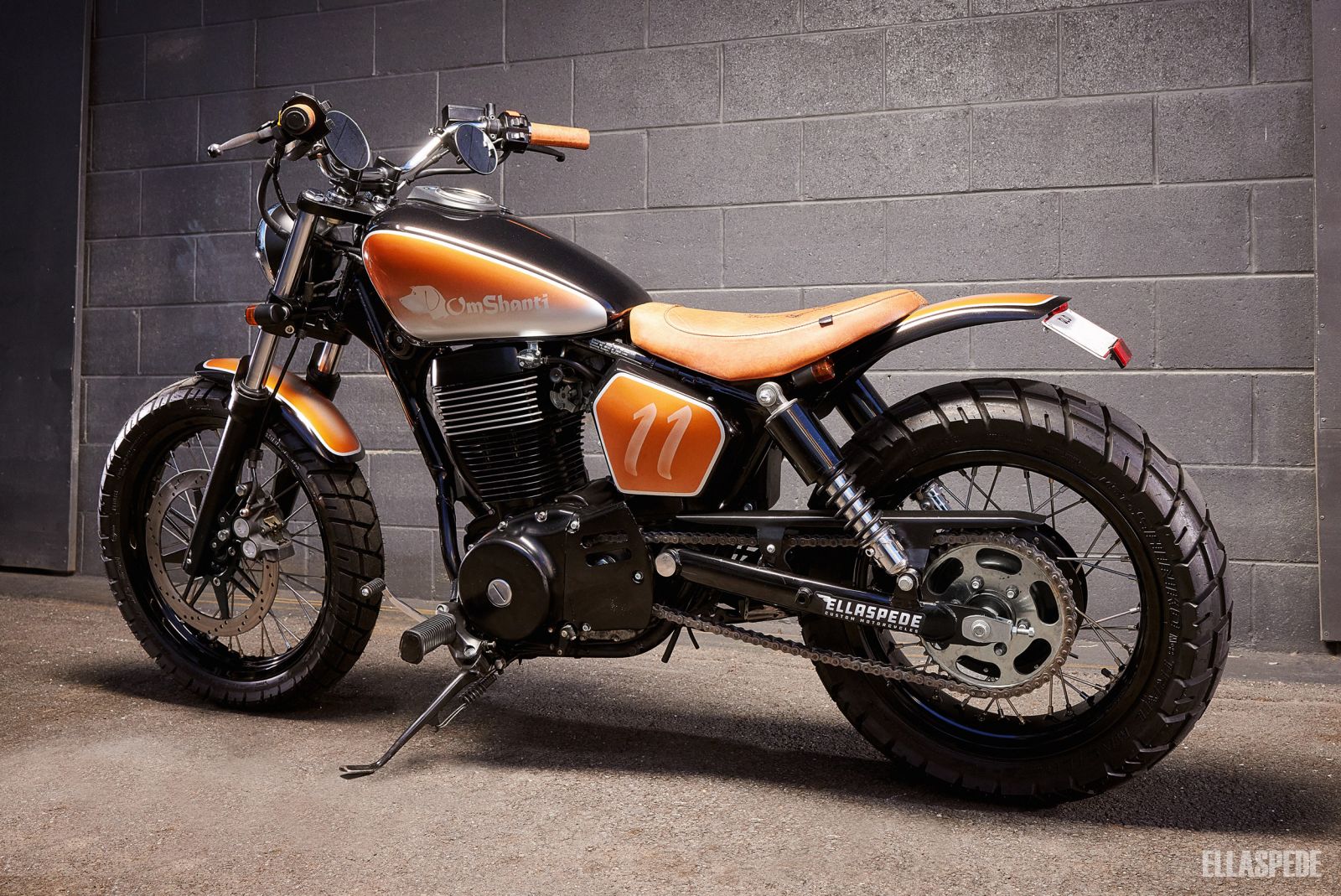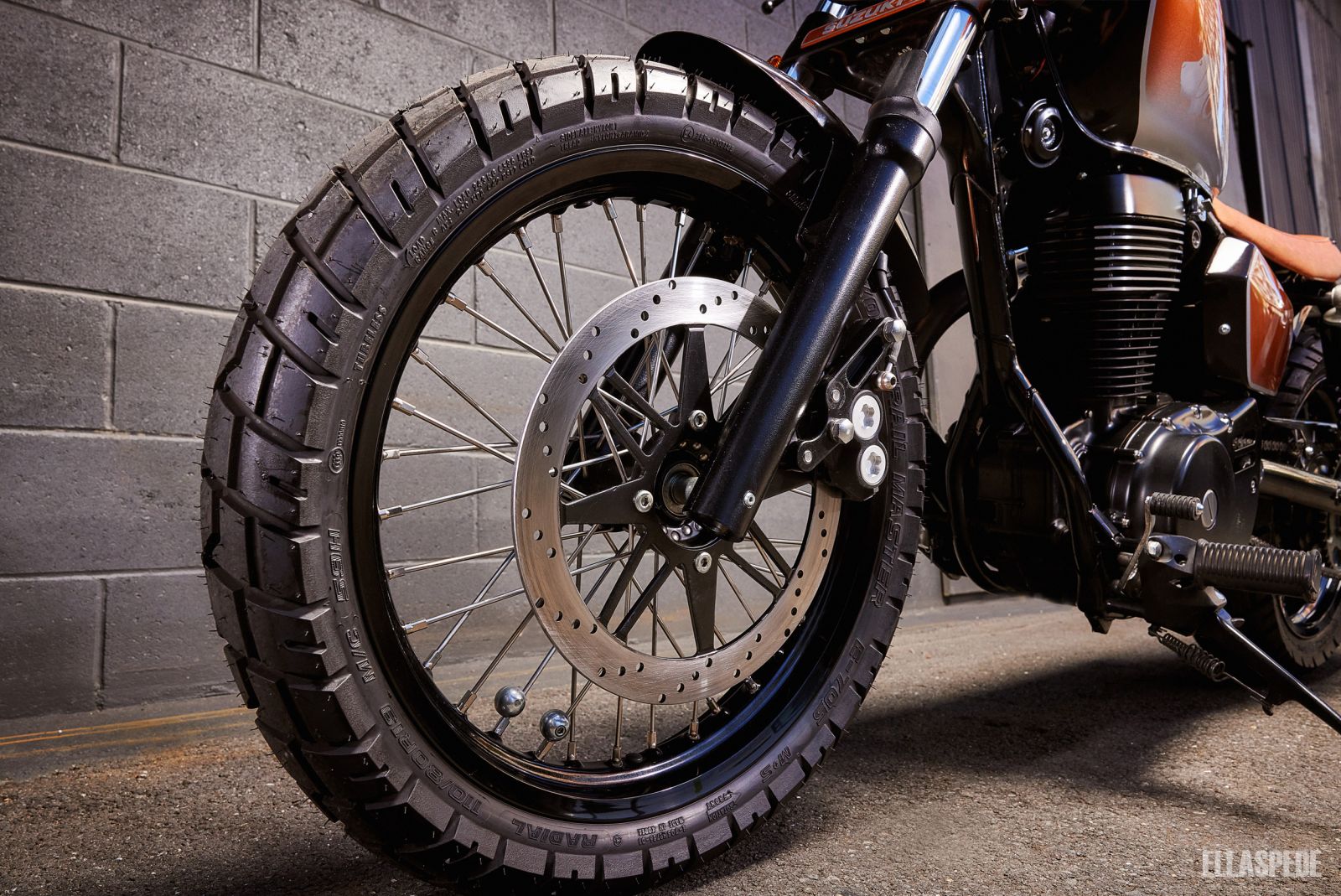 The frame rear was modified with a slim matching rear guard which also held the Koso Hawkeye taillight and Ninja Star registration plate mount. A custom solo seat was then made to fill the low frame valley. This was upholstered in tan leather along with matching grip sheaths (the design graphic on the seat will be covered in a bit).
I mentioned the handlebars earlier. To expedite things the standard switch blocks, controls and throttle were retained but the standard headlight was lowered and new Posh Winker indicators were fitted front and rear on custom mounts. The standard front guard was reshaped and new side covers were fabricated to replace the standard multi-cover side covers. This also required a new battery retaining bracket.
The electrics were relocated / modified as required to suit. What became obvious after all this was done was that the left rear shock was really out in the breeze. Due to the aforementioned sizeable belt drive this shock is located quite wide. It now looked silly. We relocated this inward as much as practical to visually even up the rear view.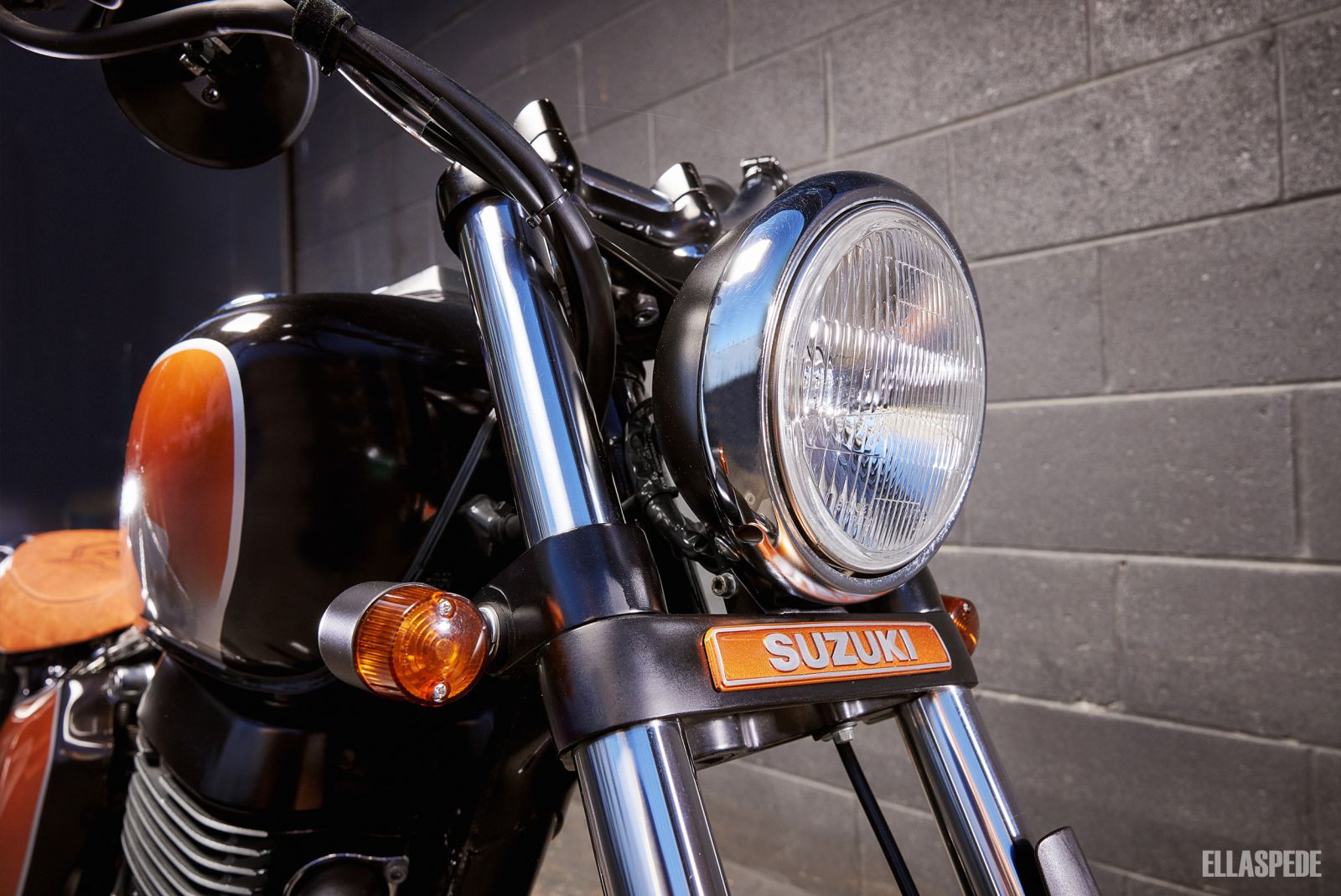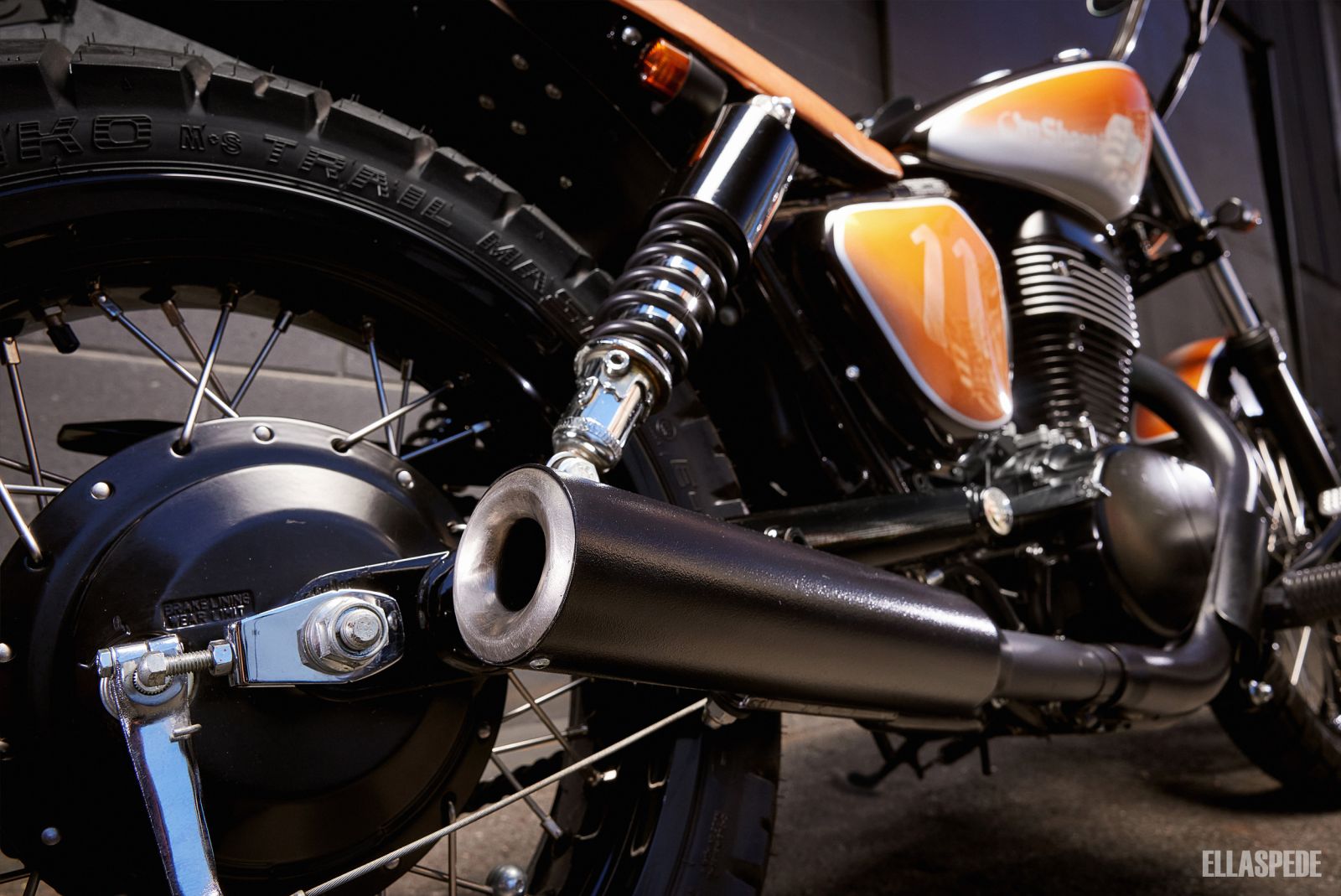 Suzuki S40s don't sound great. The 650cc thumper doesn't lend itself to a smooth exhaust note. Luckily I knew my partner didn't mind a noisy exhaust and that's pretty much what she got. I made a custom muffler to fit the standard header pipe (again, time constraints) and coated the whole thing in hi-heat black powder coat. A bit of internal adjusting with the baffling gave a reasonable thumpy note.
With a bit of test riding at this stage it became clear that (whilst they worked quite well), the standard single piston caliper and 260mm front rotor brake were not great by modern standards. Having noticed a post in an online forum I purchased a bolt on 320mm rotor kit including 4 piston rotor and calliper mount. This saved me having to reinvent the wheel and find / fabricate things myself. It arrived from the US after the bike was finished but can report it makes a noticeable difference.
Last thing was paint. My partner is into yoga and because this was being built specifically for her it should reflect that. 'Om Shanti' means peace and the seat depicts the Hamsa hand / evil eye, which symbolises protection - something we could all use whist riding a motorcycle. The dog head image is that of our boy - we dig him and "11" is her number.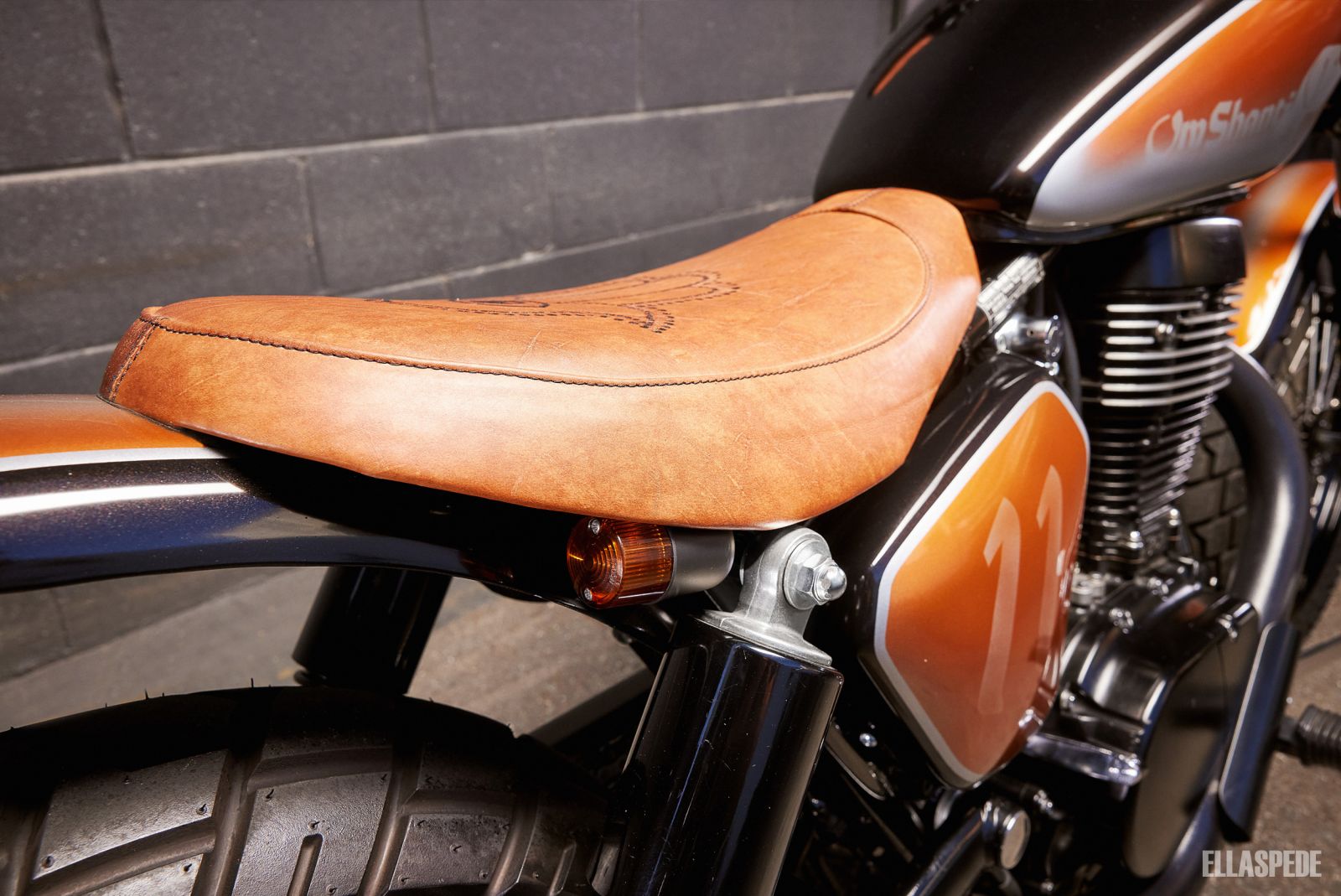 With a roadworthy certificate, registration and insurance sorted I took it home, wrapped it up and had it waiting outside for her Birthday surprise. And a surprise it was as she'd pretty-much forgotten she even had a motorcycle.
She's still getting use to the new bike but early indications are good in that she can sit flat-footed on the bike and push it around as required. The 650 is quite torquey, so it's no slouch and there's a lot of her in it via style, design and colour, which all work to make it a really suitable custom bike.
There are more mods planned but I have to get some other projects done first!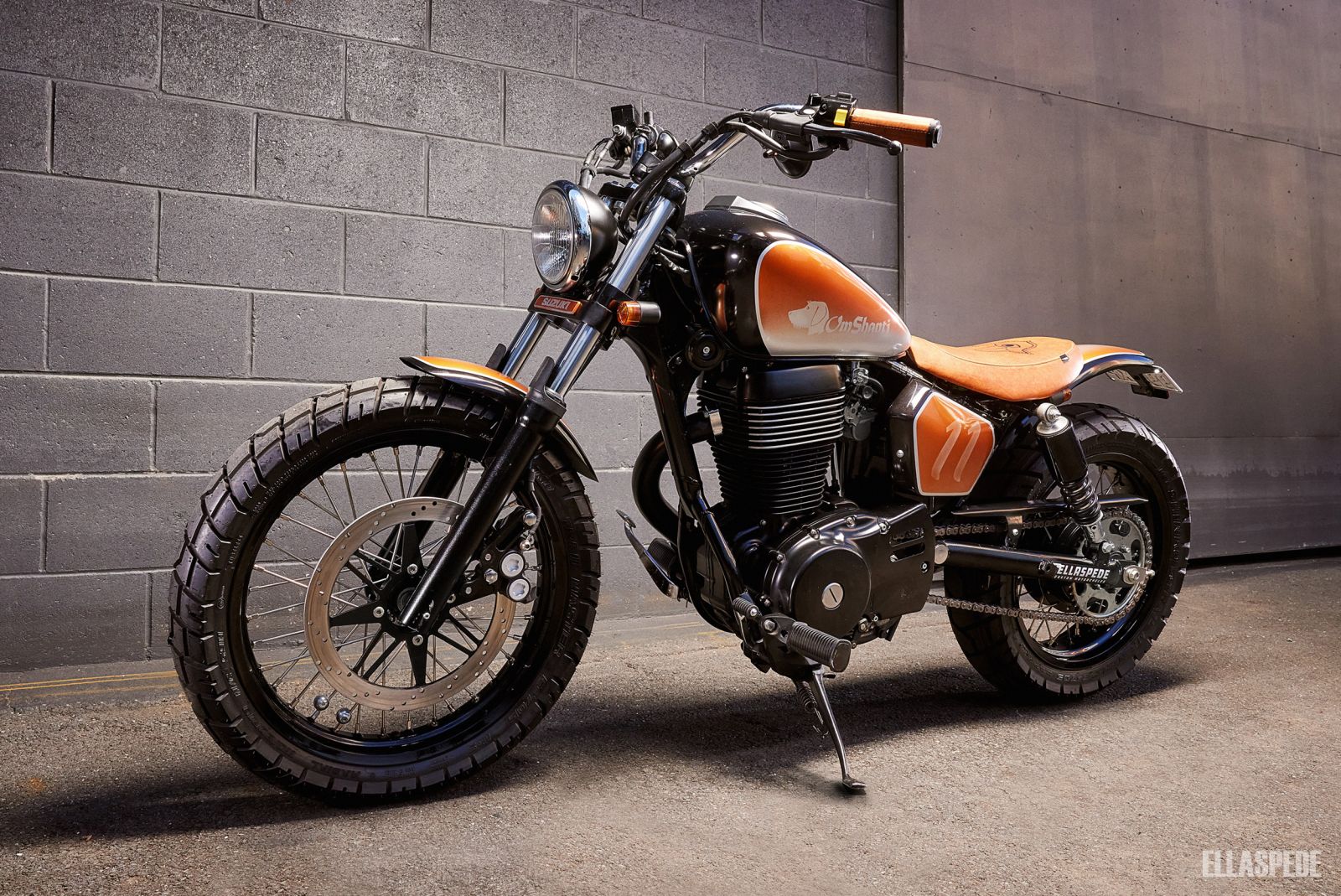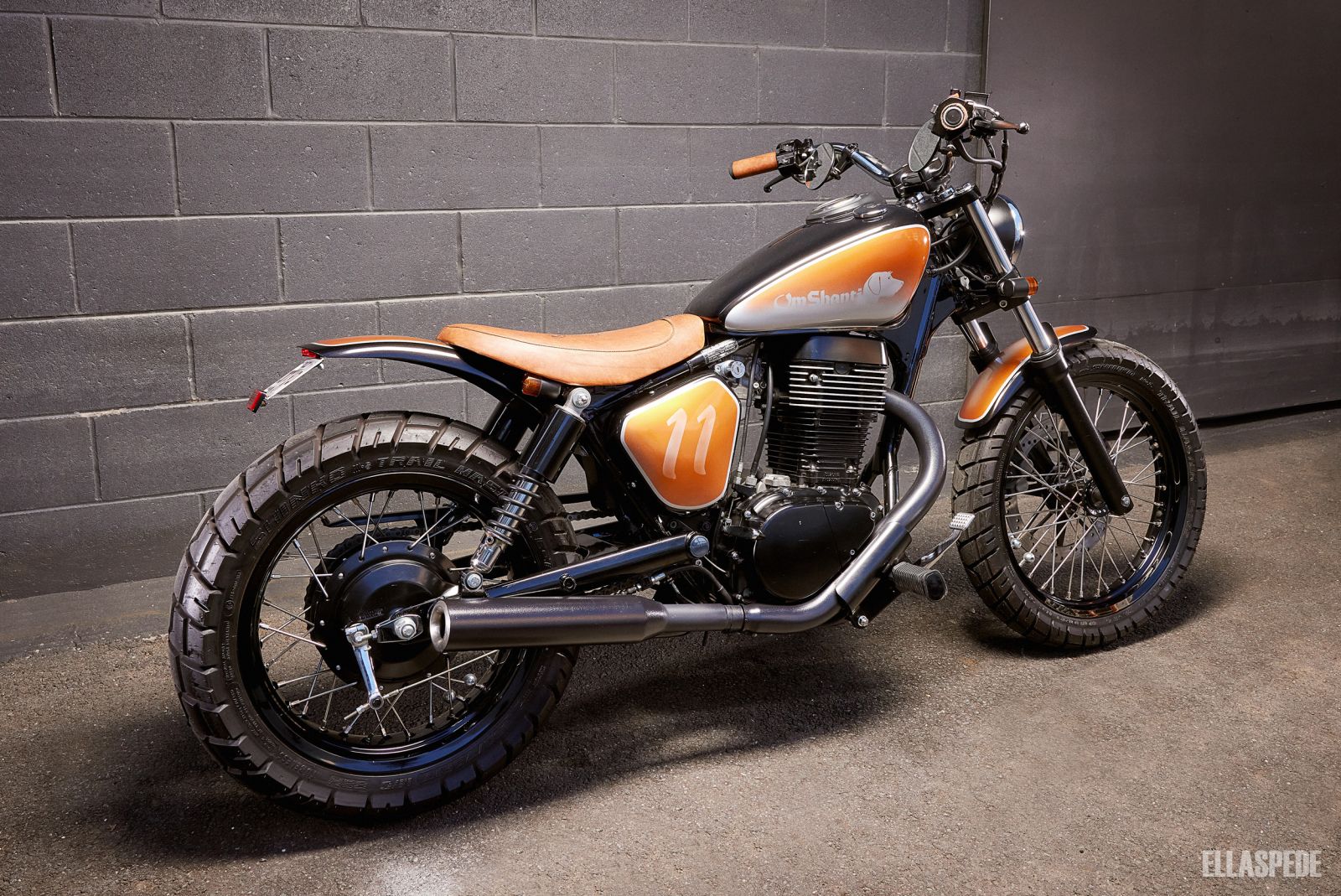 Words by Steve Barry.
---
Albums we (Steve) listened to during the build of this bike:
---
Photos:
---
Build Pricing & Enquiries:
For build and pricing details or to discuss commissioning a custom motorcycle build of your own please email contact@ellaspede.com
---
---
Comments (5)
S40 build by Steve Barry

By:

Margaret Timmers

on 11 July 2023

Steve,what other mods are you going to fit to your partners bike? I can't stop looking at what you did.Its awesome.What kind of change would I be looking at if you could do a build like that on my s40?





Ellaspede Response
Hi Margaret! Thanks mate, we're glad you like the build. We just sent you an email with some more info and pricing. Cheers!
---
S40

By:

Margie Timmers

on 30 June 2023

I recently purchased a S40 that had little k's on it.2020 model ( all the same,lol)..Would really love to modify it as well..You guys would be doing it of course.Time and money. BTW great job





Ellaspede Response
Thanks Margie, we're glad you like the build. Good pickup on your bike, let us know when we can do some custom work for you. Cheers
---
Great job.

By:

David Marsden

on 14 June 2023

Could you tell me how much you lowered the front & whether you had to reinforce frame. I was told I could not raise rear or lower front without doing so. Appreciate any advice





Ellaspede Response
Hi David, we lowered the front 2.5 inches. The rear of the frame was reinforced, but only because we cut it shorter. You should be fine to raise/lower the front or rear and inch or two without any frame mods. Cheers
---
Excellent build!

By:

Eric Weber

on 5 March 2023

Really like the transformation, the stance is perfect! Did you fit longer rear shocks? If so, how much longer, and what did you use? Outstanding attention to detail as we've come to expect from your team, brilliant work! If I was going to do anything different, I might look for another fuel tank, as I'm not a huge fan of its profile. Having said that, the modified stance really improves the overall look of the tank, and the rest of the bike. Well done!





Ellaspede Response
Thanks Eric, we're glad you like the build! The shocks we used for actually meant for a Triumph Bonneville (2001-2015) and from memeory they were around the 330mm length. Cheers!
---
S40 build

By:

Glenn Shaw

on 22 February 2023

Hi, Looks awesome. I am looking for a S40 currently and have discovered I can no longer buy an off the shelf RYCA kit so will have to make it up as I go. The flat tracker look is great and probably the way I'll go. Thanks for the post, pictures and info...





Ellaspede Response
Thanks mate, we're glad you like the build! All the best with your flat tracker S40 project. Cheers
---
Leave a comment