EB1047 - 2020 Suzuki DR650
Author: Ellaspede Date Posted:9 March 2021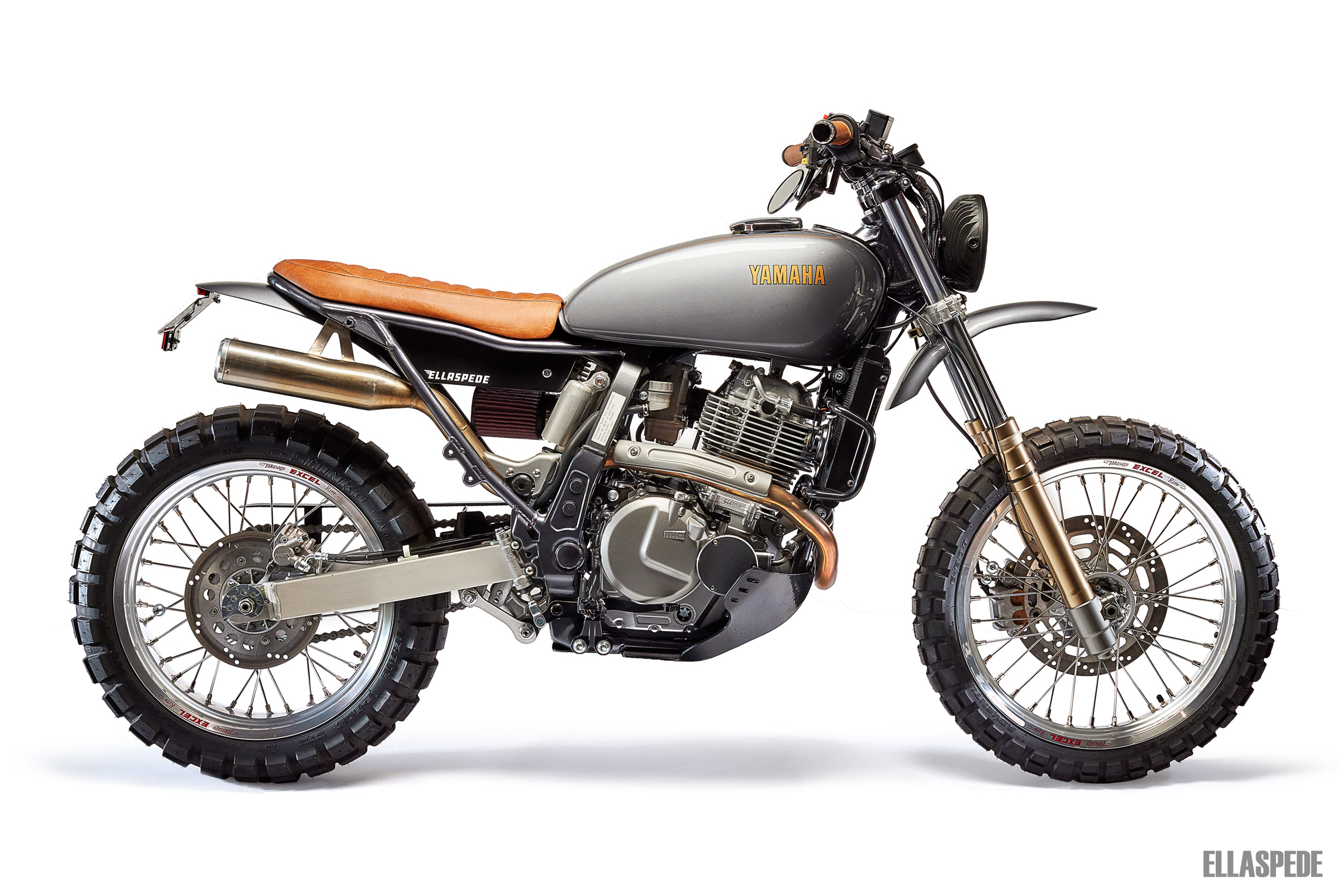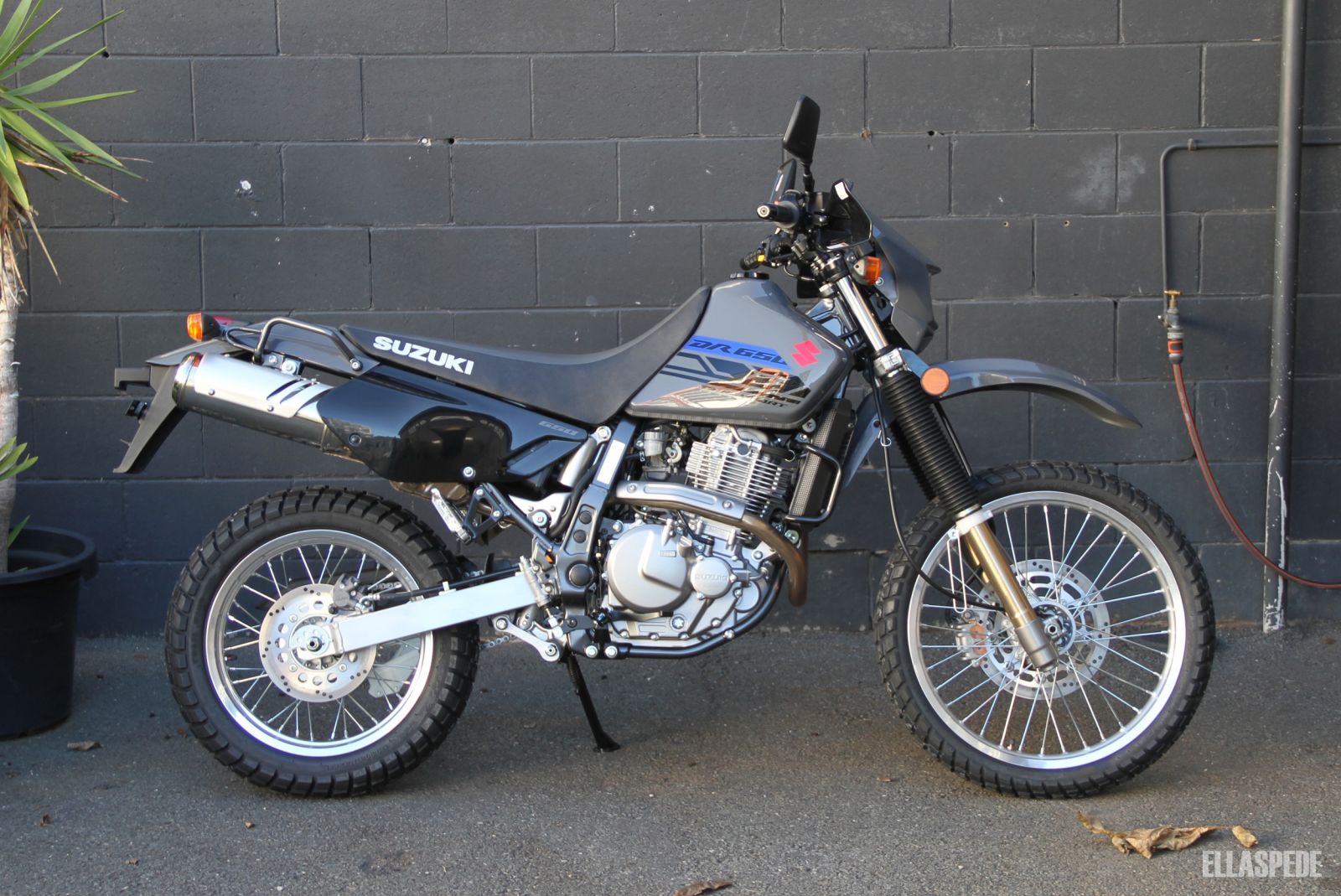 Building a classic inspired scrambler usually means reaching for a simple road bike donor and converting it for some dusty backroad duties. But on the other side of the coin is sourcing a reliable enduro or adventure bike that already has the off road requirements sorted and making it more classic looking.
The usual 'road bike donor' scramblers are great for turning down that dirt road when the asphalt ends, but if you want to explore a little further off the beaten path sometimes a road bike base can be left wanting.
Enter the Suzuki DR650. Largely unchanged for 20 years, as far as dual sport motorcycles go they're a proven reliable package that's hard to go past as a great all rounder for the no frills purchase price.
When owner Al first contacted Ellaspede for a scrambler build the Suzuki wasn't on his radar as a donor bike. Having just sold a Yamaha WR250 we knew that a road bike based scrambler wouldn't cut it for what he was after and so we suggested the DR650 as a base.
They can be hard to see the vision in stock form, but (basically) once you remove all the plastics, pop on a vintage tank, lower the suspension and re-lace the wheels to a classic 19/18 setup it all comes together. It almost sounds too easy when we put it that way!
Al wanted a good reliable bike to start with as a donor, so it was straight to the local Suzuki dealer to nab this brand new 2020 model for the build. It was shipped straight to Ellaspede for the build and Al noted he "didn't even want to see the thing" until the custom work had begun.
Brand new bikes are great for custom builds because the extra investment spent on the initial purchase price is saved when you don't have to remove/replace/paint/polish any broken, worn or weathered parts on an older bike. Which basically means you can start doing 'the fun stuff' on a custom build straight away without soaking up dollars on unexpected issues that older bikes can present.
Getting the stance right was first on the agenda. The DR650 comes with a nifty stock lowering option of about 1.5" front and rear, so the rear shock mount was changed to the lower option and the front forks were removed and altered to obtain the matching lower front height.
The wheels were a key item for looks and clearance, so everything bar the stock hubs and brake rotors were replaced. Custom length polished spokes are laced up to Excel rims measuring 19x2.5" at the front and 18x4.25" out back, wrapped in 120/70-19 and 150/70-18 Shinko E804-805 tyres.
With the wheels and suspension sorted it was fabrication time. The key to a build like this is getting the right fuel tank, mounting it properly with the right alignment, then building the rest of the bike around it. We gave Al some pointers for what tanks would work best and he set about searching for the perfect tin. Previously being a Yamaha man, when the new old stock 1981 Yamaha SR400 tank popped up on eBay in California, he knew it was the right piece and soon had it making the trip down under.
The tank was brand new never fitted and still with the stock paint in perfect condition, it even came in the factory Yamaha spare parts box! Al said "the tank is an original and it helped set a lot of the colours".
Enduro bikes often have long angled subframes, so with the tank mounted attention was turned to shortening and cleaning up the rear. The usual tabs and brackets were removed, while the end was docked in favour of a custom rear hoop. Al liked the 'exposed frame' look so both the rear hoop and frame bars were cleaned up for a smooth finished look.
A custom steel rear guard, battery box and seat pan were fabbed up next with particular attention being paid to hide all the bolts and mounting points for these items. The DR650 has a slight kink in the rear frame which the bottom of the seat pan follows, while the top was foamed up to allow a reasonably flat seating area for moving around back and fourth while riding.
At the front a custom steel high guard was made to satisfy legal requirements and keep a little dirt and dust out of Al's eyes when the tyres turn off road. Sitting snugly above is a Koso Thunderbolt headlight with a custom bracket mounted low and tight against the bottom triple tree.
The intake and exhaust saw a few upgrades with some more custom fab to match. A Mikuni TM42 Flat slide pumper carb now breathes through a K&N filter on a custom stainless snorkel mounted to the bottom of the battery box.
Exhaust gasses travel through the stock header pipe which is a proven performer and into a custom stainless mid pipe and stainless muffler with a spun aluminium tip. The new muffler mounting discretely to the inner side of the rear frame.
A custom made chain guard, shortened side stand, through frame rear indicator mounts and modified top triple clamp (to remove some of the original gauge mounts) round out the major fabrication work.
A subtle little extra was the oil filter cover which comes stock with machined Suzuki branding. Al wanted to keep any hints to the original brand hidden so we filled and machined the cover flat before a matching lick of frame grey paint was applied.
A Daytona Velona 80 gauge now sits snugly up front, accompanied by Biltwell Tracker high bars to control where things are pointing and underslung 'Highsider' mirrors watching dust disappear out the back.
Like the headlight, Koso also supplied the neat little Hawkeye tail light which is mounted to an Ellaspede Ninja Star licence plate holder with hidden bolts under the rear guard. Motogadget M.Blaze disc indicators hide in the handlebar ends and M.Blaze pin indicators are flush mounted against the frame at the back.
The factory tank paint is quite nice for an early 80's colour, so we decided to do the front guard, rear guard and intake pipe the same. A bunch of the usual parts and pieces were also powder coated black and the solid B&B Off Road bash plate was ordered from factory with a black polymer coating.
After looking at a few different leather options for the seat the current mid tan was decided on as it fit with the factory Yamaha and Suzuki greys while also mating nicely with the light gold lettering and stripes along the tank. A subtle horizontal stitch upholstery design with a dark grey stitch was opted for, with the stitch lines stopping short of the full seat length to make it look a little shorter and provide some differentiation. Matching leather sheaths wrap the grips for a little extra luxury.
Once it was all together it was off for a dyno tune to make the most of the new intake, pumper carb and exhaust mods. A healthy dose of power at the rear wheel made for some fun test rides before Al got the call to come and collect.
What did Al think once it was all said and done? He said "Love every aspect of it. Ellaspede followed the brief perfectly and delivered something that was better than expected." We couldn't be happier with that response!
We're definitely stoked with how this build has turned out too. It just proves why dual sport and enduro bikes should be considered more as custom donor bikes, especially when you can get a stock bike brand new that's this well proven for under $10K.
Some owners like to get a photo with the bike when its finished, but Al didn't go for that option. We weren't sure why until we asked him what sort of riding he had in store for the DR… "Mostly wheels stands, some cruising through the hills and a getaway vehicle when needed", doesn't sound like a bad plan at all!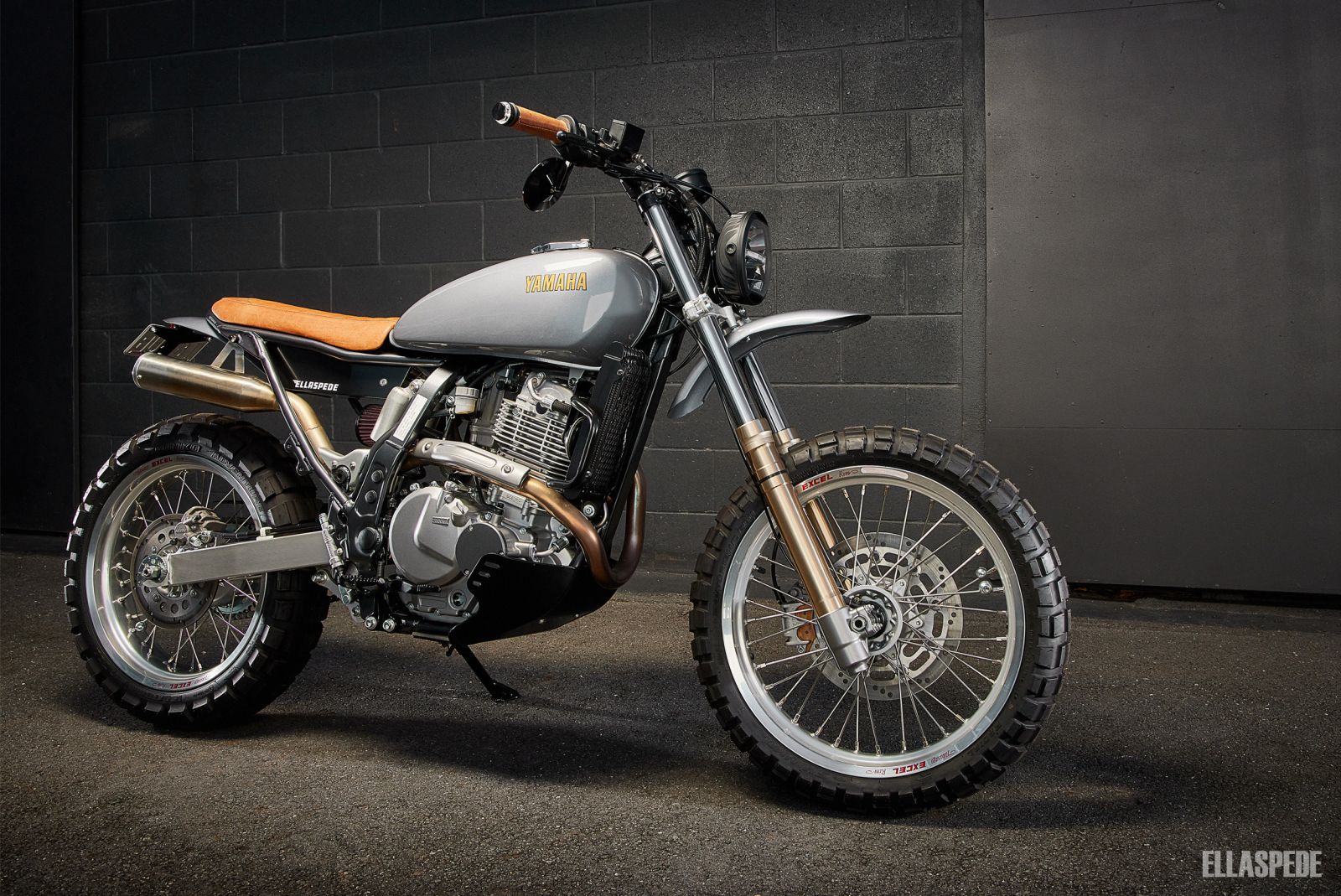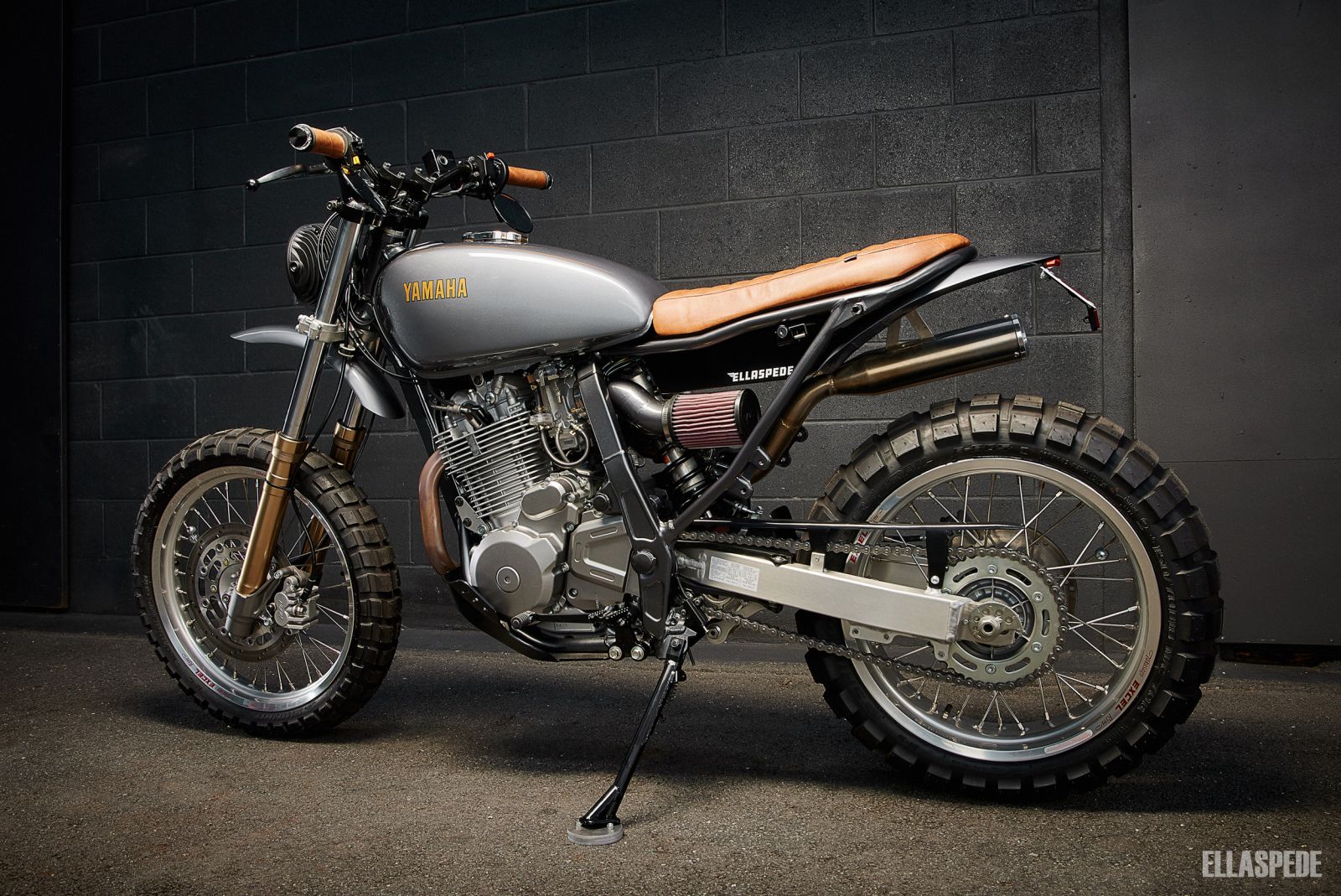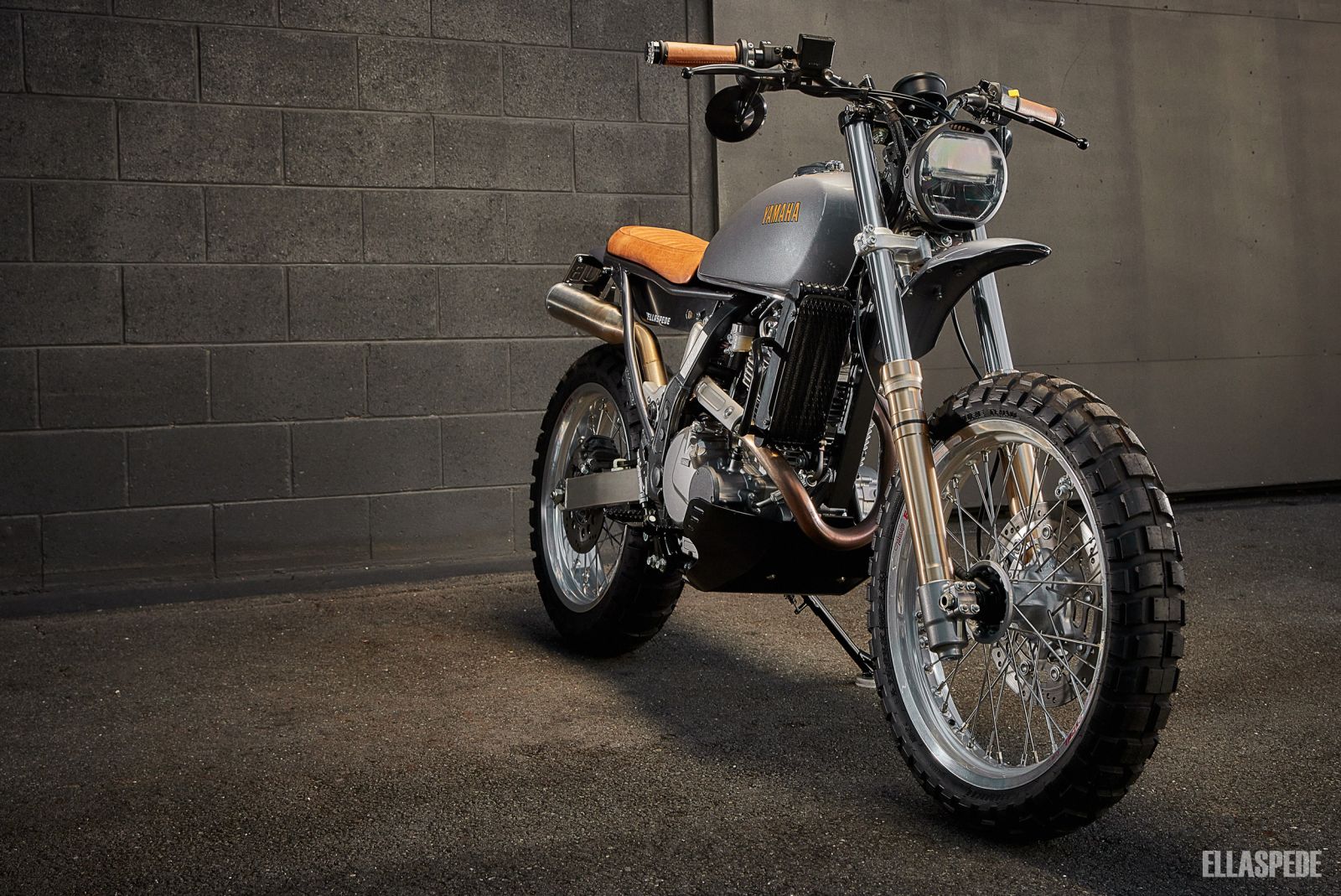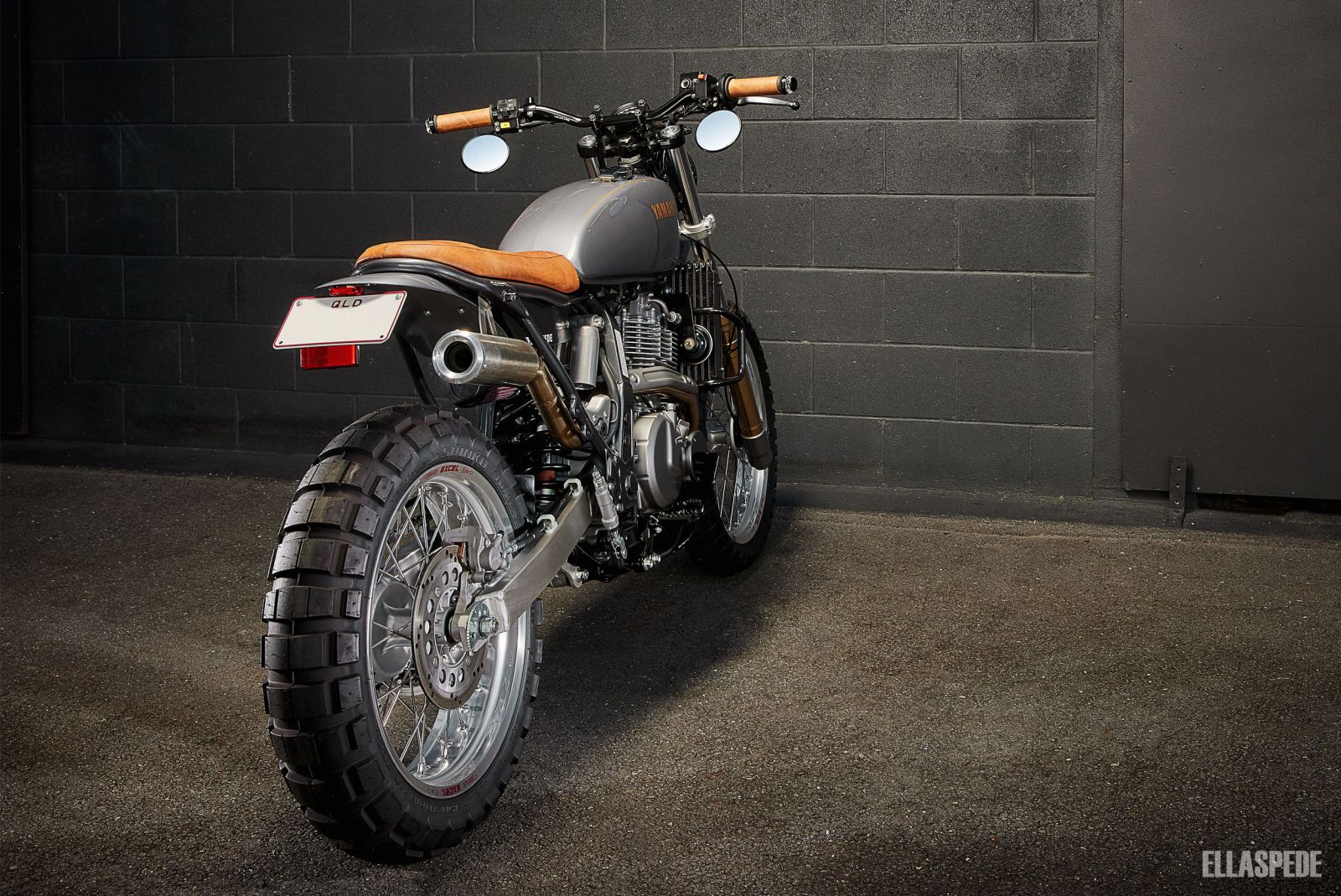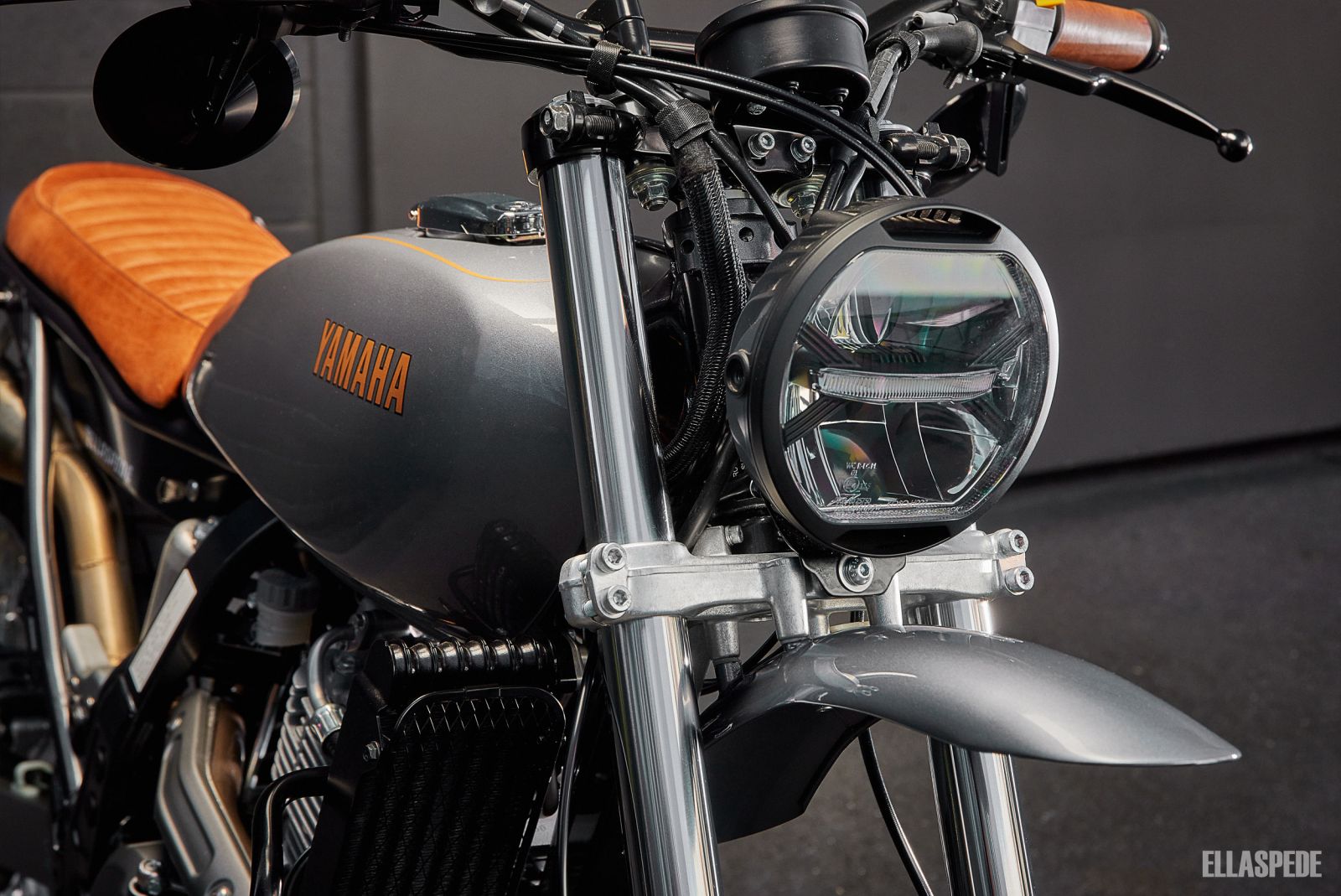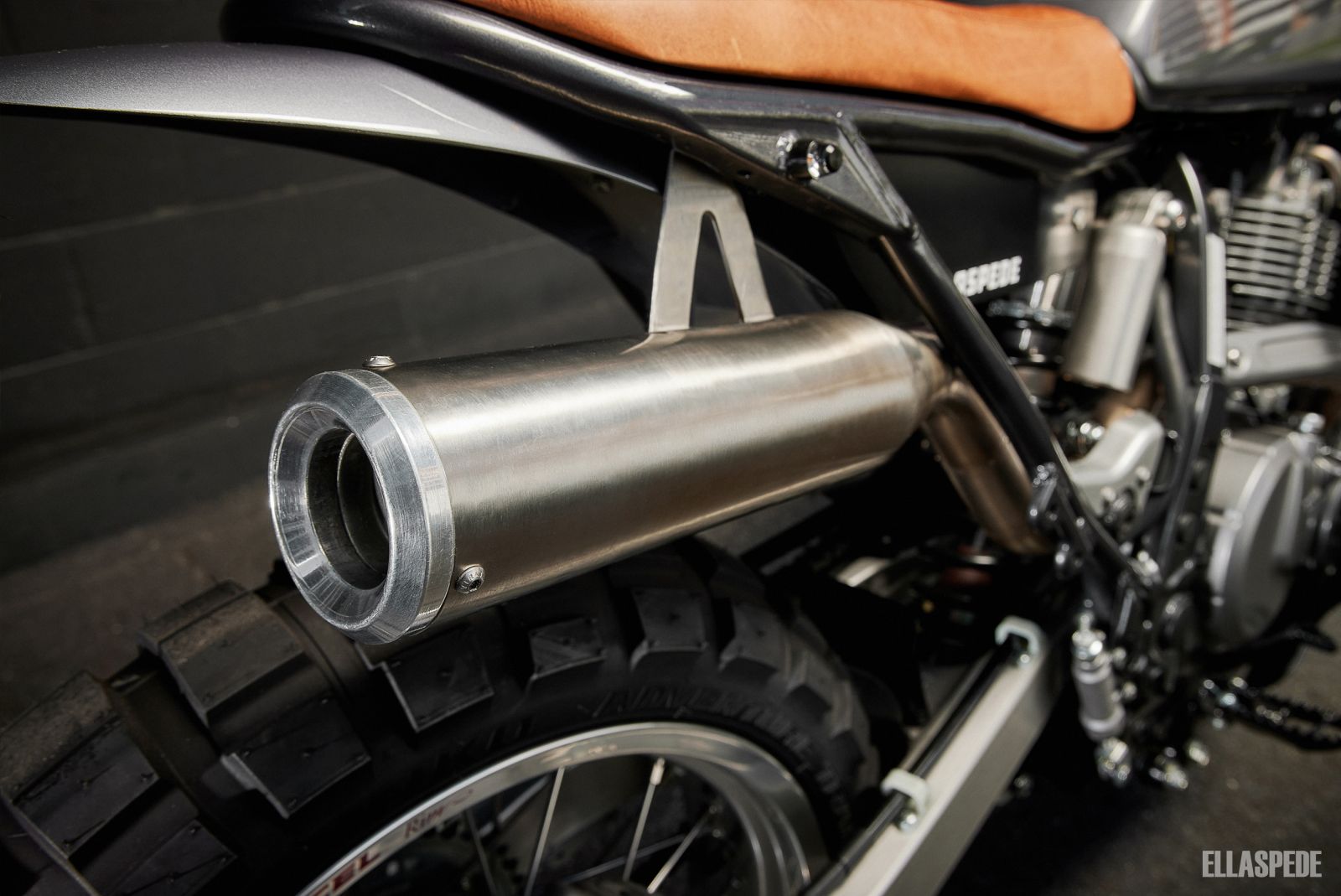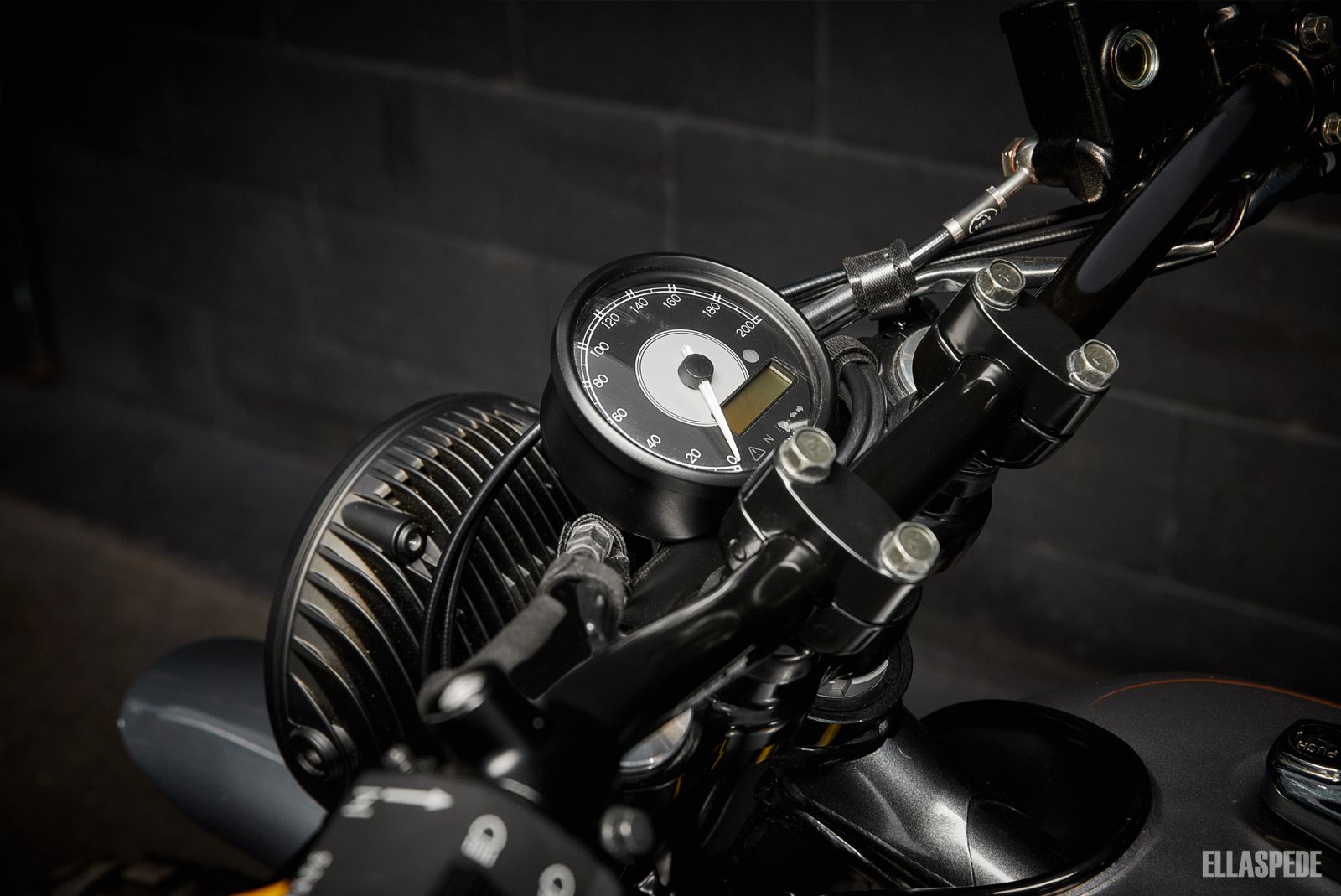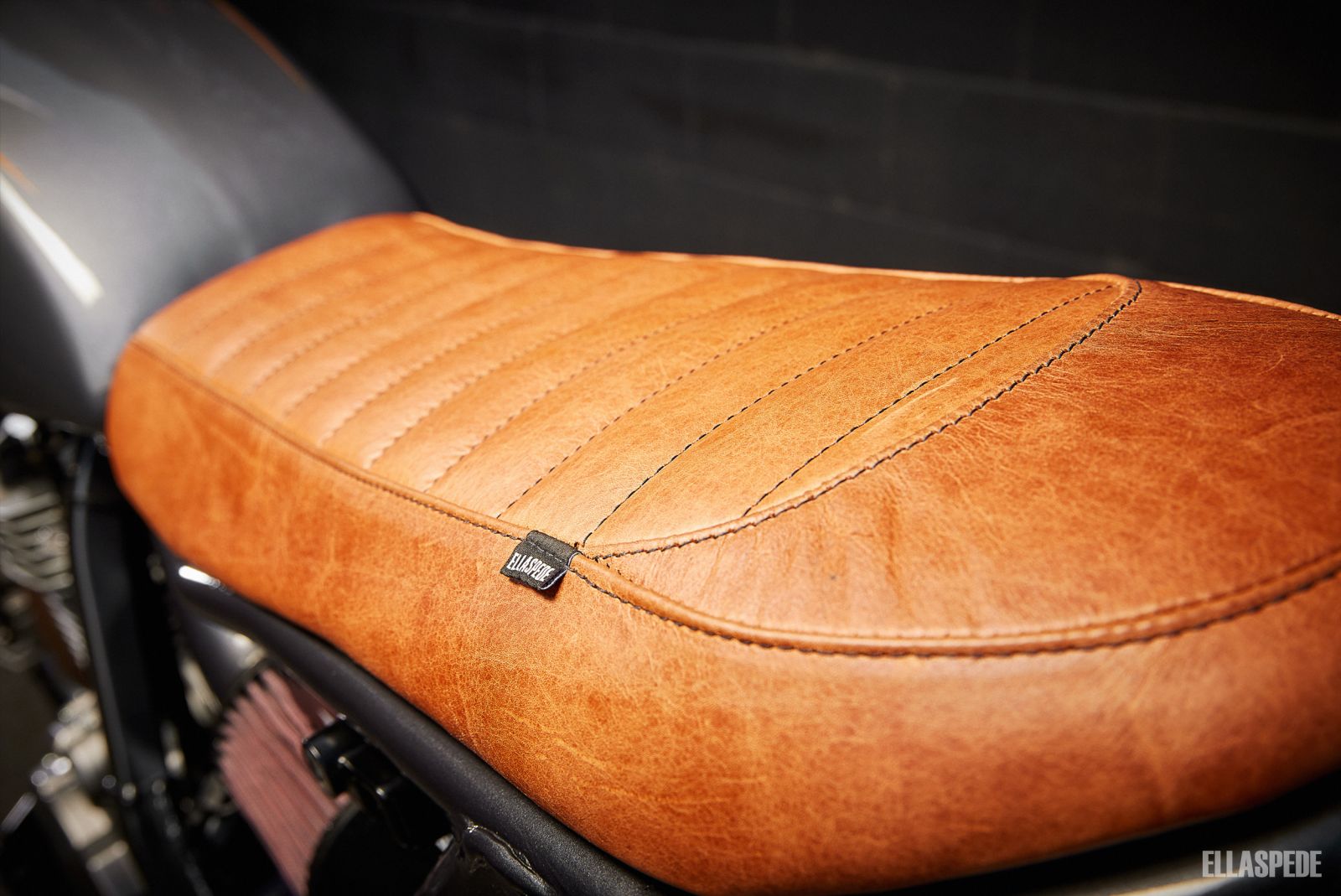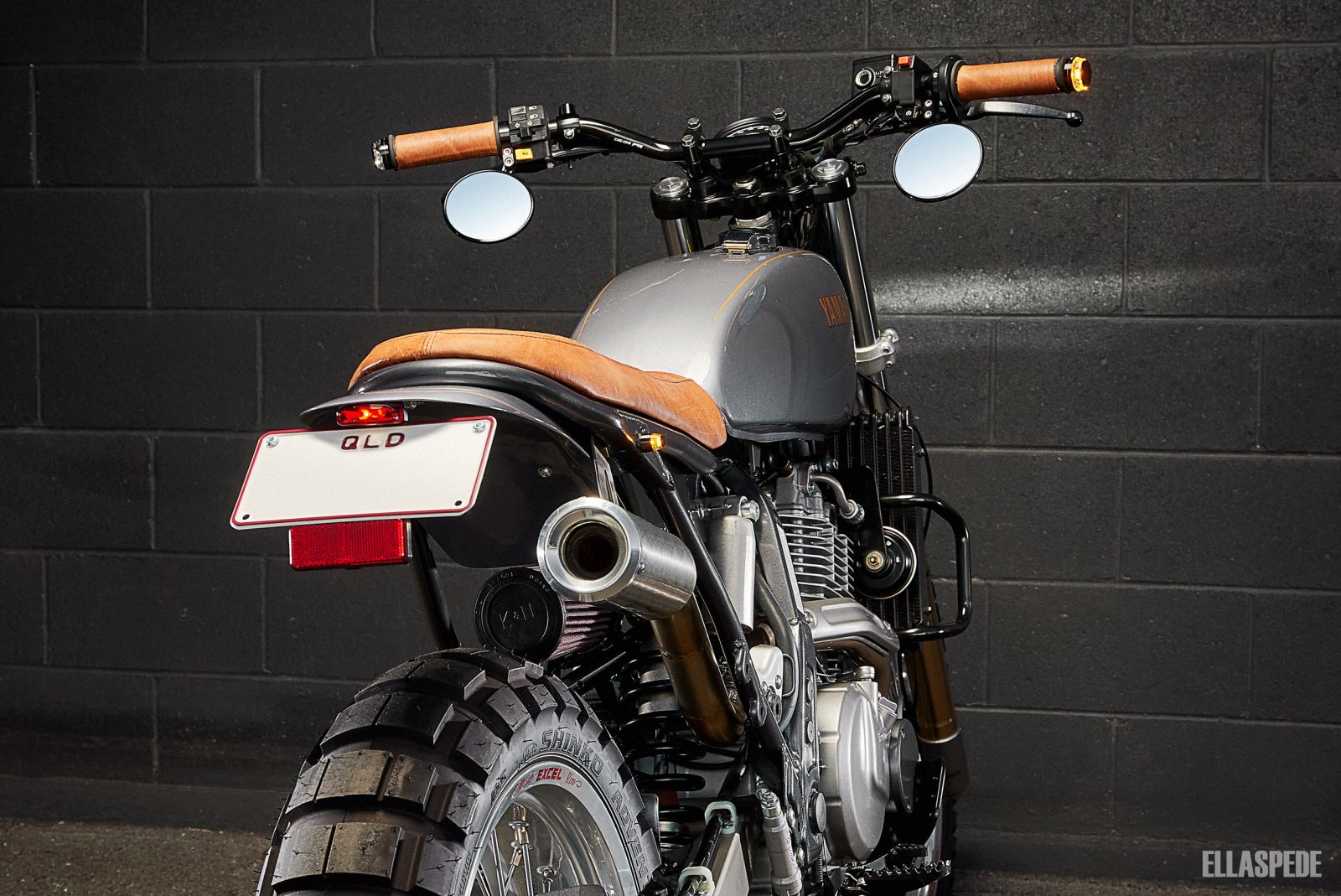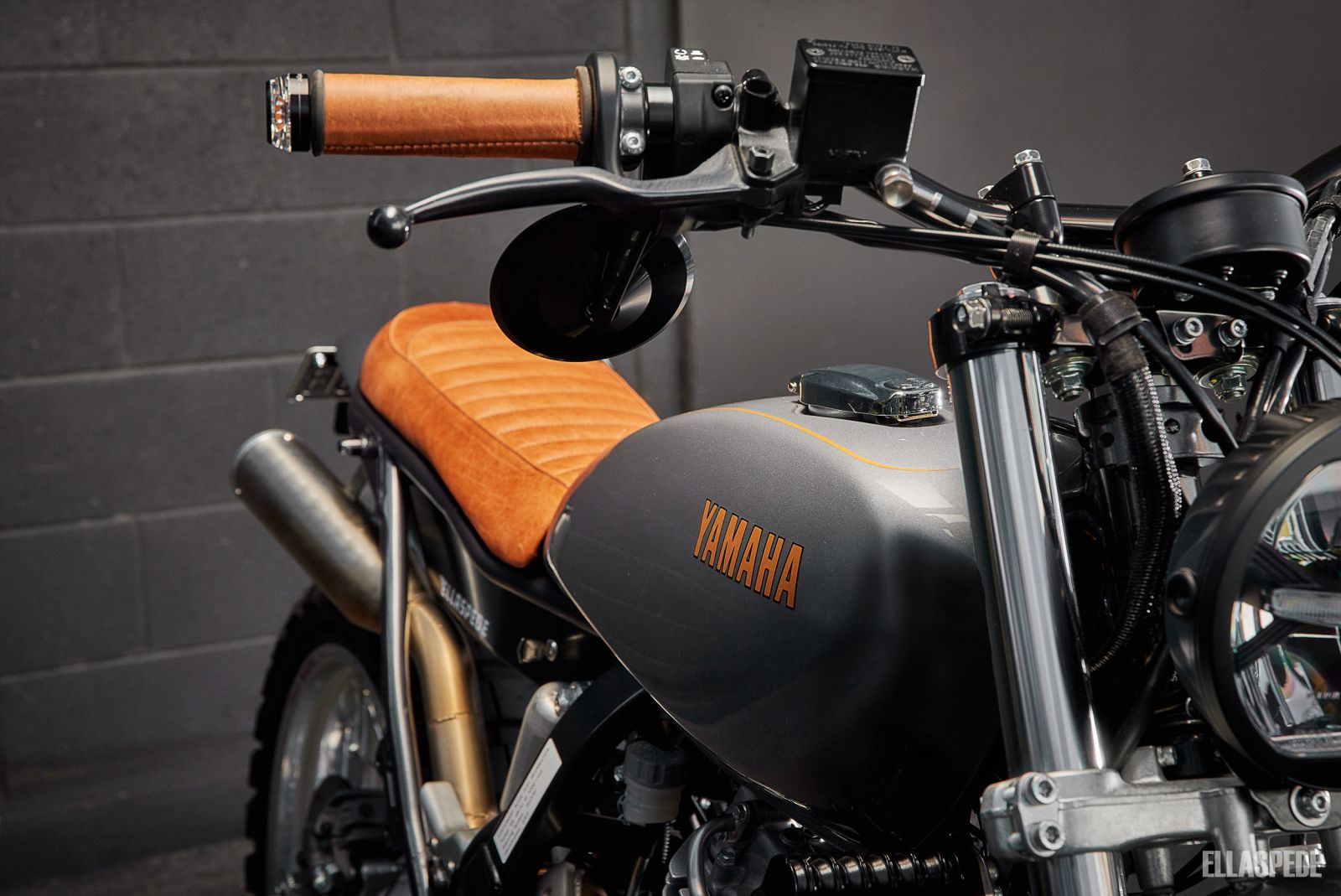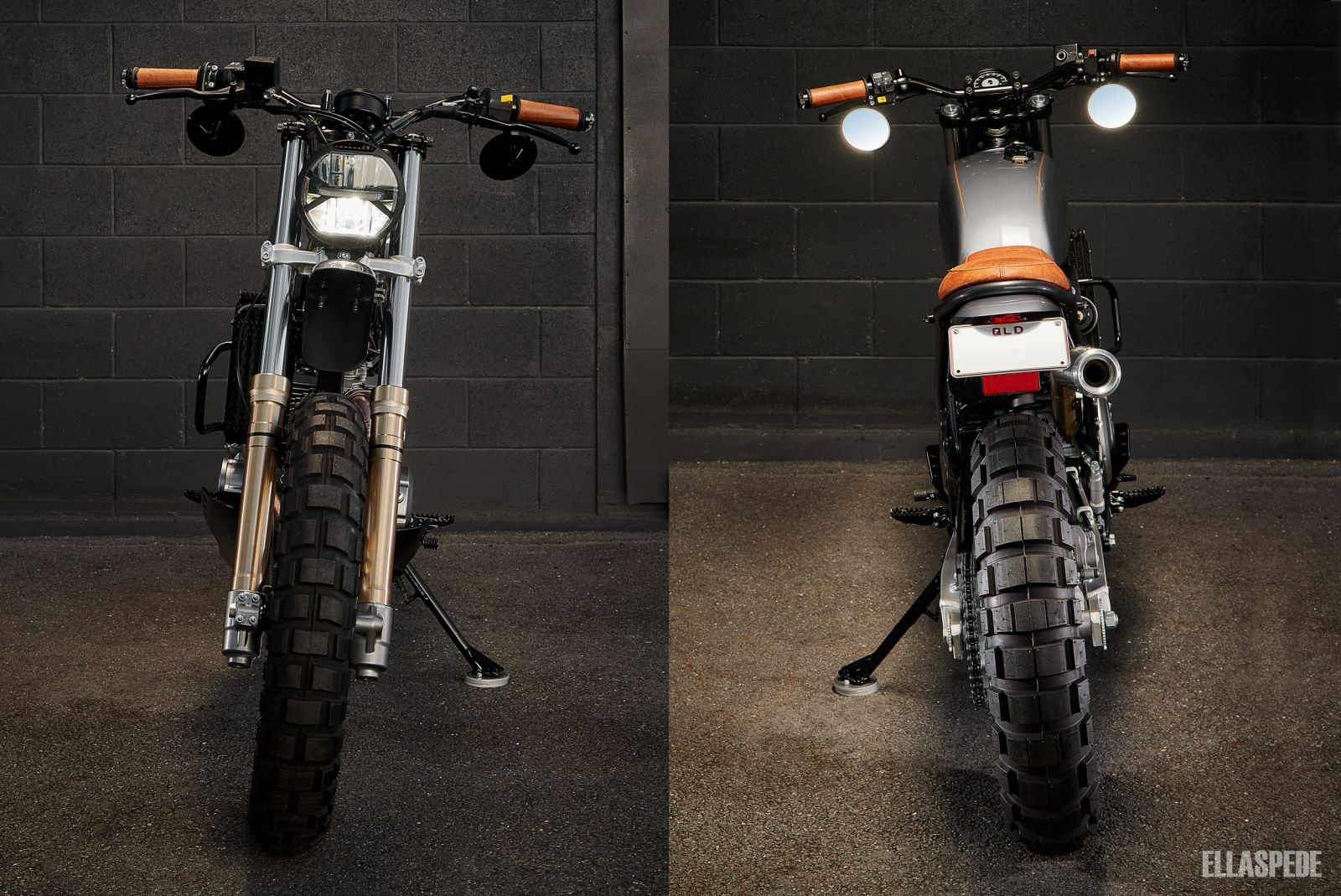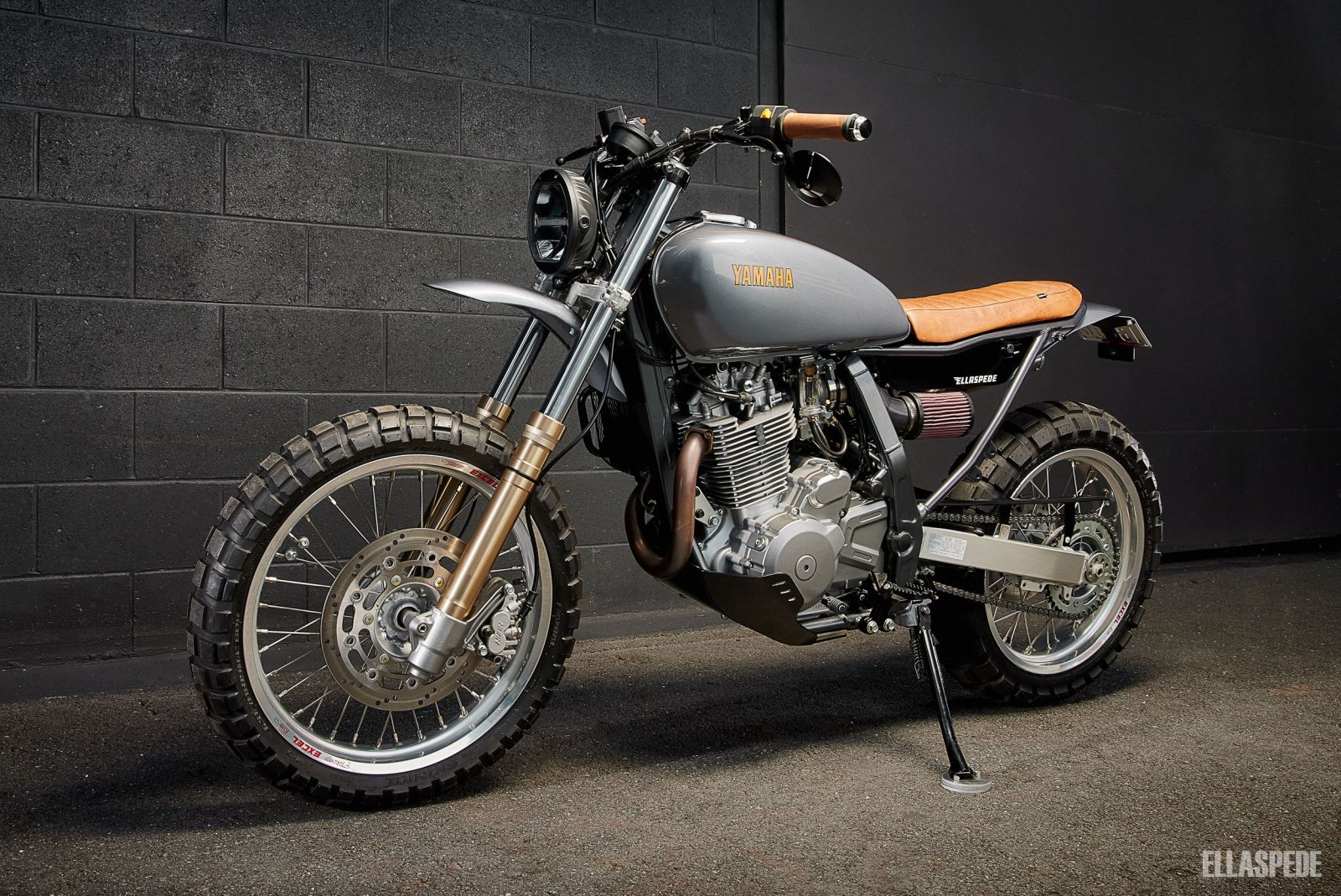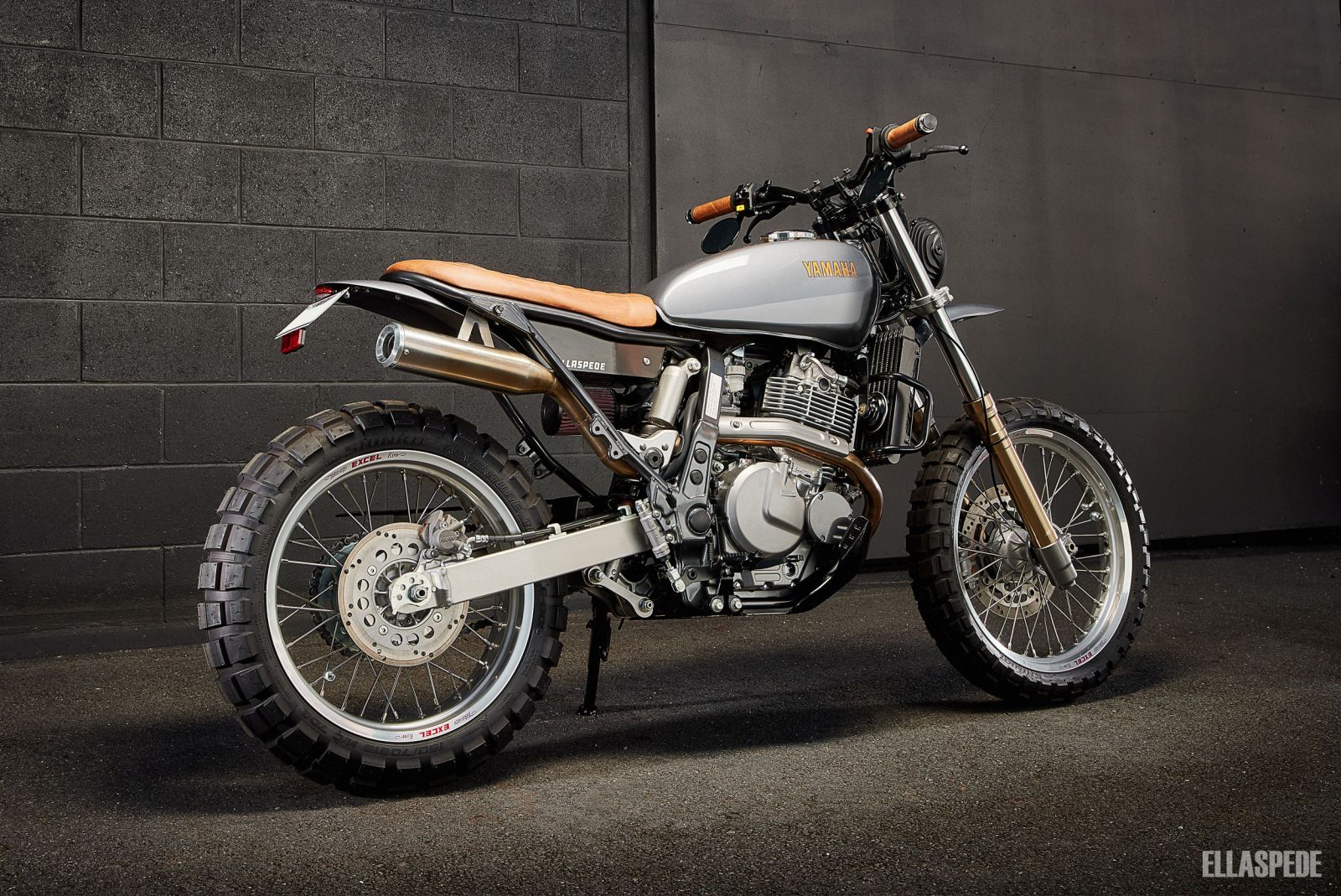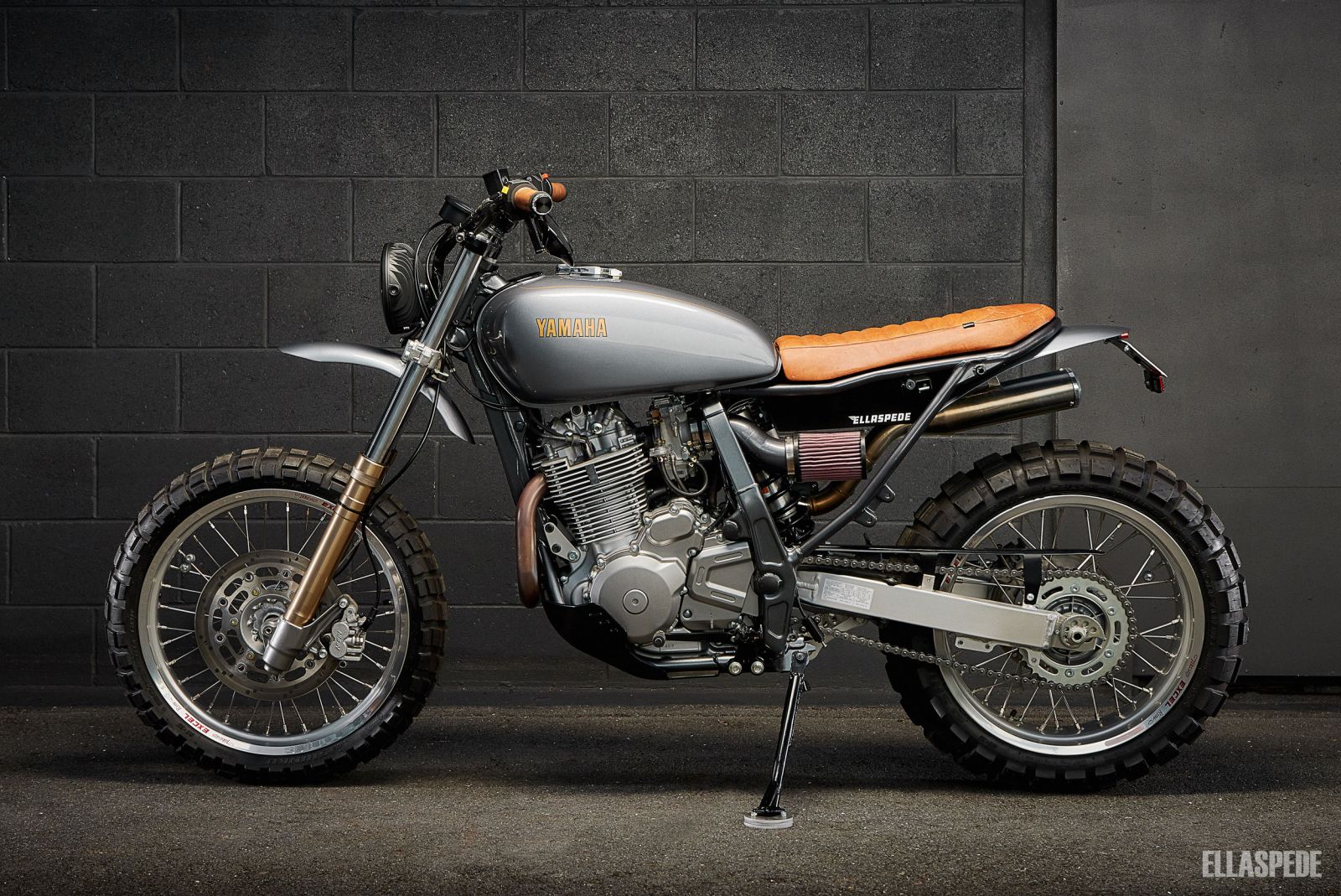 ---
Albums we listened to during the build of this bike:
---
Photos:
---
Build Pricing & Enquiries:
For build and pricing details or to discuss commissioning a custom motorcycle build of your own please email contact@ellaspede.com
---
---
Comments (19)
Old DR

That looks so good, I have 2 dr 650s one 2021 and one a 96. I would love to know all the details so I could do a copy with my 96 model





Ellaspede Response
Thanks Adam! You should definitely do a custom job on your 96, if it still runs well it sounds like a good donor.
---
Great looking bike

The bike looks fantastic also interested in conversion price





Ellaspede Response
Thanks Mick! We'll send you an email with some details mate. Cheers
---
This is exactly what I want!

By:

Anthony

on 11 May 2023

Hey this bike is literally everything I need. I'm in the navy and don't make much but I am mechanicaly able. (Aviation electrical wizard) looking to build / commission a bike like this. Can you send me the cost of what this bike would cost for a commission or if I could put the old welder and tool box to use what I would need. (some thing look too perfect to try and fab (rims). Was about to get a dr650 and slowly work on it to this point. What would be number 1 besides wheels and gas tank
---
Looks sharp!

By:

Leighton

on 8 March 2023

Hi, can you send me pricing info please?





Ellaspede Response
Thanks Leighton, glad you like the build mate. We just emailed you some more info. Cheers
---
Amazing!!

By:

Paul Munden

on 7 March 2023

What an absolute beaut!!! Can you ping me price please





Ellaspede Response
Thanks Paul! We just sent you an email mate. Cheers.
---
interested

By:

Wal

on 29 January 2023

shoot me the asking price some more pics and specs… will need to be freighted to Darwin if I purchase… cheers





Ellaspede Response
Sent you an email Wal! Thanks mate
---
Nice

By:

Corey

on 27 January 2023

Can you please send me some more info and prices please?





Ellaspede Response
No worries, just sent you an email mate! Cheers
---
Dr650

By:

Haithem

on 25 October 2022

I am from france. Can you send me all parts for scrambler, if it is not difficult to modify it alone and I am interested in price Thank you





Ellaspede Response
Hi Mate, great to hear from you from France. For most of the custom parts on this bike we would need your bike in our shop to complete the work. The parts have not been made to be 'product ready' unfortunately. Cheers
---
Matt

By:

Matt Gordon

on 25 September 2022

Great looking bike. Can you send me the build cost ex the bike





Ellaspede Response
Thanks mate, glad you like the build! We'll email you some prices for a build like this. Cheers!
---
Amazing

By:

Sebas

on 25 August 2022

Wow this is incredible and very motivational. How much would something like this cost???





Ellaspede Response
Hey Sebas, we'll send you an email with some more info and pricing! Cheers
---
great Job !

By:

Oliver

on 30 June 2022

This is an amazing result! I am also interested in price for this.





Ellaspede Response
Hey Oliver, we're glad you like it mate. We'll email you some info! Cheers
---
Dr 650 scrambler

By:

Lindsay james

on 9 May 2022

That's absolutely mint great job Would be very interested in price please





Ellaspede Response
Hey Lindsay! Thanks mate, we're glad you like it. We'll shoot you an email with some more info and prices. Cheers!
---
Great job

By:

Andreas Vossen

on 10 May 2021

Such a wonderfull construction. I would buy one, but its not allowed in Germany. We have strict emmission and sound rules. What a f.... I enjoy looking at the DR photos.
---
Very Interested in a similar build

By:

Lachlan Major

on 9 May 2021

Hi guys, I regrettably sold my old DR wannabe tracker a few years back and have missed it ever since. I absolutely loved the recent build and am curious of a ball park figure to get my hands on something similar?
---
Exhaust

By:

Manuel kupfer

on 16 April 2021

Hey guy's! You transform the stock pipe? I mean you use the same that comes in the the bike?





Ellaspede Response
Hi Manuel, We used the stock header pipe because their performance characteristics are very good and just made a custom mid pipe and a custom muffler. Cheers!
---
Superb!

Always liked the DR to scrambler conversion and you guys have owned it!





Ellaspede Response
Thanks Brad, we're stoked with how it how it turned out!
---
Sexy

By:

Damon

on 18 March 2021

Just got a DR myself. Beautiful job.





Ellaspede Response
Cheers Damon!
---
Cool dr650

By:

Karl Kainz

on 15 March 2021

I've been looking at various builds over the last 5years on dr builds and I have to say this is the best by far.lowered height and stance just great,this is true old school look with modern dirt features.I am finally starting my dr build and are going to use your tracker seat ,thanks for great inspirations guys.





Ellaspede Response
Thanks Karl, stoked you like it mate. We'll look forward to seeing yours!
---
Stunner!

By:

simon west

on 9 March 2021

well done an amazing piece of work, I think I was buying a bike this would be it, everything is spot on





Ellaspede Response
Thanks Simon, we're glad you like it mate!
---
Leave a comment