QLD Motorcycle Road Rule Changes
Author: Ellaspede Date Posted:30 January 2015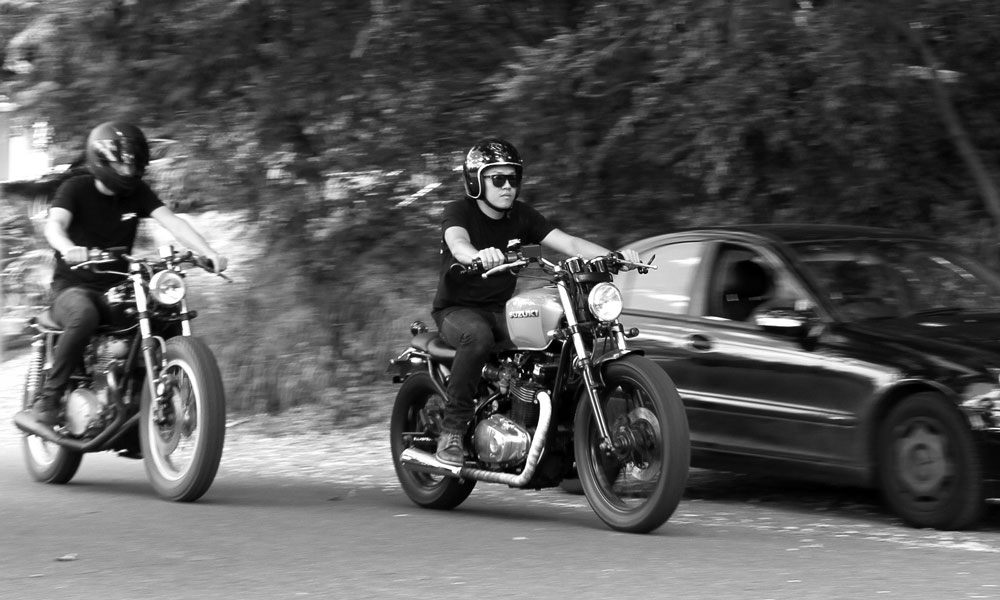 As of Sunday 1 February 2015 Queensland motorcycle riders will have some new (and improved) road rules to play by. The new laws primarily relate to motorcycle lane filtering, helmet standards and controlling your motorcycle while riding.
The law changes are as a result of a discussion paper and community feedback from mid-2014, so it's a relief to see the state government heeding this advice and updating the current road rules to match.
Lane Filtering
Riding between stationary or slow moving traffic, otherwise known as lane filtering, is now legal in Queensland. There are a few important points to ensure you're now lane filtering legally, we've quoted the most important below from Queensland Transport (QT)
Commencing on 1 February 2015, riders with an open licence for riding a motorcycle will be allowed to move between stationary or slow moving vehicles travelling in the same direction as the rider, provided they are not travelling at more than 30km/h and it is safe to do so.
It is also important to note that you can't lane filter in school zones whilst they're in operational hours. The new penalty for breaking the lane filtering rules, predominantly lane filtering over 30km/h or in school zones is $341 and 3 demerit points.
Helmet Standards
Queensland motorcycle riders are currently required to wear an approved helmet bearing the AS1698 or AS/NZS1698 approved sticker. The new helmet rules have been broadened, here's what QT had to say:
From 1 February 2015, the range of motorcycle helmets approved for use in Queensland will be expanded to include those complying with the United Nations Economic Commission for Europe (ECE) 22.05 standard.
The European ECE standard has a similar safety record to the Australian standard, so you can be assured these helmets are also well tested and safe to use on our roads. It's also opens up a whole new range of helmets for the potential buyer, with the ECE approved market containing some helmet sizes and styles previously illegal for use in Queensland.
Unfortunately for local retailers we're still unable to sell ECE approved helmets, so you'll have to head online or overseas to purchase a new lid with the ECE sticker. It's also of note that these helmets are only approved for use in Queensland, so wearing one on an interstate motorcycle trip will see you run into some trouble once you cross the border.
Motorcycle Control While Riding
Many motorcycle riders were unaware that it was in fact illegal to remove a foot from your foot peg, or stand up while riding on Queensland roads. As you can imagine this made it quite difficult for riders navigating difficult terrain who need to stand, or a rider wanting to stretch a leg on a long journey.
From 1 February 2015, these strict rules about how a motorcycle rider must sit and where they have their hands and feet will be removed, allowing motorcycle riders to, for example, remove a foot from the footrests to stretch a leg or raise themselves from the seat when riding on uneven road surfaces.
So it's now legal (yeah, you were a criminal before) to remove your feet from the footrests to reverse your motorcycle into a parking spot, thank the lord! It will also make those long rides a little nicer, being able to stand up or remove a foot for a quick stretch will save you pulling over where it might have been unsafe to do so previously.
Overall
It's worth familiarising yourself with these new changes to ensure you're still riding within the current Queensland road rules. Although these new changes are a step in the right direction, failing to adhere will net you a now increased fine and loss of demerit points. I guess there's still no free lunch!
If you'd like to read more about the Queensland motorcycle road rule changes, check out the Queensland Government - Department of Transport and Main Roads website here.
---
Comments (1)
Easy reading

By:

EW [Wes] Mills.

on 20 November 2018

As an ex Queensland Driving Examiner "M 52" I found this information easy to read and understand ----------- I have only one question ------------ How do I find out if a helmet manufacturer does allow a camera to be fitted to their brand of helmet.-----------Thanks!
---
Leave a comment