EB201 - 2003 Piaggio Liberty 150*
Author: Ellaspede Date Posted:29 September 2022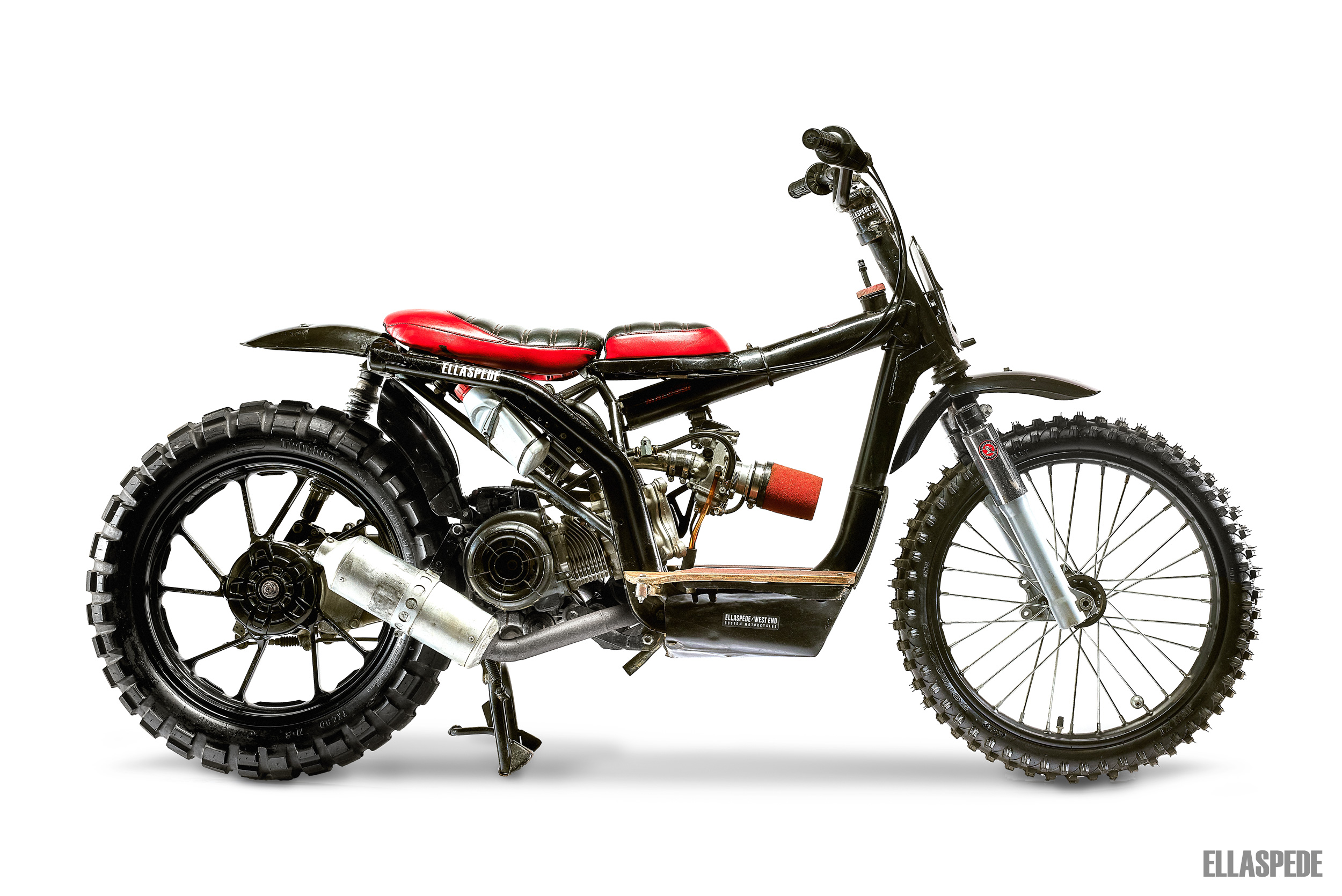 It isn't long before Dust Hustle 13 is here, where the hoons, loons and goons of Australia will mount their steeds and get to sliding on the dirt track at Queensland's Mick Doohan Raceway. 'Dust Hustle is just about good times for people who like to party on whatever rig they ride. It's a legendary crew of dirt flirt enthusiasts, some radical riding gear and Australia's biggest 'inappropriate' ride days.' So to celebrate the upcoming craziness, Pipeburn thought it made sense to take a look at a bike that's been there since the start. With the inaugural event being back in 2014, Ellaspede's Steve Barry didn't just go for a left-field choice, he jumped three paddocks and into a wrecking yard and has gone on to develop a funky fast 2003 Piaggio Liberty scooter, that has surprised many a full-size machine.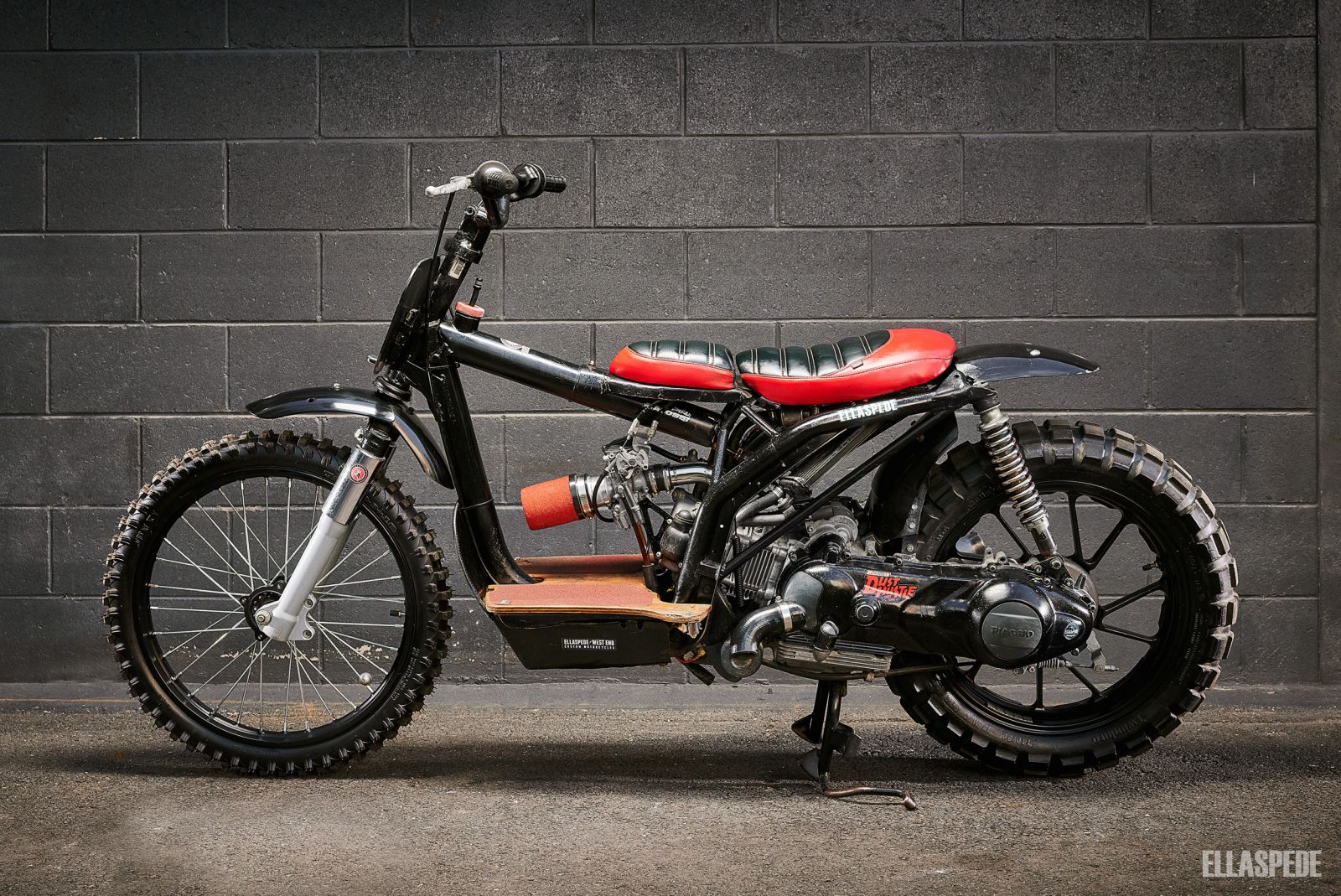 "I always liked the idea of the underdog, the unexpected and going against the grain, so a bike that reflected this was going to be important if it was going to 'fit-in' at the inaugural Dust Hustle," Steve tells Pipeburn. With a fondness for small bikes, he was on the hunt for a big wheel scooter, that might just be the thing for the Small Bike Burners class. The three other classes at DH are the "Risky Road Bikes" basically anything capable of being road-registered, "Old Mates" for pre-1990 vintage and classic machines and the "Enduro & MX" category which is an open class for all manner of unrestricted dirt bike beasts.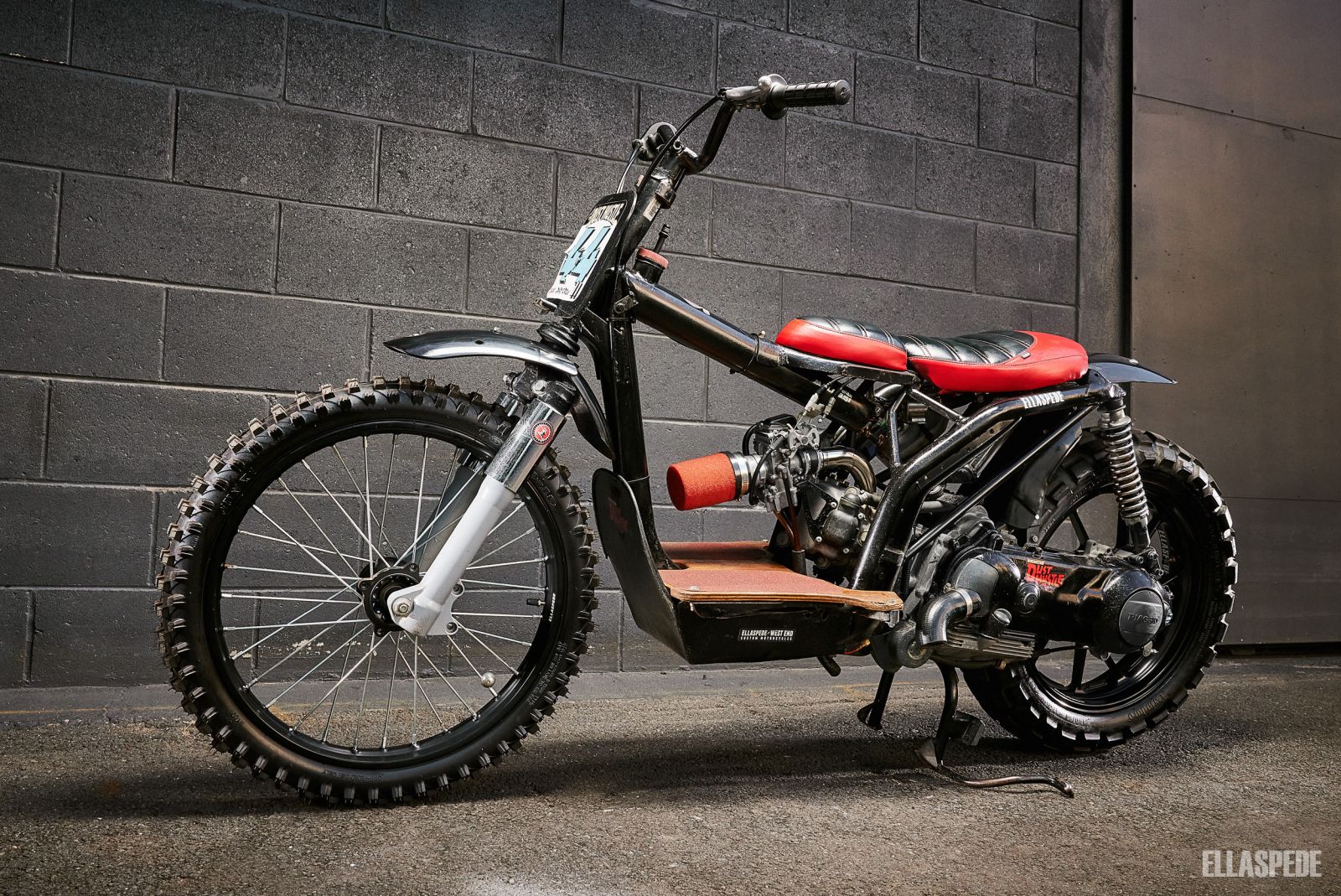 Digging around wreckers and auction houses, Steve found a Piaggio Liberty 150cc, and even though it was a bit of a wreck, with a new proximity key he soon had it running. "The body panels were discarded, an under-floor electrics/battery box was made along with an exhaust made from part of an XR600 system. In true DH style this work went right up to the night before the event. So with little sleep and many initial visual mods achieved I, along with other fun-seeking folk rolled up to the first ever Dust Hustle not really knowing how it would go but with high hopes."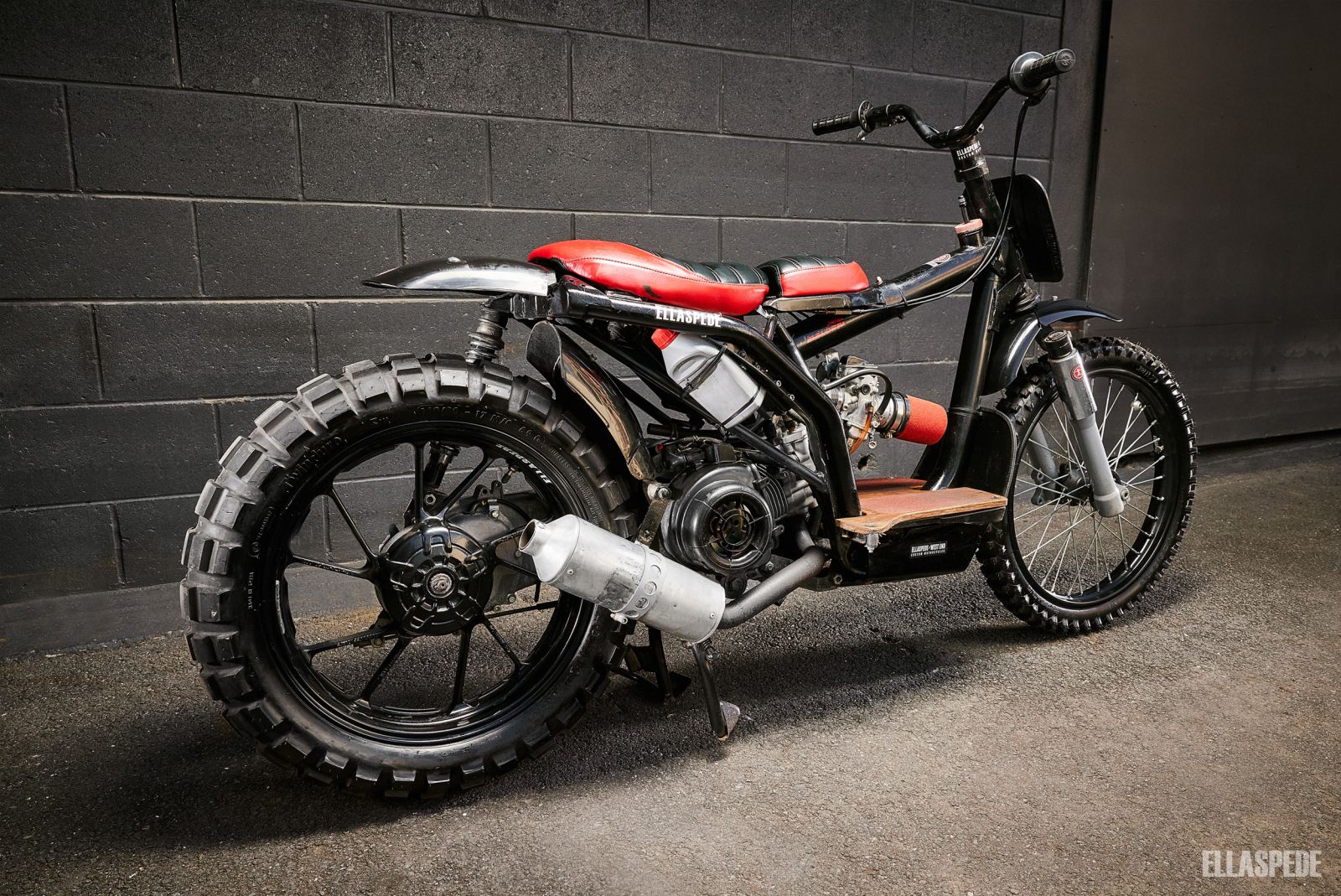 And would you believe it, the little cafe commuter was a success, but like all racers, Steve wanted more and before the next DH event, he'd get serious with the little Italian. And I do mean serious, as the engine would come in for a total transformation in the hunt for as many extra horsepower as the scooter could hold. The 2 valve, air-cooled engine, was bored and stroked to pump the cubic capacity out to an impressive 245cc. The big block motor was then treated to a new camshaft, and the intake and exhaust were both modified to take maximum advantage of the new bump stick. A bigger carb was needed to provide the extra fuel and scooter tuning house Malossi offered up some useful parts.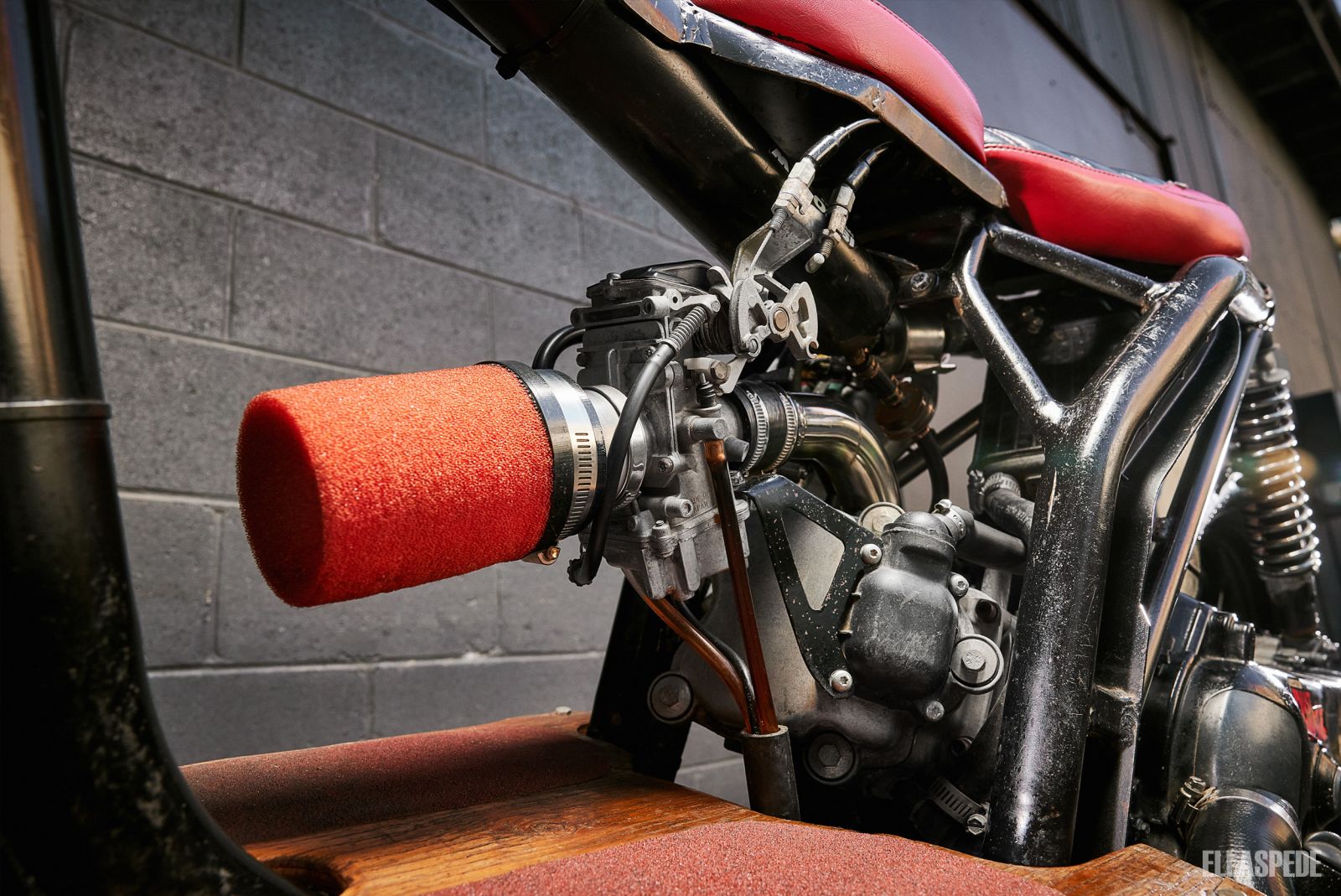 To be able to get all of this extra power to the ground required revised handling and the big difference came from extending the wheelbase. This was achieved with the addition of an extra 70mm in the swingarm/belt cover and added frame strengthening was carried out along the way.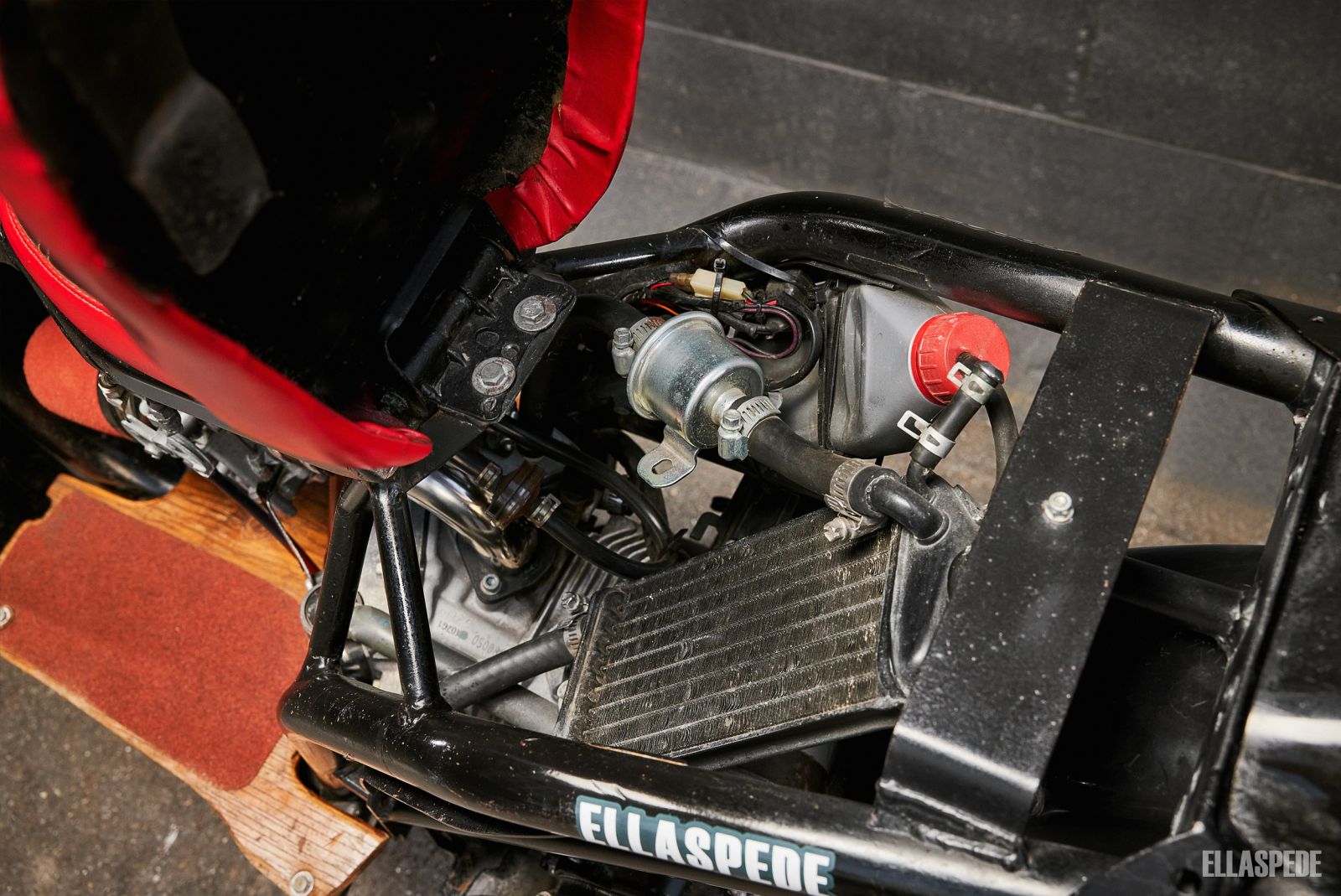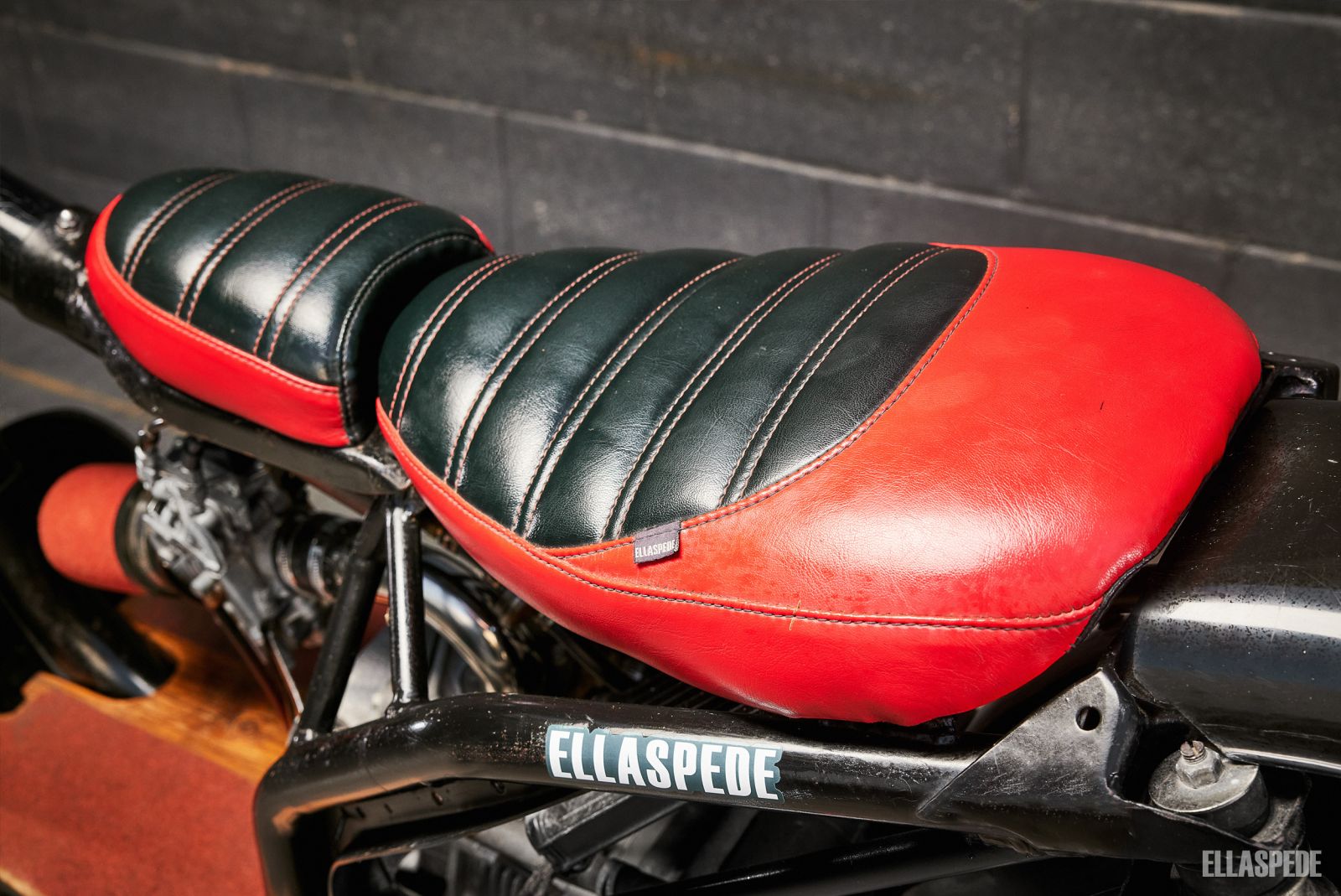 "Getting use to riding the bike was also an important part of improving performance. To hold the power on through and out of corners required a very forward riding stance as high-siding was always a very real possibility with such a rear-weighted bike". With Steve fine-tuning his riding style and working out how best to manhandle the little rocket, it simply became too fast for its class. Time to step up, and entering "Risky Road Bikes" meant running head first into everything from big cruisers to powerful super-sports machines. "I wasn't sure how the Piaggio would go against high-powered street bikes so in the lead up to the following year's event more mods were planned to give it the best chance."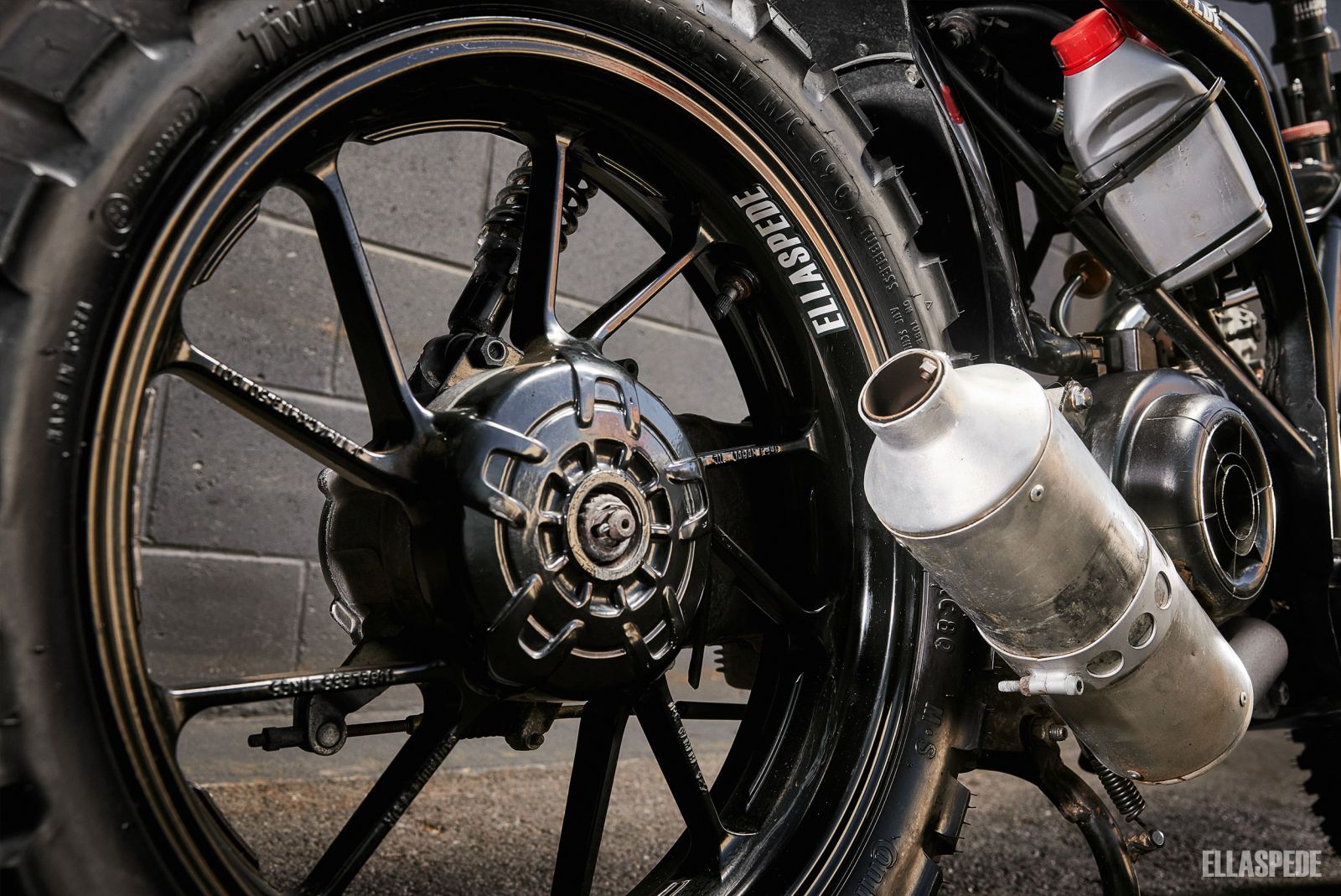 To improve traction and how the bike put that power to the ground, different wheel and tyre combinations were experimented with. From the original 16/14in setup to a 17/14in choice, before finally settling on a custom 19in front rim that is matched to a handbuilt 17in rear, using a stock MT09 wheel as the basis for the rear, all wrapped up with a dirt bike knobby front and Continental TKC80 rear tyres. The new setup worked brilliantly and was now easily handling all the ponies, so in true Dust Hustle style, the answer was more power! And Steve got serious, with a 4-valve, water-cooled head from the GTS 250/300 Vespa range.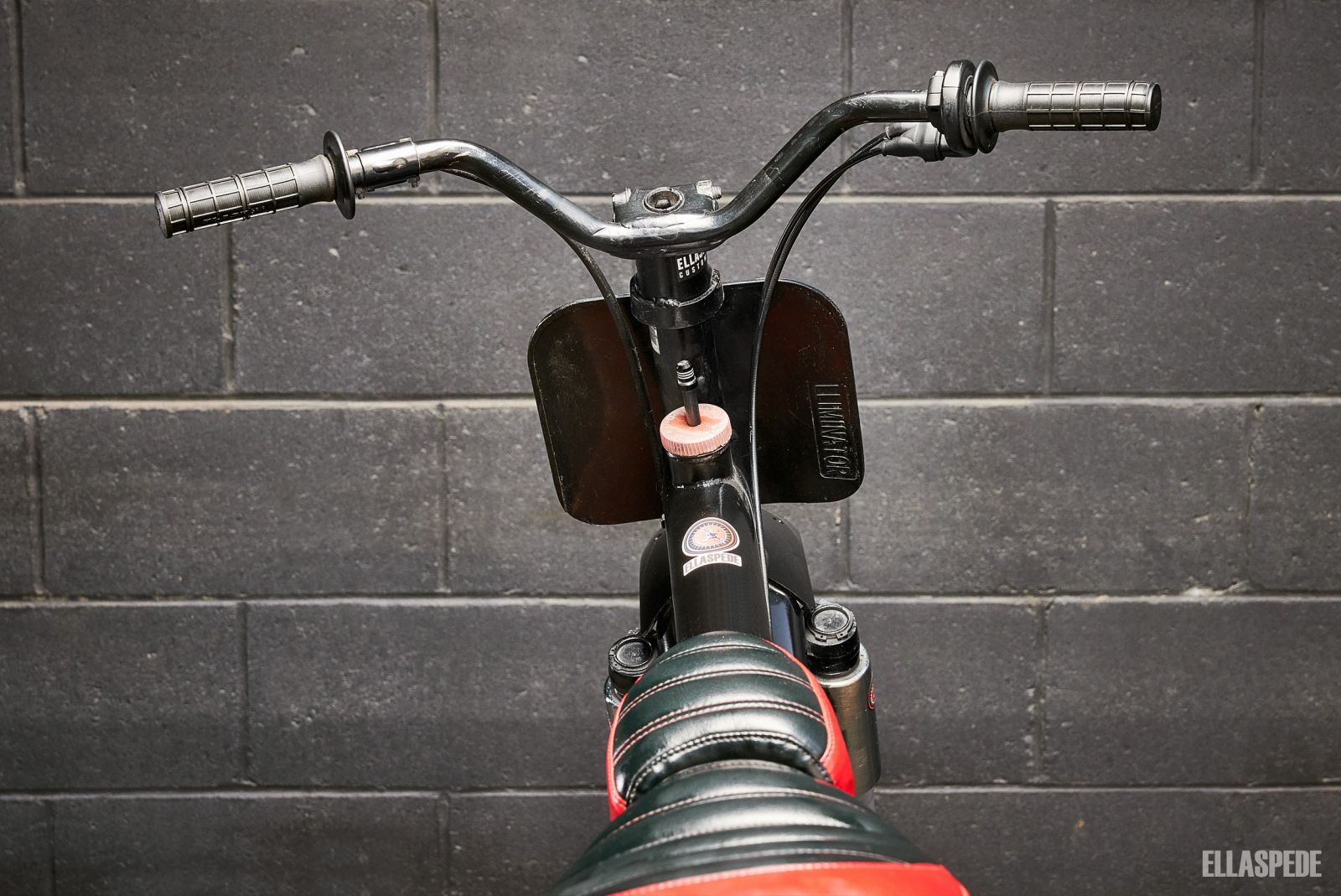 To bring the best out of the multi-valve top end meant a host of new changes, and a performance cam was the first thing to be slotted in. A new cooling system was built that utilises a small dirt bike radiator, and a Mikuni 33mm pumper carb with foam filter supplies the air. "I received plenty of confused looks when lining up on the little scoot but due to its lightweight and now further increased power it more than held its own by passing most and lapping a few of the field during each 5 – 6 lap session. Despite how powerful a bike it is, it still has to get the power down, this is where the Piaggio shines."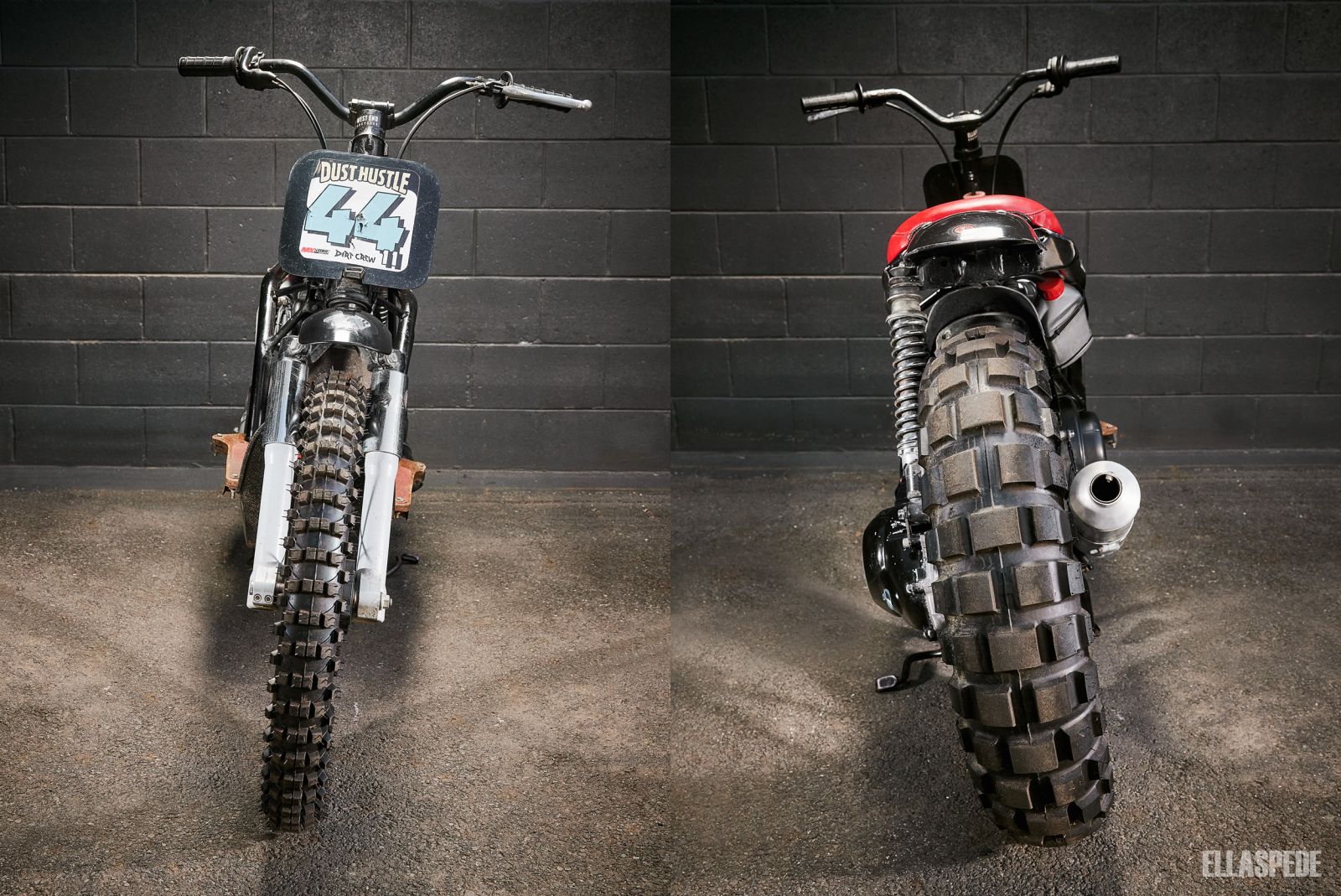 It doesn't half look bad either, neat fenders, slick red and black stitched twin pad seats to allow the rider to wrestle the scoot from just about any position on the backbone, and the fat rubber make for a bold statement. "COVID put paid to 2020 events but we were back again in 2021 with another impressive showing from the little Italian surprise packet, again in the Risky Road Bike class at DH." There are further improvements that could be made, changing the relatively stock front-end key among them, but Steve is happy with how far he's gone with the lightweight Liberty.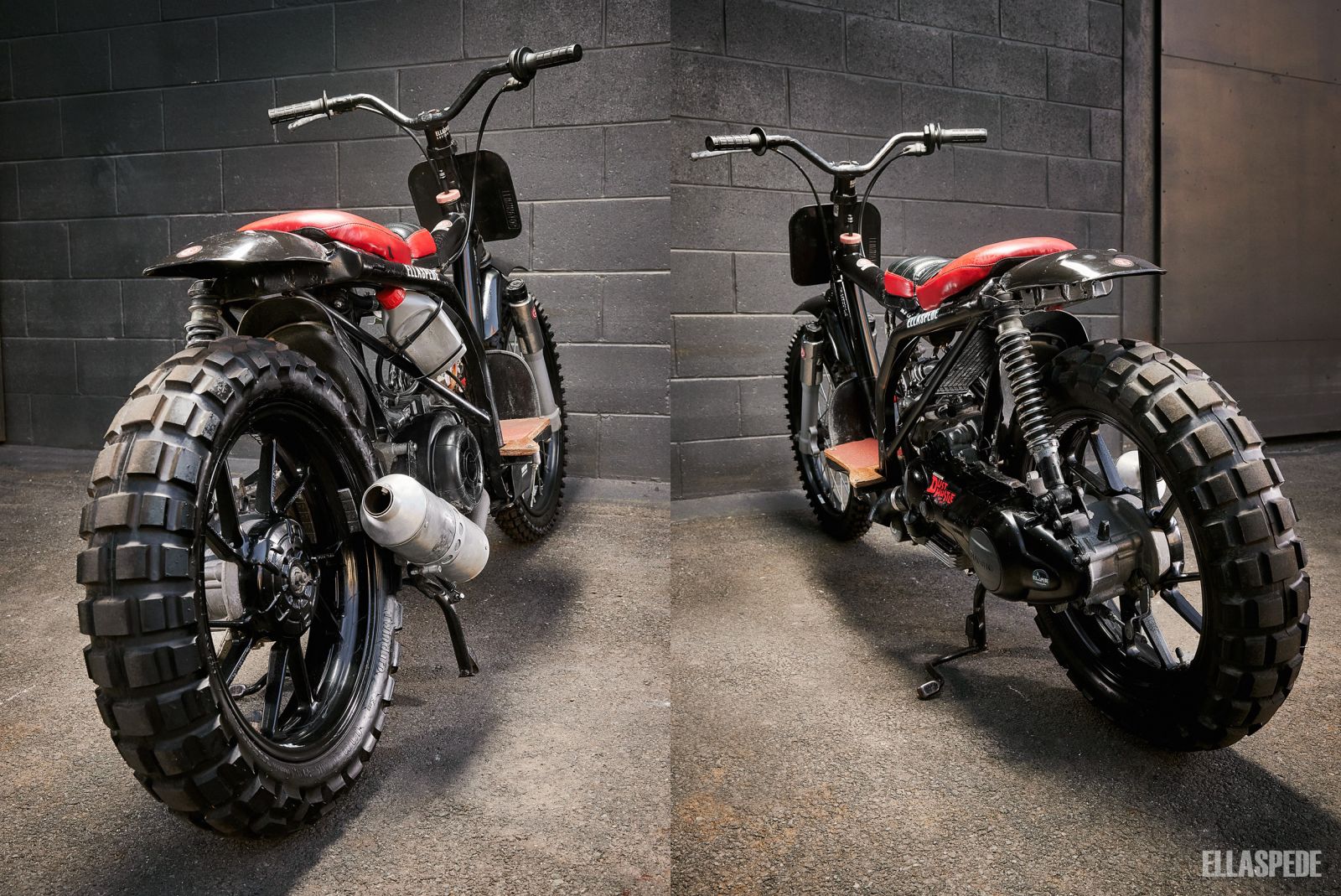 So, whether you're a seasoned Dust Hustle legend or looking to get amongst the madness, the Piaggio is perhaps the best way to punch your ticket! This wild ride is for sale, interested parties can contact Steve at Ellaspede.
Words by Pipeburn and Steve Barry.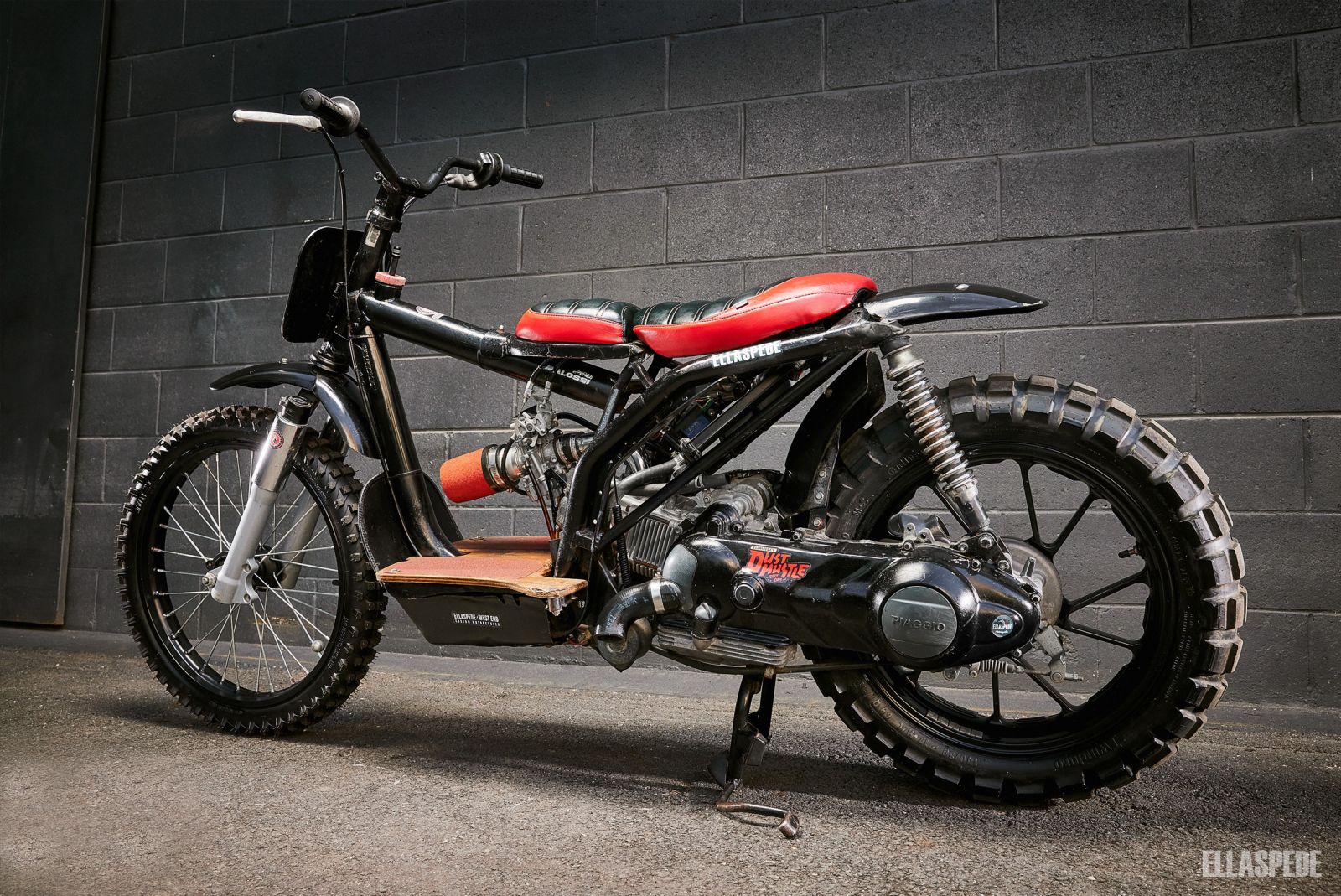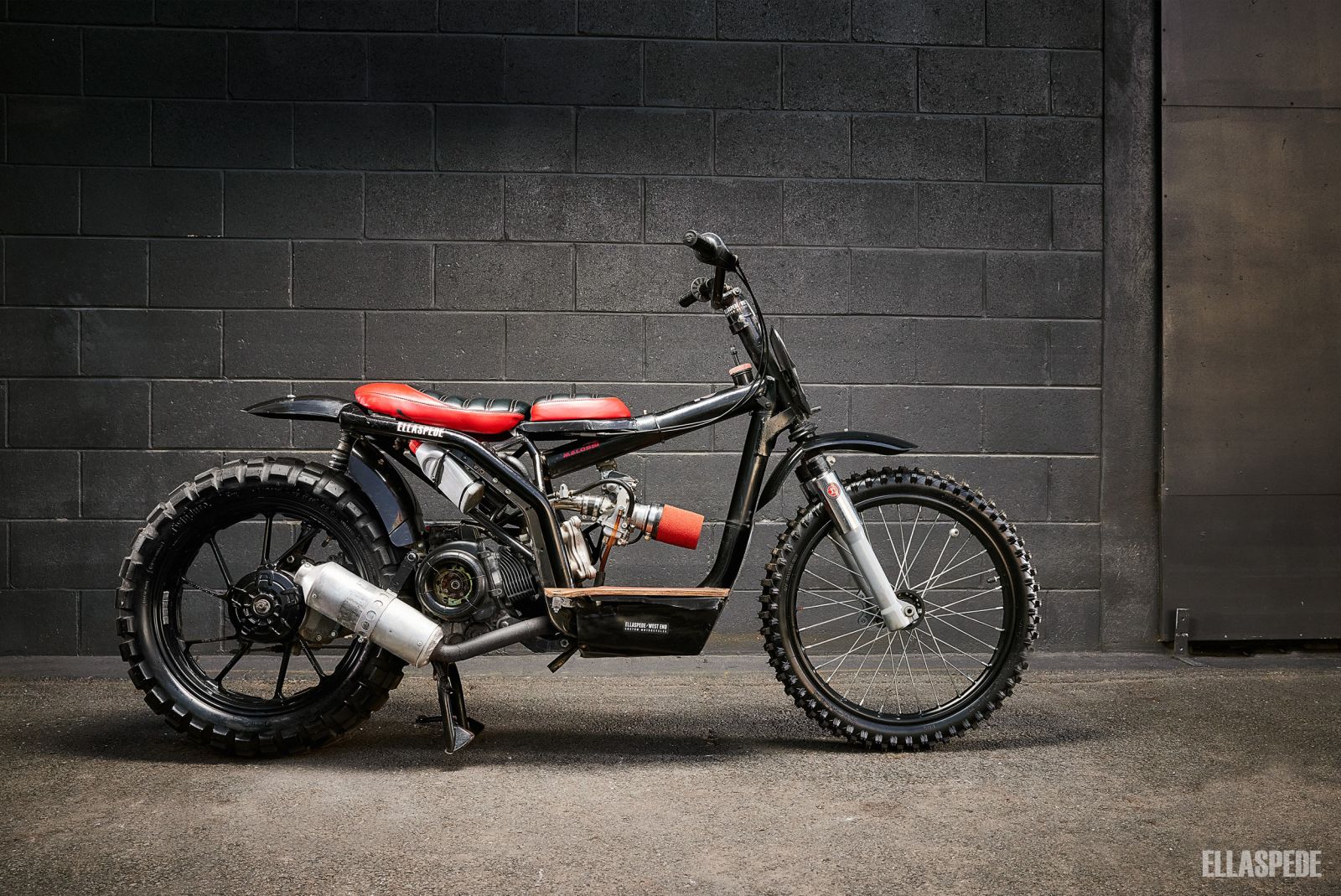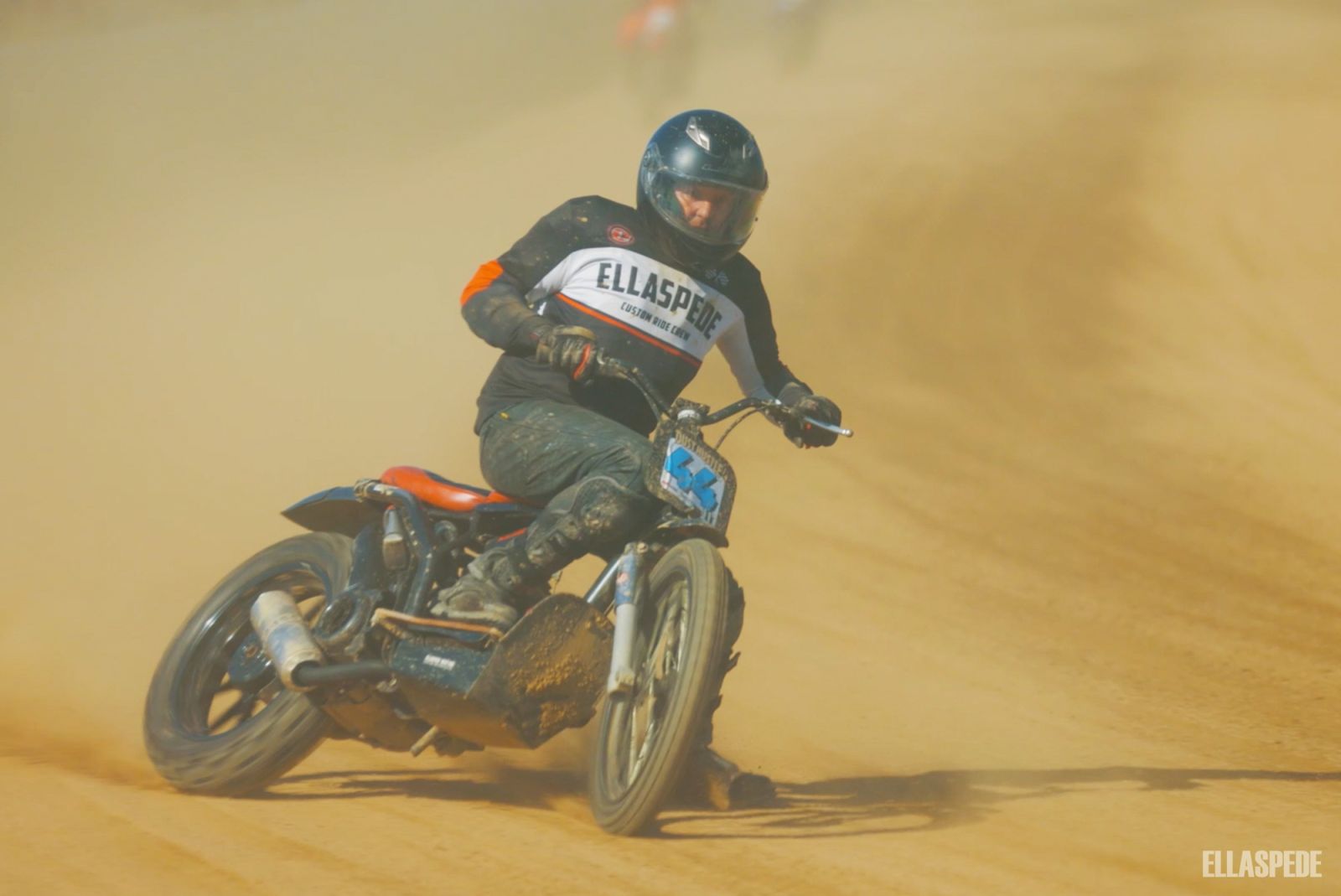 ---
Albums we (Steve) listened to during the build of this bike:
---
Photos:
---
Build Pricing & Enquiries:
For build and pricing details or to discuss commissioning a custom motorcycle build of your own please email contact@ellaspede.com
---
---
Leave a comment