EB053 – Moto Guzzi V50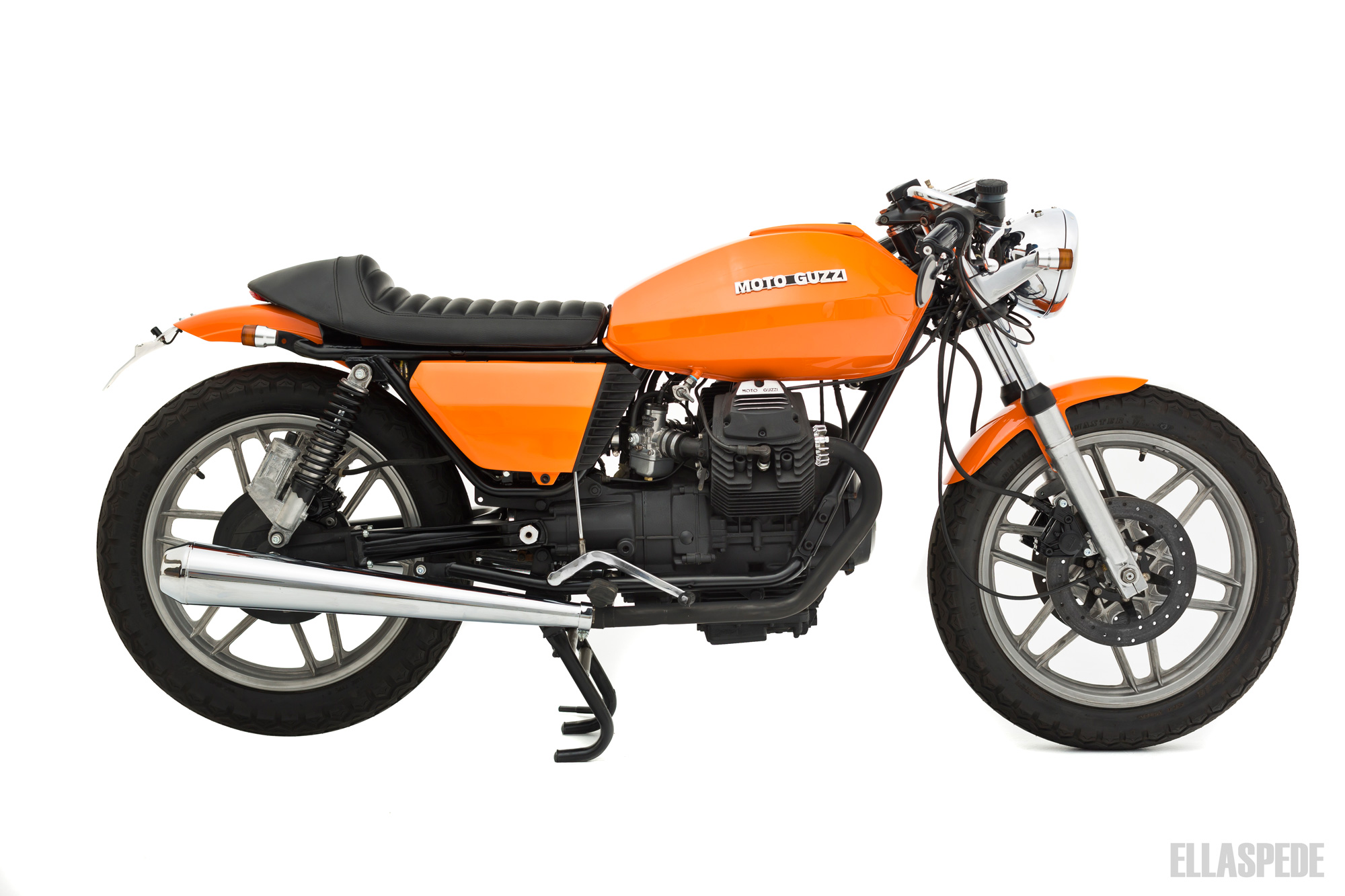 After seeing the ebay bought bike our client Nick C asked us to collect a few months back we thought he'd bought himself a few headaches.
The bike was a 1982 Moto Guzzi V50-3 and looked like it had been used previously as a farm bike complete with cow manure. As the build progressed however, it became apparent that this neglected Italian had the potential to produce an end result that would go on to surprise more than a few.
Nick just wanted to get it running and registered to ride around on, with a view to doing some mods down the track… yeah right! How many of us start on projects with that in mind?
As these things go, once the bits started coming off, problems start emerging and ideas started flowing, that original 'best laid plan' become just a faint, best forgotten memory.
Nick did have a budget though so there were some compromises made during what became a semi-major build and Nick's skills as a fine jeweler came in handy when it came to restoration of the gauges (which were freed from their 80's plastic housing) and the finishing of various components.
As mentioned this build was a surprising one, the first one being the engine.
After replacing the car-sized starter motor and battery the small-block North / South V responded well to carb and electrical attention, bursting into life quite convincingly. Some fine tuning had it running well with no other major work required.
After engine work the build progressed in stages, allowing plenty of thought time… "Hey Nick, if you were to just do this now rather than later it will save"… and so it went.
Frame mods were done to suit the aftermarket seat and the re-shaped original rear guard.
An aftermarket taillight replaced the protruding original and tucked nicely into the gap between seat and guard. Indicators are Posh items mounted at the front on new headlight mounts. Nick found the headlight which lent itself to housing the pilot lights.
The orange duco (applied by Nick's mate Col) is a nod to Nick's business's corporate colours and once again surprised us how good it looked when it all went together.
New seals and gaskets for the drive shaft and a rebuild of the Marzocchi rear shocks stopped some notable leaks.
Hydro-blasting took care of the finish on the wheels and carbs, a frame and engine repaint cleaned up the undercarriage and polishing put the finishing touches on other items.
Whilst this build was not an all-out custom it managed to transform this former small-town Italian farmer into Sofia Loren and as mentioned, surprised many along the way.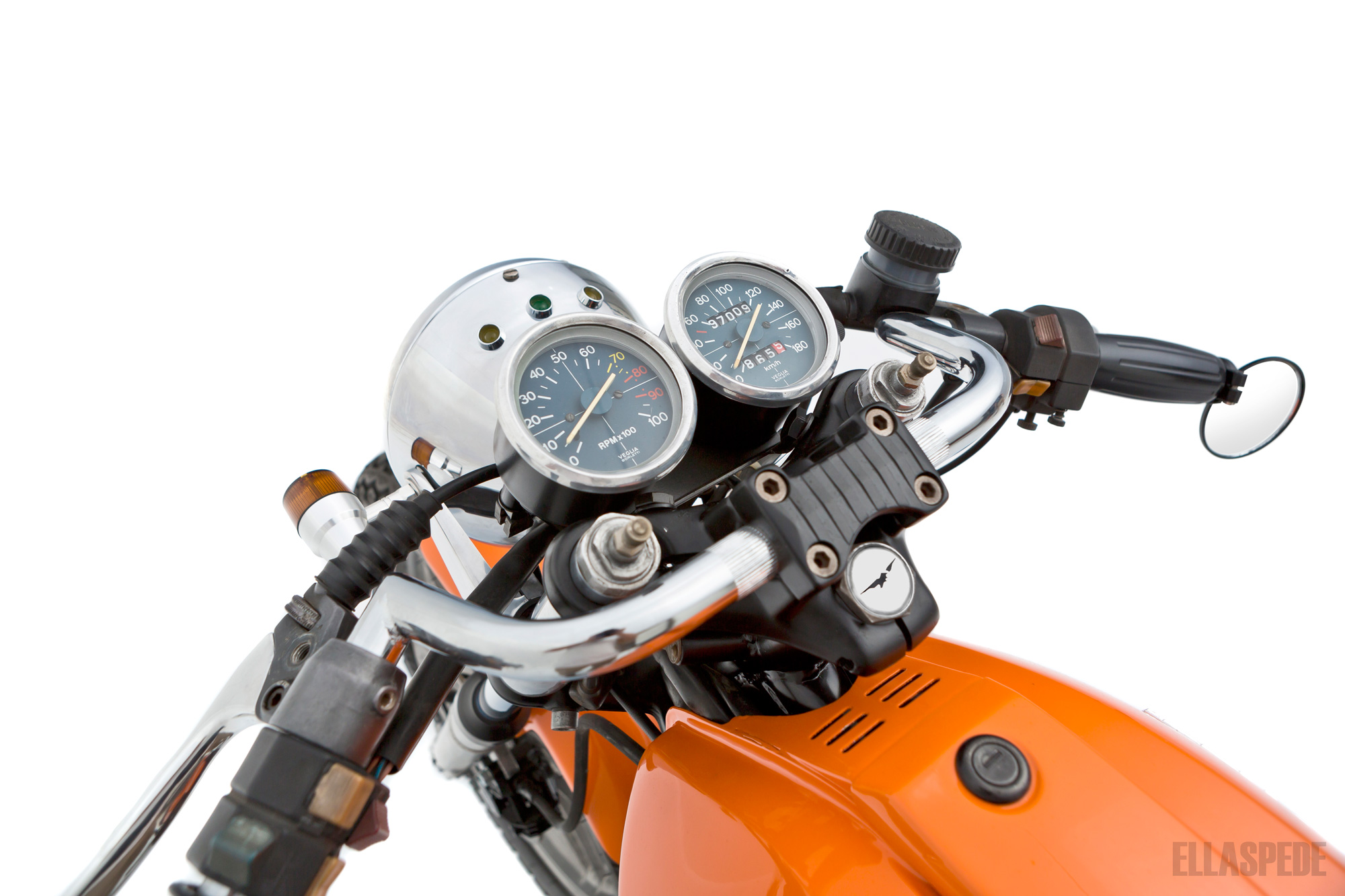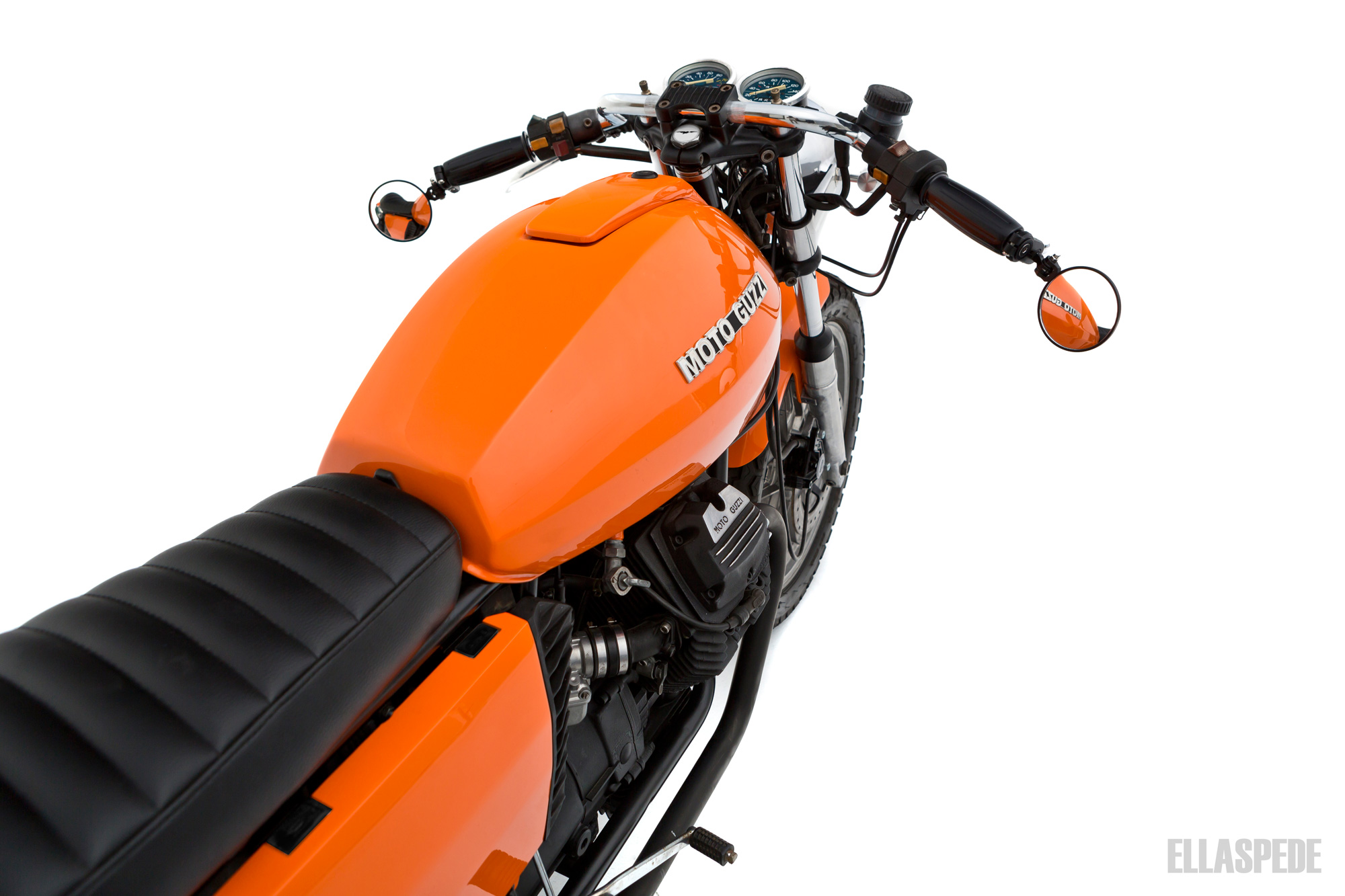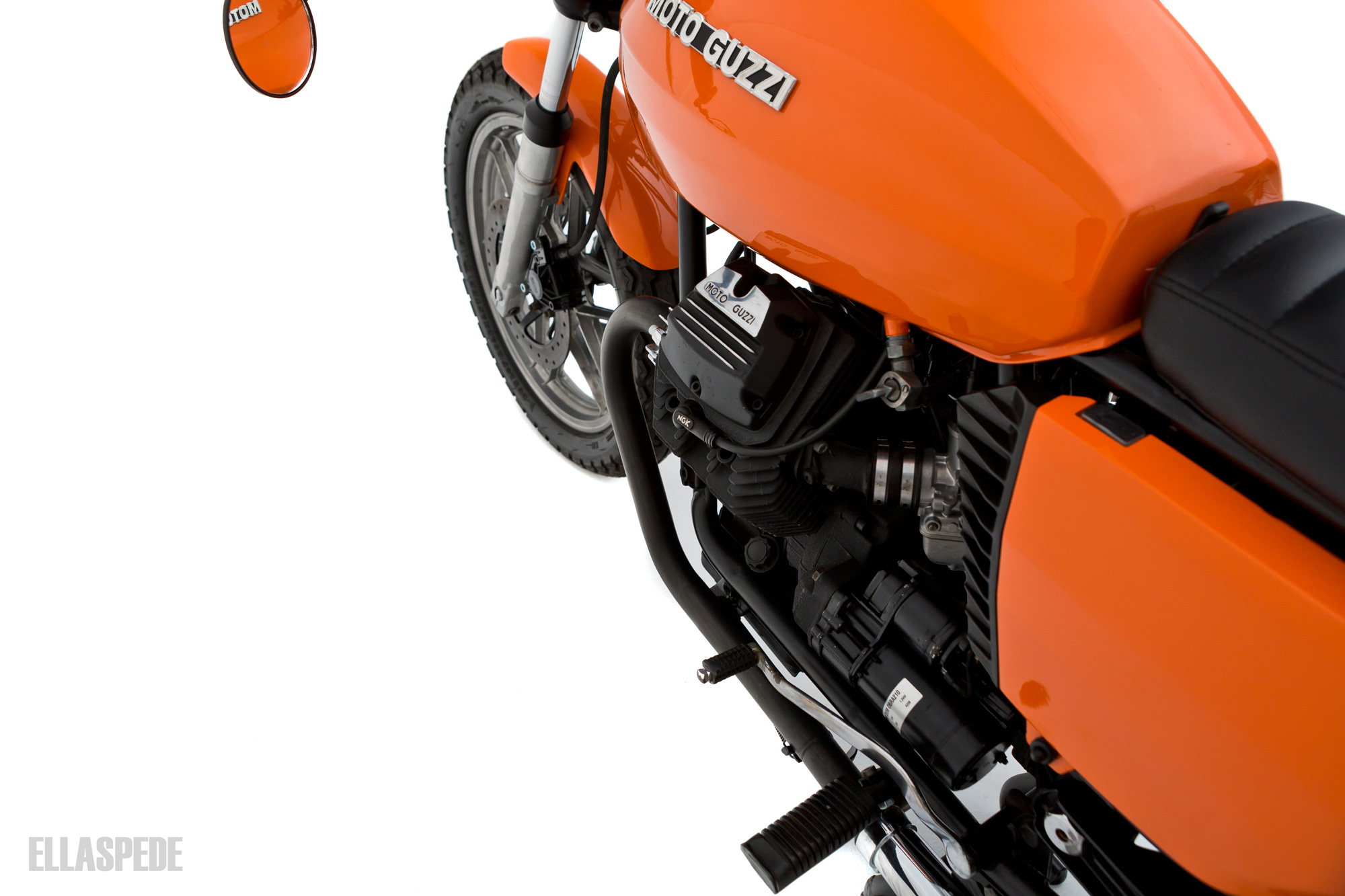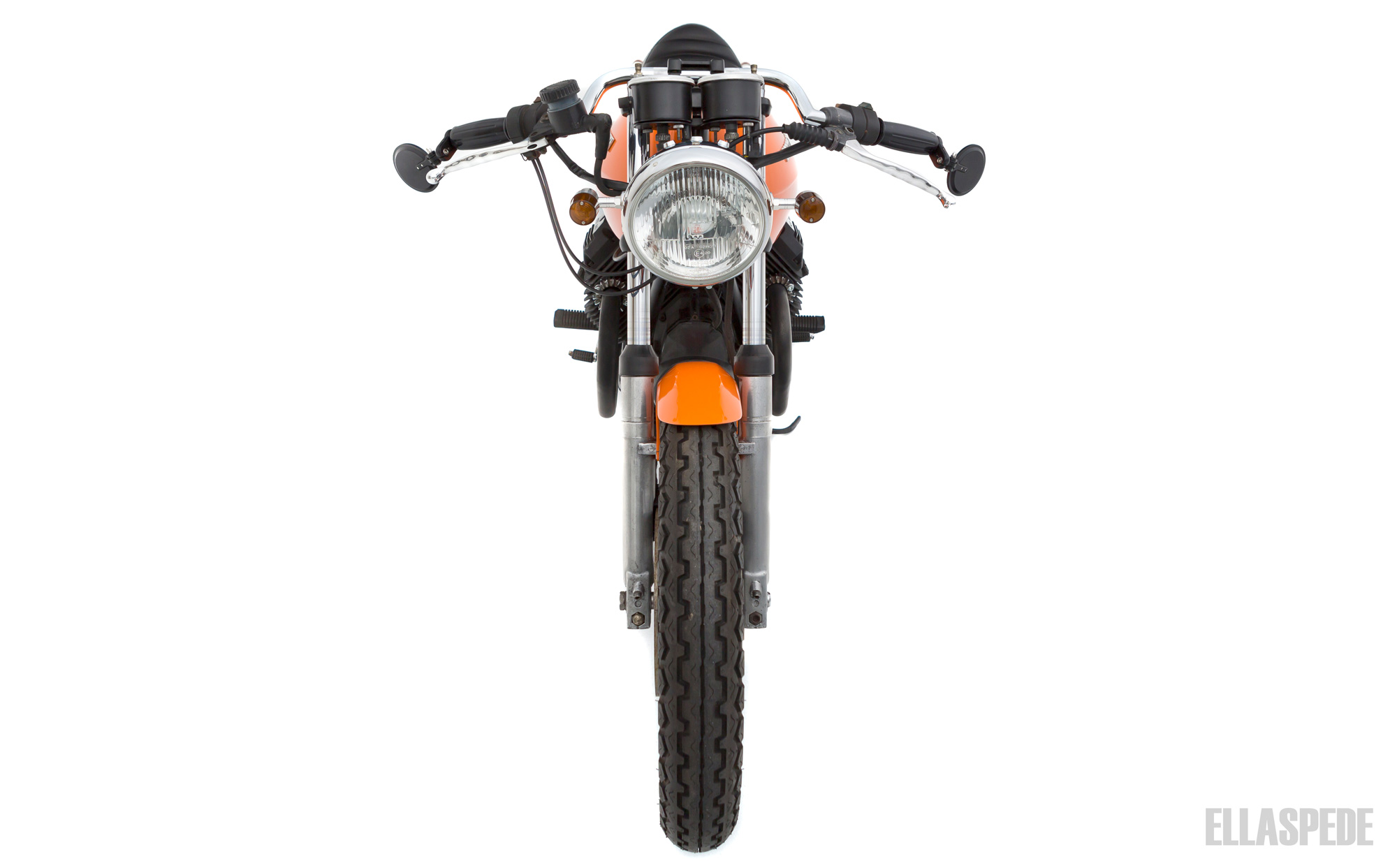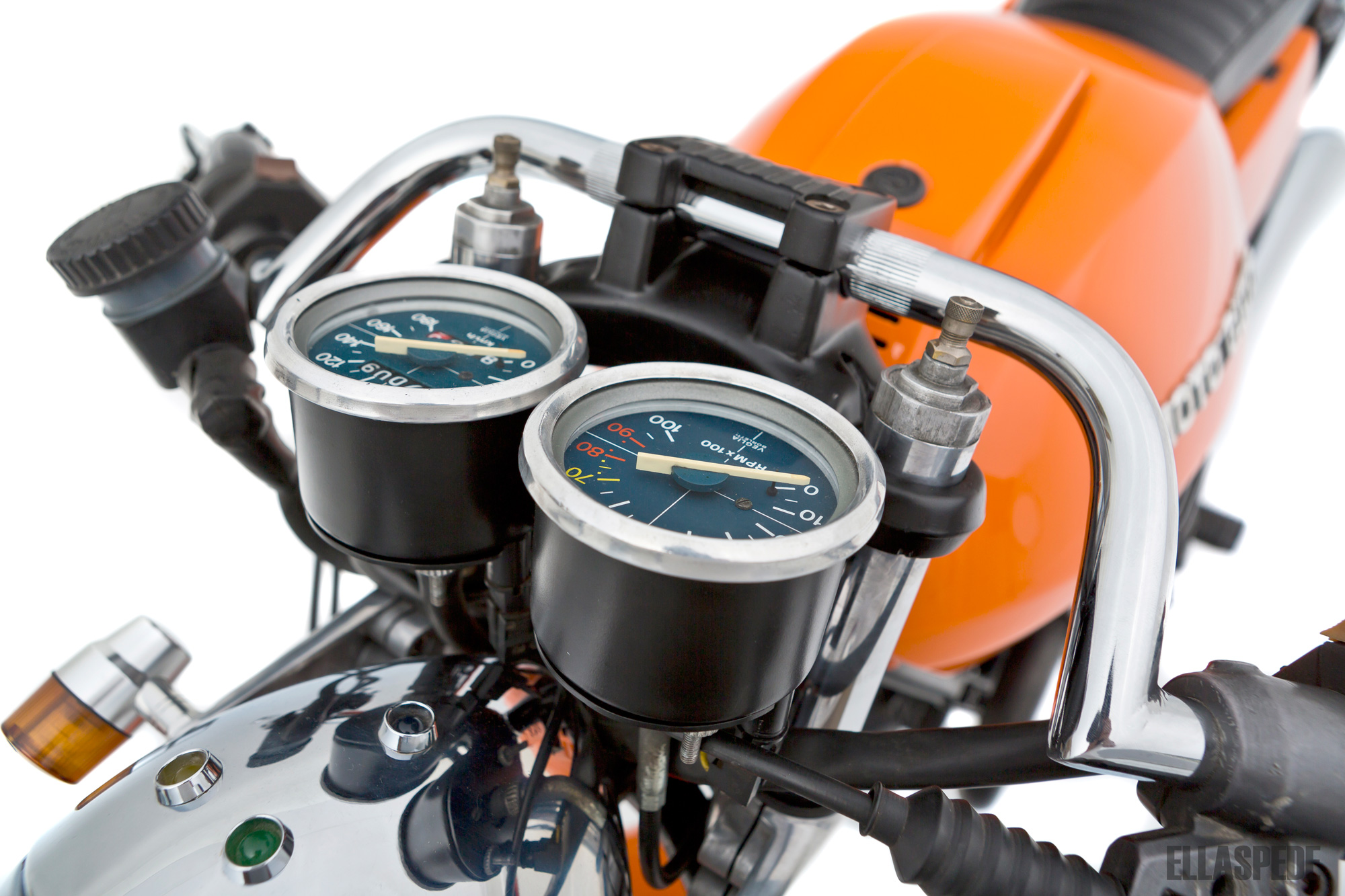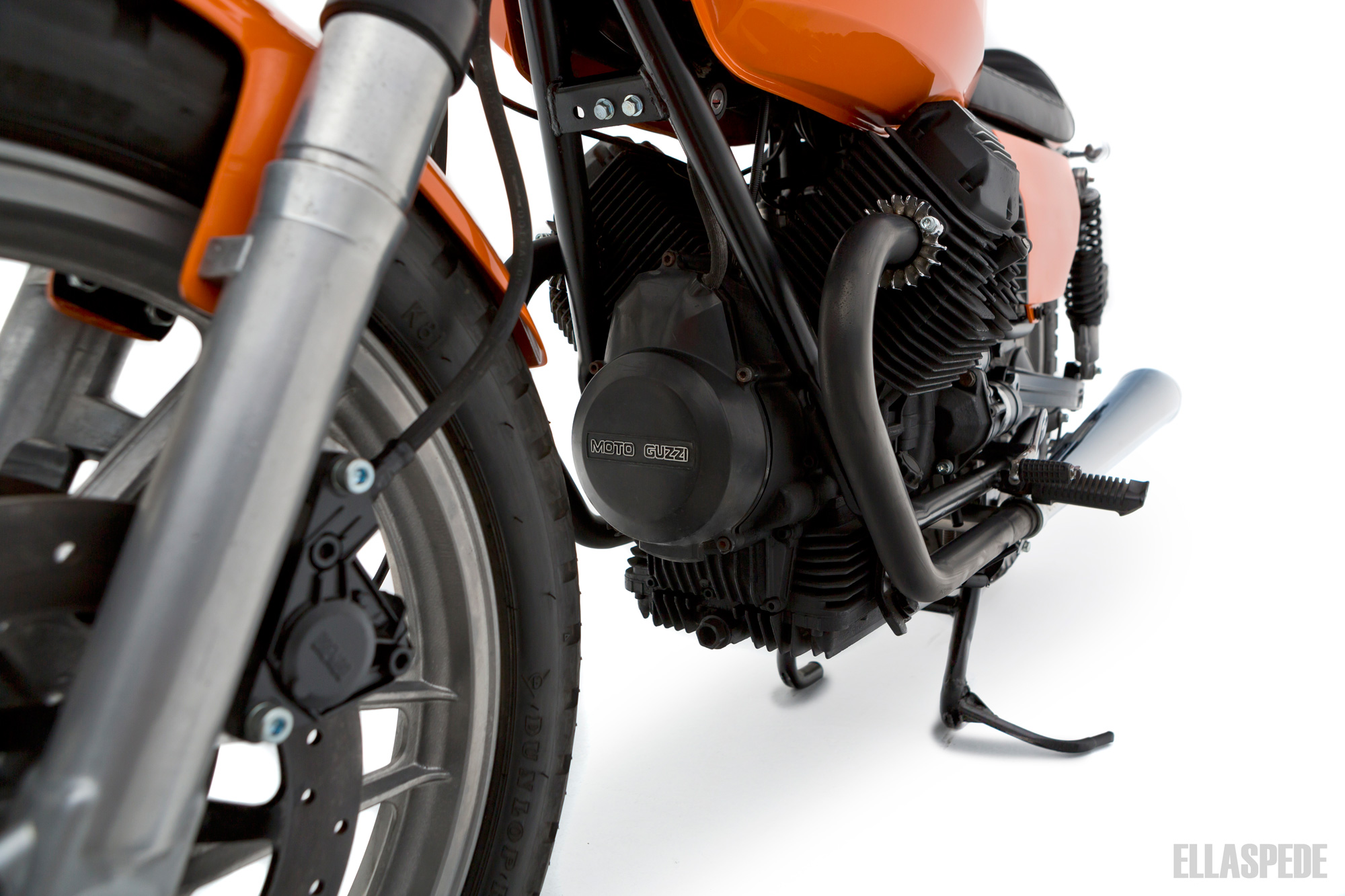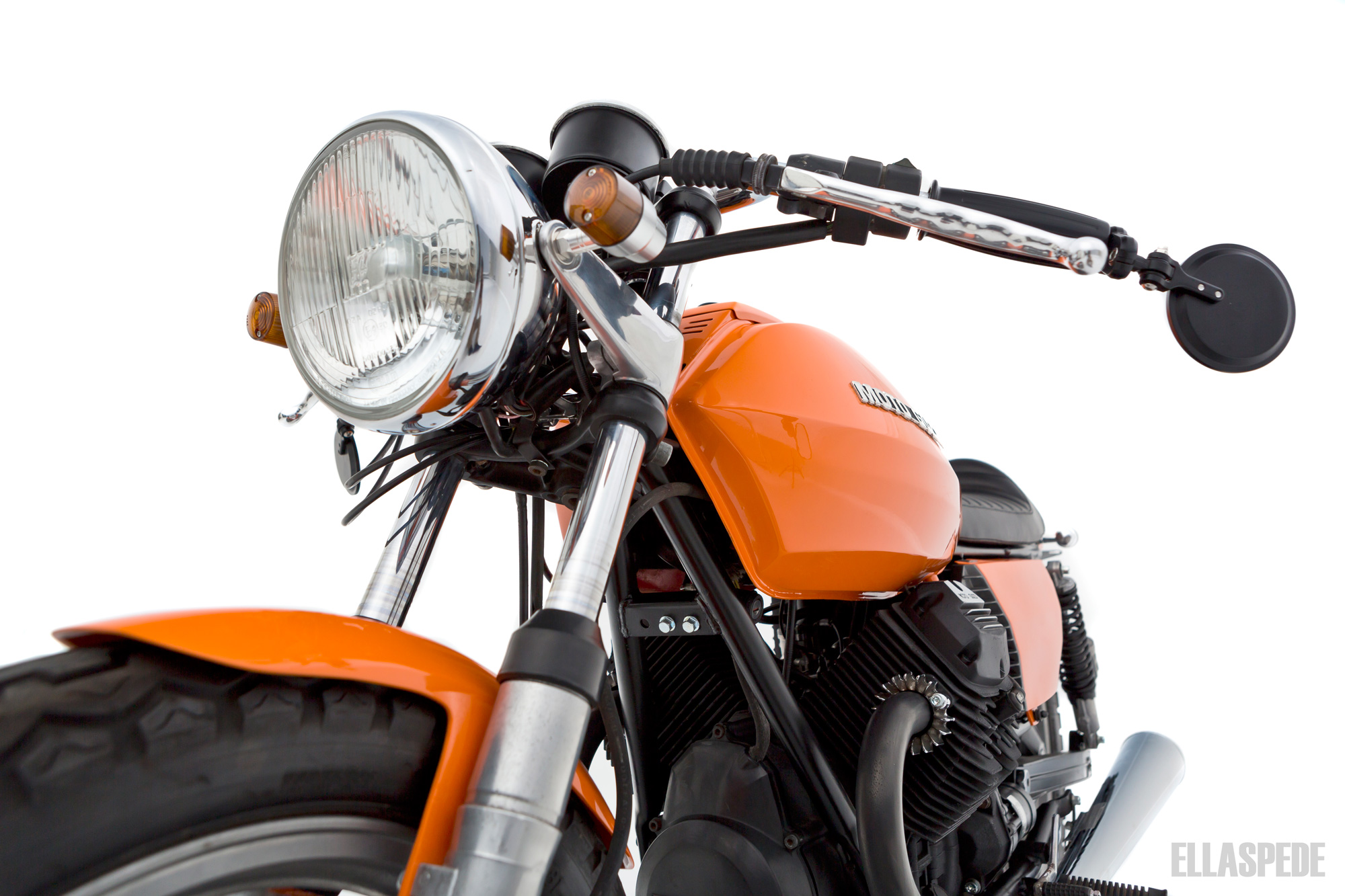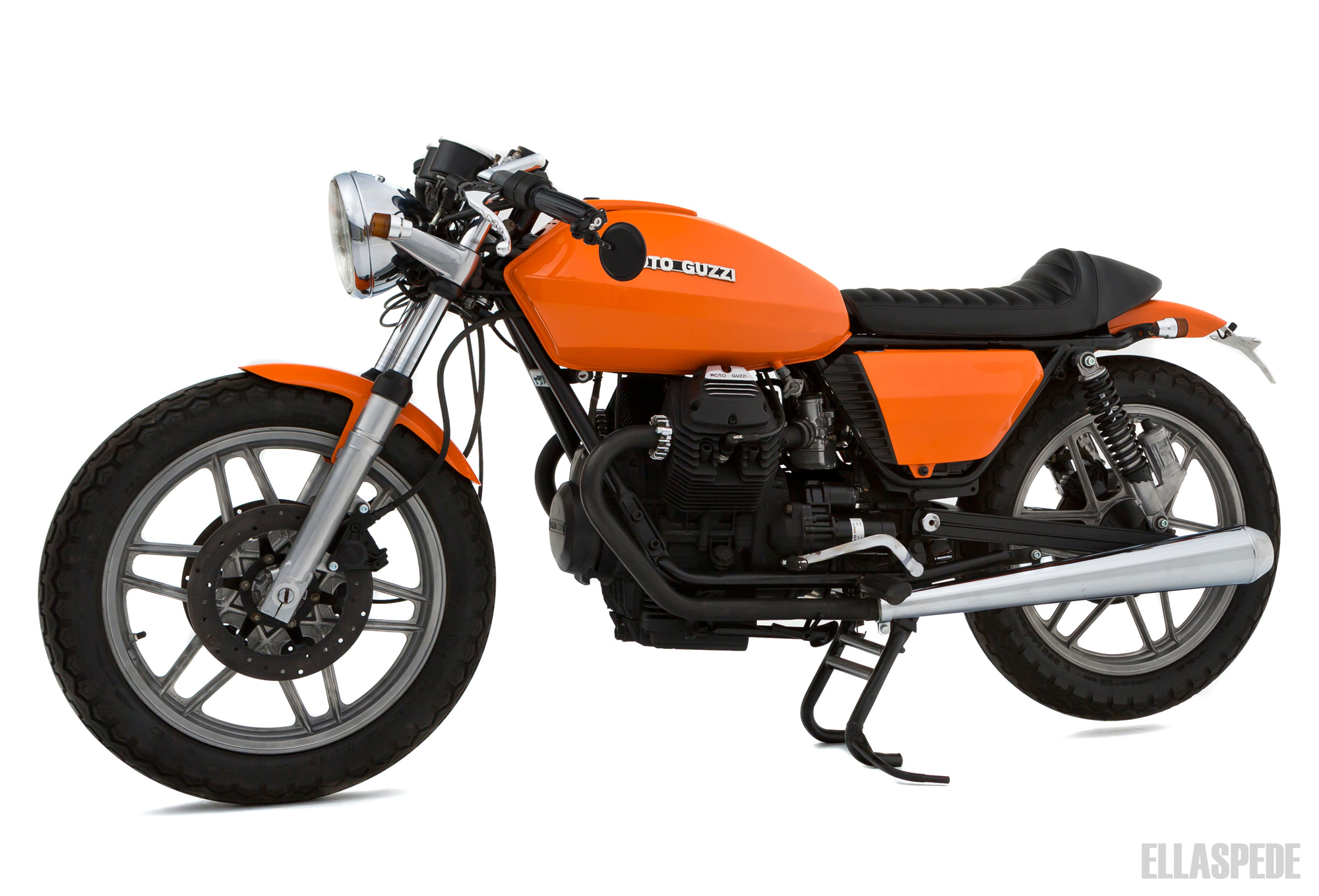 Albums we listened to during the build of this bike:
---
Photos and Features:
---
---
Comments (3)
More Guzzi's

By:

Richard

on 5 September 2023

Nice build time you guys did a V9 Bobber project build !





Ellaspede Response
Thanks Richard! We'd happily do a V9 build if someone brings one in, great bikes. Cheers
---
footrests and pedals

By:

Marius Langebeeke

on 6 December 2020

As your beautiful Guzzi got a way more sporty handlebar i think you should also give the legs a little more sporty position. This can be obtained in a very simple way, as MG dit herself with the V35 Imola, the V50 Monza and the Targa 750. You only have to drill a hole in the metal plate below the turning point of the swing-arm. Then cut off both pedals, drill a 8,5 or 9 mm. hole near the tip and make a M10 internal screw wire and use strong bolds with the original pedal rubbers. Look up the original parts from the 3 bikes i mentioned to fit the foot-rests a bit outward from the plate or make them yourself. Gives a way more comfortable and sporty seating position. Did this with my V65SP, now calle V65SR To make the bike perfect you can replace the integrated braking system by a standard one. Get a Brembo front-brake piston 16 mm. as fitted on older Duc's, take out the original hydraulic brake-light switch and use the switch that is build in the handle. Then you can put a steel brake-hose in its place. Did this with my Targa and my V65SR. Gives a perfect breaking bike.
---
Amazing and simple build

By:

Benny

on 4 November 2020

I love you v50iii! I am rebuilding my bucket of a v50ii.. and my plastic inst. housing is all a mess. How did you mount your instruments please? Thank you! Benny





Ellaspede Response
Hey Benny, We just made a custom steel gauge mount and bent it up so that it bolts to the front of the top triple tree. You can see where it mounts in one of the photos above. All the best with your build mate! Cheers
---
Leave a comment