EB058 – 1993 Kawasaki ZR550 Zephyr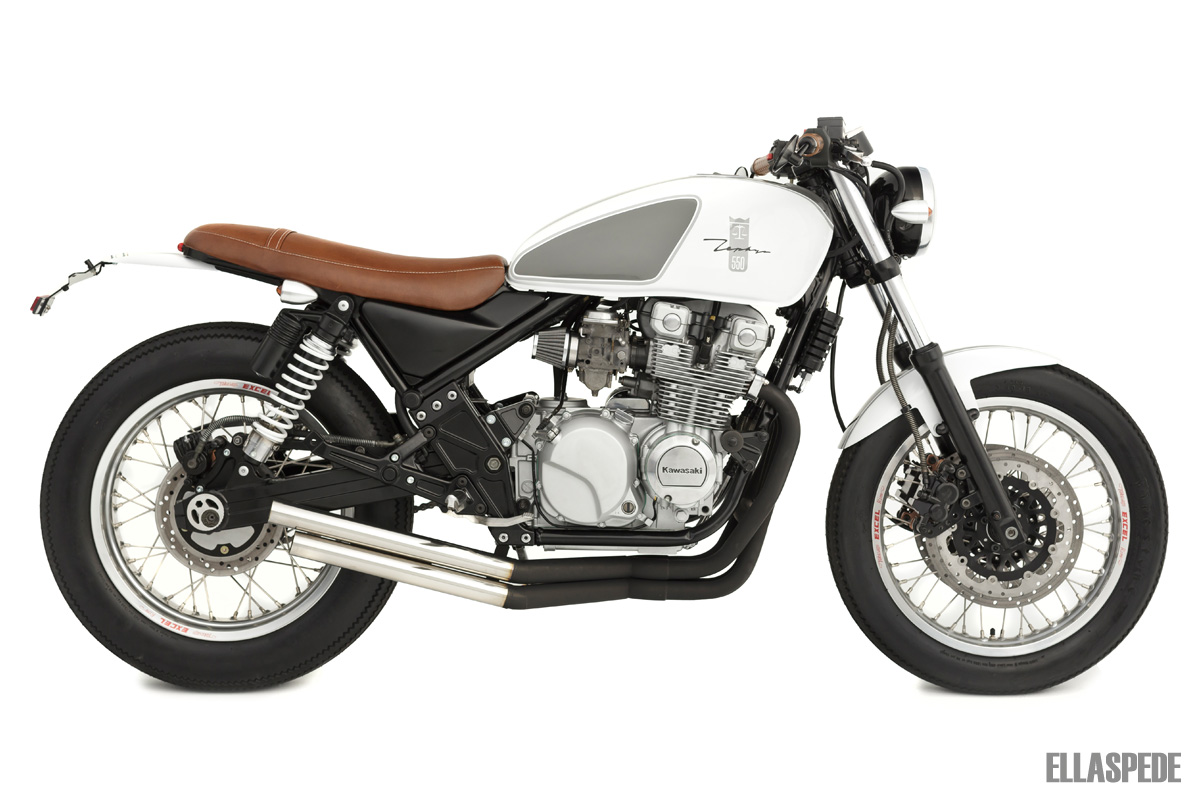 When opportunity beckons what do you do?… Let it pass you by or seize it?
Our latest client Henry chose the latter when perusing through Ellaspede a while back. Whilst it wasn't completely smooth sailing, the potential result that this opportunity promised was well worth the gamble.
Henry was after a clean, unique and crisp bike to run down to the shops or cafe on and something upon which to check out the best surf breaks early on a Saturday morning when at the coast. What he got initially was a shabby 1993 black Kawasaki ZR550 (Zephyr)… and a vision of what that cool bike could be. The point is Henry had some ideas, saw the opportunity, seized it and some time later he received the bike you see here now.
This Zephyr had seen better days and needed work, but there was still life left in it, so when Henry decided to go ahead with the project we started with a two pronged attack. The design team generated a number of different concepts whilst the build team got to stripping and cleaning. The motor was taken apart for gearbox work and whilst it actually seemed ok the motor was given a comprehensive rebuild. Oversized bore and pistons, new engine and gearbox bearings, seals and gaskets were installed, specs were measured and checked before the engine was blasted, painted and then appropriately polished.
One of the design requirements specified by Henry was that he was keen to achieve a retro look, so naturally he gravitated towards one of the spoke wheeled concepts we produced. If only swapping mags out for spokes was as easy as selecting out of a catalog. There were a few possibilities here, buy new hubs and try to match them to the bike or source 2nd hand and make fittings to suit. Both paths presented many challenges, but we eventually decided on keeping it in the family by using Kawasaki hubs. We put out the feelers through our channels and managed to source a pair of late 1970's Z900/1000 hubs via one of our contacts (Thanks John), and so the wheel build began.
18 inch (front and rear) excel rims were laced to the early Kwaka hubs. Family resemblances were non-existent here as many spacers were required to mate them to the Zephyr axles and brake calipers. Ellaspede's Industrial Design background helped with the CAD and design of the new hub, brake and sprocket spacers before they were CNC machined from billet material blocks. New brake rotors were sourced via size rather than OEM specs, with Firestone Deluxe 3.5 inch front and 4.5 inch rear tyres rounding out the wheel department and adding to the retro look.
After the necessary adjustments, de-tabbing and minor modifications the frame was blasted and powder coated in satin black along with many other associated items. A custom seat trimmed in tan kangaroo leather sits atop the frame now and is complemented by tan Posh grips. The arctic white and warm grey paint scheme was deliberated on for some time but we think sits very comfortably with the rest of the bike, presenting crisp and clean. The graphics make reference to Henry's vocation as a Barrister in combination with the 550's 'Zephyr' title, with the signature style graphic being inspired by the early Ford models of the same name.
Posh white-face gauges mount off the modded original top fork clamp which now holds chrome drag bars. Posh indicators, a 6 inch headlight and LED taillight illuminate the bike whilst an Ellaspede 'Ninja Star' plate mount adorns the custom made rear guard.
The original rear shocks were re-gassed and re-finished with white powder coated springs to carry on the colour scheme.
The 4 into 1 original exhaust has be simplified and now runs 4 into 2, shotgun style with internal baffles.
The ZR550 was popular in certain markets in the 1990's but not that many survive today (in Australia at least), with most falling prey to neglect, a lack of parts and/or bastardisation. This Zephyr may well have ended up as another statistic had the opportunity not presented itself and hadn't been acted upon. Well done Henry for allowing us to build what we consider one of most challenging but also one of our best customs to date.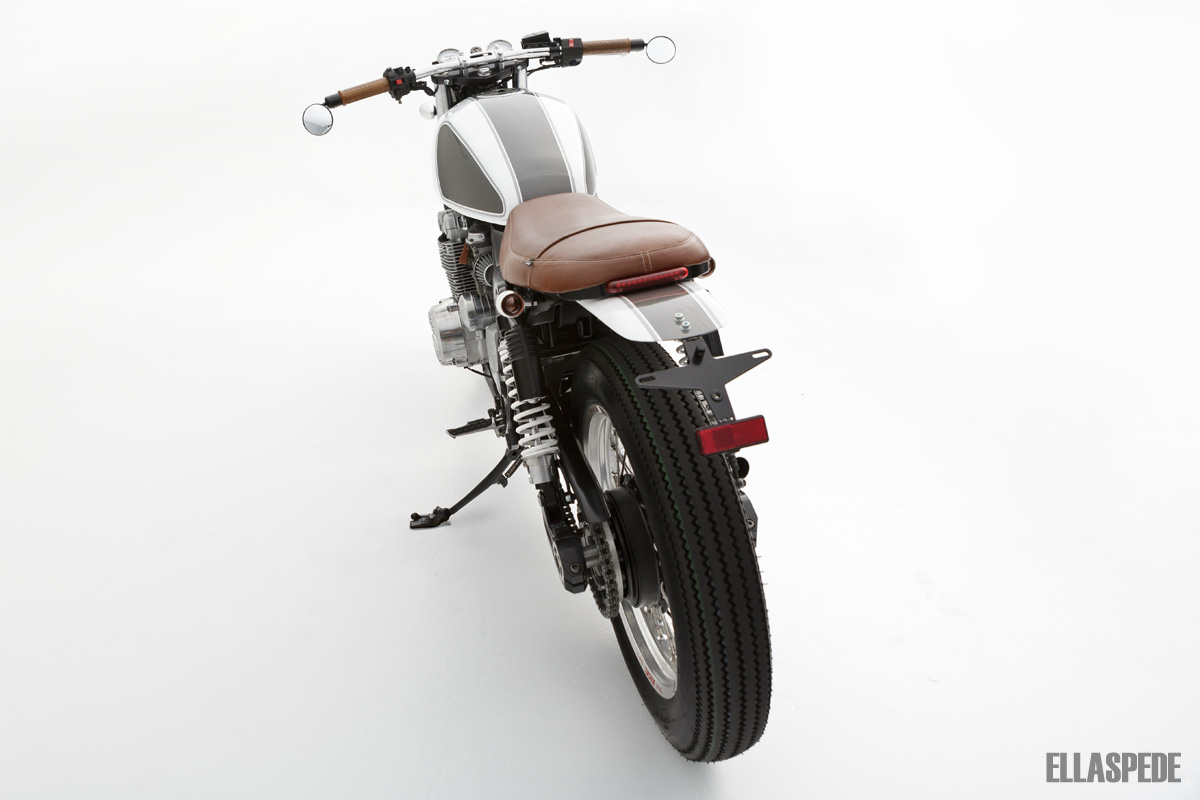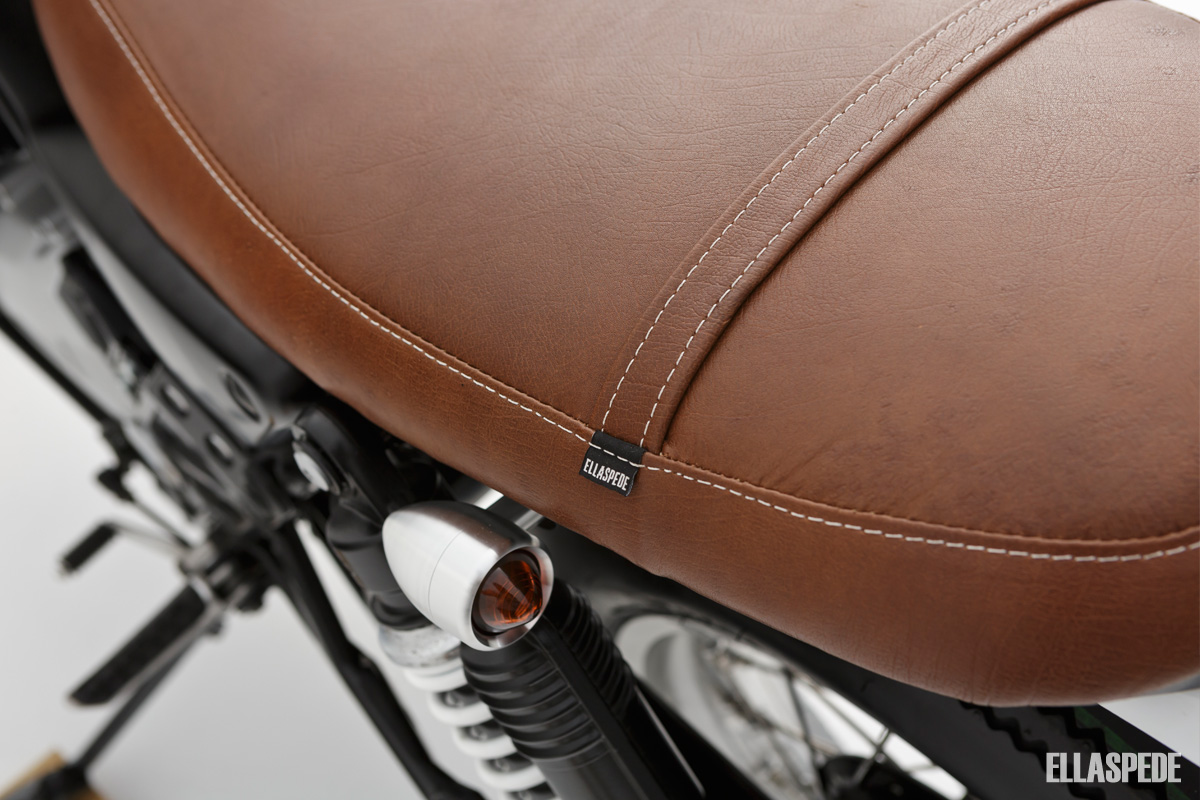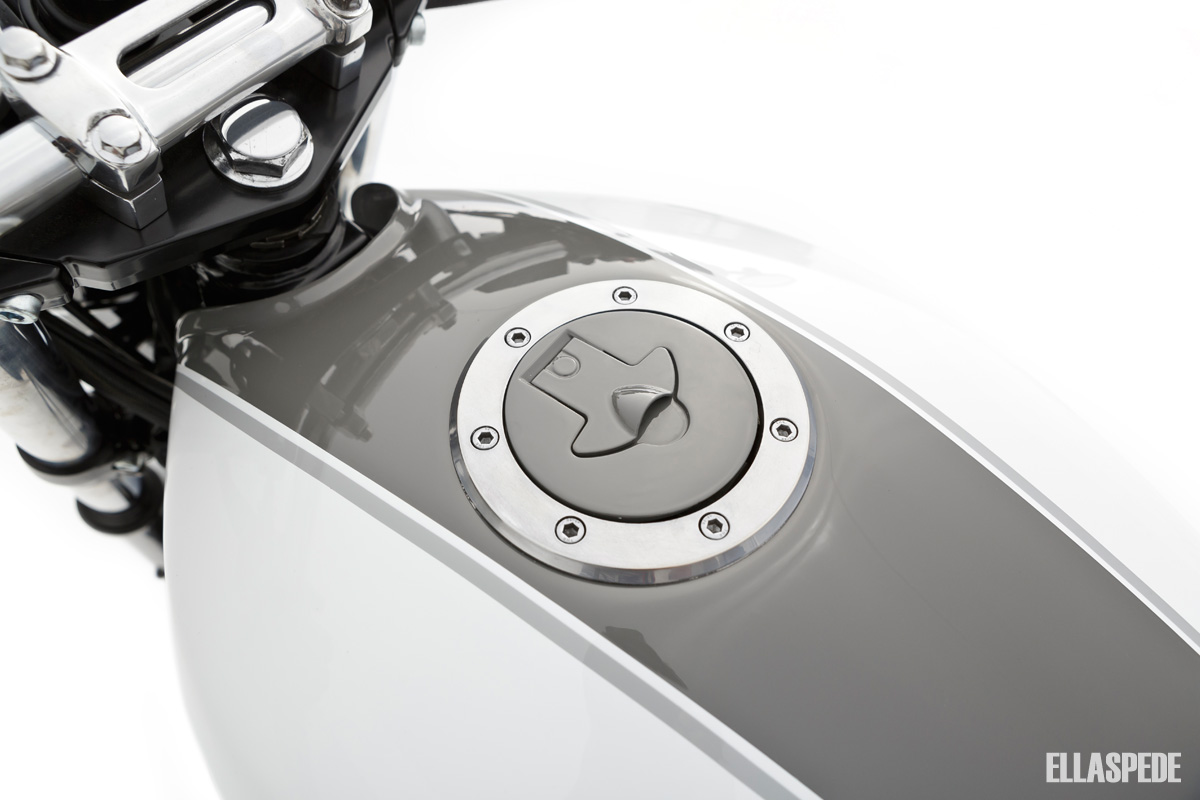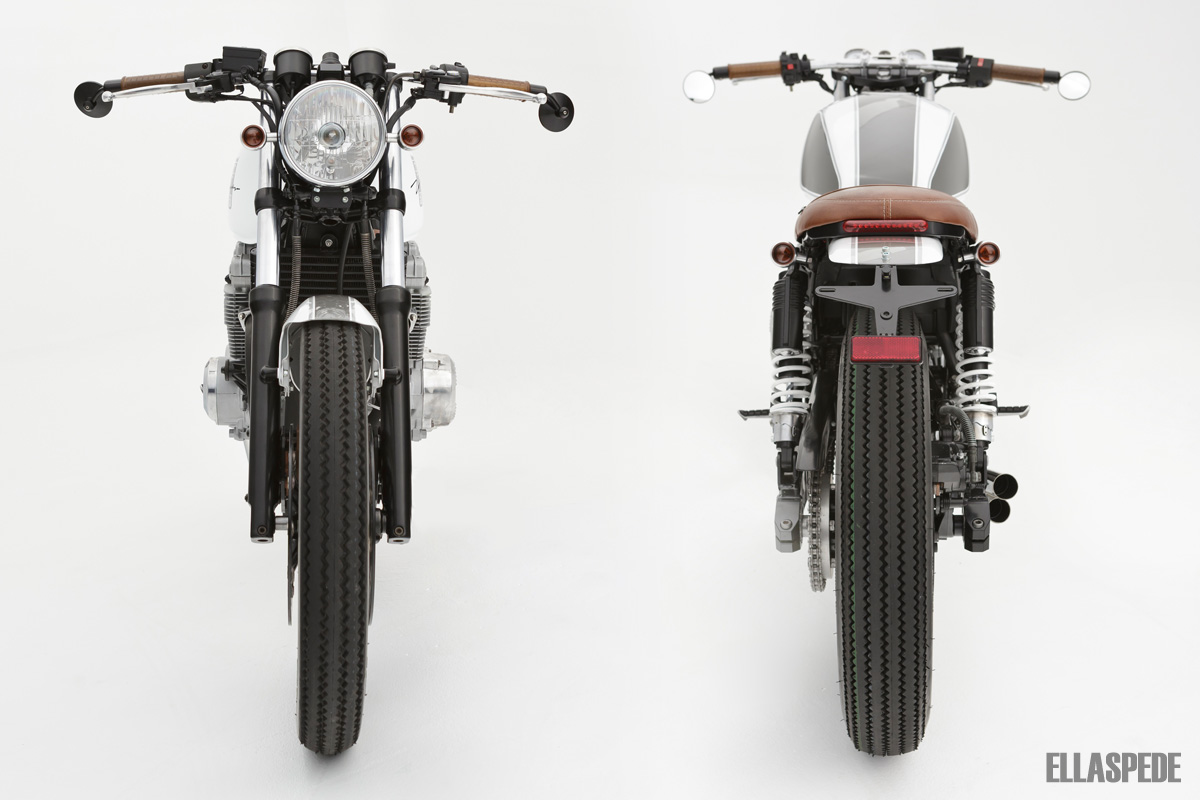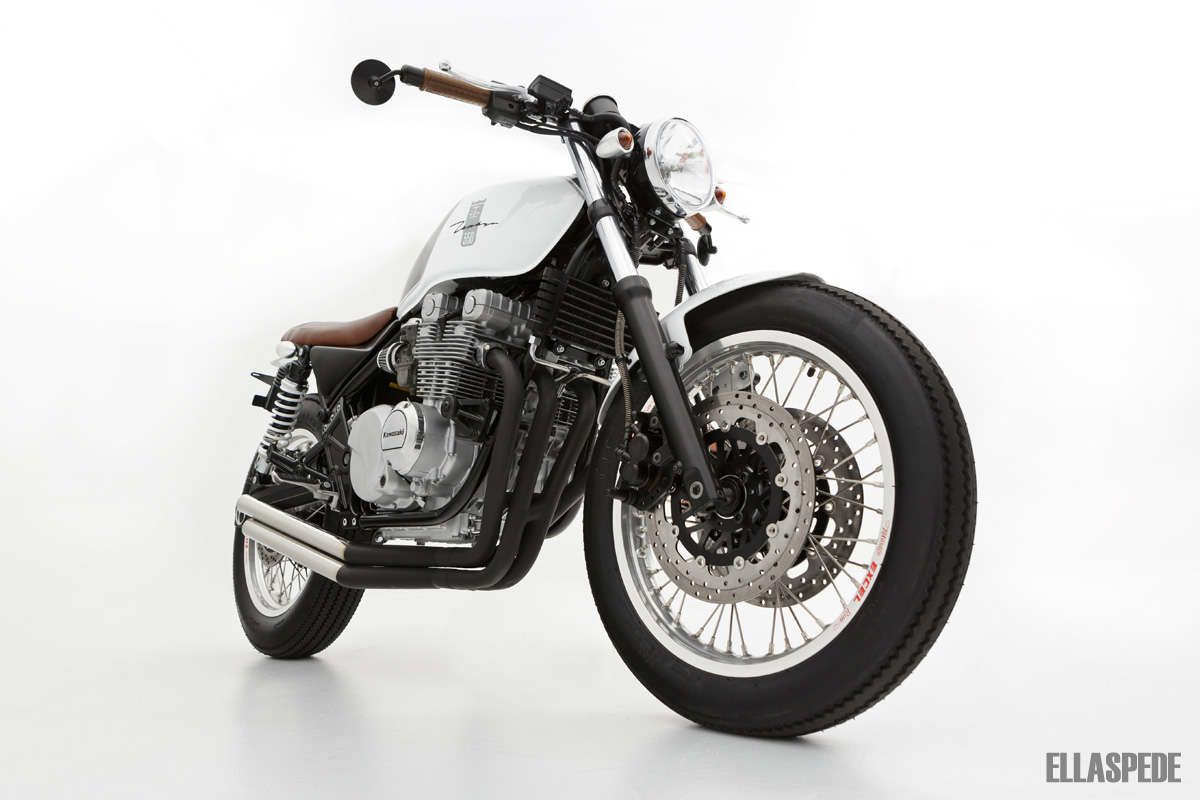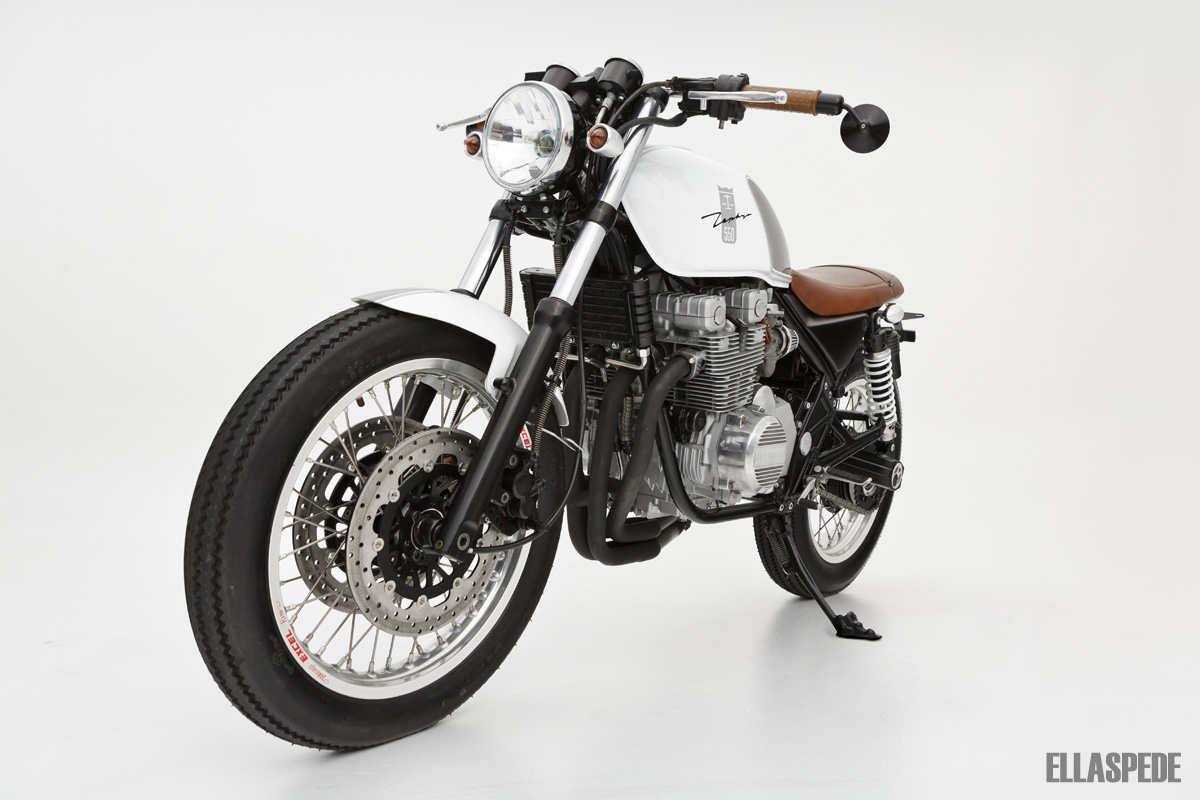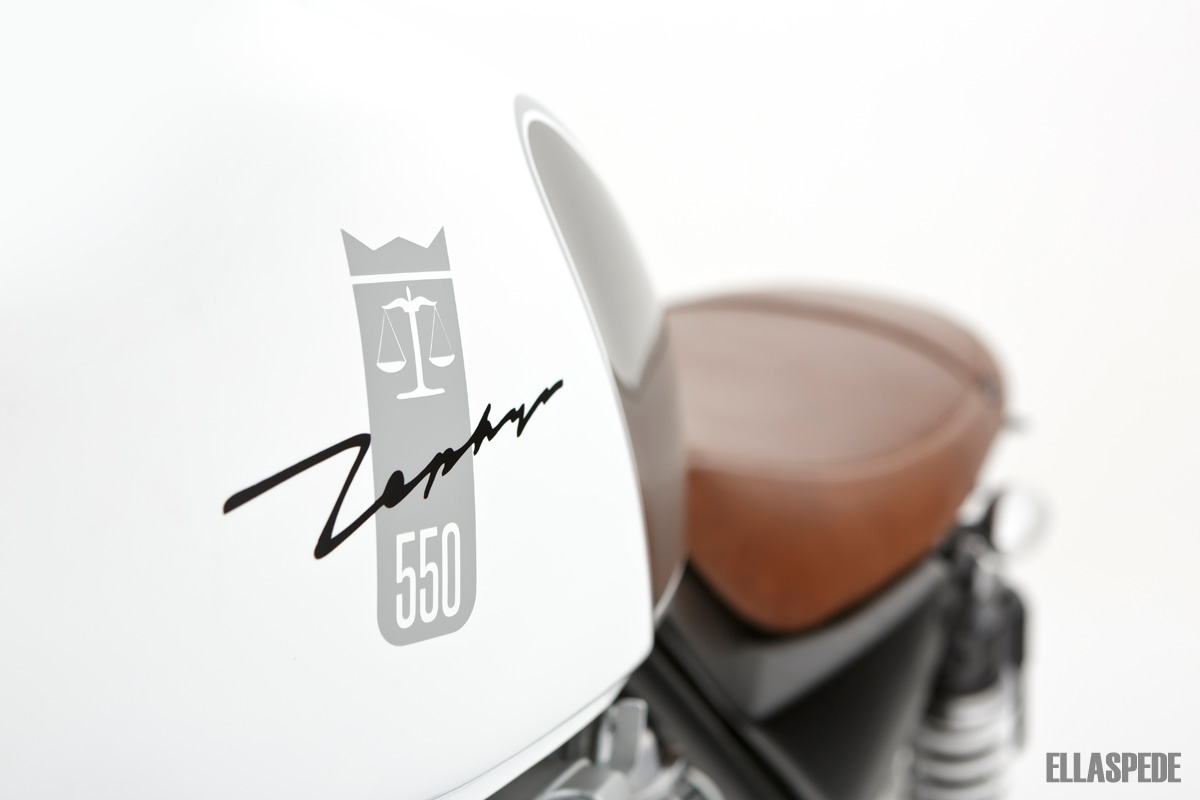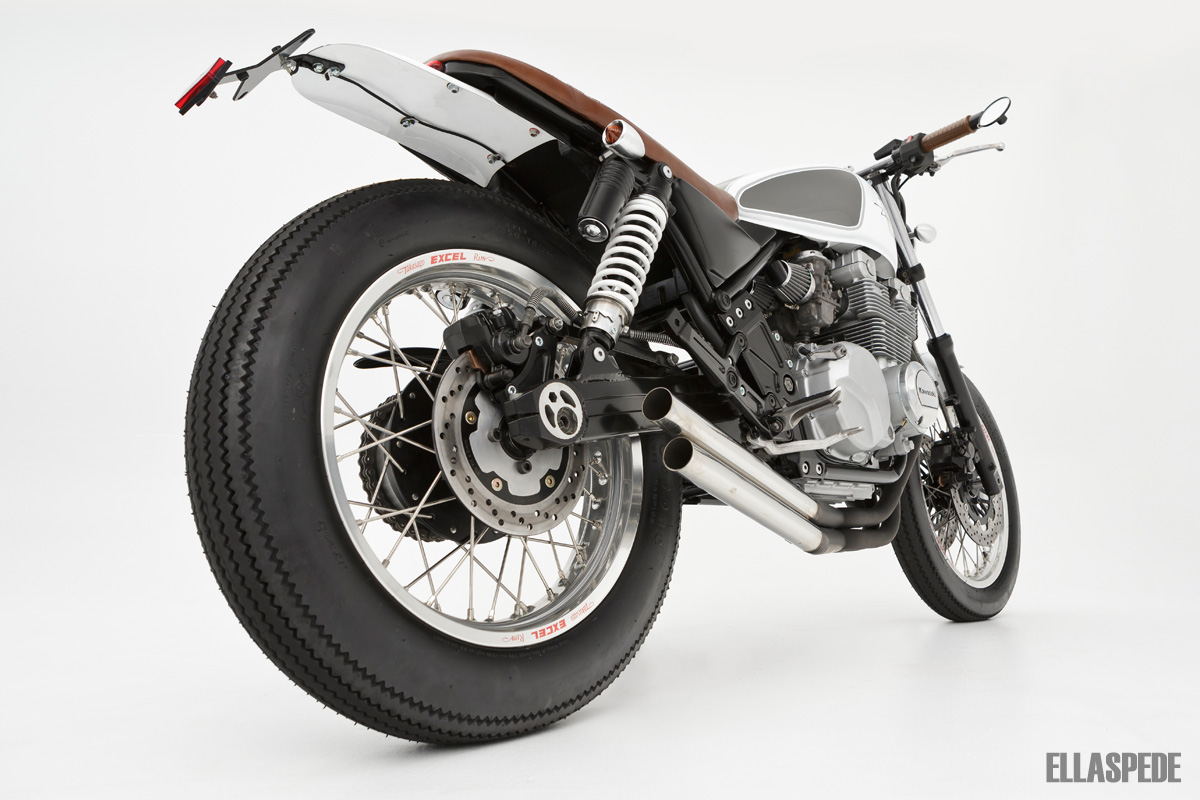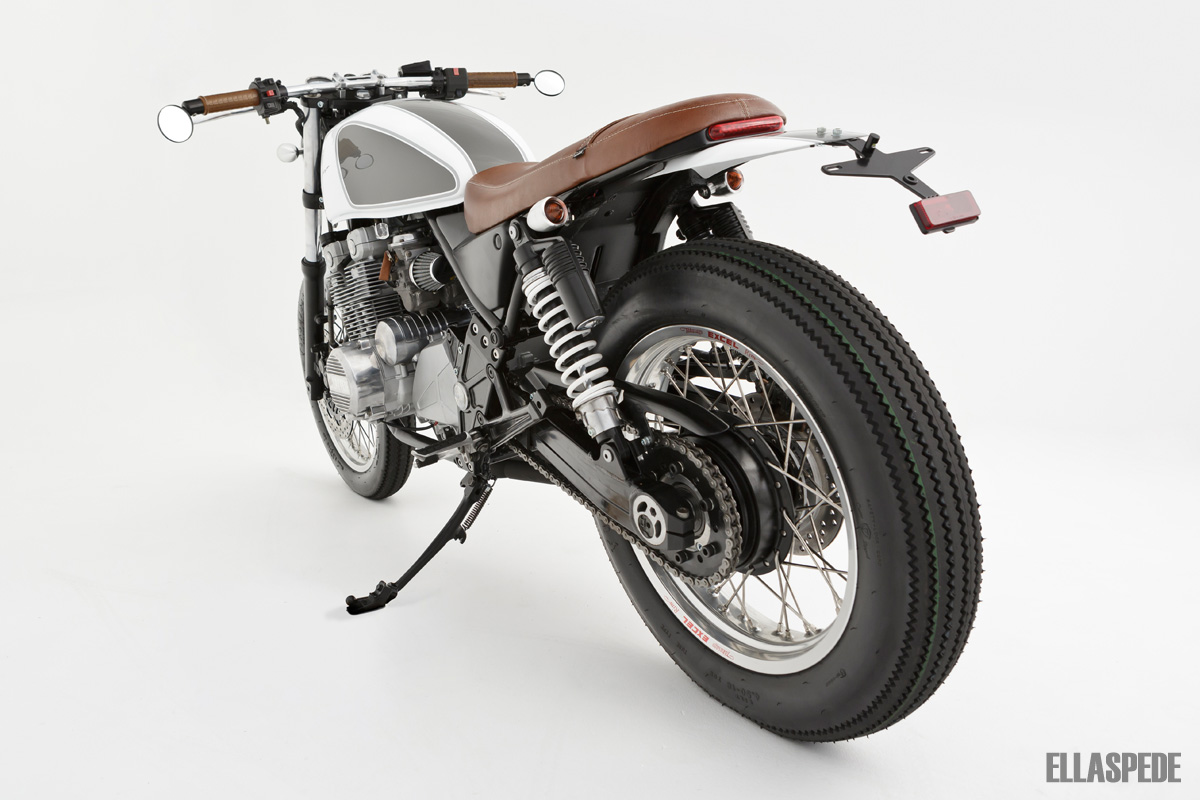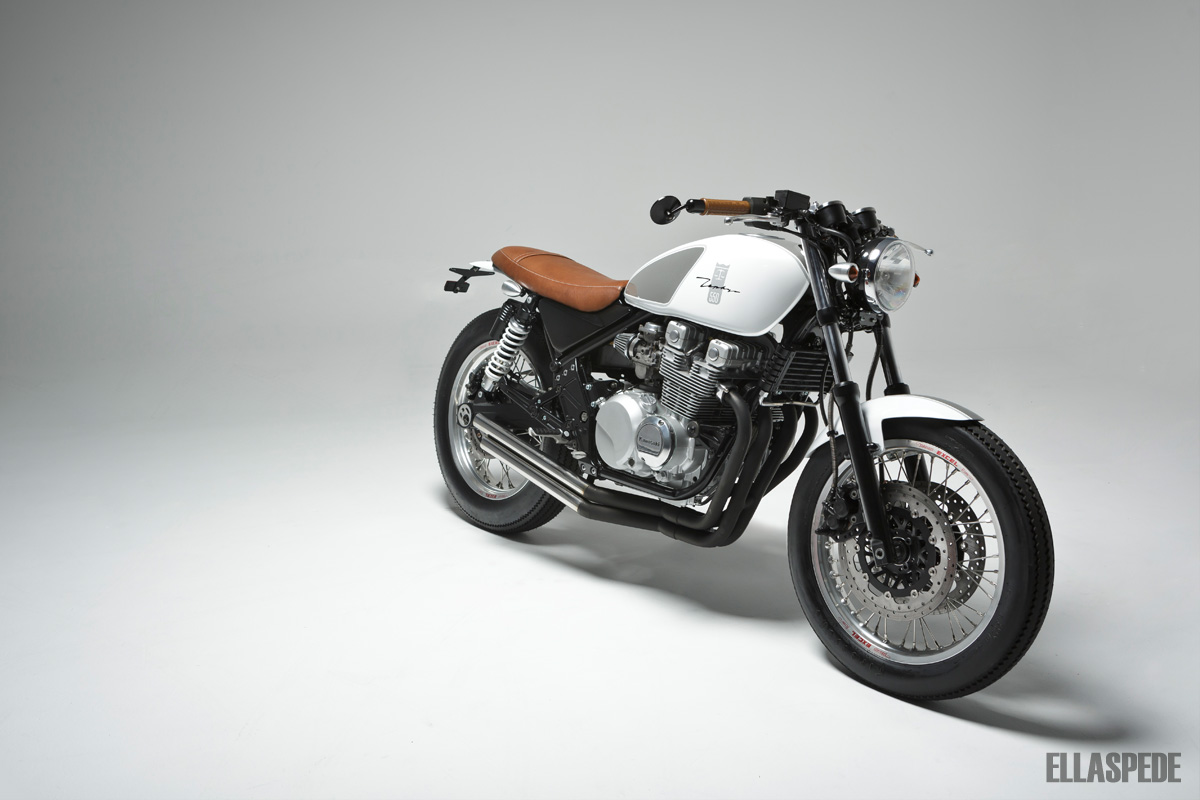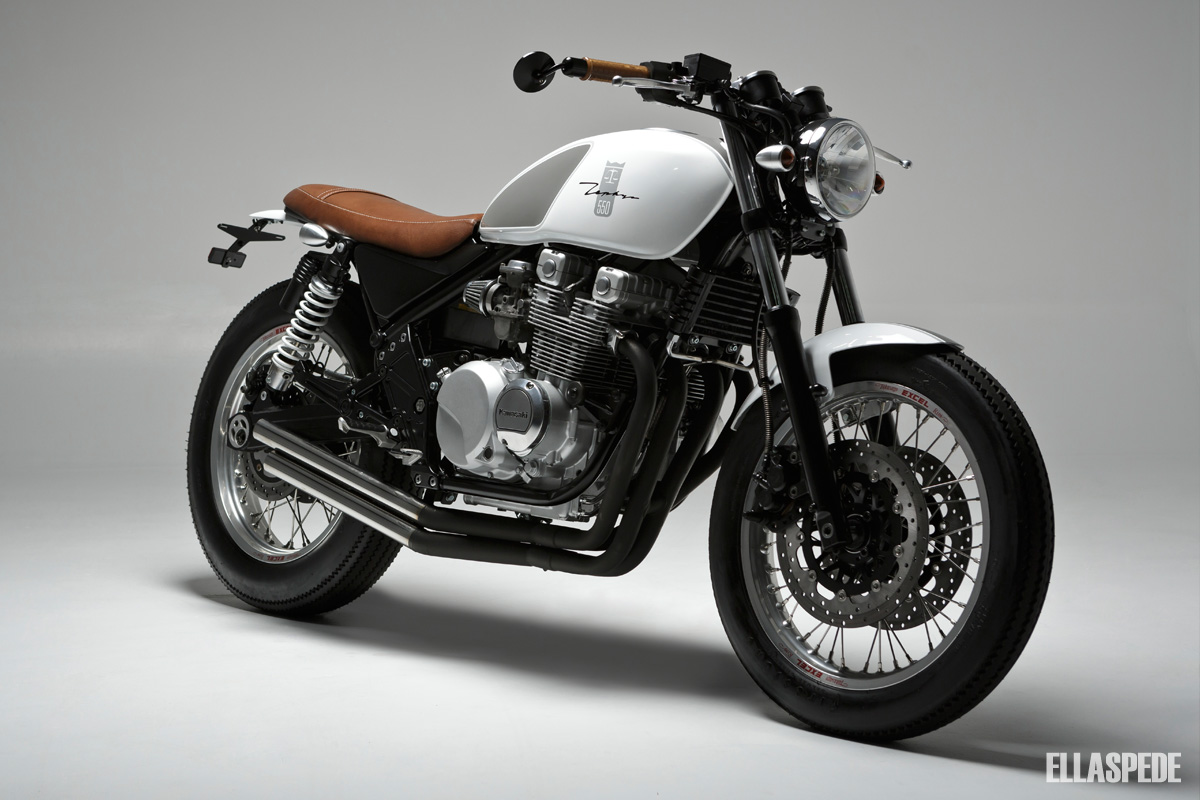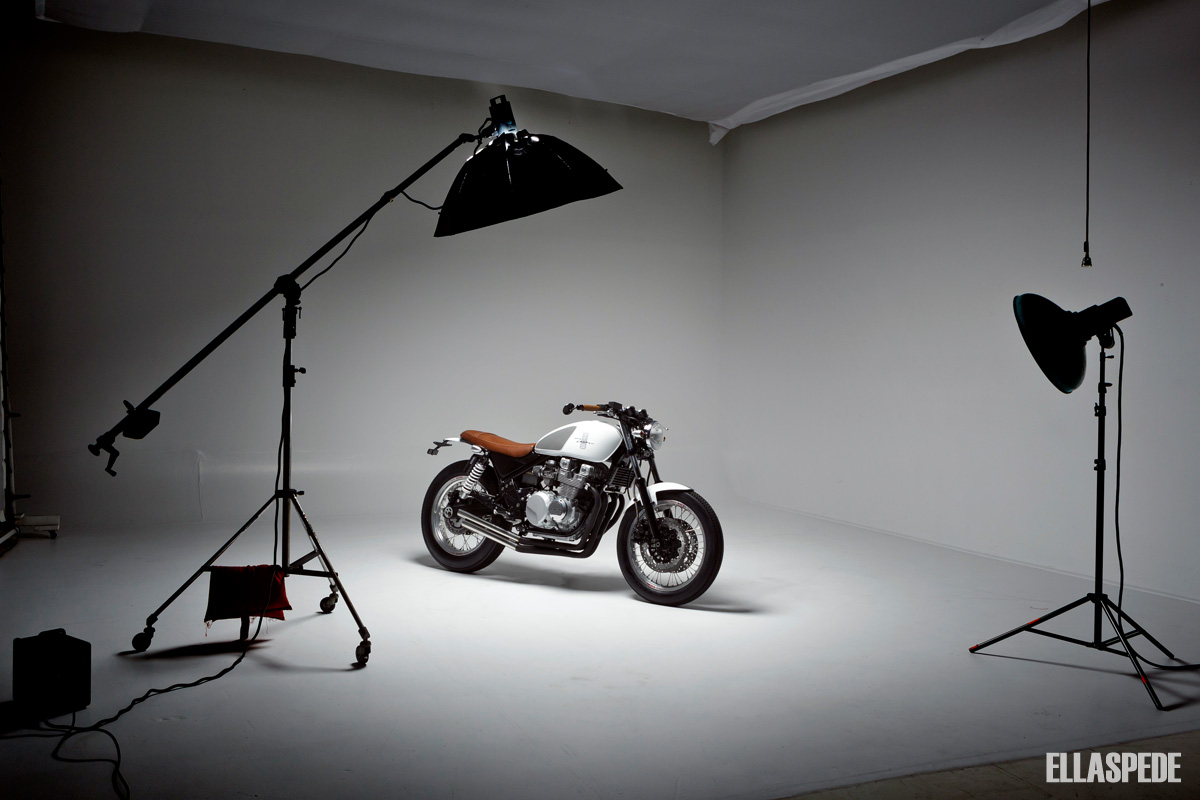 Albums we listened to during the build of this bike:
---
Photos and Features:
---
---
Comments (2)
Seat

Where can I get that seat or one like it





Ellaspede Response
That seat was custom made for this bike and does require some frame mods to fit like you see here. If you're keen to get one definitely let us know and we can get your bike in to make one! Cheers
---
I'm kinda mindfu#ed

By:

Steffen

on 4 February 2019

What a great build, own a 550 as well, to bad that my country is restricting many of your custom solution's. Is there more information available?
---
Leave a comment