EB415 – 2013 Kawasaki W800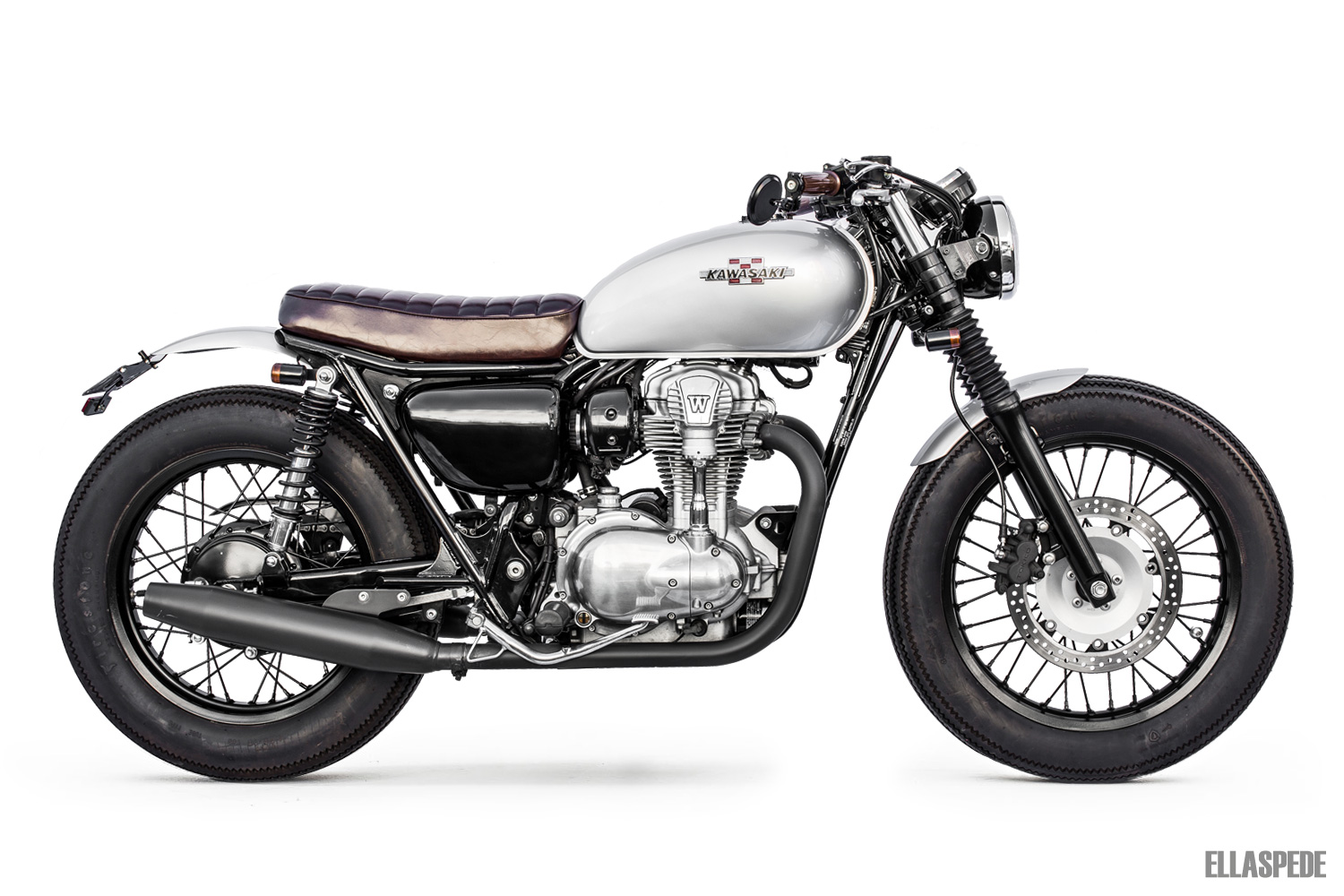 When thoughts of a modern classic custom build cross your mind, the usual choice is to opt for one of the late model Triumph's, and for good reason. Their traditional parallel twin engine configuration, rich brand history and vintage inspired aesthetic make them hard to go past as a donor bike.
Kurt knew they were a great option, but looked past the well-worn path of Brit twin customisation in favour of something less popular, but equally as appropriate and impressive.
Enter his 2013 Kawasaki W800. Often lauded as more British looking in stock form than the late model Triumphs they're an excellent alternative to the British 'twins' for a late model modern classic build.
With some impressive history of their own, Kawasaki first released the 'W' in 1965 so they're not short of classic inspiration for a new bike with vintage style. Just look at that motor! It's up there with one of the best looking for a factory bike.
Kurt's history also dates back to his grandfathers who both rode motorcycles. Although the love of bikes skipped a generation in his family, it was only natural that he'd enjoy time on two wheels.
Fast forward to the present and although they're a great looking bike, Kurt's W800 was destined to go under the knife. A tasteful build with some classic inspiration and subtle colour scheme was in order to make the most of what the Japanese manufacturer was already offering.
The usual items were attended to with the stock lights, indicators and mirrors making way for smaller aftermarket items.
The rear frame was shortened and a short custom seat made it's way on in place of the original. Only intended to be a single seater, the pillion peg frame mounts were removed along with a number of other frame tabs to clean up the lines.
The front guard was cut down and modified to suit the new application and a custom steel rear guard was shaped up for the shorter rear end.
Lowering the headlight gives a more aggressive and streamlined look to most bikes and the W800 was no different. An Ellaspede W800 gauge lowering mount (available soon) also lowers the stock gauges into a more aesthetically pleasing position to fit with the lower headlight. LSL bars and aftermarket bar end mirrors complete the control area.
The engine now breathes through K&N pod filters and exhales through a full Remus exhaust system from Germany. An O2 bypass and power commander bump up the power to a respectable 56HP at the rear wheel.
The stock rims were powdercoated in slick black before Firestone Deluxe Champion tyres were wrapped on for that classic big tyre look.
The colour scheme was all-important to round out the theme of the bike. With a number of items dressed in black already, the bright silver provides the perfect contrast on the guards and tank. The dark 'oxblood' seat upholstery pops in the right amount of colour and is replicated on the vintage Kawasaki badge now sitting on the smoothed out tank.
Given the W800 isn't as popular as the late model British twin motorcycles, one could be forgiven for thinking that owning one in stock form would be individual enough. But as with all stock motorcycles there are trims and tweaks that can make the most of what the factory intended.
We certainly credit Kurt's vision for this bike, knowing that with some classic plans and well thought out modifications it would turn into the impressively smooth and slimmed down W800 you see here.
This bike didn't need to reinvent the wheel, like the Kawasaki designers it just drew on a little history to create what is a true representation of a 'modern classic'.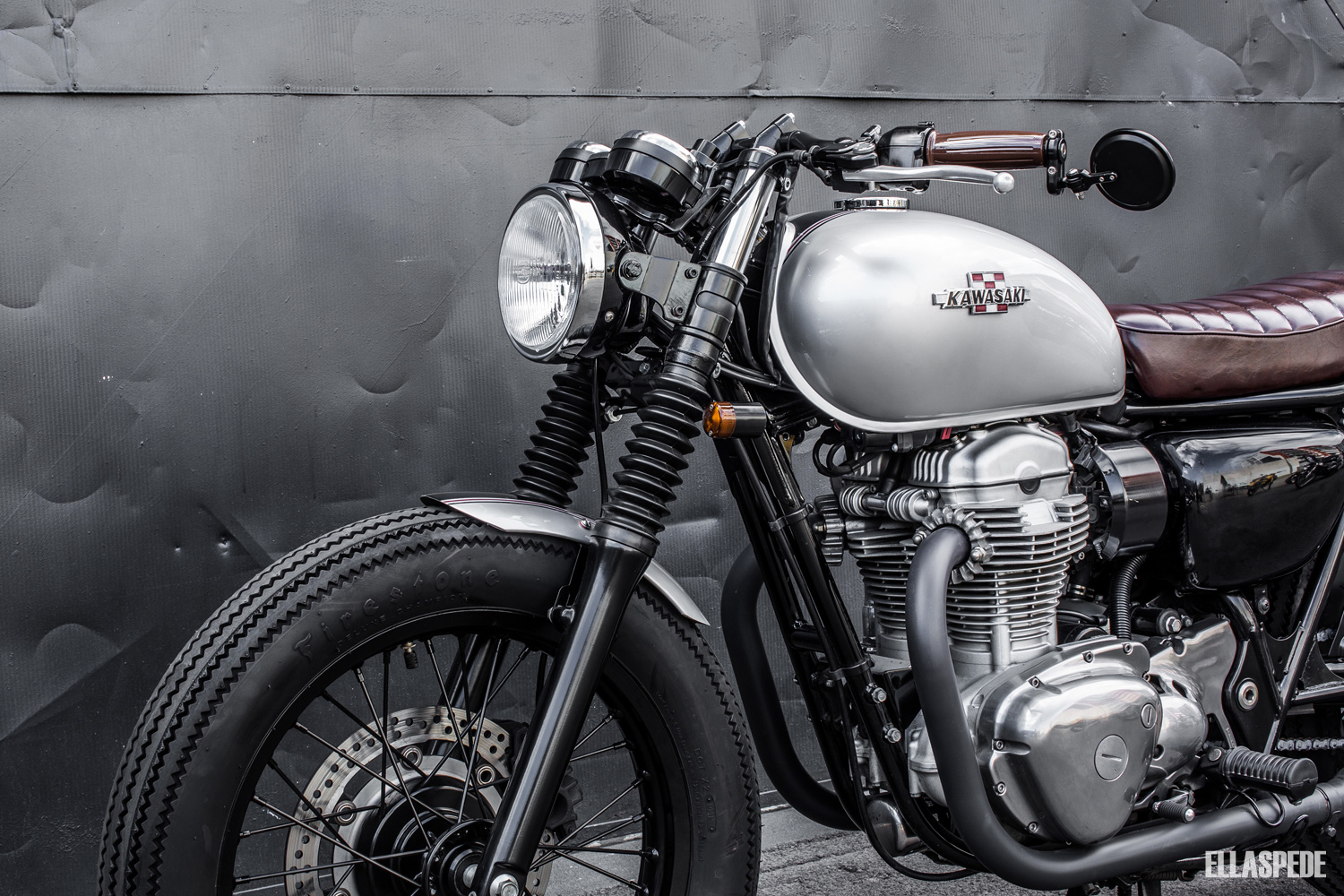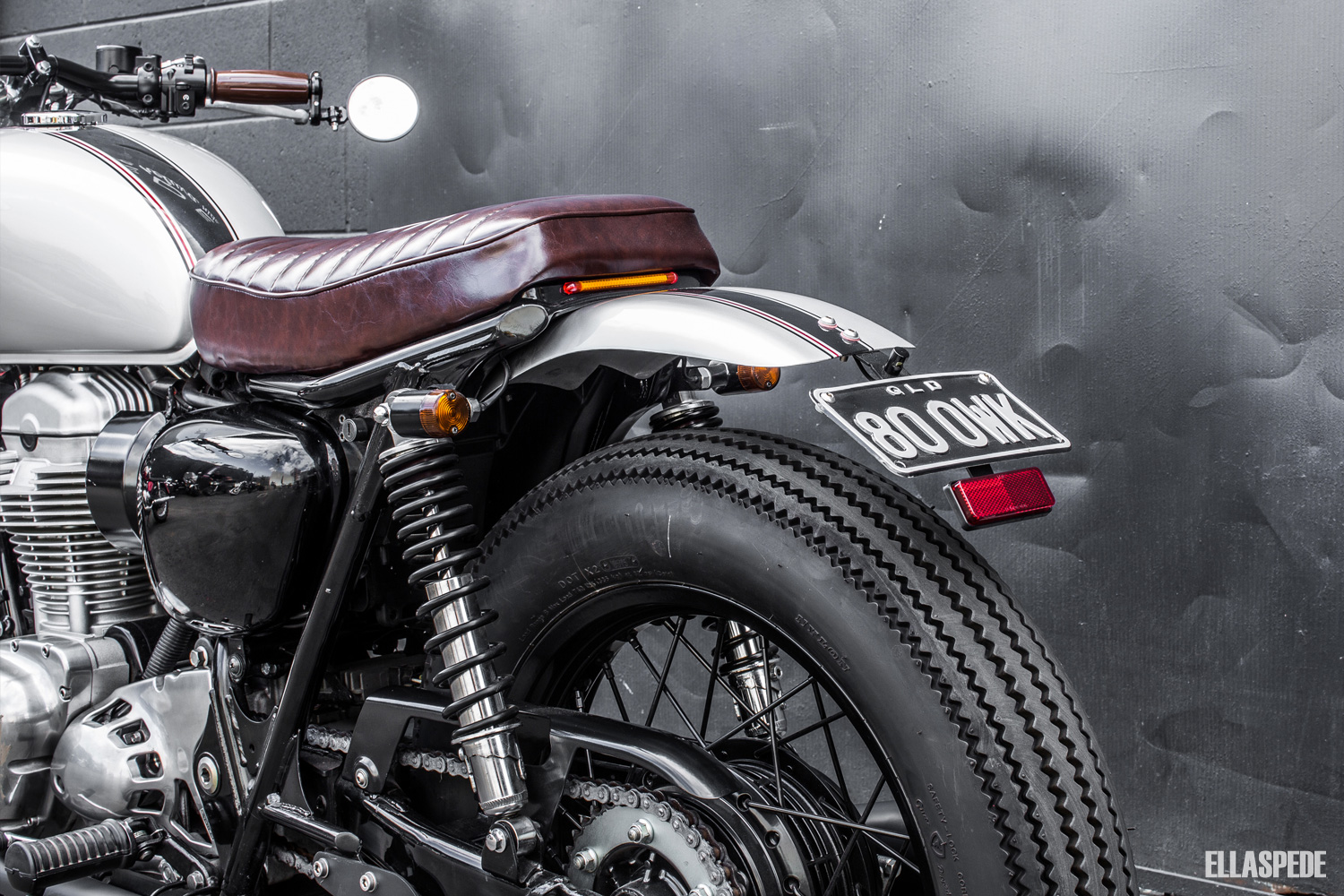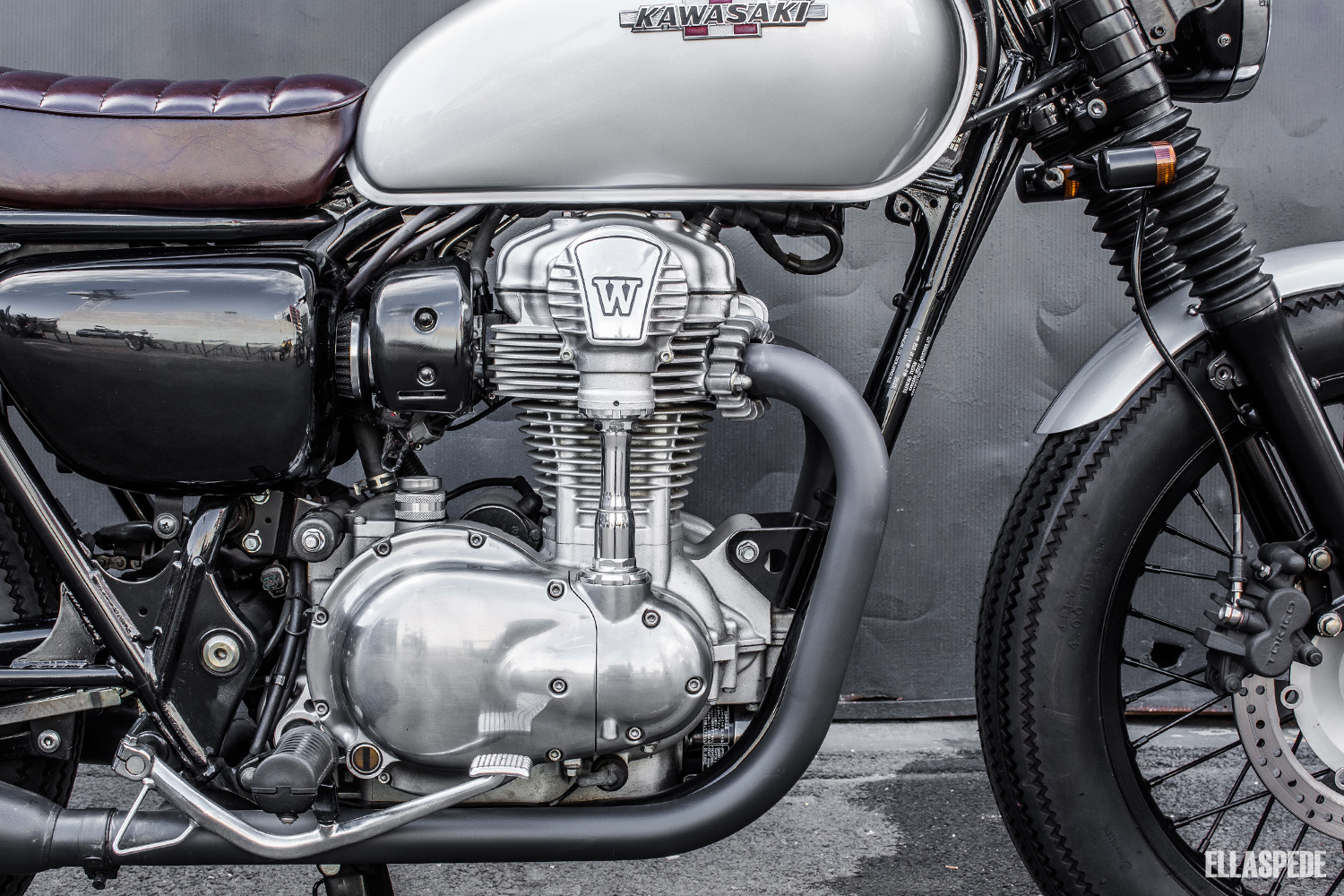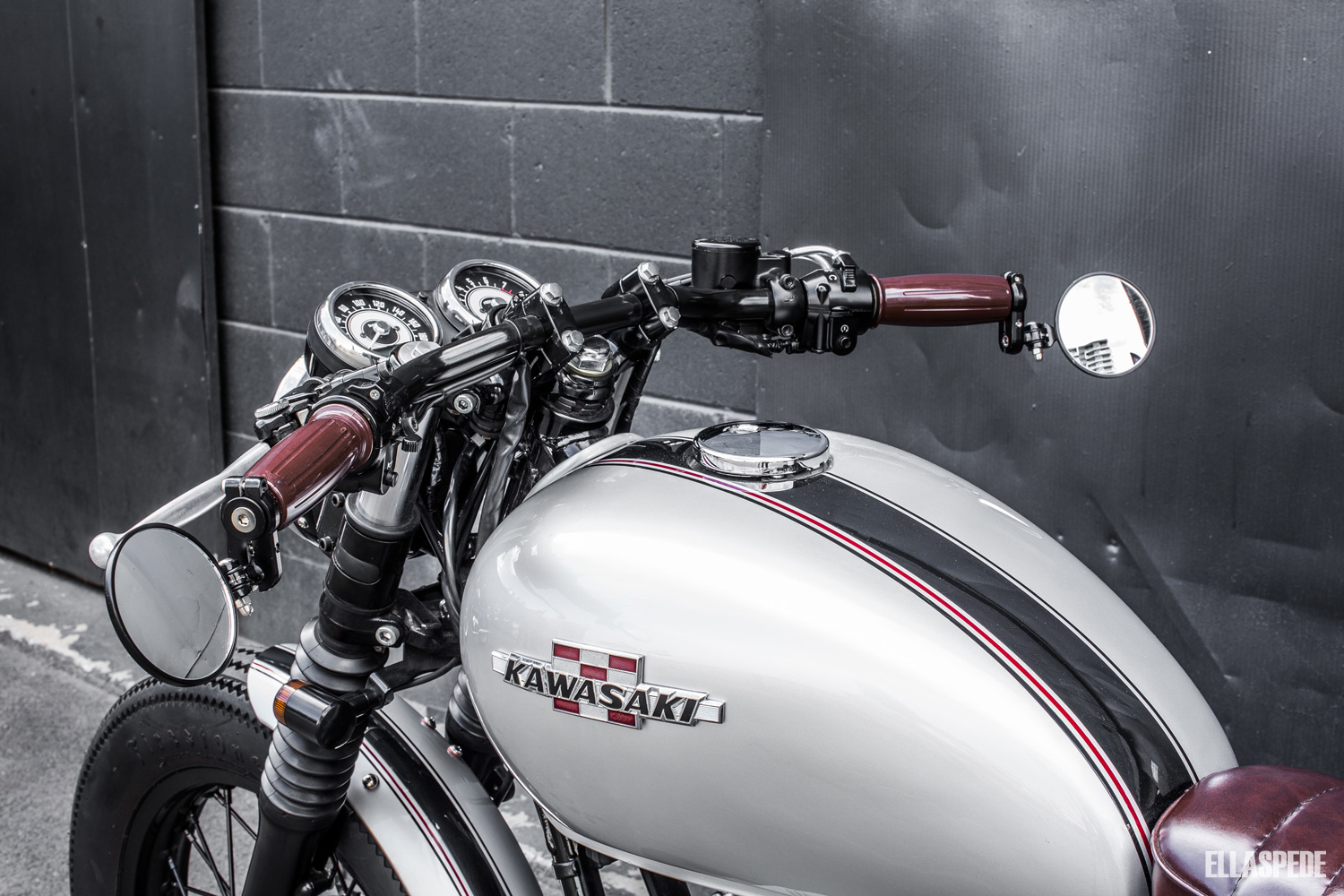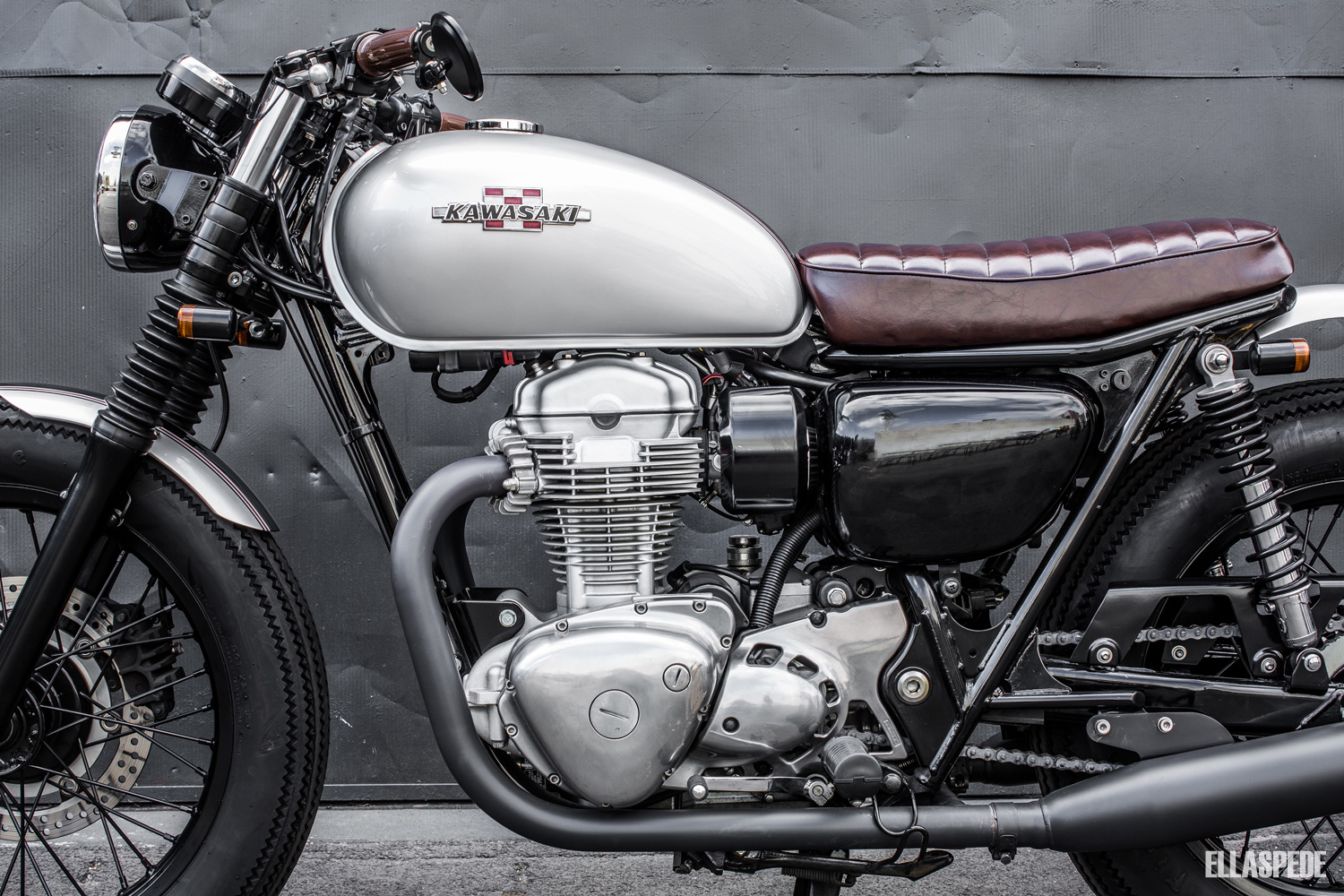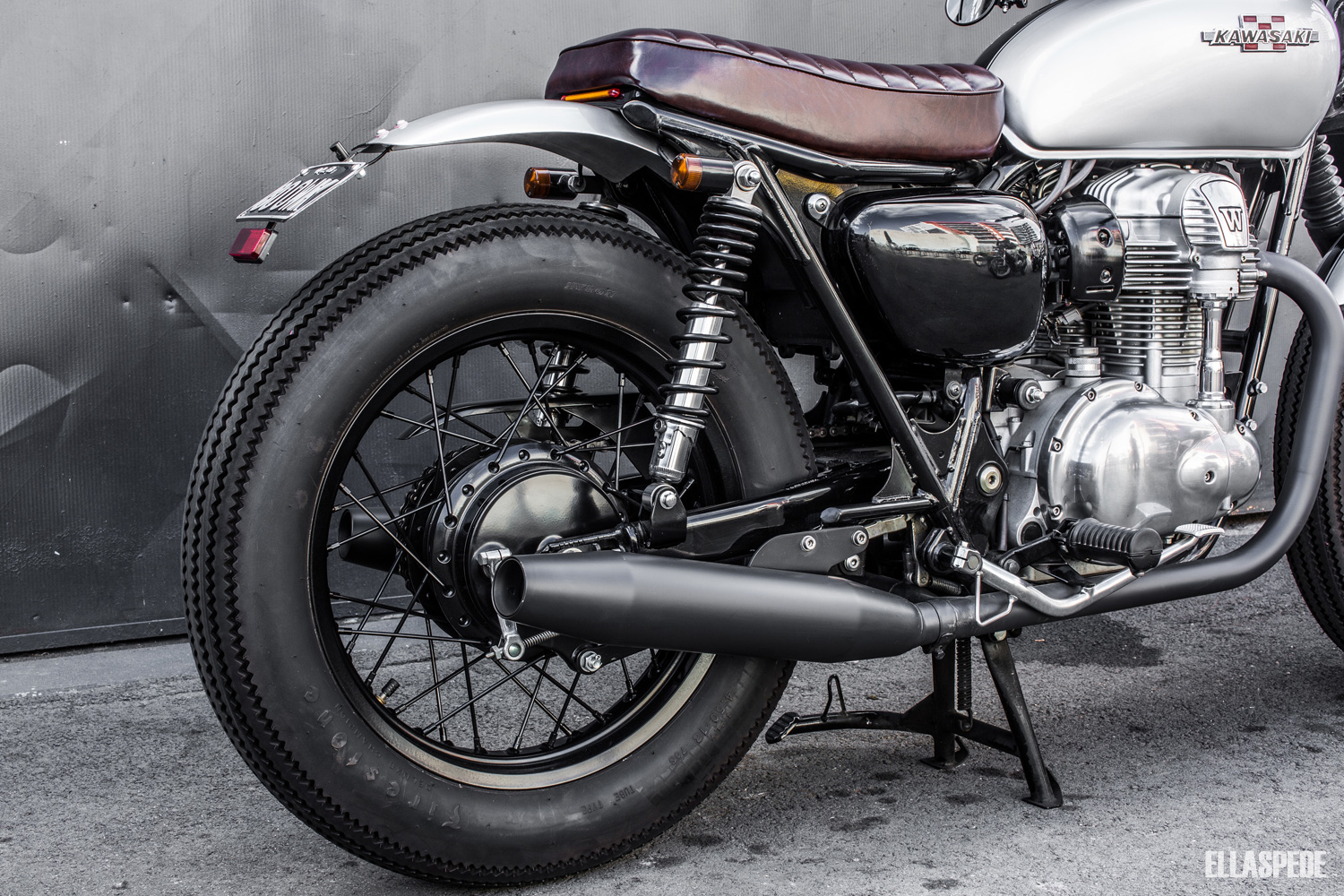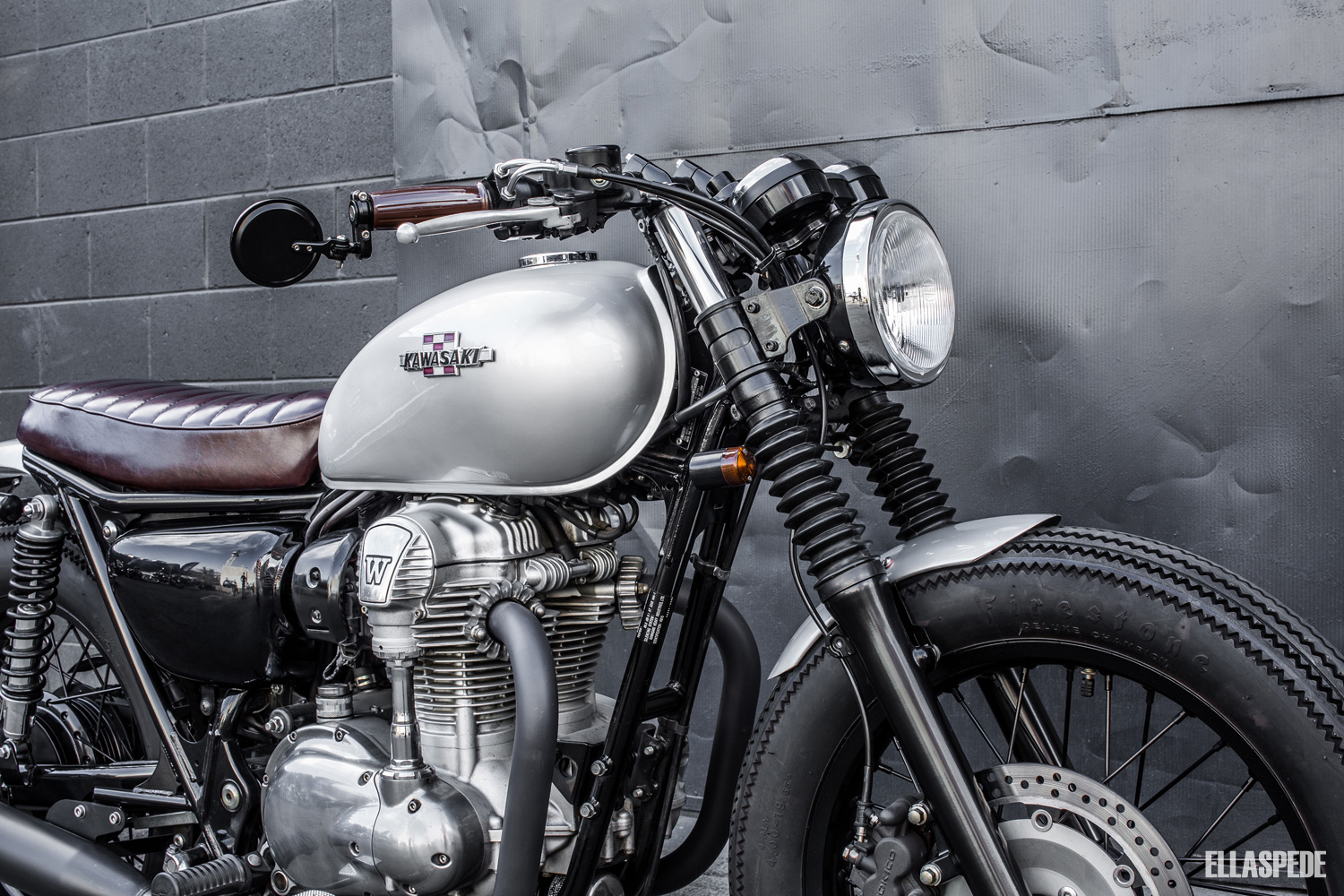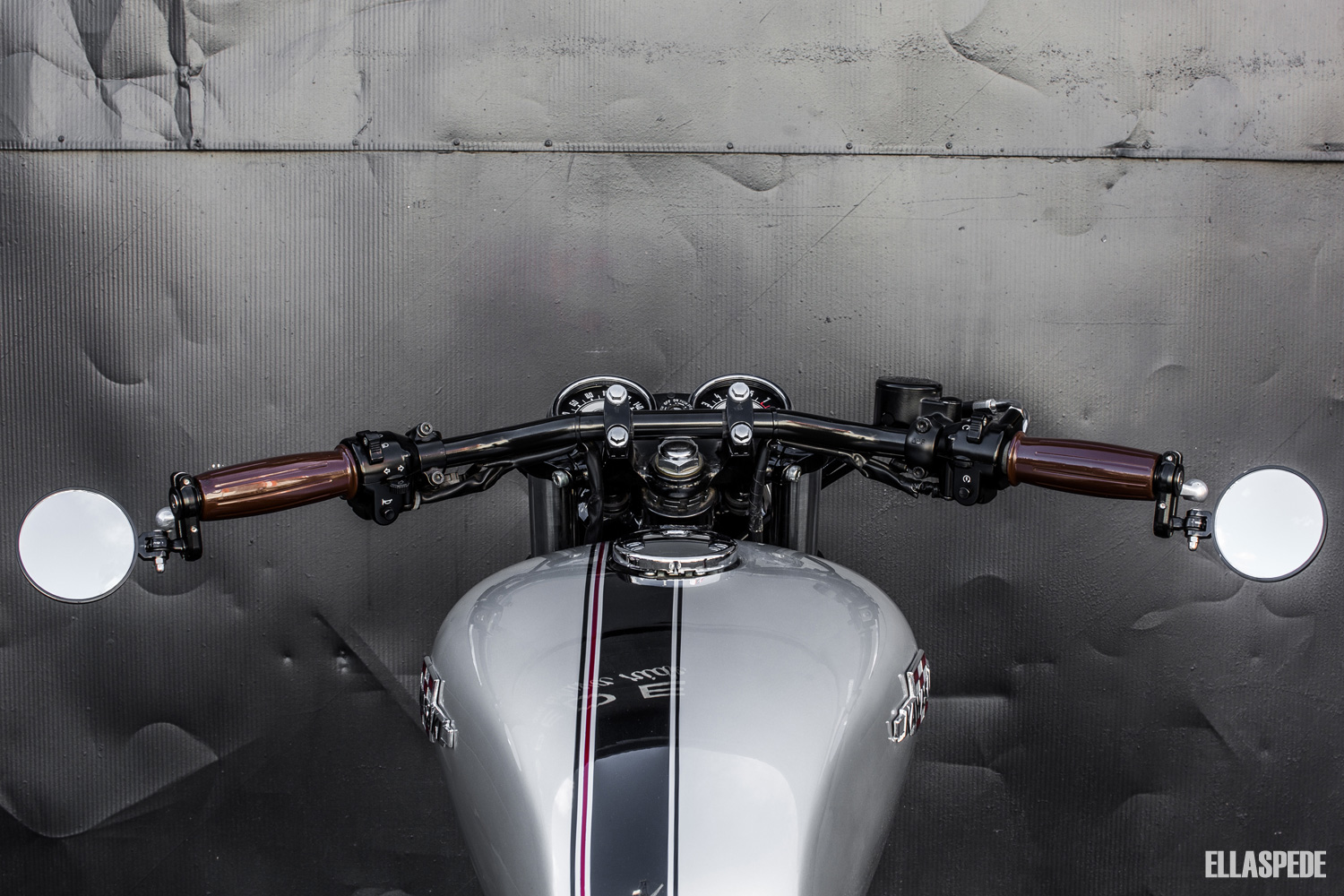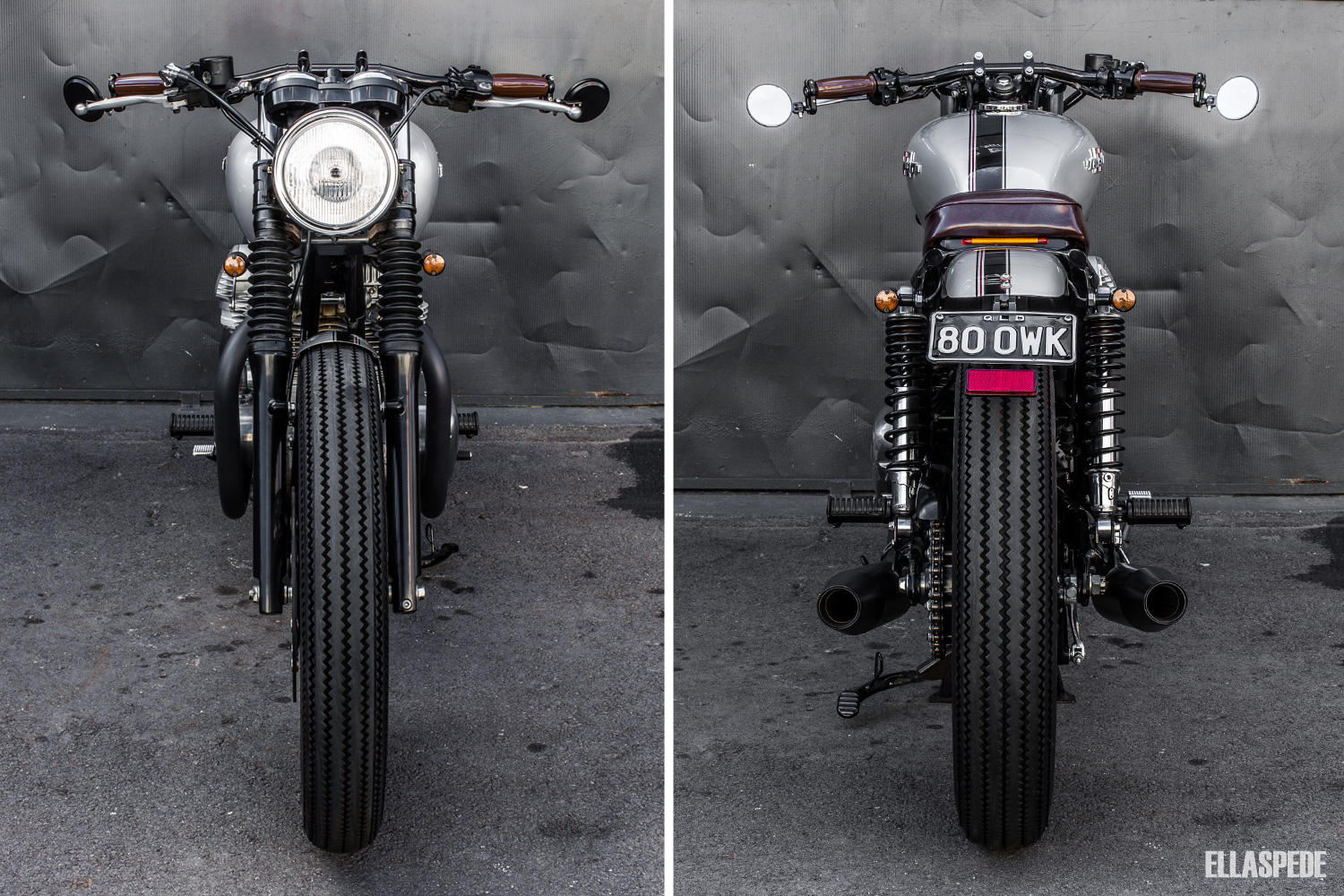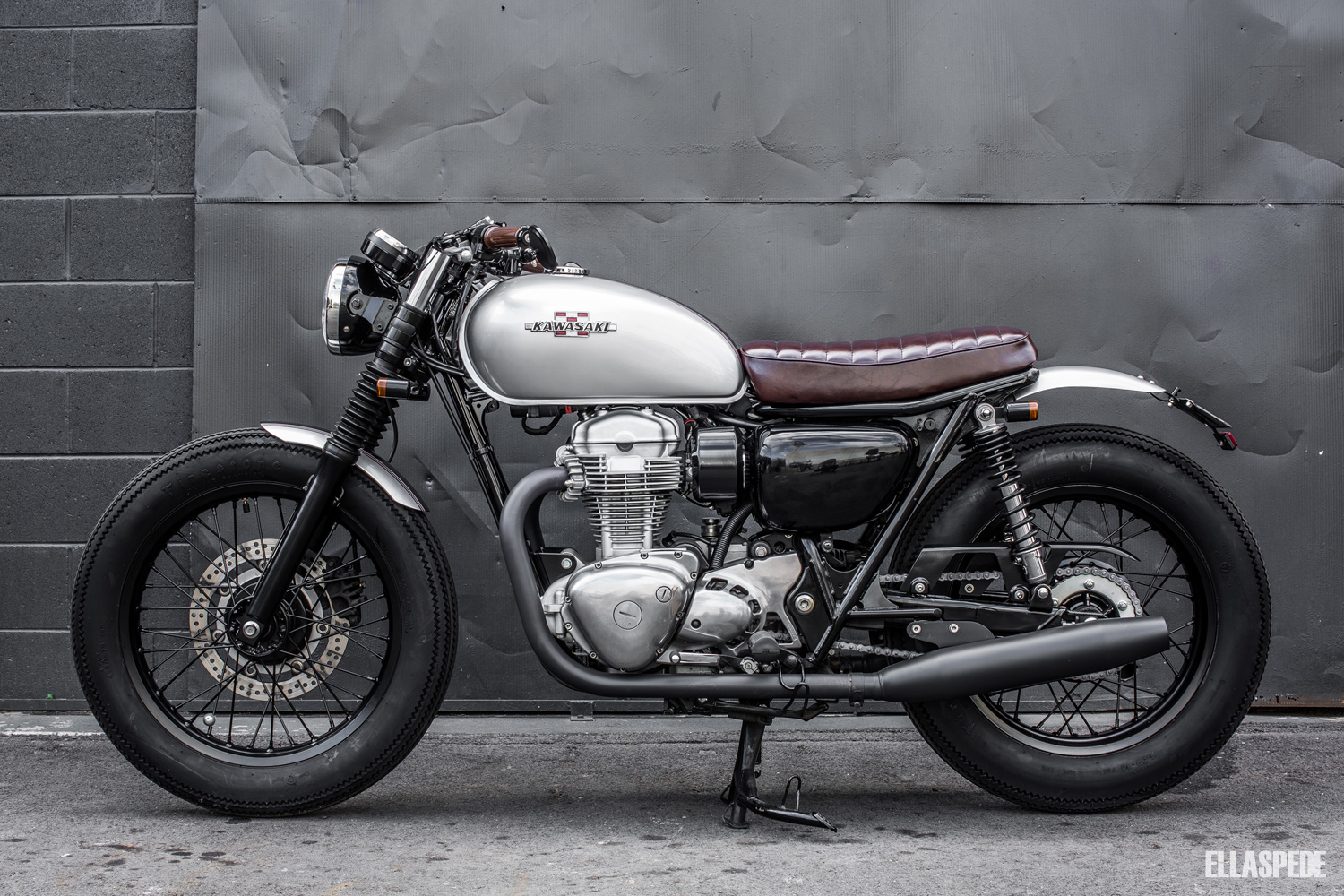 ---
Albums we listened to during the build of this bike:
---
Photos and Features:
---
---
Comments (6)
Mint

By:

Matt G

on 26 January 2022

Looks sick guys. Can you email me rough pricing for something like this? Thx





Ellaspede Response
Thanks mate, we're glad you like the build. We'll send you an email with some details. Cheers!
---
Front tyre

By:

James

on 27 November 2020

To fit that firestone tyre on the front did you have to raise the front fairing mount further up the forks? Looks like it's a tight fit. Thanks.





Ellaspede Response
Hey James, Yes from memory we had to slightly raise the front guard mount to clear the taller profile Firestone tyre. Cheers
---
New tank or smoothed tank?

By:

Ed Williams

on 12 November 2020

I'd love to understand how you achieved the smooth tank look. Did you smooth off the original tank yourselves, or buy a new tank? If you smoothed it off, did you weld in plates first to fill most of the knee grip indents, or did you only use filler or fibre glass filler?





Ellaspede Response
Hi Ed, Thanks for the great comment, we're glad you like our W800 build. For the knee grip mounts we replaced those sections with steel, then file finished and smoothed with minimal filler. Bit of work but the result is worth it! Cheers
---
Kawasaki W800 tank logo

By:

Yuichi Yoshida

on 1 September 2020

I saw your YouTube about EB415-2013 W800. Tank logo is very impressive! Can I buy that logo from Japan? Could you send it by mail ?





Ellaspede Response
Hi Yuichi! Great to hear from you from Japan. We don't sell the tank logo, our client found it online but we're not sure where from. We hope you can find one too! Cheers
---
Magnificent !

By:

MARCO (Rome, Italy)

on 19 March 2019

I'm thinking about giving myself a 60th b-day present by buying a used W800 from a friend who's selling it and making it as close as possible to yours....fingers crossed. To you, guys, only big big
---
Spectacular

By:

Marco

on 31 August 2018

I own a W800 I hope sooner or later to get so well done job.
---
Leave a comment