EB1148 - 1995 Honda Dominator NX650
Author: Ellaspede Date Posted:10 March 2023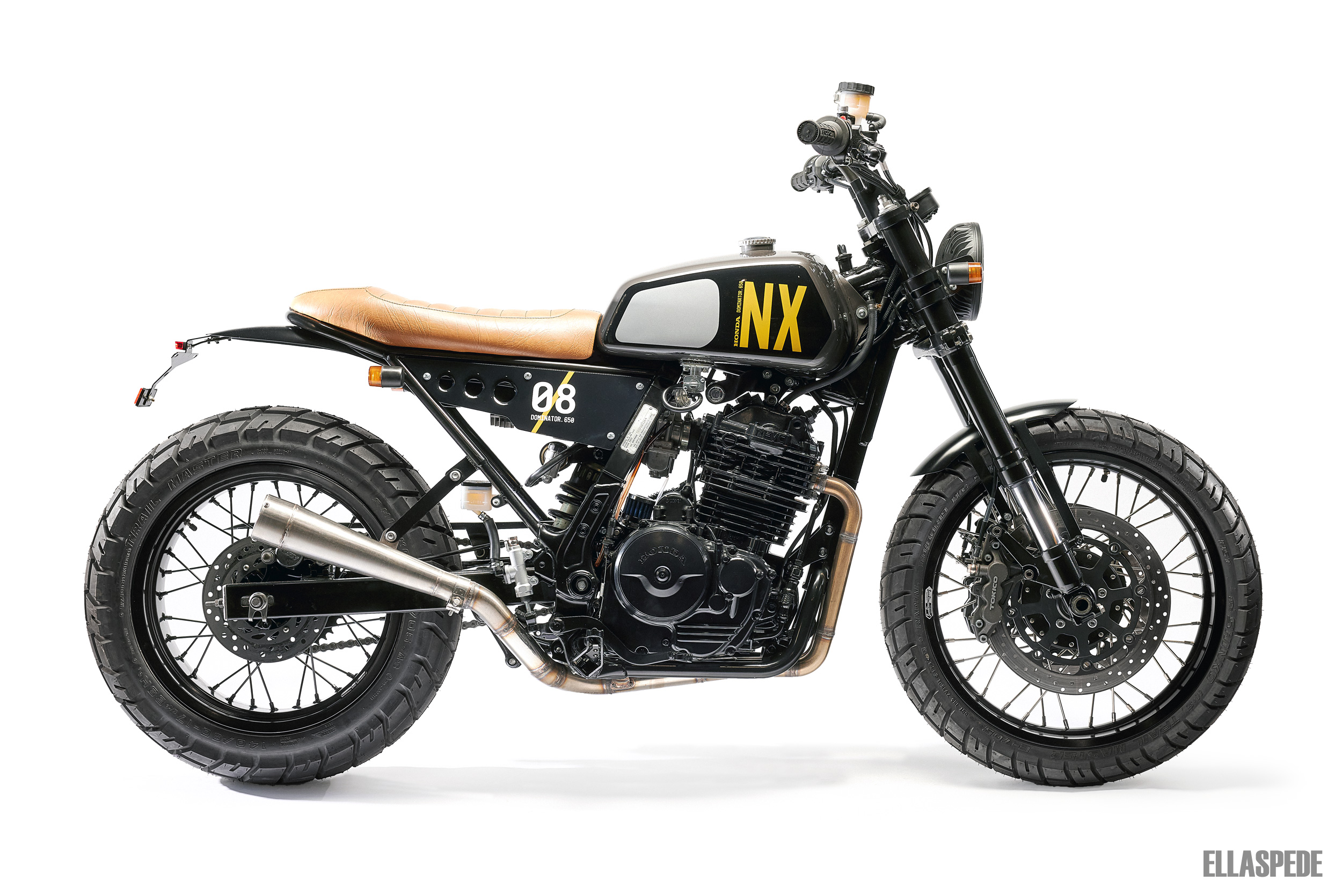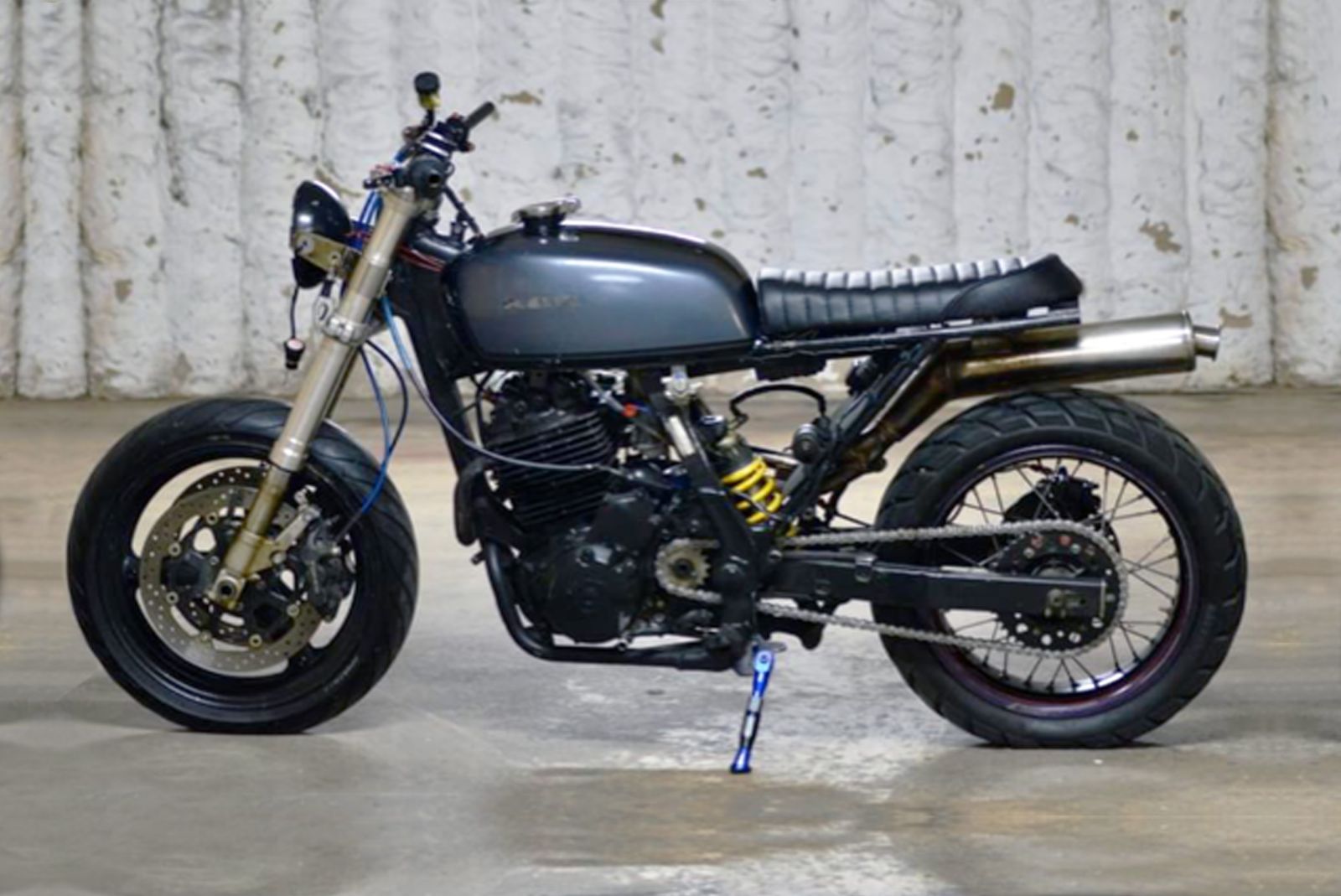 When sourcing a donor bike for a custom build, usually buying an already modified and unfinished project sight unseen isn't the recommended procedure. But owner Prince was intent on making 'a silk purse out of a sow's ear' when this 1995 Honda Dominator NX650 turned up at his house.
Originally produced by Honda from 1988 to 2003, the Dominator NX650 was a dual-sport motorcycle that could handle general on and off-road riding with ease. The air/oil cooled 650cc Honda engines were largely renowned for being robust and featured an electric start as well.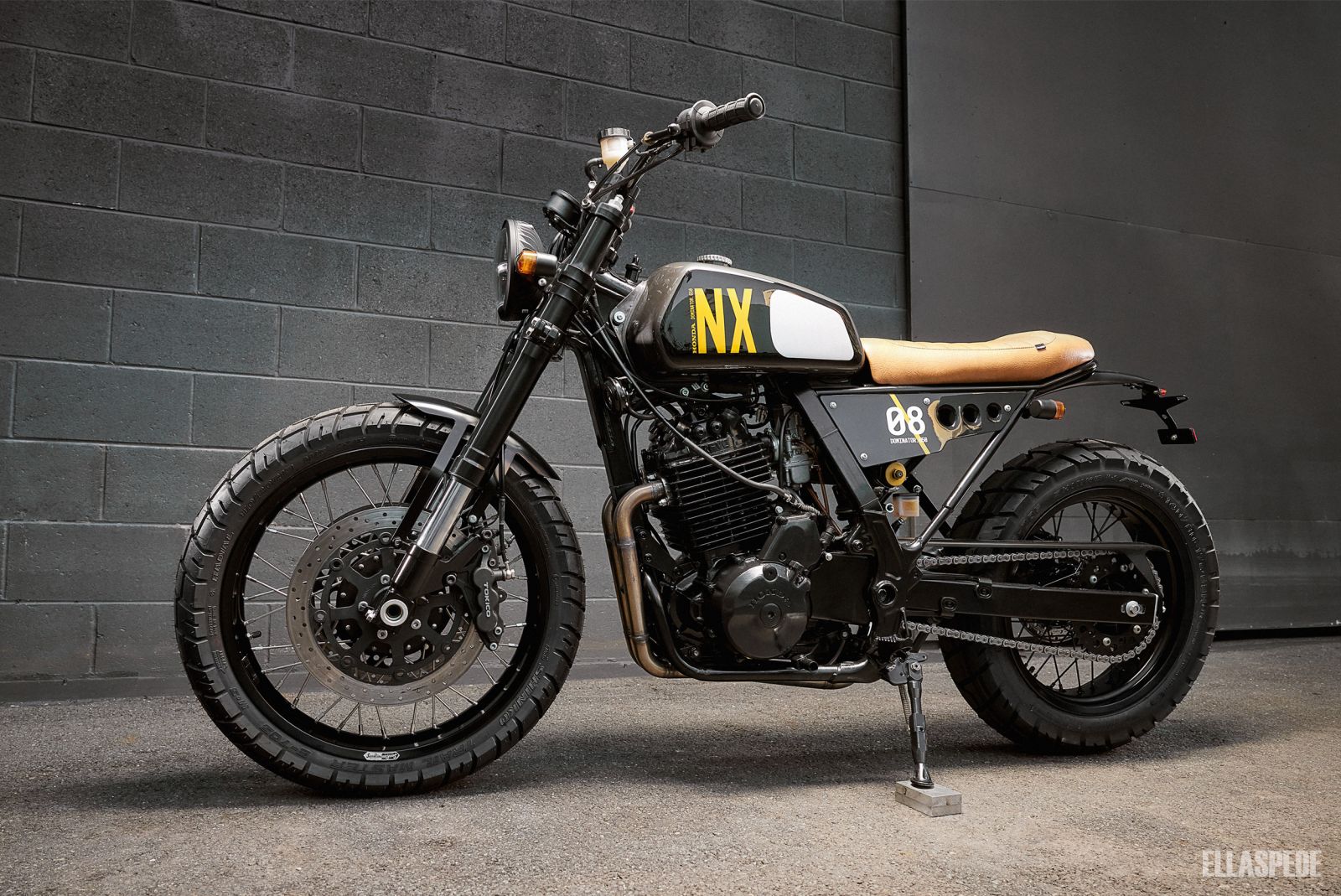 Layout was the general road trail adventure style as developed in the 80's and by the mid 90's this type of all round bike was really hitting favour with owners who needed one bike to do it all. Despite being nearly 30 years old, the bike's simple and reliable design mean that many in good working order are still kicking around today, being used for commuting, light off-road adventures and proving to also be popular for custom builds.
So they're a decent road trail bike, but why was Prince intent on using one for his current custom build? Well it seems the thumping Hondas had been a part of the family, Prince explains… "I always admired the old Thumper Hondas my dad had back in the mid 80s - Dad had recently passed away in 2020 and I had missed out on working on a bike with him, but I wanted to have a culture and build memories around bikes with my kids. I'd love for this to be a legacy bike for them to hold onto into the future."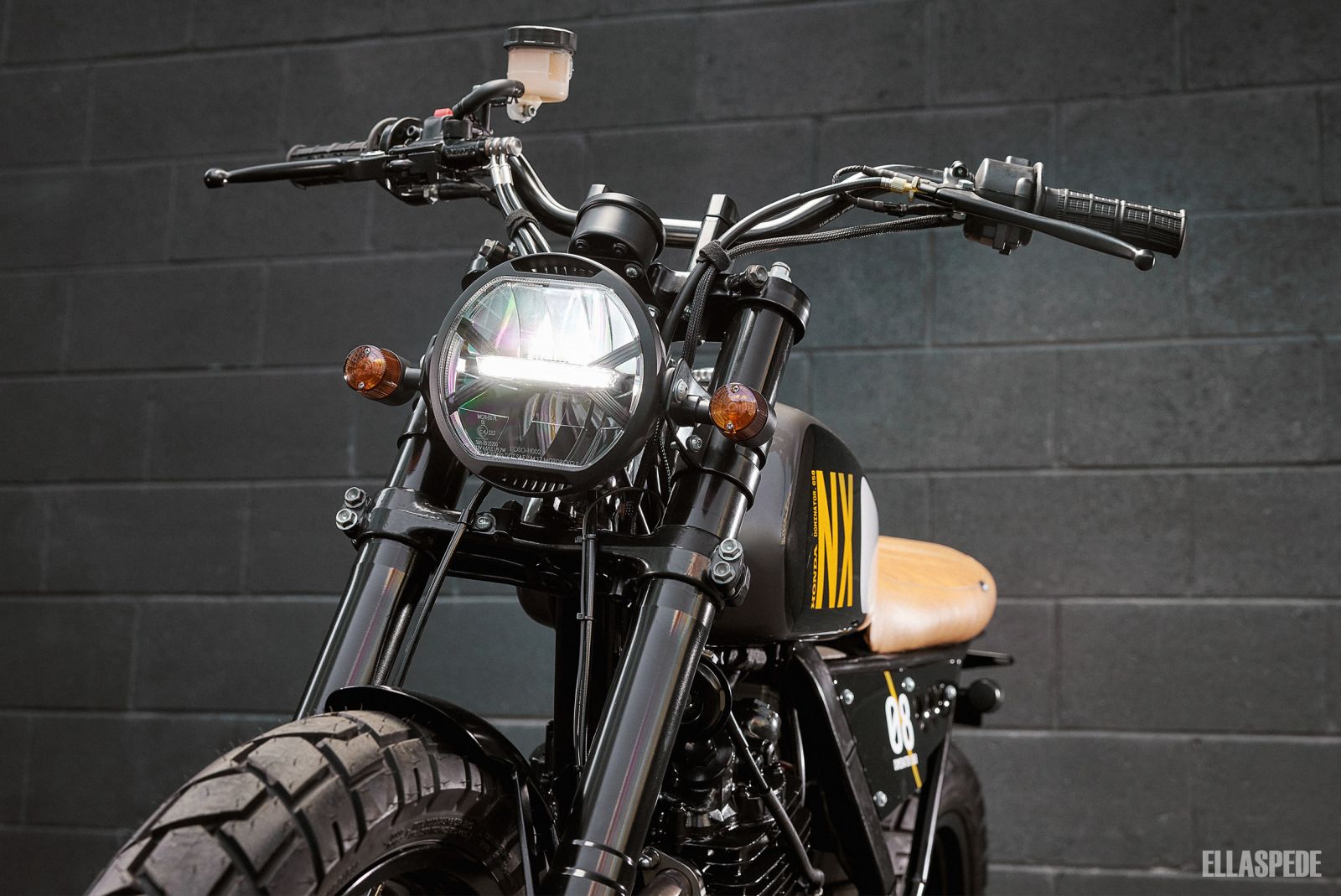 Donor bikes that someone has already started customising can be an attractive pickup when embarking on a build as they can already feature some of the parts you want (upside down front end, aftermarket tank, modified subframe etc) and none of the factory parts you'll be removing anyway.
But sometimes one step forward means 2 steps back and with the bike in his possession the project took a little turn… "I figured it might be something I could work on in my non existent spare time. But once I knew the project was a bit out of my realm of expertise I decided not to do things in halves and just went all in on the project to see what might come out the other end. I came across some of the Ellaspede work featured on BikeExif and after my first chat with them I knew they would get what I had in mind."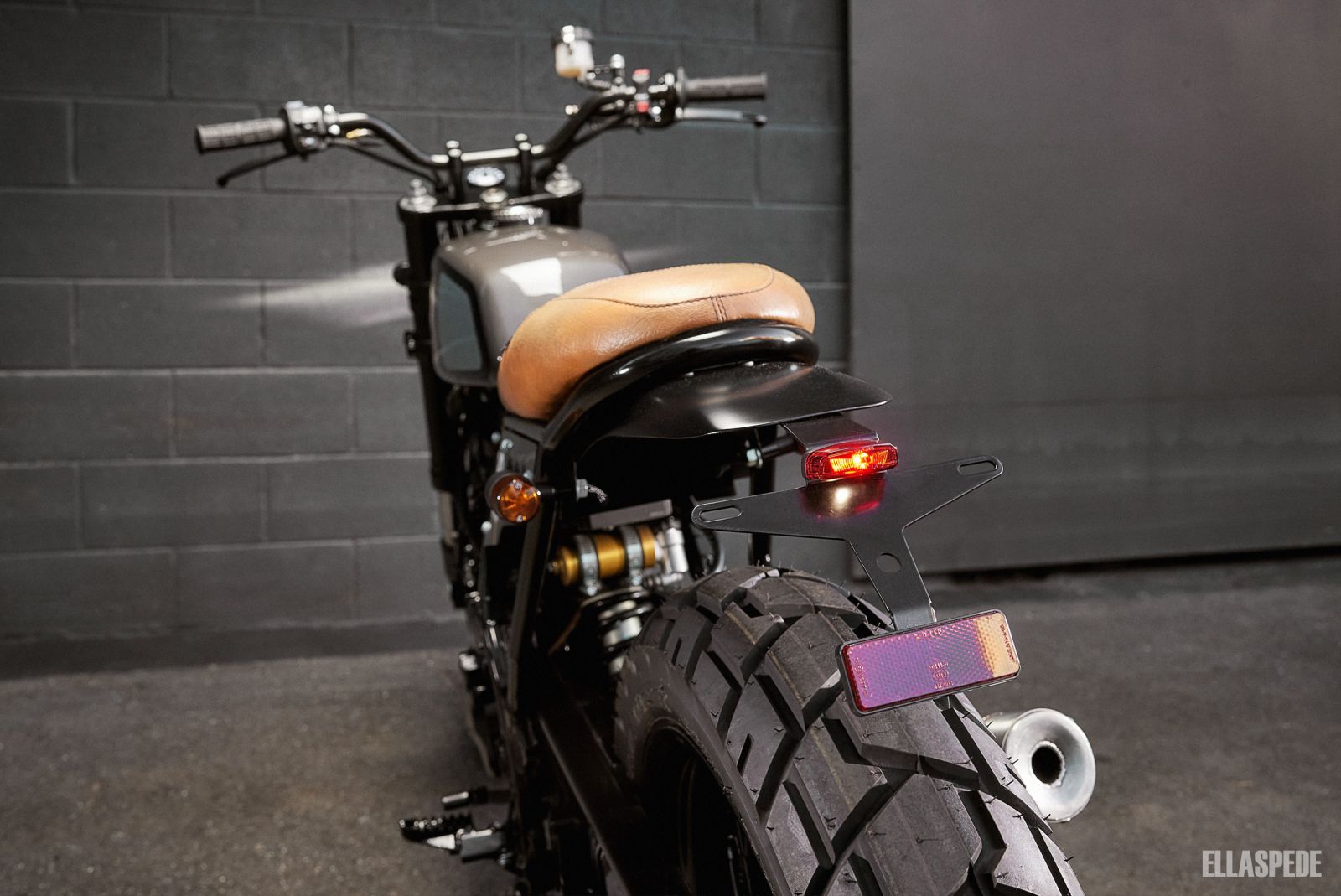 With Prince's vision set, the Dominator rolled into Ellaspede for the build to begin. It was around that time we realised we really were going 'all in on the project' with Prince, as almost every part except the engine required rebuild, replacement or refurbishment.
Getting the overall stance right was the first port of call. The bike came with a Suzuki GSXR750 front end which needed to be rebuilt, refinished and shortened to suit a new larger diameter front wheel. A Cognito Moto spoked front wheel in 19" now provides a more classic wheel size up front and also matches the spoked rear rim in 17" at the back. Wrapping up the new wheels are Shinko E705 tyres.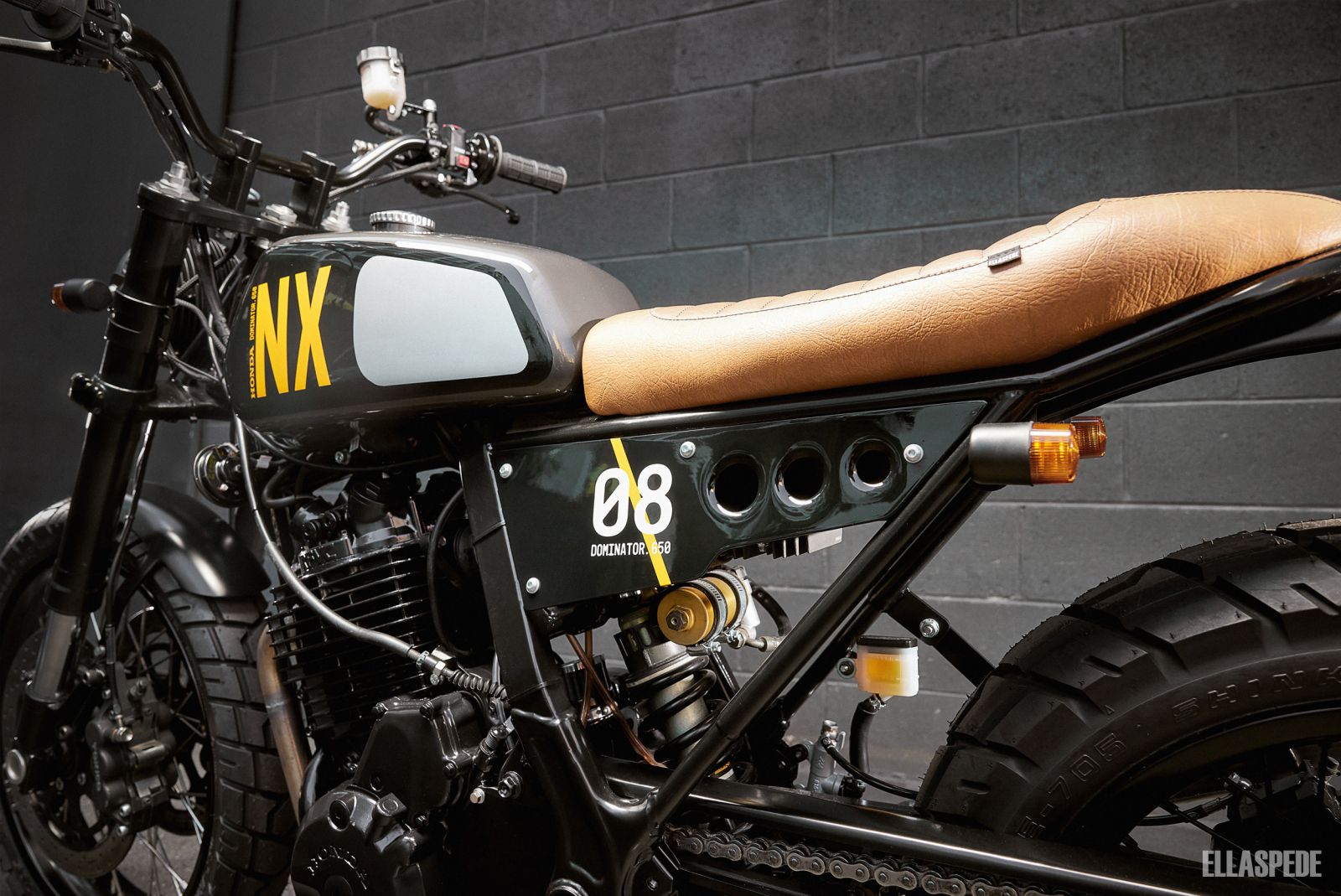 The old Honda CB tank that was sitting in place when the bike arrived pushed the seating position too far back, so it was ditched in favour of a vintage Husqvarna tank which was shorter and provides a classic MX shape.
The factory rear subframe had been attacked, so some straightening and strengthening was required before a rear hoop was welded on. Once it was cleaned up of all unnecessary items, brackets and tabs were welded on for the rear guard and custom made electrical box under the seat.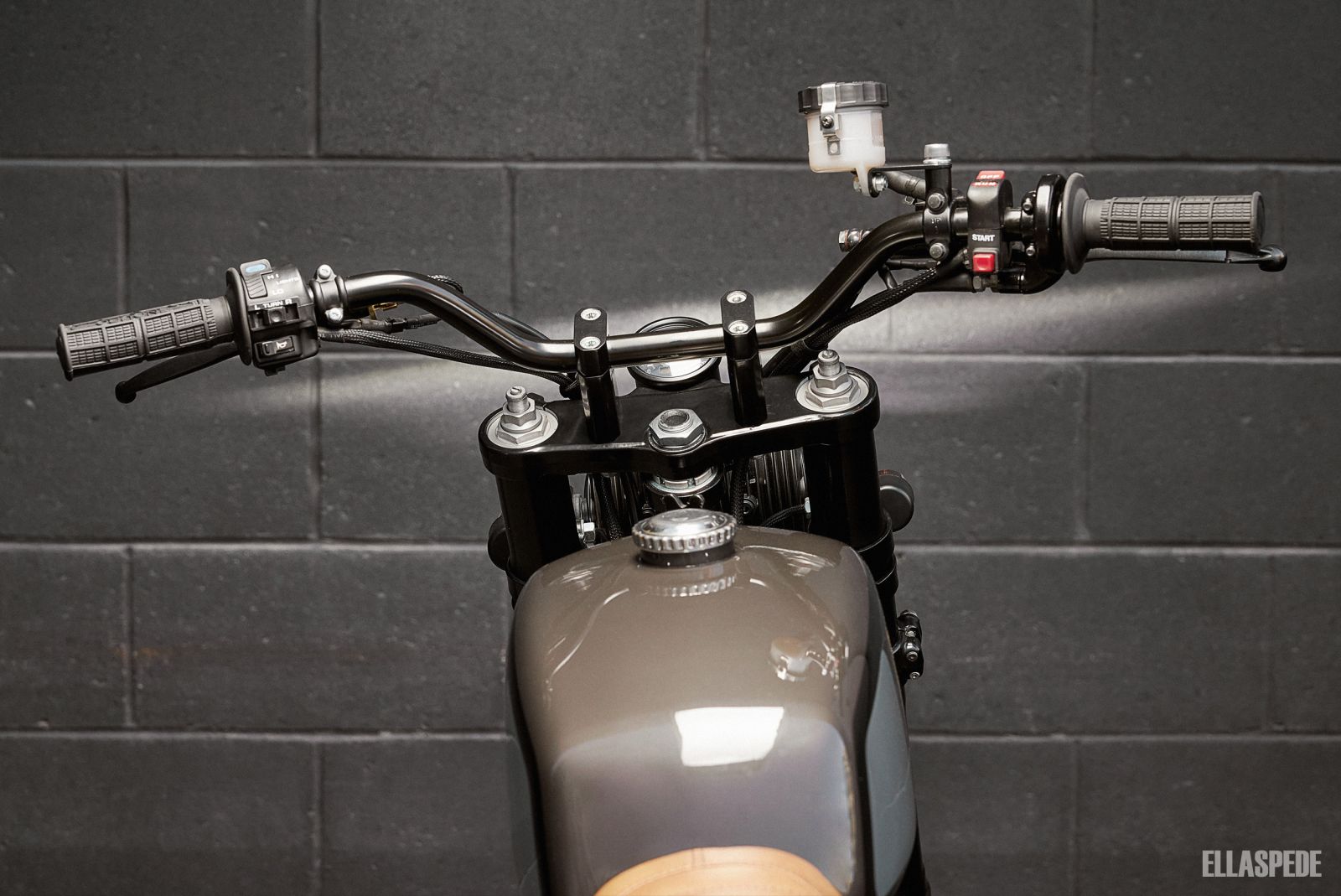 A custom steel seat pan was fabbed up to match the shape of the rectified subframe, now featuring a quick release catch for easy access to the electrics underneath. A steel rear guard was also shaped up for the rear, with a matching steel guard made for the front as well.
Side covers are now custom aluminium sheet units with dimple die 'speed holes' providing some nice detail to cover up where some of the electrical components are housed.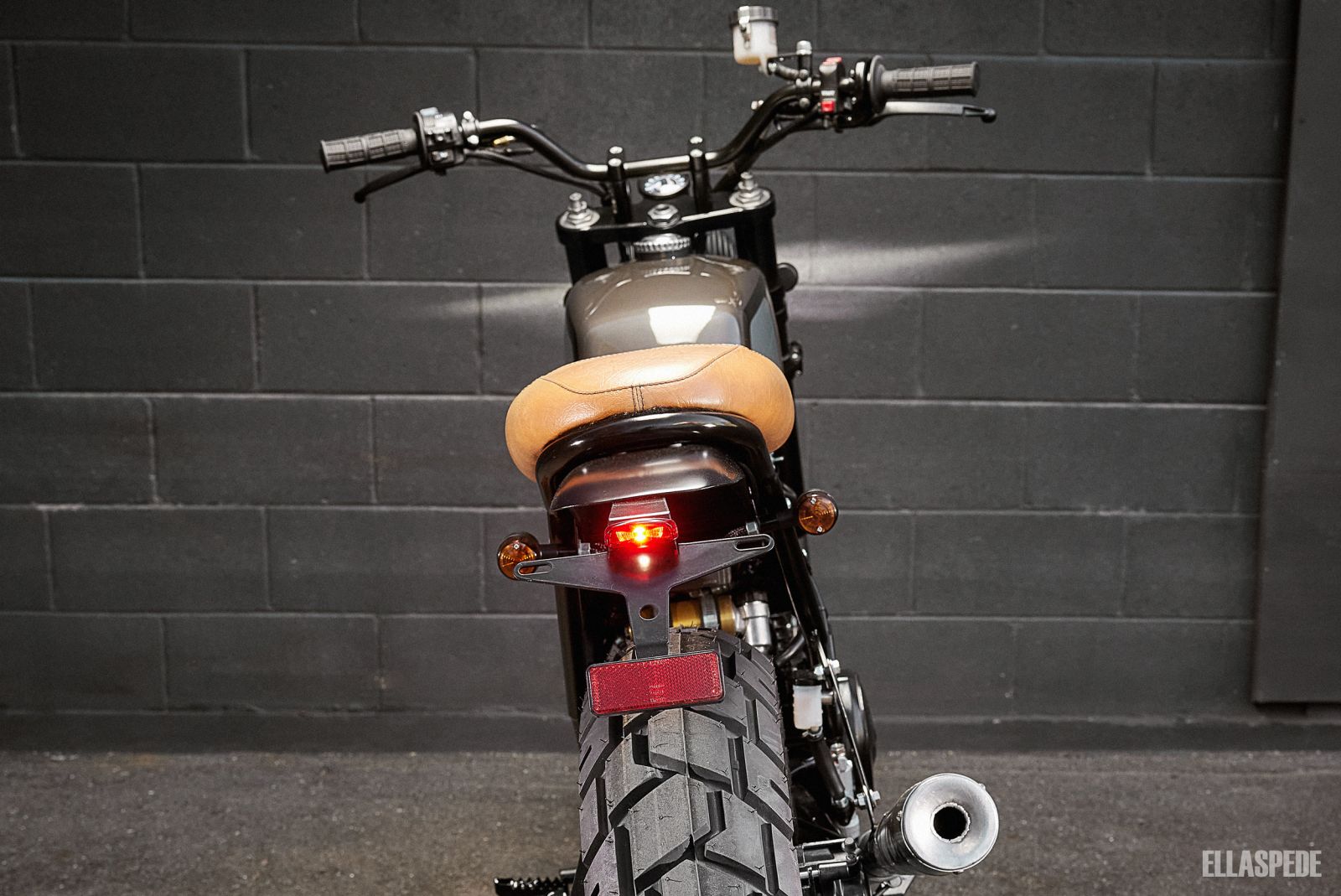 The exhaust which came on the bike was unusable, so we opted for a full custom stainless 2-into-1 system that exits through a mid height custom made muffler. Laser cut flanges and a custom muffler bracket it keep it connected to the bike.
Various other brackets and mounts were made and modified to get all of the new items strongly sitting where they should as well. Modified steering stops also prevent the chunky GSXR forks from introducing themselves to the sides of the tank at full lock too.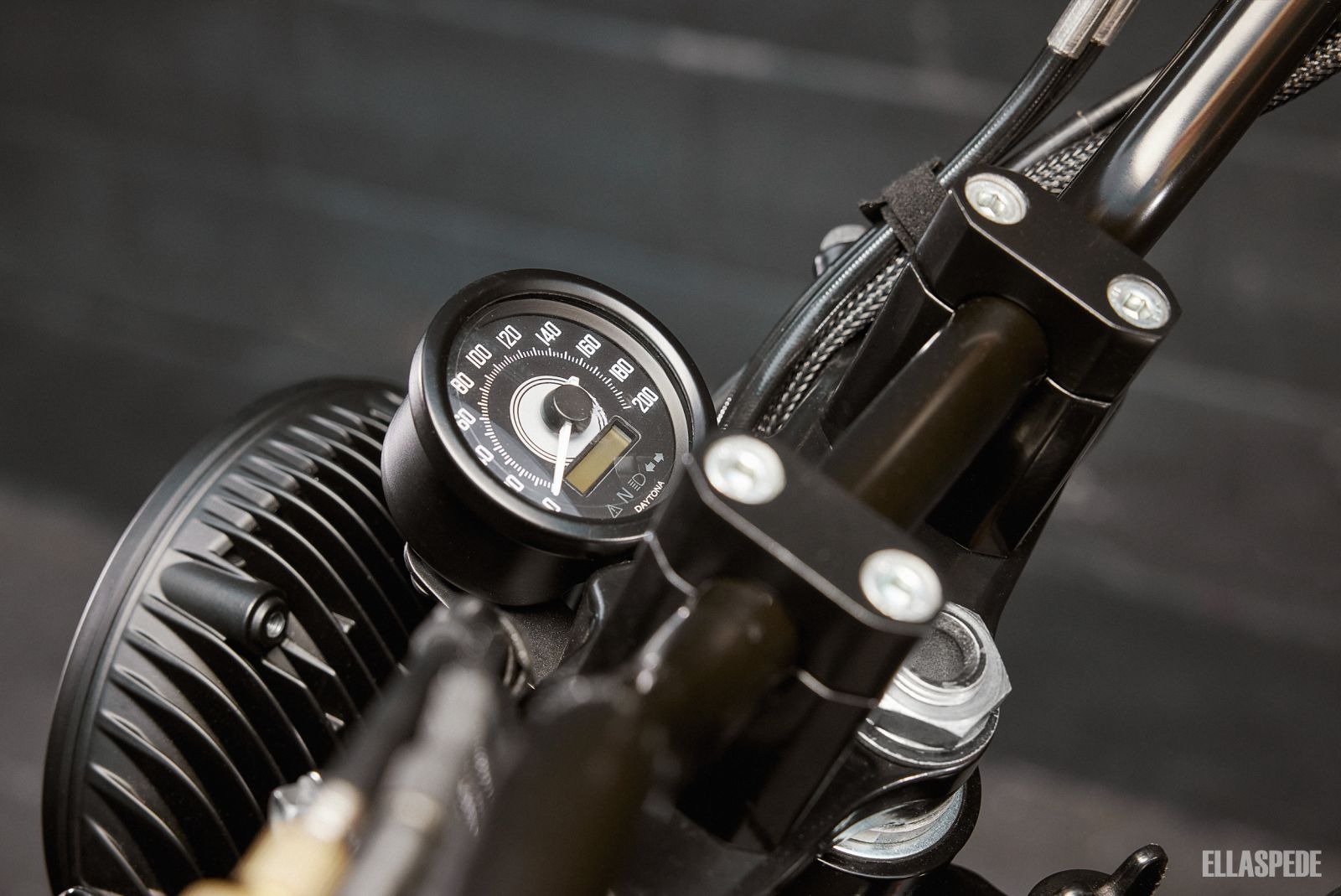 The achilles heel of an old bike is often the electrical system and this NX650 did not disappoint in that department. With testing we eventually found that every component needed to be refurbished or replaced. A custom wiring loom now ties the whole lot together.
With the spark sorted, the engine sucks through a Mikuni TM38 carb breathing fresh air from a UniFilter air filter, before gasses exit through the previously mentioned stainless exhaust.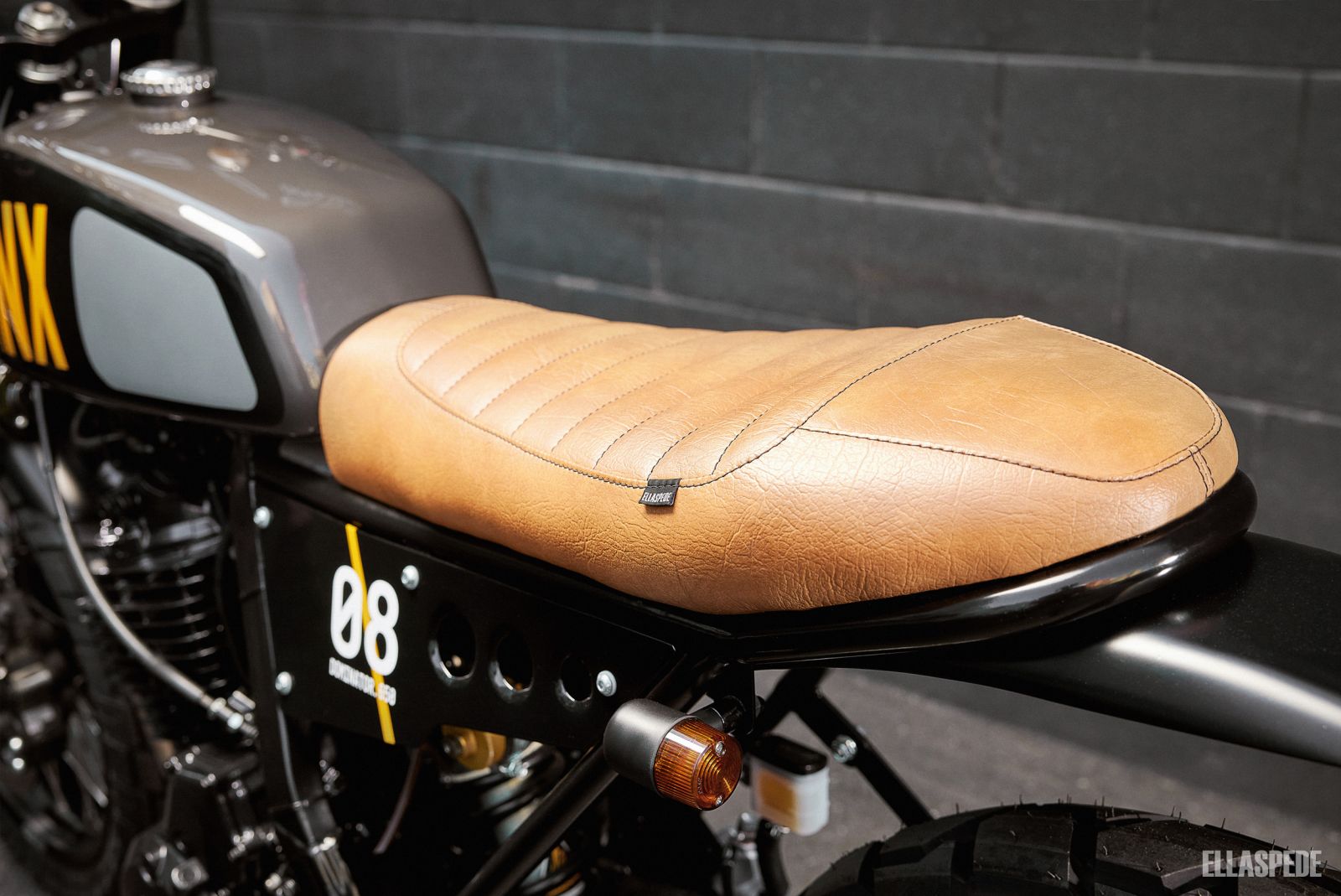 A Daytona Velona gauge keeps an eye on the speeds, while Koso take care of the lighting front and rear with a Koso Thunderbolt headlight and a Koso Hawkeye LED tail light. Posh indicators mark the signals as Prince keeps it all under control with new bars, switches, levers and Daytona mirrors.
Prince was keen to have the bike looking as clean and black as possible, so with most of the major fabrication complete it was a total teardown before all of the parts were sent off for final finishes. The frame a most of the other components were treated to satin black powder coat, while the engine received a lick of high heat black as well.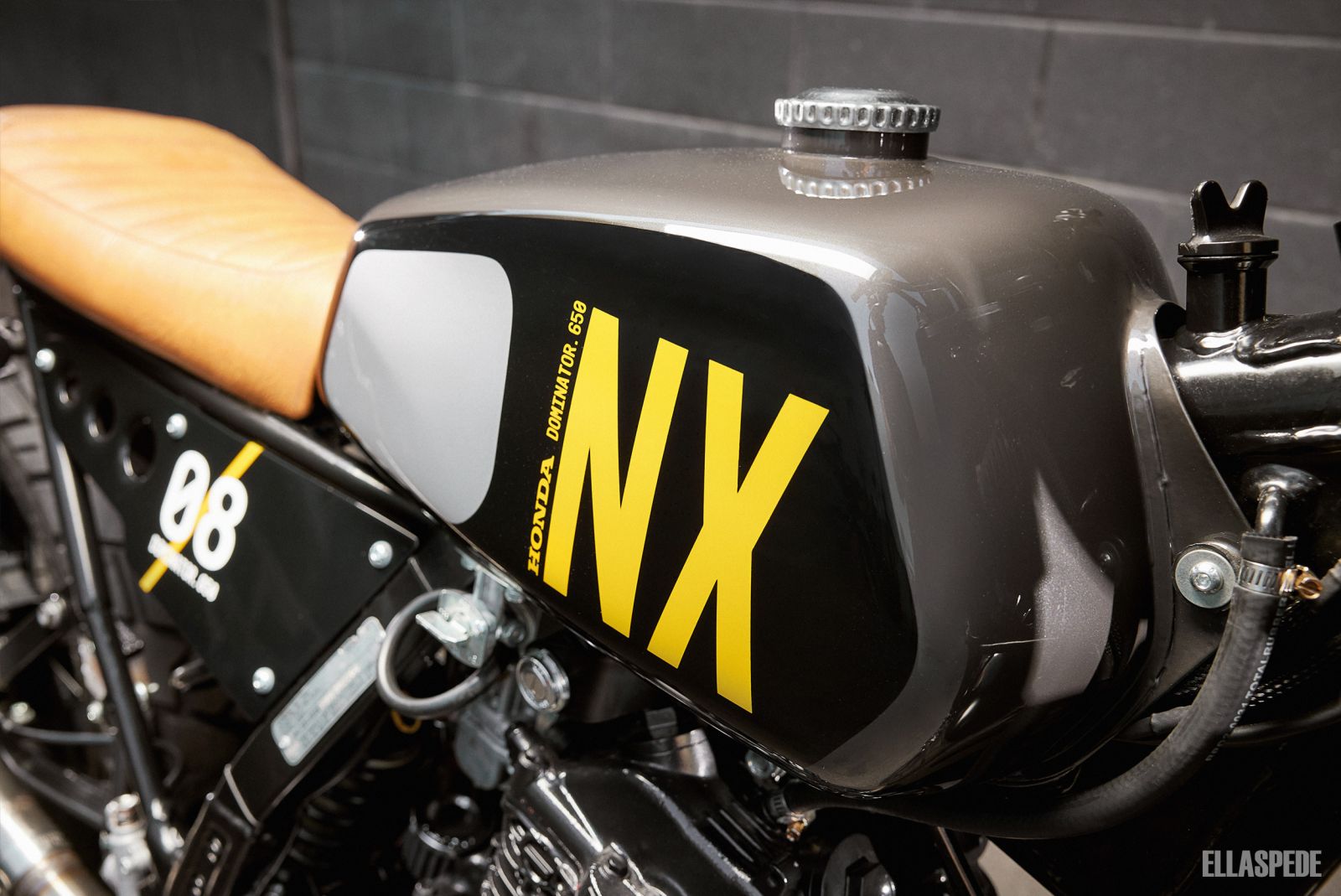 The fresh parts were all going back together with new bearings and seals throughout, including items like brake callipers and masters which required rebuilding and cleaning as well.
A full comfort foam seat was shaped up with some extra width for comfort on longer excursions before it was wrapped up in a mid tan motorcycle vinyl that features a black horizontal stitch.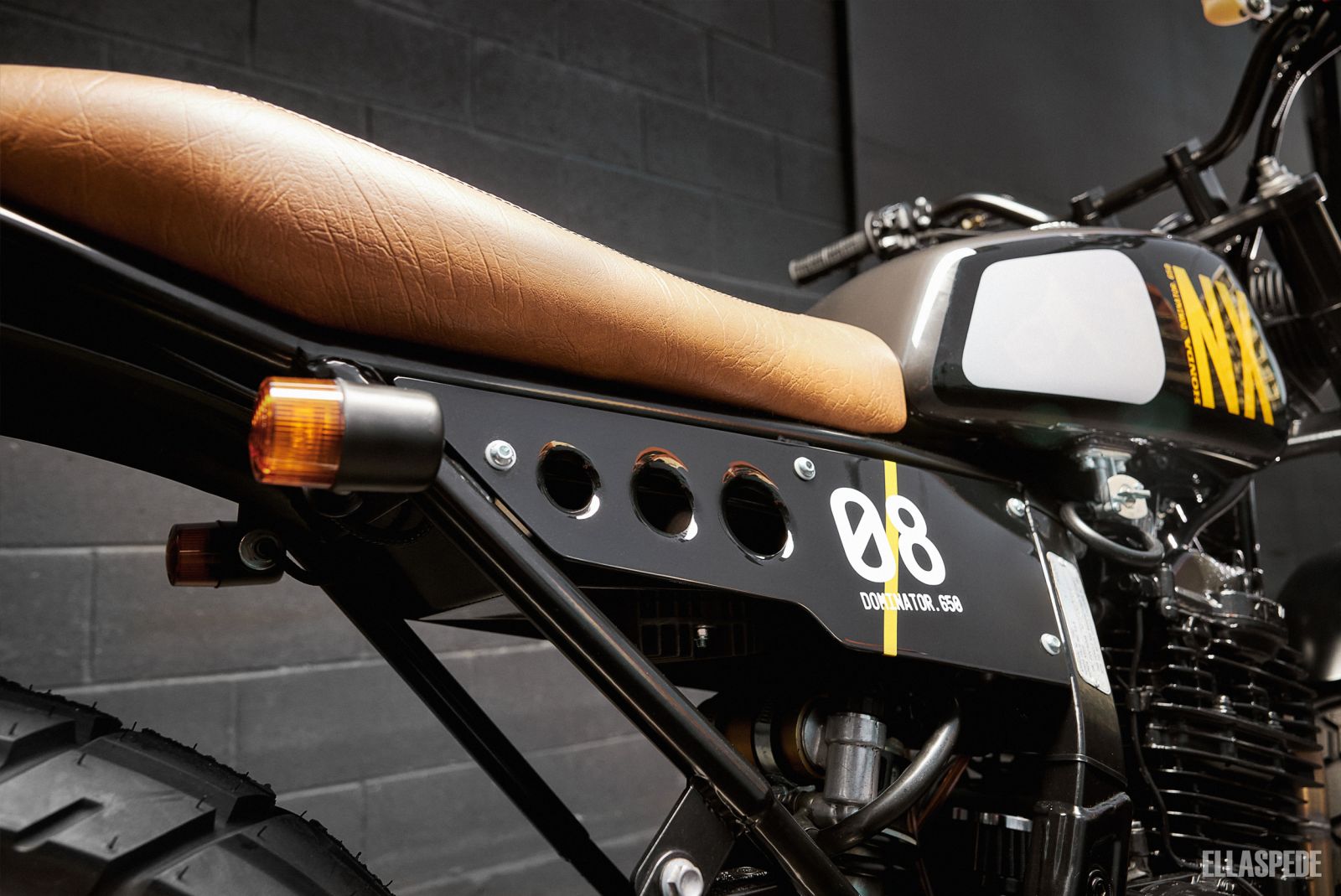 The Husqvarna tank features a two tone grey with black paint job, with the pop of colour across the tank and side covers being none other than the 'Rolls Royce Phantom II Star of India Saffron Ochre' yellow, but we're sure you already guessed that!
Tuning and testing are key for ironing out all of the bugs that come with an old bike base for a custom build, but once it was nearing the finish Prince said… "I have to appreciate the diligence and care that the Ellaspede crew have taken on this build… they persisted and kept the momentum going to finish something, given what they had to work with - which wasn't much."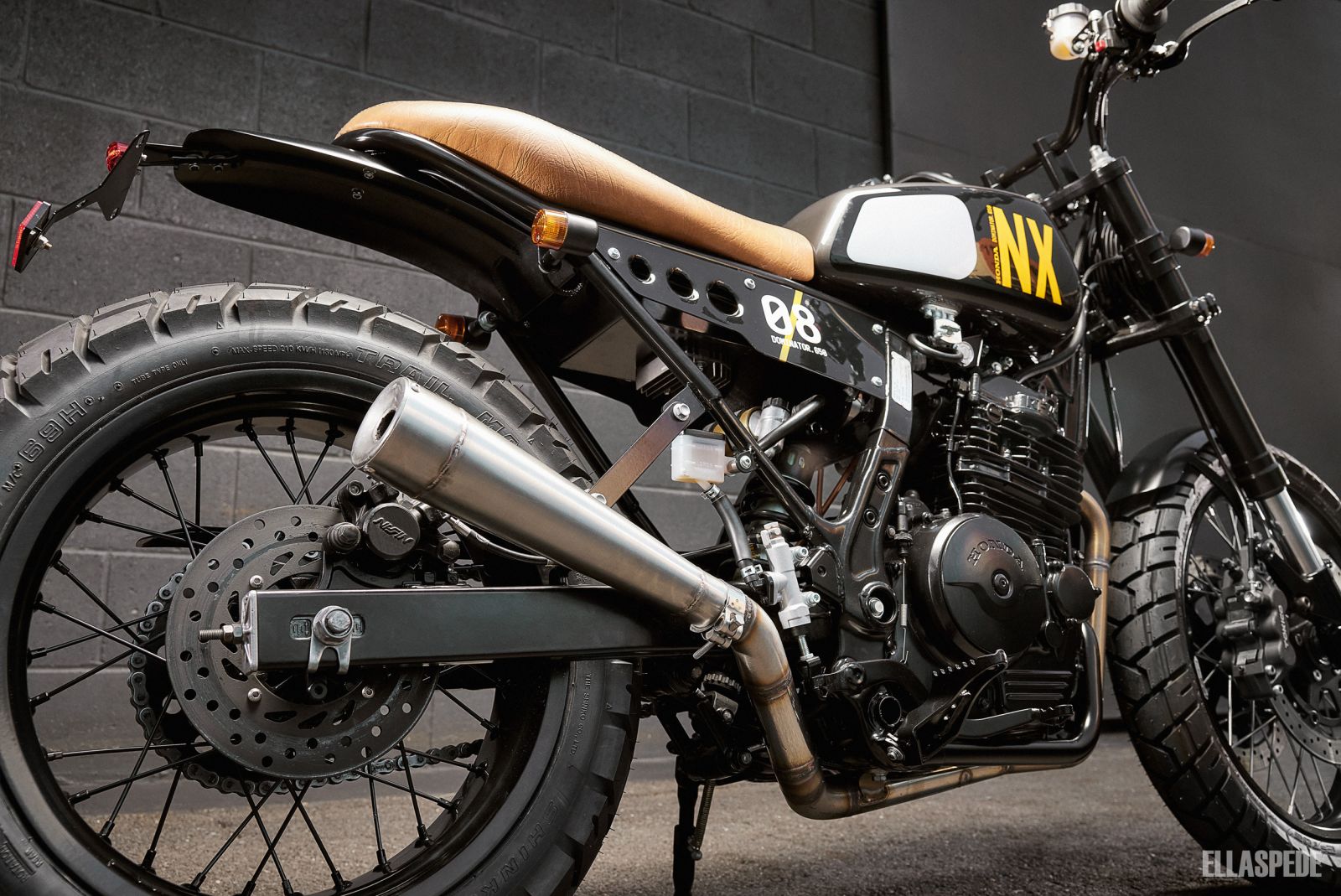 We're not sure if it's a 'silk purse' but we definitely feel like this bike has been saved by Prince's commitment to seeing it through to the end. Most other's would have definitely walked away from such a rugged started point, but Prince has proved it's possible to reach the finish line no matter how far away you are starting from.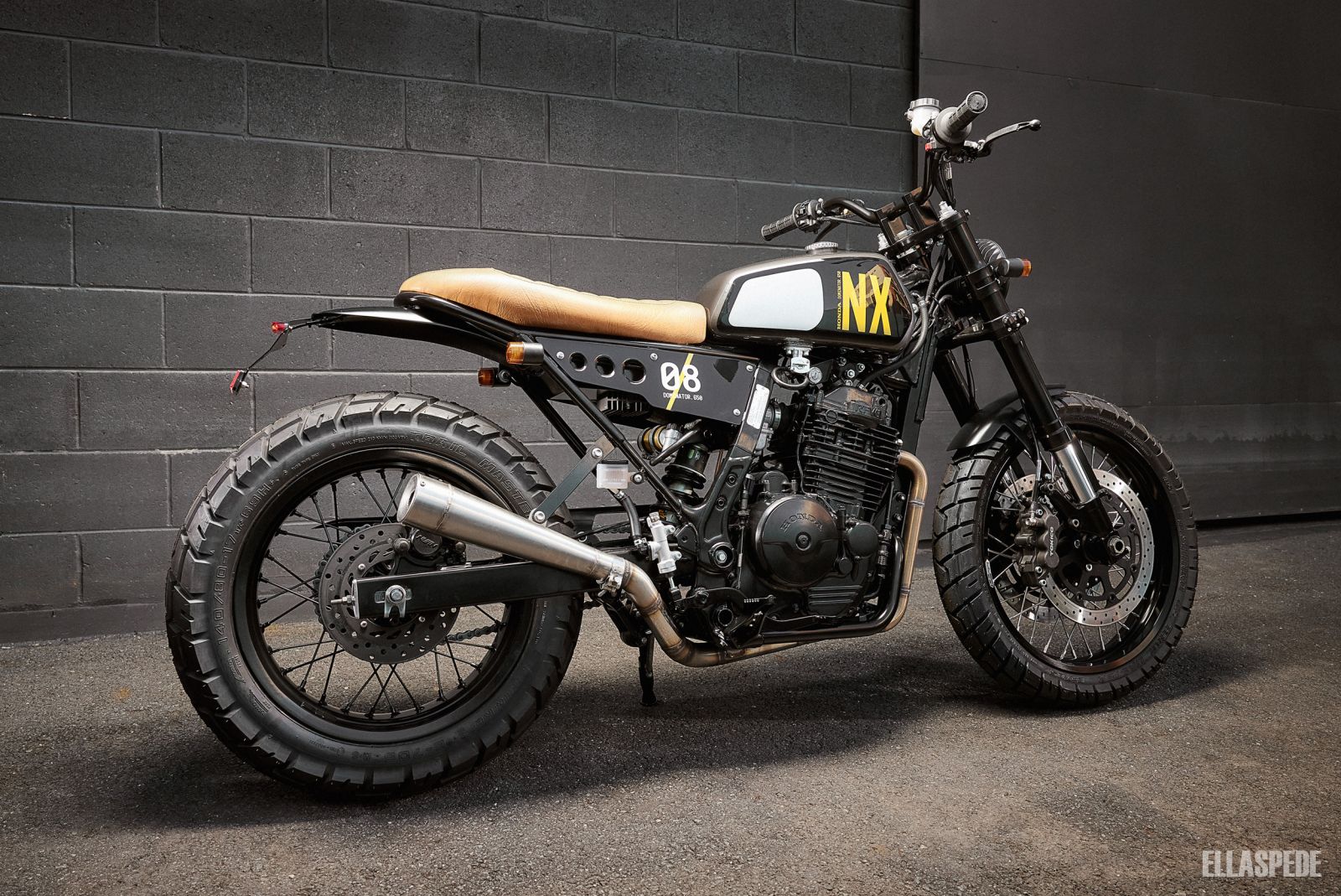 His favourite part about the build now that it's complete? "I like the stance of the bike and the Husky tank that's been used to give it a more retro feel. I've got a road Triumph Trident and a Yamaha Tenere adventure bike, so the NX will slot perfectly in the middle for a causal weekend ride."
Prince's Honda NX650 can now kick on for another few decades, with the look of a much more modern 'dual sport' machine. Here's to him making more family memories thumping around on an old Honda machine.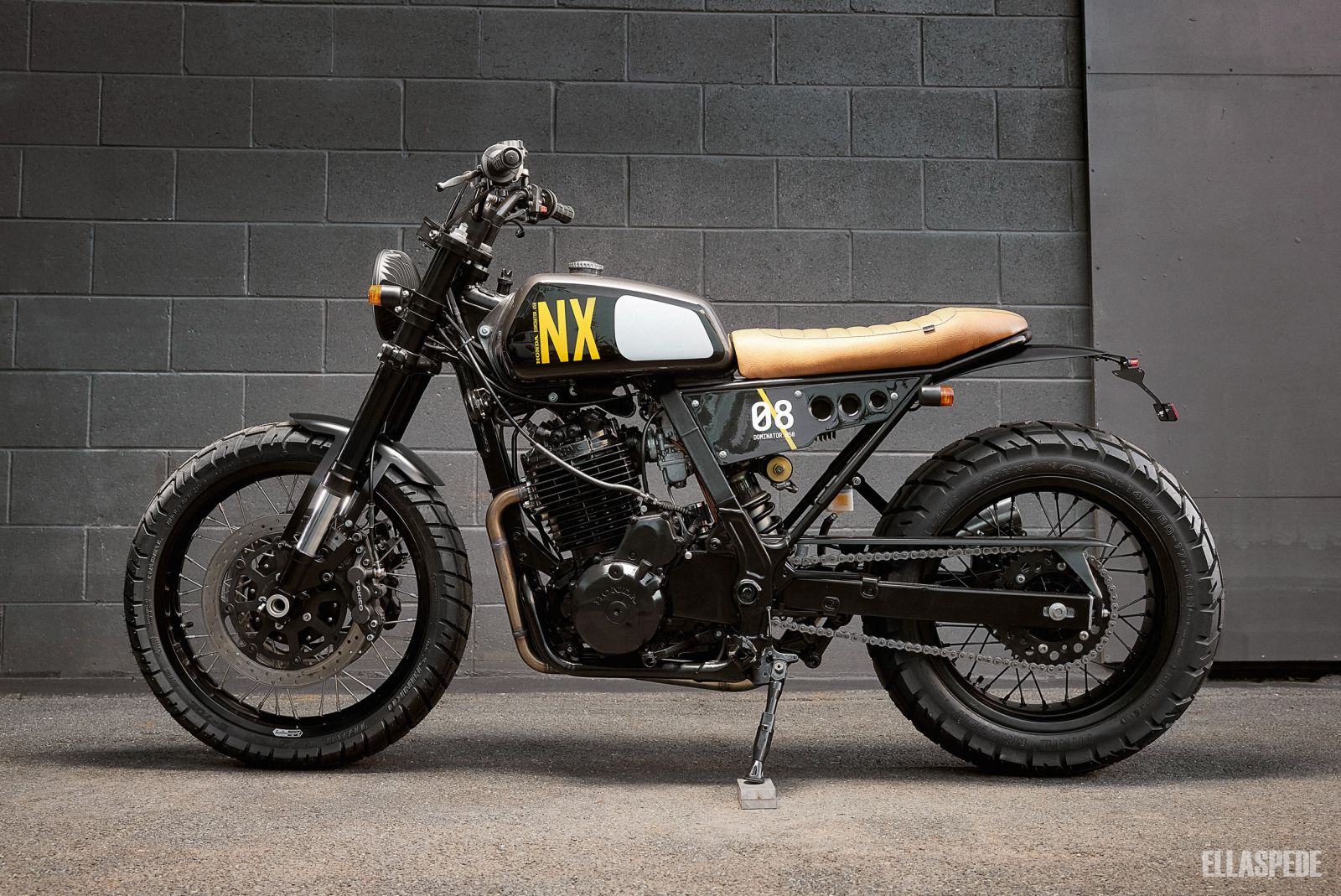 ---
Albums we listened to during the build of this bike:
---
Photos:
---
Build Pricing & Enquiries:
For build and pricing details or to discuss commissioning a custom motorcycle build of your own please email contact@ellaspede.com
---
---
Leave a comment