EB523 - 1993 Honda CB750 Nighthawk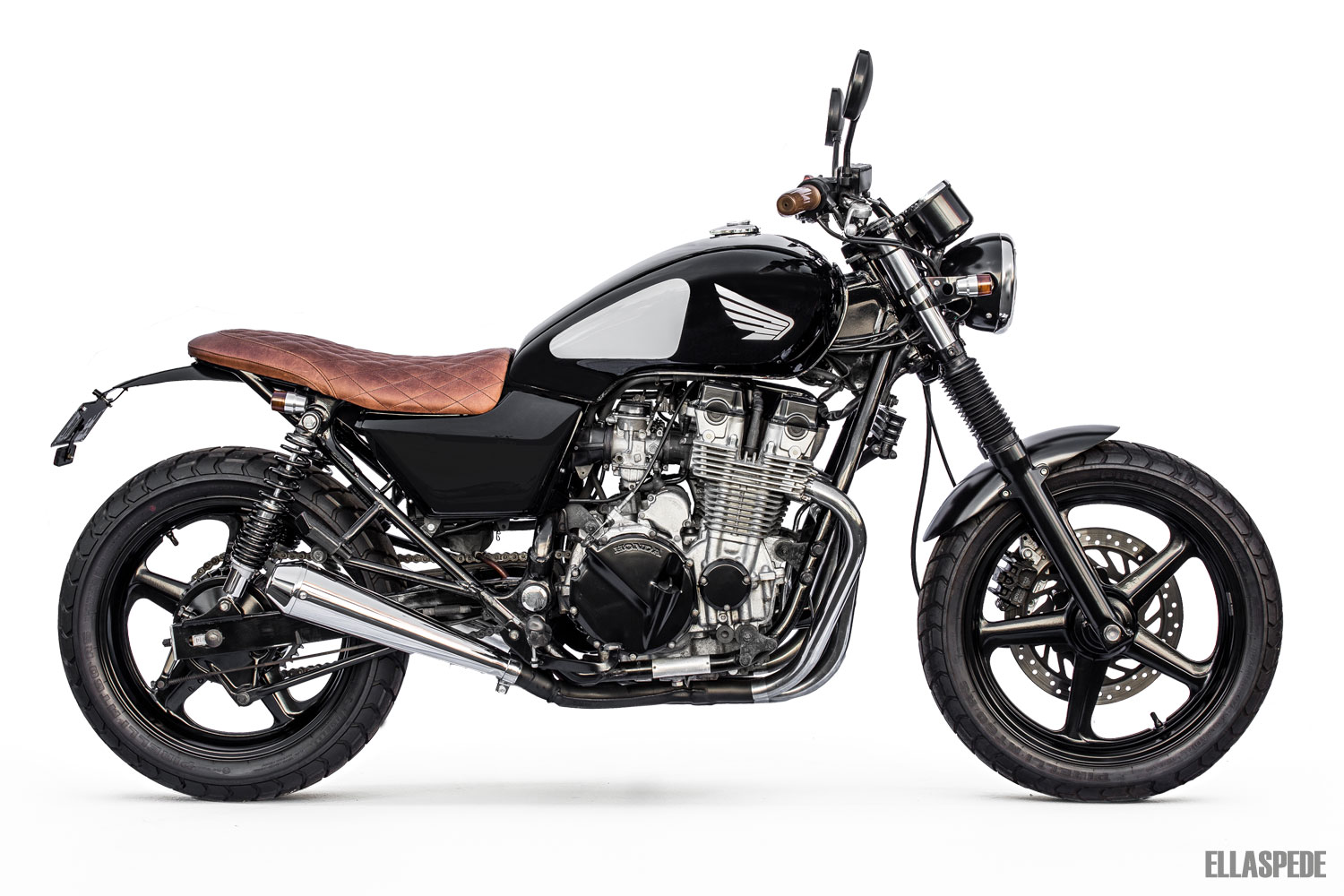 A competent all rounder, the CB750 Nighthawk of the 90's never made as much of an impact on the motorcycle market as it's forefathers bearing the same model name 20 years earlier. But it wasn't built to. This generation of the CB750 used a simple formula and did everything it needed to do. Pair that with Honda reliability and a simple configuration and you can see why this model still has a strong following.
Owner Angus purchased this example brand new in 1993 and has owned it ever since! Having travelled a lot over the past quarter century Angus admits the bike spent a bit of time between storage spaces, but it still runs and rides remarkably well for a bike of this age.
As with anything, after 25 years it was looking a little worn and he admits 'I never really liked the line of the rear section', so the decision was made to give it a refresh. Angus found Ellaspede online an 'really liked what they were doing', plus being only a few hours north from his home in Northern NSW meant it wasn't long before he got in touch.
The plan for Angus' CB750 was a trim and tuck of the bulky stock items, including some attention for that rear section which had always been on the hit list. The engine still ran really well and with budget in mind this was never going to be a frame up rebuild, rather a 'classic modernisation' of a good honest bike.
The rear section attracted the most attention and is now Angus' favourite part of the build. The rear frame was shortened and a hoop added before a custom rear guard was shaped up to suit. A custom seat now resides to fit the new rear frame and shapes nicely around the LED tail light.
The front was a reasonably standard 'tidy up' and something most stock bikes can benefit from. Trimmed and lowered front guard, lowered headlight, lowered gauges, smaller headlight and indicators all really improve the front end look without much much effort.
Other modifications included changes to the standard exhaust before reverse cone mufflers were mounted on, smaller (and with a better profile) CB250 side covers made their way on, front fork gaiters, Posh chamfer indicators and Ikon rear shocks improve handling and match the new look.
A smooth black was then applied across the tank, side covers and guards with a contrasting mid brown wrapped around the seat. Posh toffee grips continue the colour scheme. A simple livery was decided on the reduce the 'visual size' of the stock tank with a little nod to the Honda heritage with the 'wing' logo in bright white.
The usual paint and powder coat was used across a number of parts to refresh the worn factory finishes, while the wheels went all black to match the new look before being wrapped in Pirelli MT60's front and rear.
Brakes and other minor mechanical items were rebuilt and adjusted to suit the new build and prepare for a second lease on life for Angus old favourite.
Now that the build is complete Angus is glad he's did it and is enjoying riding the refreshed CB750 as much as he did when he first bought it. The plan is just to 'ride it around' Northern NSW with 'maybe some longer trips' thrown in for good measure. This bike doesn't break any records, it just does everything it needs to do in and easy and enjoyable way. The bonus is now it looks going doing it!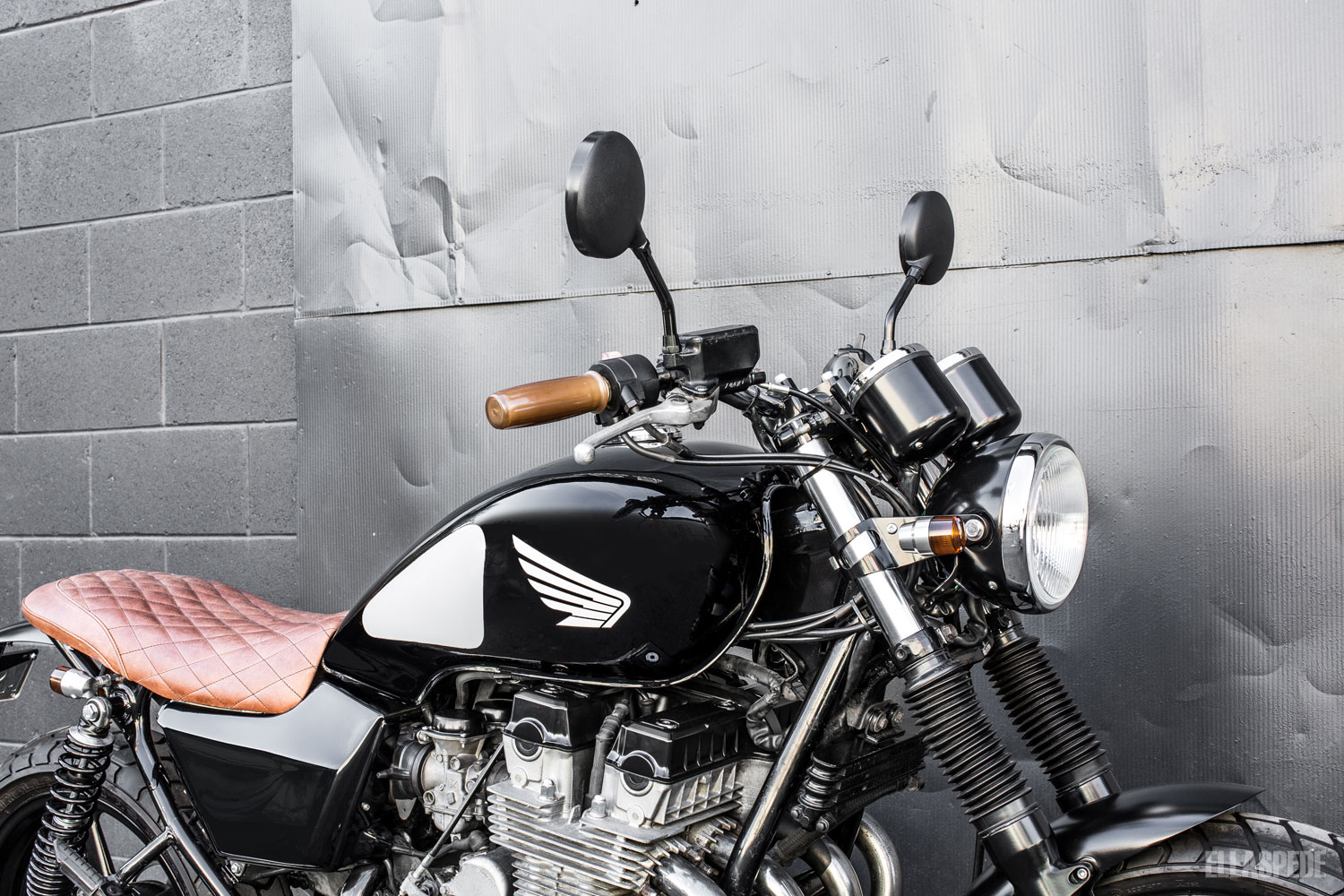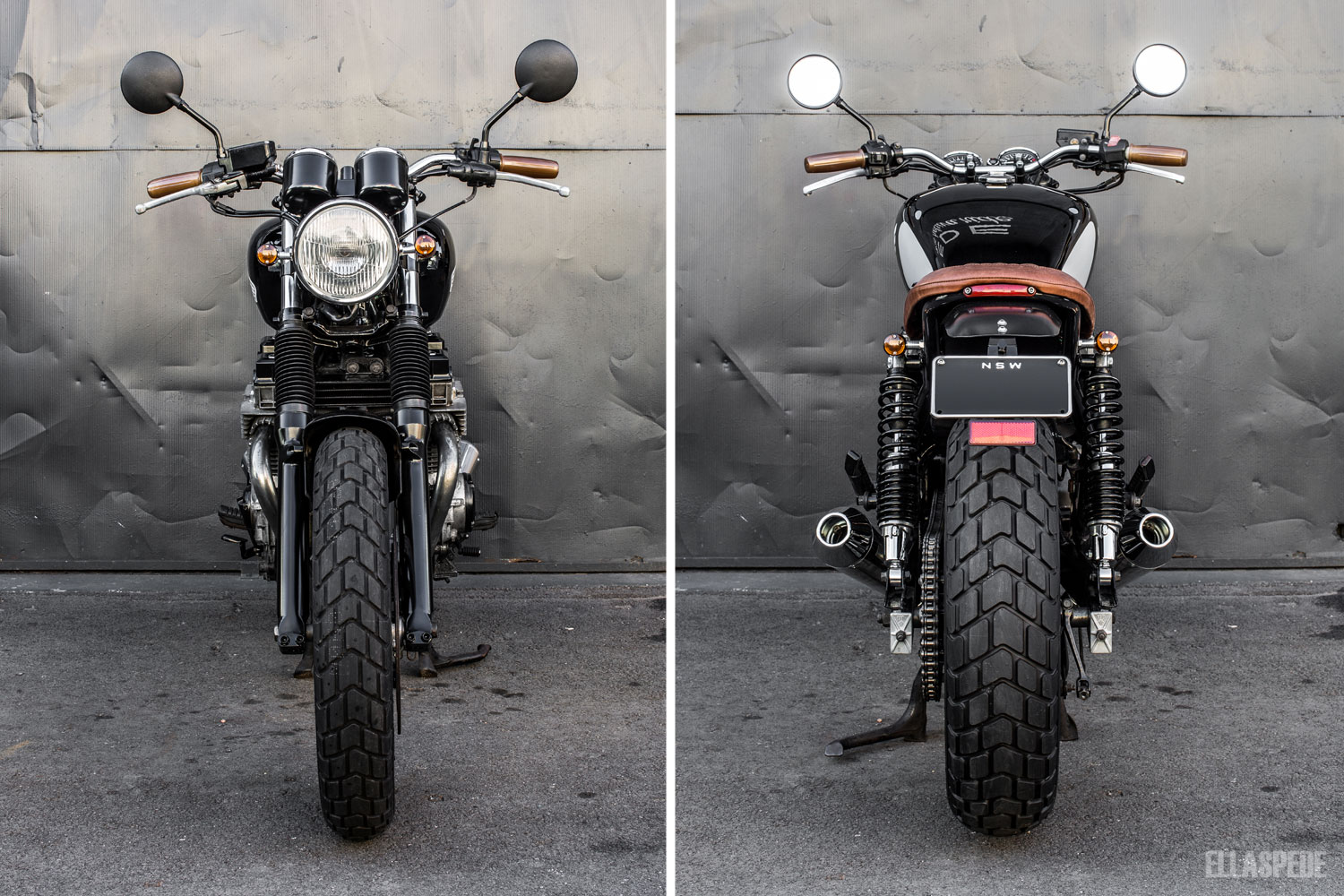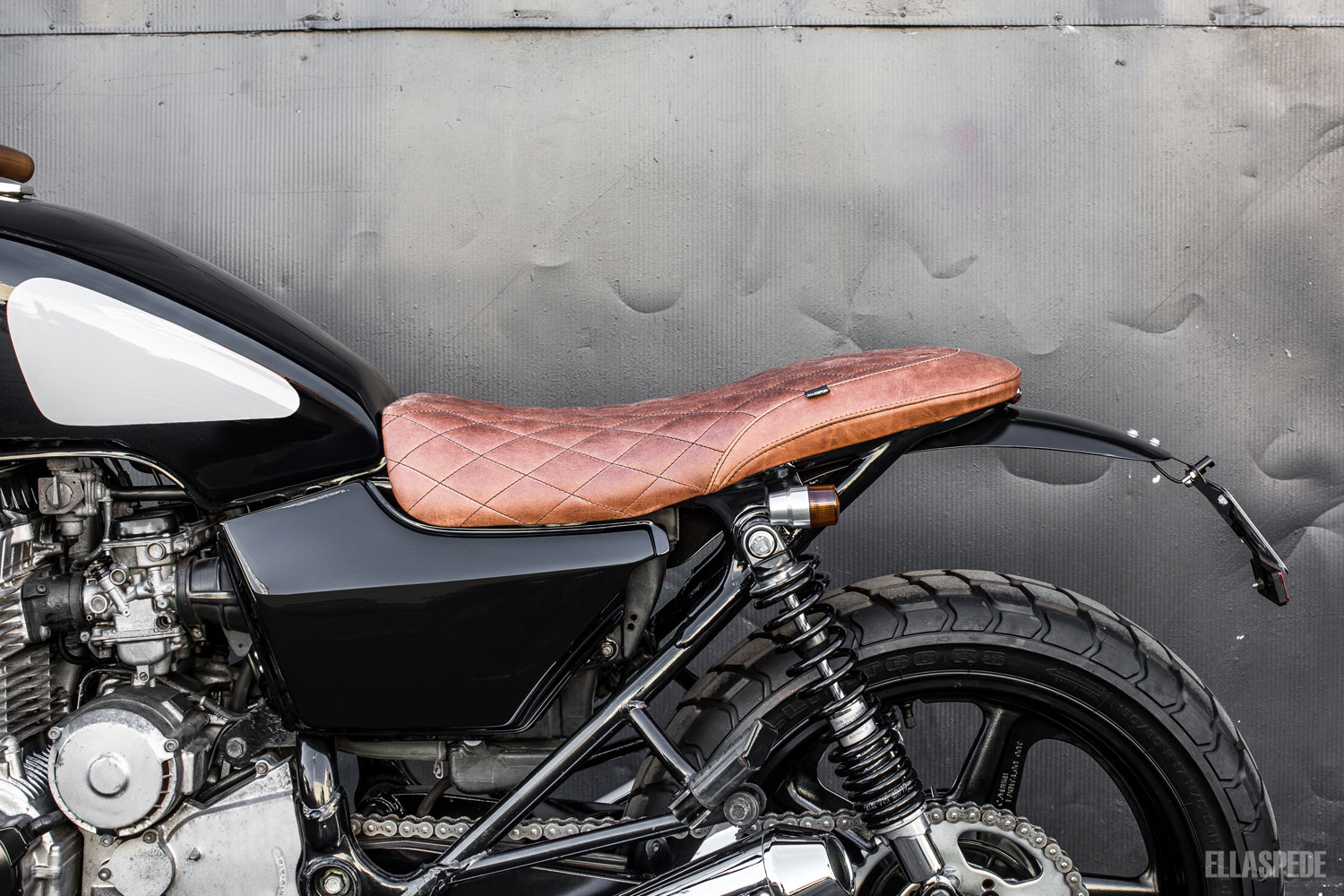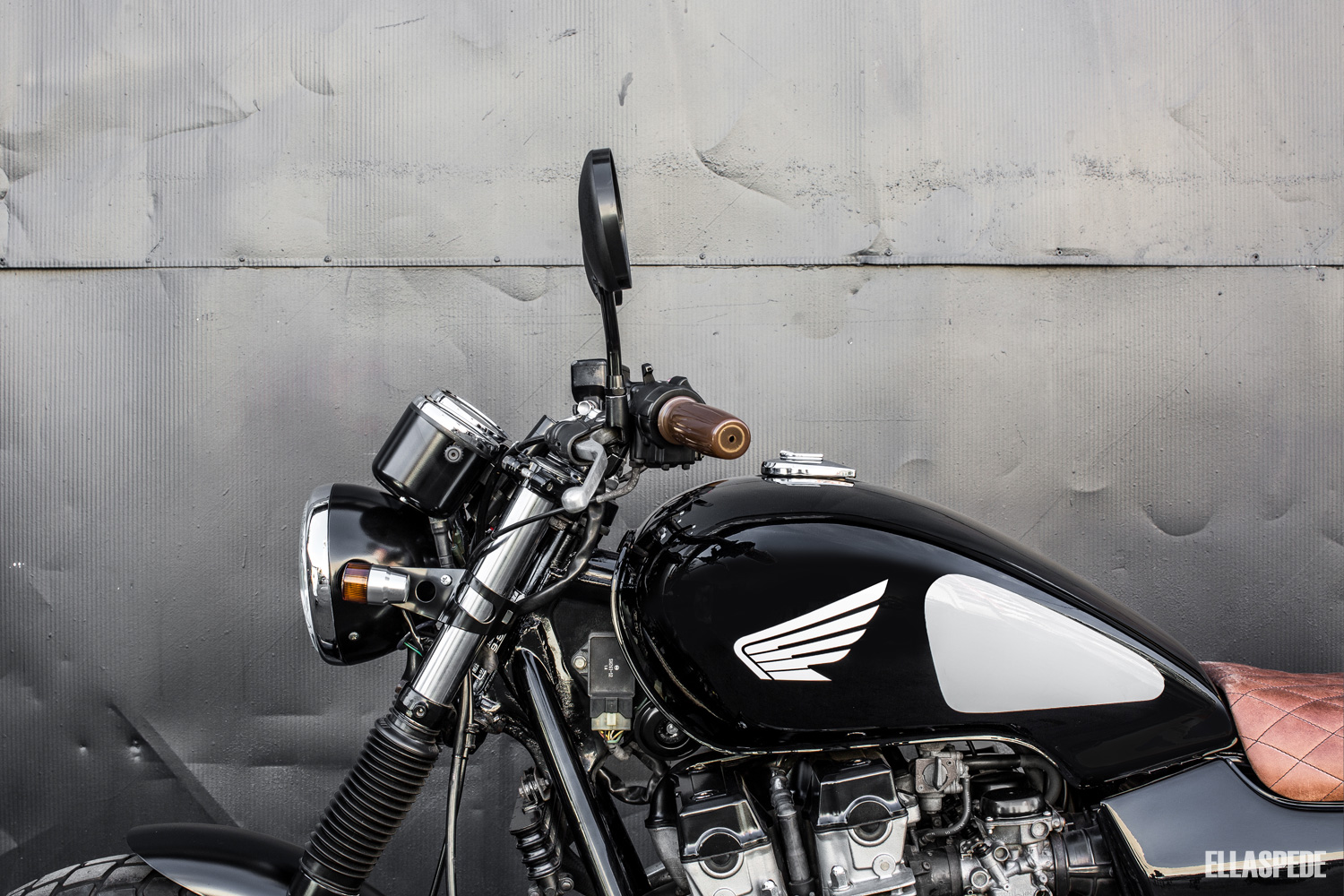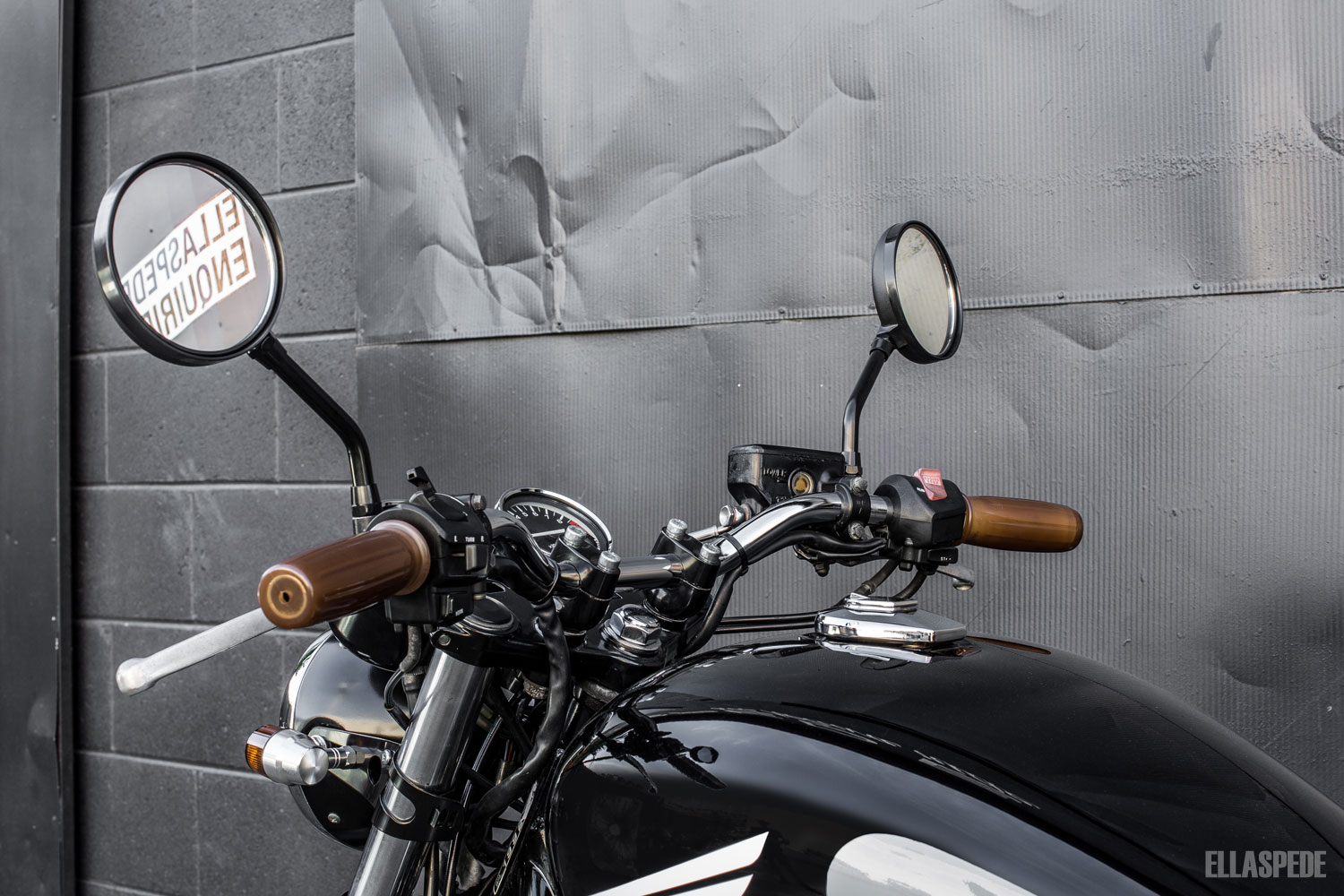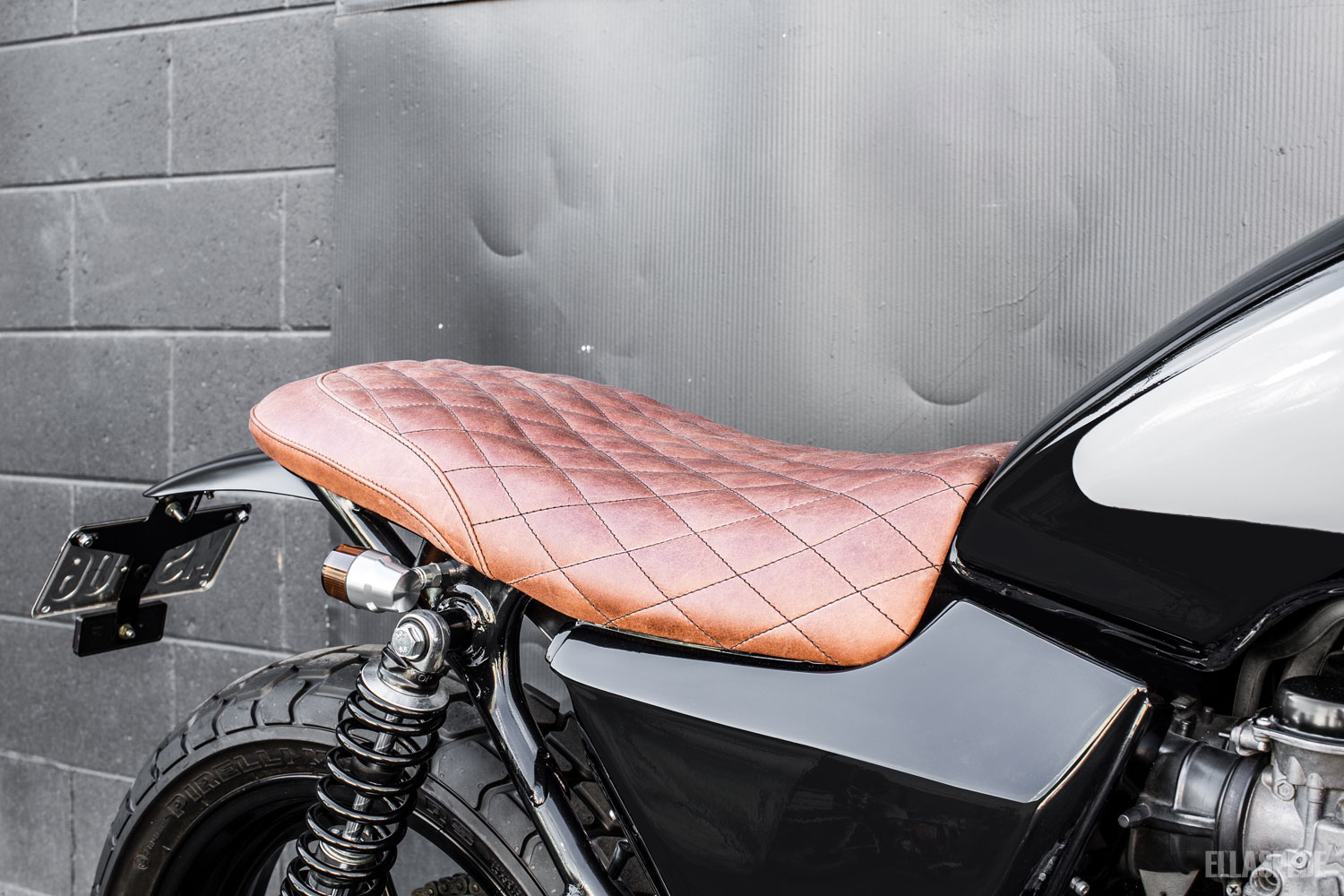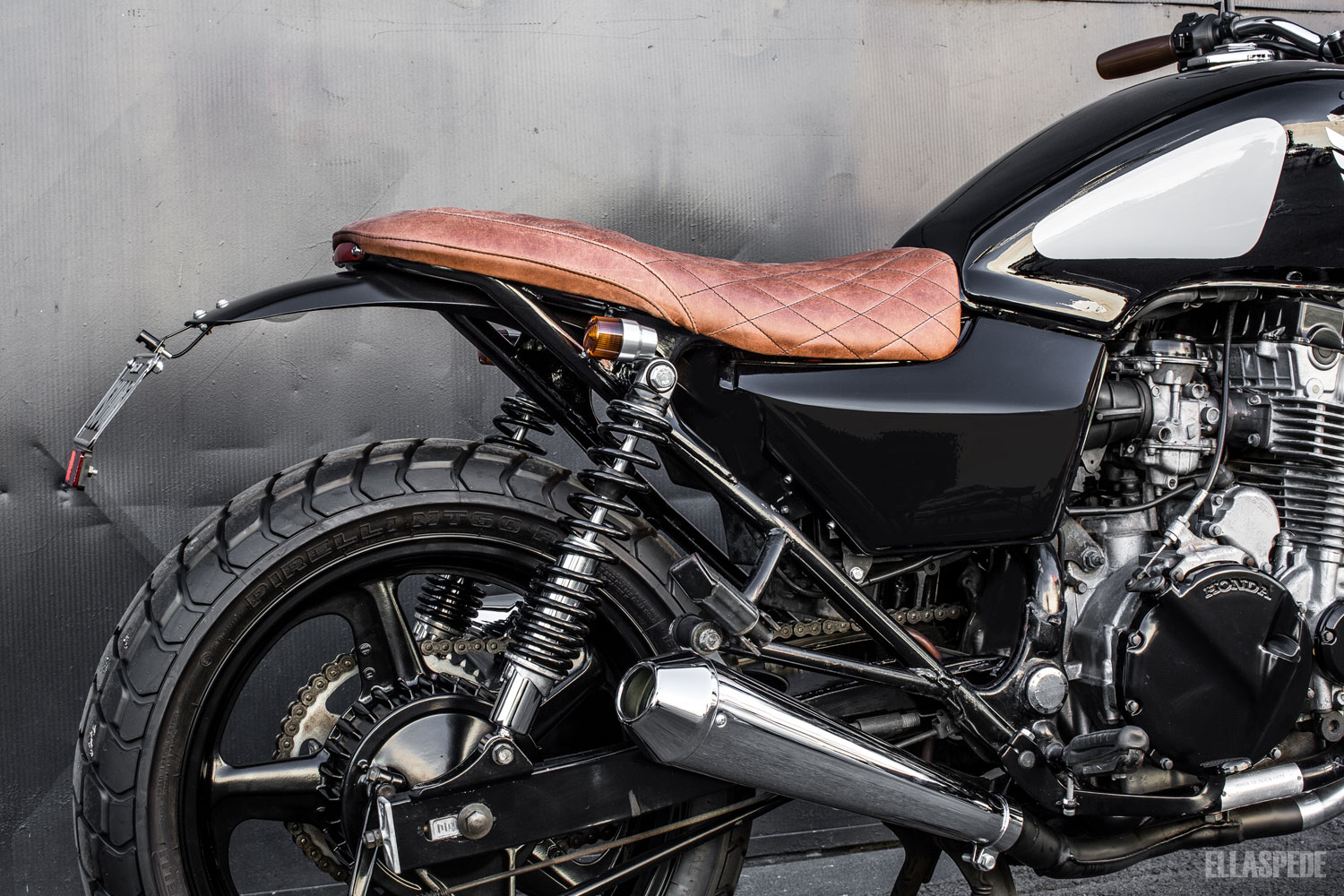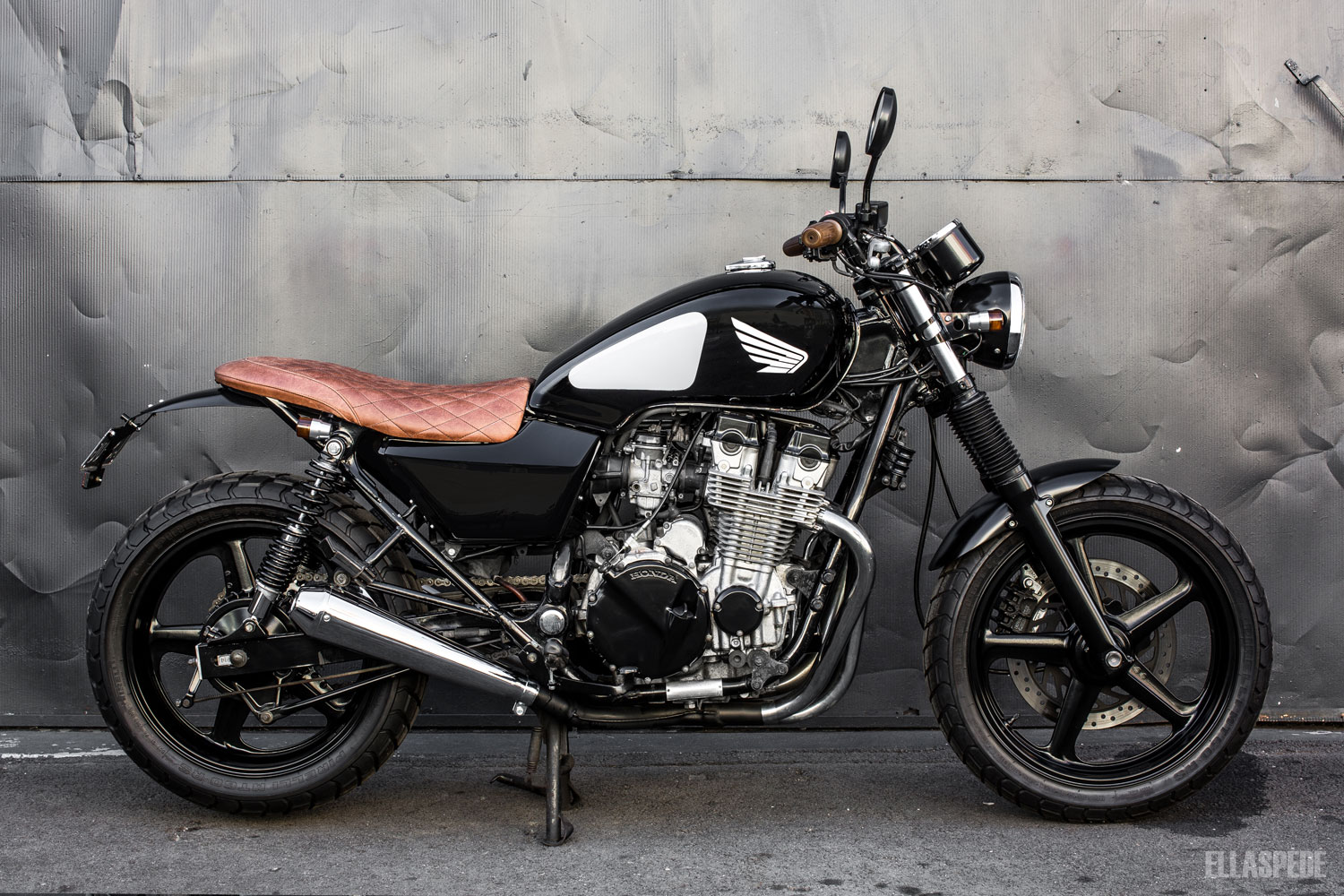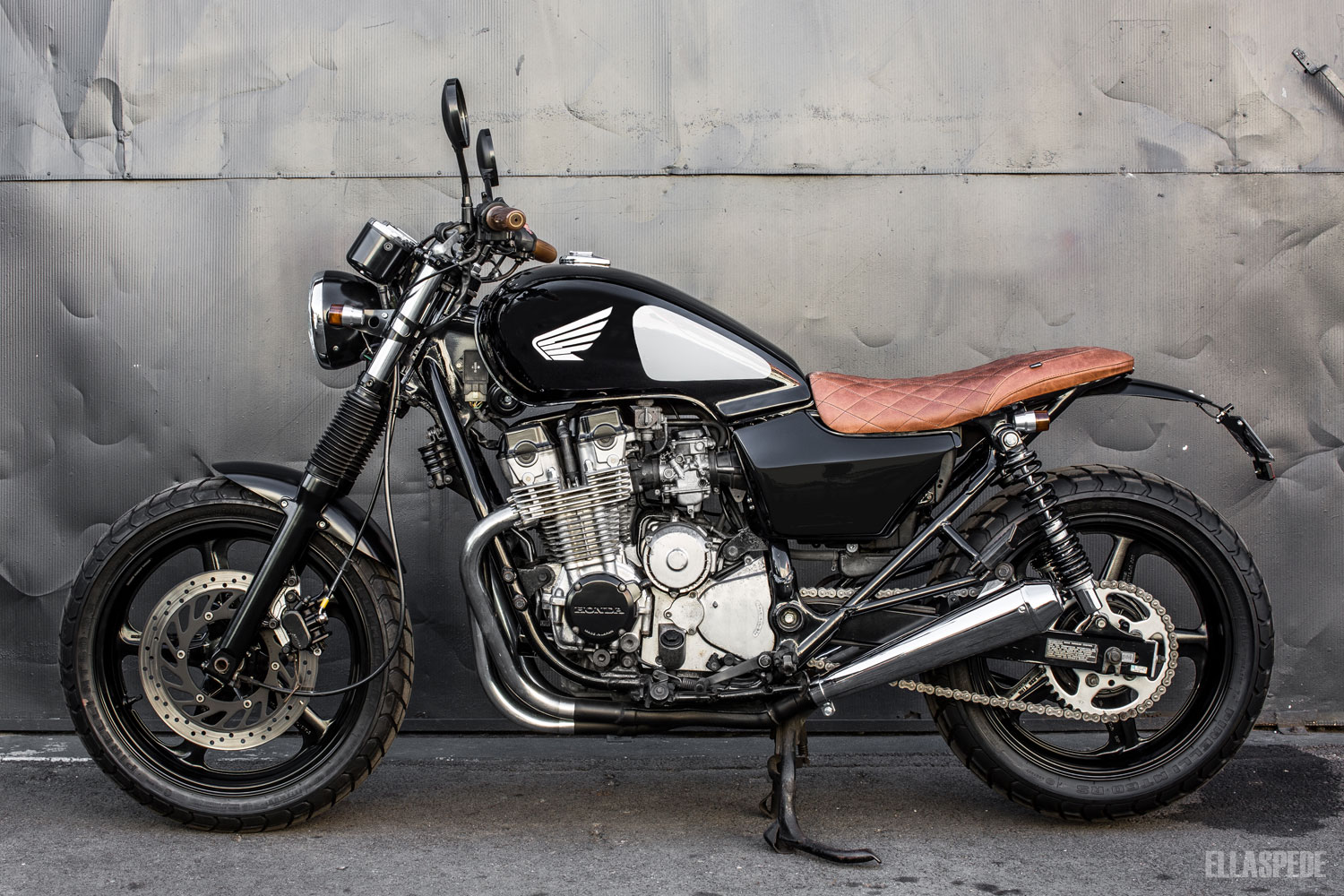 ---
Albums we listened to during the build of this bike:
---
Photos and Features:
---
---
Comments (3)
Honda nighthwak 650 cb

By:

Ernesto

on 4 July 2023

Hi there are same staff for my bike ?tk
---
Handlebars

By:

Henry

on 22 August 2022

What bars are on this bike? I like the angle and style.





Ellaspede Response
From memory they are just the 'superbike' bars available on our website! Cheers
---
Need to contact.

By:

Eugenio

on 24 June 2020

Hello, my name is Eugenio, I am from Argentina. I have a NH750 1992, love this bike modification. Seems to be quite simple and looks like a new bike. I think the same as the owner about the rear section. Would like to contact the owner of this bike. Would that be posible?





Ellaspede Response
Hi Eugenio, We can't give out the owners details, but we did all of the custom work on the rear frame, seat and rear guard so if you have any specific questions you can definitely ask us! Cheers
---
Leave a comment