EB1276 - 2022 Honda CB500X
Author: Ellaspede Date Posted:4 October 2023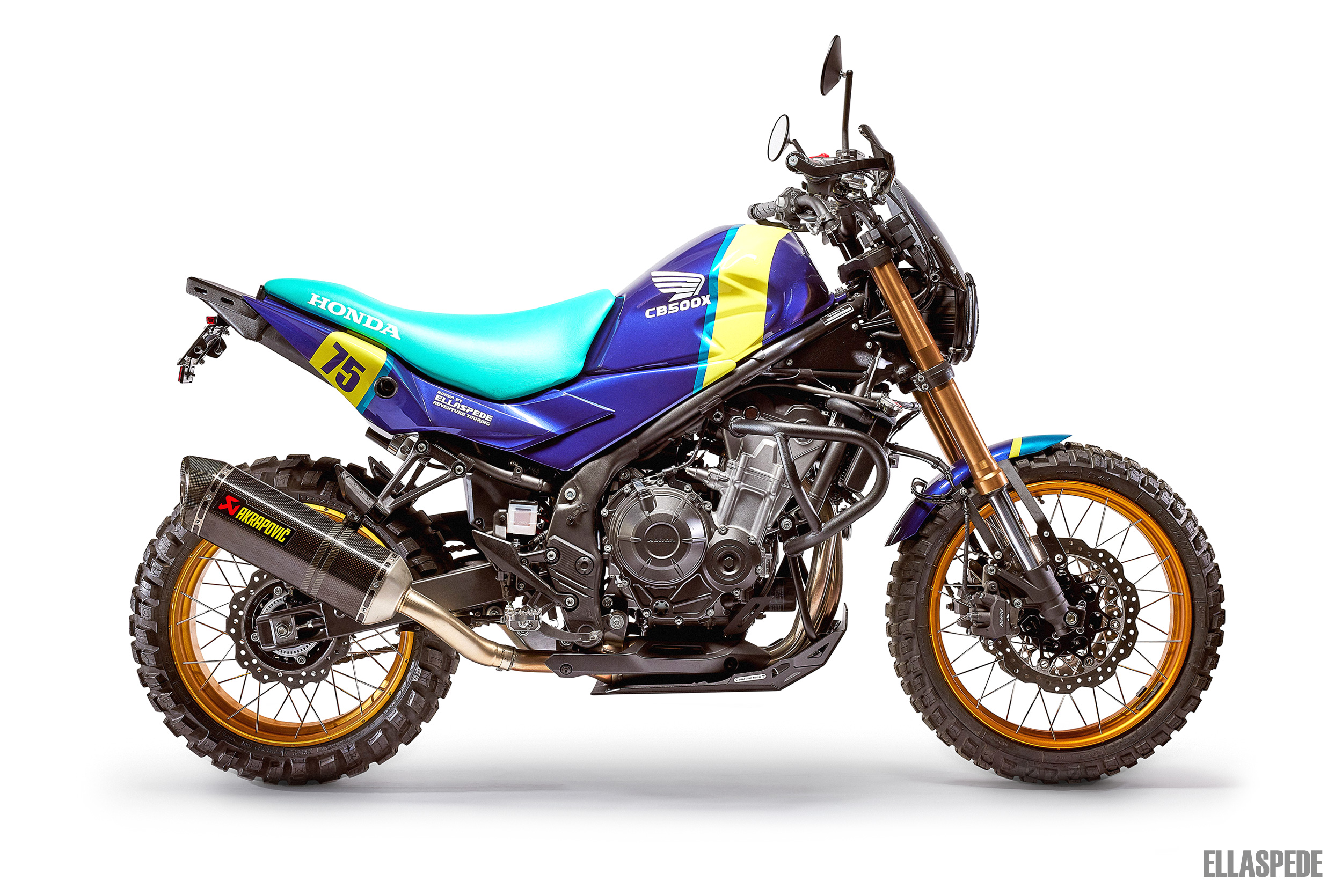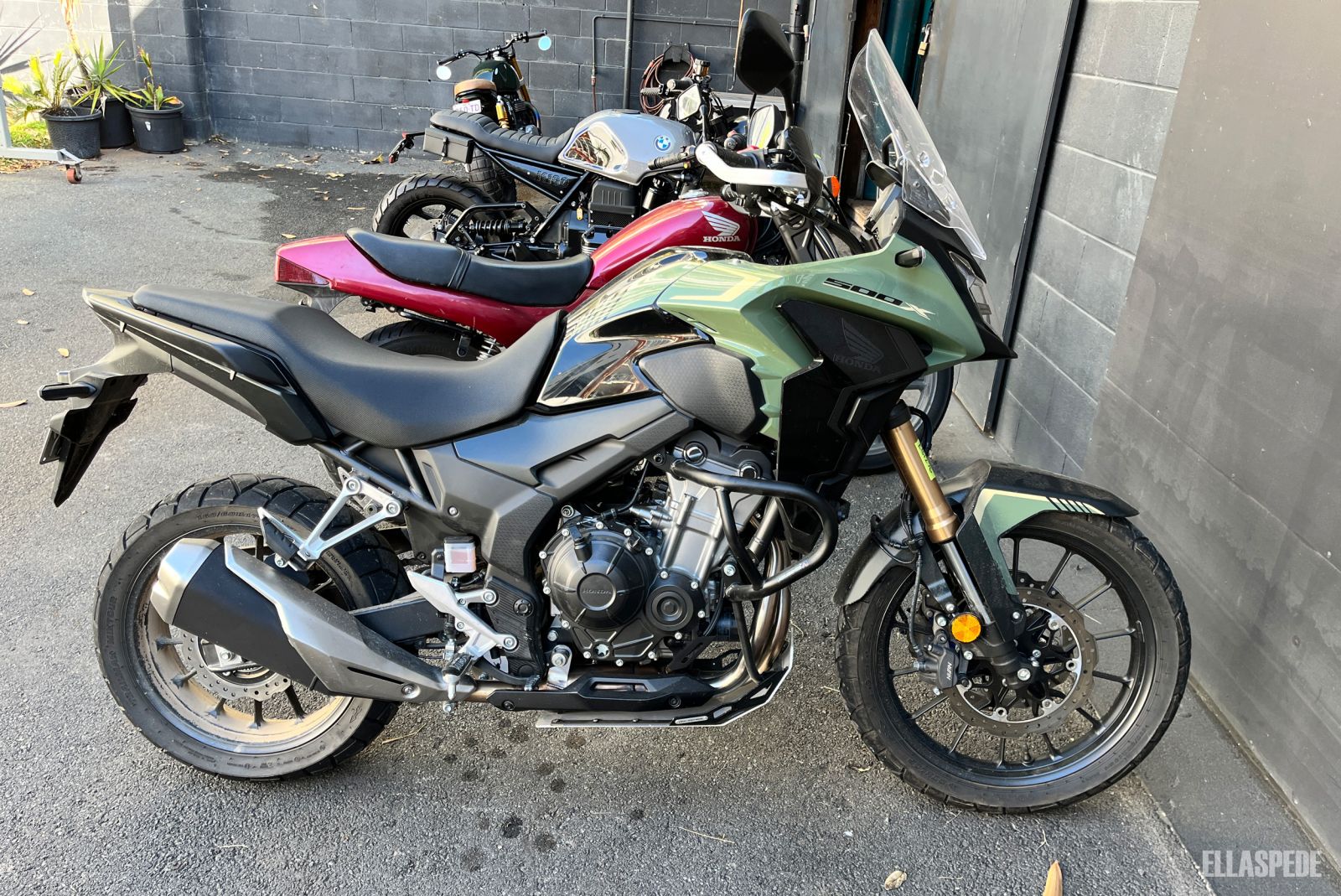 If you're after a versatile and capable adventure bike without breaking the budget then a stock Honda CB500X is hard to go past. But after a few rides, owner Stephen knew there was more to be uncorked in the aesthetic and enjoyment departments of Honda's midsize adventure machine.
Stephen sets the scene… "I bought it brand new and rode it around the mountain roads near Brisbane for a while. Then one day I took it out on a forest trail ride with a mate at Boonoo Boonoo National Park, where I crashed on a loose gravel corner. It wasn't a bad crash, but the gearbox cover cracked open and the bike was not going anywhere... Fast forward a few months after a local repair shop fixed it all up and I was back on another forest trail, this time without incident but with an idea forming that this bike could be so much better off-road with a few mods."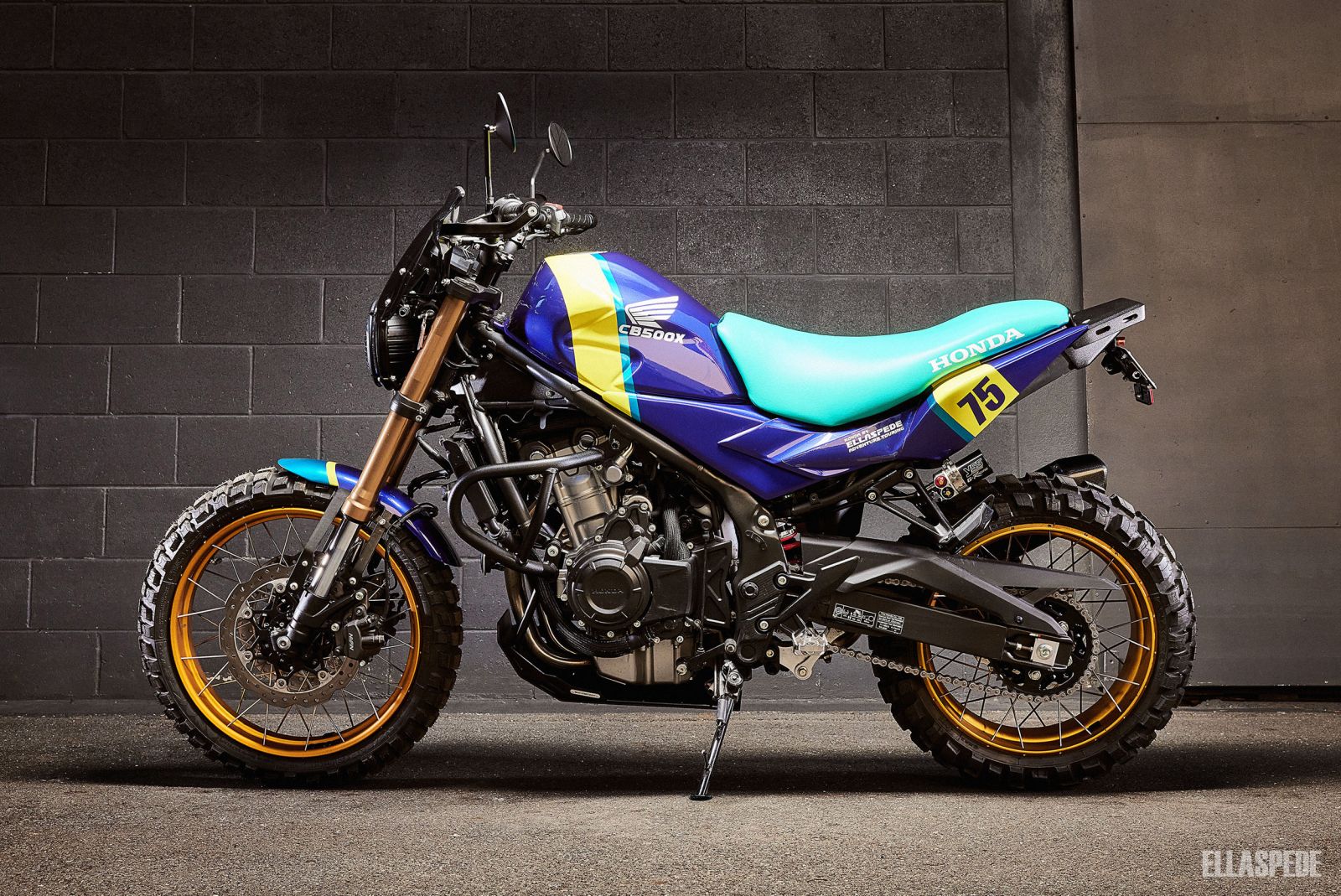 "I wanted an adventure bike, and something I could just jump on and ride. As I'd only had my restricted licence for a couple of months at the time, my options were limited. I love the simplicity, low cost and superb engineering of Honda bikes, so the CB500X was the natural choice."
So after the first few rides Stephen's attention starting turning to customising… "All-rounder bikes like the CB500X are products that are generally designed to appeal a wide market in terms of appearance, and cater to a very broad range of uses, so they are inherently decent at most things but not especially great at any. But there is huge potential in this bike to be the perfect adventure bike with some simple modifications to push it in that direction. But why stop at just tweaking the suspension, wheels and tyres? Why not turn it into a bike that you get excited about riding just by looking at it?"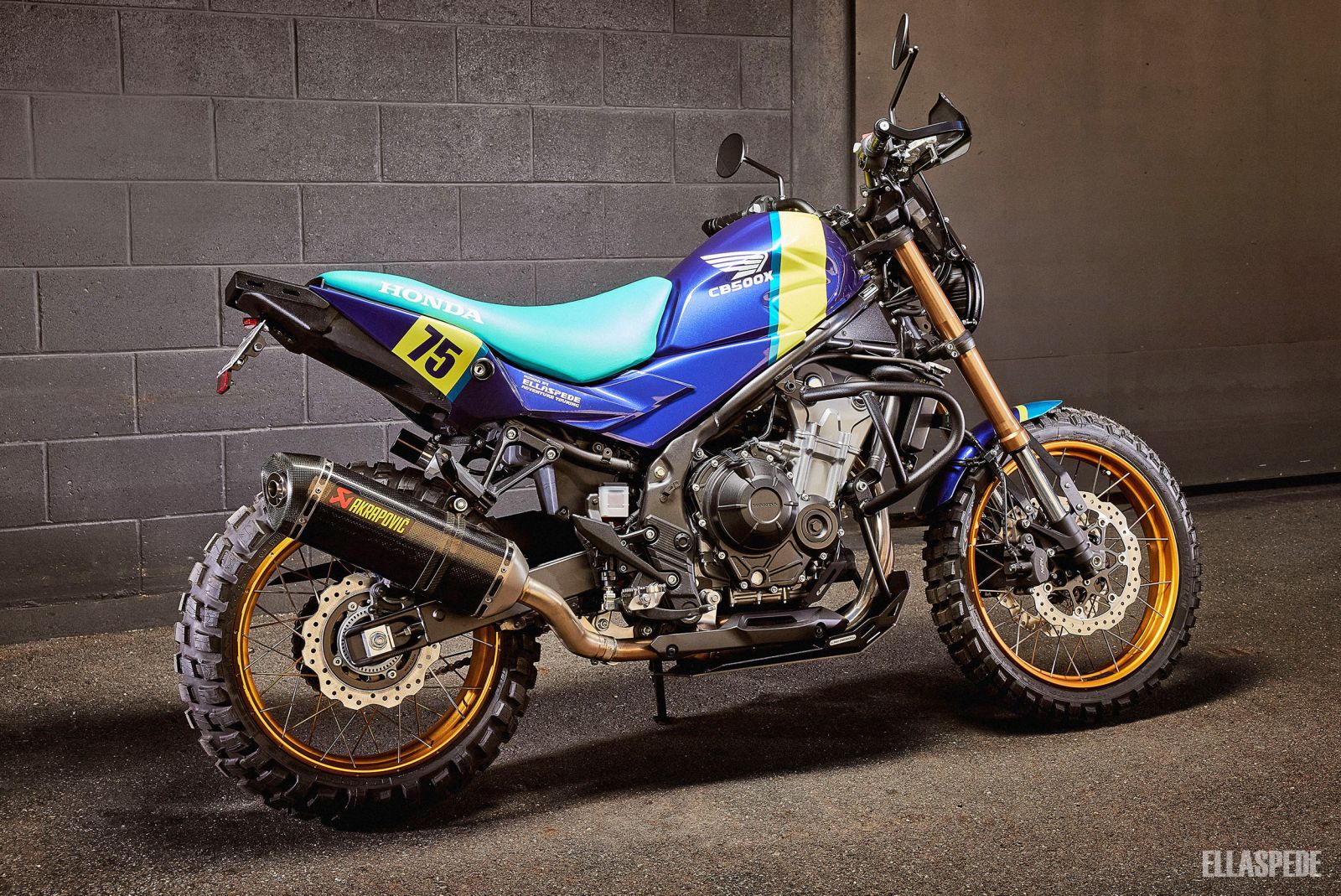 Safe to say we couldn't agree more! The 2022 Honda CB500X proves itself as a versatile and capable adventure motorcycle, striking a balance between daily urban commuting and off-road escapades. Powered by the smooth 471cc parallel-twin engine you'll find across a range of current '500' Honda's, the CB500X delivers a balanced mix of power and practicality.
It seemed to be a natural progression that we would be helping Stephen with this project too, we'll let him explain… "I already had a cafe racer project in the works with Ellaspede - that's a whole other story... Even before I started riding bikes I had been a keen follower of the custom bike scene all over the world, especially cafe racers and scramblers. Having a local workshop that produces world-class work right here in Brisbane is fantastic, and having met the guys I knew we would work well together on what are very personal projects."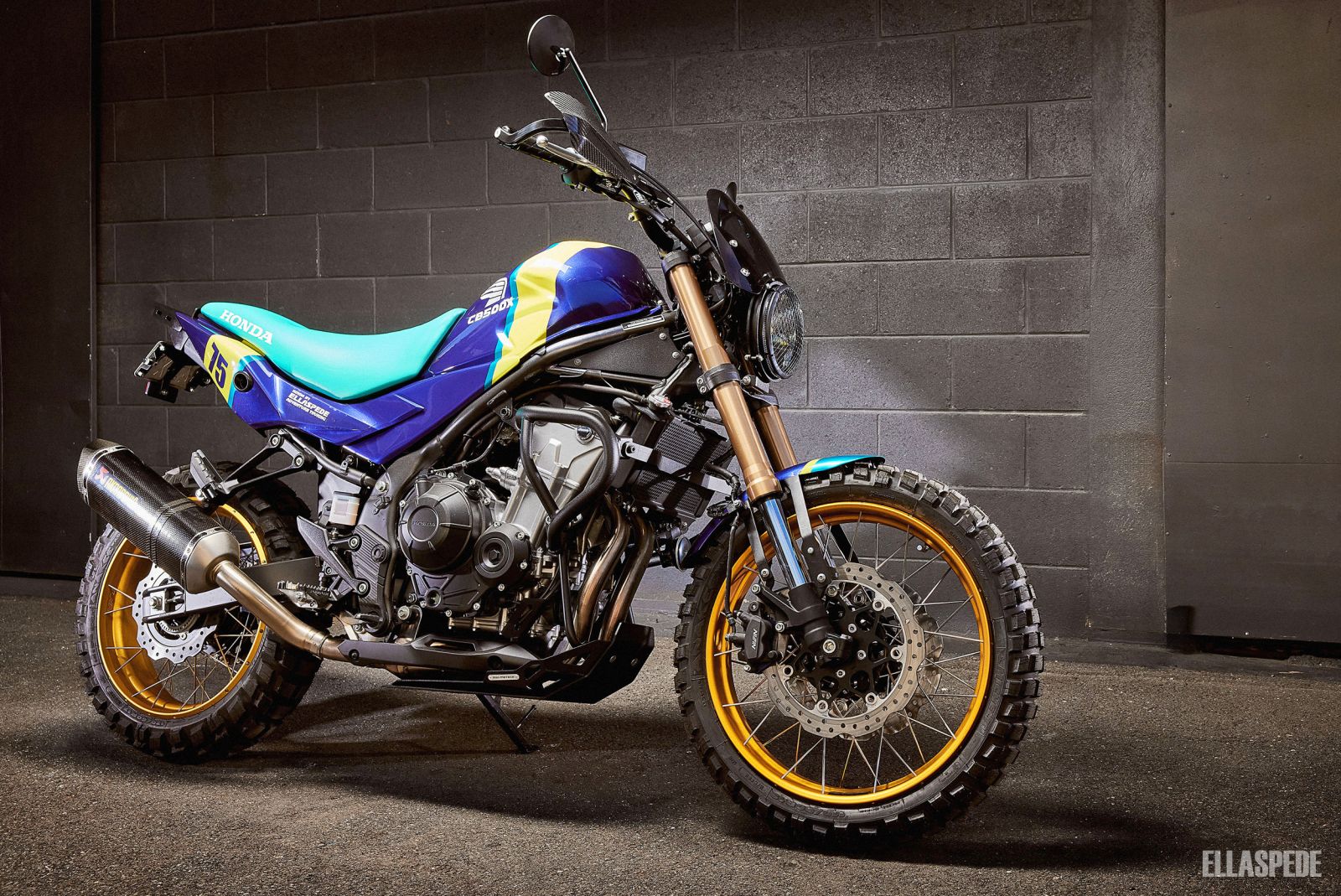 It didn't take long for us to whip up a concept image and Stephen rolled the bike into Ellaspede fresh off a recent ride and still sporting the dust and dirt to prove it was already being put through it's paces.
Although they look pretty decent in stock form, there's a pile more plastic than we'd usually like to see and the mag wheels with stock suspension seem to reach their limits during light off-road endeavours. So it only seemed natural to trim back some of the excess bodywork and improve the wheel and suspension packages while we were at it.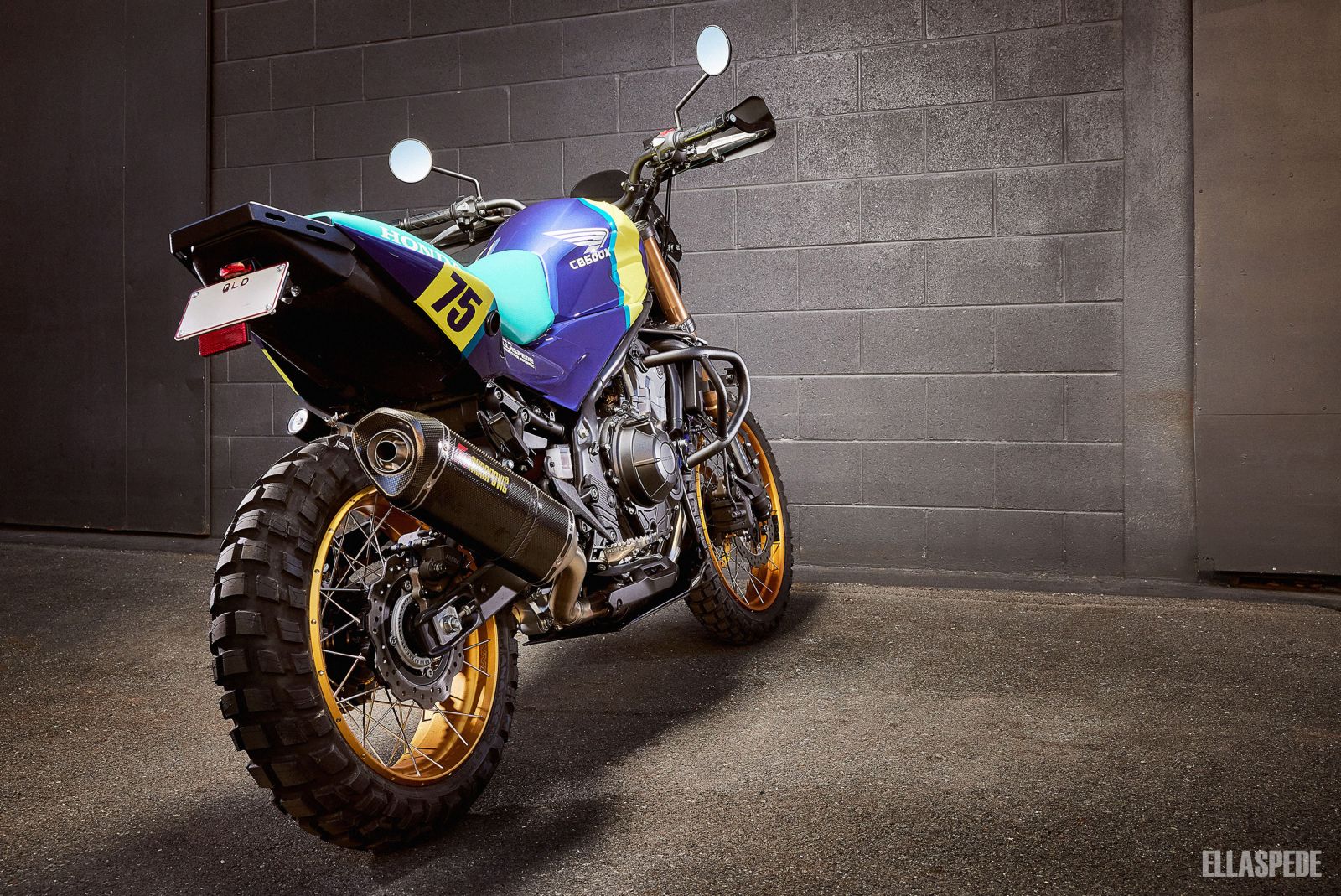 Honda generally nail the rider ergonomics pretty well, but as Stephen mentioned all bikes are made to suit a wide range of riders, so a taller seat and higher bars were in order to fit Stephen's stature and riding style a little better.
As per usual, we started by stripping off all of the parts and pieces that weren't being used. This included all of the factory plastic panels and shrouds, front screen, headlight, tail light, bars and risers, muffler, wheels, seat, foot pegs and a few other things.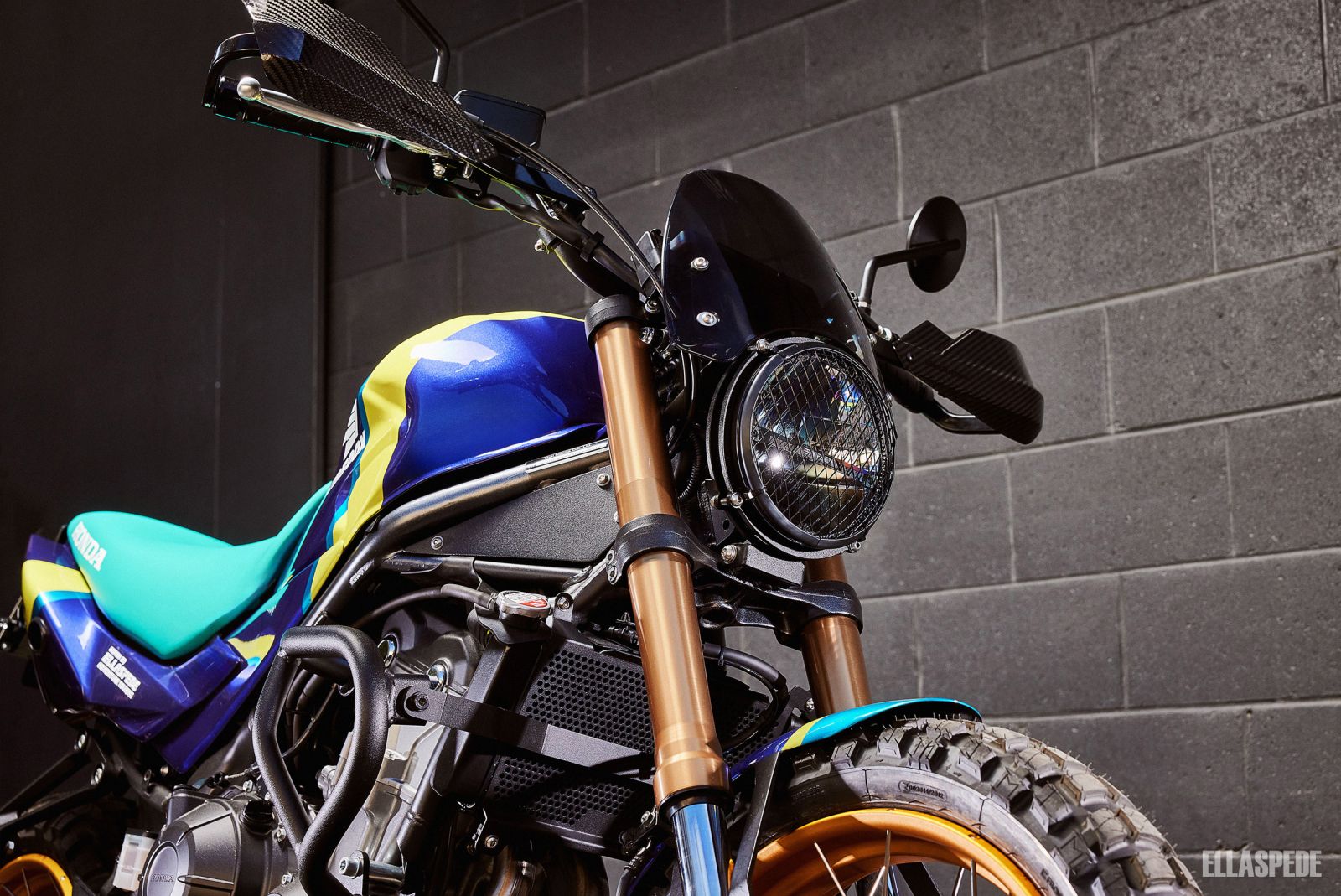 Starting at the front a 7 inch Stedi Homage LED headlight was chosen and mounted with the new Ellaspede headlight mount kit (coming soon) via a bottom mount setup on the lower triple tree. Mounts were added for a Dart Classic Flyscreen, with indicator mounts tucked in nice and tight to protect the winkers should Stephen do any unplanned soil sampling. A headlight grill protects the glass from roost and rocks too.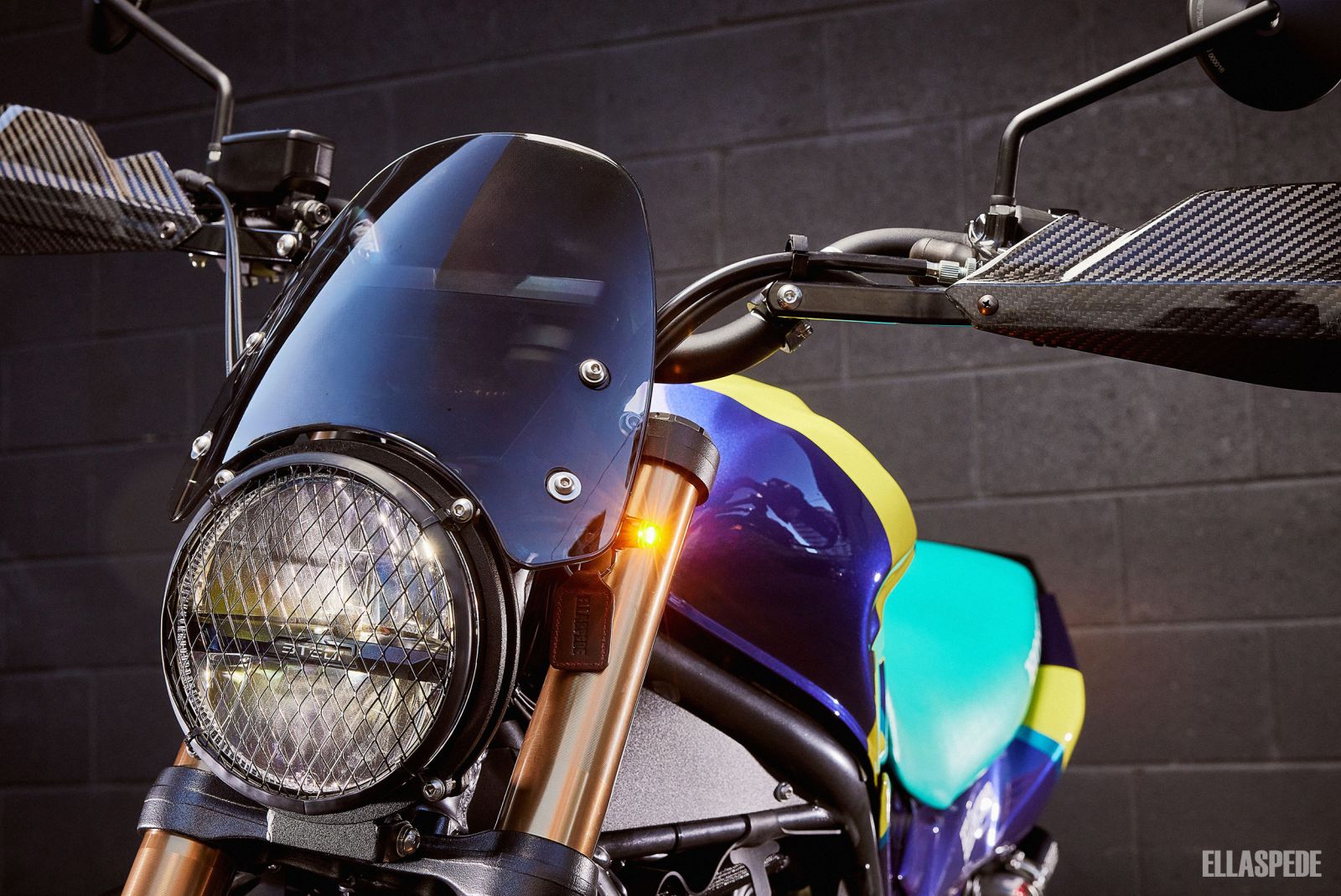 The stock key barrel was relocated to allow the headlight to fit nice and tight against the forks. While the stock gauge was also lowered and tucked in for a more streamlined look and to keep it out of harms way.
When all of the front fairings were removed, the factory risers looked way too tall and the original bars far too flat, so a new combo of shorter Ballards risers and higher Pro Taper Evo Adventure handlebars was specced to give the bike a more 'enduro' look. The new bar position now sits a little higher to suit Stephen and they're much stronger too. Daytona D-Rod mirrors bolt up to keep an eye on the dirt squirting out the back.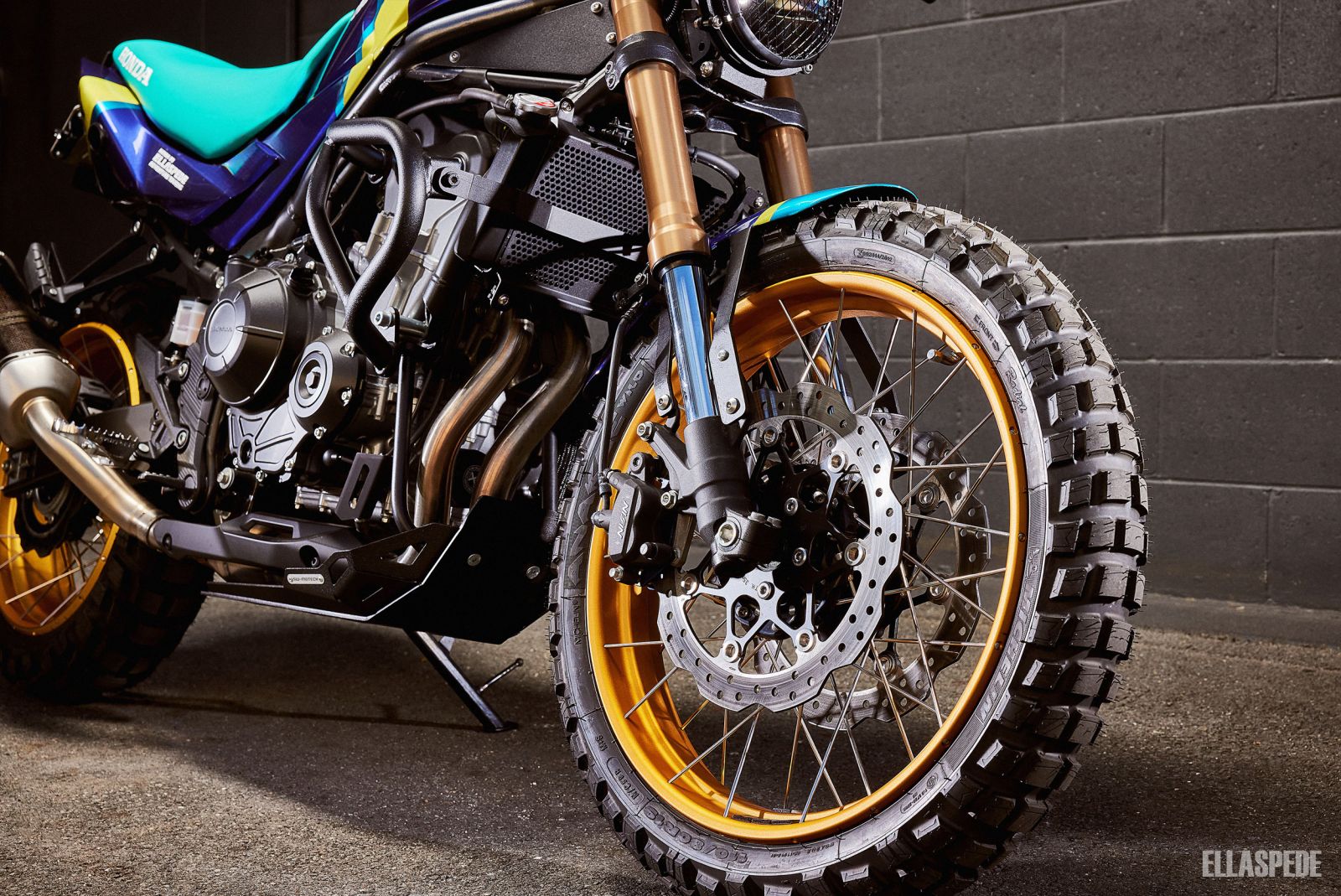 The factory front guard is a complex plastic unit, so a custom steel front guard was fabricated to sit in its place. Providing just enough coverage for the front tyre too.
Working our way backwards, the front of the tank and some electrical components were now exposed. A couple of visible mounting brackets were trimmed off the tank and because it's getting repainted anyway we can smooth off the areas they previously attached. The exposed electrical components required a little more work and now live hidden under the tank.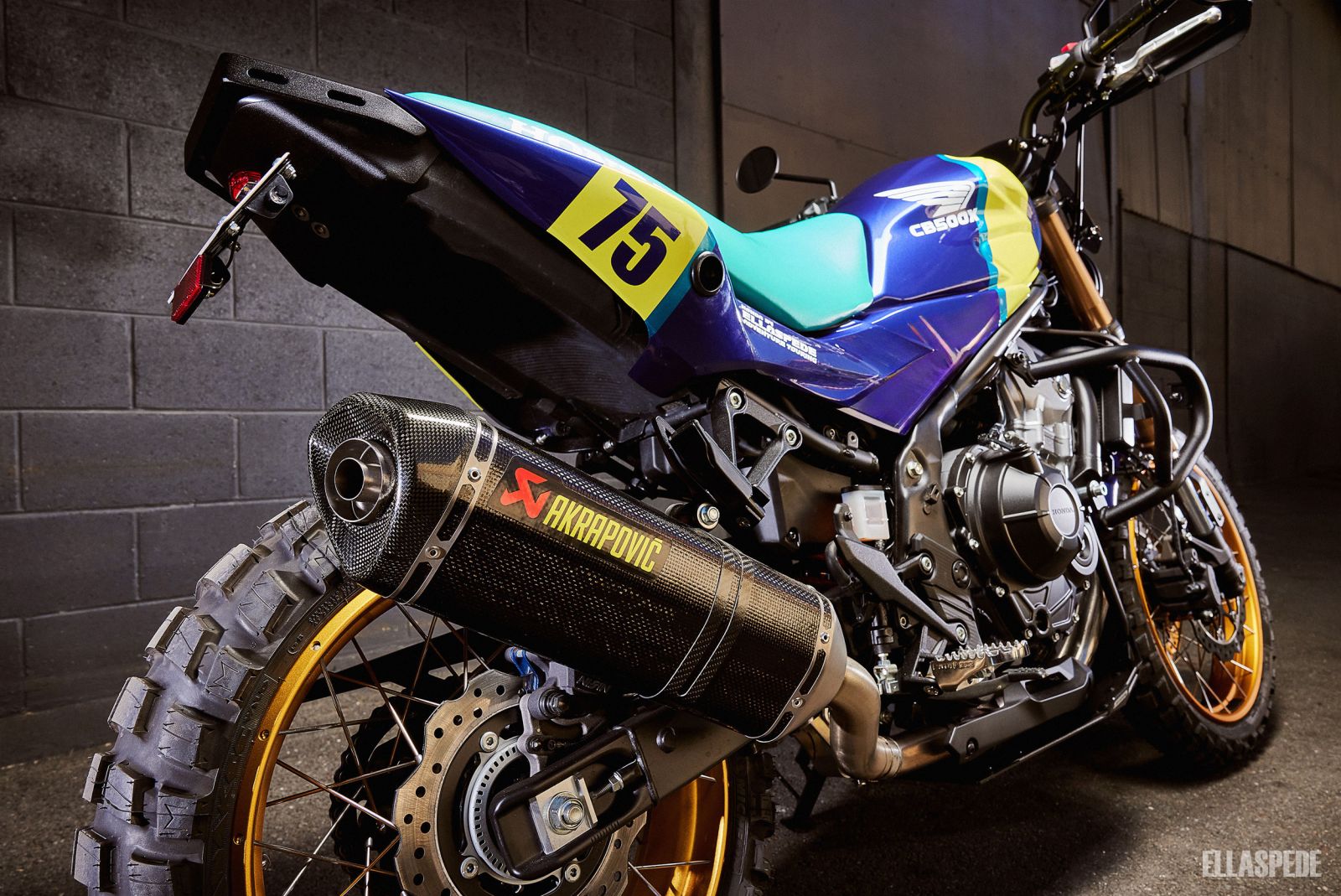 Keeping it in the family, the smaller aesthetic shape of a stock Honda CB125F plastic side covers caught our eye and with a little trimming and a couple of new mounts proved to be the perfect shape we were looking for. Additional aluminium side covers were custom made to link the rear of the tank with the CB125F items, giving a nice clean line through the side of the bike.
The stock seat pan was shortened as it won't be taking pillion passengers anytime soon, before a layering of high density comfort foam was added to sit Stephen in the ideal position, flattening out the rider area for more manoeuvrability, and provide improved comfort on long days in the saddle. A recover in teal coloured UV rated motorcycle vinyl with a white Honda logo down each side hints at the impending colour scheme choice.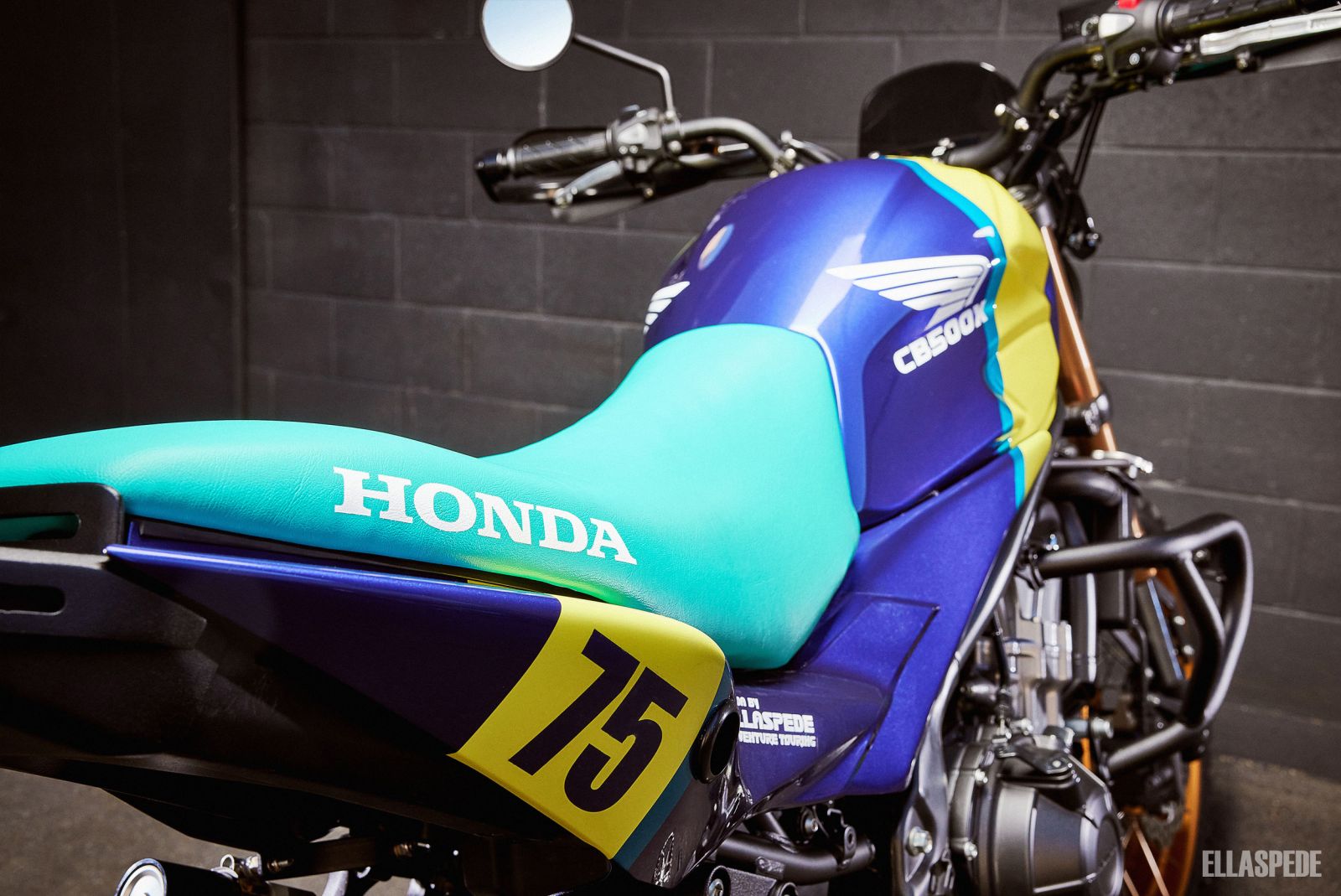 At the back the rear frame required some trimming to reduce the overall length. A cross brace was added to improve strength and act as a mount for the custom rear rack, inner guard and Ellaspede Ninja star tail tidy number plate holder. Mounts for the rear indicators were also added in nice and tight to avoid any unnecessary damage during unexpected dirt naps.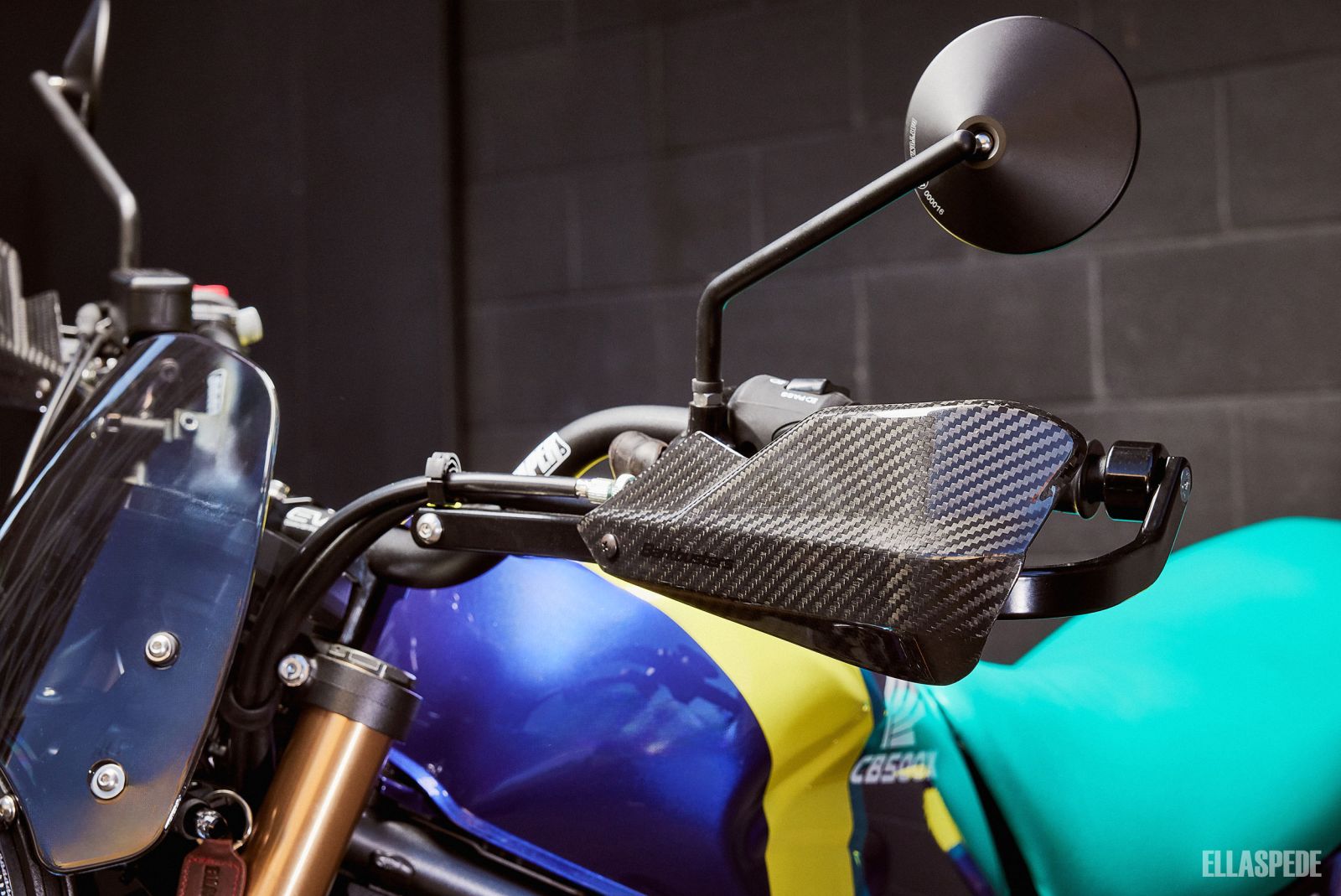 Aiming to make it a little more off road friendly and give it that classic off road look is the new spoked wheels. A bolt on 'VMX' brand kit was chosen for it's 'outside spoke' design, measuring 19x2.5" at the front and 17x4.25" at the rear. We hadn't used this brand of wheel kit before but were impressed with the quality. Michelin Anakee Wild's are the tyre of choice and look the part in 110/80-19 front and 170/60-17 rear.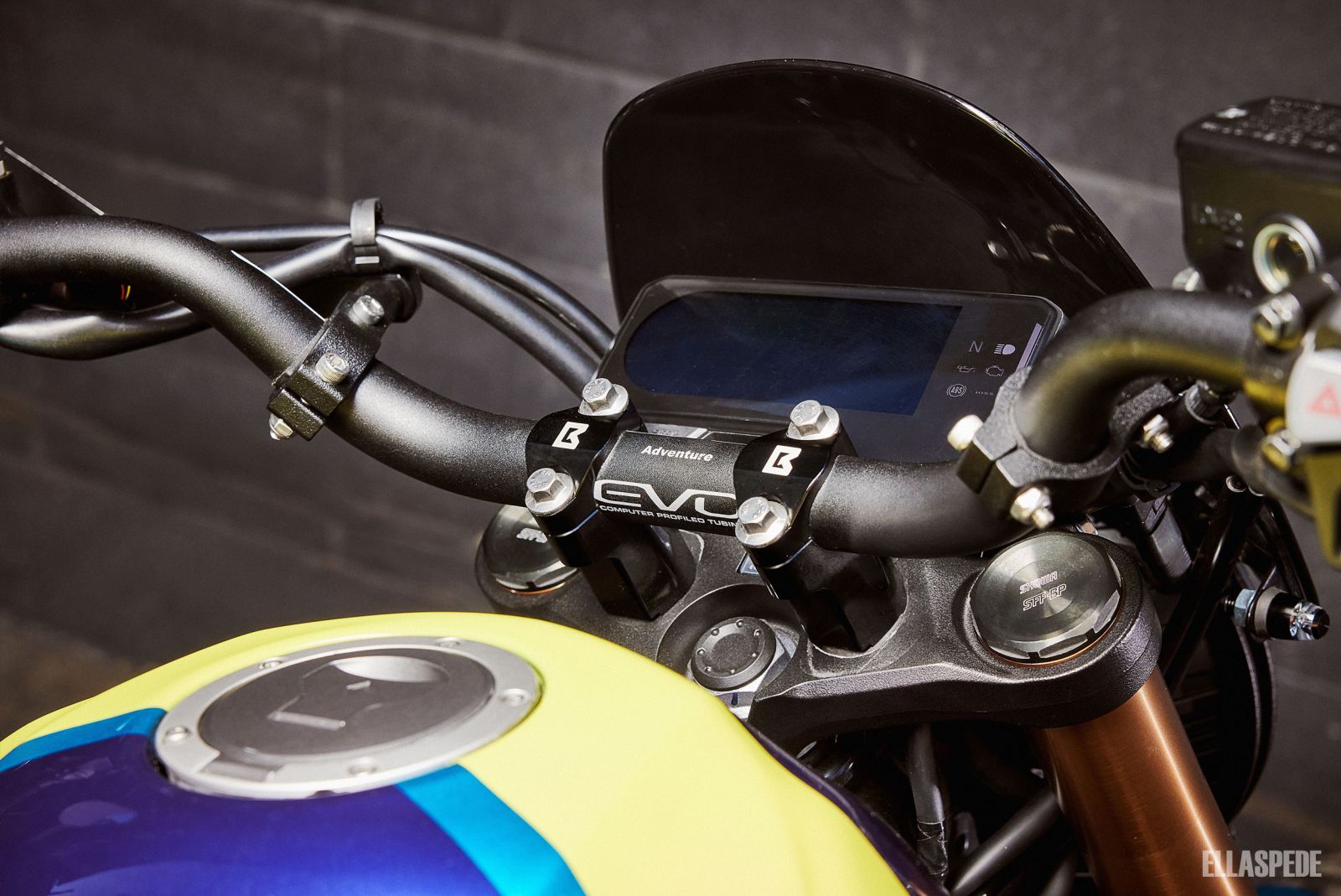 One of the usual complaints of an 'affordable' adventure bike is the suspension, so Stephen wanted to pay particular attention to upgrading the CB500X front and rear. MPE Suspension on the Sunshine Coast was tasked with rebuilding the front forks to Stephen's weight, they opted for replacement springs, revalving with new shims and a heavier oil. At the back a YSS MX456W Hi-Lo Mono Shock with remote gas canister provides a huge improvement in performance over the stock unit. It was also fitted with the optional extension to gain an extra 30mm ground clearance too.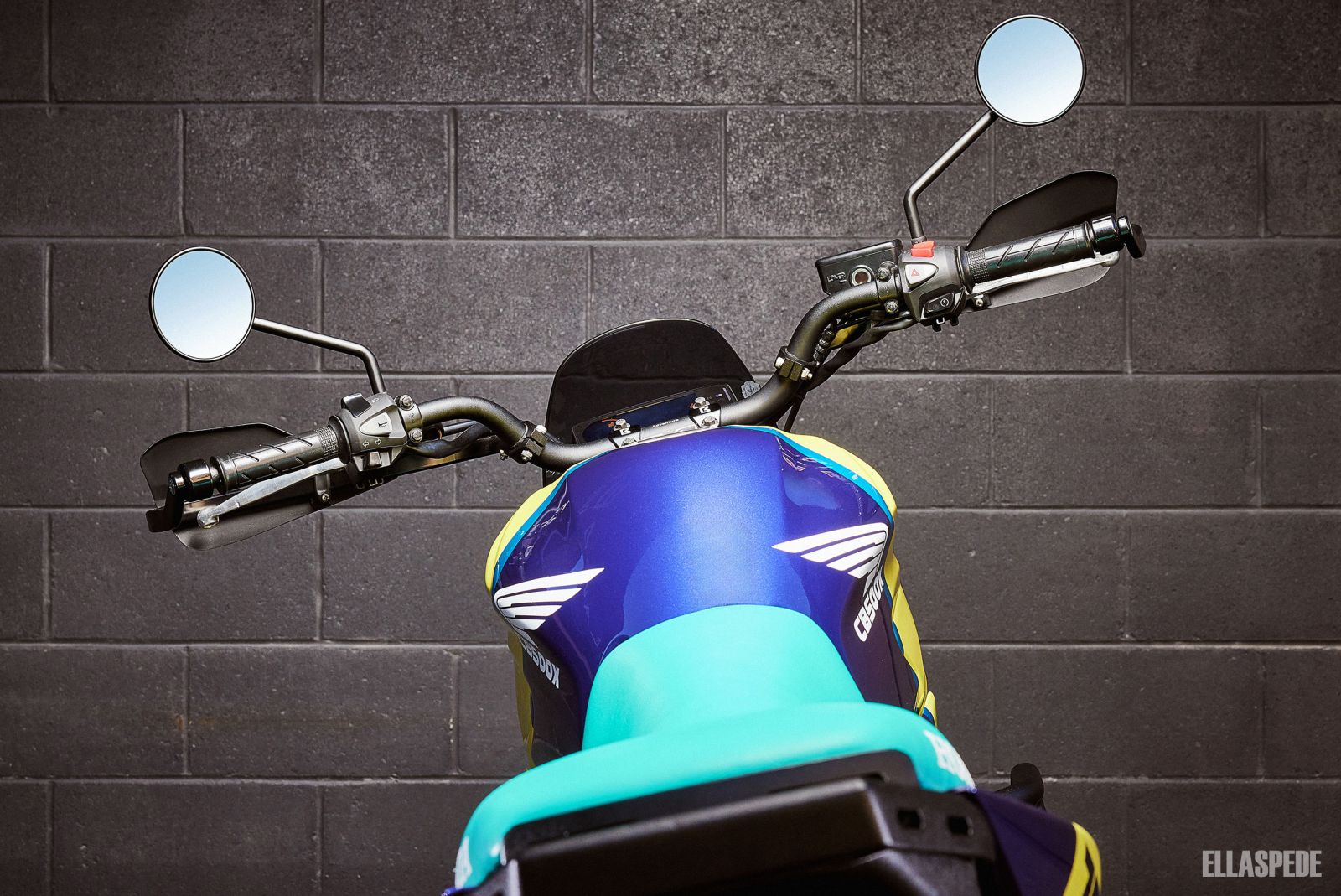 With the bike rolling again the remaining parts and pieces were fitted up. The crash bars and bark busters that came on the bike were recoated and mounted back on. The rotating Pivot Pegz Mk4 foot pegs were also added to given Stephen a bigger platform for stand up riding as well. Adding some extra bark and saving a solid few kilos in weight is a slip on Akrapovic Carbon muffler.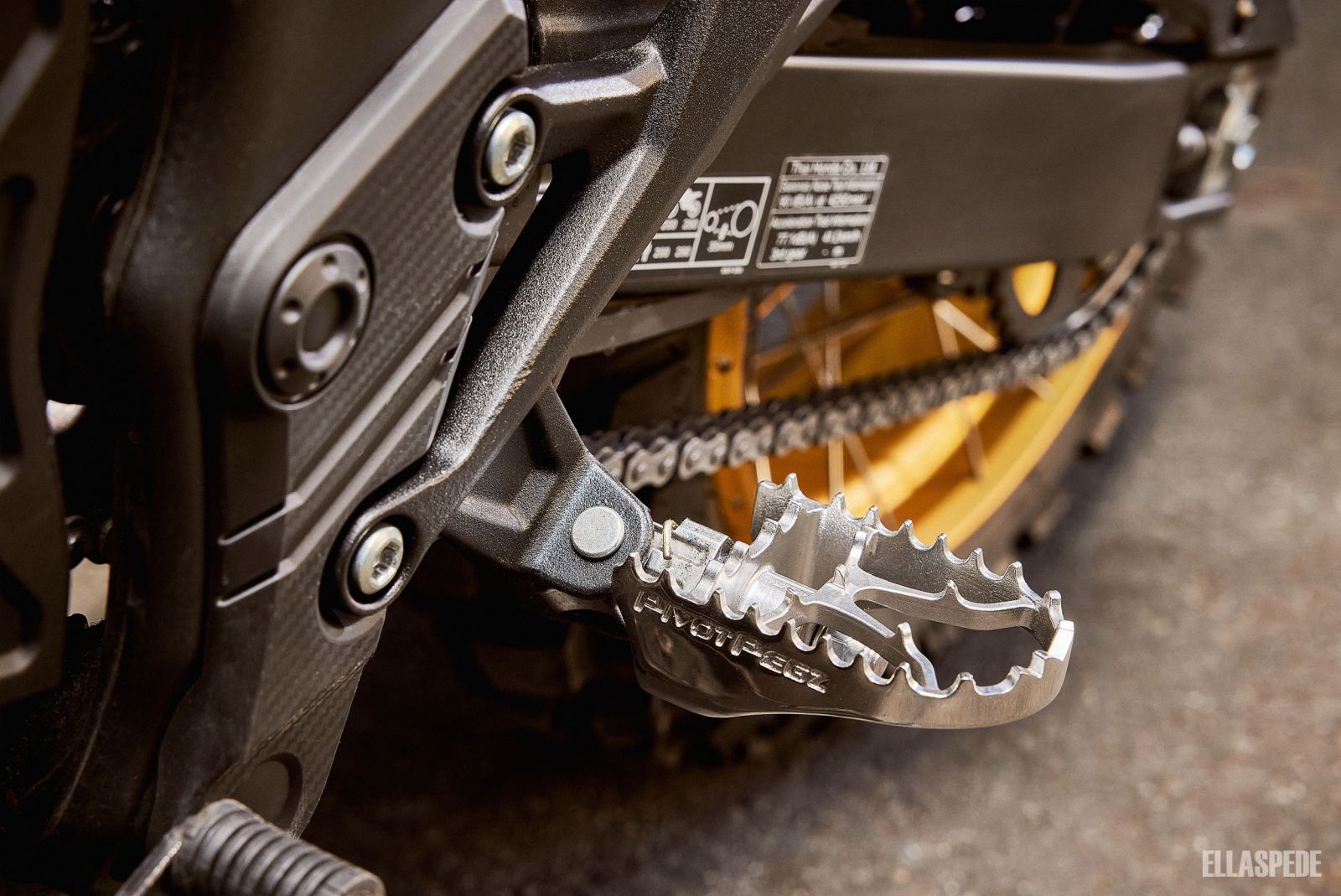 Rounding out the electrical additions are tiny but super bright MotoGadget pin indicators front and rear, with a Koso Hawkeye LED tail light fitting directly to the tail tidy at the back for a small but extremely visible stop/tail option. Due to the CB500X having 'running lights' in the factory front indicators, a small patch harness for the indicator relay was also required to get the replacement winkers working as they should.
When Stephen really heads off into the dirt a USB charger was wired in to keep the a navigation system pointing him in the right direction. Plus a new Ellaspede ABS brake on/off switch kit (coming soon) was added to ensure he's in complete control without any ABS interference on the slippery off road sections.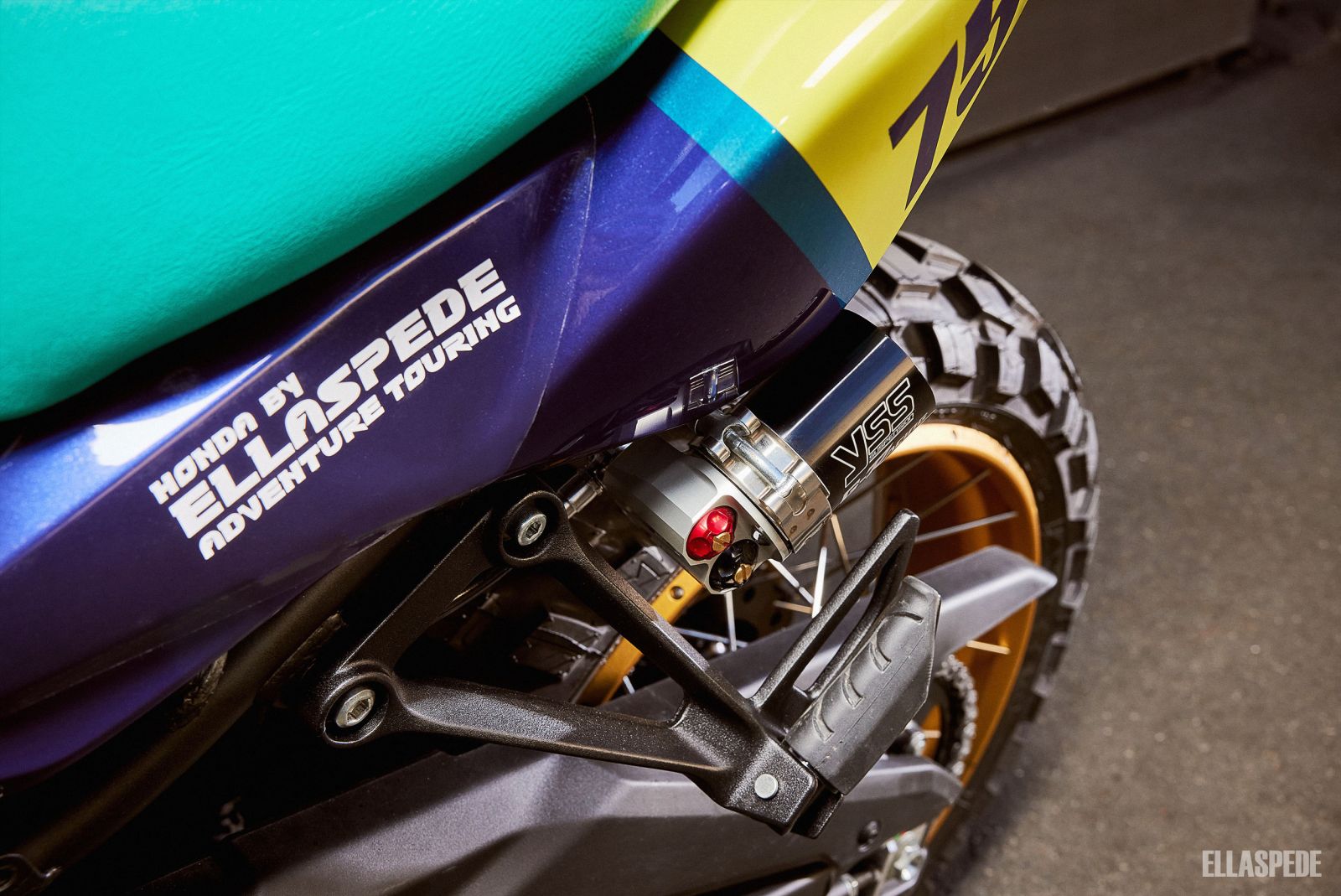 When it came to paint, Stephen was happy to leave it in our hands to come up with a design. He said… "I'm an architect, so I'm usually the guy producing design work for clients who value my expertise. In this case I really tried to flip that so I could be the client and trust in the designers to produce something amazing, which Ellaspede have certainly done! I was a kid in the 80's and early 90's, so the colour scheme borrowed from Honda Transalps of that time is a fun throwback for me."
We knew we wanted something loud that would suit the bike but also Stephen as the owner. Inspired by the mid sized Honda adventure bikes of the 90's, we went straight to searching through images of old Honda Dominators and Transalps. In the end it was the factory purple and dark turquoise from 1998 and 1994 Honda Transalps respectively that was chosen for the feature colours. With a modern Honda 'attract yellow pearl' being the perfect contrast partner.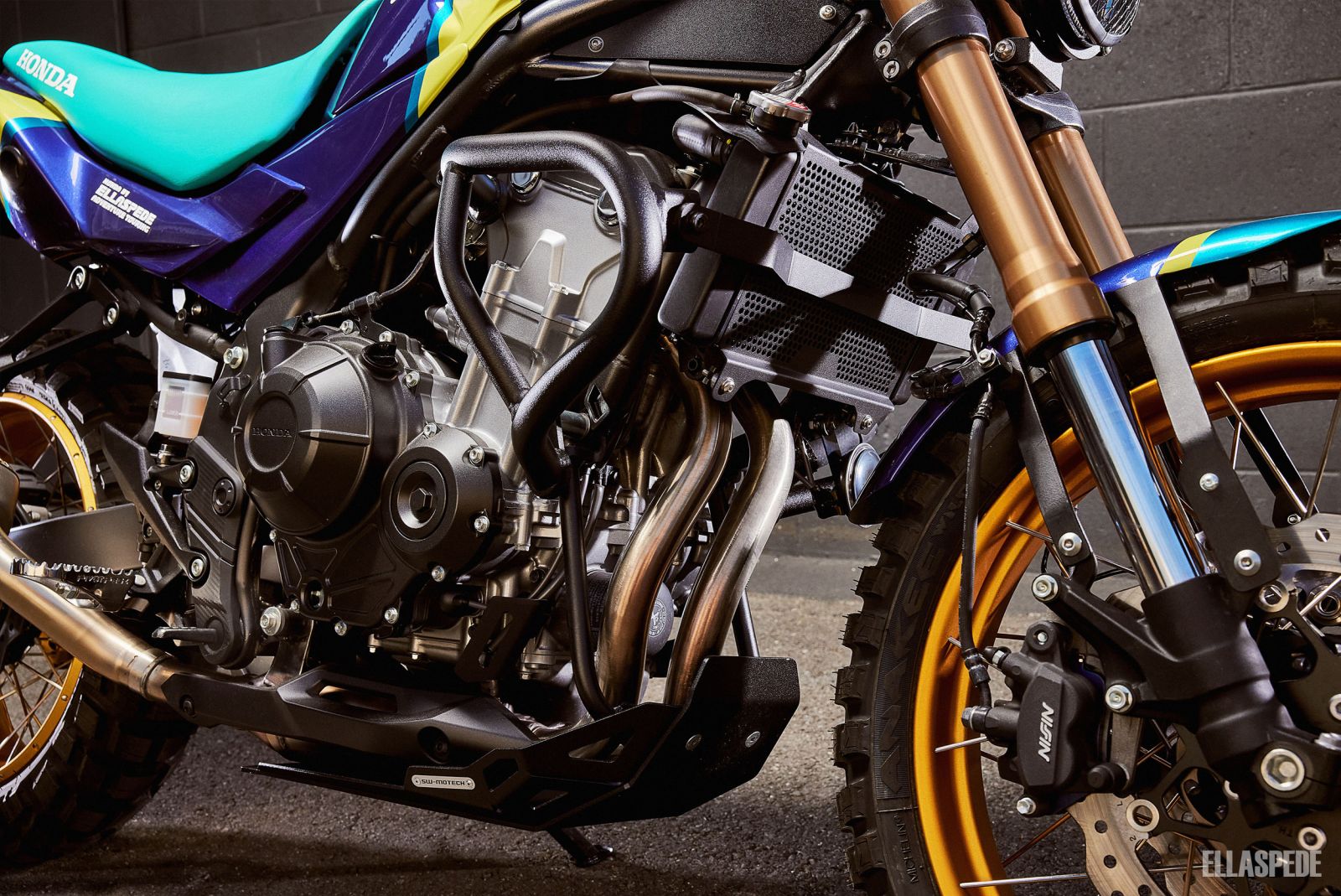 The paint livery got a lick across the tank, front guard, aluminium mid side panels and modified CB125F rear side panels as well, tying in to the seat colour just as we had hoped. Some bright white decals and Stephen's number 75 round out the added paint artwork.
After the final finishes were done and all bolted up it was just time for test riding and fine tuning. In stock form the 2022 Honda CB500X presents itself as a well-rounded package and now Stephen has a really individual example with enhancements in all the area's he required.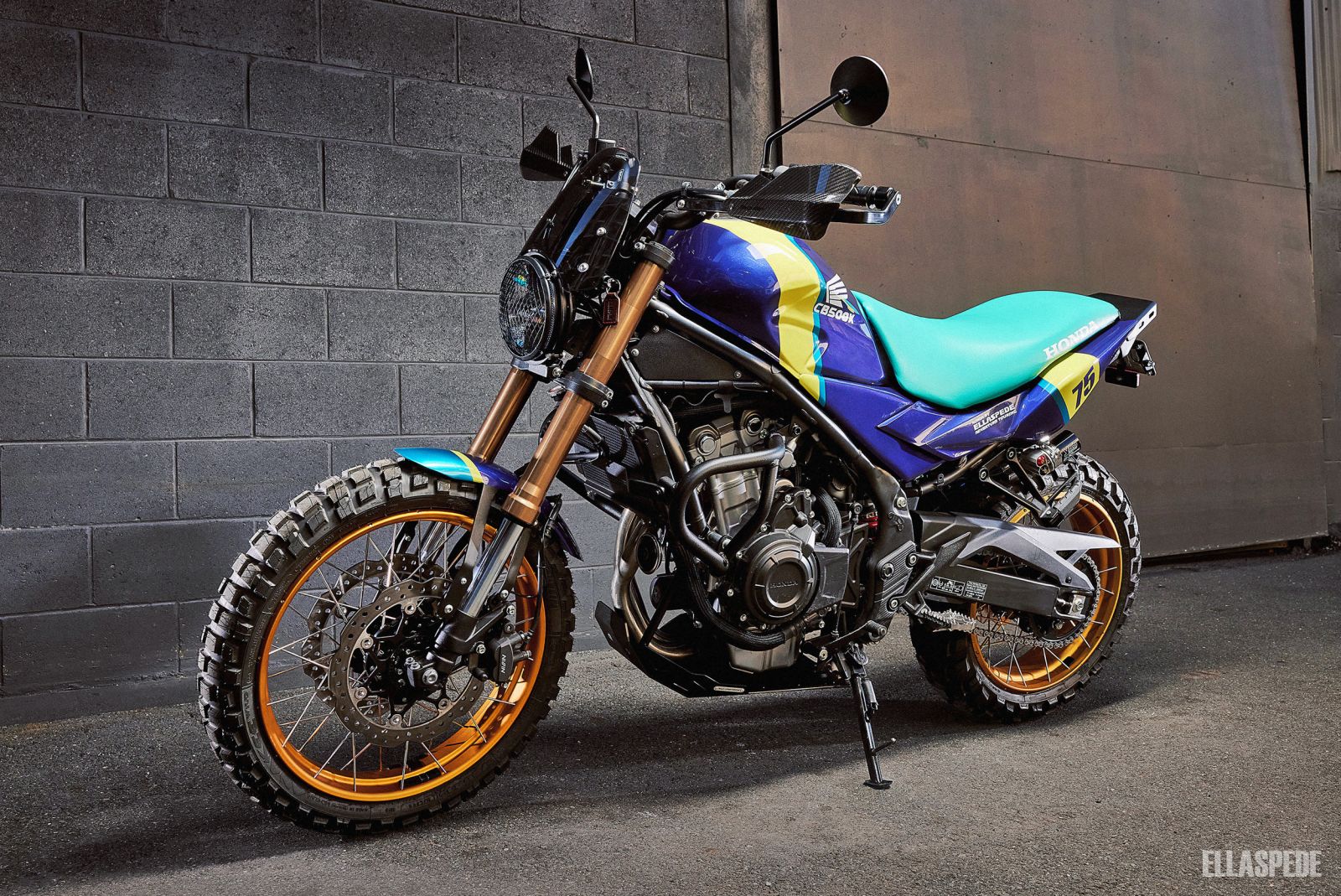 He said… "Of all the bits I love, and there are many, I'd have to say that the really minimal front end is my favourite part. The smoke grey mini screen over the simple round headlight which is placed at the perfect height, and the almost-invisible pin indicators, with all the original fairings removed to reveal the USD forks and twin rotors over the new spoked off-road wheels... It has that purposeful presence and lightweight minimalism of an adventure racer."
After a thorough test ride Stephen also added… "The seat! It is so much more comfortable than the original Honda seat. I rode the bike for 6 hours the day after I picked it up and was amazed how much better it is now. It's a wild colour too…"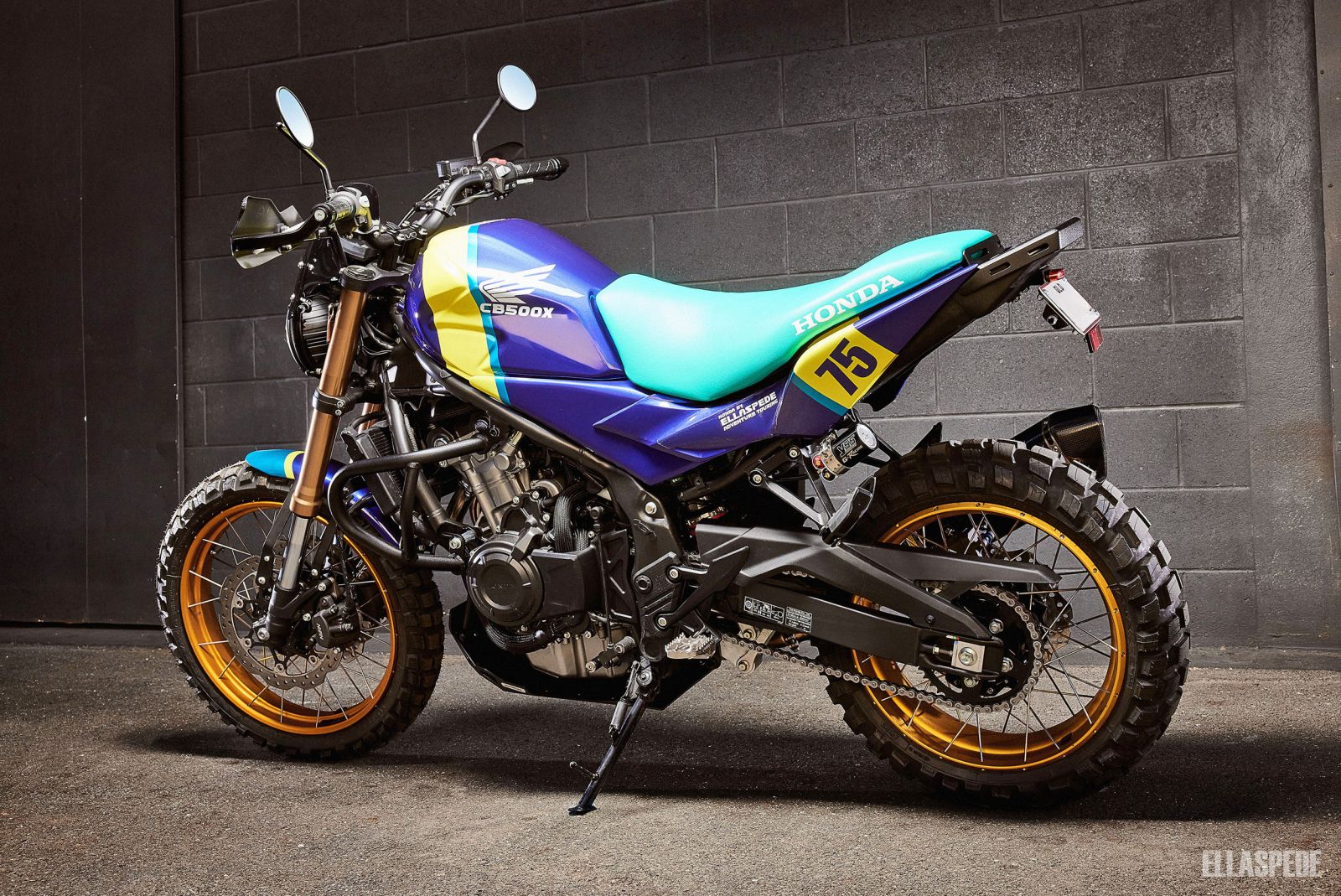 Stephen's already given it a good shakedown, but we asked him what other riding plans he had in mind… "It's headed for forest trails and off-road terrain, via back country roads. It will inevitably be dropped and scratched and covered in mud and dust, and while it looks amazing all fresh and new, I can't wait until it starts to gather the patina of use."
A custom build that's already being put through it's paces and used as it should be, that's what we like to hear! We're pumped with how well this mid-sized adventure machine has turned out and can't wait to see it again with some battle scars of the inevitable adventures Stephen's been out on. Makes us think we should build another just to get in on the action!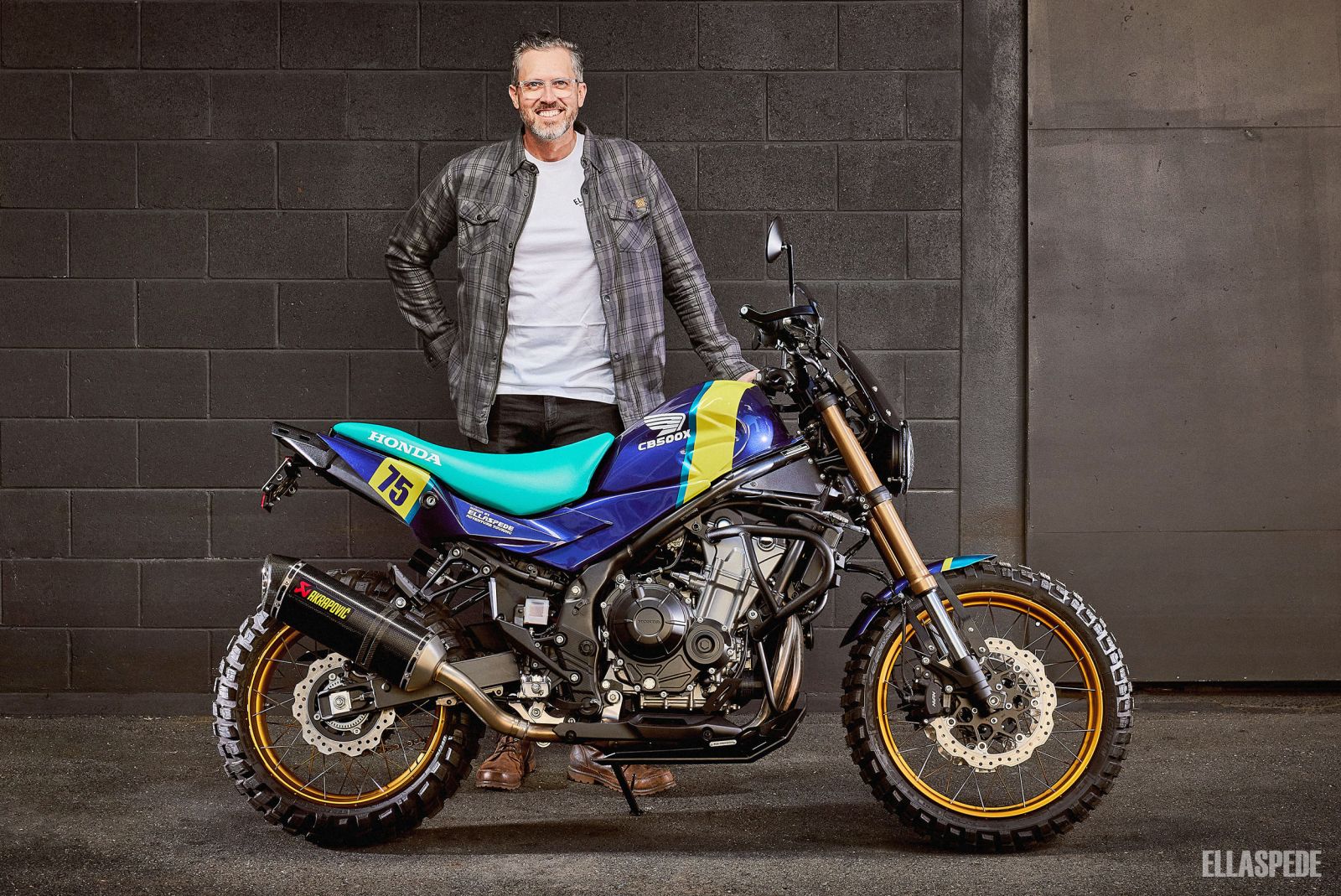 ---
Albums we listened to during the build of this bike:
---
Photos & Features:
---
Build Pricing & Enquiries:
For build and pricing details or to discuss commissioning a custom motorcycle build of your own please email contact@ellaspede.com
---
---
Comments (1)
Love it

By:

Stephen

on 4 October 2023

Love the bike, love the story. And damn it's got plenty of that patina already....! Thanks guys.





Ellaspede Response
We're stoked how it turned out and pumped to see you already using it how it should! Cheers Stephen
---
Leave a comment