EB016 – Harley Davidson Sportster 48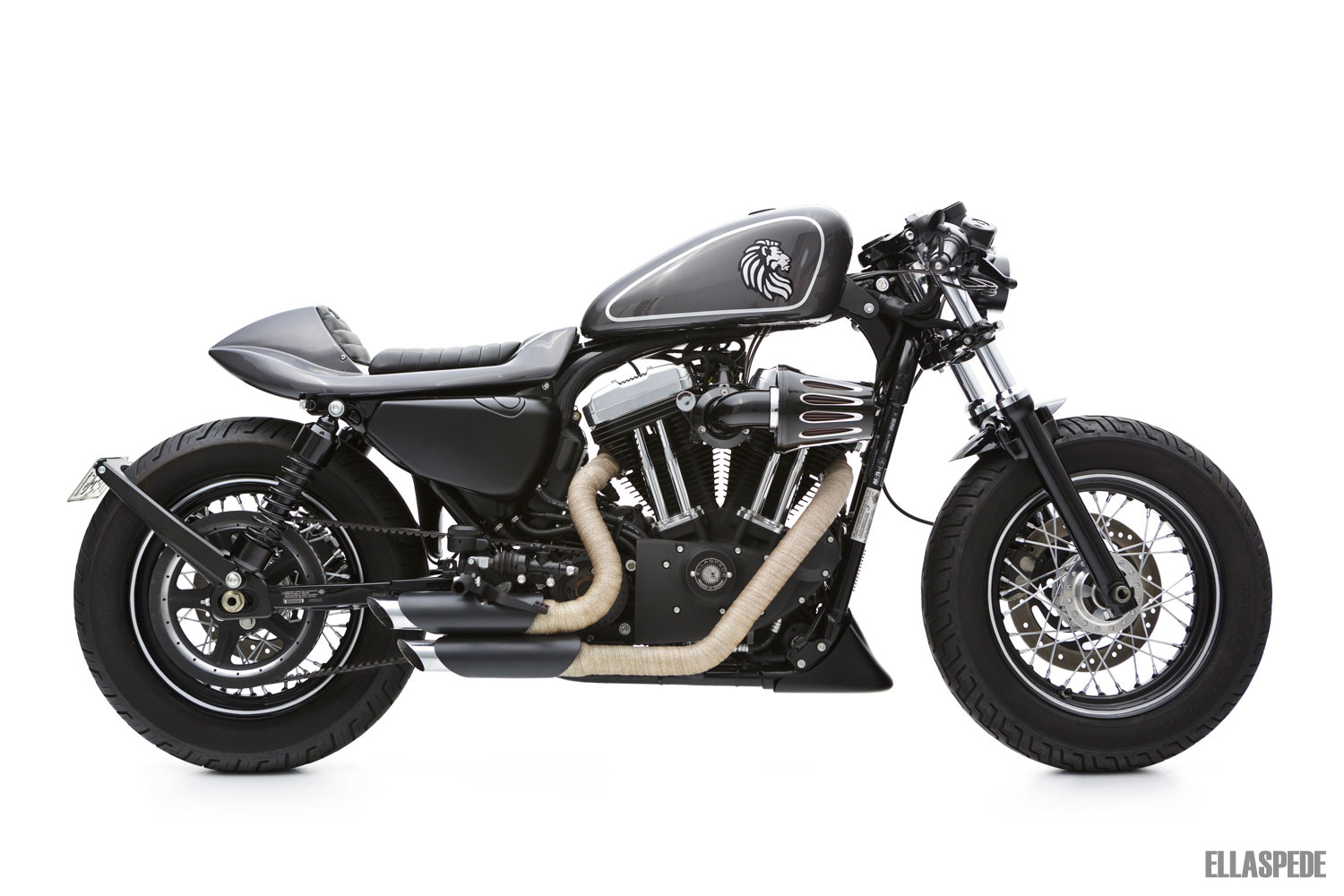 When Warwick Lyon started work on this Sportster "Forty Eight" he wanted to build a modern interpretation of a cafe racer with elements of a hard-boiled street-fighter.
Warwick is a Brisbane based motorcycle builder who operates under the name of Rampant Motorcycles from his home workshop. When he realised that he needed specialist design assistance with this build, he engaged Steve and Leo from Ellaspede Custom Motorcycles to help with the design and fabrication.
Steve, Leo and many of their team are professional industrial designers based in Brisbane, who under their brand Ellaspede, specialise in all things to do with custom motorcycles & motorcycle culture, and that is precisely the help Warwick needed to finish this build.
Overall Design Concept
The overall concept with this build was to take an already powerful motorcycle, in terms of performance and appearance, and modify it to enhance that power. This was achieved through simple stage 1 engine modifications to increase horsepower and responsiveness and via significant modifications to the body work, riding position and overall geometry of the motorcycle to improve handling and provide an aggressively powerful stance.
The design is heavily influenced by elements of modern café racers and streetfighters.
The primary elements of this build that work together to achieve the design objectives include removing the cruiser style rear fender and replacing it with a custom fabricated tail section, raising the rear end 2.5" and lowering the front end slightly, fitting a larger capacity tank, replacing the cruiser style foot controls with racer style rear-sets, and fitting clip-on handlebars with bar-end mirrors.
Details
The 1200cc v-twin Evolution engine, as used in the Sportster range, is already a reasonably good performing engine in its stock format, producing around 67.5hp and 107Nm of torque. By fitting a high performance Screaming Eagle air intake, a free flowing Vance & Hines exhaust system, and remapping the ECU using the Screaming Eagle Super Tuner, the engine's performance has been upgraded to produce around 75hp and 115Nm of torque.
Warwick completed the above, added the rear-sets, new rear suspension, sourced the headlight, indicators and other electrical items and most of the front end mods before engaging Ellaspede to assist in the completion of the build.
After defining the end goal through visual concept generation, the team at Ellaspede got underway.
The tail section comprising the seat and lockable storage hutch was the most time consuming element on the bike and ran over the course of this second stage of the build. A styrofoam model was first shaped to achieve the desired style. The shape was then computer modelled and sent out for CNC cutting out of ABS plastic. A custom seat pan was fabricated and then (along with the hutch door) covered in tuck and roll kangaroo leather.
The flexible LED tail light fits nicely into the rear cowl that hints at early european sports car rear ends.
The whole structure is mounted to the frame on custom mounts.
Another CNC'd item was the custom number plate mount. Once again it was modelled, then through CAD was CNC'd in aluminium and finished in matte black. Finding a secure mounting point that didn't require adjustment of the original swing arm / axle adjustment set up was the key to its success.
Whilst not utilised here the mount also allows for a mudguard to be run if desired.
The top tree and gauge mount were reinterpretations of the original items comprising machining the tree with additional material added to allow the inverted gauge mount to now mount underneath the tree. Pursuing this route also allowed the use of the original pilot / dash light strip.
As with many builds until they're explained you cannot always appreciate the work that goes into them. A good example of this are the electrics.
Re-working them featured heavily in this build to achieve a minimalist result you see. As with most EFI / ECU controlled vehicles there are a lot of wires running here and there to make the whole thing work and hiding them can prove difficult when there are few hiding spots.
The new larger tank offered very little to this end but by re-routing much of the loom and locating larger connectors / resistor packs etc behind the rear inner guard the goal was achieved.
The custom muffler shrouds were fabricated from stainless steel and have been ceramic coated.
The chosen paint scheme uses subdued tones in a racy striped theme. Because the bike is quite aggressive in form, having loud colours may have been a little too much. Warwick chose restraint here and as a result has achieved a classy monochrome finish.
Many standard items were repainted in the same black colour but in different matte, satin or gloss finishes to compliment the overall theme.
Custom CNC'd engine covers were powder coated, then etched to feature both the builders emblems.
This build dramatically changes the look, stance, and riding position of Harley Davidson's 2011 XL 1200 – 48 and furnishes Warwick with a very one-off bike. The use of quality aftermarket components and well thought out finishes add to its appeal.
It is also a good example of the importance of good, reliable and understanding suppliers and builder / client relationship… it took some time to complete and there were many challenges to overcome.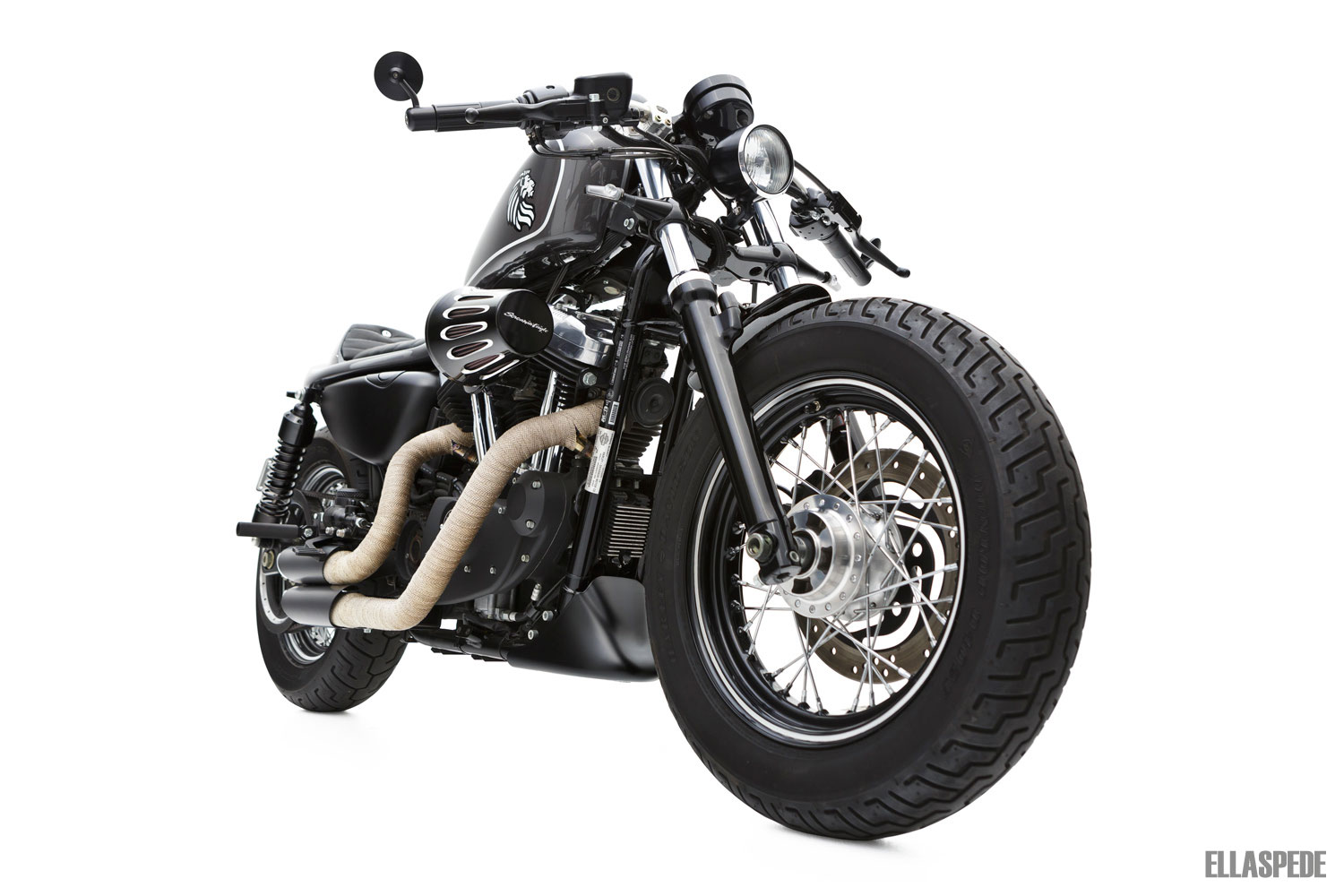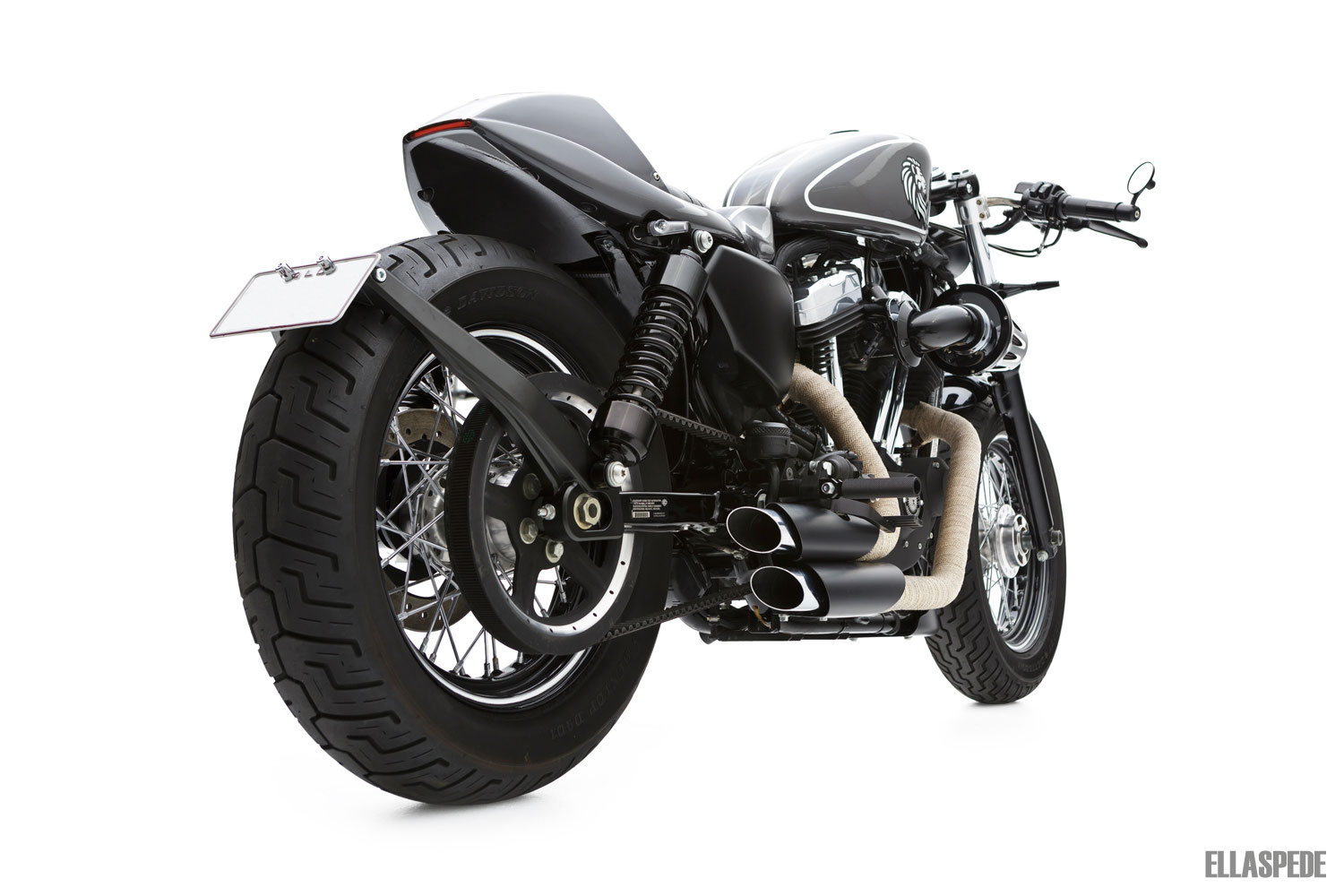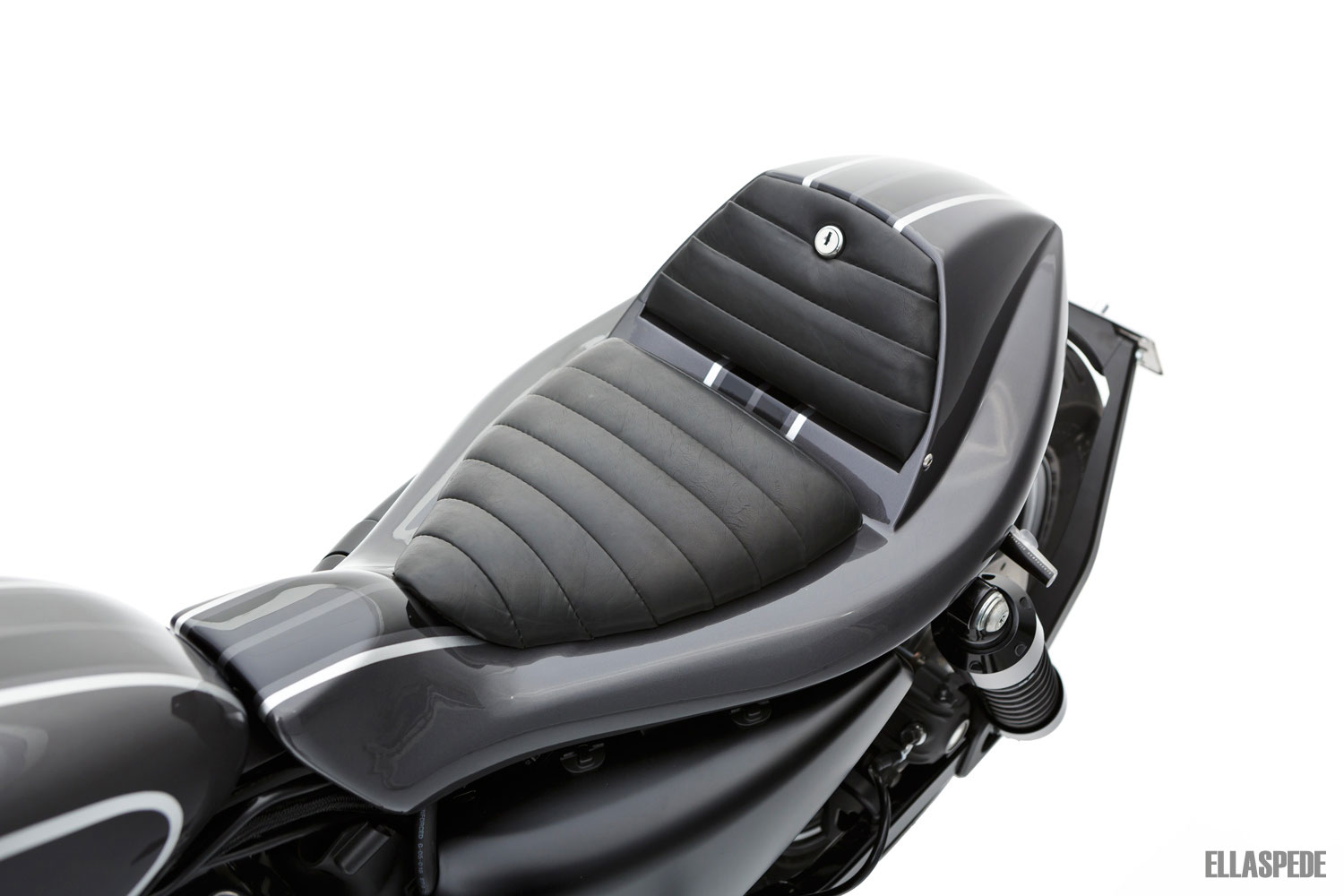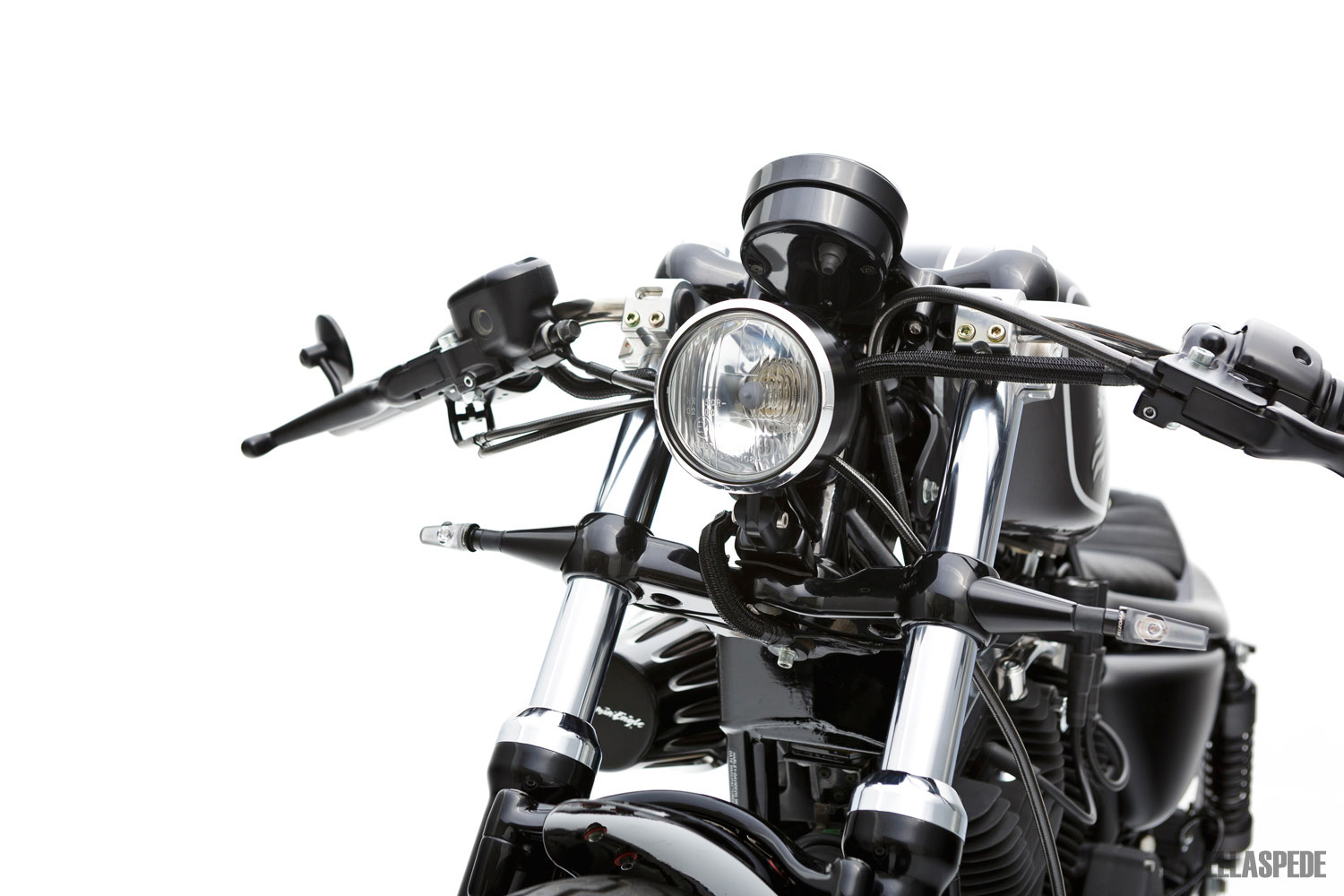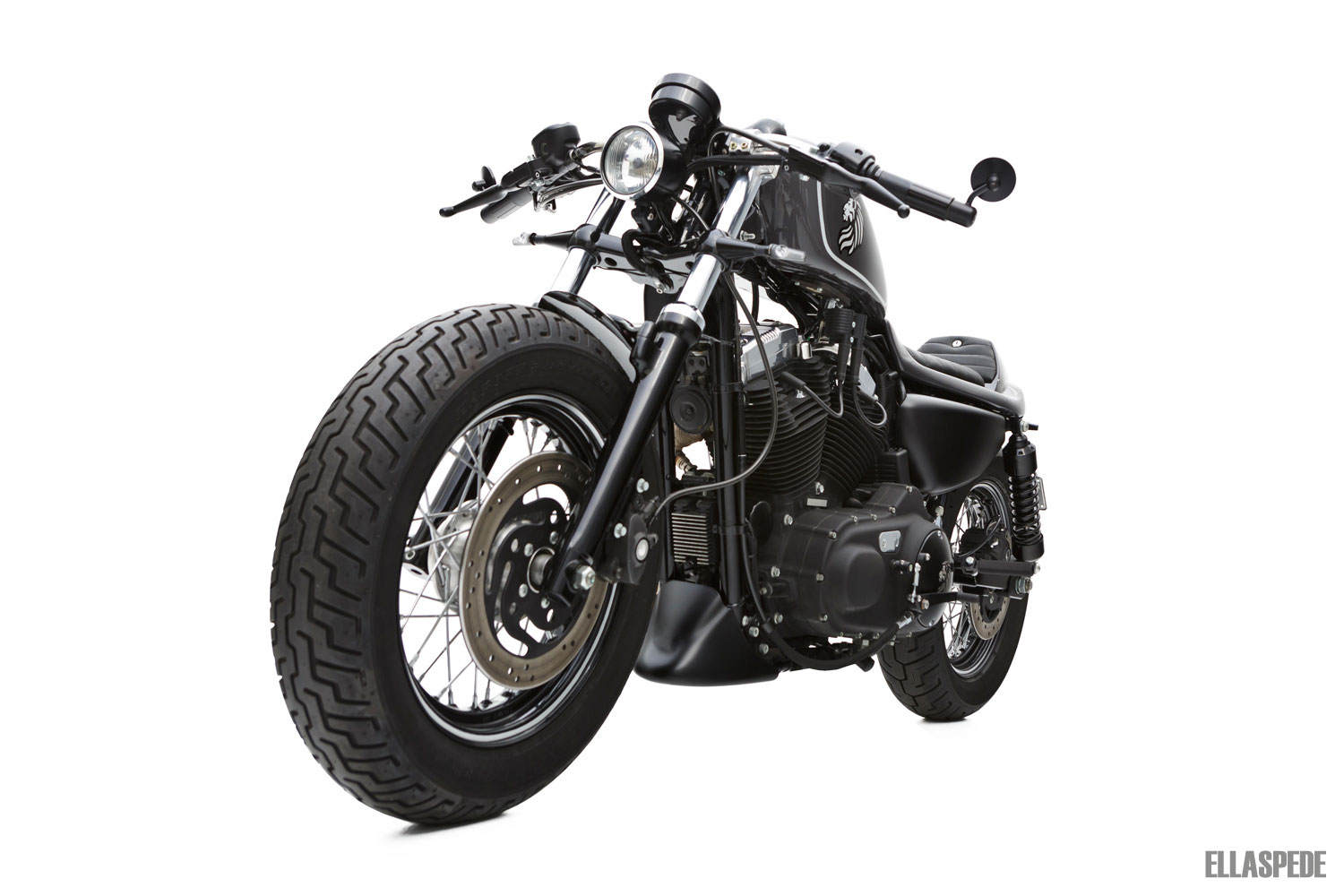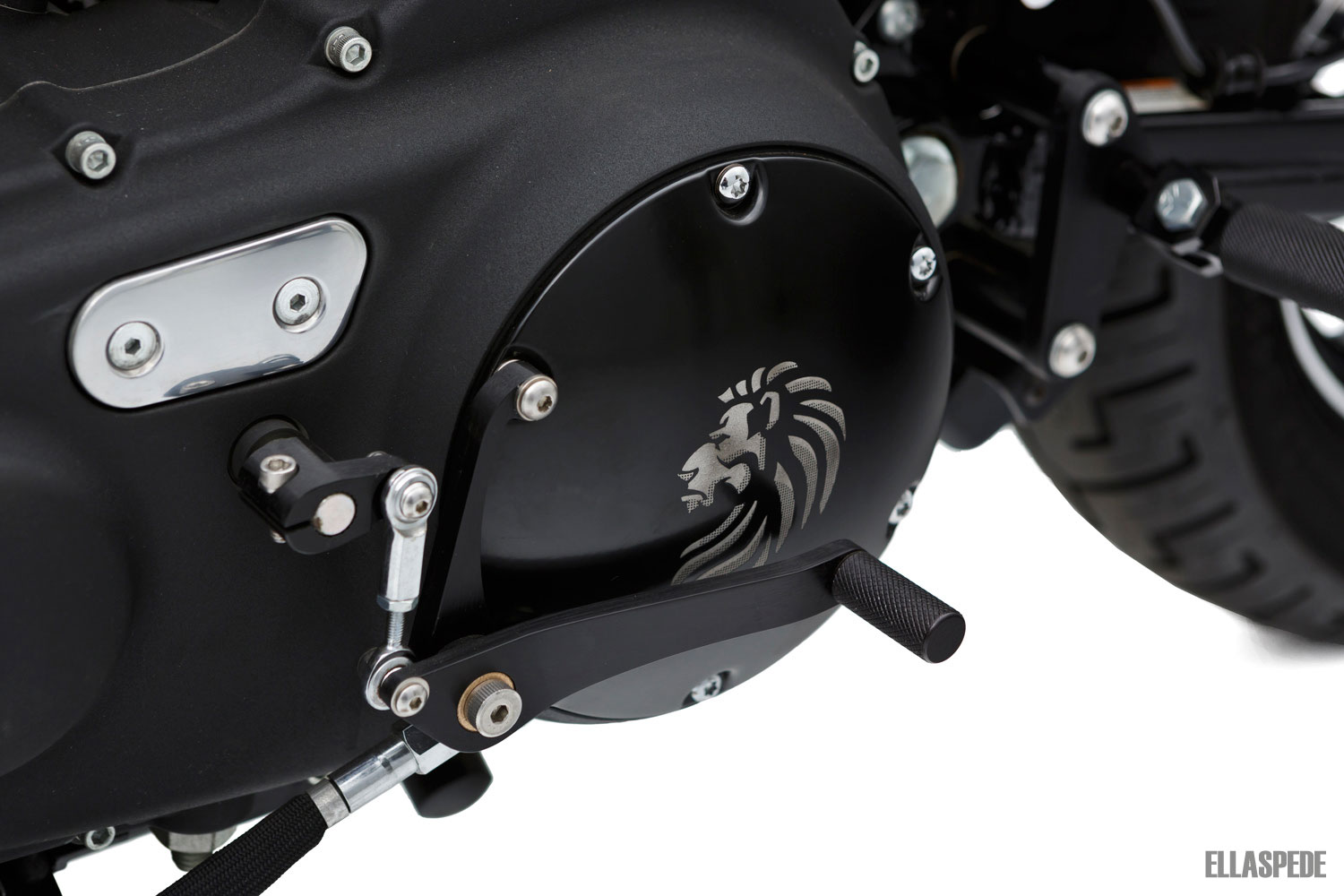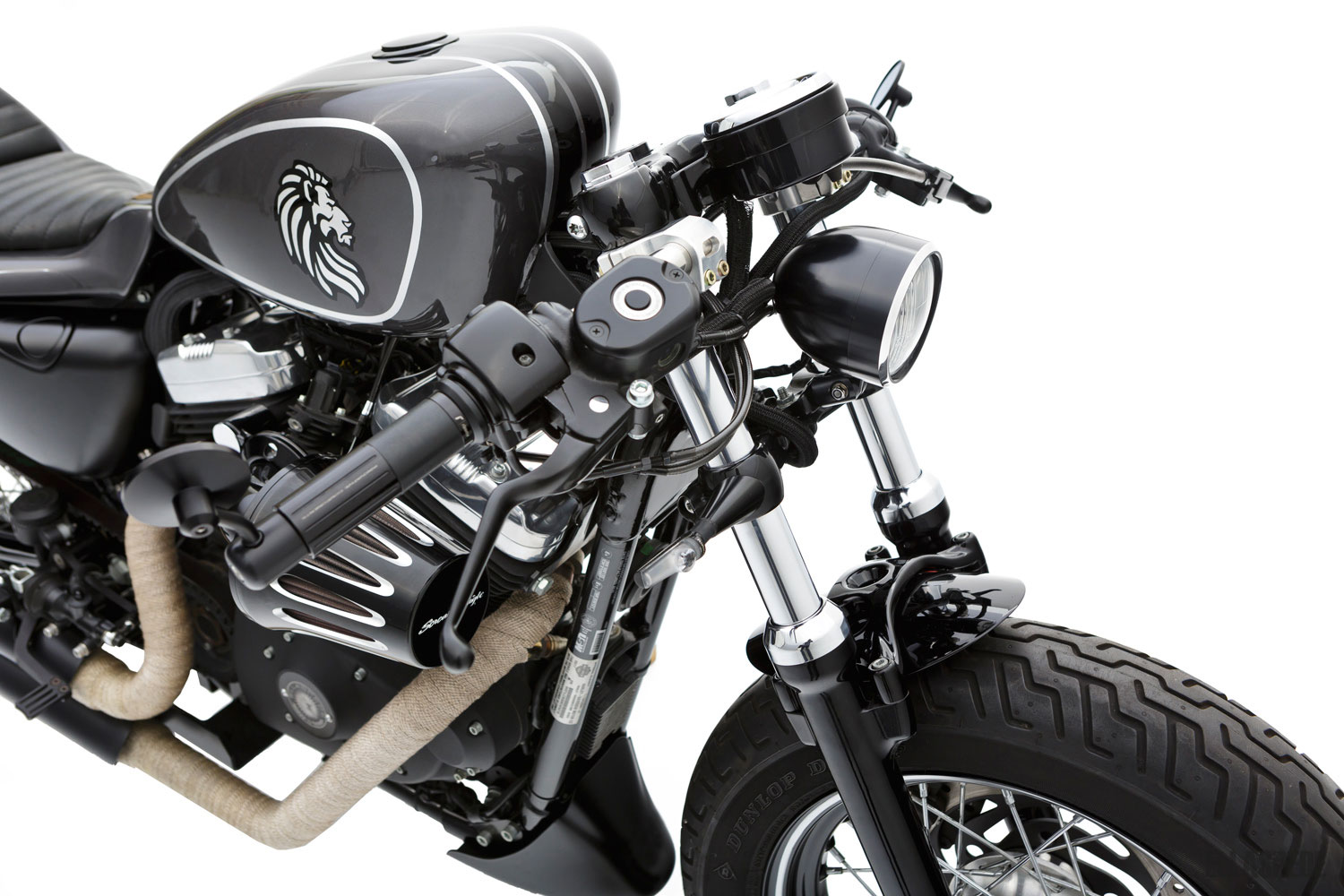 Albums we listened to during the build of this bike:
---
Photos and Features:
---