EB616 - 2012 Ducati Monster 659
Author: Ellaspede Date Posted:30 July 2019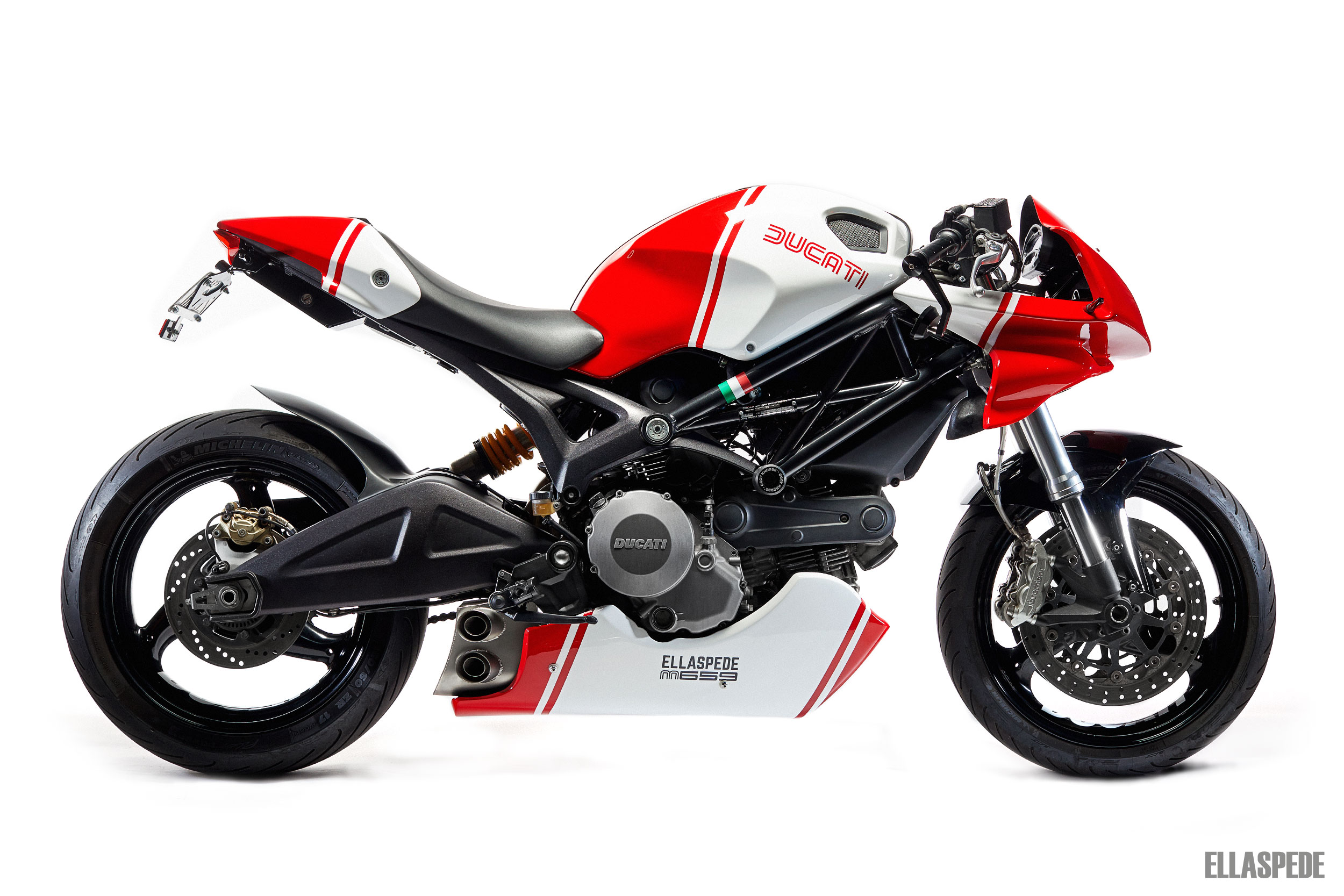 A 'made for Australia only' model, the Ducati Monster 659 ABS is just a 696 Monster that's been restricted for the local LAMS (Learner Approved Motorcycle Scheme) market. Despite the expensive price tag for a bike in this category, we found the 659 was definitely worthy of a bit more 'dosh' when looking for a custom donor.
When launched in 2011 the Ducati 659 was one of the top 3 selling learner approved bikes in Australia. It seems that the lofty price wasn't deterring new or younger riders from wanting a bike that clearly wasn't built to a budget like many of the other LAMS offerings. Owner Andrew was in the same boat, so the 659 was an ideal bike for someone on a restricted licence who was looking for unrestricted quality and Italian appeal.
It just so happens that Andrew's 2012 model was also a Valentino Rossi special addition adorned with his signature fluro yellow 46 number. For a moment the signature Rossi livery was considered, but with Valentino going back to Yamaha in 2013 and the affordable abundance of 659 Rossi panels popping up online it was decided to keep the colours classic Ducati for this custom build.
Although the 659 ticked most boxes for Andrew, it lacked a little of the 'hyper aggressive' style that the bigger Monsters and Panigale range were renowned for. The suspension, brakes and handling were already inline with his expectations, but it was the aggressive aesthetic and sound that was left wanting.
Luckily a key to kicking off the project was finding the Paolo 'Tex' Design front fairing and bellypan from Italy. With any custom project there are always hurdles and the Tex Design panels were only designed to fit the older and larger Monster models. Despite this, we decided to press on, ordering the panels and getting the bike in to begin the transformation.
Once the bike and new panels were in the shop it was evident how far off fitting it was. All the panels were trimmed and massaged to fit the 659, with mounts modified or made in most instances. A QD Ex-Box exhaust was sourced to match the bellypan profile, but required pipework to match it up with this model. Finalising the panel work was some adjustment of the stock rear cowl to suit.
Continuing the 'aggressive' transformation, the top mount handlebars were binned in favour of Woodcraft clip ons. More trimming of the front cowl was required to fit these given it was originally designed to suit the Monster top mount bars, but it was really worthwhile in terms of riding position and overall aesthetic once the work was done.
The 659 has a pretty neat factory gauge, so it was kept and remounted tight and low on a custom bracket. While Rizoma indicators made their way on front and rear to replace the large factory items. A tail tidy out the back keeps the rear end clear of clutter, mounting only the essentials nice and tight under the stock rear light. Under slung bar end mirrors now match the 'angled forward' build aesthetic.
With no pillion plans for this bike the one piece rider and passenger peg mounts were cut down and finished in a frame matching powder coat. All the other fairing brackets, custom mounts and some stock parts were also coated to achieve a fresh factory look.
All the panels and pieces were now falling into place. It was time to lay some paint layers that would highlight this bike's Italian heritage and ensure it stands out from the crowd should any other 659 owners cross Andrew's path.
A classic red and white was the obvious choice, but we wanted to change it up a little and get it 'leaning forward' to match the angled intent of the 659's new bodywork. A classic Ducati logo was painted on the tank, with a Ducati Corse racing logo on the front guard, Italian 'flag' stripes wrapping the trellis frame on each side and bold logo letters wrap around the inside of each wheel.
In stock form the Ducati Monster 659 is a great bike ('apparently' it's pretty easy to uncork some extra power via the injector body throttle stopper too). But great bikes can always be improved, especially when you want to make it a little more aggressive then the factory intended for a learner approved ride.
Make no mistake, we would happily ride one of these things with an 'open' licence. They tick plenty of boxes and have enough power to get up and go when you feel like channelling some 2011-2012 Rossi vibes. Now though, Andrew's custom is evidence that sometimes an aggressive Italian ride is only a few mods away, no matter what licence you're on.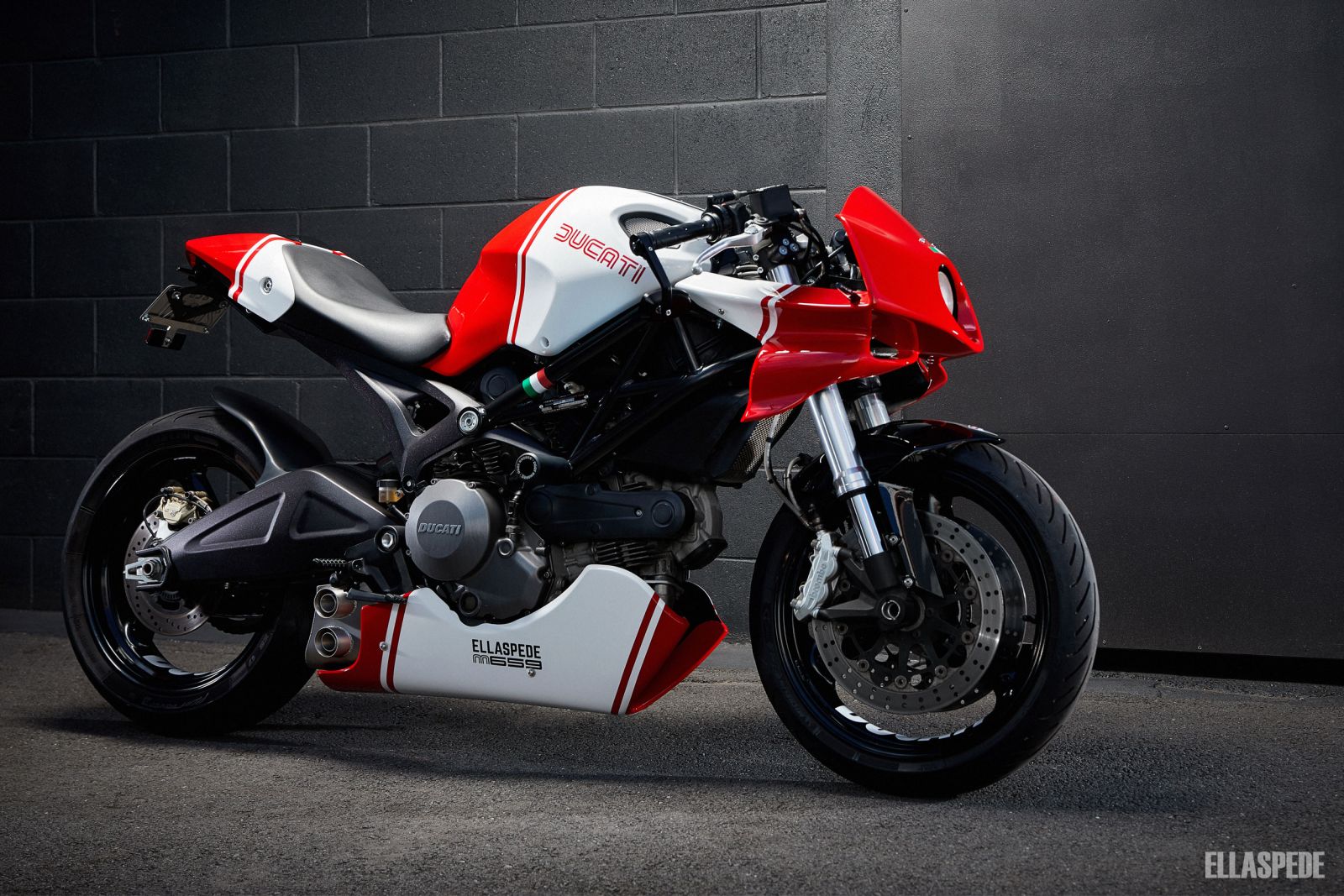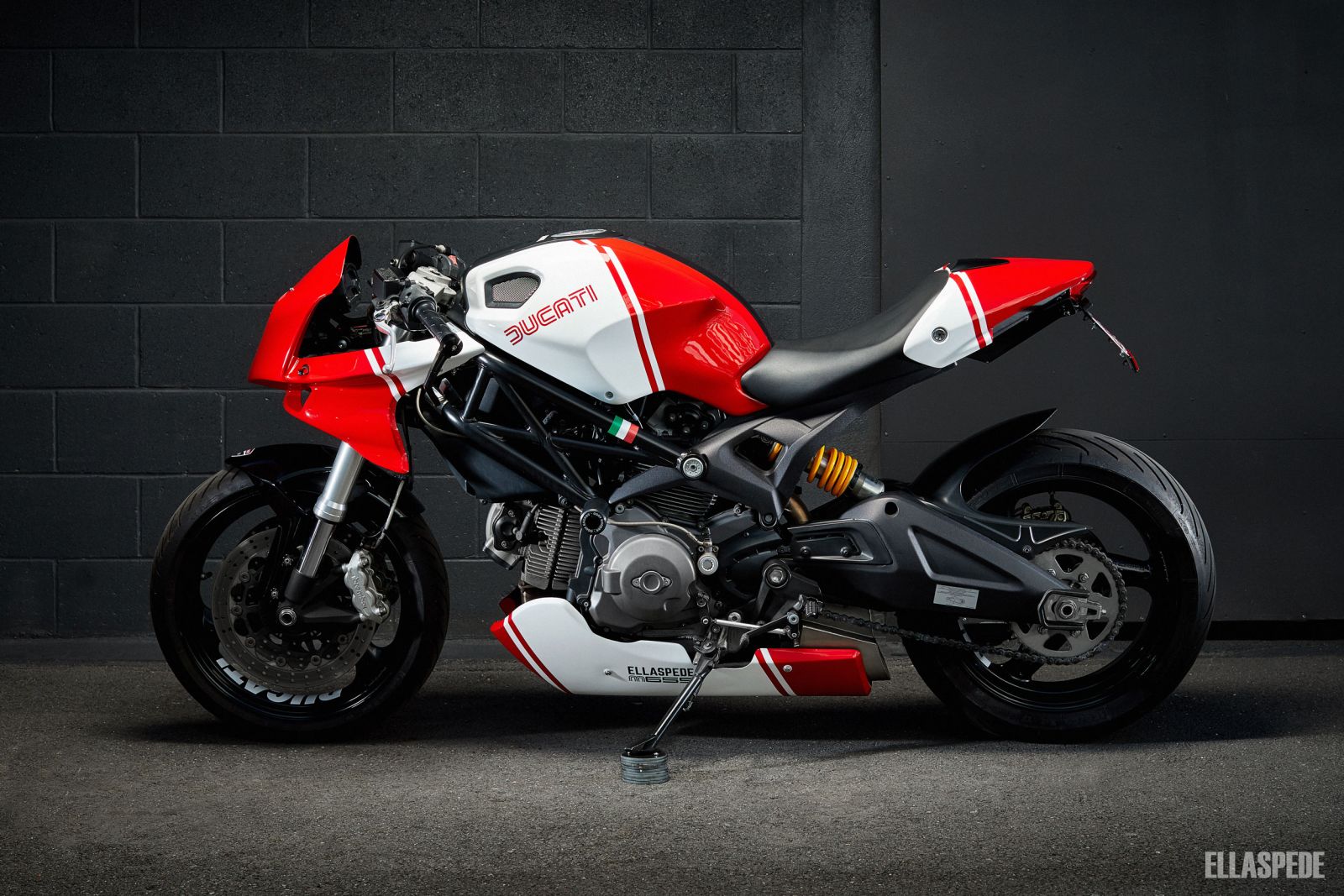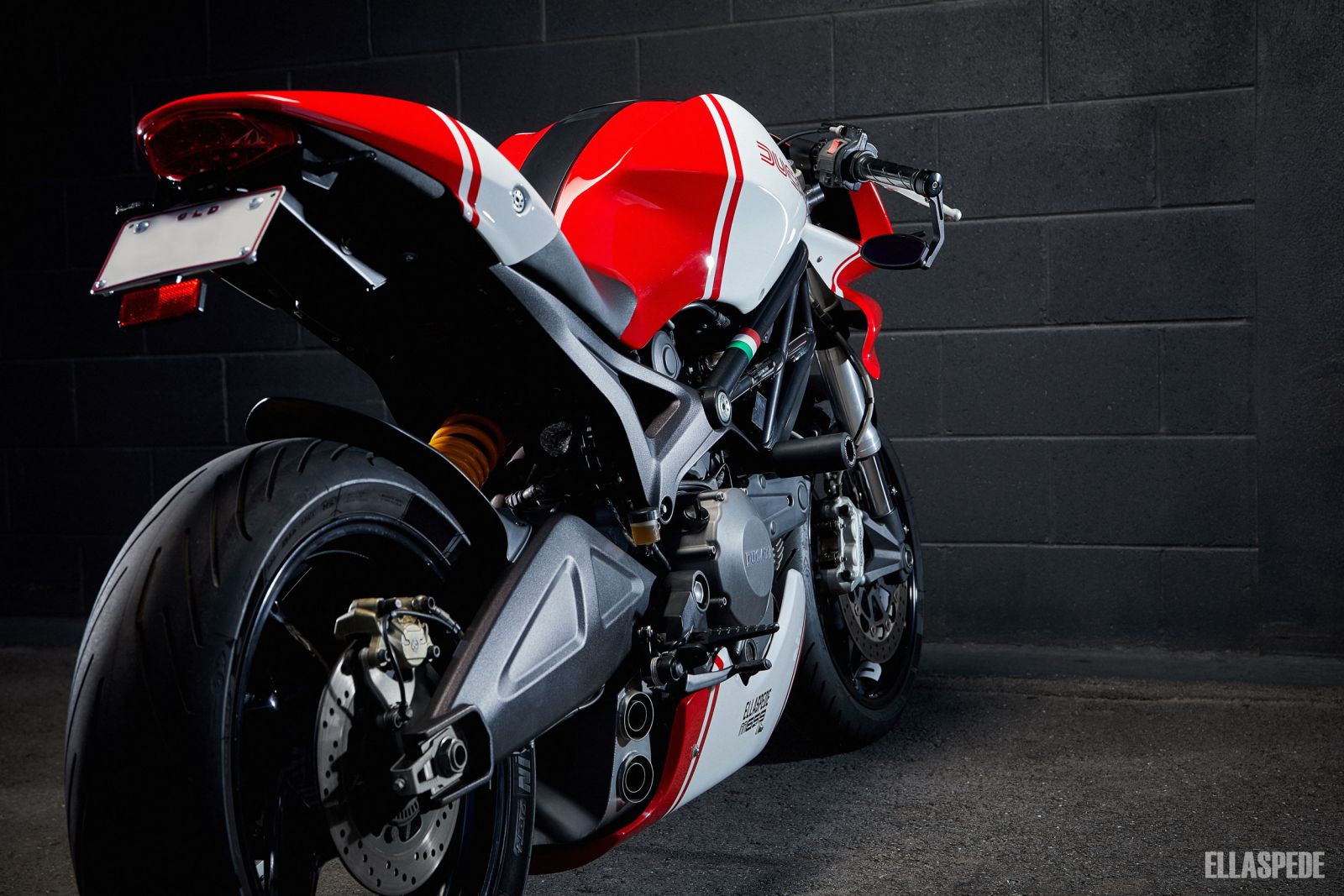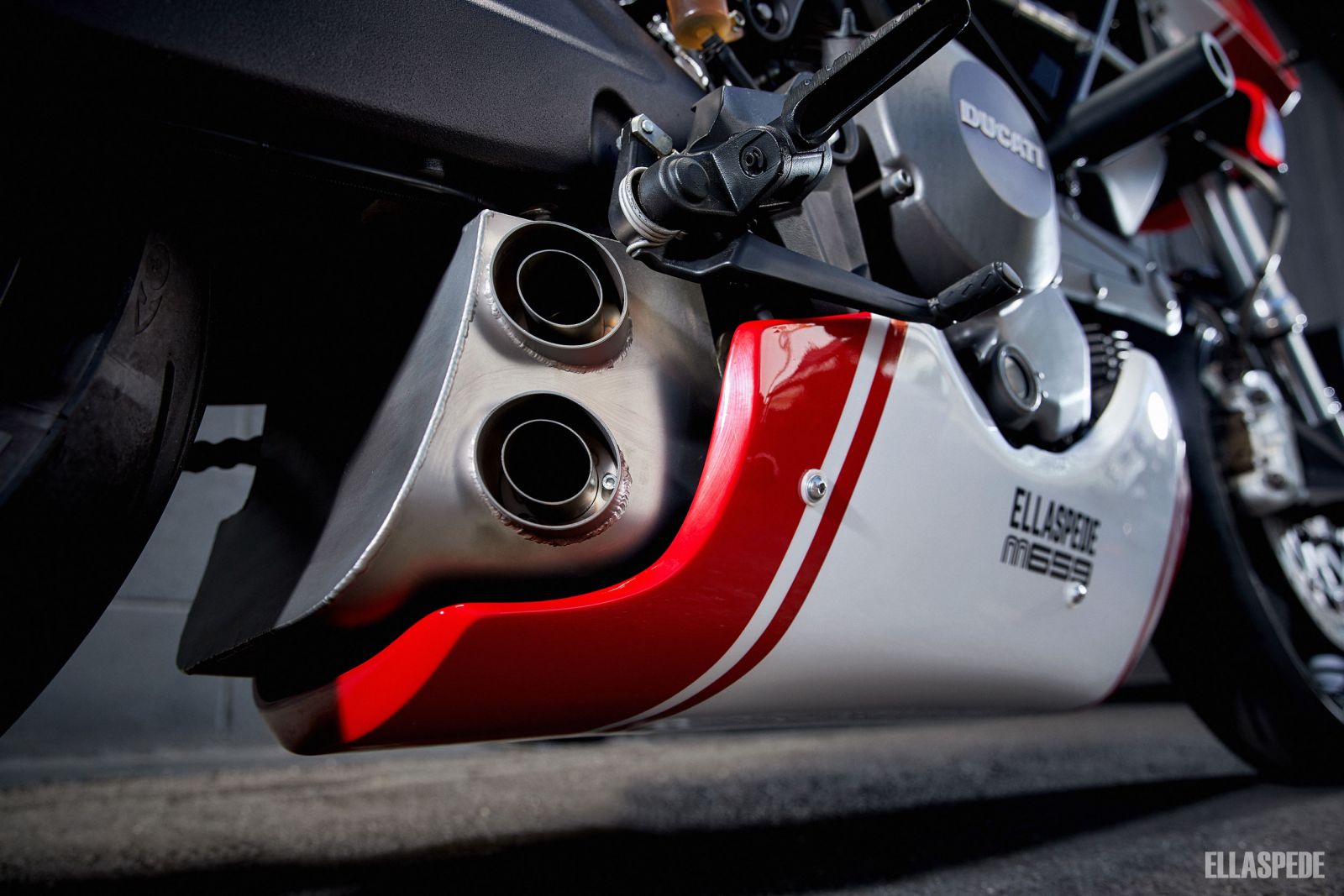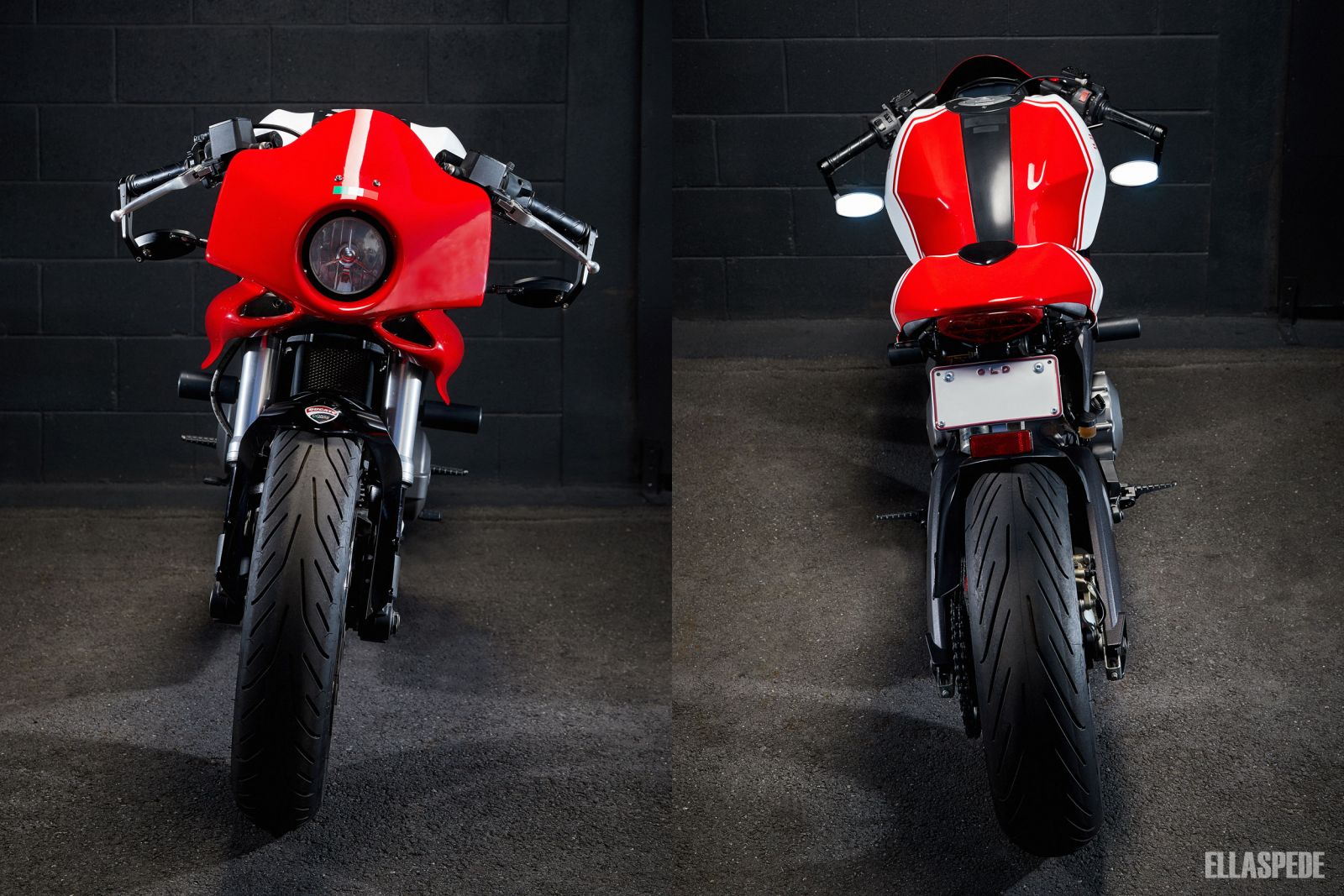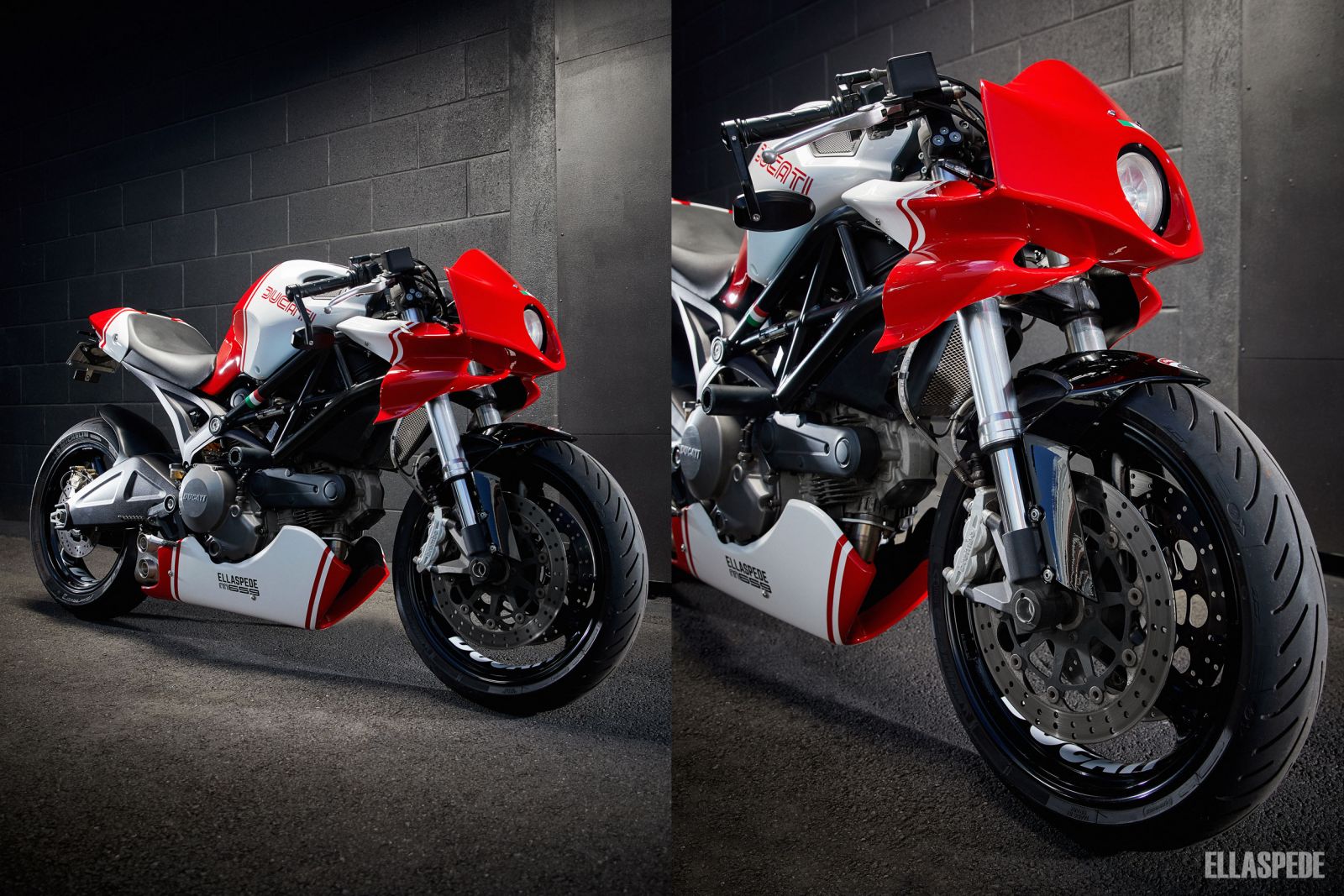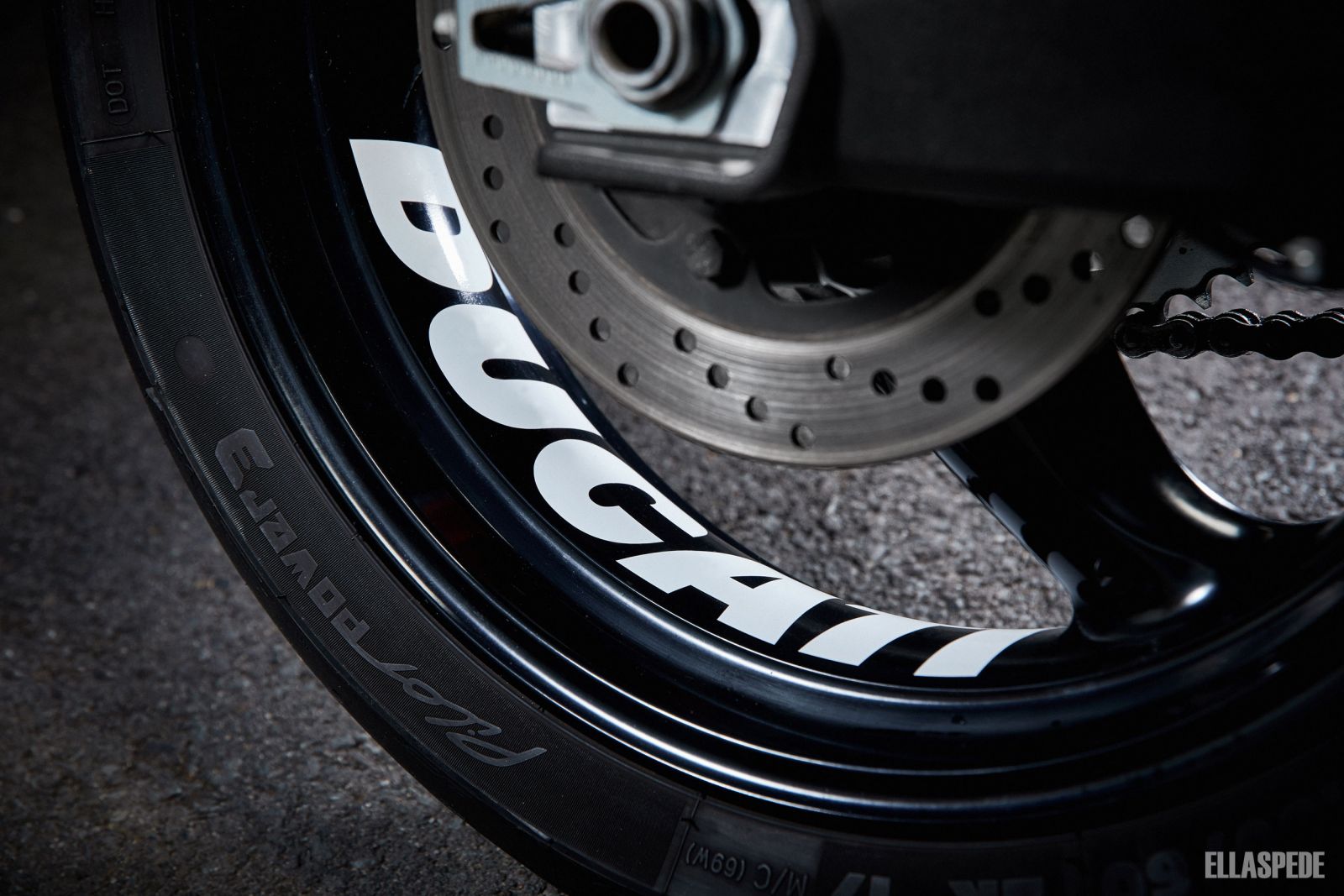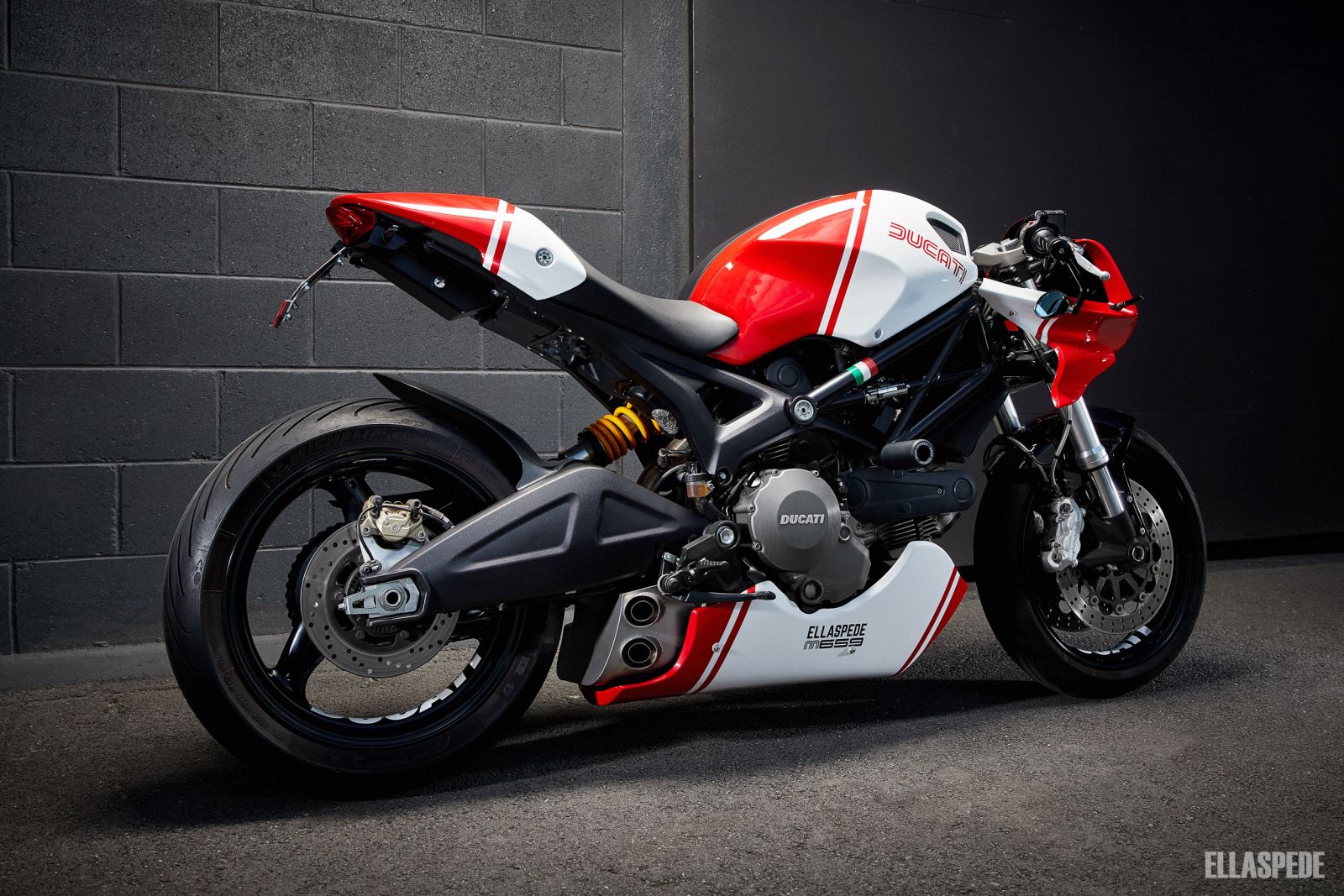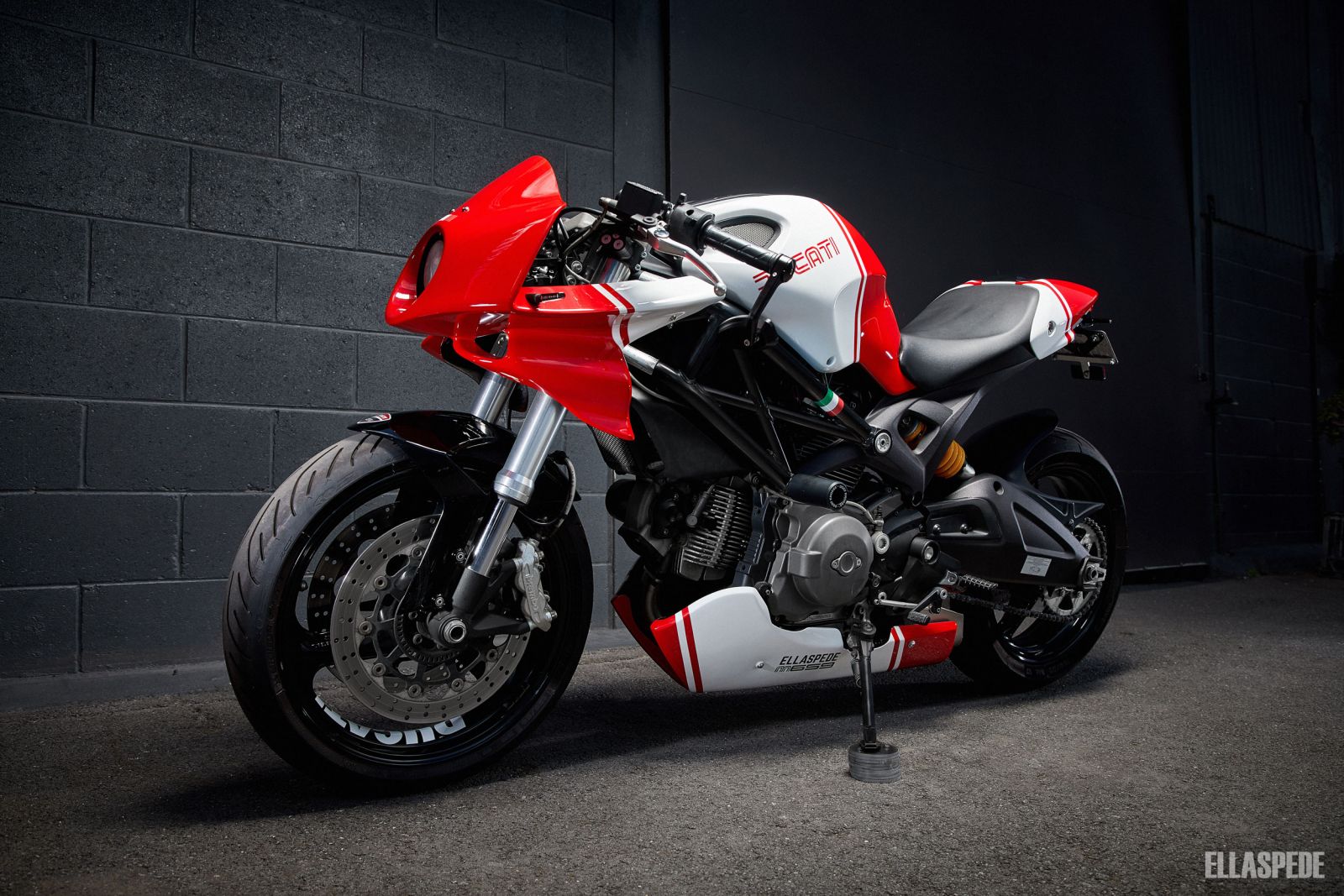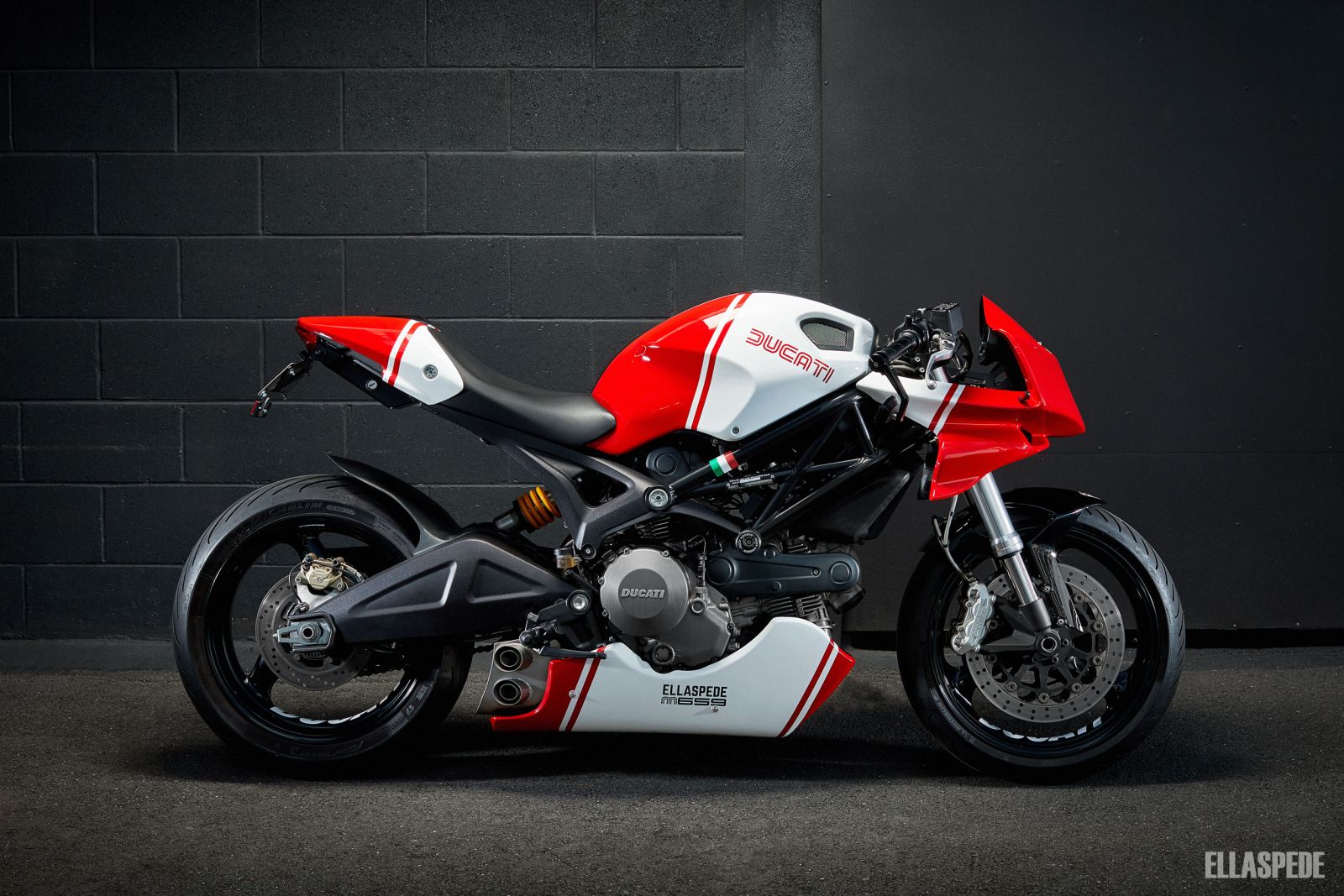 ---
Albums we listened to during the build of this bike:
---
Photos:
---
---
Comments (19)
2019 monster 659

Can you please send me some details on the transformation to a similar look on a 2019 monster 659? Include pricing etc. thank you





Ellaspede Response
Hi Sean, no worries mate we'll shoot you some info. Cheers!
---
Fairing 659 monster

By:

Rocco Jepsen

on 26 June 2023

Hey, looking to buy the front end of the fairing kit. How much would that be?





Ellaspede Response
Hey Rocco, you can order the Paolo 'Tex' Design fairing direct from Bellisimoto mate! Give it a google and check it out. Cheers
---
Can this be done to my 2012 Monster 796 here in th

By:

Rick

on 20 December 2022

I have a 2102 Monster 796 (ABS) and would love to get it to look like this bike. How does it work and whats the process?





Ellaspede Response
Hi Rick, it's a lot of work as these panels weren't made for this bike unfortunately. We'll shoot you an email with some more info. Cheers!
---
Bimota feel

By:

Dale

on 5 August 2022

Wow. This looks amazing and the paint work has a very Bimota feel to it! Top shelf





Ellaspede Response
Thanks Dale!
---
Monster 649

What would this cost on a 2017 monster 659 roughly. Thanks





Ellaspede Response
Hey Alex, we'll send you some details over email mate. Cheers
---
available for bigger bikes

By:

Bodie walden

on 9 July 2022

Hey guys, can you make this kit to fit the larger monsters? Also, would you be able to send me a rough quote for this kit?





Ellaspede Response
Hey Bodie, you could definitely do the work to make it fit a larger monster, it's just a lot of work. We'll send you some more info and we can discuss some options for you. Cheers!
---
EB616 - 2012 Ducati Monster 659

By:

Alexander

on 27 June 2022

How much money for this kit ? what is included in the kit?





Ellaspede Response
Hi Alex, we don't produce this as a bolt on kit as it requires lots of custom work to fit like you see on this bike. We'll email you some more info about what we can do if you're after this look. Cheers
---
EB616 - 2012 Ducati Monster 659

How much would a similar build cost?





Ellaspede Response
Hey Sam, We'll email you some pricing and info on the build mate! Cheers
---
How much for this fit out

By:

David

on 18 March 2022

Hey man love the design what would it cost to have it made into a kit and shipped to me great work





Ellaspede Response
Hi David, For this amount of custom work we would need your bike in our shop. If you're local to us or can ship the bike to us let us know and we can discuss options. Cheers!
---
Quote

By:

Sham

on 29 January 2022

Hi there, Can I get a quote for this same kit. Thanks,





Ellaspede Response
Hi mate, sure thing, we'll send you an email with the info. Cheers
---
cost

By:

Matej Tomic

on 17 January 2022

Hi guys, is this a kit you are willing to make again? I am willing to pay the money for this kit. Please send through a quote of how much this will approximately cost if you are willing to make it again. Thank you.





Ellaspede Response
Hey Matej! We can definitely do this type of job again, we'll send you an email mate! Cheers
---
1100 evo

By:

Pierre

on 10 January 2022

Would your build work for an 1100 evo?





Ellaspede Response
Hi Pierre, it's mostly custom work to get the body panels to fit, so we could definitely modify them to also work with an 1100 evo. With a job like this we would need your bike in our shop to do the work though. Send us an email or give us a call if you're local and want more info! Cheers
---
Tank covers and rear seat

By:

Ivan Tomic

on 9 November 2021

Is it possible to be able to buy the both the engine covers and the rear seat cover in those graphics? Really want something like that!





Ellaspede Response
Hi Ivan, The paint work on this bike was all custom done. We don't have the painted panels for sale, but if you take a photo to your local painter I'm sure they can do something similar on your bike. Cheers
---
Prices

By:

Karl Lowe

on 2 May 2021

If you could reproduce the kit, can you send me prices. Kinda want one myself, I could install it though if need be.





Ellaspede Response
Hi Karl, We won't be reproducing this as a kit, there was just too much custom work required to get these body pieces to fit a 659 for it to be a feasible option. But if you buy they body panels and need help modifying them and making custom brackets like we did with this one then definitely let us know. Cheers mate!
---
Reproduce

By:

Gabriel

on 15 September 2020

I second Bas's comment. Is this something you would reproduce? If so, could I have an estimate for a cost. Cheers





Ellaspede Response
Hi Gabriel! It's not a really straight forward conversion unfortunately and does require a reasonable amount of custom work and the body panels from italy. If you're interested we can definitely build another similar one though. Shoot us an email and we can give you some more info about custom build pricing. contact@ellaspede.com Cheers mate!
---
Cost

By:

Bas

on 28 August 2020

Is this something youd build again? If yea, can you send me an estimate please!





Ellaspede Response
Hi Bas, We've emailed you some info mate! Cheers
---
This is amazing

I have looked for belly pans and not a great deal out there this is beautiful, great work. Never thought much for the front faring however if this was on the market I would save my dollars.





Ellaspede Response
We agree Chad! This look really suits the 659, it's a shame the fairings weren't made for it! Cheers
---
Who knew.

By:

Tony Muscat

on 29 August 2019

If only Ducati could produce something like this. You boys may just turn me away from genuine Ducati to this. That is sex on wheels boys. Sex on wheels.
---
Ducati custom

By:

Jeff de Witte

on 31 July 2019

Excellent job guys. Love the paint work.





Ellaspede Response
Thanks Jeff! We love how it turned out.
---
Leave a comment