EB471 – 1992 BMW R80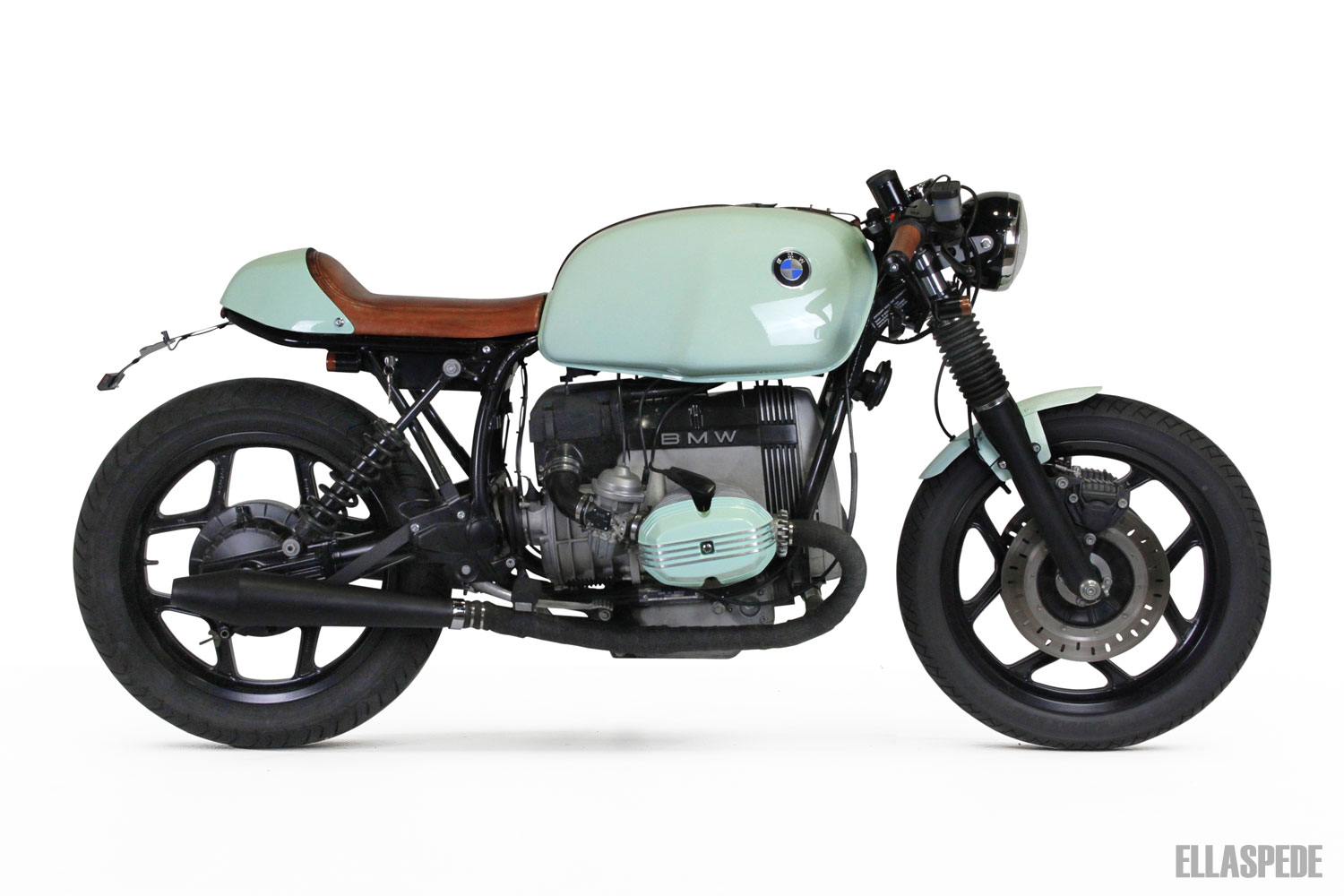 If there was an award for the most popular modified older bike it probably wouldn't surprise anyone if it went to the R Series BMW.
…And there'd be some pretty good arguments for achieving that accolade; distinctive styling, robust engineering and reliability along with a decent supply of replacement parts. But with so many R series going under the knife how do you make yours look different? I mean a cafe's a cafe, bobber's a bobber, tracker's a tracker, right?… WRONG!
A point of difference can be made wherever you allow your imagination to go. Now Todd (the same guy that commissioned EB324, EB470) is at it again, this time with an R80 Beemer. His previous Triumph (probably the winner in the most modified modern category) exploits landed much praise and many comments, so continuing that winning formula Todd wanted a tough looking cafe but with the twist of a very retro, soft pastel colour scheme.
Employing Ellaspede's R-series sub-frame kit ensured he was on the road to achieving the first requirement, but the second was all Todd. We didn't know what we were going to get until the tank, front guard, seat cowl and valve covers arrived back from Todd's painter mate.
Always surprising, Todd's use of a colour probably more at home on a '57 Thunderbird initially raised a few eyebrows but as the bike came together, so did the appreciation.
As mentioned, the weak factory subframe was replaced with a sturdy Ellaspede unit including battery tray and seat pan. The seat itself was shaped with a suitable cafe hump that matched what's left of a reworked Ducati seat cowl. A flex LED taillight hugs the frame rear and an Ellaspede universal tail-tidy handles rego plate duties.
Mechanically, the bike was in great shape so minimal attention was required in that department.
An Ellaspede fork lowering triple clamp brings the front end closer to the black stuff and helps achieve that tougher look. Satin black wheels (wearing new Bridgestone tyres), swing arm and forks contrast nicely with the new pastel hue and clip-ons with bar-end mirrors and shortened front guard complete the cafe necessities.
A lowered six inch headlight and Acewell digital gauge tidy the cockpit area with Daytona flashers taking on the role of indicators.
New braided brake lines feed the refinished front clamps and black reverse cone mufflers are fitted to the modified and wrapped original header pipes.
As with his previous builds, Todd once again employed the services of his South African mate to upholster the seat, grips and tank strap. The stained leather again makes for an unusual combo with the pastel and black but works.
In commissioning this build Todd's directive was clear, I want a tough cafe styled bike. This could have ended up like many custom cafes but the use of unusual, contrasting colours, and some cool Ellaspede hard parts, ensured this R-Series is one-of-a-kind.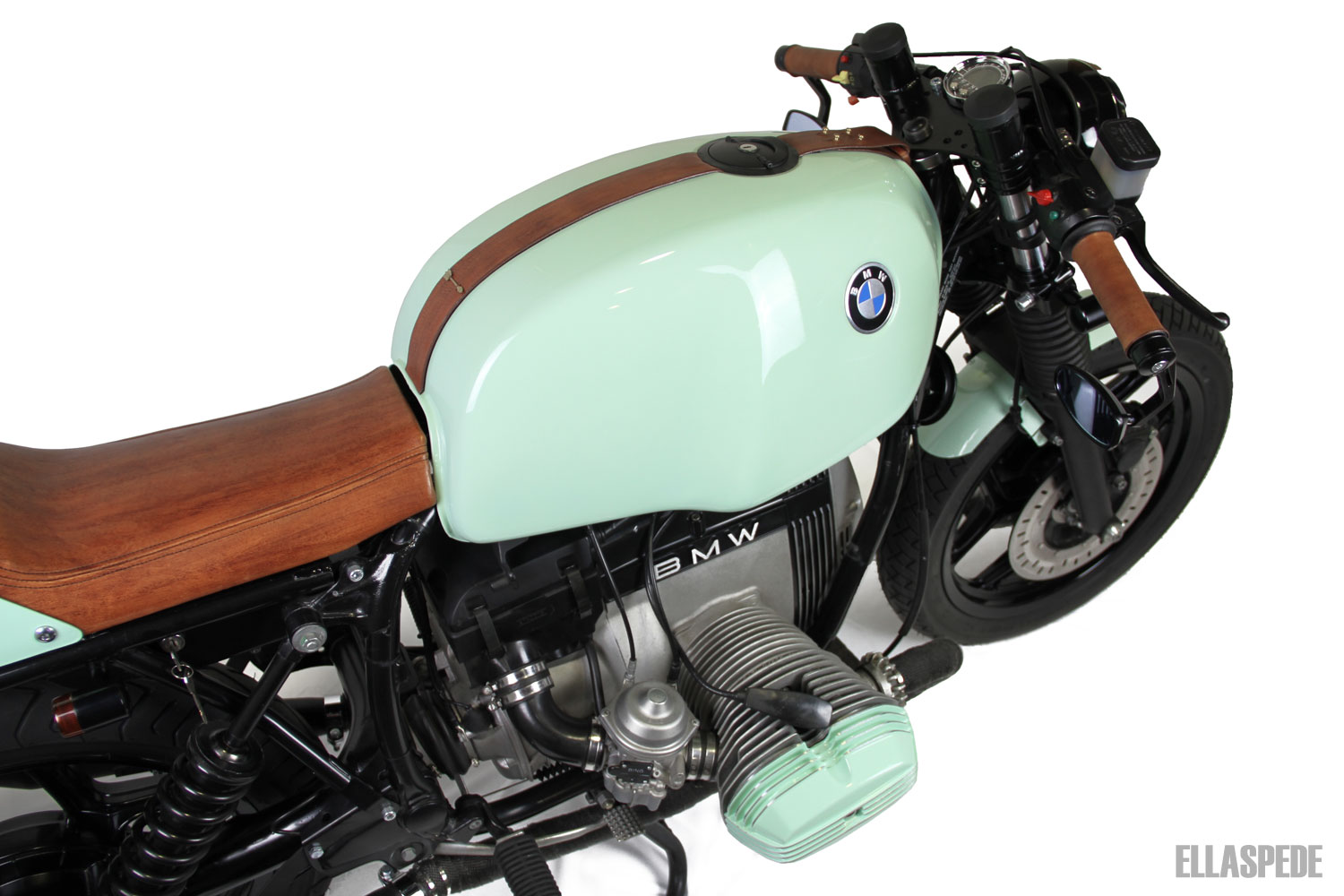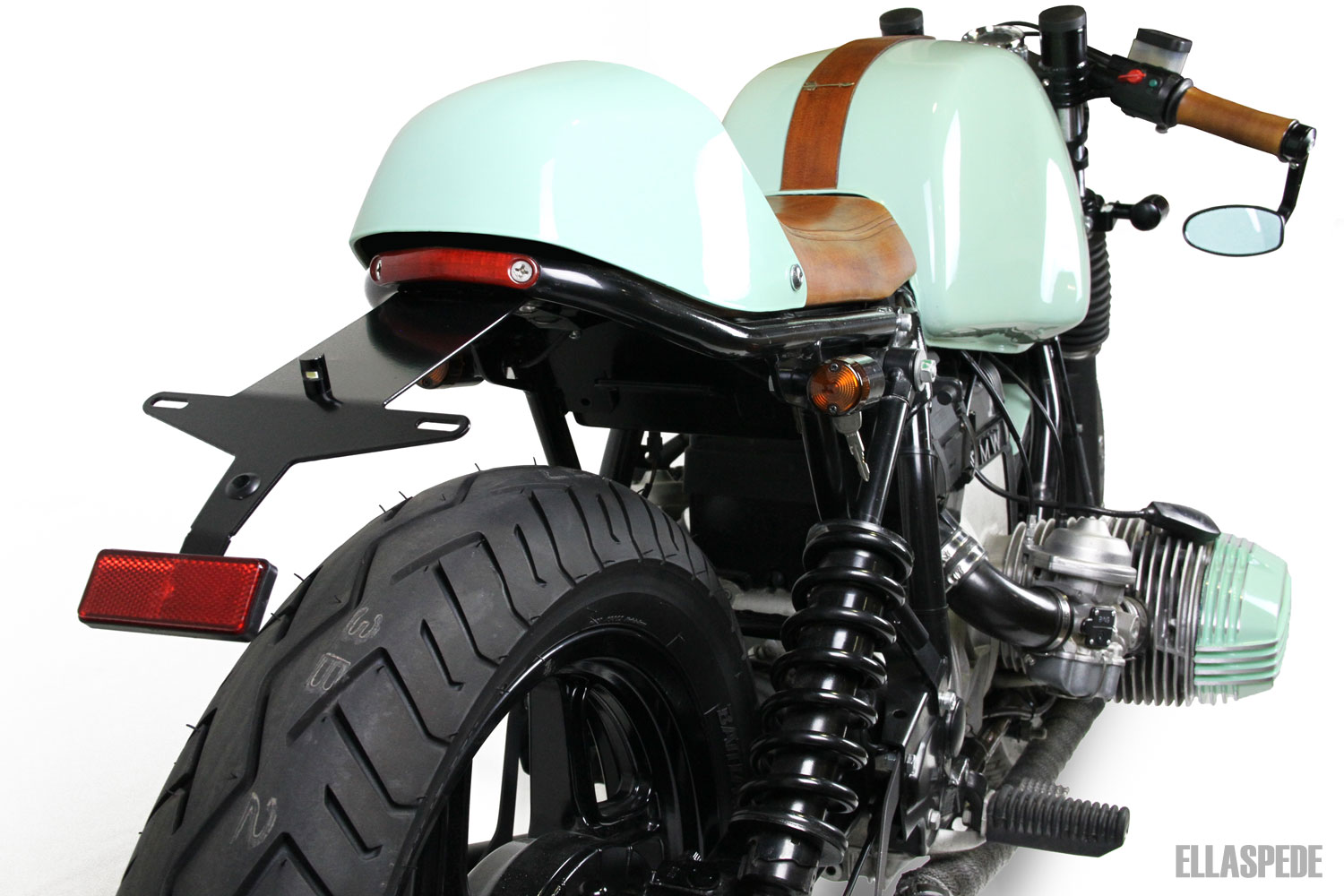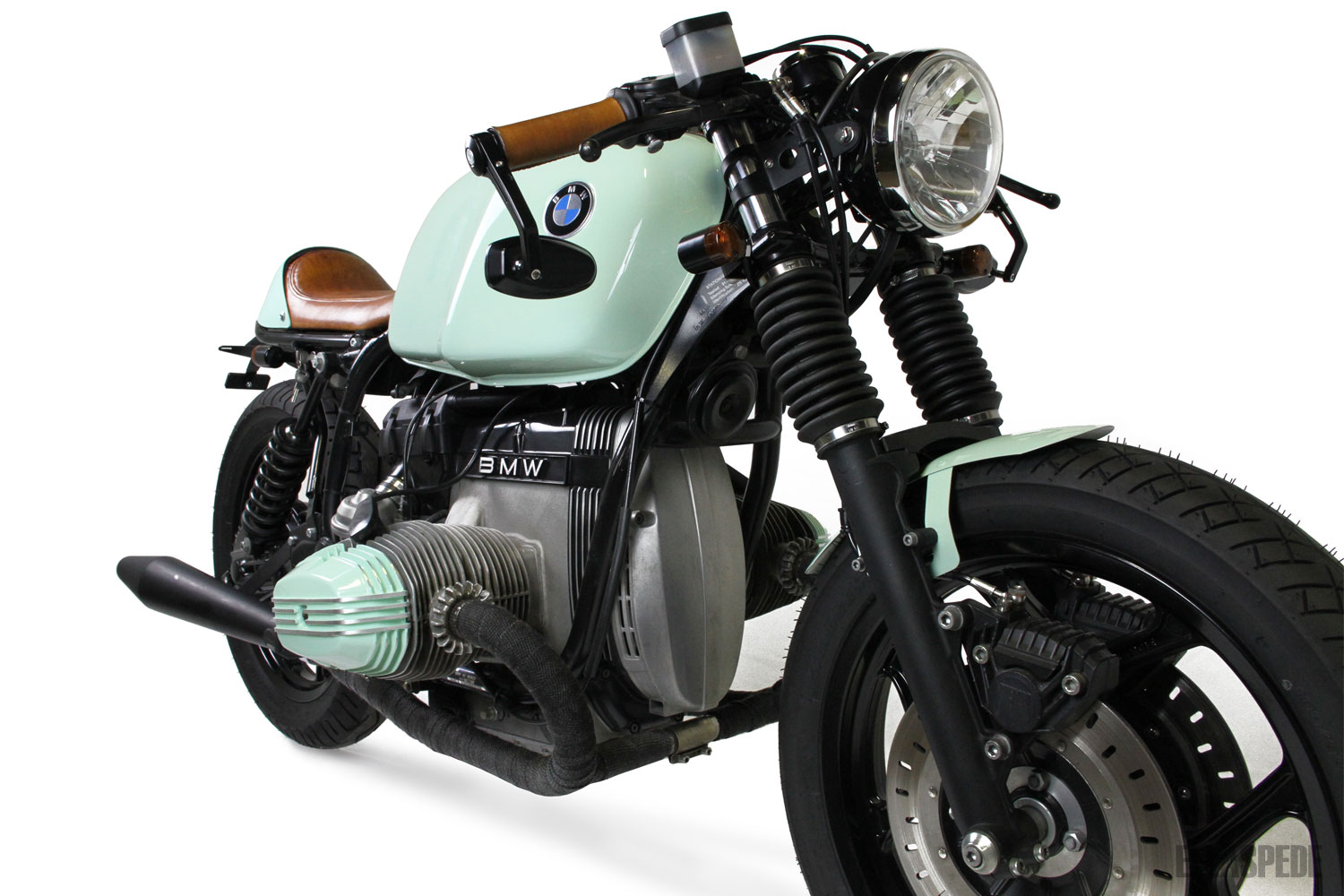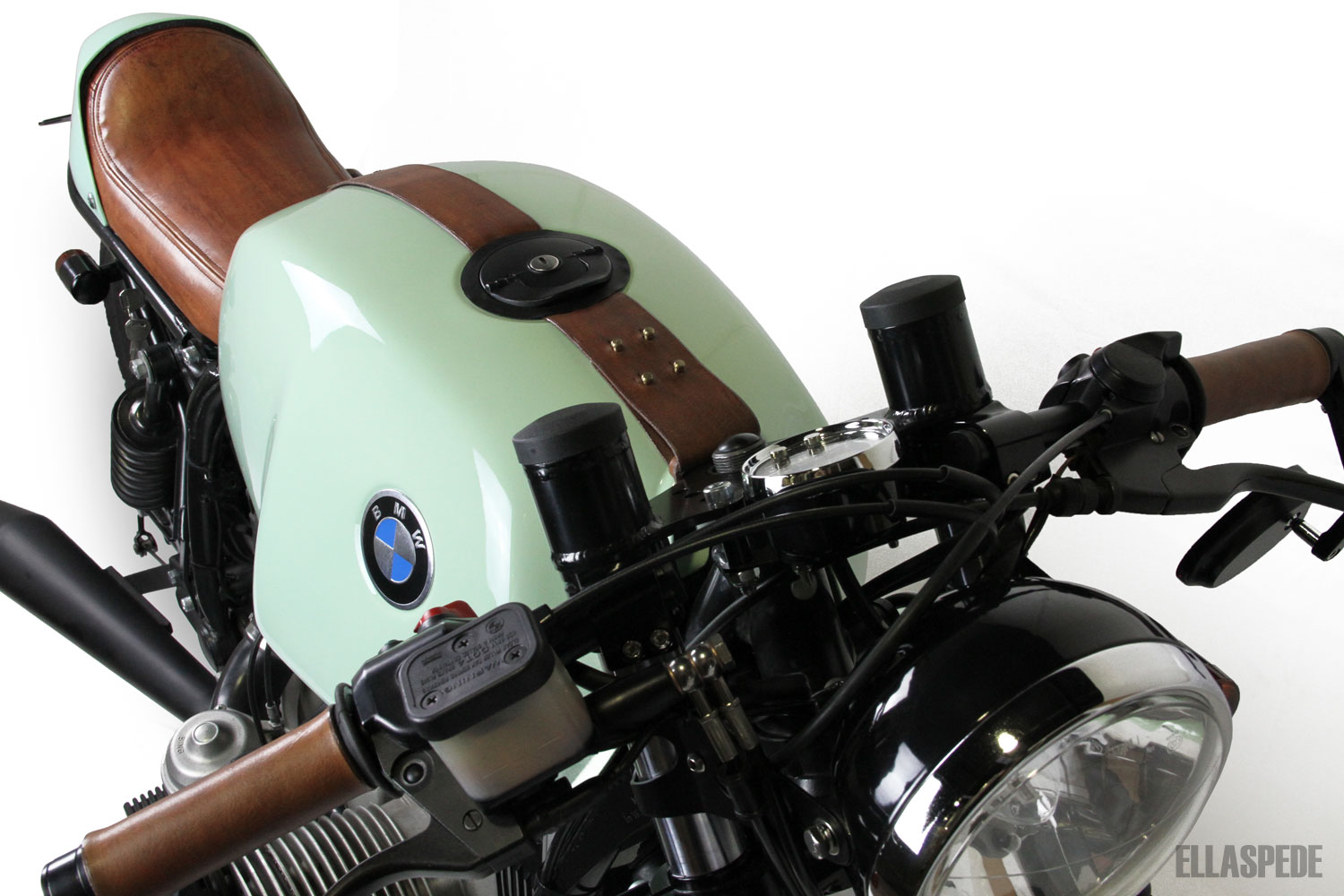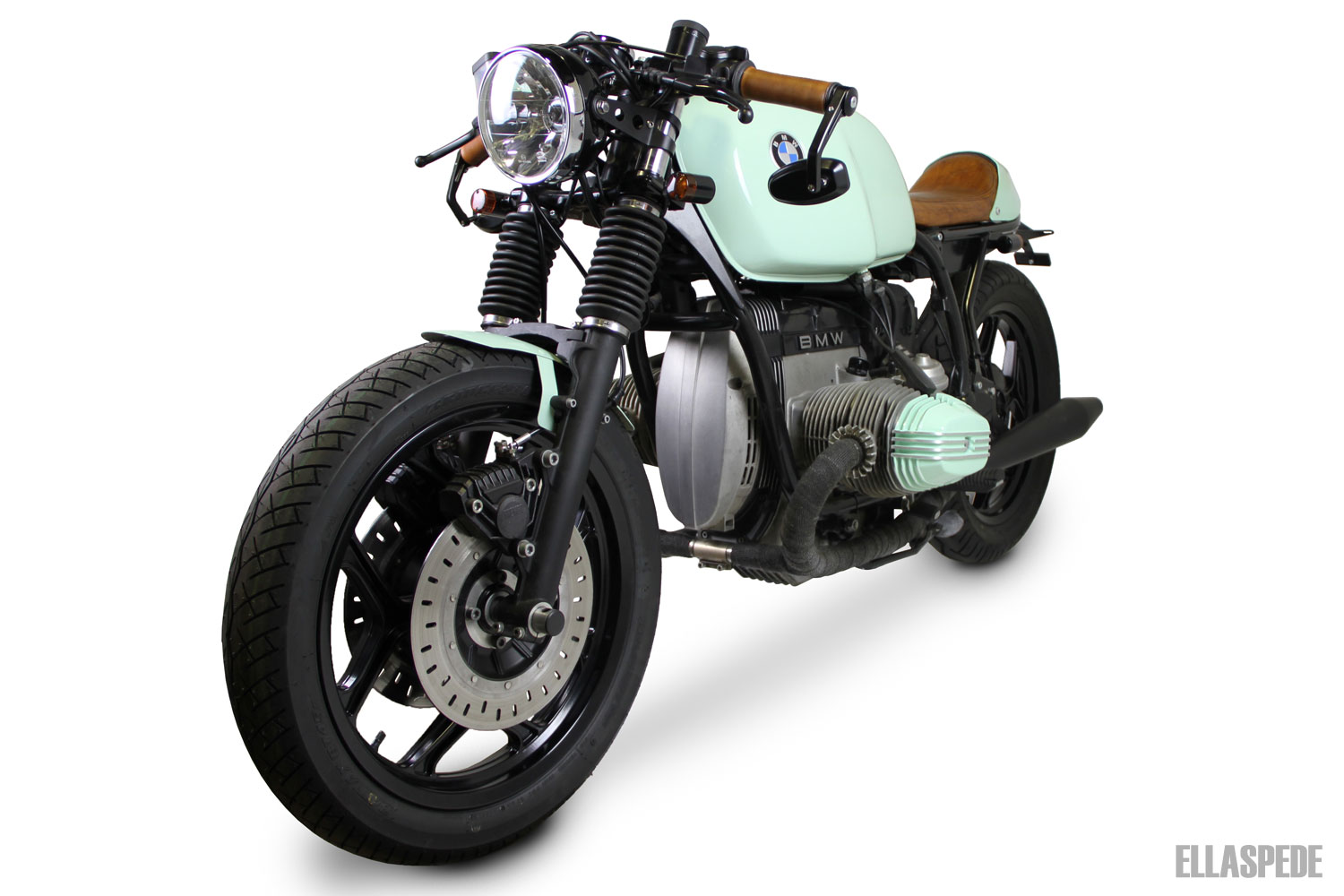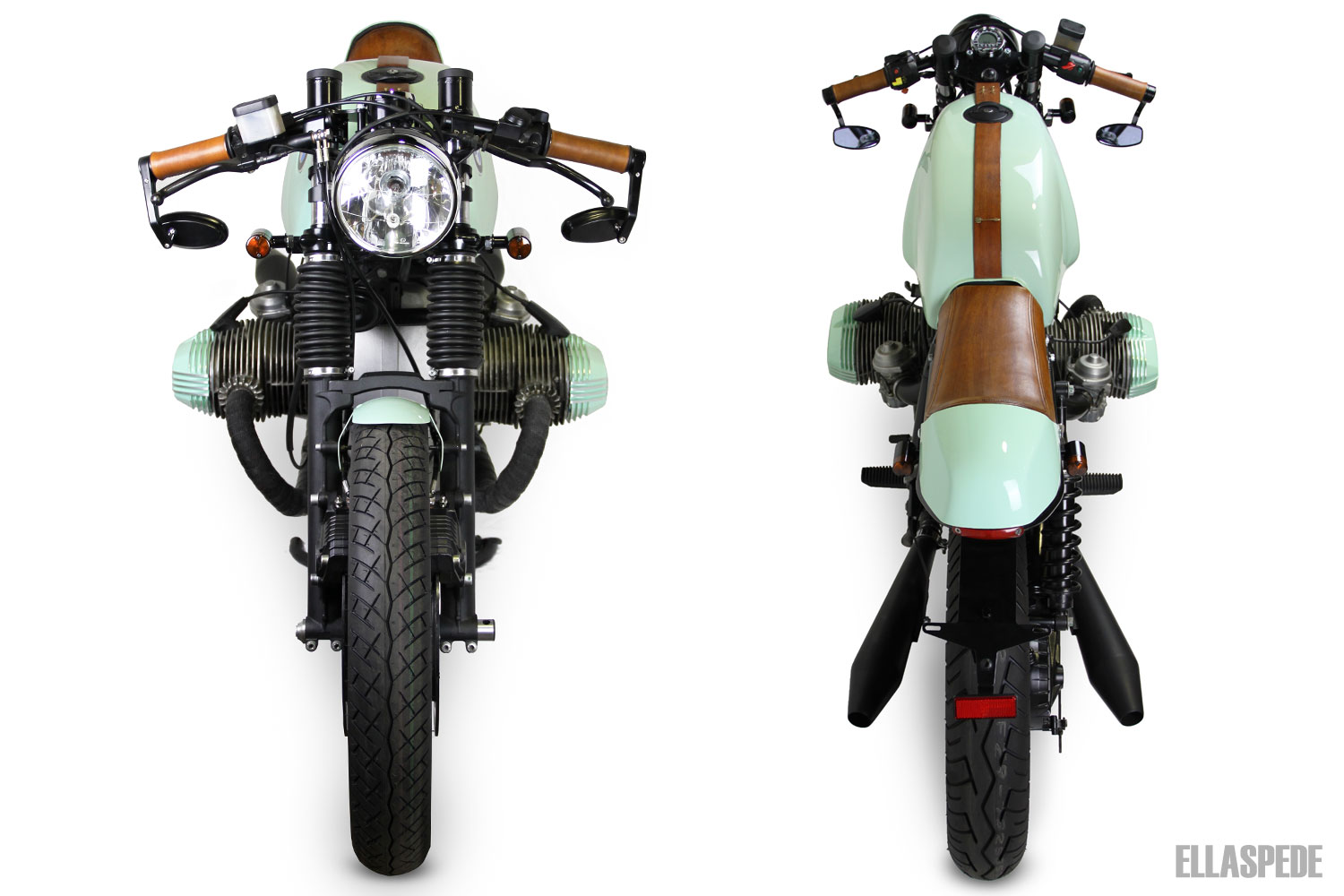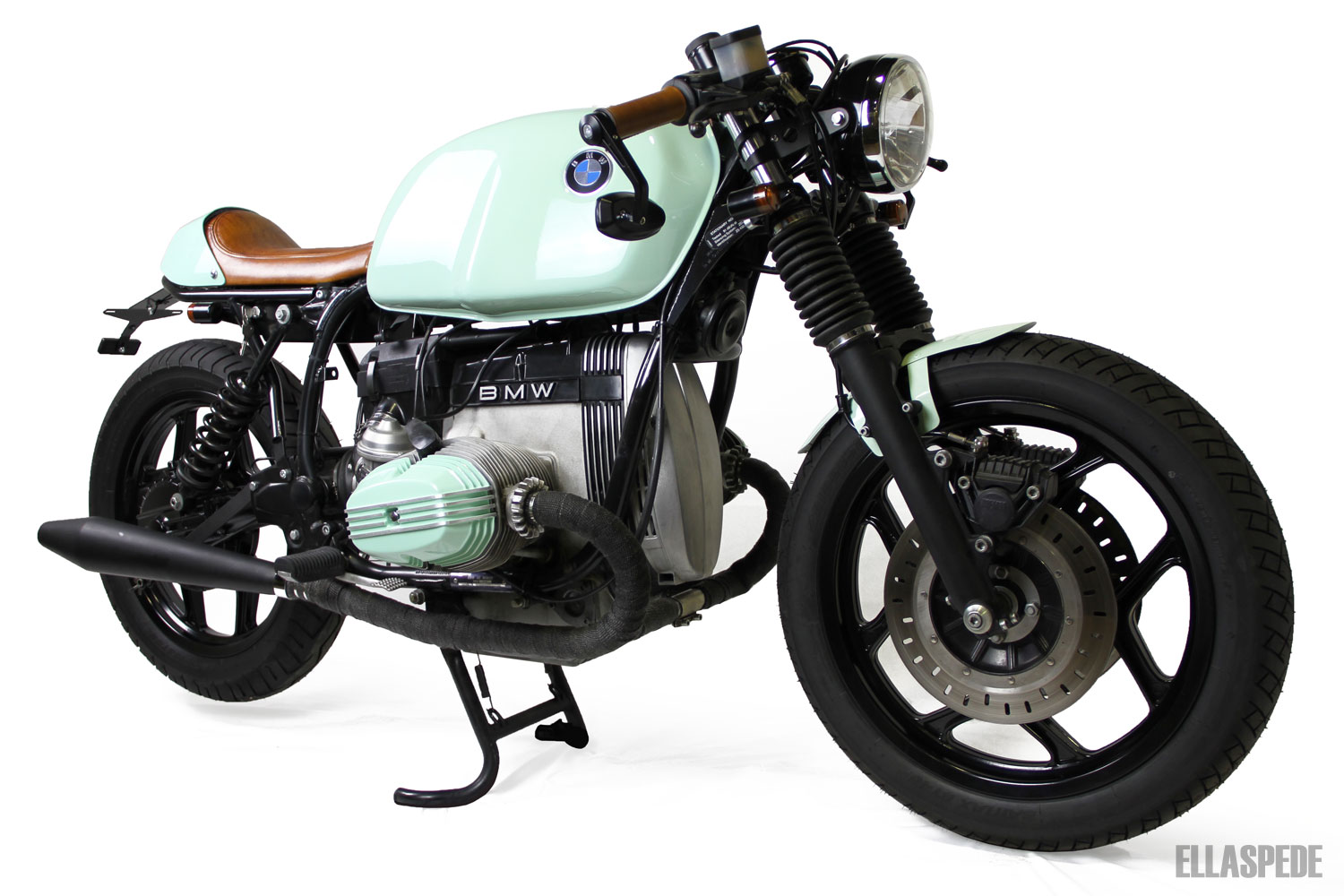 Albums we listened to during the build of this bike:
---
---
Comments (3)
Ellaspede's R-series sub-frame kit

By:

Michael Mueller

on 17 October 2020

Hi guys, my name is Michael adn i really like what i see on your website. Congrats ! You raised my attention by the Ellaspede's R-series sub-frame kit. I,m about to buy a R65 and trying to turn it into a kind of cafe racer (similar EB202). Can i order such a subframe kit for the r65 and how much would it cost ? Thanks in advance, Michael





Ellaspede Response
Hi Michael, Sounds like a rad project mate! You can get the BMW R-series subframe, battery box and seat pan via our online shop mate, check it out. Let us know if you have any other questions about those parts or the build. Cheers!
---
Lowering the forks

By:

Ryan

on 7 August 2019

Hey guys, can someone explain how the triple clamp works for creating the illusion of lowering the front fork? Im confused, could I not just use the original triple clamp and put my clip ons lower? How did you make the gaiters shorter on this bike? Thanks
---
1992 airhead

By:

Noel

on 10 January 2019

Love the whole thing. Bit sus about the valve cover colour though. Wondering how the tank belt is attached under the filler cap.
---
Leave a comment