EB462 – 1984 BMW R65LS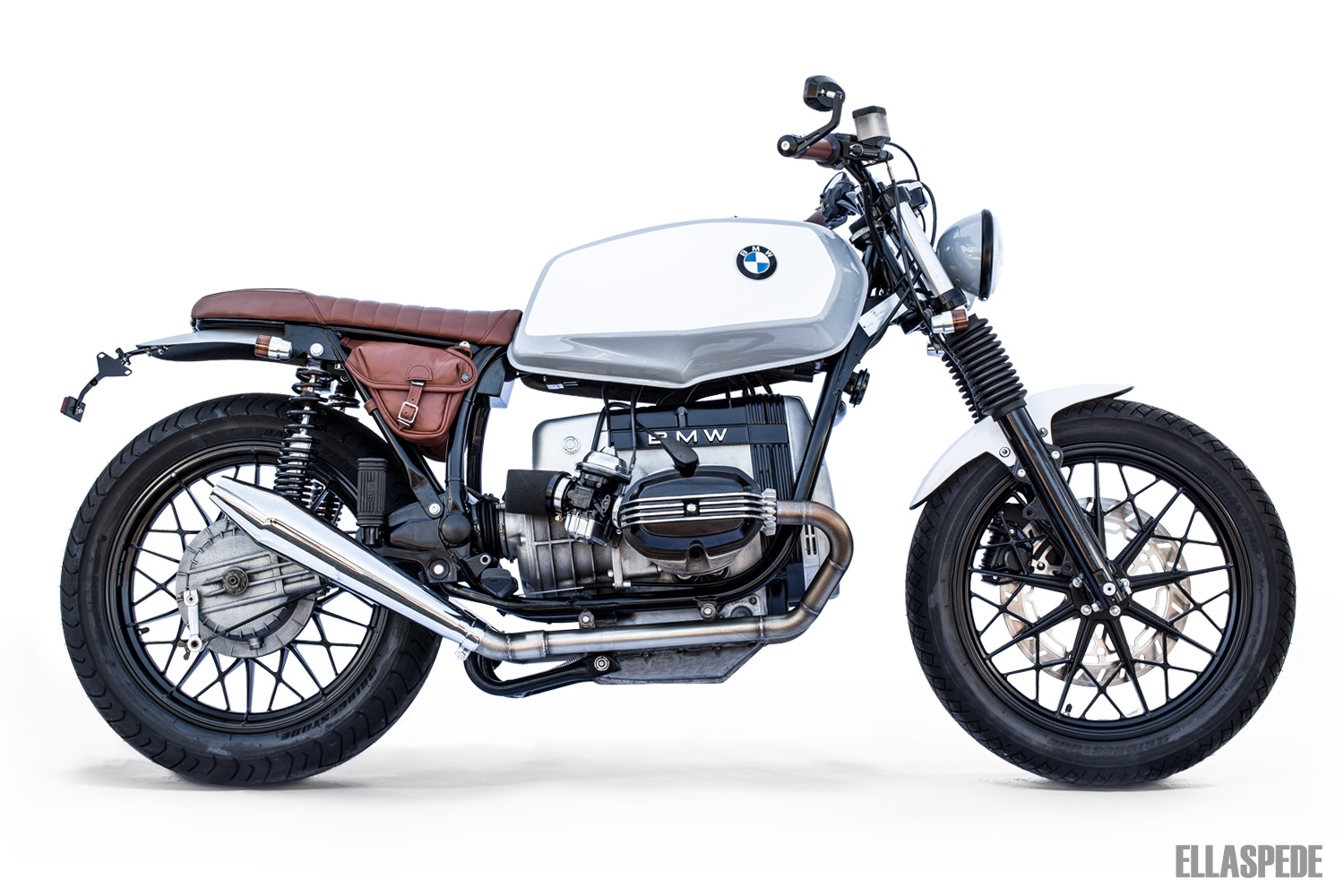 Sometime's you just can't ignore family history. This was certainly the case with Ross' 1984 BMW R65LS.
Sold new in Alaska the bike soon made its way to San Francisco and into the hands of Ross' Uncle where it was soaking up the sun across the Golden Gate Bridge no doubt.
Ross' dad had shown some interest in the bike, so in 1998 a 'brotherly deal' was arranged and Ross' dad imported the bike to Australia. A few years of riding later and the family ties continued with Ross being gifted the R65 when his dad upgraded to a newer BMW R80.
He enjoyed riding the bike in stock trim for a number of years before it was tucked away in 2012 when 'kids and life' started to takeover the available riding time.
When the interest began growing for a custom bike the R65 certainly wasn't the original donor of choice for Ross. But he couldn't go past the history attached to this machine, so he decided to 'keep it in the family' and explore his options.
Being Sydney based he looked around the local shops before one of his customers referred him to Ellaspede in Brisbane. Soon after looking at the Ellaspede builds online he knew the 'designs were right', calling the next day to book the bike in.
With the amount of black custom bikes getting around Ross knew he wanted something bright and clean, originally opting for an all white colour scheme. Fitting given the bike originated in Alaska! Although the Ellaspede industrial designers heeded Ross' thoughts and took it a little further with a concept rendering close to what you see here.
Admittedly it wasn't originally what Ross had in mind, rather it had taken that image and built upon it for a final result he's more than impressed with. Having signed off on the final design Ross sent the bike up from Sydney, parts were accumulated and the strip down began.
Starting in the centre, the fuel tank was popped off for an acid wash, catching some pinholes of 'metal cancer' before they spread too far. With the rust cut out, a fresh tank liner, fuel tap and lines were installed to ensure optimum octane delivery.
The original frame and swing arm were left largely intact, taking on fresh bearings and re-tapped threads throughout.
The thin factory subframe was modified and strengthened so that now matches the visual line of the tank and shortens the rear. A custom metal seat pan resides atop with some carefully shaped foam providing subtle profile changes and taking care of seating duties.
The rear guard is another custom shaped metal item, doubling as an inner guard and mounting the Ellaspede Ninja Star licence plate holder off the rear. At the other end the front guard was deemed appropriate once it was cut down and reshaped to suit.
The front forks had the lowers shaved before being rebuilt with new seals, Ikon progressive rate springs and thicker fork oil. Completing the suspension package are Ikon rear shocks with satin black springs.
Once out of the frame the engine and gearbox were separated, degreased and inspected before covers were painted, surfaces were linished and new gaskets were installed. An Ellaspede aluminium cover replaces the factory plastic airbox and further accentuates the iconic shape of this classic Bavarian power plant.
Although in good condition, the original carbs came off for a full strip and ultrasonic clean before being screwed back together with genuine BMW rebuild kits, new needles and floats. The carb tops and bowls were polished, with the bodies being coated in a contrasting satin black.
Stainless headers with classic 2-into-2 lines were welded up, scour finished with exposed welds and heat colouring purposely left for an authentic custom look. Fibreglass wrapped baffles and reverse cone mufflers cap the decibel level and complete the look.
The original electrical harness was modified for routing out of sight, with some sections and components replaced for modern smaller items. A new ignition harness ensures amble power at high rpm, while a slimline AGM gel battery tucks up under the seat in a custom battery box to get things going.
The 5 3⁄4 inch bottom mount headlight sits on a custom headlight and indicator mount, with Posh Chamfer Indicators all round. Simplifying the front end is an Acewell 2853 gauge that mounts low and tight against the top triple tree. Completing the front-end electrics are stock switch blocks that were stripped, cleaned and painted before being reinstated.
Ross controls the whole show via black superbike bars with Eastwood grips wrapped in leather sheaths. Replacement foot peg rubbers for the rider and pillion are on standing duty and 'lane splitter' bar end mirrors keep the past in view.
After inspection the useable original cables cleaned and refitted, while new choke, clutch and throttle cable inners were installed to prevent any unwanted split ends.
Ross identified that the mid 80's braking abilities didn't align with his requirements, so a simple but effective front brake upgrade kit was supplied and fitted. A braided line and rebuilt front calliper now hang off a custom CNC calliper mount to clamp a new 320mm rotor. It's a vast improvement over stock that doesn't require a modern brake calliper or master cylinder. Fresh pads all round complete the pull up package.
Adding to Ross' initial all white colour scheme is a gloriously smooth grey, giving some contrast and visual slimming to the side of the factory tank. The headlight, front guard and rear guard also took on the two-tone hues, with the remaining brackets, parts and pieces in a factory finish satin black. New tank badges proudly splash a little BMW blue on this classic build.
The popular 'snowflake' wheels were definite keepers, dressed in black for a subtle finish on a detailed design. New bearings and seals made their way in before Bridgestone BT45's in 100/90-18 front and 'as large as the shaft drive would allow' 130/80-18 rear.
Bringing some organic flavour to an otherwise clinical colour scheme is the clay brown leather stitching up the seat, saddlebags and grip sheaths. A horizontal bar seat design sits between brown stitch panelling that follows the frame and tank lines to tie it all together.
Small felt lined saddlebags provide a little extra storage and fill the usual under seat void left on many modern custom builds.
When the whole bike came back together it was time for final testing and adjustment. Sometimes a timely process that can reveal items overlooked during the build, this was not the case with Ross' R65 as only some minor timing adjustment, carb balancing and speedo calibrations were required.
Today the bike is back in Sydney and Ross is looking forward to reliving a little family history. When his dad was still riding, Ross would join him on the R65 for some fond memories riding together through the local National Park. Now, with a new lease of life on the 'Alaskan white' BMW you'll find Ross out taking the same turns. But now with his son on the back, the fond memories with this R65 will live on a little longer yet.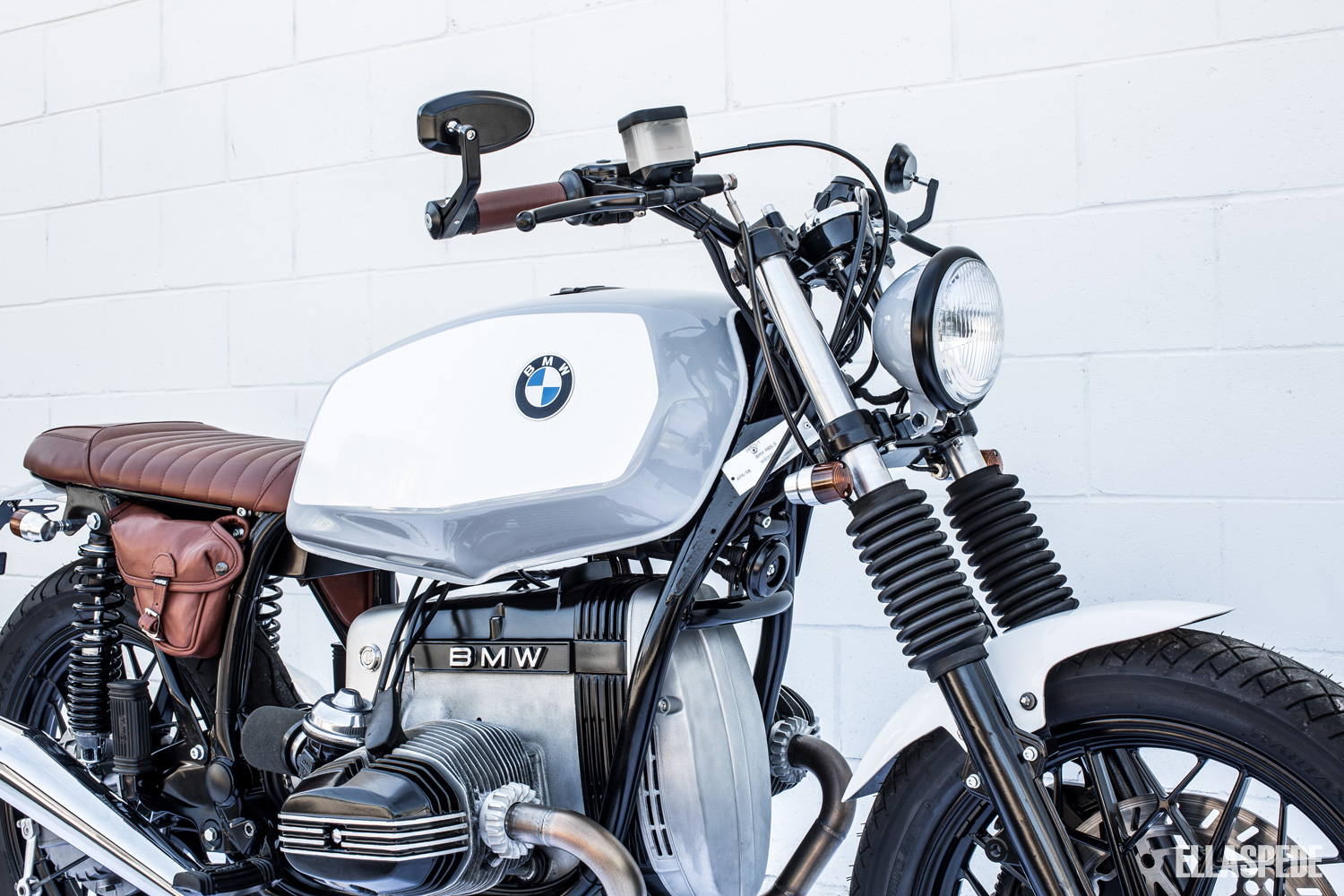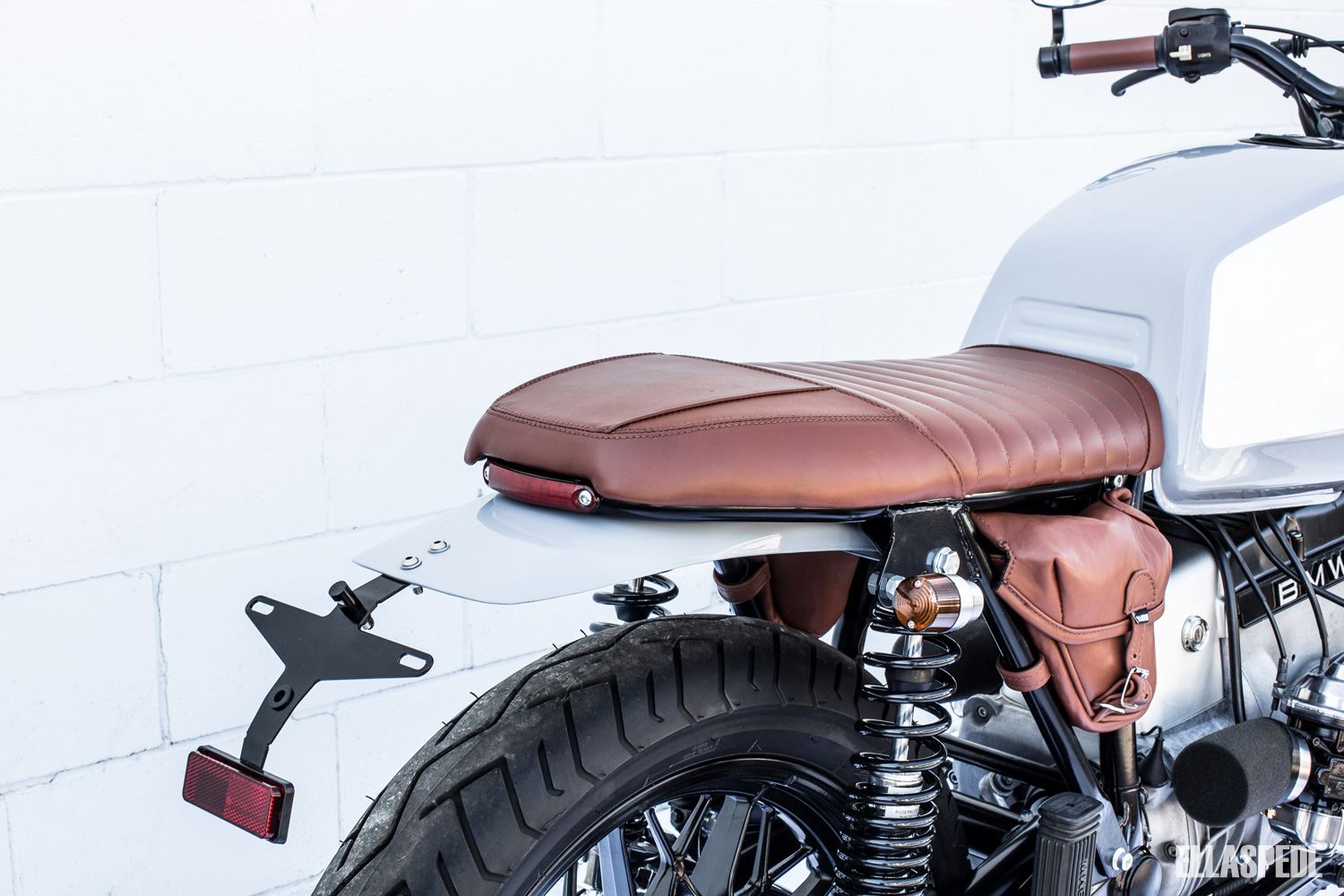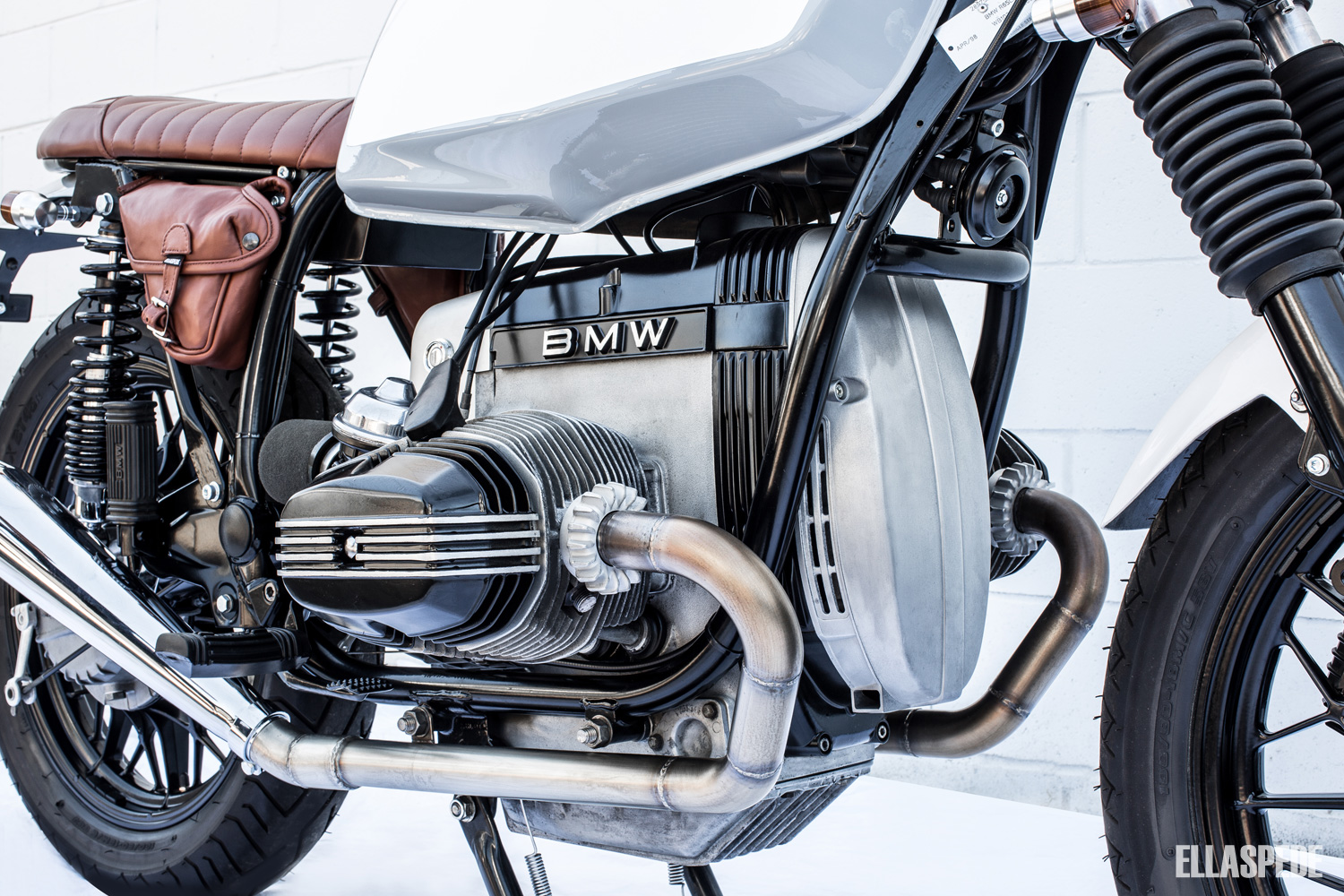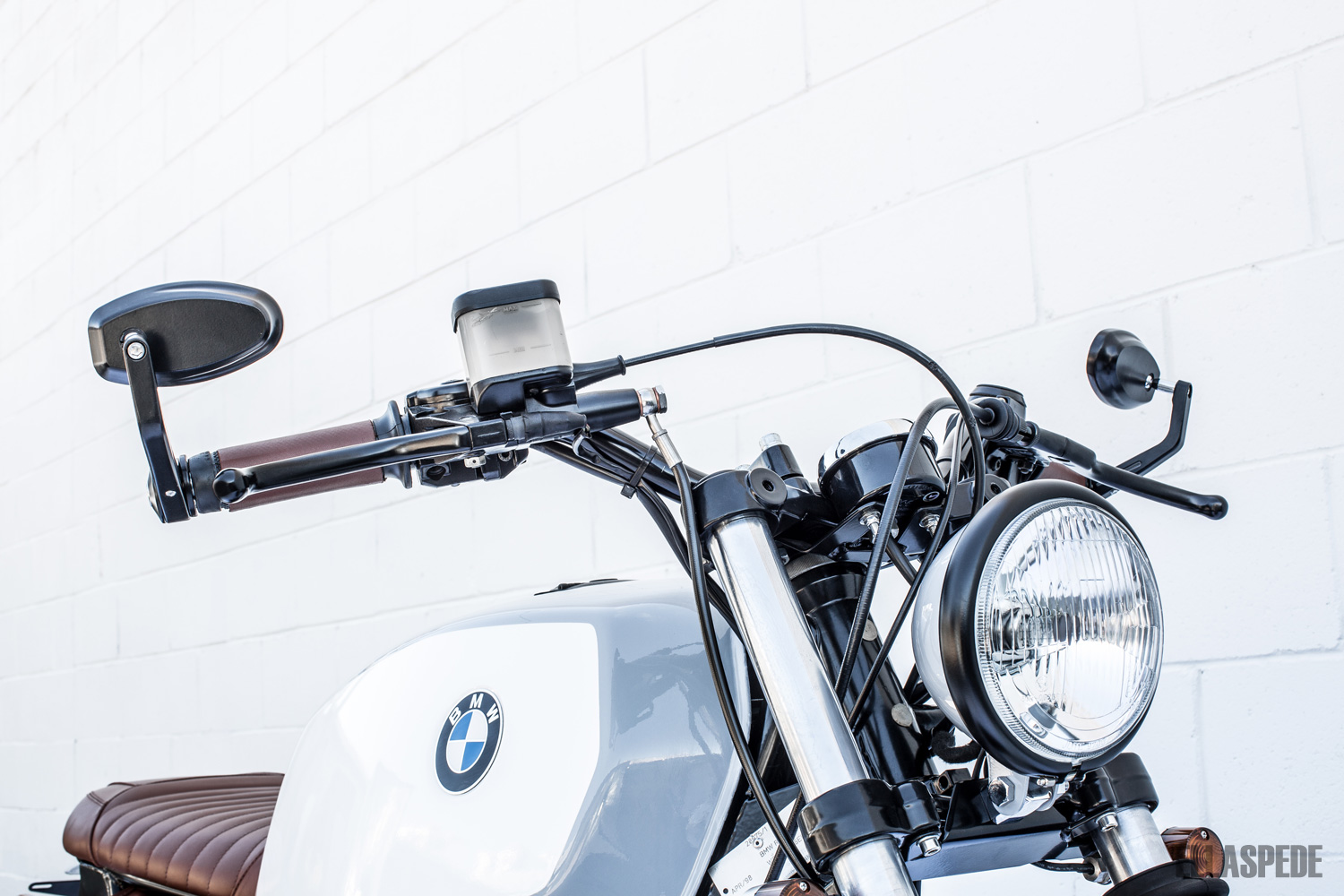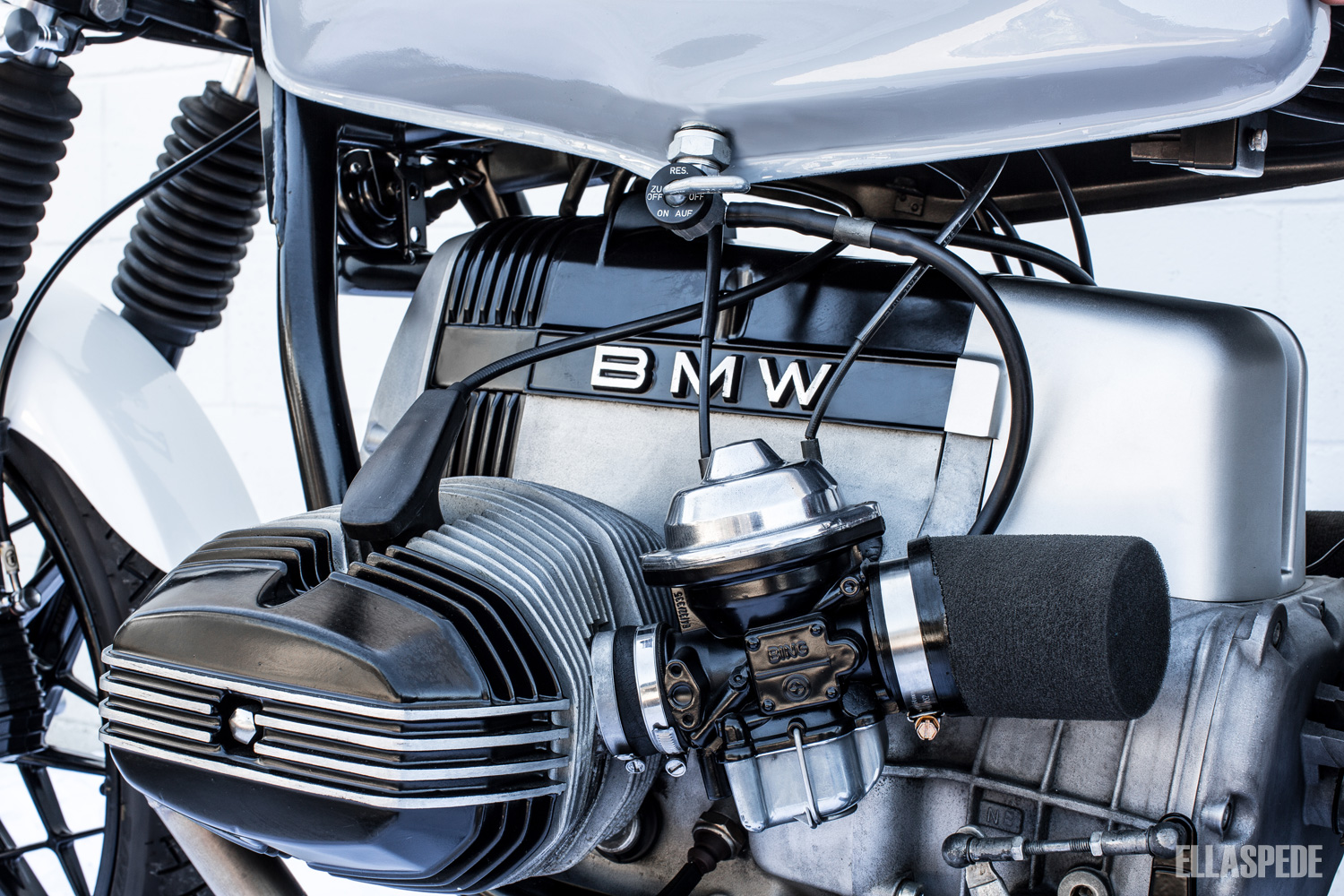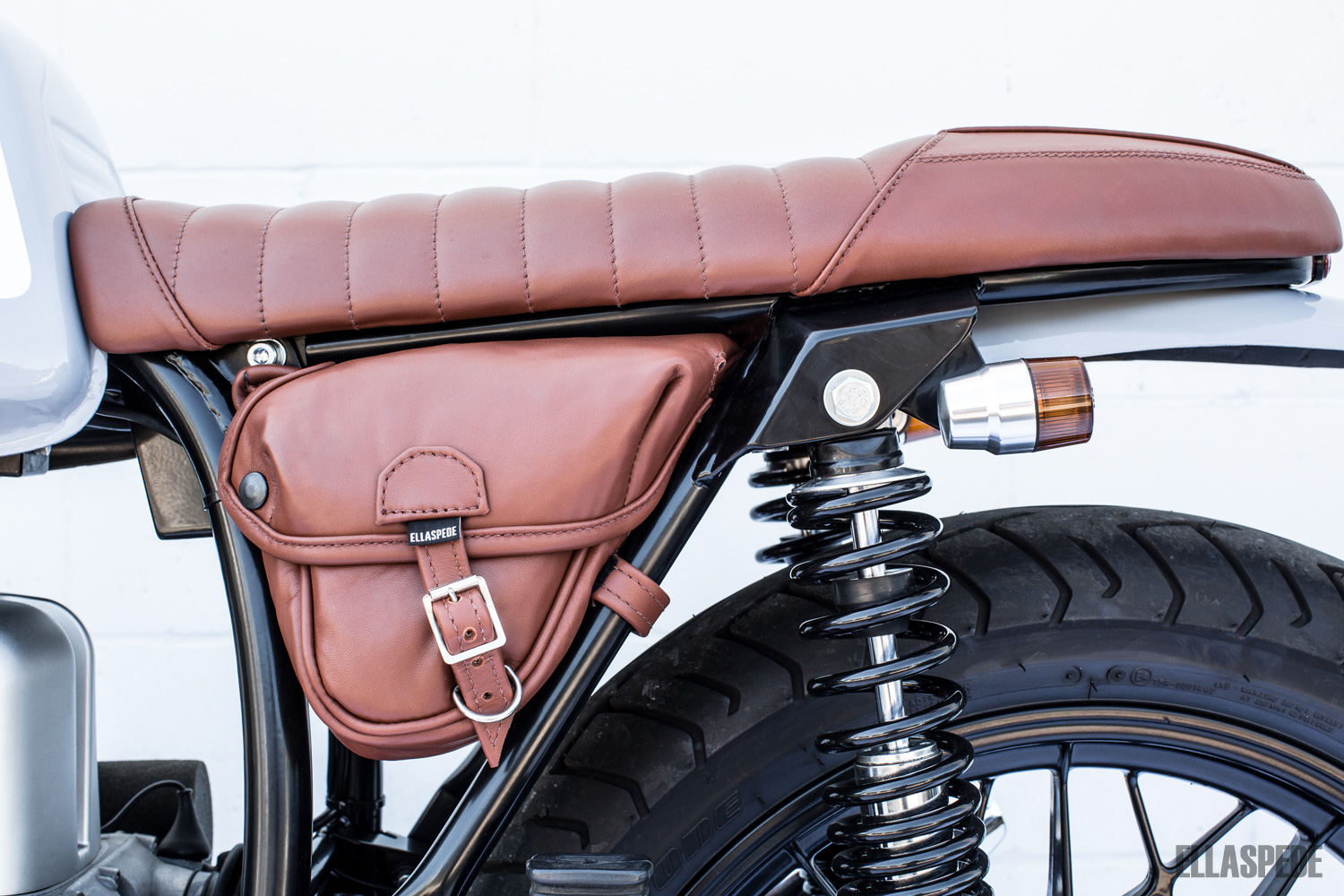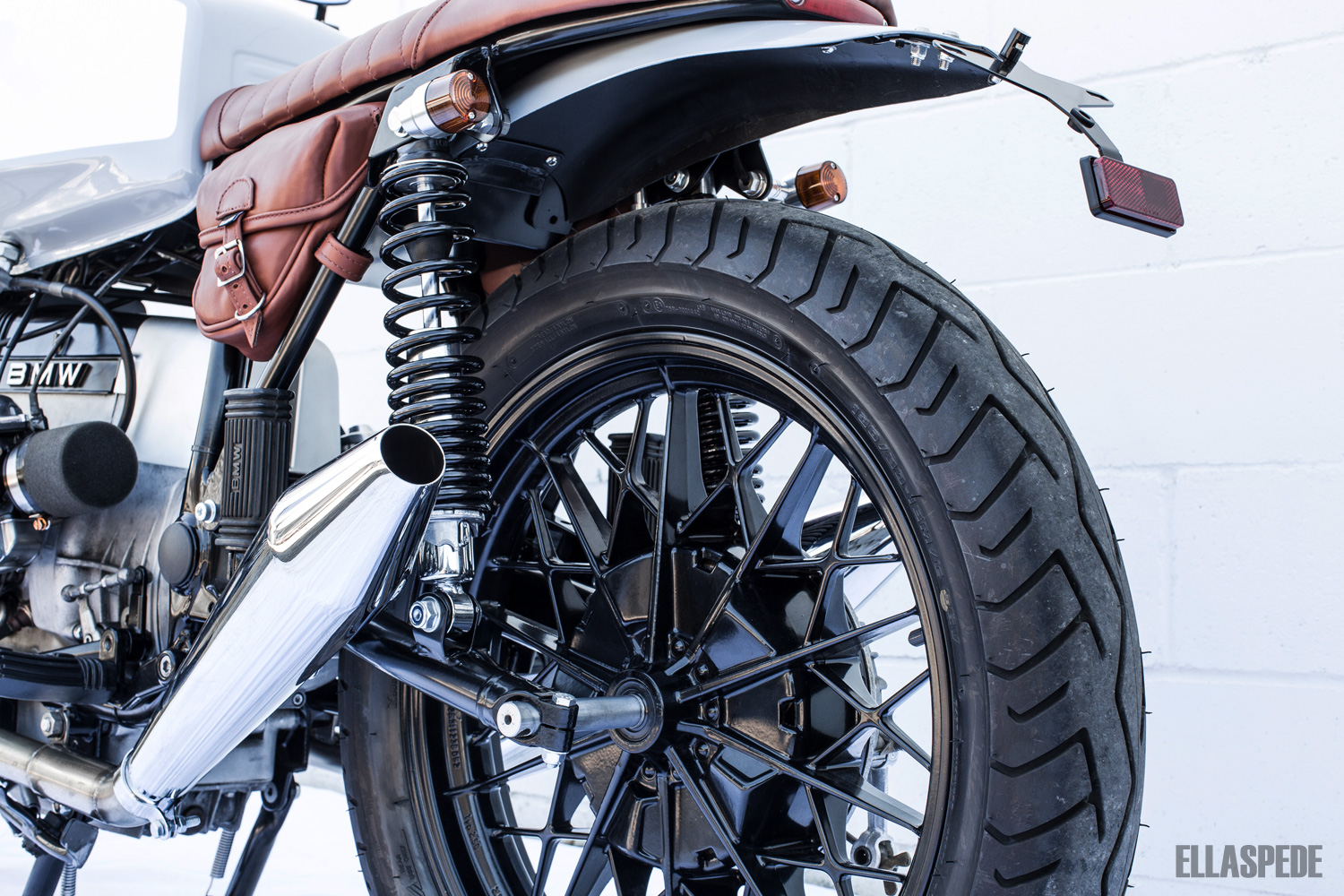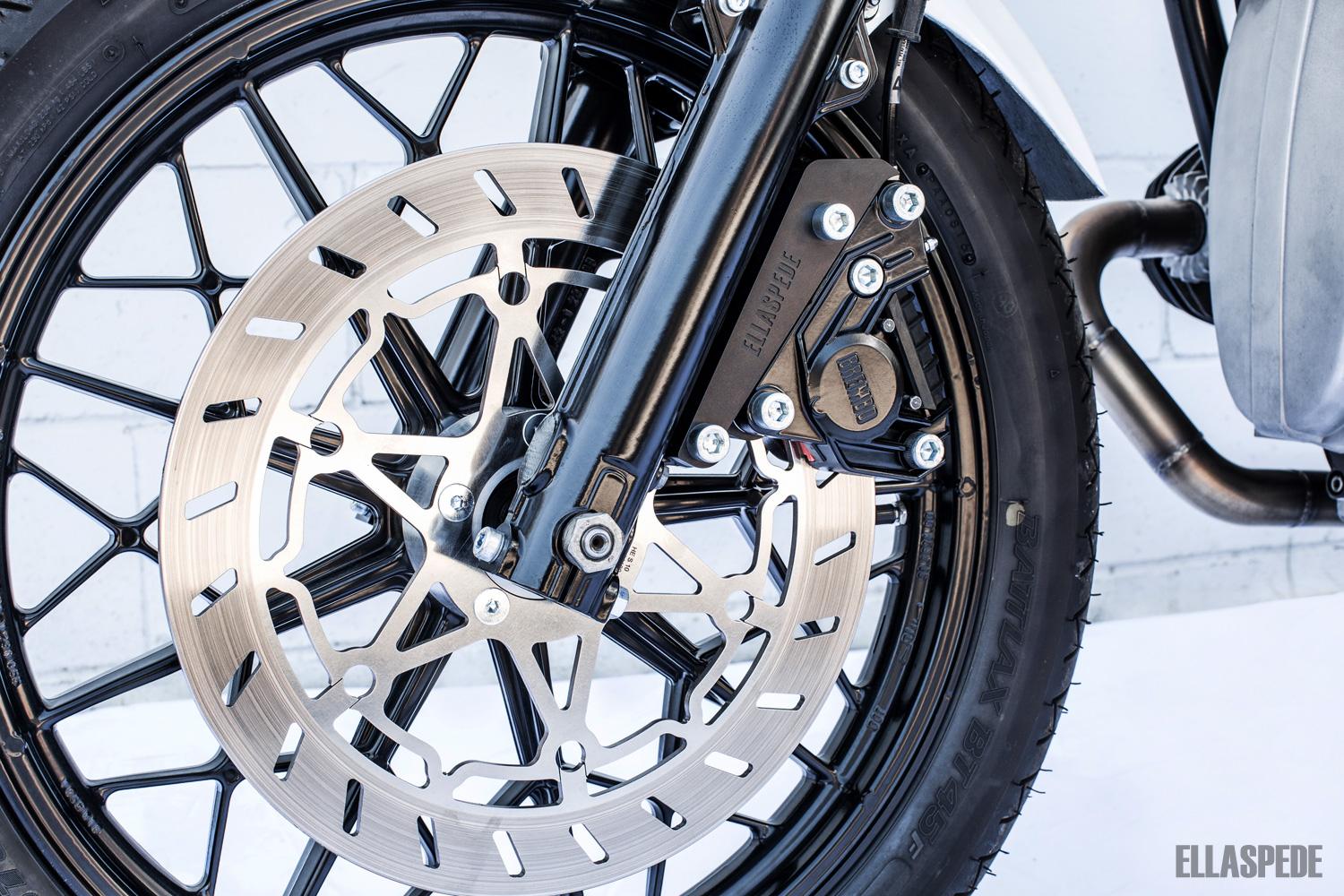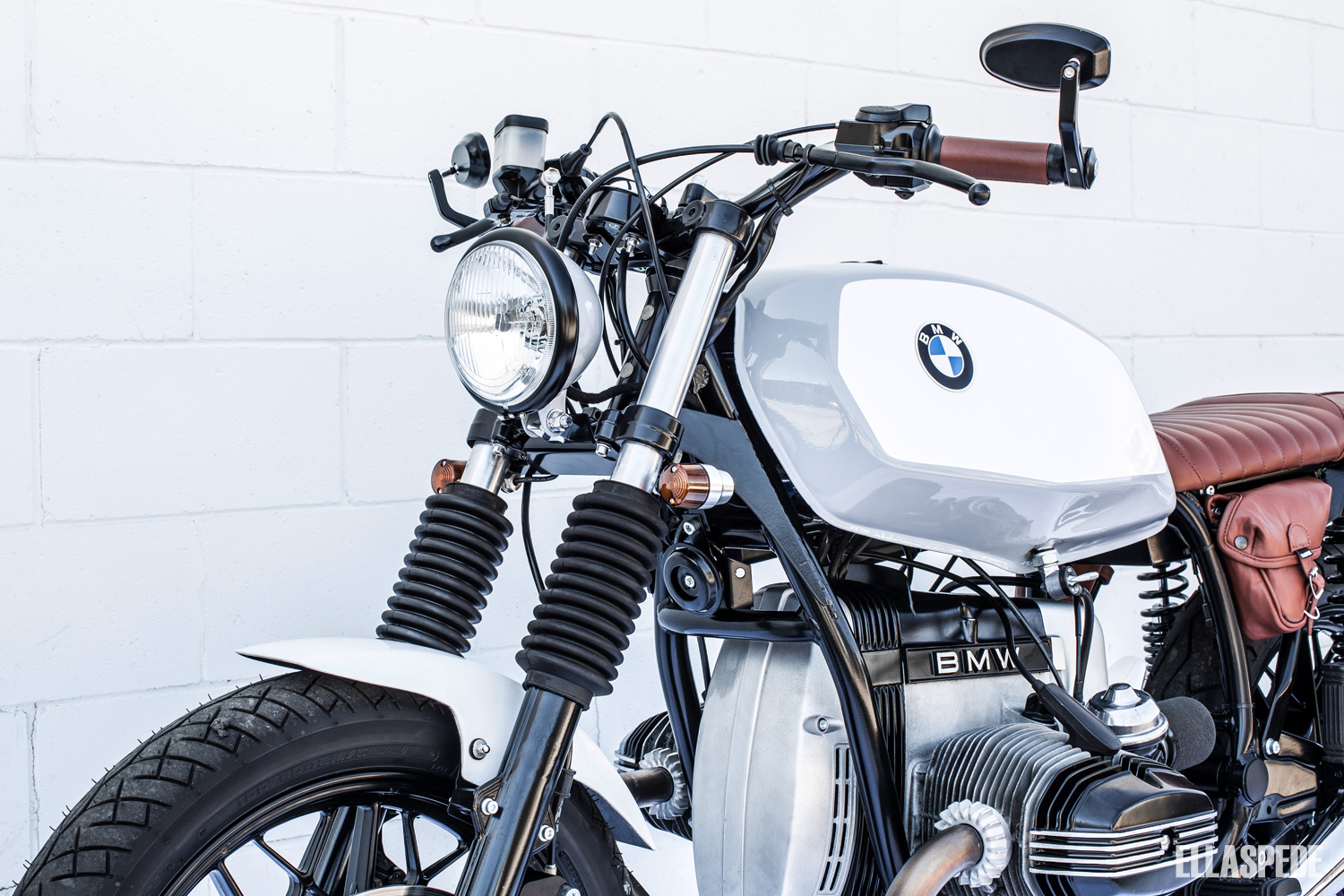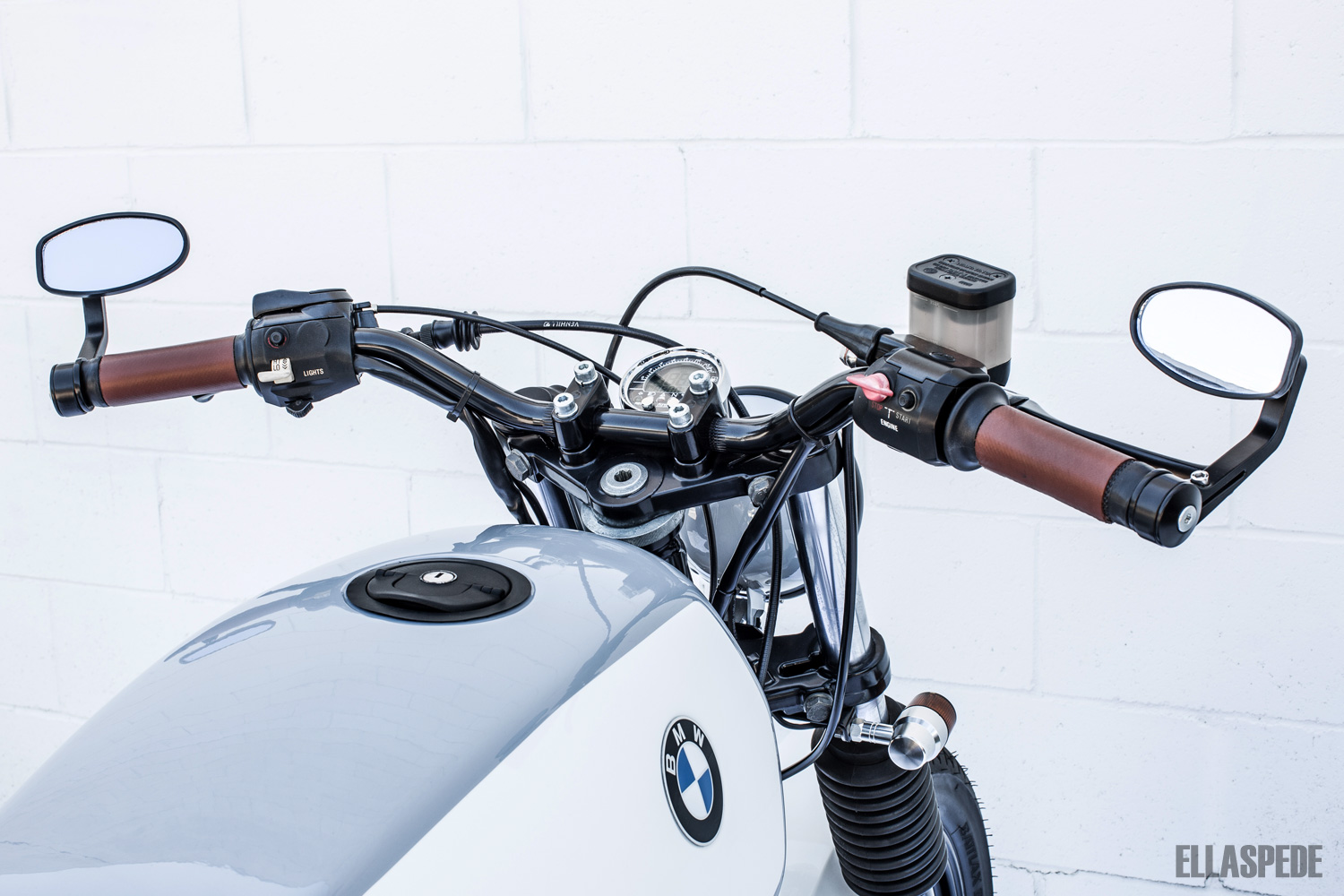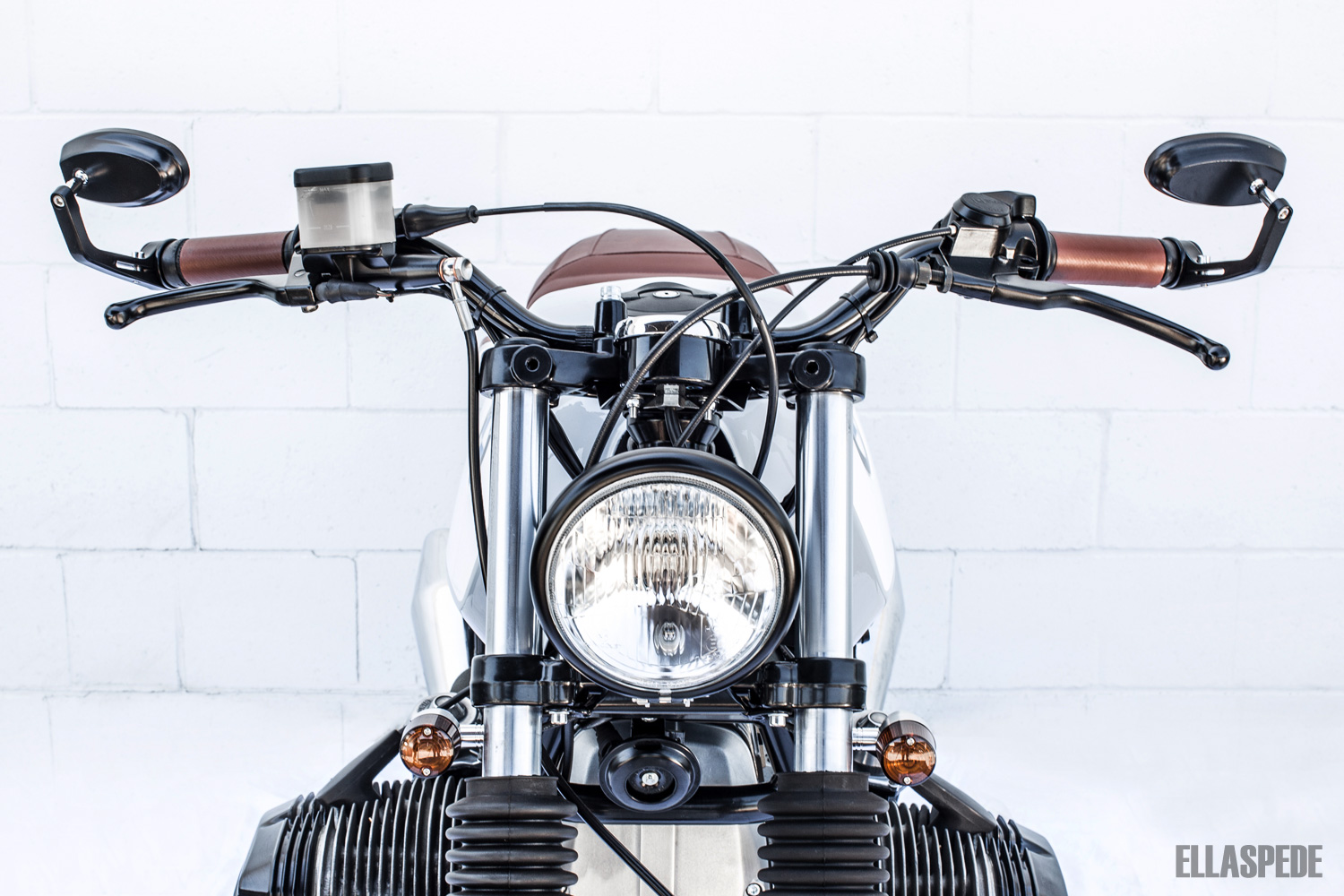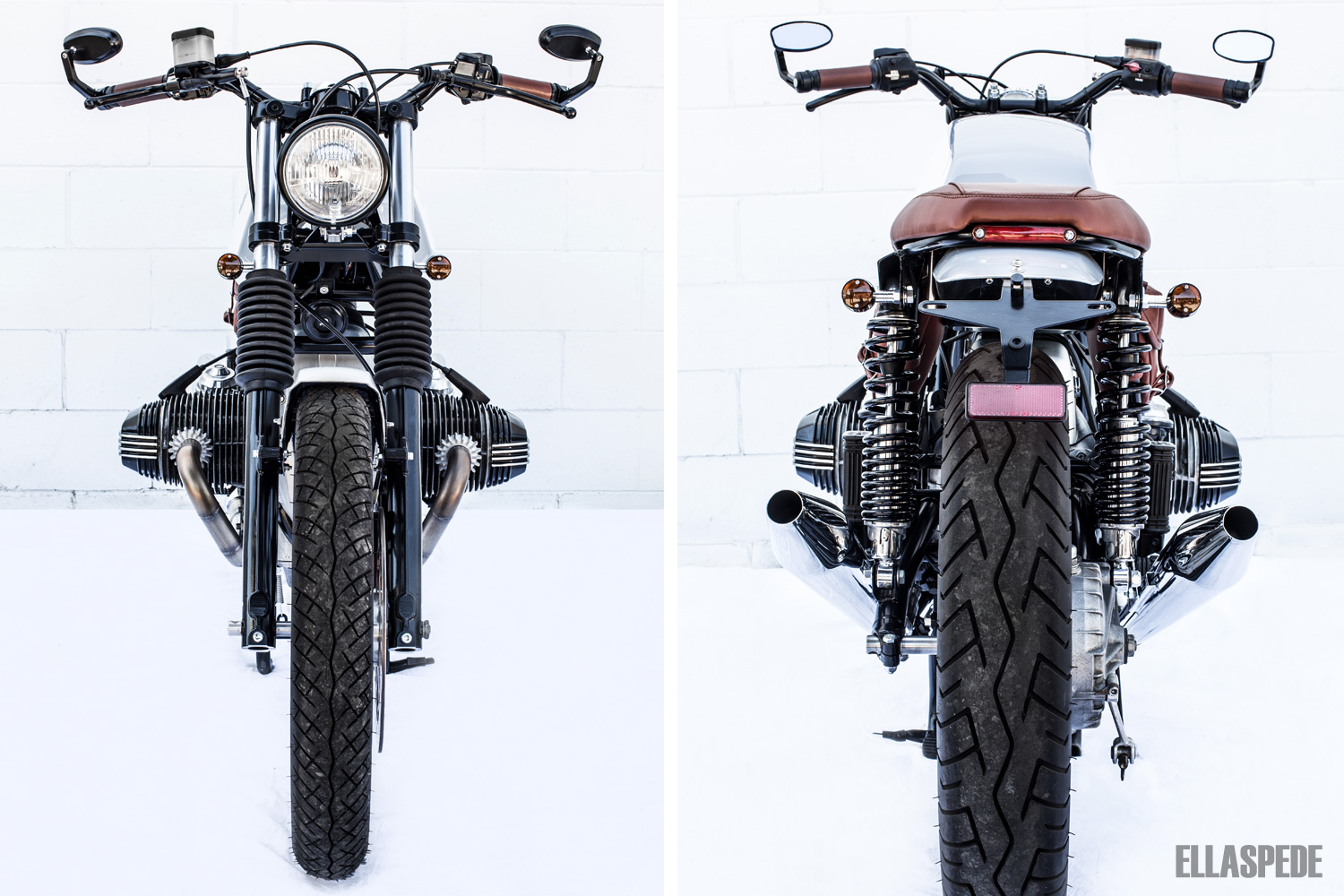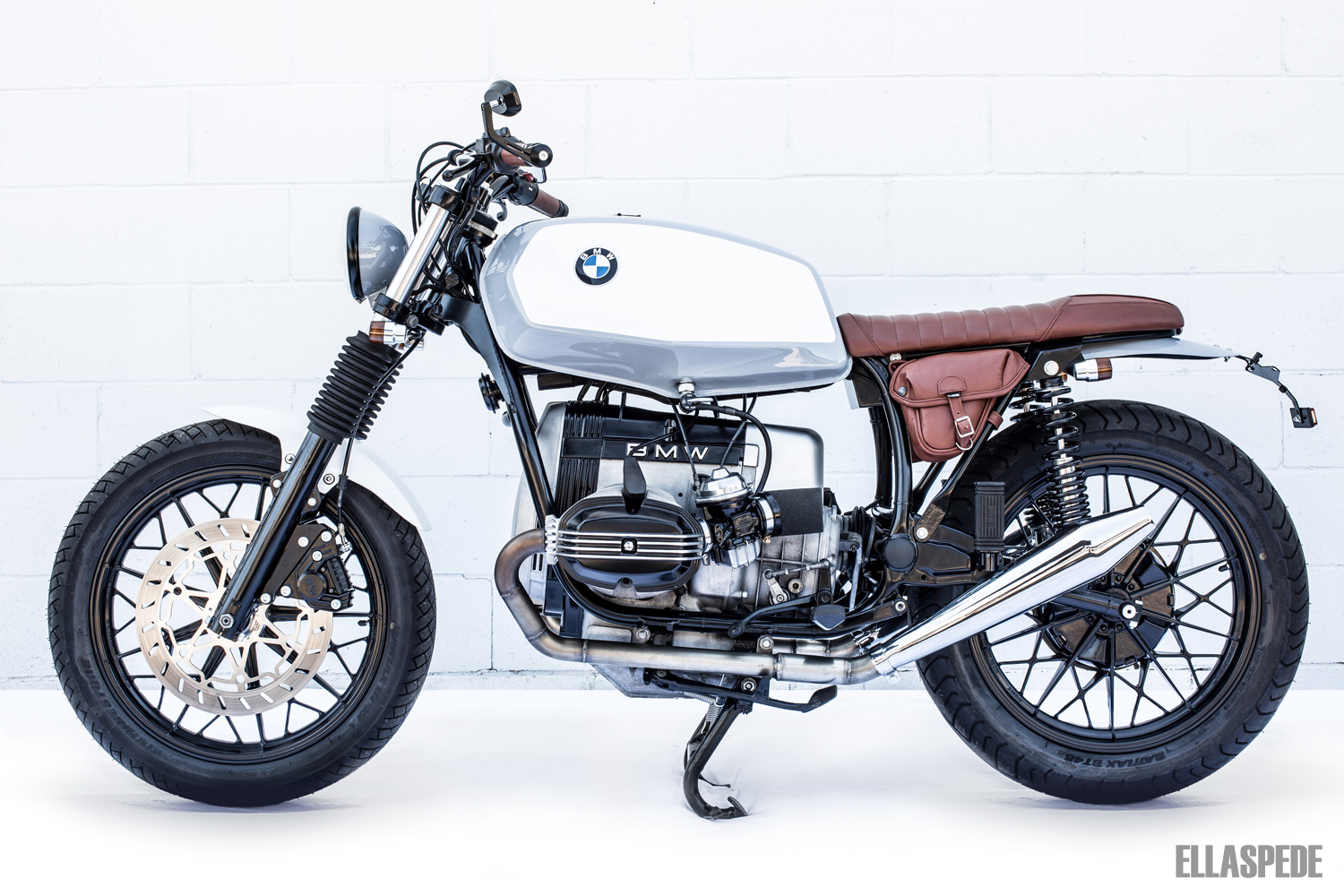 ---
Albums we listened to during the build of this bike:
---
Photos and Features:
---
---
Comments (4)
Seat frame

By:

Ciccio

on 14 May 2023

Hi guys ! Beautiful model, I'm taking inspiration for my LS as well, by any chance do you have the measurements taken to modify the seat frame ?





Ellaspede Response
Hi Mate, we're glad you like our build. We don't have any of the measurements sorry! But just looking at the photos you should be able to get your pretty close. Cheers
---
Color

By:

Sjoerd

on 29 November 2021

Hi guys, I very much like the blue/grey color. Would be interested to hear what color code/name this is. Beautiful bike!





Ellaspede Response
Hi Sjoerd! We're glad you like our build! We don't have an exact colour code for the blue/grey paint, it was just a custom colour we came up with for the bike. Cheers mate
---
Battery model

By:

Scott Evans

on 14 August 2021

Hi - Great bike - can you advise the model for "slimline AGM gel battery" that was used?





Ellaspede Response
Hi Scott, thanks mate. We used a Super Start Battery (SSB) RB14A-A2 in this one. Cheers
---
Interested

By:

Andrey

on 18 August 2019

What's rye price?
---
Leave a comment