EB1000 - 1984 BMW K100
Author: Ellaspede Date Posted:28 November 2022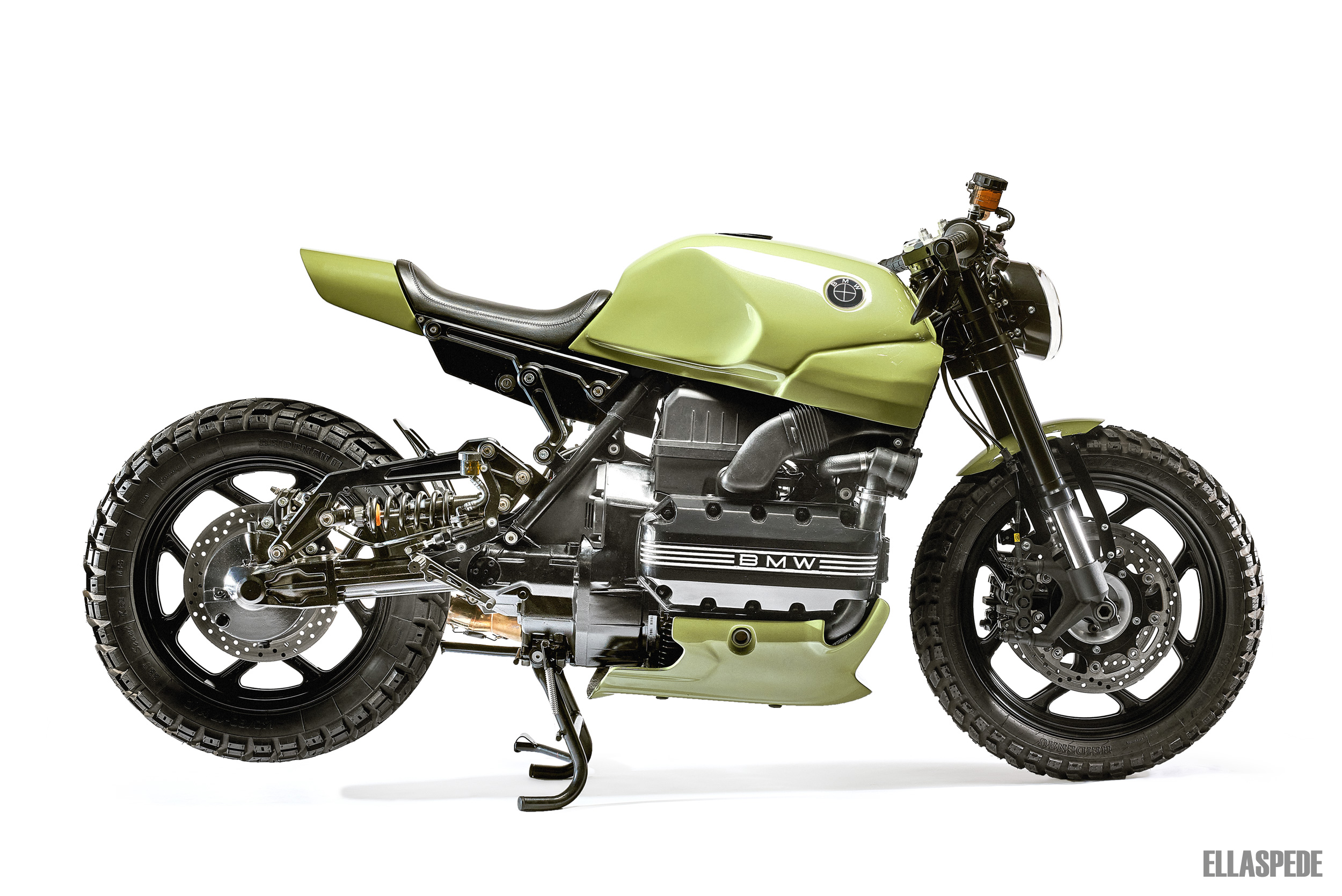 The BMW K100 wasn't a particularly cool kid on the block in the 1980's, but fast forward 4 decades and the big Beemers are now garnering quite the cult following in the custom world.
BMW wasn't the first to implement those flash features of the 80's like water-cooled four stroke motors, fuel injection, shaft drive or aerodynamic fairings, but it was the first to wrap it all up in one reliable factory package on the BMW K100.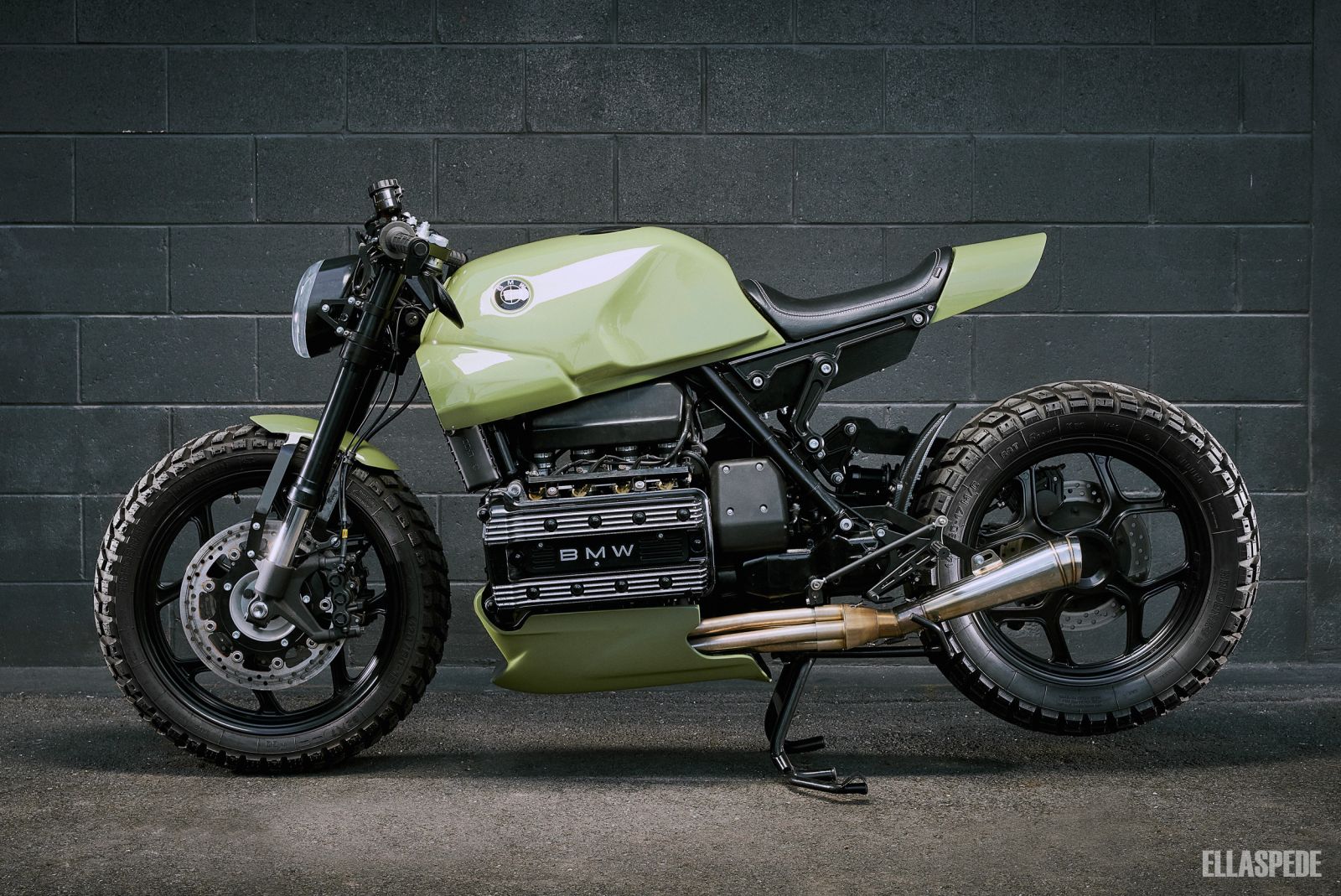 But it was an era of super sports bikes for the street that grabbed most of the headlines, so the expensive, tech-laden, casual revving sports tourer with panniers wasn't the raddest new ride. That said, it's probably also why there's still a few decent examples around. They were mostly purchased by an older demographic in the day, more interested in servicing schedules and casual two-up cruising.
Decades later we have the owner of this bike, who, after witnessing the resurgence of the big K100's in custom circles around the world on the web, went out in search of his own donor bike. This 1984 BMW K100 turned up 3 years ago as a 'poorly modified brat racer that had been sitting around awhile and didn't run'.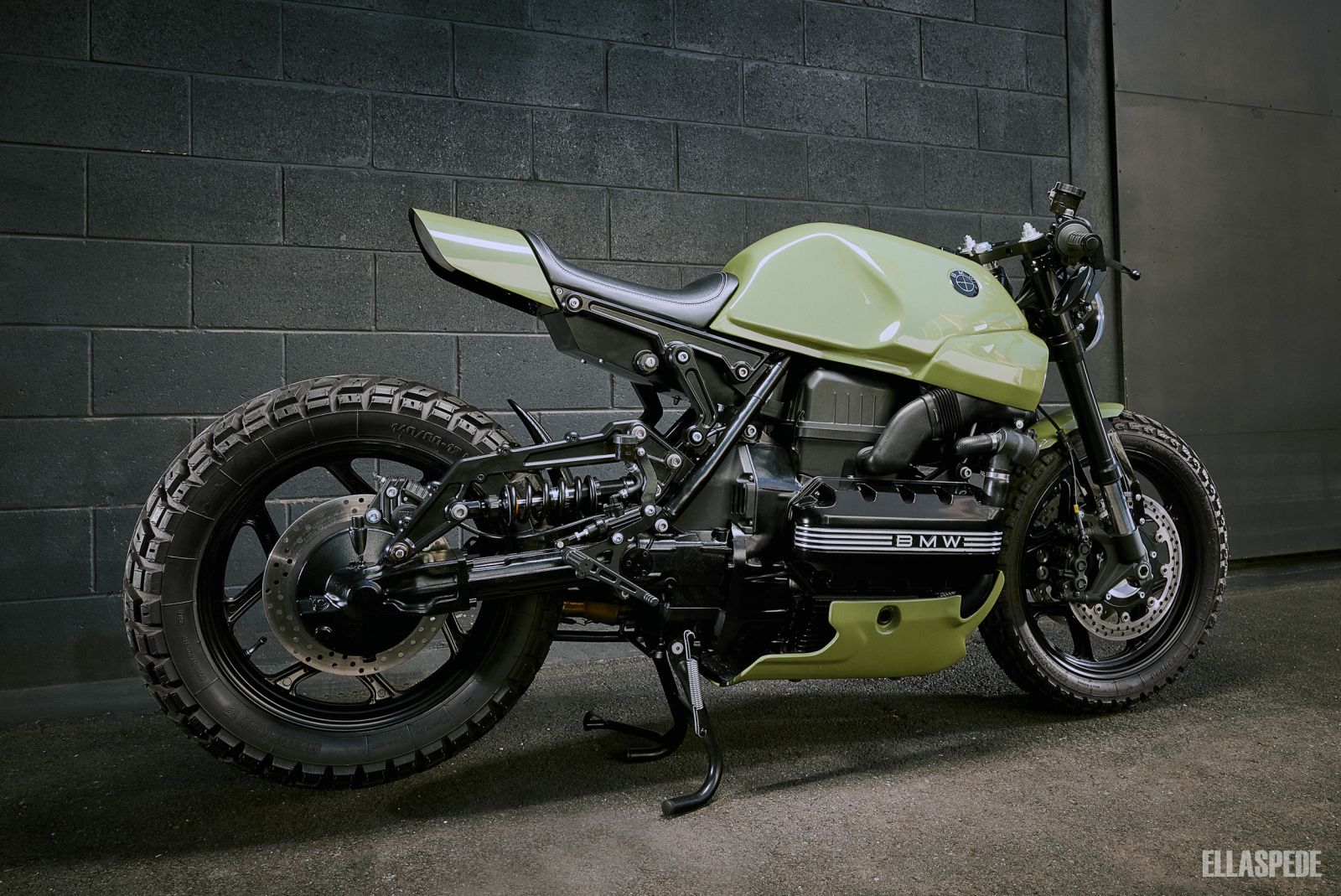 He explains his inspiration… 'I was mostly inspired by the RetroRides build from a few years back where they transformed the rear end. There was a CafeRacerTV video on it that wound me up fairly well too. You'll see a lot of similarities to that build - the rear suspension and subframe are their design.'
Randomly, the owner also noted they associate the early build stages with the song Comptine d`un autre ete - l`apres-midi by Yann Tiersen from when they came across a piano busker playing it about the same time they bought the bike! So of course we had to slot the appropriate Yann Tiersen album in to our recommended listening for this bike.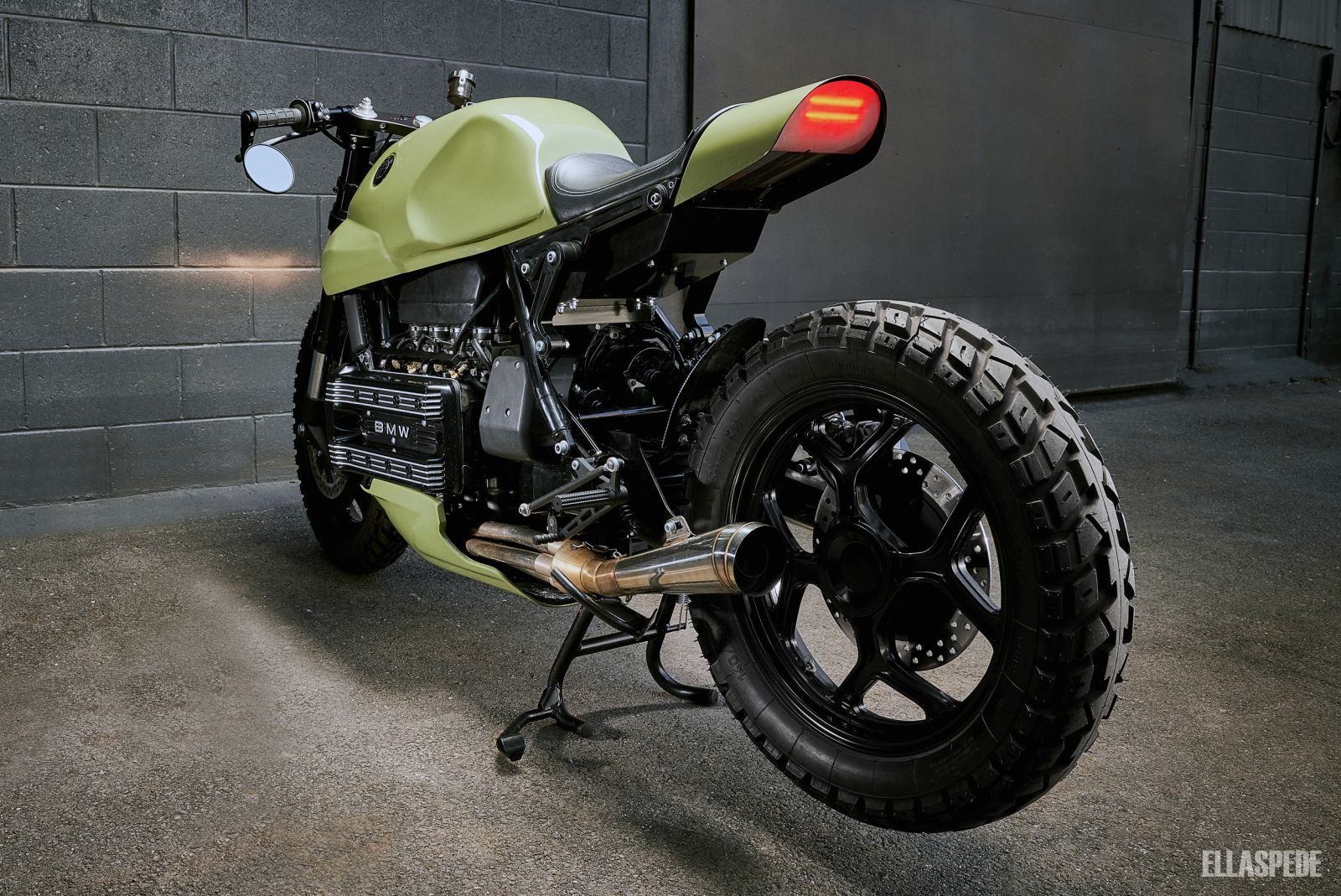 Like some clients we work with, he'd already made a start on transforming the bike to where it is now, but after a few months of no progress and realising there just wasn't enough hours in the day he decided to bring it down to the shop.
The owner said… 'Leo couldn't say no to a garden trailer loaded with a butchered K100 and pile of bits :) But honestly, I got part way through the build and was beyond the time/skills I could devote/learn. Having seen some Ellaspede builds, they are local, professional and have a good eye for modifying bikes. I could trust them to run with it.'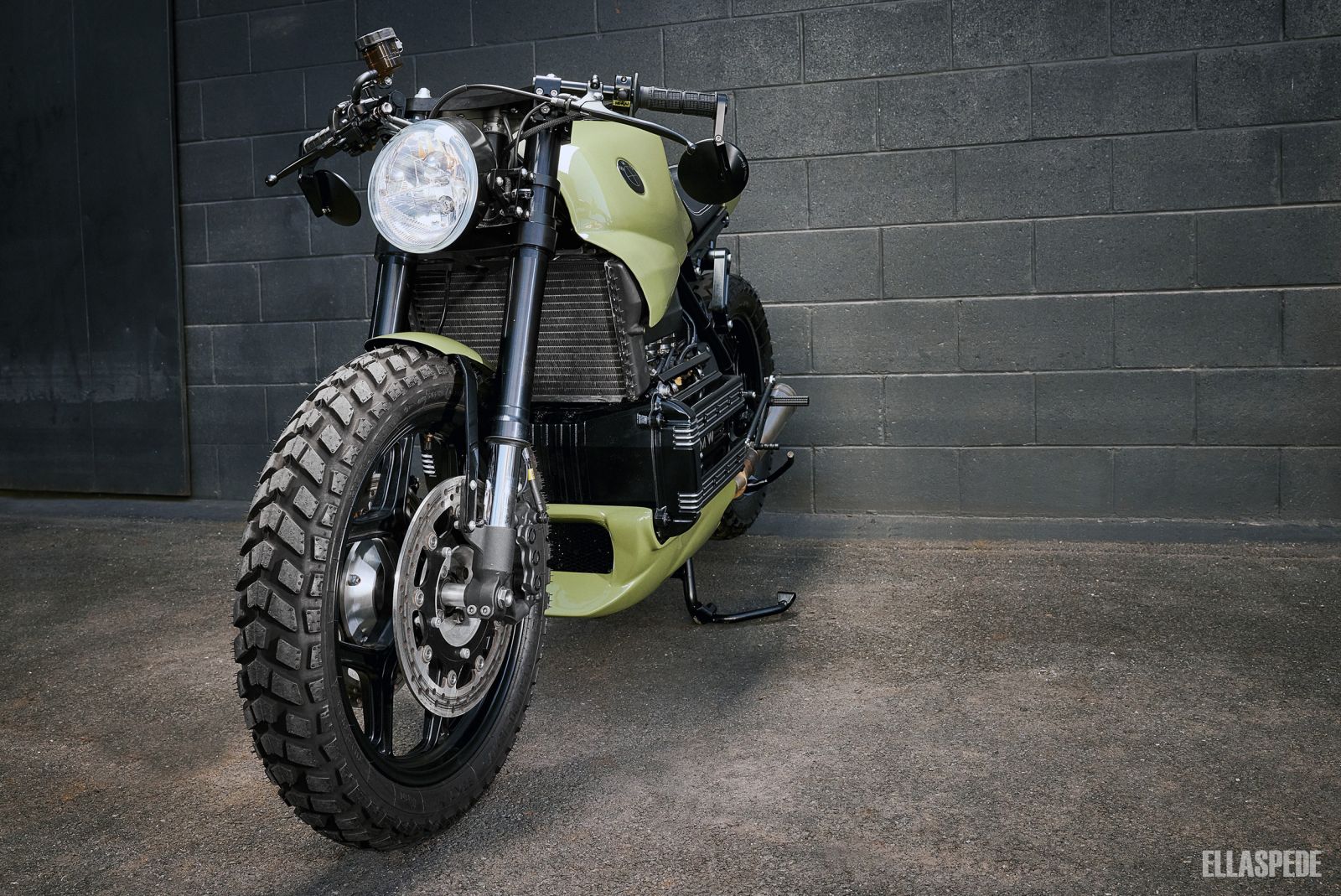 So with a semi modified K100 and a few boxes of bits we got to work. First port of call was sorting out the rear end. It had previously been modified to make use of the popular 'RetroRides' rear suspension and subframe kit. We like the style of this kit and just tweaked it a little to suite our design and reshaped the rear seat cowl to be more visually pleasant.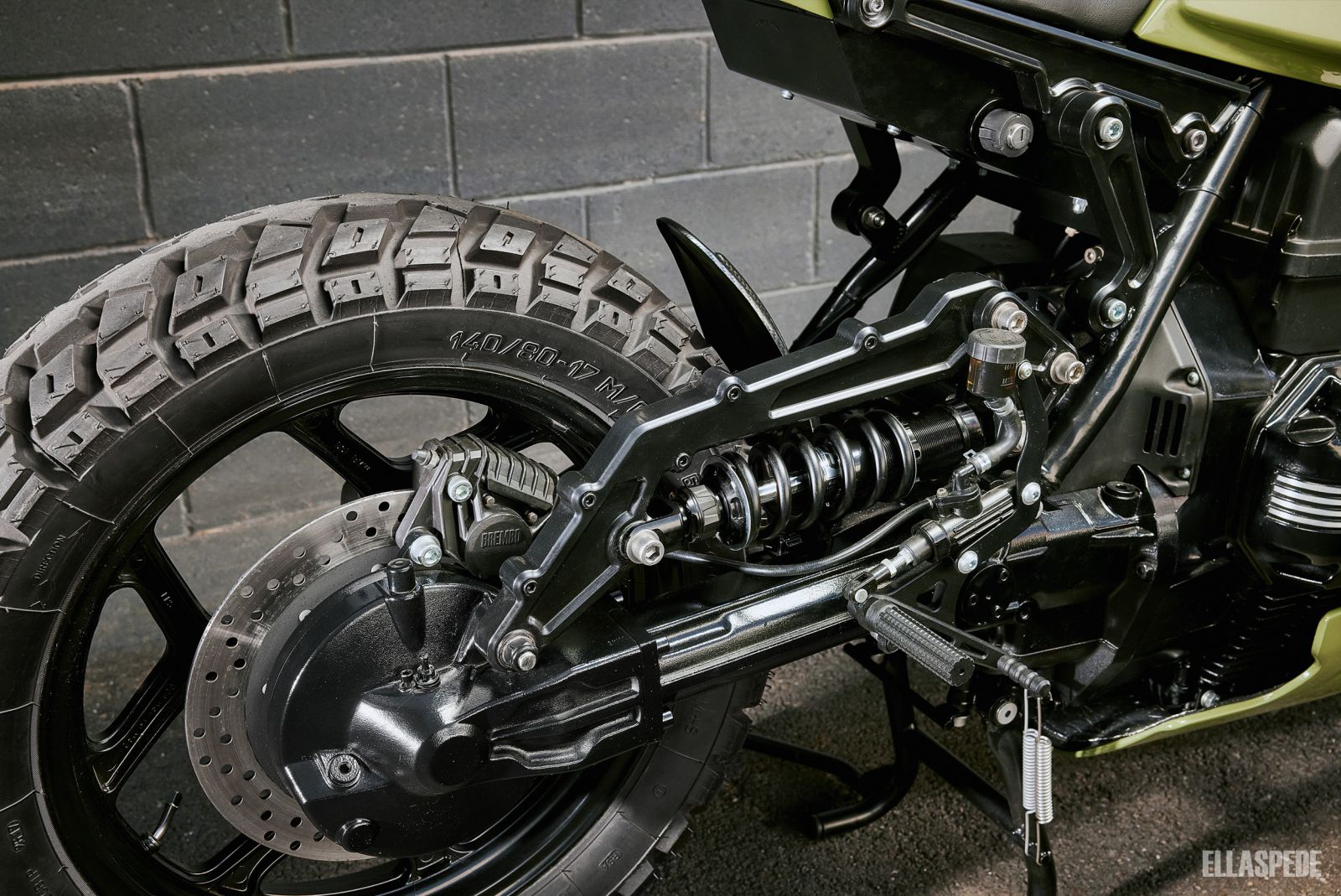 The empty under cowl section was then filled with a custom CNC machined tail light housing that holds 2 strip LED's and a number plate holder neatly hangs off the underside to keep things legal out back.
The RetroRides rear kit creates some nice lines through the bike and we wanted to continue these through the tank. Custom aluminium cowls were added to the front of the tank on each side, along with side strips underneath to fill the gaps and flow through to the rear end design.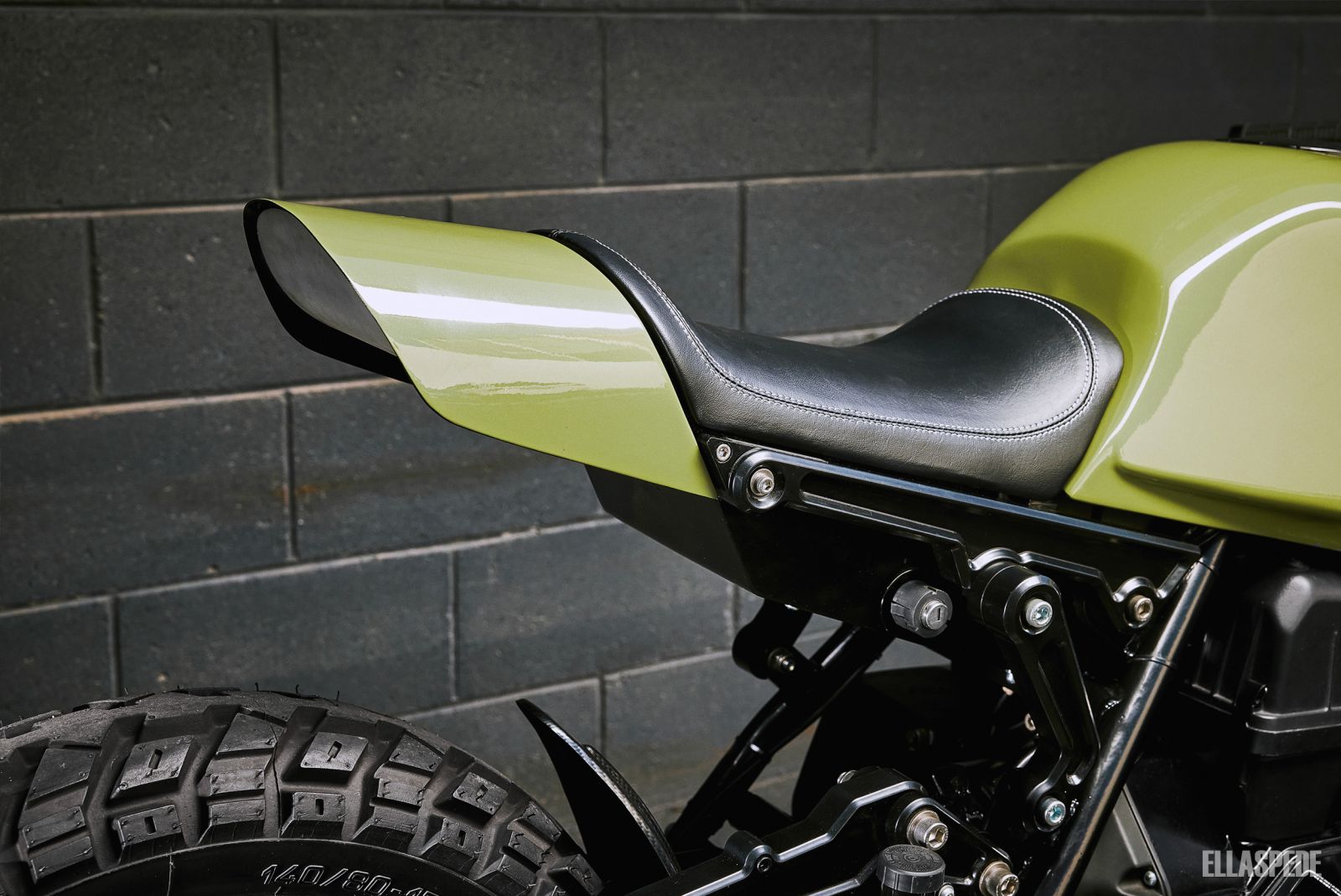 A custom seat pan to suite the new rear end was made up, while a steel battery box now slides in underneath to hold the vast array of electrical components the K-series come with. At the front a custom front guard now hangs off the upside down Suzuki GSXR front end. The owner had the custom hub/disc spacers machined up to fit the 310mm discs to the factory K100 front wheel.
With most of the fab work complete it was time for a full strip down. Final welding was done on the RetroRides rear end (you need the engine out to properly weld the frame tabs for this kit) and the important parts and pieces were all sent off for paint or powder coat.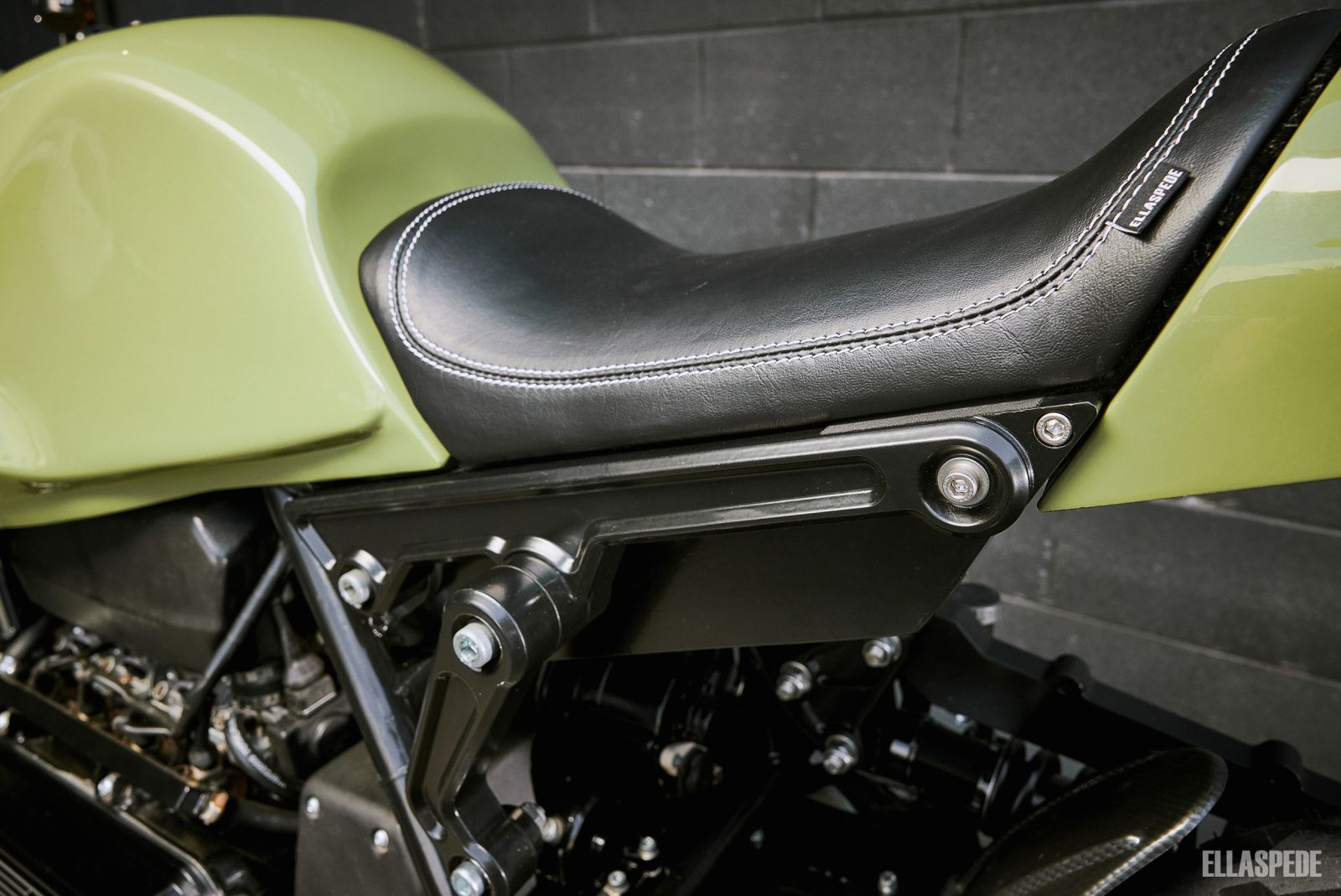 Given these bikes make a lazy 90hp from factory, the motors are never really that stressed and with the German engineering can gallop into the hundreds of thousands kilometres on some examples. So after inspection the motor didn't need a rebuild and it was refinished in black with the important parts polished as preferred.
Helping get the bike back to a rolling frame is a YSS Black Edition lay flat shock and the the previously mentioned Suzuki GSXR front end. Factory K100 wheels roll on Heidenau K60 Scout tyres in 120/80-18 front and 140/80-17 rear.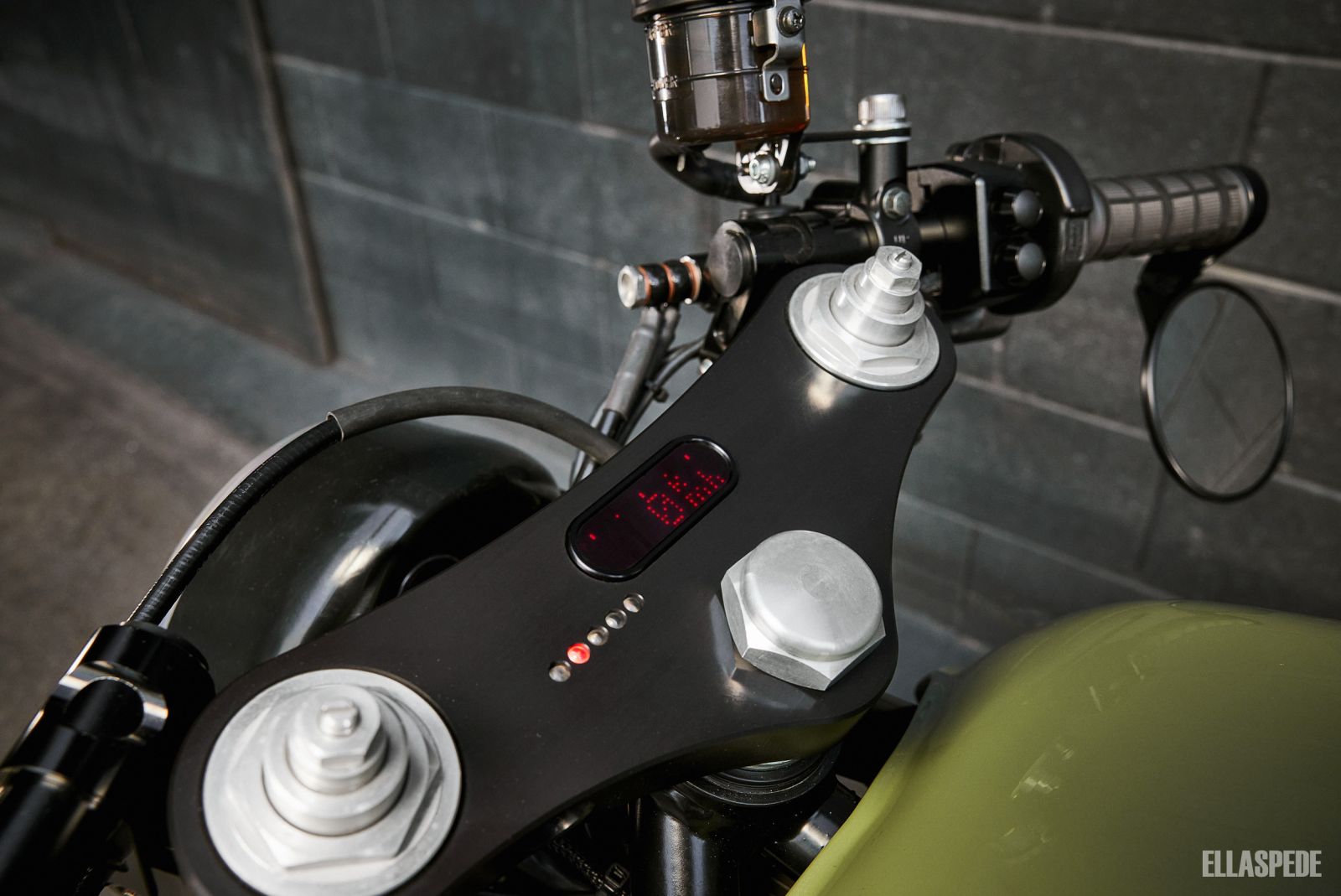 Besides wiring in new electrical parts, finding homes for all of the required factory components in a custom K-series BMW is a considerable amount of work as well.
A Motogadget gauge now displays critical information, controlled via the matching Motogadget switches and indicating turn signals via the Motogadget pin indicators. An aftermarket slanted headlight looks forward with the aforementioned LED's in the custom housing creating the tail light effect at the rear. Daytona D-mirror bar end mirrors keep an eye on things out the back.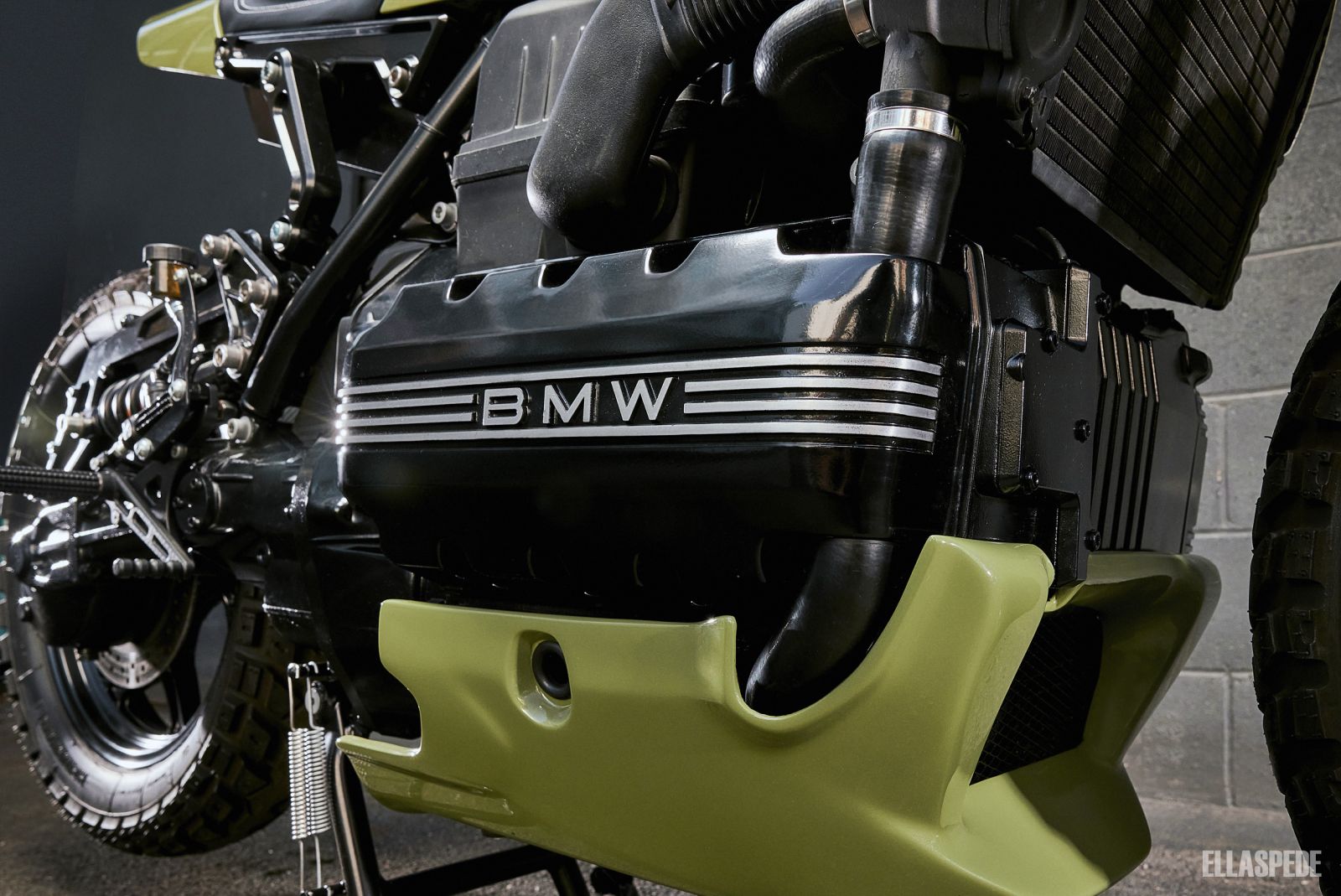 The stock K100 headers remain and have been shortened before dumping into an aftermarket stainless muffler on a custom mount. Custom mounts also hang the aftermarket K100 belly pan fairing snugly underneath the motor. Heat shield matting stops the fresh belly pan paint from fading away as well.
Speaking of paint, after some back and fourth with the owner, it was a smooth army inspired green that got the nod. He explains… 'I feel (this colour) represents its age and character. Given it is quite a modern build, it might lose its age identity if it were a more conventional colour. And the khaki/army green has a bit of a combatant association which suits its stance.'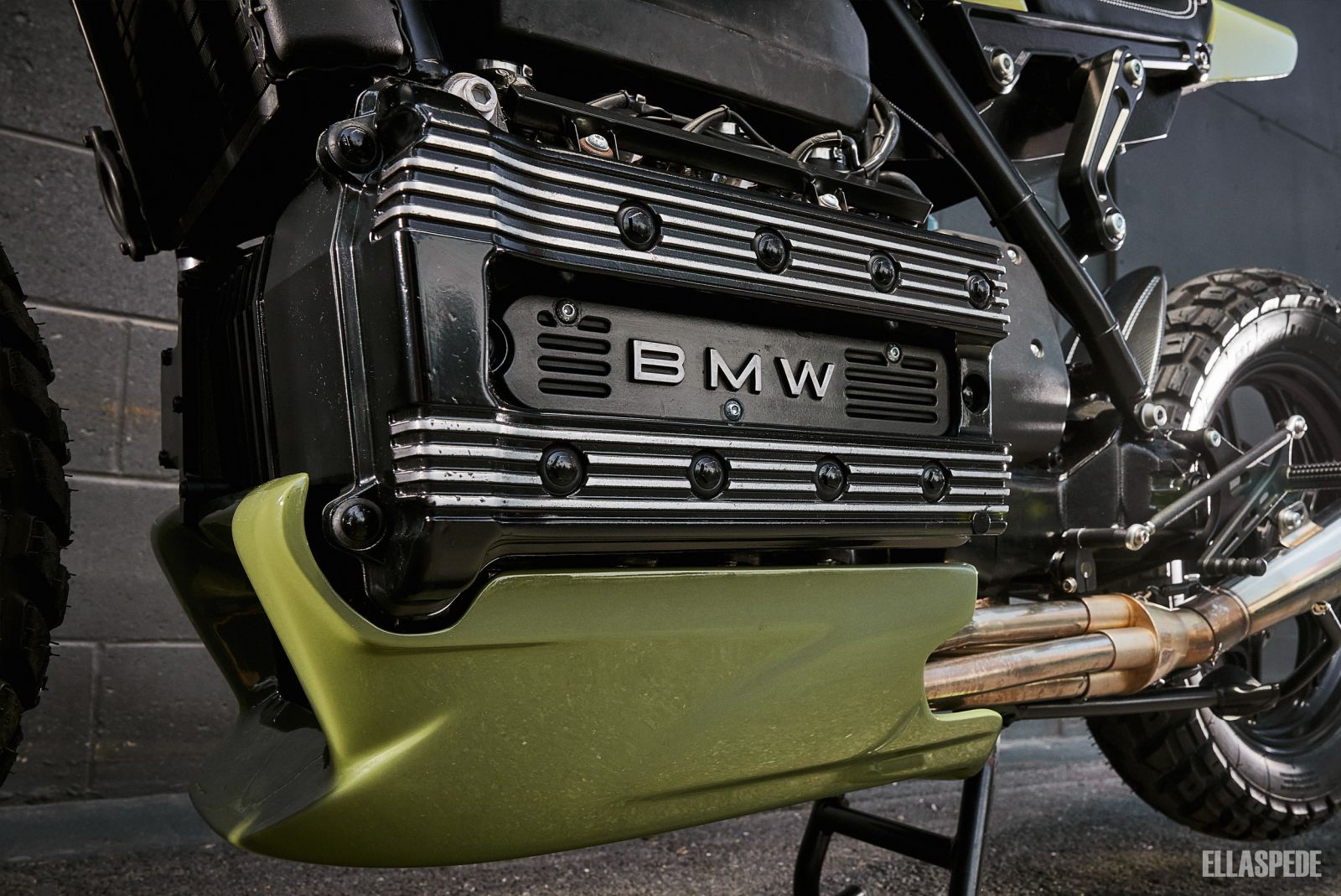 New black and silver BMW badges now adorn the tank, with the custom seat getting shaped in high density comfort foam before being wrapped in black UV rated motorcycle vinyl with white stitching.
With the bike back together it was time for some dyno time and test riding. Unfortunately with bikes that have sat around for some time many of the perishable items begin to harden and crack, as was the case with this bike. They can seem satisfactory when test started a few times, but without the ability to do decent test rides before tear down it's always a risk with an old bike.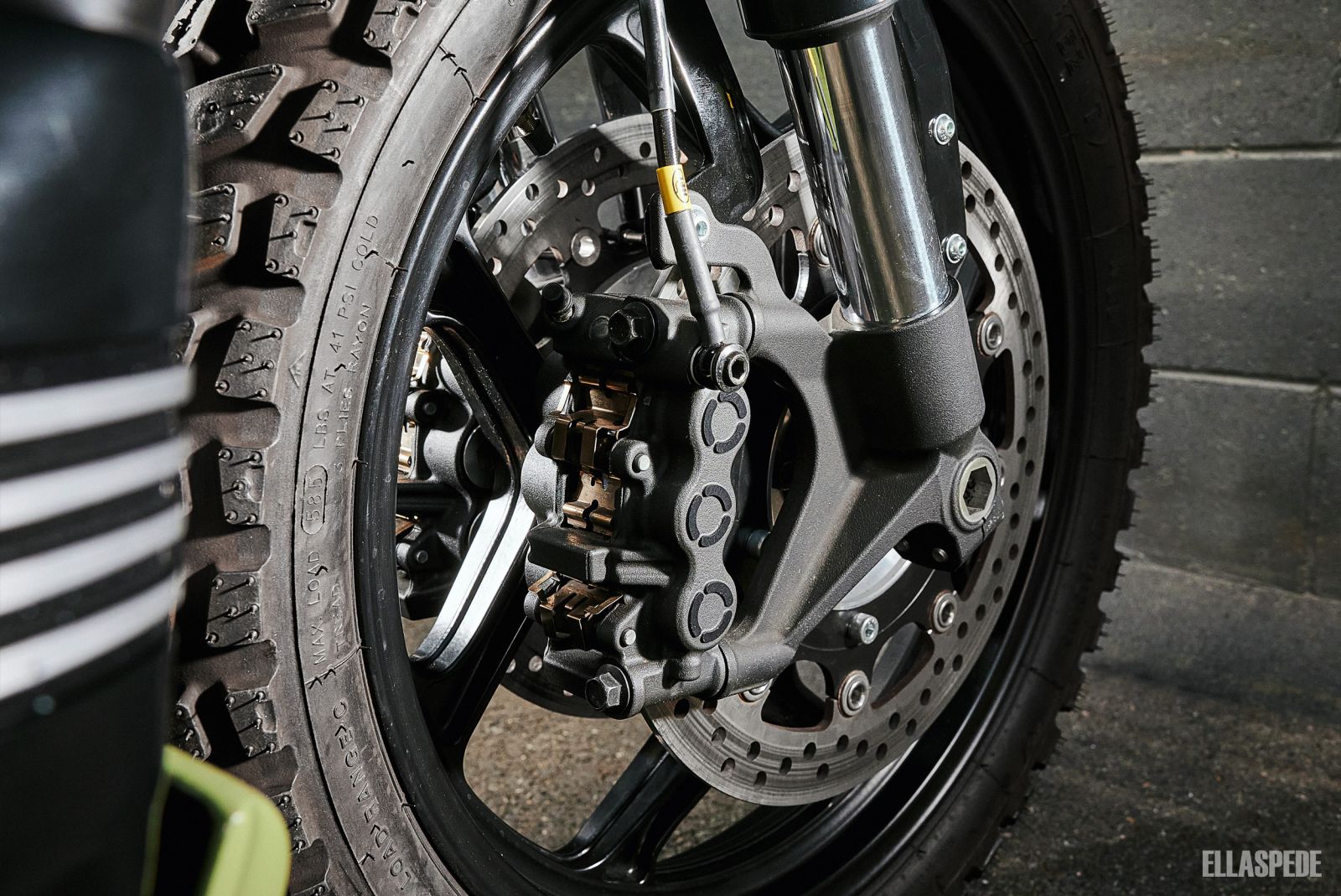 So the replacement parts list grew with seals, o-rings, hoses and rebuild kits, chasing the inevitable leaks and fixes to bring this bike back to new. We also decided to sleeve the rear suspension pivot bushes as well to allow for full tightening of the appropriate bolts too.
Generally we advise owners to start with the lowest kilometre donor bike they can find. But sometimes with older bikes, if they've been sitting for a period of time it can be better to consider a regularly ridden and well serviced machine, if only to avoid the pitfalls of having to replace every perishable part on the thing!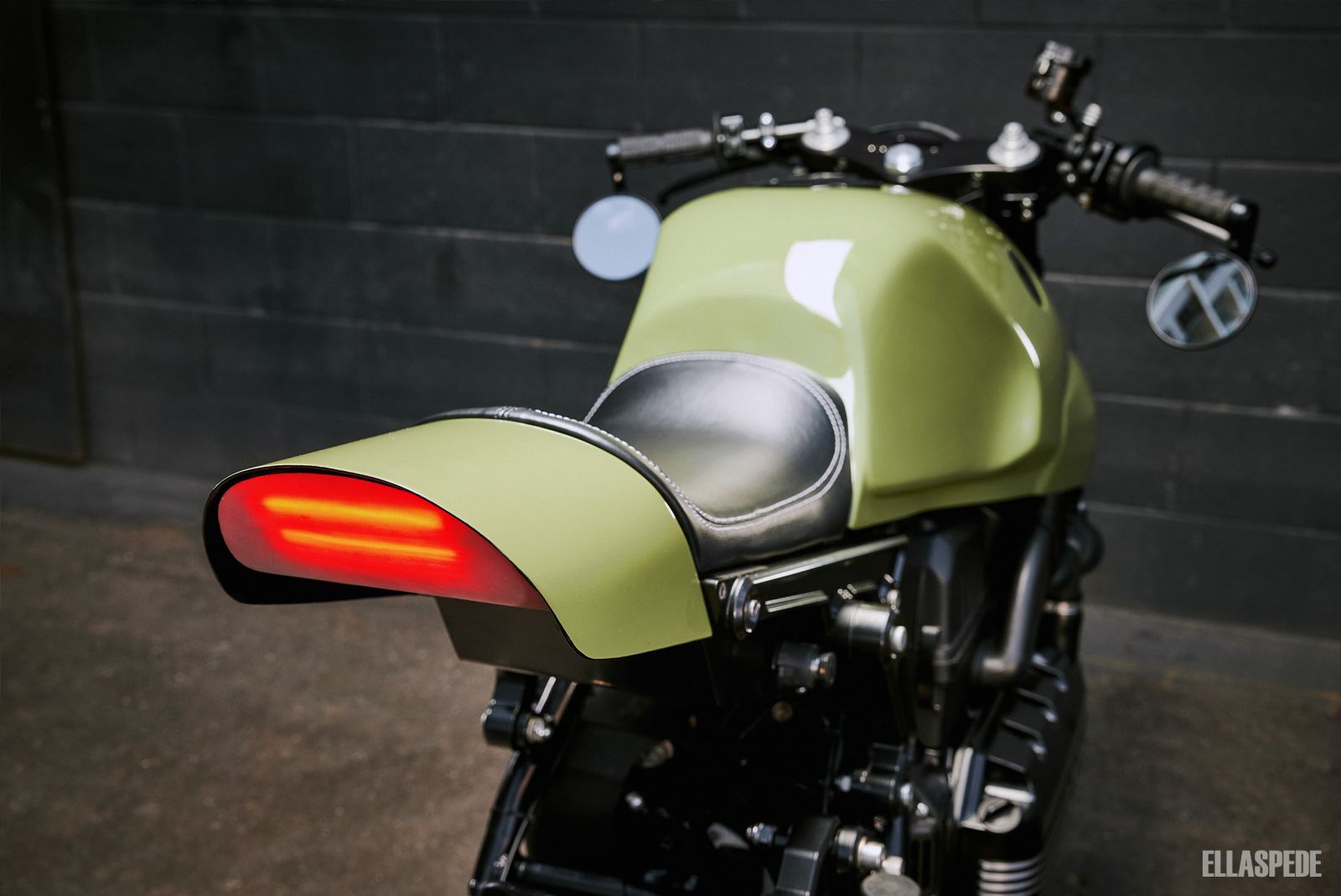 In any case, we're firm believers in that if you're going to do a K100 build you have to go the whole way anyway. They're an 'overweight' and quirky looking bike in stock trim and we've never seen a good, half-done custom example... you really need to go the 'whole hog' with them. The owner probably saved this bike because it sounds like it was going downhill fast when it rolled into his possession, and props to him for tackling the build and seeing it through.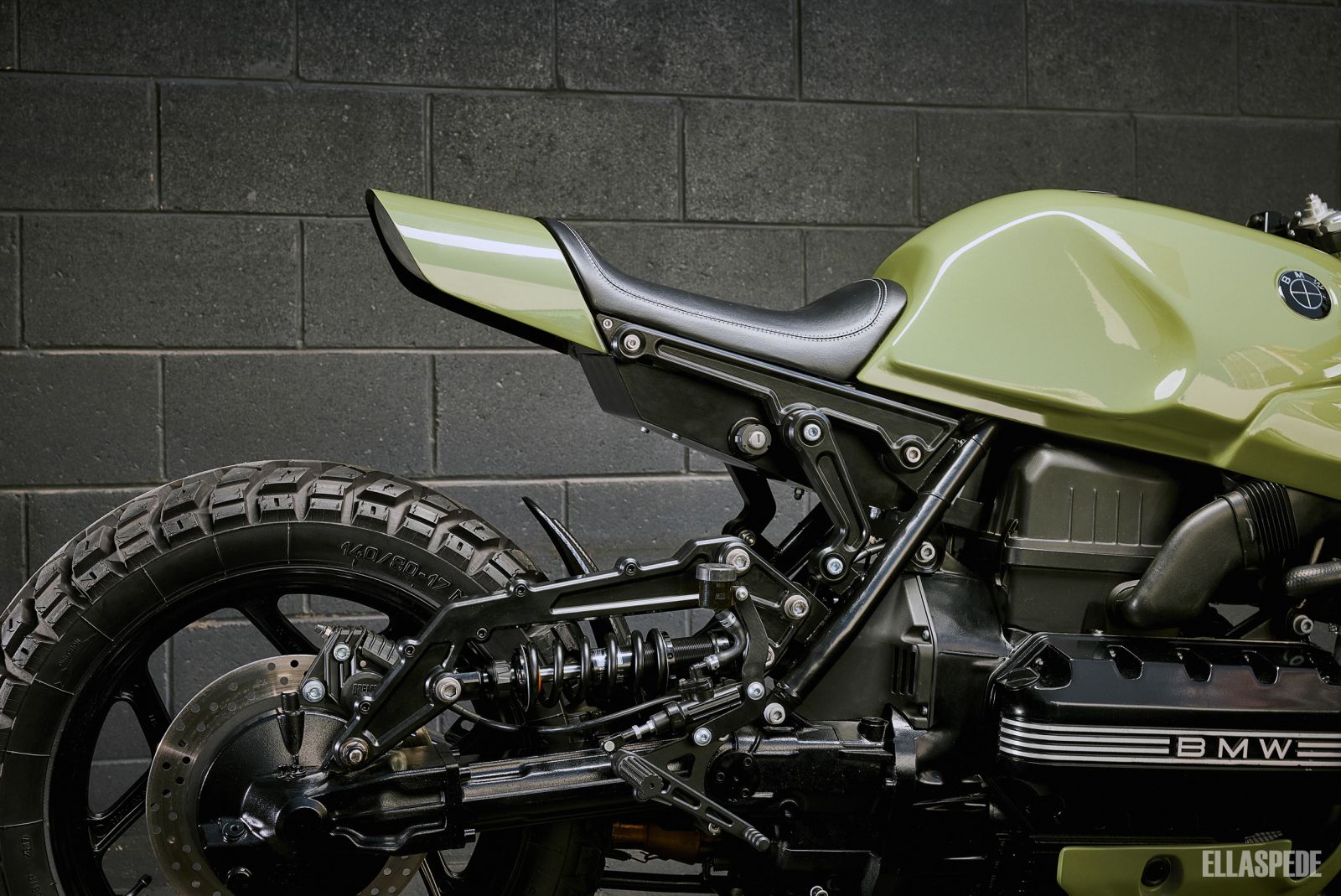 He shares our thoughts… 'Why do the build? That's a good question I've asked myself a few times over. Love the idea of giving new life to old bikes and the range of skills that go with it. Then once it's started, it's a case of seeing it through.'
Now that it's complete, he mentioned his favourite part about the build… 'I'd say the aggressive stance. And it's different to any other K100 build I've seen - the tank mods were important in achieving that… It broadens the front and provides a long line along the bike.'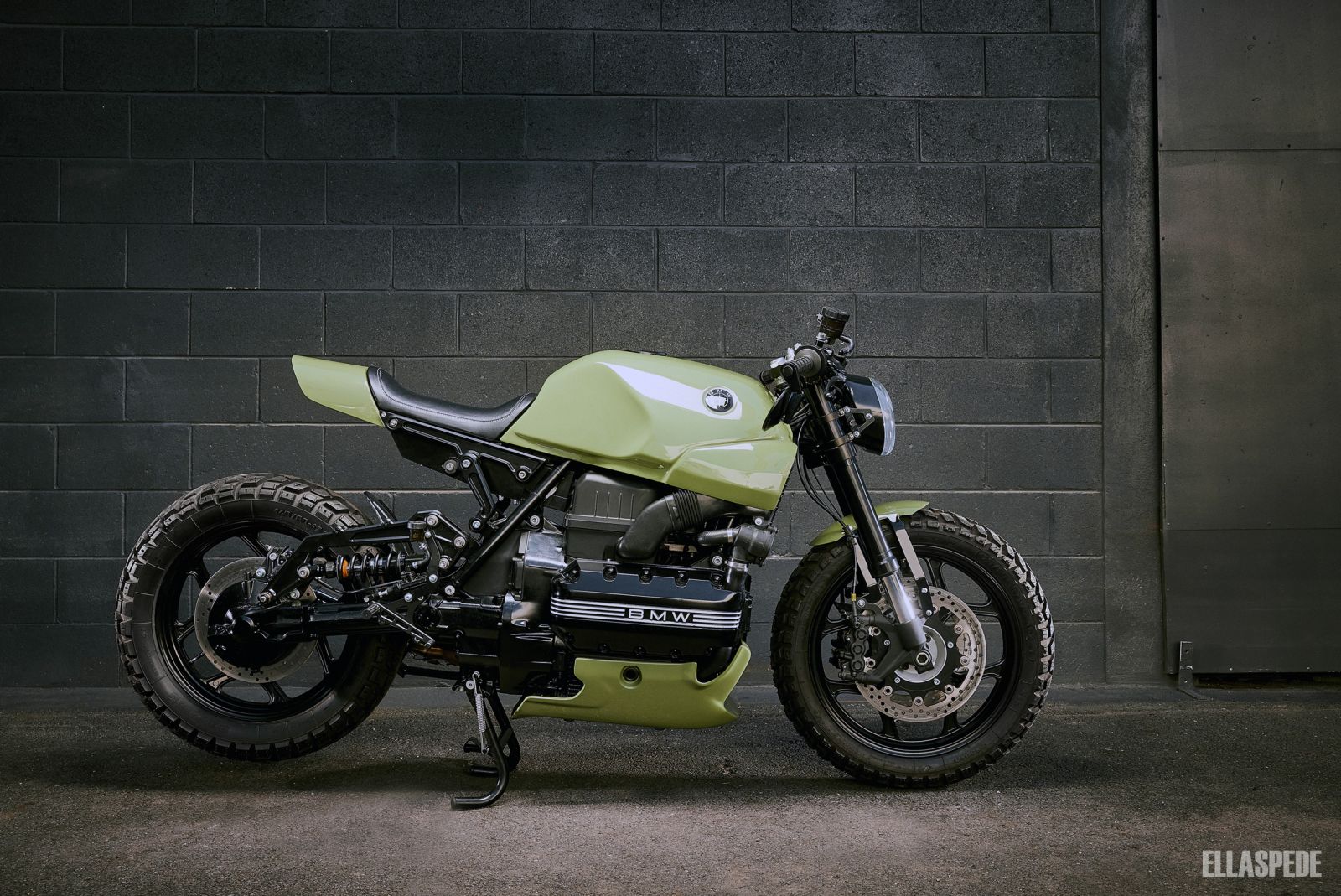 We're really happy with how this build has turned out. If you look at an original 1984 BMW K100 they're definitely not the coolest 'cab off the rank' in terms of 1980's machines, but now this bike has the aggressive looks and the lazy horsepower to back it up. You can bet it'll be grabbing the attention of a much wider demographic when the owner pulls up in public next.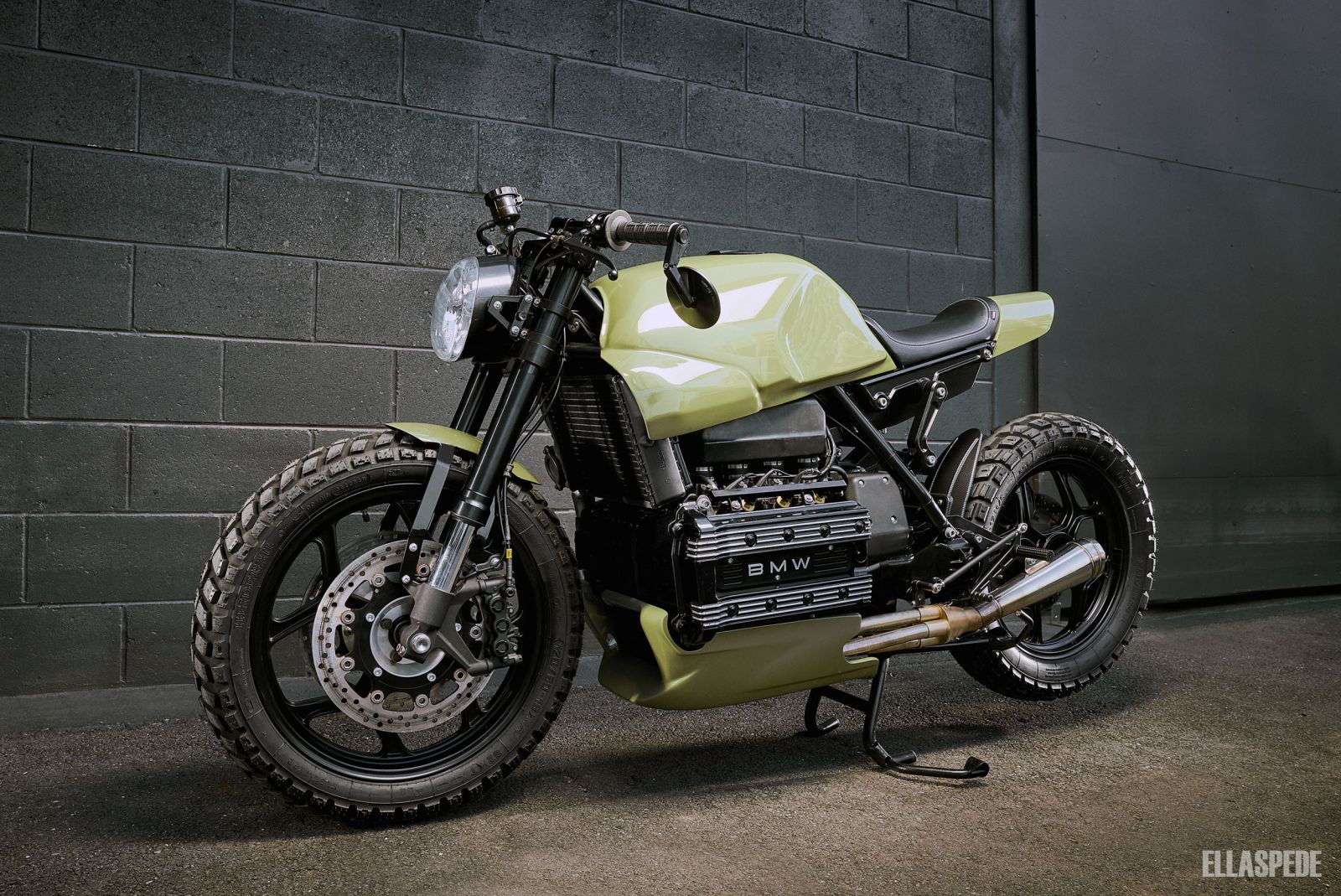 ---
Albums we listened to during the build of this bike:
---
Photos:
---
Build Pricing & Enquiries:
For build and pricing details or to discuss commissioning a custom motorcycle build of your own please email contact@ellaspede.com
---
---
Comments (2)
fire mechanic! Front tyre fitted incorrectly!

By:

steven voigt

on 21 April 2023

Front tyre is fitted backwards! Directional tred pattern





Ellaspede Response
Hi Steven, we can assure you that the front tyre is definitely fitted in the correct way :) Motorcycles have opposite tread patterns for the front tyres (different to cars). We'll let our workshop crew know they can keep their jobs. Cheers!
---
Just saw this bike

By:

Craig Turnbull

on 9 March 2023

Is this bike in Brisbane? Just past it and had to research and see what it was. Looked brand new, but is identical to the one pictured. Absolutely love it.





Ellaspede Response
Hi Craig, this bike is in Brisbane yes, so it probably was the one you spotted as there arent too many around that look like this. We're glad you liked it mate. Cheers!
---
Leave a comment