COVID Update #3: West End Shop Closed to Public, Online Still Open!
Author: Ellaspede Date Posted:24 March 2020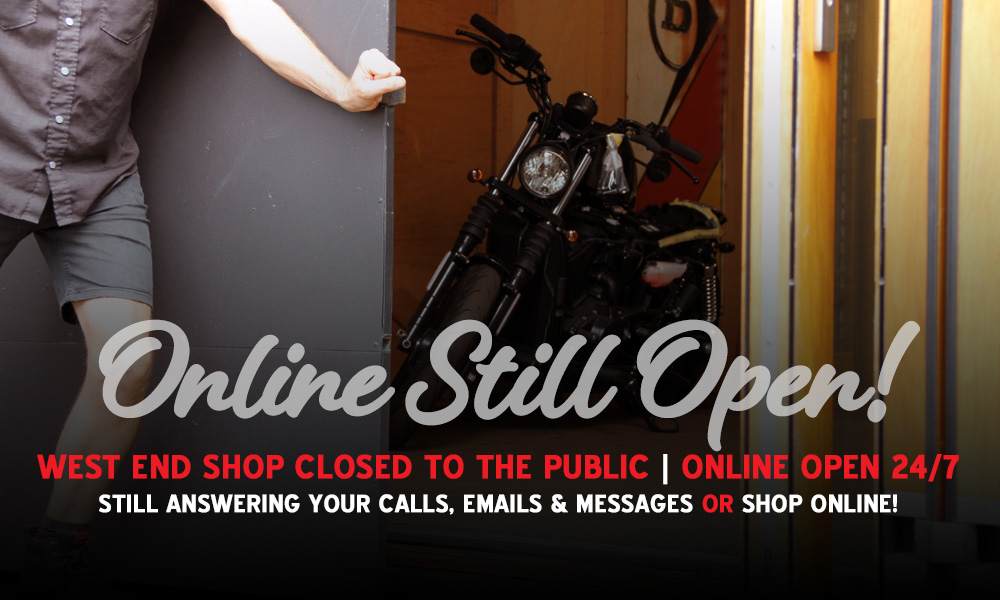 Things are changing pretty quickly at the moment, THANKS for keeping up to date & staying safe.
The West End shop & workshop will be closed to the public as of Wednesday 25 March 2020 until further notice. Our highest priority is keeping our staff & customers safe while doing whatever we can to limit all of our interactions so that together we can get on top of this.
We'll still be answering your calls, emails & social media messages PLUS you can still shop online as we're still packing & shipping orders.
We're still working on bikes behind closed doors & welcome all new custom enquiries as we can begin to plan, quote & accept in some bikes on a case by case basis.
If you can, keep supporting small businesses & each other while we RIDE this out!
---
Comments (2)
1980 GSX1100EX rebuild

By:

Phill Kerby

on 8 May 2020

Hi I have a 1980 gsx1100 I brought new in early 81, it have done approx 40000km but is in need of restoration. Any idea on what sort dollars it would cost? Regards Phill Kerby





Ellaspede Response
Hey Phil, Just sent you an email to discuss mate! Cheers
---
2018 Ducati Scrambler Cafe Racer Custom

Hey mate, I'm hoping to do a custom job on a Ducati Scrambler which is completely stock. I've had a look at some of the stuff you guys have done and am quite impressed. I am happy to provide an over all vision and let you run your creative minds. Let me know if this is something you would be interested in. Cheers, Deeps





Ellaspede Response
Hey Deeps, We'll be in touch mate! Definitely keen. Cheers!
---
Leave a comment