Triumph Fender Eliminator for Bonneville, Thruxton & Scrambler
Author: Ellaspede Date Posted:10 May 2016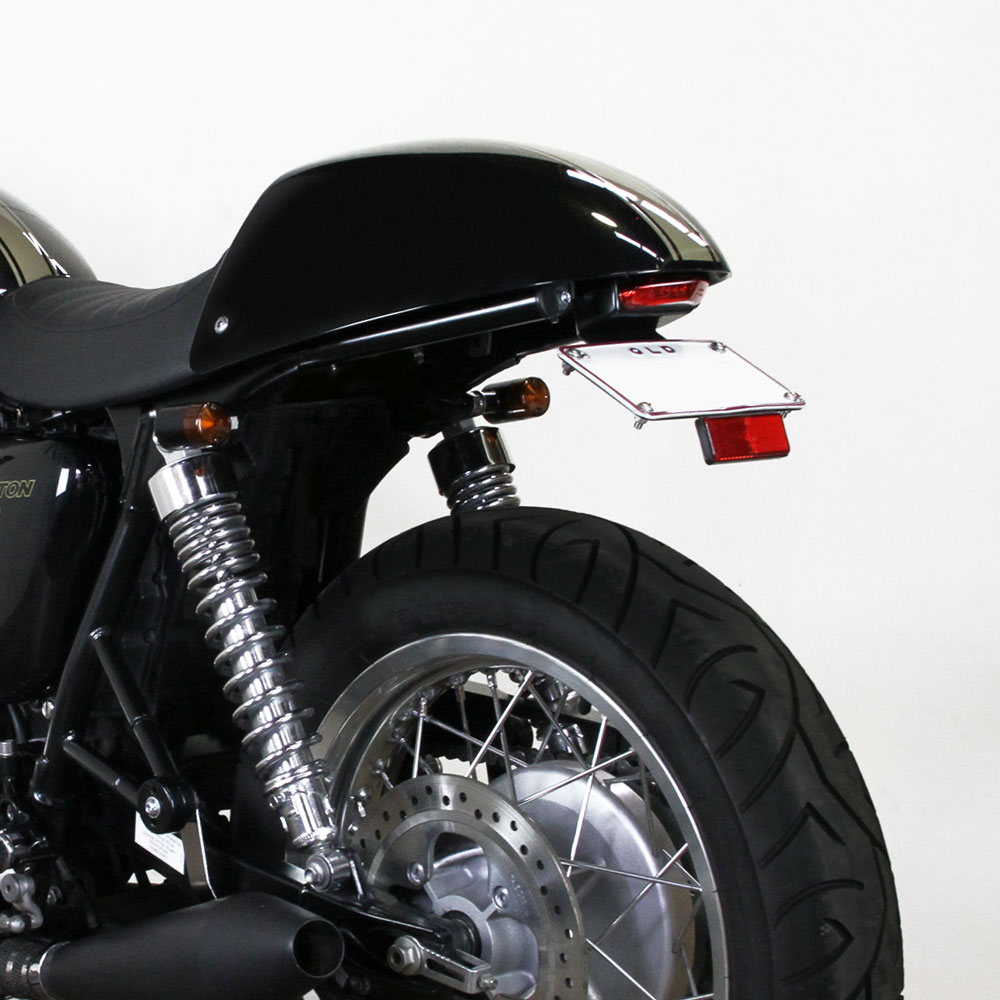 The Ellaspede Triumph Fender Eliminator Kit replaces the bulky stock rear guard and tail light on Triumph 2001-2015 Thruxton/Bonneville and 2006-2015 Scrambler models. This kit is ideal for custom bikes wanting a minimal rear end look and has been used on a variety of Ellaspede bobber, cafe racer and tracker builds.
This kit bolts directly in underneath the rear of your seat where the stock rear guard was previously mounted. The main aim; to eliminate the bulkiness of a stock tail end, giving your bike a clean and custom look. The kit includes an LED tail and number plate light, plus a red rear reflector (required by Australian law).
Unlike some other Triumph tail tidy kits, this unit also extends further under your seat for improved protection on the underside of your motorcycles rear end.
With Australian laws no longer requiring a long rear guard, the rise in popularity for shortening rear guards or removing them altogether has significantly increased, especially for custom bikes. Although with the laws changing, there is now a greater legal focus on the position and angle of the motorcycles rear number plate.
We find that shortening, replacing or removing the stock rear guard on Triumph Modern Classics is a common modification to achieve a better overall aesthetic. Hence, our Ellaspede Triumph Fender Eliminator Kit is often used to package the tail light, number plate holder, number plate light and rear reflector in a neat and subtle unit.
All parts and instructions required to attach and wire in your Ellaspede Triumph Fender Eliminator included in the kit are:
1 x Laser cut and powder coated steel Fender Eliminator
1 x Reflector
1 x Tail and License Plate Light
1 x Jumper Harness wires and plugs
4 x Mounting bolts
2 x Spacer tubes
1 x Instruction Manual
Shop the Ellaspede Triumph Fender Eliminator Kit
Suitable for? This product has been designed to suit Triumph 2001-2015 Thruxton/Bonneville and 2006-2015 Scrambler models.
Note: Laws may vary from country to country, state to state. Please check with your local transport authority prior to application of this product. Install at your own risk, if in doubt, consult a professional for installation.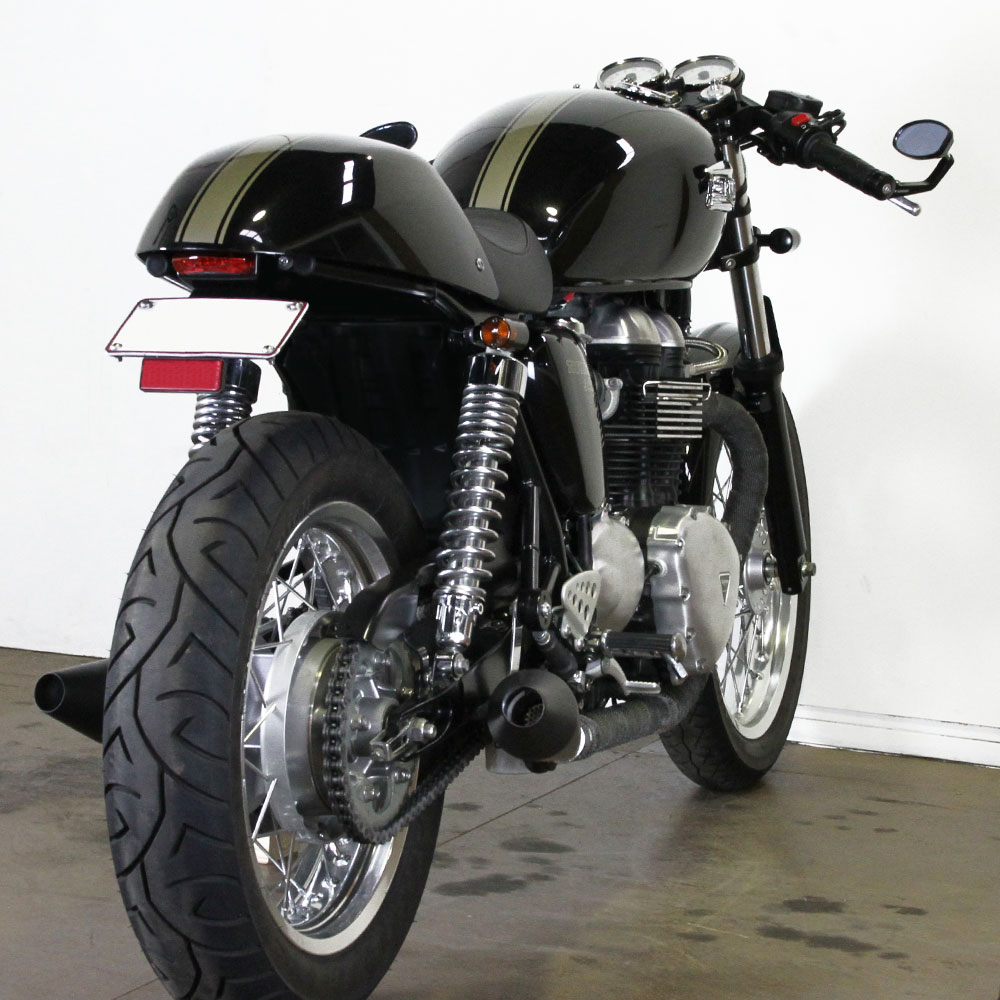 Photo: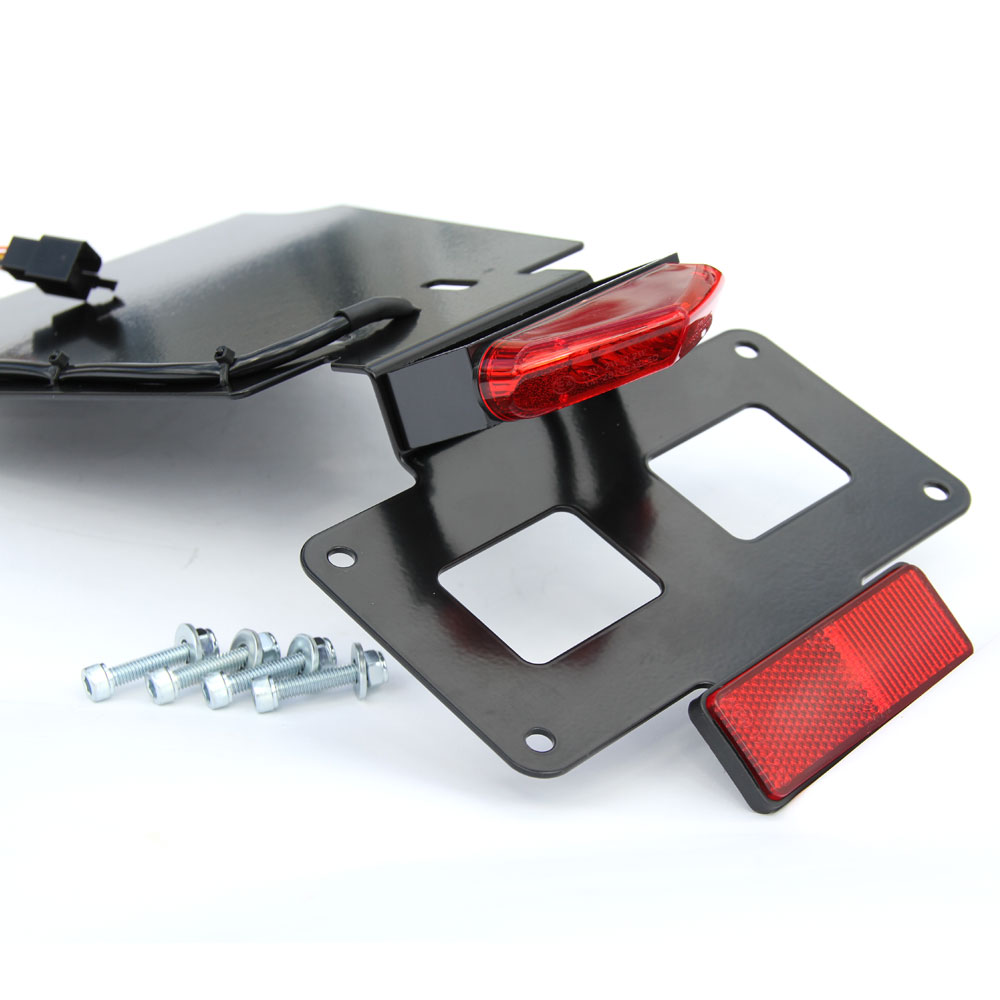 Photo:
---
Comments (4)
Available in France?

By:

Berger Yorick

on 14 May 2021

Hi there, I've just bought a triumph Thruxton 900. Your elimanation kit is lovely. Is it possible to get one for France and what is the price? Thanks a lot. Yorick





Ellaspede Response
Hi Berger, We no longer produce these for the 900 triumph unfortunately. Cheers
---
Still available

By:

Dean

on 14 November 2020

Hi can this kit still be purchased?





Ellaspede Response
Hey Dean, It's not an off the shelf product but we can possibly custom make another one for you. We'll shoot you an email mate! Cheers
---
Thruxton 900 Triumph

By:

Miguel

on 28 April 2020

Dear Sirs, Rgarding this rear Fender eliminatória, Please inform best price and shipment cousts for delivery Portugal . Regards, Miguel





Ellaspede Response
Hi Miguel, We no longer have the tail tidy for the air cooled Triumphs, but we're nearly finished the updated version for the water cooled models. We'll send you an email and see what year model your bike is! Cheers
---
Fender Eliminator for Triumph Thruxton 01-15

By:

Grant Conn

on 3 May 2019

This product looks good to me as I favour a minimalist tail-light rather than an LED strip. Is it still available and what's the price?





Ellaspede Response
Sure is available! Price is $325.95 AUD and you can grab it here: https://www.ellaspede.com/triumph-fender-eliminator-kit
---
Leave a comment