Ellaspede Yamaha SR400 Custom Kits
Date Posted:28 June 2017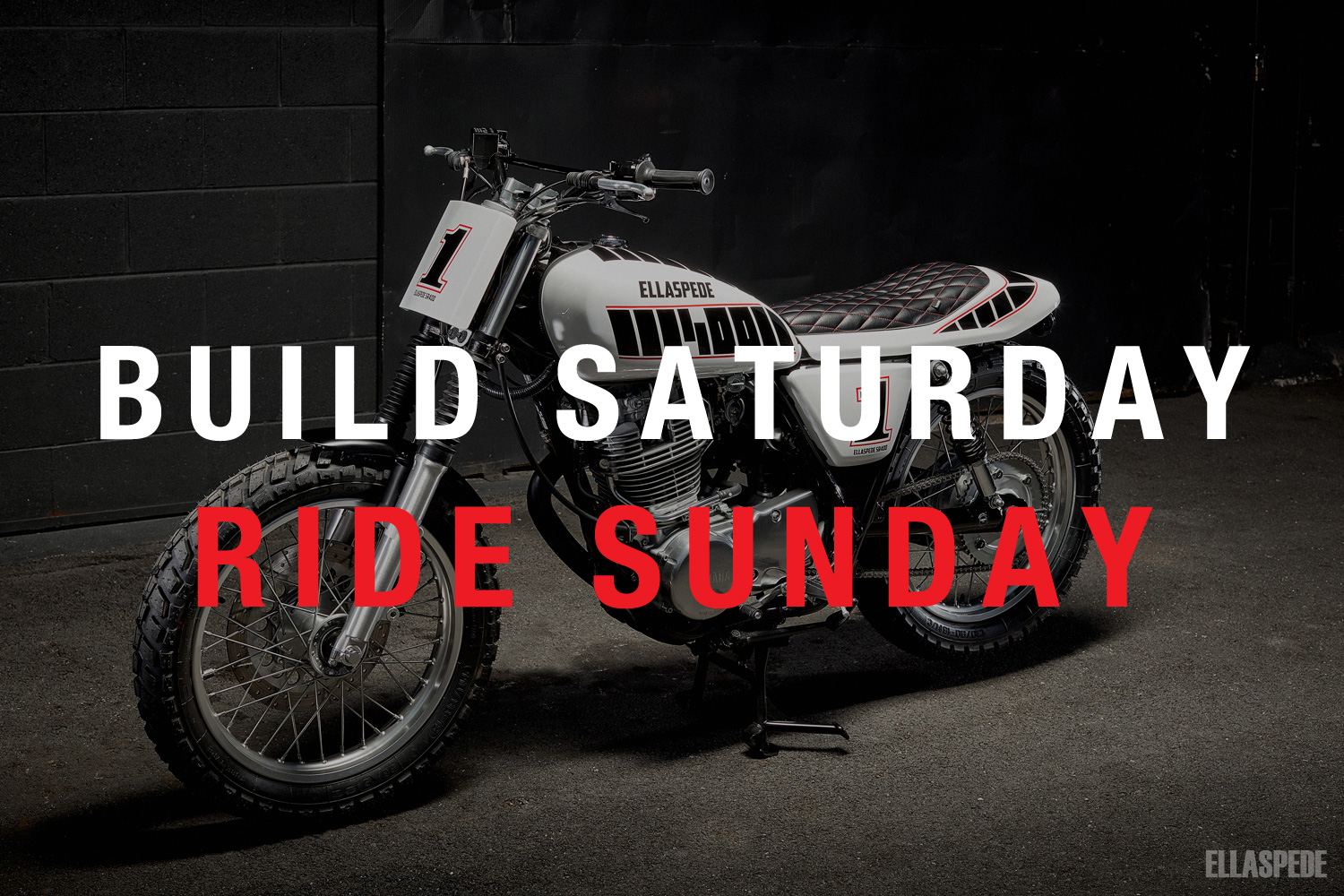 In 2014, Ellaspede were approached by Yamaha Motor Australia to concept and design some custom options for the reborn Yamaha SR400. In between designing and fabricating some awesome bikes and after much R&D, prototyping and testing we are now ready to release our first SR400 conversion kit.
Introducing the Ellaspede SR400 Custom Conversion Kit - Tracker. The Ellaspede kit has been designed as a 100% bolt on solution without the need for any frame modification necessary, which is one of its major benefits for home builders and owners intent on retaining factory frame warranty.
This kit doesn't require any specialist tools, welders or your own private mechanic to fit up. A basic set of hand tools will see you unbolting the standard parts and replacing them in a mere matter of hours. Our goal for this kit is for someone to easily customise the complete look of their machine on Saturday and be out riding on Sunday.
This kit expedites the transformation of your bike from stock to custom in a weekend, rather than the weeks or months that a custom job of this quality usually takes. Sure there are thousands of aftermarket parts out there for the SR, but none with the fit and aesthetic finish of the Ellaspede custom conversion kit.
See below how easily and aesthetically the kit transforms a stock SR400 into a tracker custom. The kit can also be used as a base for a more extensive custom build, as seen on our EB158 SR400.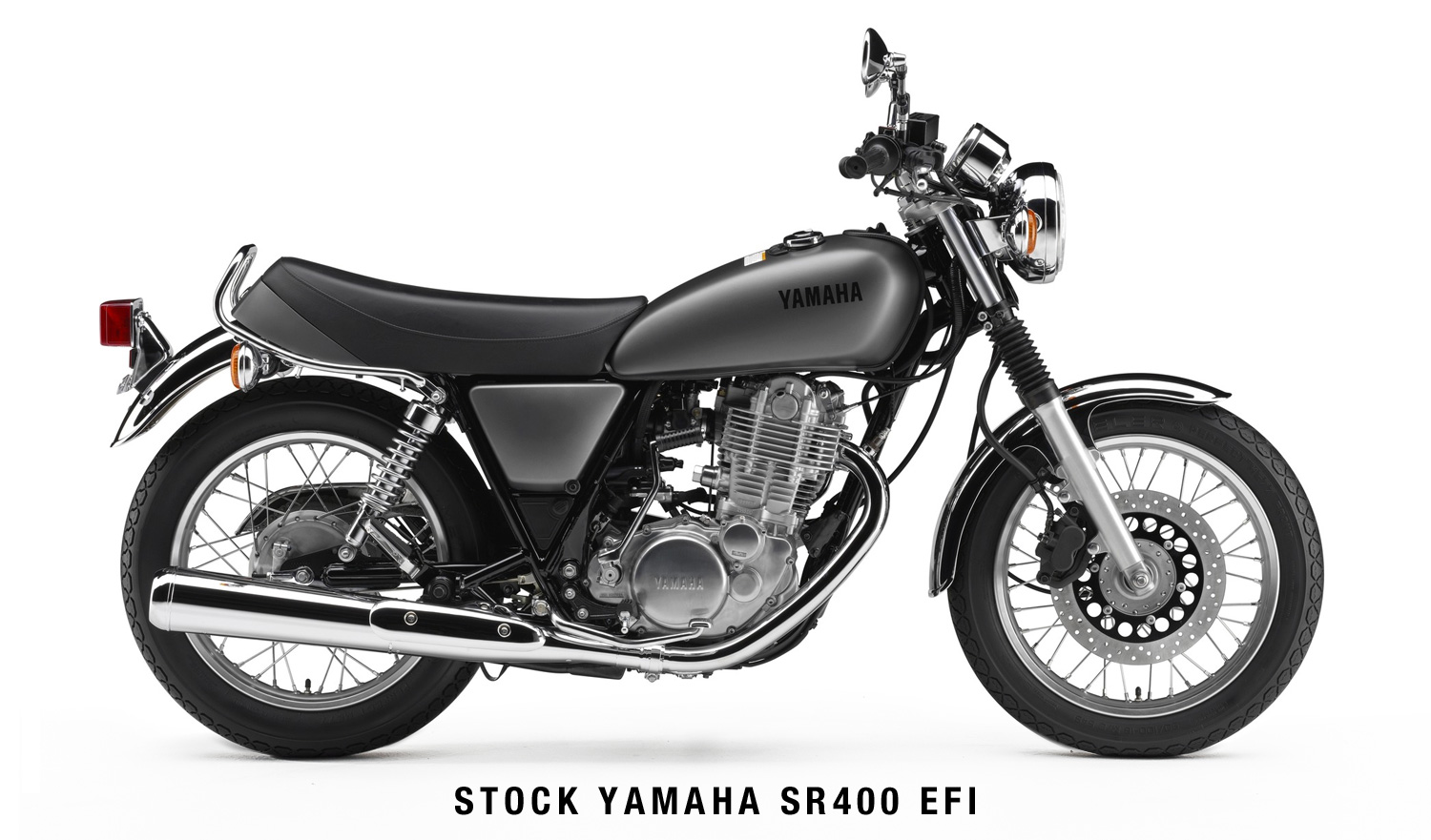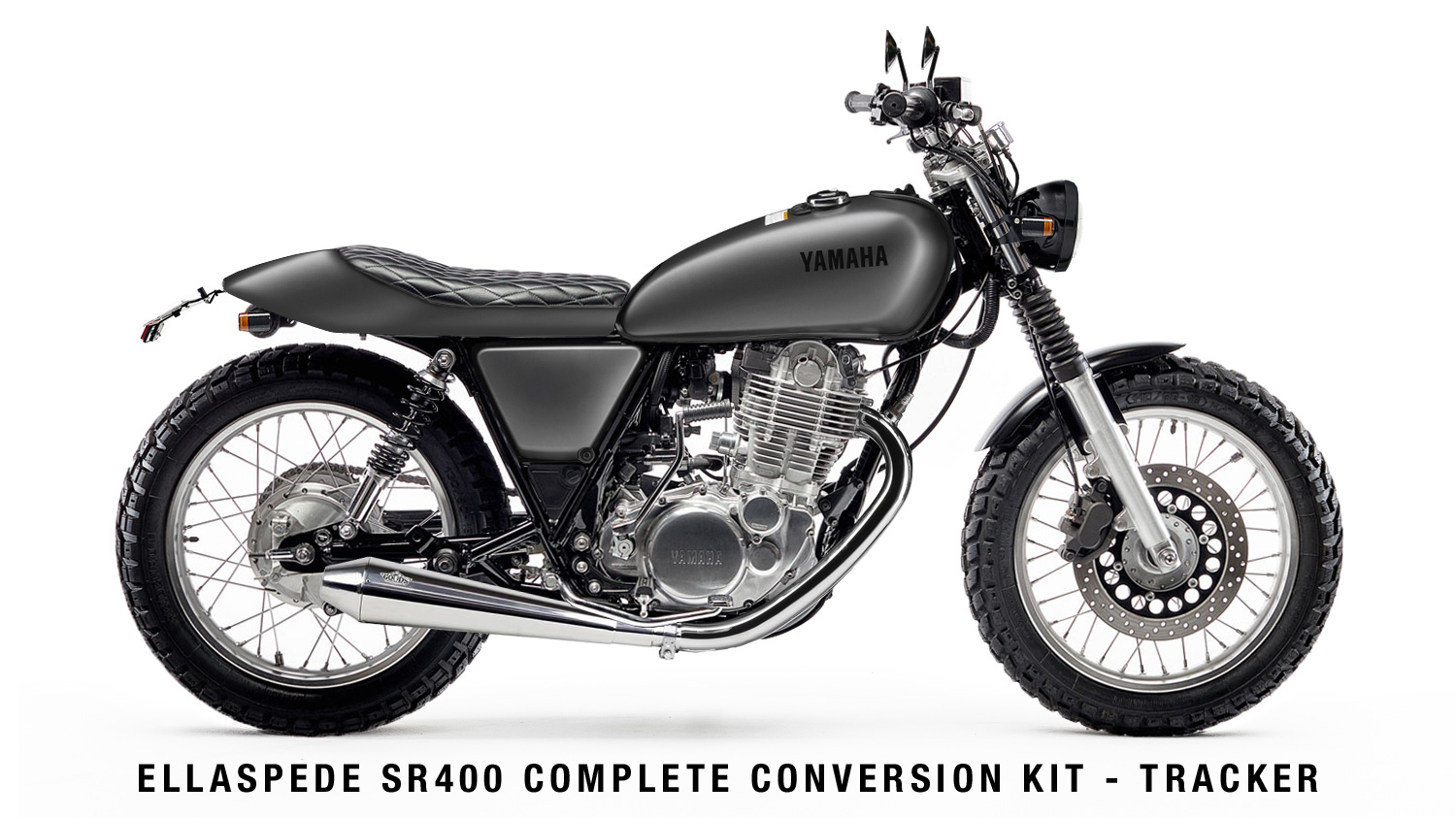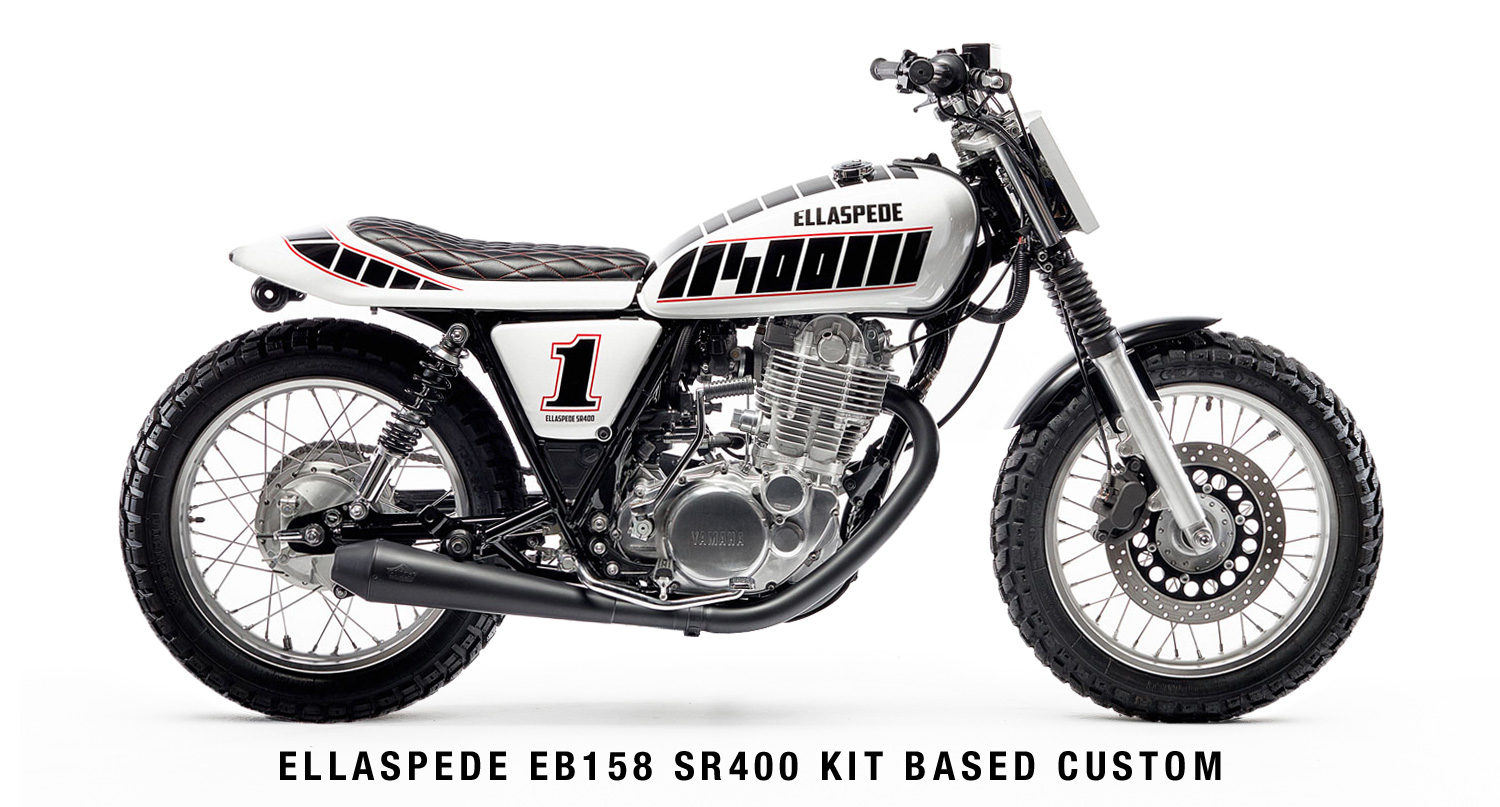 The Ellaspede SR400 Custom Seat Conversion Kit – Tracker includes:
UV rated black vinyl seat in diamond pattern finish with black stitch
OEM quality rear cowl made from automotive grade plastic
Structural aluminium reinforcement mounting plate
Integrated brake and tail light made from impact resistant automotive grade plastic
Ellaspede SR400 Ninja Star Licence Plate Kit with rear reflector and number plate light
All required bolts and fasteners
Easy plug and play electrics which don't require cutting or soldering
The Ellaspede SR400 Custom Complete Conversion Kit – Tracker includes: + The complete Ellaspede Custom Seat Conversion Kit - Tracker PLUS
Ellaspede SR400 gauge lowering bracket
POSH indicators
Side mount black headlight
Headlight mounts
SR400 MX style tracker handlebars
Ellaspede SR400 tracker front guard (raw steel or painted)
GOODS Japan SR400 EFI Muffler (chrome)
Ikon Suspension rear shocks
Black enduro mirrors
Will it fit? We've done all of the hard work for these kits, saving you hours and hours of searching for parts, paying multiple shipping and hoping they fit. We know the quality of these kits, and we know the parts fit. We've spent so many hours adapting and fixing parts for customers that were promised to bolt on, so for this kit we've made sure it works to save you the headache.
To paint or not? The Ellaspede SR400 Custom Conversion Kits - Tracker ship the rear cowl in a gloss black auto grade UV plastic and the Tracker front guard in raw steel as standard, but the factory Yamaha EFI SR400 grey paint can be specified as an option for both at purchase. This product is available unpainted or painted in Yamaha grey.
When do I get it? These kits are now available for purchase.
What tyres have you used? The tracker tyres are not included in the Ellaspede custom kits, but we used the Heidenau K60 Scout Dual Sport in a 110/80-18 front and a 130/80-18 rear as pictured.
What is the white paint bike? The White livery/paint was applied to the EB158 custom build as a demo bike only and some of the parts shown on this bike vary to the actual kit. Please see parts layout, parts list or grey bike image for complete kit inclusions.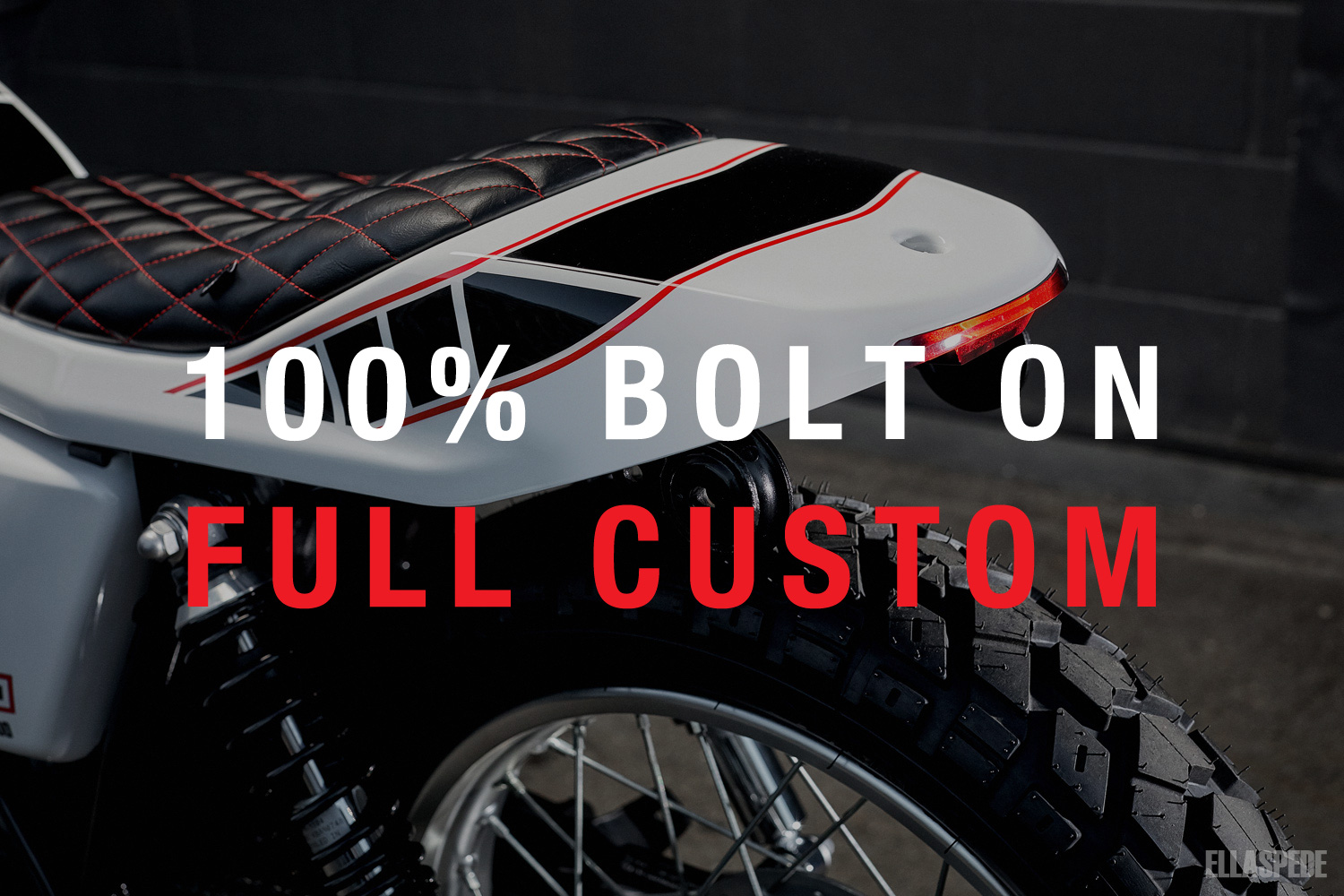 ---
Comments (12)
Kit

By:

Jullian

on 30 September 2021

Will this kit be available again soon?





Ellaspede Response
The full kit is no longer available, but we still have the tracker seat kits on our website. Cheers!
---
How do I buy this/ how much does it cost

By:

Ashley

on 1 August 2021

Hello, am i missing the part where I can buy this kit? I've clicked around a bit but seem to be overlooking that section. Thanks. About how much is shipping to the Western US?





Ellaspede Response
Hi Ashley, the complete custom kits are no longer available for sale. We still have some of the SR400 Tracker seat kits which you can find on our website under Yamaha hard parts though. Cheers!
---
Will it fit

By:

Sam Southern

on 1 July 2021

Will your complete conversion kit fit onto a 1986 sr400? And how much with shipping to nsw Australia





Ellaspede Response
Hey Sam, these don't fit straight on to the older SR400's sorry mate. Cheers
---
Hi ! Gas from Manila Philippines.

By:

Gas Devic

on 28 May 2021

Yamaha SR400 2019. Kindly quote complete custom kit conversion for scrambler or tracker. Shipping fees included Pls. Thank you for your assistance.





Ellaspede Response
Hi Gas, Please see our online shop for prices and parts currently in stock and available. You can also get an automatise shipping quote on the product pages too. Cheers!
---
sr400 conversion complete kit

By:

Tony from Los Angeles

on 15 April 2021

Hello - looking for pricing on the complete conversion kit for the SR400. I don't have the bike yet, but would also need to know what years to look for.





Ellaspede Response
Hi Tony, These kits only fit the 2014+ EFI SR400's. They're not made for the earlier carby SR400's although some parts might fit. Cheers!
---
Sr400 complete kit

By:

Patrick Cheng

on 25 March 2021

Would you be able to give me an idea on purchasing and shipping the The Ellaspede SR400 Custom Complete Conversion Kit to the U.S zip code 85053
---
Any SR400FI Exhaust

By:

Azhar

on 26 January 2021

Hello. I am from Singapore. And I am interested in purchasing an exhaust for my 2016 SR400 FI. The authorities here require that any aftermarket exhausts come with certification. My question is, do you have any certification for an exhaust SPECIFICALLY for an SR400 RH05 model? The ones I have received from JMCA and other places are all for SR400 RH03. I need one that has been tested on SR400 RH05. Thank you.





Ellaspede Response
Hi Azhar, We do not have this kind of certification for SR400 exhausts. All the best with your custom build. Cheers
---
How much?

By:

Clinton Tan

on 18 September 2020

How much for the ellaspede sr400 complete conversion kit - tracker plus shipping to the philippines? Thanks..





Ellaspede Response
Hi Clinton, We're not currently offering the complete kit due to difficulty sourcing all the parts, but the SR400 Tracker seat kit is available in our online shop! Check it out. Cheers
---
Yamaha conversion kit tracker pricing

By:

Joe F.

on 14 August 2020

Hi, will this kit fit all year models, 2015 - 2018 ?, can you please provide pricing (US $$) for the complete kit with shipping to USA, New Jersey. Do you have an upswept exhaust for the kit instead of the shortened down pipe as pictured ? Thanks, Joe F.





Ellaspede Response
Hi Joe, Glad you like the tracker kits mate. We've sent you an email with some updated info. Cheers
---
Yamaha conversion kit tracker pricing

By:

GRDB_manila

on 30 May 2020

Hi. Please advice pricing for both Yamaha 2019 sr400 custom seat tracker and the sr400 complete custom kit conversion tracker. Please include shipping fee for Manila, Philippines. Thanks and I'll appreciate your reply.





Ellaspede Response
Hi mate, No worries, we'll shoot you an email with current pricing. Cheers!
---
SR400 MX style tracker handlebars

By:

Pei Pongpipat

on 16 January 2019

Hi there, I'm Pei from Bangkok Is the 'SR400 MX style tracker handlebars' still available? Is it need to longer wires or it can fit with the stock wires? (SR400 2016 model)
---
2018 Yamaha sr400 custom seat

By:

Ronaldo Perez

on 15 January 2019

Do you sell the seat by itself or does it come in a kit? Will it fit the 2018 SR400 FUel injected model? How much the seat by itself?
---
Leave a comment