Dust Hustle 9 Event Wrap
Author: Ellaspede Date Posted:11 October 2019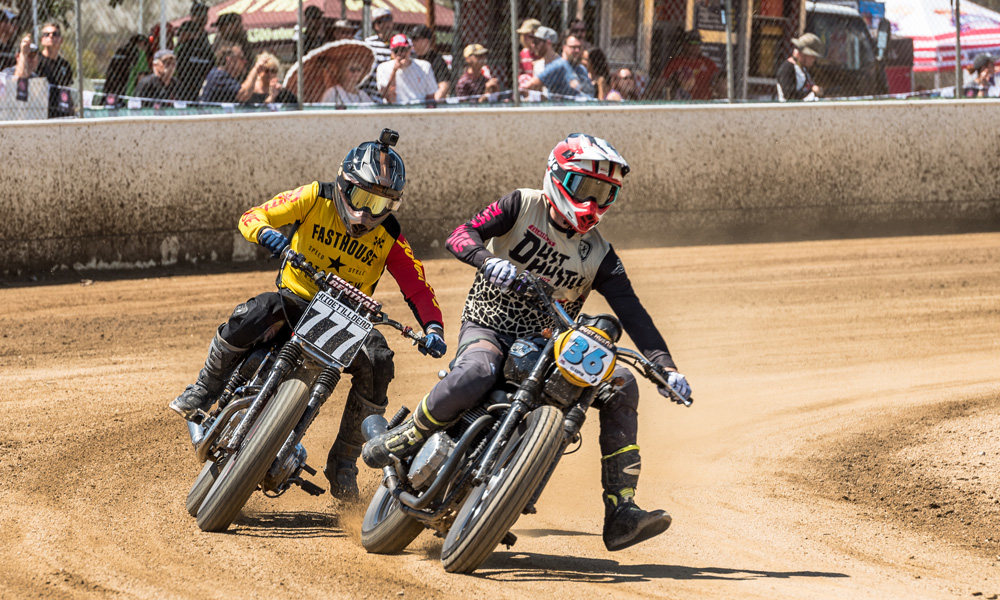 We don't call it 'The Big Dance' for no reason, and didn't everyone polish the party shoes and turn up! Dust Hustle 9 North Brisbane rolled back into it's spiritual home at Mick Doohan raceway in Brisbane on Saturday 28 September 2019 for another chart topper event.
Last year was huge and it was going to take a monumental effort to top DH8 from earlier in 2019, but when the gates swung open and the goons rolled it we knew we were in for a treat.
Photo: Motorcycle Pics
Photo: Motorcycle Pics
Photo: Motorcycle Pics
144 lucky pilots nabbed a rider ticket within 1 minute of them going on sale 2 months prior to the event and had been hastily preparing wild rides and wacky outfits for the big day. Before riding even started the pits were loaded with some radical rigs and we were excited to see them all hit the track.
Sign on was the usual hustle and bustle affair, but we got everyone through and it was out onto the starting grid for the obligatory DH rider briefing. With rules reminded and the cool-vibe cranked to 11 it was time to line up some legends and get tyres turning.
Photo: Motorcycle Pics
Photo: Motorcycle Pics
We usually like to 'work up' to top speed during the day at Dust Hustle, but against their better judgement the club officials at North Brisbane had decided to let us use the Long Track (full outside of Mick Doohan Raceway) for the first time ever! Naturally we only sprung this on the riders during briefing to avoid excitement peaking too early.
So with the 'big boys and girls' track layout set, it was the Enduro & MX class who got the call up first to 'sweep the track' and lay the first lines. Some consider it a privilege, but most know it's usually the slipperiest of the day and are happy to dodge first run!
Photo: Motorcycle Pics
Next was the Small Bike Burners class who we can always count on to 'explore all lines' as they search for corner speed and fast exits on their underpowered machines. Don't let the low power fool you though, this is usually one of the more hotly contested classes as they can't rely on straight line speed to overtake on the straights!
Photo: Motorcycle Pics
The smokey smell of oil burning usually signals that the Old Mates class is out next. This is always an eclectic group of anything pre 1990 manufacture from barely running barn find farm bikes to beautifully prepared vintage MX machines.
Photo: Motorcycle Pics
Photo: Motorcycle Pics
Last out on track but definitely not least, the Risky Road Bikes make everyone aware they're here as they make as much noise in staging as they do on the track. Who wouldn't get excited with this many cubic inches of motor hanging around though!
Photo: Motorcycle Pics
Photo: Motorcycle Pics
Dust Hustle always has and always will be an event for the average Joes and Joettes to run whatever they brung. But every now and then we're able to wrangle a few big names to come rub shoulders and bang bars with us…
How about MotoGP and World Super Bike race winner and World Supersport World Champion Chris Vermeulen! He came out for his first Hustle and linked up with the legends at Gasoline Alley Harley Davidson to ride a rad Harley Roadster in the event.
Photo: Motorcycle Pics
Photo: Motorcycle Pics
Pro stunt rider AKA absolute lord on 2 wheels, Lukey Luke was another first time hustler! He hooned in from the southern states to blast around on one of those beasts from BMW Motorrad.
Photo: Motorcycle Pics
Australia's Queen of Enduro Jemma Wilson was back in the house to terrorise the Small Bike Burners class on her Husqvarna TC65 too.
Photo: Joey Sheppard
Always the entertainer and off the back of a 'King of the Beach' title, Young Henrys rounded up Pro Flat Track racer Mick Kirkness! He rolled out a Triumph twin to show you can still be a Hooligan even if you're not on a HD.
Photo: Motorcycle Pics
And after he tore the track apart in 2017 we were hoping to have him back on something a little more inappropriate and our wish was granted when 3x Speedway World Champion Jason Crump rolled in on an Indian FTR1200!
Photo: Motorcycle Pics
It's not often you get to rip around a track and see one of these lords go past, so we were stoked to have them come hoon around with us.
The four ride classes ripped through a rotation each before we would repeat the process again and again for the remainder of the morning. It's evident this DH9 crowd had a need for speed and the super fast layout of the mornings Long Track was going down an absolute peach with the punters on track.
Photo: Motorcycle Pics
Photo: Motorcycle Pics
A speedy morning session on our 'fastest track ever' laid the platform for a huge lunch hour of entertainment. Just when we thought our crowd of Hustlers was going fast we rolled out the dirt track pros for the Fonzie Abbott Invitational Triple Crown!
That's right, coffee legends Fonzie Abbott rounded up 12 of the fastest dirt track pros and stacked up a $2500 prize pool for them to go after in 3 gate drop races. The best part was if anyone won all 3 races they'd take home a full $2000 in cash for their efforts, so we knew the pro riders weren't going to be holding back!
Photo: Motorcycle Pics
It was always going to be a tall order to take down the current Australian champion Jarred Brook #21 at his home track and he proved why he's number 1 with a clean sweep of the 3 races to take the Fonzie Abbott Invitational title and the $2k cash with it.
Photo: Motorcycle Pics
Proving he's fast on anything, Michael Kirkness #387 (riding #23) kept JB21 honest with three close seconds on a borrowed bike! 3rd overall was a real battleground with a few riders vying for position, but after the last race it was Ben Mclaughlin #76 who rounded out the Triple Crown podium.
Photo: Motorcycle Pics
Photo: Motorcycle Pics
From the fastest to the slowest, Young Henrys know that finishing first isn't always best. They rounded up a hand picked bunch of legends from the DH riders and threw a YH Slow Race! It was a mix of street machines and scooter steeds, but after it was all slowly said and done it was Brian Farrow who balanced his Harley to last place and therefore the winner of the Young Henrys Tinnie Trailer full of cans for his next party!
Photo: Alexander Wootten
Photo: Tom Bennett
In between fast pros and go slows was a couple of sweet sponsor demos. They were ripping around all day, but when Lukey Luke and Miles Davis were given the track to themselves we got a good indication of just what the BMW RnineT Urban GS and RnineT Scrambler were capable of.
Photo: Tom Bennett
With a few gunslingers themselves, Gasoline Alley Harley Davidson let Chris Vermeulen and young whip Levi Addison loose on a pair of Harley Davidson Roadsters too. I mean who wouldn't want a tough bike to slay on the dirt then ride home on!
Photo: Motorcycle Pics
There was a stack of action happening on the track, but just as much happening off as The Food Truck Roundup was in full swing with 10+ gourmet trucks! Spectators were spoilt for choice and the variety meant most had to sample multiple meals, something we're big fans of!
After the lunchtime activities were run and won it was time to get back into our inappropriate ways for the afternoon session. Now that everyone had a handle on only turning left it was time to follow the dirt track pros tracks and add in a right hand dogleg turn for the after lunch track layout.
Photo: Tom Bennett
The trackside bar was in full swing for spectators too, with prime position for viewing the start it wasn't a bad spot to sit and settle in for the afternoon's action with a Young Henrys in hand.
Possibly the best seat in the house though was over at BMW Motorrad Australia! They had their epic container setup in prime position amongst the food trucks on the main corner and the viewing from the top deck was like having your own corporate box at the event. Plus the boys riding BMW's in the event were pitted right in front of the stand so you could talk bikes as soon as they rolled off the track, perfect.
Photo: Motorcycle Pics
Only a few steps away were official helmet sponsors Bell Helmets who had all of our favourite lids on display. There were that many riders getting around with Bell helmets that it was easy to see why they're our choice of head protection on and off the Hustle track.
Photo: Tom Bennett
Team Moto Triumph were on hand with a few of the new models to check. The Bobber Black was definitely our favourite, but if push came to shove you'd find us also riding one of those new Scrambler XE's home too! If you hung around long enough you would have seen the new Scrambler even sneak in a few 'test' laps on the track too!
Photo: Tom Bennett
Shannons Insurance have always had our back with this event, not only insuring our own hustle rides but being on site to chat to everyone else about theirs too. Plus we got (and you'll get) a discount for having the road bikes with them too, thanks legends!
Back to the on track action where bikes and bodies were blasting around as everyone started to find some kind of comfort zone as the day rolled on. Repairs were happening and riders were ripping in the only way we know how!
Photo: Motorcycle Pics
Photo: Motorcycle Pics
Photo: Motorcycle Pics
As 4pm rolled around we wrapped up riding for the day and got into the tough task of deciding on the Best In Class winners and the fun job of drawing the some of the spectator raffle prizes. Well deserving winners were awarded and some raffle prizes were tossed around while the riders swiftly made their way to the trackside bar for their first frothy beverage to wash down the days dust.
Kathleen Ferguson - Best In Class, Enduro & MX class.
Photo: Motorcycle Pics
Dugald Moncrieff - Best In Class, Small Bike Burners class.
Photo: Motorcycle Pics
Jason 'Spud' Anderson - Best In Class, Old Mates class.
Photo: Motorcycle Pics
Michael Kirkness - Best In Class, Risky Road Bikes class.
Photo: Motorcycle Pics
Bevan French - Broomy's Best On Ground.
Photo: Motorcycle Pics
And for the afterparty? Well it went down from 8pm at Archive Bar, West End. We don't have any photos of that which we're pretty happy about, as after such a day of dust hustling we were all keen to let our hair down in our usually inappropriate fashion.
Photo: Motorcycle Pics
Photo: Motorcycle Pics
Photo: Motorcycle Pics
Once again, WOW. What an epic day and a HUGE thanks to all of the lords and lordettes that came and rode, you guys and girls put on the best show and make all the effort worth it. Big cheers to all the spectators that turned out to watch these legendary muppets go round, and also cheers to everyone who liked a social media post, commented, shared, tagged, and just generally supported the event and the fun we're trying to have.
Here's to many more good times with each and every one of you absolute legends!
As always, this inappropriate dirt flirt event wouldn't be possible without the support of these legends: Ellaspede | Gasoline Alley Harley Davidson | Bell Helmets | Young Henrys | BMW Motorrad | Shannons Insurance | Fonzie Abbott Espresso | MX Store | SP Tools | Team Moto Triumph
Love a photo from this article? Hit up Motorcycle Pics on Instagram for a stack of photos from the event that you can buy for a small sum! Consider how long he stood out in the sun for to get these rad pics of you... we saw your riding, that was no easy task (kidding, you shredded!)
Photo: Motorcycle Pics
Photo: Motorcycle Pics
Photo: Motorcycle Pics
Photo: Motorcycle Pics
Photo: Motorcycle Pics
Photo: Motorcycle Pics
Photo: Motorcycle Pics
Photo: Motorcycle Pics
Photo: Motorcycle Pics
Photo: Motorcycle Pics
Photo: Motorcycle Pics
Photo: Motorcycle Pics
Photo: Motorcycle Pics
Photo: Motorcycle Pics
Photo: Motorcycle Pics
Photo: Motorcycle Pics
Photo: Motorcycle Pics
Photo: Motorcycle Pics
Photo: Motorcycle Pics
---
Leave a comment