EB950 - 2017 Yamaha SR400
Author: Ellaspede Date Posted:14 May 2020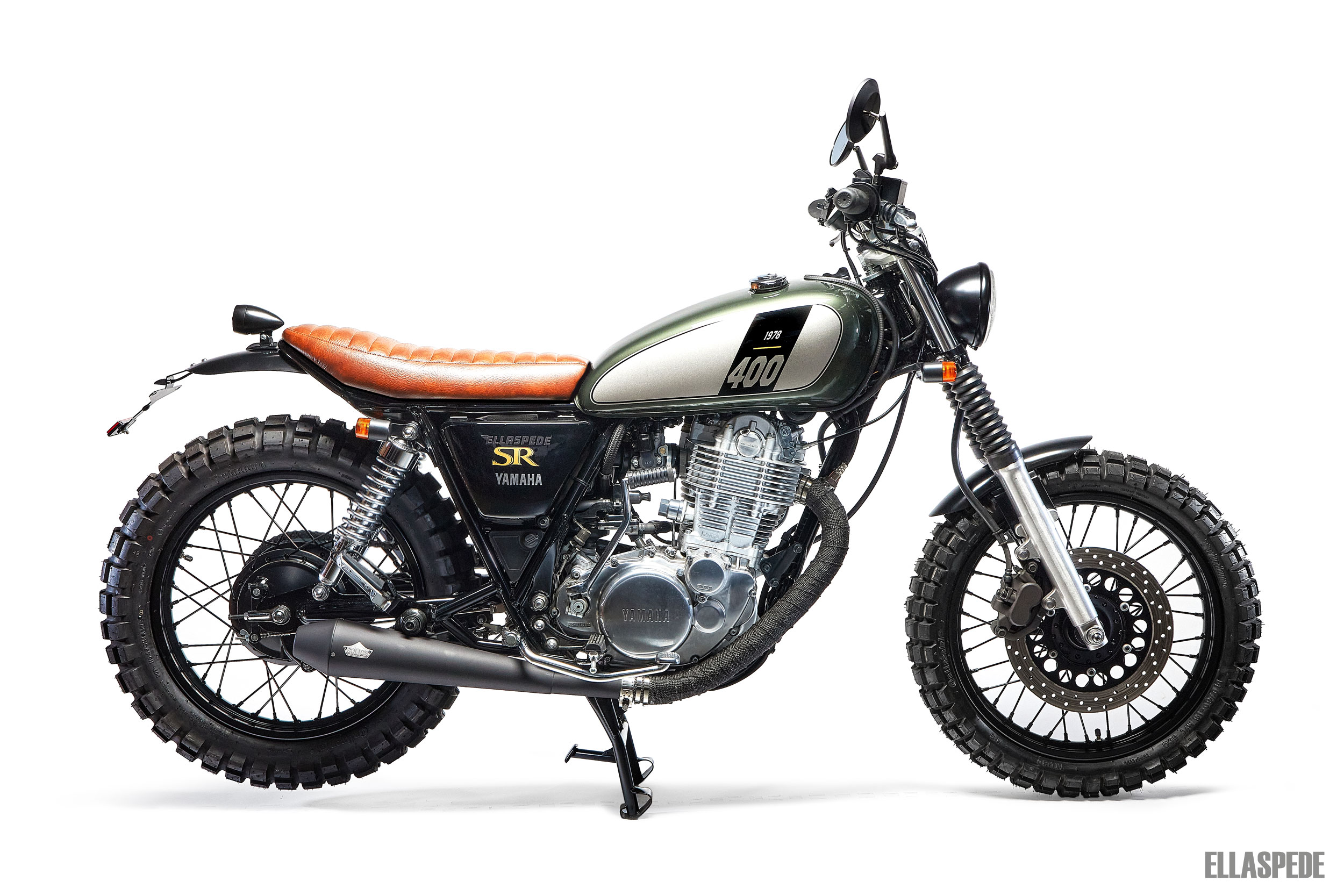 When you're looking to build a classic air-cooled scrambler with modern reliability it's hard to go past the Yamaha SR400 EFI.
We've built a few SR400's now and the late model EFI versions keep putting their hand up as potential donor bikes due to their affordable price (especially near new second hand) and basic but solid layout.
Seemingly the only real 'off put' for would be owners is the kick start, but with the new EFI versions (2014 onwards) the modern reliability makes them a peach to start, plus you get to impress your friends with some classic kick start cool!
Enter our client Ashlon who was keen to kick a classic scrambler build into motion. Originally looking at older donors, once we had a chat and weighed up the numbers it was more cost effective to start with a modern bike for the build. Rebuilding an old machine (to ride like new) is a big exercise and sometimes you just don't need to 'reinvent the wheel' (and spend the money doing so) if you don't have to.
The 'new' Yamaha SR400 EFI has all the classic lines and air cooled appeal that have made the SR designation so popular for decades, but with the added benefit of reliability and modern manufacturing fit and finish.
So with the donor decided on, sourced and rolled into the shop it was time to get this build going. The brief was simple, a classic looking scrambler that would be reliable for daily duties and could handle a back road blast should the intent arise. Ashlon smartly picked an SR400 with the '1978' olive green tank livery as stock, so the mindset was to match that with a brown seat for the classic look.
The new donk didn't need any attention, so most of the performance gains came by way of weight saving. In stock trim the SR400's have nailed the vintage look with big metal guards, lights, exhaust etc but these were all speed sapping kilos not required for a stripped back scrambler build.
We love a high-piped scrambler as much as the next punter, but this bike wasn't going to see any exhaust bashing enduro so it was decided to keep it as a 'low-piper', especially to keep the heat off the leg when daily riding.
This build was an exercise in allocating budget to the right areas and saving it in others. The main focus of which was the seat and rear frame, an integral part of any build but one we see 'skimped' on too many times. Spending the time to modify the frame and make a seat to perfectly match will elevate the standard of almost any build and Ashlon knew that was the path required to get the exact look we were going for.
Once the rear frame was cut back and the custom hoop added the other pieces of the puzzle could then be made for a factory finish perfect fit. The custom seat tapers just the way we want and now follows the frame lines while the custom rear guard tucks up high and tight, extending only far enough to shield some debris and hang the licence plate holder.
With a stack of the stock parts piling up on the scrap pile, on went the aftermarket items to improve the look, rider feel and weight reduction. We fitted a Bates style bottom mount headlight and although we usually try to hide the tail light, Ashlon opted for an aftermarket Bullet LED tail on top of the guard for this build. Posh classic winkers front and rear finish off the lighting duties.
In the rider cockpit Daytona supplied a Velona 80 gauge and mirrors, which were mounted off Pro-Taper contour bars with Biltwell Recoil grips. Out the back an Ellaspede Ninja Star licence plate holder and Koso Blade number plate light bolt to the rear guard. A GOODS Japan SR400 EFI muffler and black pipe wrap round out the additional hard parts.
Another benefit of the SR400's 'straight out of the box' is the 18"/18" wheel size front and rear. No need to re-lace or replace, the hoops and hubs were in really good condition (as you would expect for a near new bike) so they were stripped and sent for powder coat in a smooth satin black. The drum brake cover and other parts and pieces were also done to match.
Tyres are key to a true scrambler look so we went up a profile front and rear with these Continental TKC80's, renowned as great all-rounders for their on and off road handling. Ikon 7610 rear shocks (not shown) that were specced 1" longer now push the rear end to the pavement and help sharpen up the front steering angle for a slightly more aggressive turn in too.
Overall this bike doesn't break the mould (or the bank) when you think about building a classic air cooled scrambler with modern reliability. What it does do is show how easily and with minimal (but well thought out) mods you can achieve a tidy late-model take on the age old scrambler look.
Enjoy the ride Ashlon! We're jealous of this air cooled all-rounder and the trouble free adventures to come.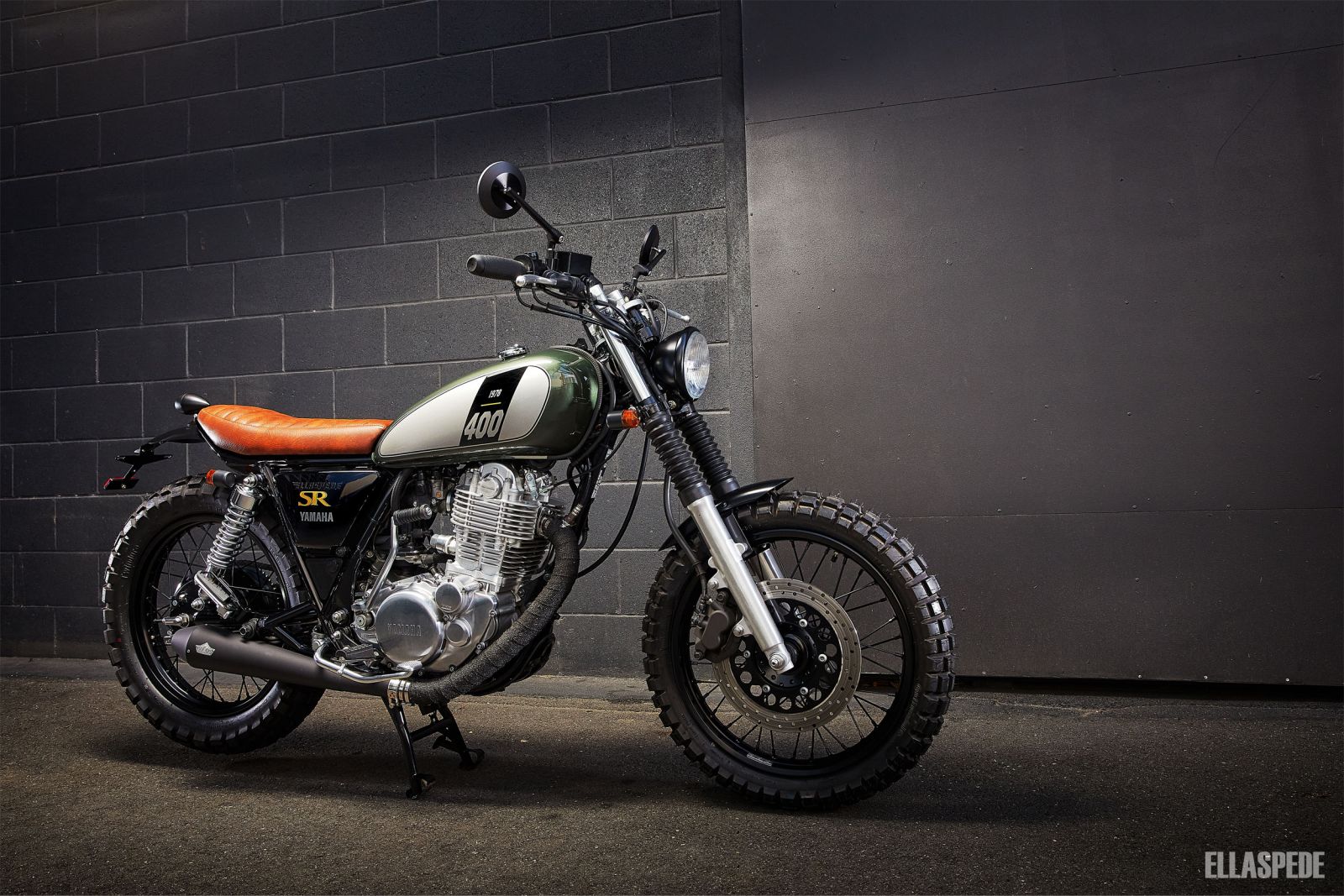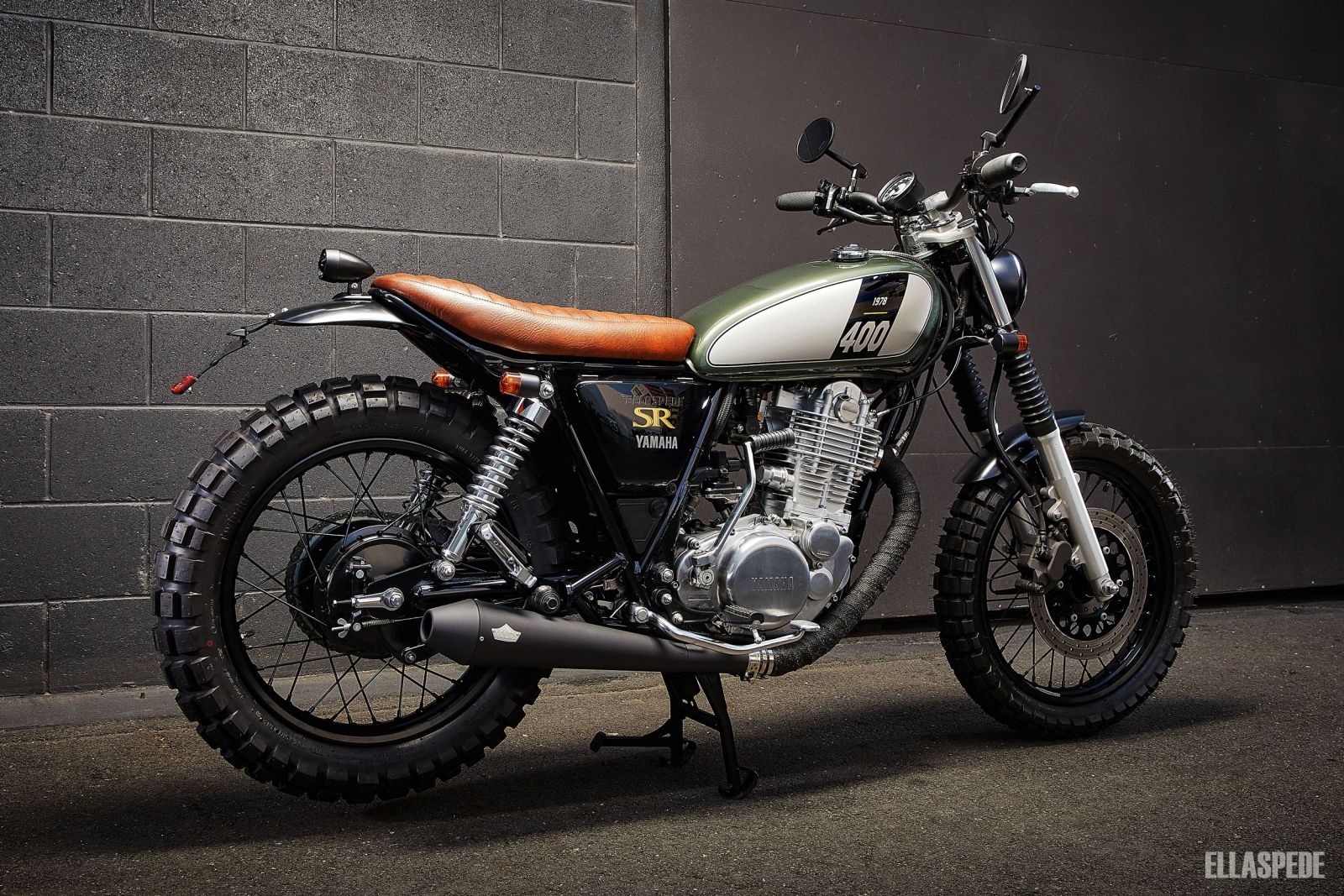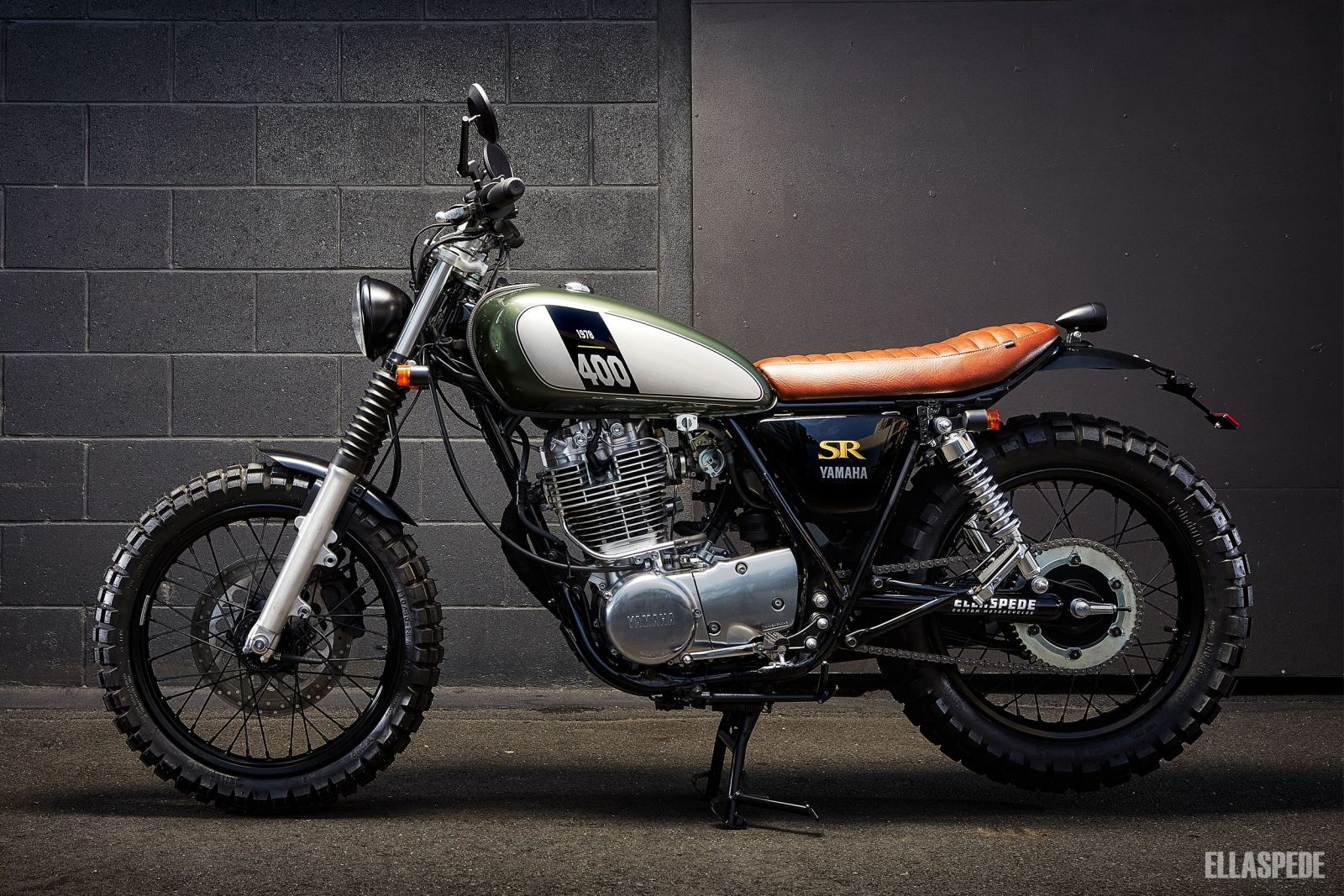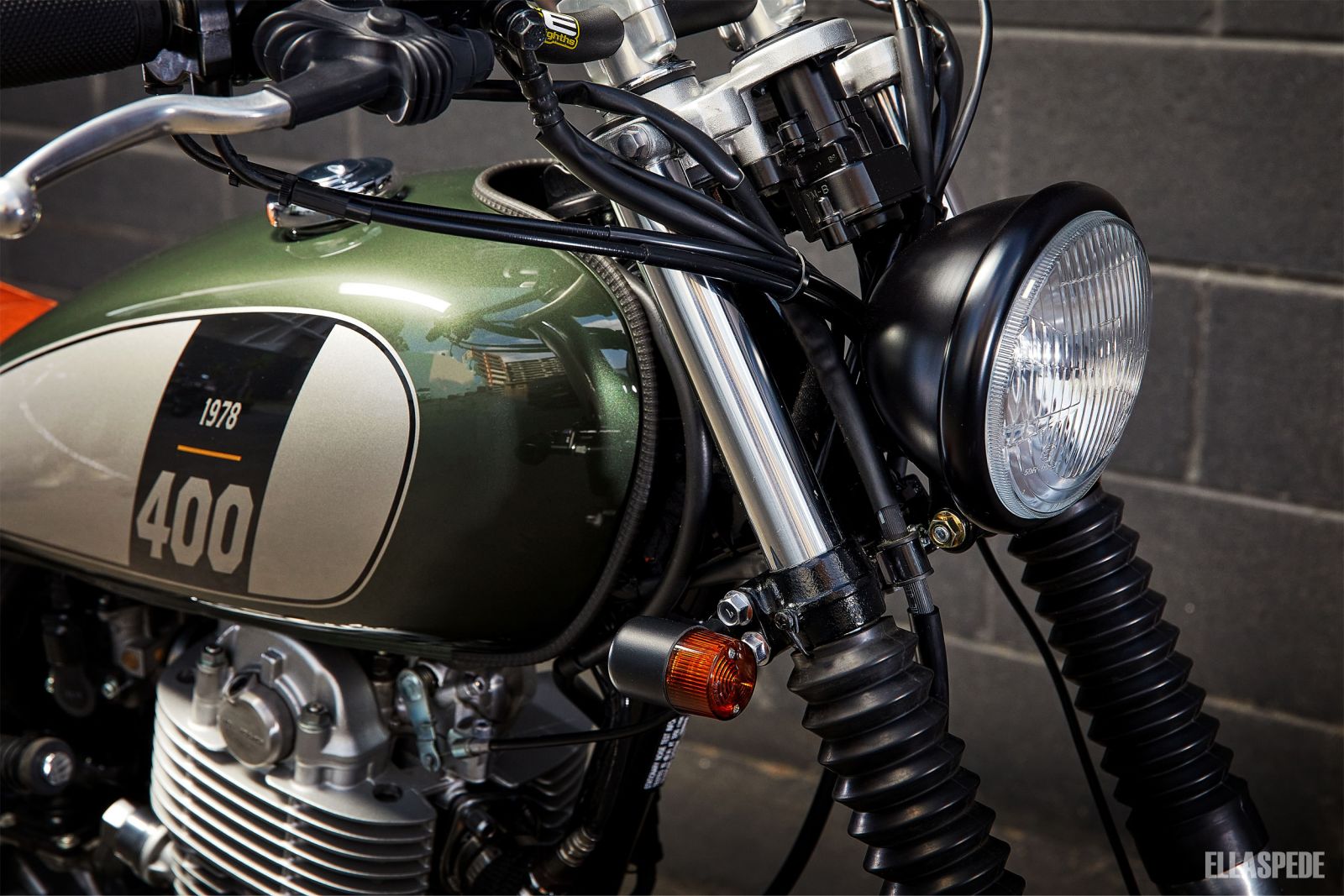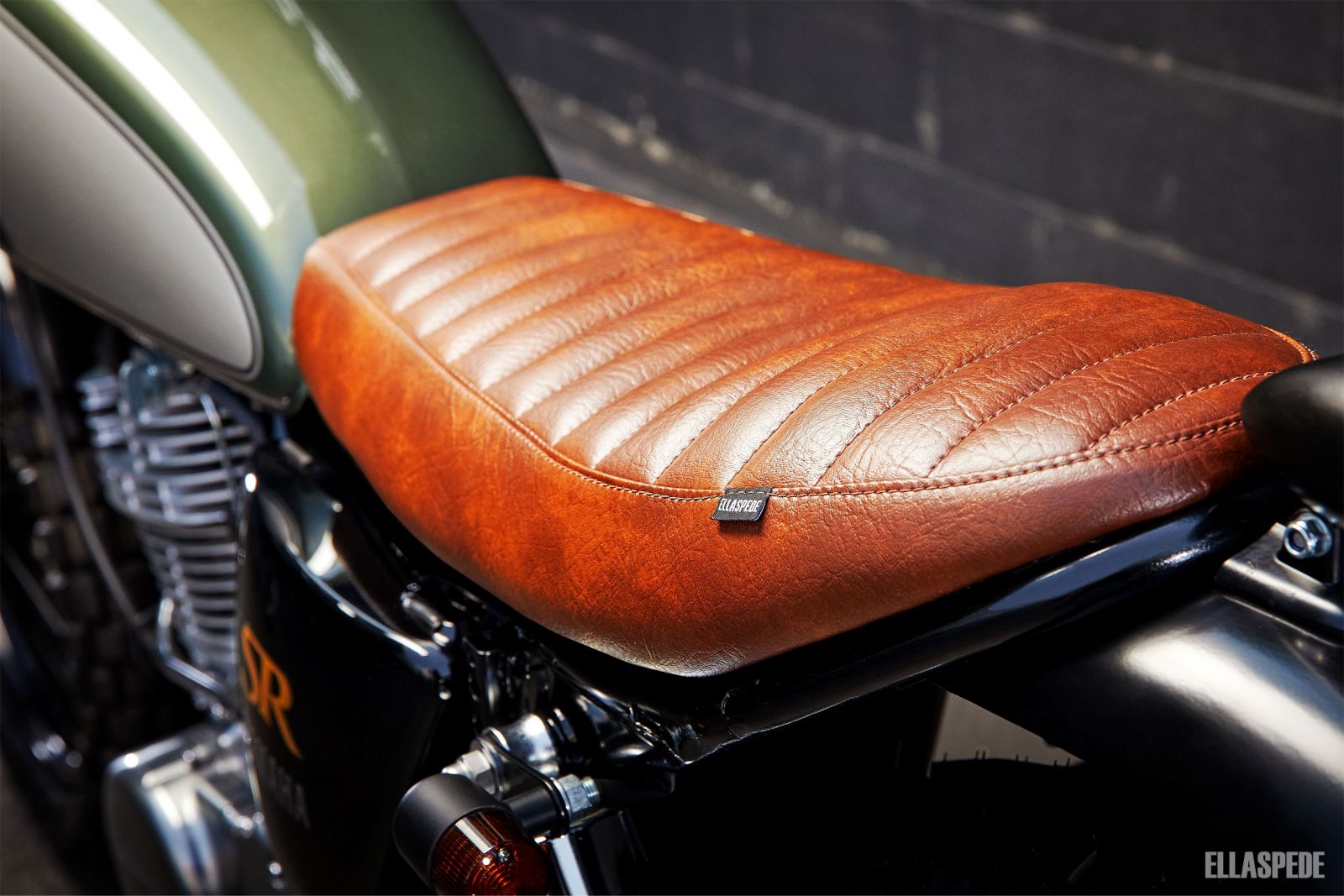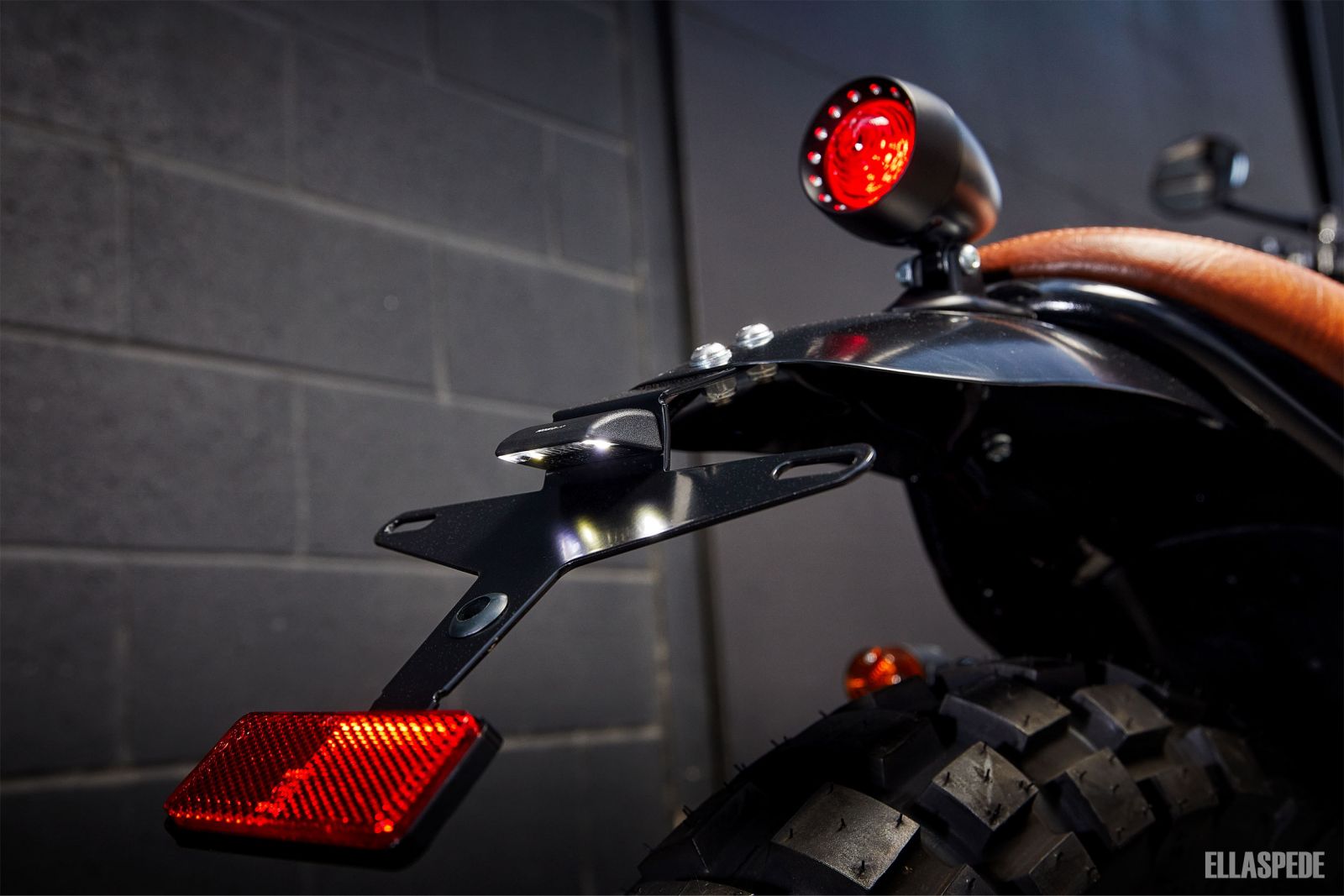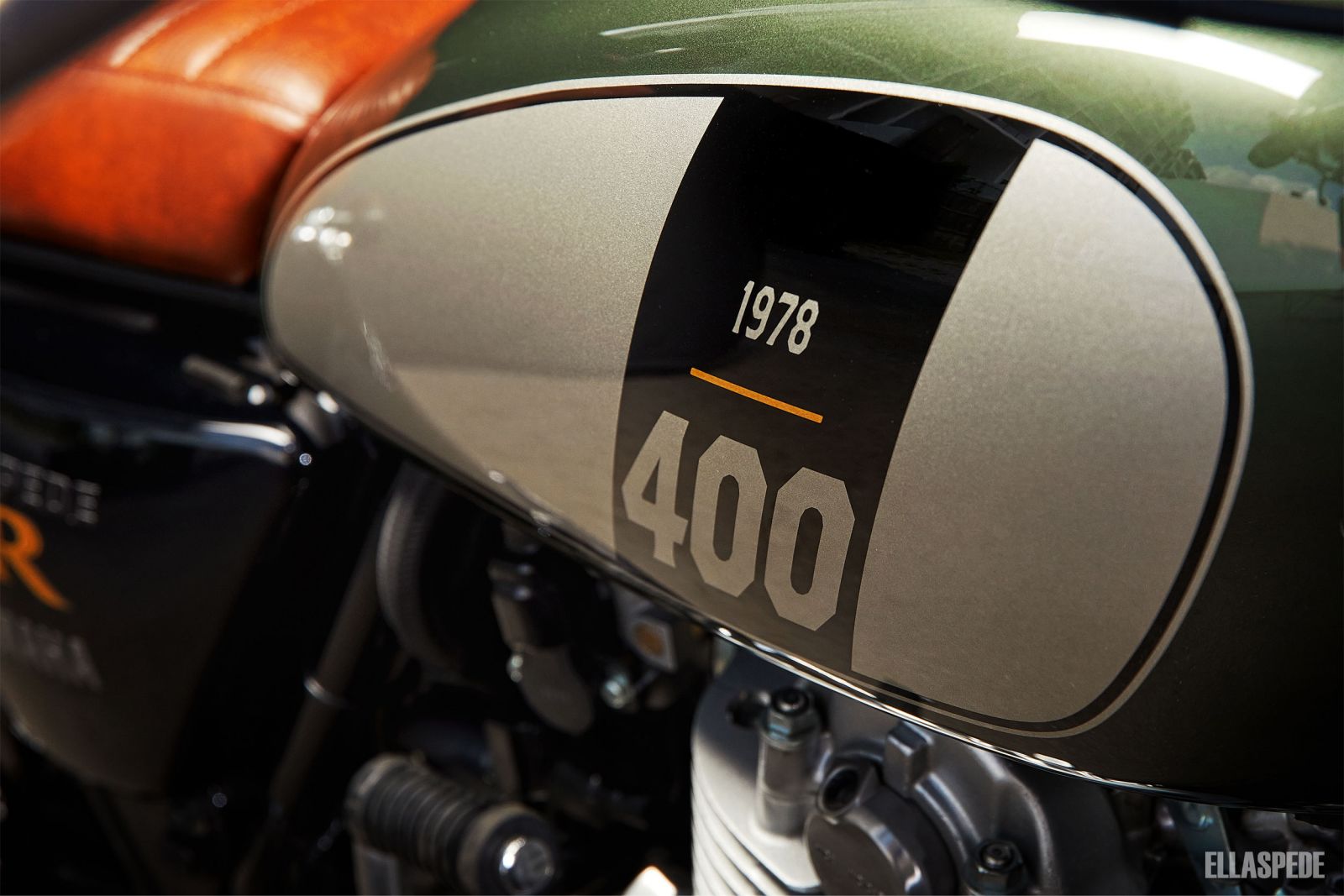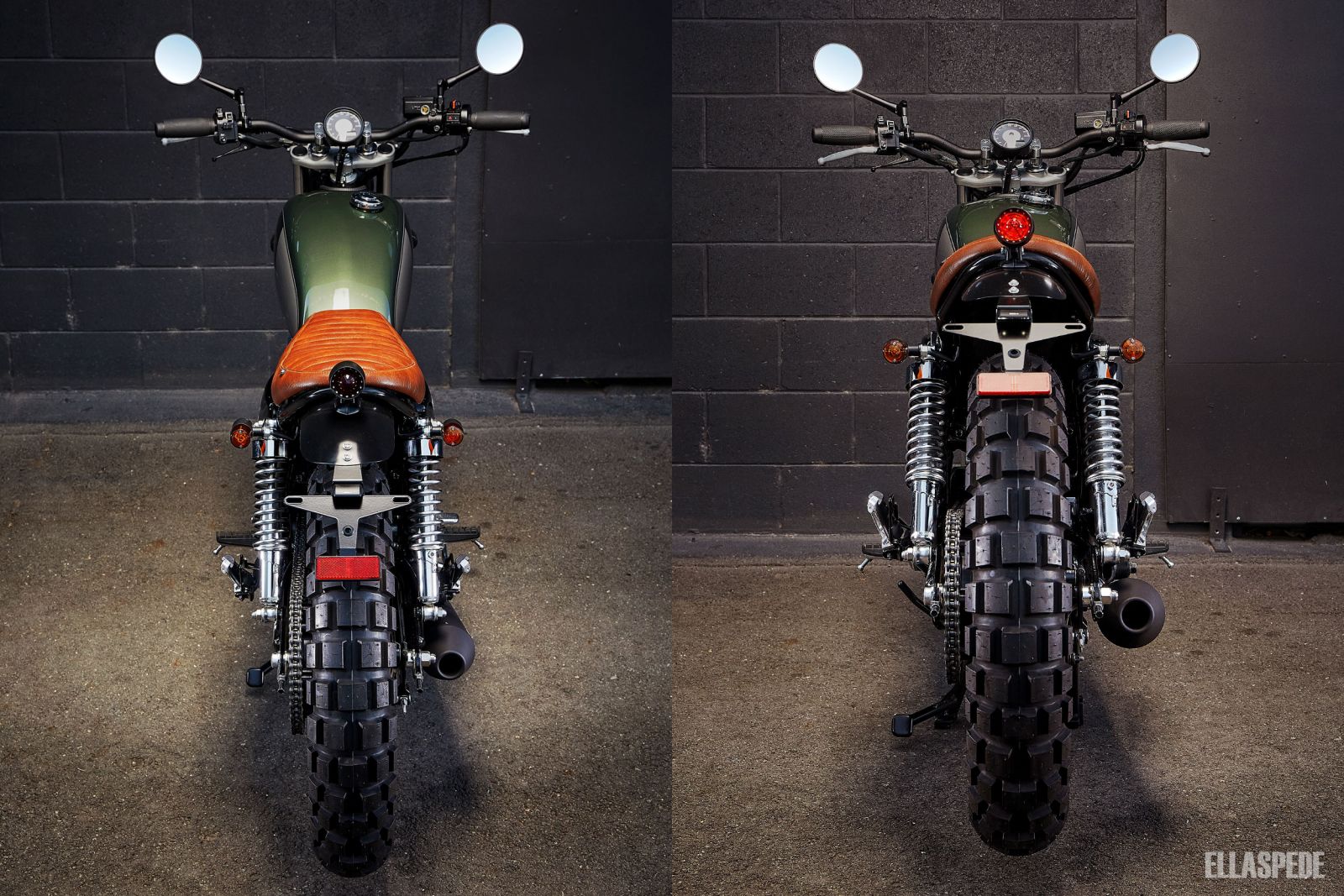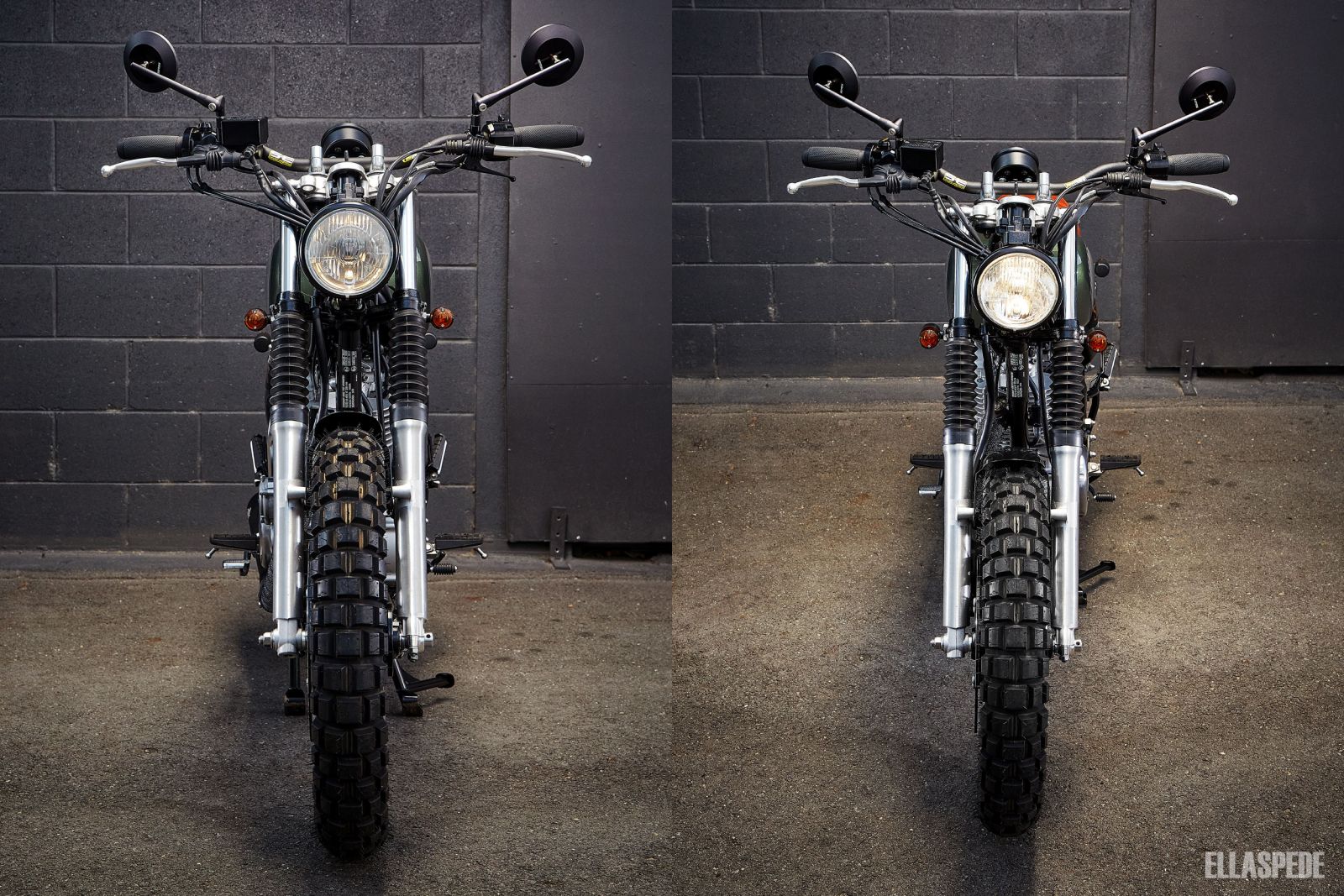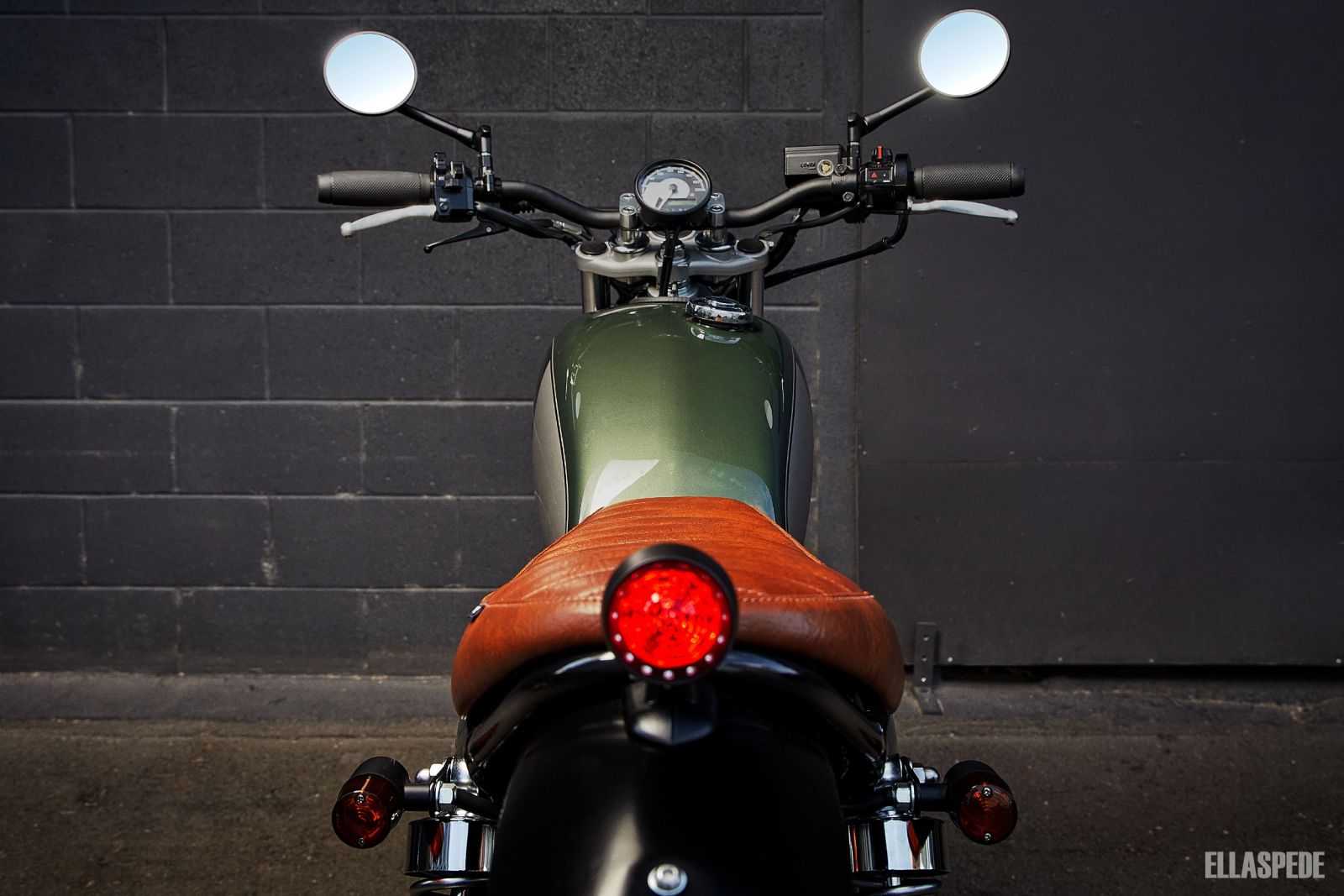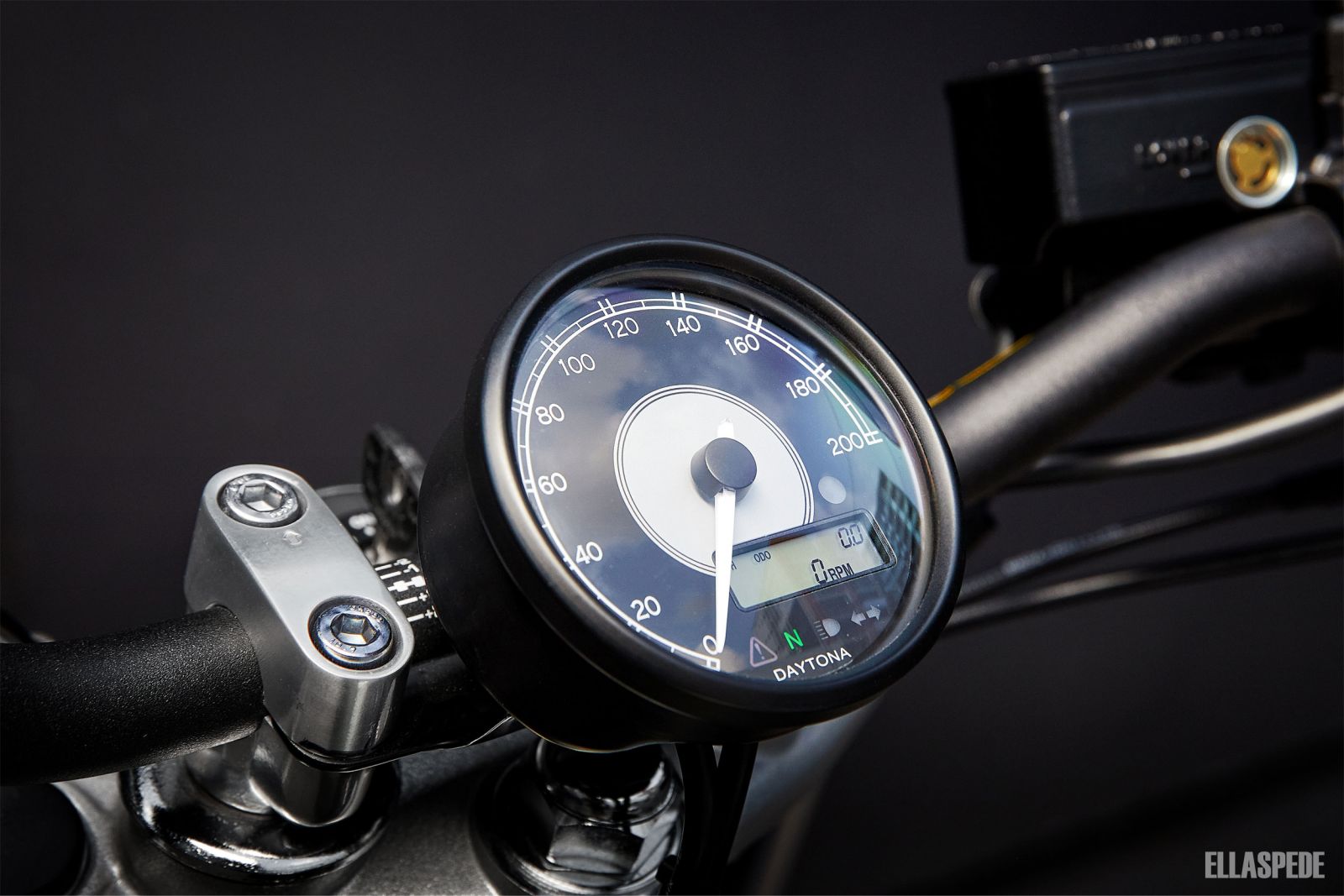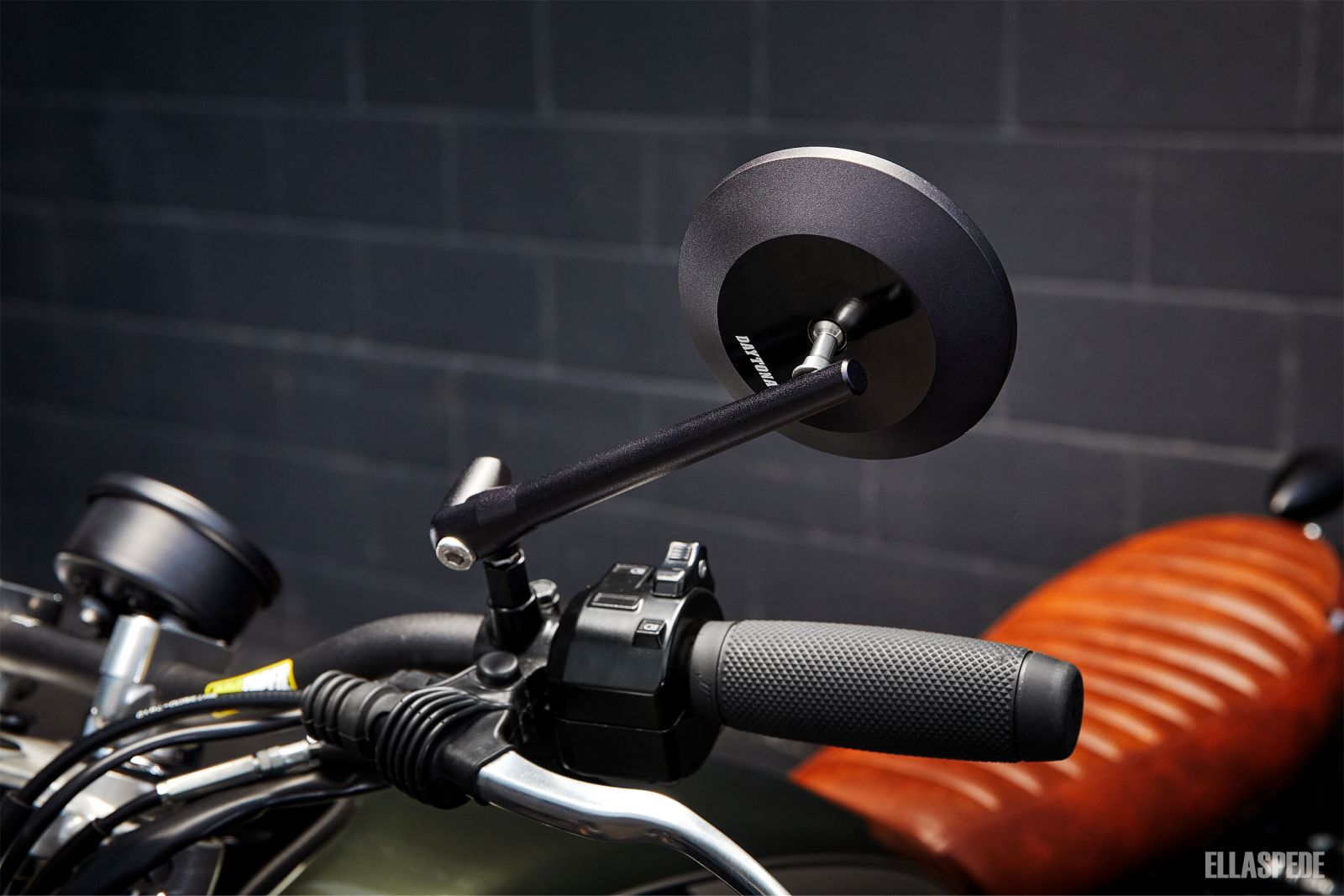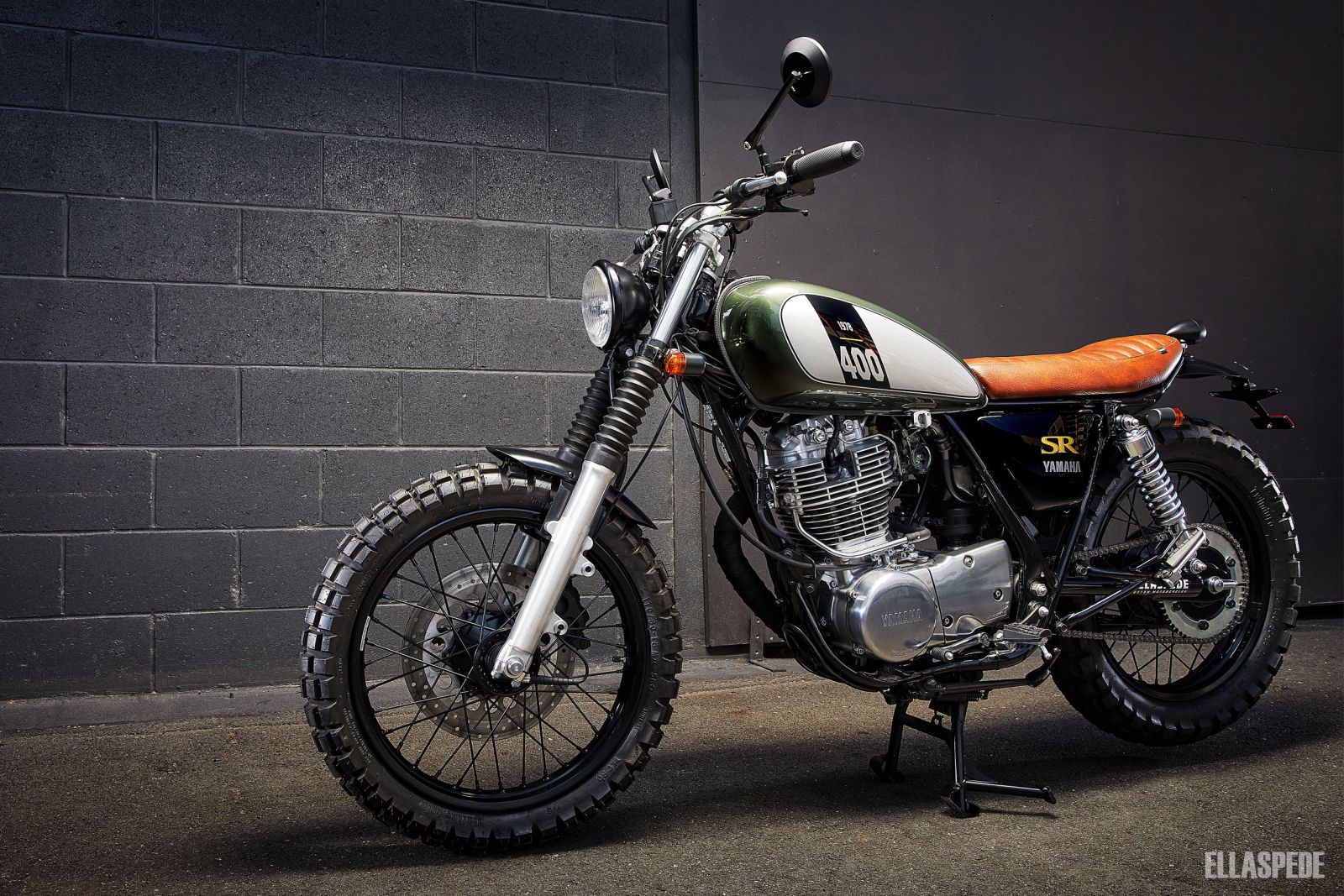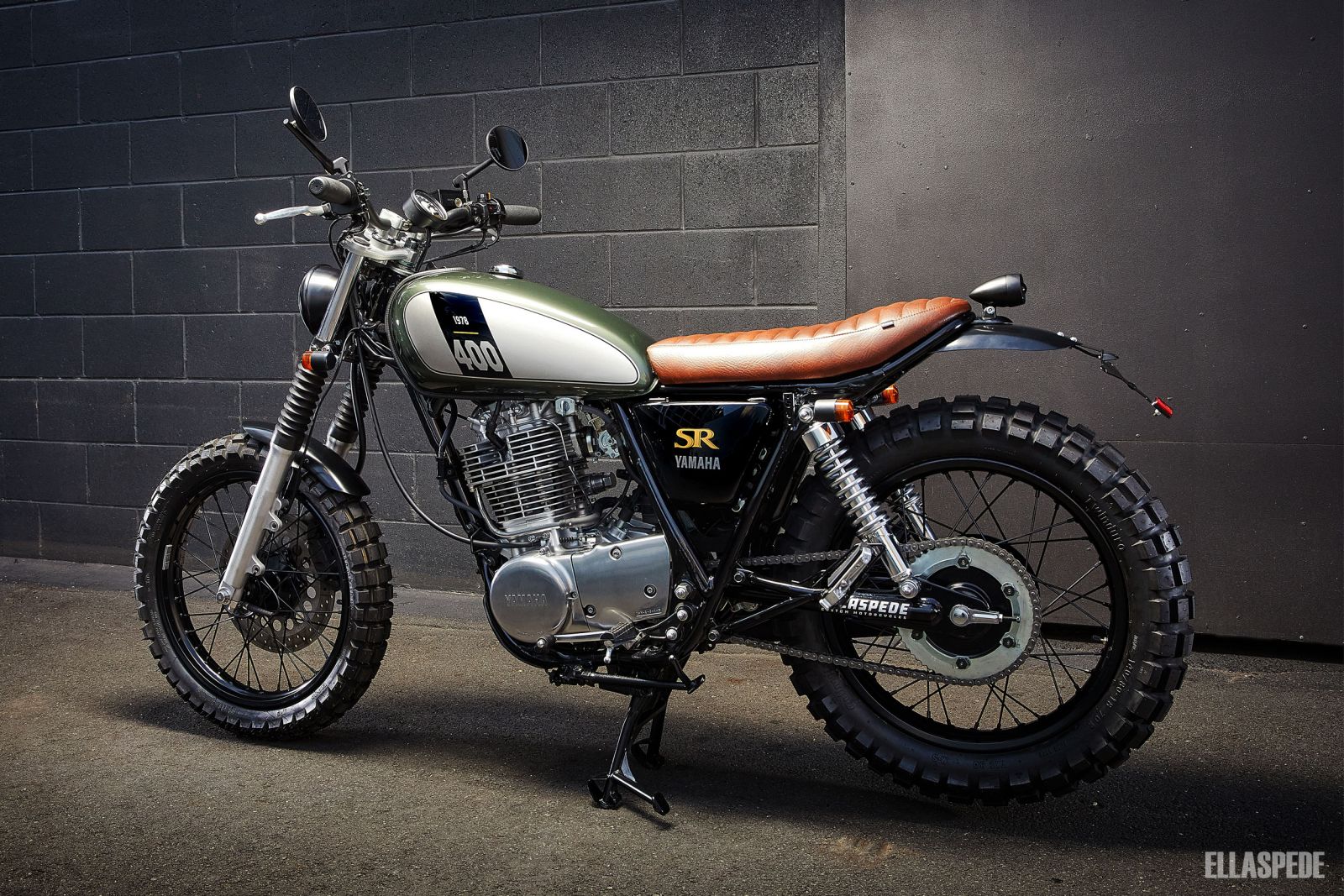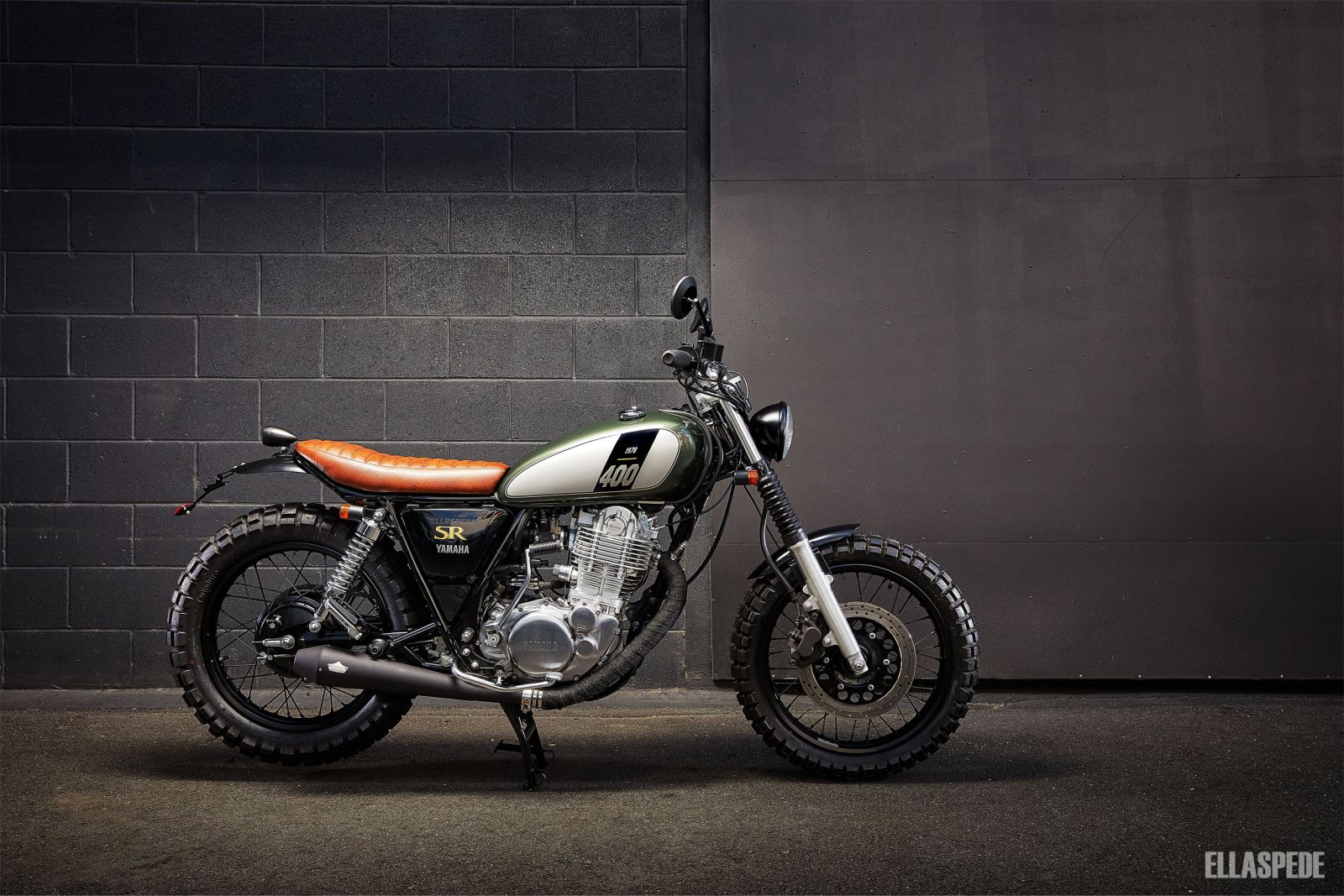 ---
Albums we listened to during the build of this bike:
---
Photos:
---
---
Comments (3)
Wow!

By:

Dave

on 21 April 2023

This bike looks amazing! Do you offer a version of the front/rear guards in your range?





Ellaspede Response
Hey Dave, we dont sell the front and rear guards as bolt on items sorry mate. If you're after some custom made ones and can get your bike to our shop then get in touch! Cheers
---
Sweet rig

By:

Sean

on 13 February 2023

This is an awesome build, well done





Ellaspede Response
Thanks mate!
---
Top notch.......again!!

By:

noel d foley

on 14 May 2020

Velly velly nars!!! Love the big analogue speedo on the bars. I want one on my next build.
---
Leave a comment