EB310 – 2015 Triumph Scrambler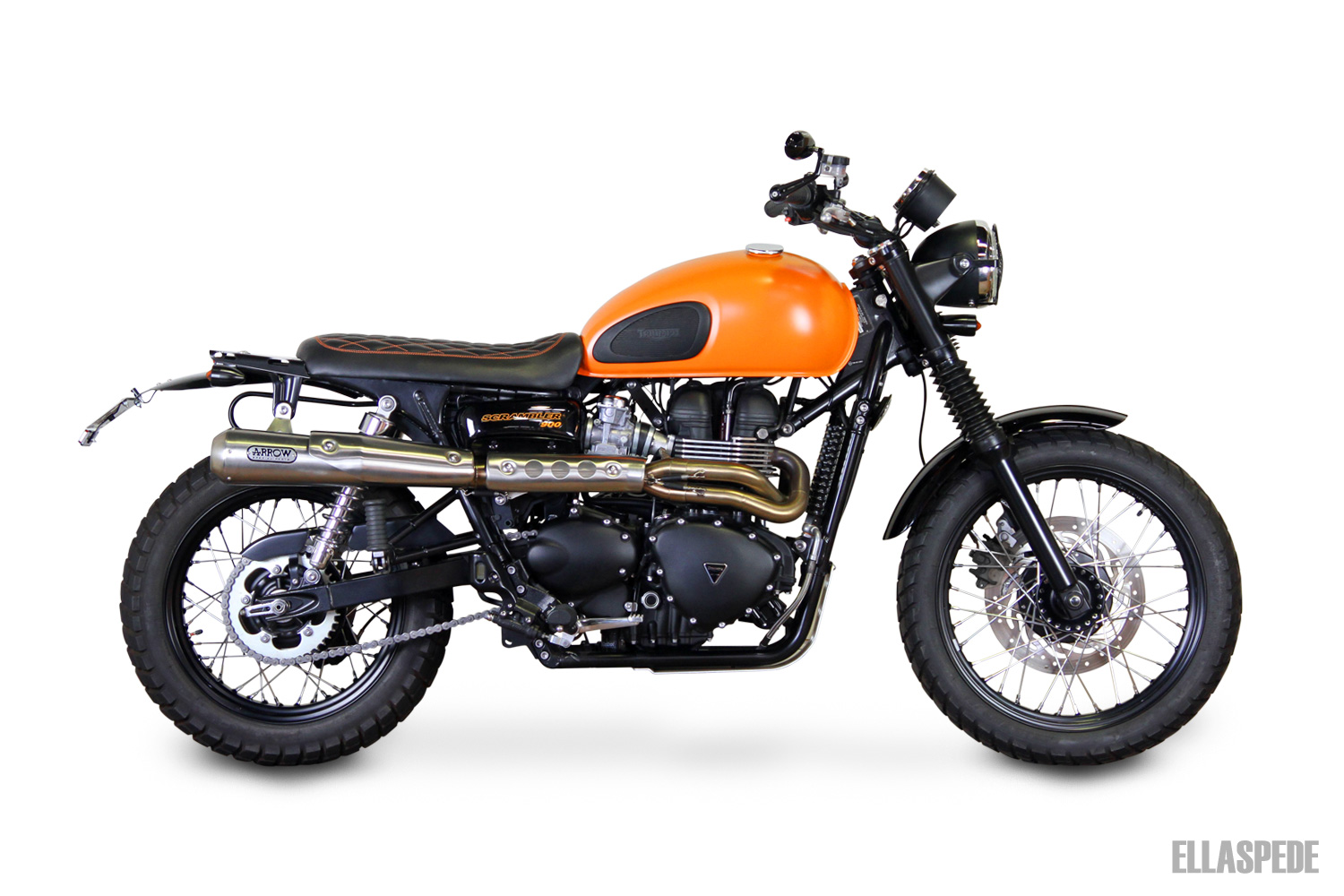 Matt S brought his (only days old) Scrambler in from the dealership knowing that some subtle tweaks were in order to make the most of his new ride. Whilst the Scrambler looks pretty good 'straight out of the box', he optioned it from Triumph with bar end mirrors and an Arrow exhaust system to replace the bulky stock items… a worthwhile decision in our books. To further tighten up the package a few items on the trim and tweak list required attention.
The main offenders with any stock bike are usually the seat, rear guard and lights / indicators, so we got to work. The rider and pillion seat pans were custom made from steel before being foamed, shaped and upholstered in black with a diamond stitch pattern in orange to match the tank colour.
A laser cut Ellaspede Scrambler rear rack was fitted, providing a small storage area that also doubles as the removable pillion seat mount. The stock rear guard and tail light setup was retired in favour of a new metal guard, custom shaped, painted and fitted. Complementing the now more minimal rear end is an LED taillight mounted under the rear rack. An Ellaspede Ninja Star licence plate kit finishes off the back end.
Posh Black Bullet Indicators replace the bulbous stock items front and rear, mounted to custom spacers at the front with laser cut brackets from the Ellaspede Bike Builders kit at the rear. Black powdercoat was applied to all new brackets, spacers, the headlight grill and pannier rack too, ensuring they visually fit the bill on this brand new bike.
The tank badges were removed for a cleaner look before a coat of 'Tues Afterburn' inspired orange was laid down. Factory knee pads were kept to break up the orange expanse and protect the new hue.
Overall Matt has achieved a sleeker looking Scrambler with some minor mods that further enhance a tidy Triumph package. There's a lot you can do with this modern classic platform and for a reasonably small investment we couldn't be happier with the result.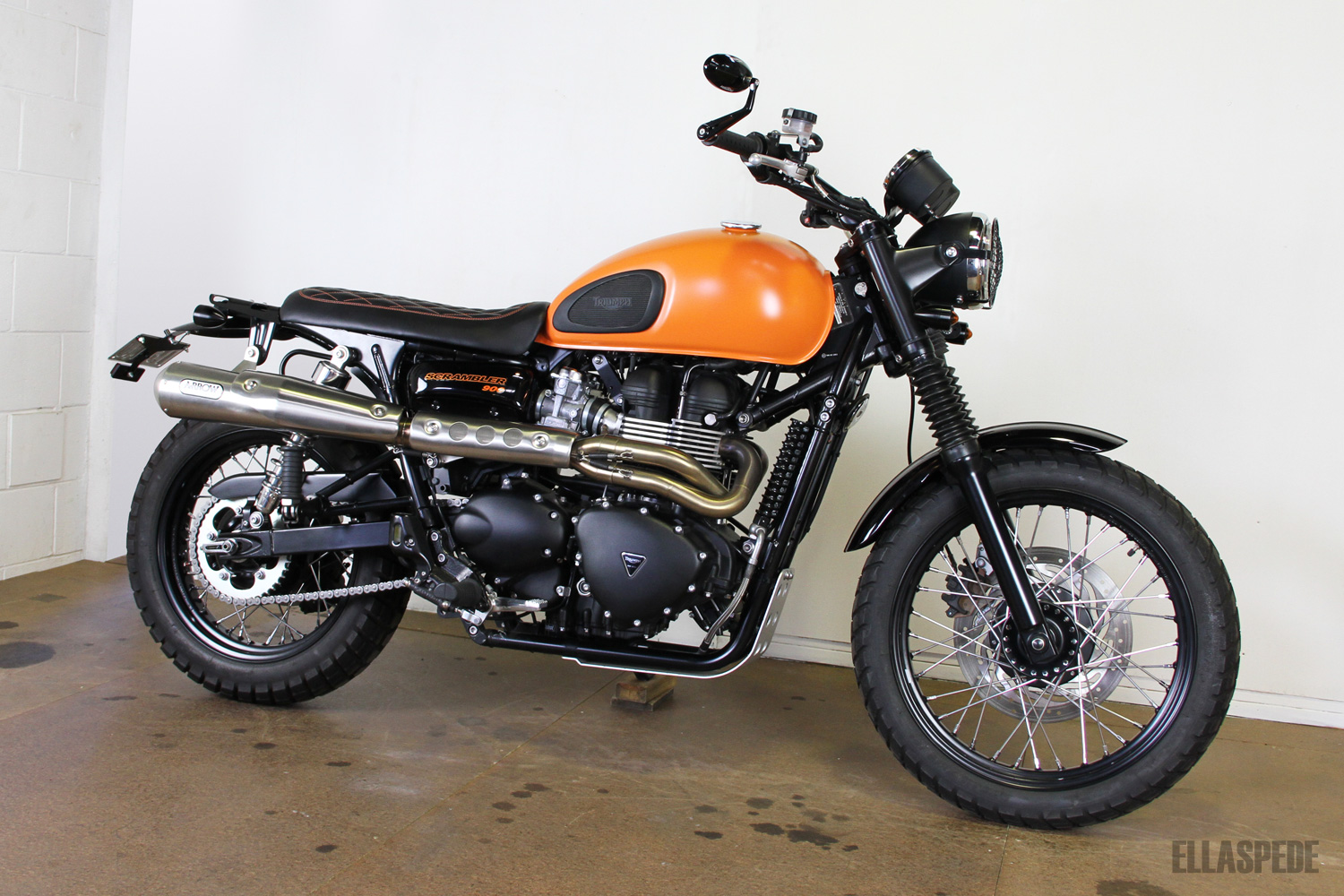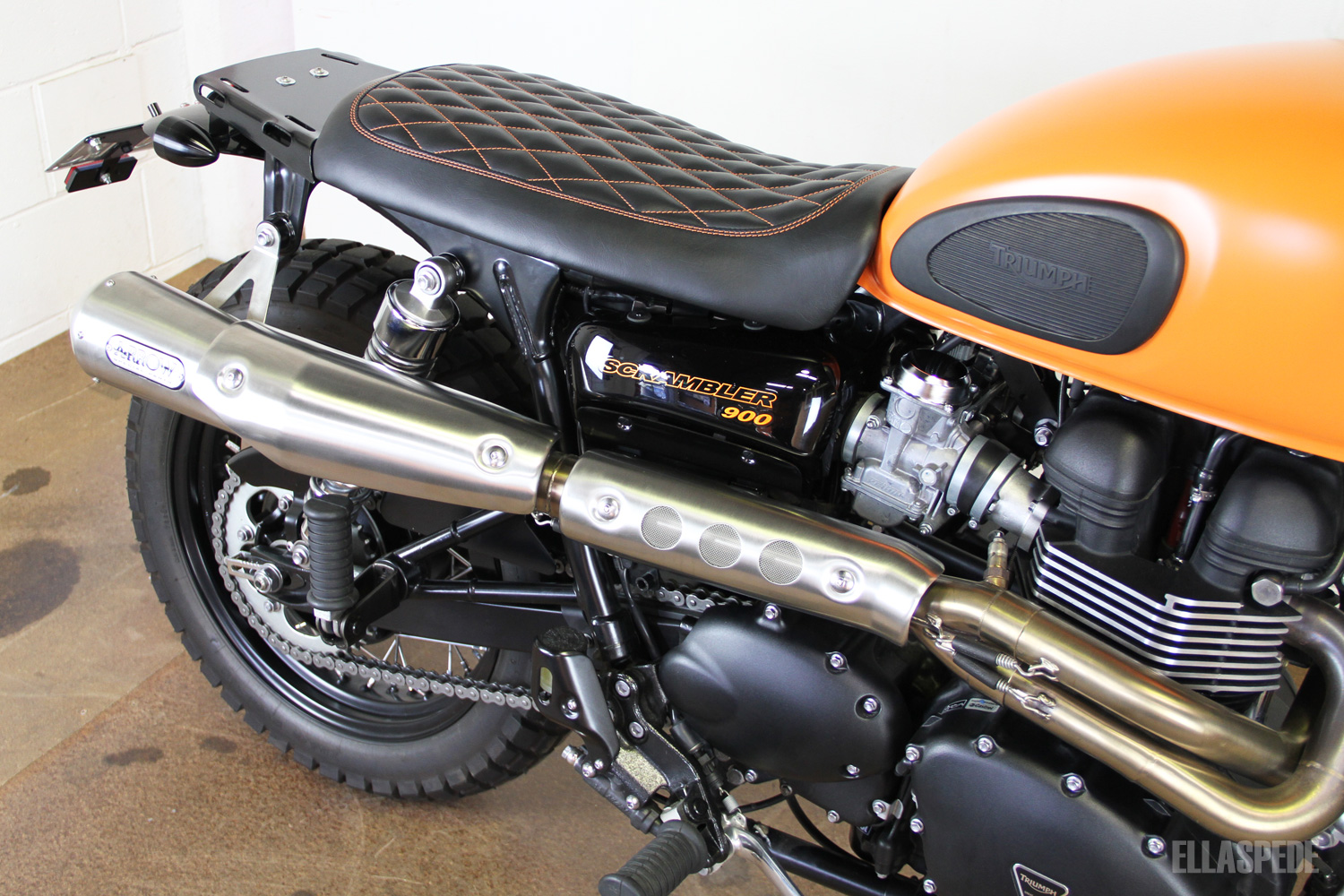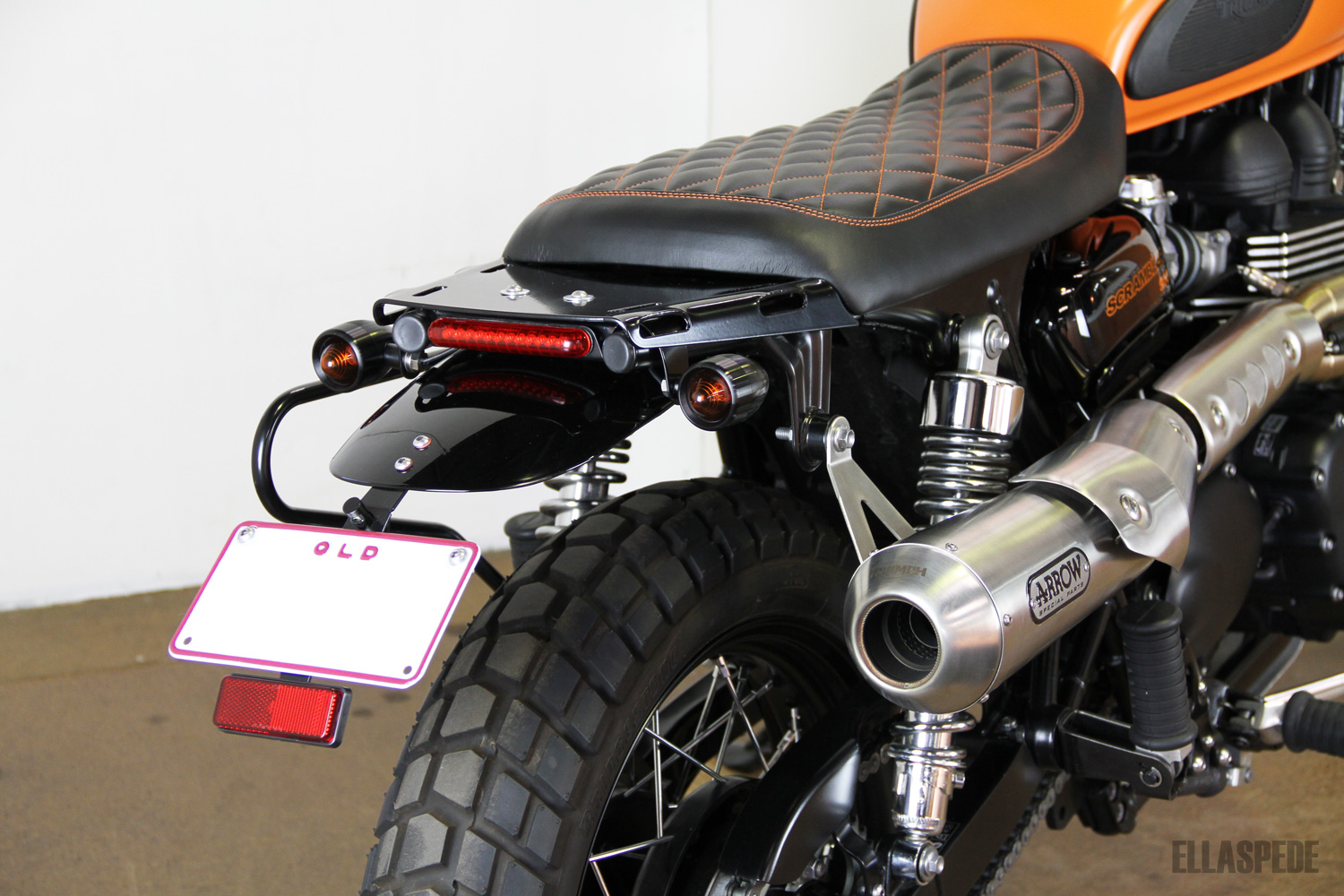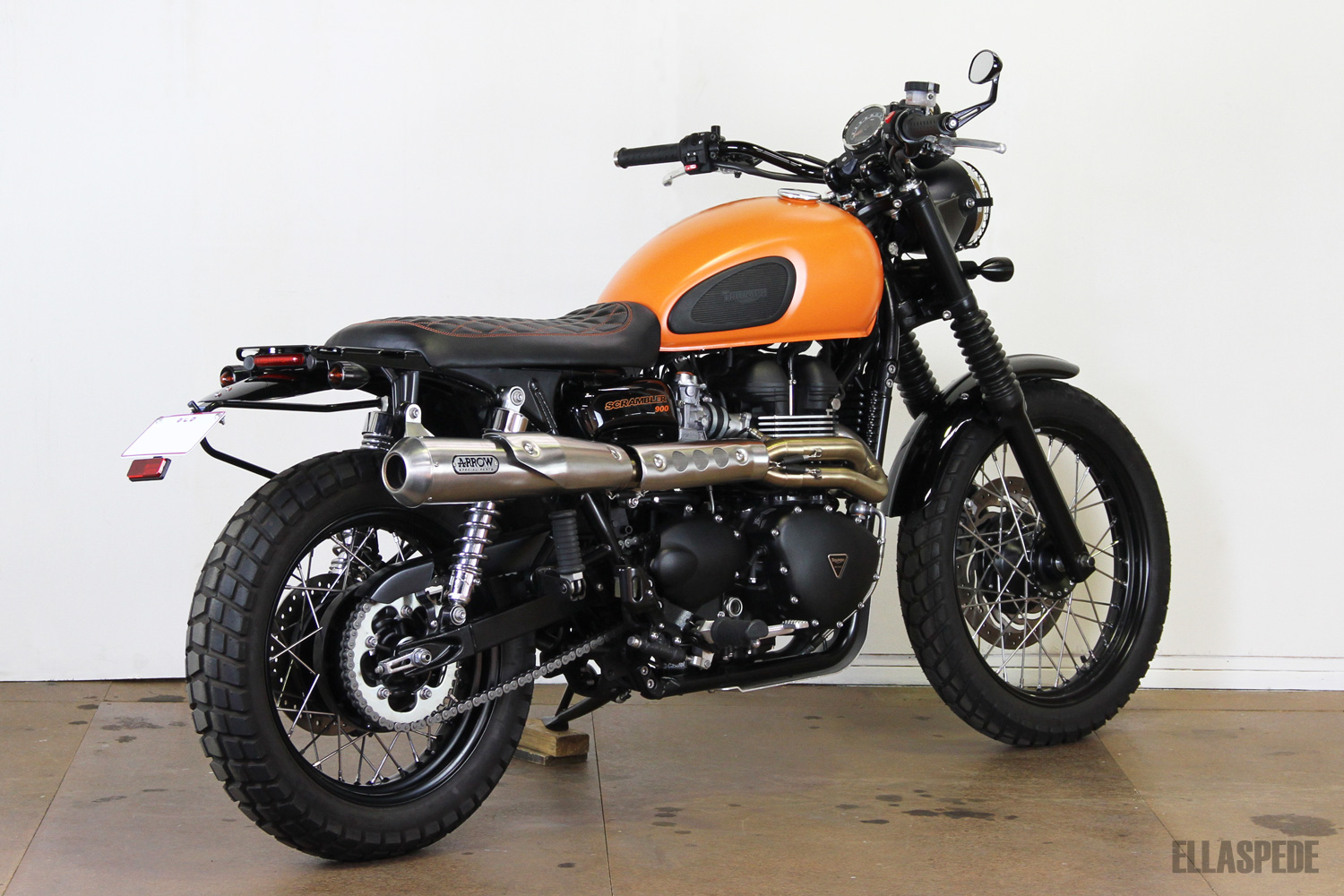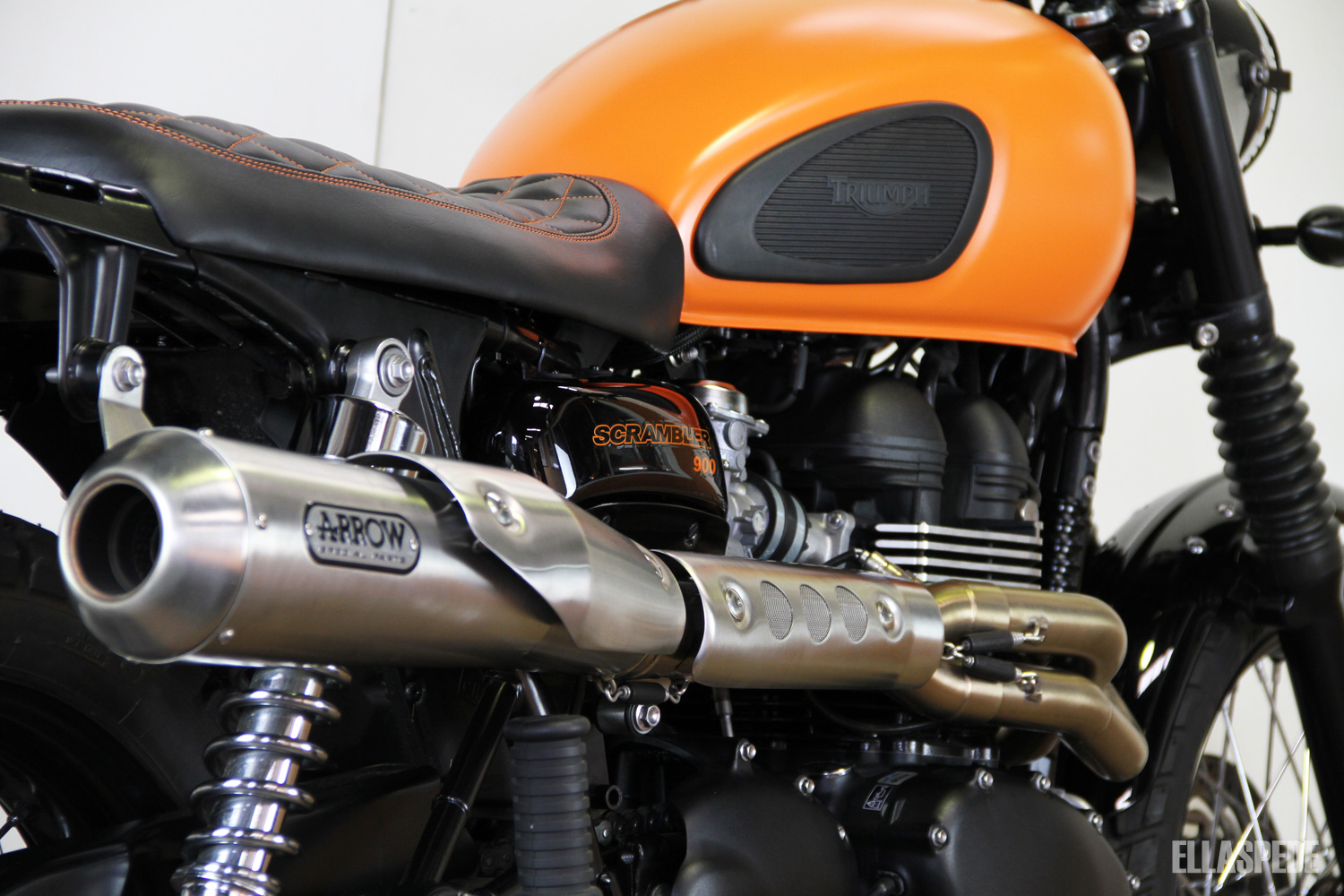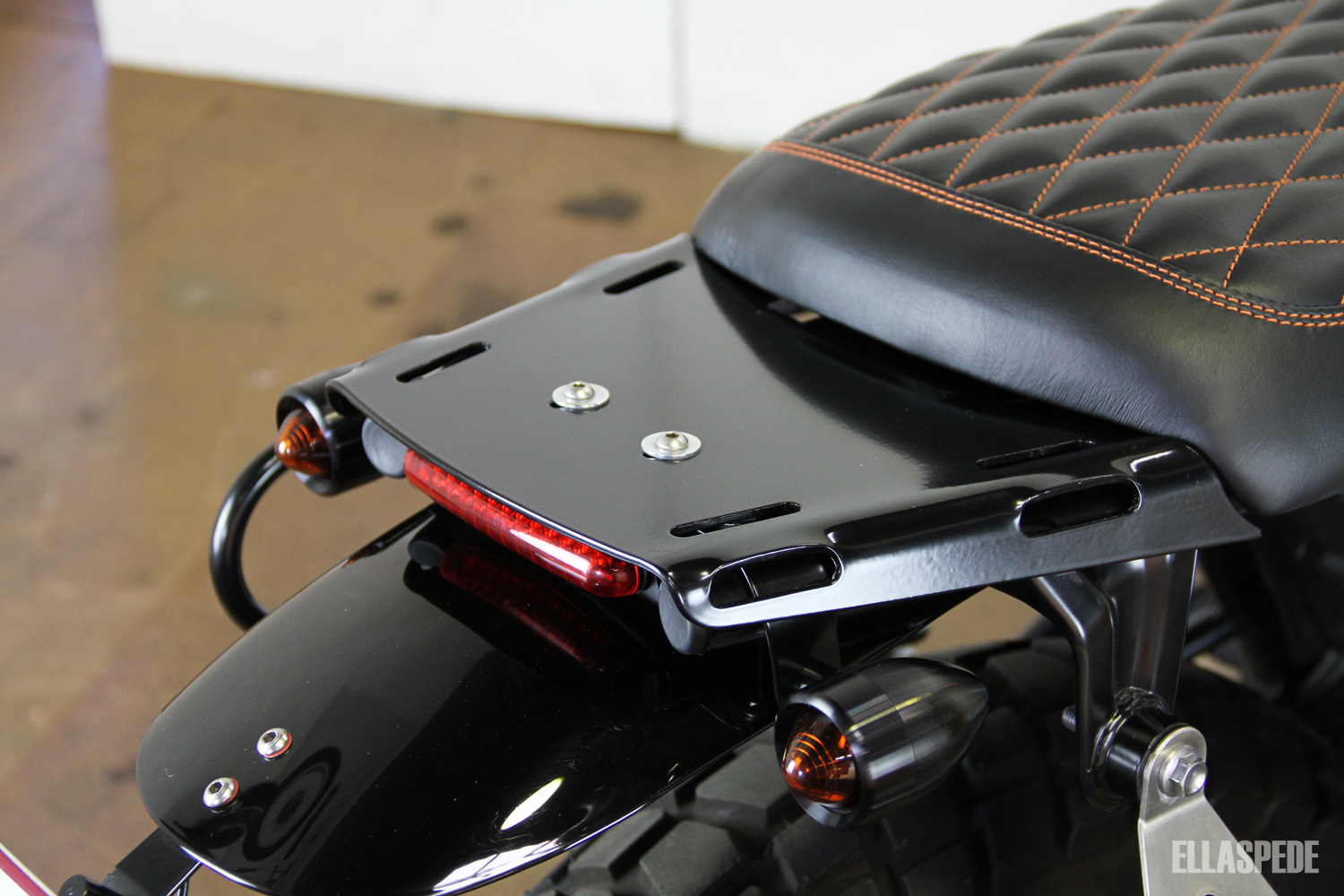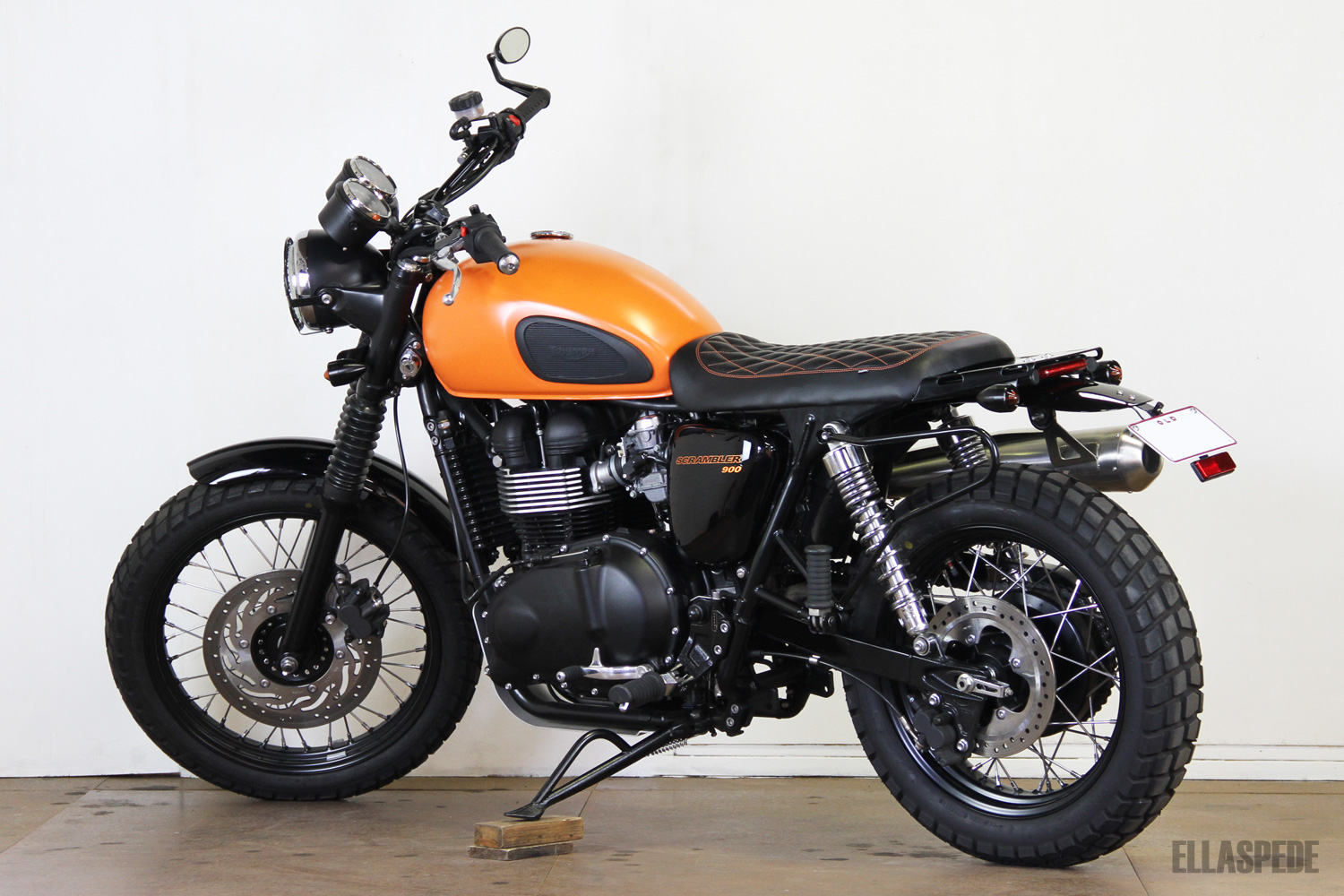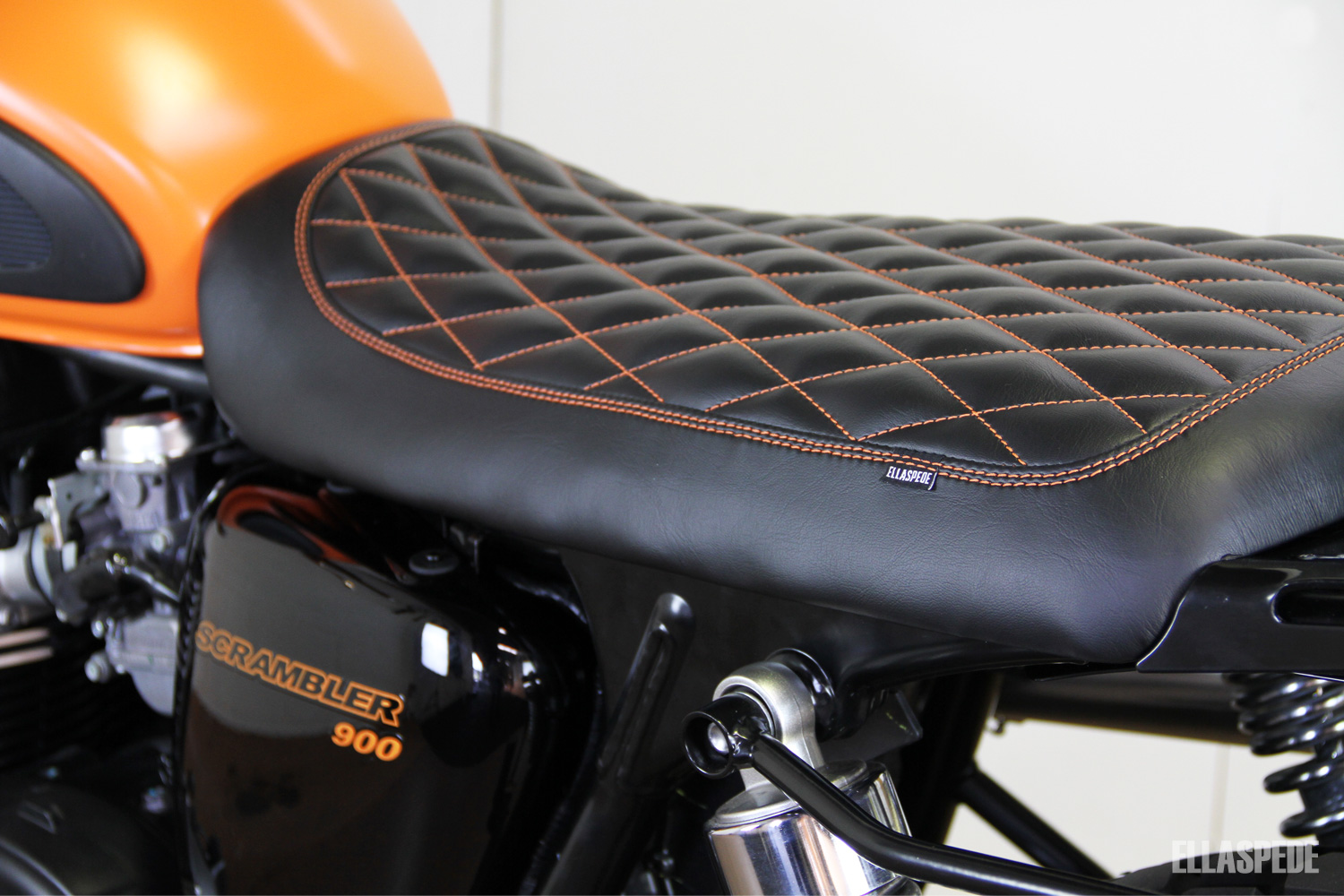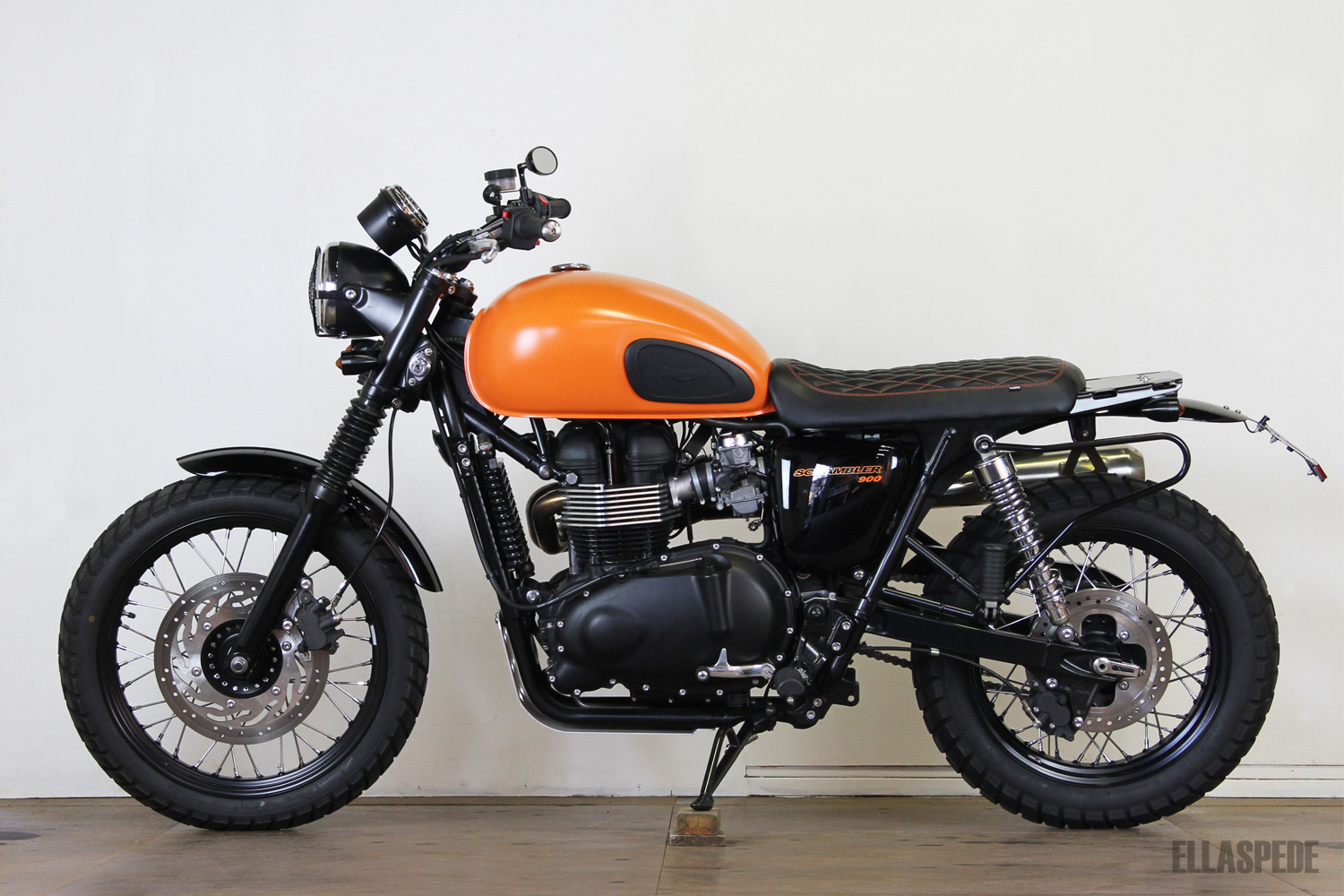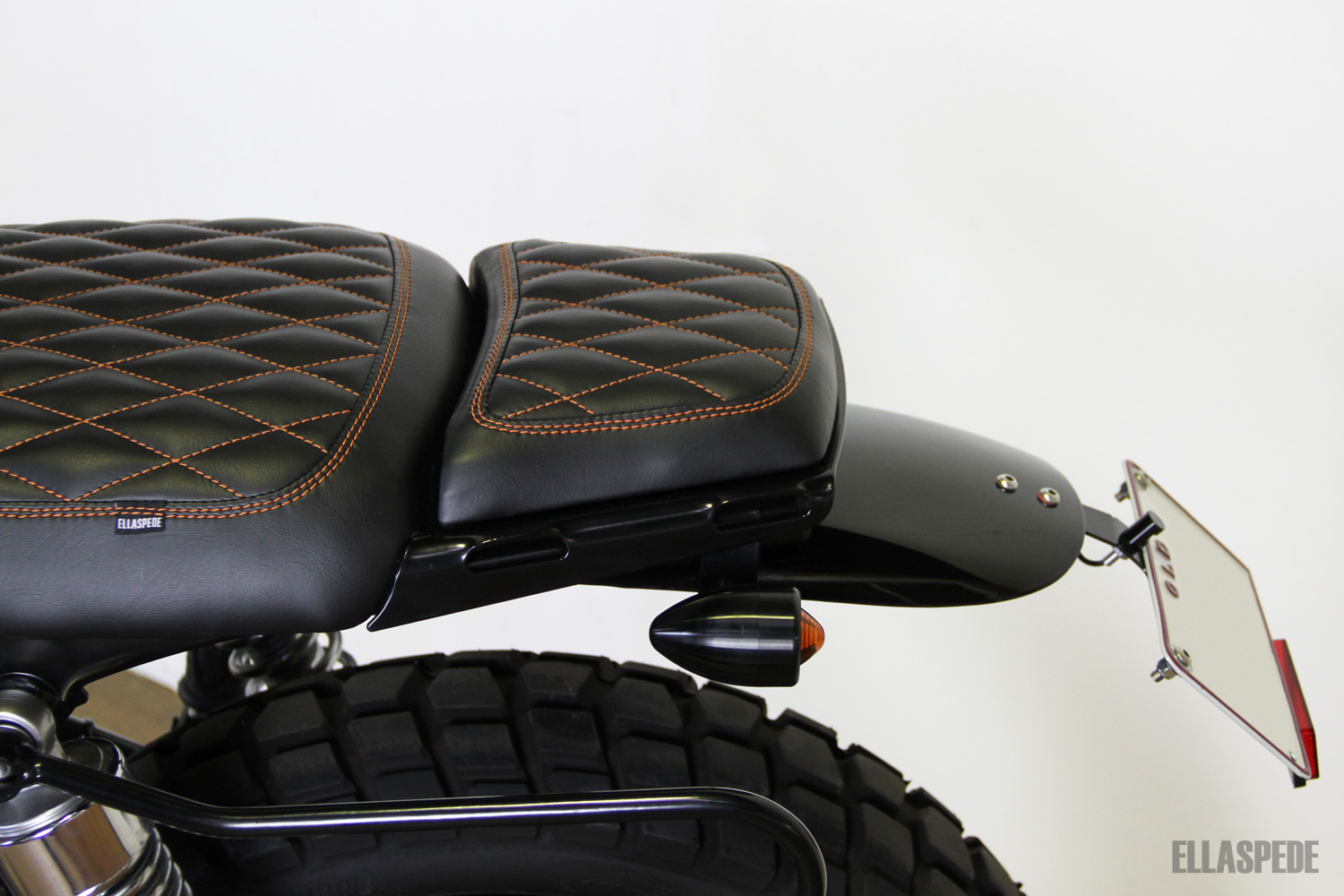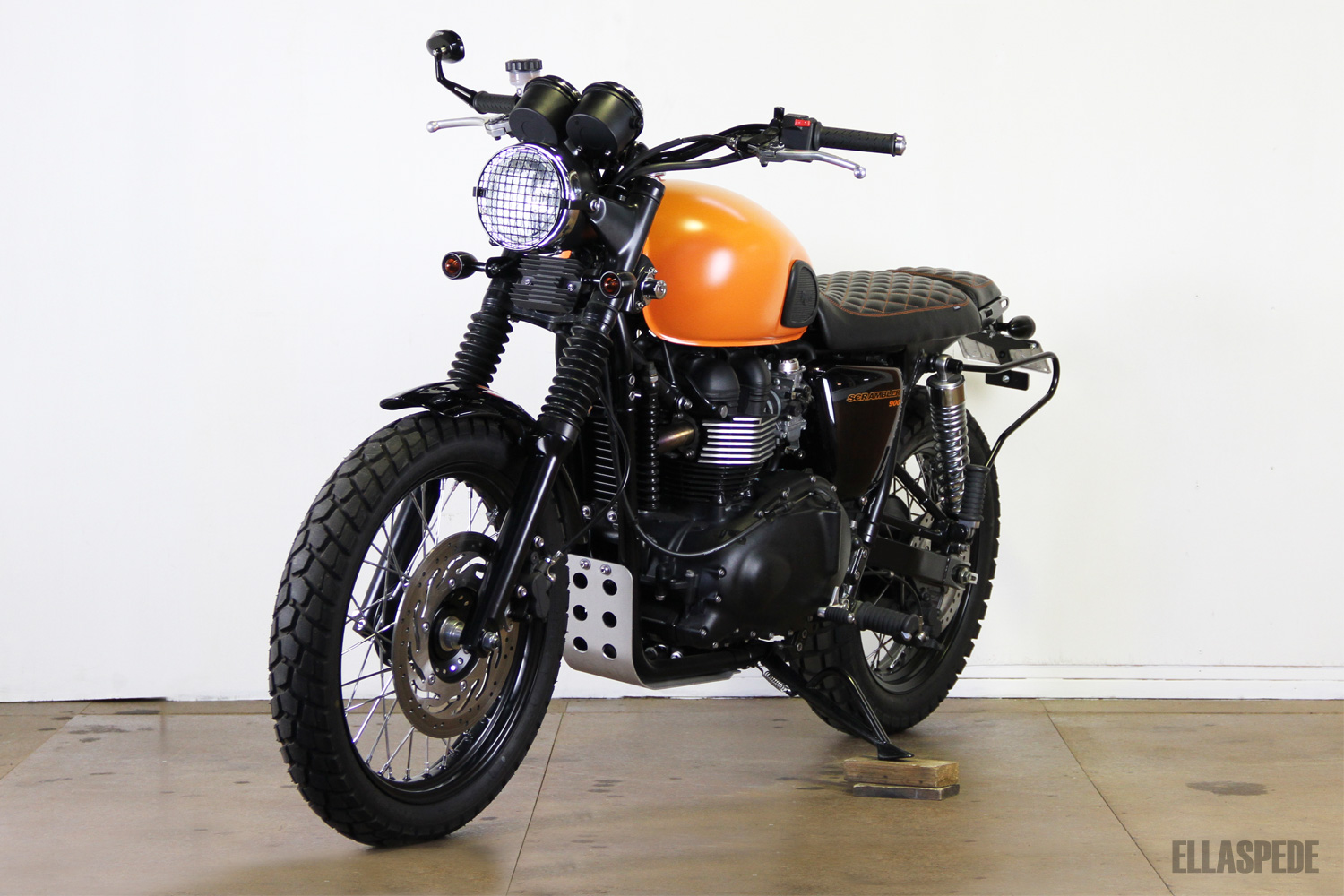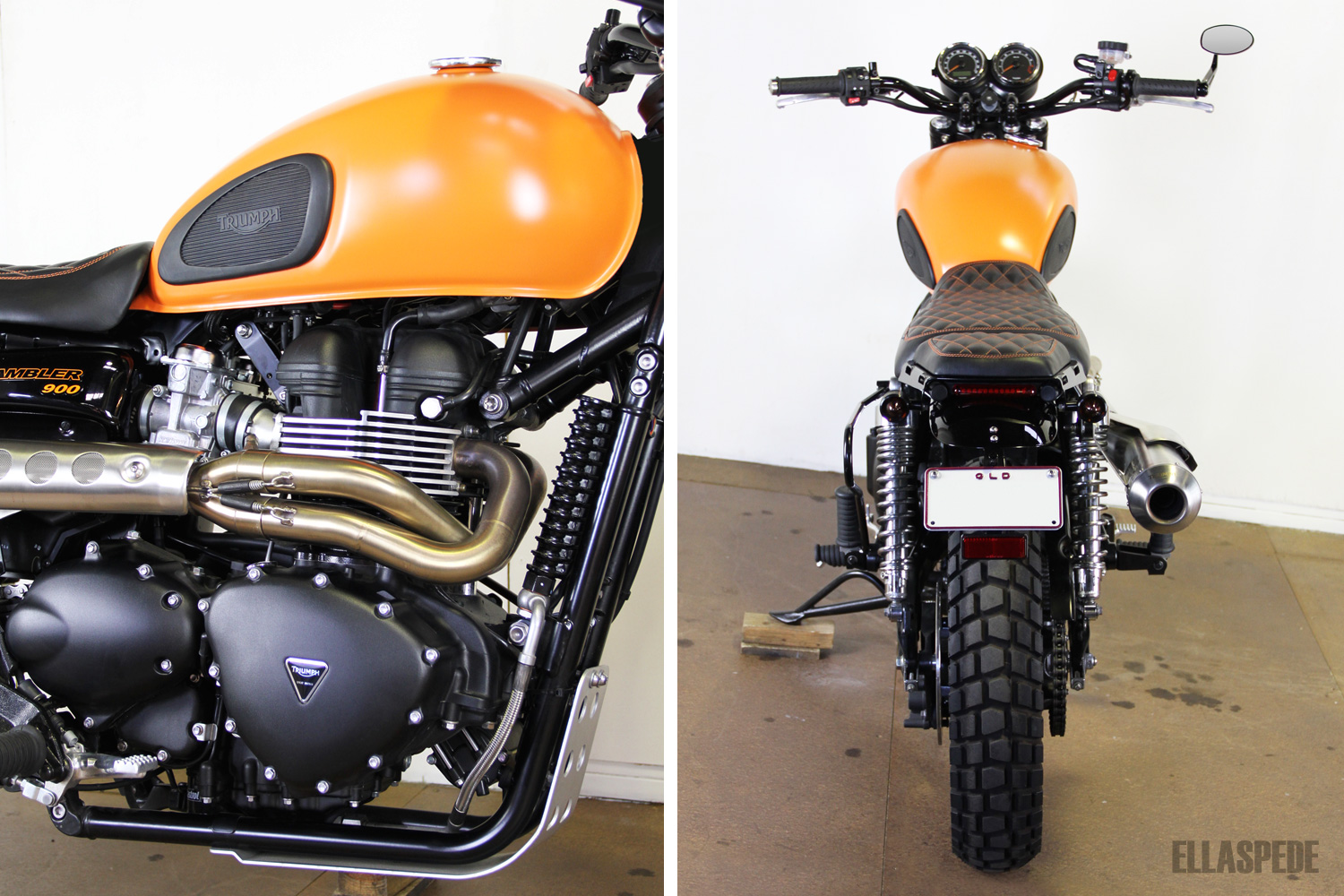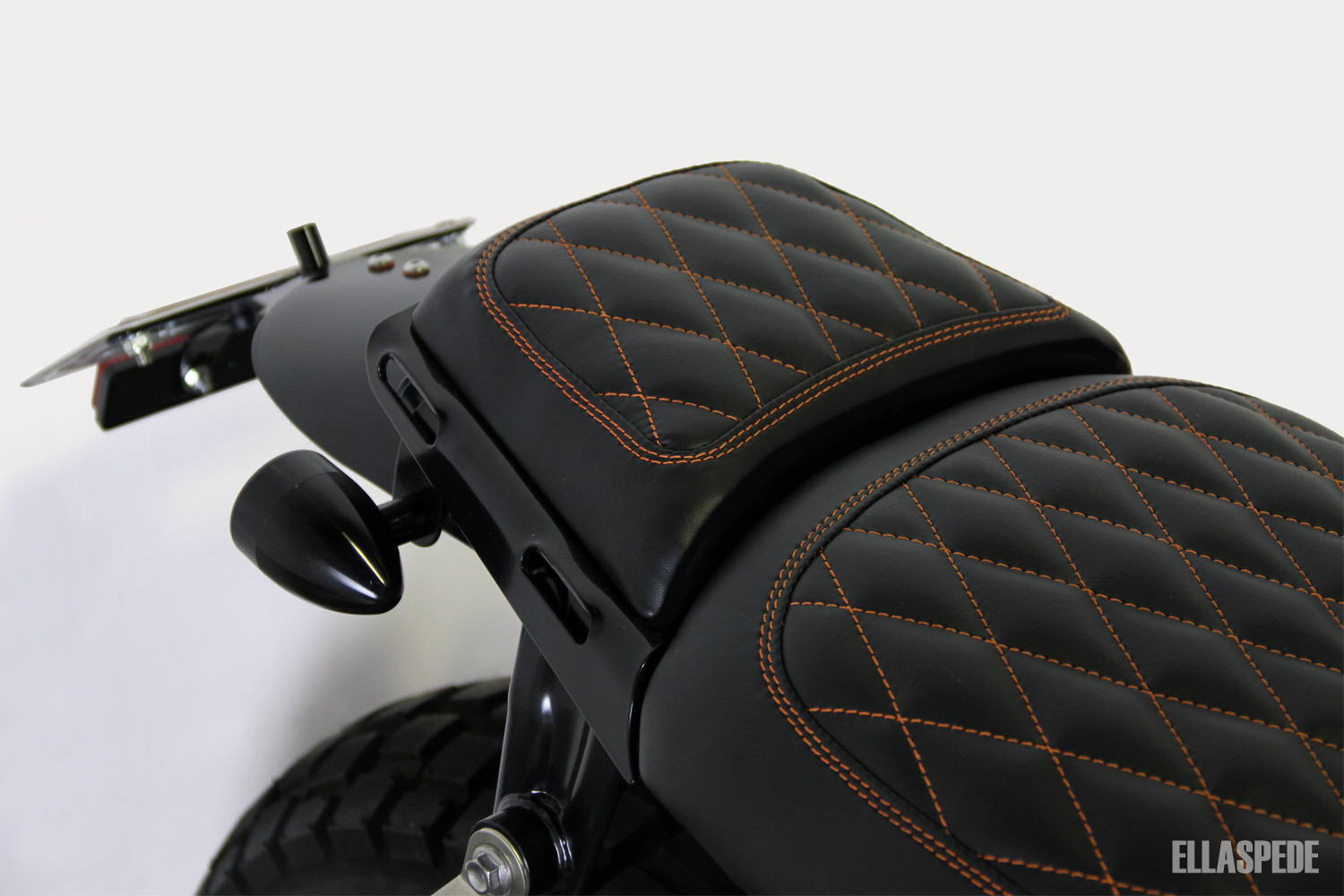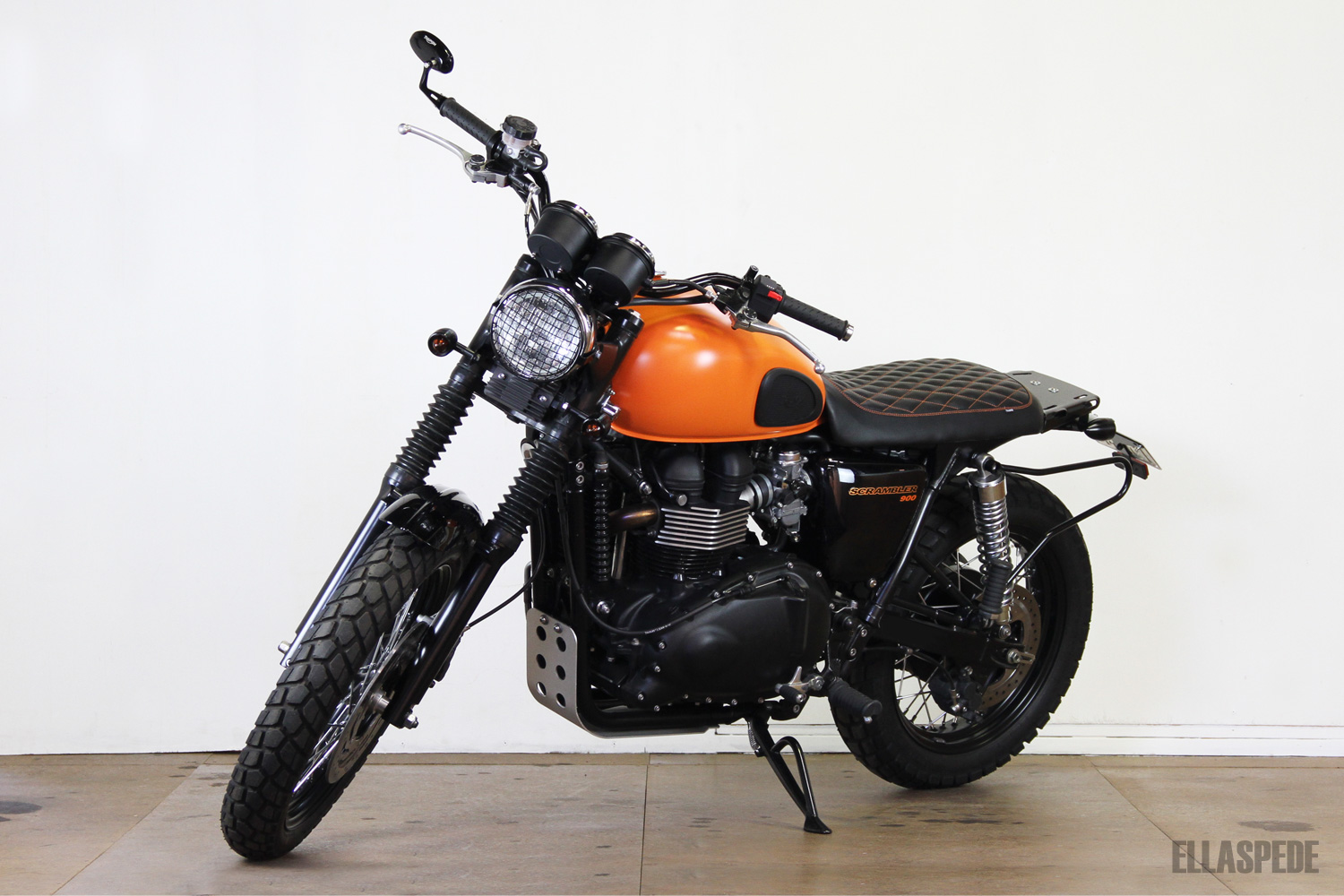 Albums we listened to during the build of this bike:
---
---
Comments (5)
Availability

Is this seat available ?





Ellaspede Response
Not as a bolt on part unfortunately. But send us an email and we can discuss making a custom seat for you. cheers!
---
Seat

By:

Graeme Whitehouse

on 25 January 2022

G'day folks. Any chance you can still supply that seat? Looks the goods, I'd be interested in a price.





Ellaspede Response
Hi Graeme, We no longer have them as a stocked item, but if you're local to our shop we could custom make one for you, just get in touch. Cheers mate
---
Build like this

By:

Brett

on 16 September 2020

Hey guys, love this! Wondering what the cost would be for a similar upgrade to stock Scrambler? Thanks!





Ellaspede Response
Hey Brett! Cheers mate, we're glad you like our build. Shoot us an email and we can give you some more info about custom build pricing. contact@ellaspede.com Cheers!
---
Seat!

By:

Jason

on 11 July 2020

Same question, is it still available?





Ellaspede Response
Yes mate, we have 1 kit left! Have just sent you an email. Cheers
---
Seat

Is this seat available ?





Ellaspede Response
Yes mate, we've sent you an email! Cheers
---
Leave a comment