EB888 - 2015 Kawasaki W800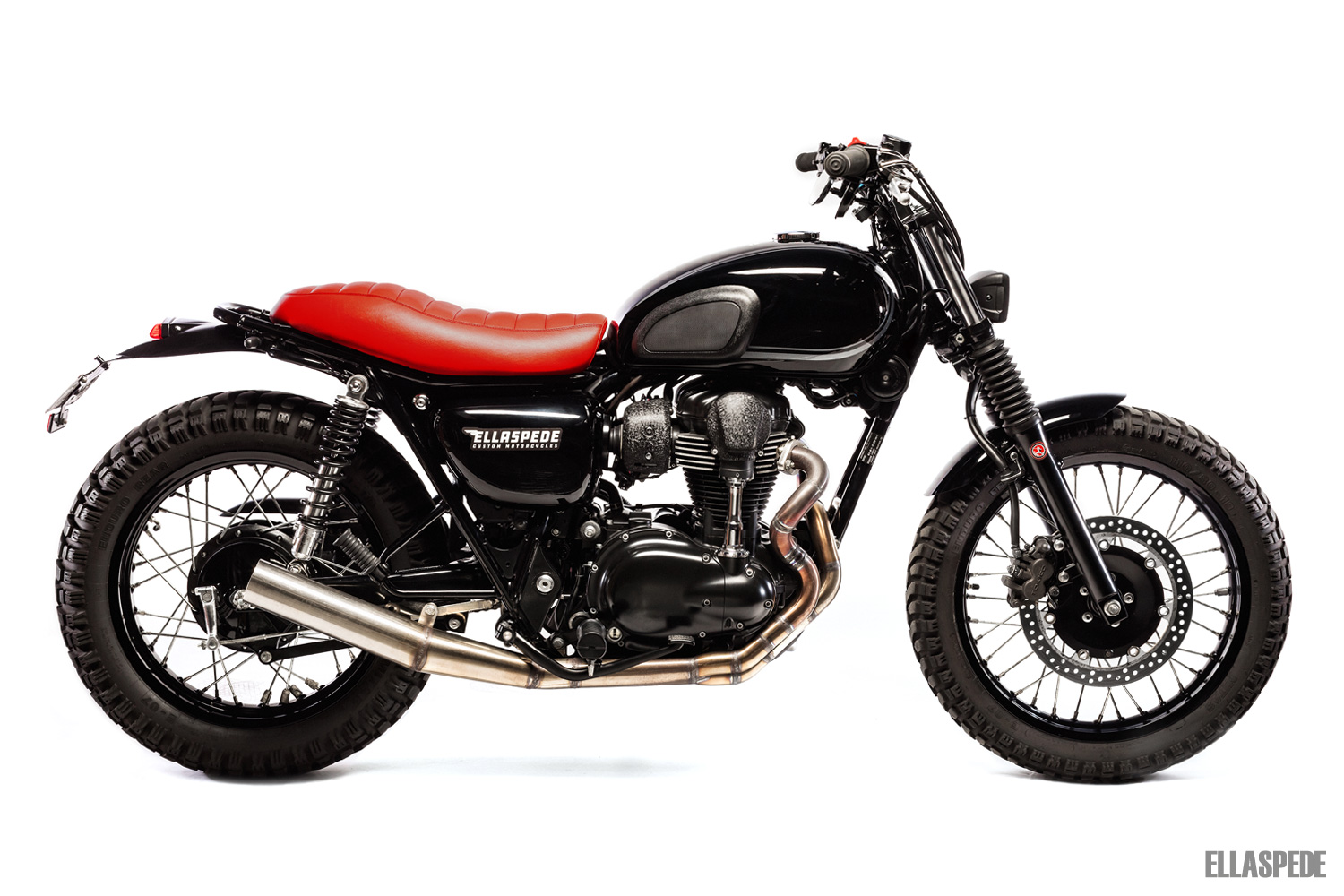 I've never had to write one of these about my own bike before, so I'll attempt to keep my self indulgent waffling to a minimum! My name's Hughan, I'm the Online and Marketing Manager at Ellaspede and this is my 2015 Kawasaki W800.
I've always been into Japanese cars and bikes, especially their custom scene. The look and sound of an air cooled parallel twin motor gets me going, so this story actually starts with my 70's Yamaha XS650 that I've been mucking around with for a number of years now.
Long before I linked up with the gang here at Ellaspede, I quickly discovered how much TLC it takes to keep a 40 year old bike running and riding. Especially when the XS started out as a street bike, but was quickly finding it's way down the rough path of dirt riding in the hands of an absolute average rider (me).
The crew at Ellaspede were influential in helping me keep the old XS going (and I was even riding it to work for a period of time), but after more off road adventures, Dust Hustles, beach trips and general breakages (usually on dirt excursions) I knew it was time to sort myself out with a more modern stablemate for the trusty old XS.
Despite my interest in Triumph Desert Sled's of the 70's and the popular British modern offerings, it was the persistent love of Japanese machinery and that air cooled motor design that pointed me towards Kawasaki W650 and W800 models (they have to be one of the best looking factory motors!).
In stock form the W800 looks like I should be getting ready for retirement, but I knew it was a good donor bike for a mild custom build with the motor I liked, classic lines, 19/18 wheels and a solid reputation. Although I work at a custom motorcycle shop, I didn't want to get too far down the rabbit hole with this one, so a minimal amount of modifications for the look (and my budget) was the plan.
After some searching a tidy 2 owner 'Black Edition' popped up just down the M1 at the Gold Coast, and with under 5,000k's on the clock I knew I was onto a winner. After 12 months of riding it around in stock trim, I'd formulated a plan, gathered some parts and was ready to roll into the workshop and starting swinging angle grinders around. All the stock parts that weren't being used were swiftly stripped and sold off.
Starting at the front, low rise tracker bars went on with Biltwell Kung Fu grips. With a slightly higher bar I was able to tuck in some under slung enduro mirrors. Sitting off the back of the bar clamps is a Danmoto electronic speedo/tacho, which I liked because of it's size and simplicity. A rectangle Hella spotlight was modified for high/low headlight duties and now sits up front, mounted as low and far back as possible on the lower triple tree.
I wanted the headlight area to look bare and open, reminiscent of a 70's desert sled style, so I cut down the top triple tree and removed the steering lock welded to the front of the frame. The stock key barrel now mounts up under the tank with a USB power outlet.
Under the front triple tree is an Ellaspede W800 front indicator mounting bracket, holding Daytona D-light LED indicators. The stock front guard is a nice shape so it was cut down, with the stock supports removed and the original mounts slotted to raise it a little higher for a bigger tyre size.
Out back the stock rear guard and lights were removed before an LSL 'Lindy Bob' rear fender and integrated tail light was bolted up. The LSL rear guard needed a little more modification than I initially expected, so a new under guard brace and Ellaspede Ninja Star Licence plate holder were modified to fit. Matching Daytona indicators are on the rear, mounted to cut down grab rail tabs. A small rubber dirt bike style mudguard flap now protects the stock reg/rec too.
I liked the exposed rear hoop look and the W800 frame has a reasonable hoop from factory that finishes almost exactly inline with the rear axle. The stock seat pan was cut down shorter and plastic welded back together, retaining the factory key release for easy access under the seat. The standard foam was pretty good, so it was reshaped to suit the new length with a little extra height added at the front and as much as possible taken out of the width.
The W800's have a fair collection of tabs, hooks and little guards welded to the frame and foot controls from factory. Most of these were removed to clean up the frame lines, with particular attention paid to the rear frame to achieve a nice line around the rear wheel.
W800's are a conservative bike in stock trim so most off the shelf exhausts for them match that style. I spotted a rad set of 'spaghetti' headers that the legends at Cafe Racer Dreams knocked out for a w650, so I decided to take inspiration from them, add a few small changes to the header shapes and mate it up to a 'tracker' style 2-into-1 muffler. Once that design was finalised the Ellaspede workshop team welded it all up, including the custom made muffler. I like the 'exposed' look on welds so they were left and some exhaust flanges were CADed up and laser cut to bolt it all on.
This bike see's mostly on road activities, so reasonable road handling was key. But I wanted a slightly chunkier look for the tyres that could also handle the odd dirt road as required. Going up a size all round, the Mitas E-07's were chosen in 110/80-19 front and 140/80-18 rear.
Some other small items help to clean up the overall package. The horn was relocated under the tank, centre stand unbolted and the low hanging mounts removed, tank badges taken off and chain guard trimmed down.
Being a Black Edition from factory definitely minimised paint costs, with all the required parts being painted or powder coated in satin or gloss black to match. Wanting to avoid having another completely 'black on black' Japanese twin, I decided to get a little more adventurous with the seat colour. Initially a dark cherry red leather was the goal, but as this bike gets parked in the sun and ridden in the rain I limited myself to UV vinyl colours. This was the only red available at the time and although It's definitely BMW GS bold, I like it for the moment.
An o2 sensor eliminator and upgraded panel filter are the only current performance upgrades along with the new exhaust. Although stripping off all the bulky stock parts, especially the incredibly heavy stock mufflers certainly made it feel a little zippier. Plus, this is meant to be a 'sensible' street bike so the power the 800 pedals out is sufficient for now.
My favourite part about the bike? When I'm riding it there's visually nothing in front of the handlebars apart from the top of the front tyre. So it's a really unobstructed view that reminds me of riding a big mountain bike or something, which I think is cool. Having a reliable modern bike to ride when I break the XS from a dirt nap is also right up there!
For some relatively basic changes my W800 has come together as a mild custom build that's reliable, I like looking at, hasn't torched my wallet and is fun to ride. I'm sure it will continue to slowly evolve further as all good custom bikes do, but for now I'm stoked to be riding the Kwacka Tracker.
Thanks to the Ellaspede crew for all the advice and help.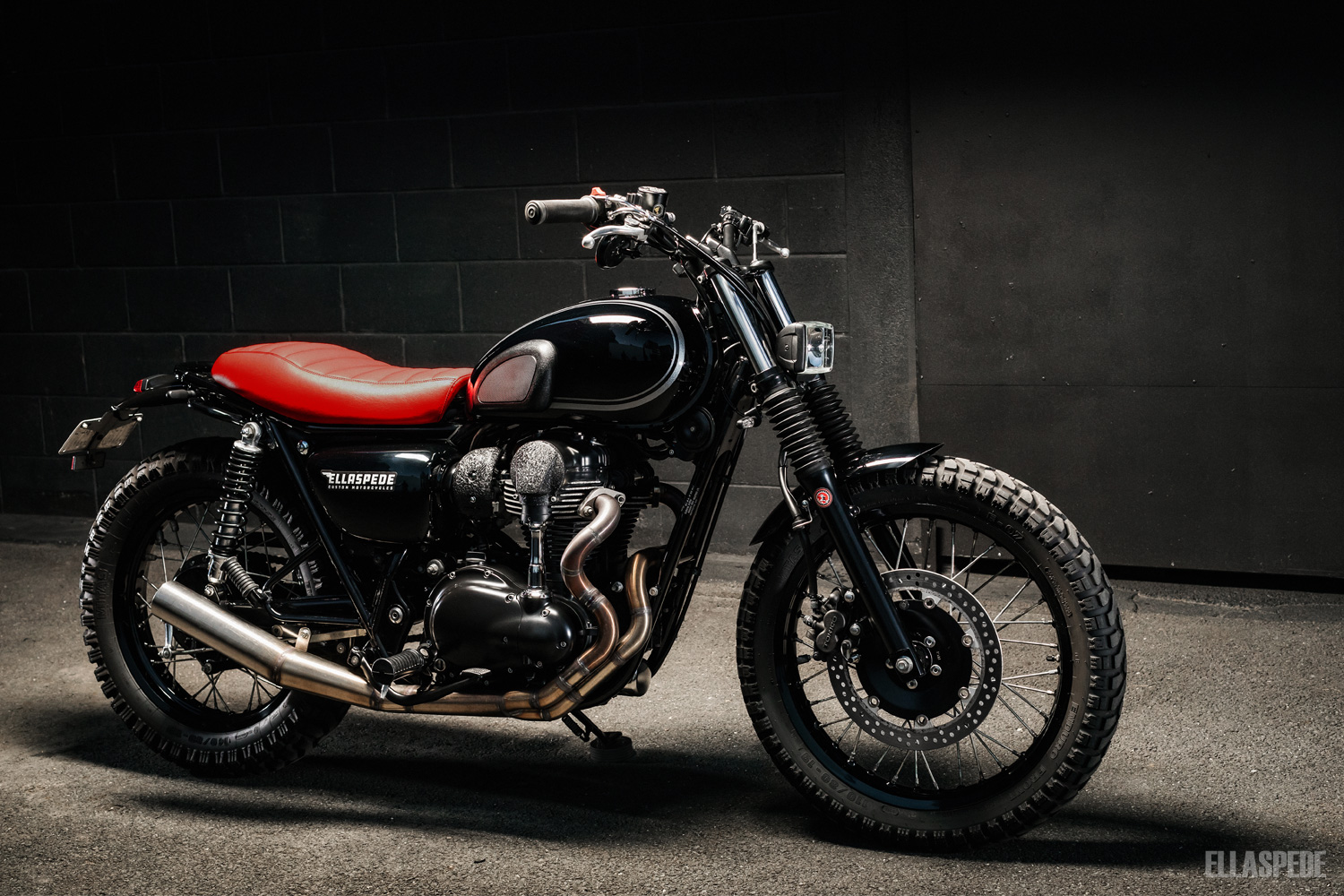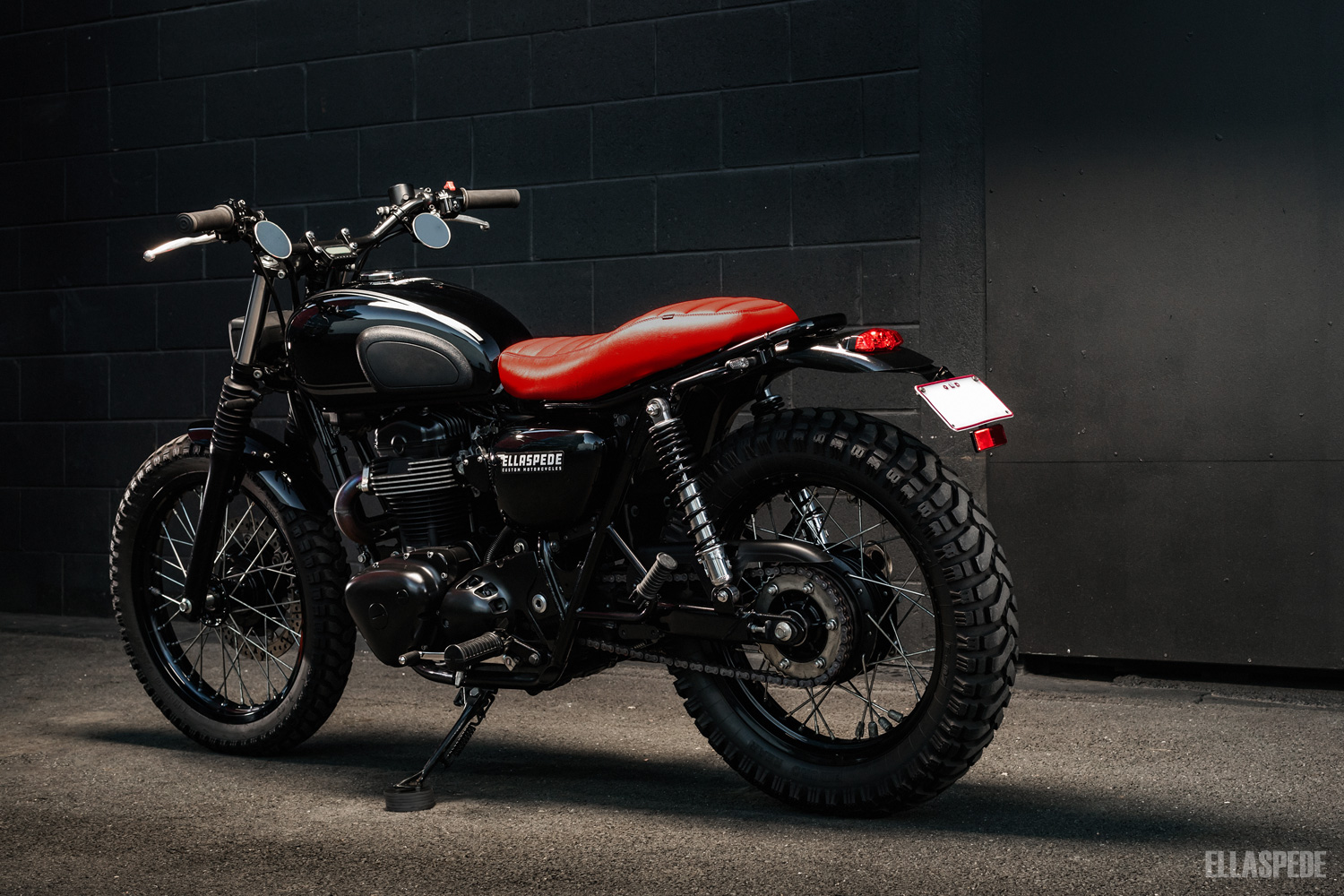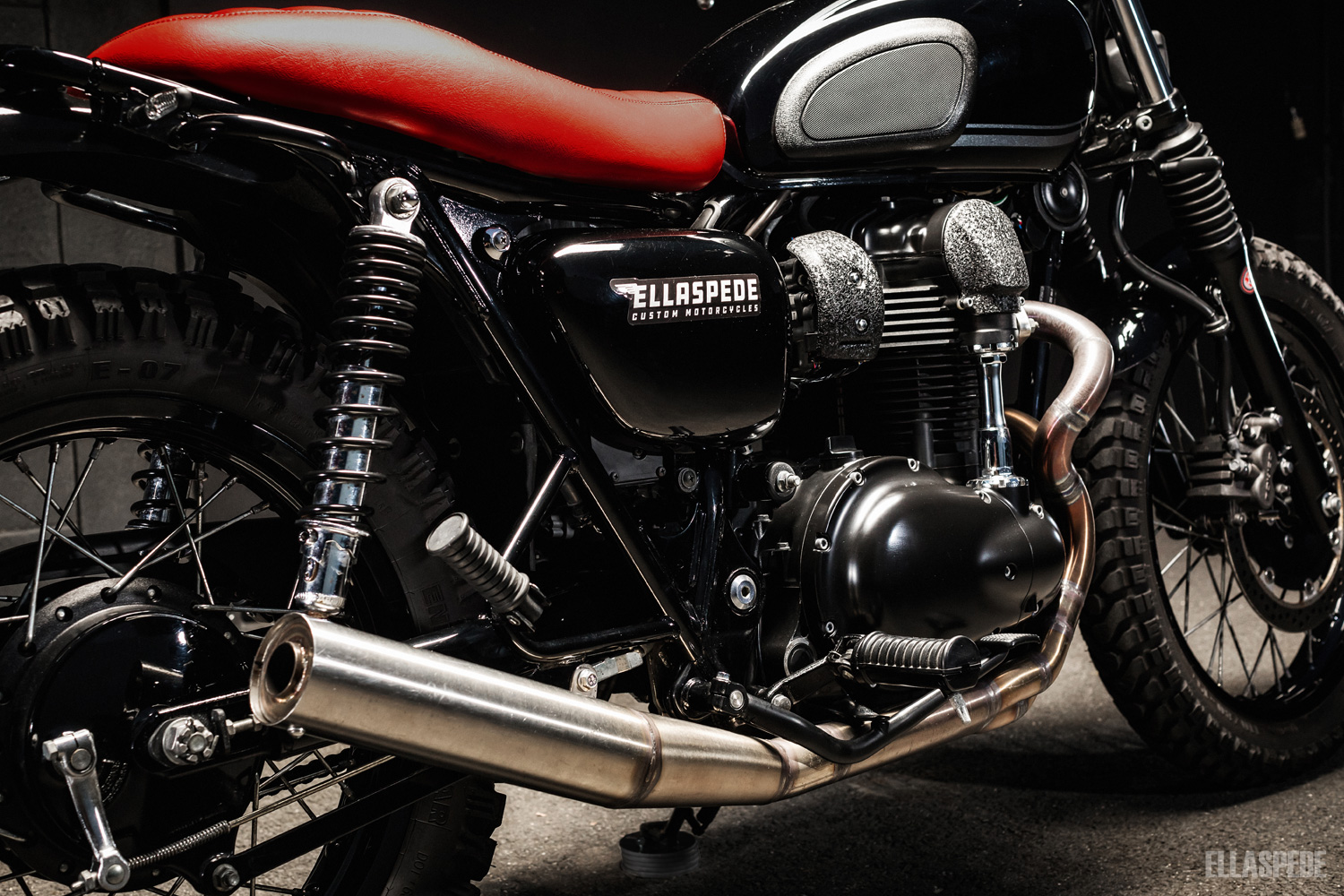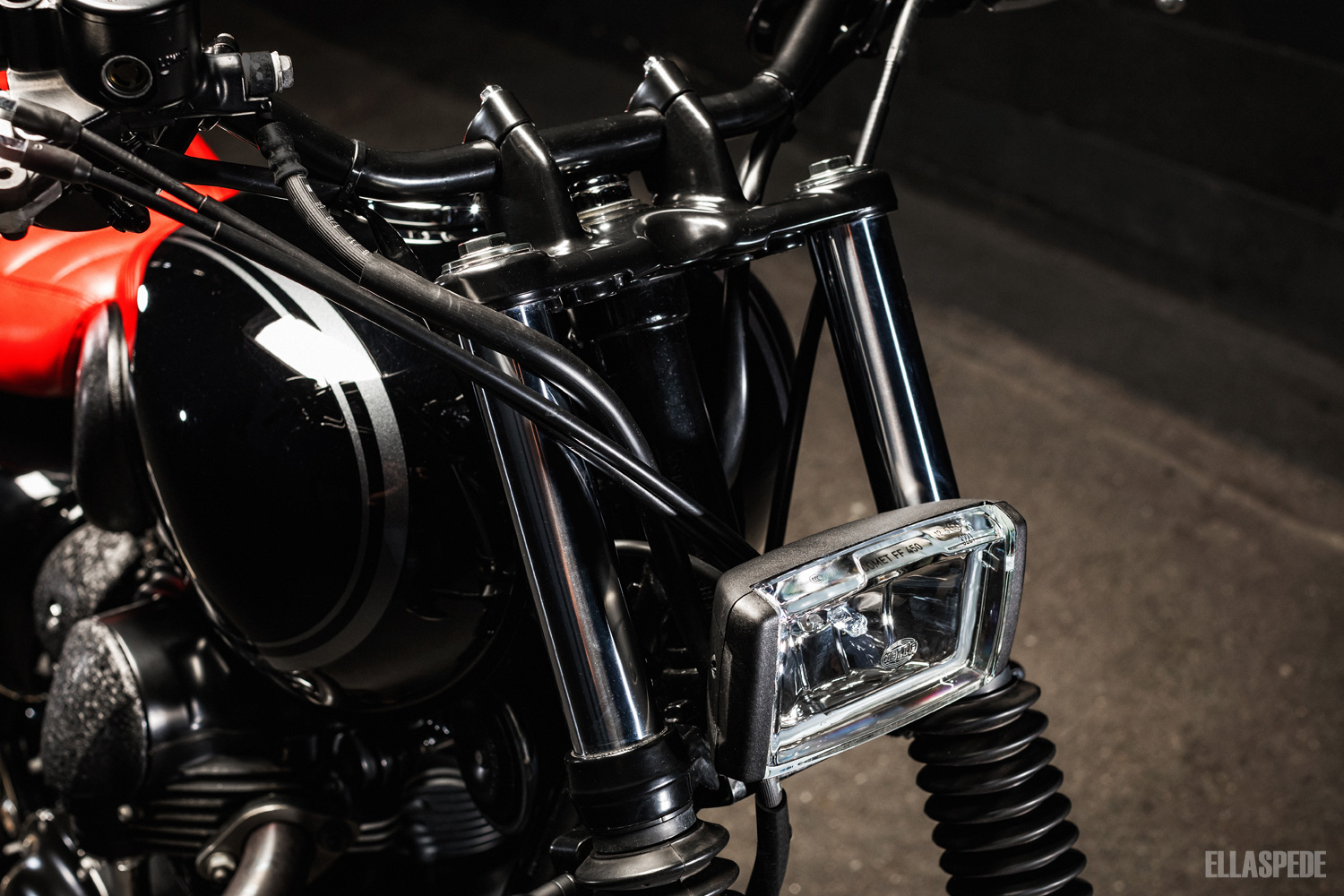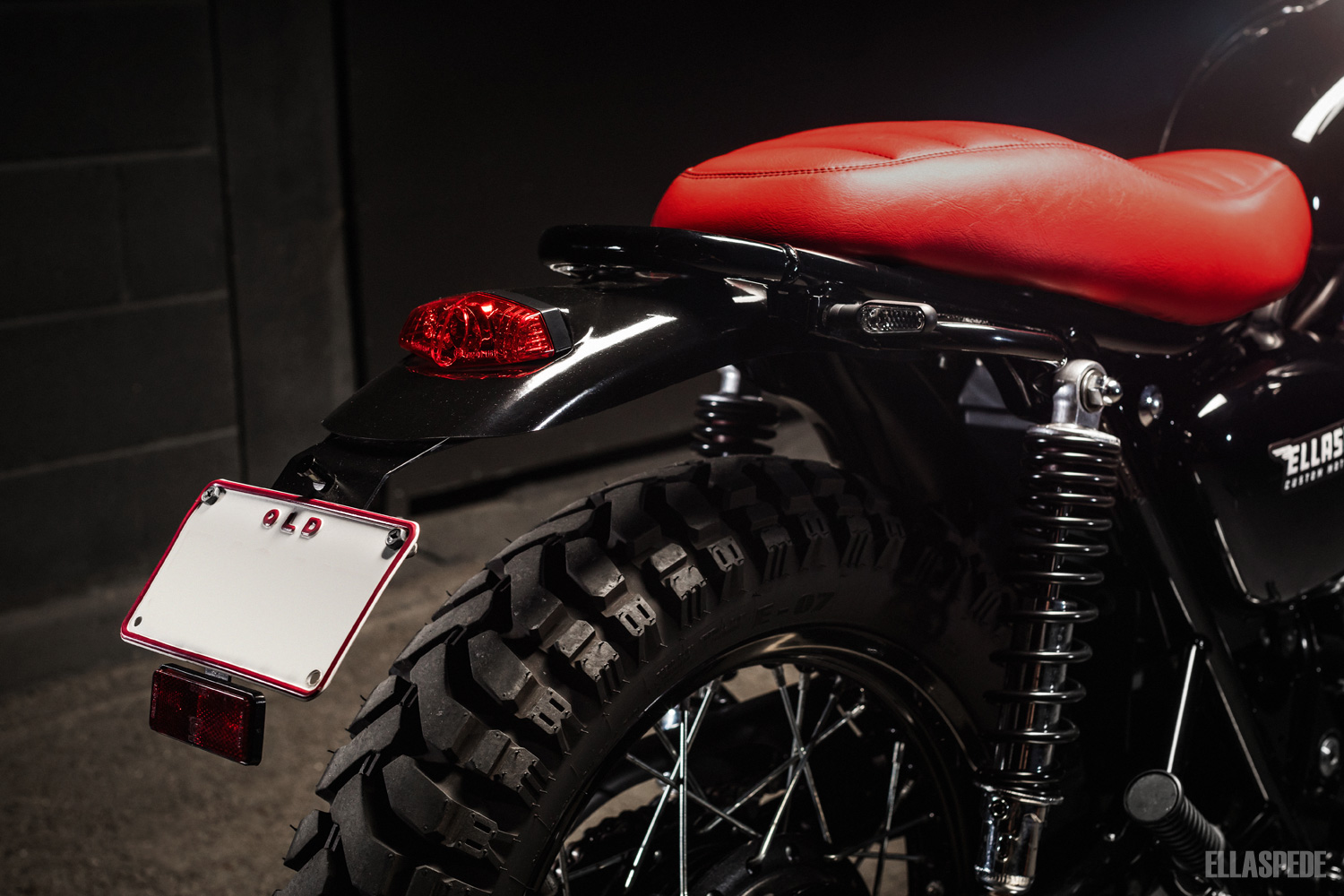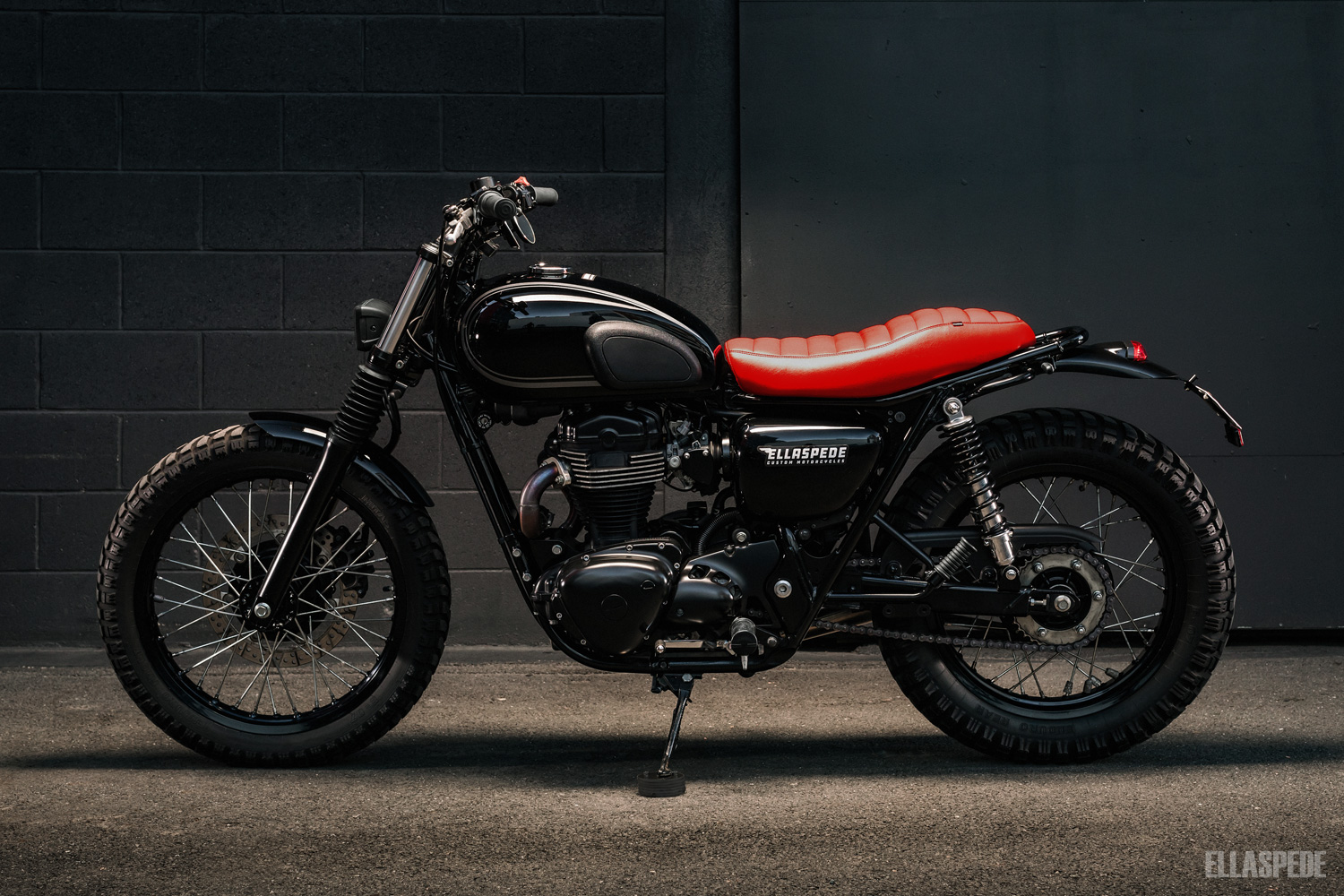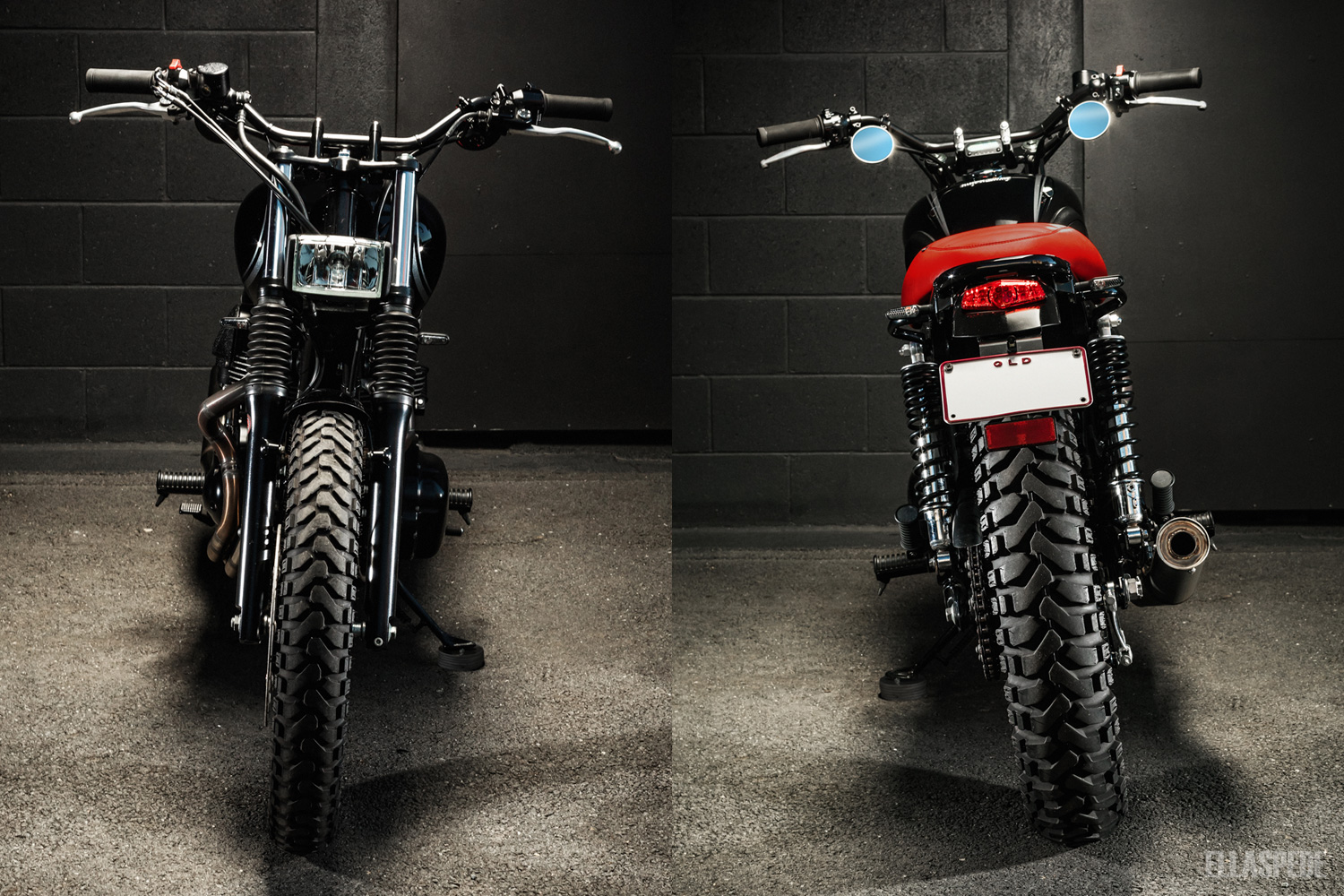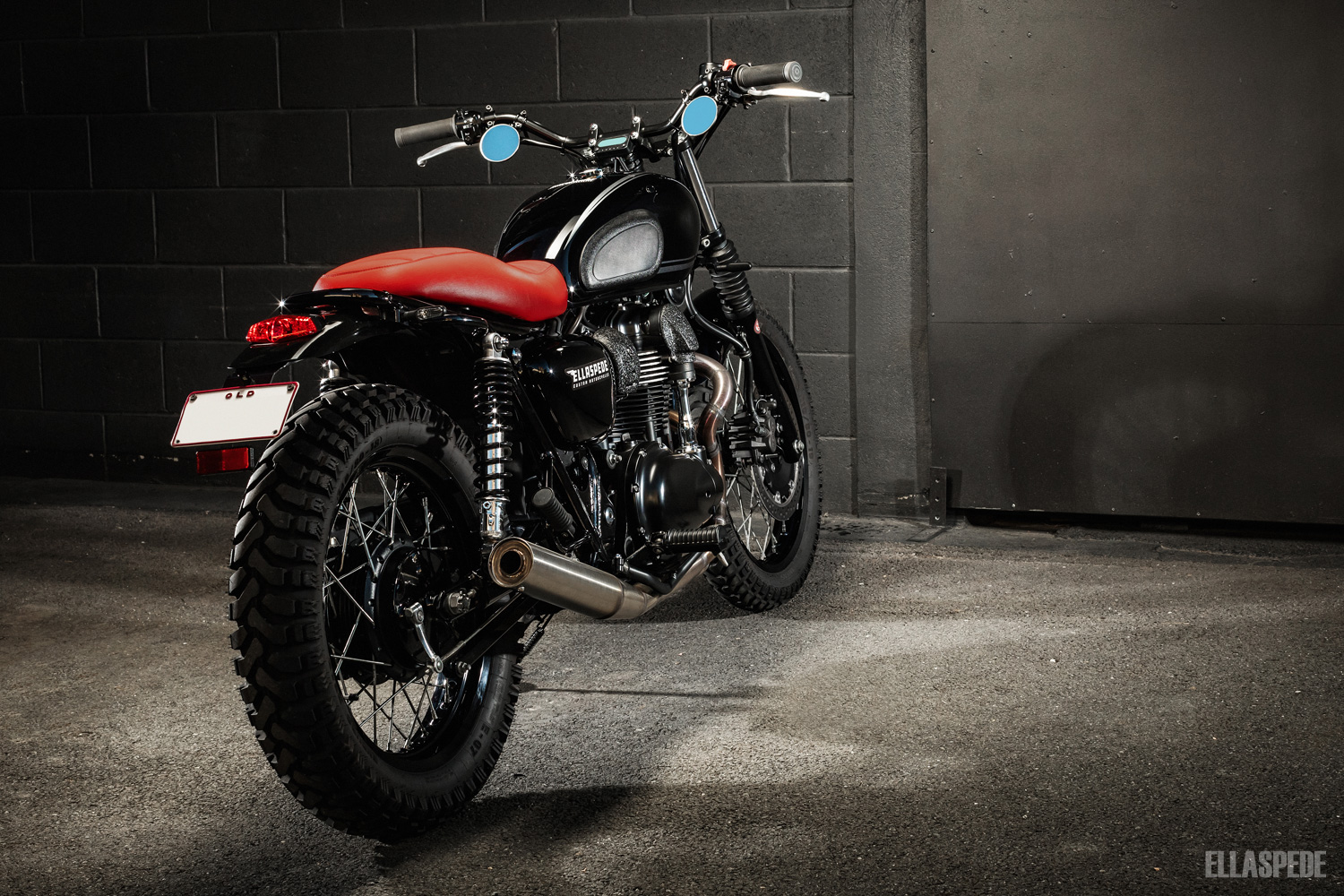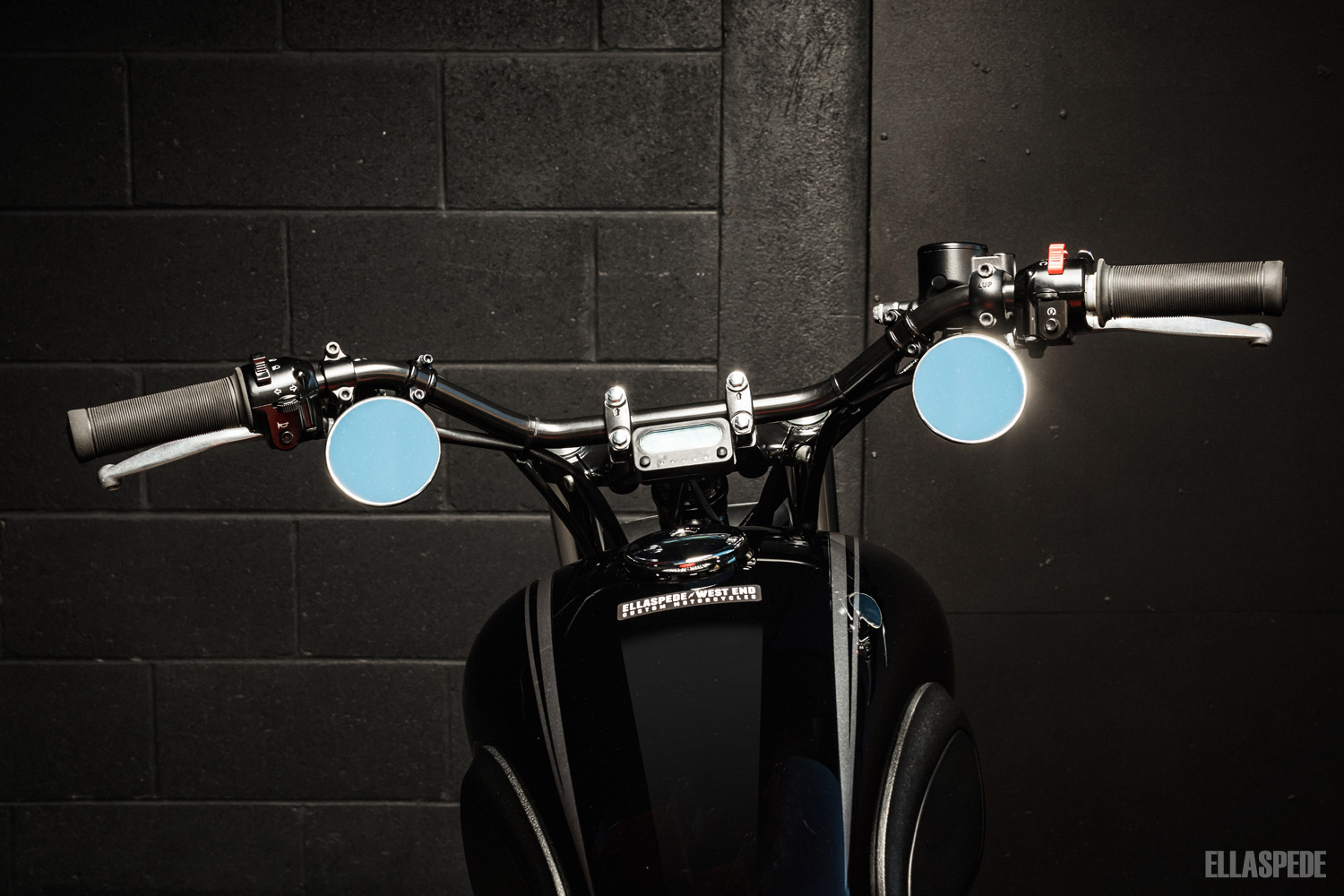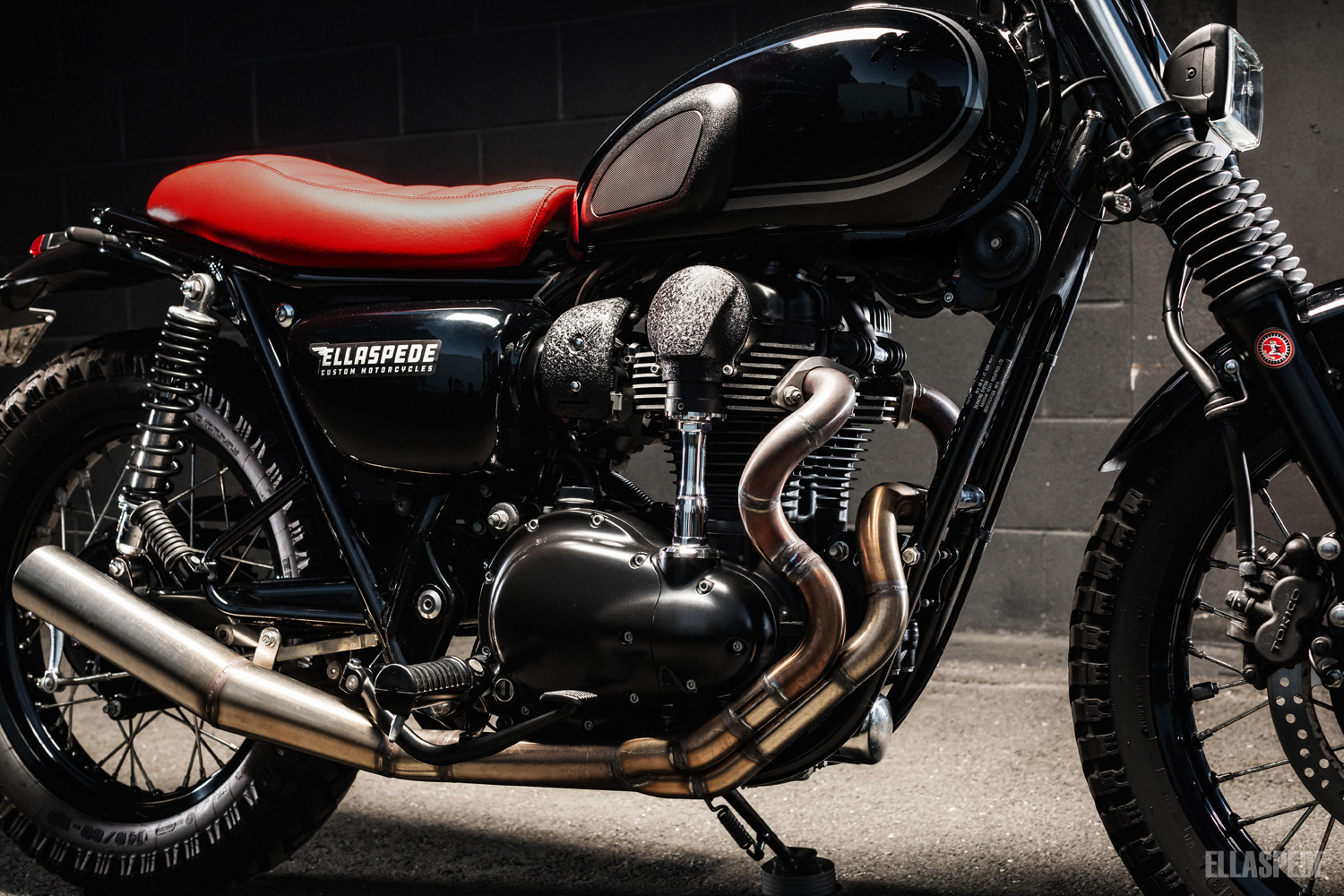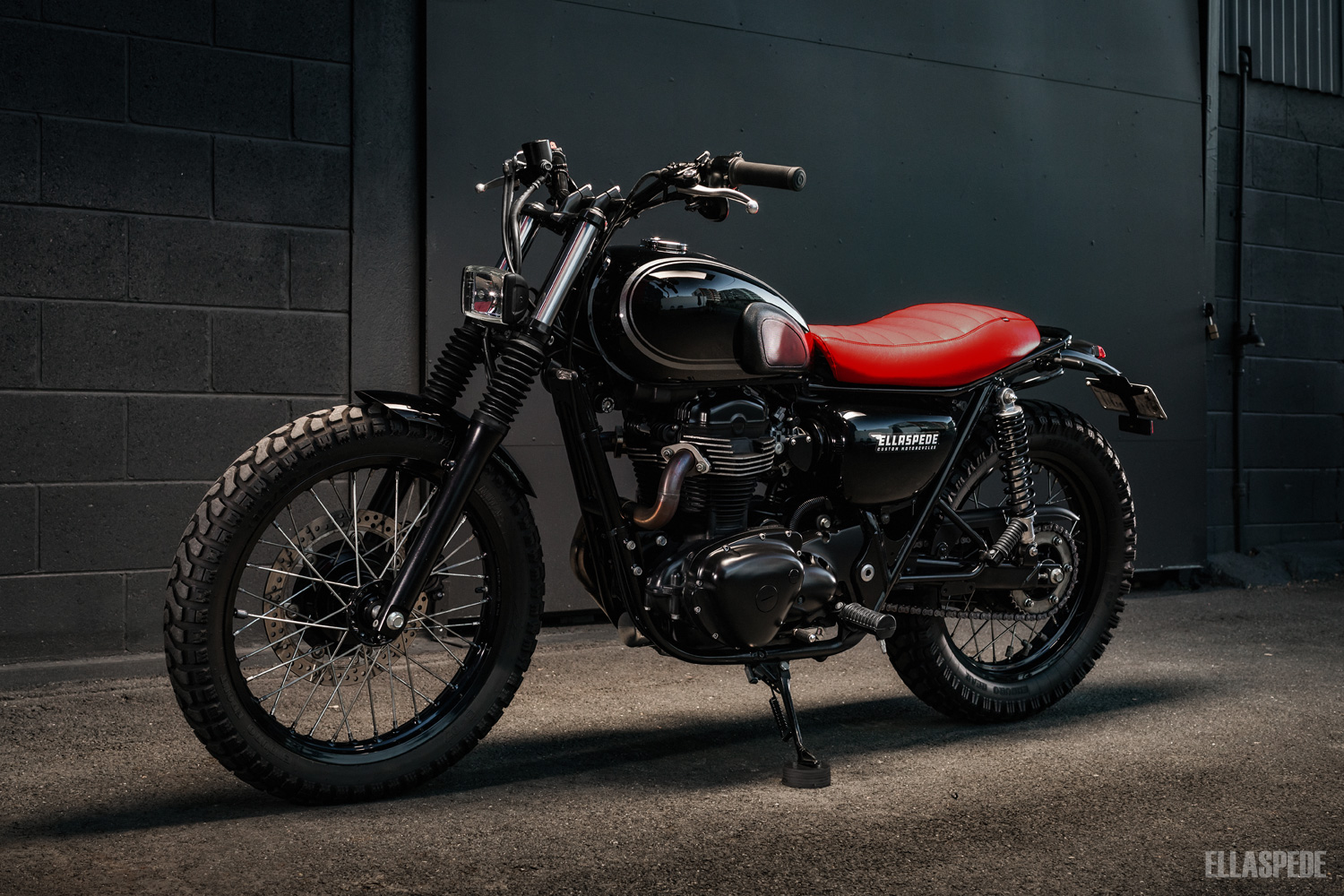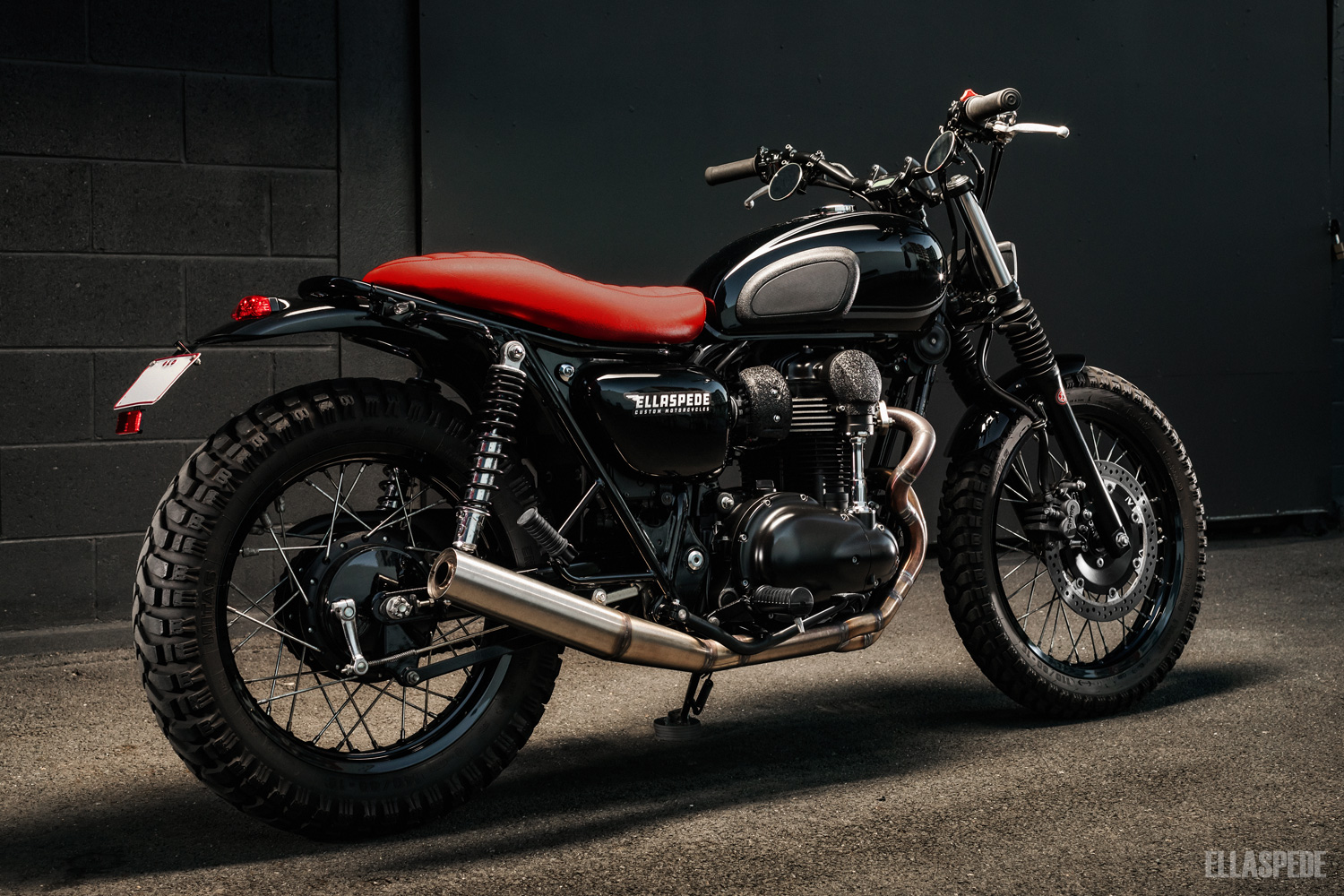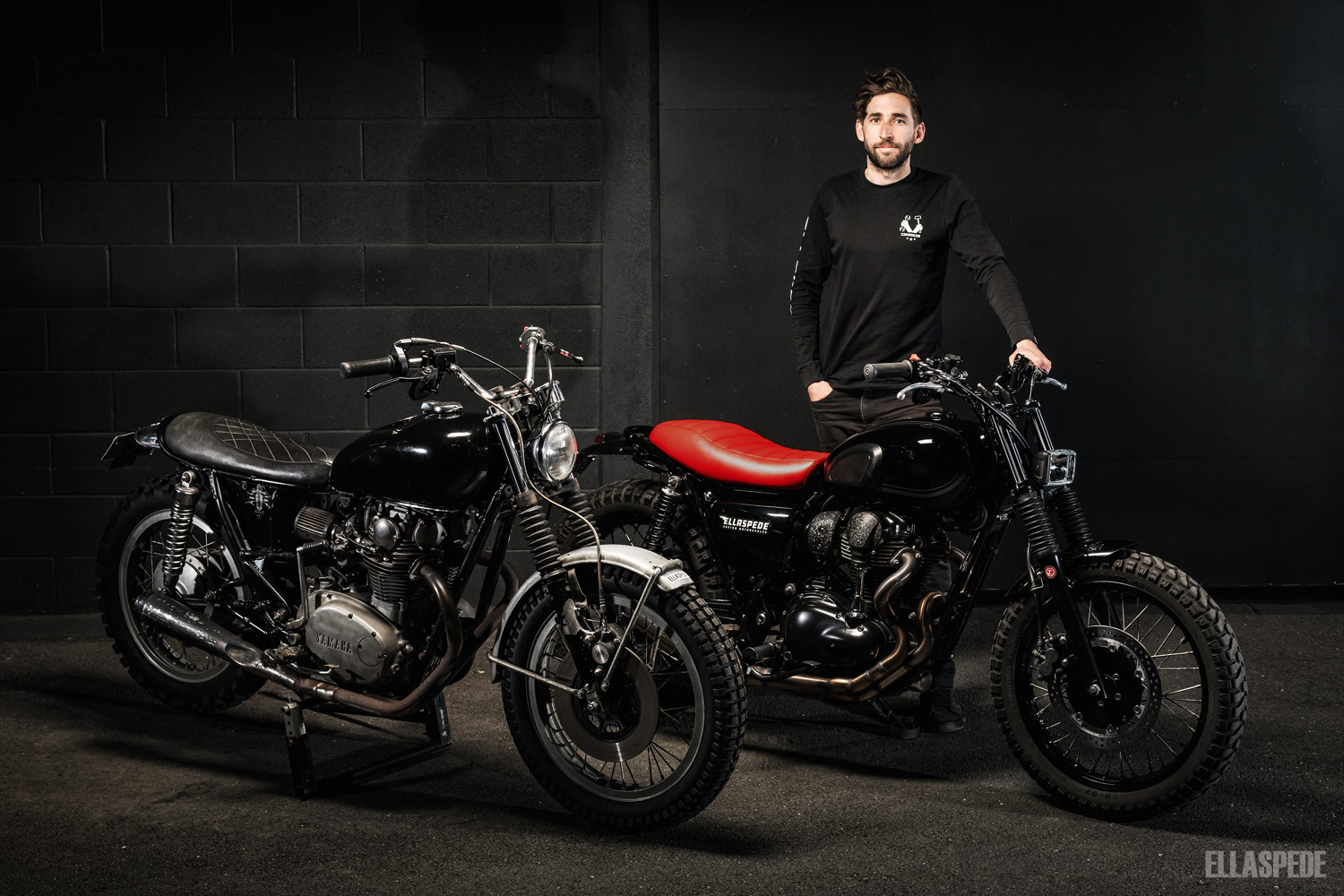 ---
Albums we listened to during the build of this bike:
---
Photos:
---
---
Comments (6)
Tyres

By:

Dave Gaynor

on 17 February 2021

Just picked up a w800 and was looking for inspiration....... Just found it! Amazing build, looks so cool. Just wondered what tyres you're using? Thanks in advance..... Stay safe Dave





Ellaspede Response
Cheers Dave, we're glad you like our build. Good to hear you have a W800 too. The tyres are Mitas E-07's in 110-19 front and 140-18 rear.
---
Very nice Hughan

By:

Kurt

on 13 November 2019

Looks great, I'm a bit late to the viewing....Kurt





Ellaspede Response
Thanks Kurt! As with any good project there's still some changes in store :)
---
She's a beauty Hughan!

By:

Ness Norimi

on 22 February 2019

I'm dead impressed with your bike mate, you must be stoked! You'll have to teach me how you modified the Hella spotlight- its hip to be square. You looked very cute in your photo by the way ! Enjoy the admiration, Ness Norimi.
---
All this in a reallygood way.

By:

Noel

on 22 February 2019

Love the red seat. Like scarlet lipstick on a beautiful woman.
---
street scrambler

By:

mark cowell

on 16 February 2019

just wanted to say nice build, love the minimalist look. twins rule! ride safe.
---
Pipes to die for.

By:

Noel Foley

on 13 February 2019

Beautiful fliavour all round. Two surprises for me. Red seat instead of the usual, common brown is gutsy but works a treat. Second gutsy move is the rectangular headlight. I never liked em in the past on any bike. They remind me of fondue parties, prawn cocktails with thousand island dressing and green ginger wine. But guess what? Now I see the light. They really are cool in the right context. Congrats Hughen. Shit hot desgn mate.
---
Leave a comment