EB141 – 2014 Yamaha XT660R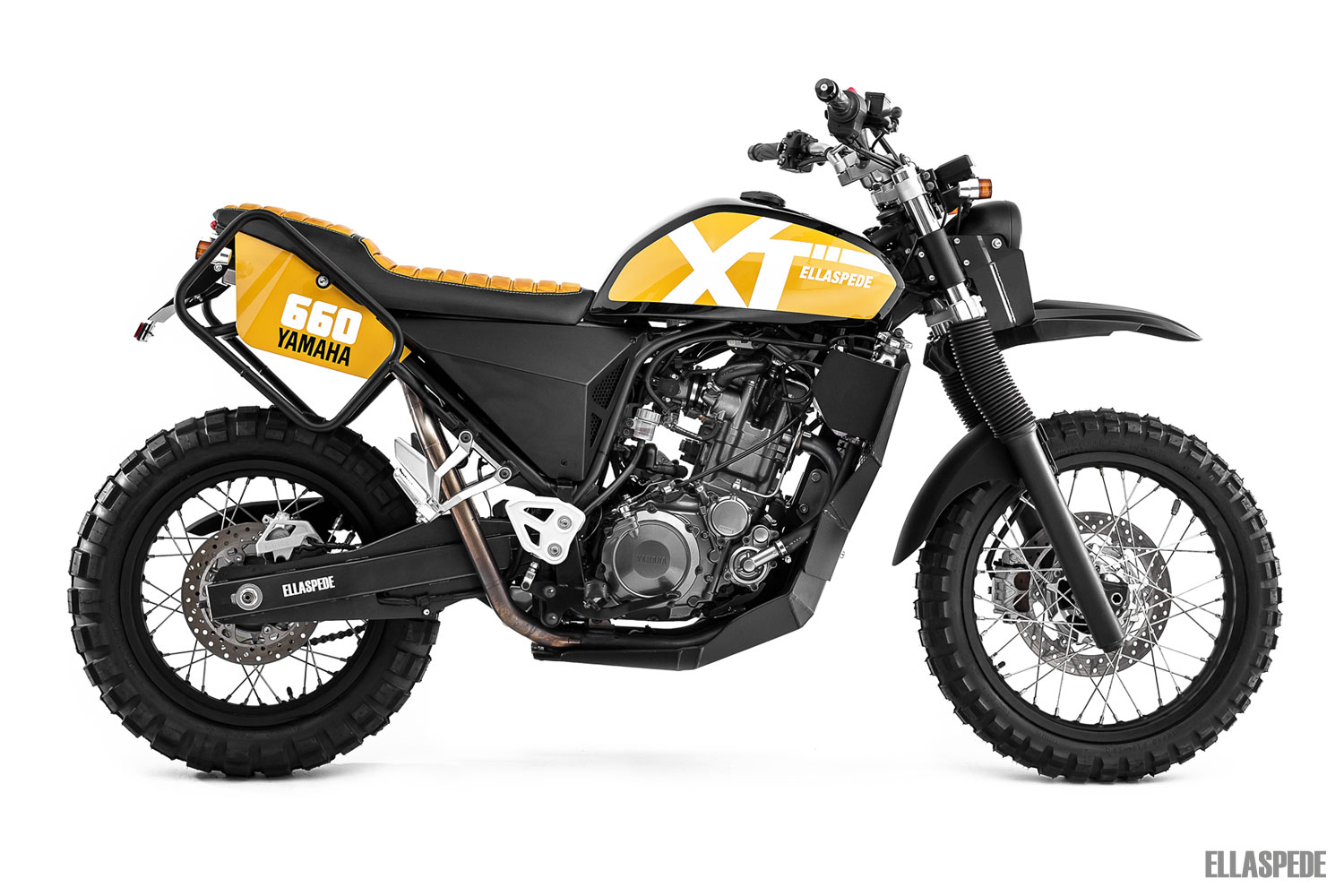 The value of an after-build shakedown cannot be underestimated as it highlights any usability or under-engineering issues. Although occasionally time doesn't allow for rigorous and thorough testing in all conditions, with our latest build being a prime example…
We've previously built a bike for Rick, a lovely little 1963 VBB Vespa.
This little guy packs a punch and is great for whipping around the local area or dropping into a cafe, but Rick (like many of us) wanted a bike that could take him further afield. After some searching and reasoning, Rick decided on a brand new Yamaha XT660R.
The XT has a long history and a good reputation as dependable and capable semi-off-roader, so it was a solid choice.
He had already discussed the possibilities of modifying the aesthetics with us, so when he rolled it in we had a good grasp of the task ahead. What we weren't totally aware of was the timeframe for an up-coming ride he'd planned… things became interesting as the deadline loomed.
The directive was Urban-Adventure as the bike will mainly be used as a commuter, but when Rick decides to head out of town, he wanted a vehicle that was still functional and capable of going the distance.
An aggressive, faceted aesthetic with a bold colour-scheme describes the custom bodywork which includes a custom aluminium fuel tank, side panels, radiator shroud, headlight shrouds, belly pan bash plate, rear side panels, licence plate mount and swing-arm panels.
A custom seat upholstered in a combination of yellow-mustard kangaroo leather (inspired by our Ellaspede Kangaroo wallet) and black UV vinyl also continues the style cue.
The bike was lowered slightly to better suit Rick. This was aided by lacing on a 19″ front rim instead of the standard 21″.
Re-routed stainless exhaust pipes exit under the seat via a custom stainless collector / muffler with a polished aluminium CNC'd tip.
Custom pannier racks were bent-up and powder coated to marry the Kriega ADV luggage platforms and Roto-pax fuel / water tanks with the XT's rear.
A 12-LED strip taillight and Posh Chamfer indicators help alert others on the road, whilst a six inch side-mount headlight helps Rick with the night-time fun.
A USB power socket was added to run Ricks phone and sat / nav equipment when he's far out and about.
The above features are all good-and-well but with that looming deadline fast approaching they became quite an onerous task.
Rick had organised to ride across the Nullarbor plains which stretch East to West across the southern part of Australia. Work commitments had him in Adelaide on a certain weekend, so this was the date the bike had to be ready to go on his 2700+km safari.
Our workshop is in Brisbane, Queensland, some 2000 km from Adelaide. The idea was to freight the bike down to Adelaide for Rick to collect and set-off. Unfortunately due to our tight build time- frame sending the bike via truck wasn't an option. We considered an array of transport ideas, which were limited and pretty-much came down to riding the bike to Adelaide… which was almost a crazy thing to even consider… who in their right mind would take on such a task???
The bike rolled out of our Brisbane workshop on a Friday afternoon about 4pm with our trusty self- appointed test pilot 'Bruce' on-board. It had to be in Adelaide for Sunday morning… so, about 36 hours.
Ok, so 2000km in 36 hrs including sleeping, eating, fuel stops and repairs etc, on a largely untested custom bike, after having worked all week, you start to get the idea of what lay ahead for Bruce.
Long story short (and there were plenty of stories), he made it in time and handed the quickly run- in XT660 over to an eager Rick, ready for the next leg of this odyssey.
The bike Bruce handed over wasn't quite the same bike that left here 36 hours prior and this brings me around to the theme that started this rant… "The value of after-build shakedowns cannot be underestimated".
Well Bruce certainly tested this custom Yamaha and Rick continued the abuse on and off-roads. You could tell the XT was a well sorted bike in itself because it came through with flying colours.
The sustained abuse of a trip like this broke some parts along the way. The trip soon became quite a noisy affair when the exhaust baffling departed, but through all the trials Rick enjoyed his southern-state safari and it gave us a very clear understanding of the strengths and weaknesses of our build.
Upon returning to Brisbane the bike has since had a pull-down, clean, refurbishment, paint and reassembly that brought it back to the condition you see here.
I don't think we'll have the luxury of that sort of shake-down again (don't think Bruce or Rick thought it was that luxurious) but it did remind us of the importance of our usual testing procedures.
After all was said and done, Rick finished up with a well tested urban adventure bike and a great story to tell. We know it wont be the last adventure involving this XT, so we look forward to hearing the next tale of travels with less parts departed.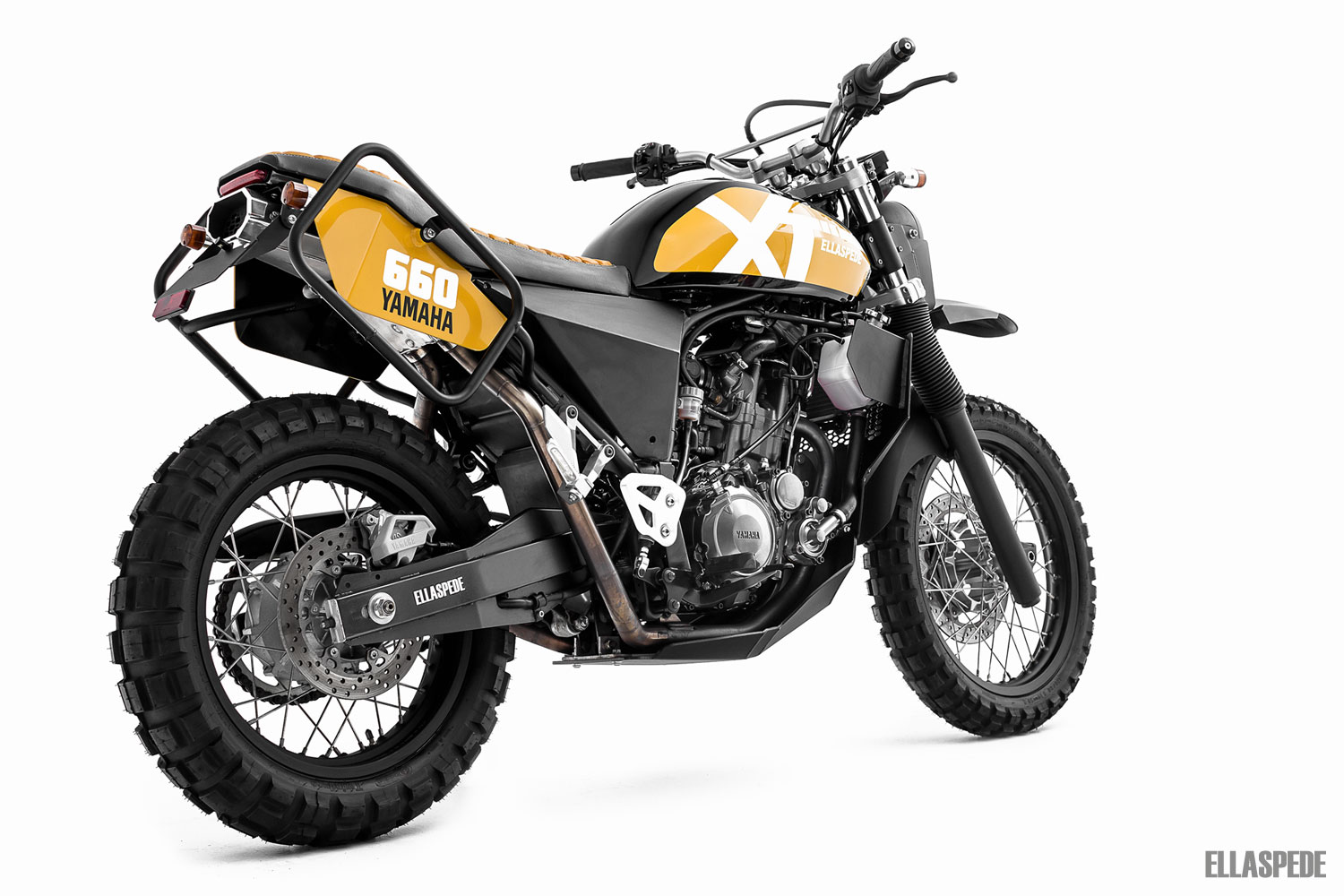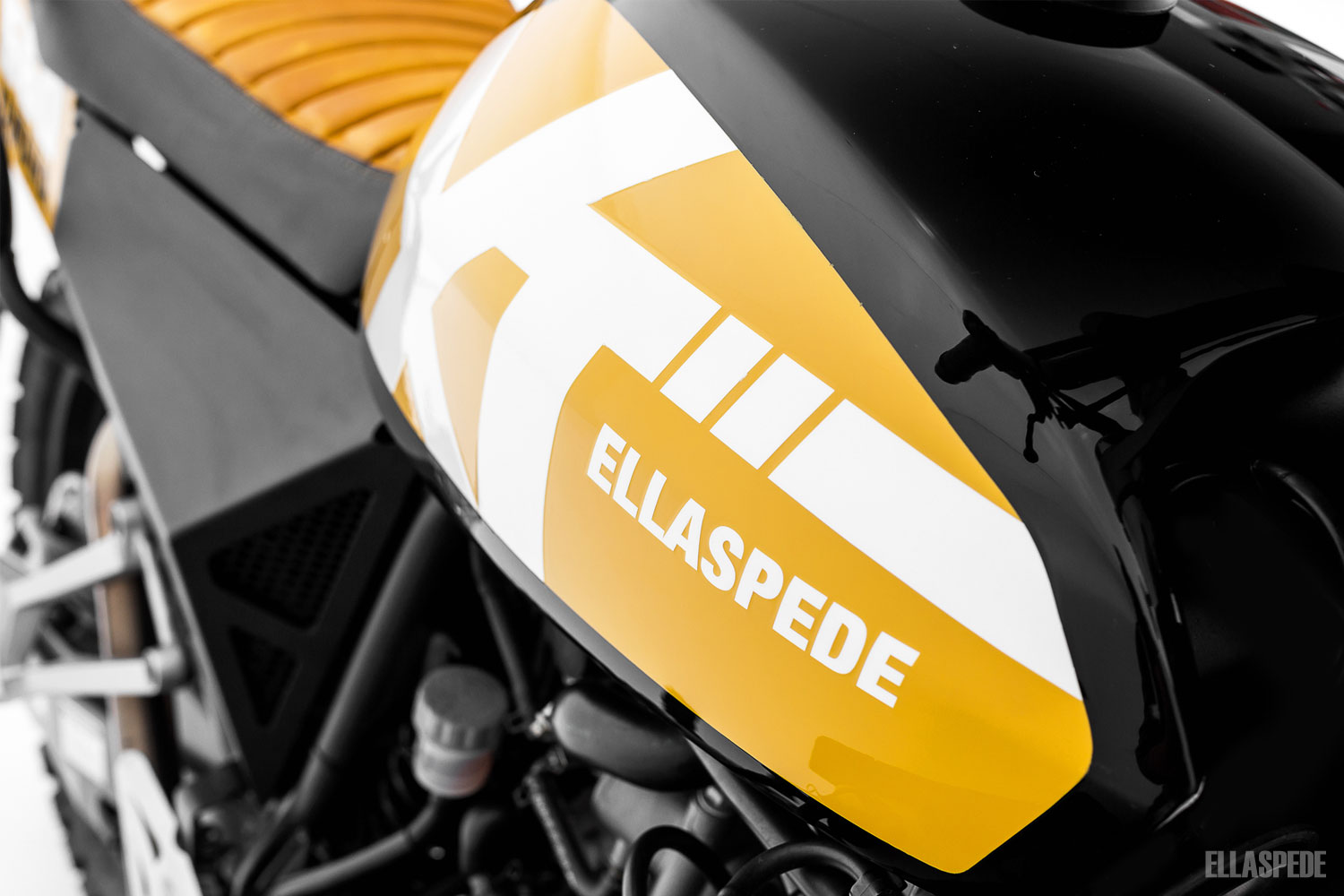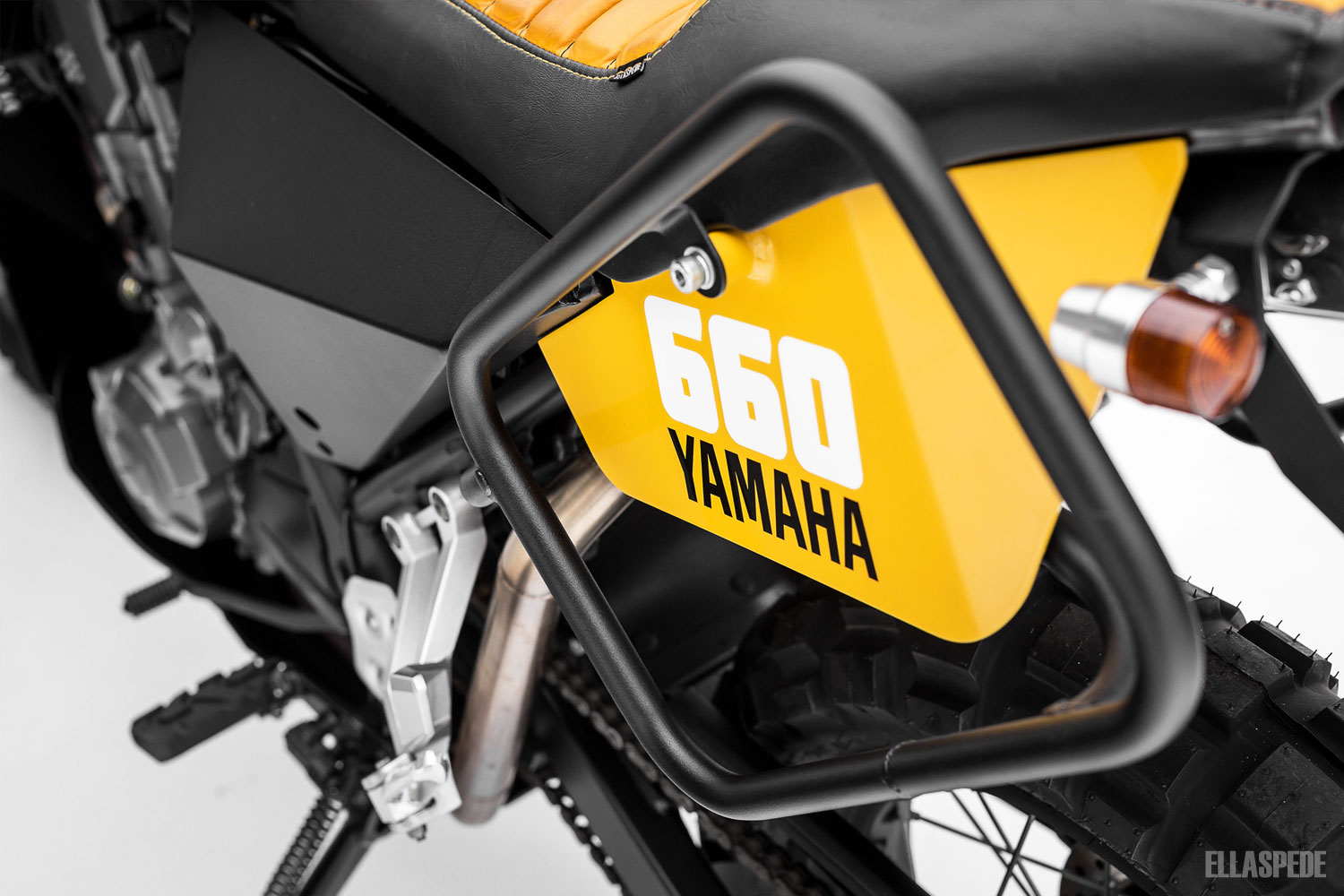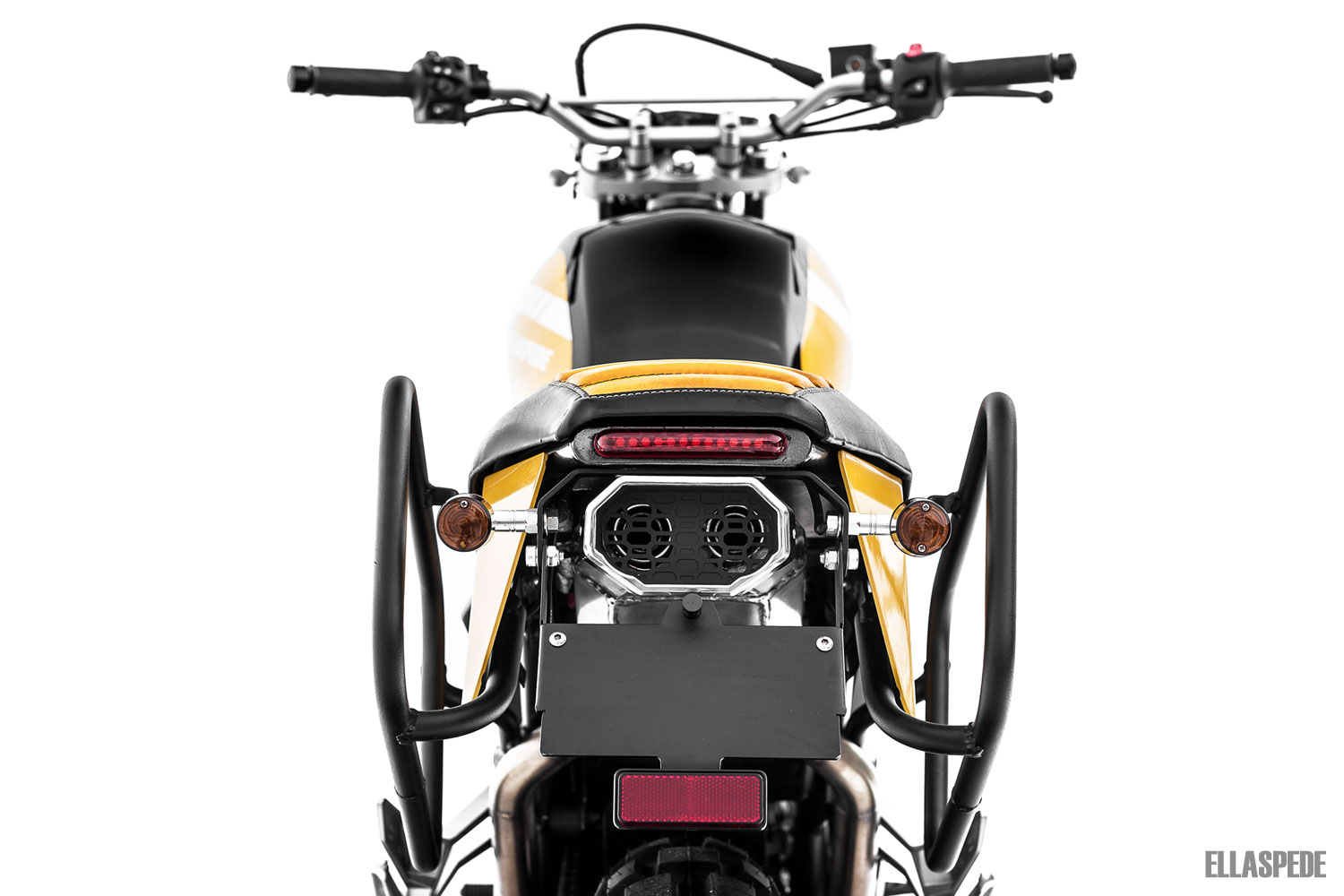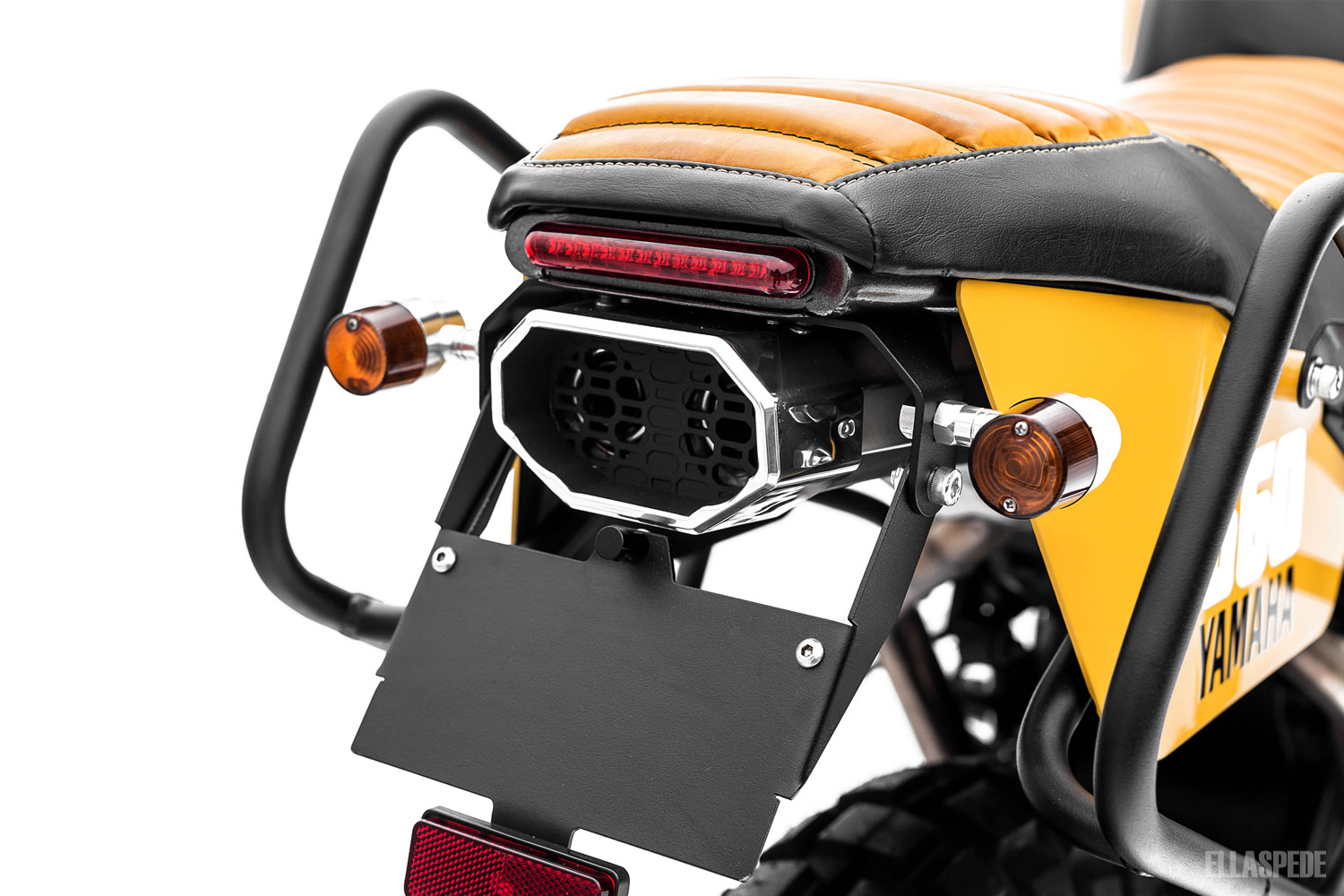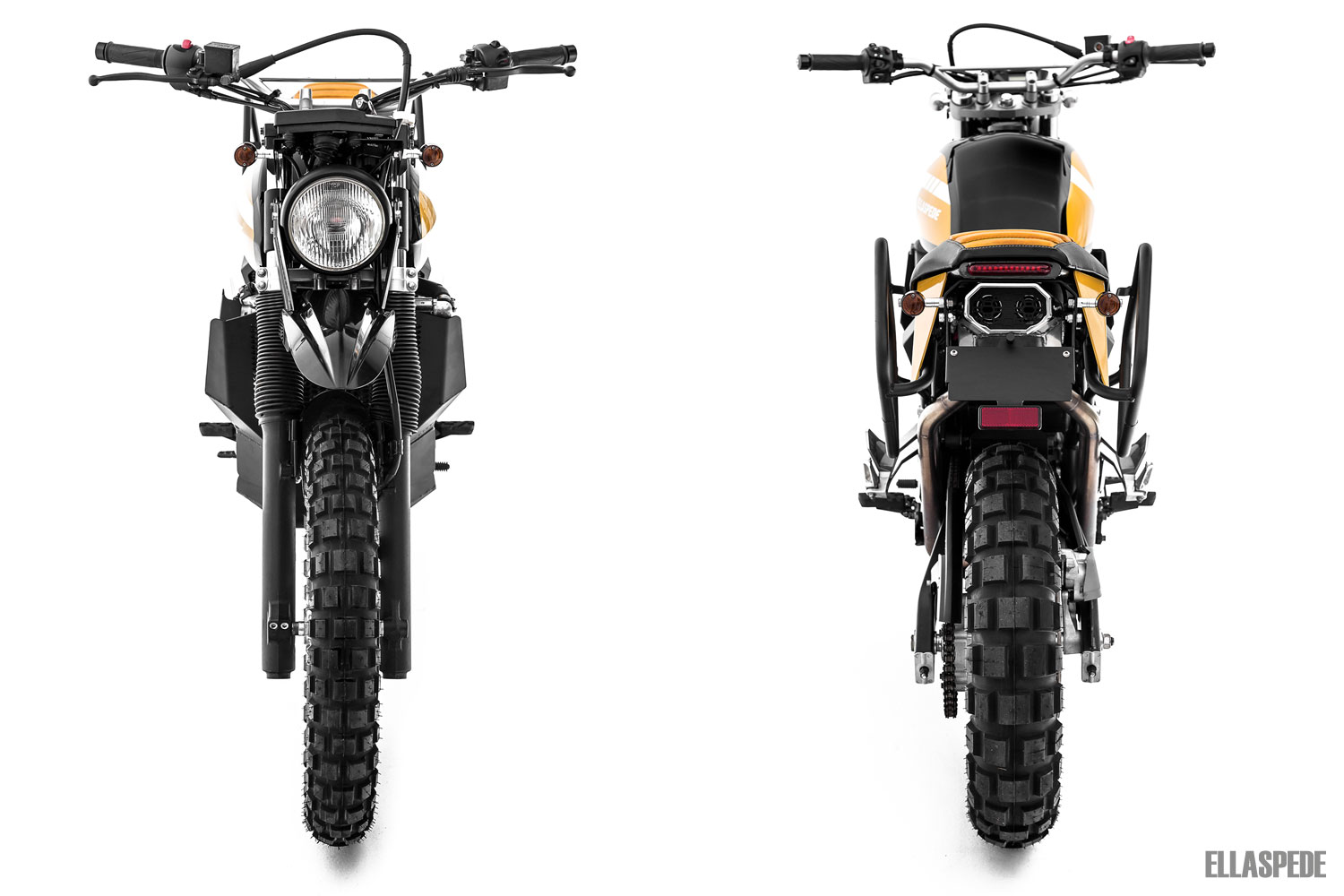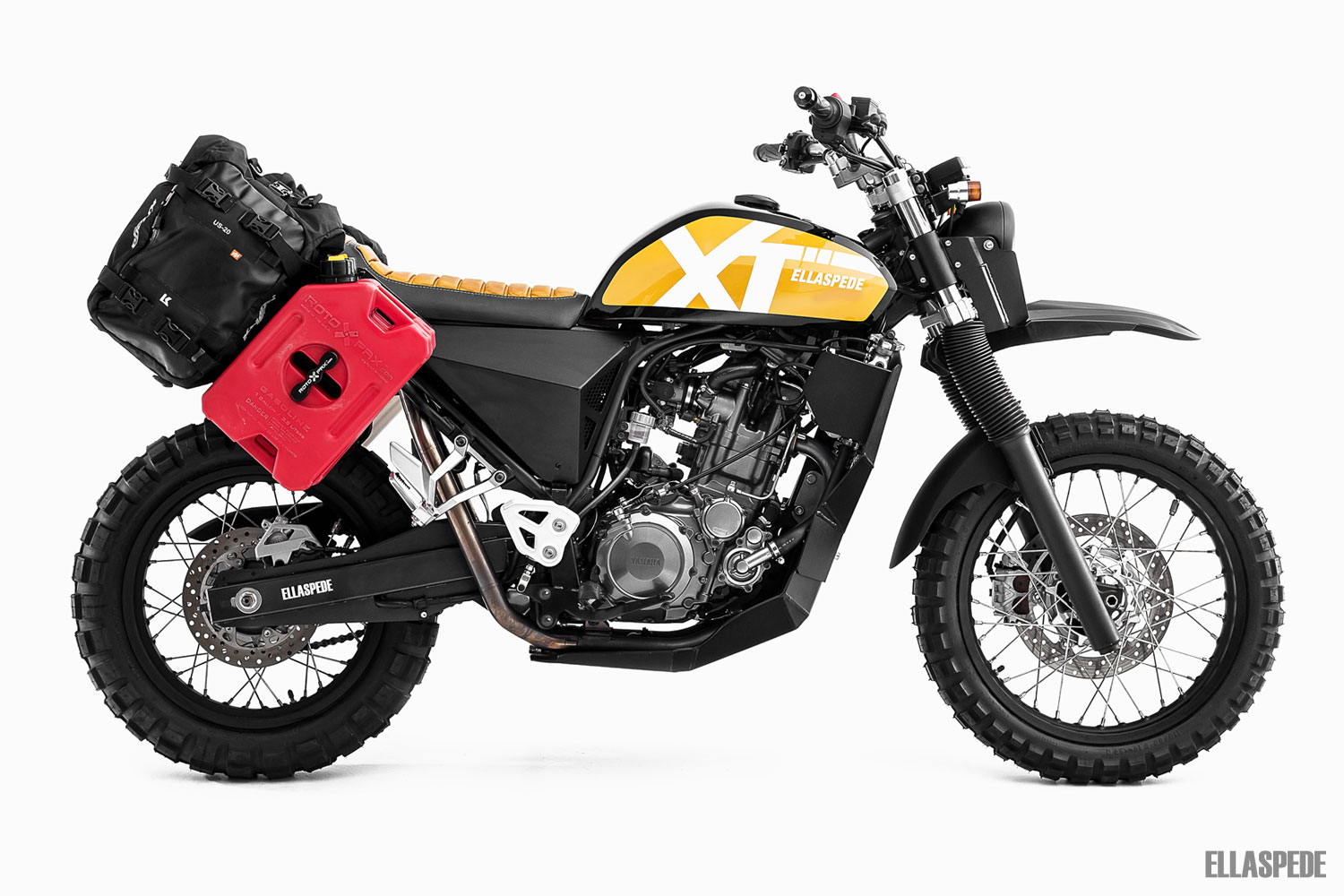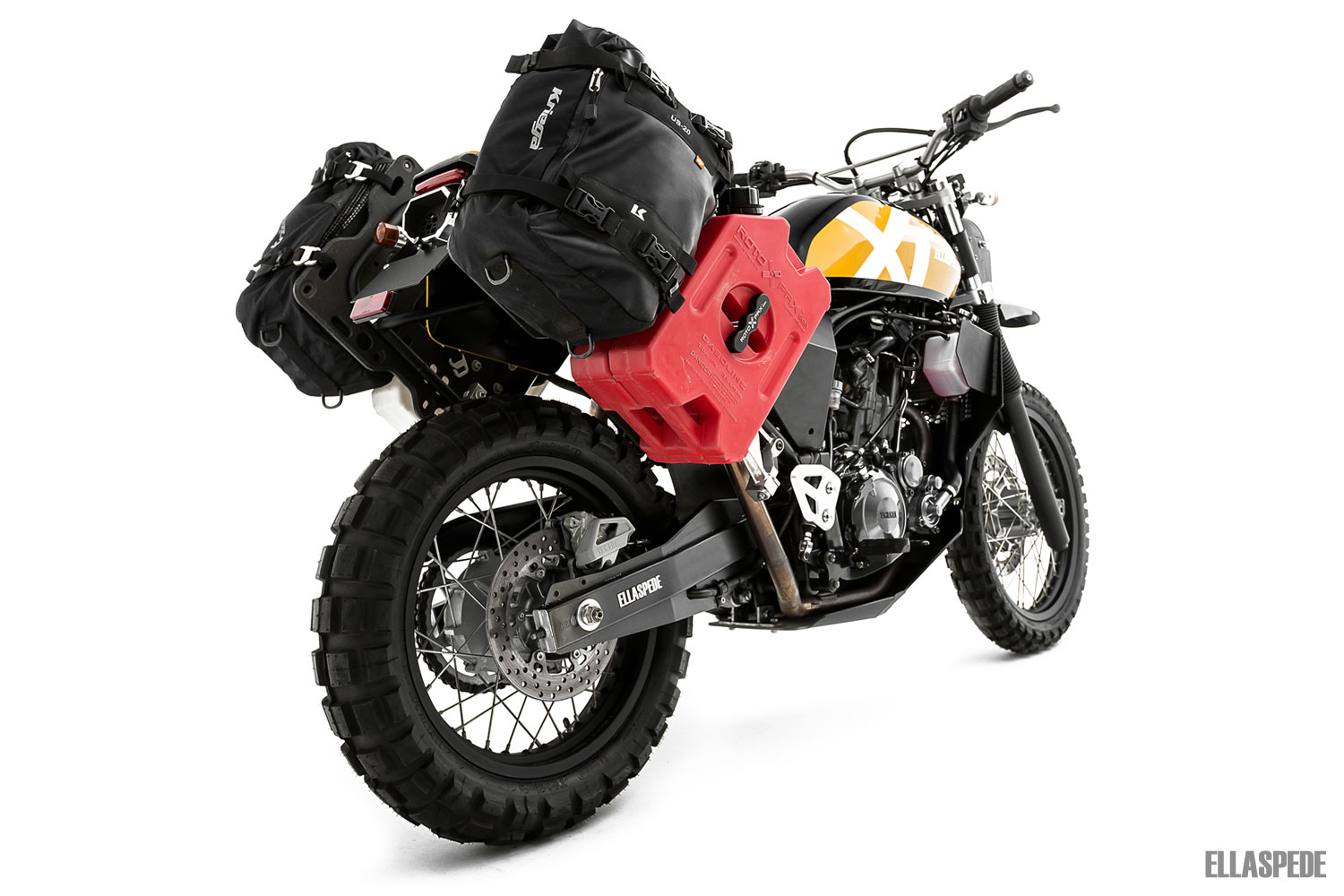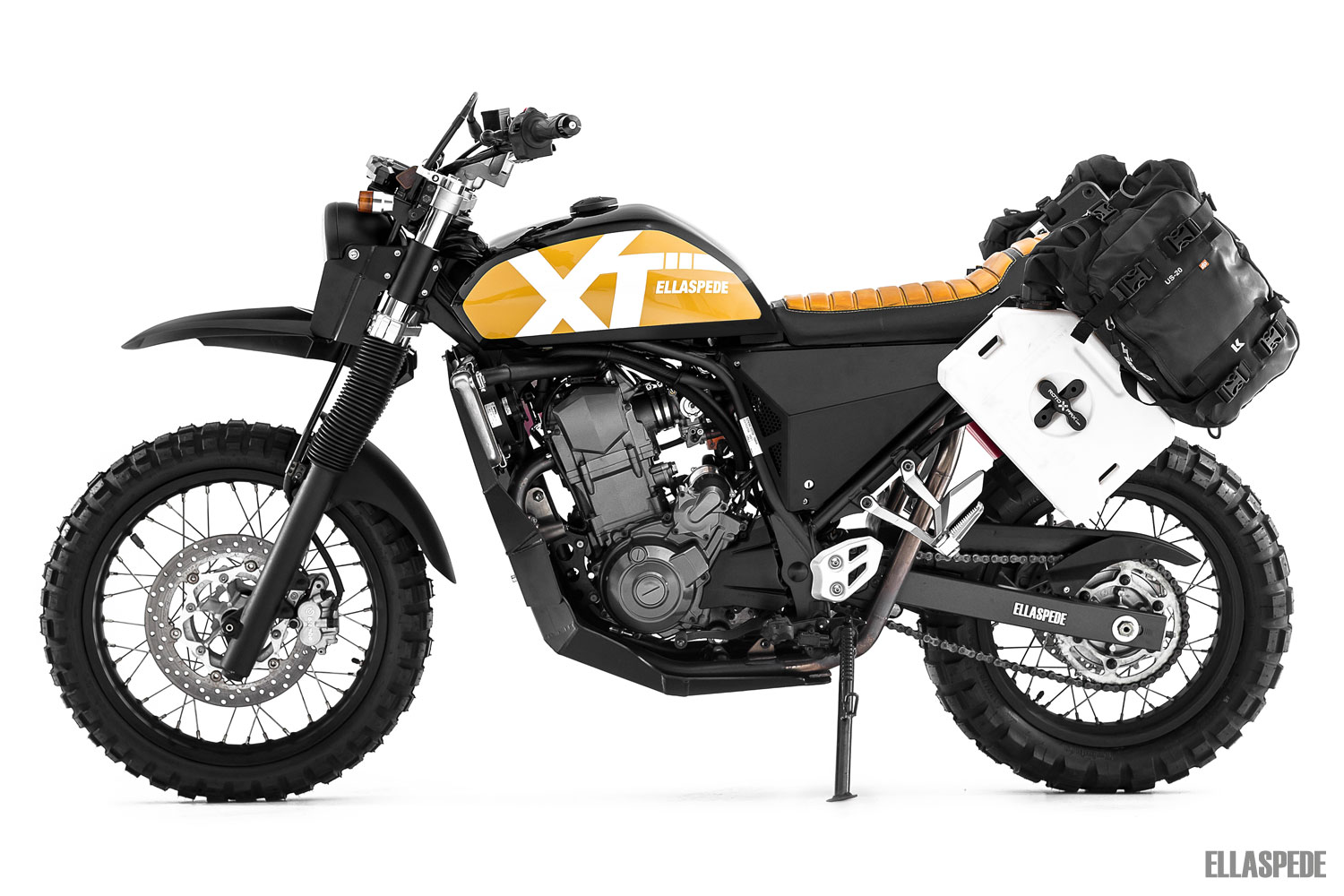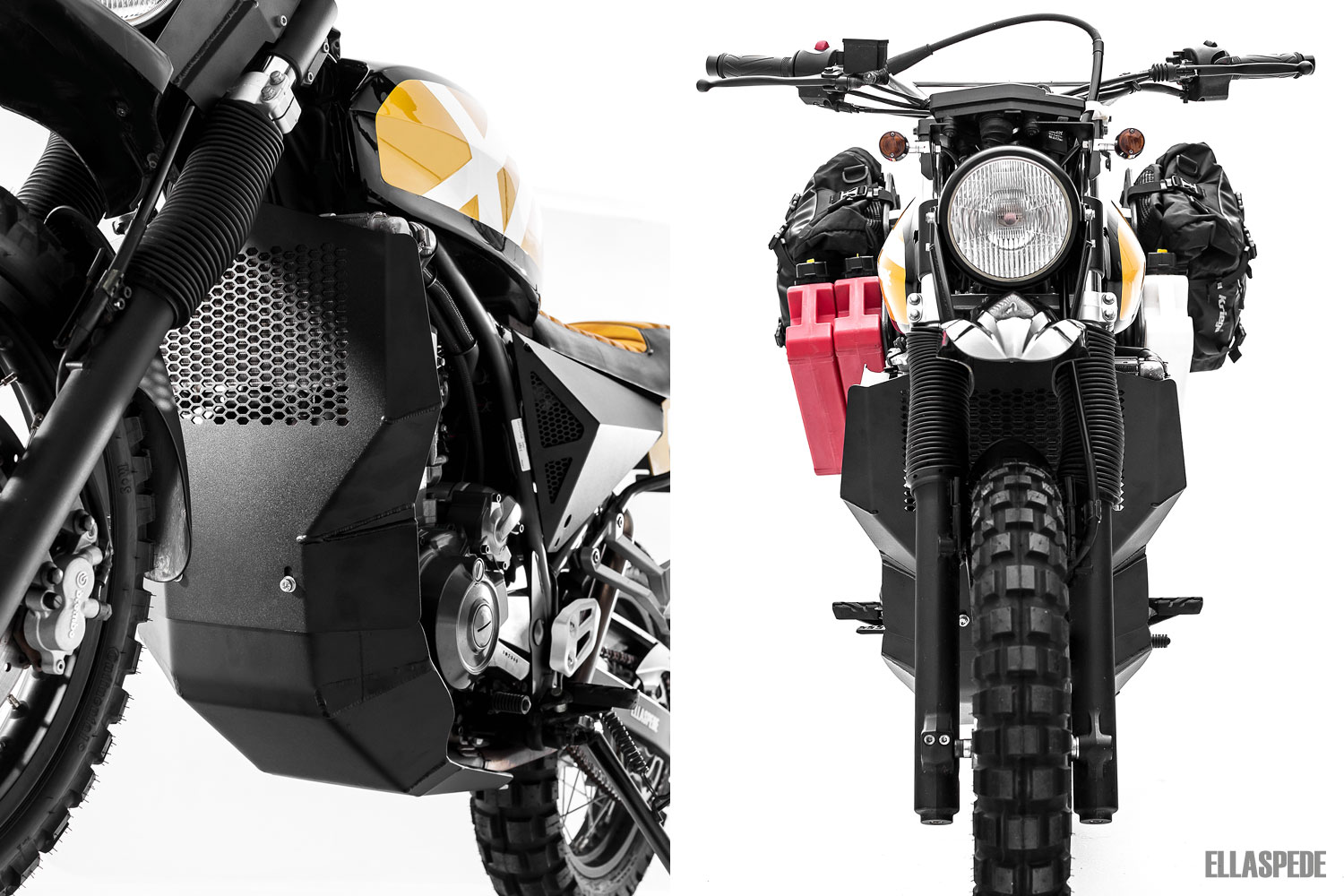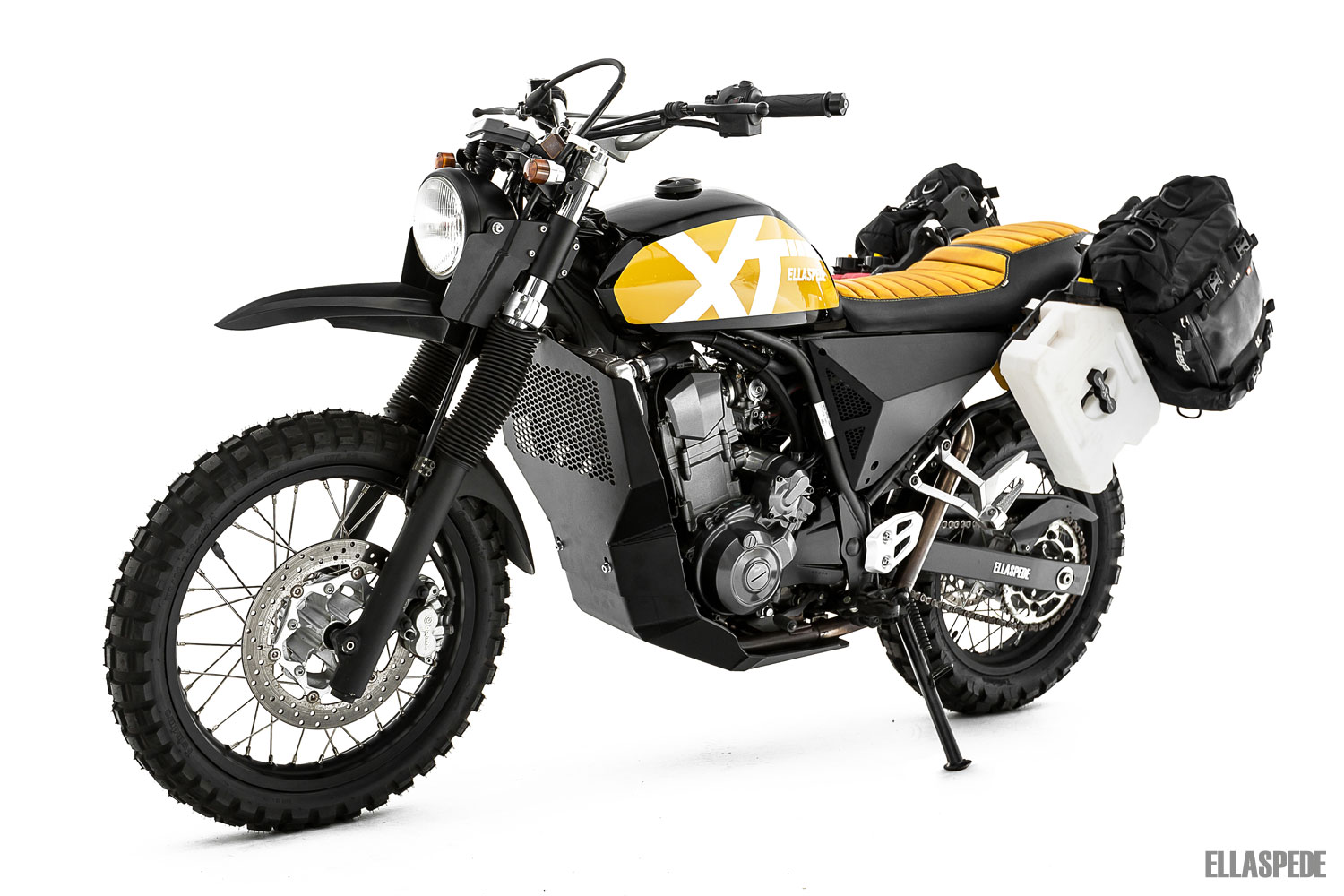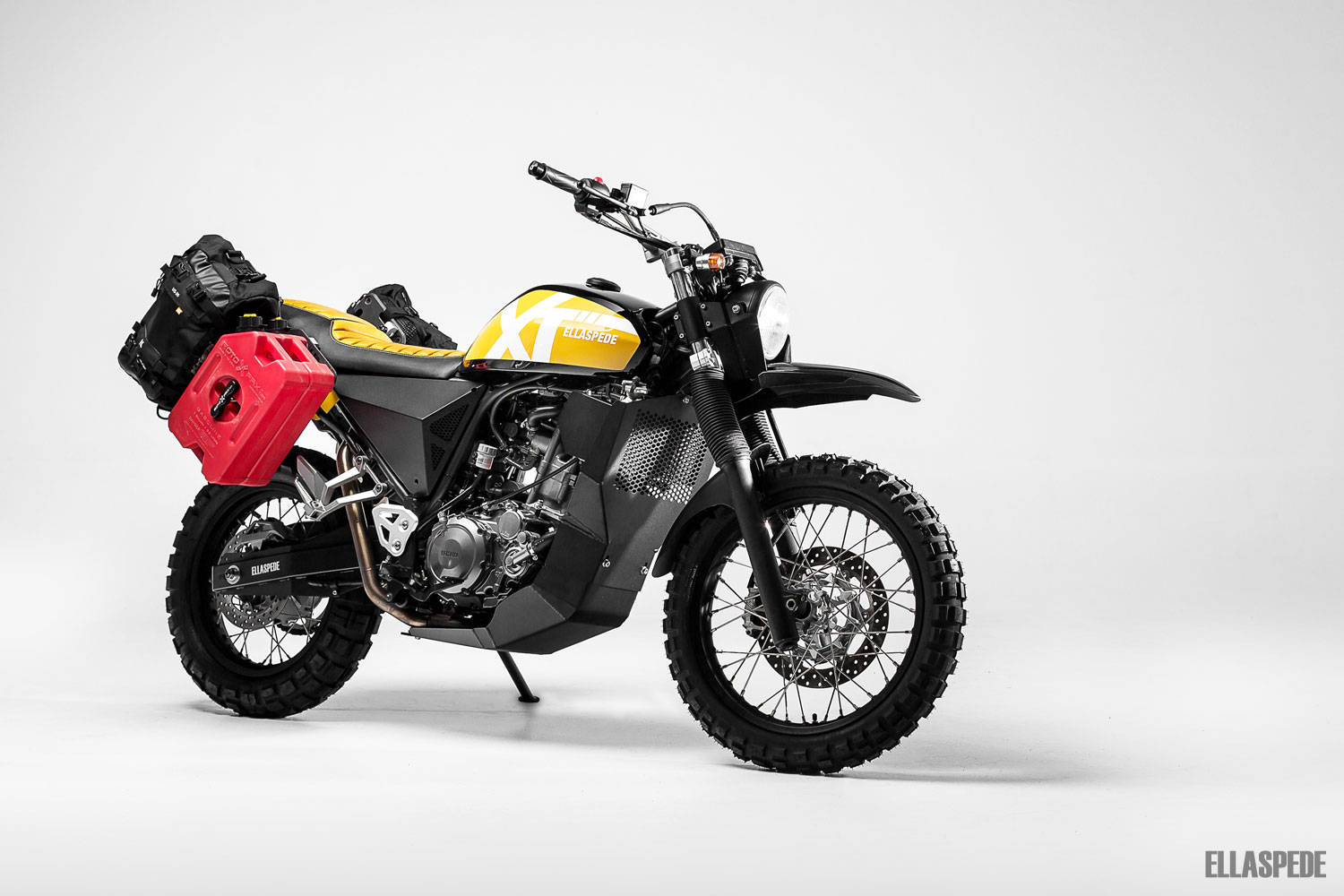 Albums we listened to during the build of this bike:
---
Photos and Features:
---
---
Comments (3)
Nice Bike.

By:

SİNAN

on 22 June 2020

Nice Bike. I love that when seen it. How I can get it?





Ellaspede Response
Hi Sinan, We're glad you like the bike mate! This one isn't for sale but we can build you something similar. Shoot us an email if you're interested. Cheers!
---
What a great build!

By:

Marco

on 10 November 2018

This Bike is …..gorgeous! Just brillant! I love that!
---
What a great build!

By:

Marco

on 10 November 2018

This Bike is …..gorgeous! Just brillant! I love that!
---
Leave a comment