EB533 – 2014 Yamaha MT09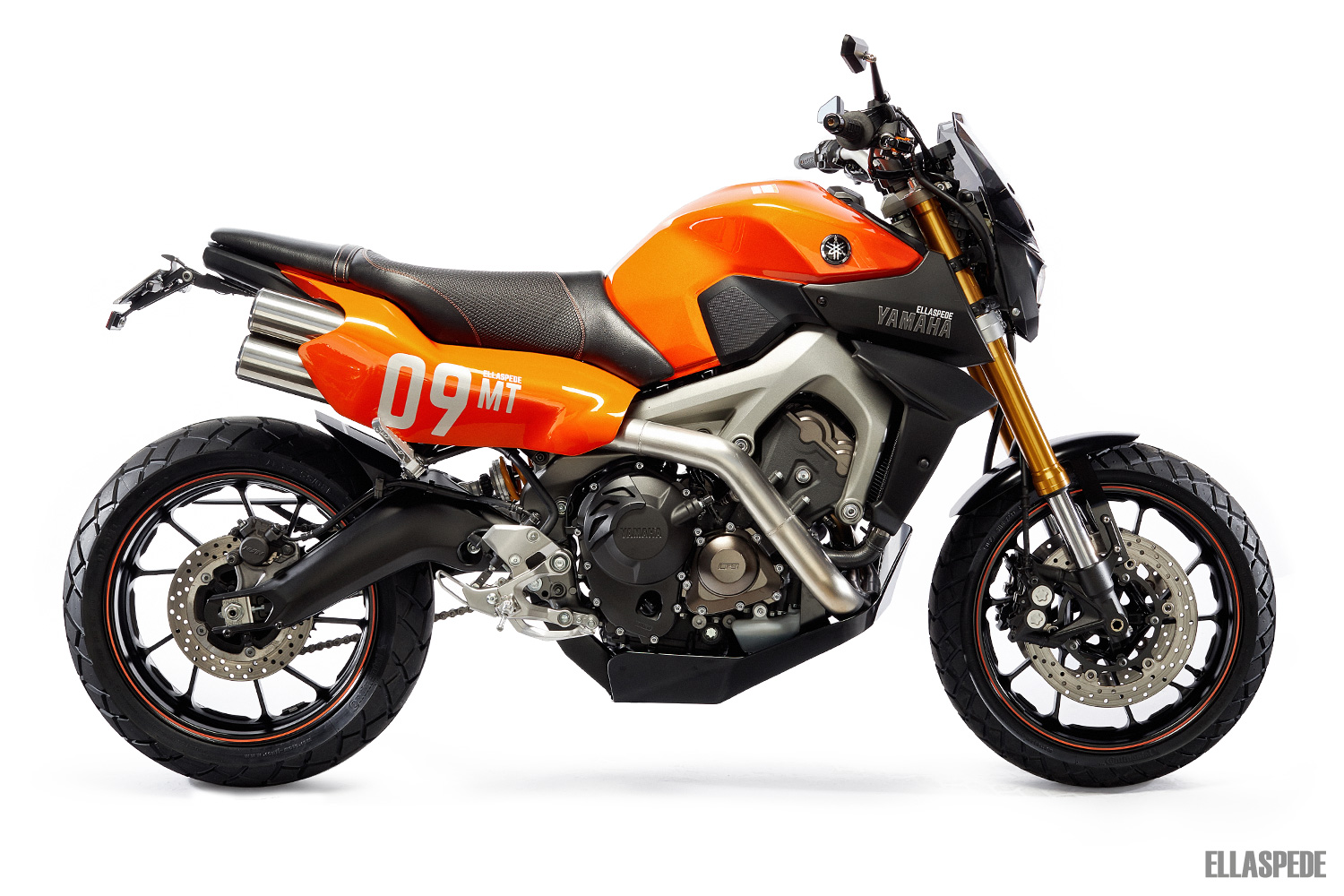 We've probably all bought things for one purpose and ended up using them for something entirely different than was intended… ever used a knife as a screw driver? or a paper clip as any number of things?
This also happens with motorcycles. For instance, Harleys or Goldwings are sometimes transformed into cafes and road bikes are at times transformed into Steve McQueen wannabe Desert Sleds, via a boxy single seat and a set of knobbies.
Out latest customer, Andrew, could also be tarred with a similar brush, due to some recent shenanigans on his Yamaha MT09.
Originally bought as a commuter, (Andrew already had another bike to take care of any long distance rides), he quickly realised the potential of Yamaha's triple trouper and started hatching a cunning plan for custom possibilities.
This long-term plan received a kick-in-the-pants when the MT ended up with a slightly buckled front rim following an 'off piste' excursion. This left Andrew with renewed enthusiasm to turn the bike into something that may be able to handle a bit of off-roading… should the need arise again……
So a semi-sports bike was to become a semi off-road bike. Of course there will be those that might be thinking "why didn't he just sell it and buy something different?" To which we say, "where's the fun in that!?"
With that frame of mind and having been inspired by one of our earlier builds, Andrew approached Ellaspede with some ideas but also wanted to see what we'd come up with given some basic directives. We answered him with a concept he seemed very taken by… and so the fun began
Because the MT09 is already a well proportioned bike from factory there was no need to entirely reinvent the wheel on this build, so the already massaged seat and standard tank combo remained. Having said that it still needed to be a noticeable departure from Yamaha's design to satisfy Andrew, so eye-catching elements like the exhaust, headlight, side covers and wheels / tyres were in our sights.
The factory headlight and windshield were replaced by a more aggressive looking unit made from blending two different aftermarket cowls, whilst the original gauge was relocated to fit in with the new cockpit layout.
The factory front plastic guard was discarded in favour of a simplified custom steel version which was then coated in satin black.
Probably the most visually dramatic changes made to the bike were the exhaust and side cover. Many hours went into both and we're very happy with the results. Choosing to go with a scrambler style exhaust system was great in theory but like many theories the reality of actually making it and making it fit presented some challenges. Factory bikes are the way they are generally for a reason. Messing with that sometimes goes against reason… but hey, that's what we do.
It's a three into one stainless affair with custom stainless mufflers that have purpose-made baffling and custom machined aluminium end caps.
Keeping Andrew's trousers intact is a hand-formed aluminium side cover finished to match the factory orange tank colour with contrast silver graphics.
Remembering that Andrew wanted a beast that could handle a bit of rough, a custom bash plate was made to protect the now precious exhaust and nether regions. Satin black powder coat provides the finish here.
And so this wasn't just a visual exercise, Andrew also specced Ohlins upgrades for the front and rear suspension.
Tyres are Continental TKC70. As much as we wanted to put TKC80s on there practicality won out, as most of Andrew's riding would be on the smooth stuff.
On that note though, the original concept featured spoked wheels as part of the plan. That may still happen down the track though, so watch his space. Aftermarket radiator covers, Rizoma taillight unit, tail-tidy and mirrors complete the bolt-on extras.
Andrew has been riding his completed hybrid MT09 for a while now and is loving it. He also reports that he feels much more comfortable when he sees a dirt road up ahead.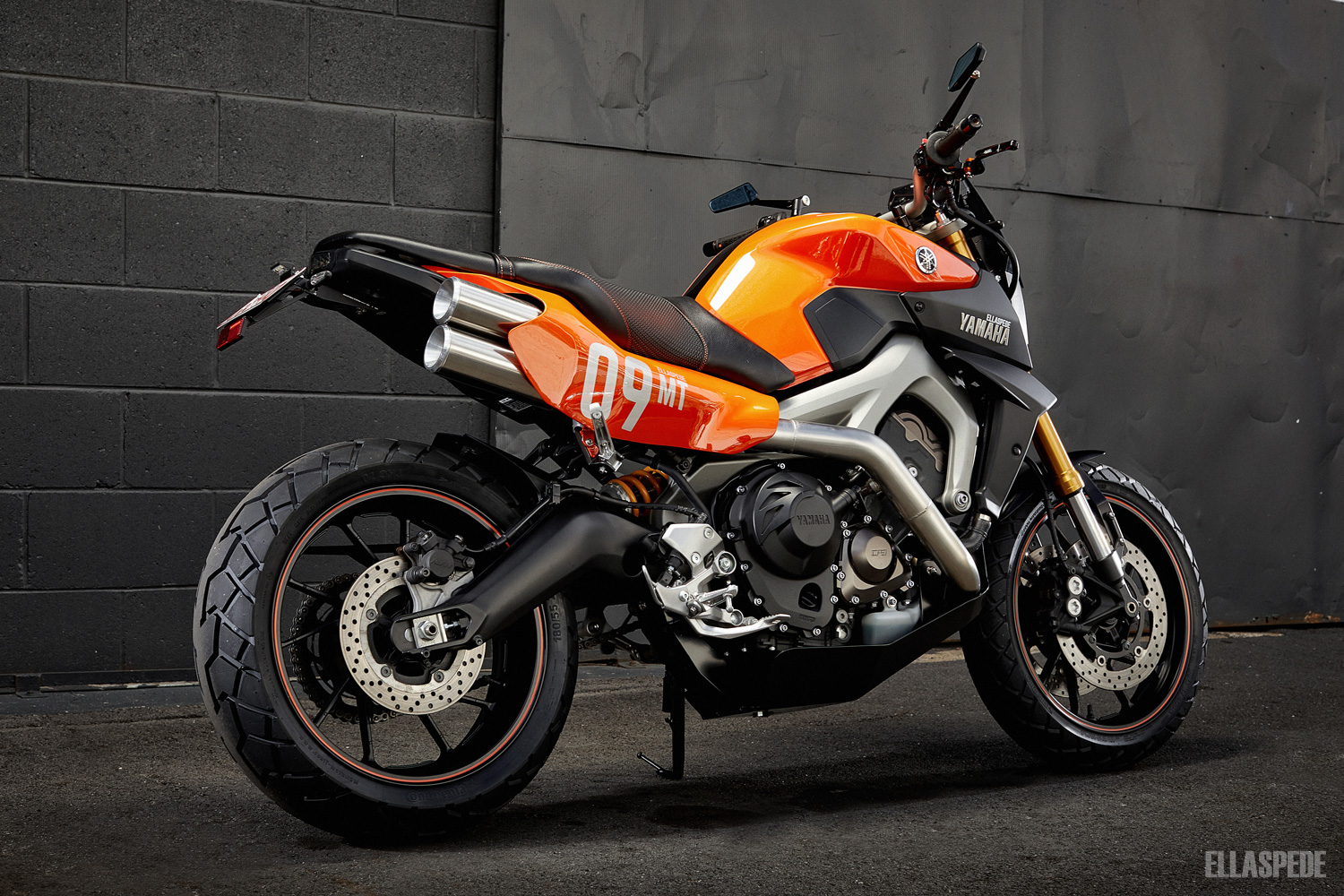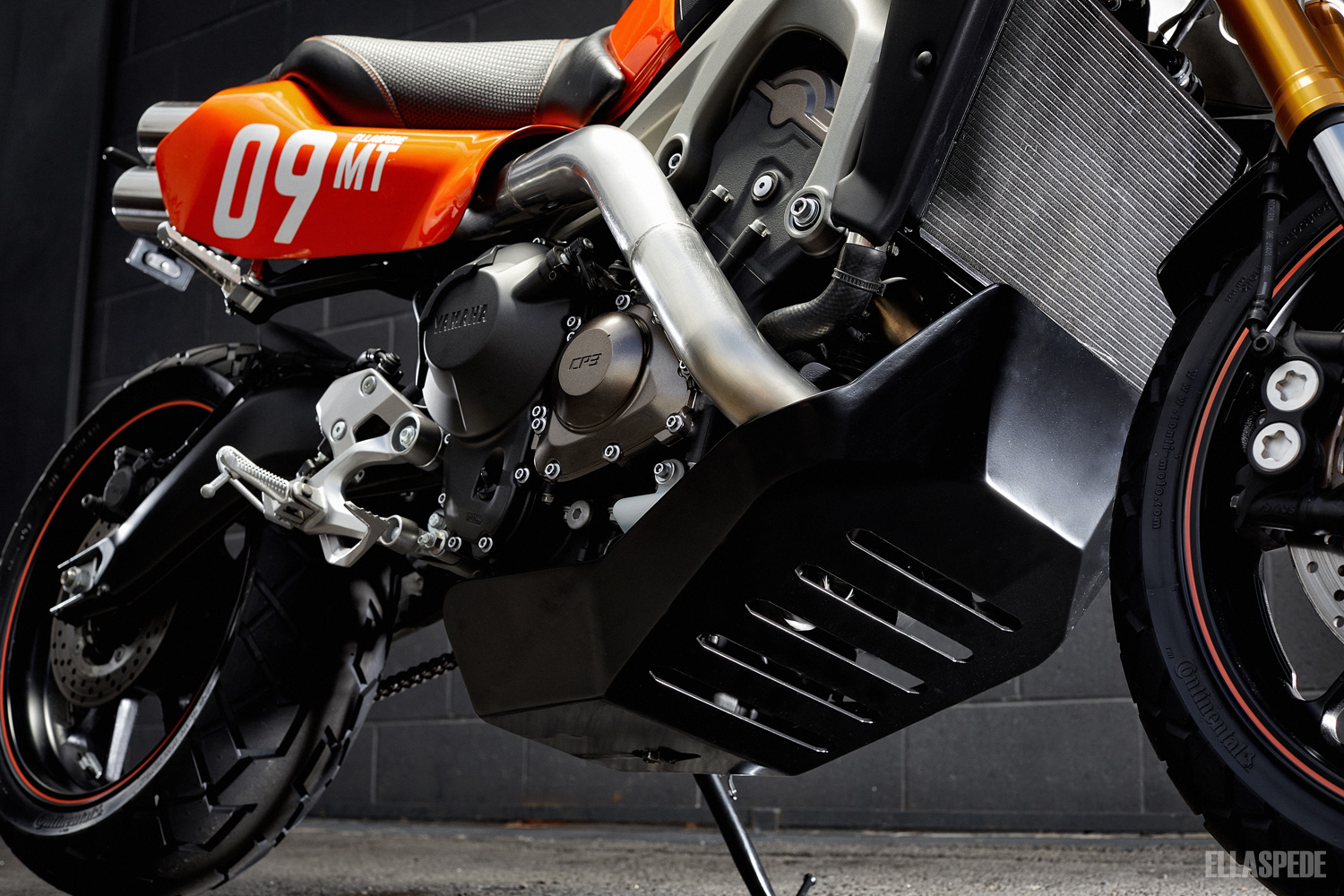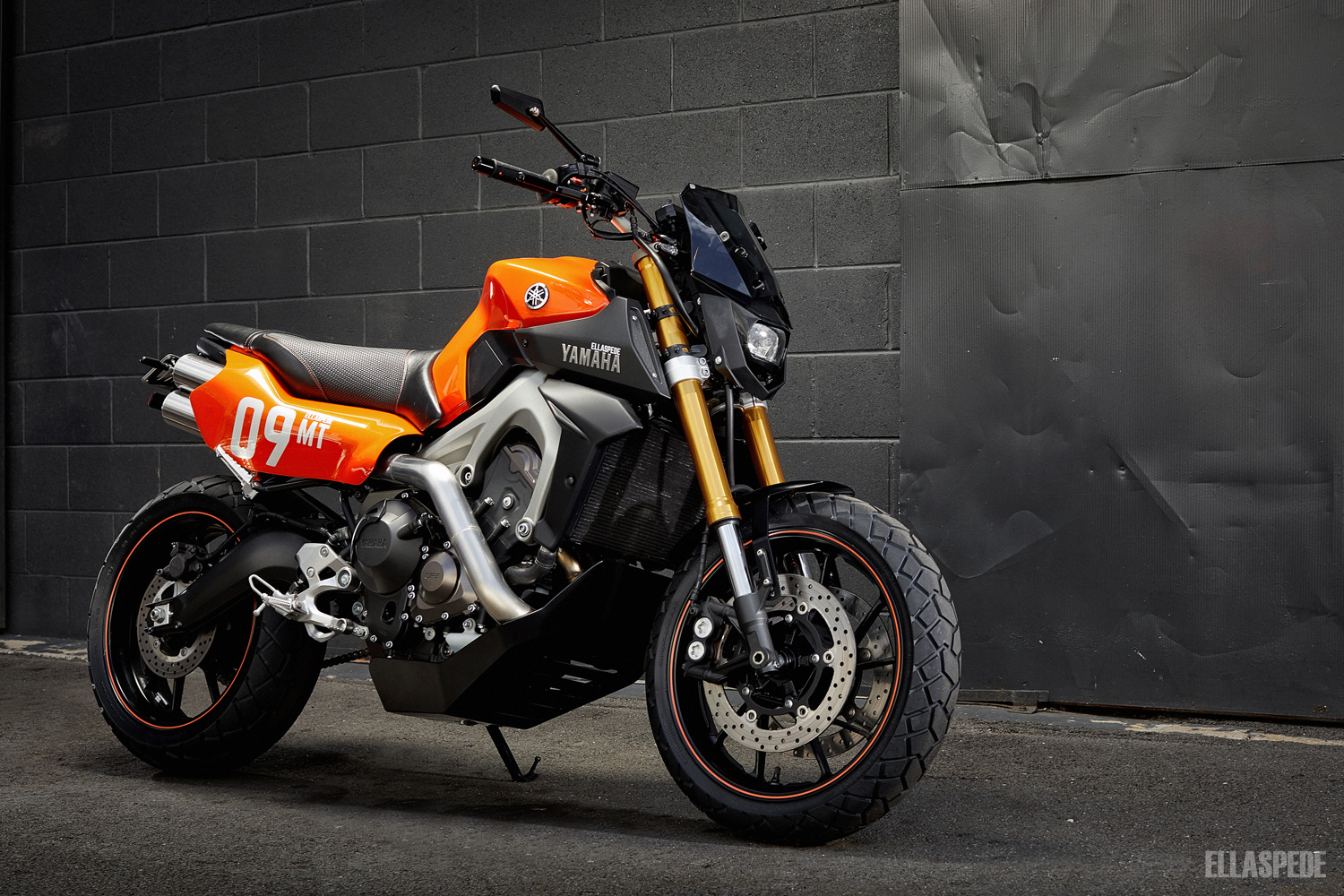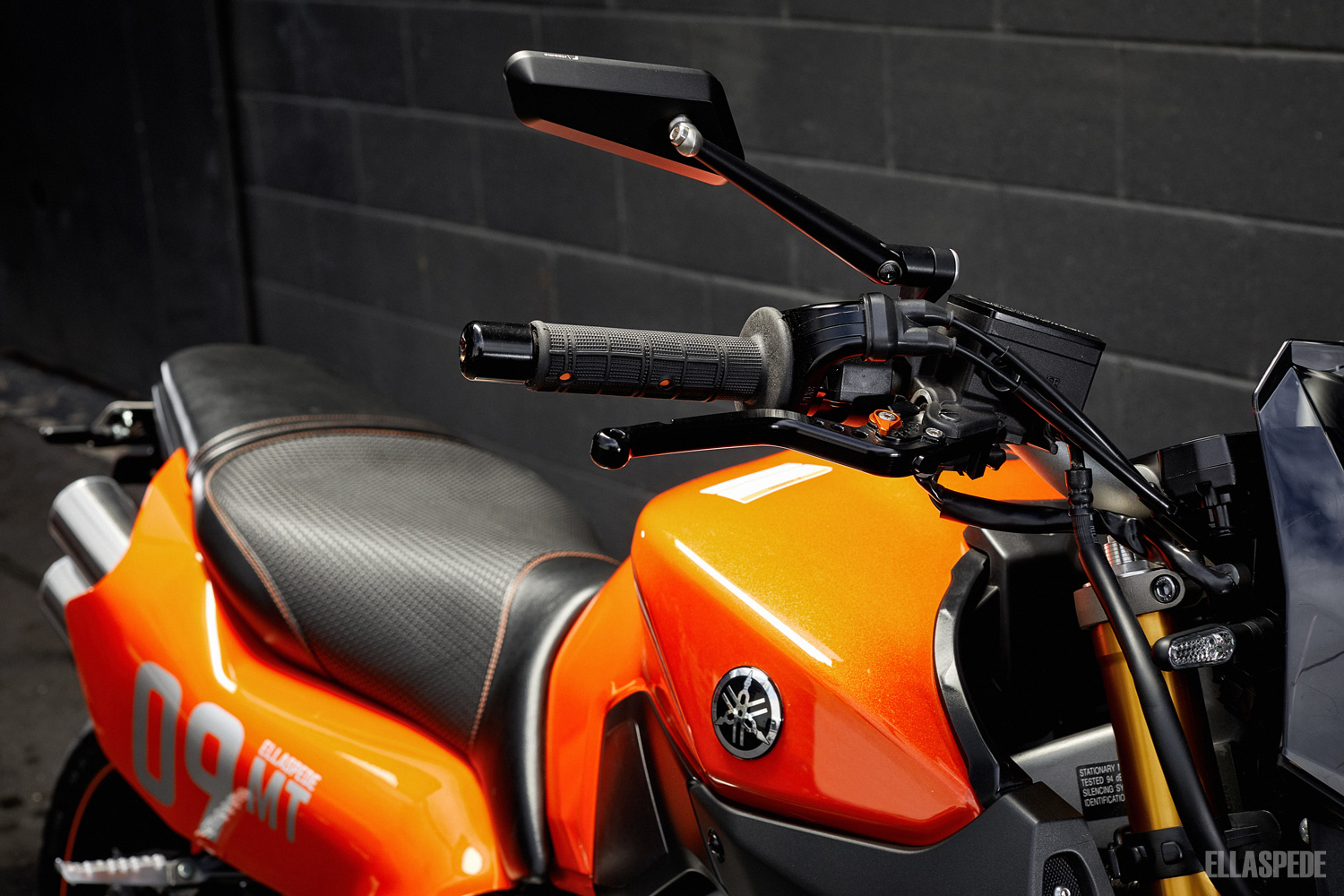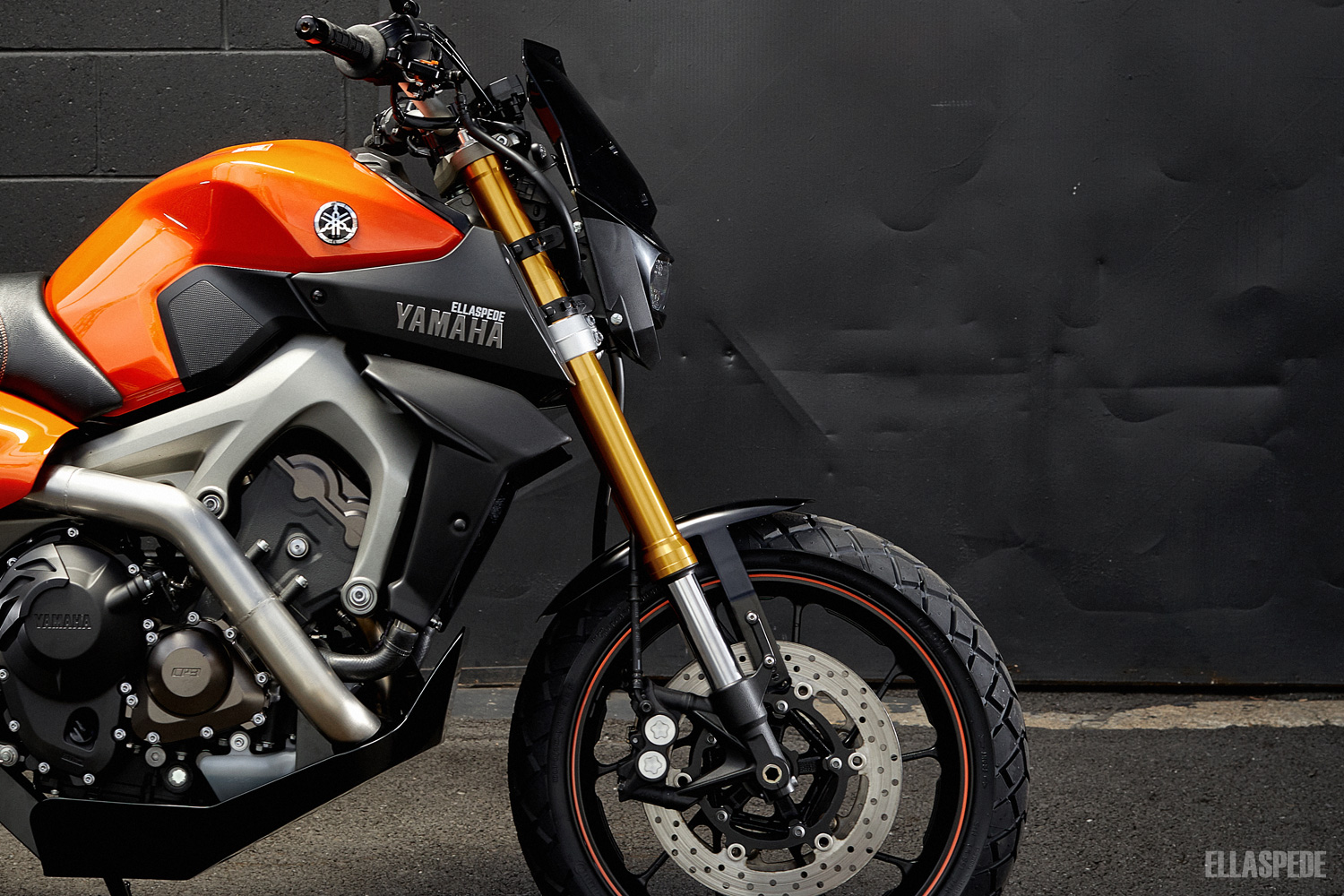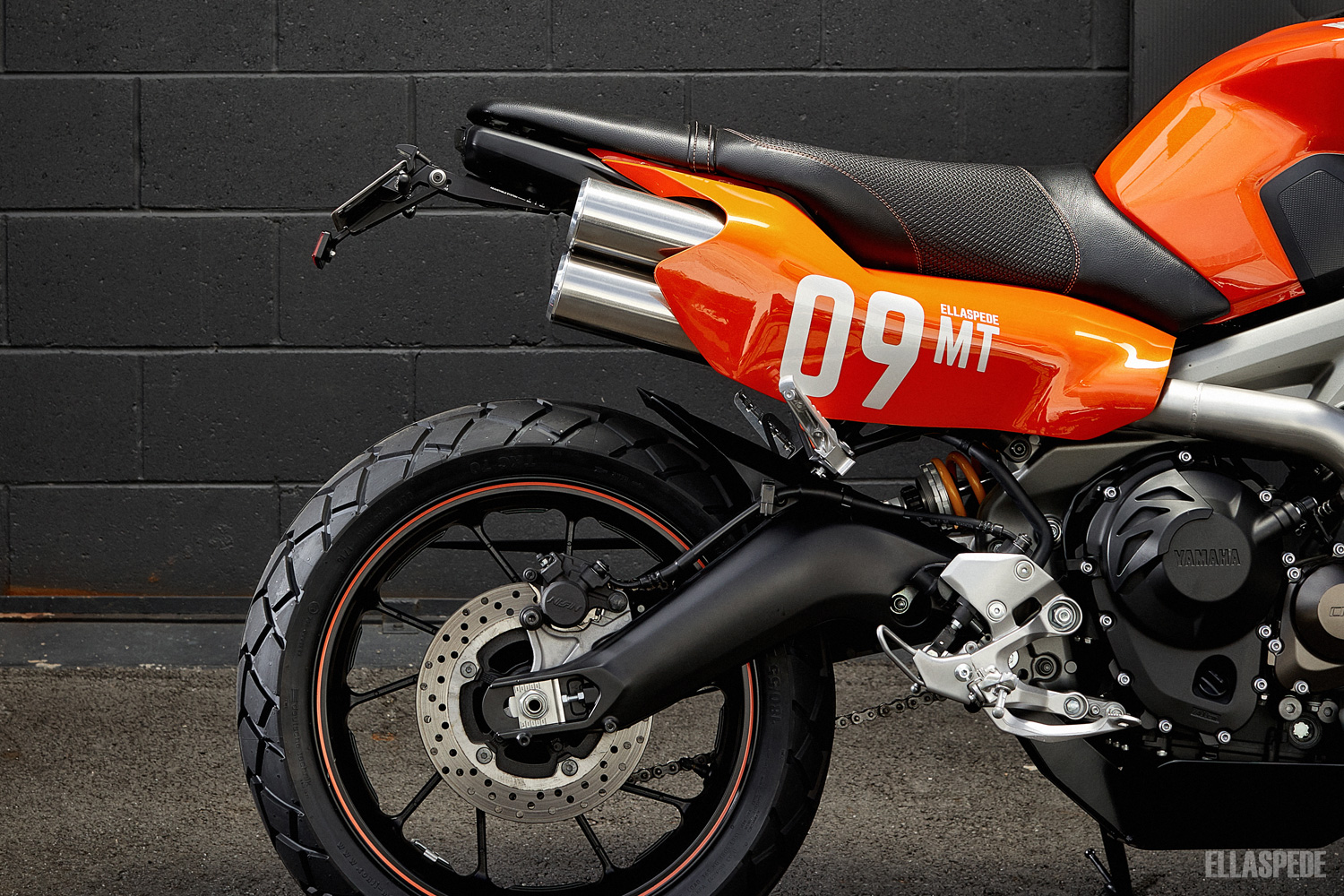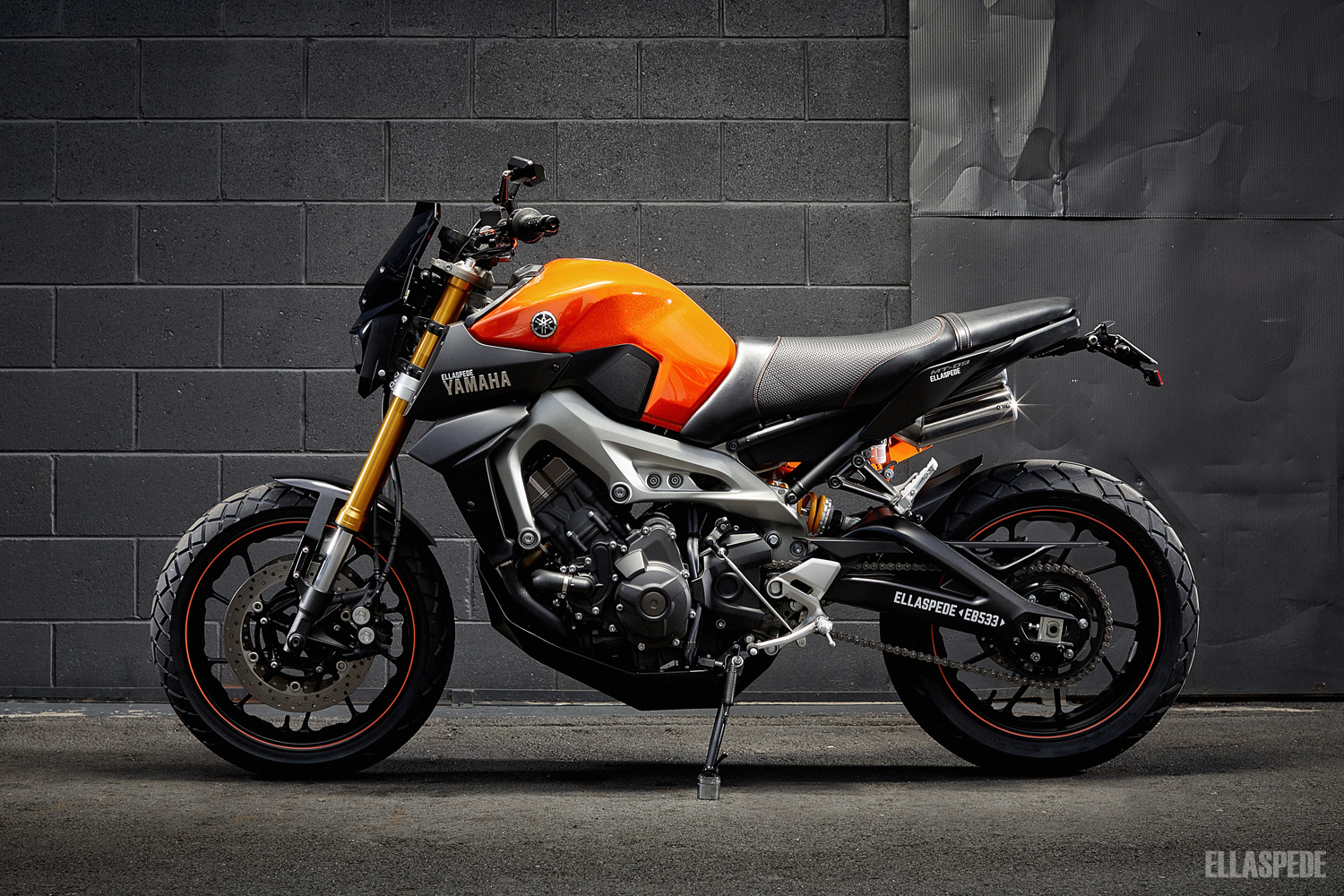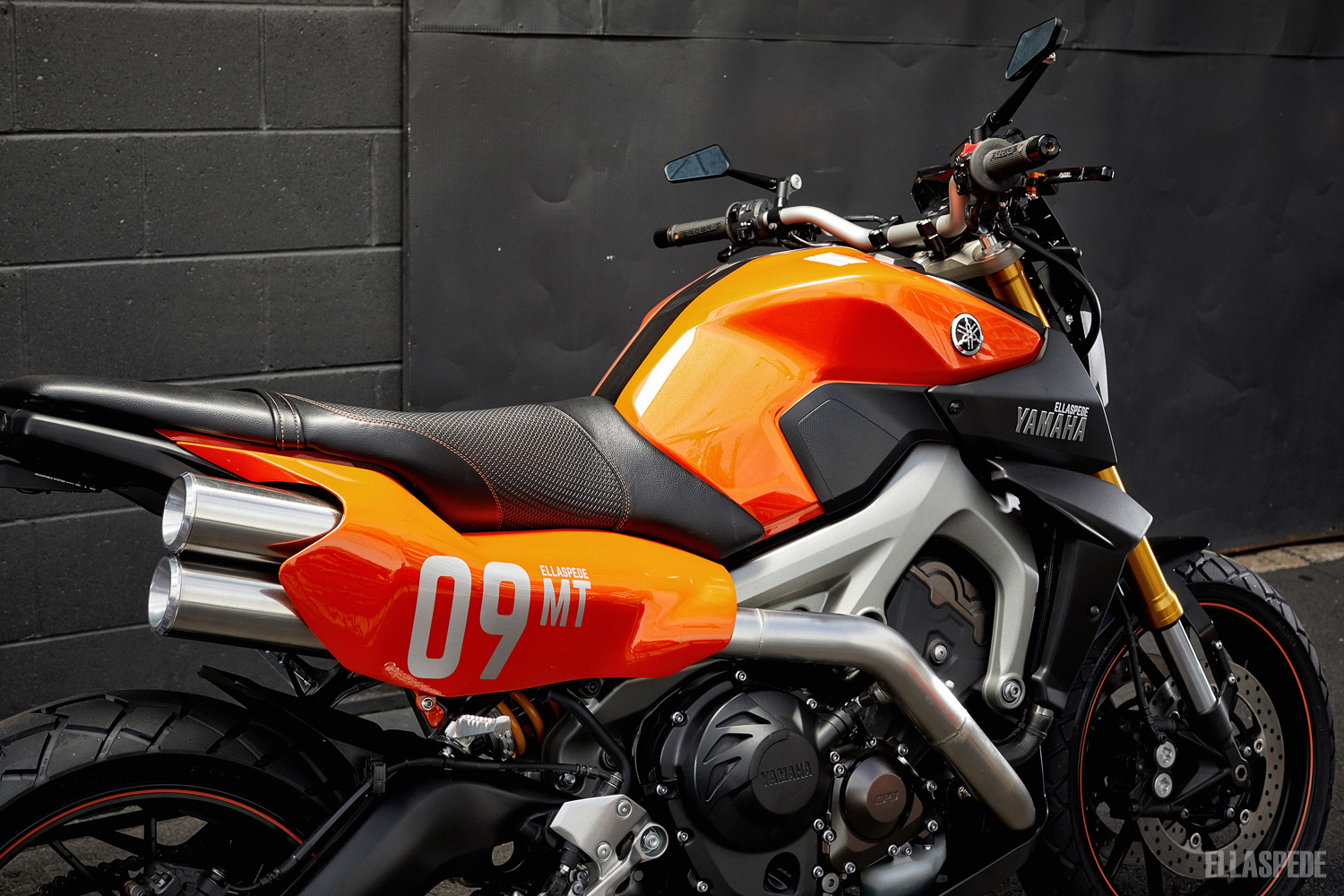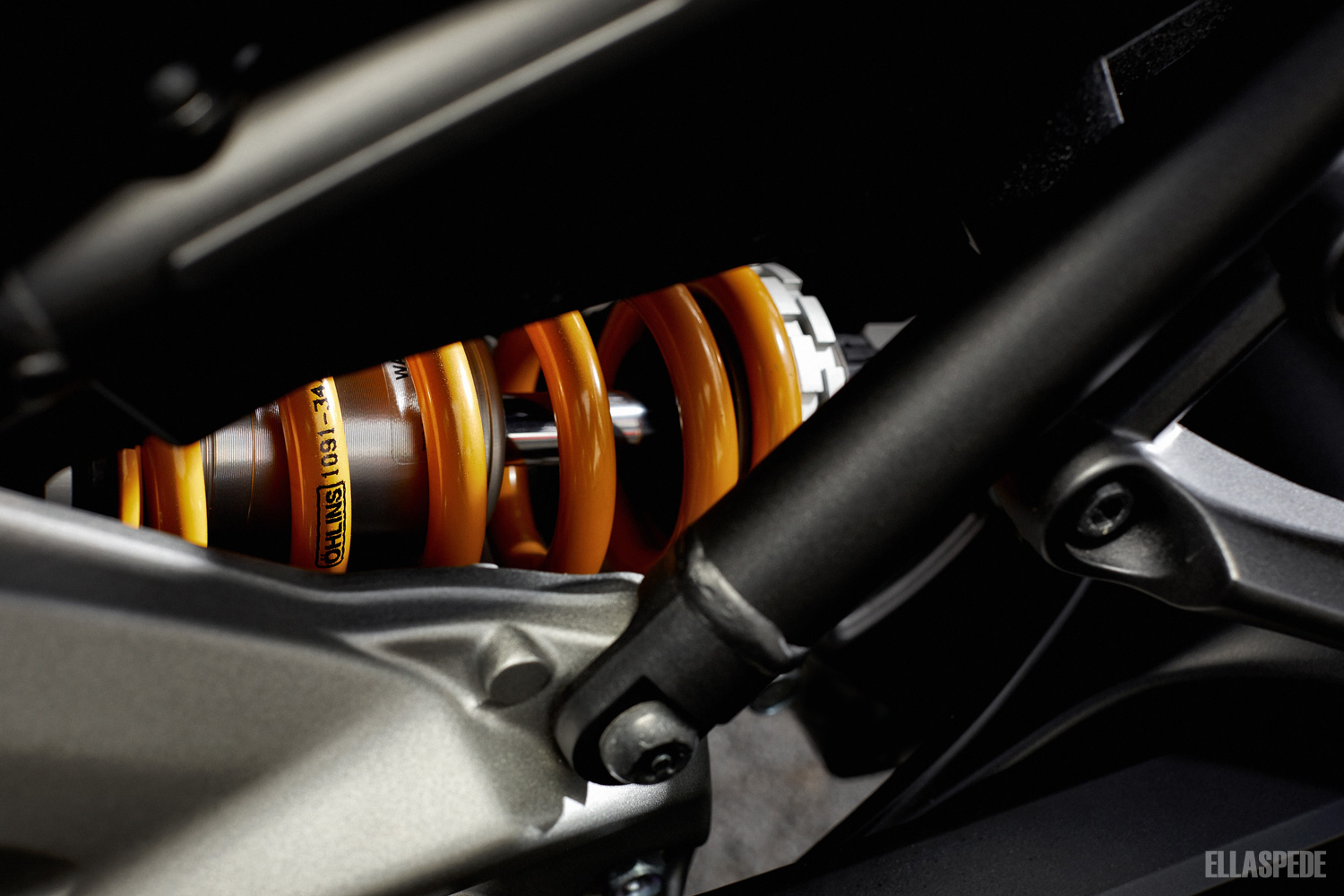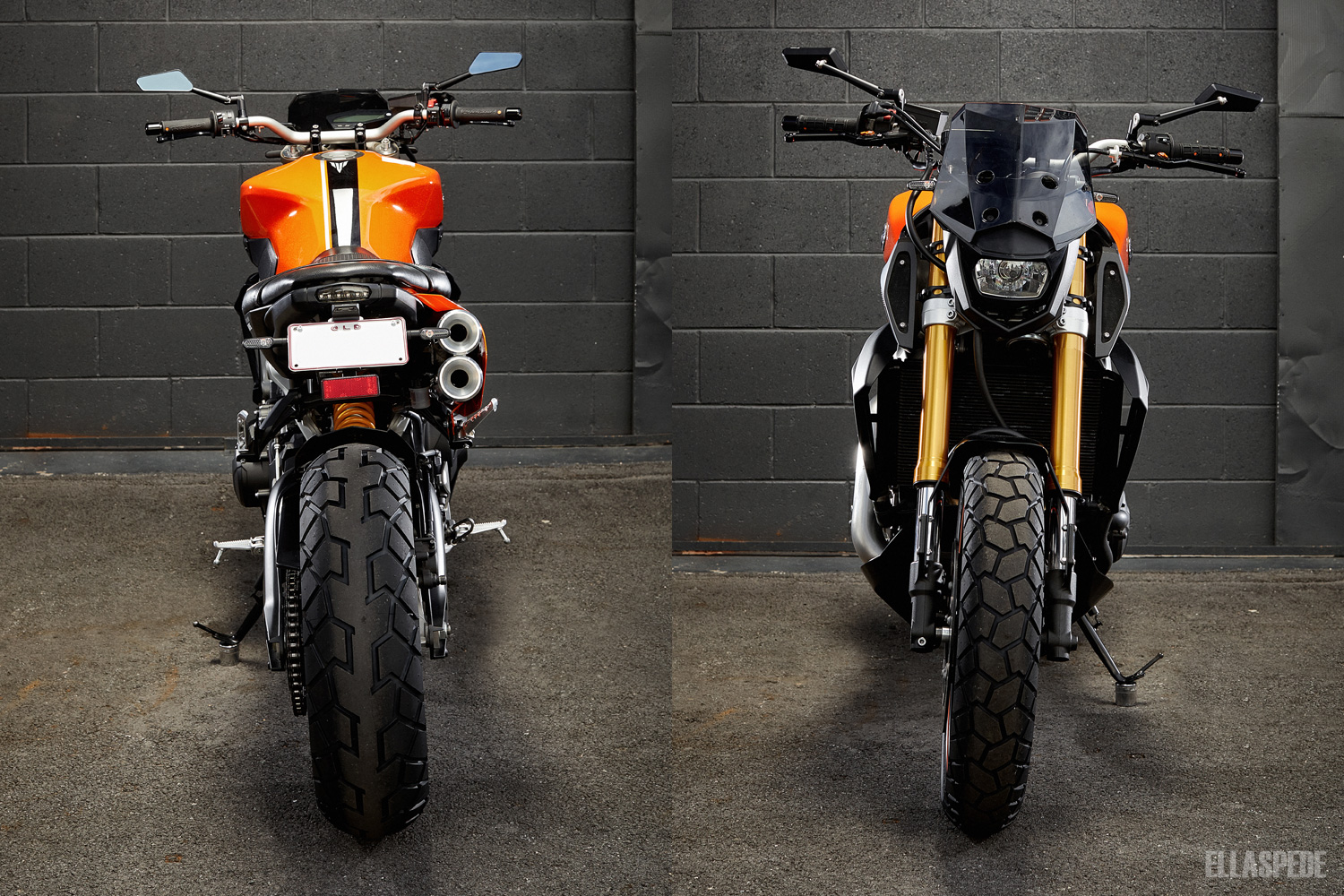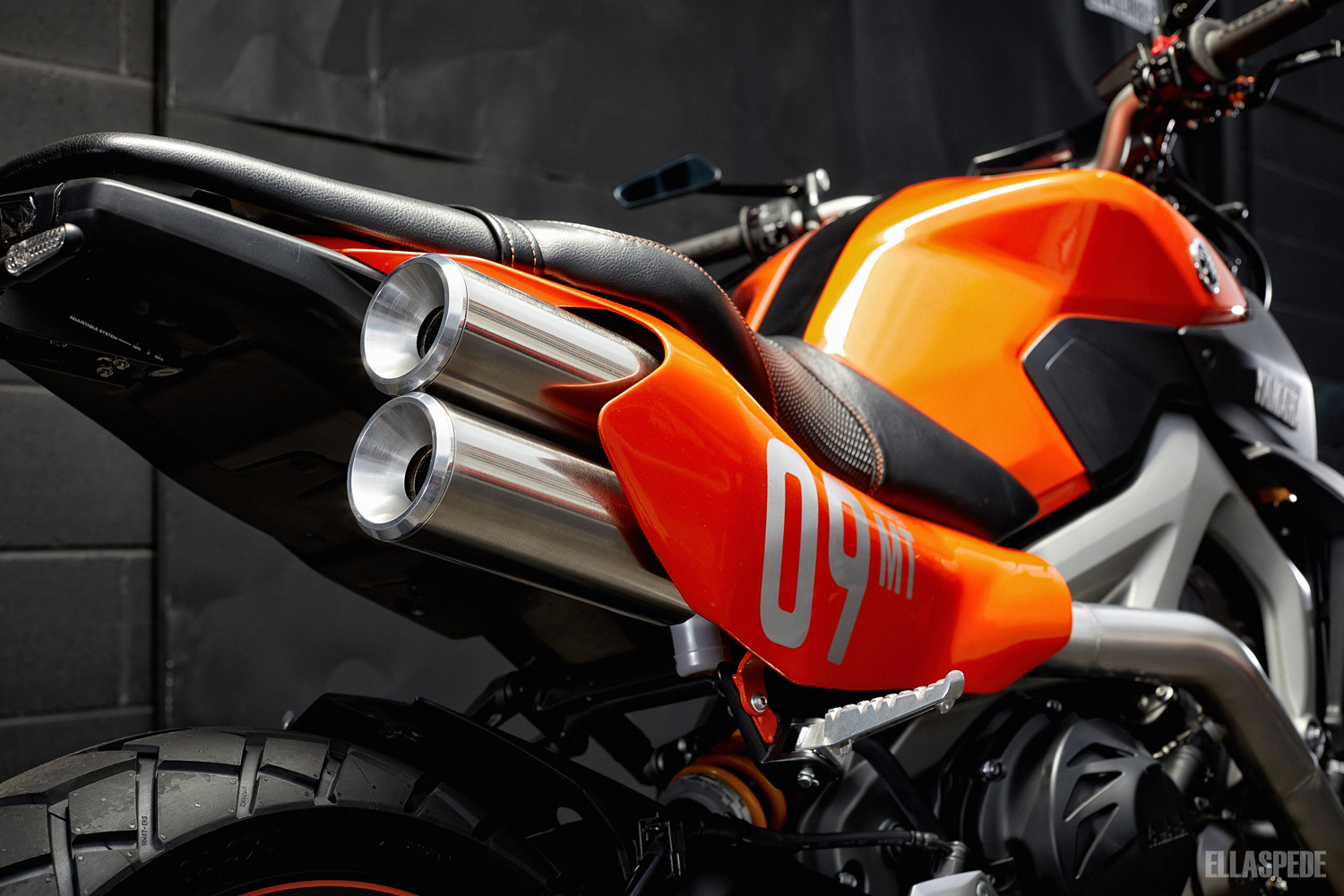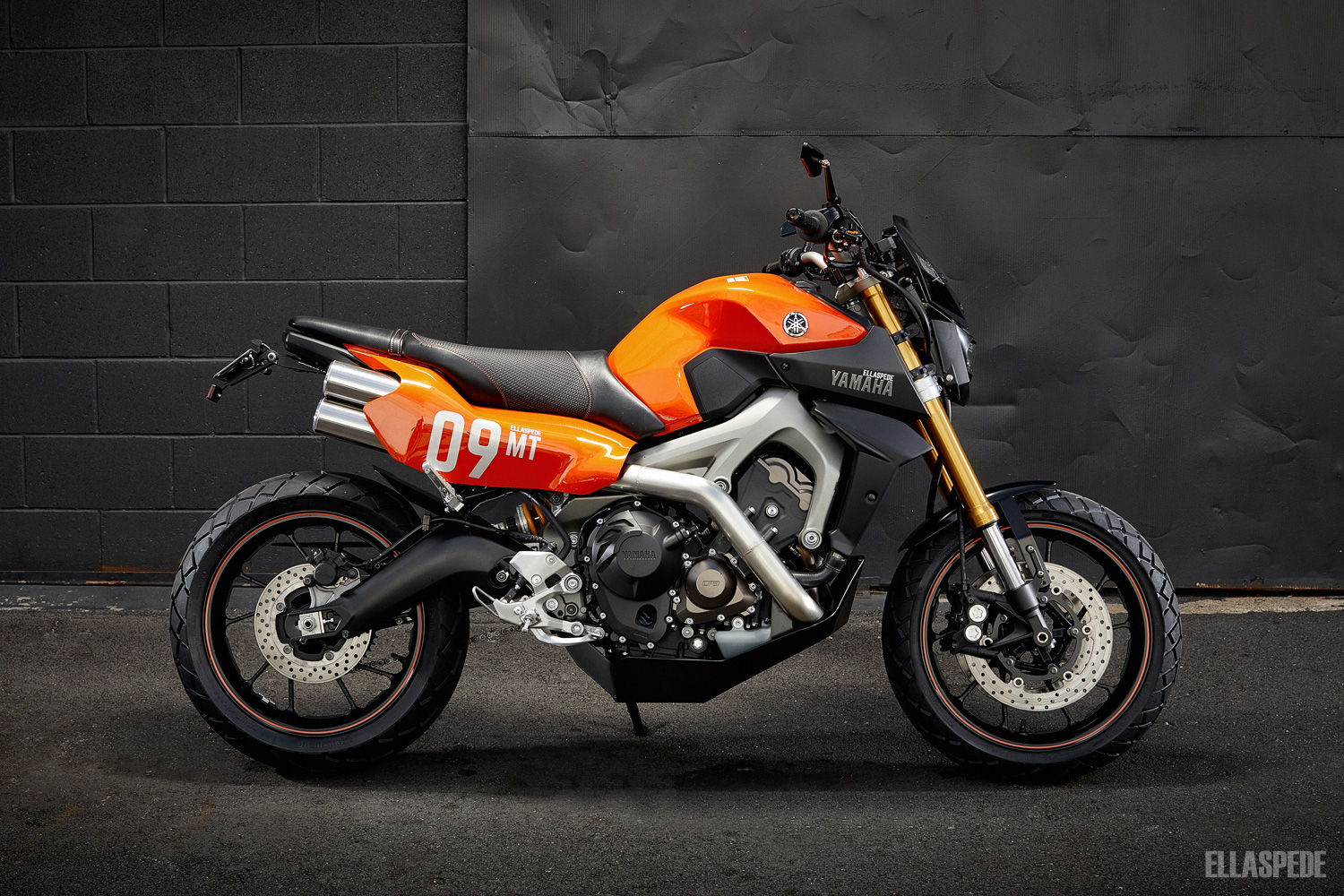 ---
Albums we listened to during the build of this bike:
---
Photos and Features:
---
---
Comments (2)
MT09

By:

Russell Black

on 31 August 2021

I have an MT09 . I am 6ft & live in a townhouse complex as well. I have the Yamaha comfort seat which I had widened & thickened by Ellaspede. The aftermarket exhaust fitted is an Akrapovic which has a good sound without upsetting the neighbours.
---
Fit

By:

Pete Seymour

on 20 October 2019

Gents, This boke is currently for sale and lm interested. Problem is lm 6'1" and the seat position is cramped. Any way to modify seat higher. Also need to look into some slip on/off exhaust baffles. Great note but dont want to upseat the residents in the apartment blick basement. I would like to set up a surfboard rack on the left hand side. And need a custom tube setup to acvomodate A1 printed plans. Approx. Costs would be appreciated. Pete S





Ellaspede Response
Hey Pete! Glad you like it mate. We'll shoot you an email mate and see what we can help out with. Cheers!
---
Leave a comment