EB079 – 2013 Harley Davidson Sportster 48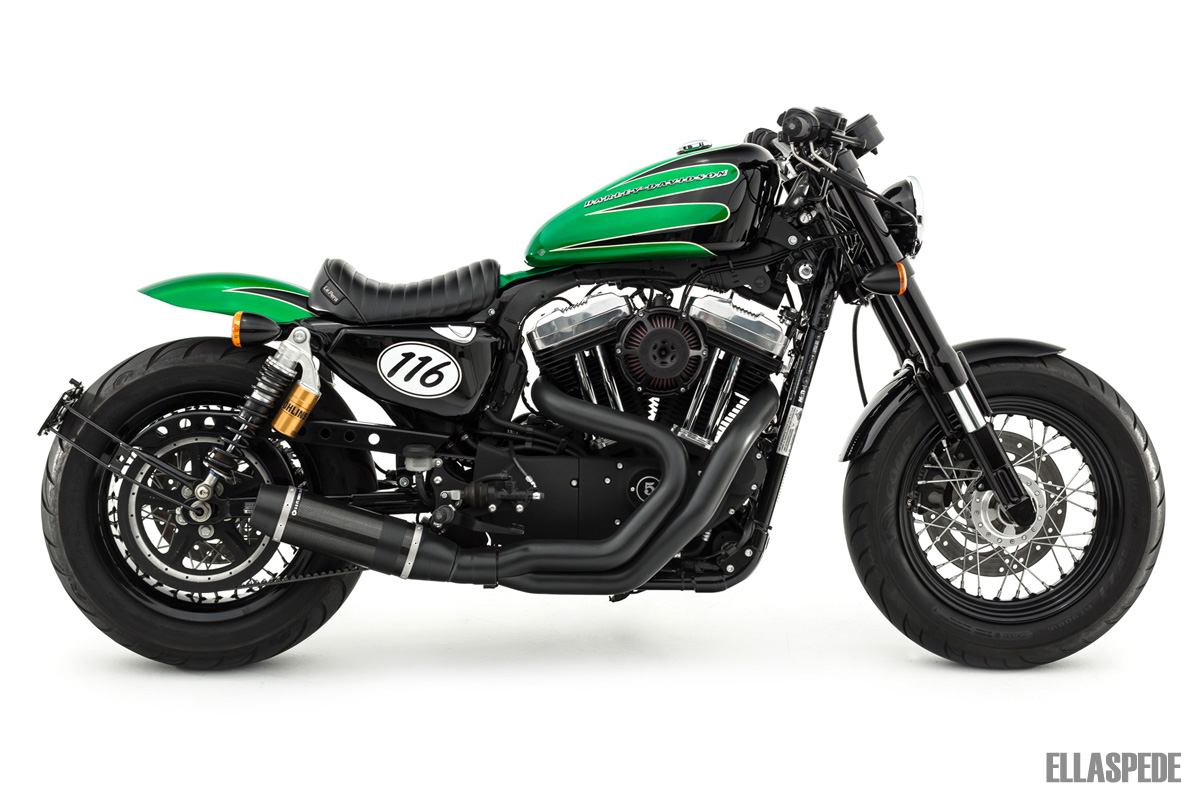 What constitutes a custom bike? Is it any change made to a standard bike? Does it include purchased bolt-on parts as well as specially machined parts? Perhaps a custom requires hand-fabricated parts, to be called so? Or if we're being serious, is a true custom bike one that was hand made from the ground-up with a minimum of off-the-shelf parts?
Whatever your view on "custom bikes" each one is going to appeal differently to different people. Take Andy M's Harley Sportster XL1200 / 48 for example…
Andy came to us with some thoughts of changing the look of his relatively new bike. The result, (more so than most major builds we undertake) challenged the above question of what a custom bike is, as it involved the purchase of many aftermarket parts along with machined and handcrafted parts.
Andy's family has a long history of motorcycling, including active involvement in the North-West 200 in his home country of Ireland.
As you'd expect from this, Andy's past has been filled with fast sports bikes; indeed he still has an MV Augusta F4 in the stable. Whilst the purchase of a Harley made for a change of pace he wanted to retain some sports-like elements such as the inverted front end, rear-sets and upgraded rear suspension.
With this in mind we drew up some concepts that we thought would satisfy Andy's brief.
Andy decided on a Storz / Ceriani upside down front end, Chainsikle rear sets and Ohlins shocks which raised the rear by approx 35mm.
The new front end required a custom mount to run the original front guard. We decided to make the mount tubular to match the strong, muscular aesthetic of the forks.
The original headlight was relocated lower via a custom mount on the lower fork clamp. Original indicators are custom mounted to the forks and frame at rear.
The rear guard is the original swapped end for end and shaped to suit. Pre-drilled holes were filled and It was painted to match the Harley optioned green metallic flake flame peanut tank. The guard was custom mounted to the docked frame.
Andy also wanted to beef up the 48's rear so we laced a 5.5″ rim onto the standard hub with a 180/65/16 Avon Cobra tyre. Front rim is original with 130/90/16 Avon Cobra.
To allow the 180 (7″) tyre enough room, the pulley and belt guard had to be spaced / machined appropriately. The licence plate mount is custom and finished in satin black powder coat.
The standard gauge on Sportsters tends to 'stick-up' somewhat and they're often replaced with aftermarket units. We decided to retain the gauge but lower the position via a custom CNC machined mount, incorporating a bar clamp which also gave Andy the option of some branding or insignia… and that's the great thing about customising, you can (within reason) have whatever tickles your fancy. The unit is finished in satin black powder coat.
Continuing the shopping list; a D&D Bobcat-Carbon 2 into 1 exhaust replaced the standard system and to make use of the extra flow a Performance Machine Max HP air filter and Daytona Twin Tech engine controller were installed and tuned accordingly.
RSD Black Ops levers, grips and foot pegs replaced original items as did a Le Pera Bare Bones – Pleat seat. Though there was talk of a custom seat, which may still happen.
We don't know the relevance of the "116" number but it means something to Andy… as does the bar clamp insignia.
And that perhaps answers the question of 'what is a custom'?… If an owner makes a bike their own by changing or personalising it to whatever degree, is it not customised?
There have been so many custom Harley Sportsters built that some may say it's difficult to achieve something different. Whether you go the off the shelf, bolt-on route, hand make everything, or use a combination of both as you see here, it's always possible to personalise a bike and make it your own.
Andy's definitely made this Harley his and from the response we've had so far it will appeal to many.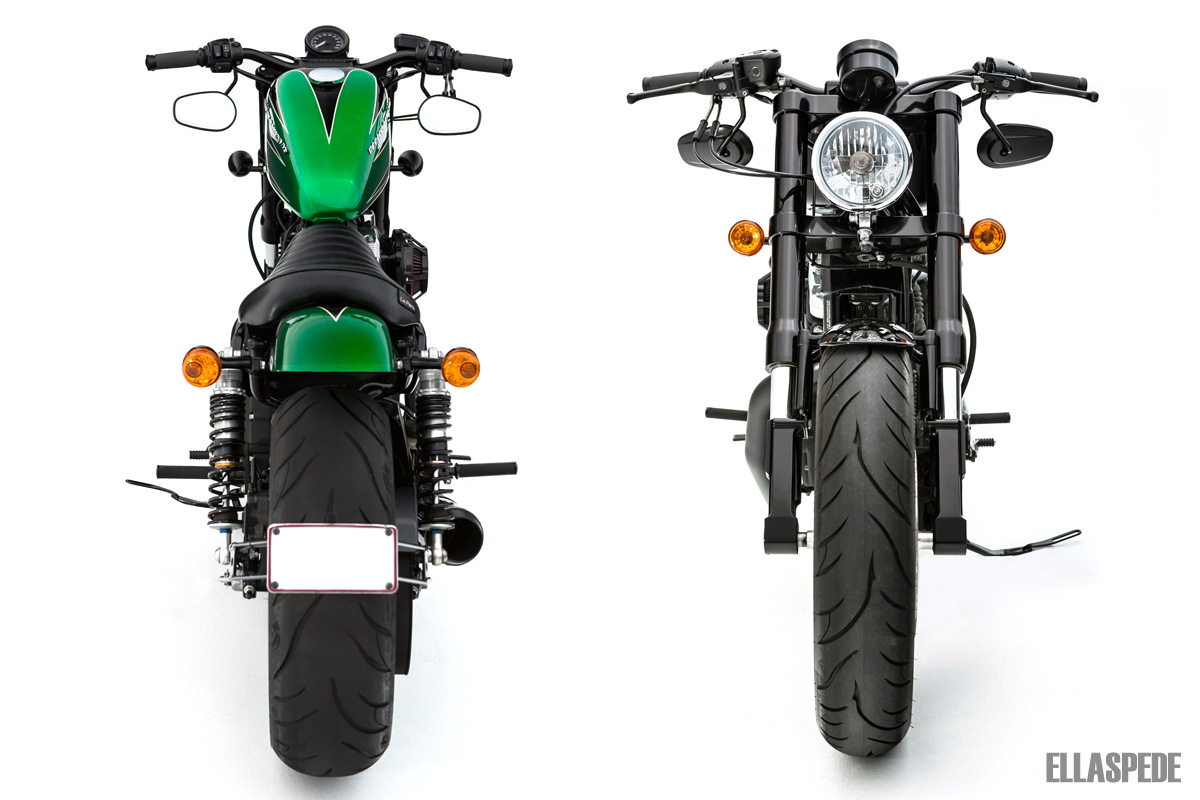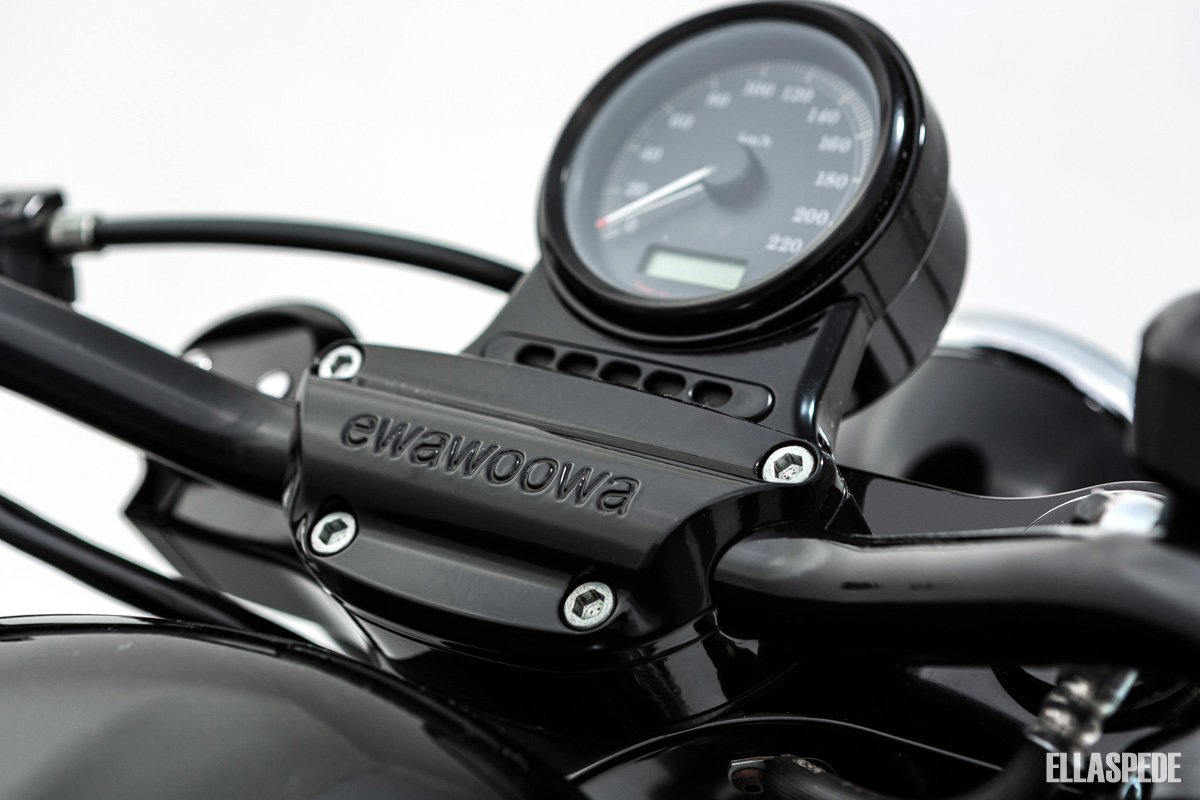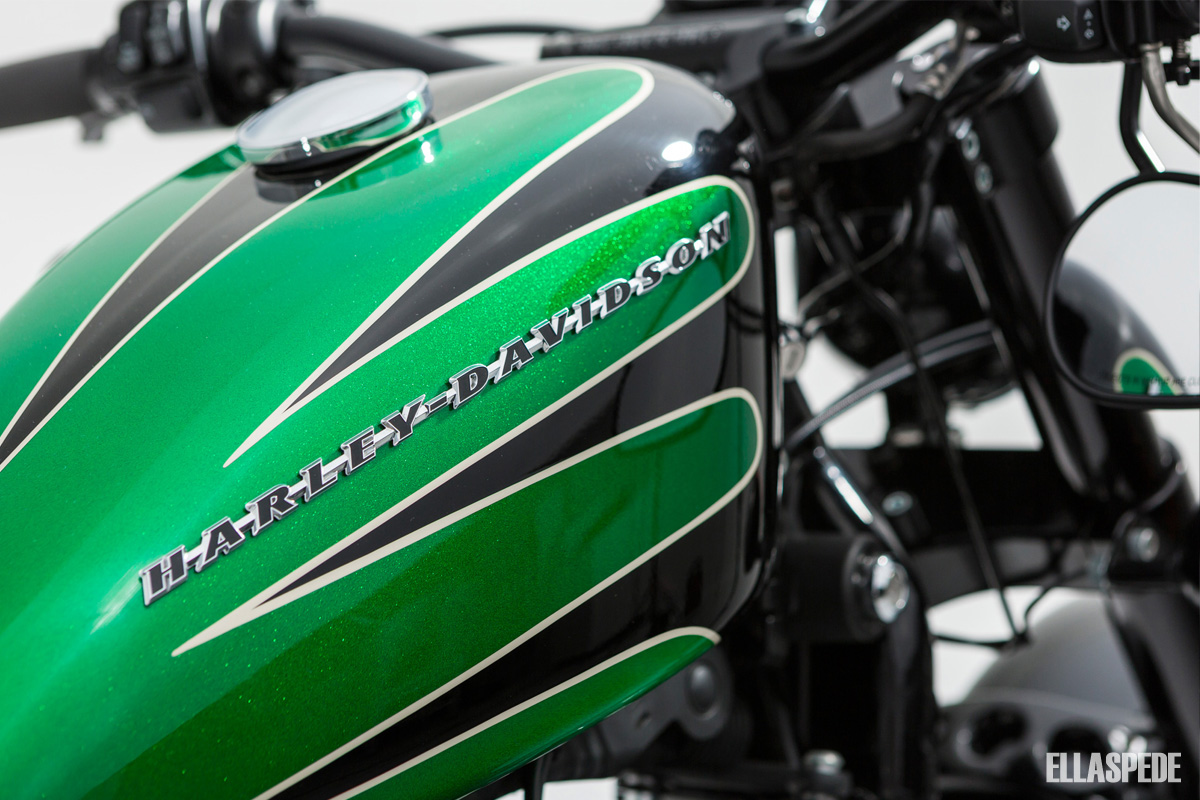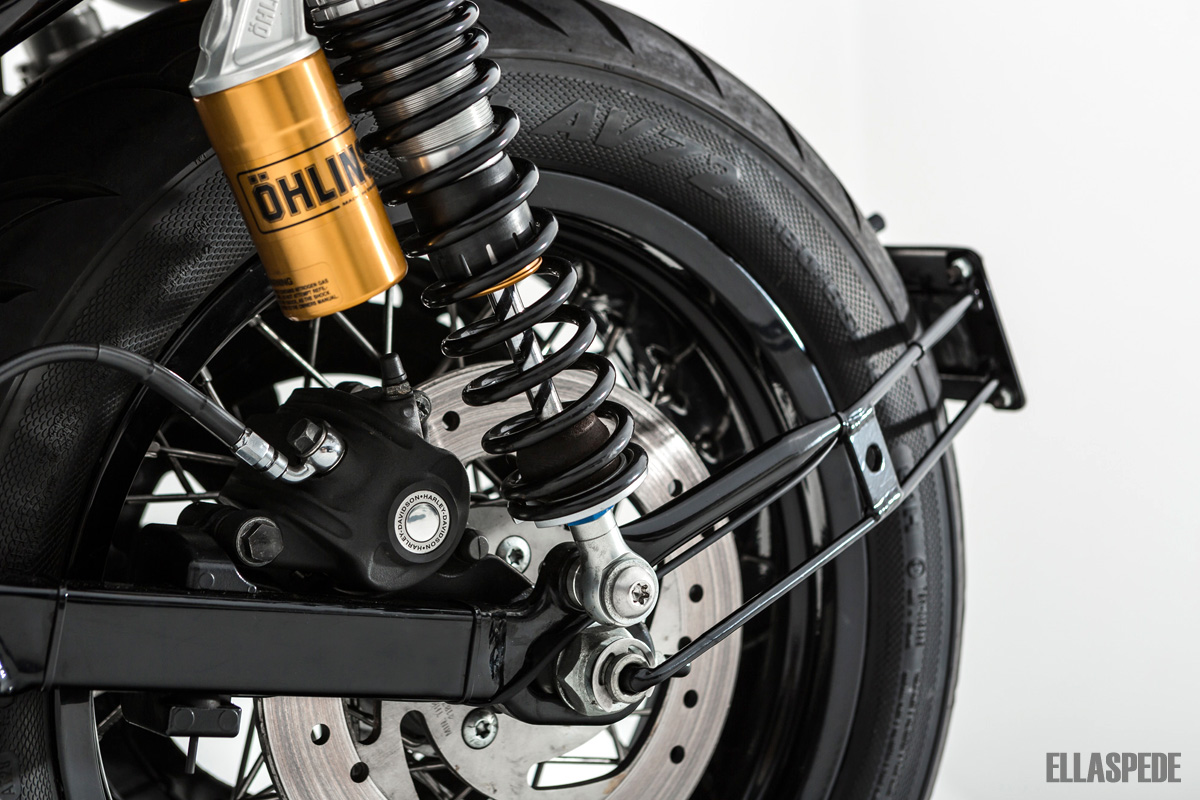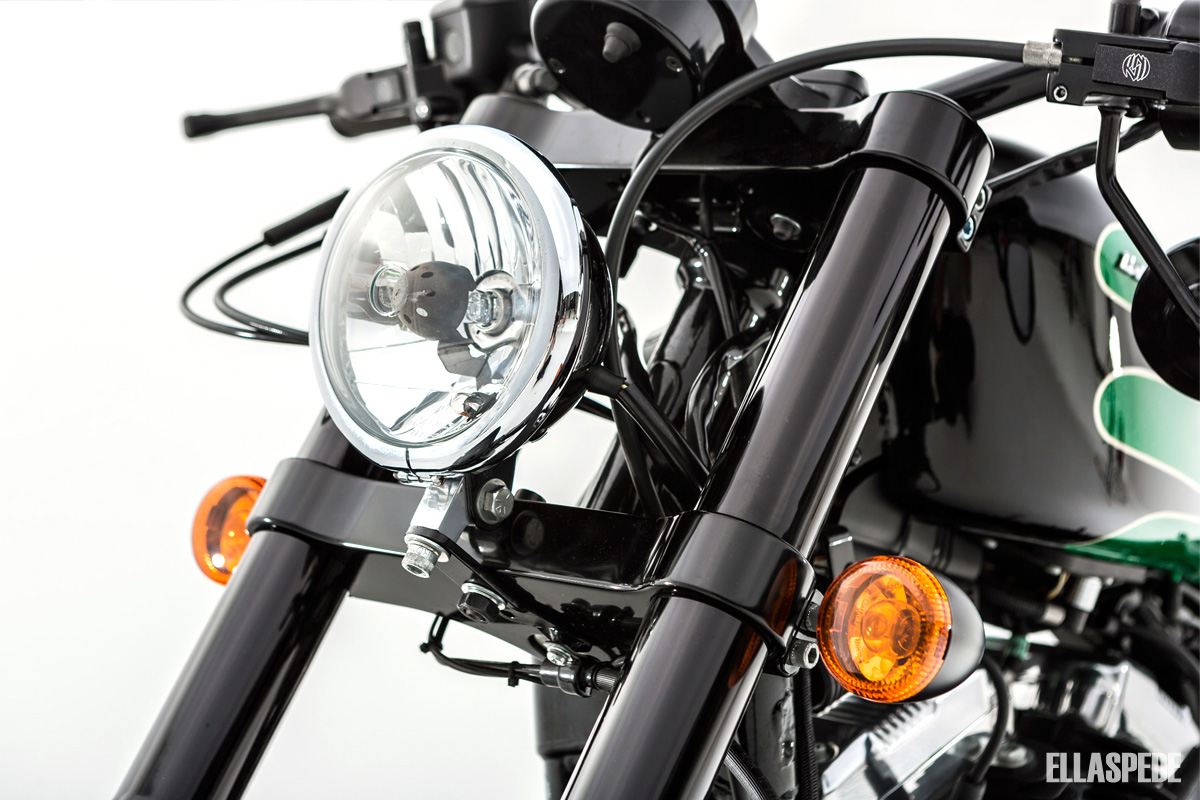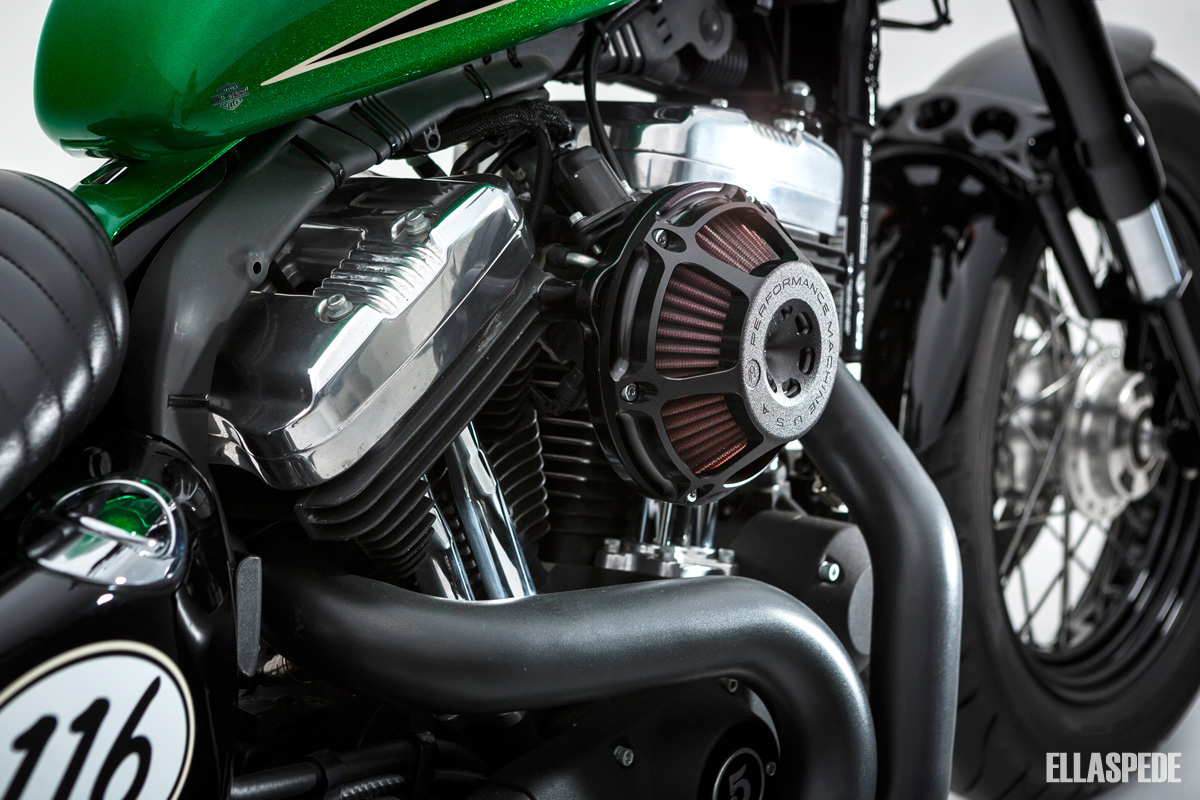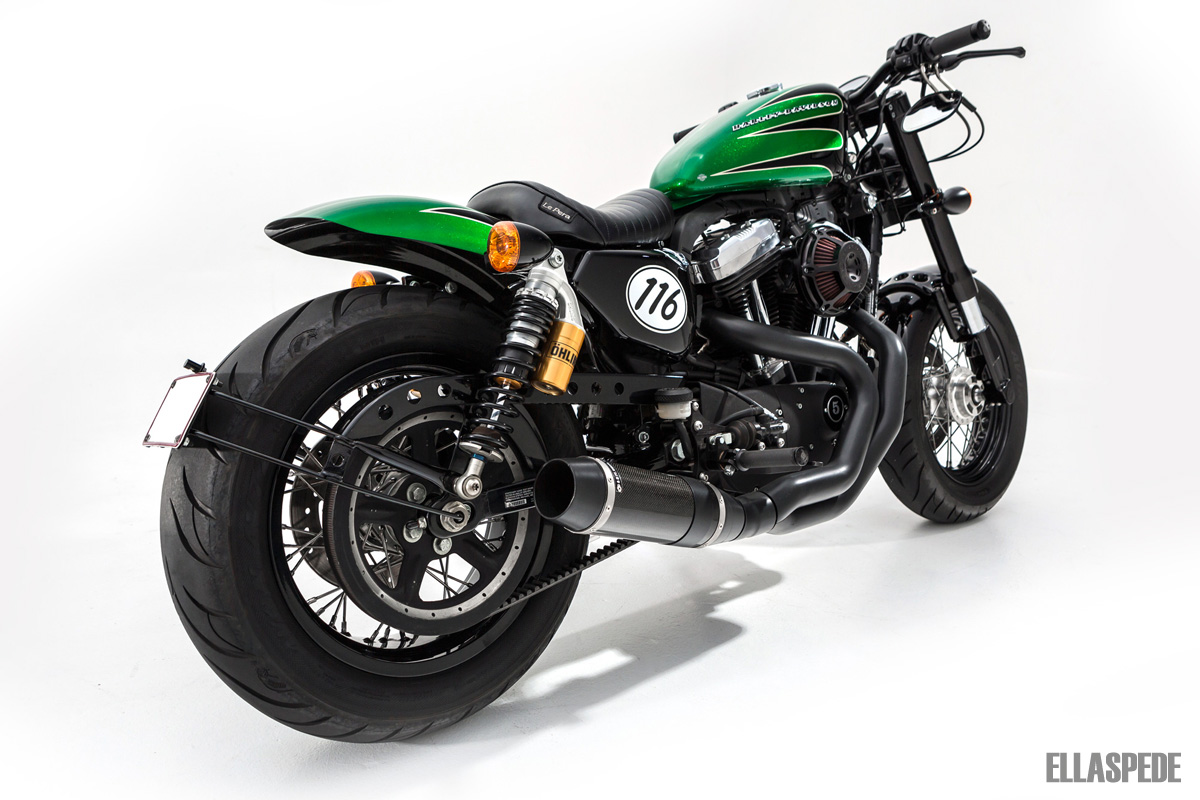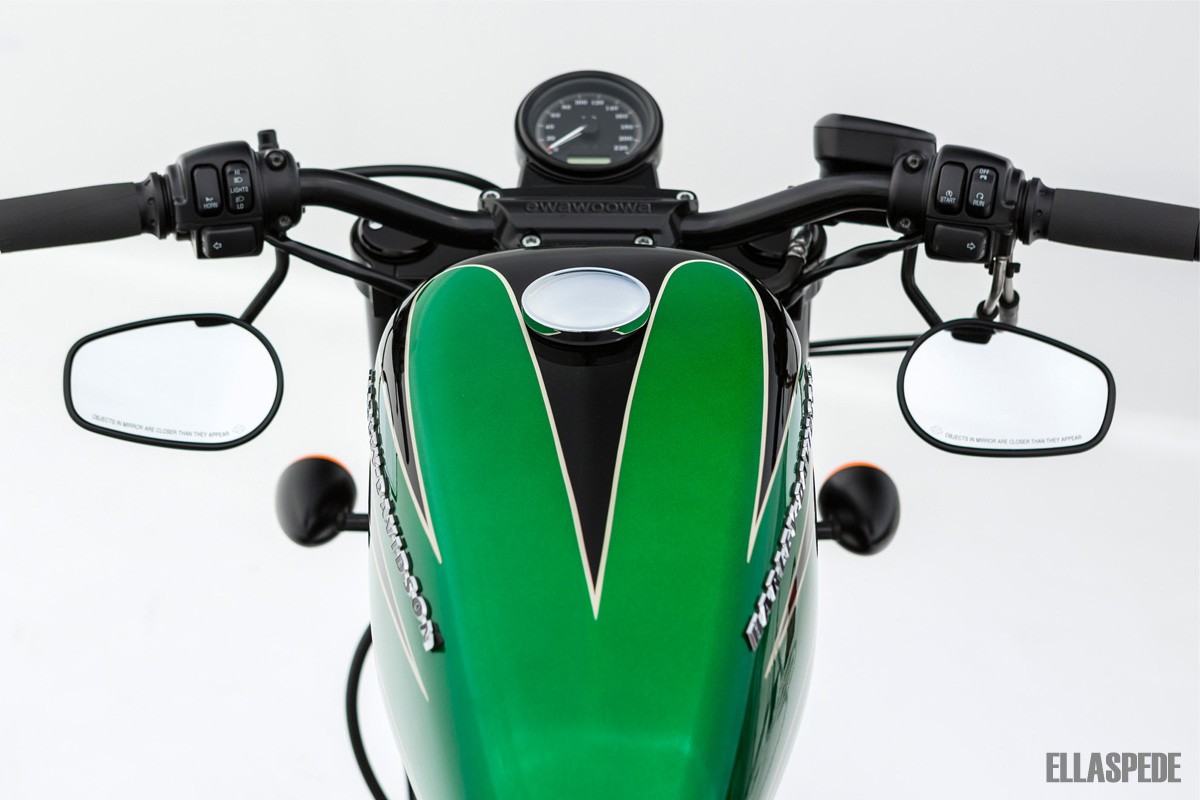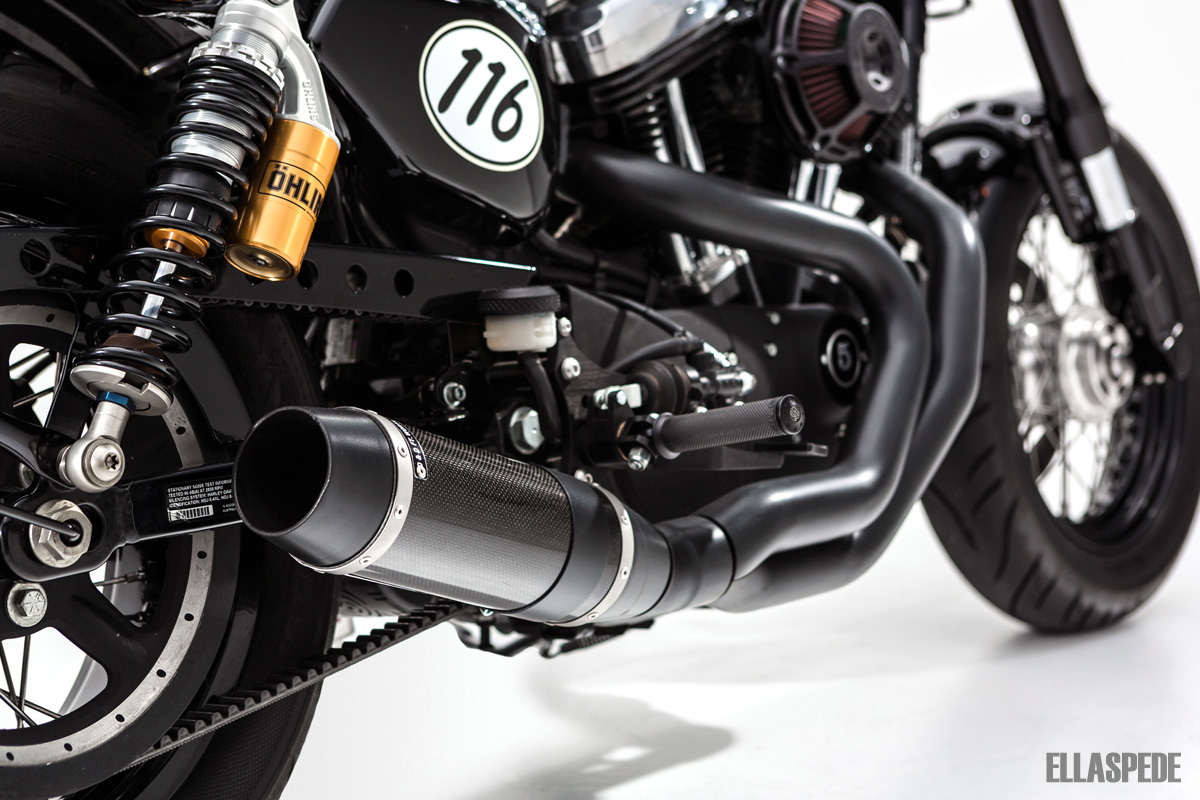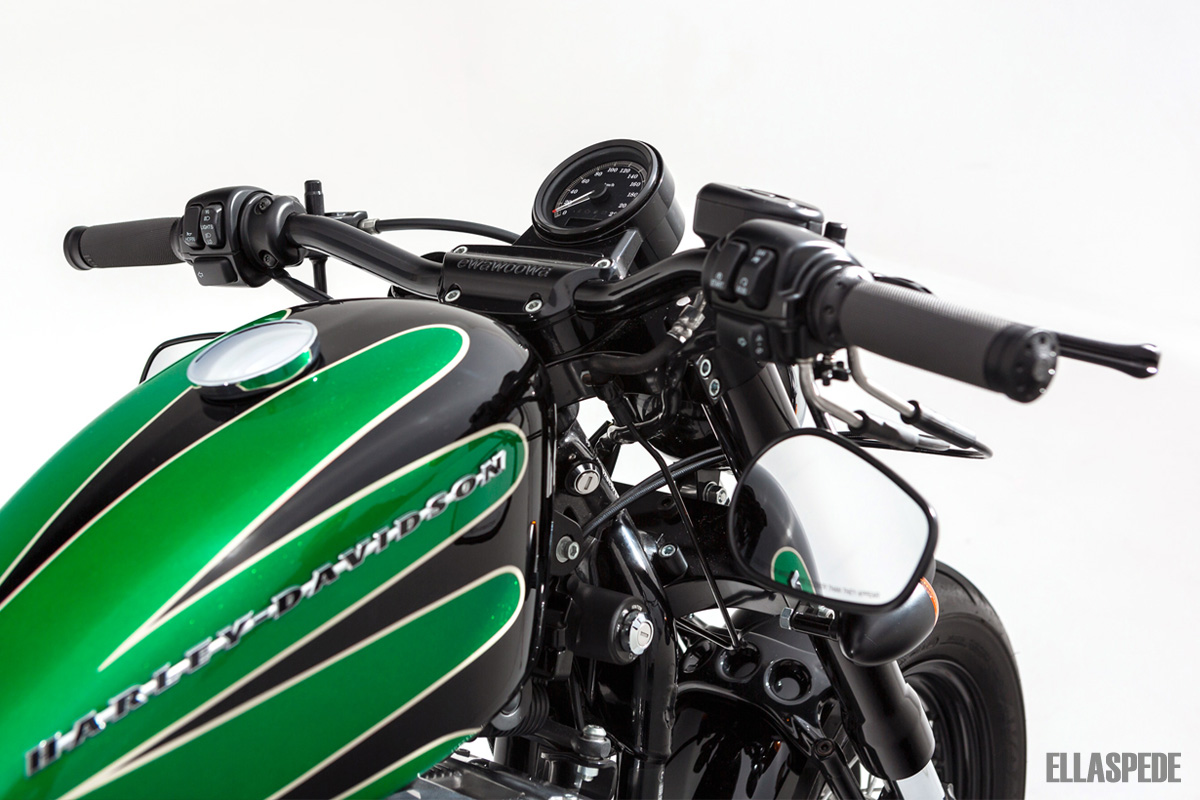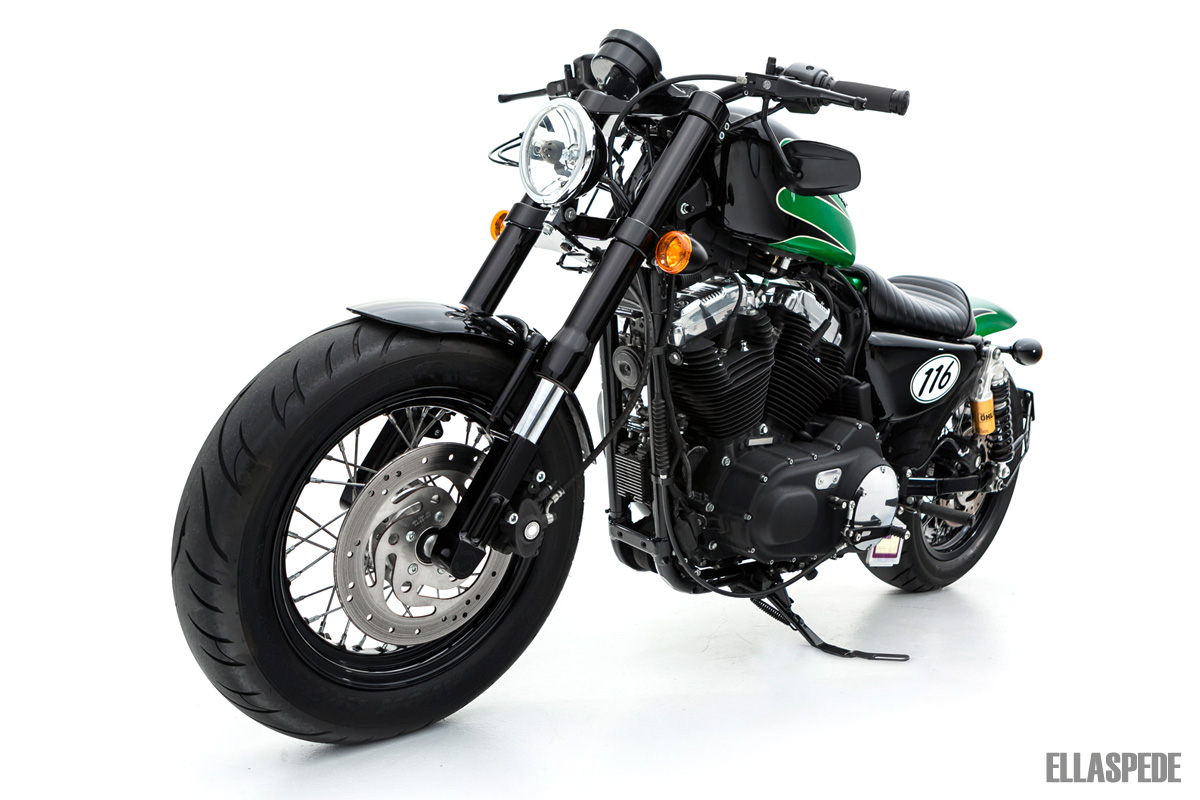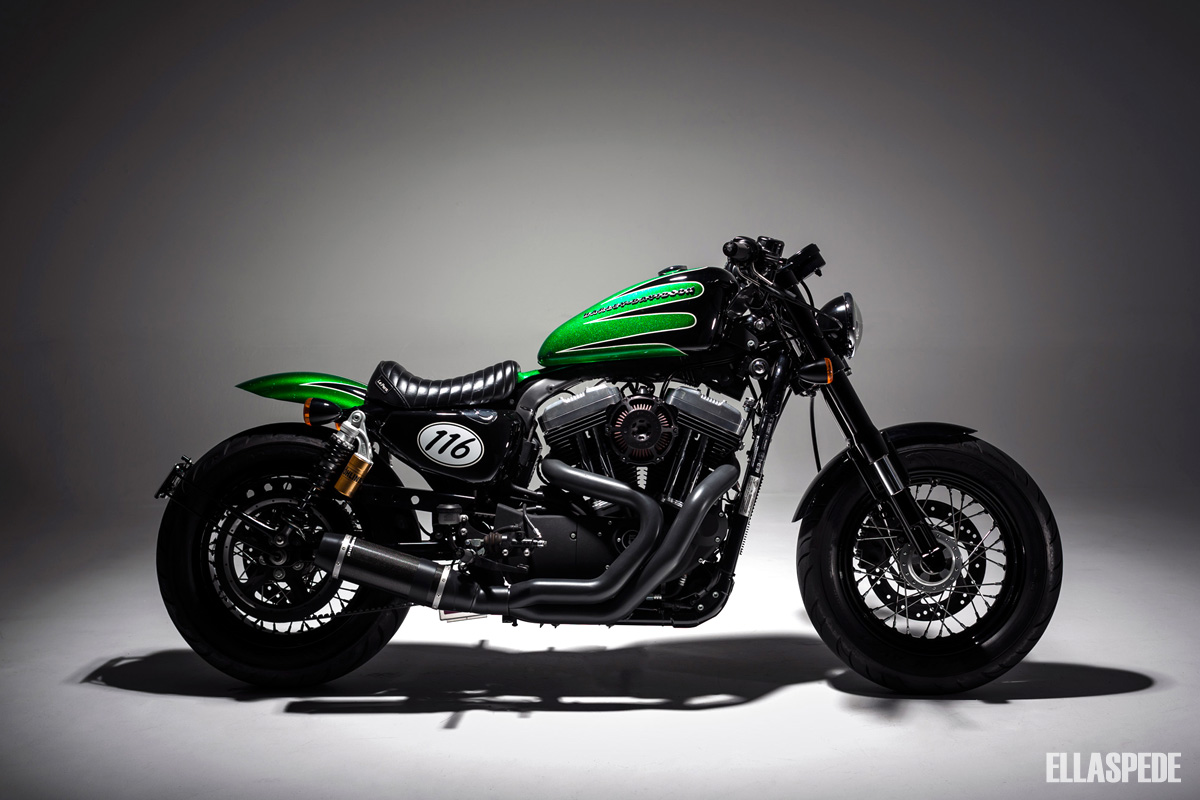 Albums we listened to during the build of this bike:
---
Photos and Features:
---
---
Comments (1)
License plate bracket

By:

Brock Harris

on 17 May 2022

Would it be possible to purchase this license plate bracket? Thankyou!
---
Leave a comment