EB172 – 2010 CF Moto V5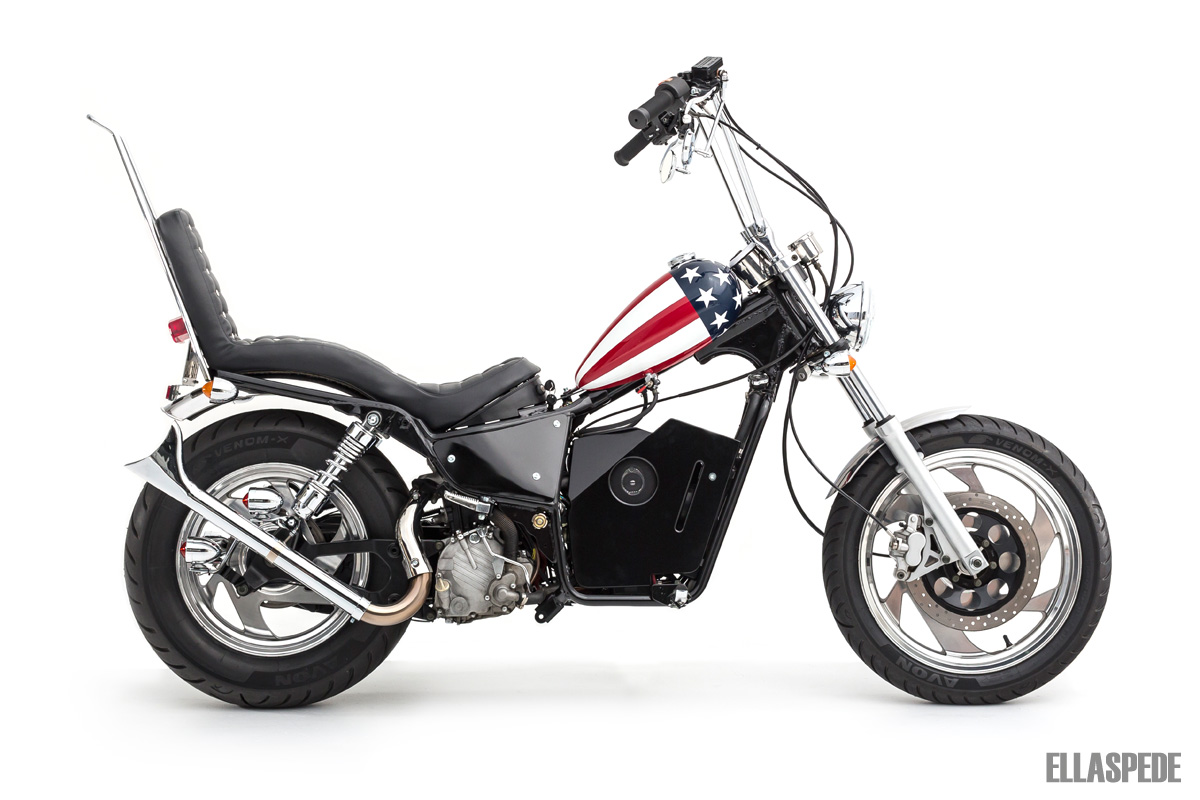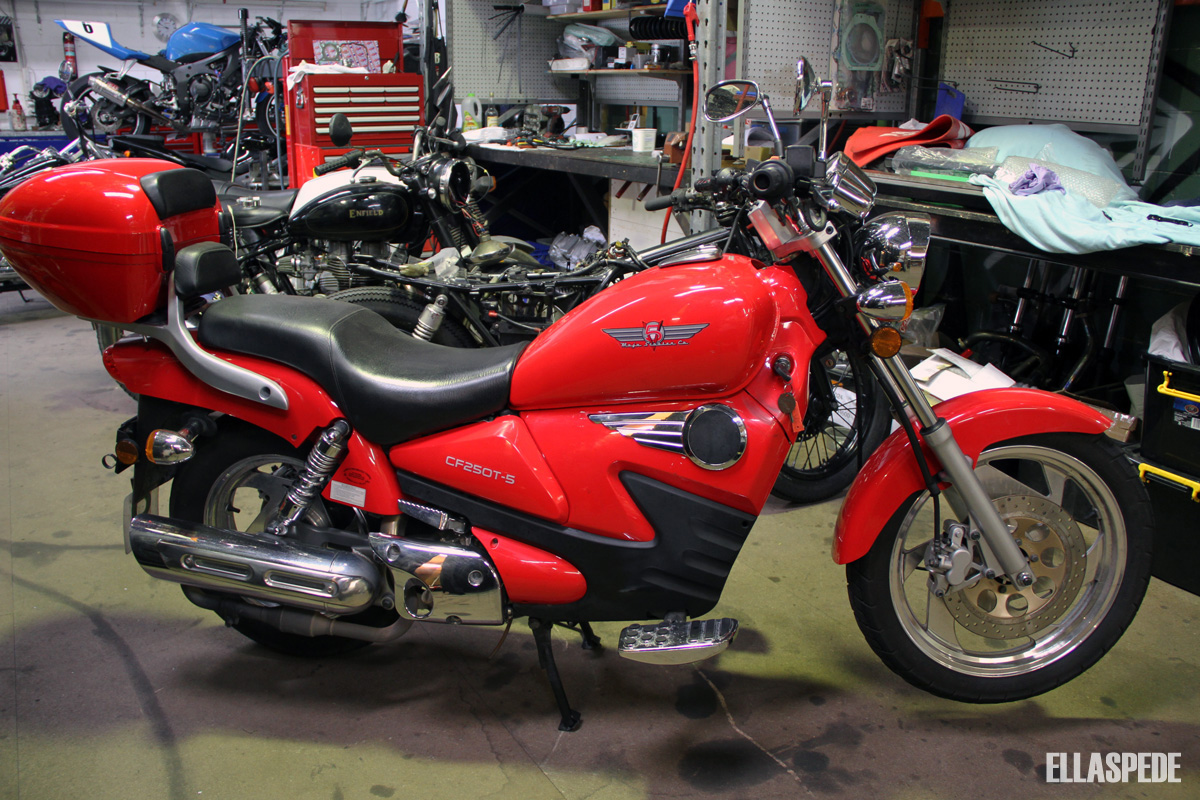 When you look at the many custom bikes featured on various forums, online blogs and printed media, we imagine there are plenty of times you've asked the question "why would you". Whether you're referring to the bastardisation of rare or classic models, seemingly poor quality work or just bad taste, we're sure you've asked the question.
We're also guessing that plenty of you will ask that same question about our latest build. But we're hoping that after reading this story you'll change your view to "why not".
Bike owner Zach rolled in to Ellaspede one Saturday, had a coffee and casually mentioned he'd like to have some custom work done on his bike. When he led us to a red 2010 CF Moto V5 we thought, ok, haven't seen one of these before. He's probably after some new indicators and fairing adjustment…
"Yeah, I'd like it if you could turn my bike into Captain America from Easyrider"… Goes to show you should never assume anything.
Our initial thought was (you guessed it), why would you, or more accurately, are you serious? But after closer inspection we thought that Zach may have something here. Looking through the fairing clad outer-layer the general frame shape kind of lent itself to a chopper look. Always interested in a challenge, we said yes, lets give it a go.
Of course the idea of turning a Chinese scooter into a replica of arguably the most iconic motorcycle ever built seemed silly, but I think this is what we liked about it. Who's to say that a custom build must be based on a CB750 or R series BMW and must be a cafe racer, street tracker or bobber?
Anyway, with the jokes subsiding we got to work on stripping the panels to reveal a surprisingly compliant frame shape. It was then we saw this thing could actually look like a half decent version of Peter Fonda's movie steed.
Through the process of researching the build we learnt more of the original Captain America bikes made for the movie by Ben Hardy. Because of its popularity there are still many aftermarket copy parts available. We ordered a tank, seat (didn't think there was any point trying to reinvent-the-wheel on this particular unit), taillights and sissy bar. 12" narrow ape style bars and a fish-tail muffler were also sourced to complete the look.
The CF Moto 250 V5 is an oddity in that it has a swing arm mounted motor and is automatic like a scooter but has a backbone frame, fuel tank and wheel size like a conventional motorcycle, with the overall size being closer to a small cruiser.
Another interesting feature of the standard bike is a stereo. Zach said that had to stay as he used it quite a bit. Our answer was of course "why not"!
When the parts arrived we mocked the bike up to see how much work would be required to convey the idea… surprisingly little. With all these purchased parts you may think this more of a bolt-on custom… far from it.
The frame was adjusted with many tabs and excess items removed. The original mid 20th Century Harley was a hard-tail whilst the CF has springs, so we had to retain the frame above the rear wheel to hold things up.
With some adjustments to the underside of the (rather heavy) seat we had it sitting as best it could. The stainless rear guard married up to the seat quite well and the sissy bar was docked to a visually suitable length and mounted to the frame and seat back.
The replica 4 lower taillight's mounts were adjusted to suit the CF rear, locating quite well. The post-baffled fish-tail muffler was angled to visually suit the layout of the bike with a bit of custom stainless pipework up stream.
The 2.2 gallon (8.3L) tank fitted the frame very well and was an easy mount. The two petcocks 'T' into one to feed the CF's single carb.
The most striking feature of the original bike is the stars and stripes colour scheme. Our painter did a great job re-creating this on both the tank and Zach's helmet.
A posh gauge was mounted forward of the adjusted and freshly polished top fork clamp. A replacement Blaupunkt marine stereo mounted behind.
Wiring to the switch blocks runs internal on the tall bars but in general, many modifications were required to make the electrics visually disappear, to be more in-keeping with the original Captain's aesthetic.
New cables and brake lines were of course required.
A blank stainless frond guard was shaped and mounted whereas the original had none. The original bike had 12" extended front forks at a 45o rake… but we weren't about to open that can of worms for this particular build.
Probably the most difficult part of the build was what to do with the space where (on a conventional bike) an engine normally sits. On the CF this area normally houses the battery, electrical items, speakers, radiator and plumbing, clad in plastic panelling. We still needed those things but didn't want to fill the whole area. As a part homage to a Harley V-twin we fabricated a box with a shaped top to house the gear including larger, upgraded speakers. It was all very tight but everything functions as it should after some initial teething problems.
We decided not to chrome the frame (and everything else) as per the original, as the budget didn't allow, opting for satin black on many parts offset by chrome and polished features.
An under seat wallet / phone compartment was made to fill the gap the seat and frame angles created and custom side panels now cover the majority of the engine which now breaths through a restricted pod filter.
Many hours cleaning, polishing and painting odds and ends brought the bike together along with new Avon Venom tread.
Naturally we copied "Born to be Wild" onto a USB stick for Zach's first ride of the re-vamped CF Moto. He donned his matching helmet and jacket, got his motor running and got out on the highway… with a grin from ear to ear!
As mentioned earlier we're hoping you view is now "why not" rather than "why would you", but if you're still not convinced at least appreciate Zach's foresight and guts to put his money where his mouth is on a pipe-dream.
I don't think Zach's Captain will ever achieve the $1.35 million sale the original Captain recently did, but to Zach, it's was well worth the effort.
For us it's been one of our most fun, interesting and challenging builds and one of the greatest transformations we've done to date. Thanks Zach.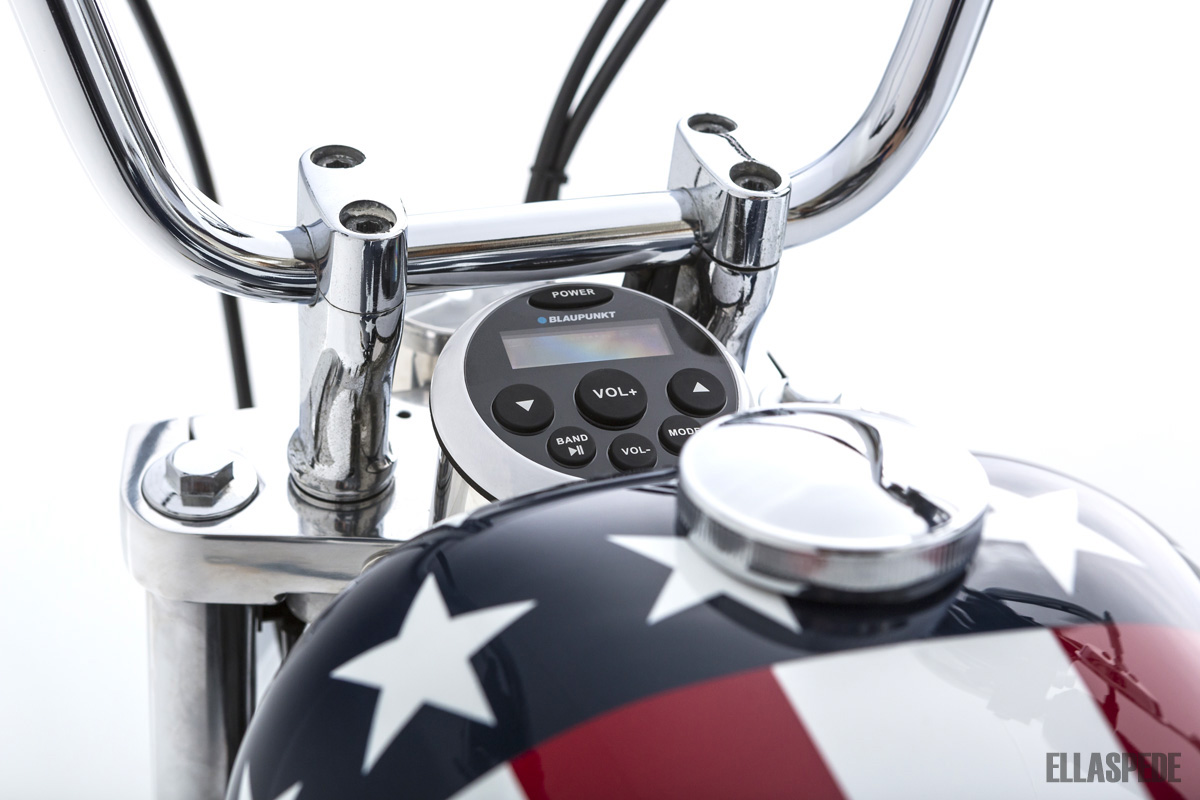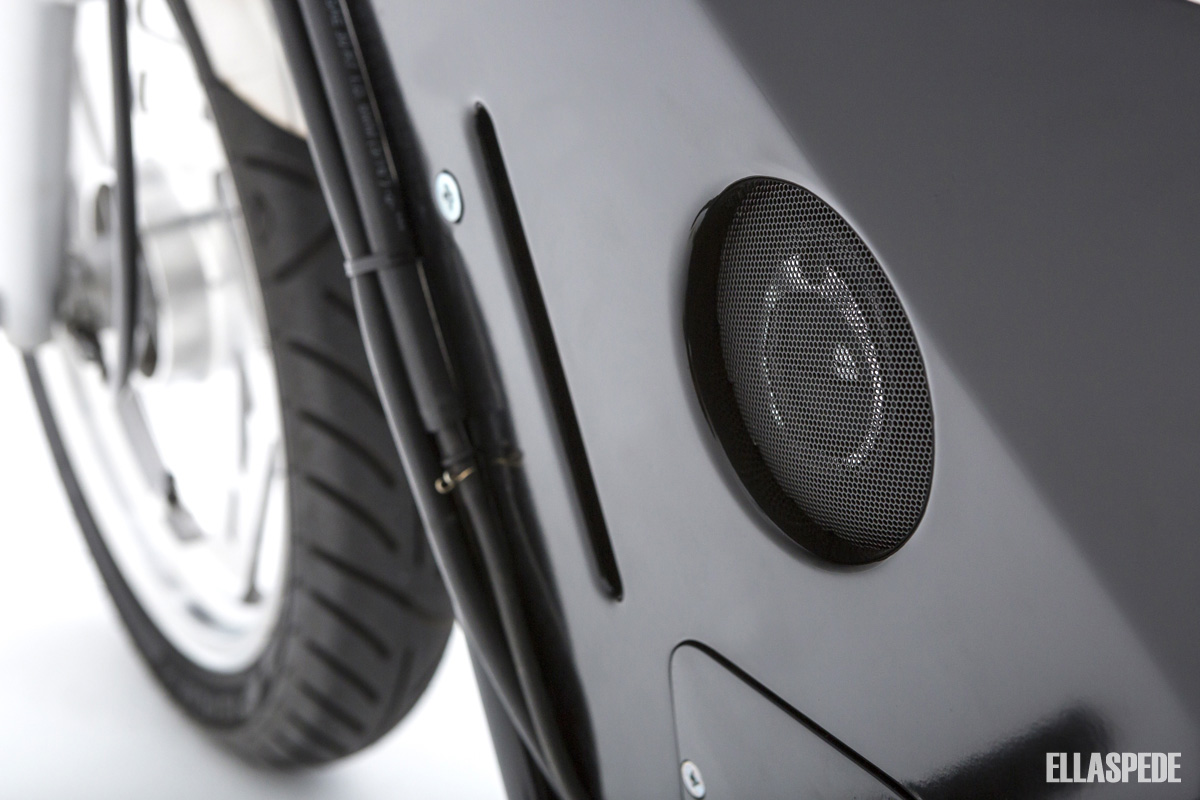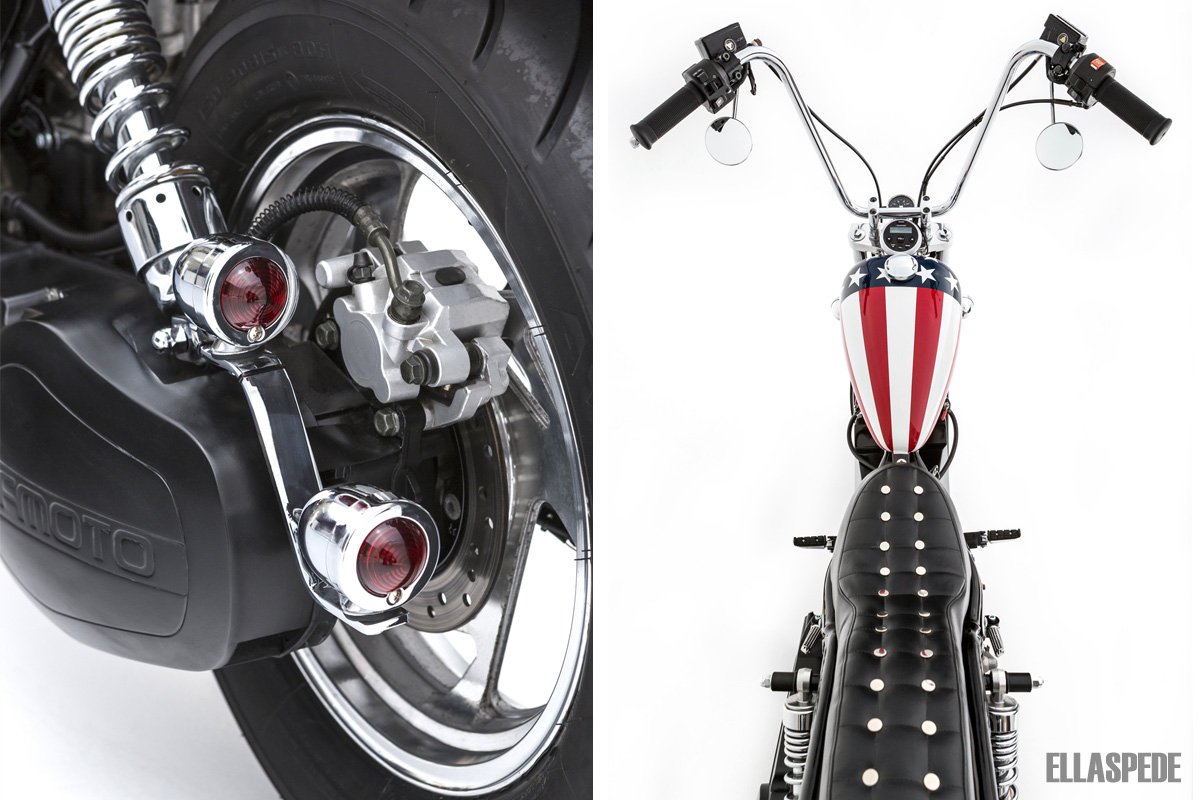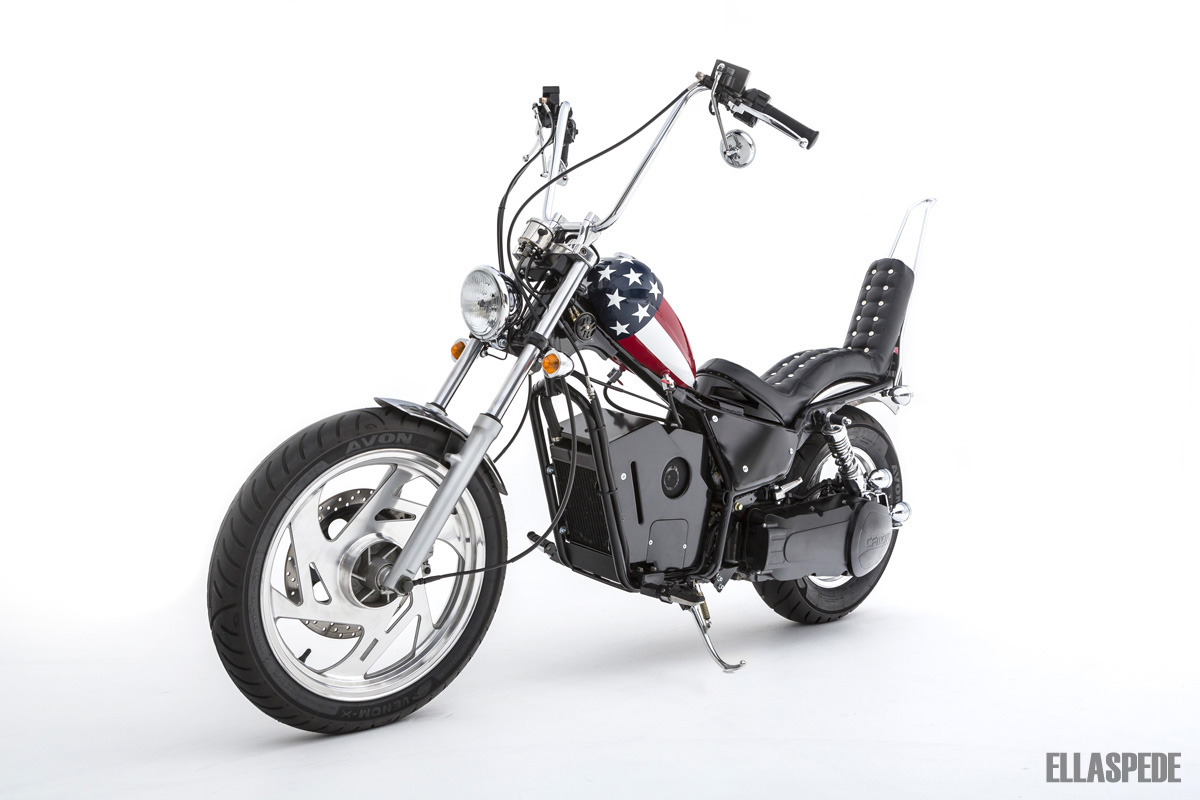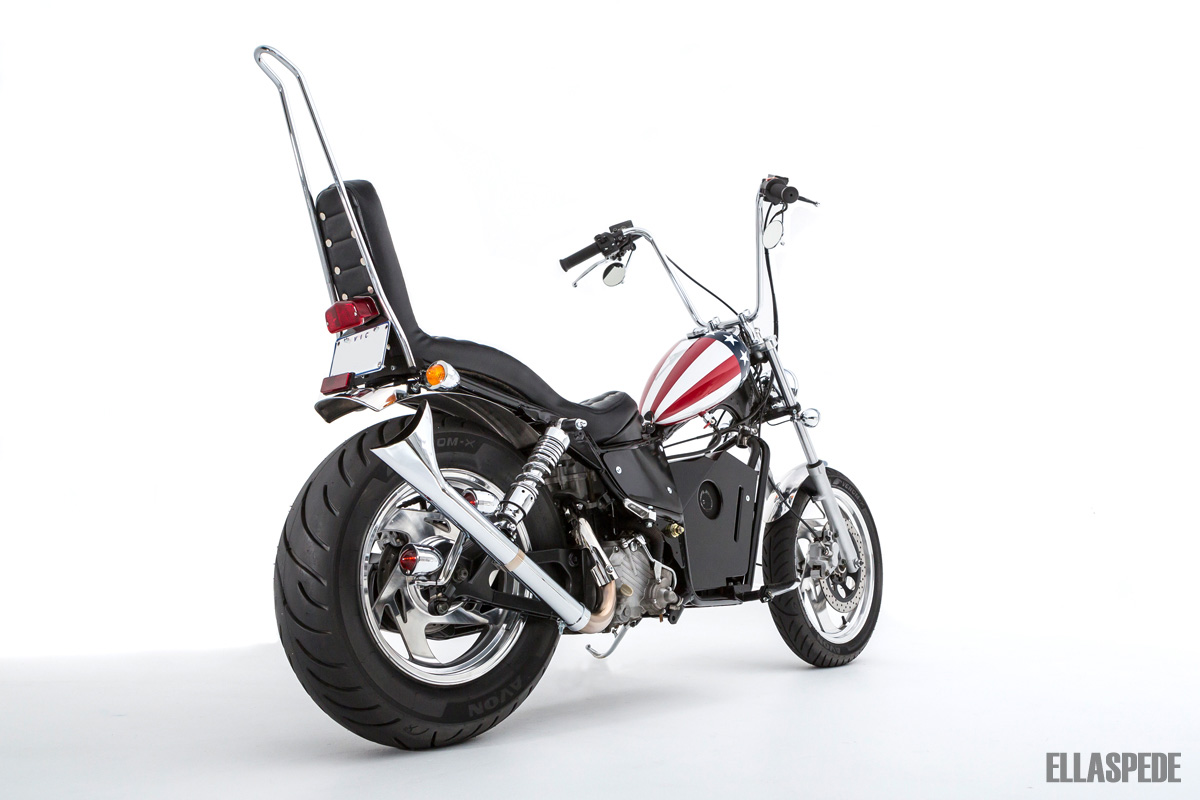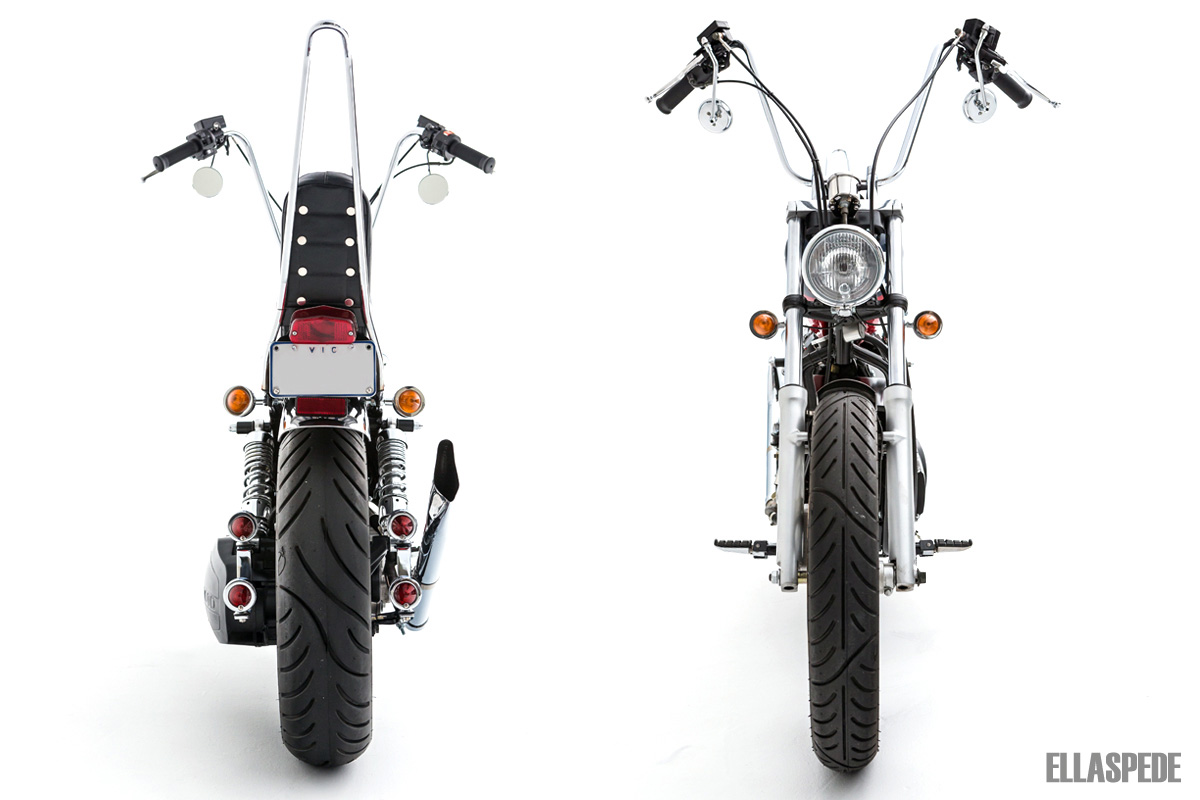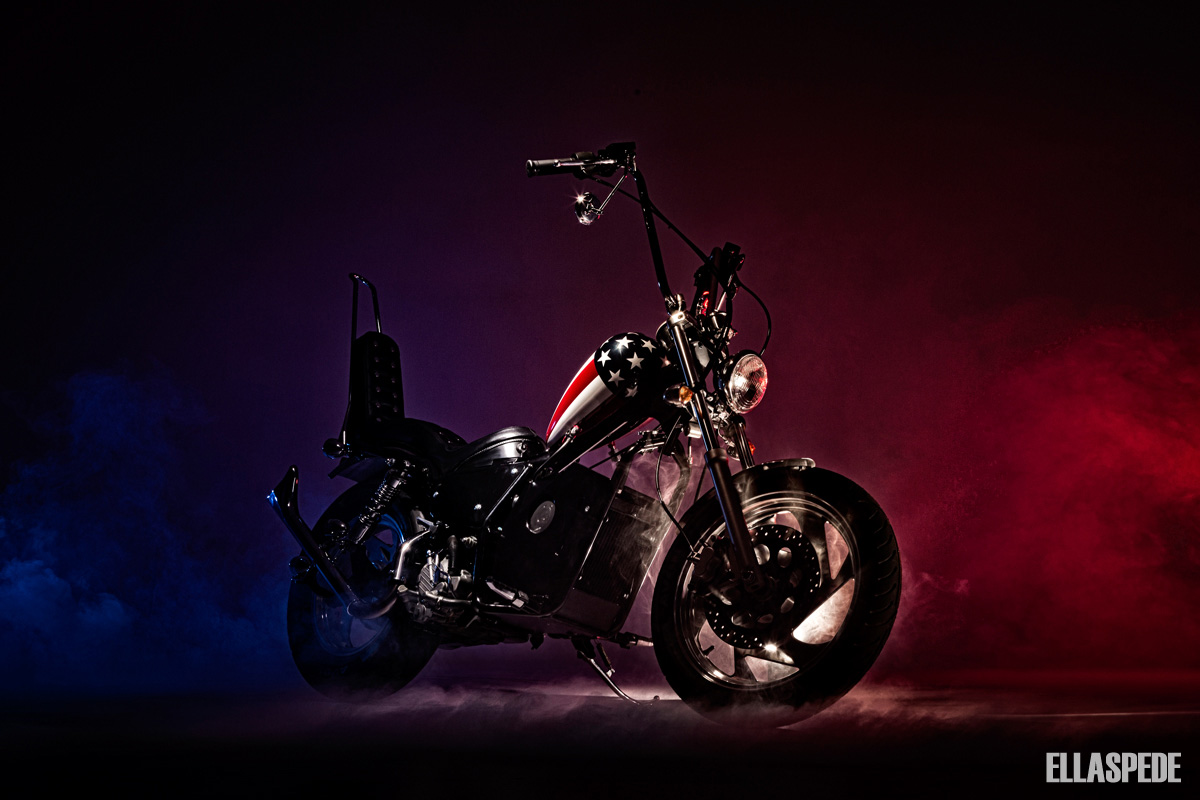 Albums we listened to during the build of this bike:
---
Photos and Features:
---
---
Comments (4)
great job

By:

dave parker

on 7 October 2022

how many did you build ? my mate now owns either this one or another one you made that is exactly the same, he brought it to a gathering we have every Thursday to give us a look at it, he got a couple of offers but wouldn't sell it.





Ellaspede Response
Hey Dave! We only built the one of these and it was a pretty individual bit of kit. I'd say he's the client we did the original build for or he bought it off the guy we did the build for. That's pretty cool your mate loves it and won't sell! Cheers mate
---
Wow I've never seen this. I'm impressed, your tal

By:

Richard Garcia

on 26 December 2020

Maybe you can help me. I have a CF Moto V5 and want to change the handlebars to give it a sportier look. Would you have any suggestions on a basic bar that could fit? Again amazing work.
---
Shipping

By:

Lawrence A Gurley

on 9 October 2020

Ship to USA





Ellaspede Response
Hi Mate, This bike was built for a customer in Aus so it's not for sale sorry. Cheers!
---
Gold!

By:

Linda Seabrook

on 6 December 2018

I had a CF Moto....wish I'd kept it after seeing this! Any chance you could give me an idea of cost to do this on the newer version please!
---
Leave a comment