EB588 – 2009 Suzuki DRZ400e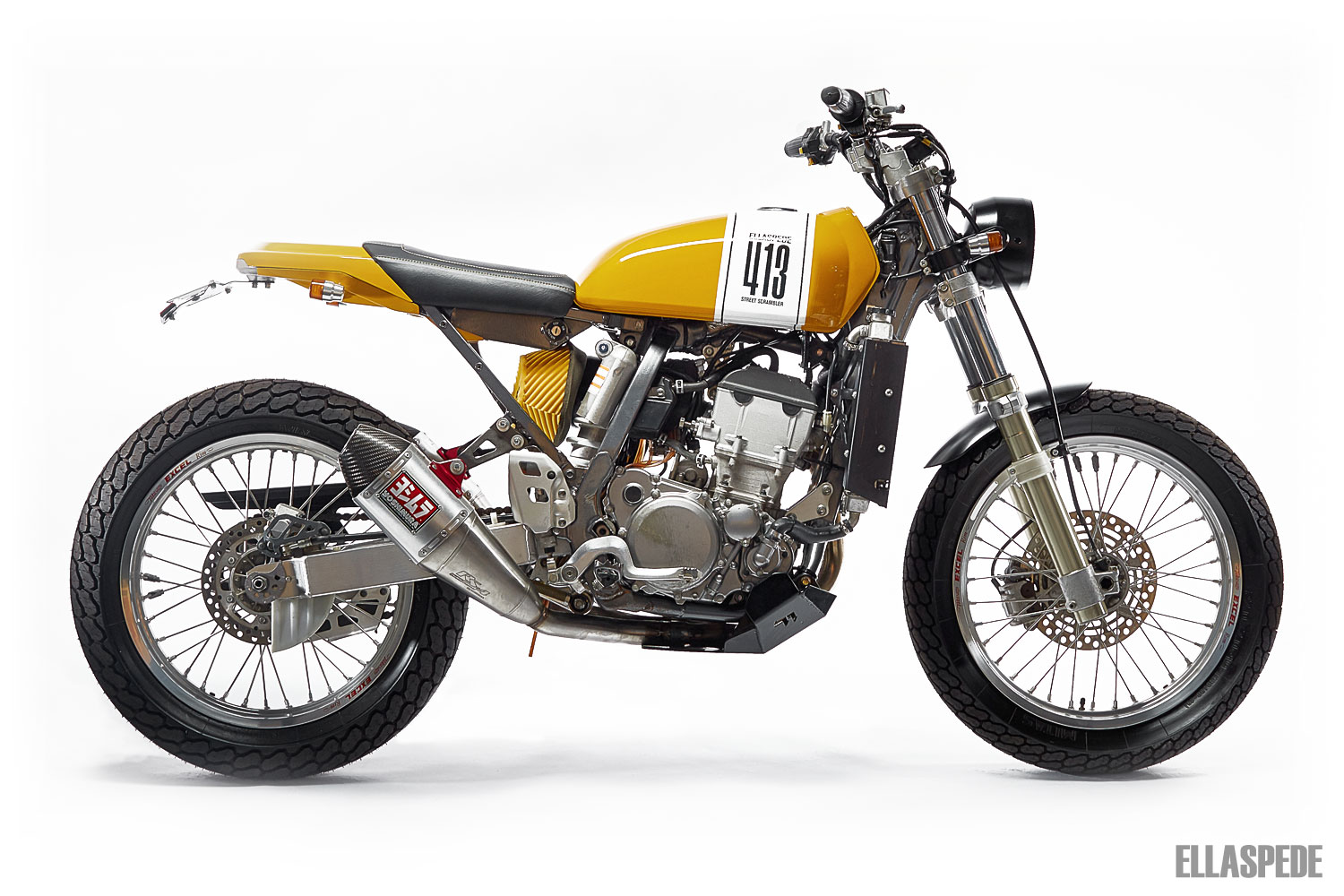 For those who already know of this DRZ400 build, this build bio should probably start with "A long long time ago…" For those who don't know, this build has been a back burner project for Leo (one of the the co-owners of Ellaspede).
The build was meant to be a quick 3 month turn around, but as with any good project, the more bits Leo took off the bike, the more ambitious the build became. At Ellaspede we always tell people to have a plan and stick to it for the best results… well that didn't happen with this build. Definitely do as we say, not do as we do.
The donor bike is a 2009 Suzuki DRZ400E. Leo was searching for a thumper that would be nice and nimble for the city streets whilst allowing for a somewhat easy styling transition to what he had in mind. After looking around at a few different makes and models the DRZ400E was bought based on lineage and the fact that Yoshimura made an absolutely wicked set of pipes for it. It sounds weird to base the entire purchase of a bike off a set of pipes, but as Leo puts it "look at the suckers they're so dope".
The bike got the same treatment all bikes get through Ellaspede, which is source inspiration, sketch, concept, tear down, build, test and ride.
From an inspiration stand point Leo has been heavily influenced by late 70's flat track bikes as well as modern interpretations of what the future of motorcycling will look like, through bikes such as the soon to be released Husqvarna 701 designed by Kiska.
First thing to change on the bike was the height…yes Leo is short, so the bike was dumped about 100mm with shorter springs and spacers for the rebuilt front forks and some simple adjustments to the rear shock. A set of Excel 19" front and rear rims were laced up to the stock hubs with some Mitas H18 street legal flat track tyres completing the wheel setup.
Leo had sketched out a design for a tank with the idea of getting the Ellaspede crew to hand fabricate one, but during some late night eBay trawling a mint vintage Suzuki tank presented itself…That's where the plan started to derail and change. With some minor adjustments the tank was fitted up.
Due to the shop being so busy the bike was hauled back to Leo's house. Thanks to an understanding wife the bike made its way into the spare bedroom for mocking up of the tail, radiators, seat, battery box and bash plate to begin.
As with all projects there are periods of love and hate, the weeks started to tick by with little progress as life got in the way and customer builds took priority. Soon deadlines were set and missed, while questions of "how the build was going" turned into ridicule. After losing 2 cartons of beer to his brother in-law Leo decided to start burning the midnight oil, double down on the beer bet and get the build finished. With a new design mapped out that incorporated and accentuated the vintage tank the build was re-ignited.
The rear tail cowl section, headlight, tail light, and fork brace/front guard mount were all designed and CNC machined from billet blocks of ABS, Polycarbonate and T6061 Aluminium, respectively. Leo wanted a clean rear look which could mount the number plate, indicators and at some stage in the future maybe even a rack.
To date the engine internals remain stock, with power mods limited an airbox removal, free breathing colour coded Uni Filter and the gorgeous set of 1-into-2 Yoshimura pipes.
The main frame remains stock, while the rear subframe was de-tabbed, shortened and 'flattened out' to better match the visual line through the bike. The lower rear subframe also lent itself to Leo's seat height requirements too.
The custom seat was foamed and wrapped up in a combination of smooth and perforated UV vinyl with a contrast yellow stitch subtly continuing the colour scheme. Under the seat a custom battery box houses the simplified electrics, drawing power from an Antigravity lithium battery.
The gauge is a new style analogue and digital Daytona item which features a separate instrument panel and cool little start up procedure. A custom Ellaspede aircraft grade wiring loom was made to suit with the majority now hiding up under the tank.
Lighting is care of a 'halo' headlight in a custom housing, LED rear stop/tail and Posh Chamfer indicators signalling direction changes in traffic. An Ellaspede Ninja Star licence plate holder hangs off the rear to mount the number plate, plate light and rear reflector.
The front guard was fabricated and mounted to the custom CNC aluminium Ellaspede fork brace sitting snugly above the front tyre. An aftermarket bash plate also went under the knife with a cut out and new mounts to play guardian to the under slung exhaust on off road adventures. Leo keeps an eye on the dirt squirting out the rear via a pair of LSL mirrors.
The stock radiators remain, albeit attached via custom mounts to fit snugly under the vintage tank and clear of the forks at full lock. Bringing the Renthal bars back to within Leo's reach are custom CNC aluminium bar back risers.
As a conscious 'tip of the hat' to the previous owner being an avid off road enthusiast, Leo left the frame scuffs and engine scratches as a sign of the initial intended purpose of the bike. It was never meant to be a show bike, with regular excursions planned for dirt roads and the Ellaspede Dust Hustle events.
The toughest decision of all was of course, the colour scheme. The eBay tank came in an original mustard yellow, but the original concept for the bike was going to be predominately white with hints of charcoal grey. Deciding to pay respect to the late 70's Suzuki style, Leo went with the bright mustard yellow as a key colour and offset it with a pearl white muscle car style stripe. The only thing left was to put the whole thing back together for display at Dust Hustle 2016 to win back those cases of beer.
On a personal level Leo wants to thank the Ellaspede crew for all of their help. A few late nights from everyone really helped to get this beast on the road. With registration in hand the maiden shake down was completed at the local Brisbane hot spot, Mt Glorious. The DRZ400E didn't miss a beat, the tyres gripped well on road, it handled nicely and Leo has overcome his shortness complex as the upright seating position gives him great visibility.
Like all custom projects there are plans to tinker with it some more, Leo's weighing up a flat plate style headlight, Ohlins rear shock and some hard mount radiator hoses. But for now he's just glad to be riding his 'back burner' project bike.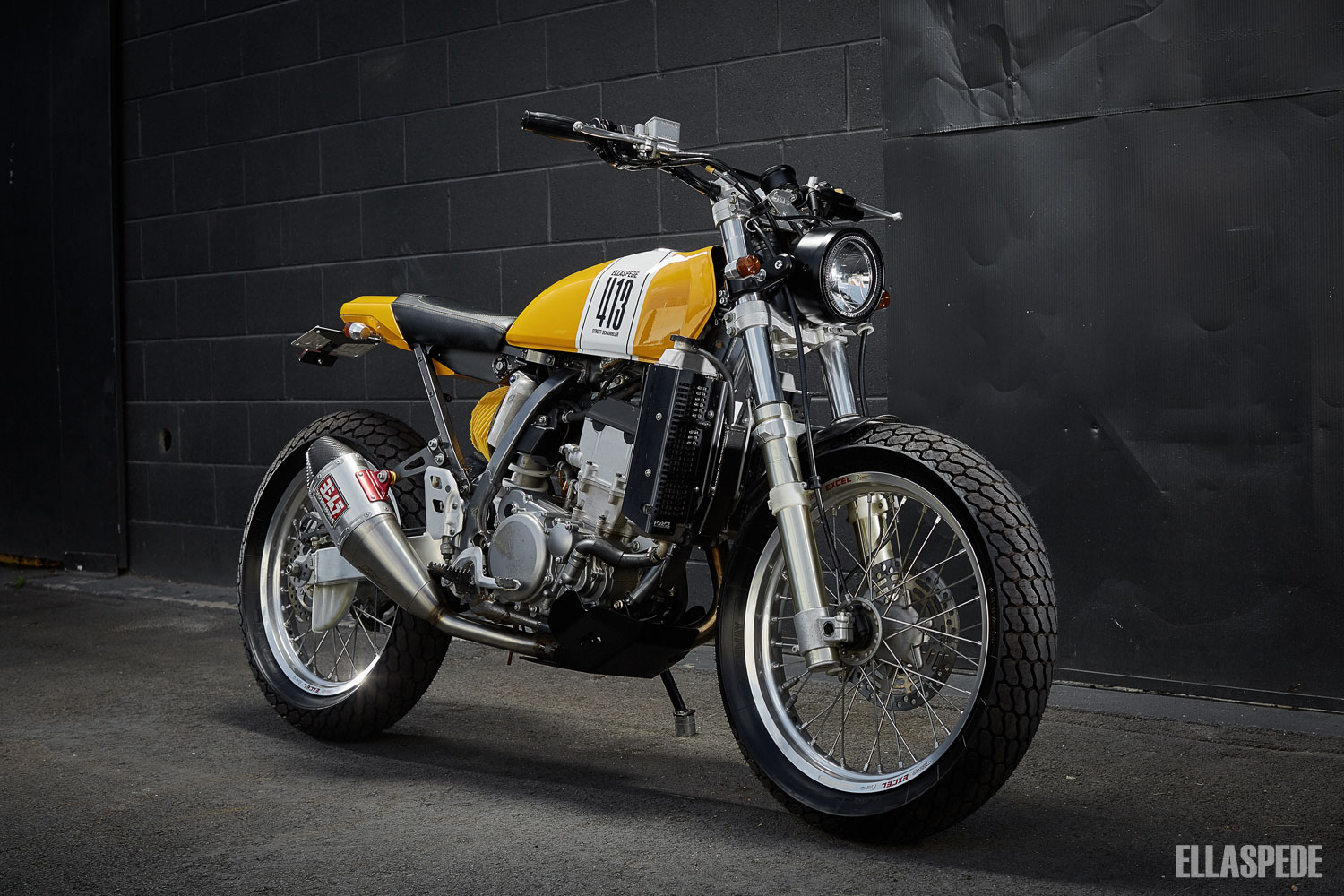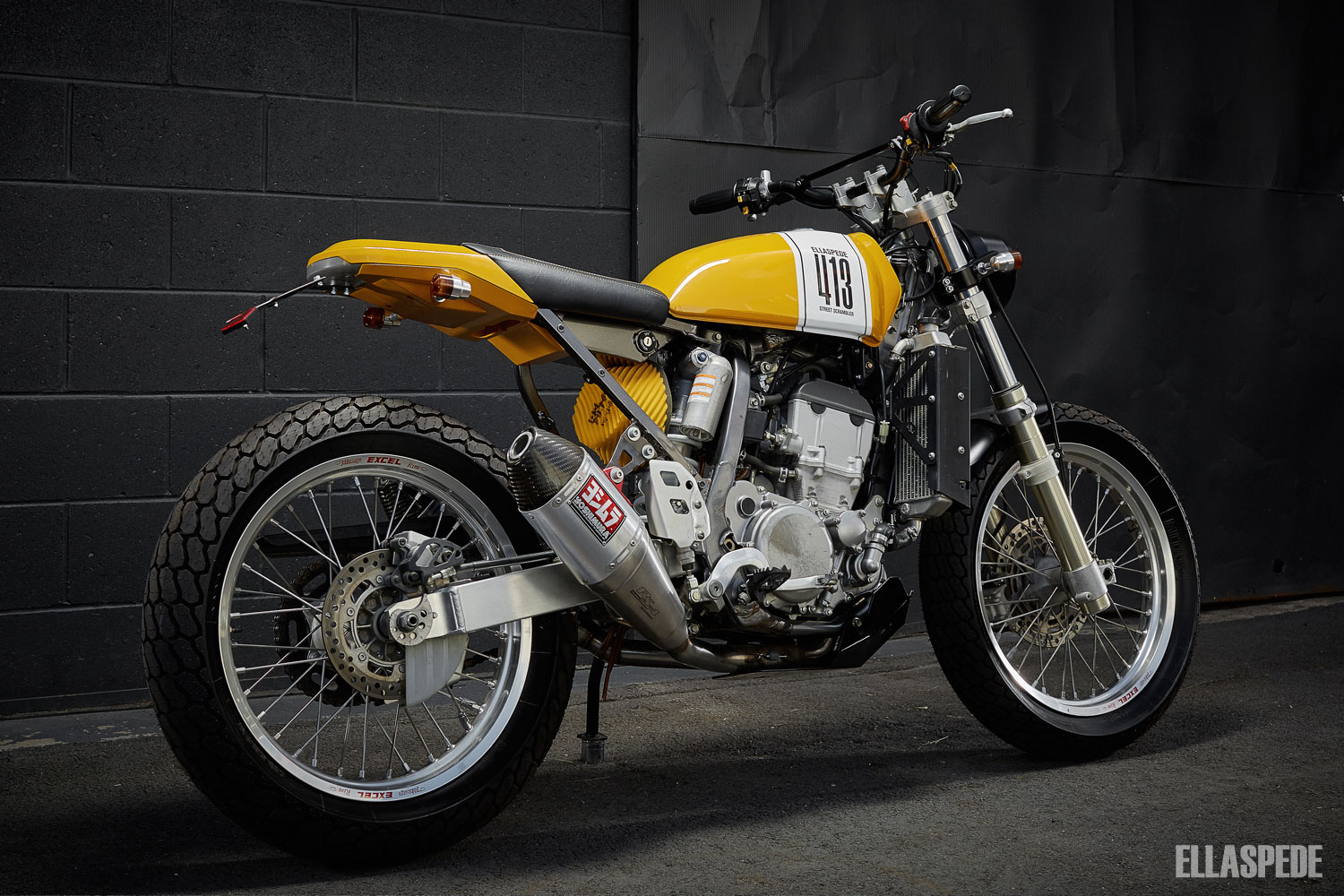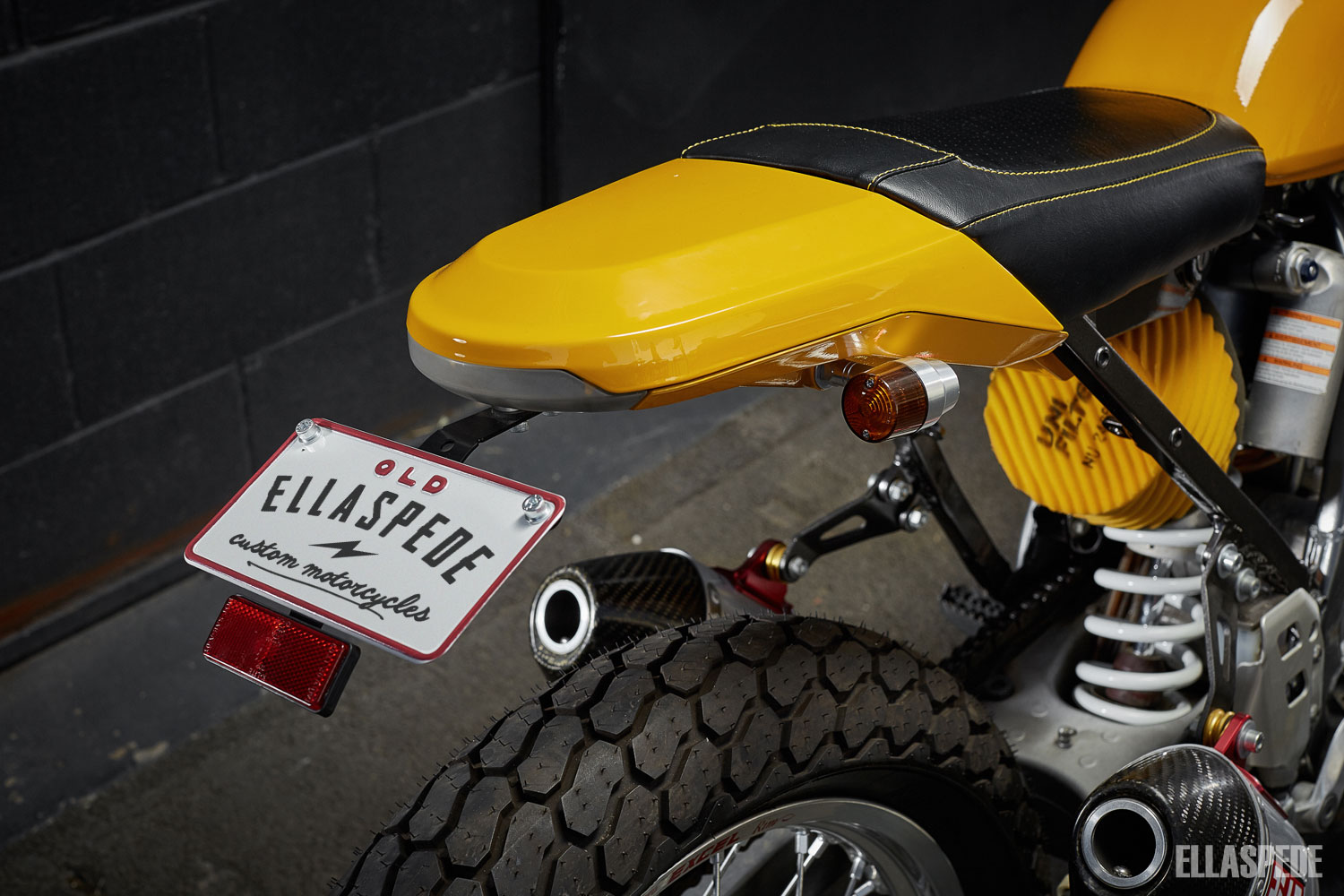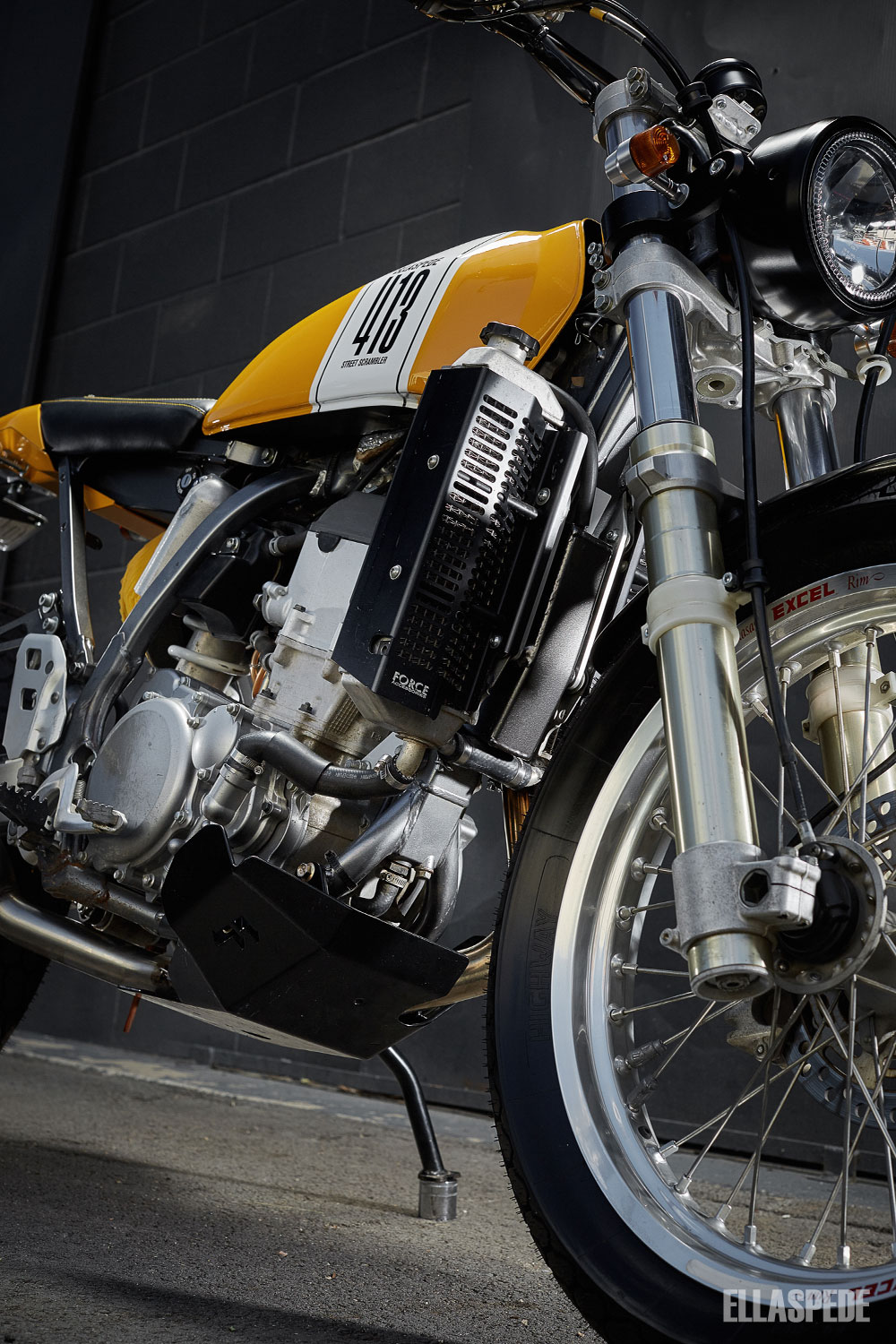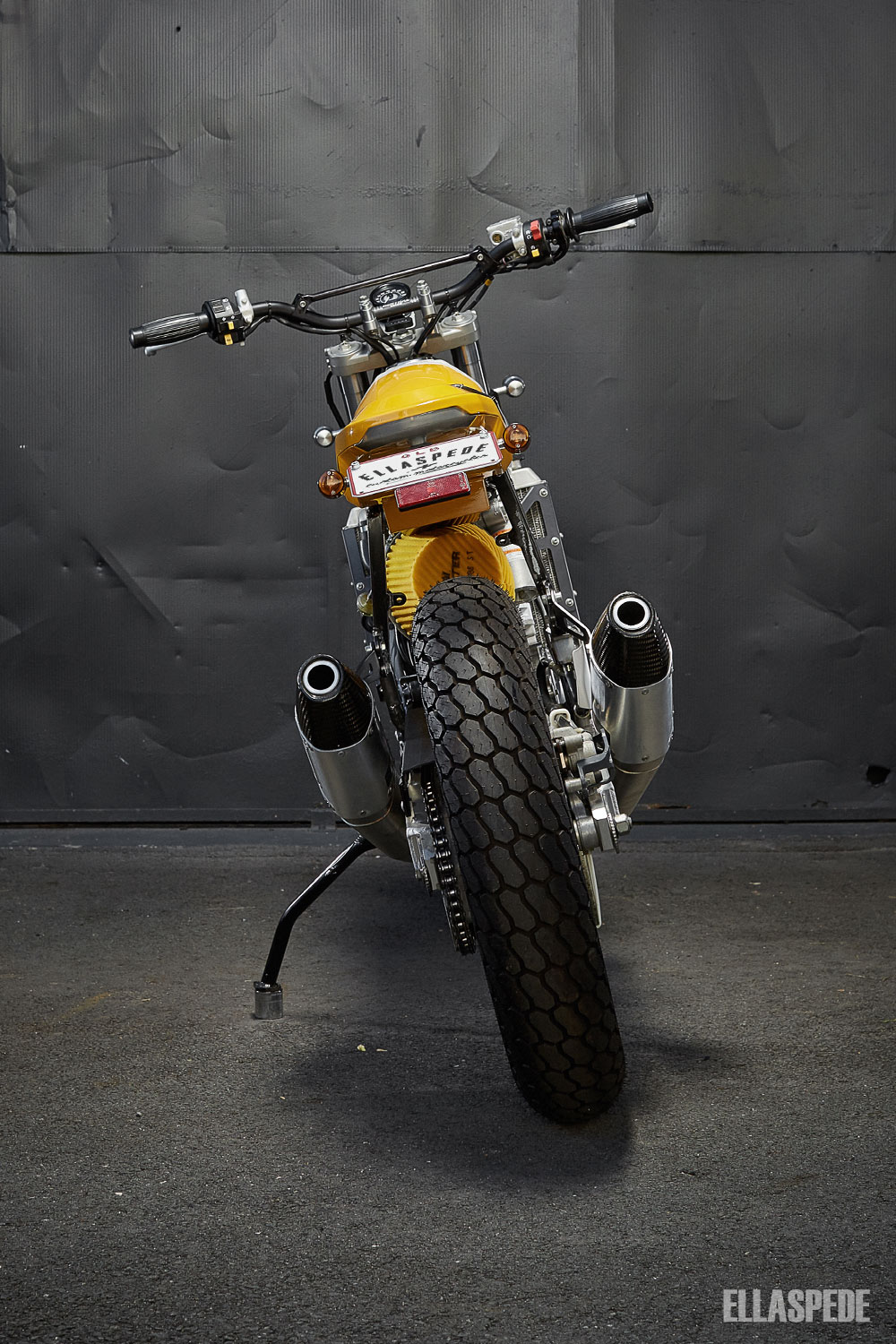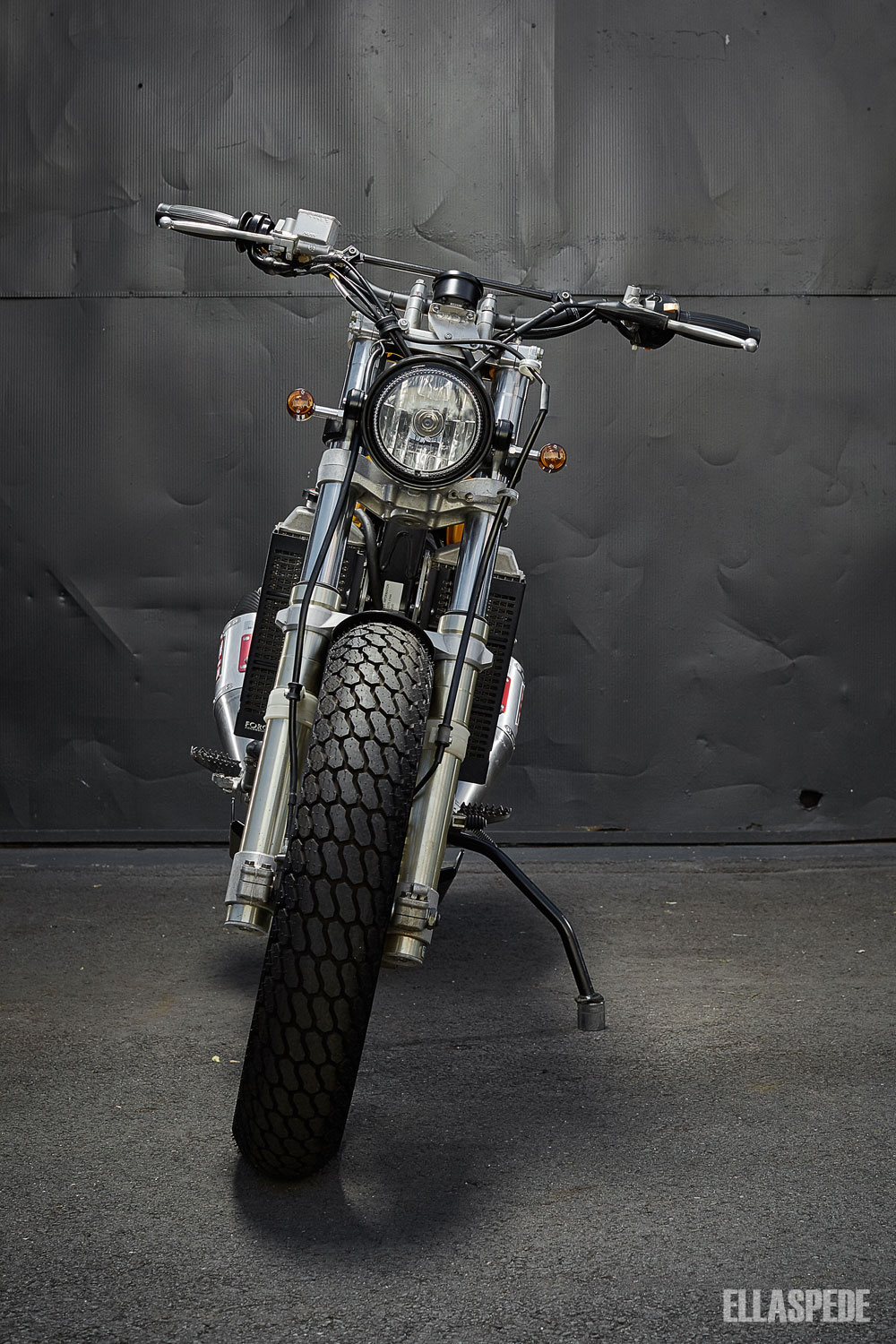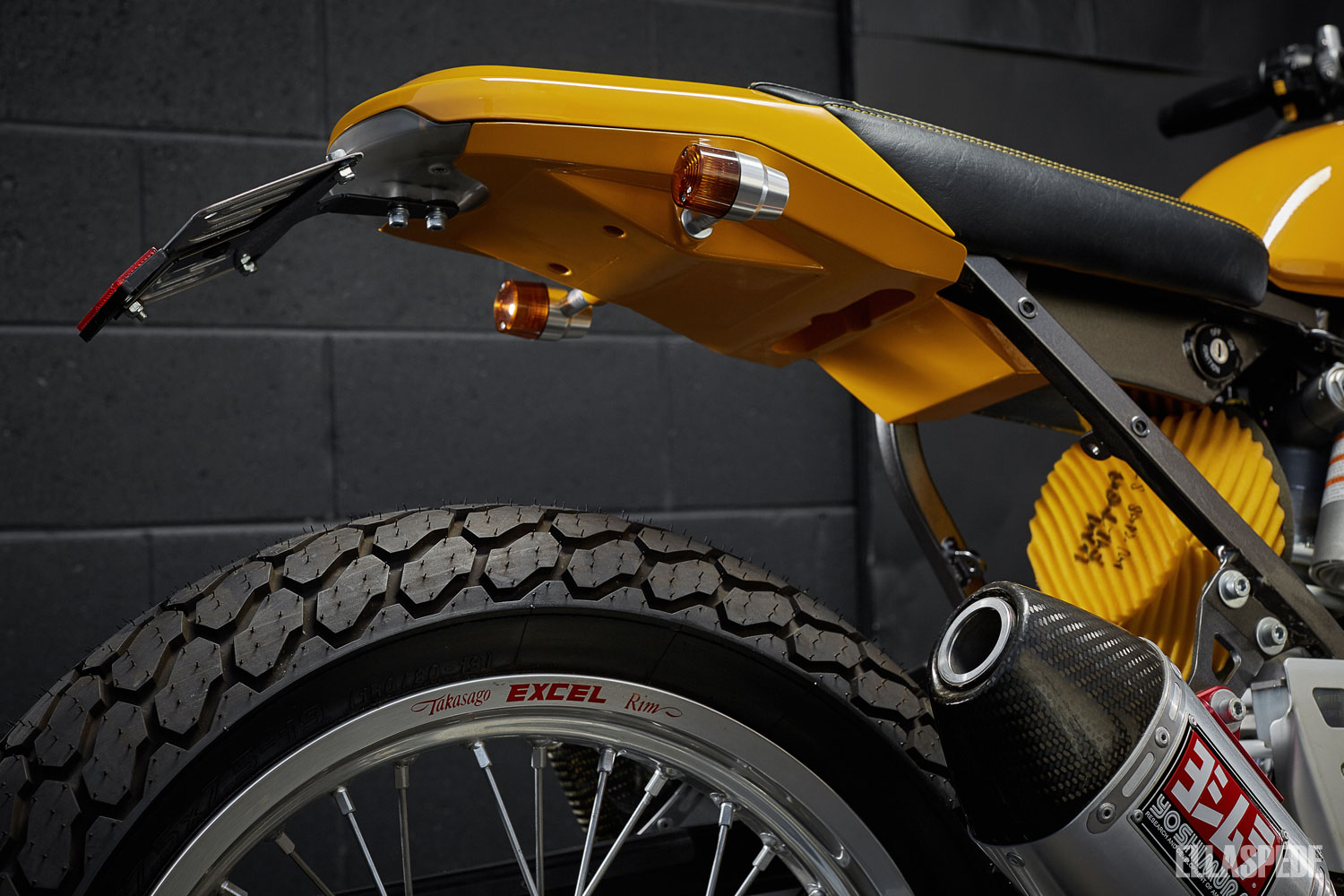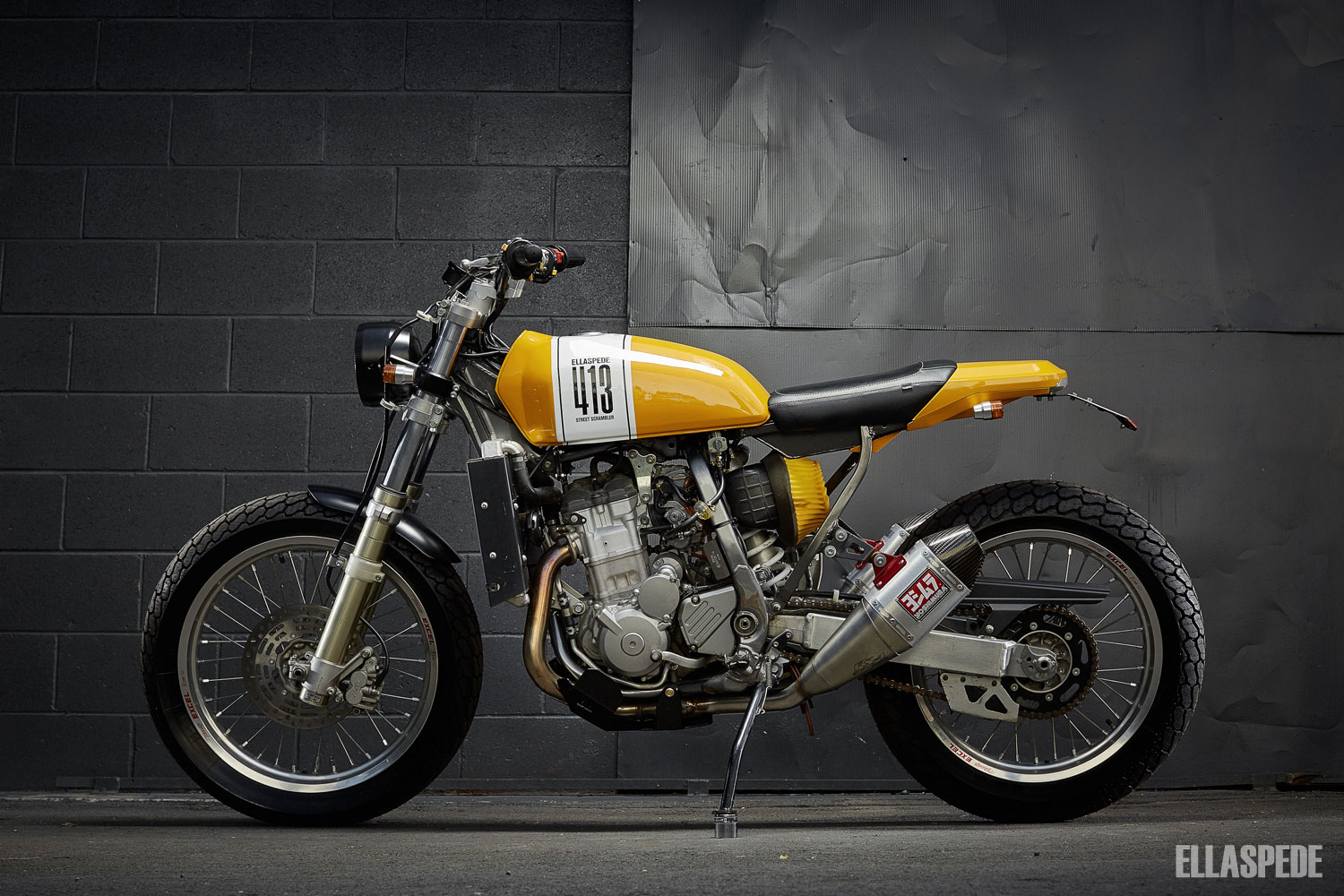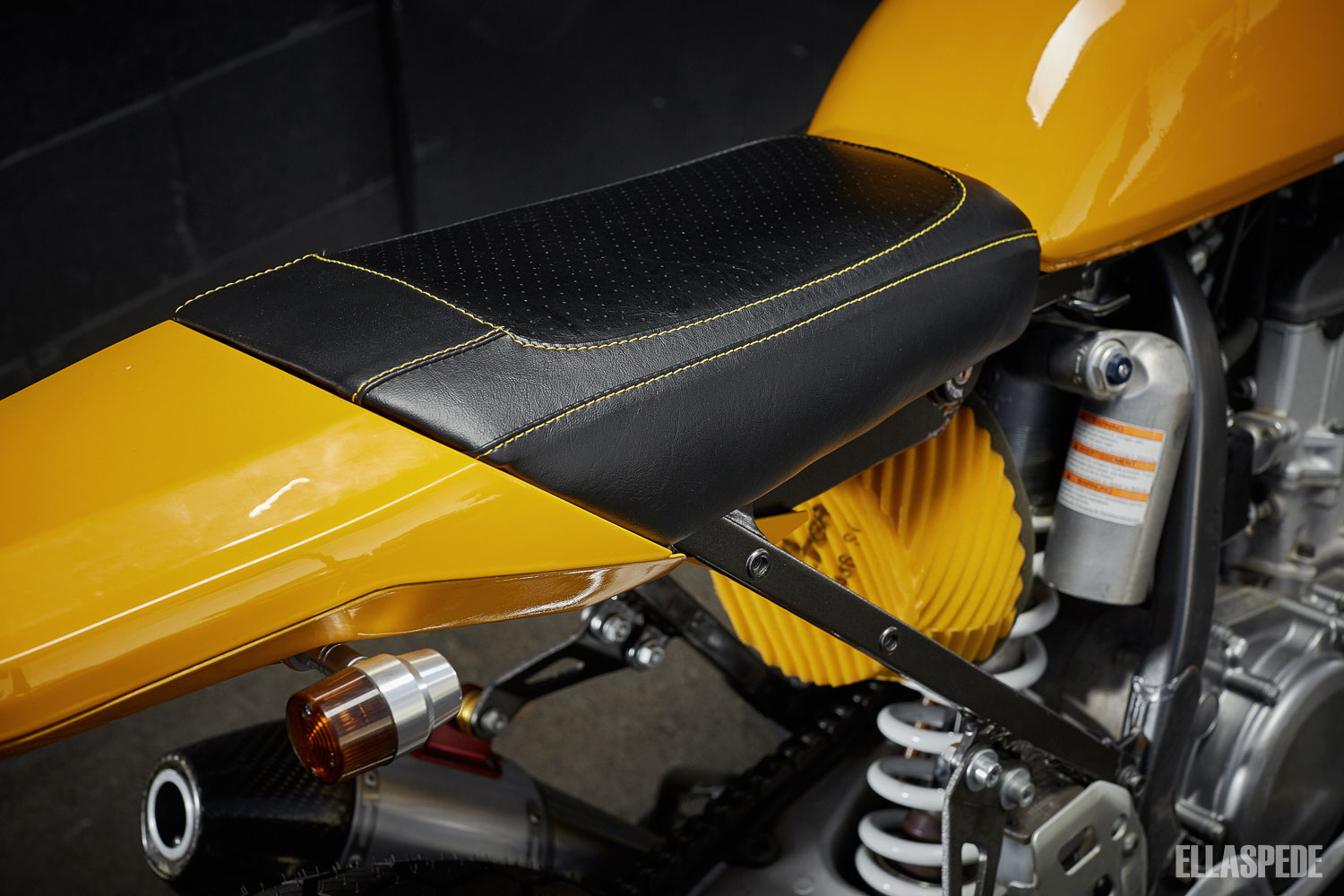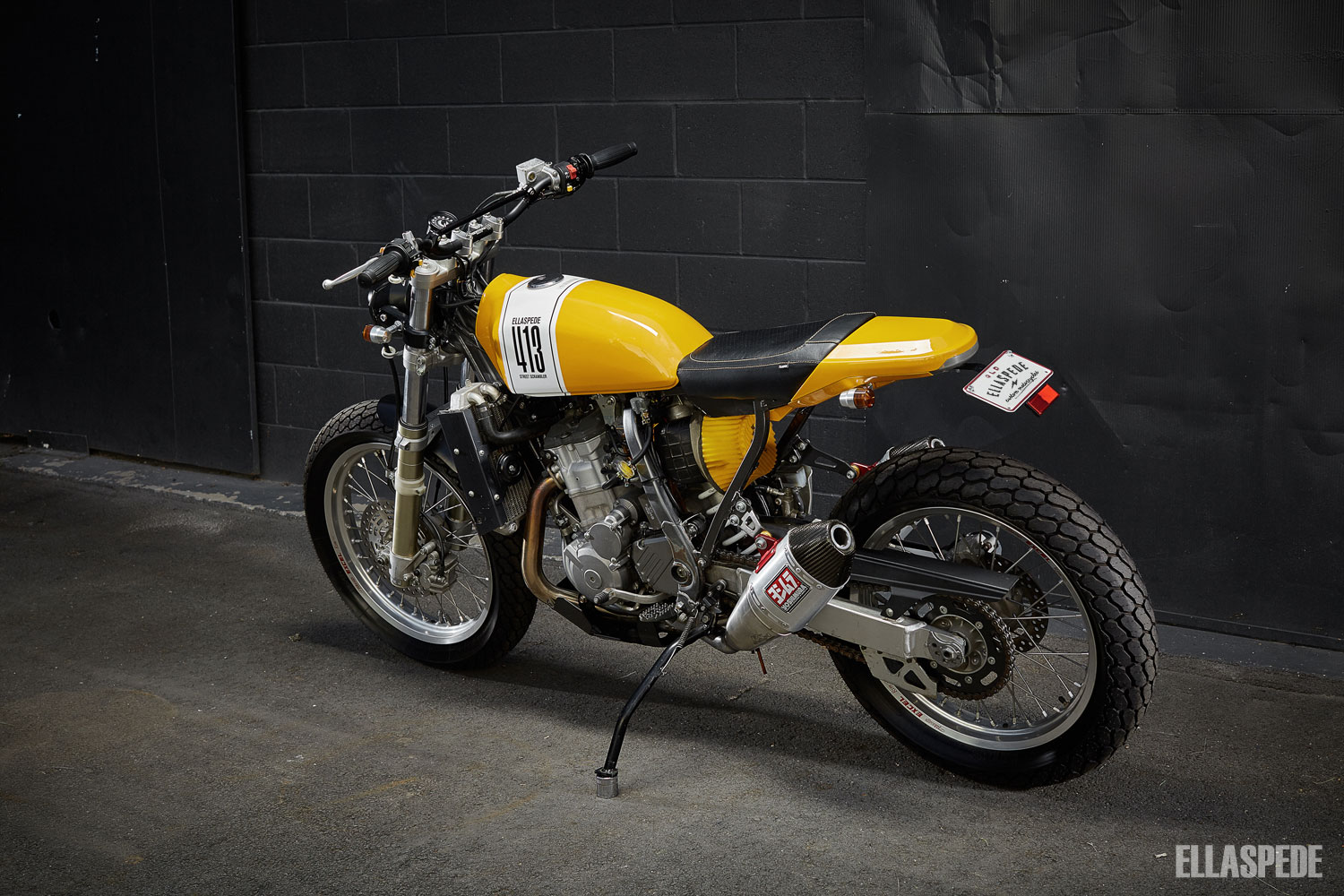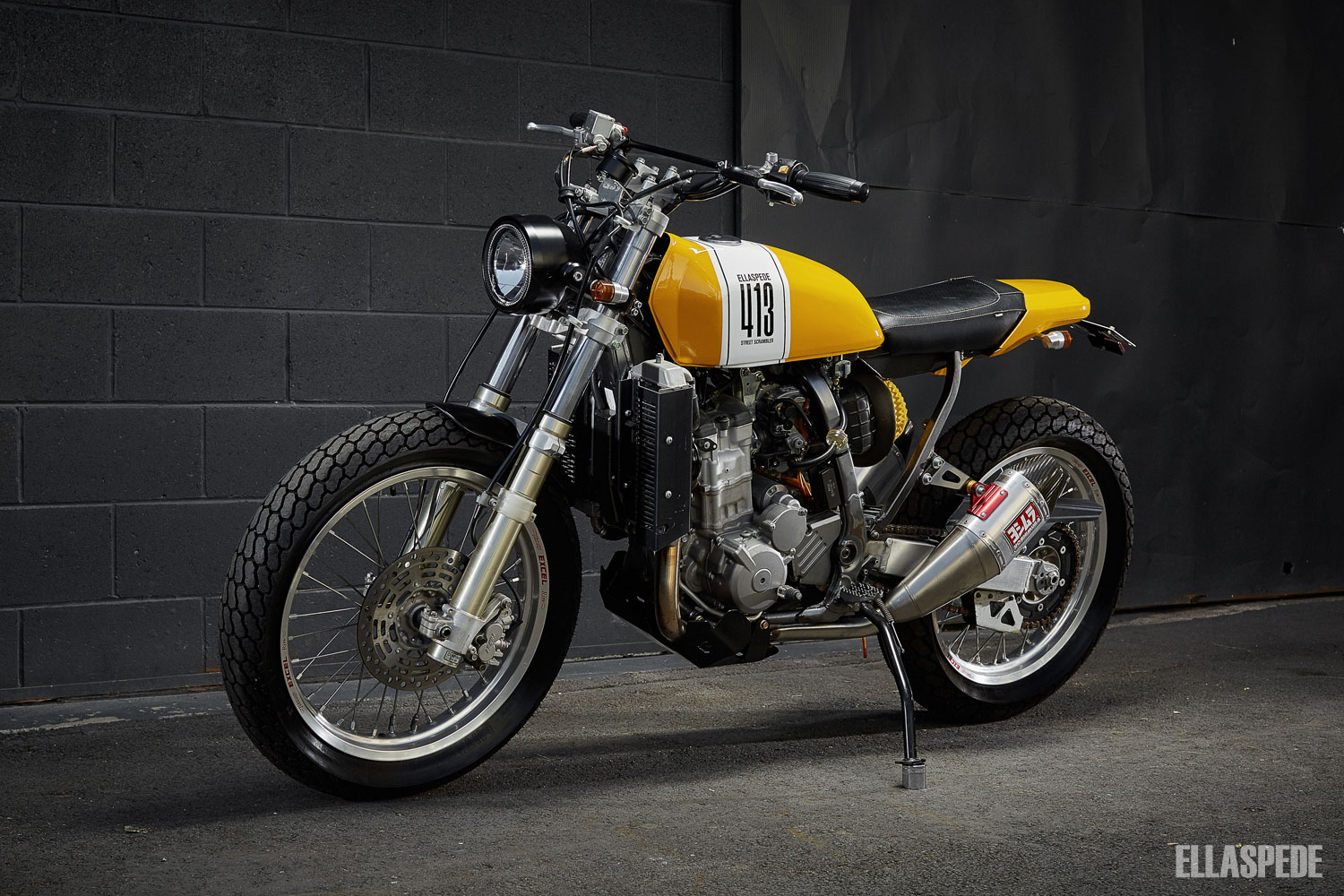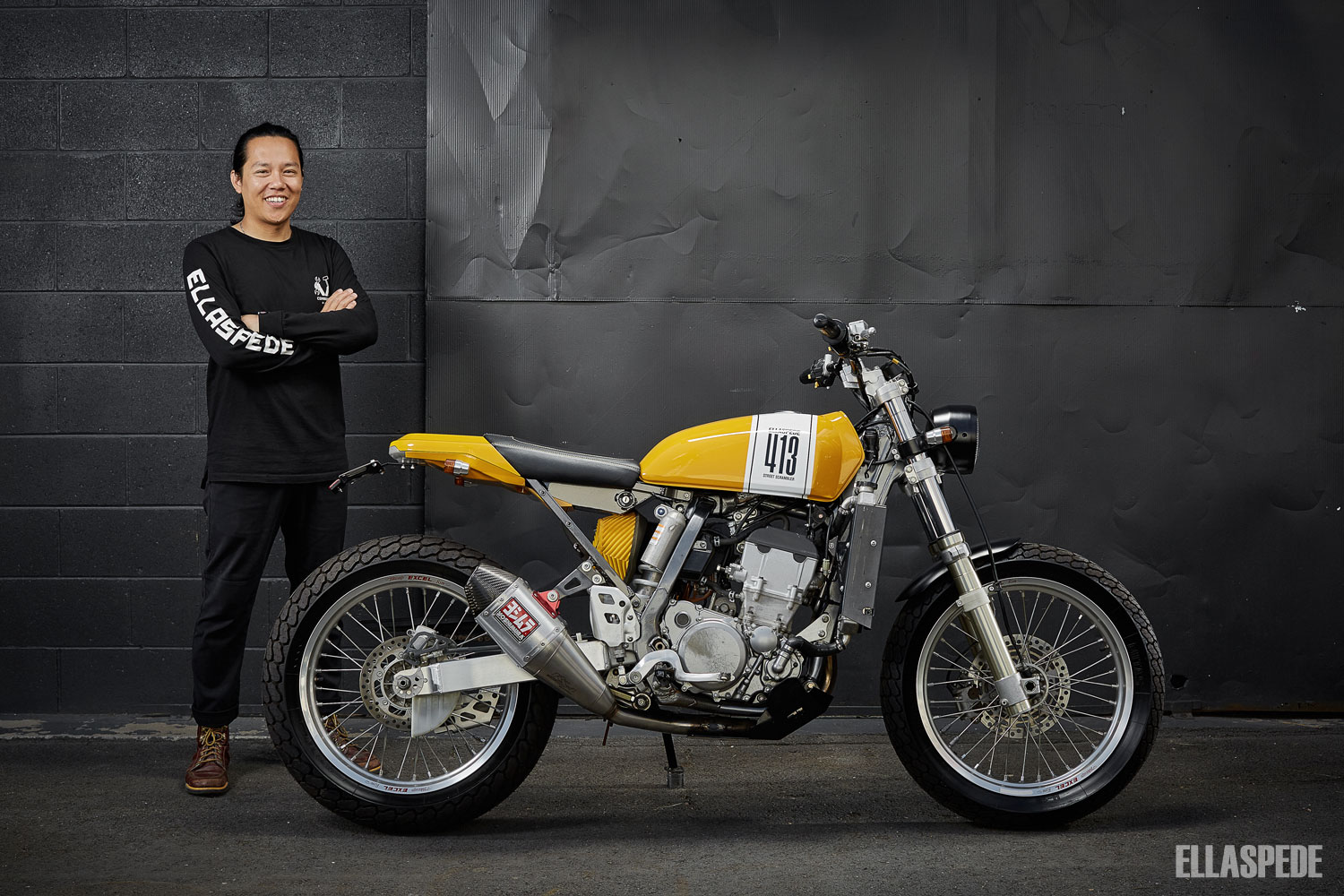 ---
Albums we listened to during the build of this bike:
---
Photos and Features:
---
---
Comments (5)
The right stuff

By:

K Russell

on 11 June 2023

Best, most thoughtful build I've seen in a long time. Great work! Thanks for sharing.





Ellaspede Response
Thanks mate, stoked you like it.
---
Artistic brilliance

By:

Paul Elmer

on 16 October 2021

Hi, love the changes to ur bike i own a 2016 drz400e, cant take it out on the tracks any more and would like to transform mine like ur design. Do u sell kits to convert to the exact same design as what u have done, so i could recreate it on my bike. In a world of cars and bikes mass production, i would really like to own something different and unique in its own right. I see cars and bike as a form of art in a way to express possibilities of design. I get that some mods were done to the original parts maybe the kit could include instructions to those mods, i'm limited in tooling for some of the more tech requirements but its just a thought for my bike. I look forward to hearing from you.





Ellaspede Response
Hi Paul, We're glad you like our DRZ400 custom build. Unfortunately many of the parts on that bike are one off custom made, so it's not possible for us to send you all the parts and instructions for you to build one. We would need your bike here to do it in our shop. All the best with your custom build! Cheers
---
Nailed it.

By:

Blake

on 22 July 2021

I have a 96 KTM 380 that doesn't like the mud anymore. Thanks for sharing images of your bike, the lines and stance are just right. I hope you don't mind me using this as a reference.





Ellaspede Response
No worries Blake, we're glad you like it! You'll have to shoot us some photos of your bike once the build is finished too. Cheers
---
Sensational

Hey guys. Reading through your article on the bike build and checking out the pics has blown me away with the amount of attention to detail and design that you have put into this build. I have two drz400e's one for fun the other for a project that I have in mind. At the moment I am doing a full restore on my trusty old 1980 PE 175 I've had since new. "Good work shouldn't go un noticed"! Well done!





Ellaspede Response
Hey Pete, Great to hear from you mate, we're glad you like the build. Sounds like you've got some cool Suzuki projects of your own on the go. The PE is a great bike, you'll have to let us know how that goes and also when you get to the DRZ! Cheers mate
---
Perfection............

By:

NATHAN LUCAS

on 3 February 2021

I have to say this is my favorite build I've seen in a long time.





Ellaspede Response
Cheers Nathan, we're stoked you like it mate!
---
Leave a comment