EB210 – 2006 Harley Davidson Softail Springer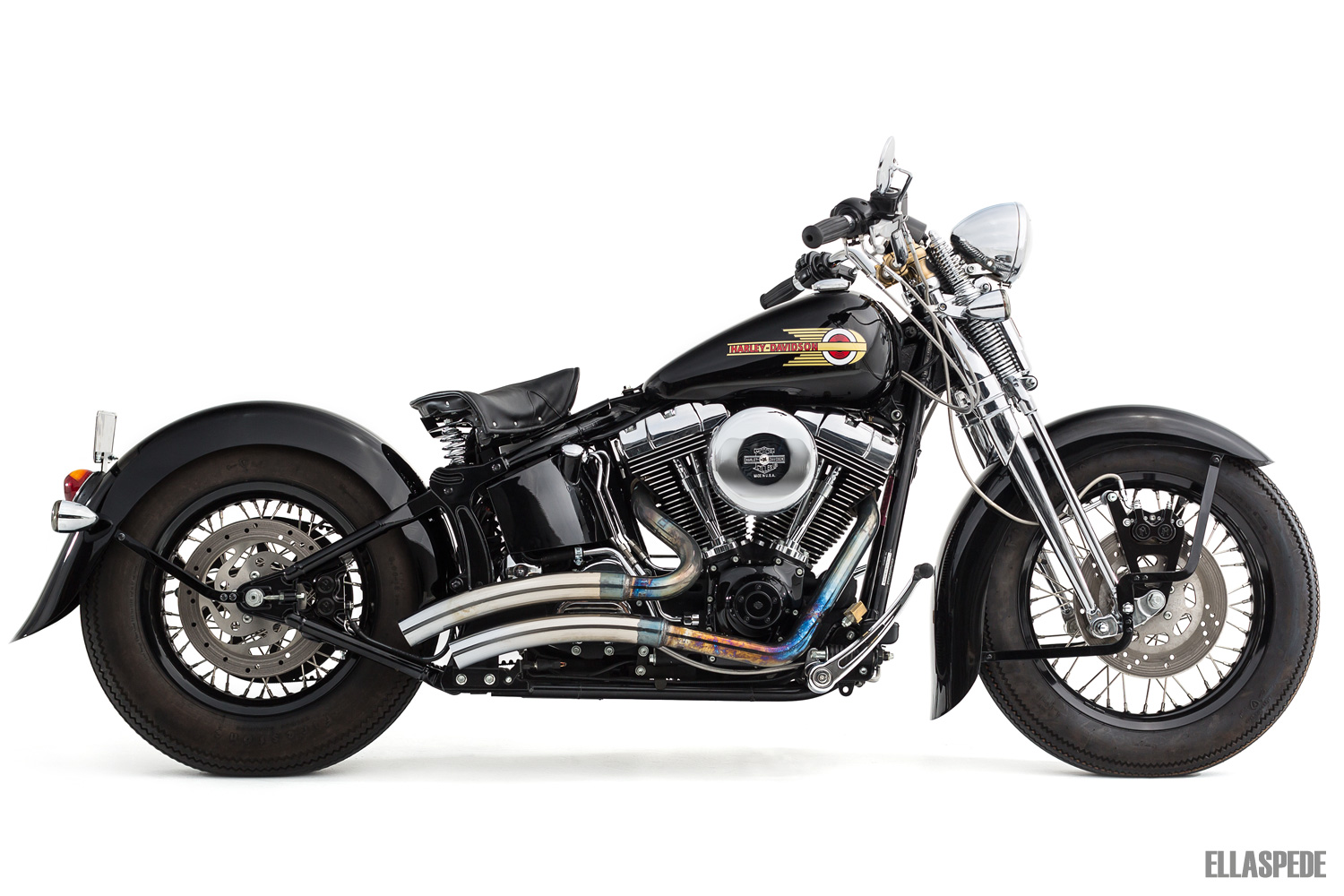 More and more, we find that the reliability of a modern bike with a classic aesthetic is outweighing the continuous TLC required to own an older motorcycle. It's reflected in the number of modern builds we do these days, and for good reason as the modern bikes usually run, stop and turn better than their vintage predecessors.
Owner Rob loved the look of classic Harleys, and mentioned if it wasn't for their reputation to leak oil and need for constant upkeep that he'd definitely have one in the garage. But any bike he owned needed to be his daily ride and working as a Creative Director means a fair share of meetings out and about, so reliability was a must. With some more research he decided it was possible to achieve both goals by converting a modern bike to a more classic look.
So the hunt was on for a late model Harley Davidson donor. Rob liked the hidden rear suspension on the Softails and had always wanted a springer for the added character it gives the bike. After speaking with a mate who had been a HD mechanic for 25 years, he decided to wait for the right factory HD Softail Springer to turn up… and sure enough, it did.
The 'ultra-classic' springer front and visual 'hardtail style' softail rear in a late model package was the ideal base and after chatting to a few other 'chop-shops' Rob made the call to bring the bike down to Ellaspede. Rob wasn't aiming for a completely period correct look, rather a combination of classic influences and the late model reliability.
When the bike arrived it was as to be expected, a mixture of big wheels, a big tank, big chrome and a big seat. A diet was in order to trim some of the visual weight out the bike while developing Rob's vision of vintage influences.
Starting in the middle; Rob didn't mind the soft-tail's tank's side profile but wasn't a fan of the width. After a fruitless search to find an alternative donor tank it was decided we would reduce the original. The tank centre gauge and switches were removed before the tank was narrowed 70mm to achieve the width we were after.
Not without issue though, being EFI a new mounting plate and flange was CAD designed and laser cut for the in-tank fuel pump to fit back in. Some under tank electrics were also tucked and tidied to suit the new narrow tunnel, while the in-tank fuel sender gauge mount was modified for the smaller internal space.
The 21" front and 200 wide 17" rear wheels were rolled out in favour of a more classic 18/16 combo to suit Firestone Deluxe Champion tyres Rob was chasing to further the aesthetic. Hubs were sourced from the US before being laced up to custom spokes and rims.
One of the biggest visual changes on the bike are the 'Indian' style guards which were imported to achieve the sleek flowing lines Rob was after. They were spec'd to match the new 18/16 wheel combo. The rear guard required some stretching to achieve clearance and custom mounts were designed to suit the period look, taking into account the variable springer geometry at the front.
A Royal Enfield solo seat now sits on 3 inch springs to match the visual line down the back of the bike. A fabricated mount plate positions the seat and protects the re-routed under seat electronics..
A donor Harley speedo takes care of the vital signs, sitting in a custom CNC "cup" bracket mounted with the re-located factory headlight. At the back a vintage taillight provides rear warning, with internal guard wiring running through a custom steel channel to mitigate any potential tyre rubbing.
They say black is slimming, so to further reduce the visual weight and in-keeping with the theme, some smooth gloss black was liberally laid over the engine side covers, oil tank and battery cover.
The classic black was also applied to the tank and guards, with the only graphics residing on the tank by way of the painted Harley Davidson "Speedball" emblem.
New wide bars on brass clamps now match with brass foot pegs to round out the updated controls and tie in the tank artwork's gold hue.
Removing the exhaust shrouds, detabbing the pipes and the addition of a smaller air intake also trims down on visual weight while bumping up the engine power. A fresh dyno tune makes the most of some simple improvements.
Pulling up the added power are Performance Machine calipers dressed in black front and rear.
When it all came together we shared Rob's enthusiasm for the result. It's not a new bike trying to be old, rather a tasteful reflection of some classic Harley styles applied to a late model canvas.
We know it may not appeal to Harley traditionalists but with looks this good and modern reliability to boot, 'Doris' is one hell-of-a-gal who wont be late to the party!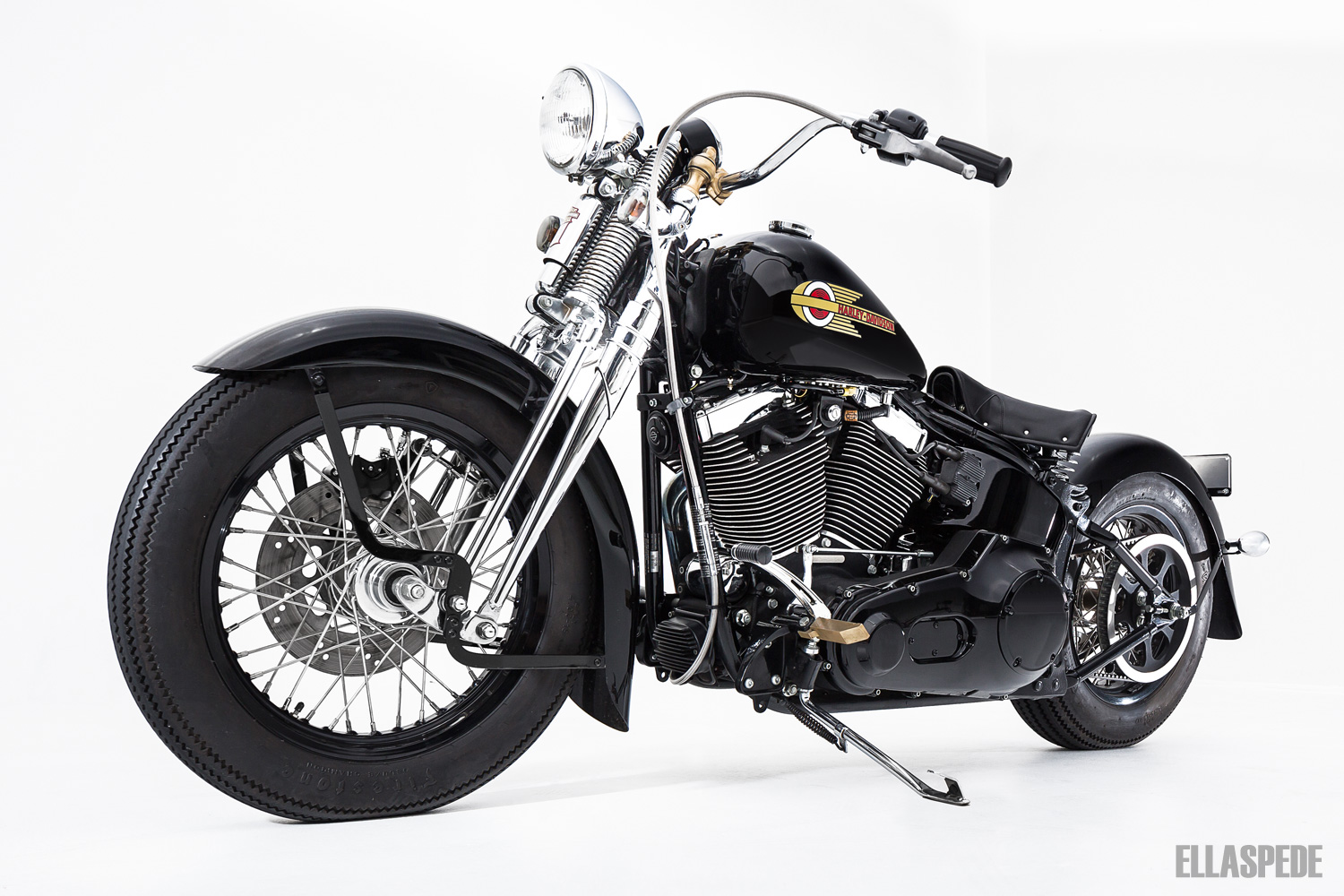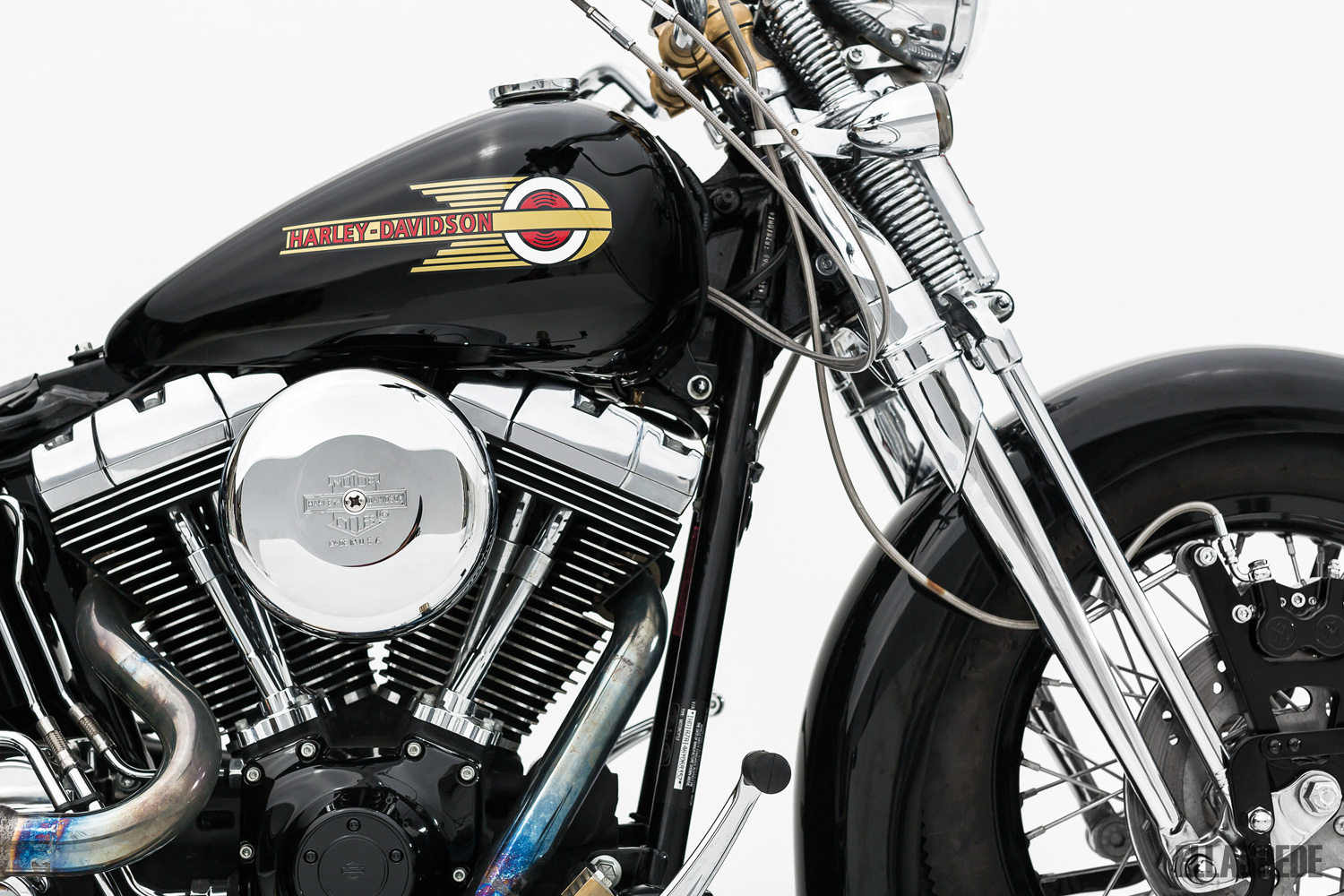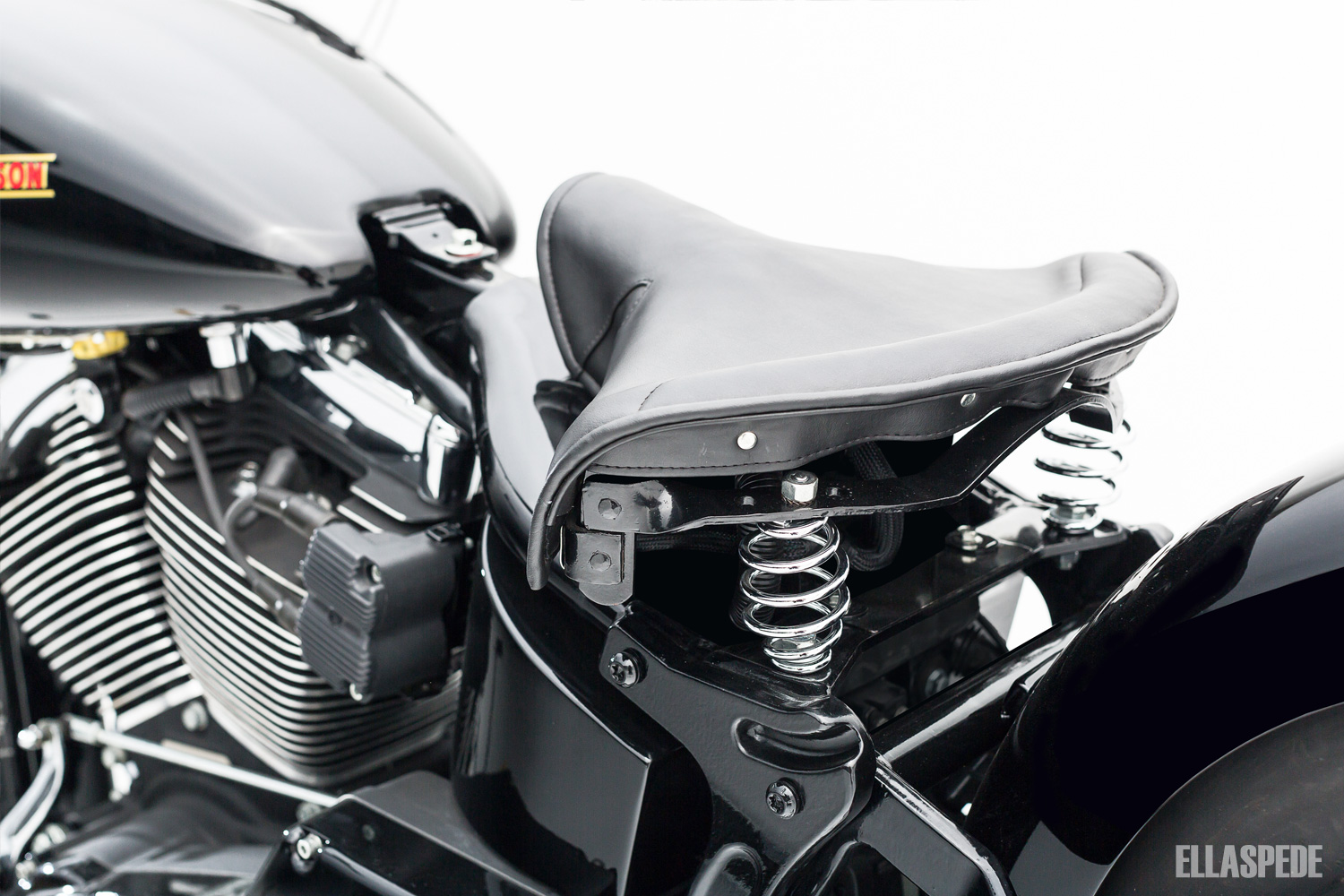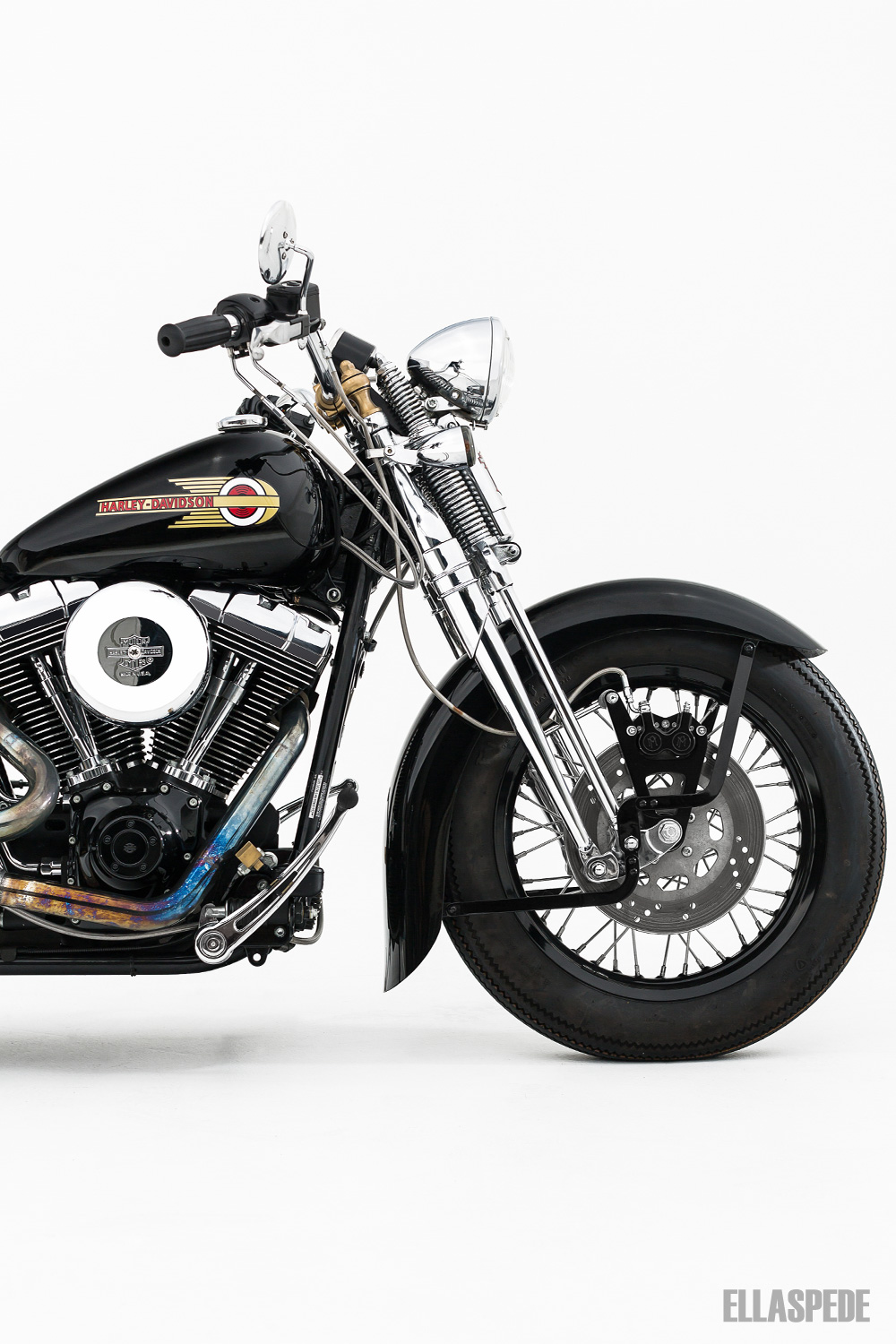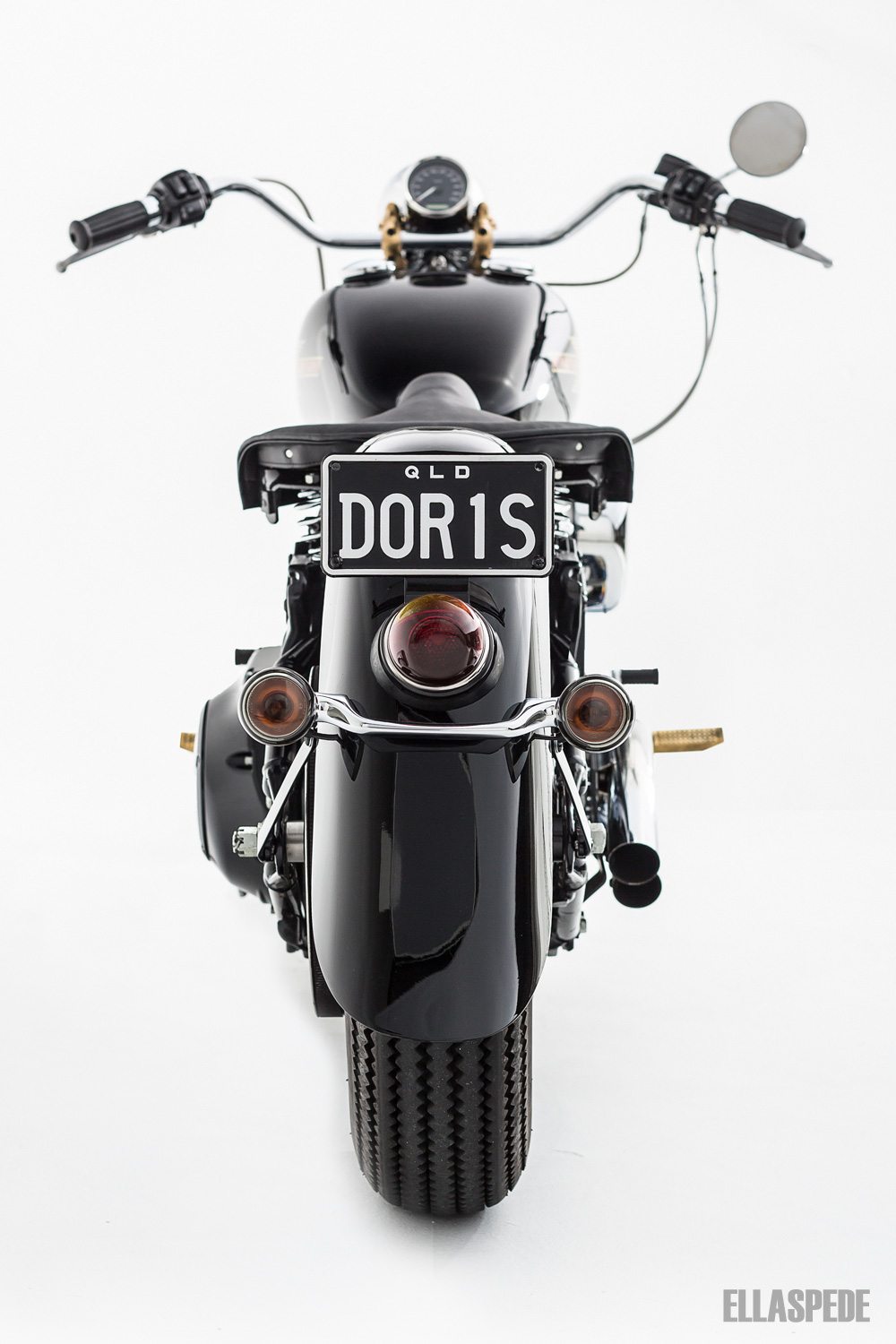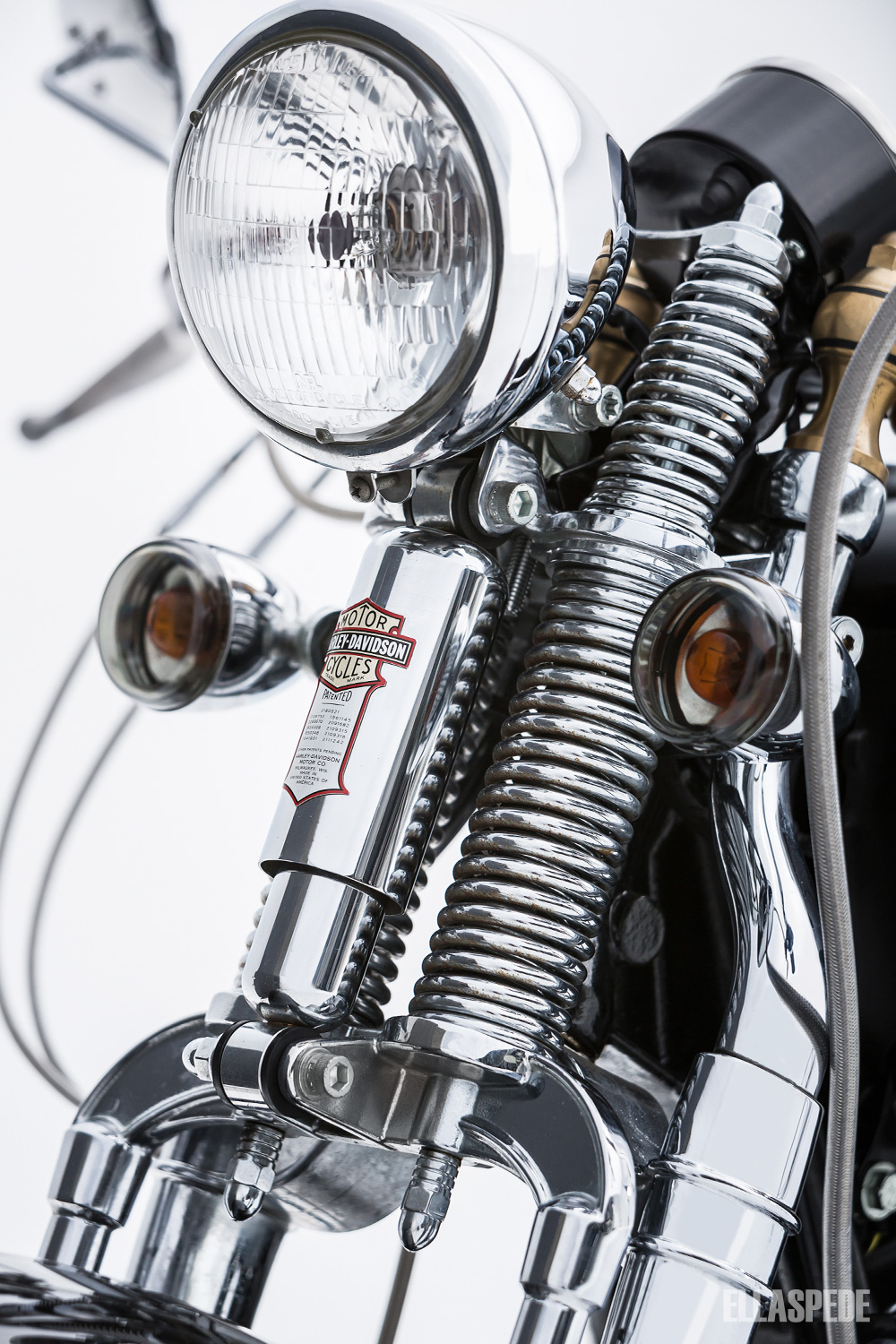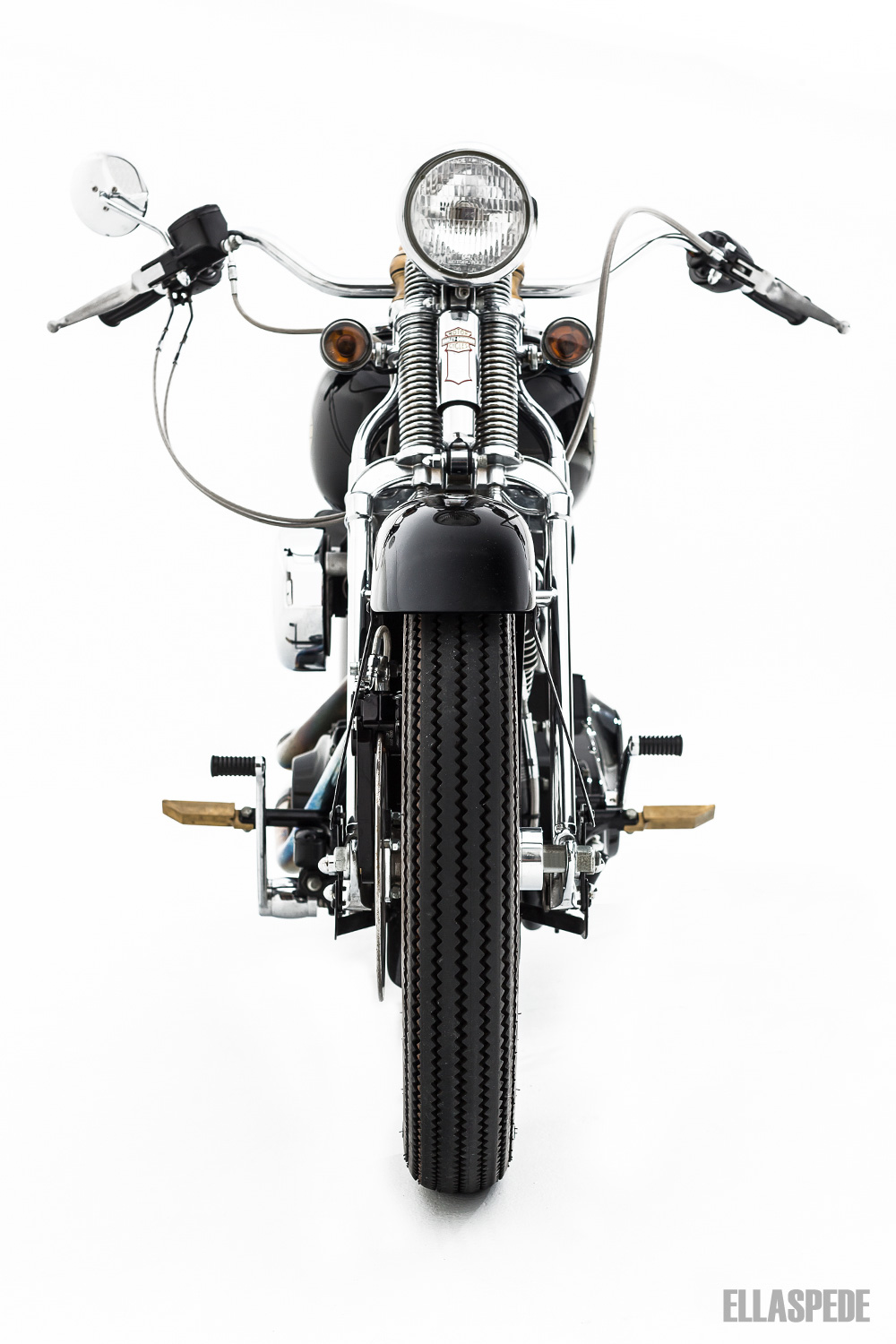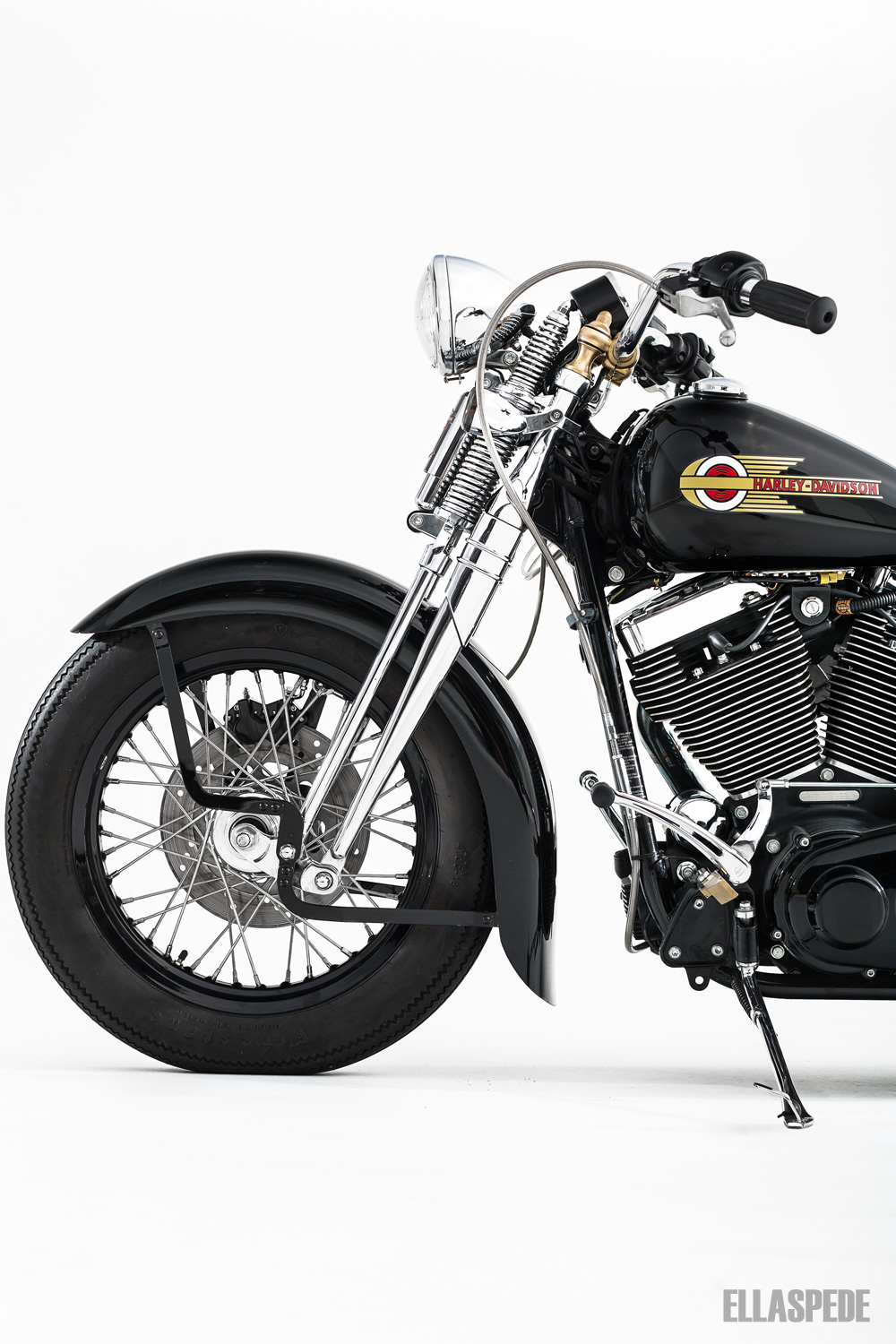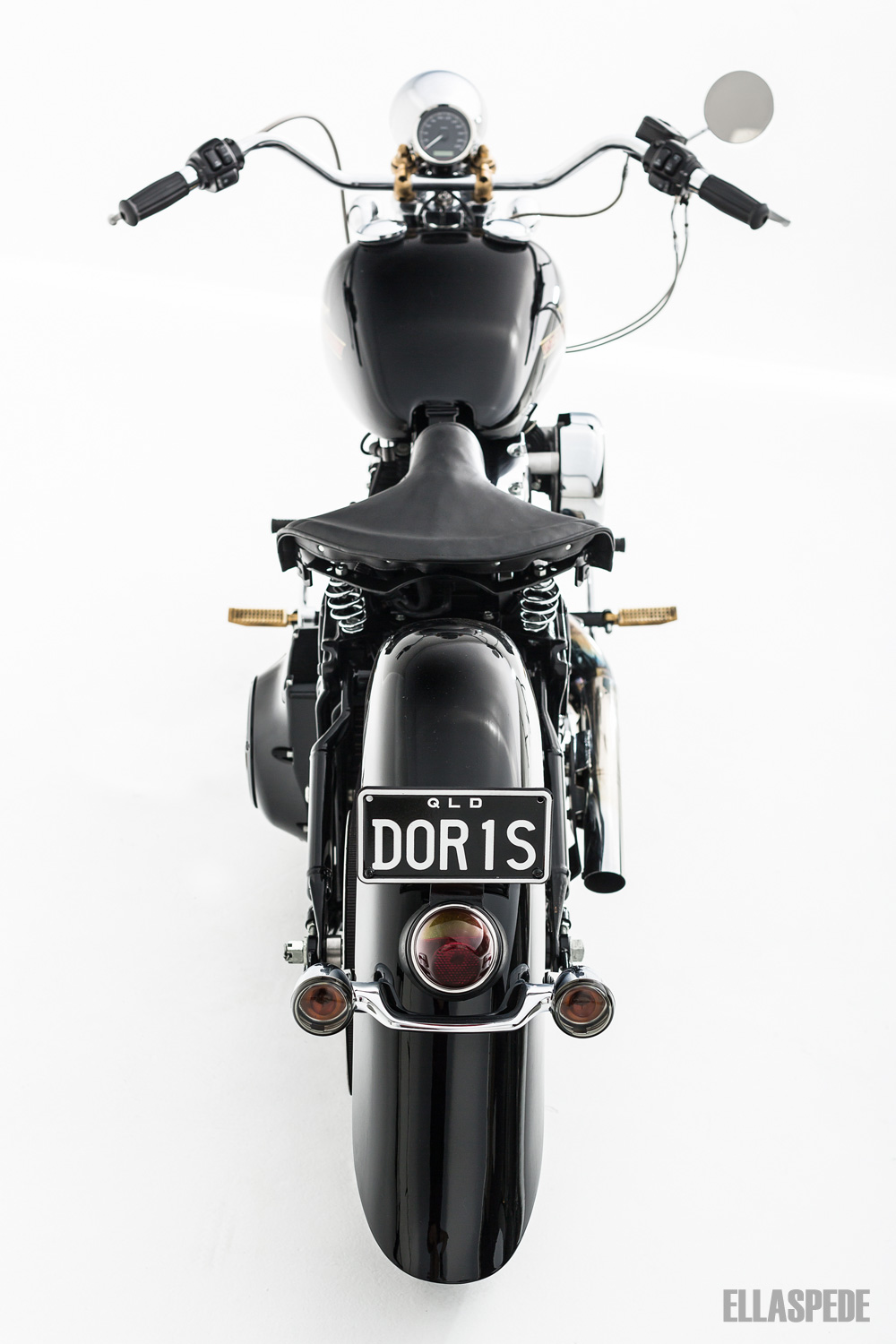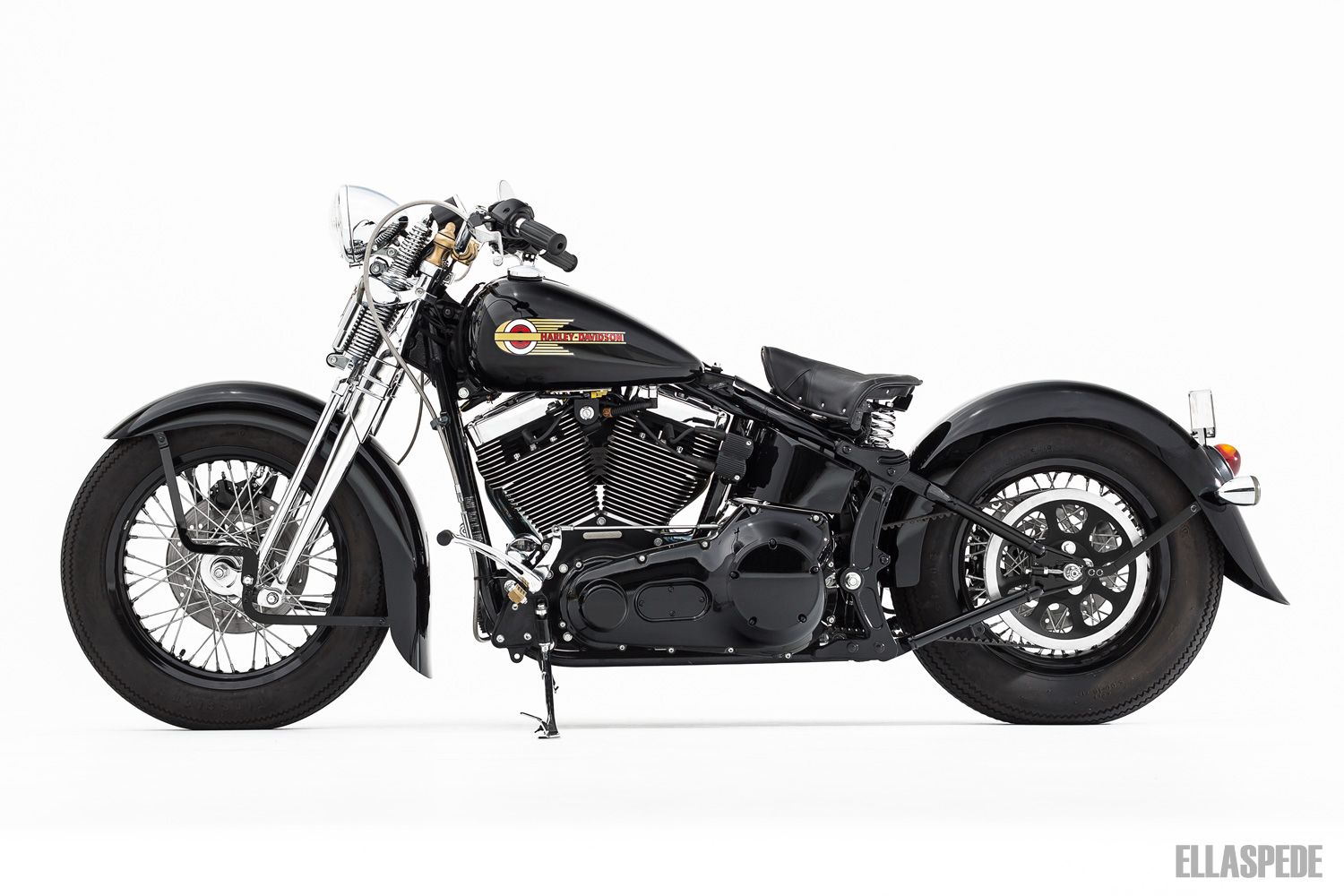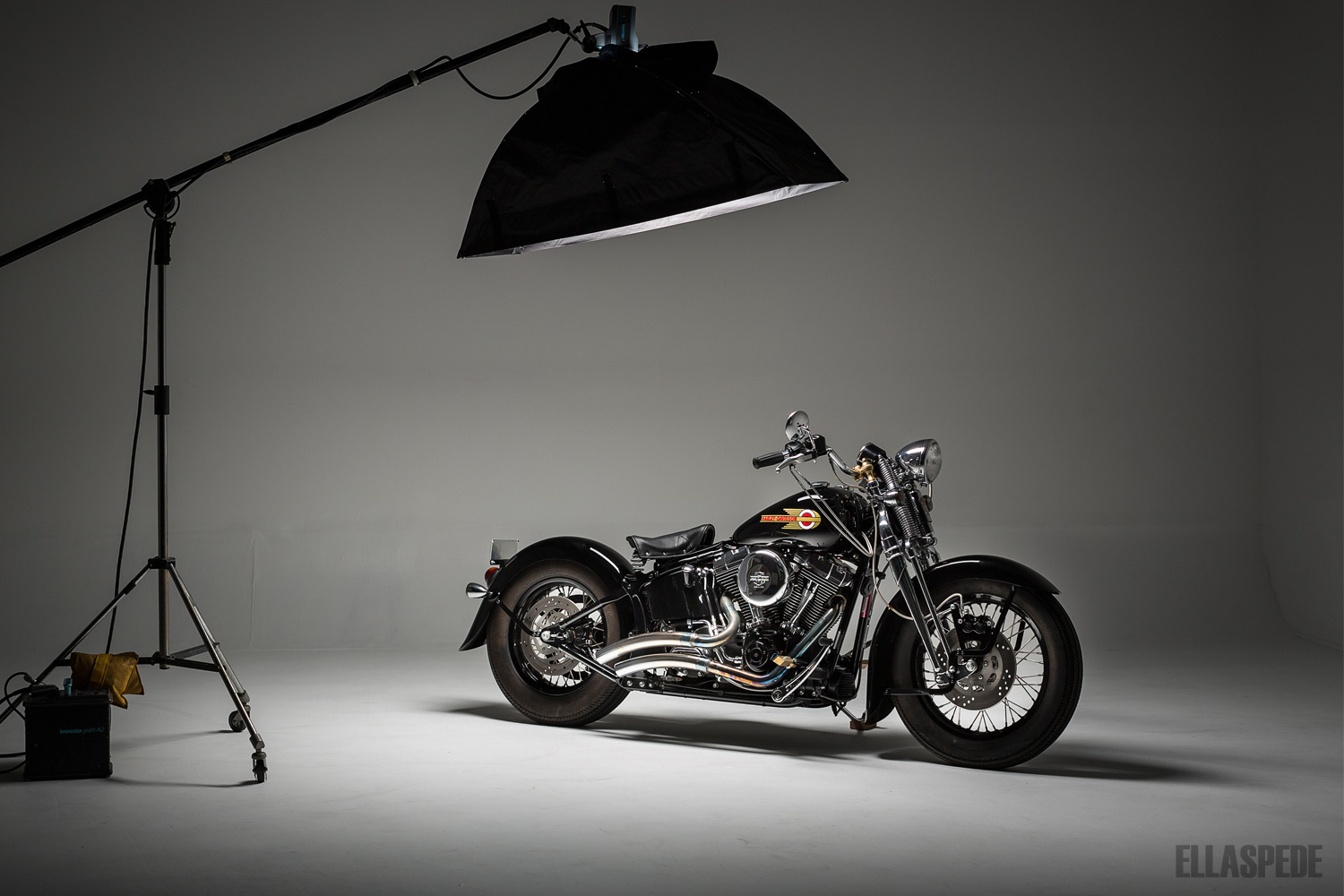 Albums we listened to during the build of this bike:
---
Photos and Features:
---
---
Comments (3)
LOVE AN OLD SCHOOL SPRINGER..

By:

tom Dubroc

on 18 June 2021

Here is my attempt at it...2005fxsts.. hand fabbed front /rear fenders, added floor boards & replaced 21in for a 19in wheel, Big radius exhaust , S&S GEAR DRIVE CAMS & ALL STAINLESS ENGING BOLTS done this way b4 harley did.. Billet/stainless Landmark wheels with polished stainless spokes ALL the best & all matching disc rotors & drive pulley along with my disguised proprietary cooling fan !! Harley wishes they couldve done this !! Tried to post pics unsucessfully.. send me a link if possible





Ellaspede Response
Sounds like you've got a cool build there Tom! Cheers
---
Wow! Fenders are perfect.

By:

David

on 16 November 2020

Can you make same fenders to fit on my 2009 Crossbones? Looks like front mounts to the rocker bolts. Rear will bolt up where my Shadeland fender does now with the added fender strut mounts needing welded near axle.





Ellaspede Response
Stoked you like the build David! We'll shoot you an email about the guards. Cheers!
---
Risers

By:

John Persson

on 27 March 2019

What risers were used on the EB210 – 2006 Harley Davidson Softail Springer? Was the triple tree stock? Where did you get the risers? I am looking to change my handlebars and risers, the stock Harley risers are not much to look at. Love the bike!!!!!!!!!!! Thanks





Ellaspede Response
Hey John! Stoked you love the bike, thanks mate! The top of the triple tree on the springer was stock as they came out on that particular model in the US. We're not sure of the exact brand/model of the bars and brass riser sorry mate as the client sourced them for this project and we just fitted them up. Cheers
---
Leave a comment