EB597 - 2001 Ducati 900SS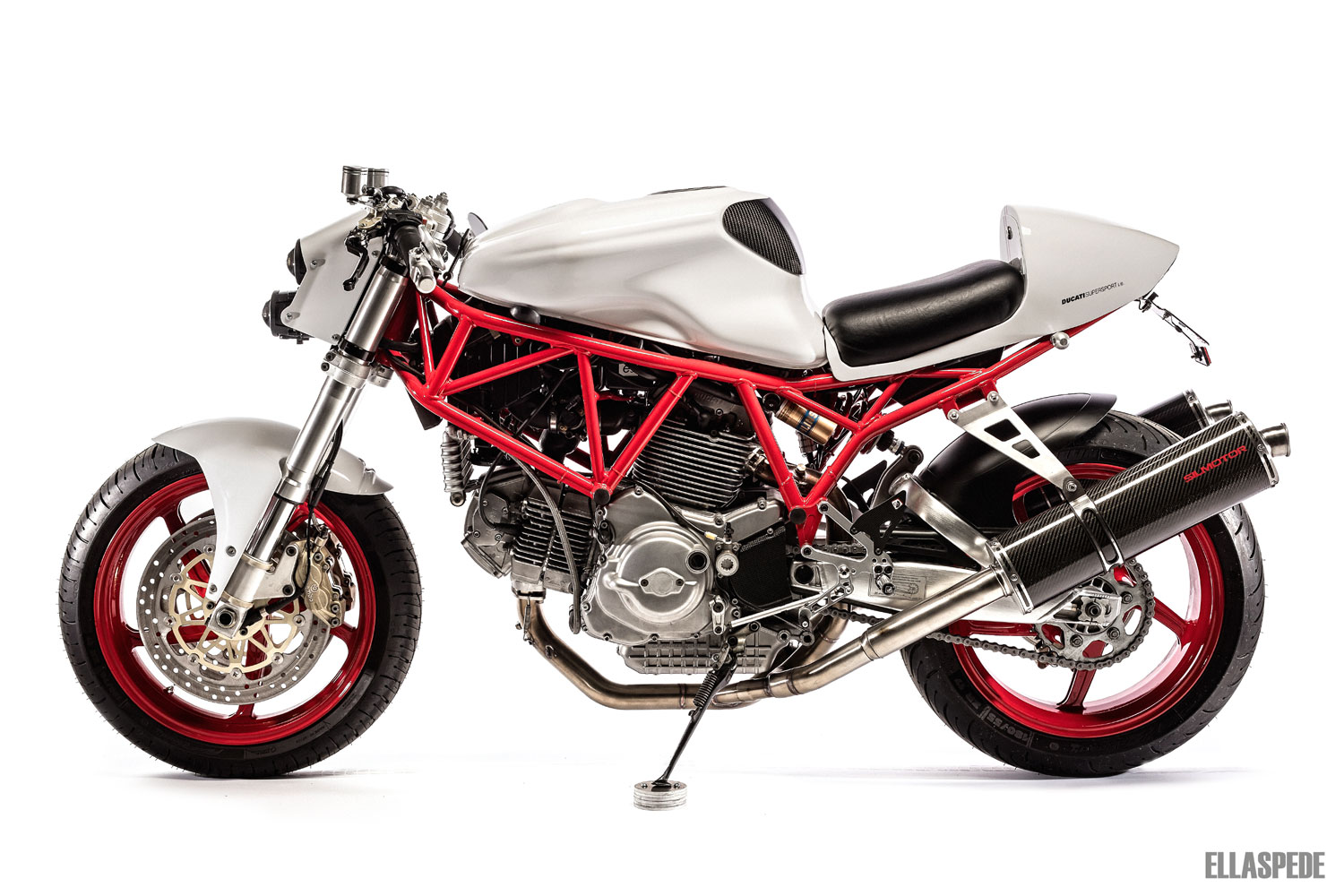 Building an 'individual' cafe racer is quite a task these days with the amount of custom examples getting around. Luckily for owner Terry, he had some Italian inspiration and the ability to look beneath the fairings, which were the keys to 'C4FE' success. Enter the 2001 Ducati 900SS.
"I've always wanted a custom cafe. Always held a fascination with having a bike that is truely unique - just mine."
A 'Terblanche' designed Ducati isn't the first port of call for many cafe racer projects, and in this case it wasn't either with Terry initially leaning towards a CX500 donor bike. But after purchasing a new Ducati Streetfighter 848 as a daily rider and falling in love with the engine and sound he knew the search was on for another Italian stallion donor.
The Ducati 900SS was never as popular as some of it's siblings, but despite it's aesthetic shortcomings the reviews from owners always highlighted a great engine and good handling (albeit with stiff suspension) that featured some 'modern' Ducati charm with a hidden trellis frame. Once the majority of the original fairings were peeled back it was an ideal candidate for a modern style cafe, so when one 'fell in his lap' with half the fairings already missing the custom build was in motion.
After finding Ellaspede online and also being recommended through the Ducati Owners Club, Terry fired off a few emails to get some initial help on the build. Still working away on the bike at his house and finding less and less time to spin spanners, eventually he realised that "I won't have it done until 2060" and engaged Ellaspede again to help speed up the process.
Terry had some initial requirements for the build, including the red frame and pearl white paint. Along with a few specific parts, once those were sorted out we set about bringing the whole project together inline with his vision (in a more timely manner than his 1 night a week would have allowed).
When the bike rolled in Terry already had the engine out with Theo from Bike Therapy for a full freshen up. So with the motor being taken care of the team set about removing the unnecessary items from the rolling chassis.
The usual with any bike that has full fairings, once they're removed there is a fair amount of frame de-tabbing and component relocating for items that were previously hidden from sight. The frame work continued to the rear with some adjustments made to suit the new tail light and future seat cowl.
The frame shape, tank height and overall design meant that a custom rear cowl was the only option. It was fabricated from aluminium, incorporates a lockable rear hatch in the hump and was designed to wrap around the new rear tail light.
Up the front the original 900SS headlight and front cowl were always destined for the bin. A single round headlight was considered before an 'over under' projector setup was decided on. To house the new Ducati 999 (also a Terblanche design) style headlights is a small custom cowl that also doubles as a gauge cover.
Other parts which made their way onto the build are Oberon mirrors and indicators, Acewell gauge, Ducabike rearsets, Silmotor exhaust, Ellaspede Ninja Star plate holder and a Motogadget M-lock. All of the remaining parts and pieces were polished or painted to match the new colour scheme.
With the motor back and the freshly painted wheels both wrapped in Michelin Pilot Road 4 tyres the whole reassembly was really coming together. Parts were adjusted for final fitment before the tank, seat unit, headlight cowl and front guard were whipped off for paint. Terry knew the pearl white was always going on and it was decided that a tri-clore stripe (Red, White, & Green) would join it, offset centre across all panels. Small Ducati decals on the tank and seat unit finish of the livery.
What was Terry's favourite part of the build once it was all back together? The carbon tank cover he had custom made to replace the chunky standard tank pad.
Now that the bike is finished and tuned, Terry told us that he's looking forward to "…any riding that I can find the time for! Sometimes that's just a quick trip to coffee, or perhaps Caffeine and Gasoline. Irrespective of the fact I have to share my time between three bikes I find myself grinning like a fool whenever I want to ride the 'C4FE'."
We've enjoyed helping Terry tick 'build a Cafe Racer' off his bucket list. He's proved that sometimes the 'ugly duckling' (of the Ducati breed at least) can be the ideal donor if you can look past the full fairings and are willing the take a path less travelled.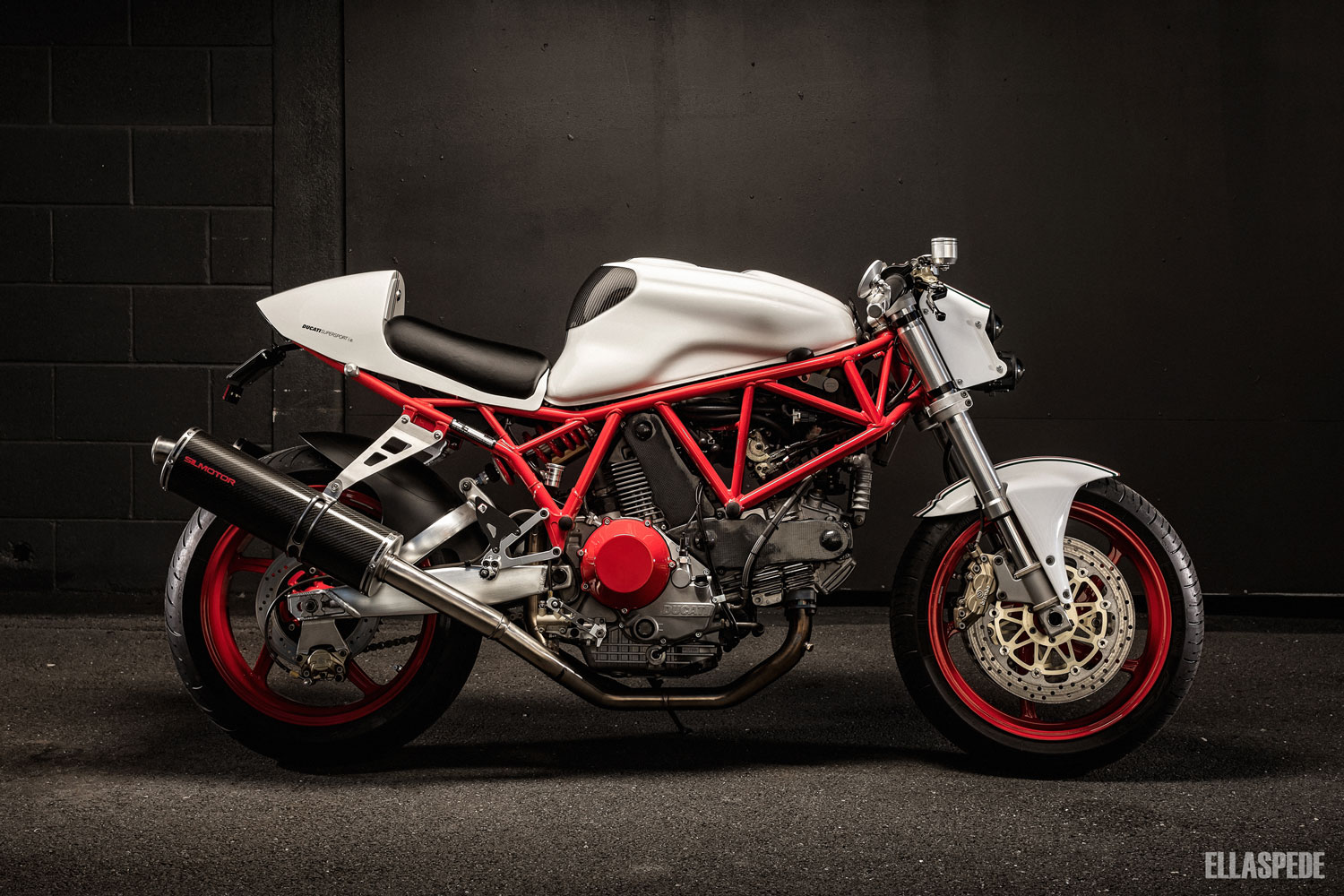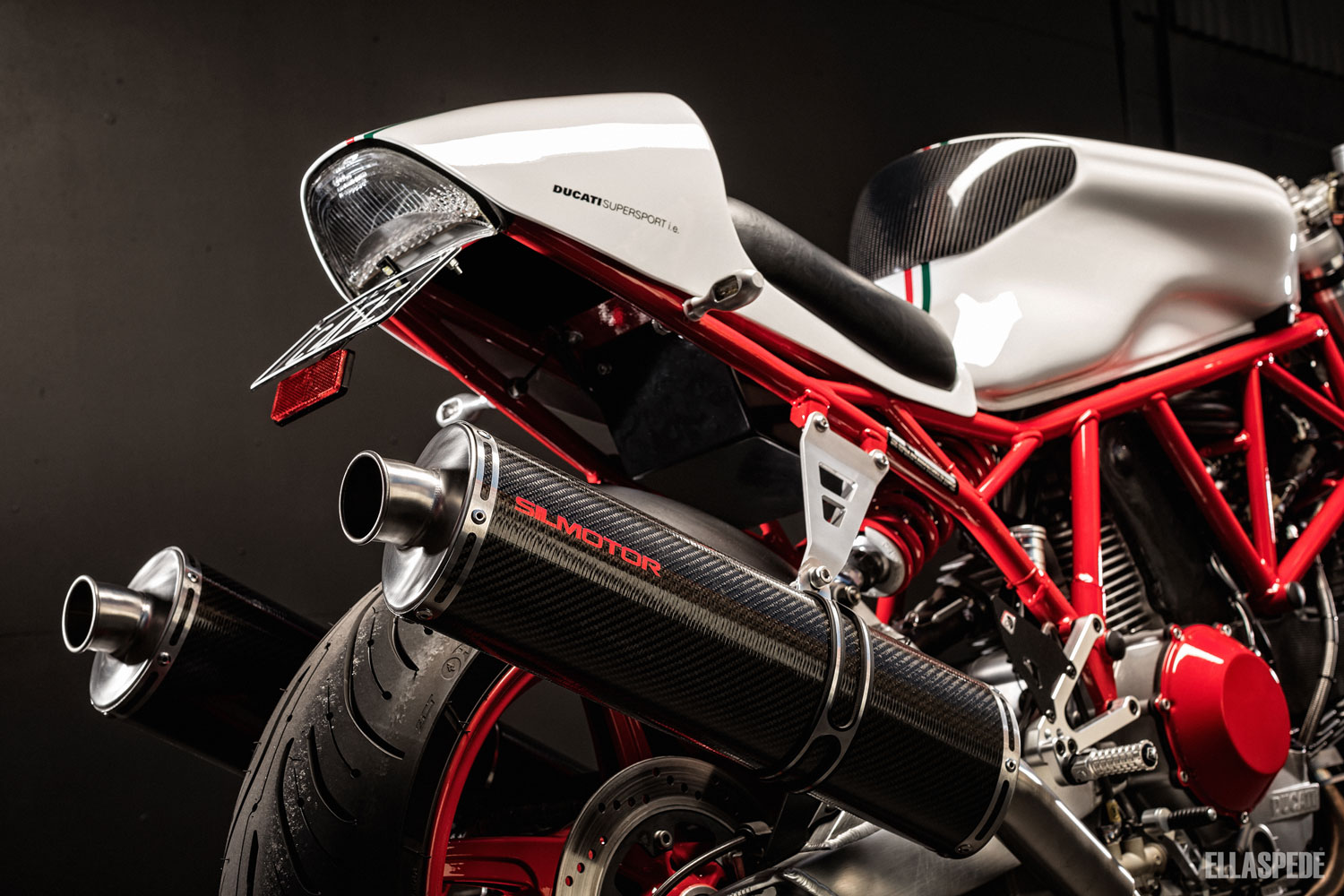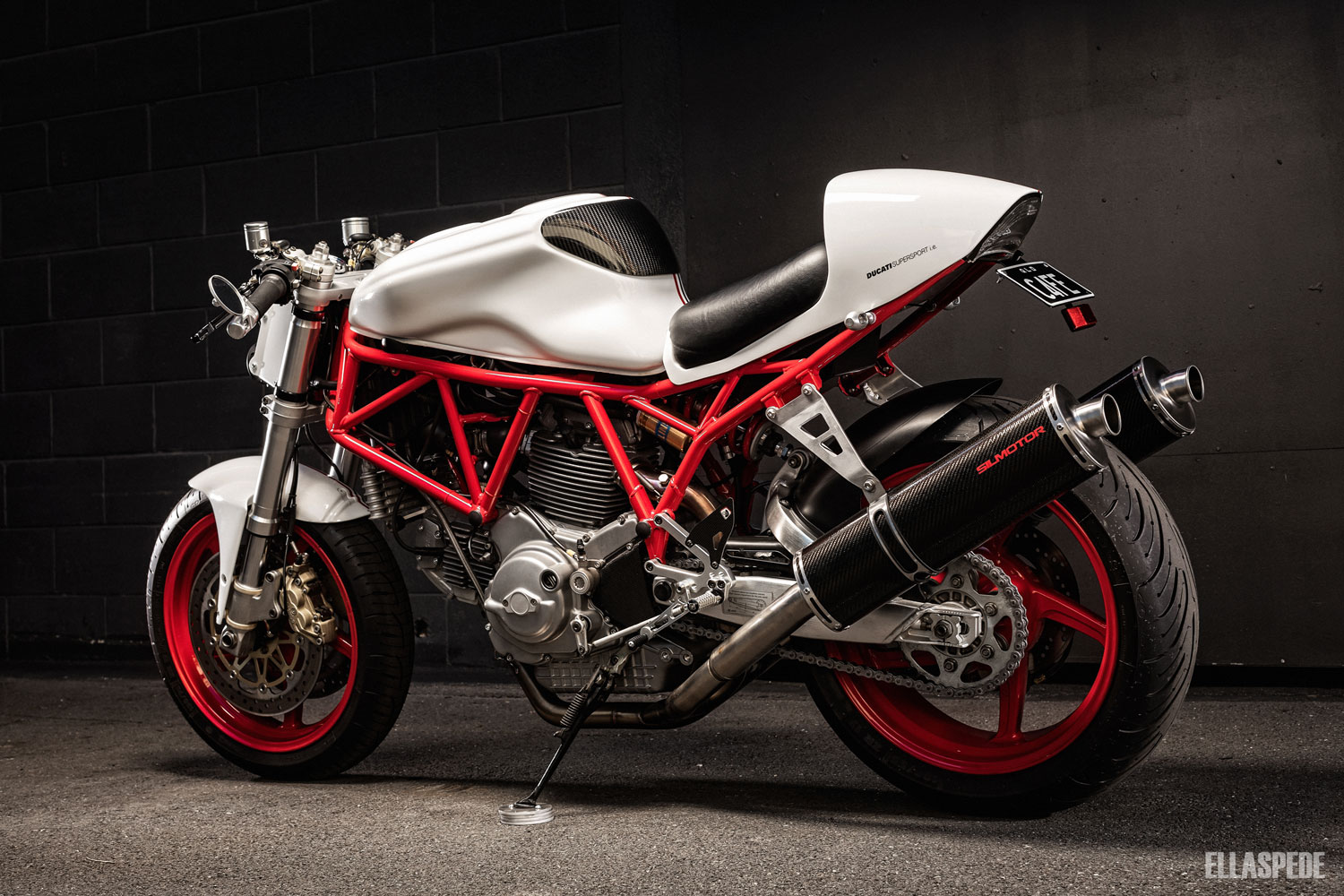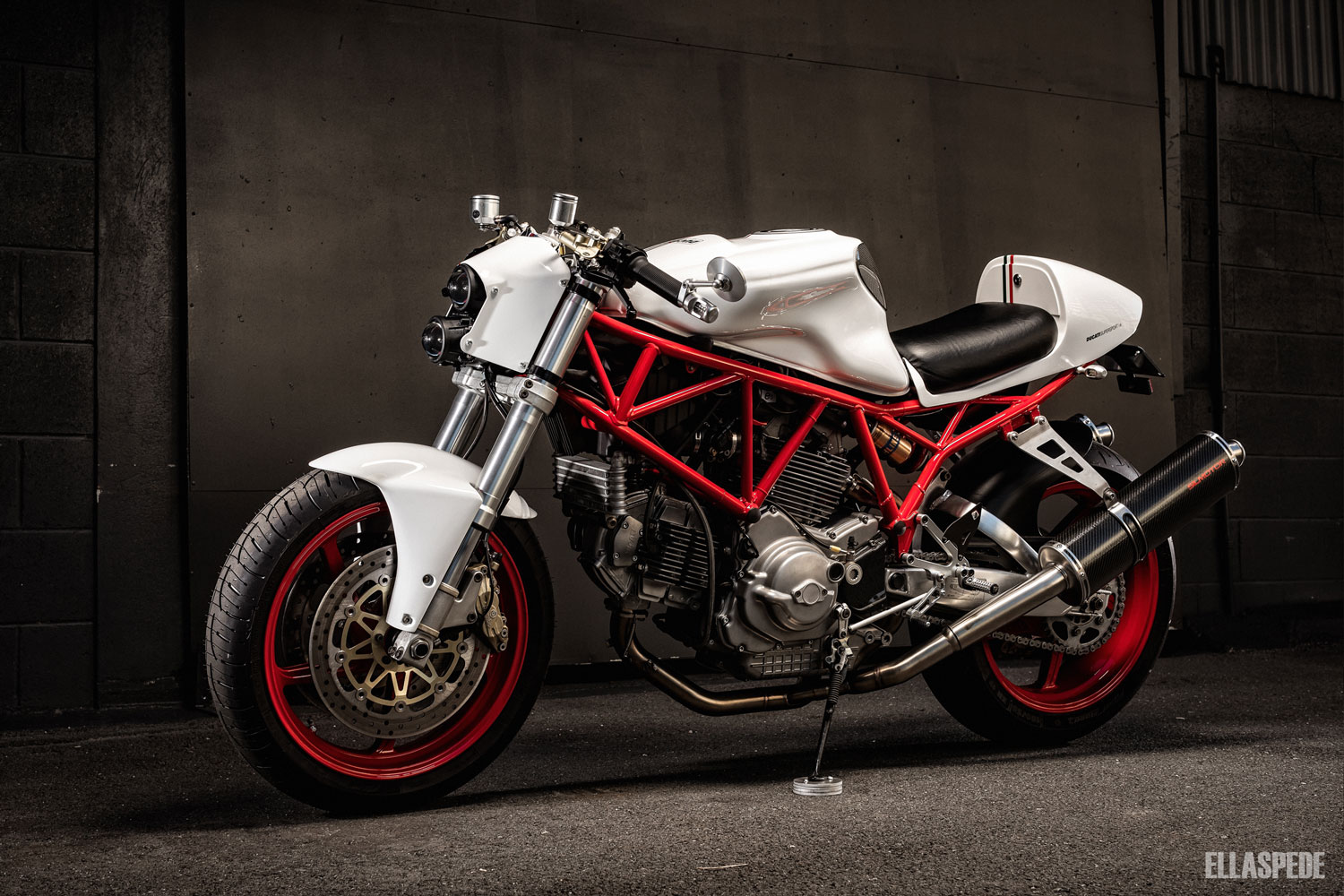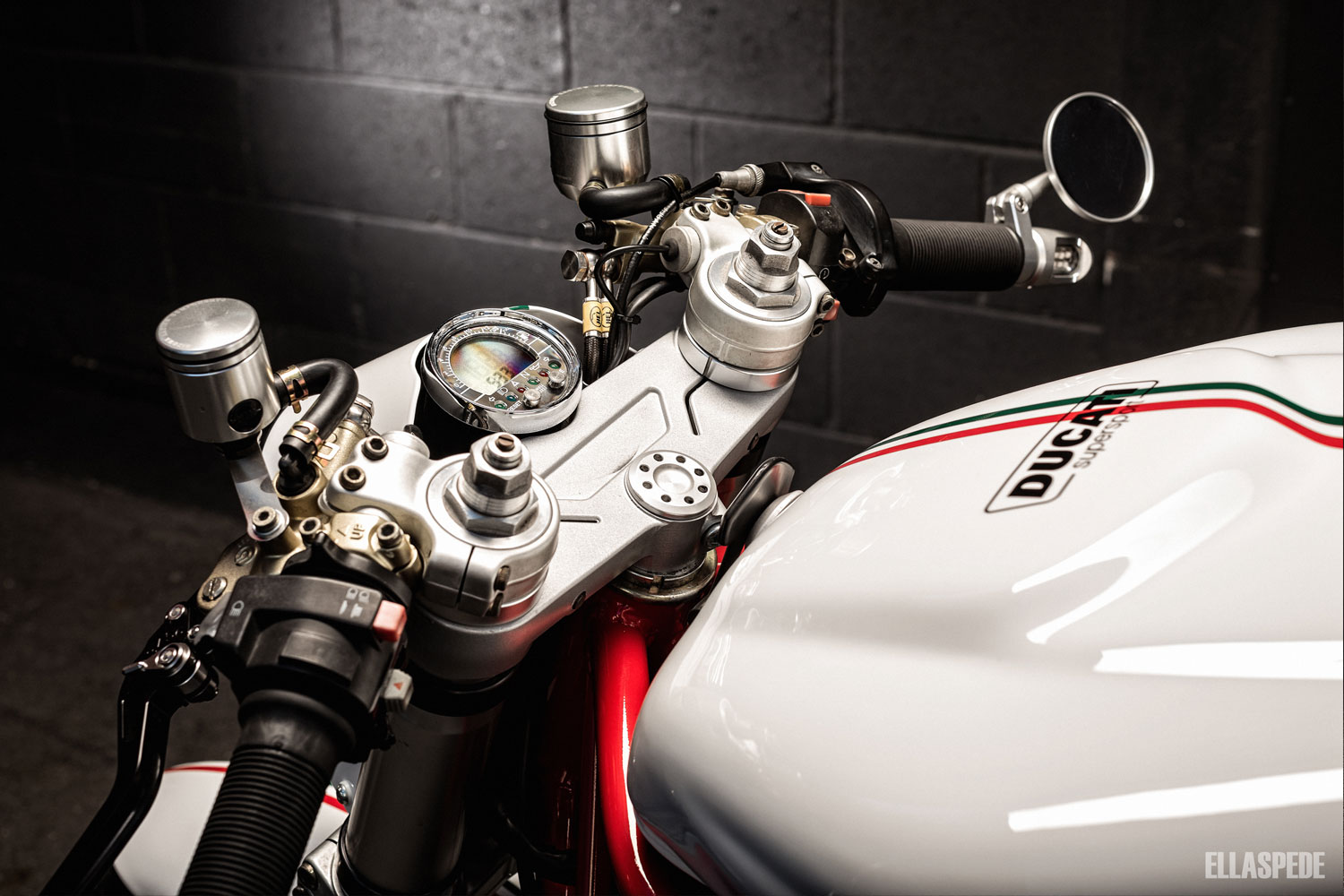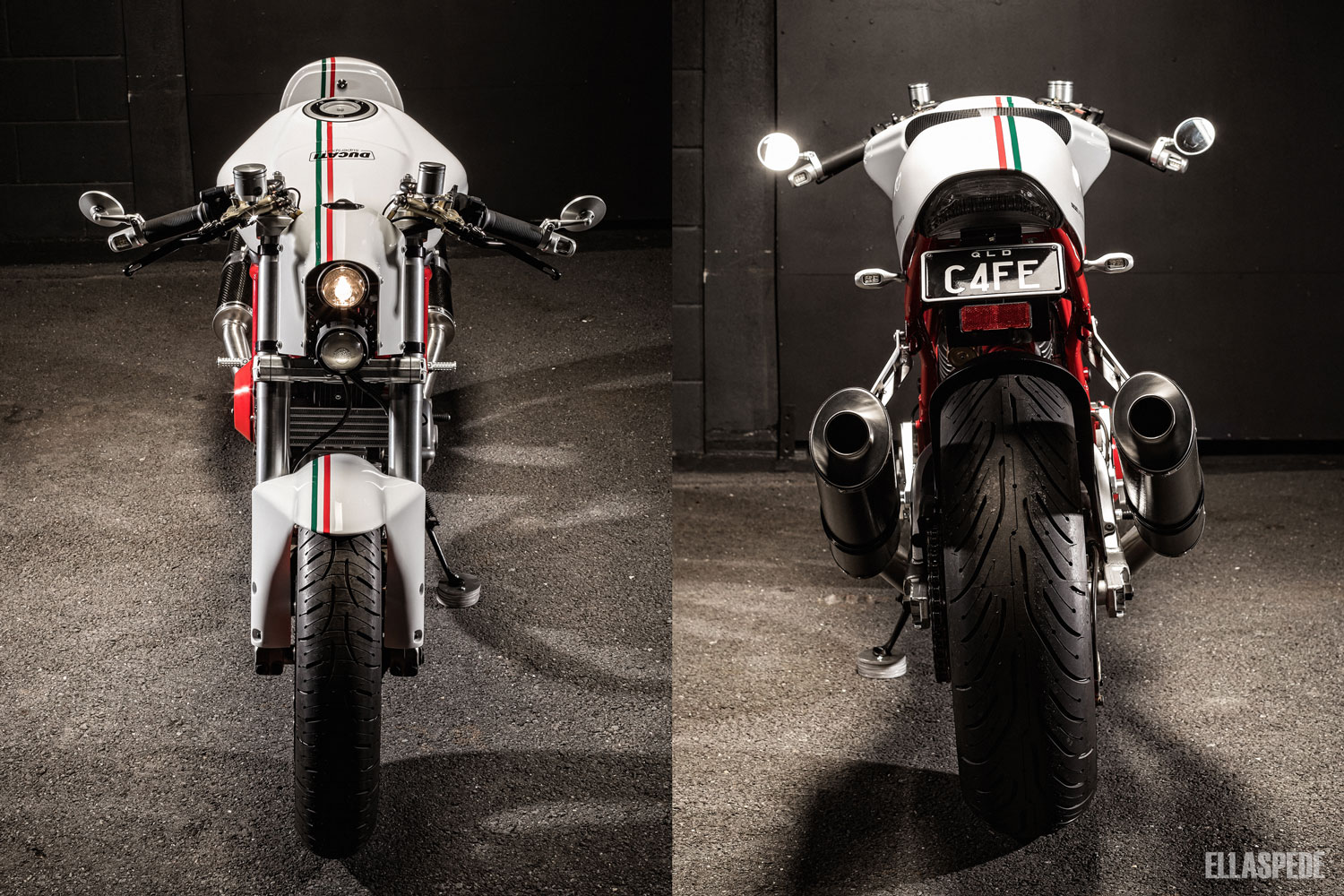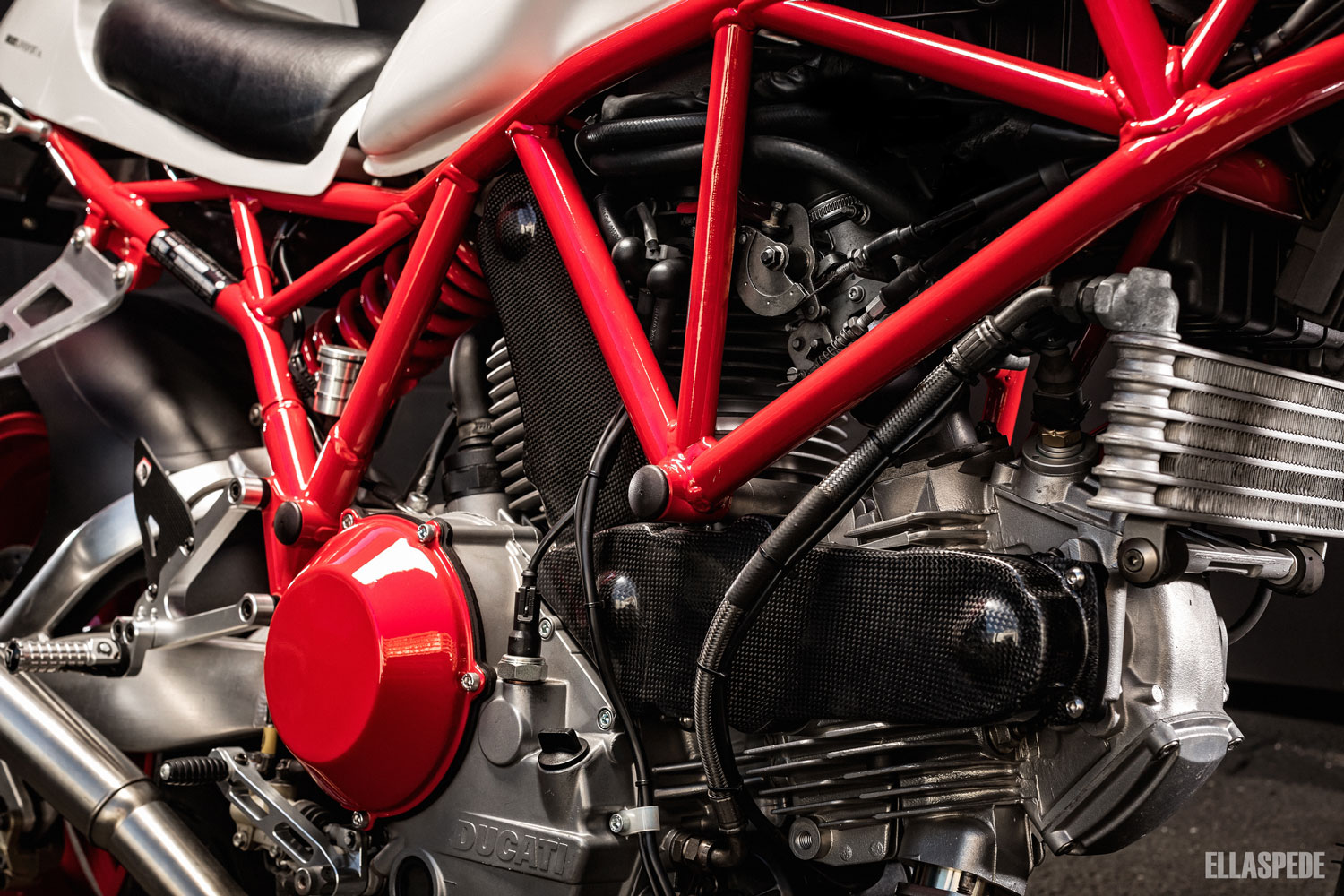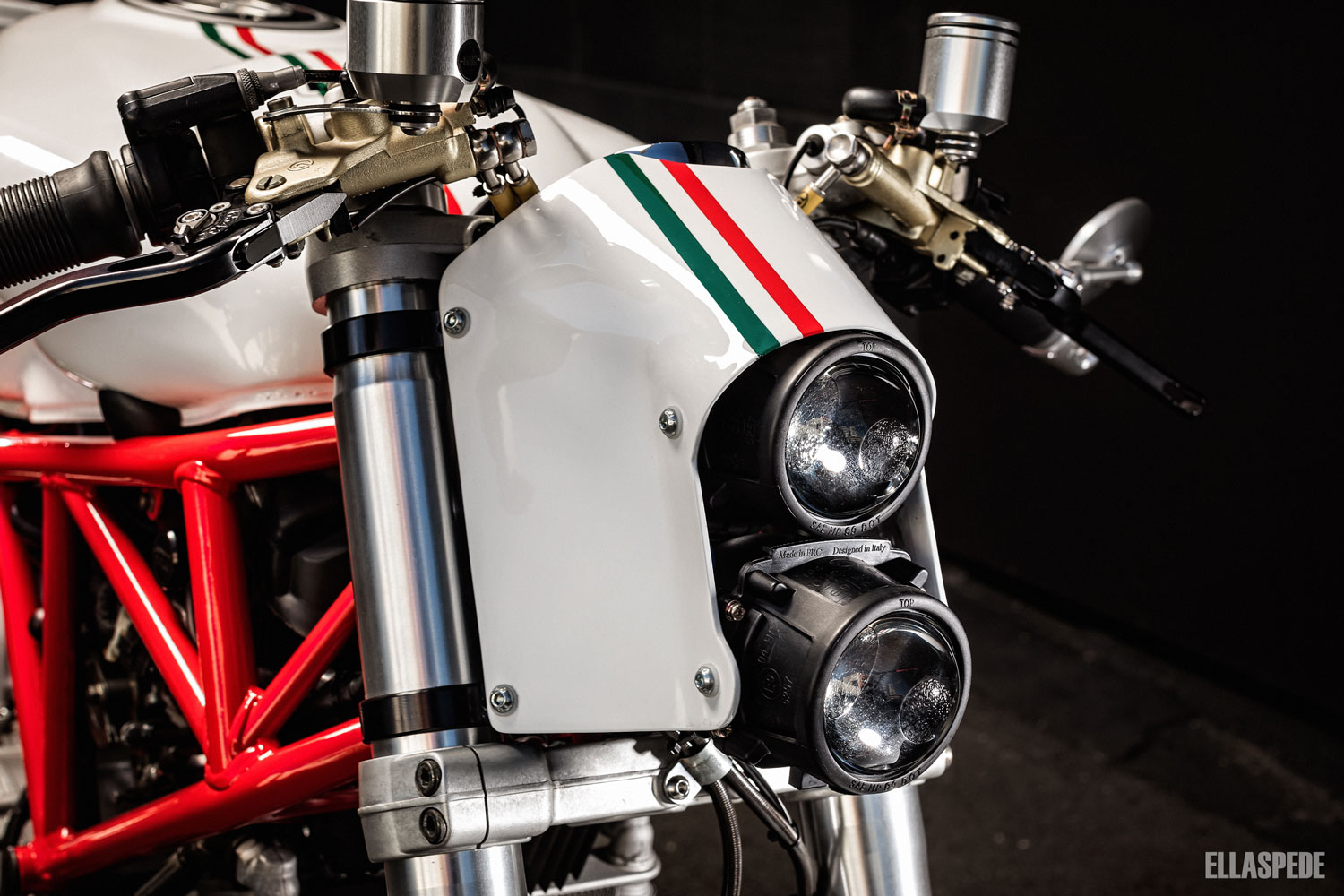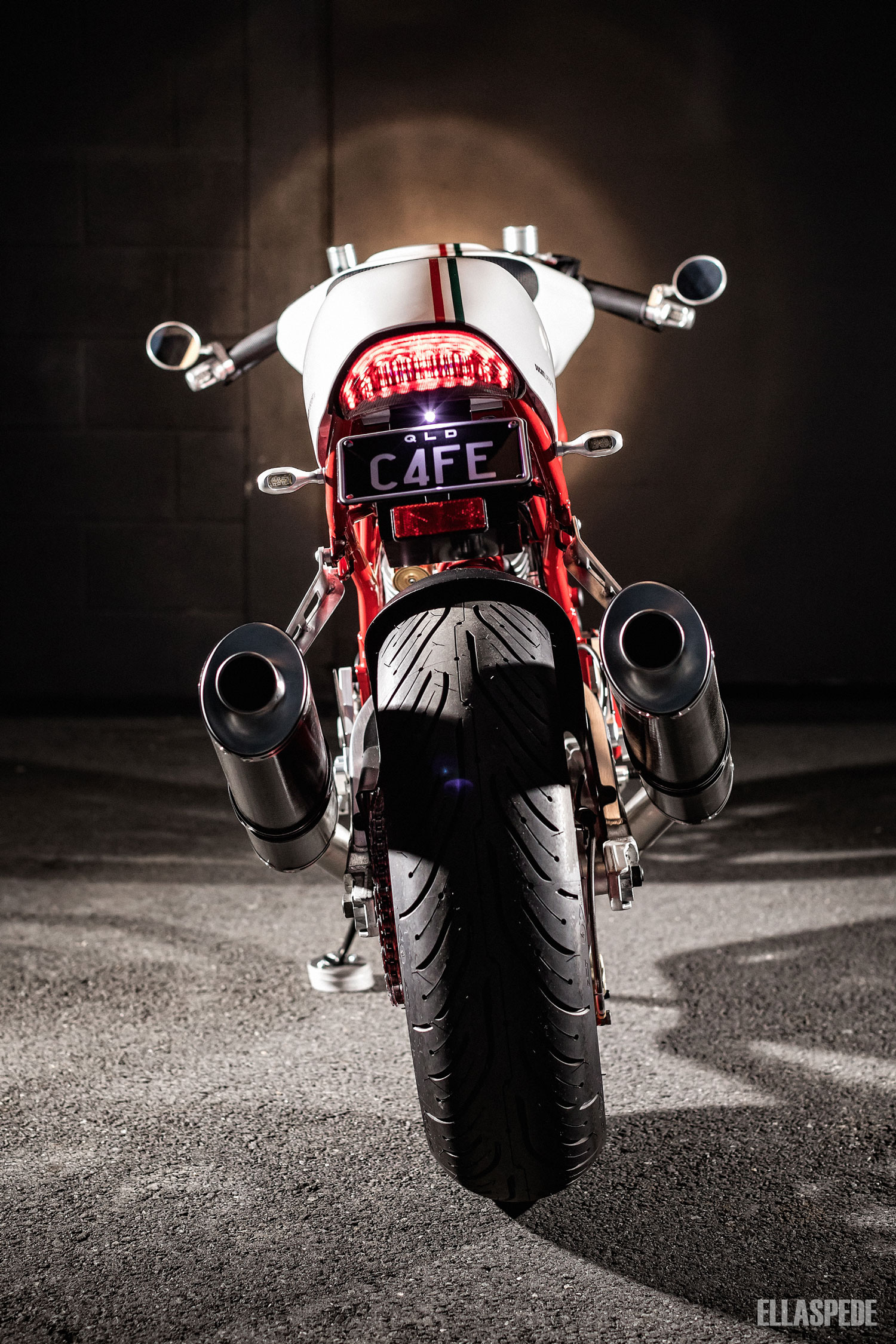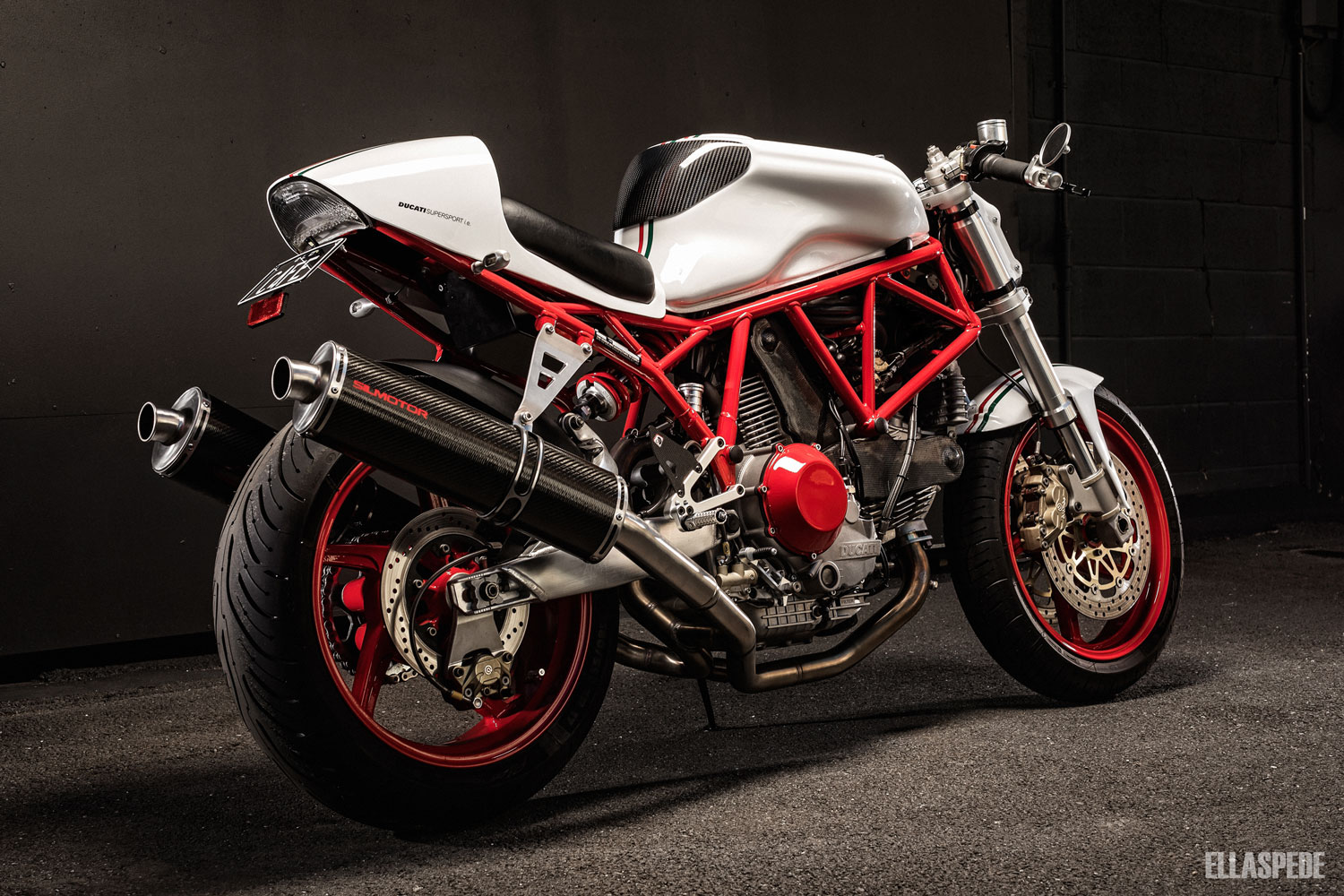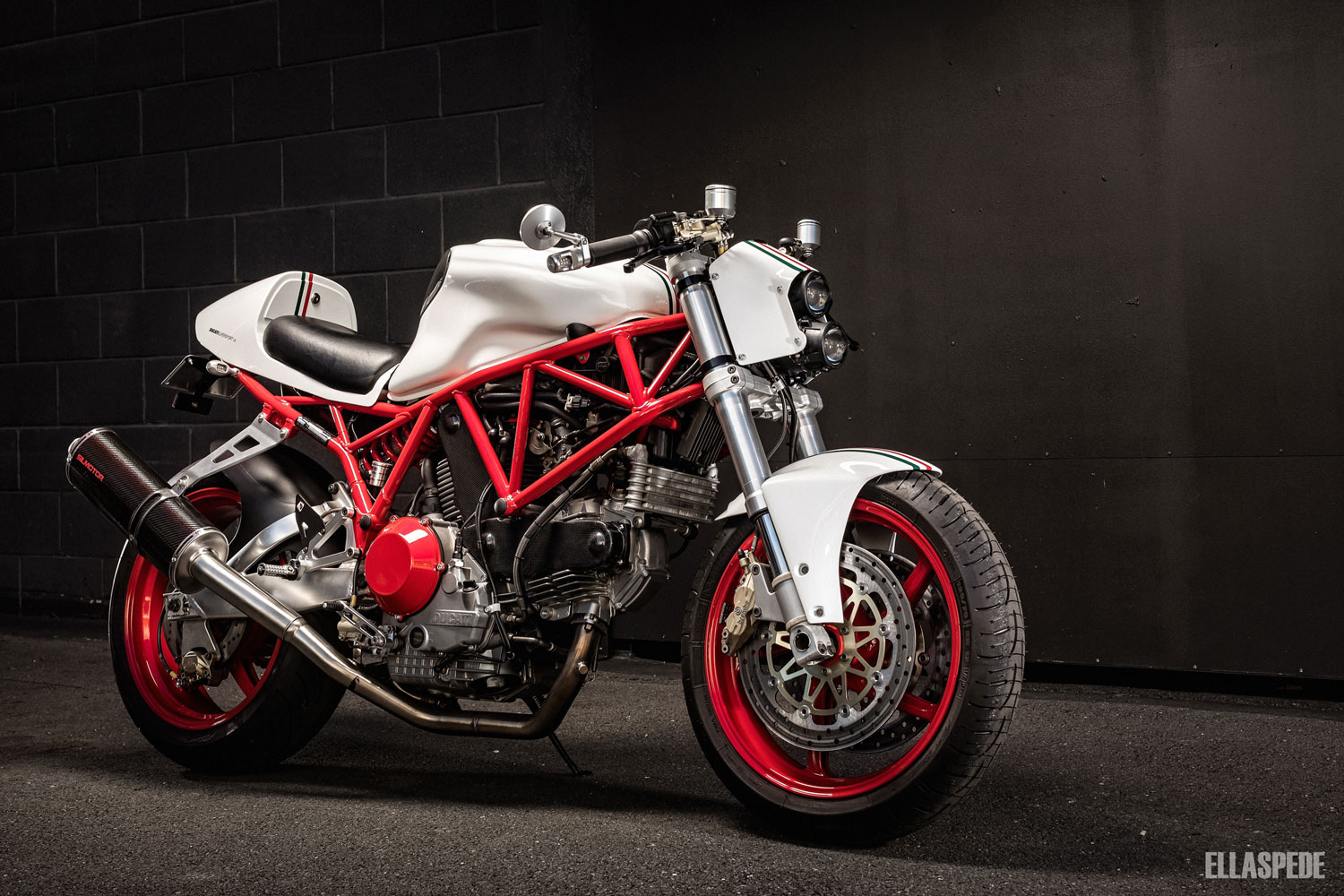 ---
Albums we listened to during the build of this bike:
---
Photos and Features:
---
---
Comments (3)
It's time

By:

Tony Muscat

on 29 August 2019

Sit up and talk note Ducati. Somebody who can actually think outside the box.
---
Eb597

By:

David

on 12 October 2018

Really nice bike,love the seat and rear light .100% bike envy!!
---
Tasteful

By:

Michael Mach

on 23 August 2018

Nice looking SS
---
Leave a comment