EB185 - 1999 MZ Skorpion 660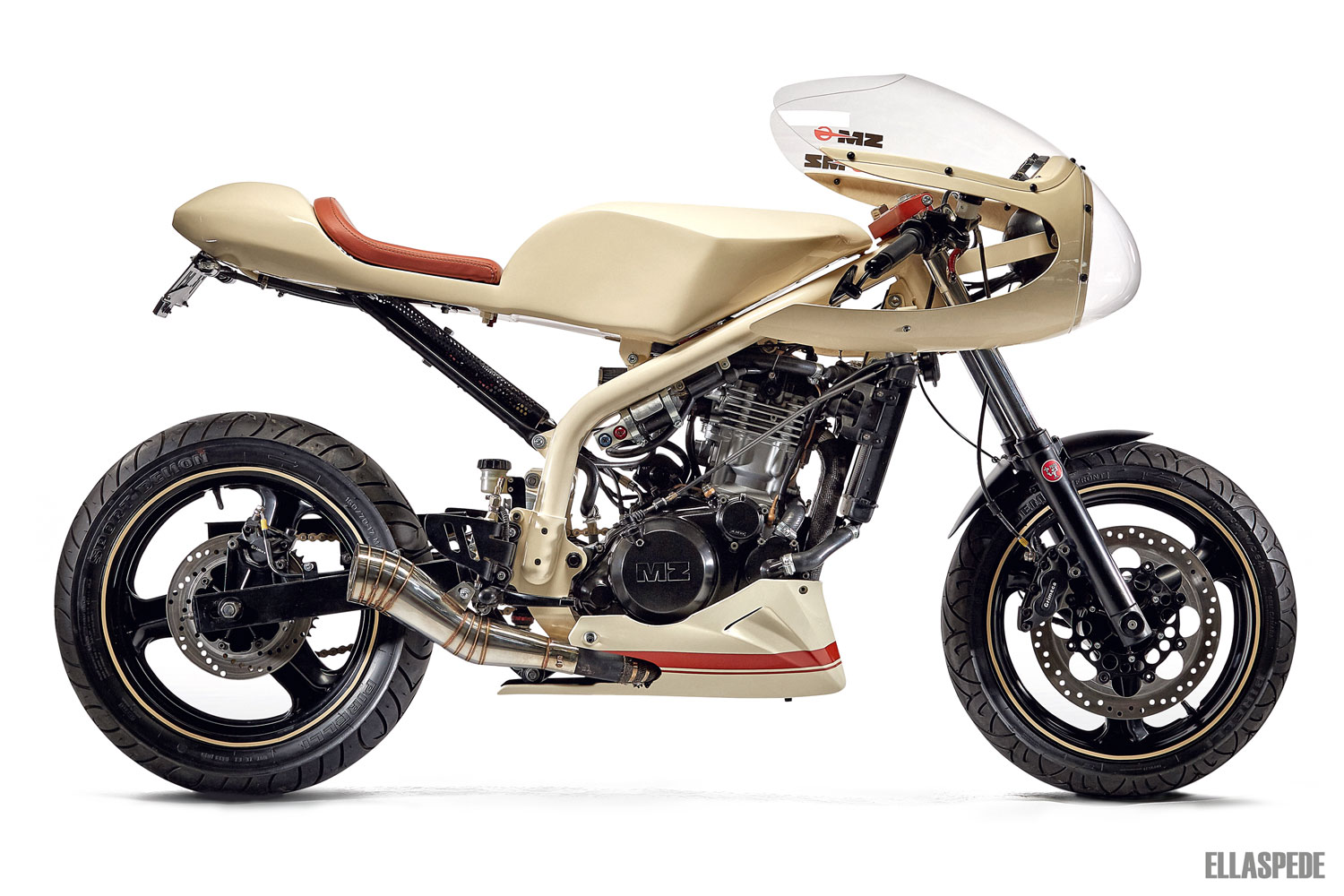 We usually pen the build bios ourselves, but owner Jeff so perfectly captured the story of this interesting build we're going to let him tell the story...
History:
One of the world's oldest, former largest, and most successful Motorcycle manufacturers - MZ (Motorenwerke Zschopau), founded in 1906 became part of the monster Auto Union group which blended brands like Audi and DKW in order to survive the global depression. It was a leader in the 20's and 30's and developed existing technologies such as the superchargers to deliver stunning results in Streamliners, Hillclimbers and Grand Prix racers.
Within three years of German reunification in the 1990's, and in the shadow of the technological masterpieces coming from the East in particular, MZ sells its old and outdated but brilliantly simple and much loved patents to a Turkish firm, then quietly winds itself up – and that could have been the story of that.
But it wasn't. MuZ (Motorrad- und Zweiradwerk) is born from the remnants under the ownership of a Malaysian Corporation. The MZ Skorpion range would be one of its products – a united nations of manufacture.
Start with a concept in Germany. Commission a chassis from the UK. Have the Austrians provide an aviation quality engine. Go to Italy for your brakes, wheels and suspension. Pick some electrics from home and the rest from Japan. Import everything into Germany and assemble and develop it. Ditch the Austrian Engine and add a larger Japanese one and get the Malaysians to finance it the whole thing - add a dollop of optimism.
It sounds like a recipe for disaster but the bikes worked. What could have been a parts bin nightmare resulted in an affordable, light, torque laden, smooth handling, strong braking and reliable package.
Packaging these quality outsourced components into the Skorpion and selling the bike in competition to contemporary manufacturers in comparatively low volumes would at some point be halted by the maths, however. There was simply more money going out than coming in and the trend couldn't be reversed. The MuZ dream was over in 2008.
Moto Expo meeting:
Slide forward to 2014 - then rebirth of the Cafe Racer was in full swing. My Brother and I were enjoying the Moto Expo at Brisbane Showgrounds - Ellaspede stand. I knew the brand from social media and the growing resurgence of interest in custom bikes. Café Racers in particular.
Ellaspede's Leo Yip was standing next to the bike that I came to know as EB001. Their first build. We had a brief chat and looked at some of their work - we seemed to be on the same page and discussed having a more detailed conversation with a view to converting my ideas and verbal diarrhoea into a concept that could be costed. I was yet to settle on a donor bike at this stage and that again, is where things may have ended.
Making a start:
I always saw something special in the MZ Skorpion. The large diameter tube perimeter frame was a real standout – I hadn't seen anything like it before. It reminded me of the frames of 1960's Puch scooters and mopeds. An image plucked from the obscurity of years of trawling through motorcycle trading magazines. The reviews of the time spoke glowingly of a brand I didn't know well, but knew of.
Prepared for sale and safety certificate by an eBay seller in Sydney with no shortage of blue-tac, touch up paint, electrical tape, hope and WD-40 my 1999 MZ Skorpion Tour made its way to Brisbane courtesy of a brotherly lunch and trailer swap at the Brisbane / Sydney midway point of Nambucca Heads.
Merrily trotting down the project path I found myself the proud owner and rider of a motorcycling curiosity and a growing number of random parts.
25 years of images weren't translating into anything for me. The ideas were all there in my head but I was struggling to put them together. Sketches, scribbles, notes, aborted starts - seemed like this was never going to get off the ground.
In search of inspiration, motivation and education, I completely pulled the bike apart. The net result while quite satisfying, meant I now had hundreds of parts, more ideas, a bike that wasn't usable and a mess. This didn't really help.
Getting good help:
I turned up at Ellaspede with a pile of parts in a trailer, where the team was generous in not face palming at the jigsaw. I think I talked bikes, ideas, likes, dislikes, concepts, colours and shapes with Steve Barry at the Ellaspede HQ for a couple of hours. Sketches were scribbled, ideas exchanged, dismissed, considered and debated. Follow up emails and concepts went back and forward and to my amazement Steve and the team took my nonsense and nailed the brief very quickly. Added some things, subtracted others. Justified changes.
The end result were a series of drawings and images that near perfectly reflected my wish list and developed on the things I couldn't take from idea to concept. Steve costed the job based on my dreams and that's when I learned what it costs to have a pro-shop take a concept through to reality. I paid the guys for the work to date and picked up my trailer full of bits and licked my wounds.
The gap between my ideas and the reality of a full custom build was a mix of shock and disappointment – not in Ellaspede but in myself for thinking this sort of thing can be done for a small amount of money. I couldn't have been much further off the mark if I'd tried.
The only way I could make this happen was if I did a lot of the work and running around myself and outsource everything that was beyond me; bring Ellaspede back into the picture once it was ready for them and we cross the line together.
One of the defining and largest components of the bike is the combined fuel tank, seat, tail and oil tank unit. It took some work finding a fabricator who was up to the job and after the 1:1 foam dummy I made sat with a fabricator who thought he could, but couldn't bring himself to tell me he couldn't, it seemed like it may be a bridge too far.
In a twist, a friend randomly suggested I try a place he drives past regularly, which brought me to a chap called John Allen, fabricator extraordinaire. His story is fascinating on its own – ex Honda Factory rider form the 80's and early 90's, racing alongside some of the Grand Prix greats piloting the NSR500 triple.
Seemingly from out of nowhere he fabricated a near identical copy of my dummy, with all the reinforcing, needed to actually make it work. The quality of his work was frankly amazing, and to think his life and incredible motorcycle experience brought that tank unit to my bike, is actually humbling.
Finish in sight:
Steve and I kept in touch via random email updates and the fact that they were building my Brothers BMW R80 Street Tracker in the interim...
Once I'd been reminded it's not the volts that get you, it's the amps and with 'Hit him again Endo' seeming like the theme of the day in the garage, it was time to stop being a home auto-electrician and get back to Ellaspede to finish the project off.
Electrical, gauges, clearance and some finishing work from the Ellaspede team brought the project over the line. I'm glad we could work together and the start and finish of the project.
Reflections:
There were a lot of hands and opinions that contributed to this bike, but also a lot of lessons:
What I came to learn about Ellaspede: The quality of their work, design and ethic is impressive. In the Café Racer and custom bike world, I would suggest they are somewhat quiet achievers. They let their work speak for itself. Honest and easy to work with. Every cent I spent with Ellaspede was well spent. I understand now why the original quote was what it was.
What can I learn about the custom community: People like John Allen are an example of the depth of skill that exists out there in motorcycle land. For every John Allen there seem to be a few dreamers who take on jobs they are not up to.
Did I save money in doing it myself: Probably not if everything is taken into account, but I did enjoy the process. Actually, no 'probably' about it...
What I came to learn about myself: I can do it. Not all on my own, but I can do it. Without a bike, or bikes or projects I would not be as content as I am. Calm, frustration, satisfaction, laughter, pain (usually from tool misuse) all of it worthwhile.
Surprise of the build:
The value of having a good, honest and reliable network of providers I can send particular jobs to cannot be underestimated. The number of contributors who had a hand in the finished product is almost as long as the united nations project that birthed the MZ Skorpion originally. I would not have considered tackling another project quickly without the talent out there in Brisbane's workshops in my corner.
Words by Jeff Lamb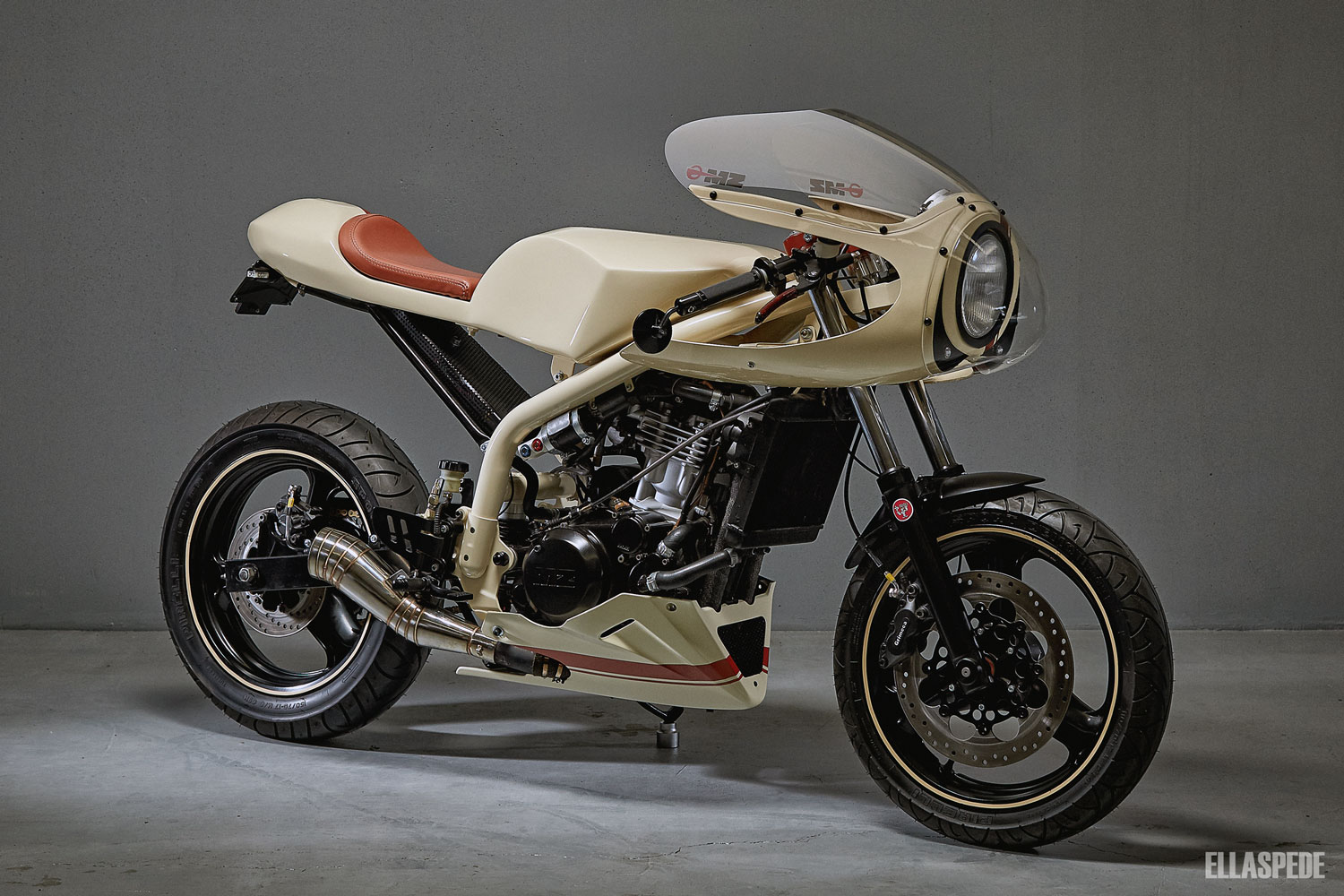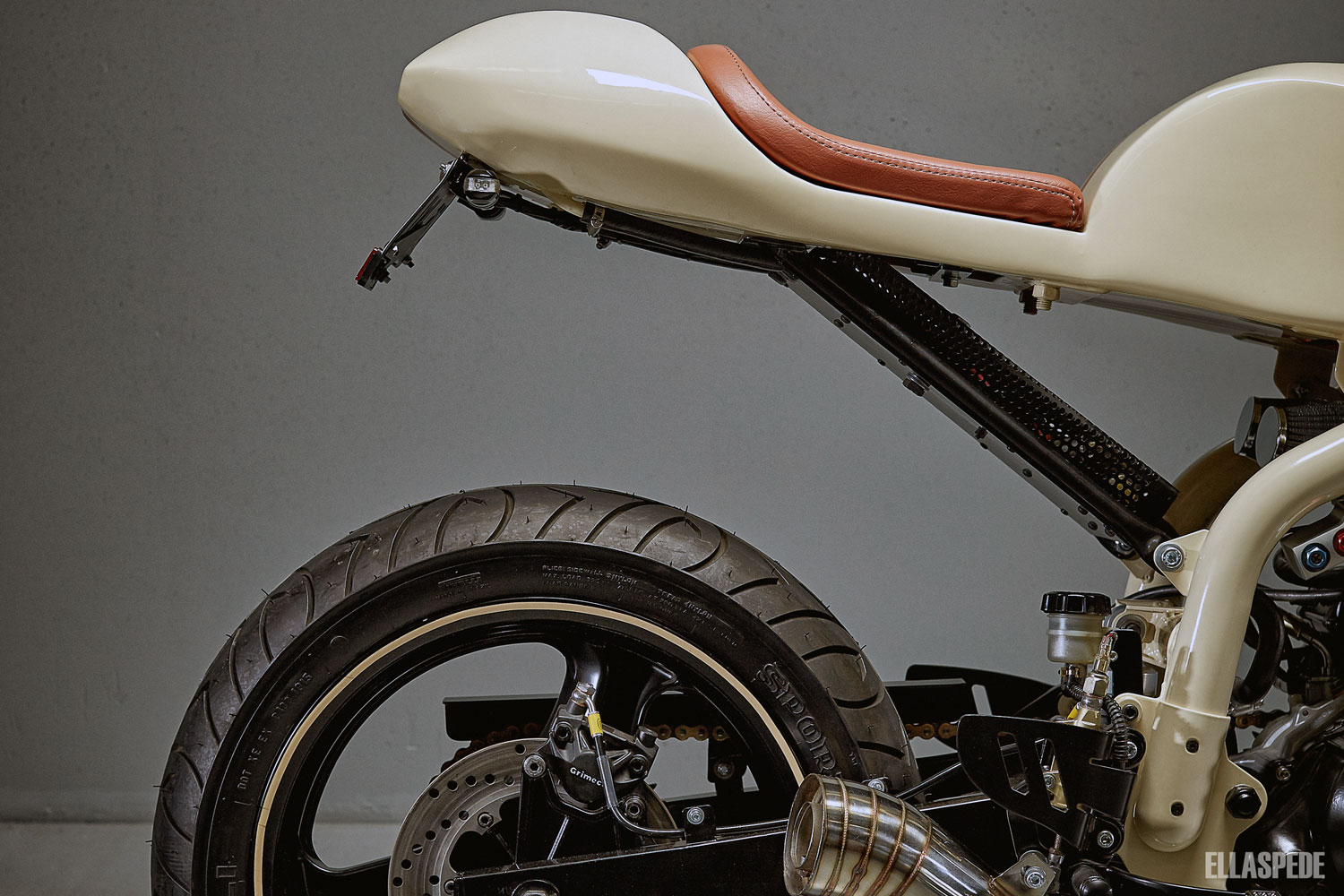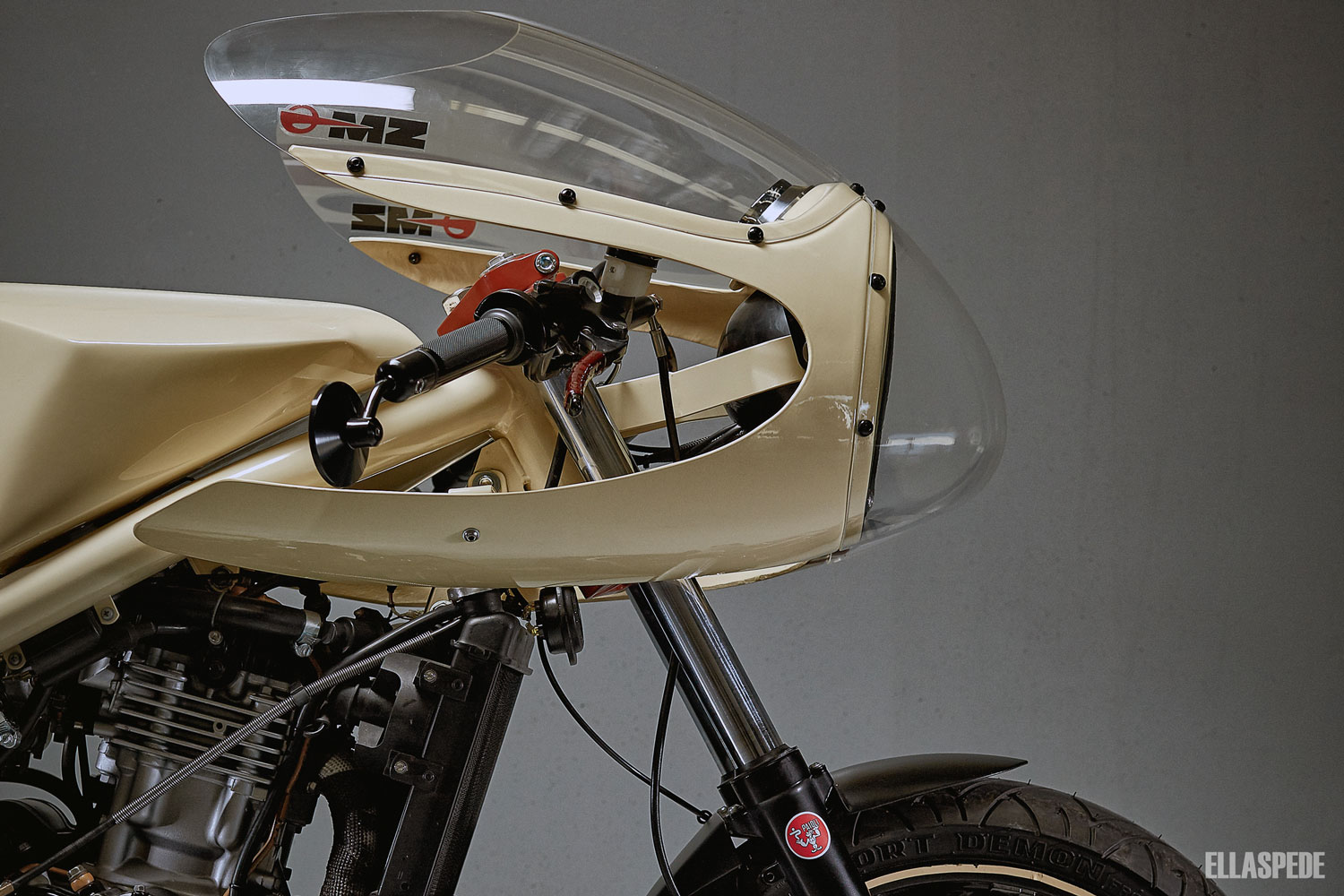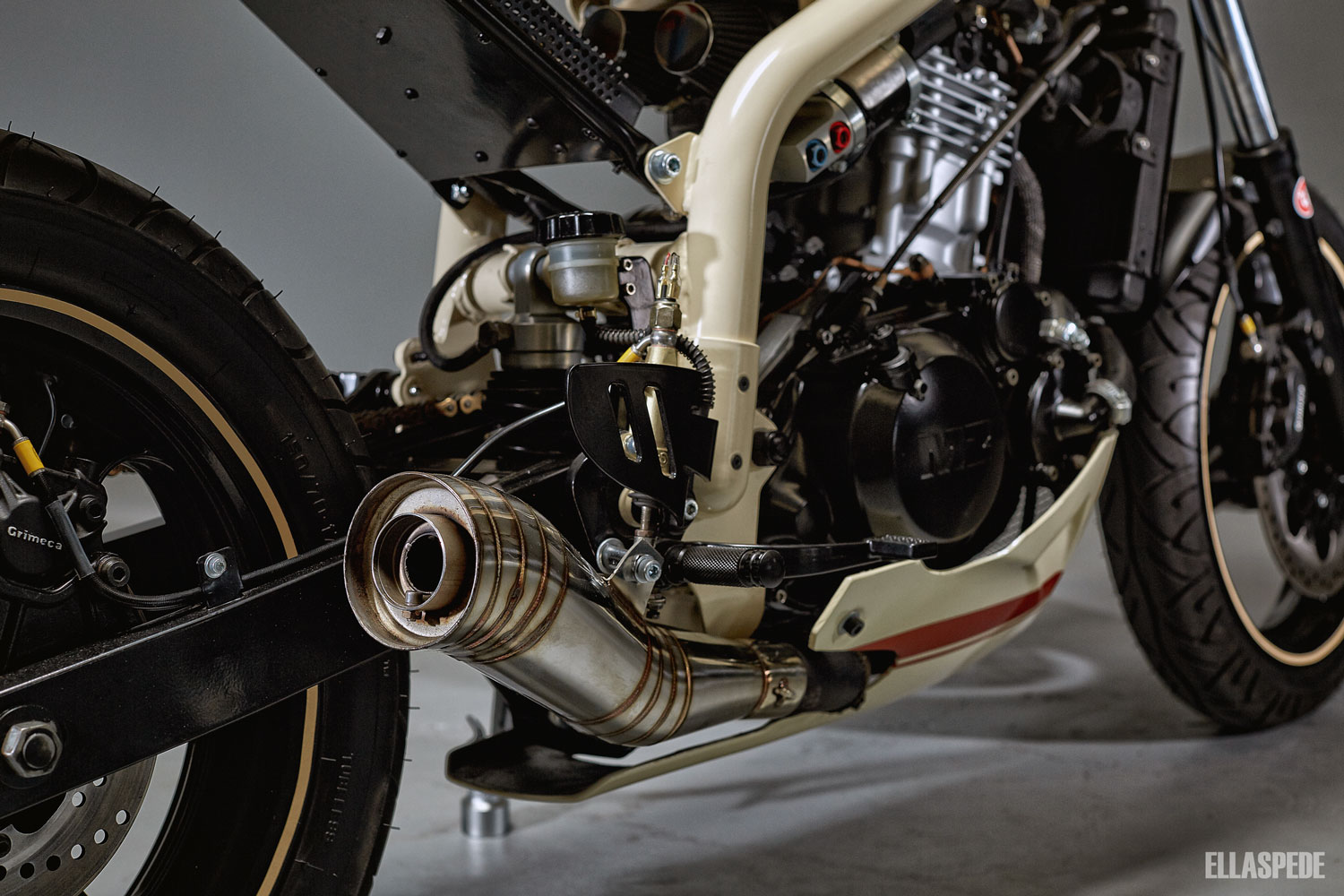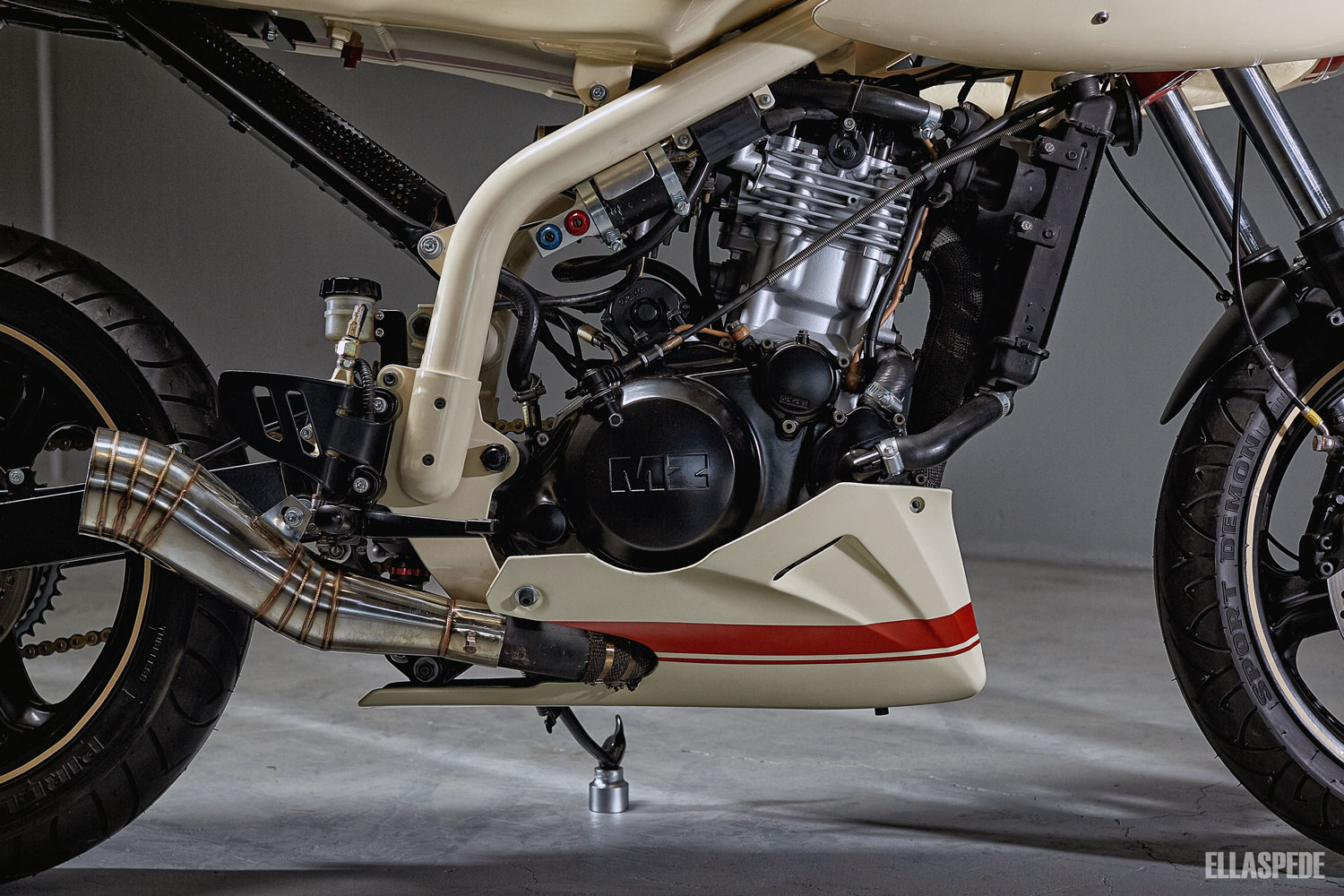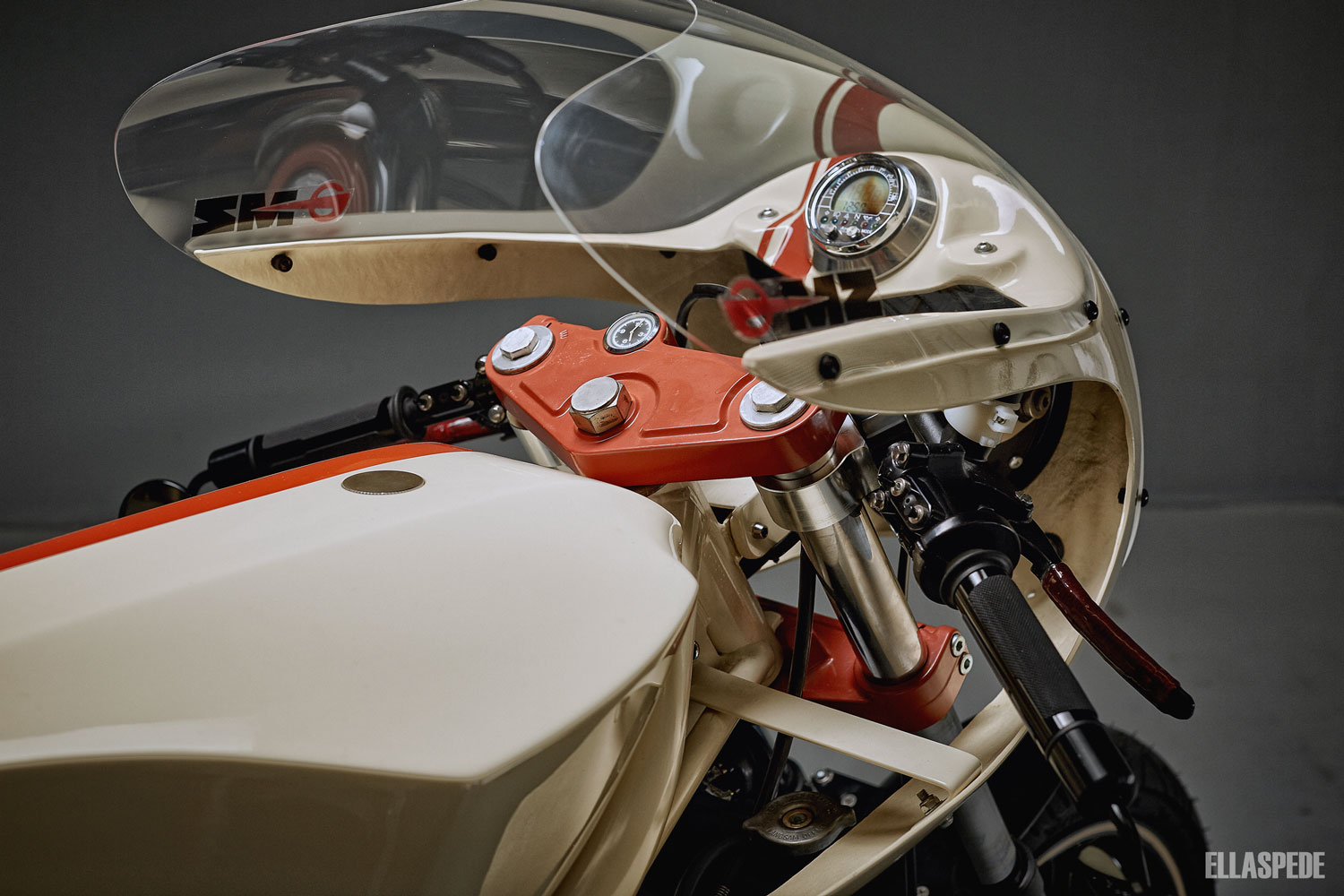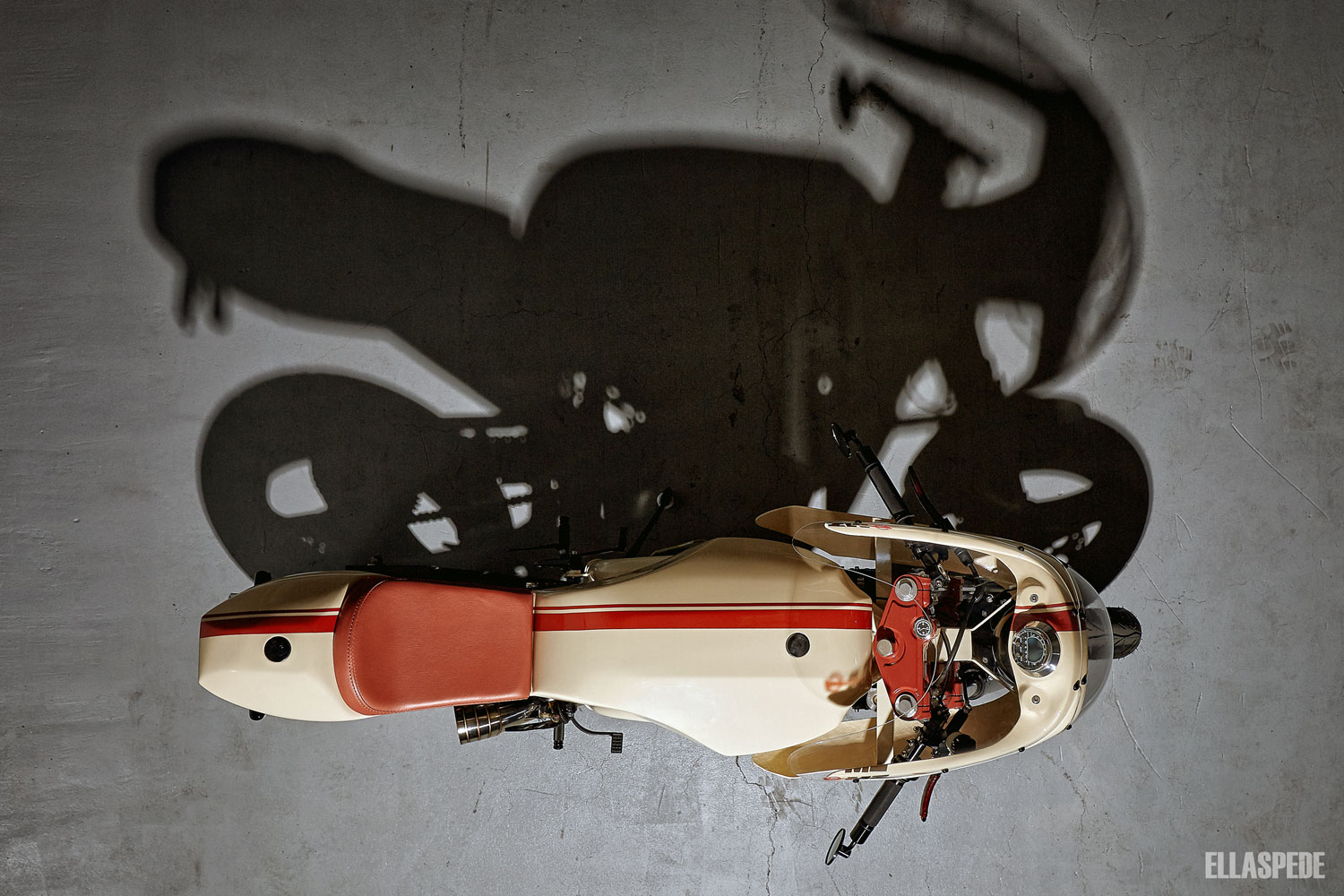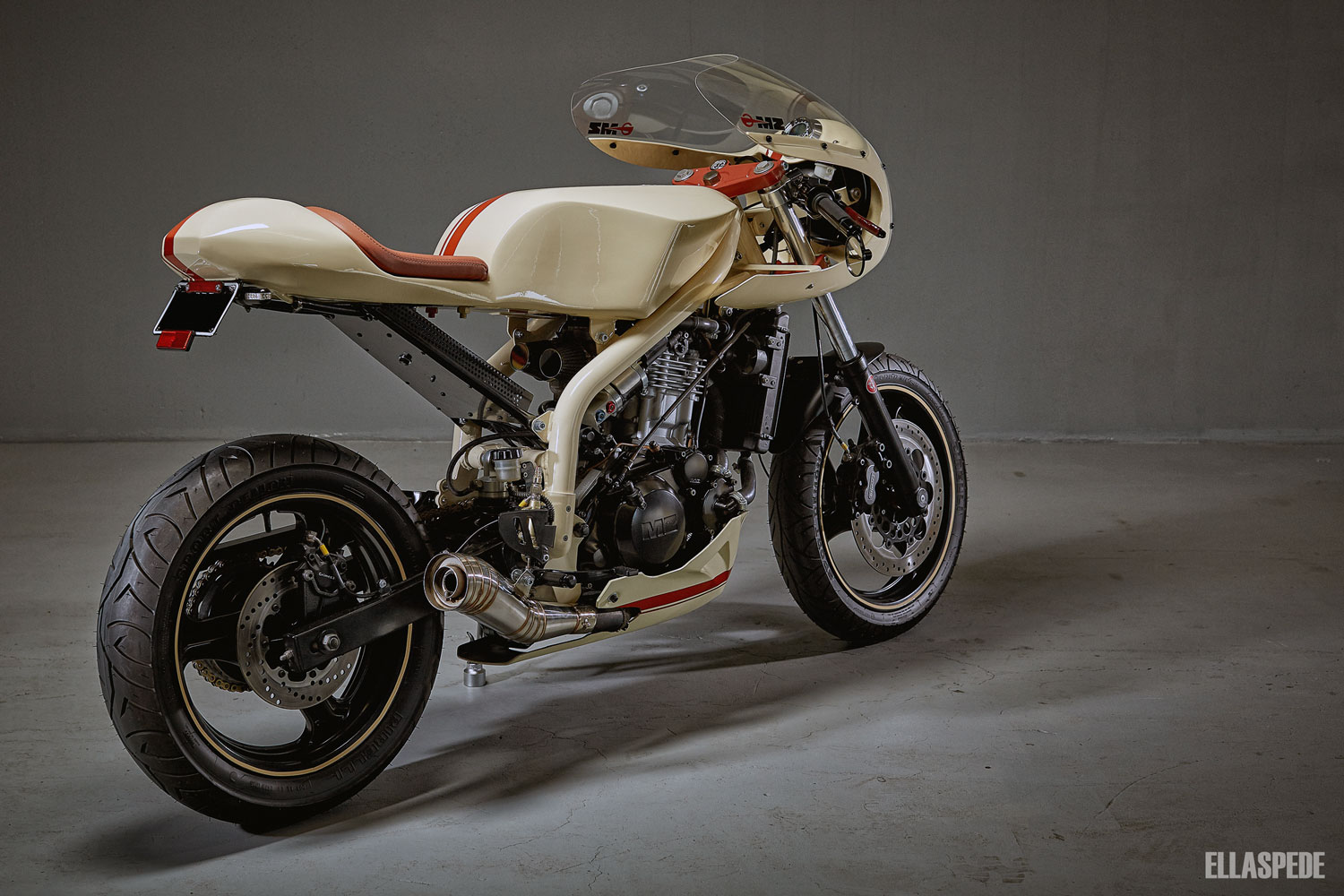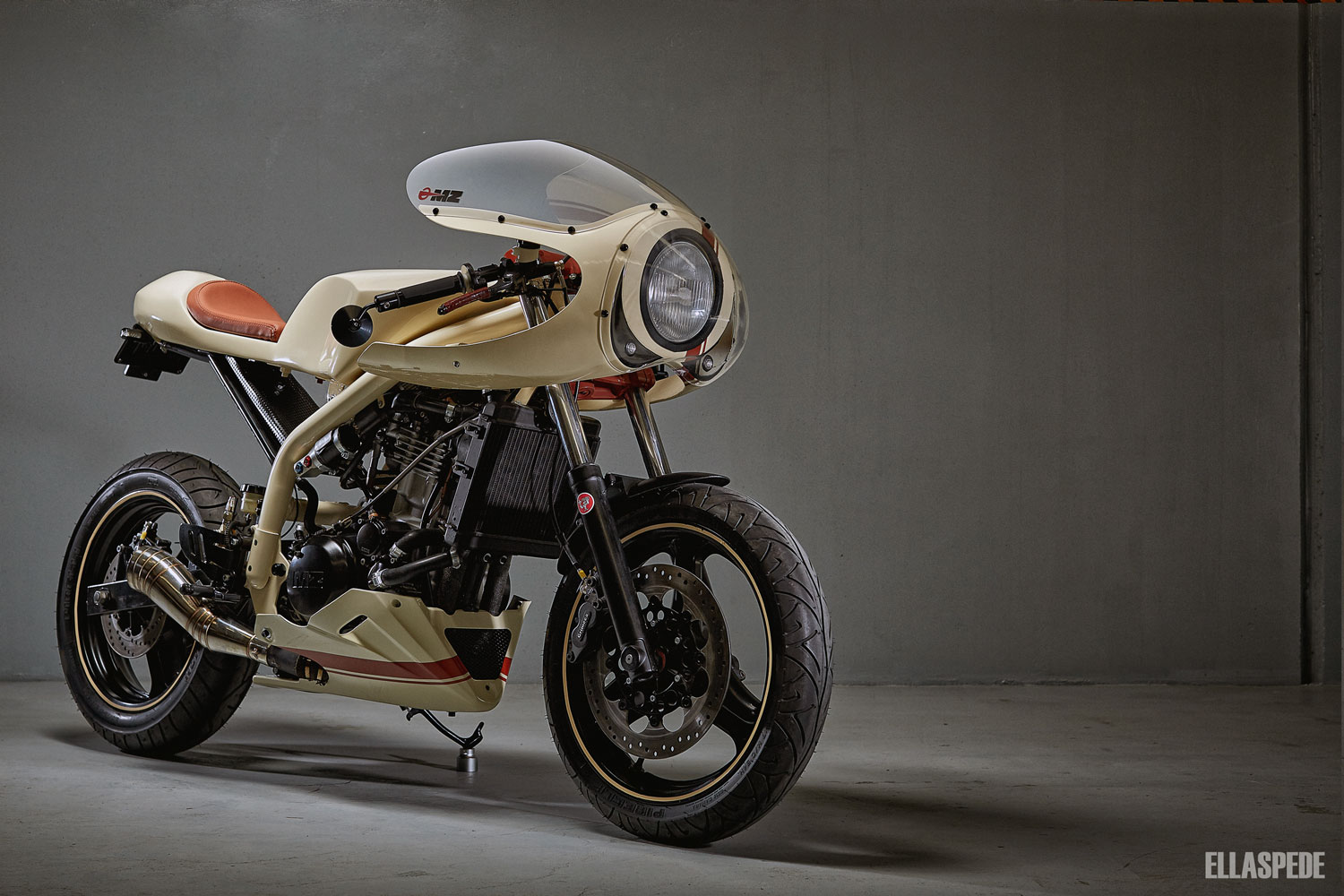 ---
Albums we listened to during the build of this bike:
---
Photos and Features:
---