EB035 – 1996 Yamaha XJR400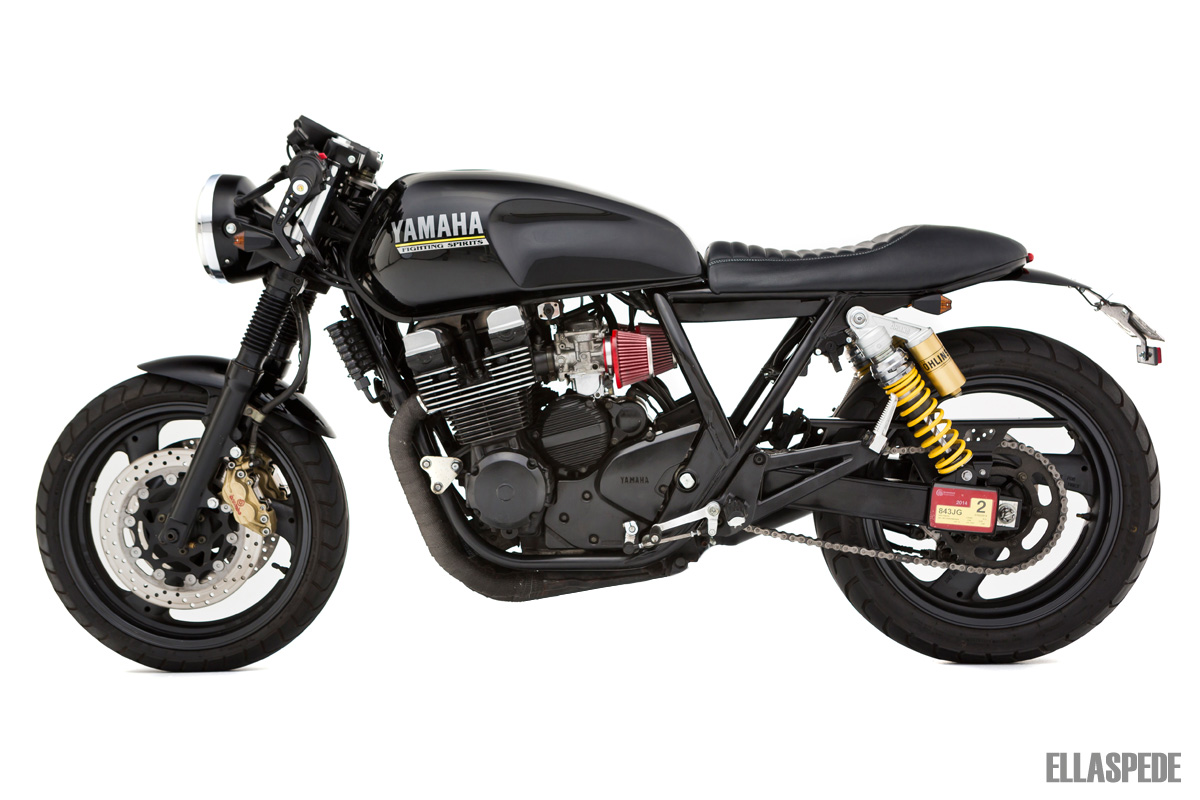 Our latest client Matthew D has been a visitor to Ellaspede for sometime now and happened to be in one day last year asking our opinion of potential LAMS donor bikes for a custom build. This happened to be during the build of EB014 (a Yamaha XJR400 we built for Jordan V). He'd been searching for a while but upon seeing the half finished bike he was sold on it as a base and set about finding one for himself.
Given their age and being an import-only model in Australia there aren't that many good XJR400s around, so locating one took a while. He managed to find a great example in always-cool-black, rode it in and we started discussing possibilities. Whilst taking cues from our previous XJR he also had some other ideas he wanted to explore.
One of the borrowed cues was cafe styling, so clip-ons and a humped seat were in order. The ability to take a passenger down the track was a requirement so the custom vinyl clad seat was made just long enough to achieve this, when the need arrises.
Under the seat were suitable frame mods, relocated and re-routed electrical items, and a custom rear guard with an Ellaspede "Ninja Star" plate relocation bracket to help with legal requirements.
The removal of the airbox left quite a hole (it's quite a box) and was part of the design aesthetic. BMC pods now feed air into the re-jetted standard carbs with the outlet side of the process handled by wrapped standard headers and a Supertrap muffler.
Lowering the headlight and the use of an Acewell gauge helped clean up the front end whilst Posh indicators and an LED taillight took care of the other lighting duties.
The front cog was swapped for a 1 tooth up unit, slightly reducing the revs on the Yamaha 4 (and noise from the Supertrap).
Many fabricated, powder coated, painted and polished items help finish the look.
There are future plans to swap the mags for spokes which should complete the bike nicely but until then Matthew has still got a pretty cool ride.
This was a great build for a few reasons but mainly because Matthew did his homework, chose a good donor bike that didn't need work just to get it running and worked in well with us to produce a sharp, aggressive, semi-modern take on the cafe racer genre.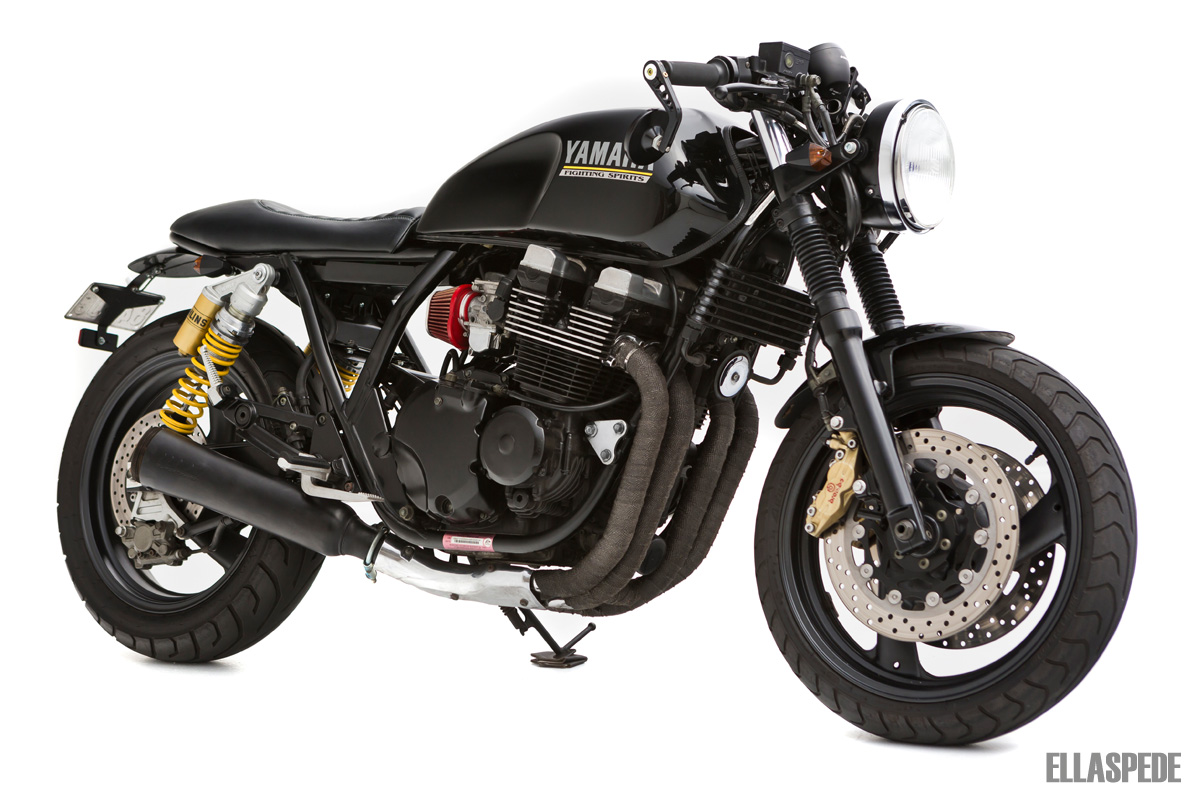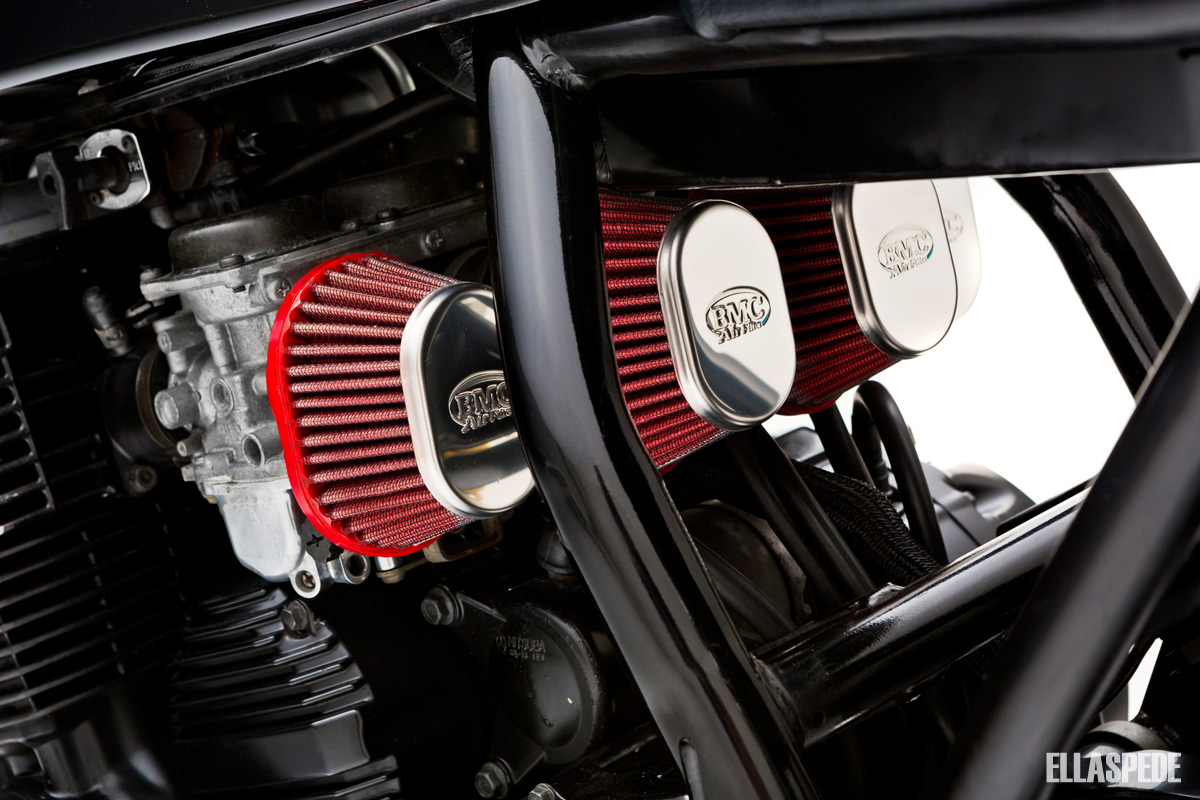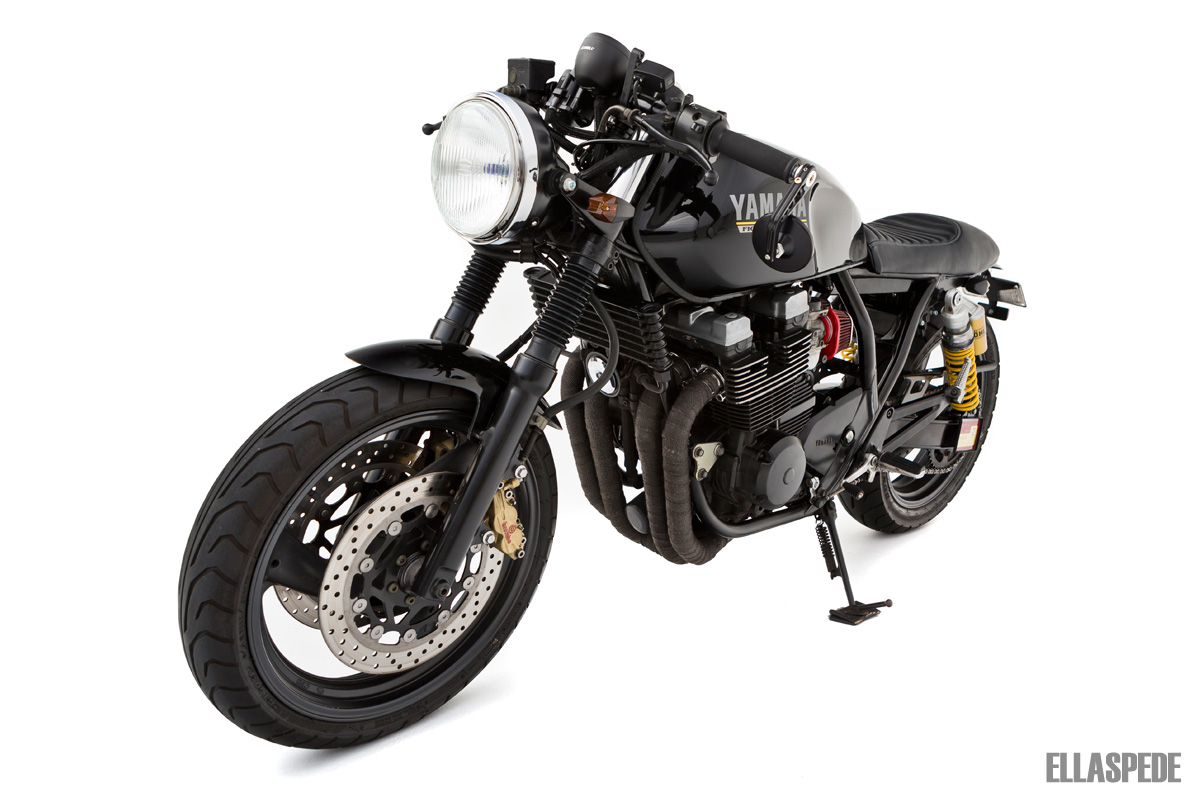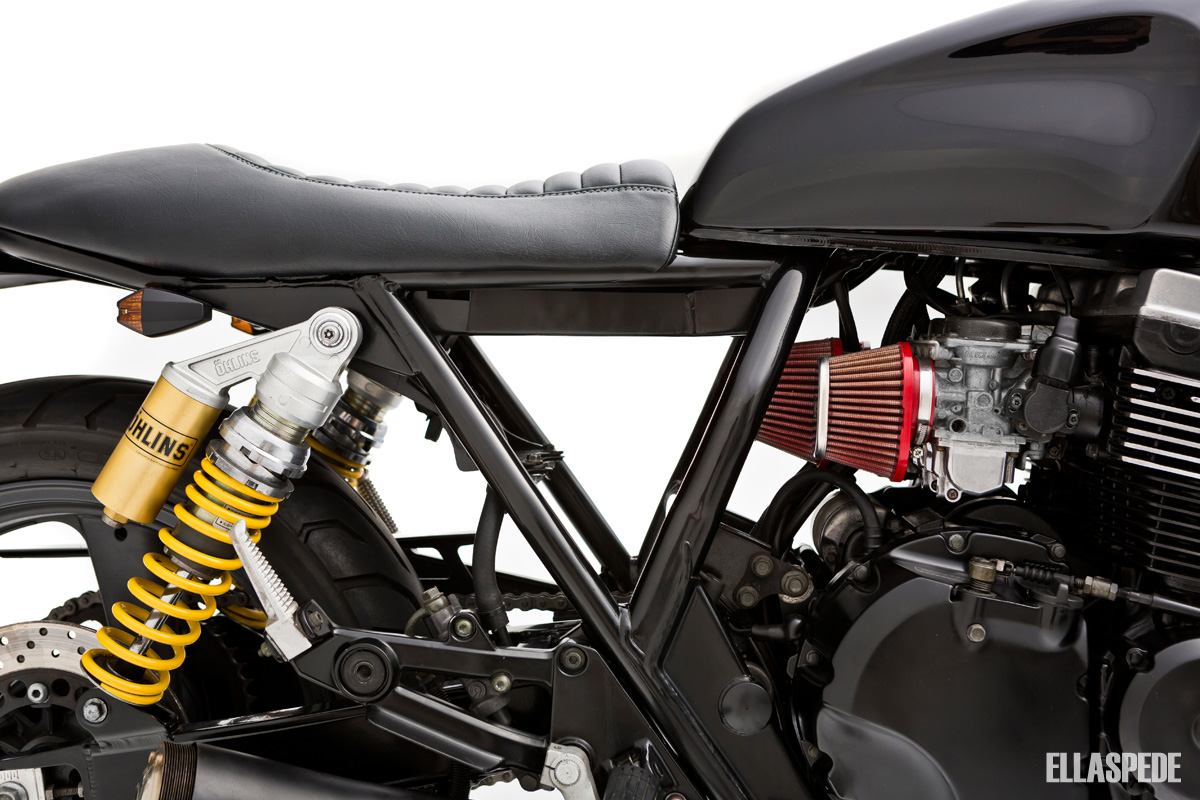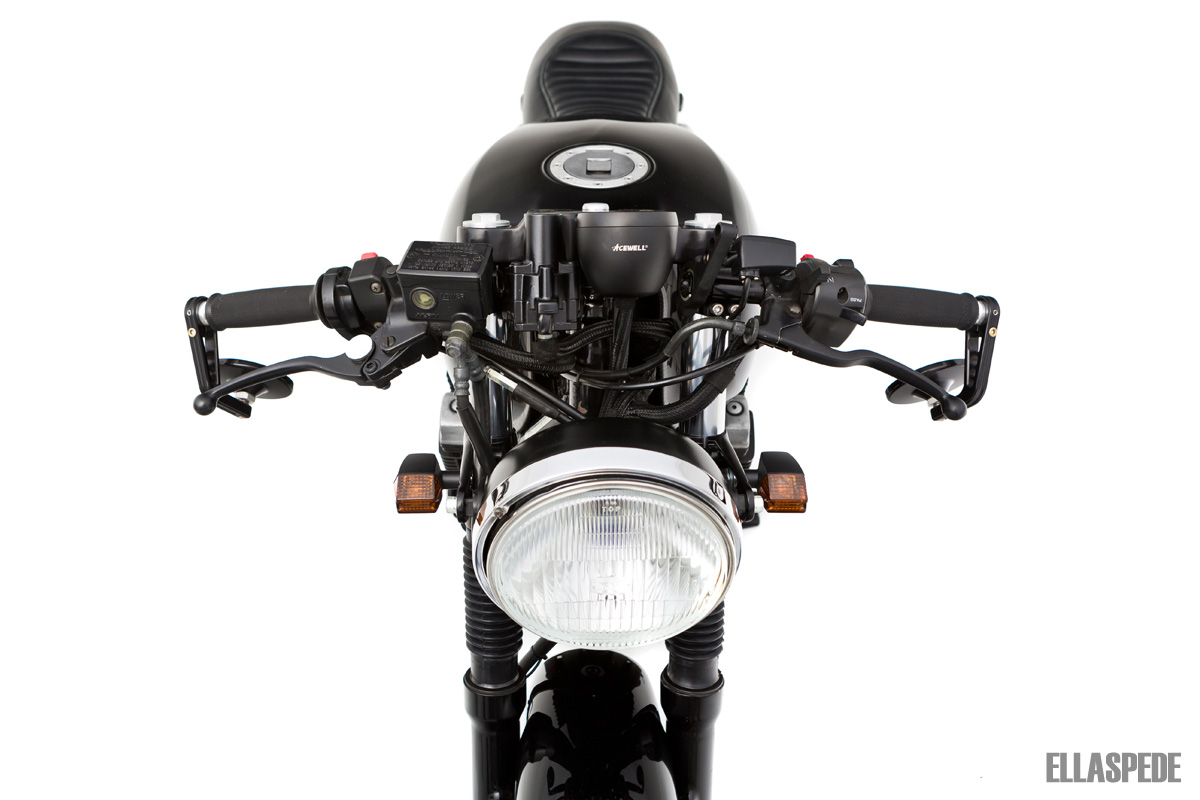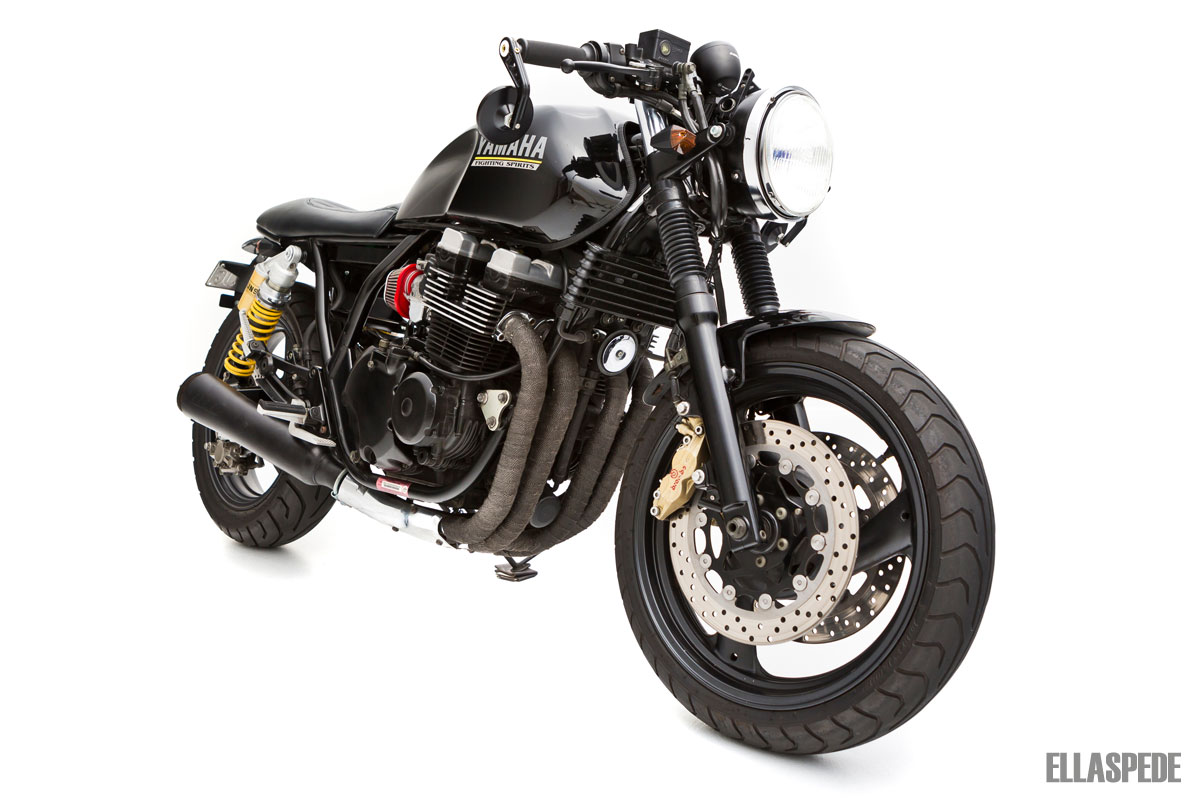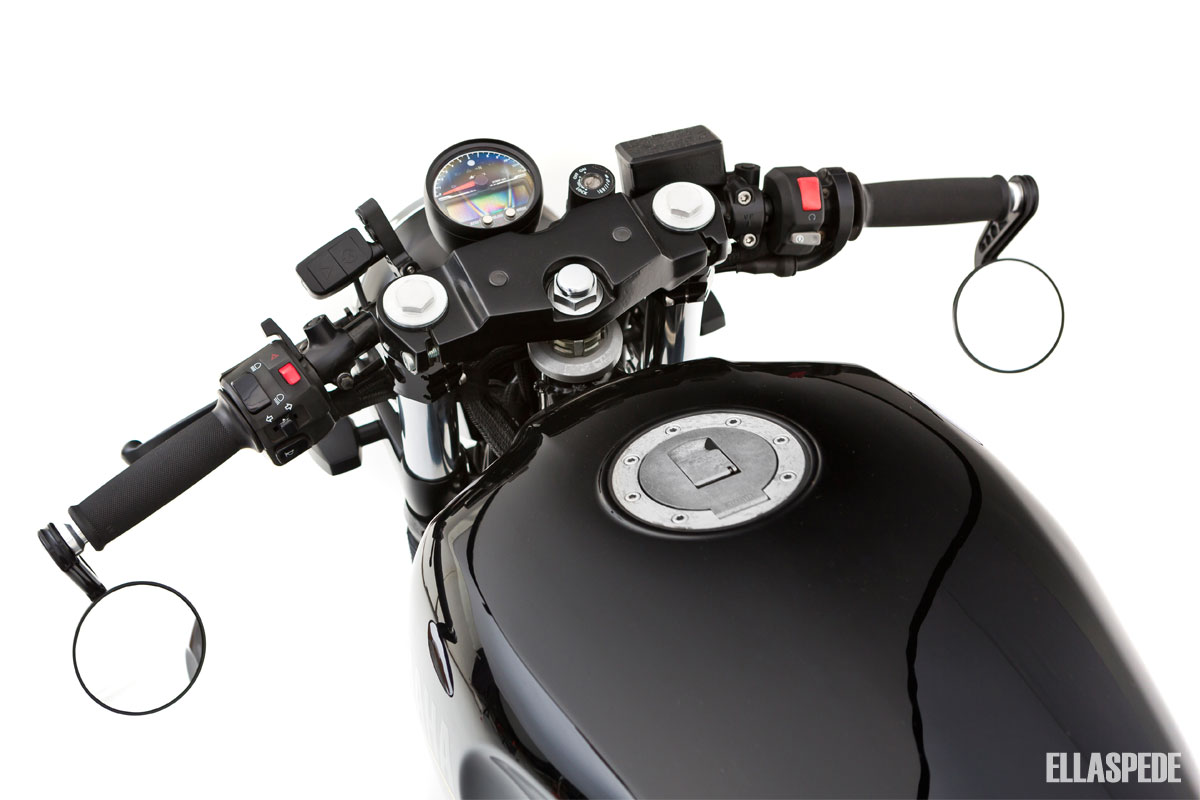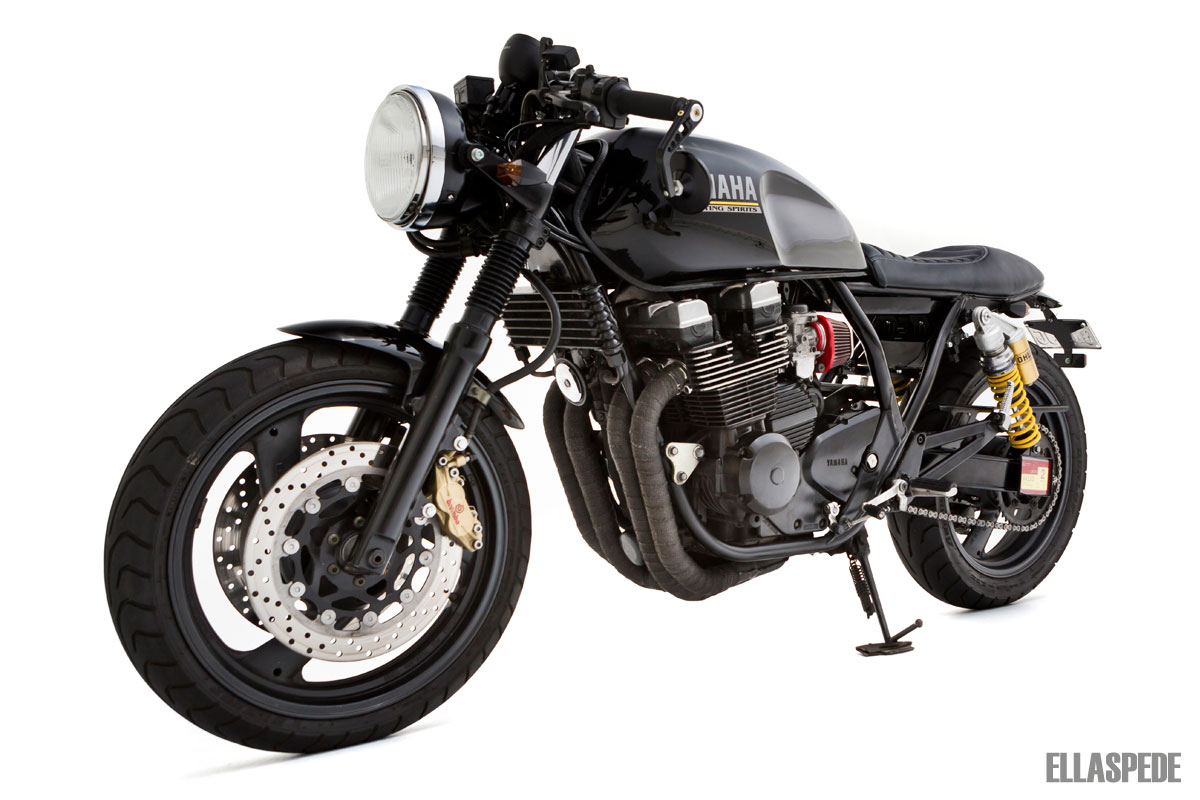 Albums we listened to during the build of this bike:
---
Photos and Features:
---
---
Comments (5)
Triple clamp

By:

Shoan Ngawaka

on 3 July 2022

Hi there I just got a xjr400 1998 that was meant to be a project for the guy i took it off but they couldnt finish it....Im looking for top triple clamp somehting like the one you have...where did you get it?





Ellaspede Response
Hi Shoan, from memory this was just the stock top triple clamp that we machined back. All the best with your build! Cheers
---
Beautiful

By:

Craig

on 18 June 2022

I too would love to know the costs of this!





Ellaspede Response
Thanks Craig! We'll send you some more info on the build mate. Cheers
---
Commissioned Advice

Hi I'm based in Japan and wonder if your company offers commissioned advice. I'd like to replicate much of what you've done here and realize there are more details I would need and be willing to pay for if you offer these services. Many thanks for your consideration. Alex
---
Live in Tokyo - 1993 XJR400

By:

Alex Hobson

on 30 July 2021

Awesome works gents. Could you please reach out via email so I can send a proposal over?





Ellaspede Response
Thanks Alex, we're glad you like it. We'll shoot you an email. Cheers!
---
Xjr 400

By:

Joshua Roberts

on 30 January 2021

How much would a build like this cost ?





Ellaspede Response
Hey Josh, we'll shoot you an email with an approx price on a similar build mate. Cheers
---
Leave a comment