EB775 - 1995 Yamaha XJR1200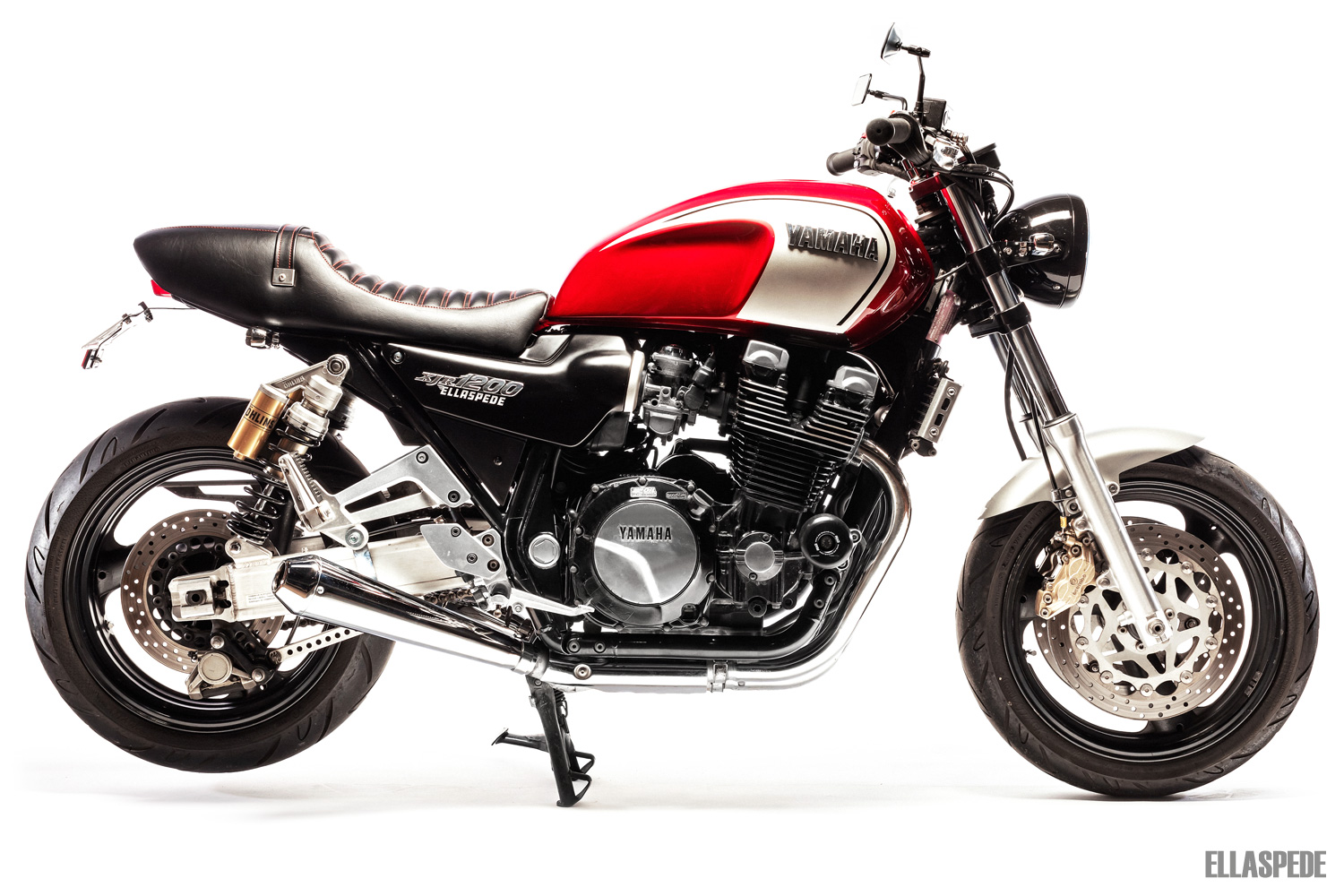 If you're after a big, capable, classic inspired street bike we find it hard to look past the Yamaha XJR1200 and XJR1300 models. To be honest we're surprised more people don't use them as donors for custom builds down under when you consider how much bike you get for the budget these days!
Enter David and his 1995 Yamaha XJR1200 (he's seen the light!). Having already owned a Buell Firebolt and with a KTM 1190 Adventure R currently in the garage, David knew only another big bore beast was going to suffice.
After some research he decided that the 'big XJR' was going to be the one and set about searching for a 1200 model with 'carbs and twin exhausts'. Although in 1995 when the XJR1200 launched it was seen as a knee-jerk reaction to Suzuki's popular big Bandit, the Yamaha actually benefited from years of development from the predecessor XS1100 and FJ1100 models to produce a pretty solid bike from the get go.
The Yamaha XJR1200 doesn't overcomplicate things, it's a big honest bike and that's one of the reasons we like them. At 235kg they're no lightweight, but once the bike is moving the weight is low and the riding position is comfortable. Then there's the big air cooled engine, which is the hero of the bike. Not record breaking numbers by today's standards, but it's got enough grunt to stretch your arm sockets in any gear and the sound it makes while doing so is even better.
A grey import from Japan in 2009 with only 31,000km on it meant that the bike hadn't done much work for it's age and was in good running order when it arrived. David mentions "It didn't come with any history but I imagine that it was owned by some sort of Yakuza boss who rode around with a samurai sword strapped to his back". Buying a solid running and riding donor bike had paid off for David (maybe thanks to the Yakuza!) and our attention was turned to the aesthetic parts of the build.
The main areas for attention (as with most builds) were focused on trimming down the original equipment. Work started at the rear with the factory rear frame being shortened and de-tabbed, before mounts were made to reuse the original rear 'horizontal bar' tail light for that classic XJR look.
With the rear frame finished a reasonably complex metal seat pan was made to fit the tank at the front, wrap the relocated tail light at the back and pickup on the factory seat latch system for easy removal. With no cowl or rear guard, the seat foam shaping would provide the required silhouette for the back of the bike, supporting the rider when the throttle is open while still providing a pillion option should David require. An Ellaspede universal tail tidy mounts the plate and keeps things legal out back with an LED plate light and rear reflector.
The front now needed attention to match the new snug rear end. The stock headlight, indicators and gauges were removed in favour of an LED headlight, aftermarket indicators and a set of Daytona Velona gauges shielded by a custom mini-cowl. New bars, grips and mirrors complete the makeover for the riders cockpit.
The stock front guard was cut down to suit, while the side covers also copped some modifications to match the new look.
Stock mufflers were removed in place of custom mounted reverse cone items with extra baffling, unleashing a little more of the epic engine noise and trimming down on visual and physical weight. David noted "I just like the symmetry of the classic dual shocks and dual pipes at the rear" and we agreed for this build, ensuring the new mufflers were mounted low and tight.
The front and rear suspension was removed and rebuilt, ensuring a smoother ride and improving on one of the XJR's weaker points. During the process fork legs, triple clamps and shock springs were painted and powder coated.
The XJR's have a recognisable tank shape and an iconic engine plant, so little changes were made here apart from some polishing and painting to ensure both were looking their best. The tank receiving a glorious red over the stock silver, a nod to the original colour-way but now providing a little more pop.
A swag of other parts were removed for refinishing, paint, polish or powder coat so that they matched the XJR's new dress code.
With the bike all back together we're really happy with how it's turned out. Trimming off all the large or unwanted items has turned a big bike into a tight package that now shows off the important areas. The stock tank and tail light ensure it still has that classic XJR style, but it now looks, sounds and rides better than ever before.
What does David think? He said "The thing I liked most about the project was that Ellaspede was able to pretty much turn all my ideas for the bike into reality, with the final product exceeding my expectations, which were pretty high. My favourite part of the bike is the sound of the engine and with the new pipes the crackle and pop when you back off on the throttle and downshift is just fantastic."
David's shown you don't have to reinvent the wheel or replace everything to create a nice custom bike, and he's done it on a very fair budget by picking a good donor to match his end goal. Given how much bike you can get for the money and with the amount of XJR1200 and 1300's still floating around in Aus we're hoping more people will consider the big bore Yamaha for future custom builds.
In the meantime, you'll find David firing up the XJR for the work commute at least once a week, with regular weekend rides 'a bit further afield' to really make the most of the big bore Yamaha!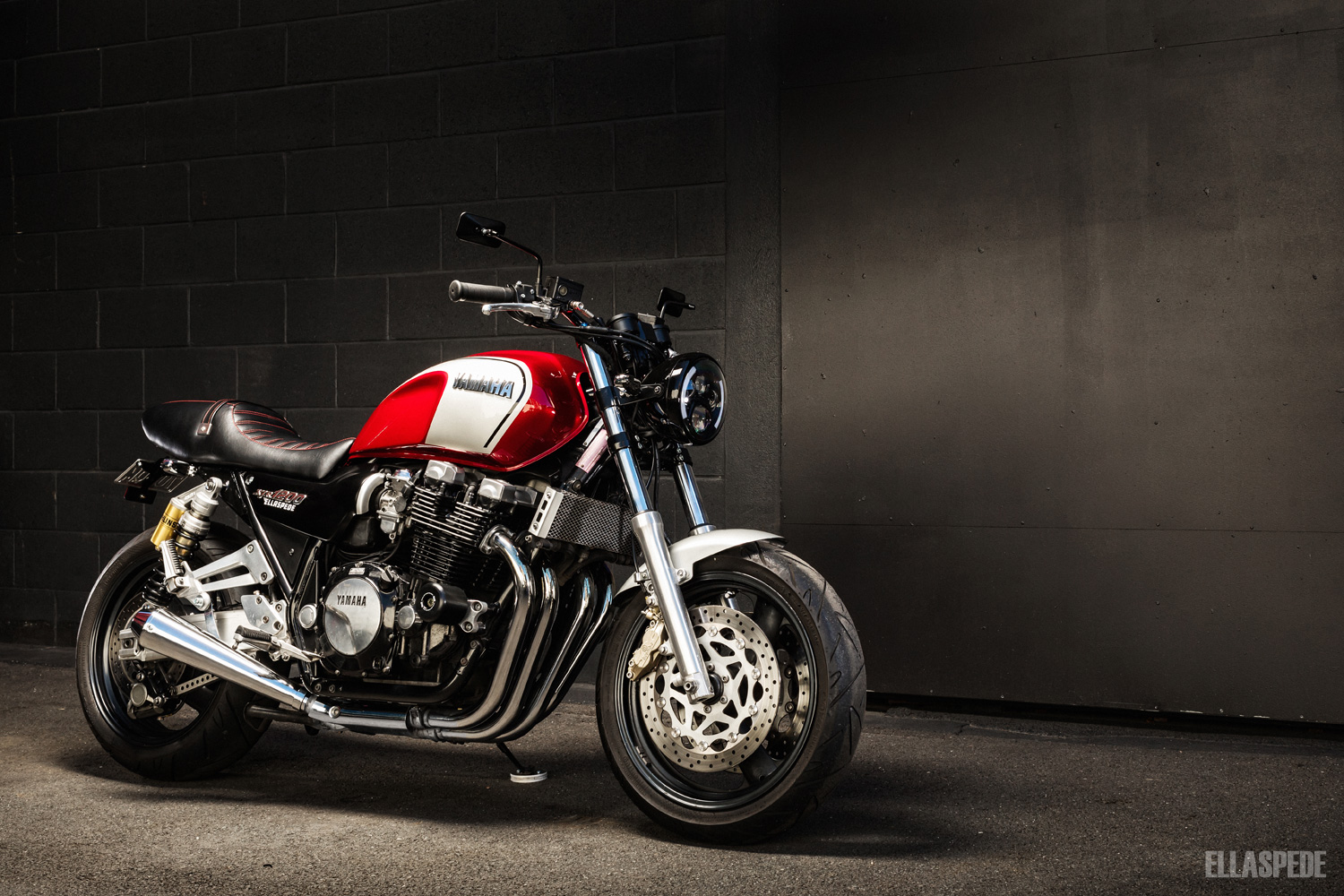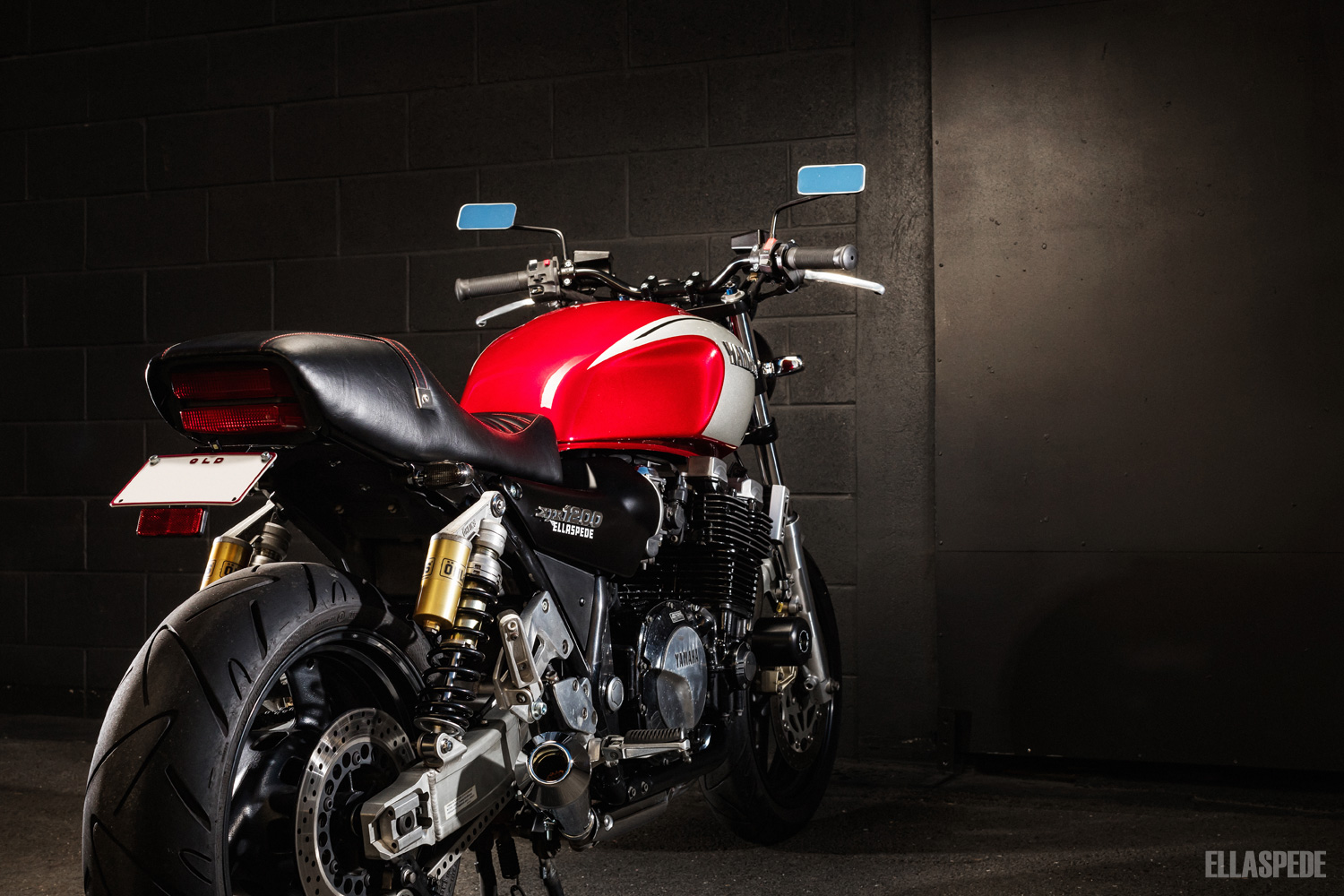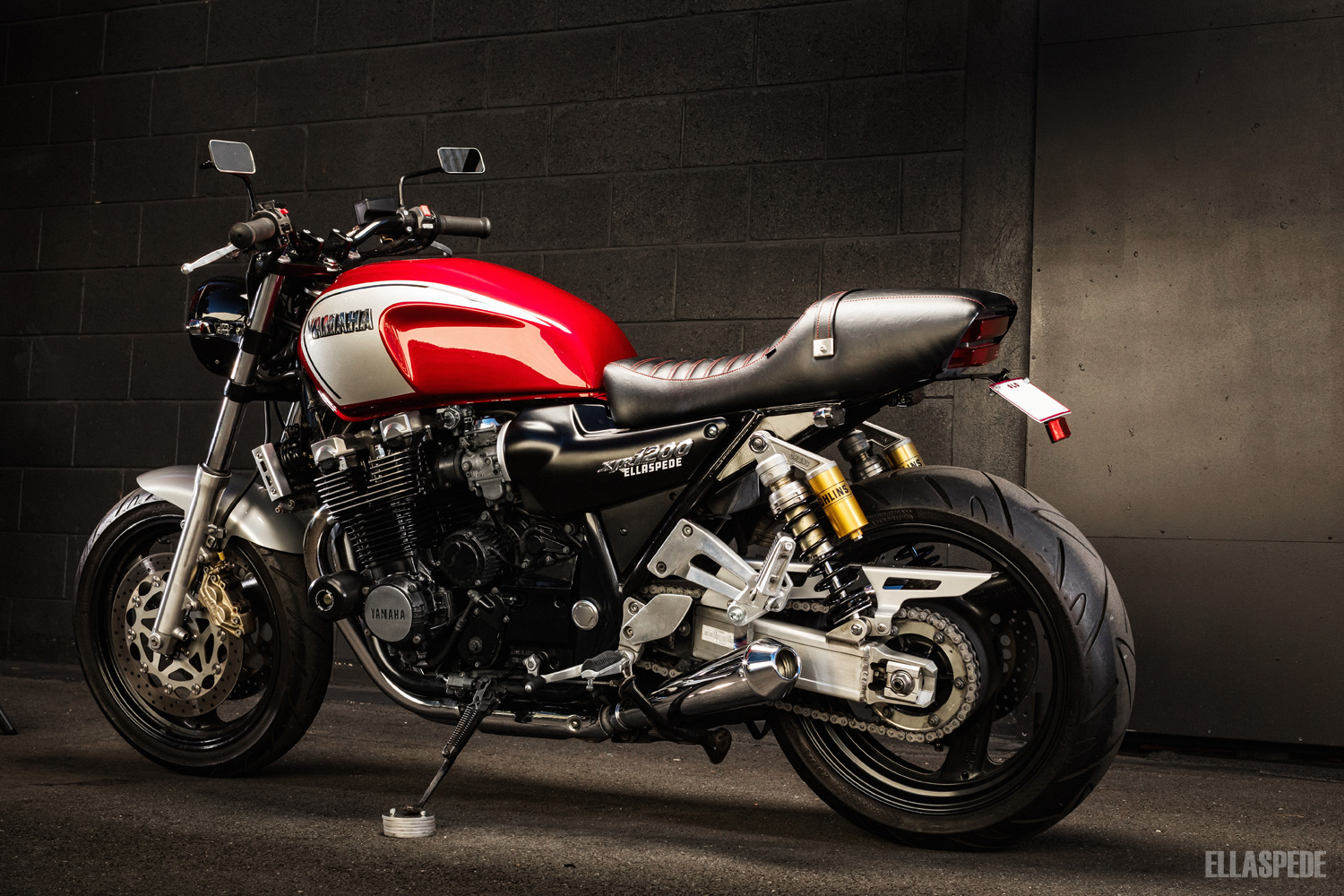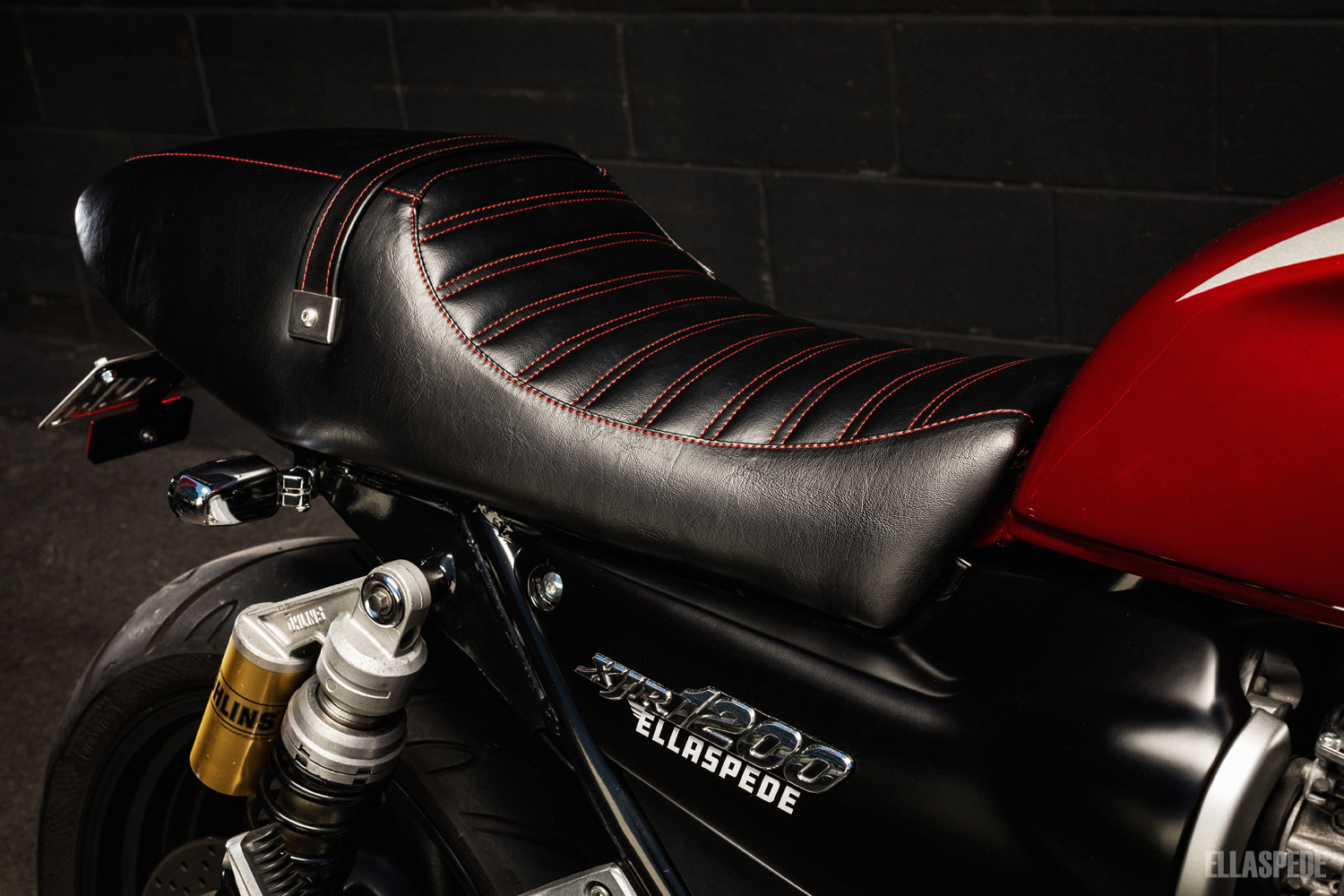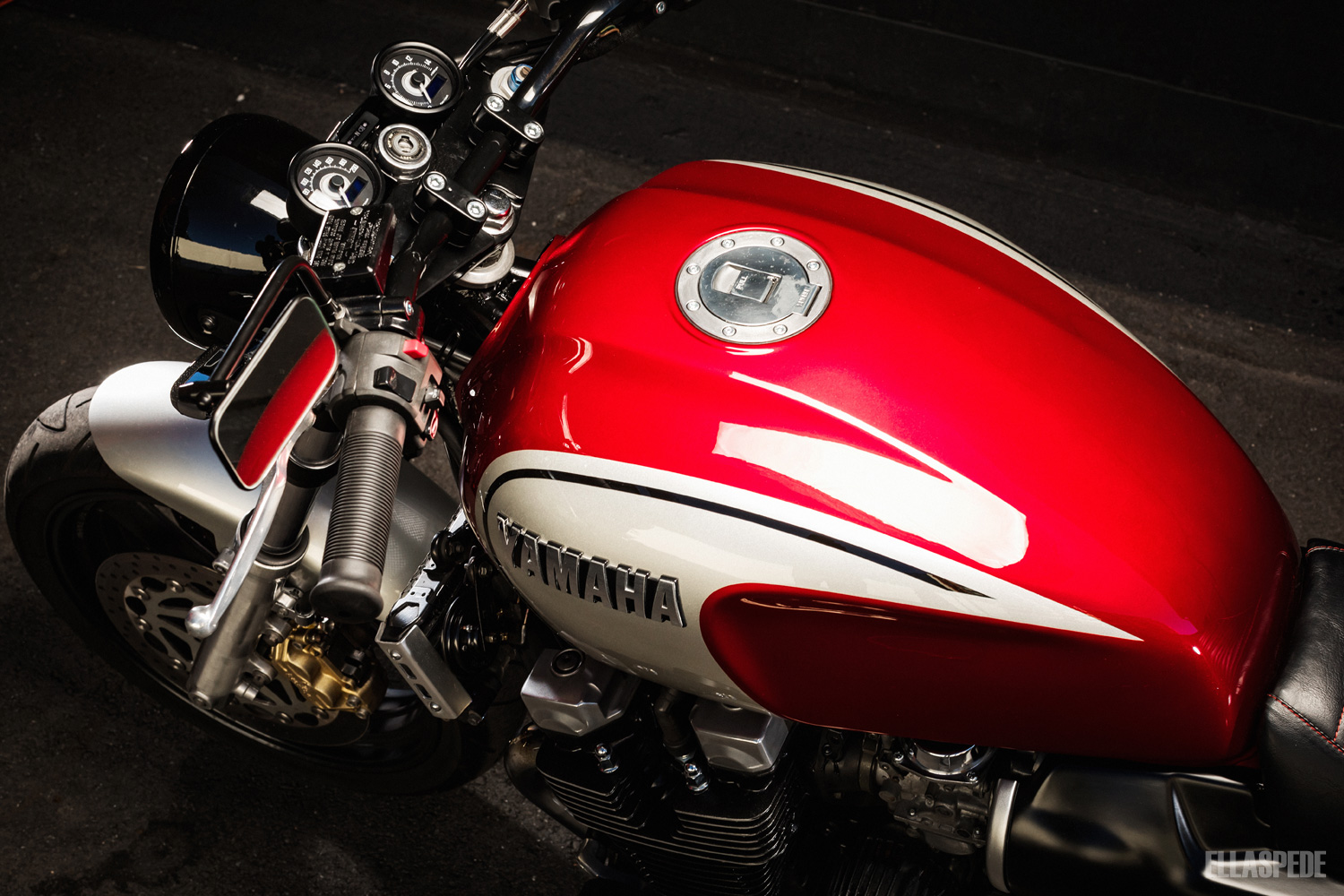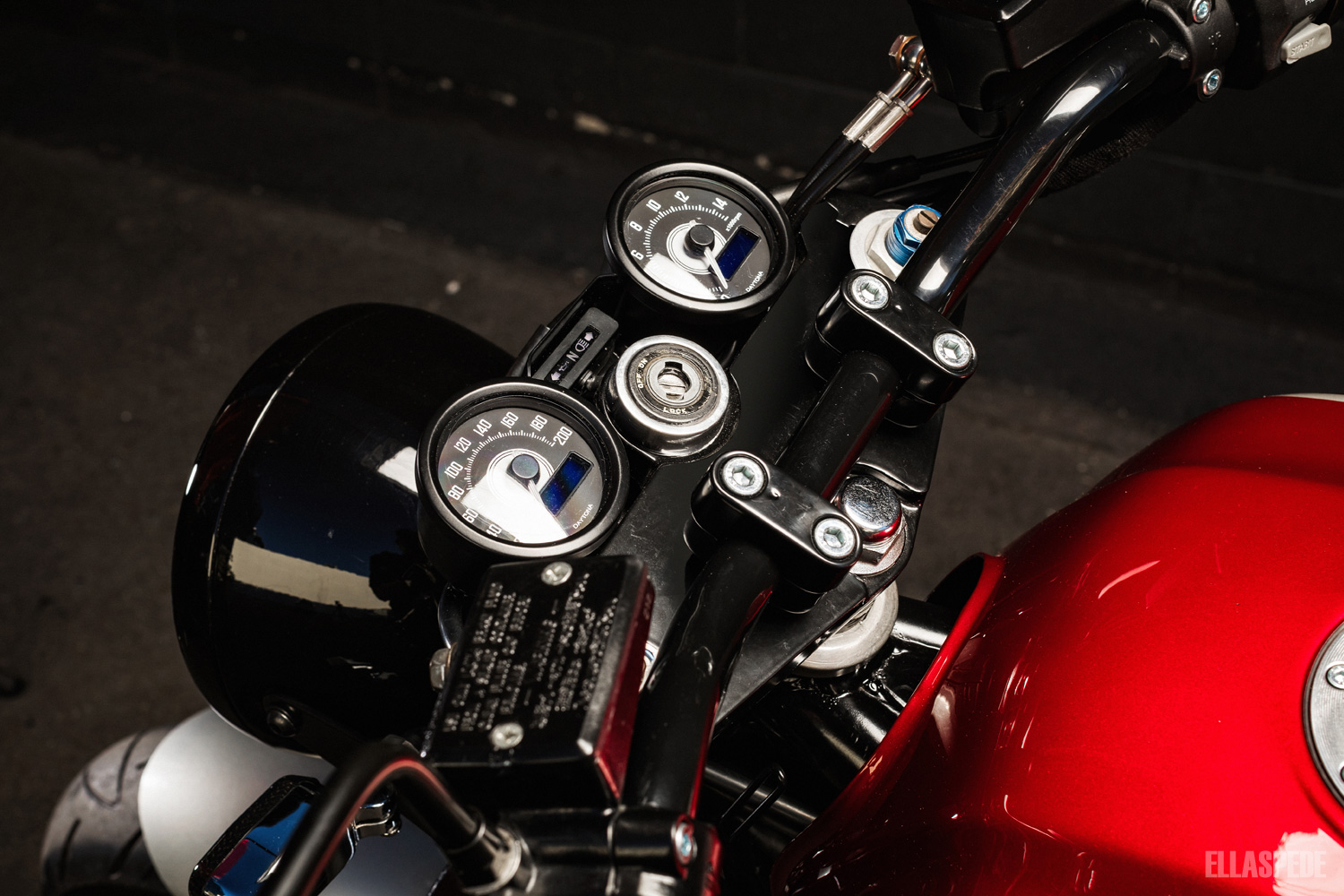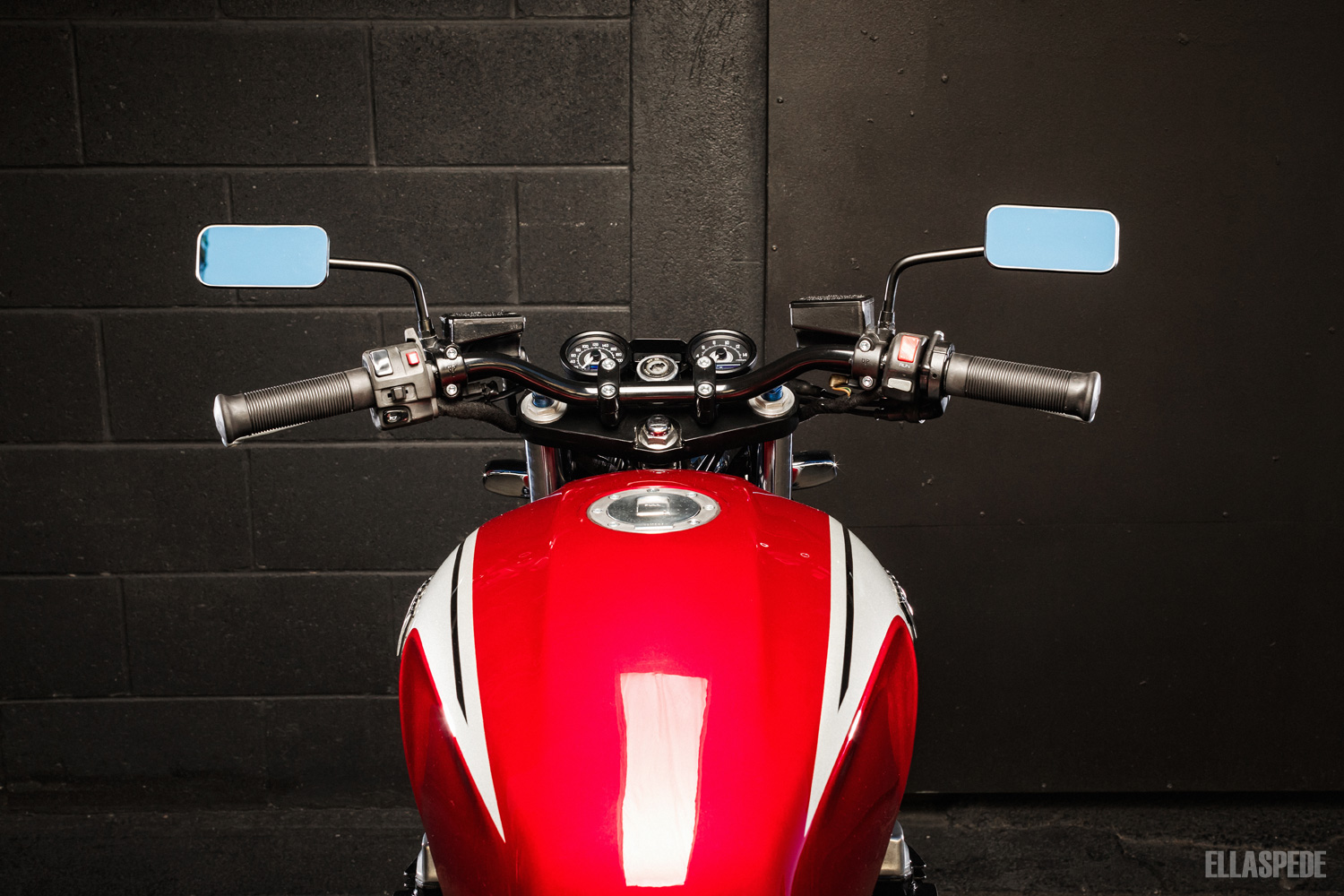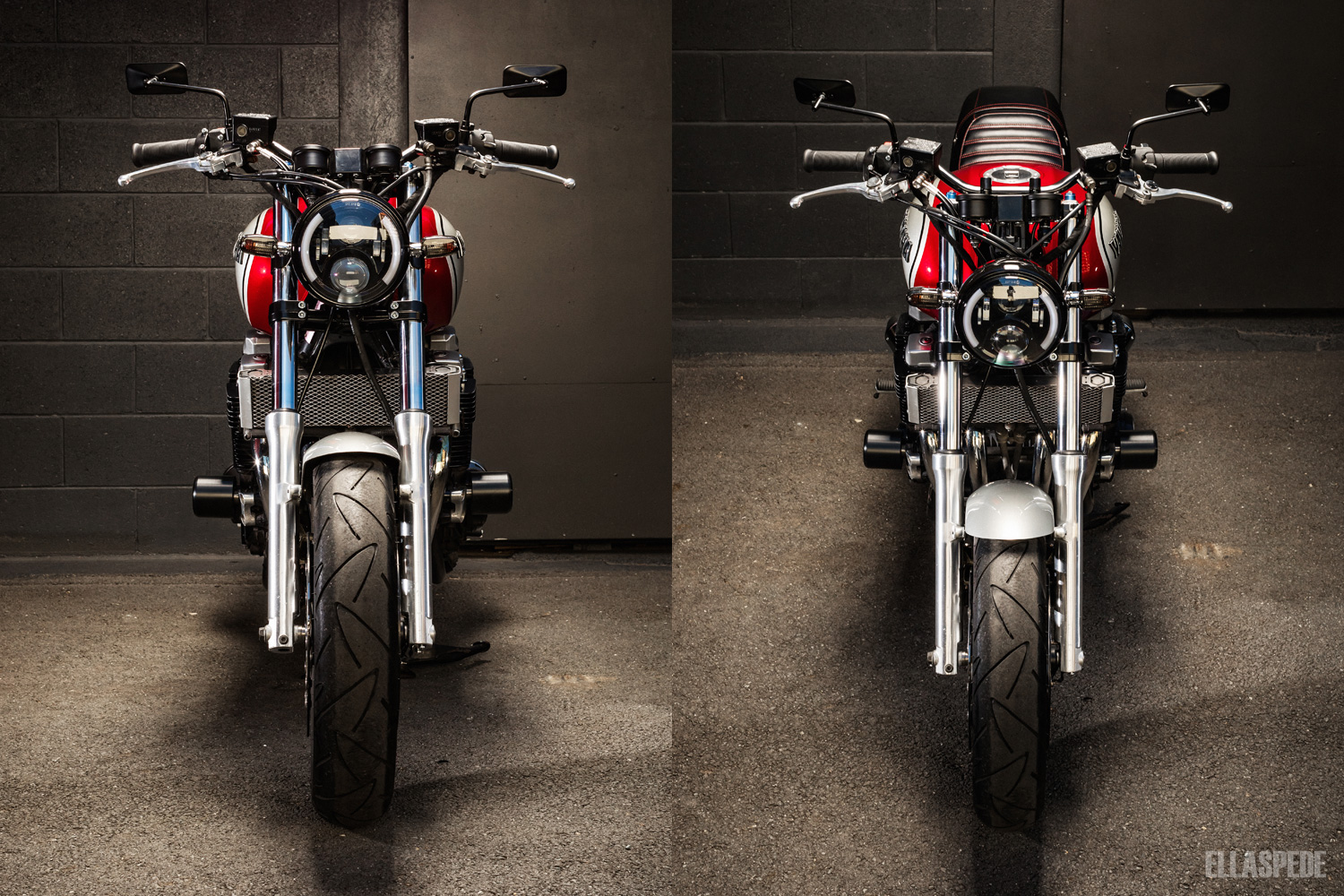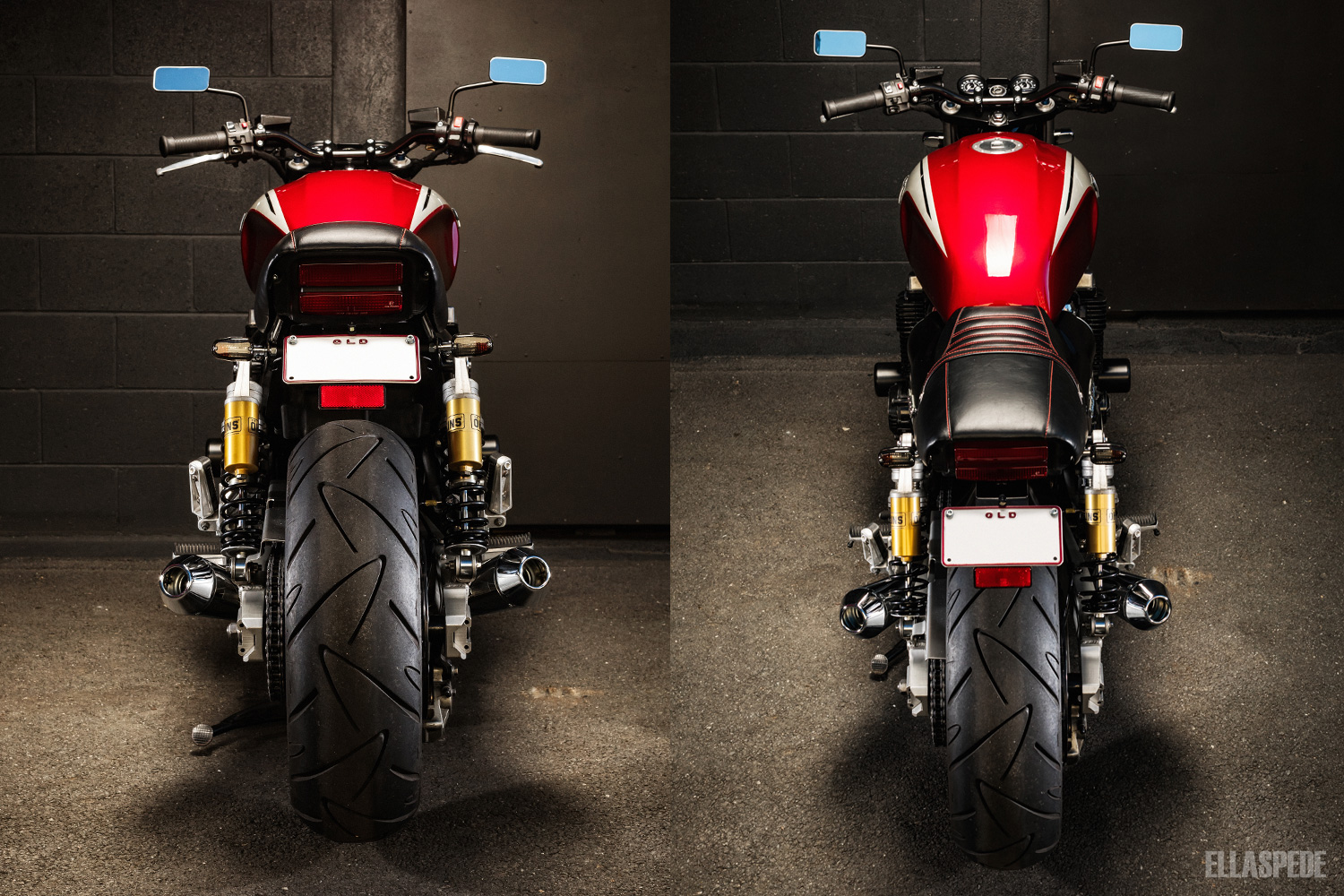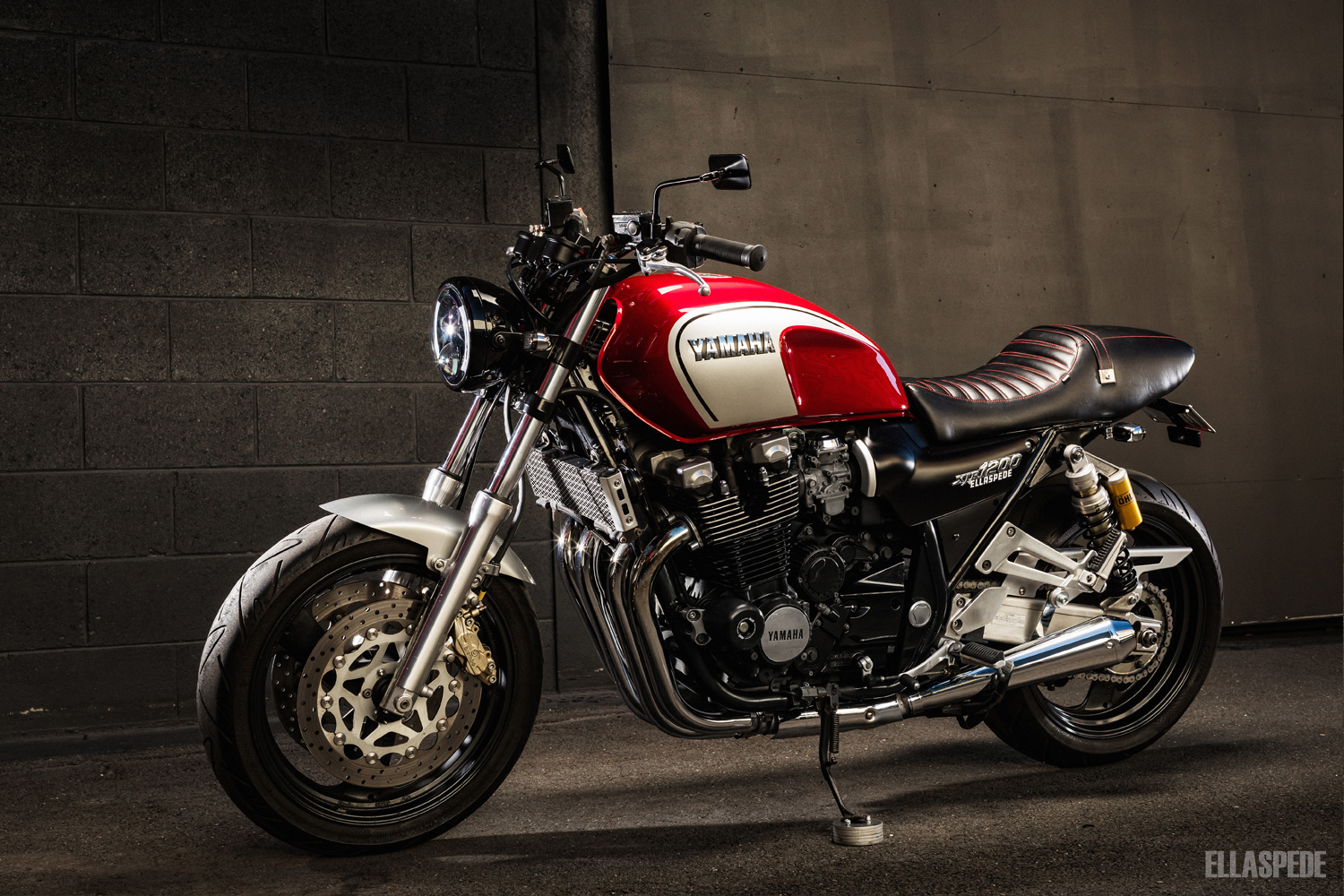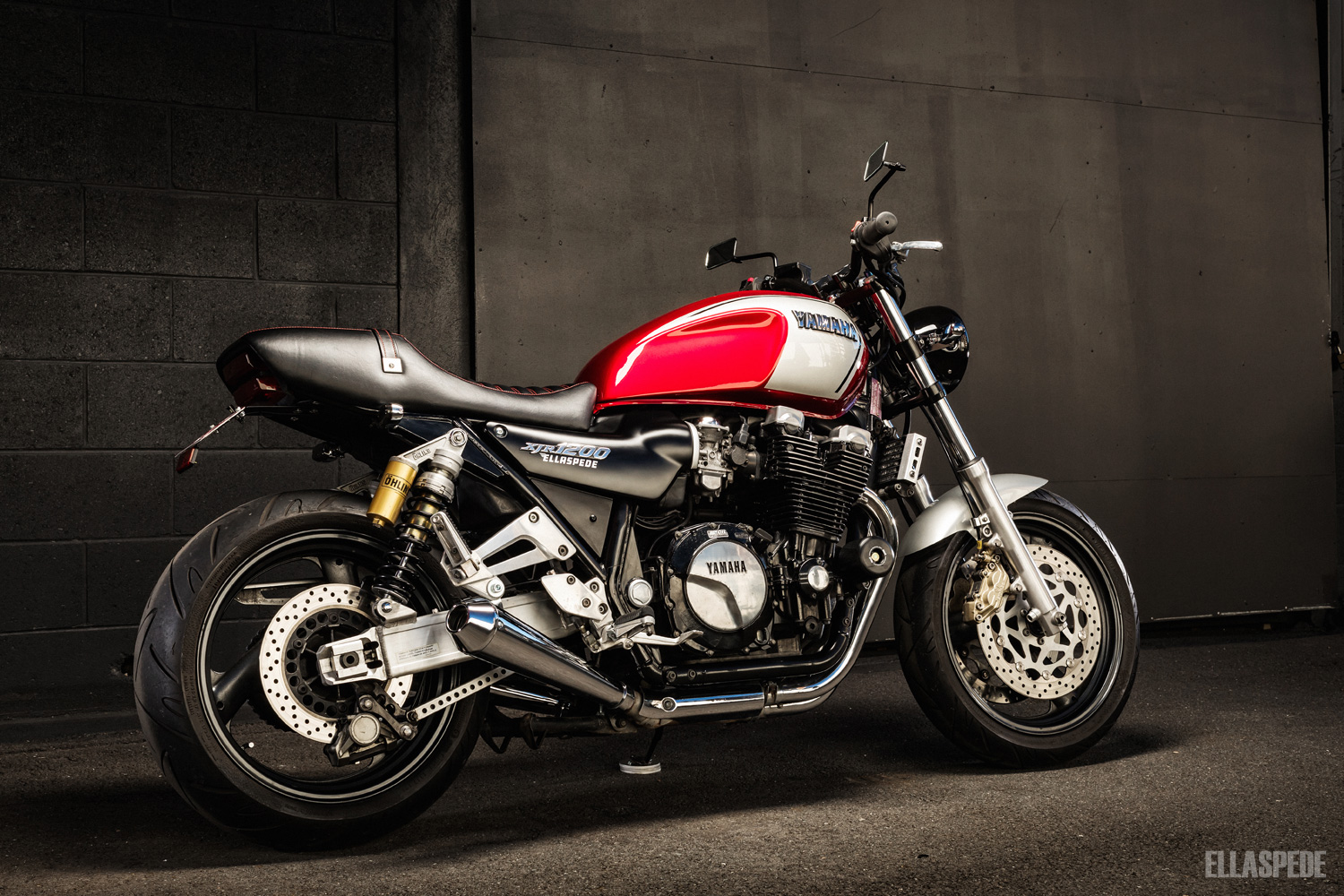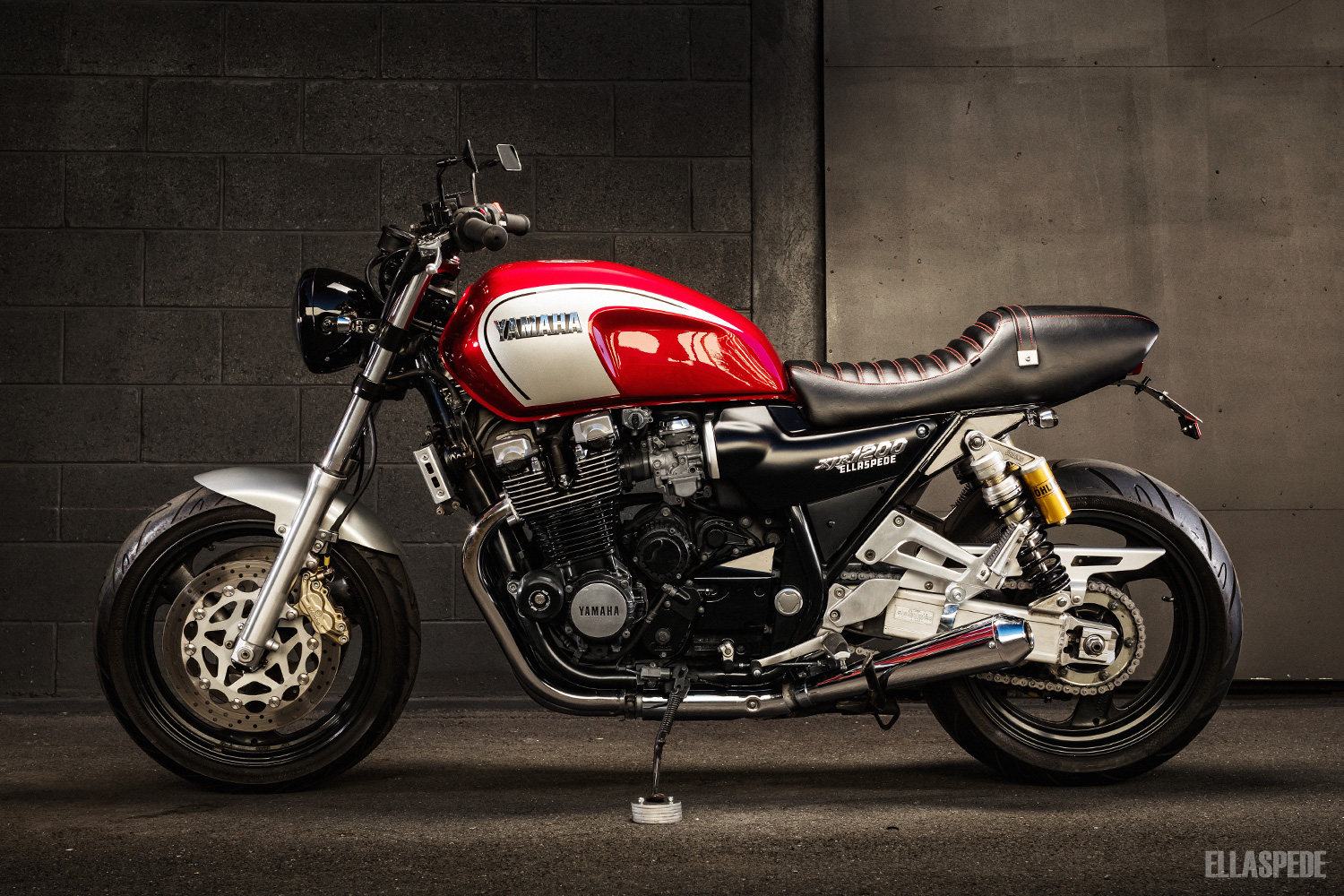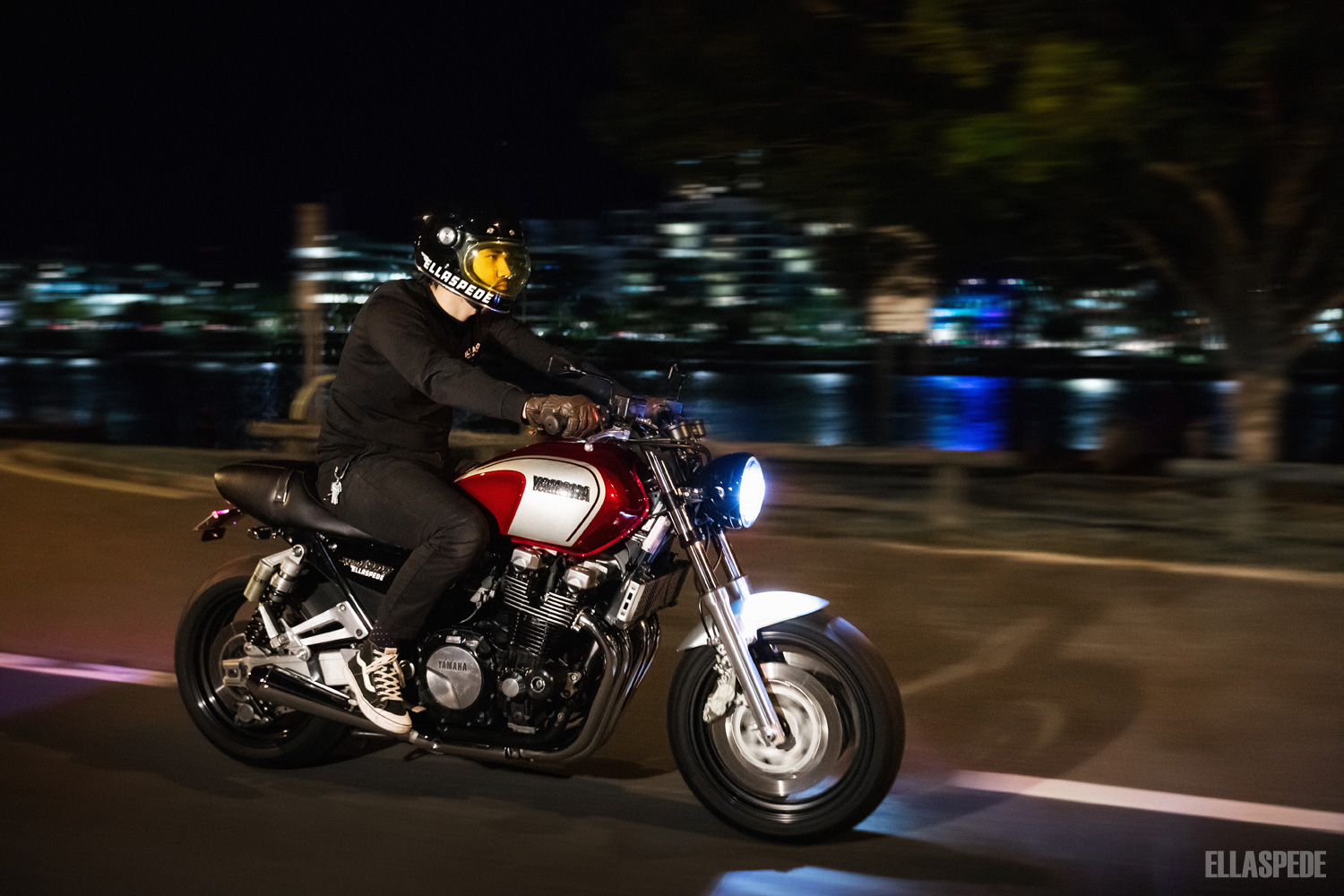 ---
Albums we listened to during the build of this bike:
---
Photos and Features:
---
---
Comments (10)
Rear end

By:

Steve Strang

on 24 May 2021

Hi this bike looks mint. I've got a 95 1200 and was thinking to customise at some stage. I'm wanting to maintain most of the look of the mid 90's muscle but that tail end ....love what you guys have done with yours. Still look fat and tough but looks much cleaner. How much would it cost to do a tail end similar? Cheers Steve





Ellaspede Response
Hi Steve, Sounds like a cool plan for your project mate! We'll shoot you an email with some prices mate. Cheers
---
Seat including taillights

By:

Régis Pouvreau

on 9 April 2021

Hey guys, Your custom work on this Xjr is terrific! Mine bike is on his way to be custom (xjr 2002 with Kineo wheels, custom paint, etc...) and i am looking for the perfect seat...and you did it! Is that possible to order or send you mine and prepare taillights on it ? Best regards from France. Régis





Ellaspede Response
Hi Regis! Great other from you from France! This seat was custom made for the bike and does require some frame mods to fit like you see here, so it's not something we can make and send over unfortunately. Sounds like you have a cool build happening, all the best with it! Cheers
---
Espelhos

By:

Gonçalo Guerreiro

on 31 March 2021

Boa noite, procuro os espelhos iguais ao do vosso projecto, já procurei no webike e no site da Daytona e não encontro. Podem fornecer esse tipo de espelho ou dar a referência para uma busca mais eficaz. Obrigado
---
Indications for the special parts

By:

Carmine Landolfo

on 9 February 2021

Hi guys, I write you again to know something else about the special parts you used for the costom work. It would be great to have a list them. Could you shot me please an email with the details. Thank you in advance, Carmine





Ellaspede Response
Hi Carmine, Thanks for your interest in this custom bike! Most of the build details that we release are listed above in the build bio. If you have any specific questions we can let you know some things. Thanks mate!
---
Xjr with big balls

By:

Carmine Landolfo

on 4 January 2021

Hi guys, I'm Carmine from Italy. Your project is truly fantastic. Finally, among a thousand of motorcycles I have seen, I have finaly found the xjr that I would like to build. Could you please list me the changes you have made and above all how to custom the saddle because, as I have read, you don't sell it as a single piece. Thank you in advance.





Ellaspede Response
Hi Carmine, Thanks for the feedback, we're glad you like our XJR custom! For the seat we shortened the subframe, remounted the stock tail light up underneath and then made a custom metal seat pan to match the new shape. It was quite a complex shape but we think the result is well worth it. All the best with your build! Cheers
---
Seat and tail tidy

By:

Kevin Gallaher

on 4 August 2020

Hi, I own an XJR1200SP, silver like the one you customised. I was wondering what you guys would charge just to do the seat and tail mod? Thanks Kevin





Ellaspede Response
Hi Kevin, We're glad you like the bike mate! We'll send you an email about the custom of some custom work. Cheers!
---
Mirrors

By:

Roge Playfair

on 27 June 2020

Hi, I am working on a XS1100 sidecar project and like the mirrors you have used here. Can you tell me where you got them or if you can supply them? Thanks





Ellaspede Response
Hi Roge, Sounds like an interesting project! Those mirrors are made by a Japanese company called 'Daytona' and you should be able to source them on the Webike website. Cheers
---
XJR1300 lover

By:

Mike

on 2 January 2020

Hi guys, What sort of ballpark $$$ is involved with a project like Dave's? Cheers, Mike





Ellaspede Response
Hey Mike, This type of build is in the $8K-$12K range for the custom work. If you're interested in discussing a build just let us know! Cheers mate
---
2015 XJR 1300

Hi i'm in Brisbane and have 15 XJR 1300 and just want the rear end done like daves (light, fender elliminator, indicators, fabrication etc) i have a new genuine Yamaha seat looks exactly like daves the one i have comes out on the new XJR "Racer edition" only available in Europe which i bought so you wont need to worry about the seat, what cost would i be looking at to get this done?





Ellaspede Response
Hey Peter, sounds like you'e on the right track with the XJR mate! We'll shoot you an email about that rear end work. Cheers mate, talk soon
---
Price for the Seat

By:

Matthias

on 4 March 2019

Hello, can I order the seat for the Yamaha XJR from you? What does the bench cost? Greetings from Germany Matthias





Ellaspede Response
Hey Matthais! We're glad you like the bike. Unfortunately the seat required some custom work to the rear of the frame to fit like this, so we don't sell it as an off the shelf bolt-on product. Let us know if we might be able to help you with any other parts. Cheers!
---
Leave a comment