EB865 - 1992 BMW R100R
Author: Ellaspede Date Posted:26 February 2020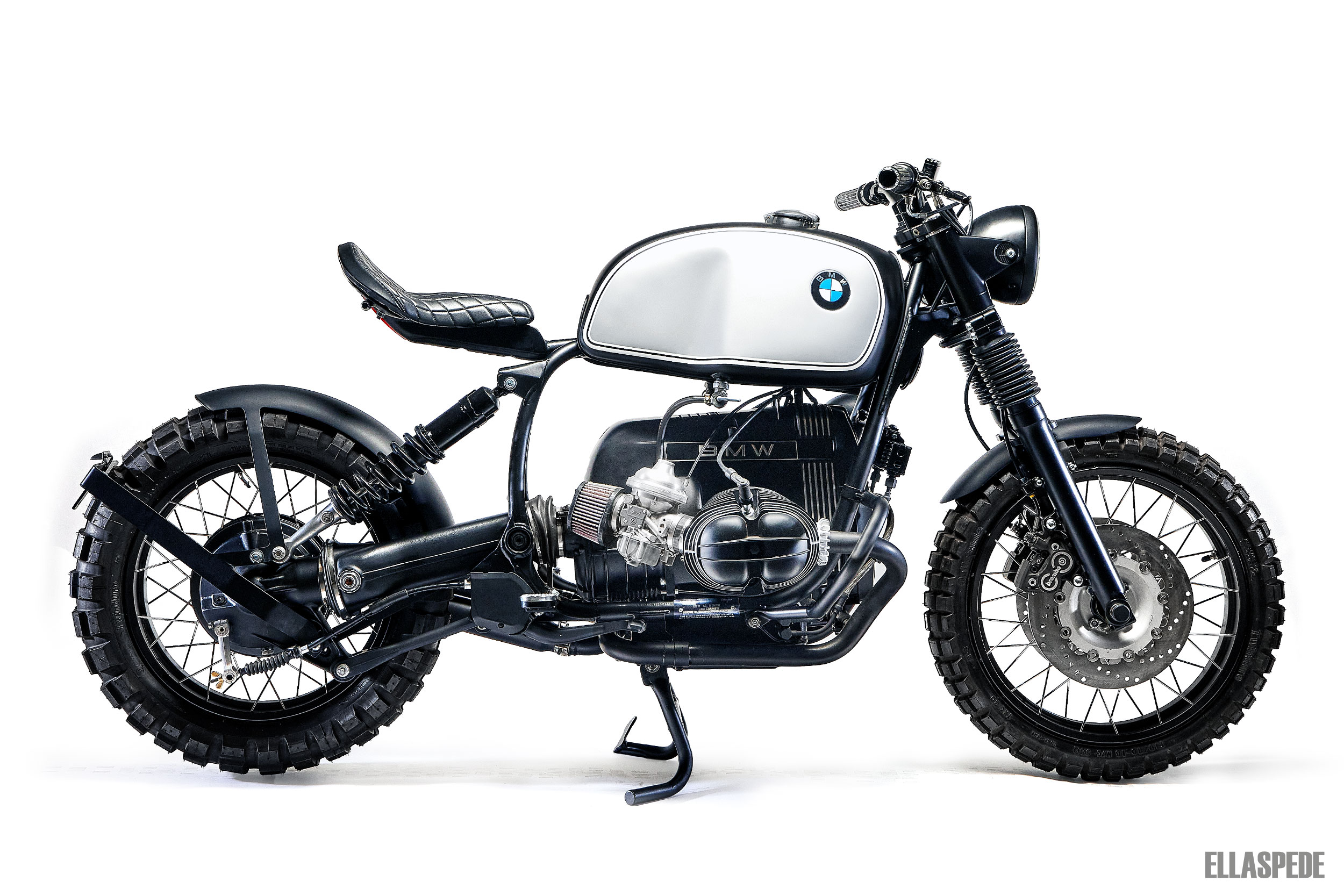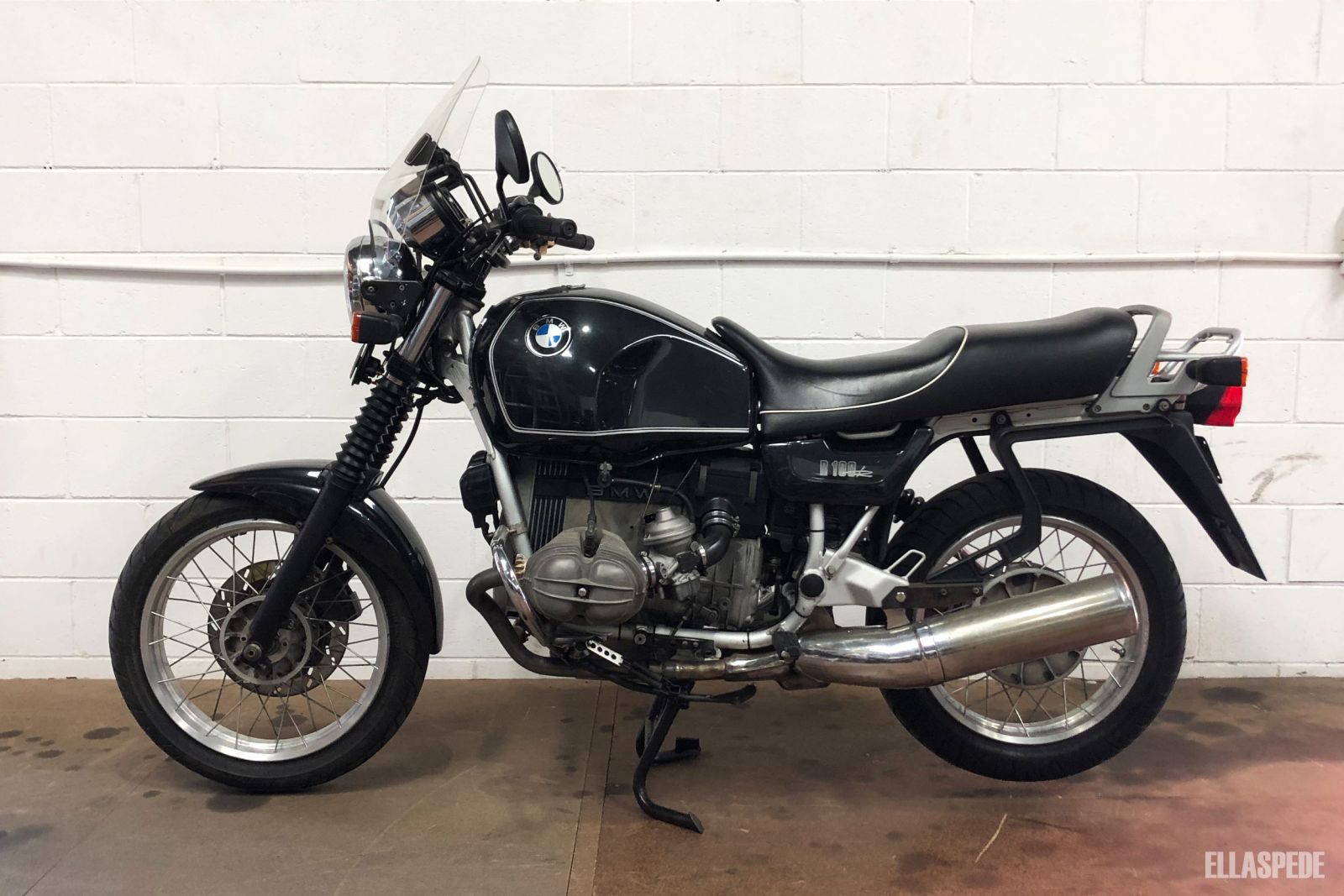 When owner Sam came to us with his plans for a custom build we knew this BMW R100R was going to be something pretty special. A slight departure from our usual style of BMW customs, Sam's end goal had us excited to bring a little 'Euro' style to the build.
What do we mean by 'Euro' style? We've seen a growing trend of BMW R-series customisation in Europe that hasn't really taken off in Australia yet. The core features are floating single seat, chunky tyres, small guards, lots of black, offset lights and super clean lines. Sure we've ticked off a few of these individual items on recent builds, but Sam was the first client to come to us with a vision that we thought was ticking all the boxes for this style.
How did it come about? Sam told us… "Most modern road bikes have never really appealed to me which is why I have always wanted something custom. I think the BMW R-series bikes make some of the nicest customs and I particularly like the shape of the boxer engine. I think the semi-scrambler style appeals to me from growing up on dirt bikes too."
With a production run of R-series spanning over a few decades Sam had plenty of models to choose from when looking for a donor, but he settled on the 'later' model 1992 BMW R100R. In stock form you might overlook this model because it doesn't get the classic R-series shape tank or the popular snowflake wheels, but there's more to like, especially if you're doing a custom build.
By this stage in the BMW R-series production run they were quite well sorted and the 1991-1995 BMW Airheads show the benefit of that long production and development run. Sam's R100R came with 41mm Showa forks, Brembo brakes and floating discs which are a welcome upgrade over the earlier models. Add to that the Paralever rear suspension unit, GS style spoke wheels and the same frame as the BMW GS of the era and the positives really add up. A head nod to the first of the Airhead engine bikes, the R100R also got some early style 'round' valve covers which were popular on the first models.
Surprisingly enough Sam found a perfect stock donor bike in West End, not too far from our shop! Wisely he rode it around for a few months to assess any issues and gave us some good feedback on changes he wanted before rolling it down to the workshop.
Disassembly began and we quickly got to a stage where only the bare basics that were being kept remained. Once it was stripped we worked on getting the 'core' elements of the bike right first. The R100R stock tanks are not a step in the right direction aesthetically speaking, so an earlier model tank was sourced to retain that classic R-series look.
A first for us was the floating single seat that's become popular in Europe on airhead customs but isn't really seen much down here is Aus. We started looking at seat options and once the Biltwell solo saddle was sourced we set about designing and making a custom seat unit to hold it. Sam is quite a tall gent so we made the unit adjustable forward and back to suit his requirements, plus it houses the hidden tail light and rear indicators underneath with internal wiring.
Particular attention was also paid to getting the line through the bottom of the seat mount to match the bottom of the tank. With the tank and seat looking like they were 'lined up' both units were mounted to the frame, before all of the unnecessary tabs and mounts were removed and smoothed off to get the frame lines looking as clean as possible.
We knew this bike was going to have some snug black guards front and rear, not only to satisfy the road going requirements but to make them 'disappear' as much as possible. That meant the final wheel and tyre package would need to be sorted so we could build the guards around them. We love that this bike had the GS style 'outside spoke' wheel design and matching them up with the chunky (but grippy) Continental TKC80 tyres was really going to satisfy the Euro style aesthetic we were working towards as well.
The wheels were completely disassembled for a freshen up with all new bearings, stainless spokes and nipples, while the rims and hubs were powder coated. The outside spoke design is particularly hard to lace and true, so our usual wheel guy told us to go searching for a specialist. We eventually found such a person and sent them to the other side of the country to be done. (No easy task in Aus!)
Making a custom bike for the road (and not just for Instagram photos) always presents extra challenges, and with the whole stock subframe and rear guard removed we looked at a few options for a new rear guard and number plate holder that didn't disrupt the intended look of the bike. A custom swingarm mounted guard was the only option to ensure it sat snug against the rear tyre, leaving just enough visually exposed to satisfy the look but just enough covered to satisfy the law. The custom plate holder was designed in much the same way and both items were mounted off the Paralever side to ensure an uninterrupted look on the opposite side.
As the rear was starting to come together attention was turned to the front forks to get the overall stance right. The 41mm Showa forks are a welcome upgrade on these BMW's but the overall length was too long for what was required on this bike. The forks were slide out and sent off for a professional rebuild, getting a 70mm shortening with progressive springs, re-valving and all new seals. During the rebuild the legs were inspected and the lowers were blasted and powder coated before they went back together with new fork gators. The top triple tree and clamps are super clean items from Retrofit Collective in Germany, while the bottom was powder coated and pressed with new stem bearings to complete the fork overhaul.
With the forks and wheels sorted we were able to make up the new front guard to sit snugly between the custom fork brace and the new TKC80 tyre. Again, being minimal was the key so we did just enough to keep Sam happy should he be caught in a shower.
Up top we converted the bike to 1" Biltwell Tracker bars held on with the Retrofit Collective 1" bar clamp. Then the Motogadget catalogue was raided for M-Mini switches, M-Blaze Disc bar end indicators and a Motoscope Tiny analogue tacho which were all fitted with hidden wiring. Motogadget also supplied the grips to hang off while squeezing the Grimeca 'Seventies' brake and clutch levers. Keeping the feet in control are some 'hunter tread' Knight Design foot pegs.
Out front is a 7" side mount headlight with some custom internals. Sam liked the look of the older style R100 headlight mount 'ears' so some were sourced and flipped upside down left-to-right to get them sitting horizontal and positioning the headlight a little lower. They required a little custom fab to get them fitting on the opposite sides to usual, but it's a small thing that we think really finishes the front end in a factory style look.
Providing the rear lighting is a slimline but super bright LED tail light that has been 'frenched' into the seat unit and a Koso Blade number plate light keeps the constabulary happy on the plate mount.
Continuing the Euro style is a single side fog light mounted to the factory crash bars via an aftermarket bar clamp, again with internal wiring.
Rounding out the Motogadget checklist is a pair of M-Blaze Pin indicators for the rear and a M-unit Blue to tie everything together. Joining the electrical dots is a custom Ellaspede aircraft grade wiring loom powered by an Antigravity 12 Cell battery hidden under the new cast aluminium airbox cover at the back of the motor. Under the tank now houses a swag of electrical items that were either relocated or replaced with smaller items.
Exhaust wise, the headers mimic the factory style before flowing into a slash cut twin system that was mounted up with some custom pipework and modified brackets. This enabled us to get the muffler tips sitting super snug to the rear tyre on the left hand side, visually protruding just enough to see but not enough to interrupt the full view of the rear wheel.
Apart from being a better suspension and drive unit, the Paralever rear end on these bikes also allows for a bigger tyre than the earlier R-series models. The factory shock is also a pretty good unit and in this example was rebuilt to our specs and given a fresh coat of black on the body and spring before going back together.
The braking department is brought back up to the capable factory spec with a rebuilt drum and fresh pads out the back. Up front are brand new floating discs, new pads and rebuilt Brembo calipers.
With all of the surrounding items almost sorted it was time for the engine to come out for a once over to ensure everything was in order for future motoring. The engine, gearbox and carbs were sent out for a full inspection and highlighted a few areas in need of attention. Most notably was a gearbox rebuild, a bunch of seals and some fresh clutch plates. The followers had started to break down leaving some gouging in the cams too, so they were all replaced with new items as well. Re-seating all the valves and rebuilding both the carbs rounded out the mechanical maintenance required.
After the running gear was given the all clear it was cleaned and sent for painting. Back in-house the relevant engine pieces were then linished and scour-finished for that well-known contrast look airheads lend themselves to. New seals and bearings made their way in prior to fitment along with cables, hoses, plug leads, carb rebuilds and choke pulls that all got the nod of approval.
In the meantime, everything else was stripped down and sent for paint or powder coat. The intent was a mix of satin and matte finishes with touches of gloss black and polished surfaces to provide highlights where appropriate. Overall the bike commands attention, so the paint didn't need to be flashy or overstated.
Sam had some nice thoughts about the overall colour scheme that we were happy to work with… "I really like the matte finish with selective silver components. I wanted to keep the original style pinstripe that borders the side of the tank and introduce some matte silver to break up the black." New BMW badges on the tank add a small splash of that unmistakable blue hue.
Reassembly was where this bike really started winning over anyone who snuck a peek when they stepped into the shop. It was a different style to the previous Bavarian builds we've turned out and the subtle design touches we'd worked hard on during the build had payed off as part of the overall aesthetic when it all came together.
When Sam saw the finished product he said, "My two favourite parts are; the seat pan that Ellaspede designed and hand built with the integrated taillight and blinkers, plus the clean look of the bars. I was constantly offered great advice both practical and cosmetic and ended up with a far nicer result than I could have ever done myself." That's the kind of feedback that makes it all worthwhile!
Now that it's rolled out of the workshop we couldn't be happier with the result. For a bike draped in subtle black finishes it has a presence on the street that's a little different to anything else we've done.
It's also nice to see some inspiration from the best custom shops in Europe filtering down to the custom scene in Australia and if you ask us, Sam gets to ride around on one of our favourite examples of this style.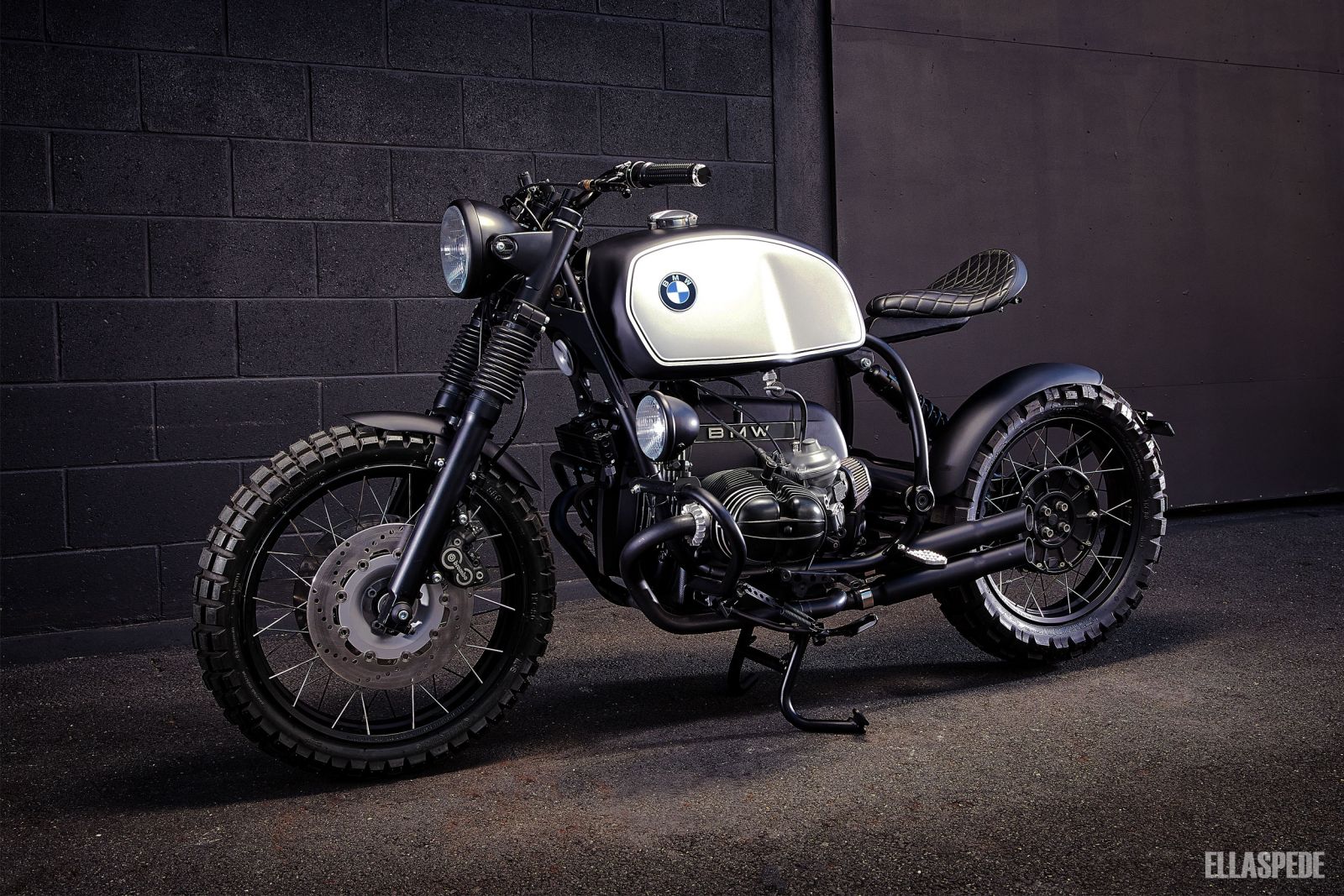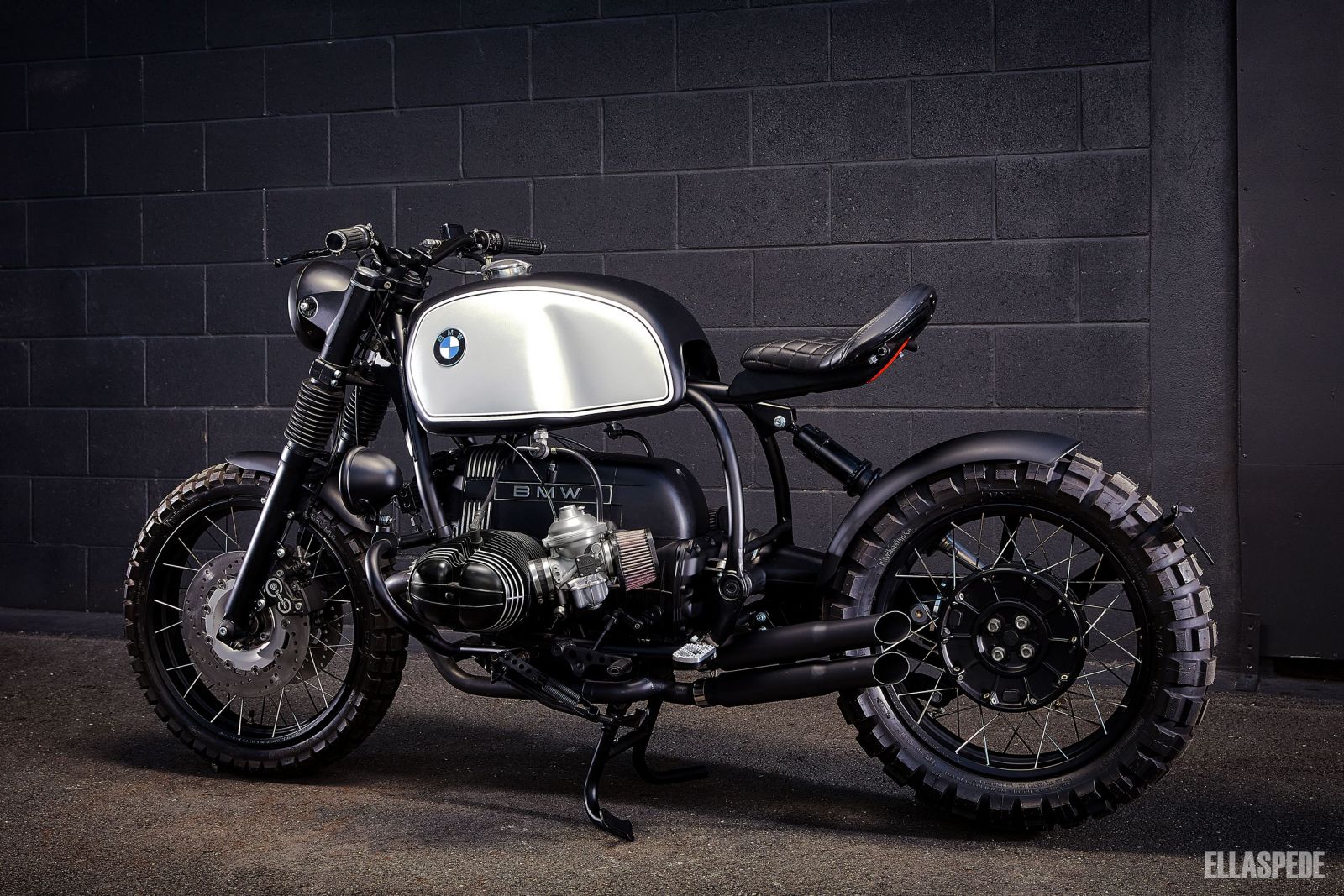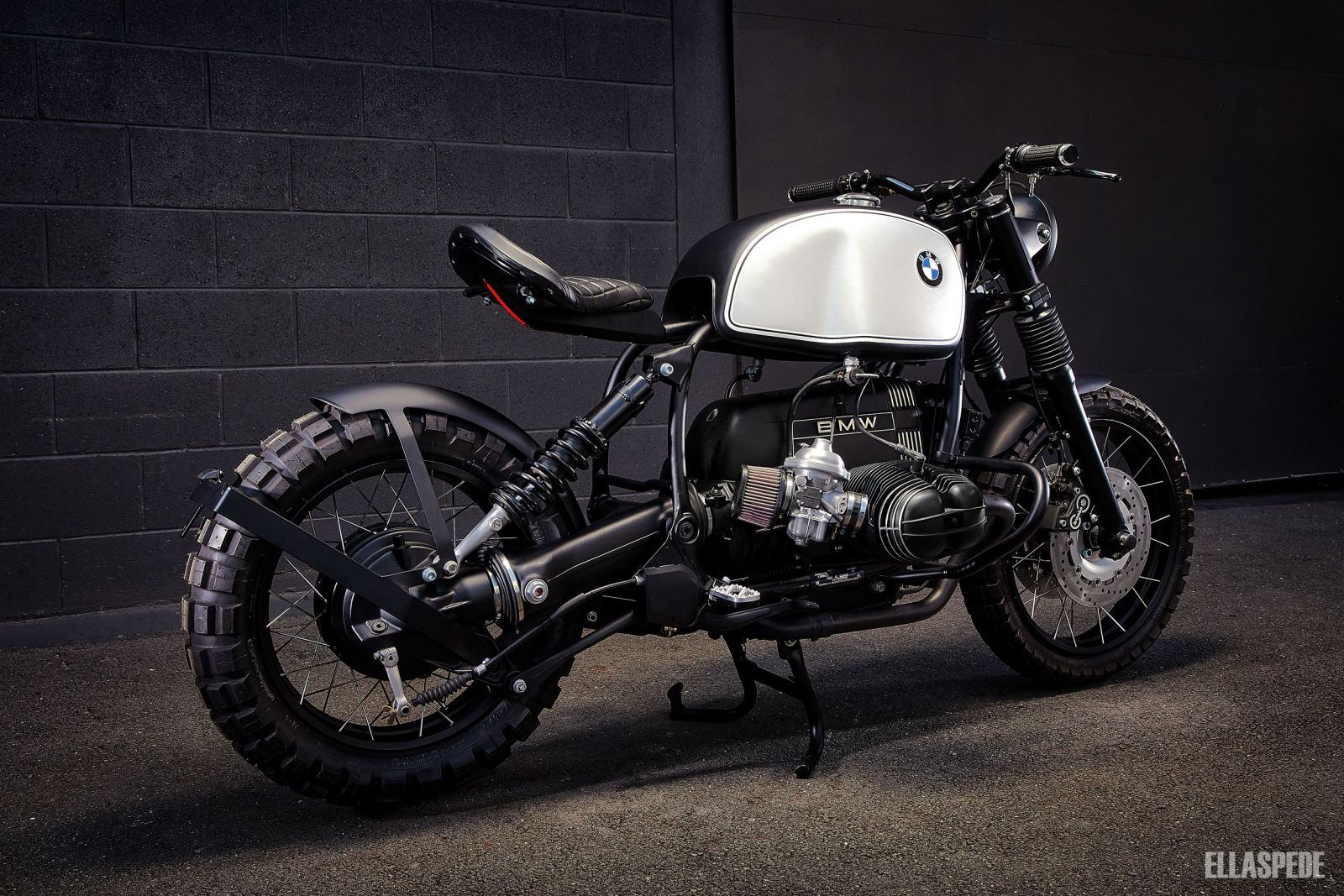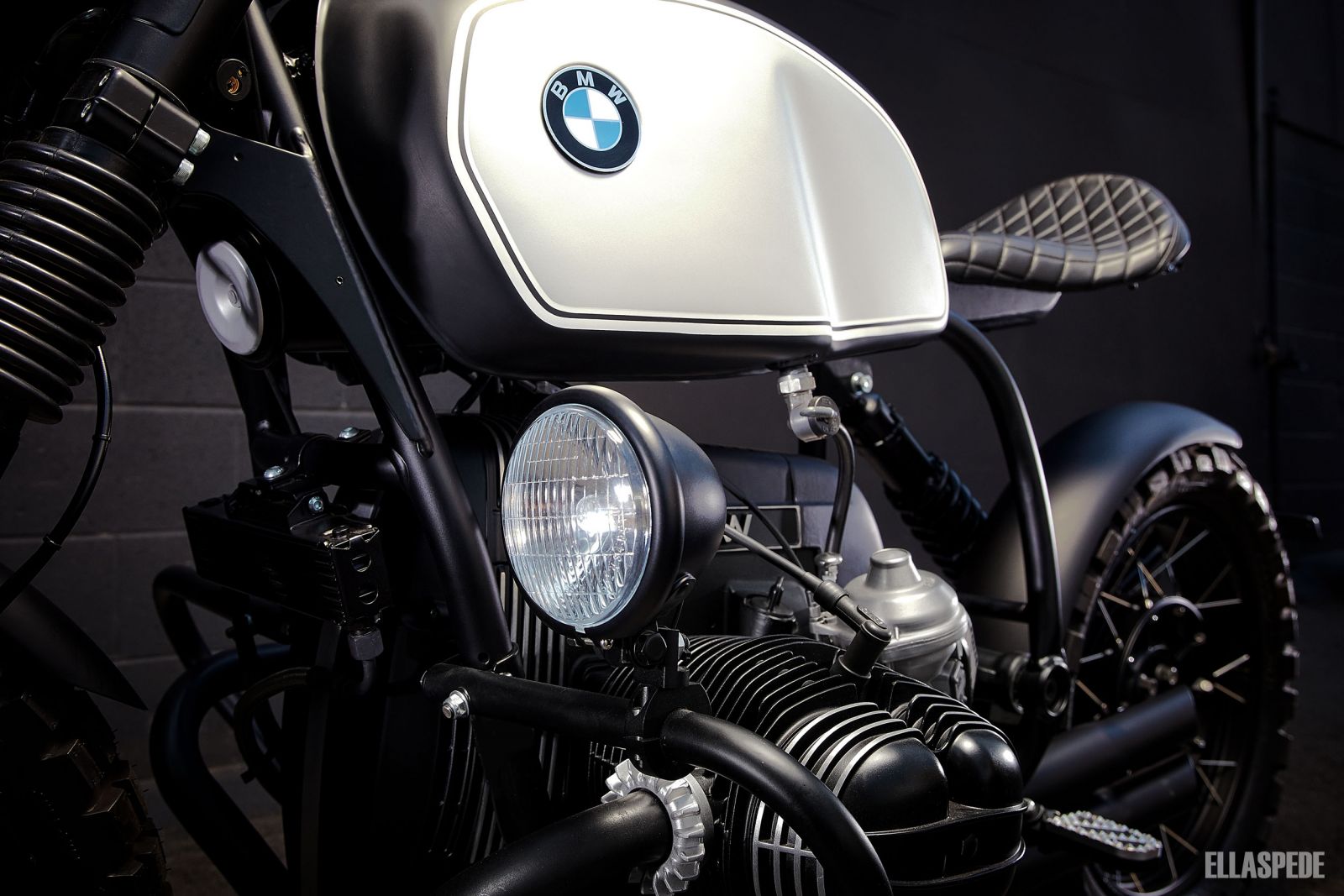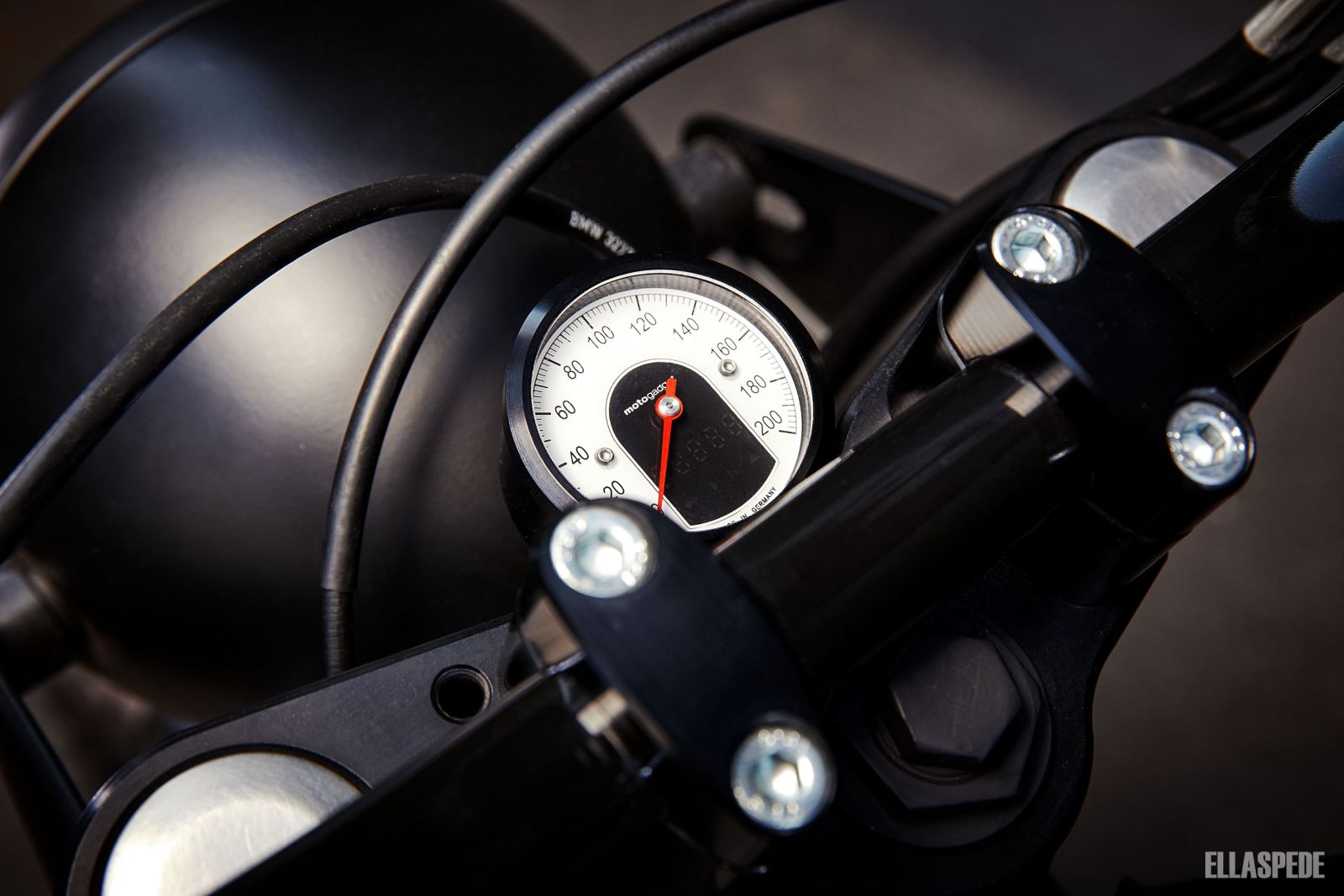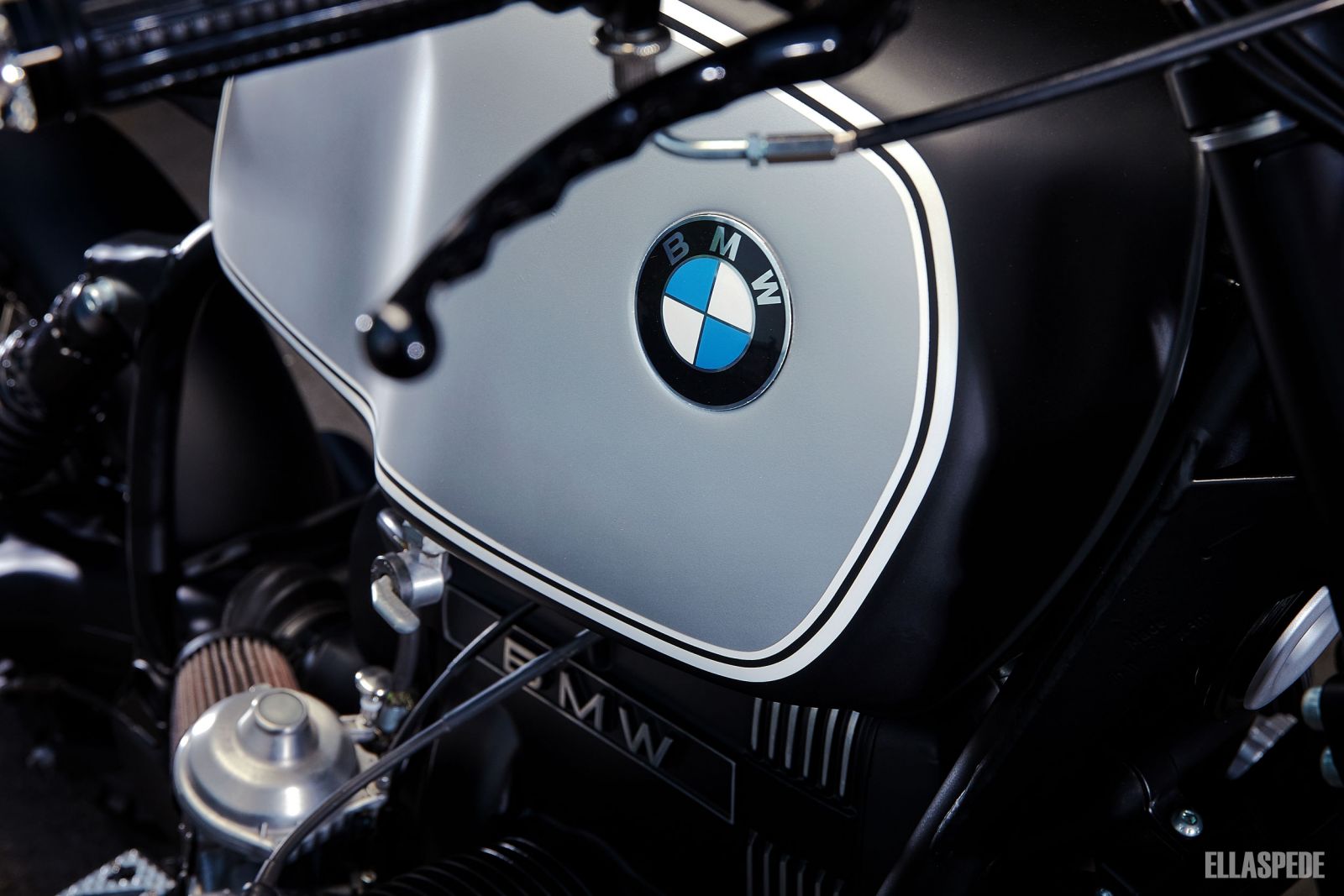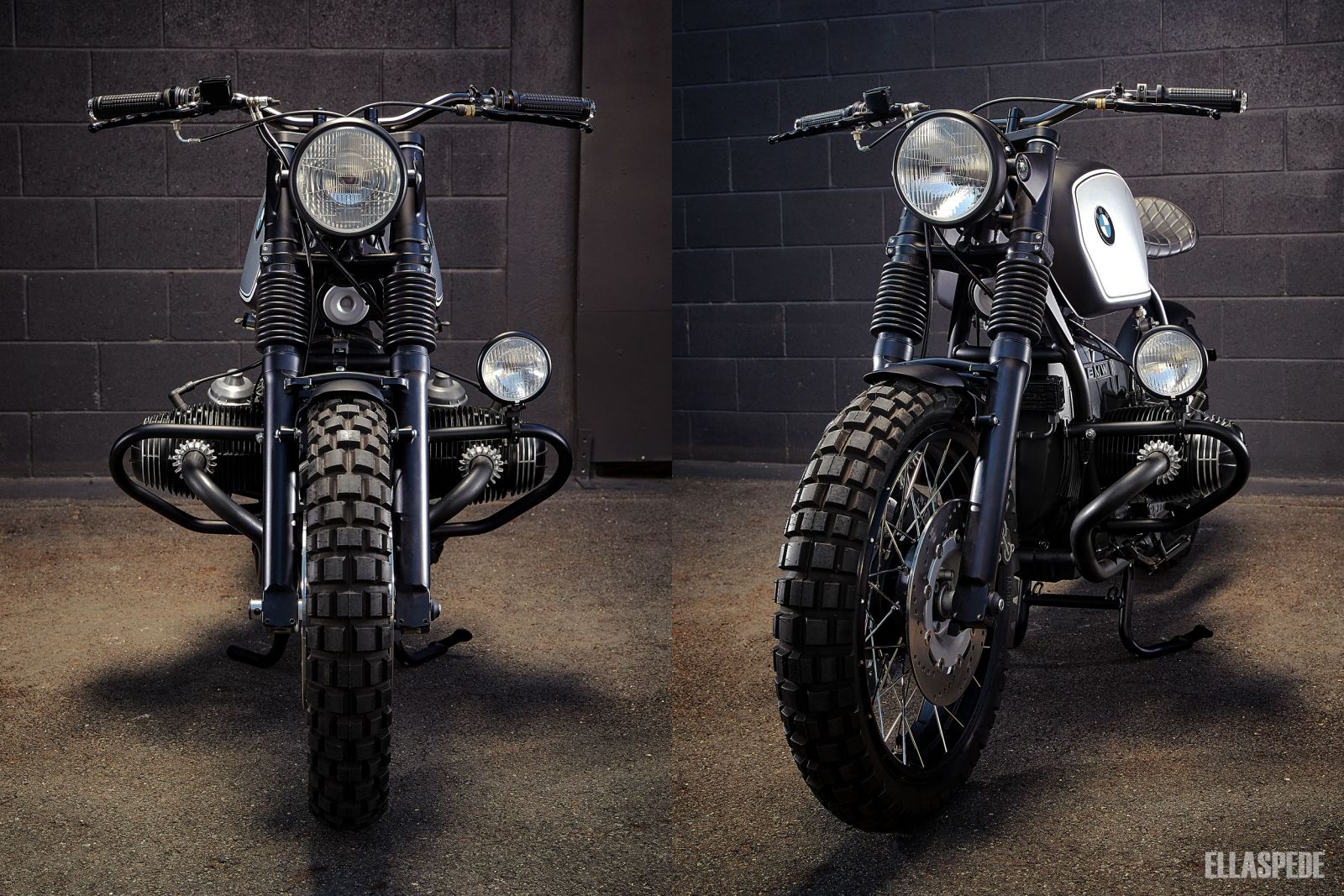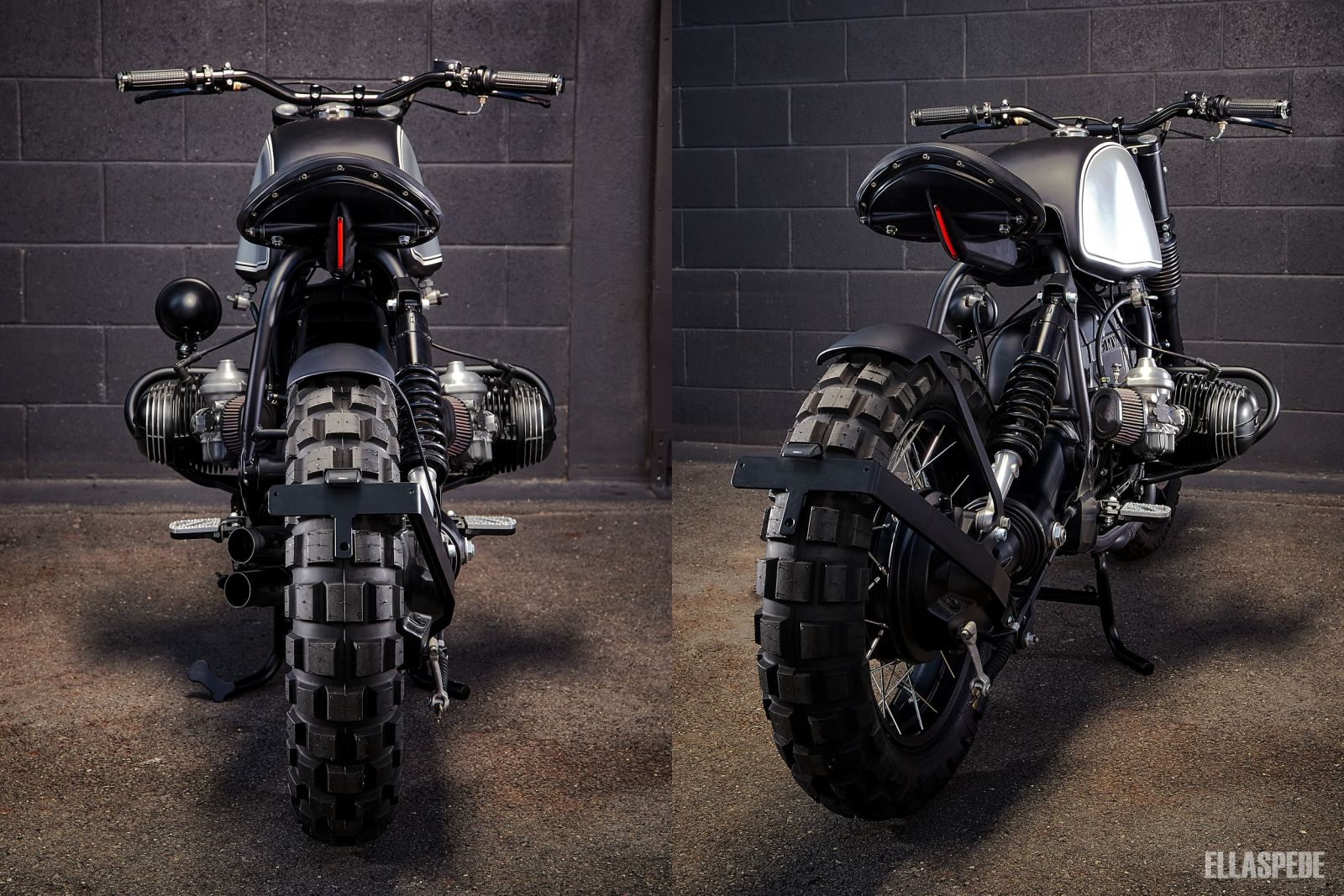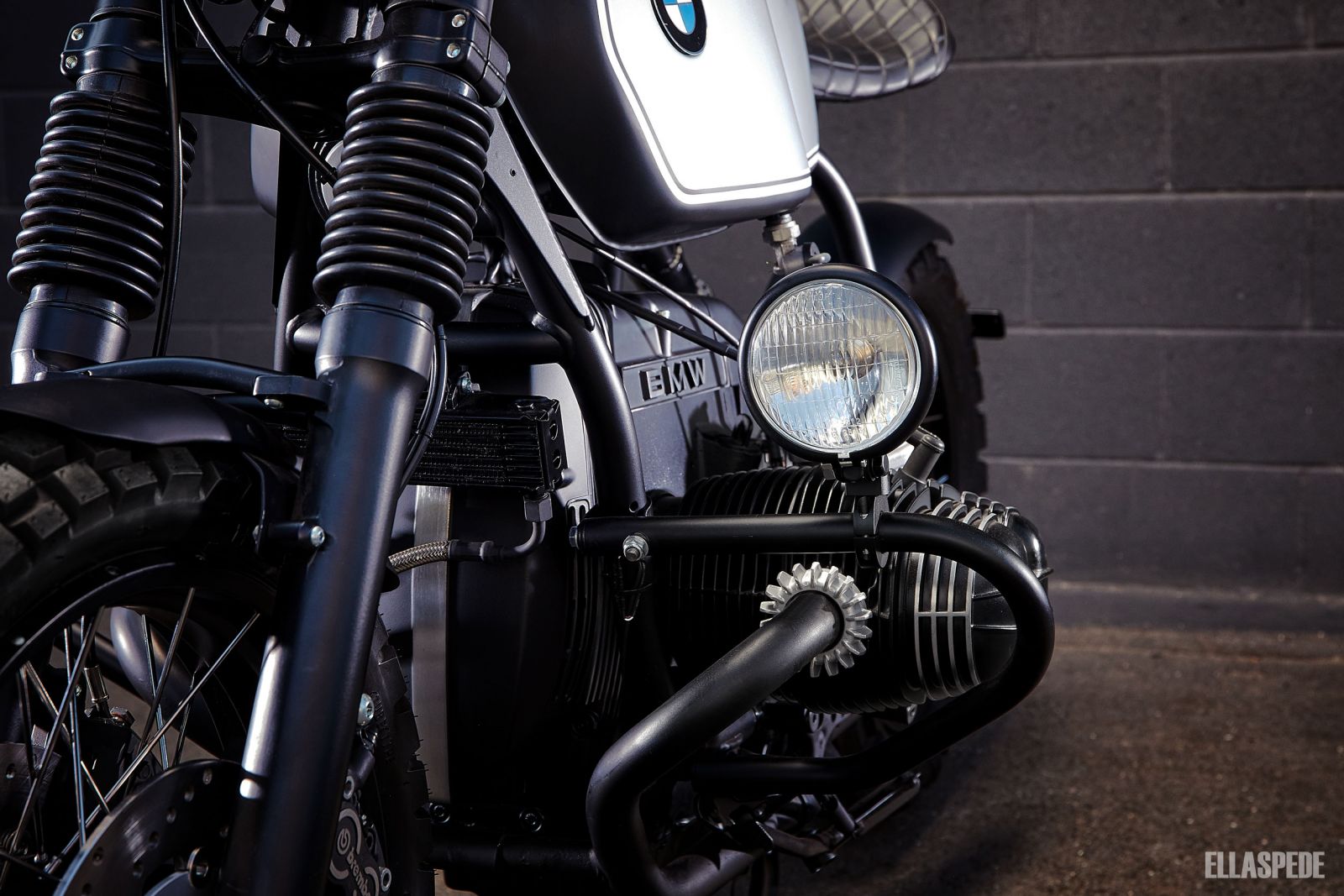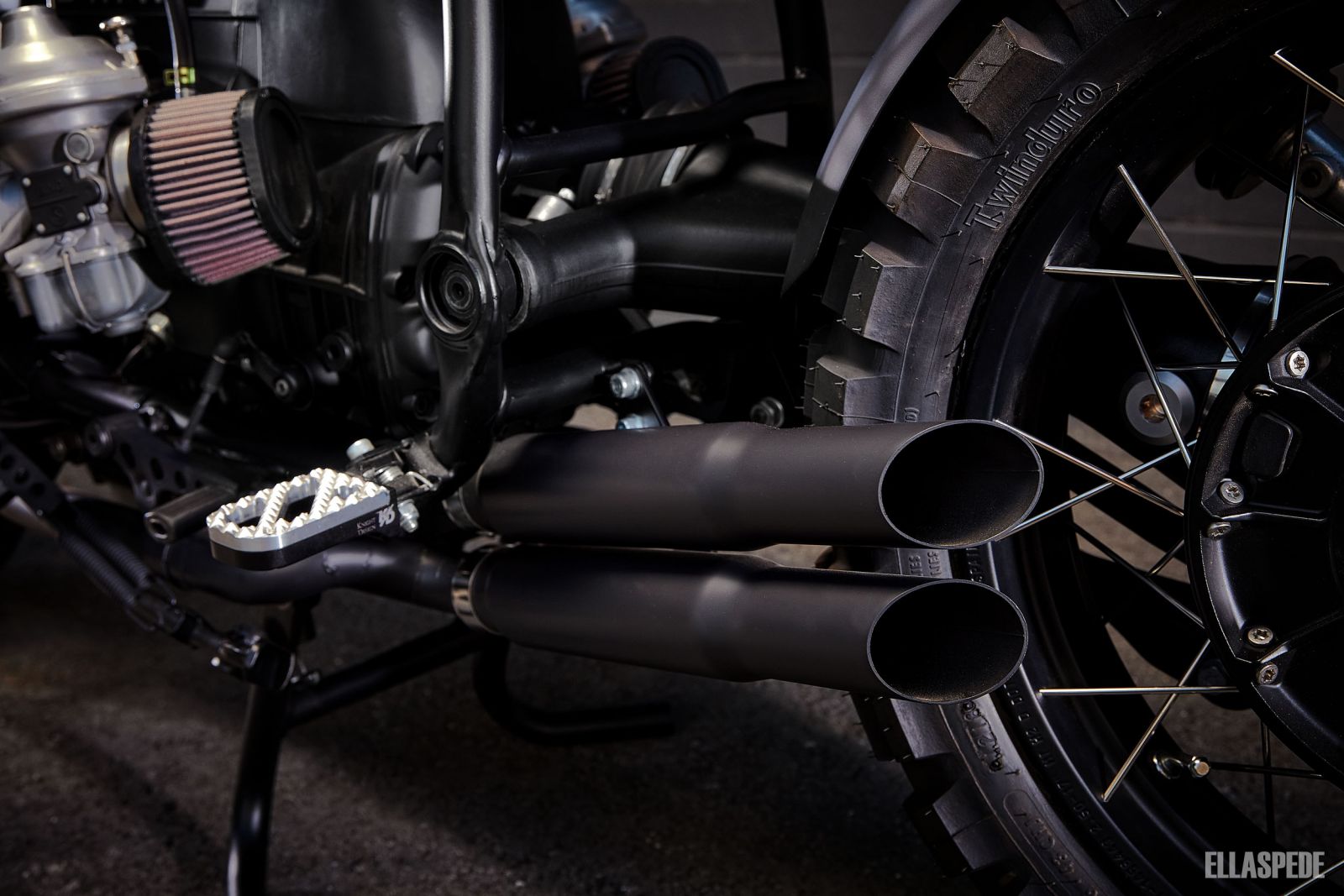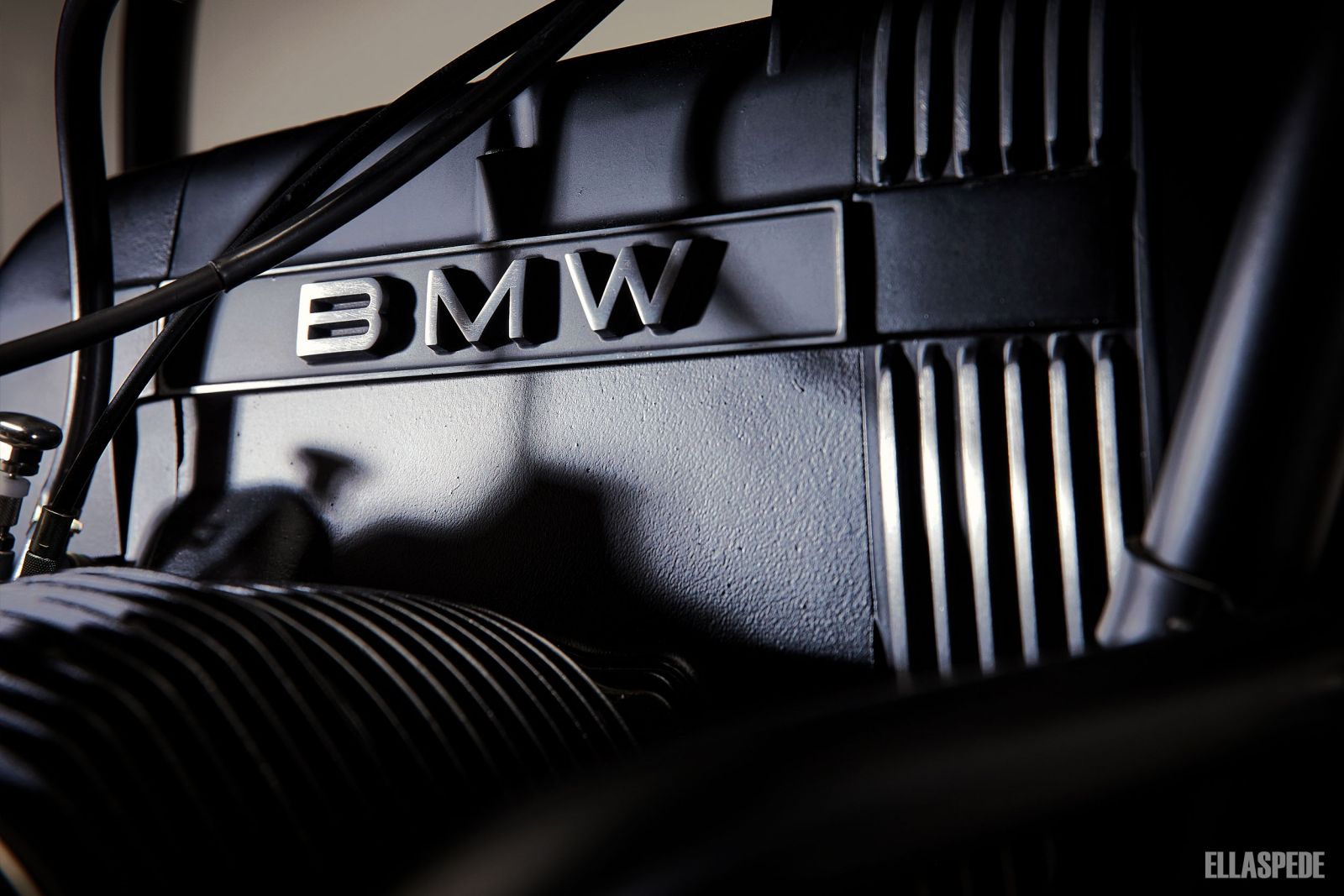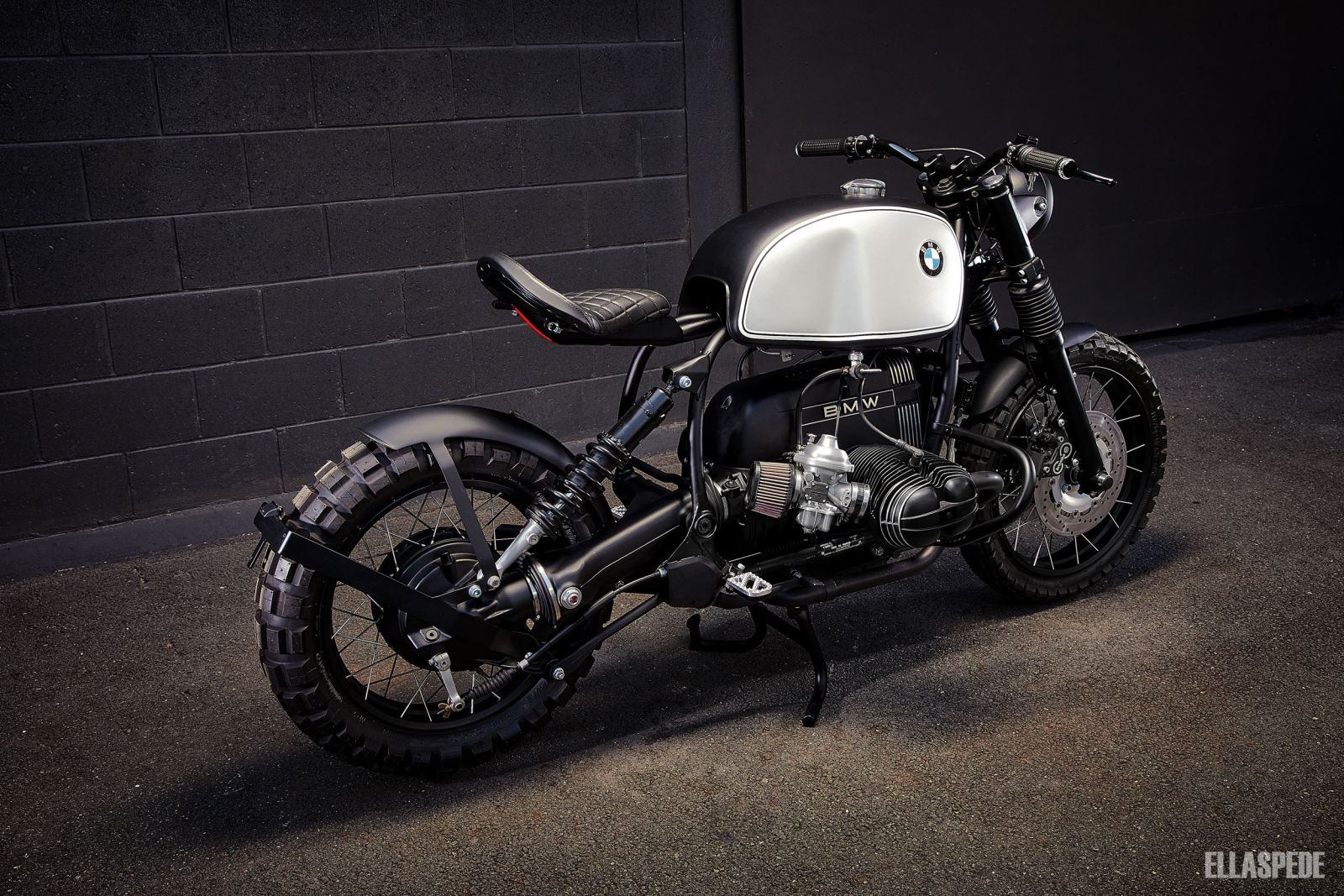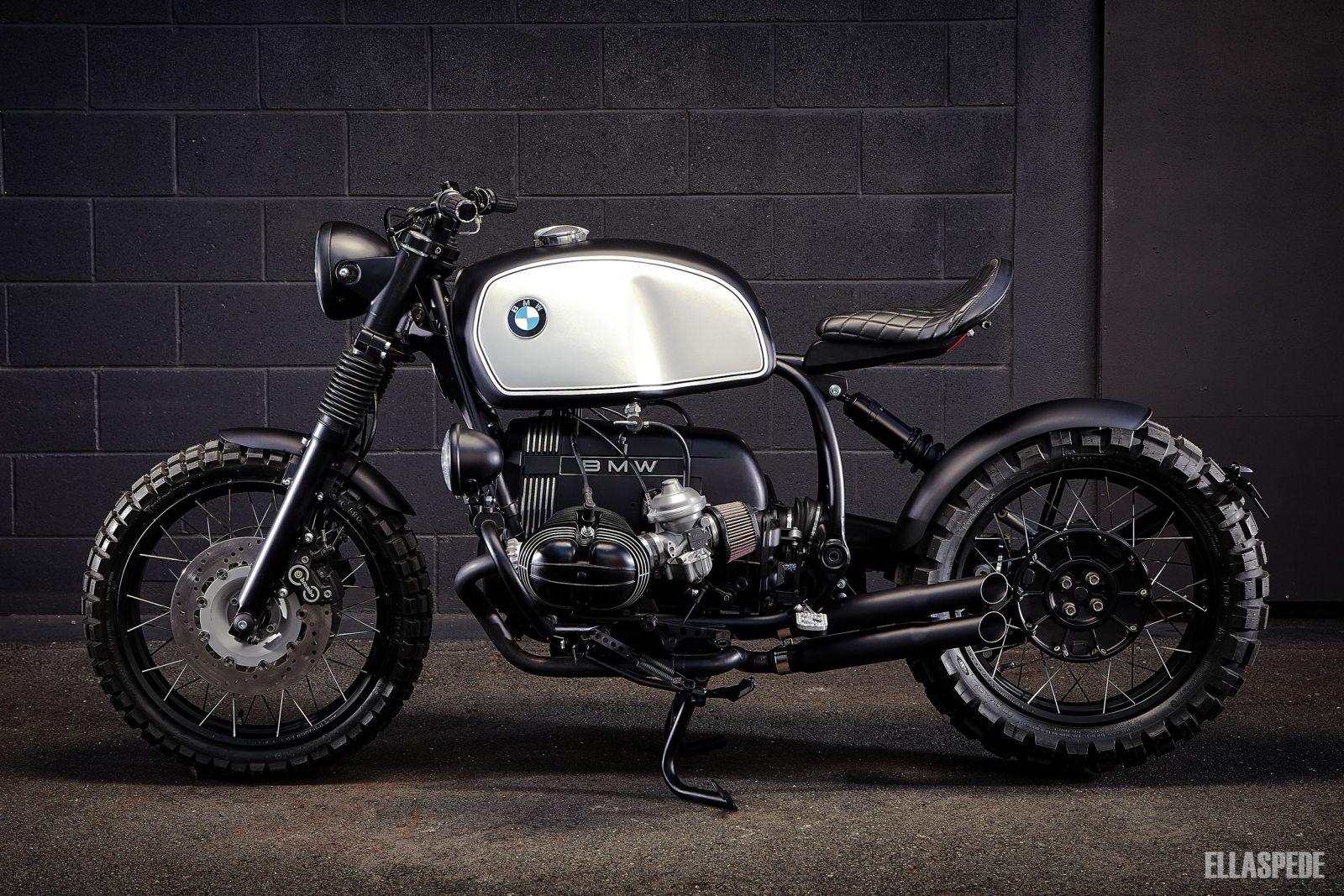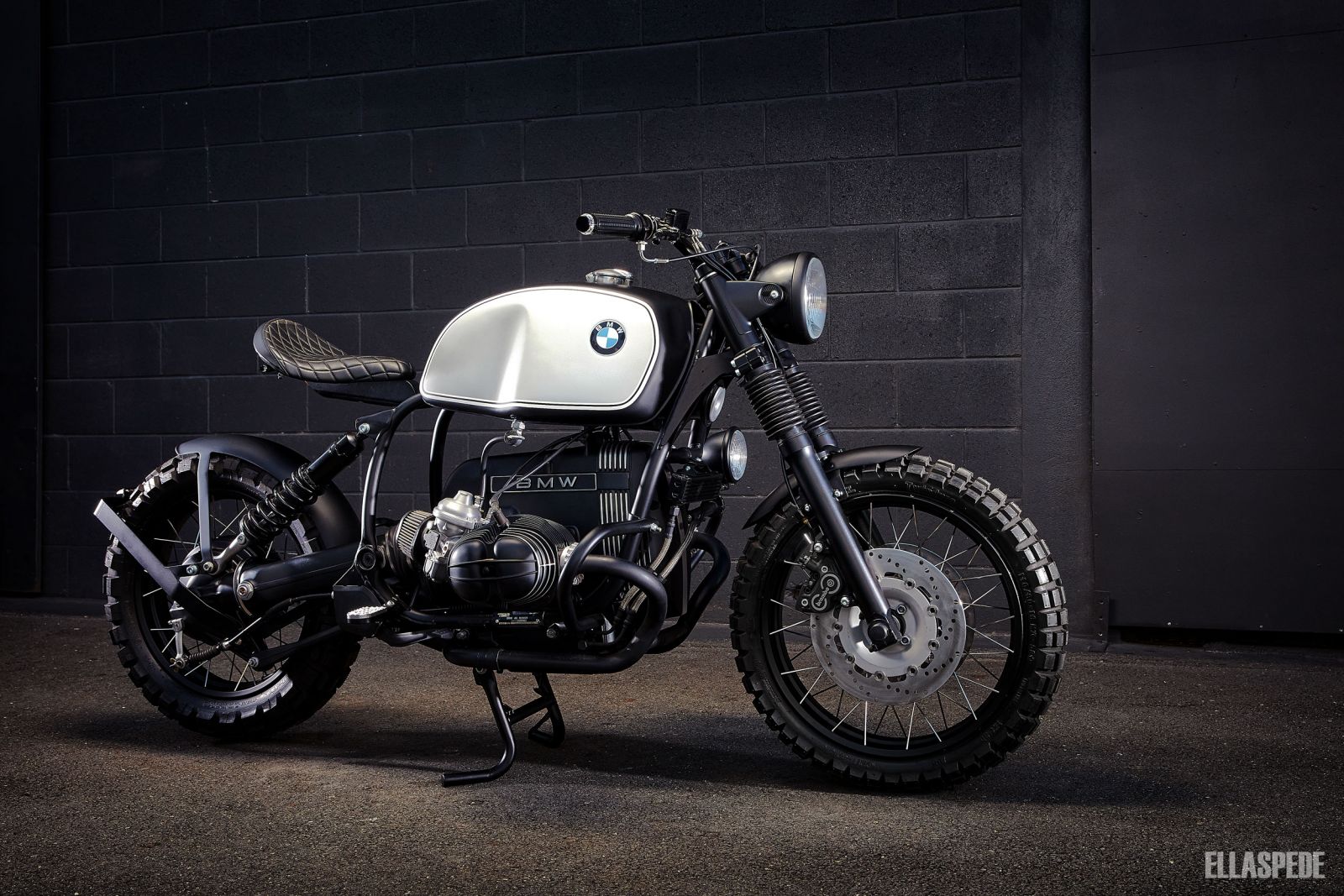 ---
Albums we listened to during the build of this bike:
---
Photos and Features:
---
---
Comments (5)
MAD

By:

Paul Lloyd

on 18 September 2020

That is just mad, I absolutely love it, well done. Very unique. I also think that you've done a tremendous job on the Triumph Scrambler(Dune Racer). What are you looking at approx.. price wise for those 2 bikes..





Ellaspede Response
Hey Paul, Thanks mate, we're glad you like these two builds. Shoot us an email and we can give you some more info about custom build pricing. contact@ellaspede.com Cheers!
---
Engineering

By:

Jon navarro

on 15 September 2020

Love this build!!! Do you guys get your bikes have to be engineering for rego reasons, when cutting back end?





Ellaspede Response
Hi Jon, Thanks mate, we're glad you like our build. If you're cutting anything major off the rear then we would advise engaging an engineering to make sure the work that you're doing (or getting done) is safe. Cheers!
---
Next level!

By:

Chris Lamb

on 29 February 2020

Ellaspede's builds just keep getting better and better. The details on this bike are amazing!
---
EB865

By:

noel d foley

on 28 February 2020

Pure class as usual. Visually stunning. Not sure how much clingy mud would fit between the knobbies and the back mudguard. So good looking it should be in an art gallery.
---
Awesome

By:

Bob Coleman

on 26 February 2020

Best custom boxer I've ever seen Leo and team. Absolutely gorgeous!
---
Leave a comment