EB288 – 1986 BMW R80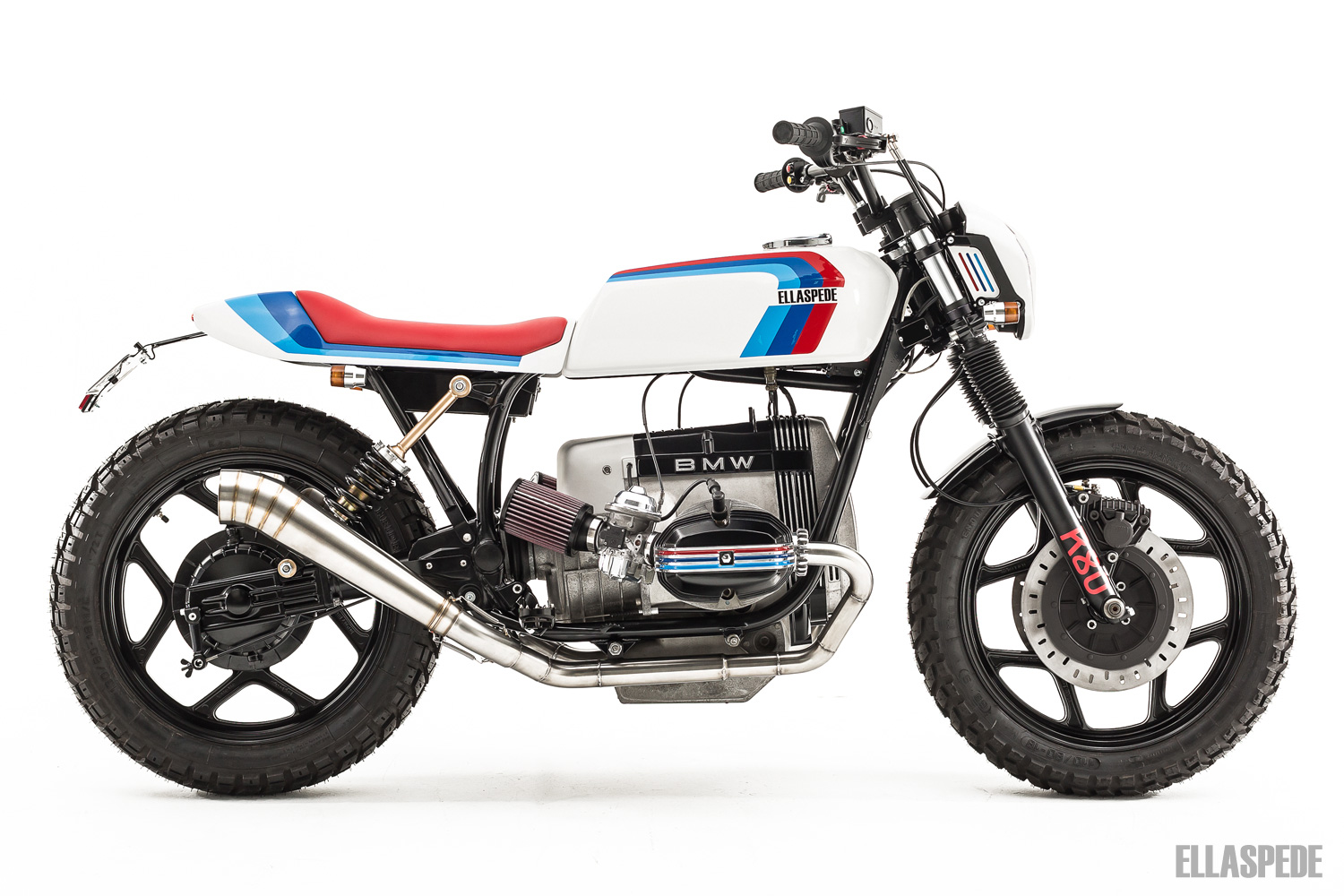 Chris had always been a fan of old BMW airheads. When it was decided that a stable mate for his custom Thruxton was in order, an old airhead that was practical and personalised seemed to be the ideal steed.
Chris sourced a low mileage 1986 BMW R80 as the donor bike. Smartly, the bike was serviced and ridden for a few months to get a good idea of what needed attention and upgrading during the custom stage. It wasn't the tidiest example, so it was promptly shipped from Sydney to Brisbane and neither party had second thoughts about cutting it up.
Given he'd already seen a lot of our previous work Chris' brief was quite short, something our industrial designers were excited about. Transform the R80 into a usable street tracker that made feature of the boxer motor and paid homage to the BMW M-sport range, simple.
The only other requirement was that Chris wanted something unique, a welcome challenge given the current popularity of R-series beemers and M-sport colour schemes. Not stifled by a long list of other requirements, our designers set to work. After a few iterations the final concept for the R80 was complete and the twirling of spanners began.
All major non-essential items were stripped from the bike before an Ellaspede R-series subframe kit was bolted up to form the basis of the custom rear end. A sheet aluminium seat base and cowl was custom made to fit the aesthetic we were after, mated to the subframe and matching the lines of the new tank.
To ensure the R80 stood out from the array of other R-series scramblers, we knew the stock tank had to go. Our designers loved the contrasting size and shape of an RD400 Yamaha tank, so with custom mounts it quickly made its way onto the build.
The engine was removed for a check over before being cleaned and polished, with the removable covers all being sent out for blasting or painting.
The standard wiring loom was quickly discarded in favour of an Ellaspede custom aircraft grade item with weatherproof military connectors. A Motogadget gauge and M-unit receive input from matching M-buttons and M-switches to complete an impressively minimal electrical system. A lithium battery hides away in the Ellaspede battery box under the seat.
An LSL headlight with laser cut side covers modernises the lighting department, accompanied by a LED taillight and Posh Chamfer Indicators. Number plate illumination is also by LED, shining onto a customised Ellaspede Ninja Star Licence Plate Holder.
A billet aluminium airbox cover accentuates the shape of the iconic boxer motor and now houses a tiny ignition switch to get things underway. Rebuilt and re-jetted stock carburettors now breathe through K&N filters.
Exhaust gasses exit through a custom stainless 2-into-2 system with removable 'GP style' mufflers. Given the tucked exhaust position, standing duties are now care of a modified aftermarket side stand mounted further rearward than the original.
Chris' hangs off custom Ellaspede 'special spec' flat track bars, with an added and padded crossbar preventing Chris from introducing himself to the top triple tree.
The stock captured forks limit the ability to lower the front, so the Ellaspede BMW R-series Lowering triple clamp allows you to easily lower the front end while cleaning up the headstock.
A custom Ikon rear shock helps with the handling characteristics and slightly raises the rear for a sharper front turn in.
Adjustable ASV levers, MX grips and RHK MX footpegs on custom mounts complete the controls. Keeping the front end clean on the off road excusions is a custom front guard mated to the factory fork brace.
The original mags were blasted and powdercoated before being fitted up with versatile Heidenau K60's measuring 110/80-18 front and a snug-to-the-swingarm 130/80-18 rear.
The remainder of parts were stripped or blasted with gloss black paint or powdercoat being applied across the detabbed frame, swing arm, diff, fork clamps, various brackets and mounts. New seals and bearings also slot in throughout.
The white M-sport inspired livery is designed to accentuate the new bodylines, tying in various highlights of the build with subtle colourations across the valve covers and headlight panels. A matching red vinyl wraps the seat to complete the theme.
Having built a few BMW's now, we couldn't be happier with how Chris' street tracker R80 has turned out. He mentioned "It's a credit to their (Ellaspede) concept design that the final product has changed very little from what was envisaged", which really is a testament to our industrial designers initial portrayal of Chris' input and the Ellaspede aesthetic.
Unique and usable, two words that not enough motorcycles these days can lay claim to. It's not uncommon to see a swag of custom Bavarian beasts out and about these days, but we're confident Chris wont be mistaken for anyone else when he's blasting the BMW around the big city and back roads of Sydney.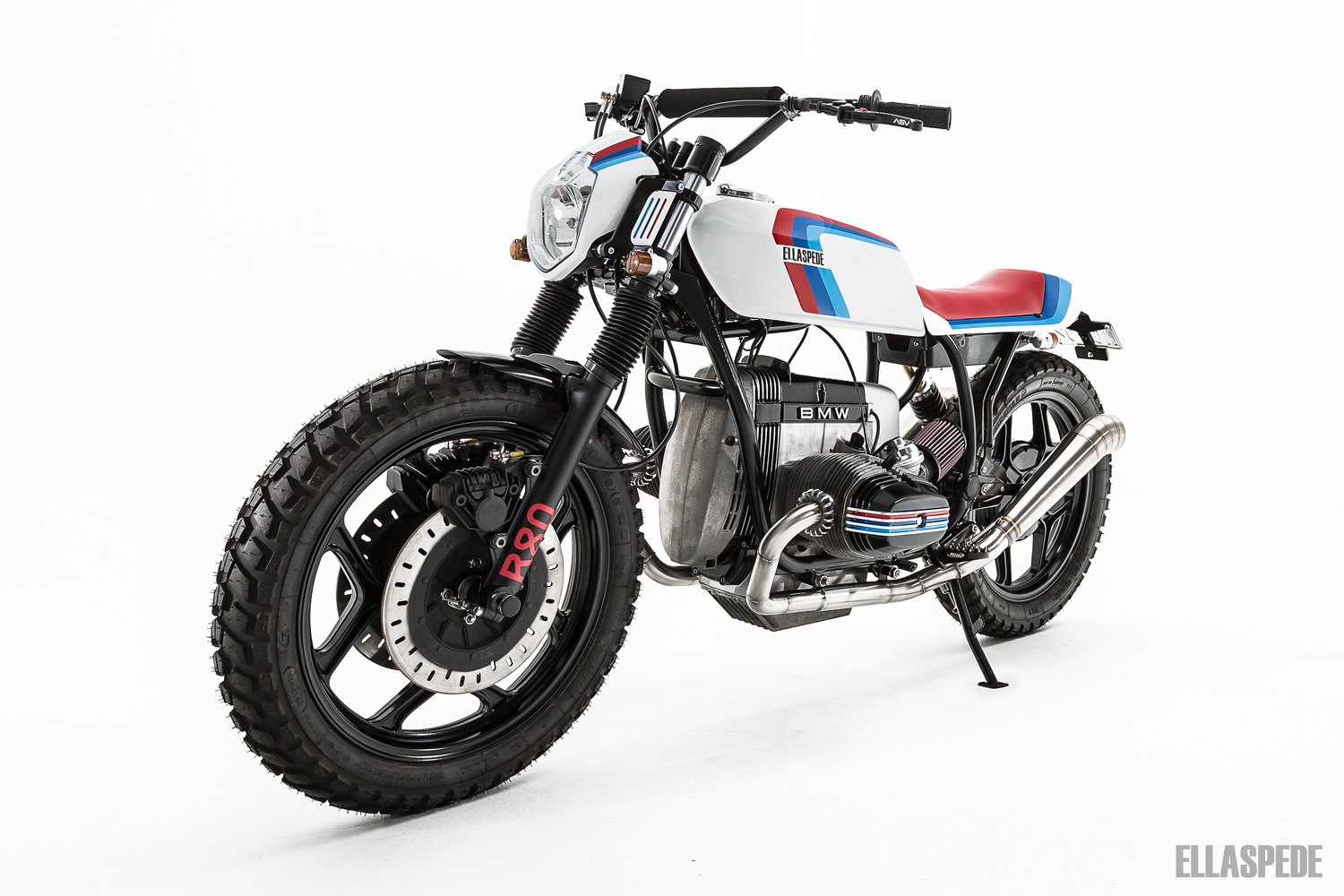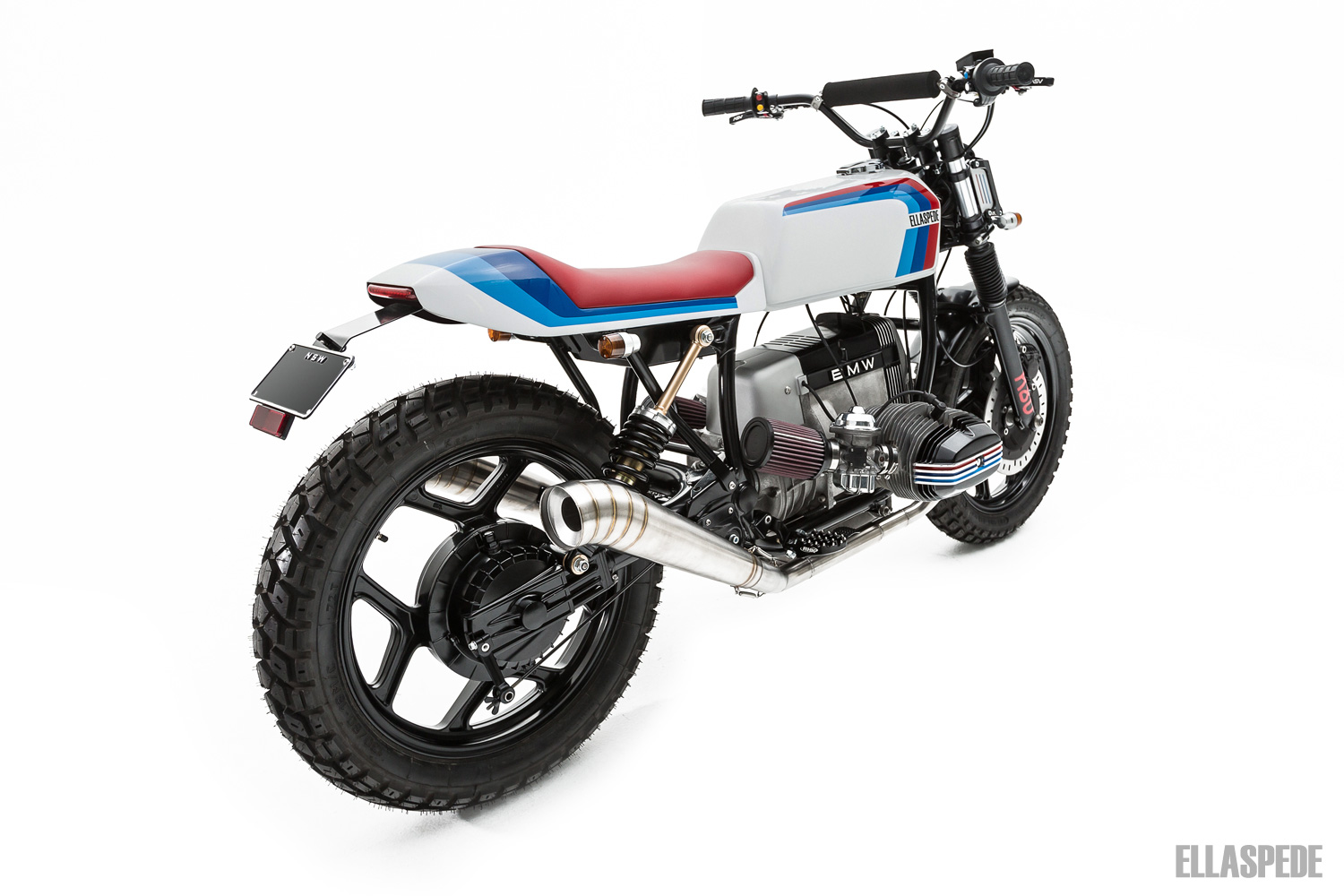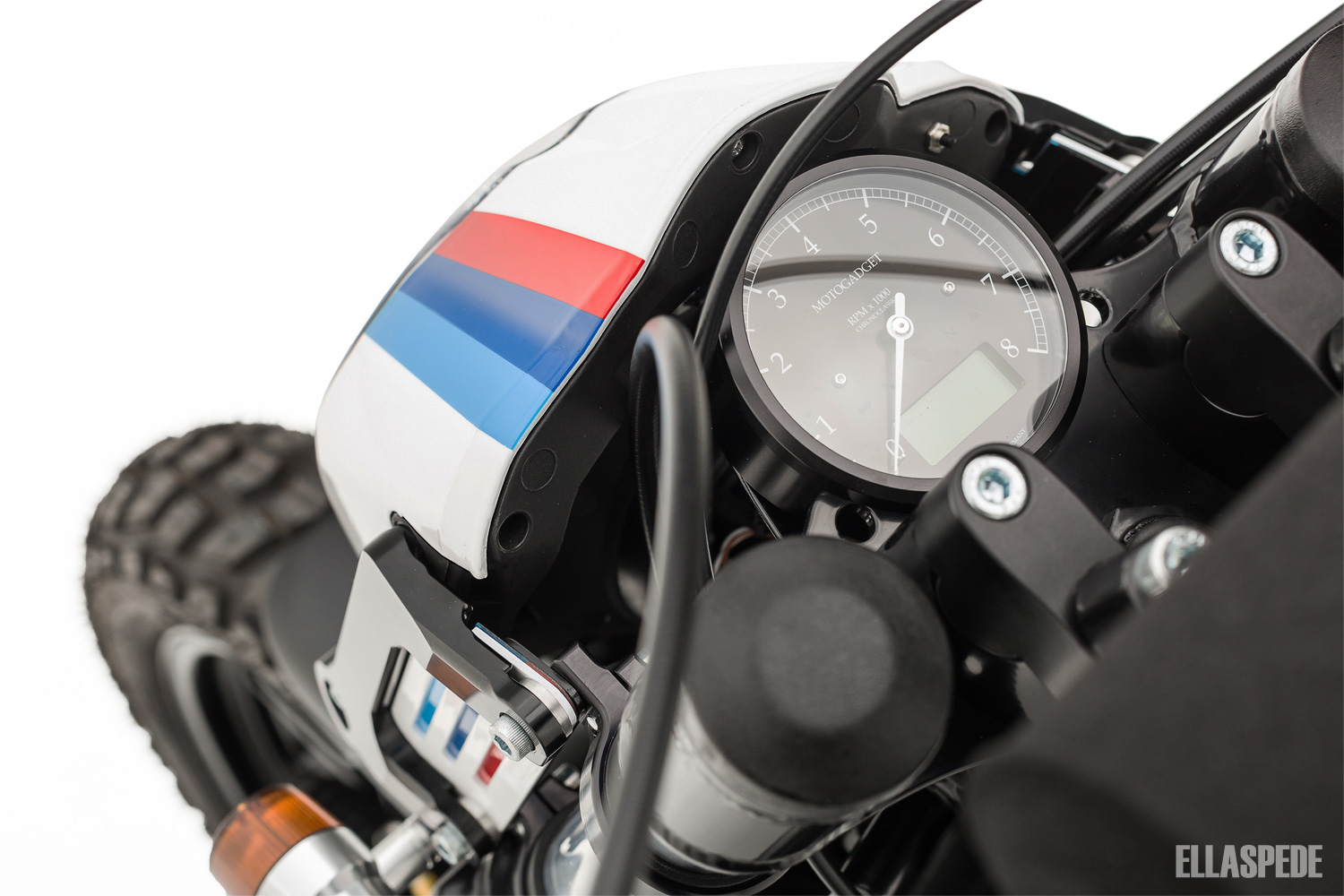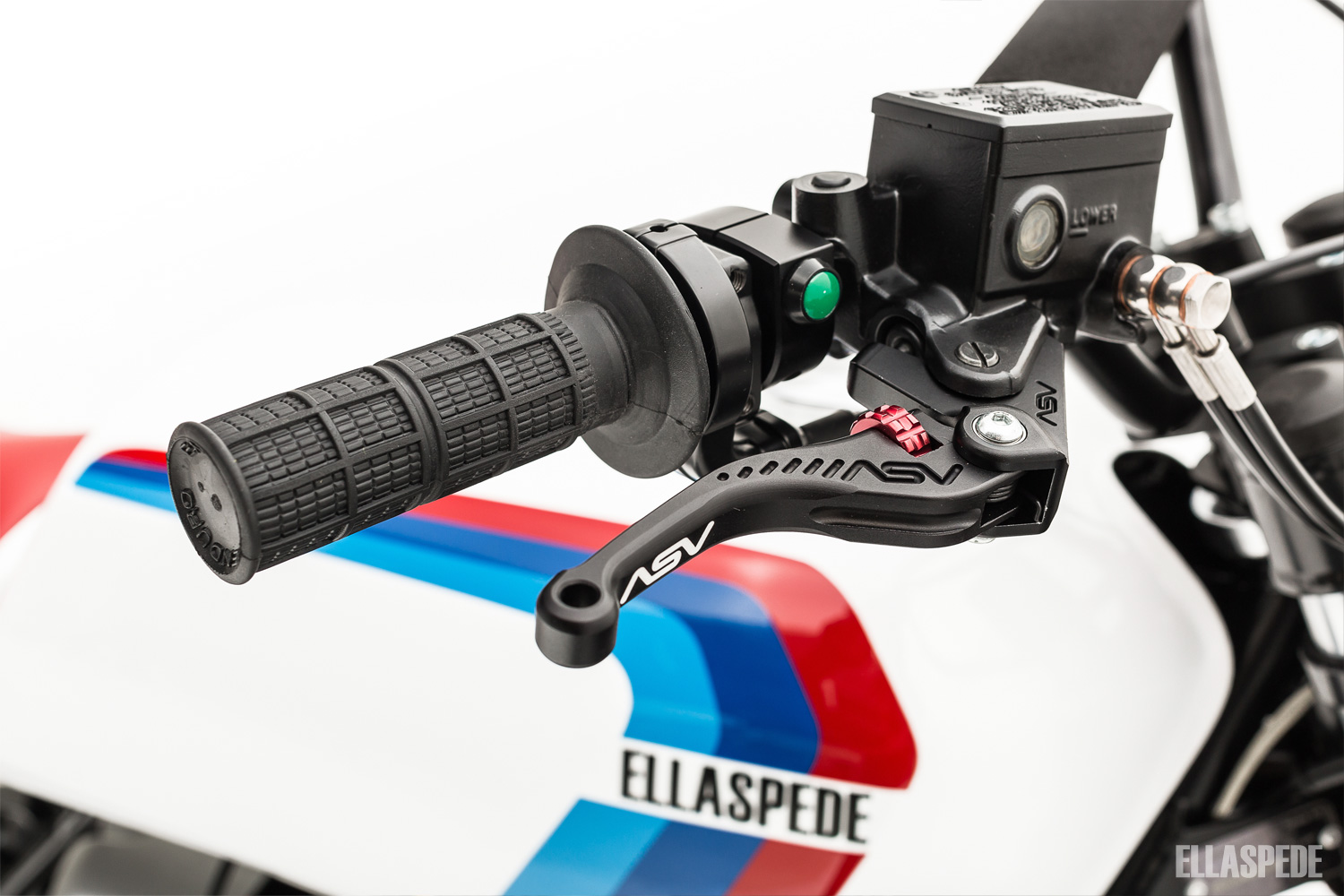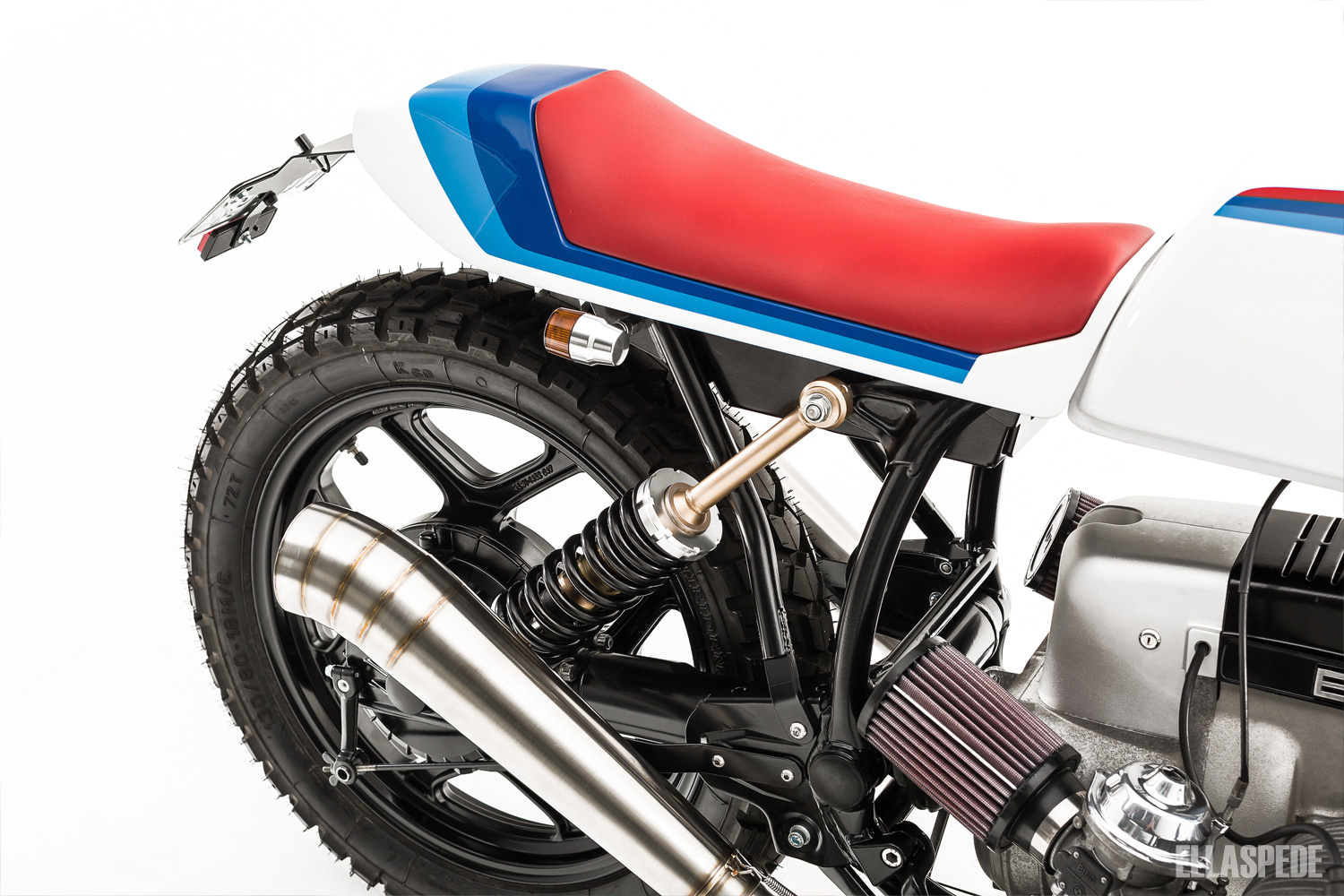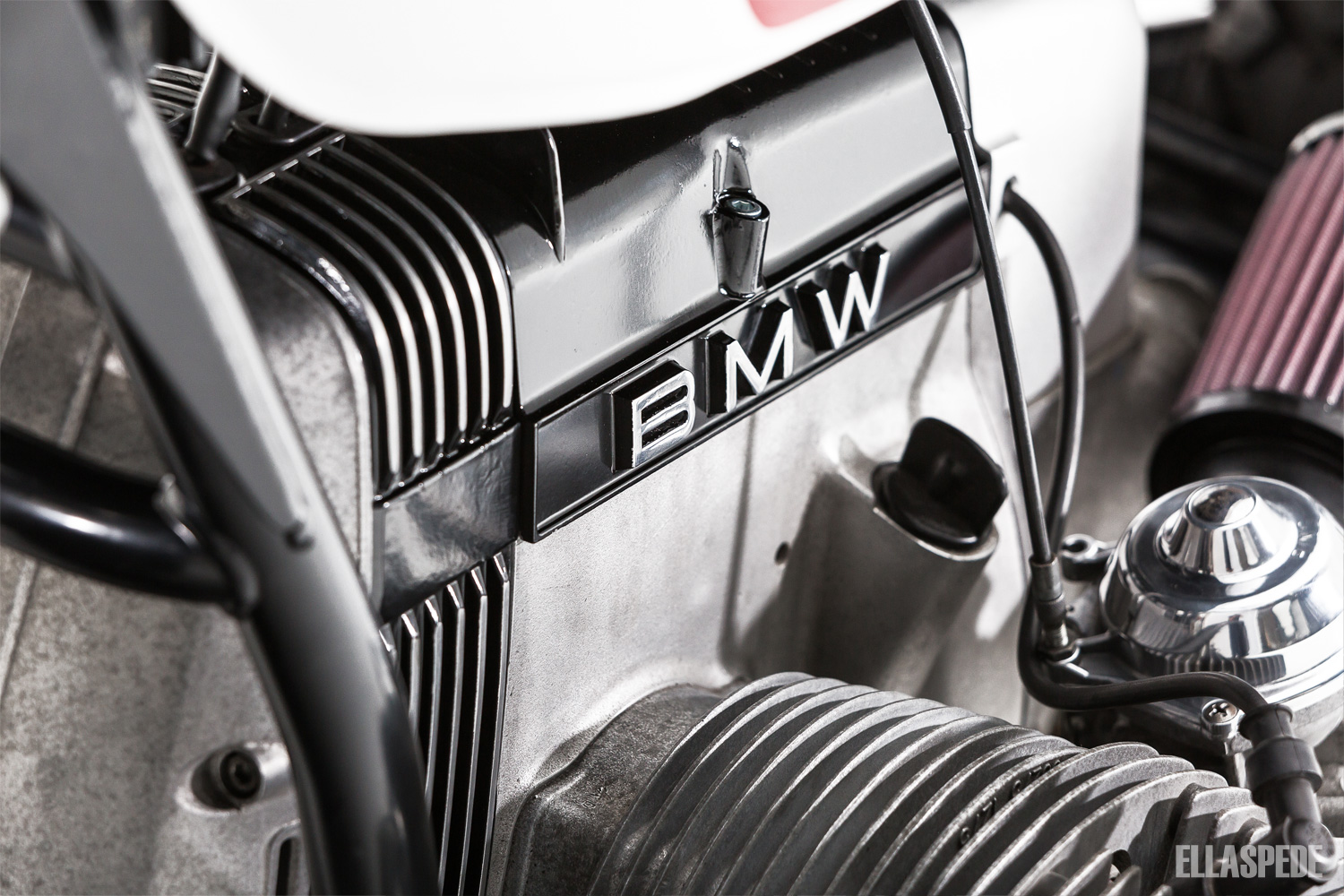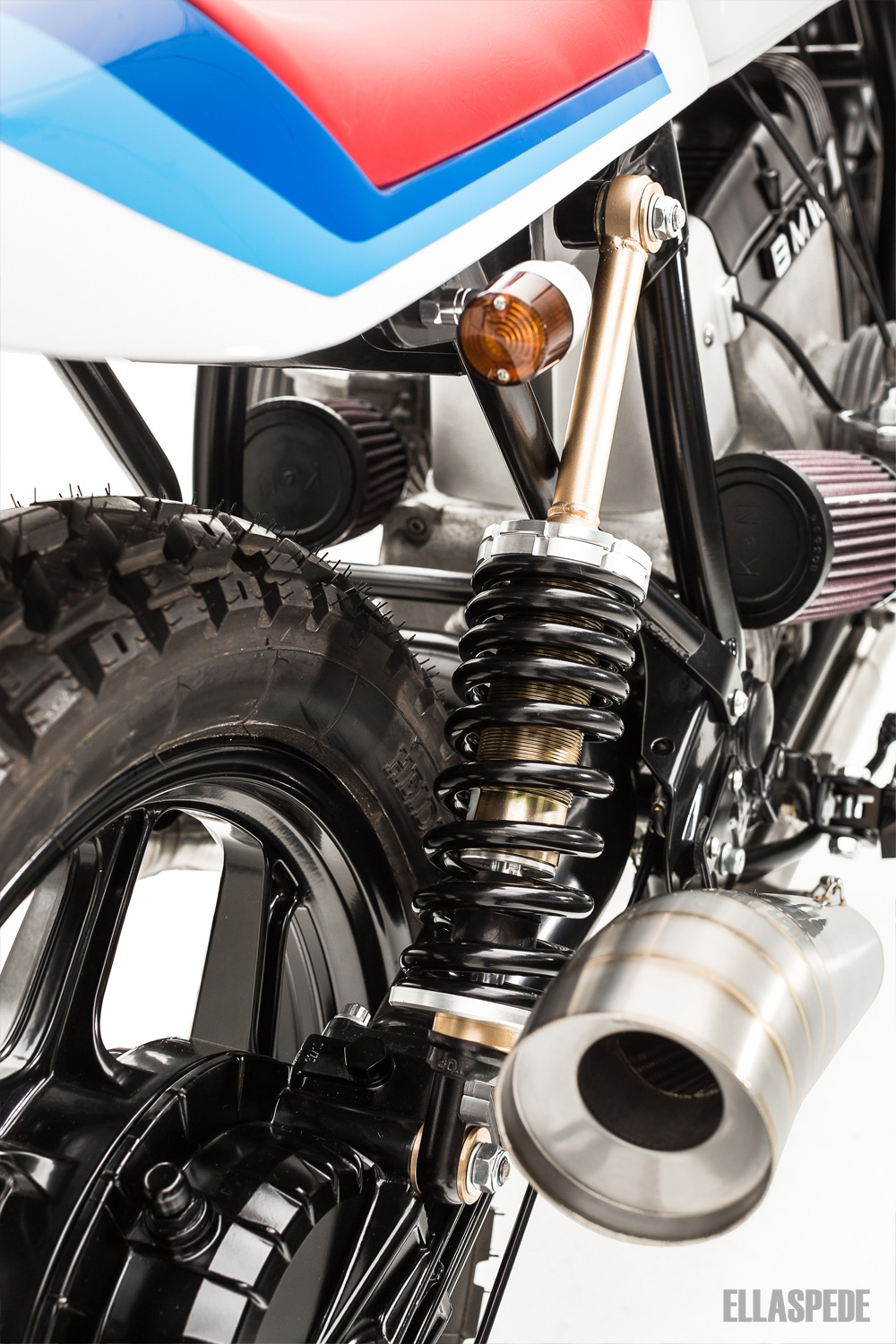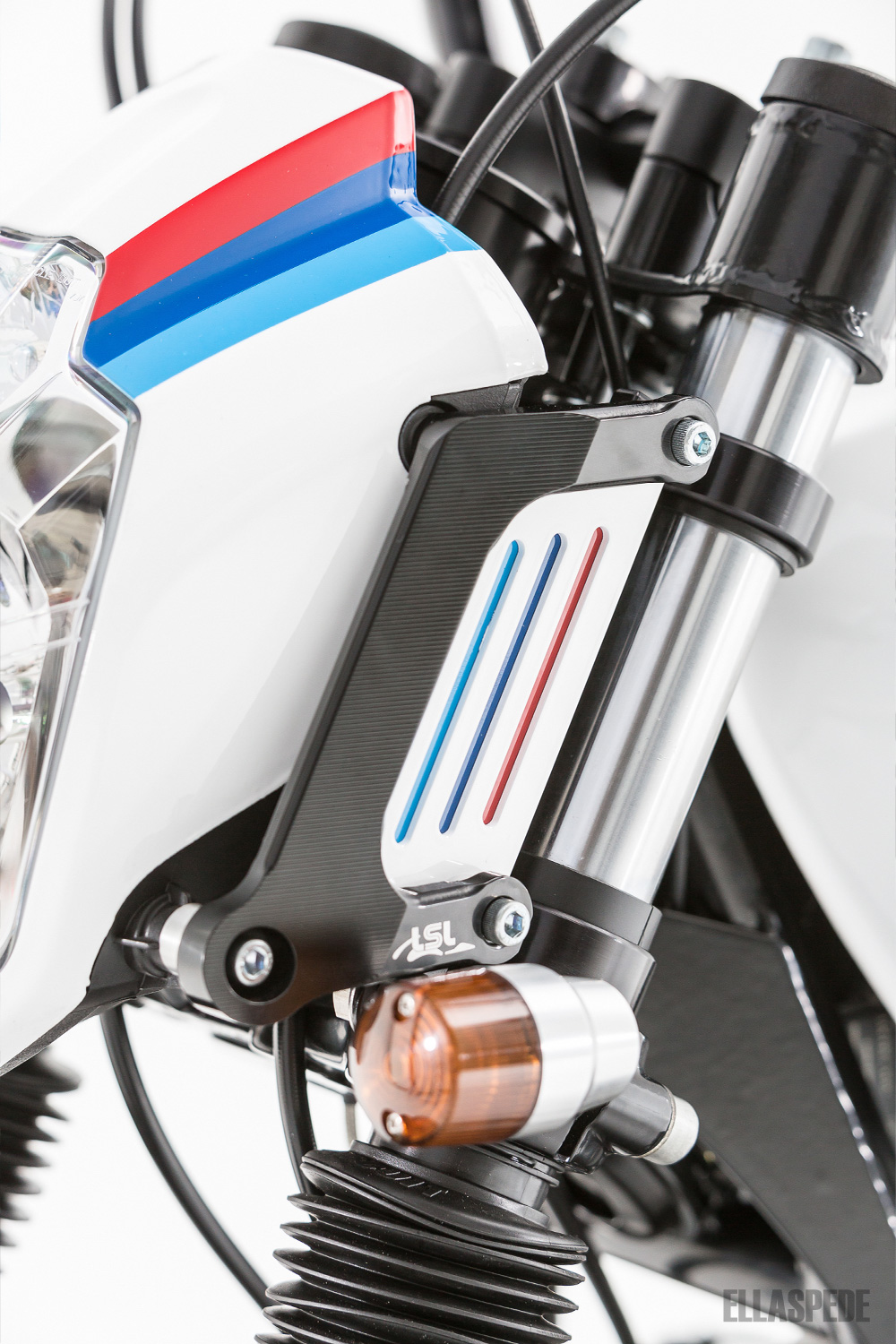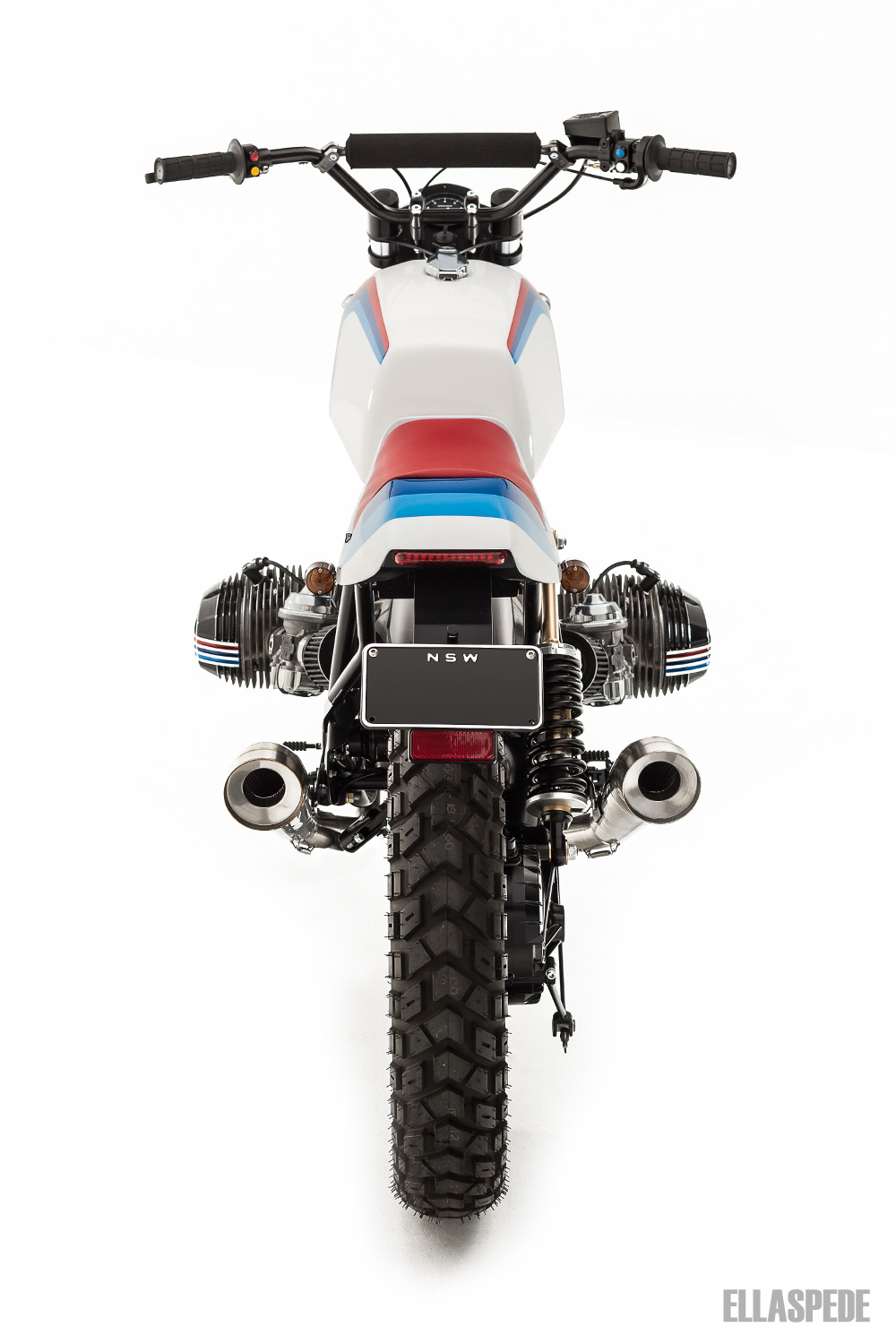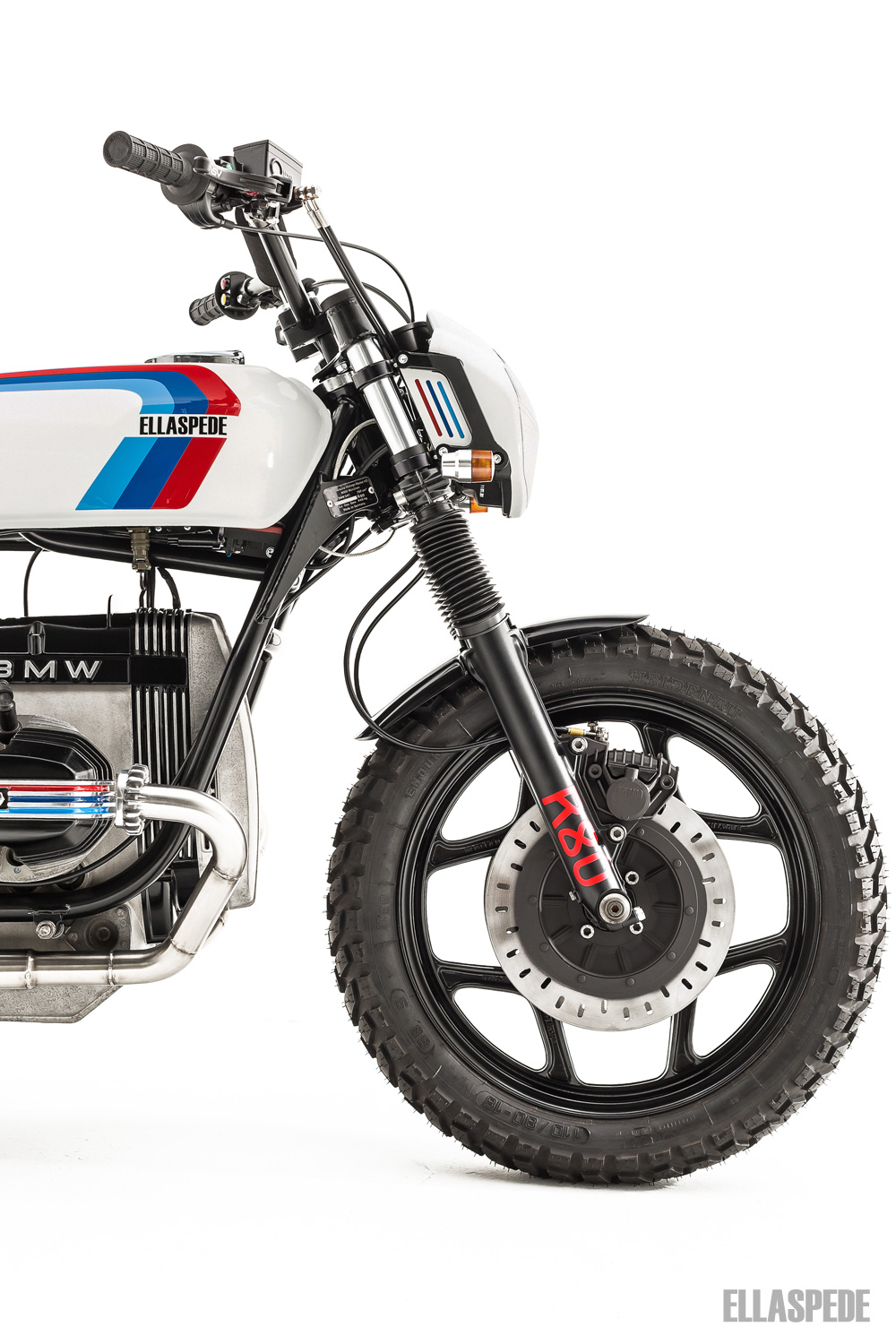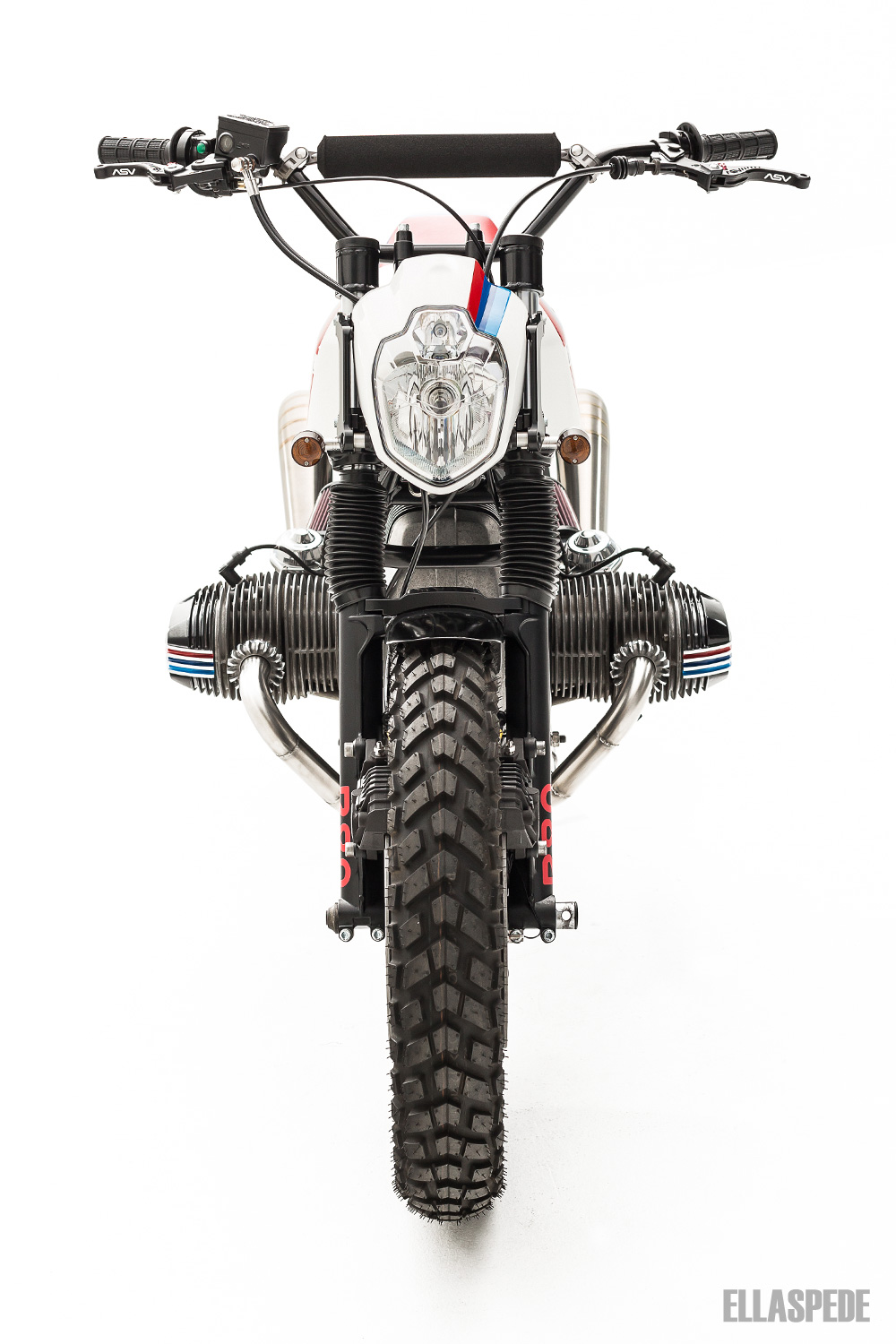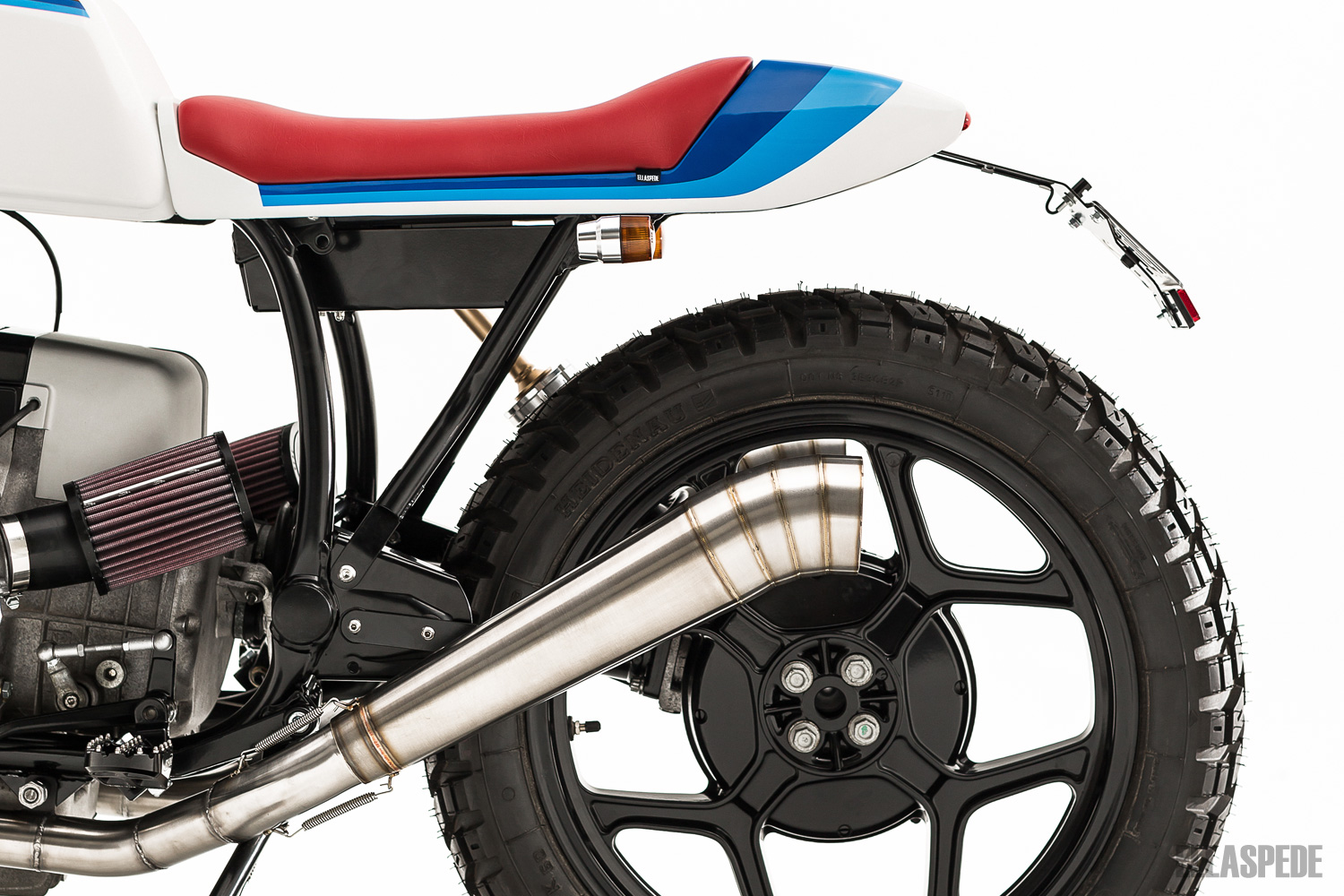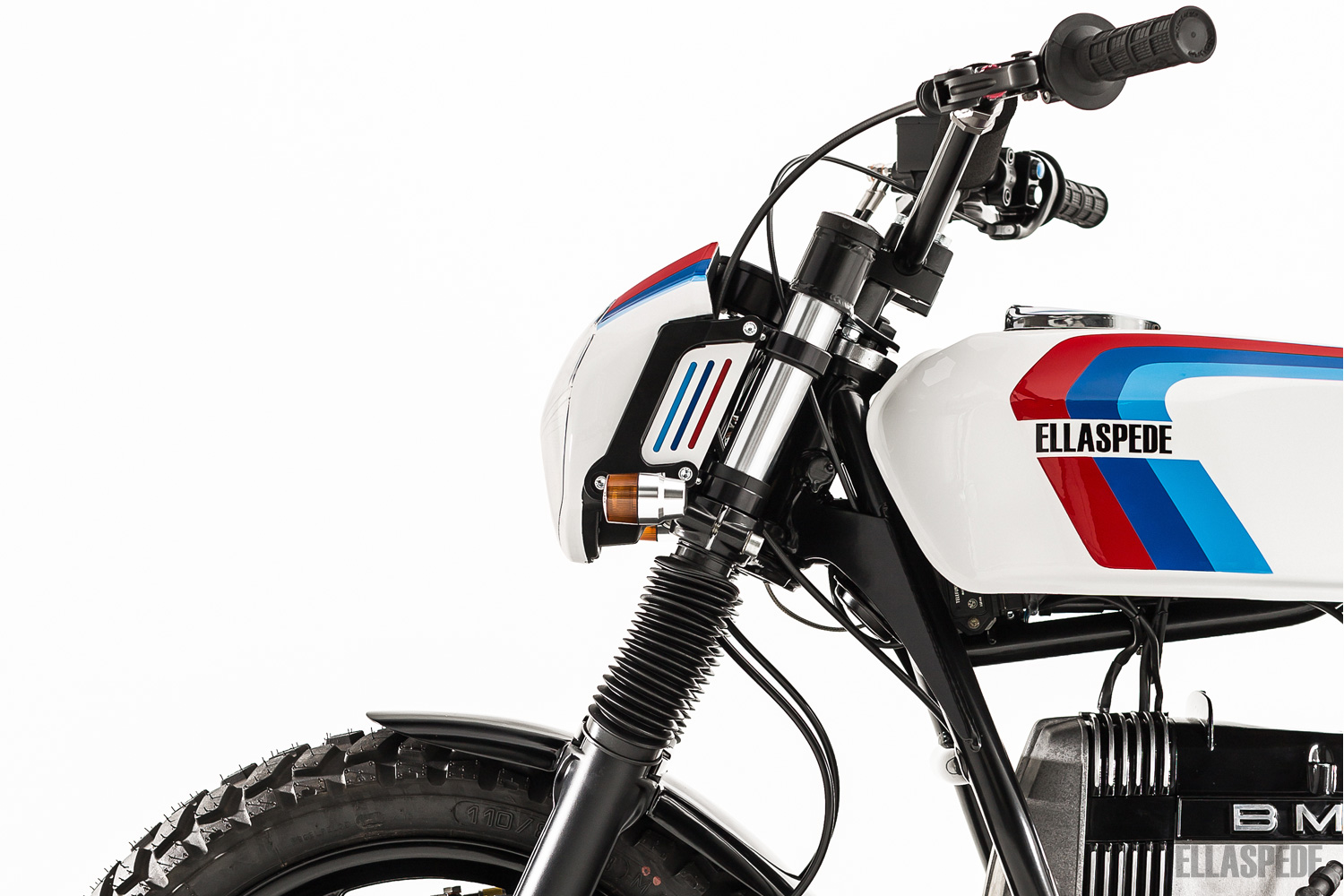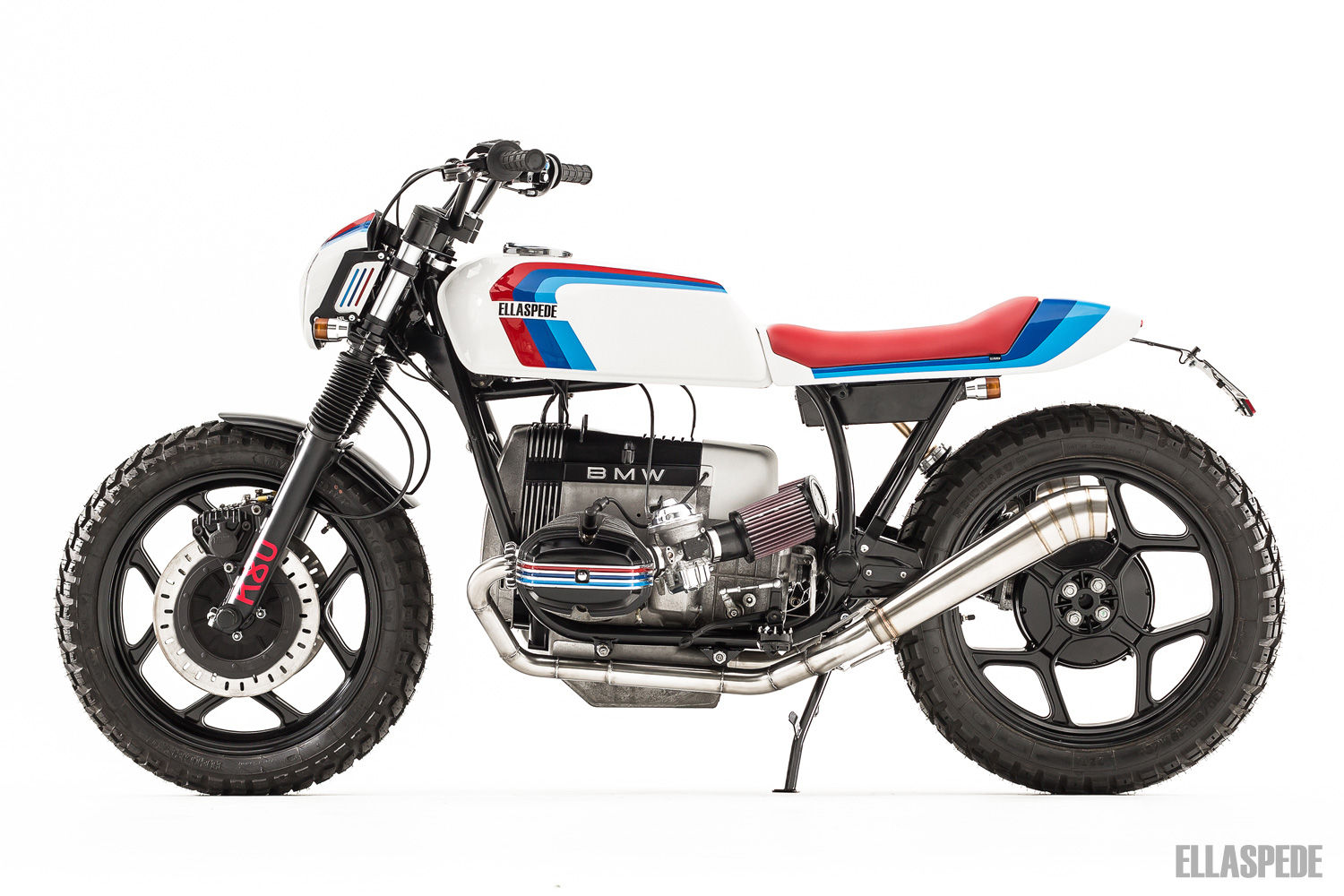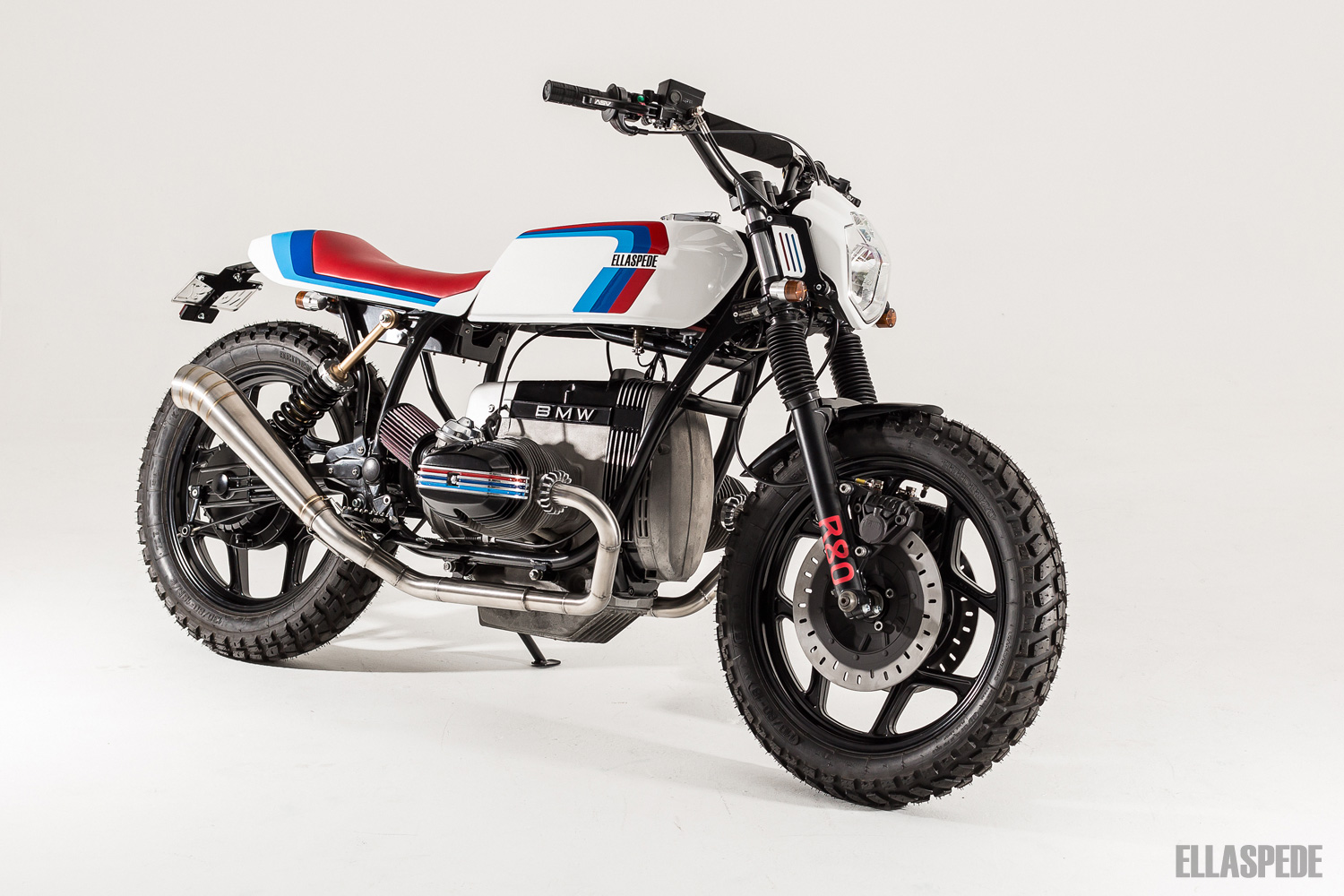 Albums we listened to during the build of this bike:
---
Photos and Features:
---
---
Comments (2)
For sale?

By:

Daniel Bottari

on 2 March 2021

Hi there Are these bikes you've built or selling? Do you sell and if so anything in stock? Cheers





Ellaspede Response
Hi Daniel, Very rarely do we sell bikes, 99% of the bikes we build are on commission and the bikes are all customer owned. If you're interested in getting a specific build done just shoot us an email and we can advise what the best donor bike is for that type of build and go from there. contact@ellaspede.com Cheers mate!
---
Price of the bike?

By:

Chris

on 13 April 2019

Hi there, just wondering what a build like this would go for? How can I contact the builder for information?





Ellaspede Response
Hey Chris! Shoot us an email at contact@ellaspede.com and we can give you some more information about the build. Cheers mate,
---
Leave a comment